I don't know about you lovelies but I'm definitely ready for summer now. This autumnal weather doesn't seem to be letting up, despite having already welcomed the official day of British Summertime. However, in the business of embracing it, I've got a rather gorgeous autumnal wedding up my sleeve for you today. One look at it and you'll no doubt remember a few of the reasons why we love the wintry seasons after all.
Today's couple, radiology Assistant Olivia and Personal Shopping Administrator James said their nuptials on Wednesday 25th October 2017 at The Ashes Barn in Endon, Staffordshire.
"We wanted a rustic barn venue in Staffordshire due to our families living in the area, and is living in Derbyshire. It was the perfect meet in the middle place and we fell in love with it on our first viewing. The barns are beautifully restored and spacious and the events team there are so friendly and always there to help and answer any questions. Our events coordinator Steph was provided by the venue and she was so sweet, enthusiastic and supportive throughout the whole planning process. She was amazing and we loved her!"
Images by Pear and Bear Photography
The bride and groom recruited the wonderfully talented photographer Anna at Pear and Bear Photography to capture the day on camera, and videographer Becky Ryan to film the day.
"Anna was truly one of the best decisions we made during the whole planning process and I have a little cry every time I look at our beautiful engagement and wedding photos. Not only is Anna an amazing photographer, but she's also the loveliest person ever! We decided late on we wanted some sort of video but due to the late stage in planning we decided just to go with a highlight video. It was lovely having Becky there on the day and think he has captured some really special moments."Stationery and favours were also a DIY affair with Olivia teaching herself how to make each aspect.
"I designed all of the paper stationery myself. I taught myself some very basic modern calligraphy and made all the signs with chalkboard and some old apple crates we were given. I bought our personalised library card print from Not On The Highstreet as it matched the invites we designed."
Olivia and James met on the Internet back in 2013 and, after speaking on the phone, James finally plucked up the courage to ask Olivia out on a date.  When preparing to pop the question, James first asked Olivia's dad for his permission, under strict orders from Olivia herself.
"We shared a mutual love of red wine, rare steak and soul music. We had our first date in early December at the Christmas markets in Birmingham. We had lots of mulled cider, came last in a pub quiz and almost missed the last train home! By New Years Eve we were completely smitten with each other and a fully fledged meet-the-parents-couple."
"We got engaged in September 2015. We were quite matter of fact about it as we're not a very romantic couple and just decided we wanted to do it. We chose my engagement ring together from a lovely local jewellers in The Netherlands on Etsy. My only stipulation when getting engaged was that James asked my dads permission. James got down on one knee in our lounge after sharing a bottle of wine and cooked our favourite meal. We booked our venue within a month of being engaged but gave ourselves two years to save, organise and plan everything."
"We booked the wedding for Autumn as its our favourite time of year. We didn't really have a theme but the season helped establish our colour palette of dusty blues, golds and peachy blush tones. I wanted to include seasonal decor without it looking too stereotypically autumnal/Halloween like so opted for peaches instead of bright oranges and browns. The rustic look of the venue really worked at this time of year too with its exposed brickwork, highland cows and surrounding countryside."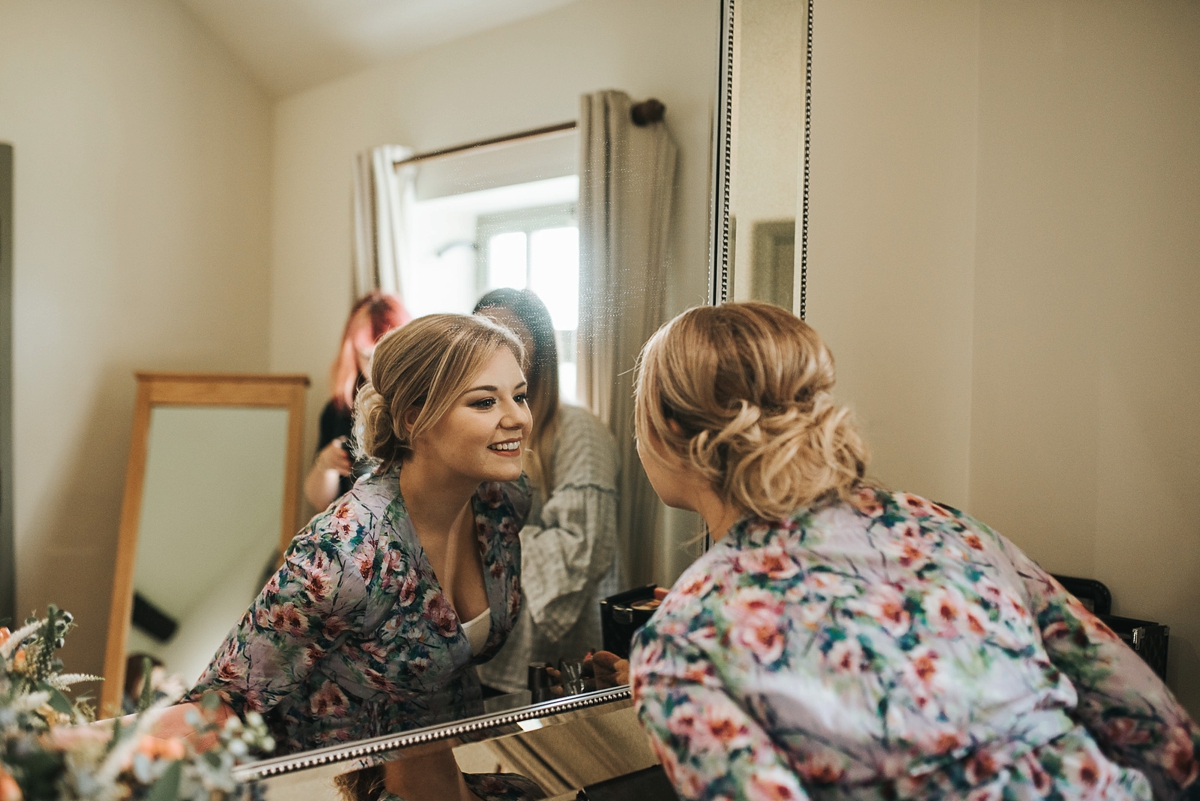 The bride chose the most gorgeous off-the-shoulder, dream-like dress by Jenny Packham from The Stamford Bridal Rooms via Preloved, paired with a cathedral length veil and floral crown made up of peach spray roses, Hypericum berries and seeded eucalyptus.
"I had tried on a similar Jenny Peckham dress in a boutique in the early stages of planning but when I was ready to purchase, it was gone. I trawled Preloved for any signs of it and came across my dress instead. It was almost identical and for a bargain price in perfect condition. The boutique was closing down and selling their samples at heavily reduced prices."
"I messaged them right away and within 48 hours the dress was home. My mum knew the seamstress we used who coincidentally had the same name as my married name! My dress was strapless so I asked Susan to add some drape sleeves to make me feel more comfortable. My dress was everything I had ever imagined and I felt like a woodland fairy in it."
"I wanted a dress that flowed when I walked and made me feel like I was in a midsummer nights dream. I didn't want too much heavy beading as I wanted to be able to move and dance comfortably, but I did want some form of embellishment. I loved that my dress was quite simple but had tiny bits of lace and pearl details all over it, which made it so perfect for me."
To remind her of the day, Olivia chose to wear her favourite perfume, Flower Bomb by Viktor and Rolf. The bride kept her accessories to a minimum with her engagement ring and a rose gold hammered moon necklace by Luna Tide Designs on Etsy which James mum had gifted to her.
"Flower Bomb is my absolute favourite and the first Christmas gift James ever bought me. I added some of my mums Cerruti 1881 later in the evening as she always smells so good."
"My shoes were Harriett Wilde low Delifina in a beautiful pearlescent champagne gold, tied with a gold ribbon. They were the most comfortable and beautiful pair of shoes I've ever worn."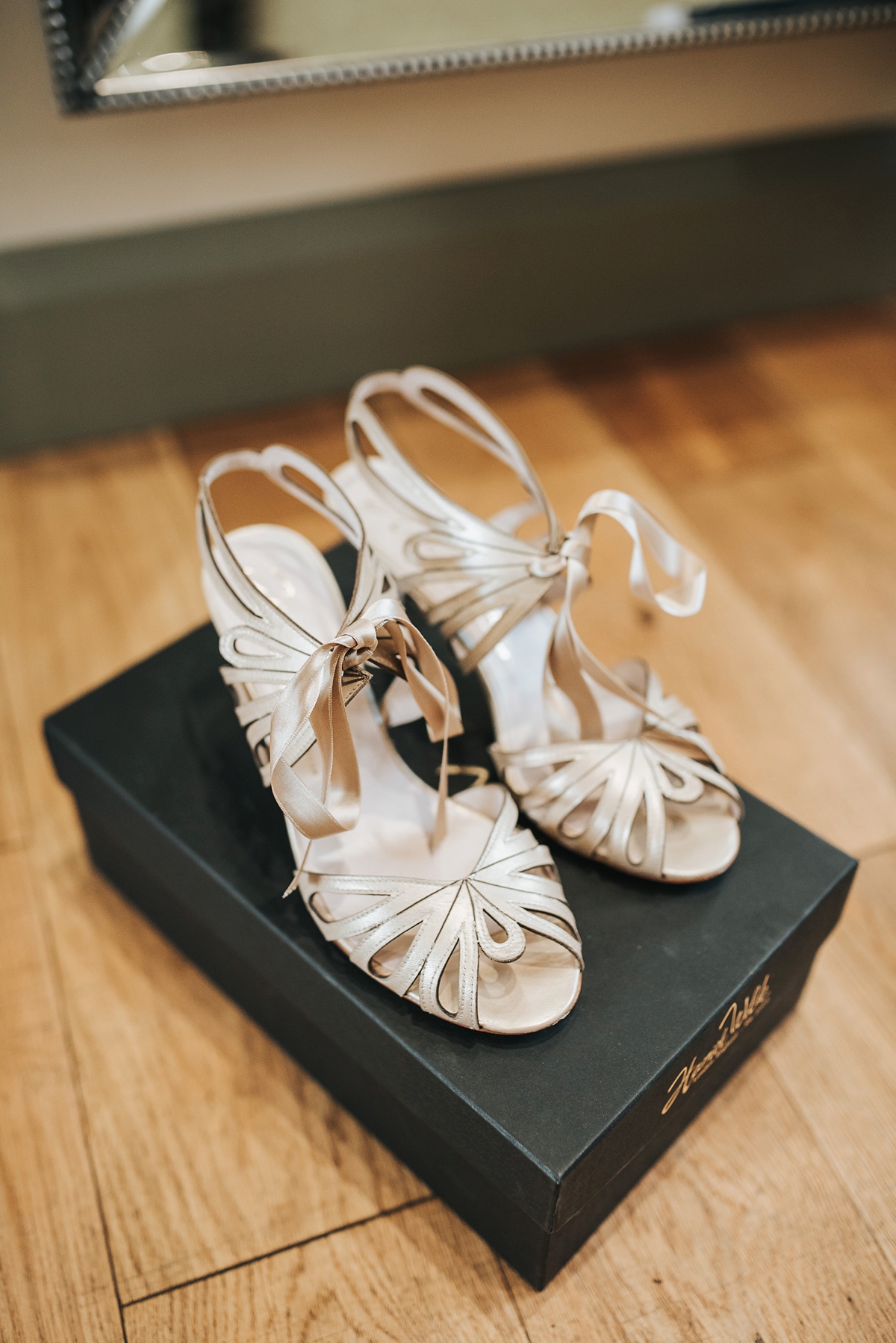 Her bride squad complimented the woodland theme perfectly in dusty blue chiffon dresses from ASOS and her gorgeous flower girls wore gold dresses, shoes and cardigans from Monsoon.
"I also bought each bridesmaid a Katie Loxton clutch bag and a tiny star wish bracelet as gifts that they could also use on the day."
"My mum found a cathedral length soft tulle veil in St. Richards Hospice charity shop in Worcester for £15! It was two-tier and had a rolled edge. I carefully went round and cut the trim off, then reattached it to the combs as a single tier with raw edge."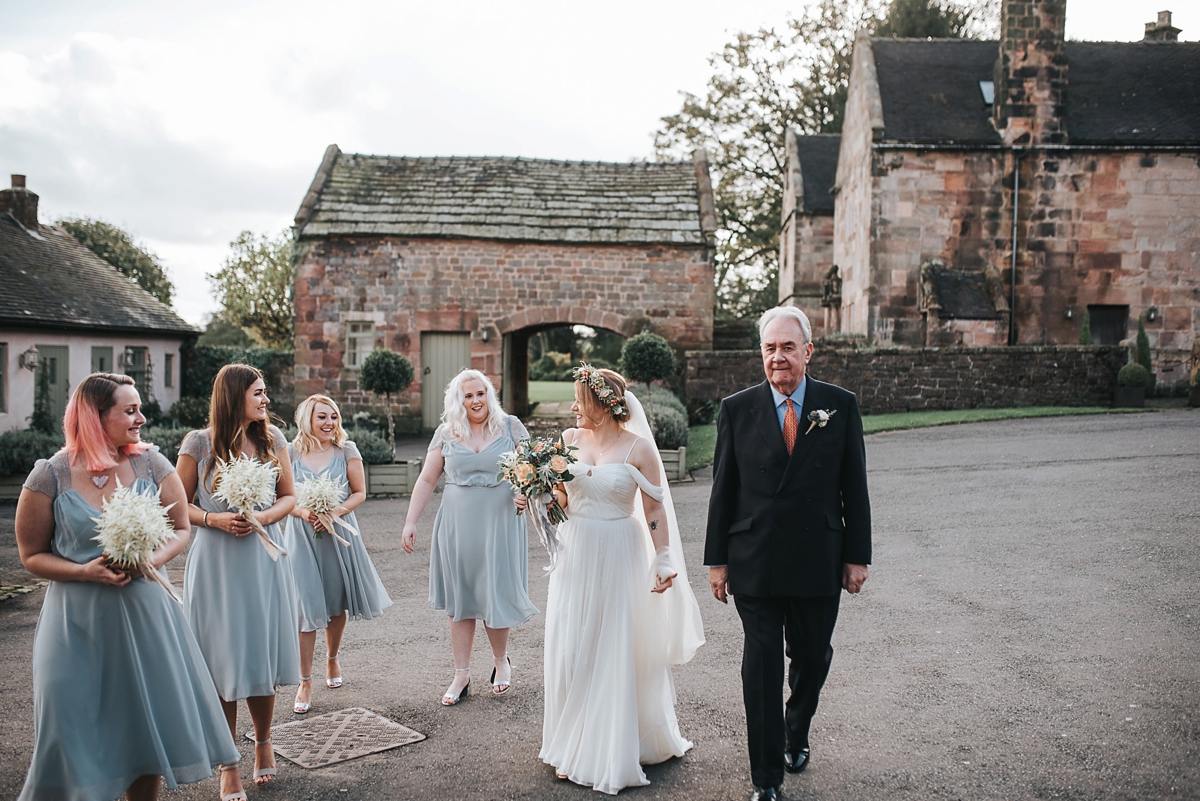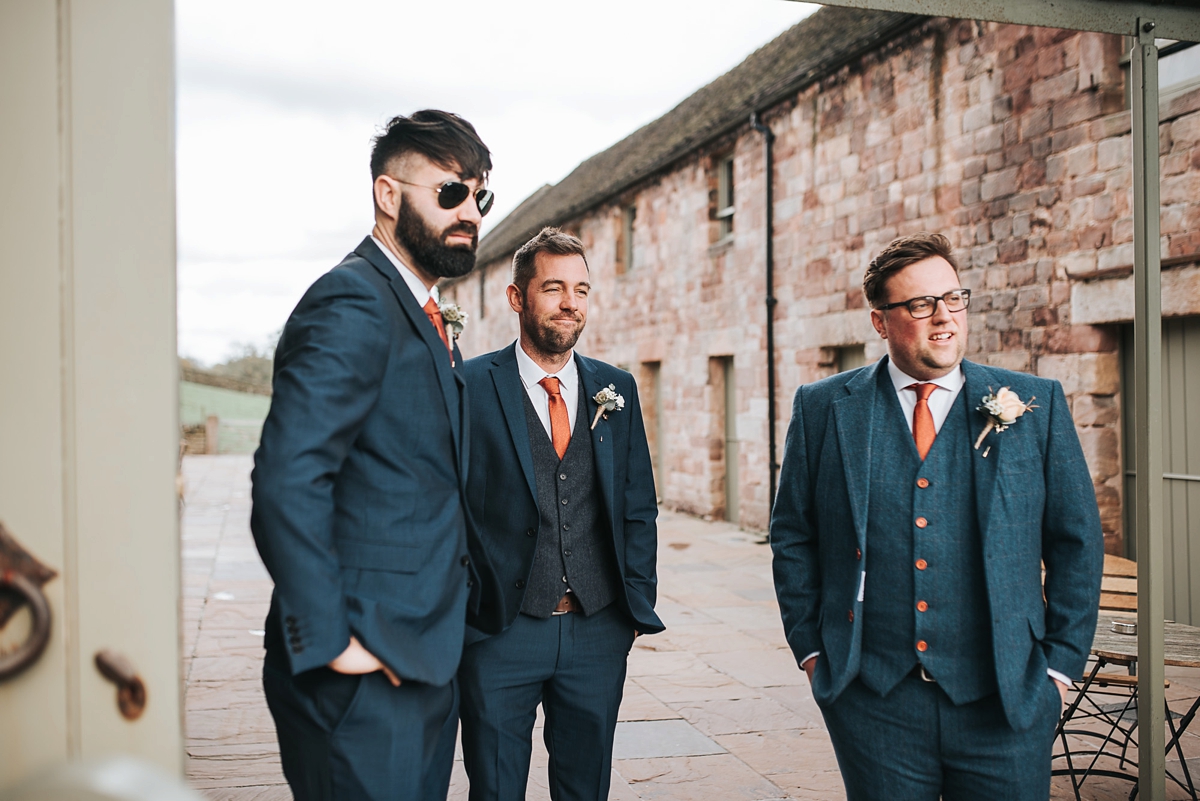 Olivia's dad walked her down the aisle to The Cairn String Quartet version of One Day Like This by Elbow.
"James had always said he wanted me to walk in to that song but its 4 minutes long and the walk was only about 40 seconds long! It was such a blur that I don't even know what part I walked into."
Waiting for Olivia at the end of the aisle was the groom wearing a blue tweed 3-piece suit from The Vintage Suit Hire Company. At James's side were his groomsmen wearing their own 3-piece blue suits, from a mix of Ted Baker and Next. Their ties were also Moss Bros to match the grooms and the couple gifted them tiny brass hare lapel pin sticks to accessorise with on the day.
"James was really specific about what he wanted to wear. After months of searching he finally bought his perfect suit. He took a trip down to Bedford with his parents to pick out the suit and ordered it there and then. His tie was from Moss Bros and his tweed trim brogues from Goodwin Smith."
Olivia and James chose vows provided by the registrar but in hindsight would have loved to have created their own. They also included two readings, the first an extract from The Amber Spyglass by Phillip Pullman read by their friend Jack, and the second I'll Be There For You by Louise Cuddon read by another friend Paula.
They swapped weddings rings purchased from Newey's in the jewellery quarter in Birmingham and Beaverbrooks.
"My engagement ring is 18k rose gold with a pear shape diamond and a half halo crown of five tiny diamonds. Because of its unusual shape, I had to get my wedding band cast around it. James chose a brushed titanium ring from Beaverbrooks."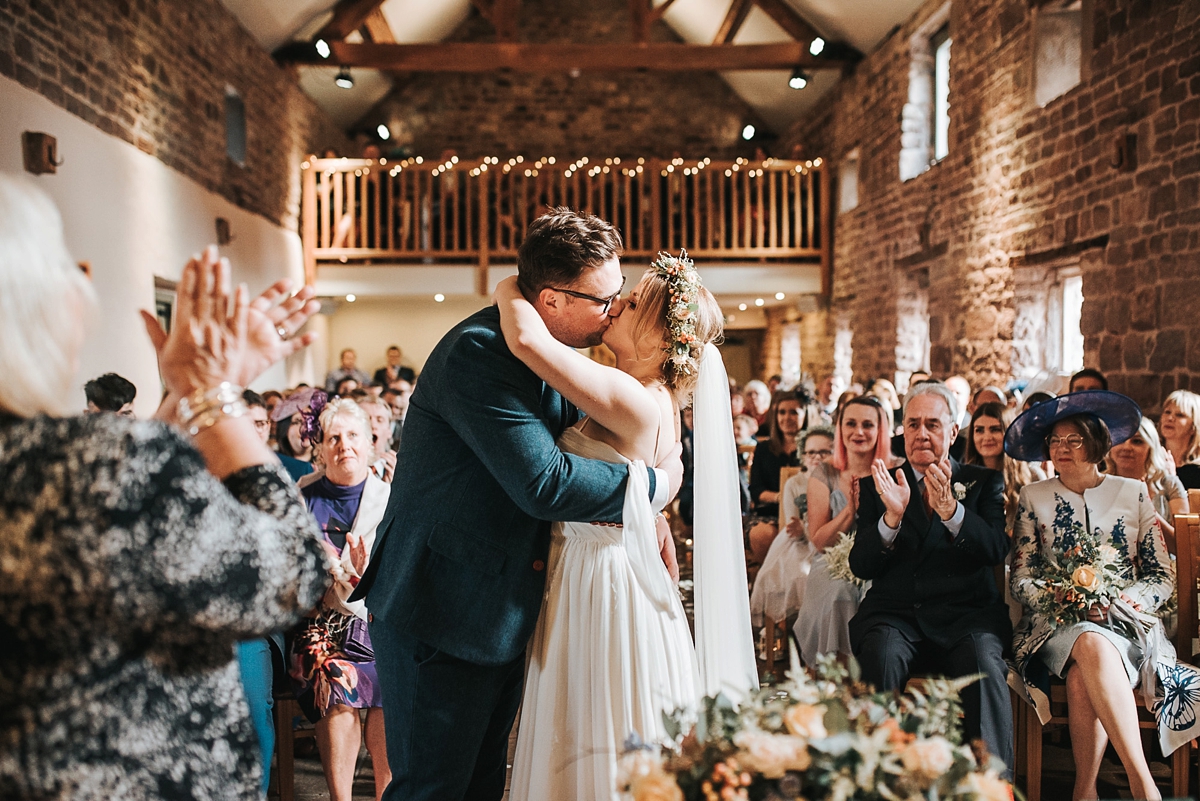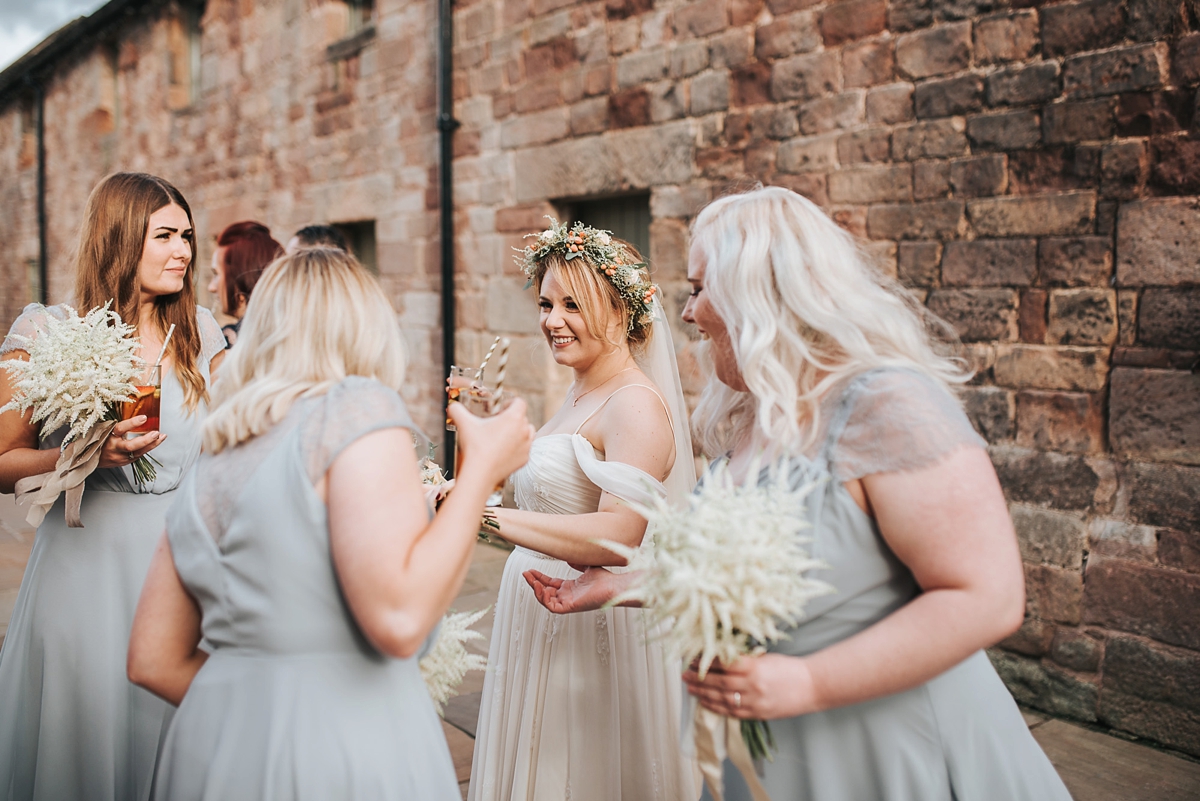 "My mum spent two years making boxes full of confetti by drying out all her roses, geraniums and Delphiniums, then we mixed a big bag of dried lavender from my aunty's garden into it."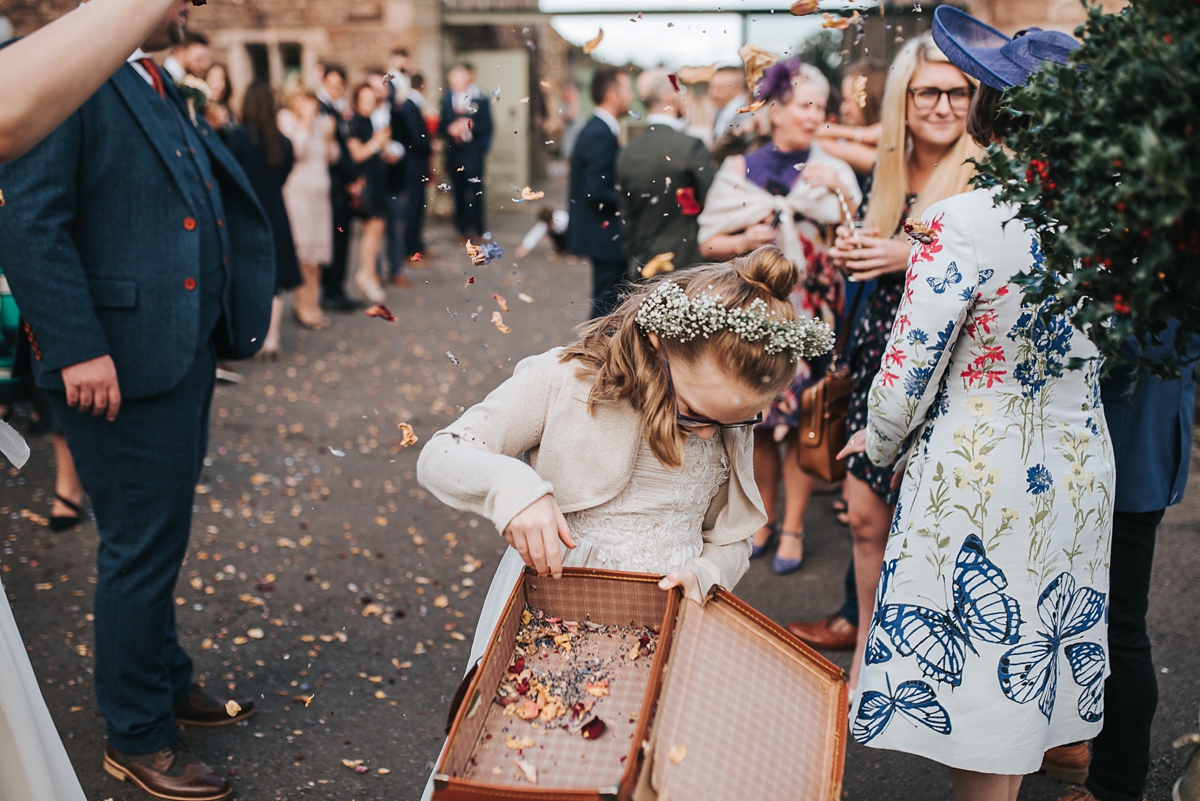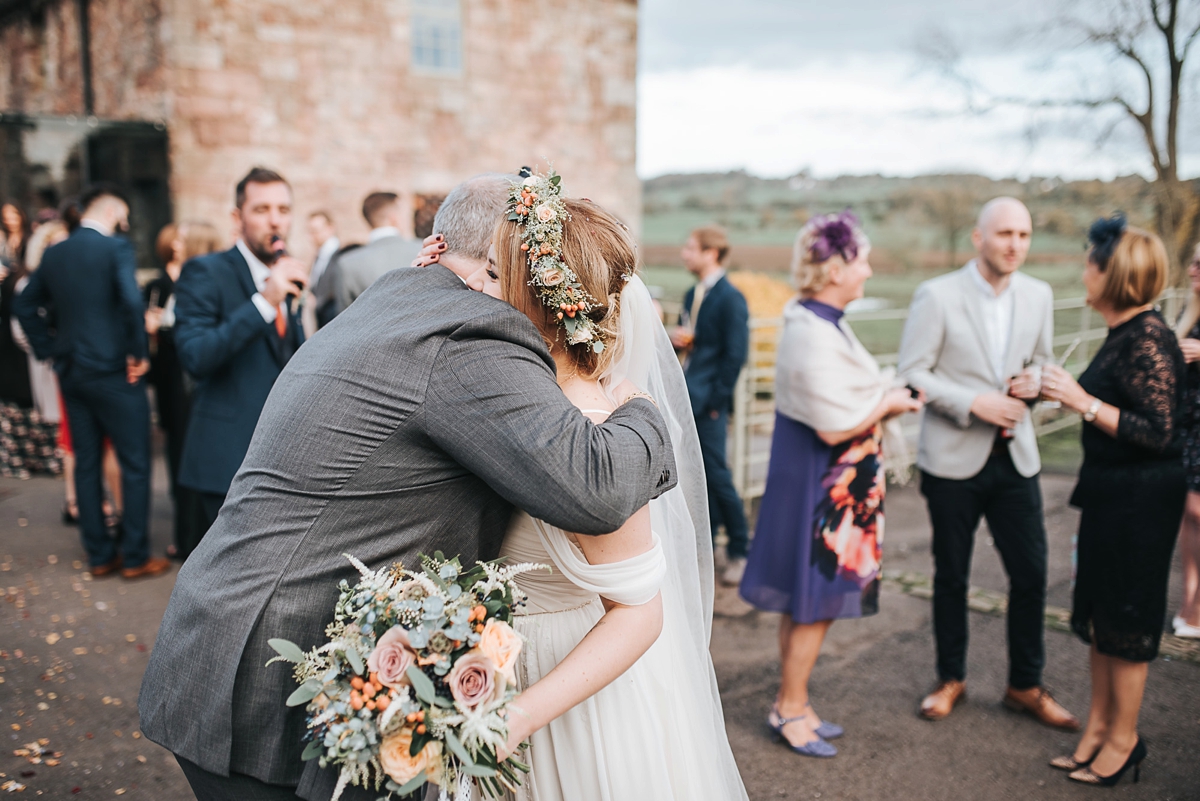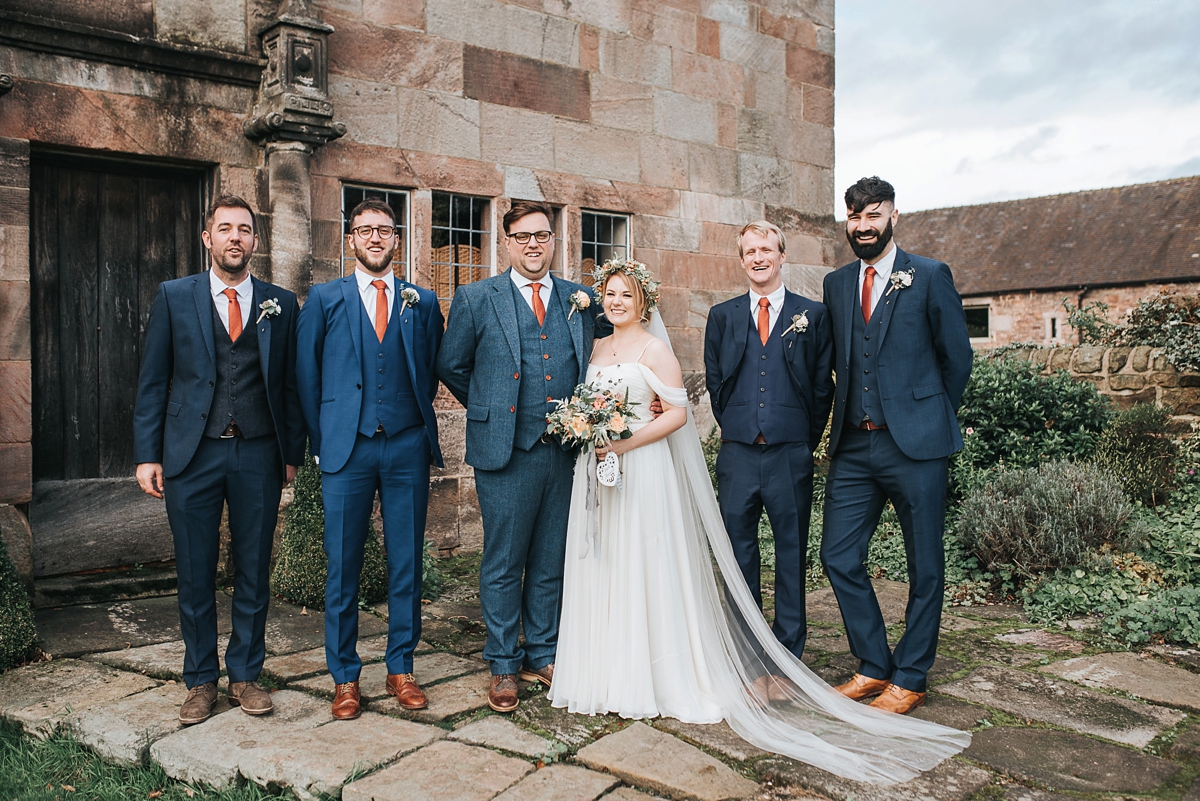 The flowers and bouquets at both the ceremony and reception were a blooming beautiful mix of peach and amnesia roses, Hypericum and viburnum berries, all created by florist Rose from The Topiary Tree.
"From the first meeting with Rose I knew she totally got the vibe I was going for. All our bouquets were tied with blue and peach silk ribbons from Etsy. Our flowers were absolutely divine and, apart from marrying James obviously, they were my favourite aspect of the whole day."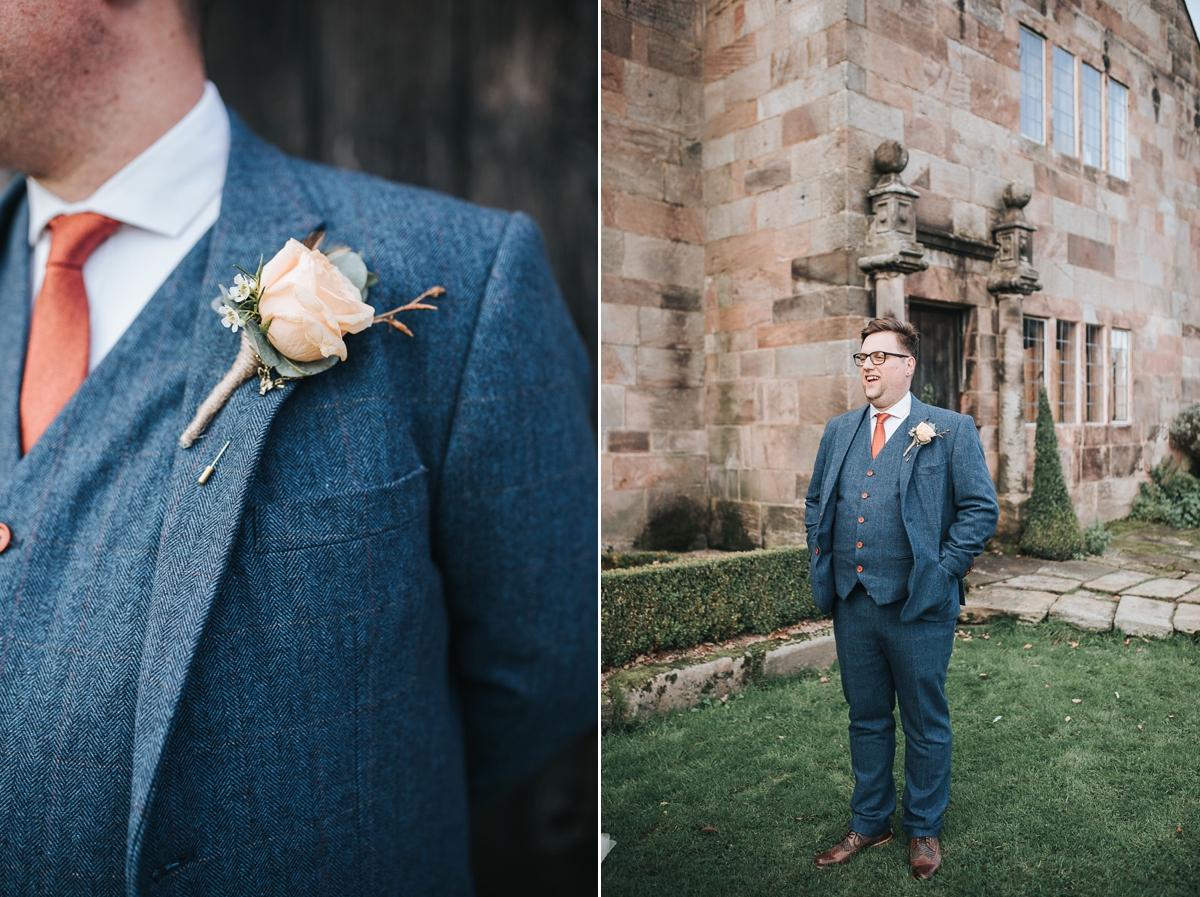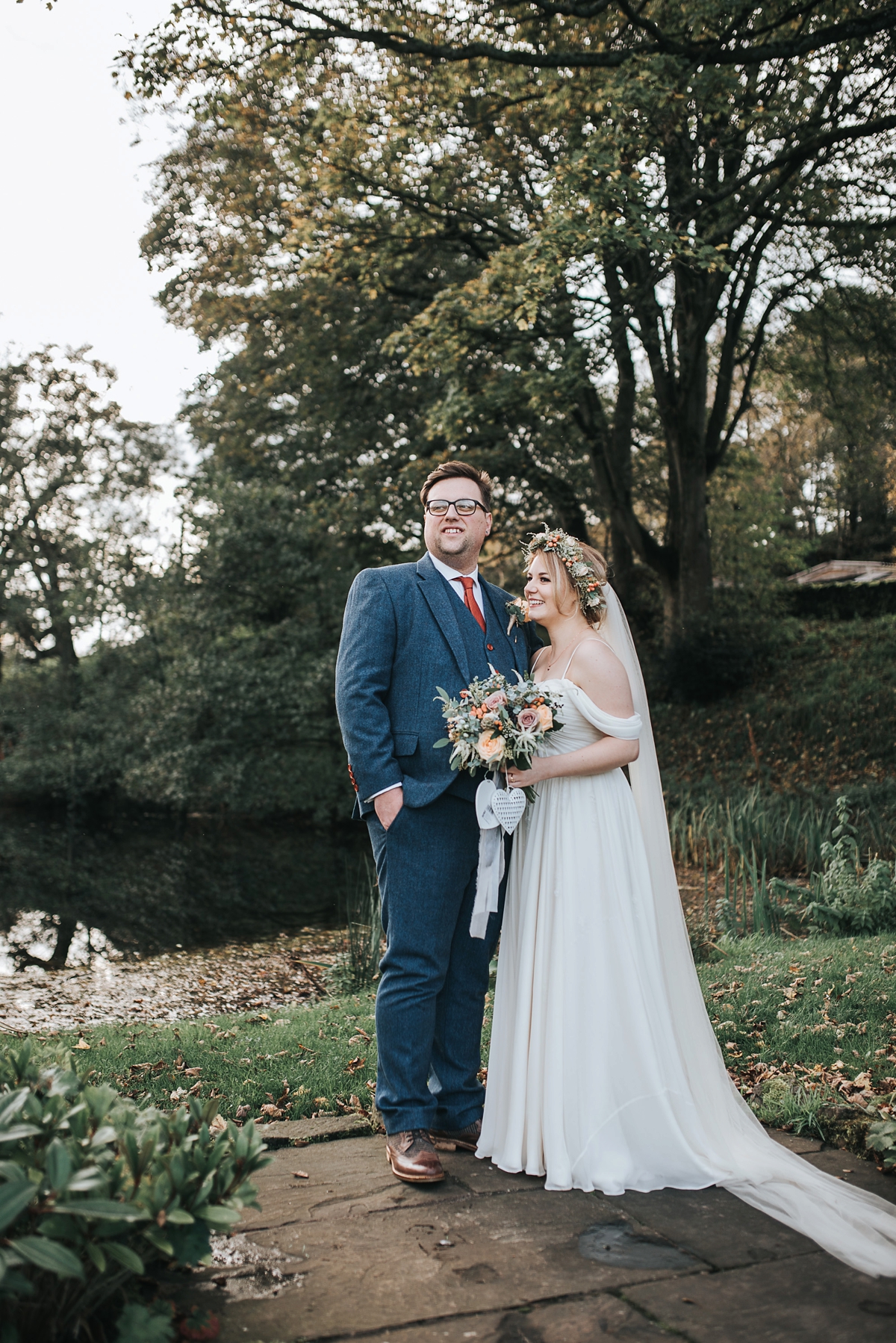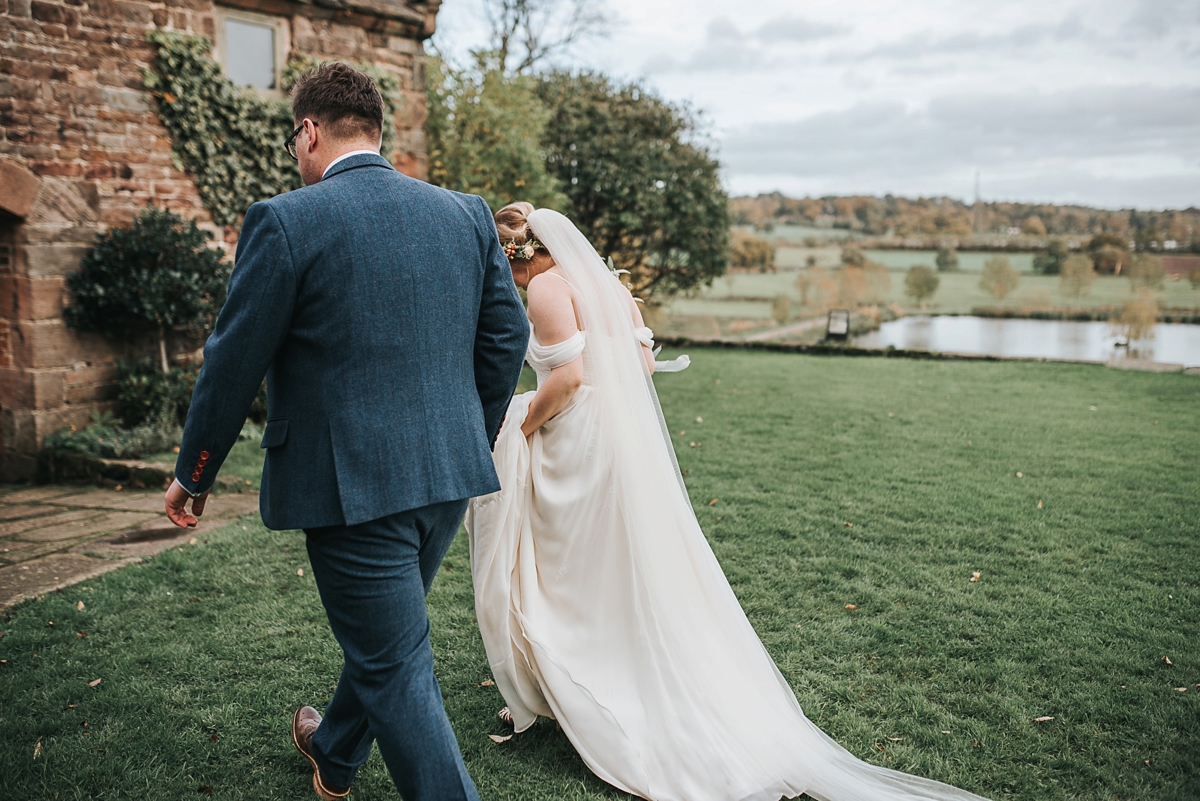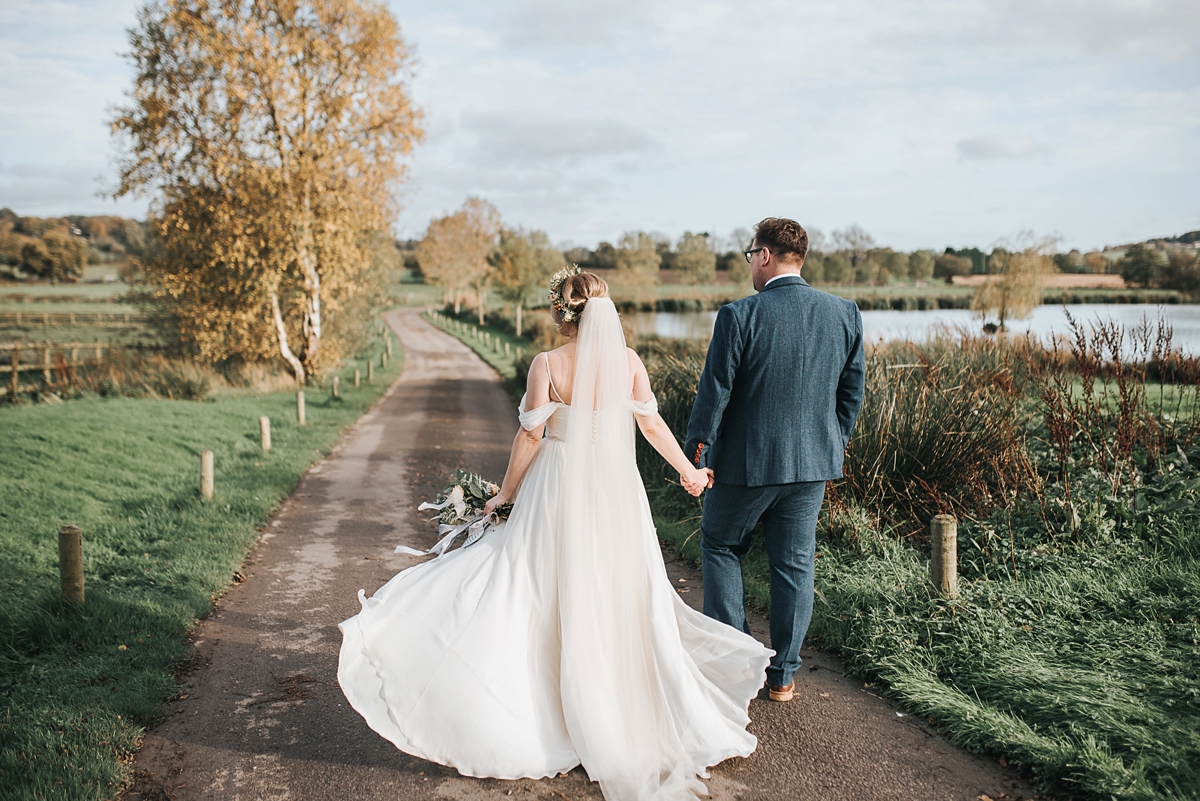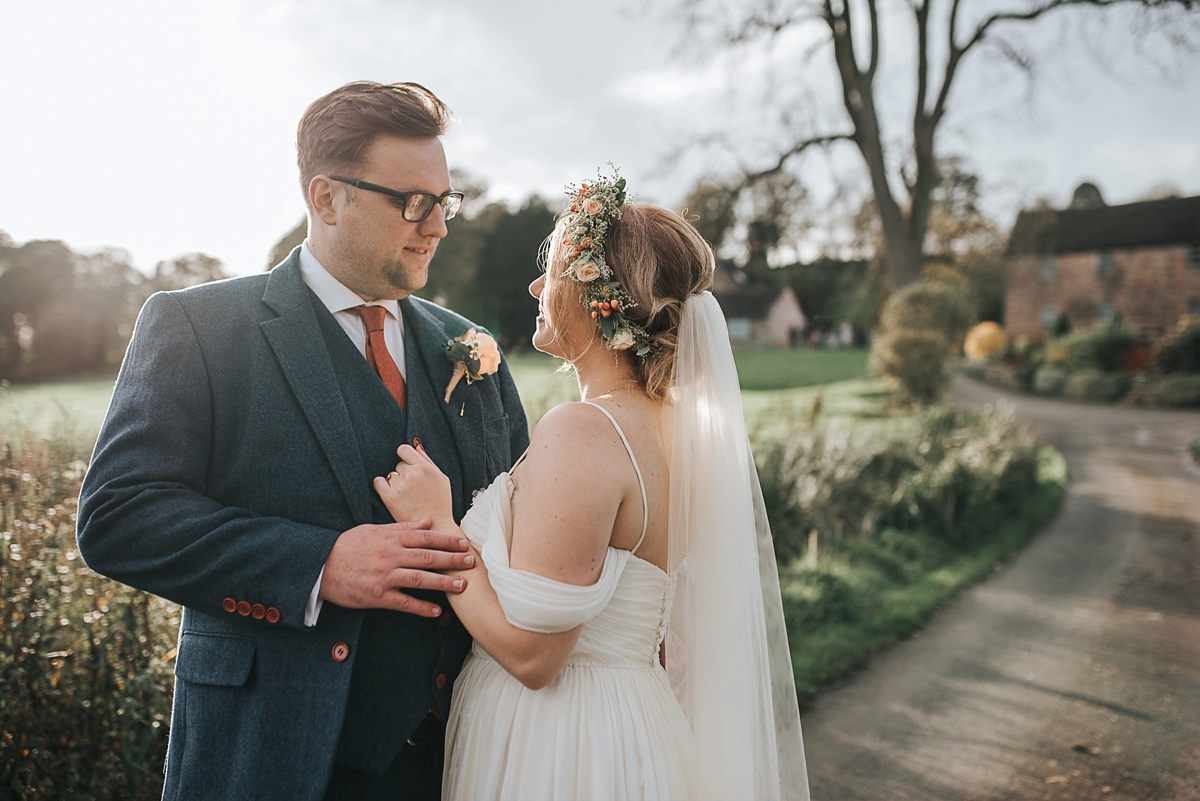 Following the ceremony guests were treated to a sit down meal provided by Jenkinsons, a catering business exclusive to The Ashes.
The venue was absolutely gorgeously decorated along the same autumnal woodland theme as the ceremony and included papier-mache pumpkins, homemade signs and adorned tables.
"We had a very loose starry midsummer nights dream theme but with an autumnal twist due to the time of year. I painted the papier-mache pumpkins gold and mixed them with real pumpkins. I wanted lots of candlelight so bought tons of tiny mercury glass and star tea lights and IKEA lanterns. I used some old apple crates for signs and the confetti station and made a few mini chalkboard signs to lay about. I also made a fingerprint tree guest book by downloading a free tree vector and font, and got some lovely autumnal finger ink stamps from Sticky Tiger."
"I made two hula hoops wrapped in floral tape, faux vines and flowers, then added some real ivy from my garden. I used one as the table plan with some kraft card and ribbon, and the other as a wreath to hang above our ceremony table. We had lots of moss on the tables, milk bottles filled with flowers, bell jars with succulents or ceramic bunnies in, sprinkled with rose buds. Rose, our florist, and Steph, our coordinator, did an amazing job of bringing all the elements together."
"We had a wooden paper moon booth made that I painted gold and constructed on the morning of the wedding half way though getting ready. We used this as a selfie booth for all of our friends to take their own pictures."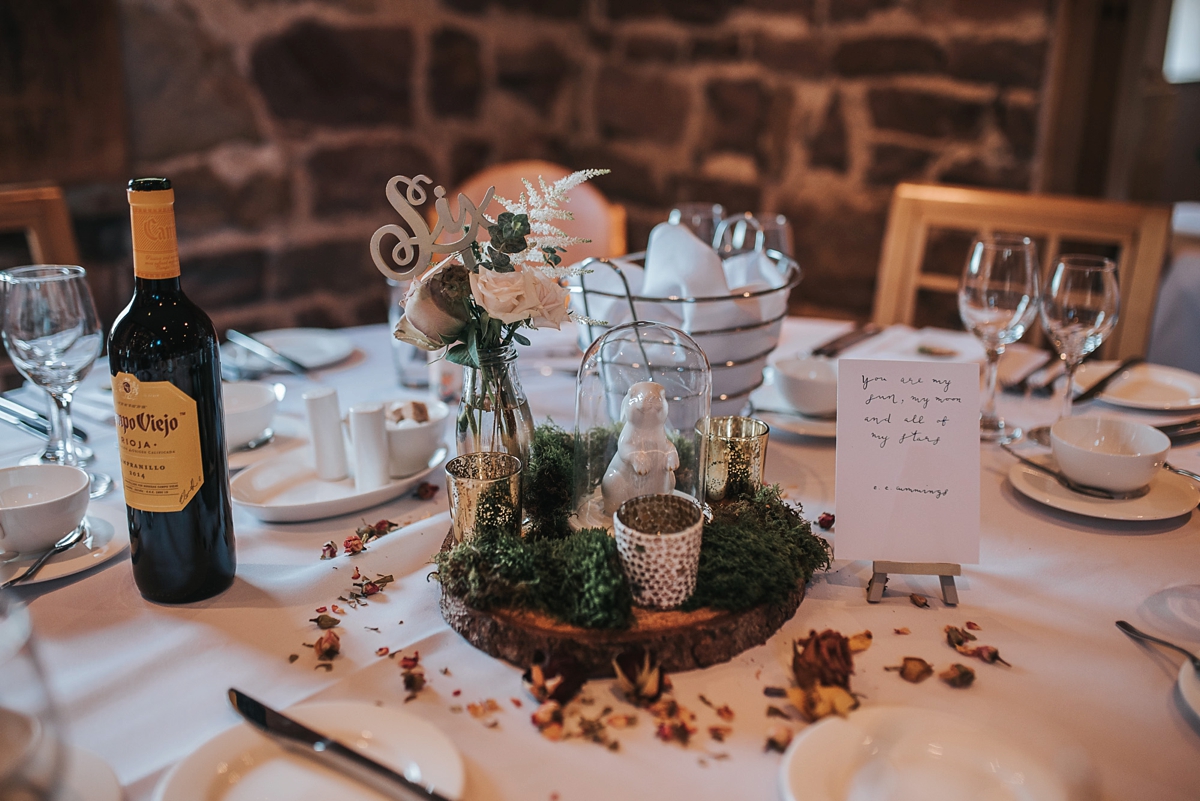 After the wedding breakfast, the wedding cake made by Olivia's mum and friend, was served as dessert.
"As we served it for dessert we went for a vanilla sponge with butter cream, raspberry jam and cream cheese frosting. My mum spent the day before trying to get the right consistency for the frosting, which was touch and go at one point as it was just sliding right off and the cakes were starting to crumble. Fifteen boxes of icing sugar later and the cakes were ready, tasted delicious and we even managed to bring quite a lot home with us."
"Our wedding favours were tiny log slice magnets with guests names on them, which doubled up as place settings. I made them myself by hand stamping everyone's names, glueing on moss and a tiny magnet on the back. I got all the supplies from eBay and Hobbycraft."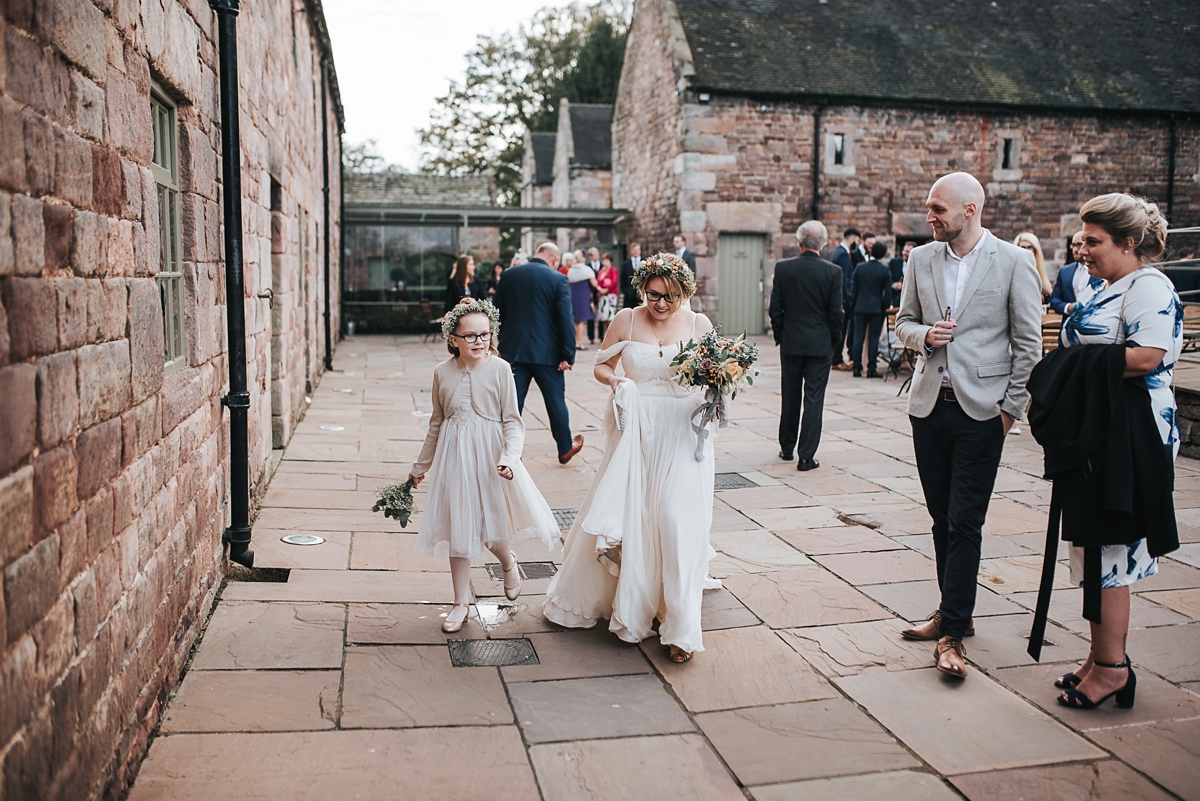 The evening entertainment was provided by DJ Michael Mullholland.
"He got it spot on with our music tastes and kept the dance floor occupied all night long. We had a perfect mixture of Indie, Northern Soul and Motown."
"Our first dance was to You To Me Are Everything by The Real Thing. We wanted everyone to join us on the dance floor and be a part of it. Legend has it that this is James's dads favourite karaoke belter!"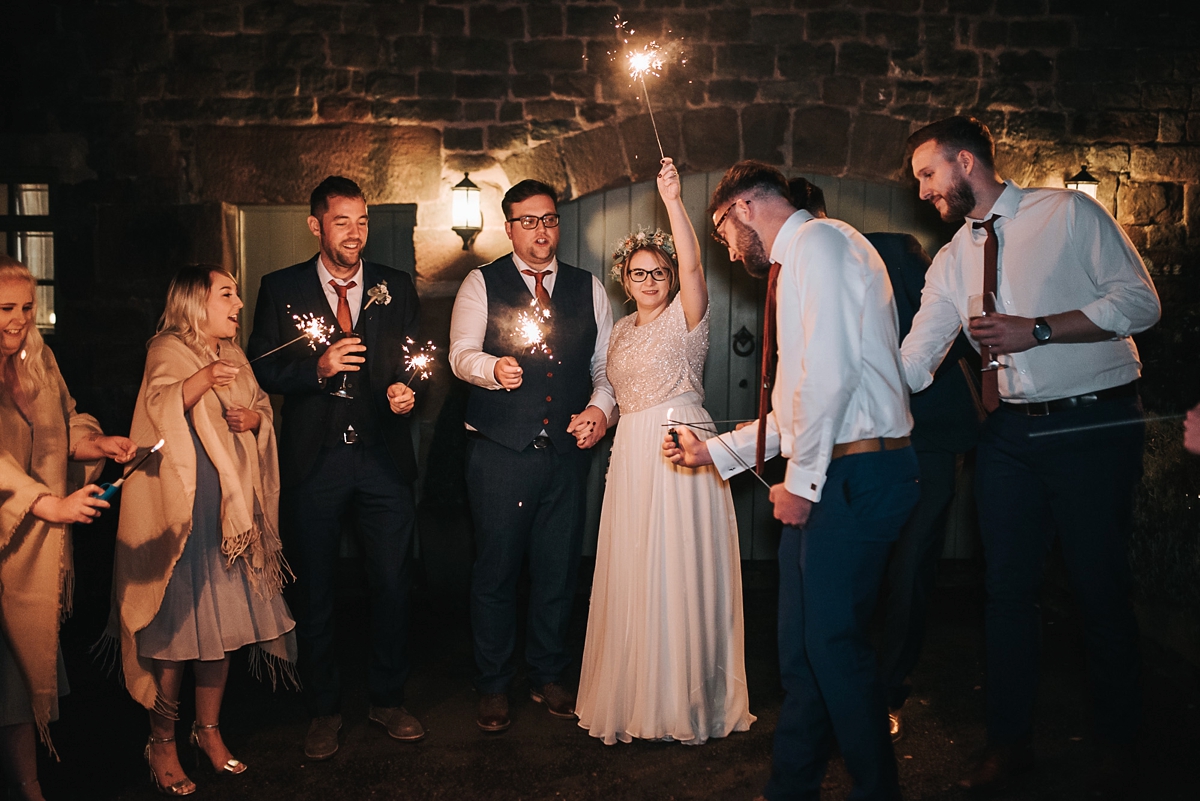 Feeling very blessed to have all their family and friends around them for the day, Olivia and James describe this as being one of their favourite parts of the whole experience.
"Apart from the actual getting married bit, our favourite part was seeing everyone together in one place. Lots of people had travelled from all over the country to be with us and it really was the most amazing day, We felt so blessed seeing everyone's love, laughter and excitement for us. I also loved that we stayed together the night before and had toast and hot chocolate together in the morning before I left to get ready at the venue. It was lovely just being alone in that time and anticipating what the day would be like"
"I wish we had spent more time together alone during the afternoon. We were so busy talking to people in a whirlwind that we hardly got to see each other all day."
Words Of Wedded Wisdom
"My advice to other brides would be to make sure you do things your own way. Anyone and everyone will have an opinion on how your wedding should be but just smile and take it all in. Pinterest can be your friend and your worst enemy! I had so many different boards and ideas that I could have easily arranged about ten completely different weddings. Regularly organise your board and delete anything you've changed your mind about, otherwise you can go round in circles forever. Once you've decided on something, stop looking! I also found it useful to have a mood board of my must haves stuck to my fridge to keep my goal in mind."
"Eat a good breakfast and keep drinking plenty of water throughout the day to avoid the 10pm wine headaches, and most importantly, try to steal a few minutes alone with your new husband for a breather and a hug! Everyone wants to talk to you and its so hard to stop for a moment and take it all in."
A great big thank you to the bride and groom for sharing their gorgeous day with us, and to Pear and Bear Photography for capturing it all on camera – what a wonderful day it was!
Until next time…
Much love,
Holly x