Happy Sunday gorgeous ones! We finally made it to the weekend (give yourself a pat on the back and pour yourself a deserved wine), and I'm delighted to be sharing the most glamorous of wintery weddings to inspire you.
This afternoon's bride and groom Sarah and Matt were married on 3rd November 2017 at The West Mill in Derbyshire – a venue we've seen a number of times in our blog pages of late. The West Mill is a truly magnificent Grade 1 listed wedding venue nestled on the banks of the River Derwent, Derbyshire. Dating back to the early 1800s, it has since been lovingly restored into the gorgeous industrial style venue of today, maintaining its early 1800s original architecture and features. To stay in keeping with their surroundings, Sarah and Matt chose a rustic Autumnal theme, mixing textures with deep green foliage, and pine cones with natural homemade signs.
"I loved planning our wedding decor and getting creative – I really miss it! I crafted as much as I could myself or with the help of family. We wanted an autumn/winter wedding with lots of textures. I could not get enough of jars – they are cheap and effective. We had both of our families collecting jars for months! We added candles to each jar and they were placed all over the venue. I added lace, pine cones and homemade signs. We also hung handmade wooden pallets that held our parents and grandparents wedding photos and dates and our table centre-pieces were all bought from Ikea, featuring a mixture of flowers from my bouquet on each table."
Images by Rosie Kelly
In stark contrast to Sarah's all-white gown, but in perfect keeping with the wintry feel of the day, Sarah's bridesmaids wore red wine coloured pleated dresses from ASOS with their own shoes and fur stoles from Roman Originals.
"I chose the girls wine coloured dresses to coincide with the red running through my granddads tartan – all the girls looked incredibly stunning! My little bridesmaid dresses were from Next and faux fur jackets from Marks and Spencer. I was browsing online and just fell in love with the embroidery on the dresses – they all looked beautiful. My mother in law spotted our page boys gorgeous little suit on Monsoons website. He looked so handsome and wore a tartan Dickie bow to finish off the look."
The bride wore a showstopper of a dress by Maggie Sottero via Serendipity Brides, paired with a long veil and sparkly heeled shoes.
"I found another dress on Serendipity Brides website which made me want to book an appointment. I took my mum, mother in law-to-be and two bridesmaids. On arrival I noticed my dress hanging by the counter. Me and my cousin noticed it straight away and asked to try it on along with the dress I'd seen on the website. I also took a bunch of other dresses into the changing rooms I liked too."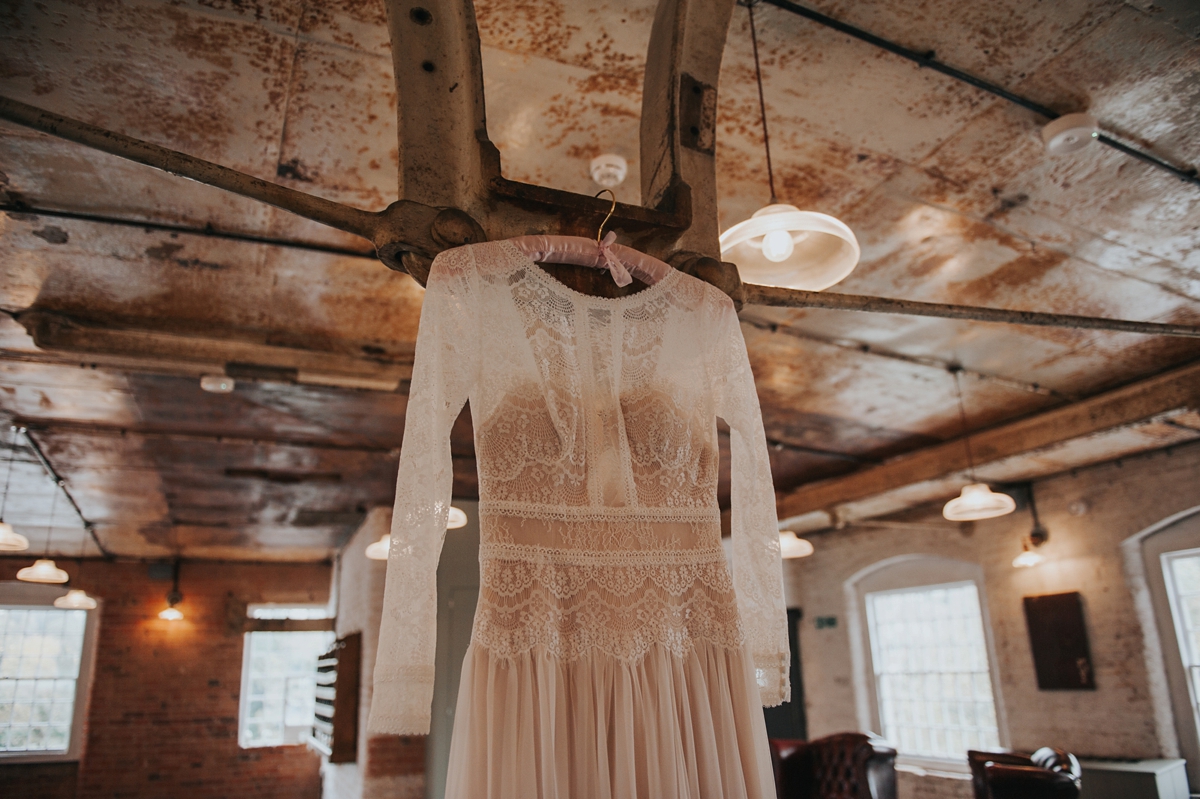 "The first dress I tried on was the one from the website. I liked it but I didn't love it. The second dress I tried on, I came out of the changing rooms in tears and everyone else burst into tears too. At that point I knew it was the one. I loved everything about my dress; the delicate lace, the train, everything! It was just perfect."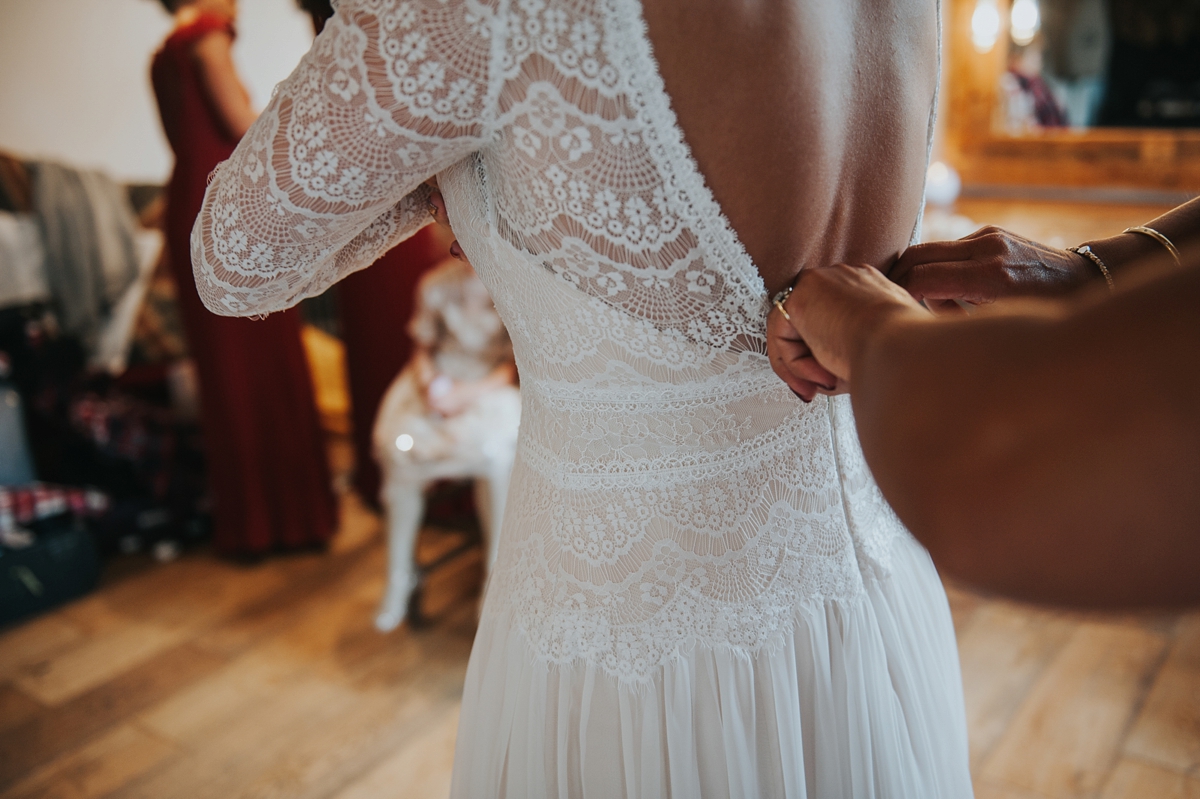 Sarah accessorised with Flower Bomb by Viktor and Rolf perfume, and earrings from a grandparent.
"My earrings were my 'something new' from my Nannie V! She was very ill in the run up to the wedding and we weren't too sure if she would be able to be with us on the day, but she made it, and she stayed until the end!"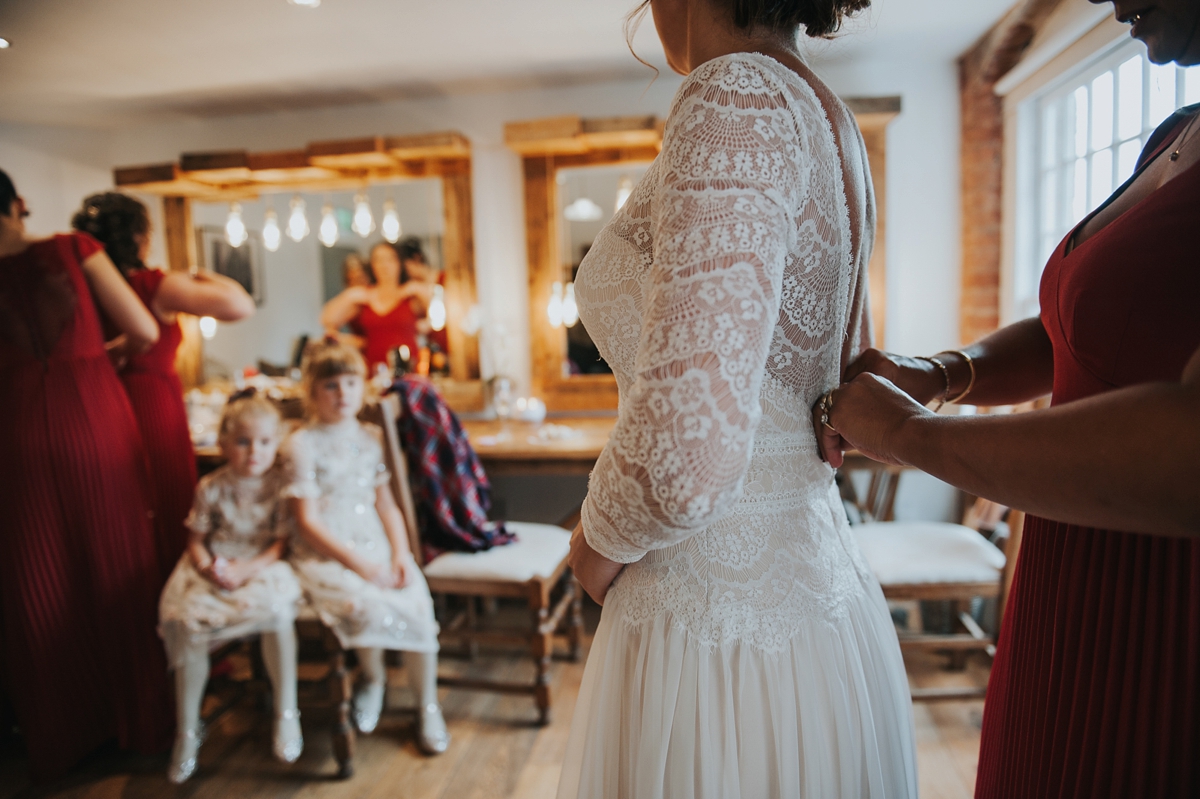 "My shoes were from On Trend Footwear at Mitchells Shopping. I work in a shoe shop and I wasn't sure what shoe I wanted. I was on the lookout from the minute I bought my dress. I saw my sparkly heeled shoes and fell in love. I knew they were perfect for my dress; they were so comfy and sparkly!"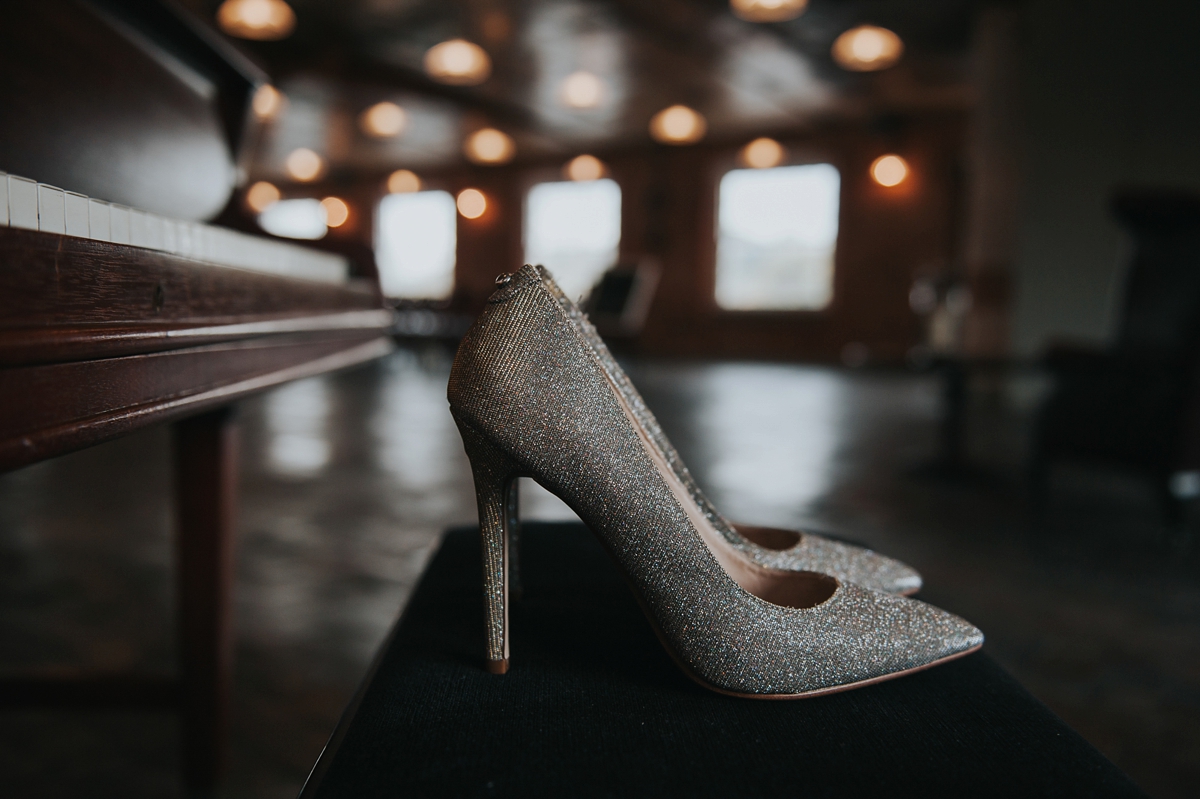 And to help get the bride and her maids camera ready for the day were hairdressers Liz and Angela and make up artist Kathryn Rose.
"My hairdressers arrived at 7:30am ready to start to make us all look beautiful. They both worked incredibly fast and hard to get us all finished and ready to leave by 11:15am. I had a hair trial beforehand and showed Liz several hair pictures of styles I loved all very similar. Liz brought it all together on the day and I loved it. None of my girls had trials and they all brought their own hair accessories but Liz and Angela made each of them look amazing!"
"Kathryn Rose made my Pinterest dream a reality with my make up. After trying on my dress, I had an idea of the style of make up I wanted. On my make up trial I explained to Kath that I don't wear a lot of make up and wanted to look like me still on the day. She was fantastic and I loved everything about my make up and all my girls, my mum and mother in law all looked incredible too, right up 'till midnight!"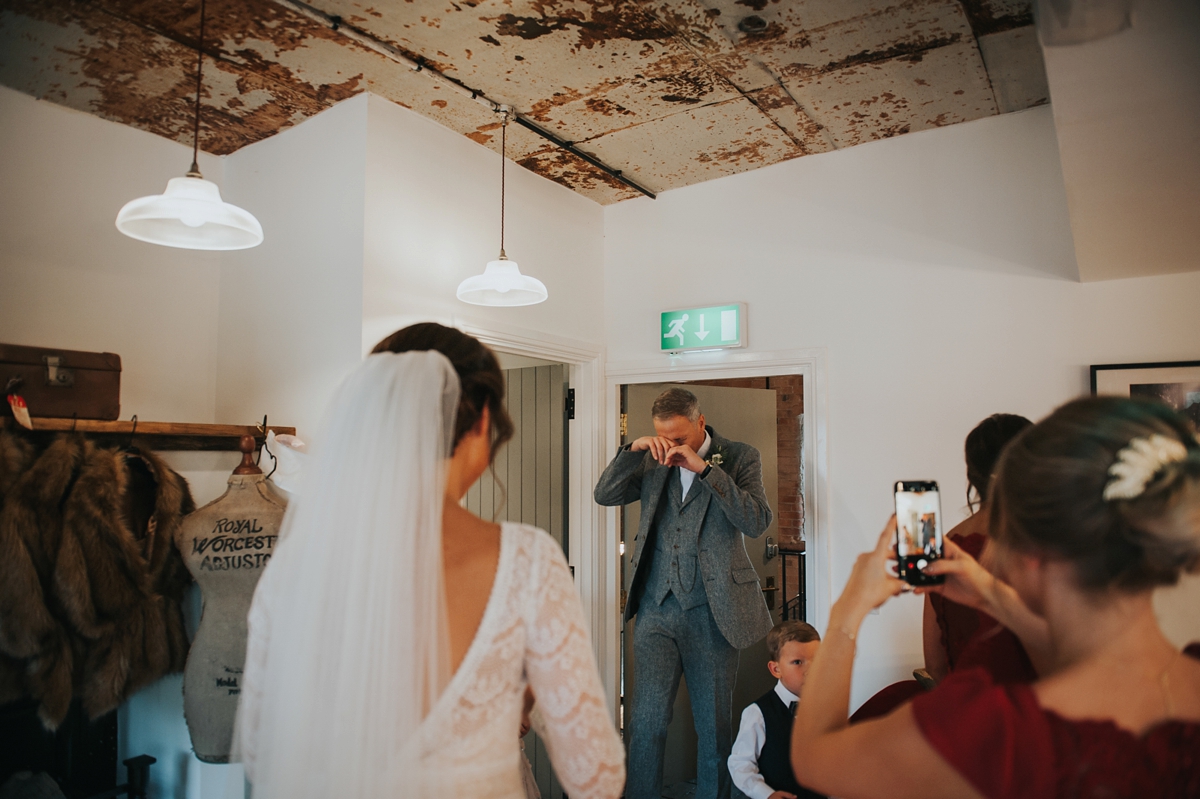 The groom matched his tartan Dickie bow to a 3-piece grey checked suit from Duncan James, paired with Grenson Archie brogues and funky spotted socks from Urban Excess, with his groomsmen complimenting the look in slightly different but similar versions of his suit also from Duncan James.
The couple, by the way, are childhood sweethearts and met at the tender age of three years old at nursery (a story their parents love to tell!). They also went to the same school together until Junior school, when they went their separate ways. After reuniting in 2009 through Facebook, they were engaged in September 2015.
"As a surprise for my birthday, Matt and two friends took me to Mexico! I had no idea I was going! On my birthday Matt proposed in my birthday card. I screamed and cried for about 10 minutes before Matt asked me if that was a yes, and I replied 'YES, of course it was!'"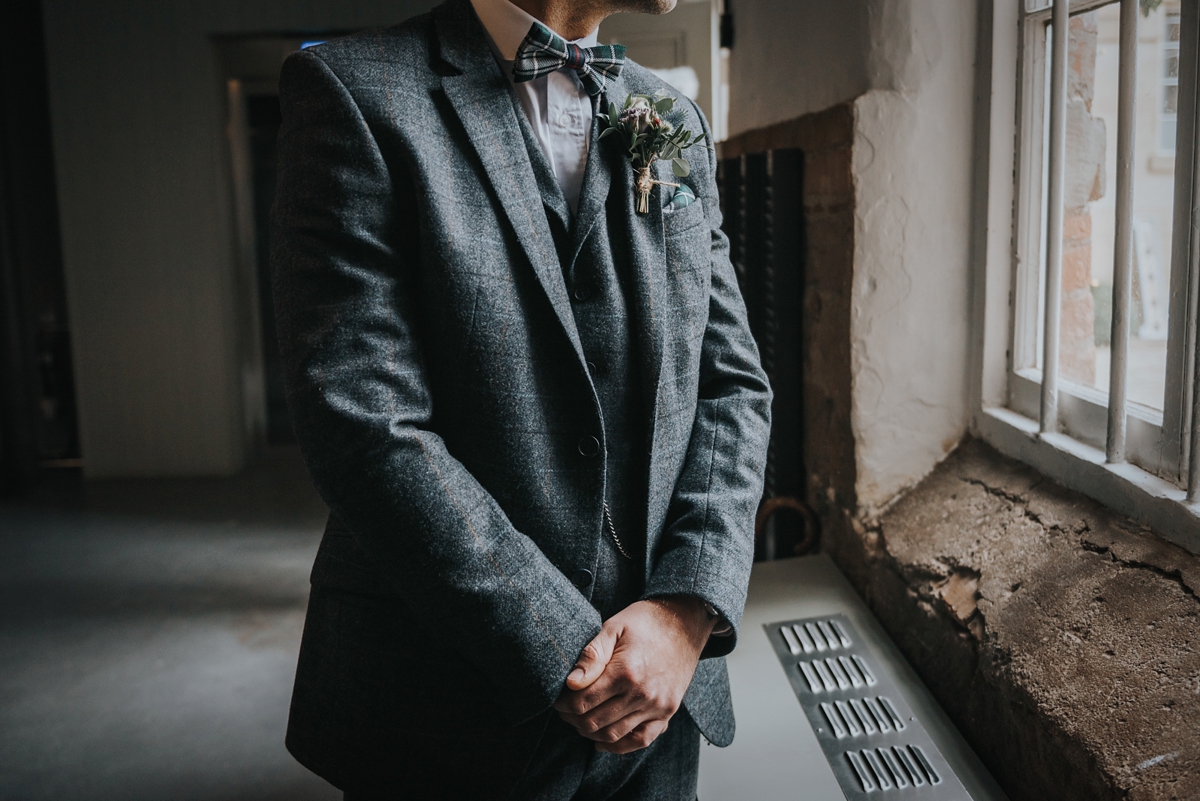 "My mum came across the West Mill when we were looking for a venue. We saw it online and made an appointment straight away! It had everything we wanted and more. They also allocated me a wedding planner, Emily, who was fantastic."
"On our planning meeting two weeks before the wedding day, Emily talked me through where and how I wanted everything I had planned. She made it look exactly as we had imagined it to look and made our day run like clockwork."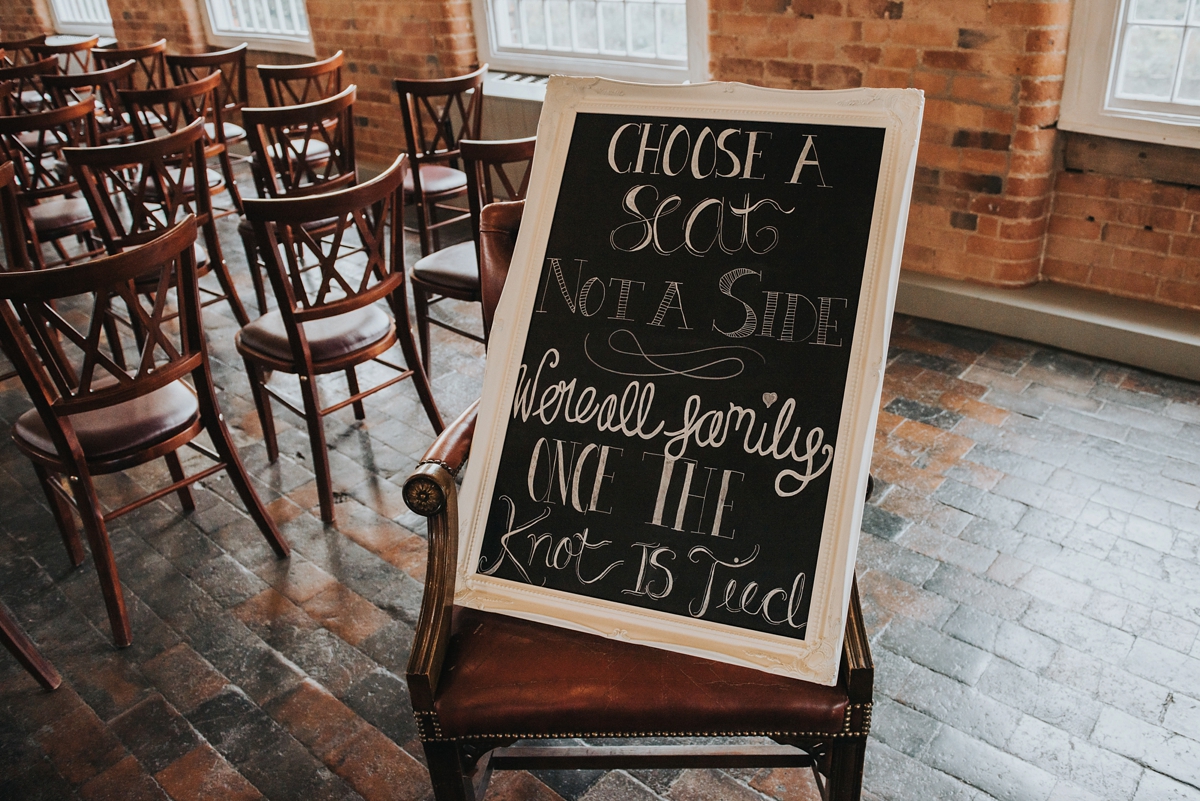 Having surprised Matt with a blue VW camper from The Little Blue Bay to take him and his groomsmen from the hotel to the venue on the morning of the wedding, Sarah made her own way there and was walked down the aisle by her dad to a song called Yours by Ella Henderson.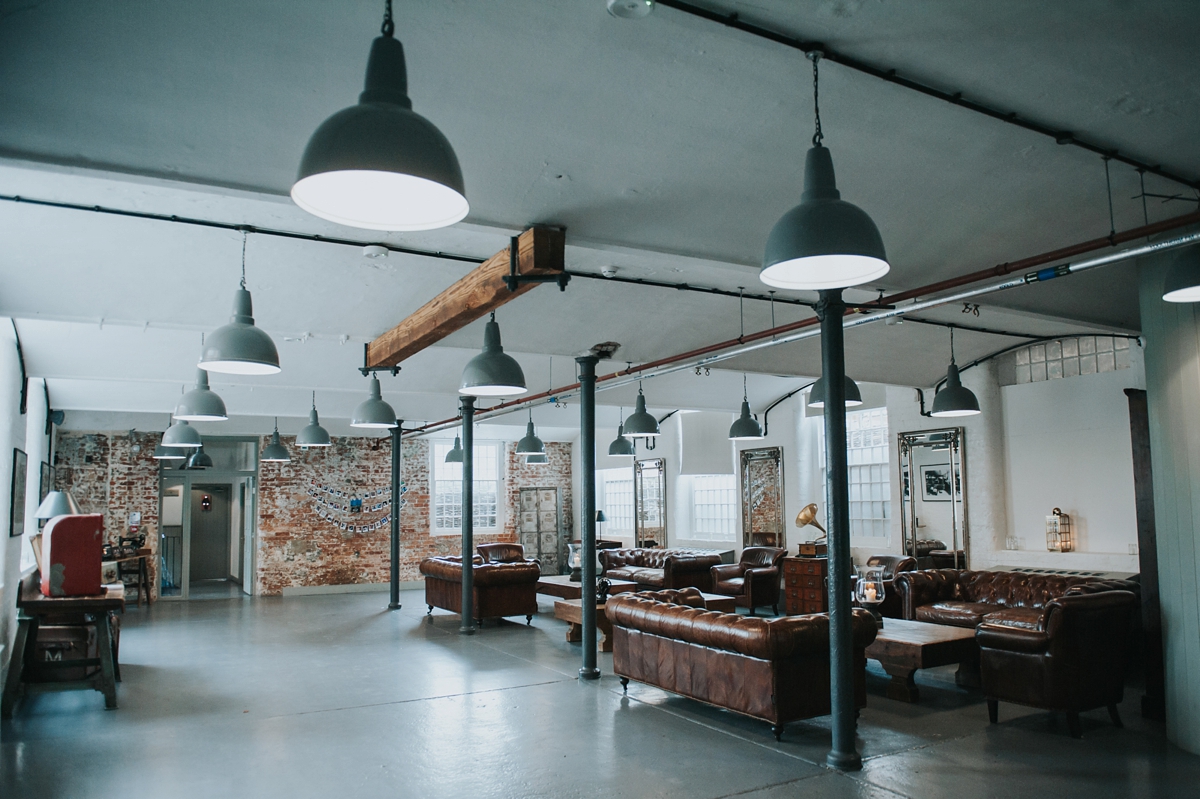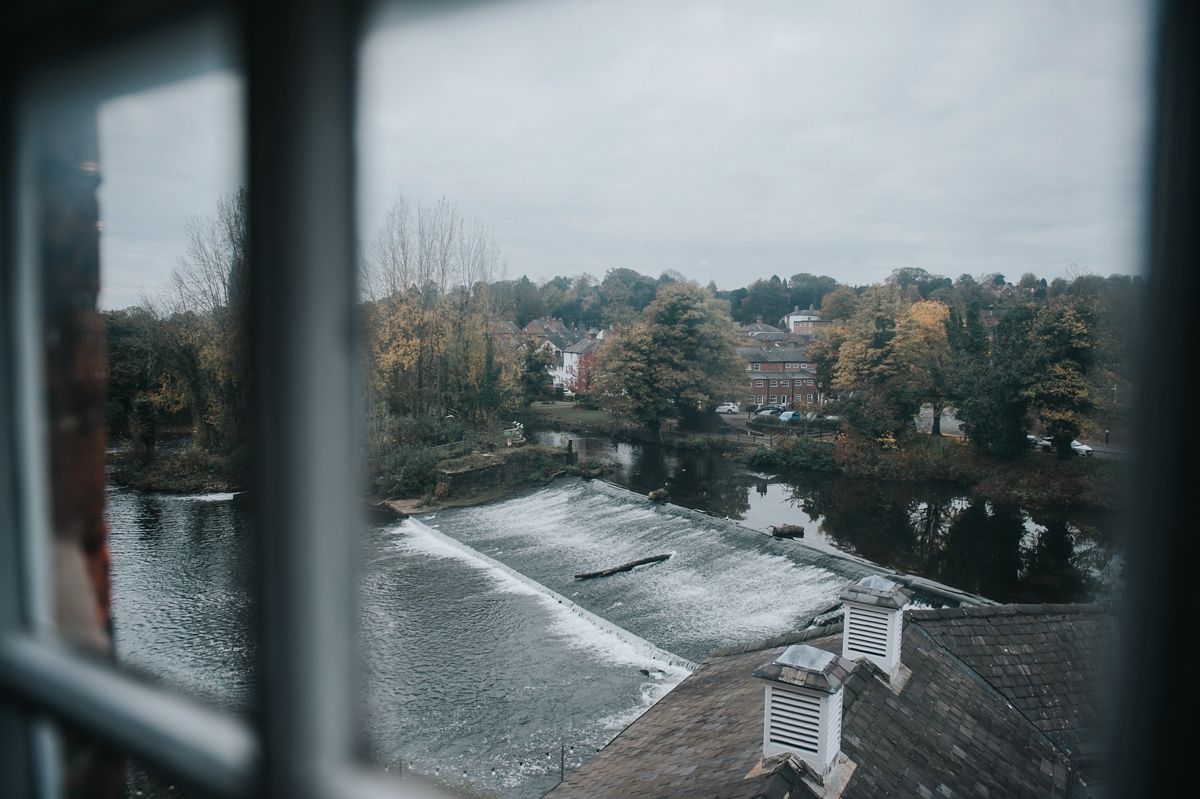 The couple exchanged their vows and rings, made by Nigel Llynall.
"Matt had taken me to Clearwater Diamonds in the Birmingham Jewellery Quarter to choose my engagement ring myself and we both loved it as soon as we saw it. Then one of our close friends made our wedding bands for us at Nigel Llynall, her family's business. I knew exactly what I wanted; something small to fit with my engagement ring. Matt wanted something a little different and went with a matte finish with bevelled edge."
"My favourite memory of the whole day has to be the minute I turned the corner and saw Matt standing at the end of the aisle and seeing how nervous he was. He looked so handsome! I grabbed hold of his hand and squeezed it so tight, thinking these are my last moments as Sarah Holland and how I couldn't wait to be Sarah Needham and finally have a glass of bubbles!"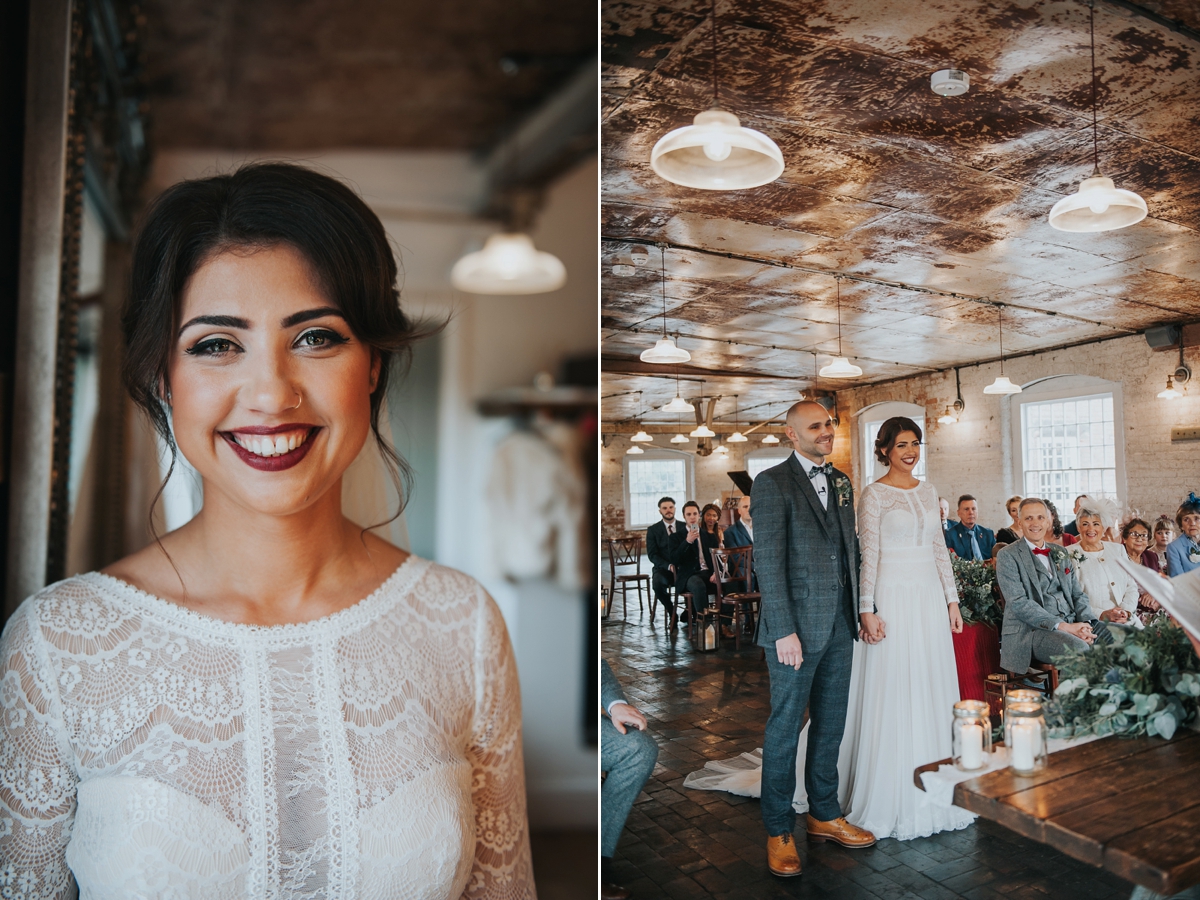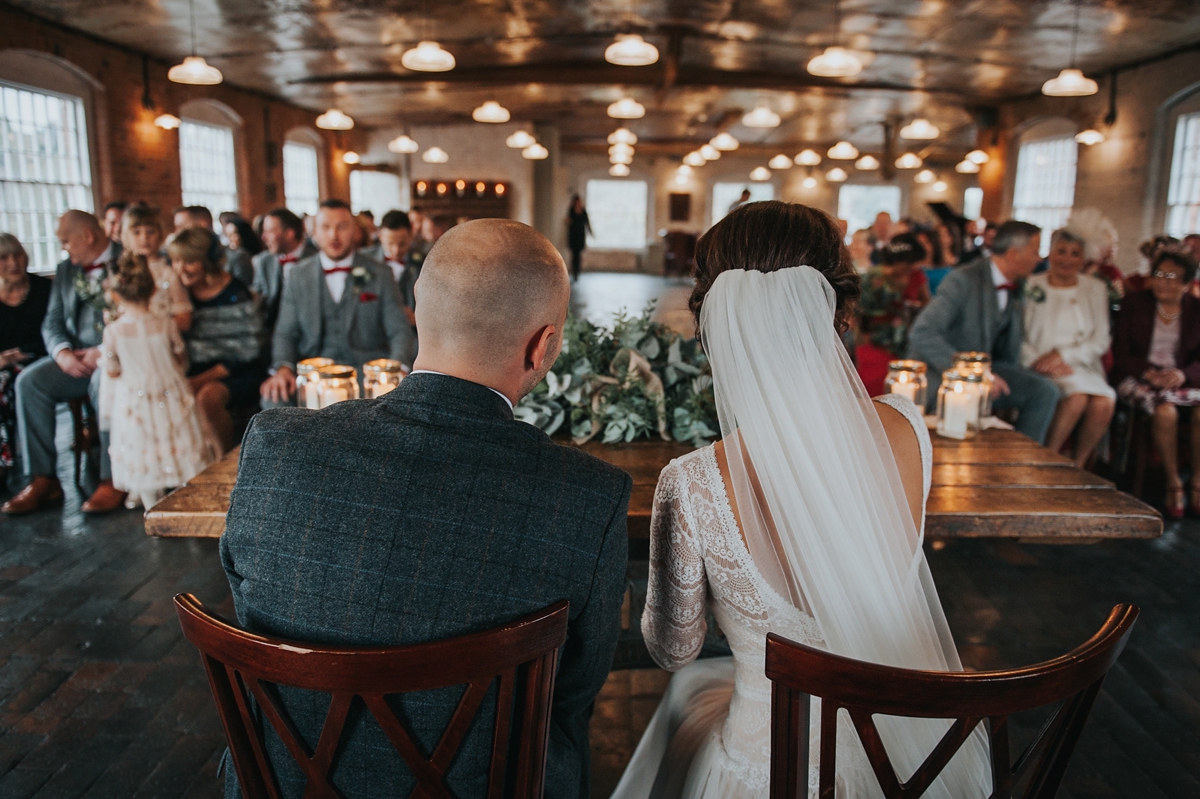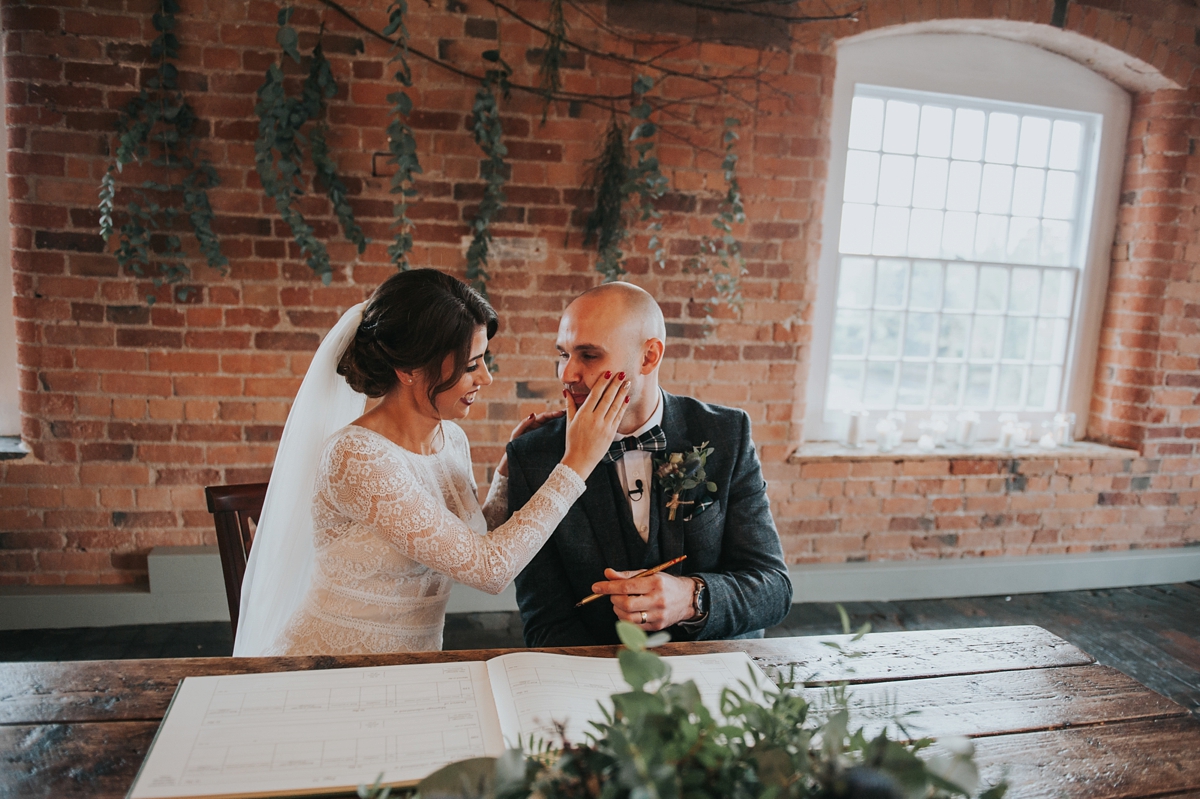 "I was extremely close to my granddad and unfortunately, I lost him when I was 12. He was Scottish so I wanted to feel like he was part of my day so I based the colours of our day around his Mckenzie Tartan. I had some tartan ribbon tied around mine and my maid of honours bouquet and all my flowers had thistles. Matt and my godson wore a Mckenzie Tartan Dickie bow from Scotland Shop, and pocket square each, and all the boys wore thistle button holes."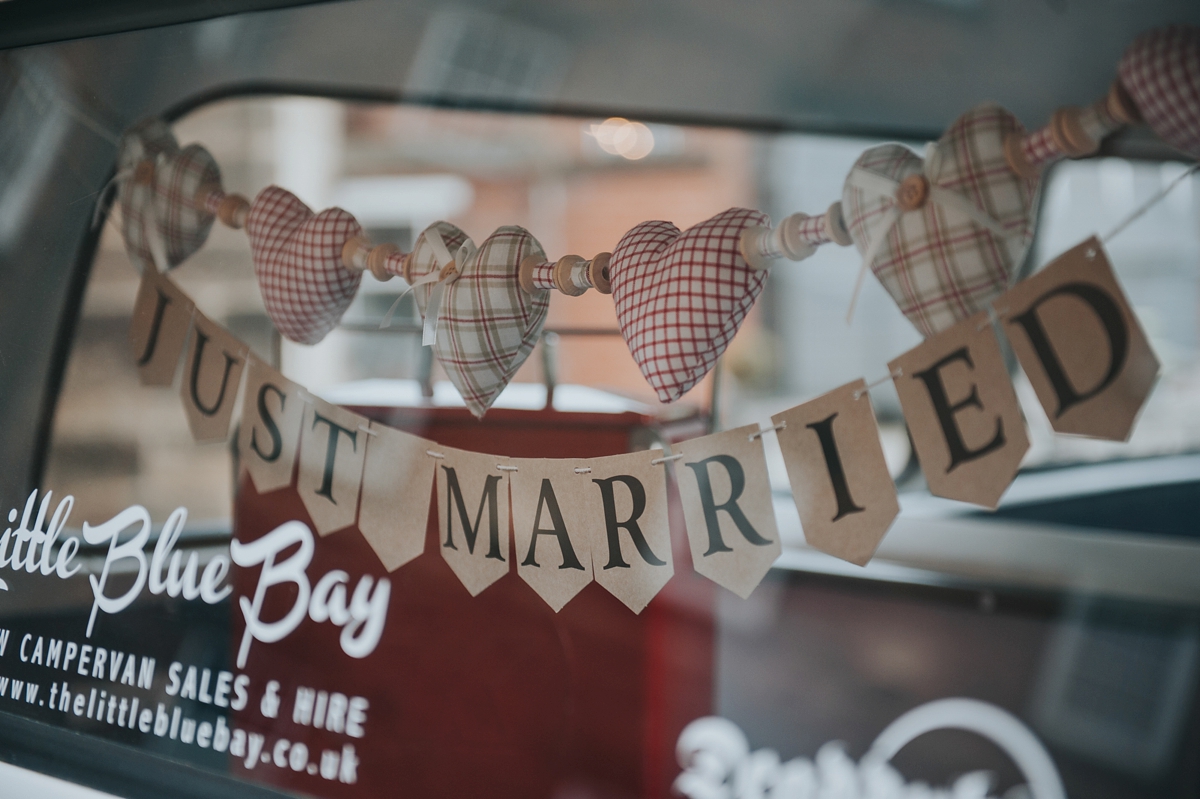 One of Sarah's biggest worries for the day was posing for the wedding photos but photographer Rosie Kelly put the couple immediately at ease.
"Rosie and Kye made us both feel at ease and as though the camera wasn't there! There was no need to be worried as Rosie and Kye were amazing and relaxed. We all love our pictures. We also had Harry Fisher video the day and he was brilliant! He was so friendly and made it really easy for us. He did a little interview at the end of our day with just Matt and I. It was so nice to hear each others thoughts on the day so far. We both can't wait to watch it back and relive our wonderful day."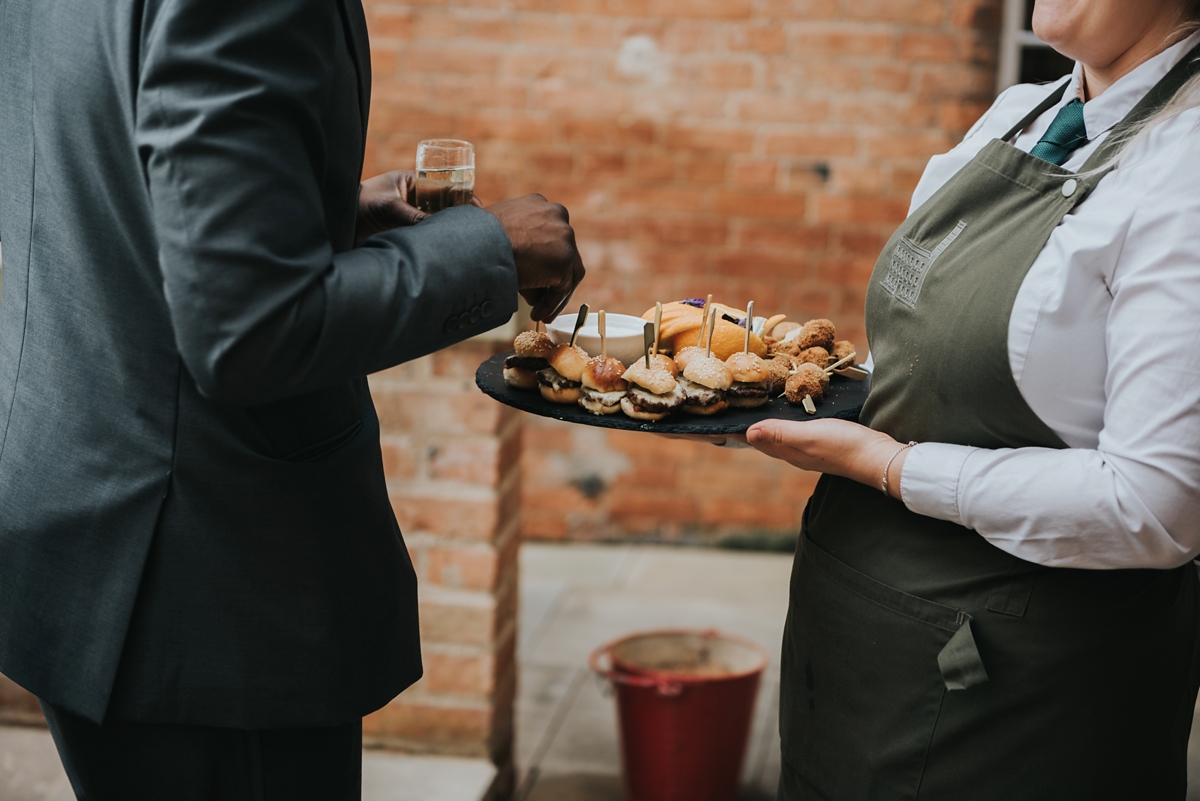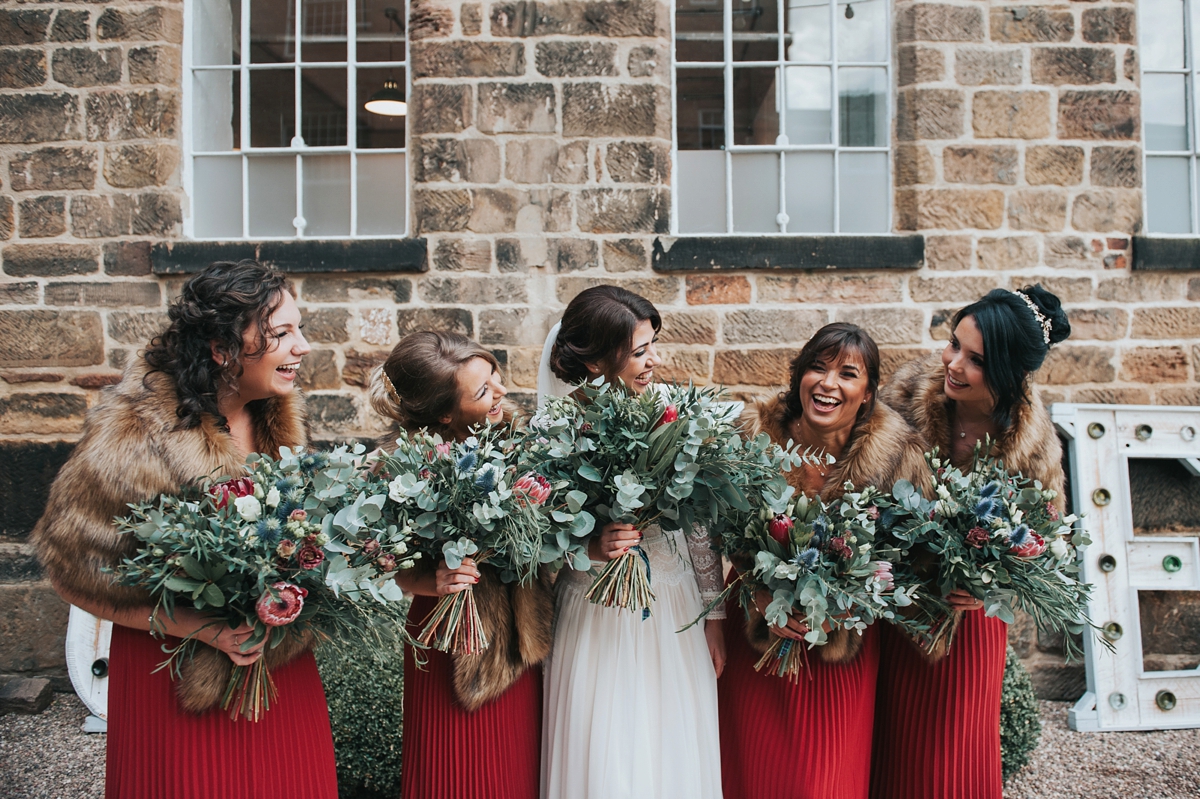 Each member of the bride squad carried a stunningly beautiful bouquet of wintry greens, thistles and autumnal flowers, all created by florist Peggy Marie.
"We met with Peggy at a lovely consultation with tea and biscuits in her stunning florist. She was friendly and professional and guided me through all of my ideas with examples and visual aids. I imagined my flowers and the venue to look wild and rustic with a touch of thistle to relate back to my tartan theme. Peggy delivered all of this and more! Our flowers were out of this world crazy good!"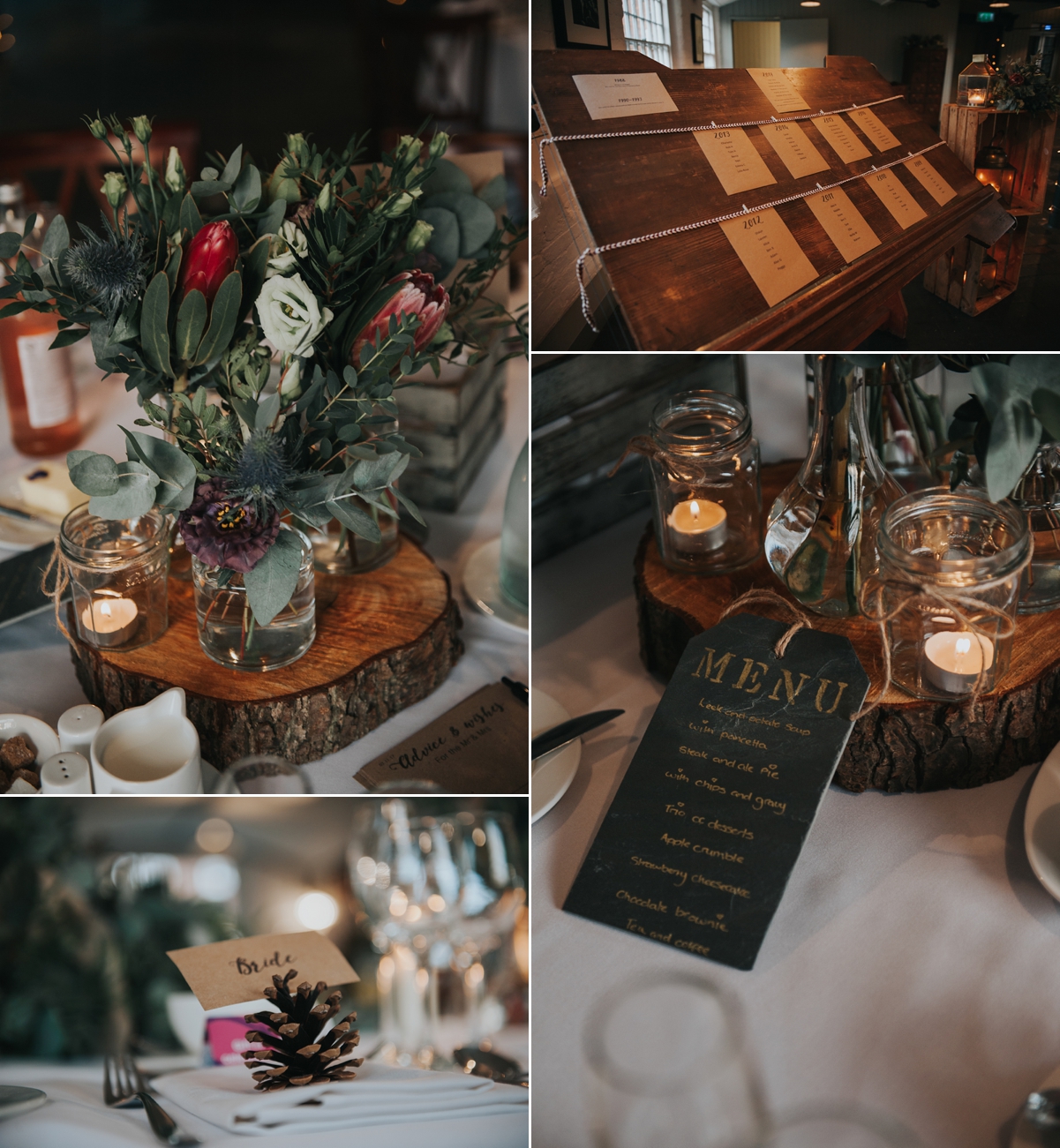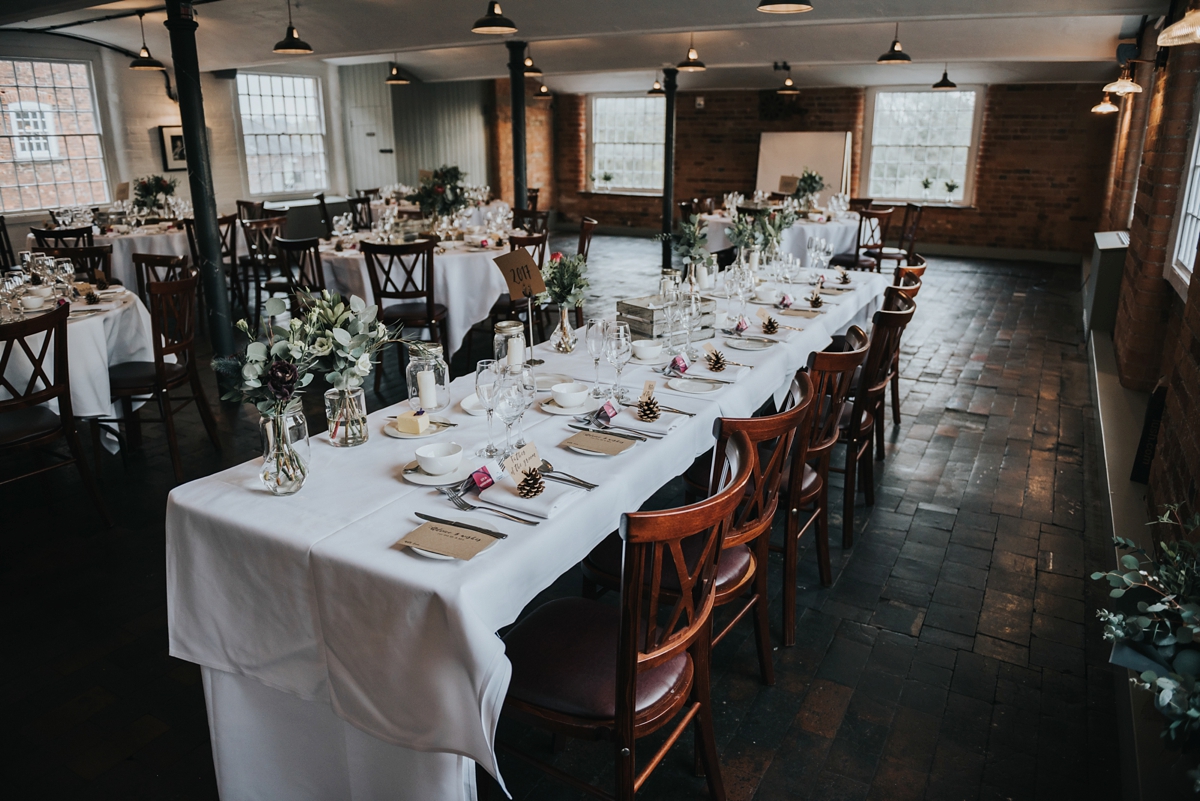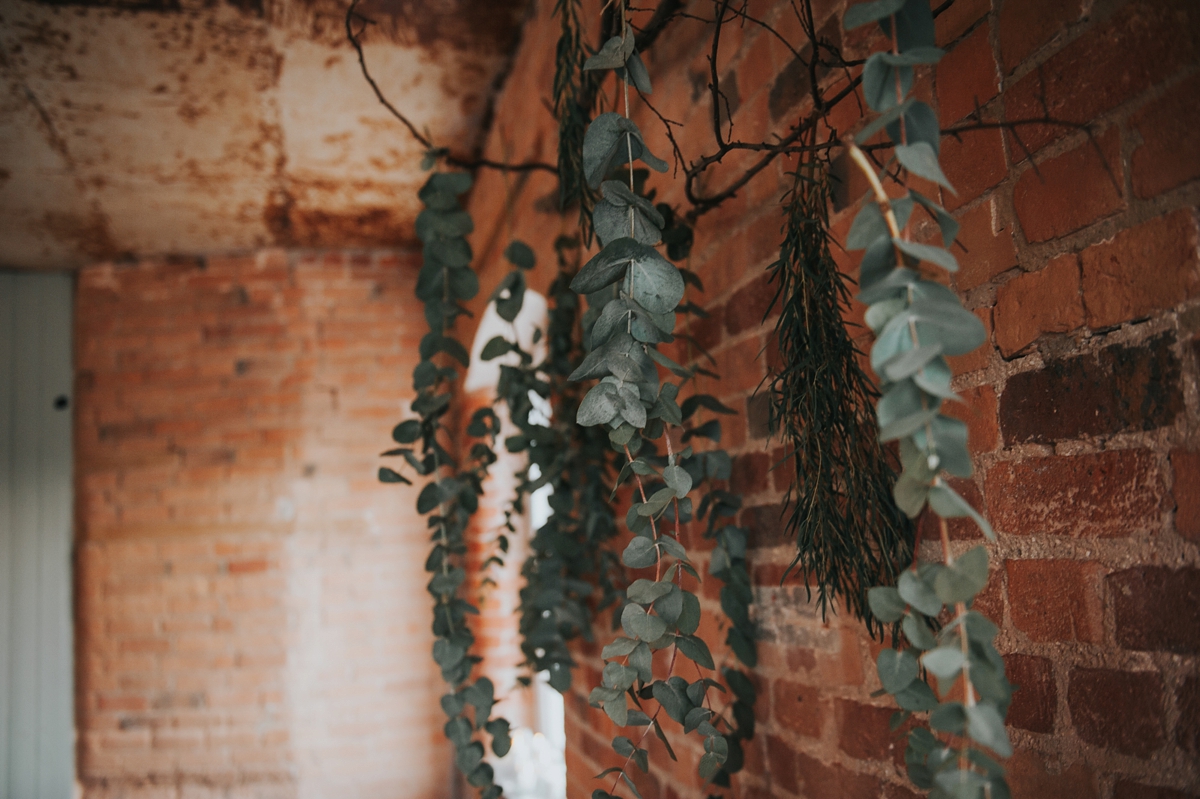 Instead of providing favours, Sarah and Matt decided to contribute to the Alzheimer's Society as it's a charity close to their hearts, and each guest received a card to tell them a donation had been made in their name.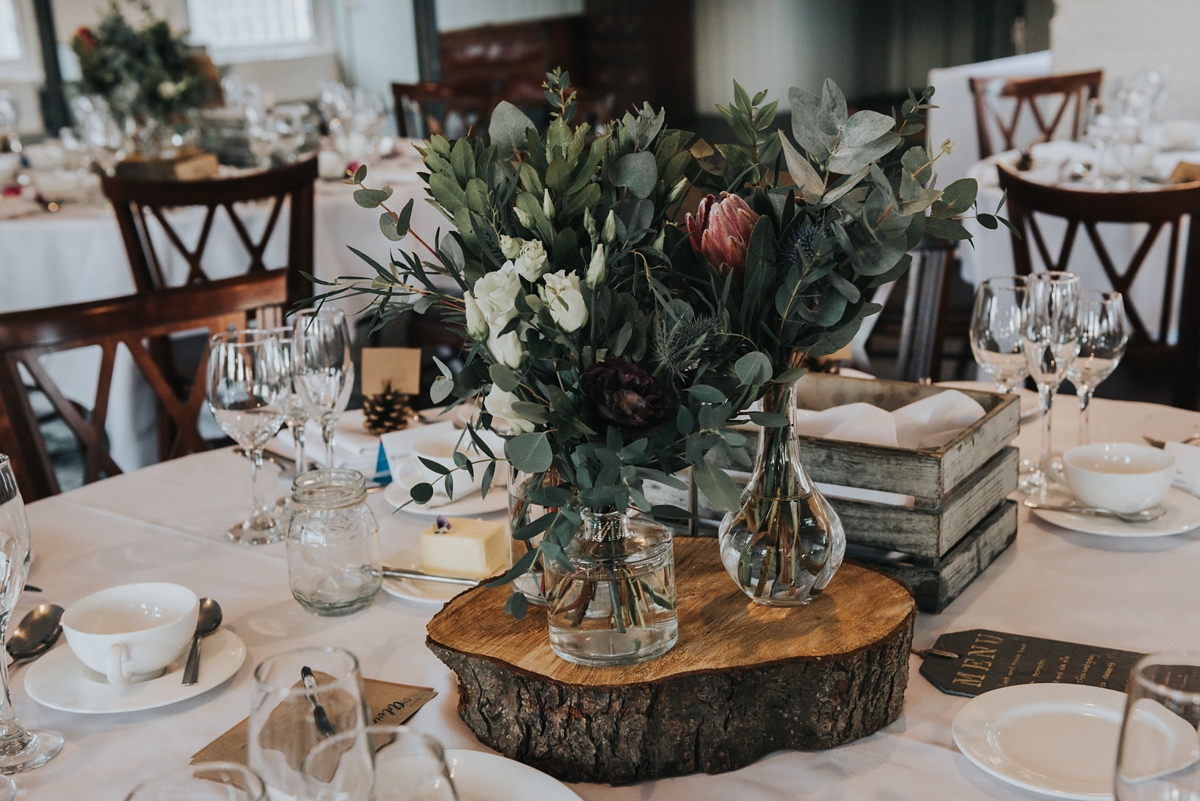 Sarah made all the wedding stationery herself, including the invites, menus, table plan and place names.
"My menus were slate luggage tags from Mitchells Shopping, all handwritten with gold chalk pens. The table plans were tough! Matt and I had been together for many years so I came up with the idea of every table being a different year of our relationship/ I began with a small bit of information on how we met, and turned it into more of a story of our relationship, from beginning to now."
"The place names were fun and easy to make. We used pine cones with recycled card. We then printed each guests name and glued them to the pine cones."

After the ceremony, guests were treated to a meal by Jenkinsons Caterers in the gorgeous Breakfast Room at The West Mill, followed by a wedding cake made by Sugar Blossom Cakes.
"Rachel at Sugar Blossom was amazing! We had a taster meeting where we tried many different cakes. We went with an idea of what style cake we fancied. Rachel delivered and created a delicious top-tier of raspberry sponge and bottom tier of salted caramel – yummy! There were no leftovers! Delicious from top to bottom."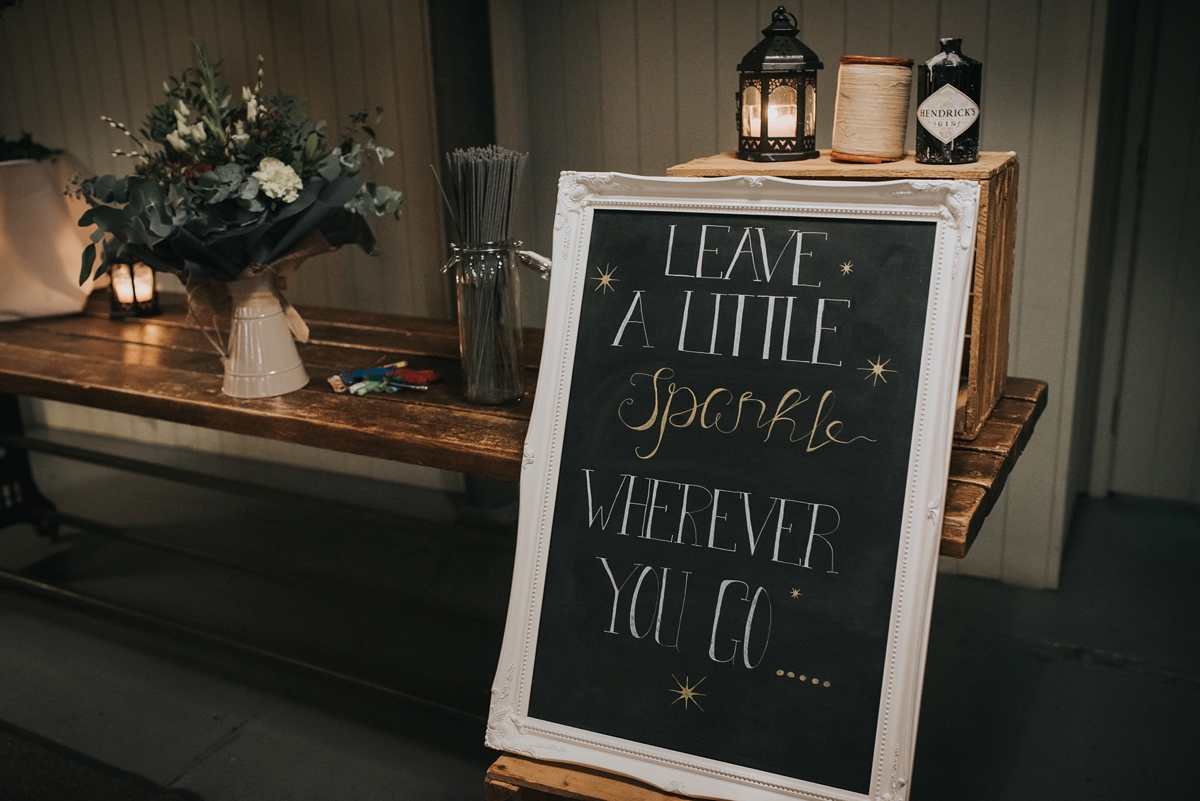 The couple kicked off their evening entertainment with a first dance to Live Forever by Oasis.
"Both Matt and I love Oasis! It was only fitting we had our first dance to it. I sang my heart out the whole time! Later on in the evening I had requested a song called My Sarah by Thin Lizzy to have a father daughter dance to. I didn't know by my dad actually quoted the song lyrics to me in his speech too! The song is special to us both and it was very emotional."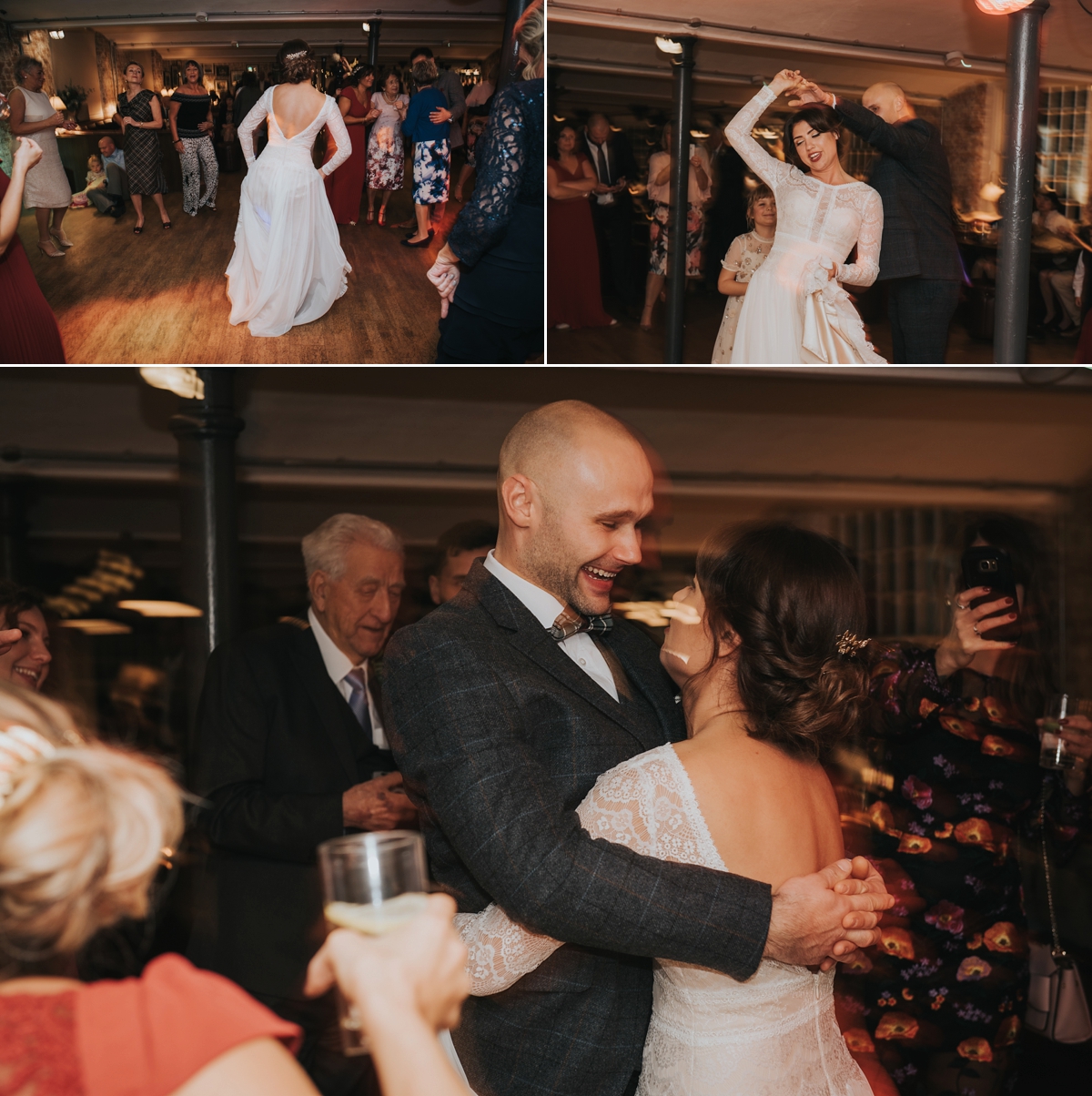 "I would not have changed our day for the world. It reflected our personalities through and through but I wish I had taken in more of the day. It goes by so quickly and it's impossible to stand still but it was the best day of our lives!"
Words of Wedded Wisdom
"Spread sheets! A friend told me the best advice I've ever had when I first got engaged. When she was planning her wedding she used spread sheets for everything and they have literally been my wedding rock. Matt did think I was a little crazy!"
"Be open-minded to suggestions and follow your heart. Enjoy every minute and remember it's your day and it flies by very quickly. Try not to stress as it will all come together in the end."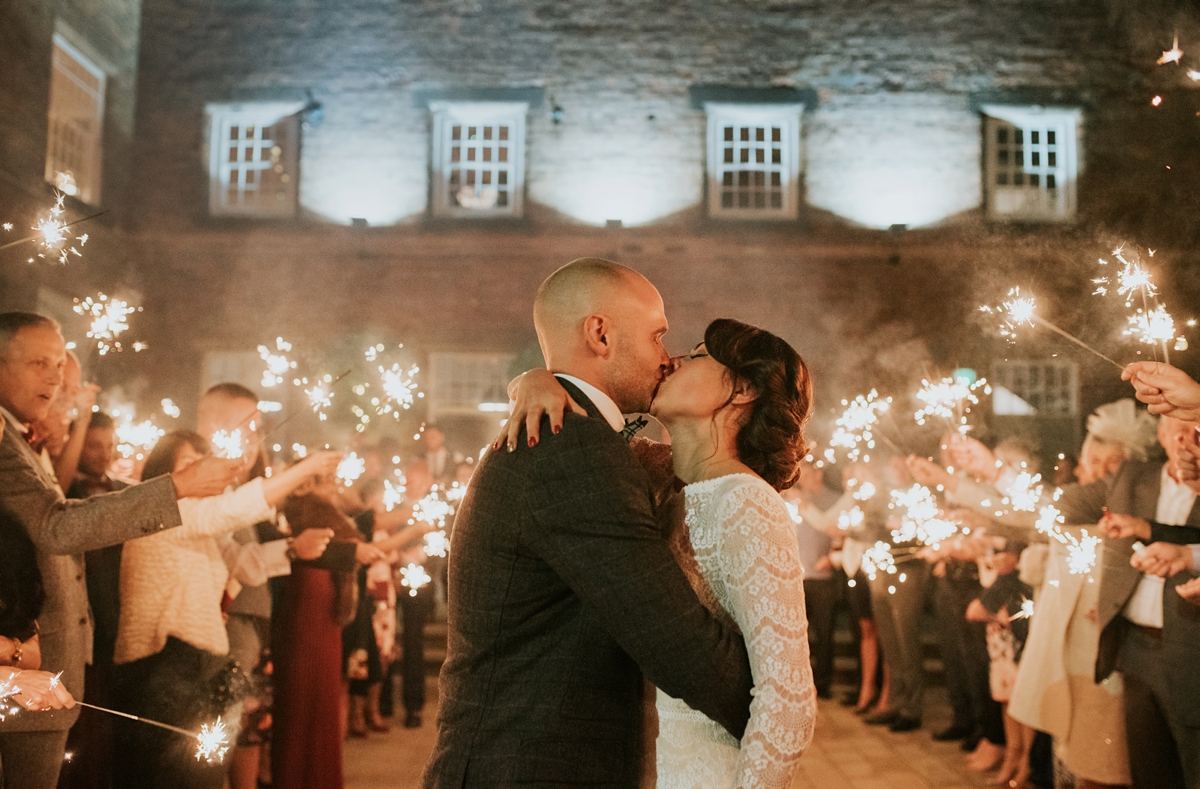 Huge congratulations Sarah and Matt for pulling off such a gorgeous wedding – I'll be swooning over that foliage for a long time to come. And a big thank you to Rosie Kelly for sharing these gorgeous images.
Until next time…
Much love,
Holly