Usually 'my' colours are dreamy blues and soft greens (or black if we're talking jeans…), but I absolutely adore today's red and hot pink colour scheme, all in a tipi just bursting with paper flowers.
Zara, a creative producer and Robin, a cyber security consultant, married on the 15th of July 2017 at Bradfield College Chapel, followed by a tipi reception at the beautiful Manor of Hurst, Berkshire, surrounded by colour. Zara's looked sensational in a poppy-red bespoke dress by Wilden London.  I adore everything about it, from the colour to the evening belt and the elegant wrap-waist shape.
Let us start with this utterly beautiful wedding film created by the enormously talented Reel Weddings. This really is a must-see – the sentiment and love captured in these frames is exquisite.  So many beautiful words and  moments. These words spoken by the groom really stood out; 'we've laughed, cried, loved, forgiven and evolved….'
Film by Reel Weddings
"Our photographer was Jordanna Marston who was a complete joy in the planning stages of the wedding and a star on the day.  We wanted someone with a really strong eye for colour who would capture the soul of our day instead of loads of posed photos. Jordanna perfectly captured the complete joy, love and laughter of our day."
"Aaron from Reel Weddings perfectly captured our day and I cannot recommend him highly enough.  Jordanna and Aaron worked seamlessly together and it is a massive testament to their skill that none of our guests noticed them or felt overly documented.  You can see the short edit of the video here."
Images by Jordanna Marston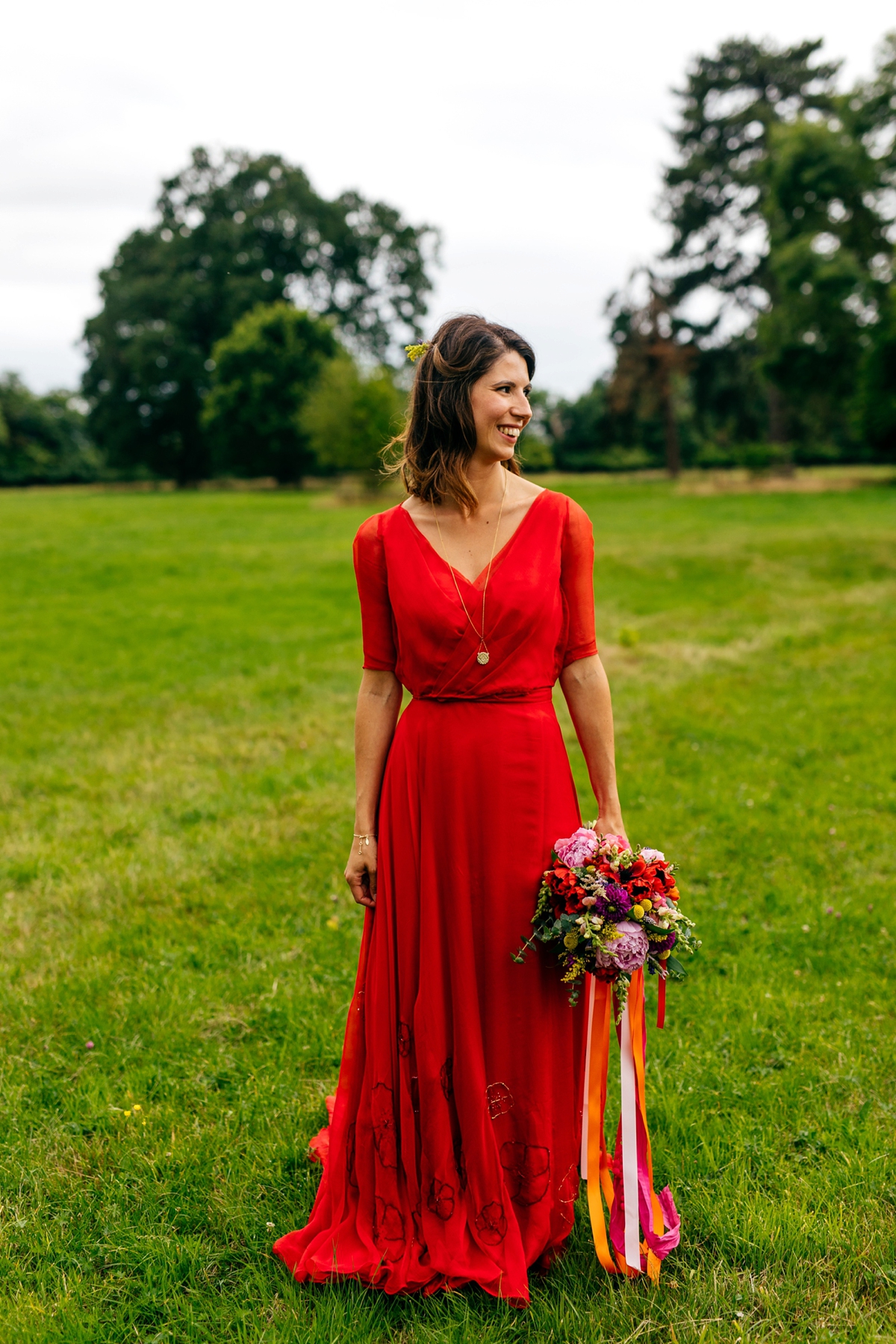 "I knew from a really early point that I wasn't going to wear white to get married, neither of us are very traditional and having spent my childhood going to Indian weddings I was used to seeing brides in the most amazing array of coloured dresses. I adore wearing red, it's one of those colours that makes me feel powerful and special so it seemed like the obvious choice to wear on my wedding day. Charlotte was amazing at turning my ideas into reality, managing to combine the dramatic and outgoing side of me (that wanted a full train and feathers and colour) and the very practical side of me (that wanted a floor length skirt and a detachable top so that I could move freely and dance the night away."
"In the end I had an embroidered and beaded over-skirt with an art nouveau poppy design that was removed after the speeches so that I could dance as dramatically as I liked. Charlotte also made me an amazing pink and gold feathered belt to wear in the evening with the underdress."
"Suzy who runs Manor of Hurst could not have been more helpful or friendly, she was amazing at every part of the planning process and during the weekend."
"We got married in my old school chapel.  As a chorister I spent a lot of time singing there and I've been involved with the school since leaving so I had really fond memories.  My old school chaplain also came out of retirement to marry us which was incredibly special and emotional."
"We basically wanted to throw a big dinner party for all the people that we loved and celebrate with them."
"We wanted a relaxed wedding weekend with good food, good music and great friends.  I wanted to wear red and my favourite flowers are poppies so that inspired our colour choices from the beginning.  It was important to me that everything had a clean and consistent feel whilst still feeling really relaxed and very 'us'."
"We got engaged in July 2015 after seven years together.  The proposal took place on Waterloo bridge (my favourite view of London) after we'd been out for dinner at one of our favourite restaurants.  That day there was a tube strike so there were hundreds of people still walking home as Robin proposed which meant that we had a crowd applauding after I said yes."
"My friend Stephen (Loft27 Design) came up with the original design for our printed items.  I then used that to make and print all our invites, menus, name cards, order of service, posters etc.  A friend handmade our beautiful guest book."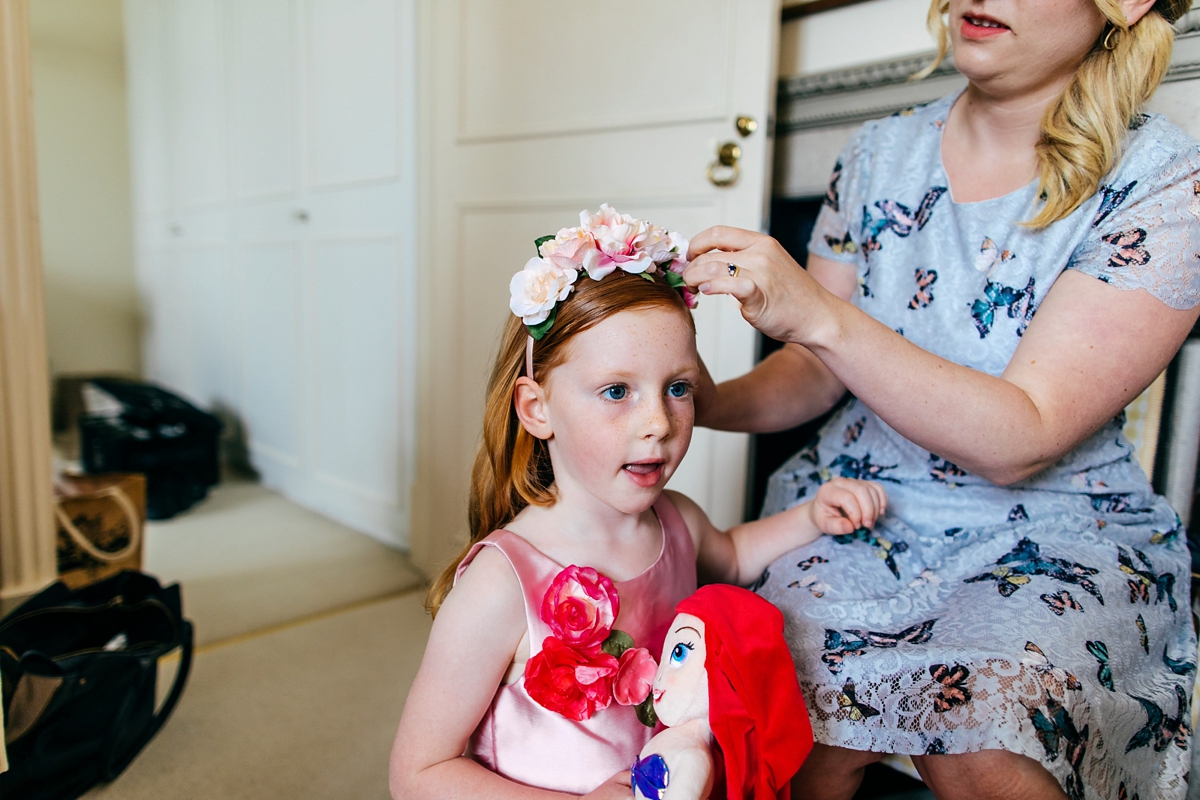 "My shoes were from an Etsy seller who no longer exists. I knew I wanted to wear flat shoes on the day and Robin and I essentially spend the whole summer (or Winter, Spring, Summer and Autumn in Robin's case) wearing flip flops so I wanted to find some fun and colourful sandals to go with my dress that I could wear all day."
Hair and make-up were the work of our Little Book for Brides members, Antonia Krieger at Elle Au Naturel, who made everyone look beautiful while they sipped fizz from vintage teacups.
"Antonia completely put us at ease on the day.  I wanted to look like the best version of me and she completely nailed the really natural look that I wanted."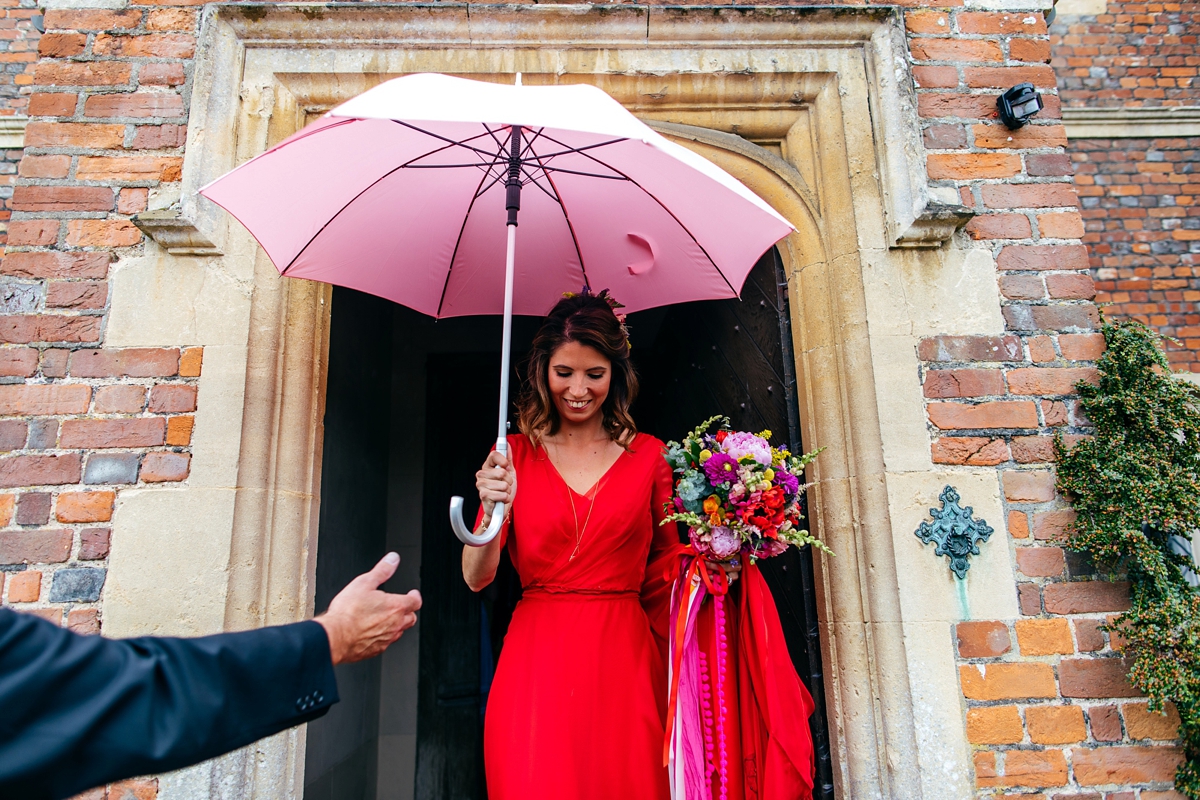 "My sister-in-law Sarah is a florist so kindly did all the bouquets and buttonholes with seasonal flowers in bright reds, oranges, yellows and pinks.  We decided not to have any floral centrepieces and instead created 2300 paper poppies to decorate the marquee and the church.  Poppies are my favourite flower but they wilt so quickly after they've been cut.  I wrote about the whole process here."
"Being a Londoner I had to find a way to incorporate my city into the day, so we hired a black cab from Classic London Taxi to take me to the service and then take us back to the reception."
"I walked myself down the aisle (to my chamber choir –City Consort of Voices– singing Parry's 'I Was Glad') and I loved it.  Luckily I have a rather un-traditional family and no-one expected to give me away so I didn't need to worry about upsetting anyone.  There is no one right way of getting married and that you don't have to follow any tradition unless it means something to you."
In her hair Zara wore bright fresh flowers, while for jewellery she chose a necklace from Accessorize and a bracelet from Oliver Bonas that Robin gave to her on the morning of the wedding.
"In the evening I took the necklace off and replaced it with some bright pink tassel earrings from Siam Hill Tribes which matched my pink feather belt perfectly."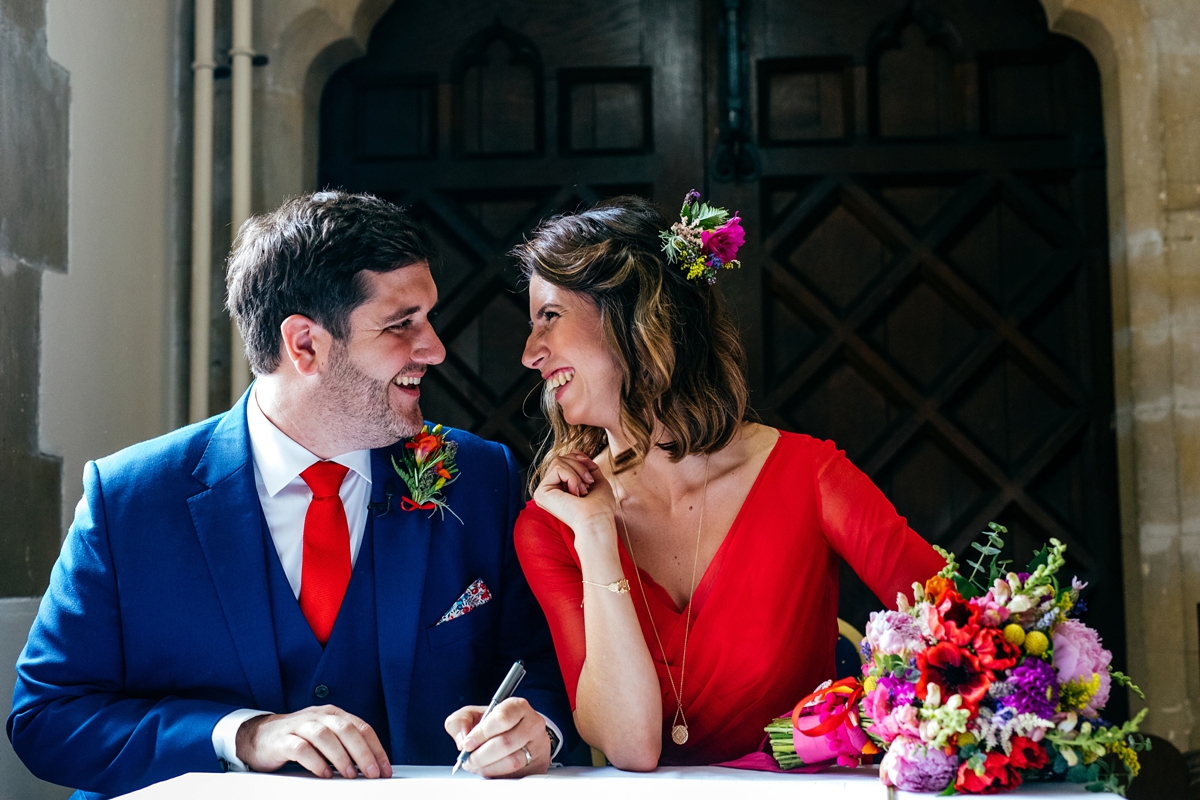 For readings, Zara and Robin chose Song of Solomon, chapter 2:10-13 and chapter 8:6-7, with the beautiful line "Set me as a seal upon thine heart, as a seal upon thine arm: for love is strong as death" and Carl Sagan's 'Pale Blue Dot' speech.
"Robin is a massive space geek and this reading really resonated.  For us this was a reminder to love, cherish, respect and enjoy our time on this earth, to not waste time in anger or hatred as we only have one life and only one planet to live it on."
Rings were from David's in Richmond-upon-Thames and the couple chose matching bands with the date and their initials engraved inside.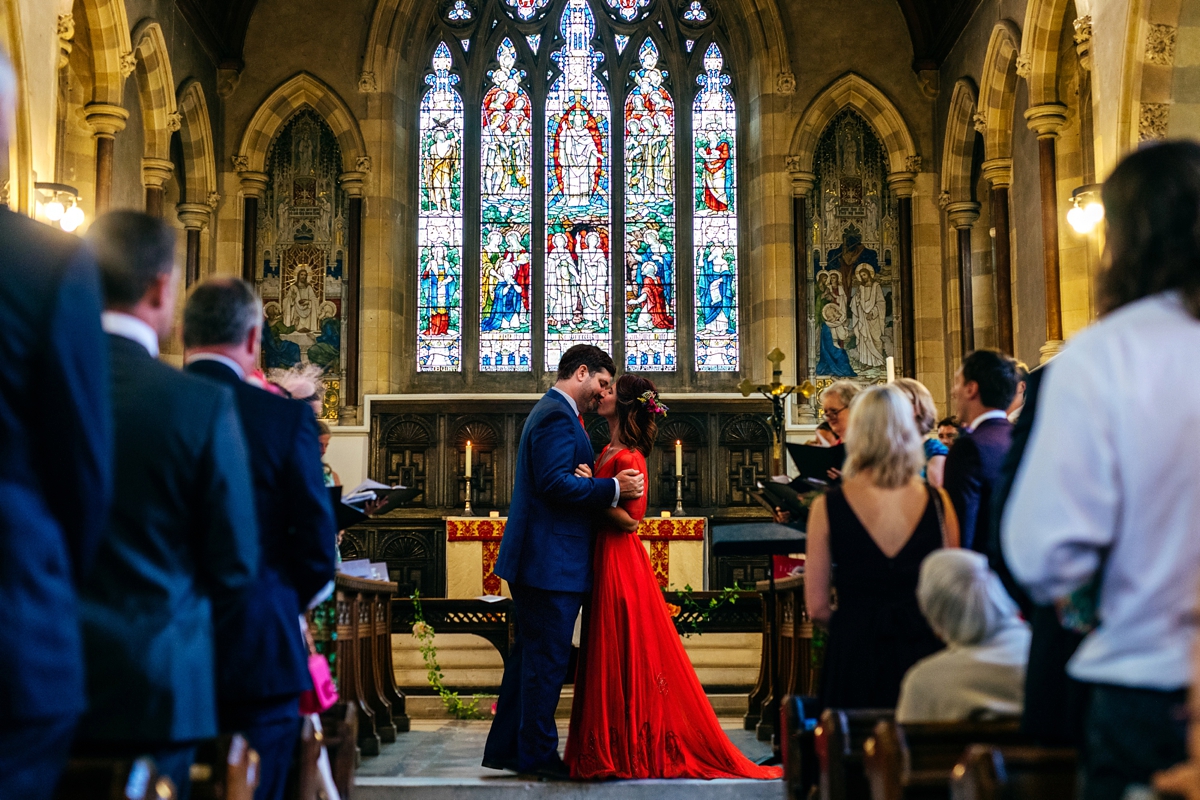 Robin wore a suit by Beggars Run, and also had a pair of shorts tailored so that he could dance the night away in his favourite get-up of shorts and flip flops.  His red tie was from Thomas Pink, while his liberty print pocket square was from Kaye H textiles on Etsy.
"Finding a suit that would fit our three groomsmen was always going to be a bit of a struggle since they all have dramatically different body shapes but we found the perfect maroon suit in Next and their ties in Debenhams.  Our groomswoman wore a dress in the same shade from Phase Eight."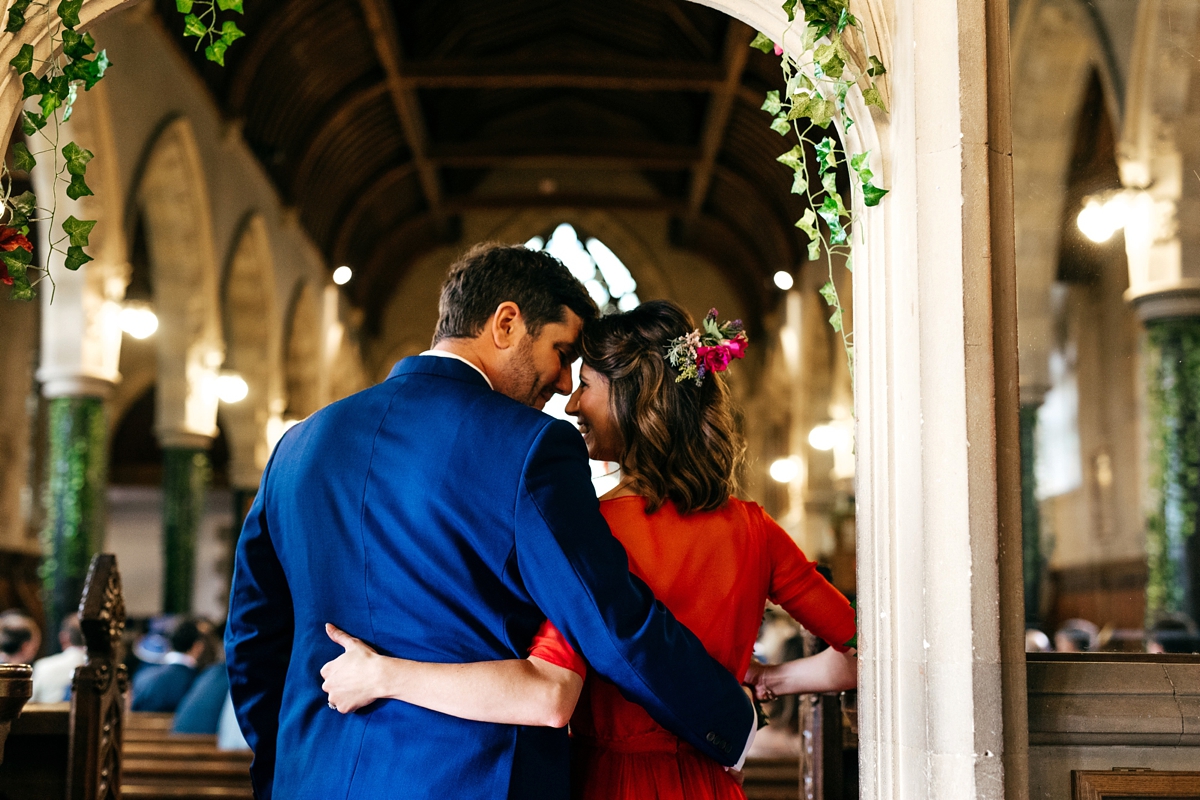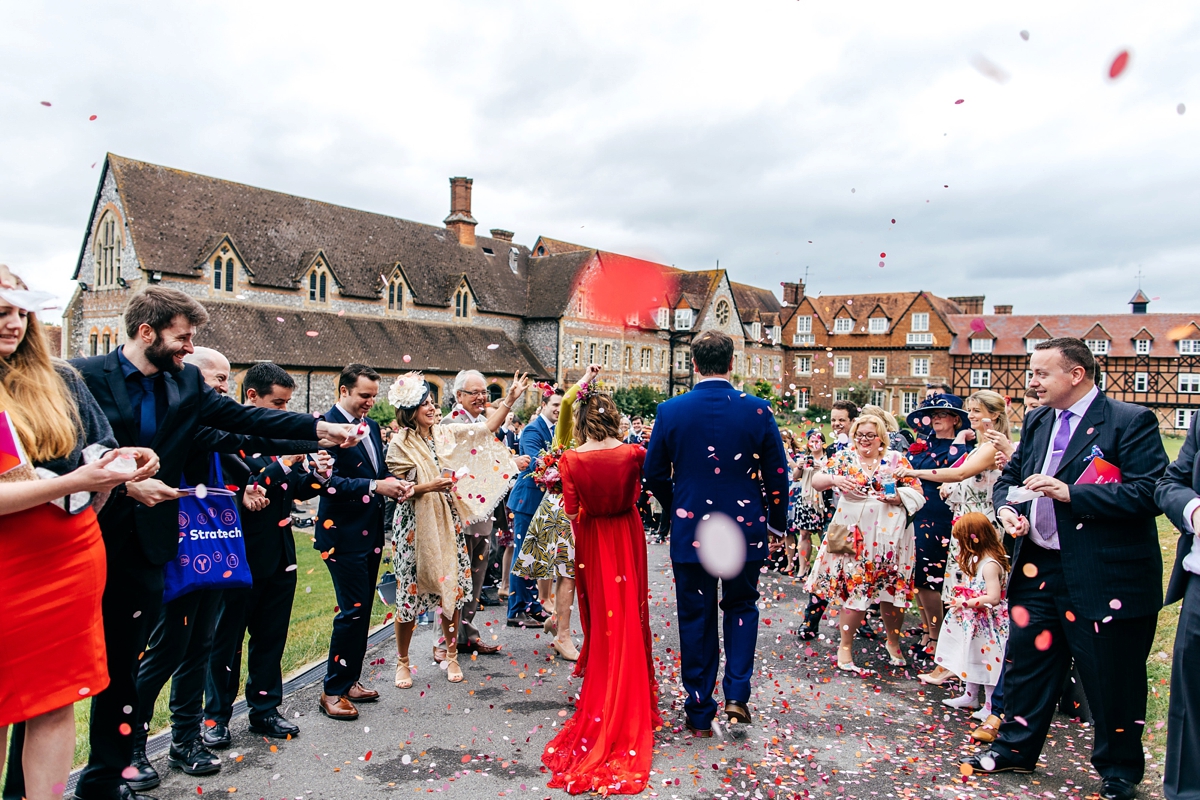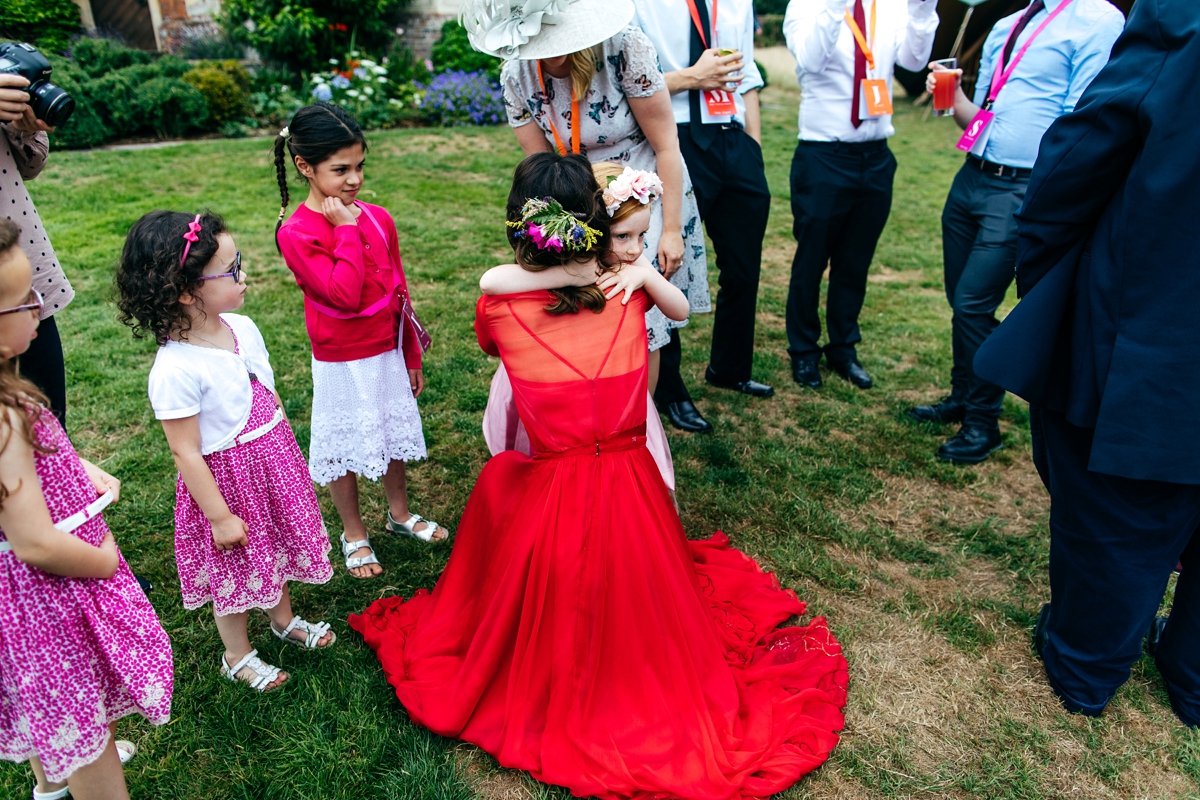 "We really struggled to find the right outfit for my bridesmaids, but the weekend before the wedding my Maid of Honour and I spotted a white dress from Abercrombie & Fitch.  My other bridesmaid only tried on the dress the night before!  Luckily they looked amazing on both of them."
As gifts, Zara bought bridesmaid Sarah a bracelet from Penelopetom on Not on the High Street, while for Claire she bought a rose-gold necklace from Accessorize.  The lovely flower girl wore a dress from our Little Book for Brides members, Monsoon, worn with a flower crown from H&M.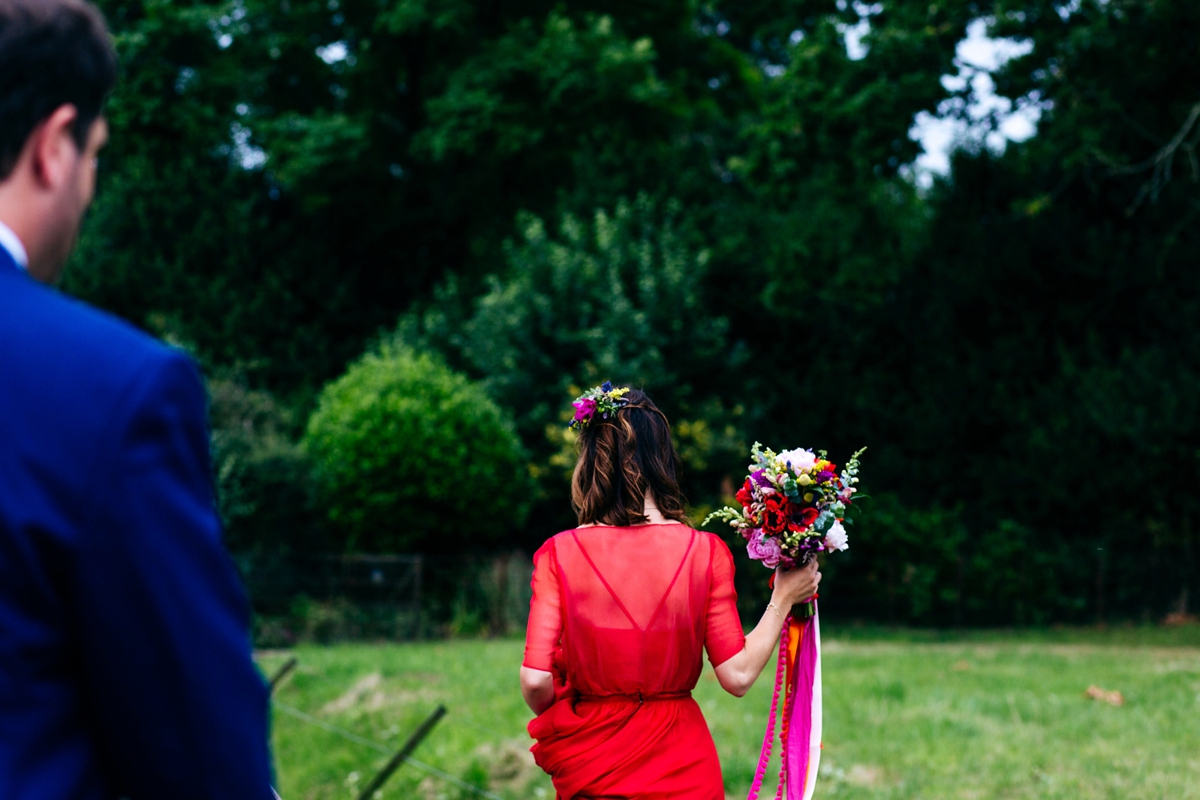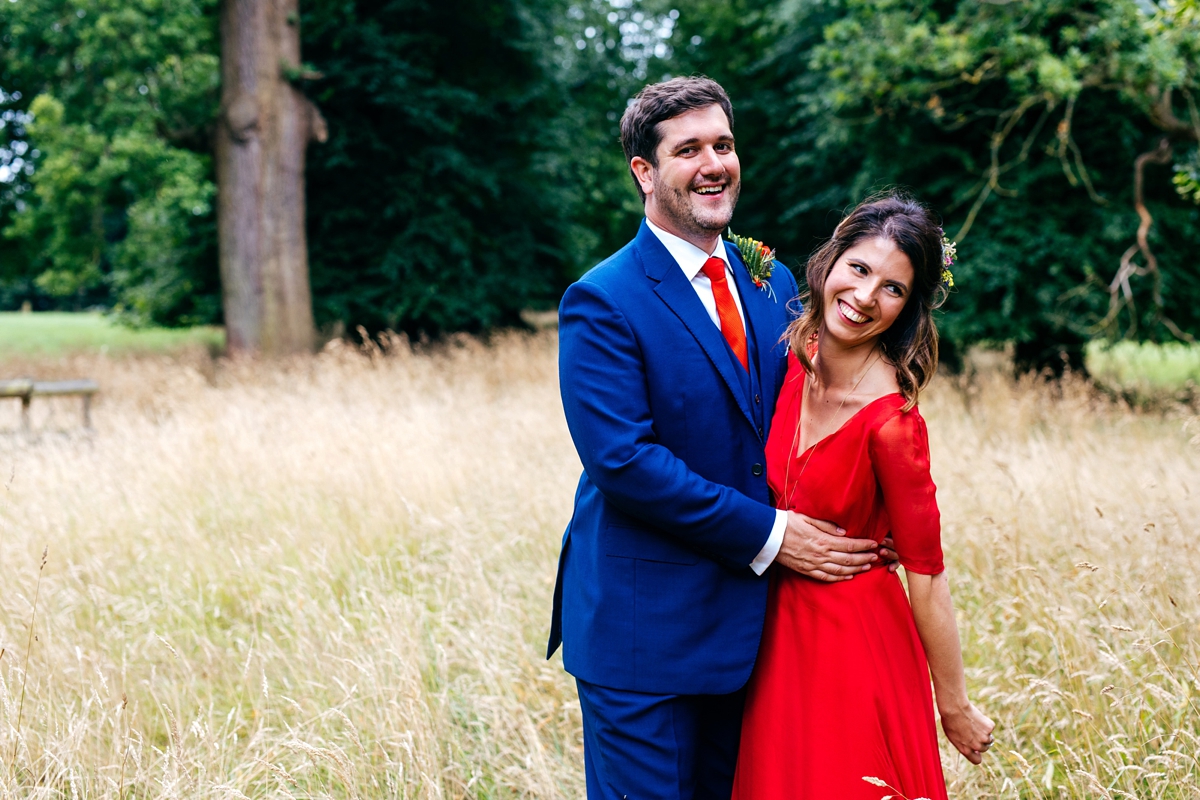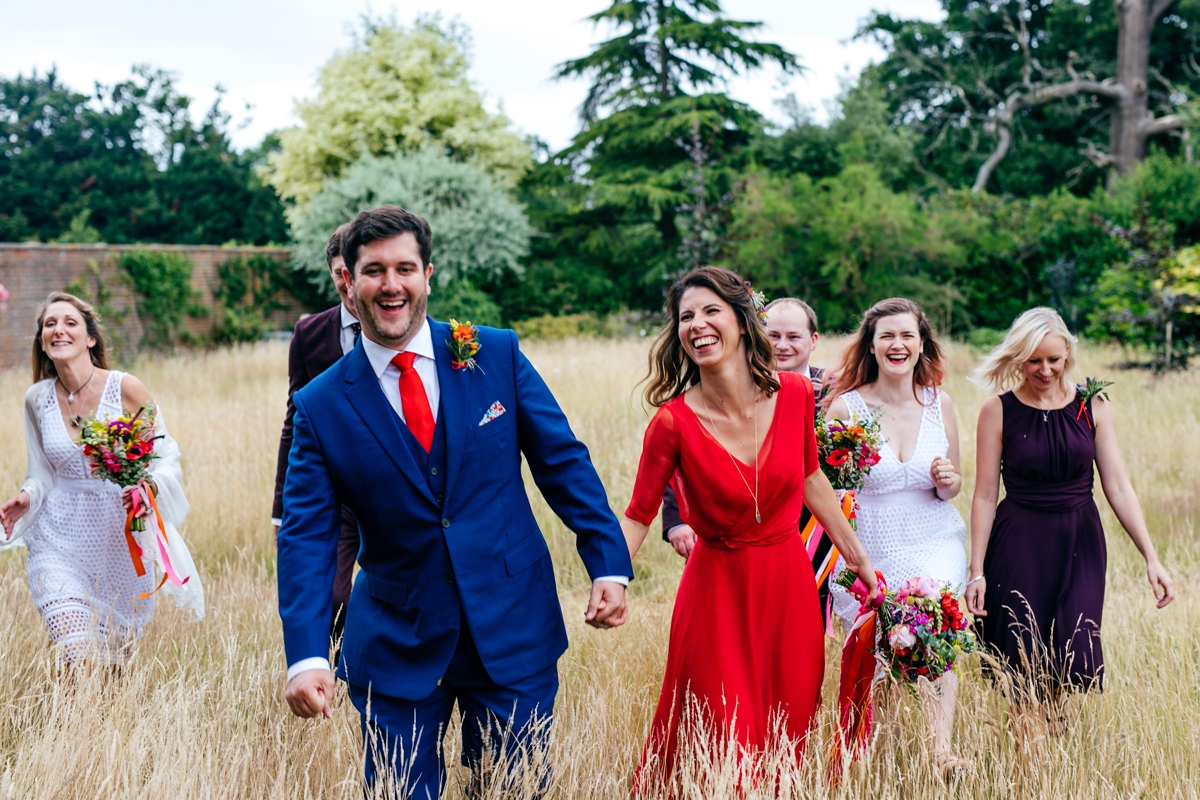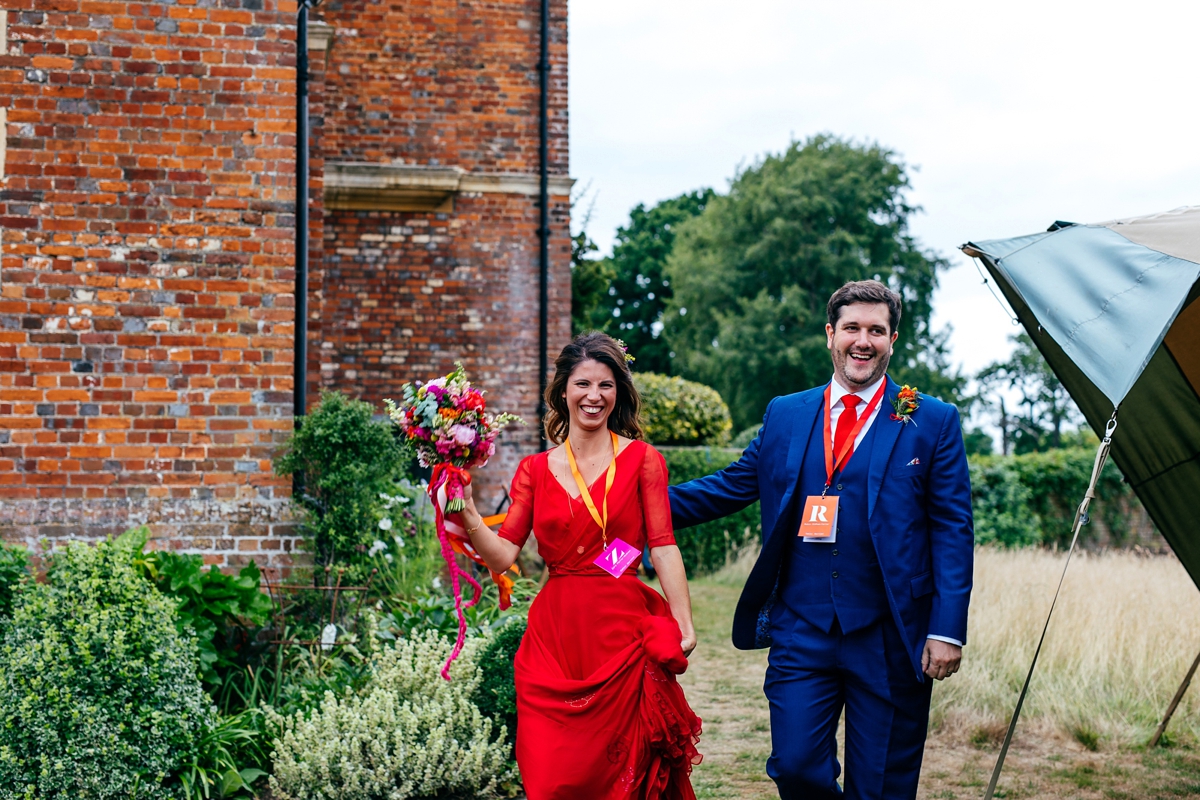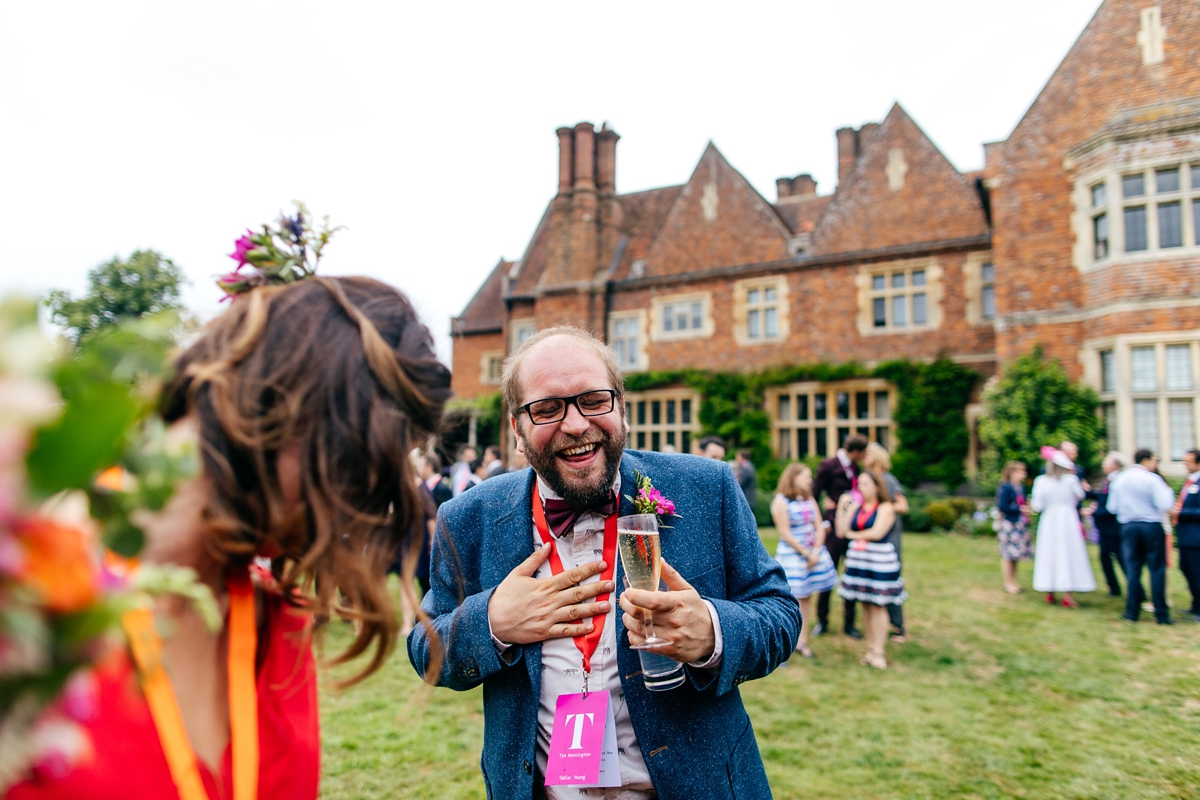 The tipi looked truly stunning draped with the paper poppies and festooned with pink signage and bright pink tablecloths.  Zara and Robin made sure no-one could possibly be bored, setting up games in which guests could complete to win stickers, creating a 'chill out' gin bar area (I spy a few of my favourites in there) and placing board games around the space.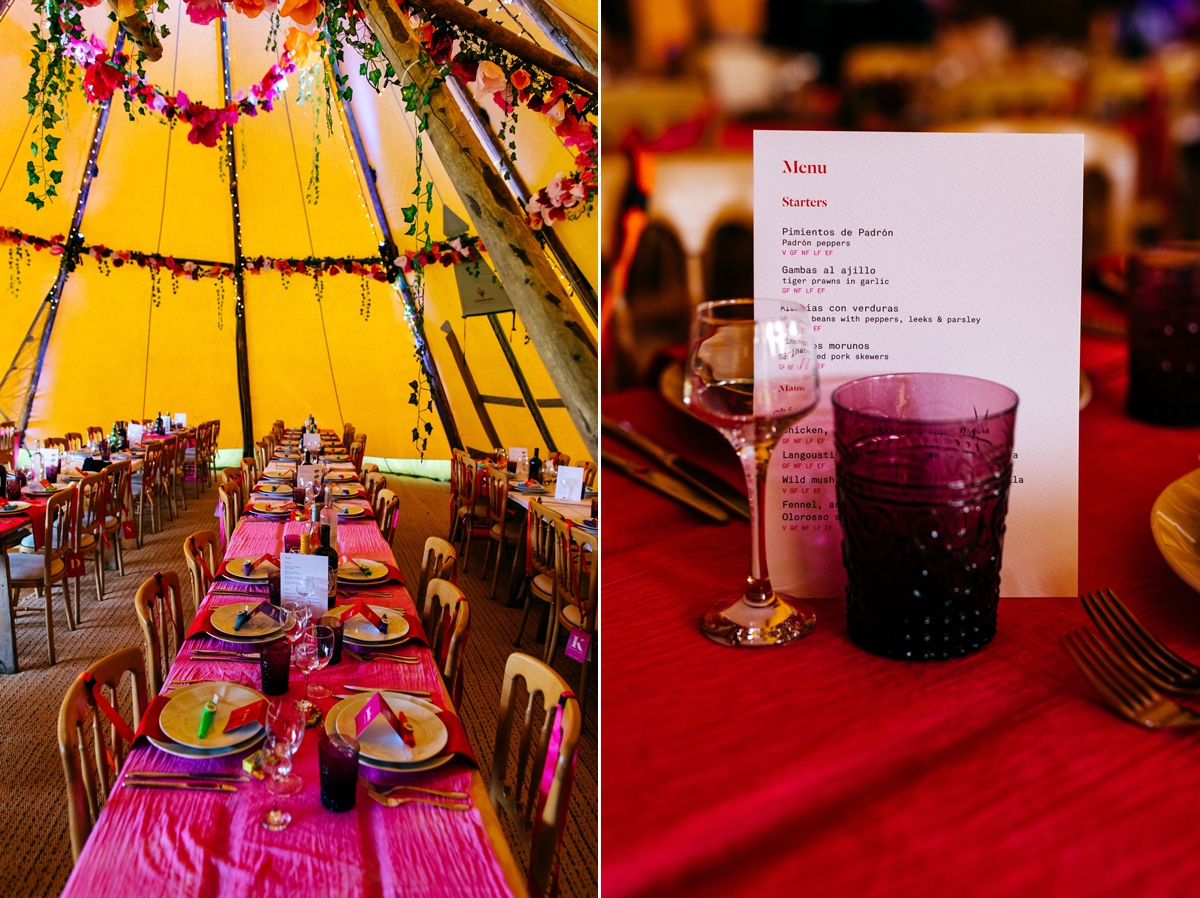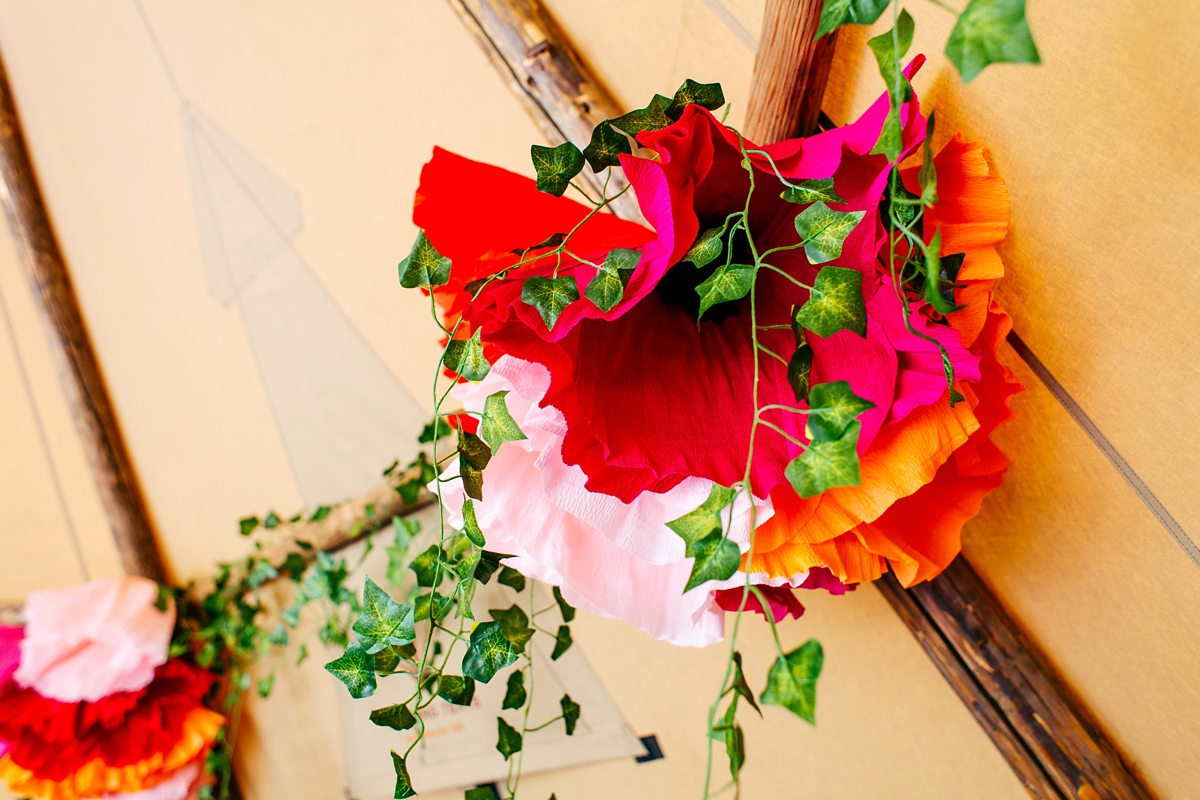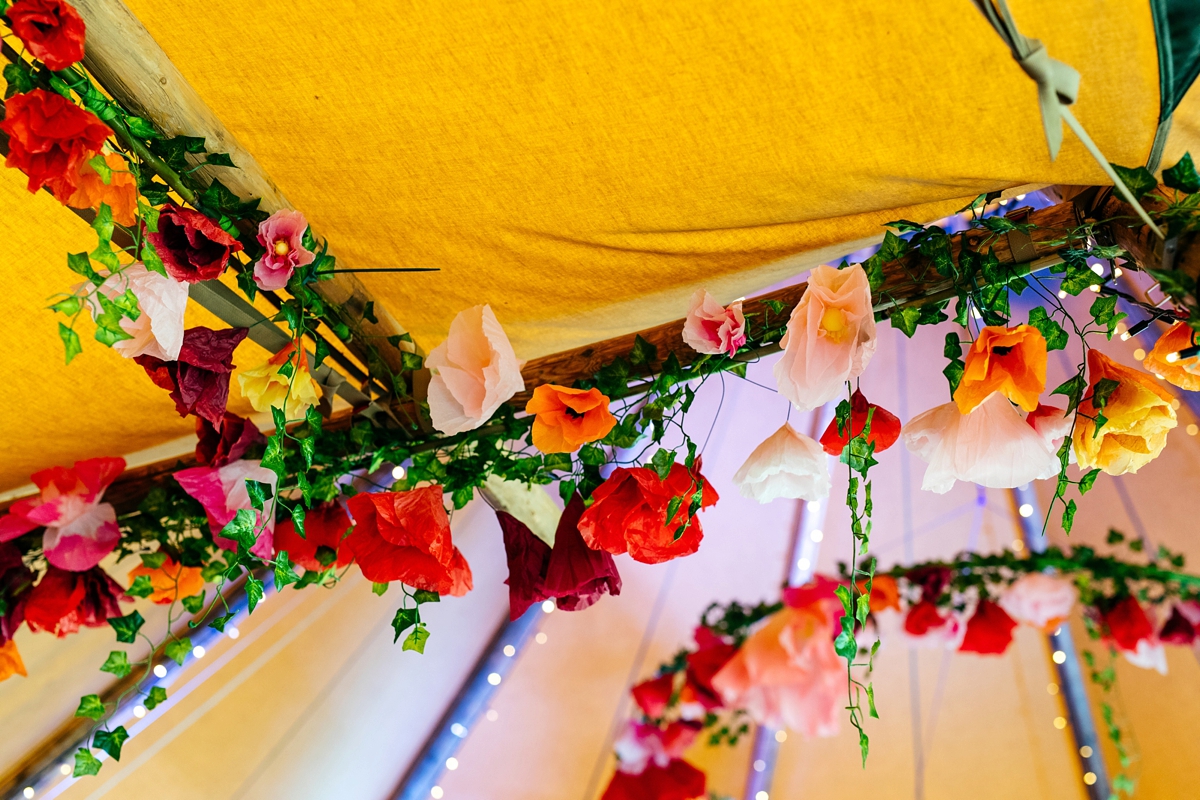 The three caterers came in the form of Brindisa who provided a ham and carving staff, canapes and wedding breakfast from Vamos Paella and a cheese toastie van for the evening, courtesy of Stinky Vintage.
"Food was a really big part of the day. We love hosting dinner parties and we wanted our wedding day to be a big Spanish feast with something for everyone."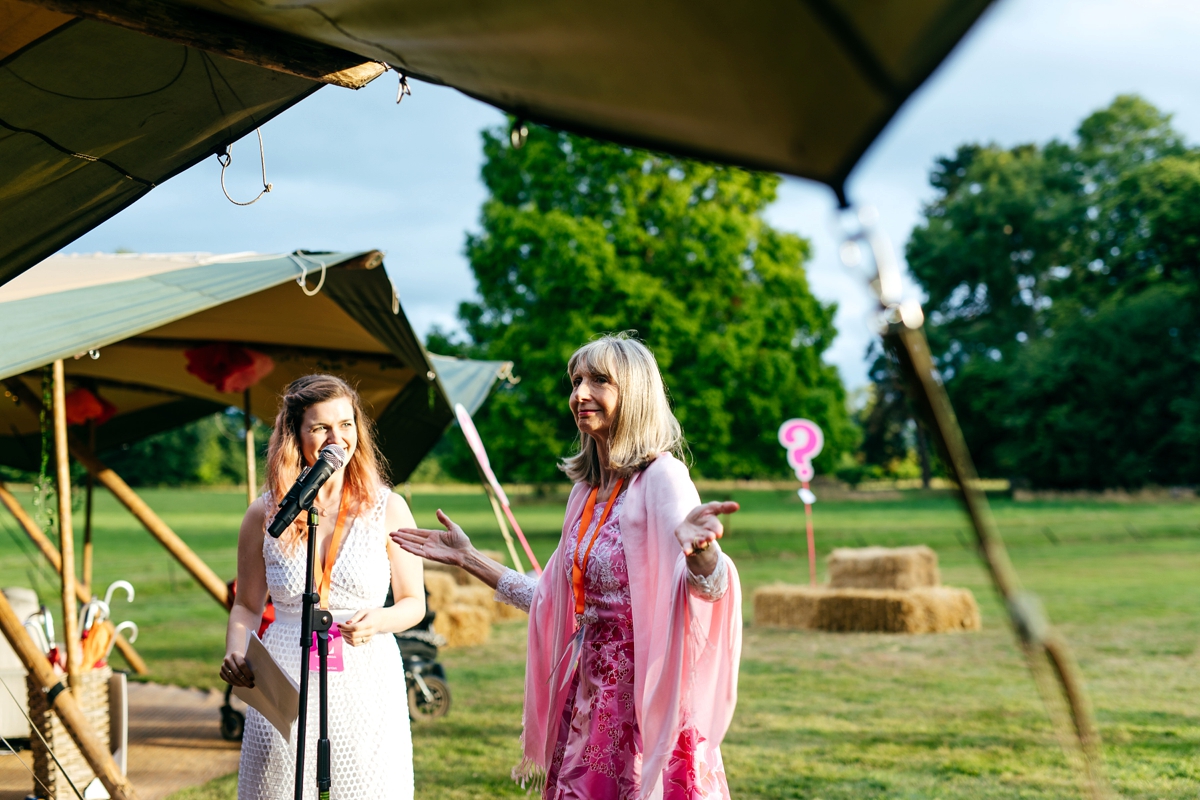 The incredible cake was the work of Harriet Childs from CakeyCake, decorated with individually sculpted images of places and items special to the newlyweds.  I'm not sure I could have brought myself to cut it!
"Music was always going to be an important part of the day.  My conductor composed a piece especially for us using words from 'Captain Corelli's Mandolin' (Louis de Bernières is an old pupil of my school so this had an additional connection for us) and my choir and I sung during the reception.  In the evening we had an awesome band (Rare Groove) playing until late into the night."
"Our first dance was 'It had to be you', we had a live 7 piece band play it on the day. The lyrics are perfect for us as neither of us are perfect, we're not one of those couples who never seem to argue and get along blissfully and yet we work together even though we both have our flaws and this song perfectly reflects that. We knew that we wanted as big a band as possible with a great bass and brass section as my grandfather was a professional musician and played in big bands."
Words of Wedded Wisdom
"Do things the way that you want and have fun with it.  We entered the marquee for dinner to a cacophony of kazoos which was both brilliant and totally insane. We didn't follow any tradition unless it had a strong meaning to us.
"Don't worry about the weather; you can't change it.  Have a wet and dry weather plan, hire some fun umbrellas and then relax.  You will have an amazing day and get great photos even if it pours down with rain."
So many thanks to Zara and Robin for sharing this absolute feast for the eyes.  For more Charlotte Wilden gowns take a peek here and for more tipi inspiration, pop along here.
S x