Hi lovelies, how has your Easter been? I hope you've been enjoying a lovely long weekend and had at least a *bit* of sunshine.
The beginning of April feels precisely the right time of year to share a colourful, flower-filled wedding, and today's is such a beauty. Oh, and I'd love to hear your thoughts on bride Ira's incredible open-backed, lacy gown – please do leave a comment below.
Ira and Joe wed on 9 September 2017 in a church ceremony at St Michael's Church, North Newton, Bridgwater, Somerset followed by a garden reception next door at  Maunsel House. The couple have been together for eight years, and wove in traditions and details from their Lebanese and Moldovan backgrounds to put together their beautiful intimate and personal day. Maunsel House offered the couple flexibility to create the day they wanted, with plenty of space to have fun with garden games, drinks in the indoor pub (yes, you read that right), and soak up the magical gardens. There was space too for most of the guests to stay in Maunsel's quirky rooms over the wedding weekend. It sounds just perfect, don't you think?
Photography + video – Mrs Mashup
"Our venue was Maunsel House near Taunton in Somerset. The location was so special – it almost felt like falling down the rabbit hole and getting to a magical, out of this world place. The wedding was small so we managed to get almost everyone to sleep at Maunsel. The house was full of options for us to explore and not feel like we had to stick to a schedule (we still keep hearing stories as it was impossible to be everywhere at the same time). Inside the house, we especially loved the ancient pub. Maunsel has a team of wedding coordinators and Stacey who looked after us was amazing."
The photographer and videographer for the day was the talented team at Mrs Mashup. I really do like relaxed and natural photography, and this team really has captured the fun and playfulness of this couple to a tee.
"Mrs Mashup were friendly and fun, which made us feel at ease with being ourselves and enjoying the day. Their photos are stunning! We love the videos so much. It's surreal how beautiful they are; it feels like we are in an actual movie and really reliving those moments by watching the films."To cope with the weather, Ira alternated between ivory Rylko shoes with a super-colourful, detailed block heel and green Hunter wellies, made bridal with a thick white ribbon.
"We had rain showers in between sunny spells so I kept jumping between Wellingtons and heels. Our photographer helped me tie white ribbons on my wellies so they looked super-cute. The heels were also very comfortable and elegant, with beautiful flower prints on the chunky heels. The boots were Hunter wellies and the high heels I came across while visiting Krakow in Poland."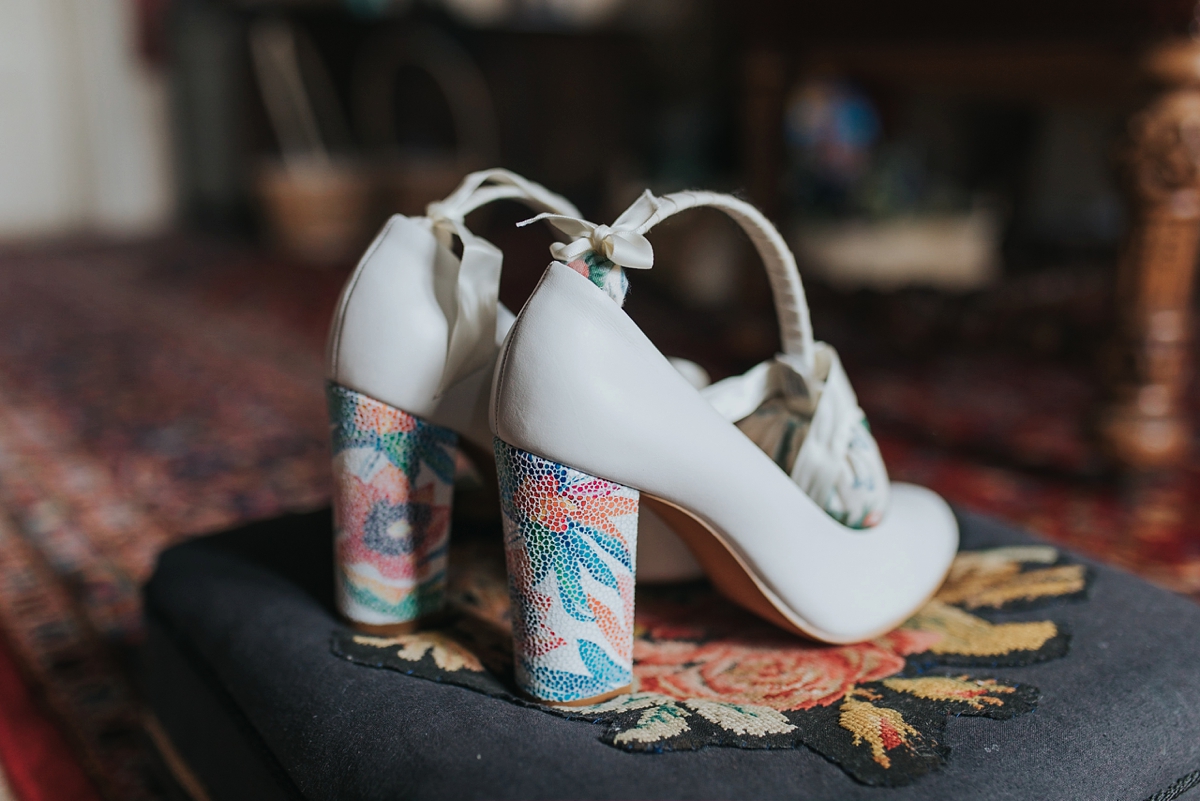 Ira's choice of gown was the incredibly gorgeous Rime Arodaky 'Avery'. Here at Love My Dress we adore it when brides rock simple silhouettes, and this pleated full skirt and fitted open-backed top are just divine. Ira found her gown at The Mews Bridal in Bristol, and the team there helped her pick out a delicate, open-weave veil to complement it. She completed her modern bridal style with jewellery from Dower & Hall and Minty Dot.
"It had pockets and I felt totally rock'n'roll in this dress."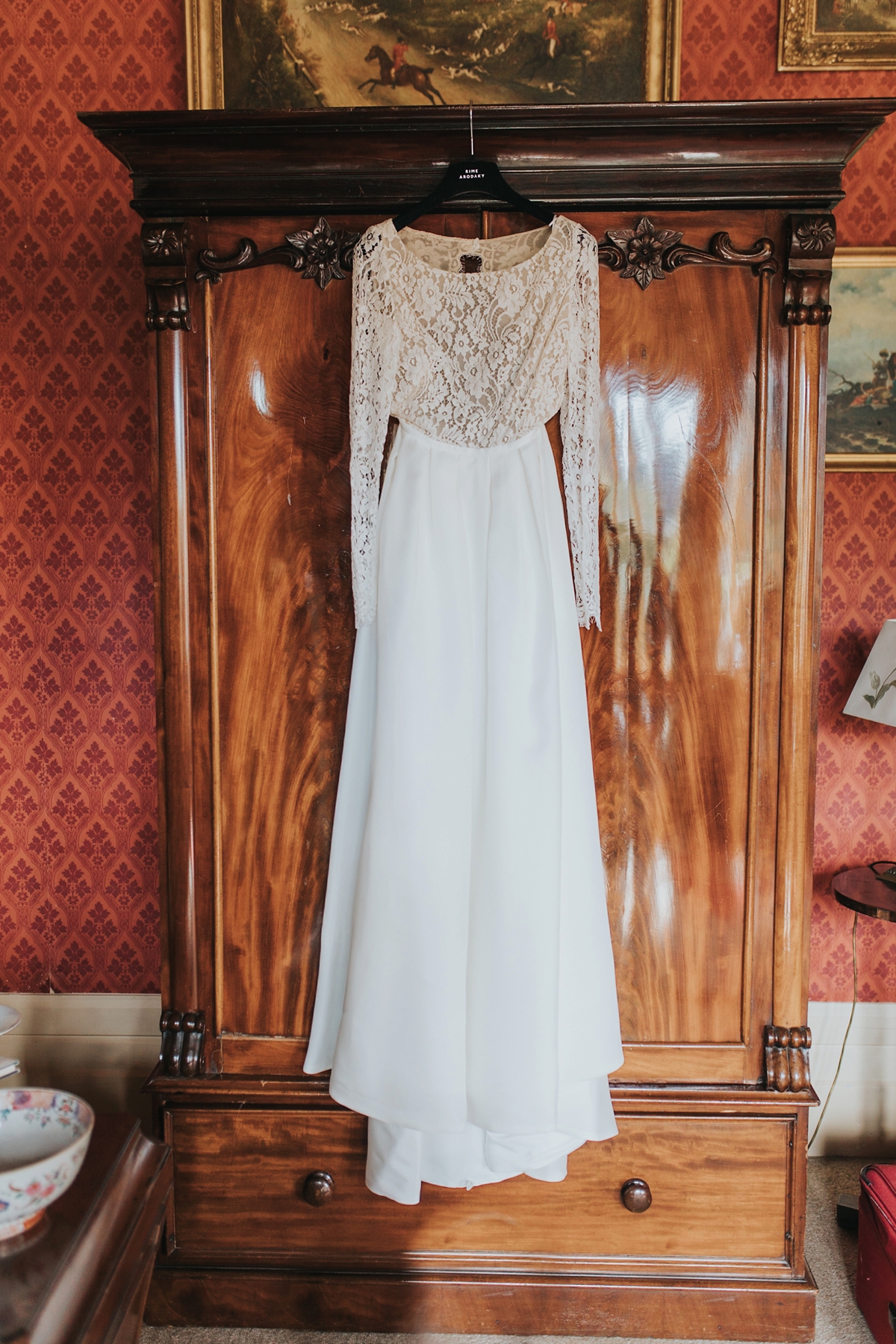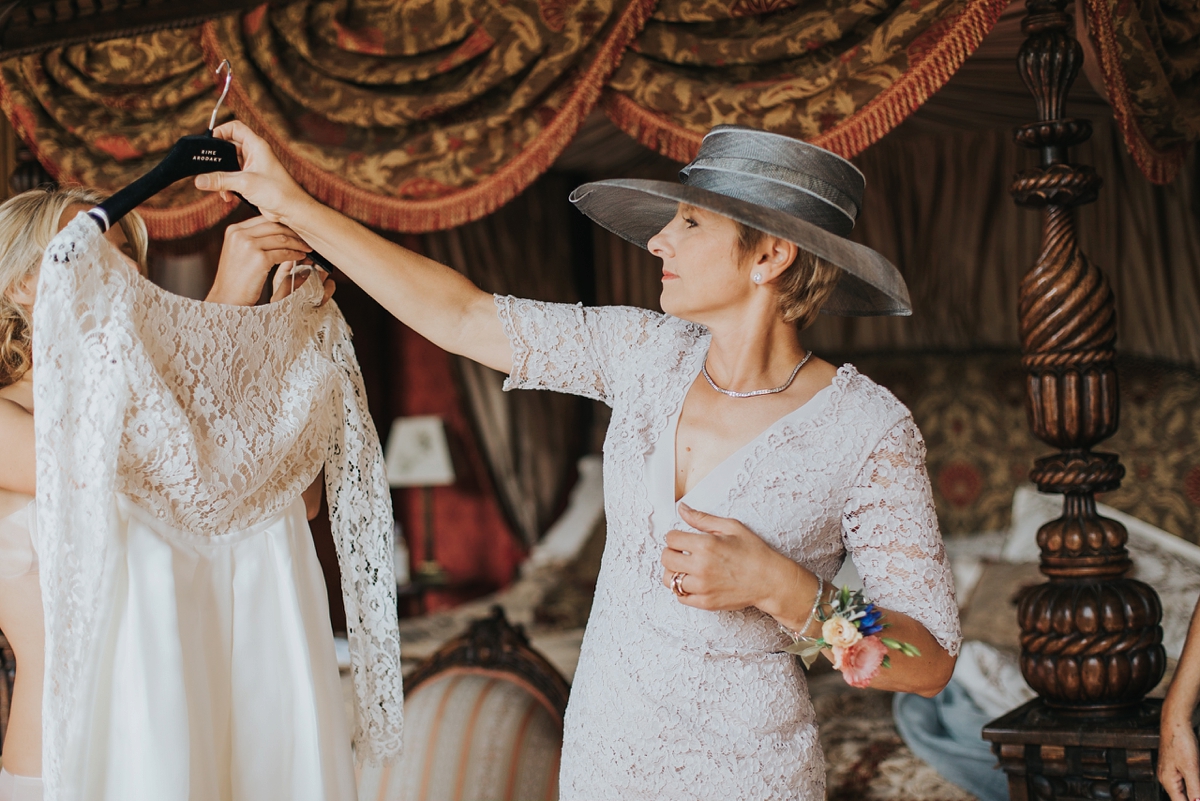 Ira chose to add splashes of colour in to the day through her choice of bridesmaids' gowns.
"My sister wore a red Ted Baker dress and my sister-in-law had an ivory dress from Maje. My friend Caroline wore an off-the-shoulder floral dress by Lela Rose. My niece wore a dress that matched the back of my dress – so cute and we didn't even plan it."
For a super-relaxed and romantic look that is perfect in the countryside setting, Ira's blonde hair was put up and dressed with fresh blooms in a multitude of colours. The flowers matched those in her bouquet – a real riot of colour.
"Victoria Hair & Spa and her team were very professional. I loved my hair and make up."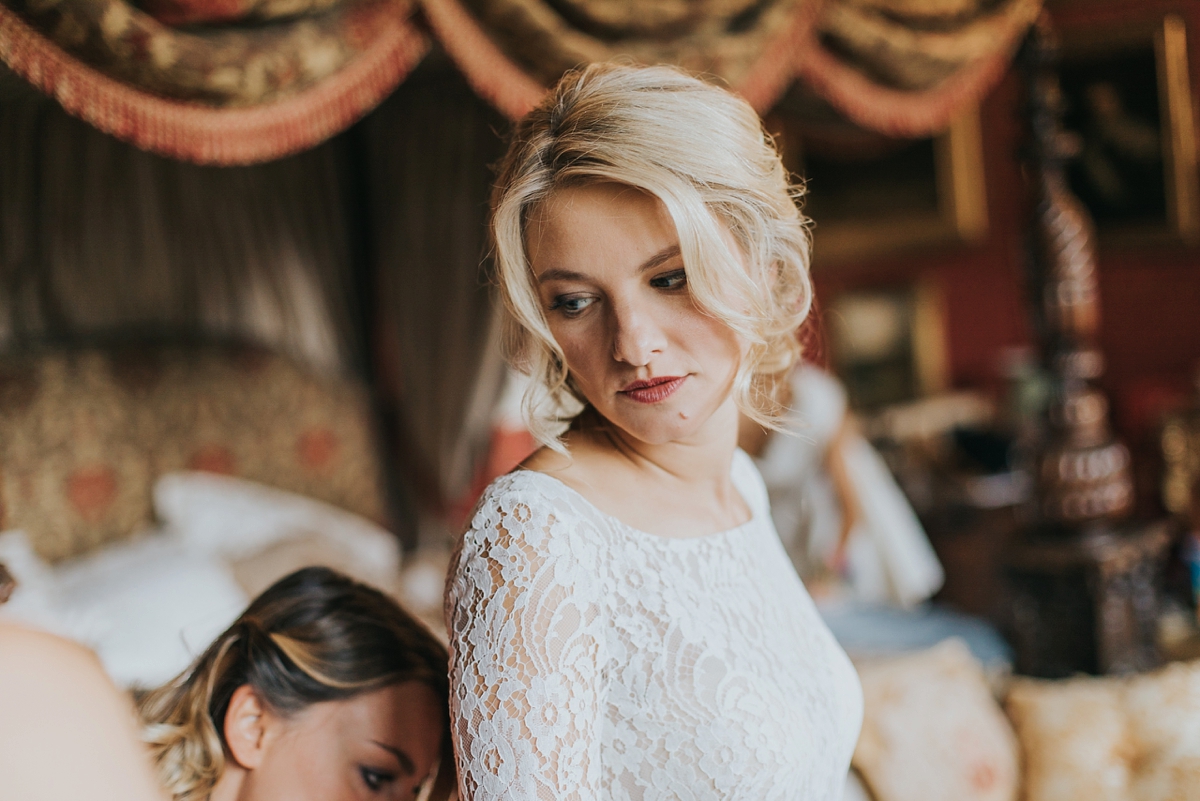 "Jane from Eden Wedding Florist was very creative and attentive to details. She made the bridal bouquet, hair flowers, buttonholes, wrist corsages and flower crowns."
"In the church we had pew end posies, which we then re-used on the dinner tables and also had flowers hanging on ribbons from the pergola."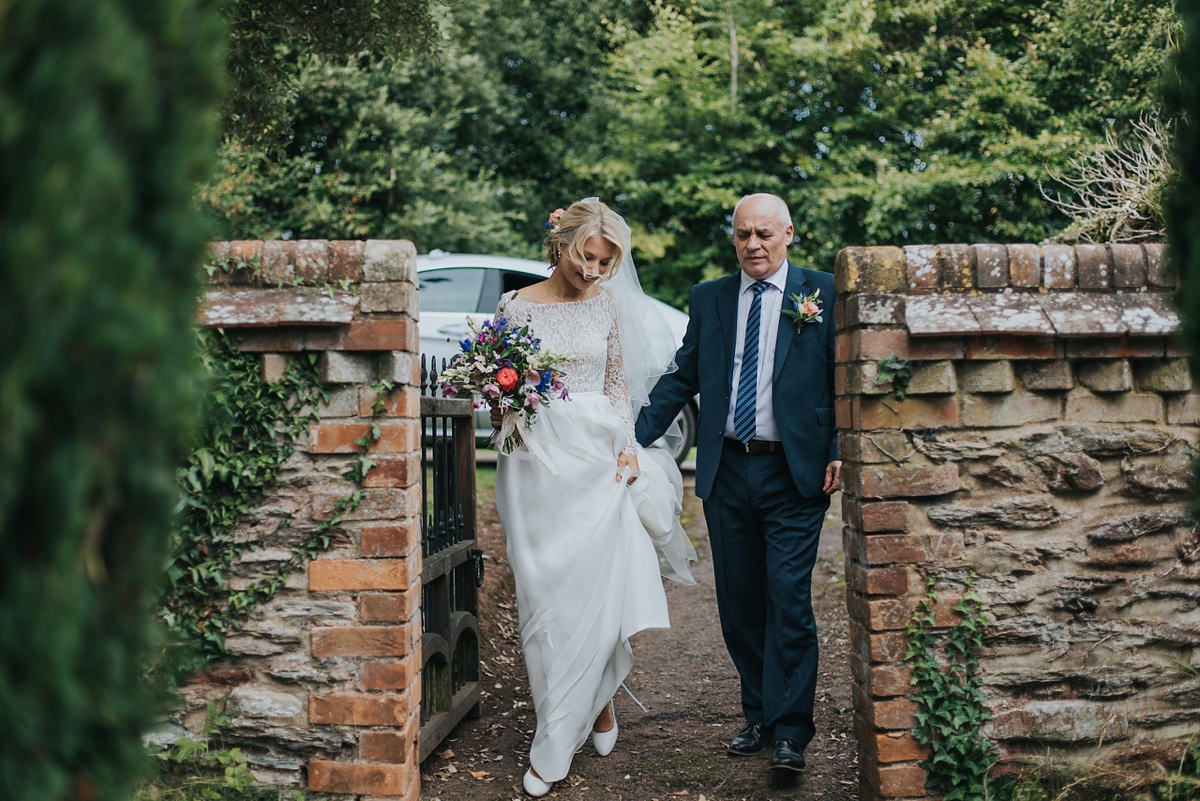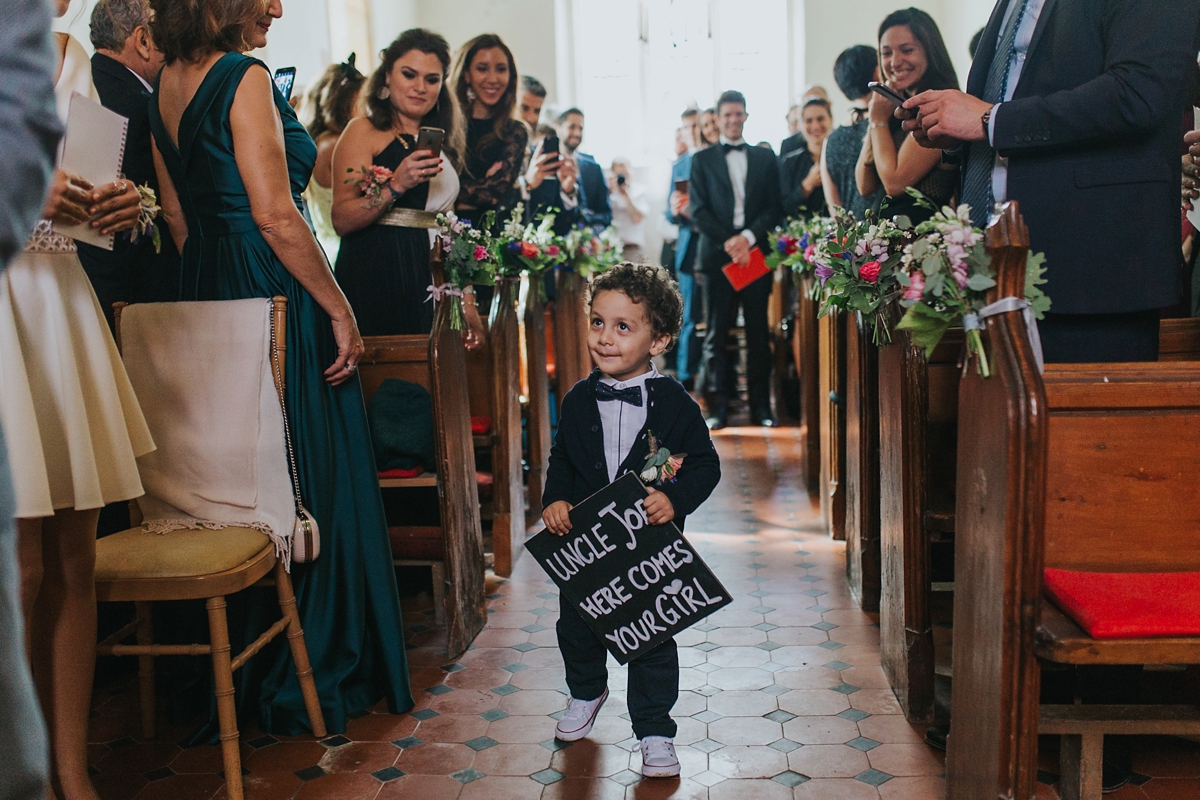 Originally Ira had planned to walk to St Michael's Church but the sunshine and showers meant a last-minute change of plan, so she hopped into a friend's car.
"We had our blessing in St Michael's Church right next to Maunsel House. It's a tiny church and was perfect for our small wedding."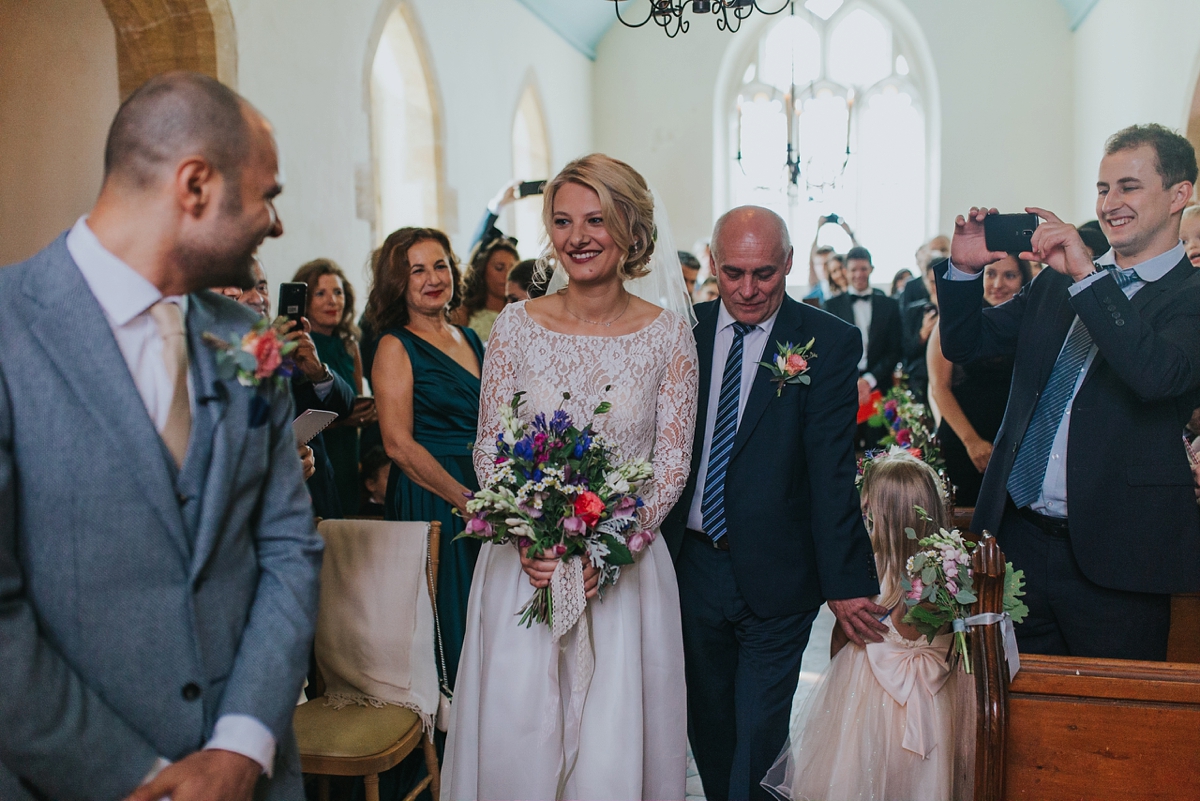 The bride entered the church on her dad's arm to Pachabel's 'Canon in D'.
"The vicar made a beautiful comment that when we look at our rings from that day on, we should remember three things: just like the rings fit perfectly on our fingers, we are a perfect fit for each other, our love is precious like the metal used for the rings and that it is endless like their circular shape."
"We had a Bible reading by my sister-in-law and a poem read by my sister – 'Falling in love is like owning a dog' by Taylor Mali."
Joe's tailored suit was ordered from SuitSupply.
"Joe had a blue bird's eye Havana suit from SuitSupply and his brother tailored his suit in the same cut but in a different colour and material. They tailored the ties to match each other's suit."
"Leaving the church after the ceremony, it started raining unexpectedly and Joe had to shelter us with an umbrella while we ran to the car. It felt so totally adventurous to run away together."
"We then got to the house before our guests and had a bit of time in the library all alone, which was a special quiet moment to share amidst a crazy fun day."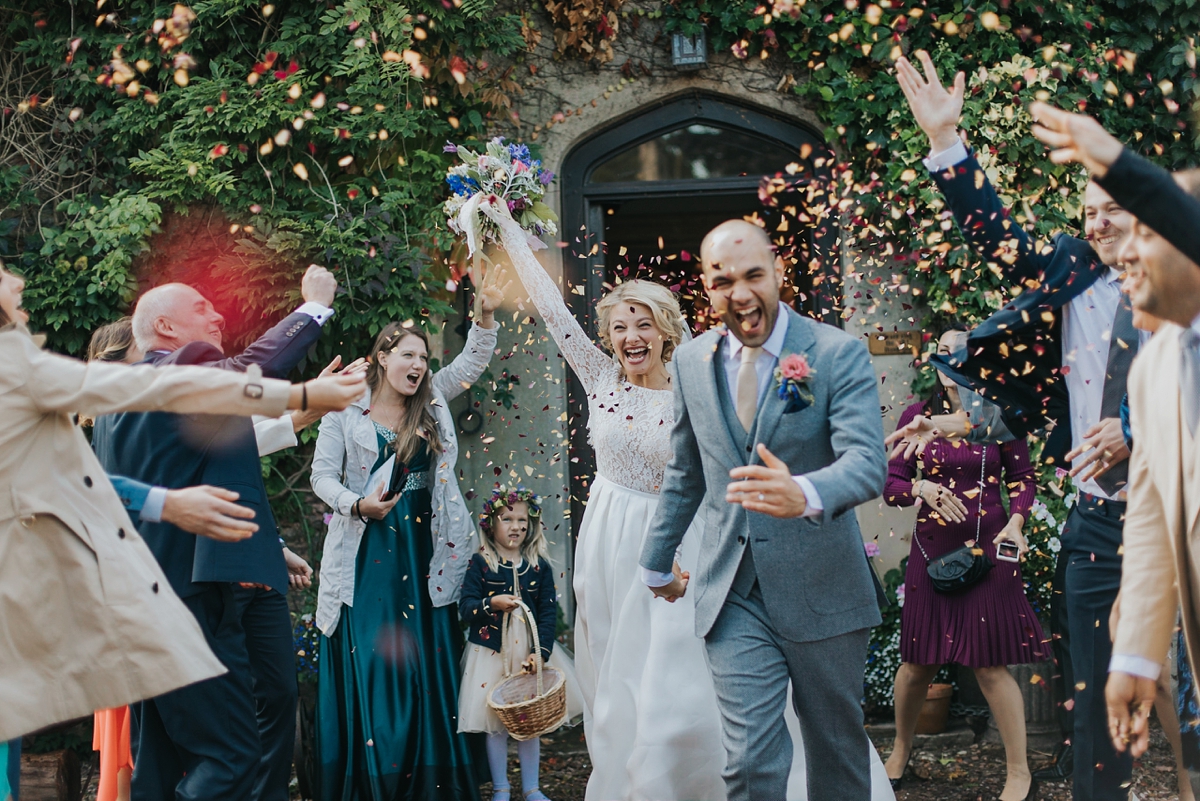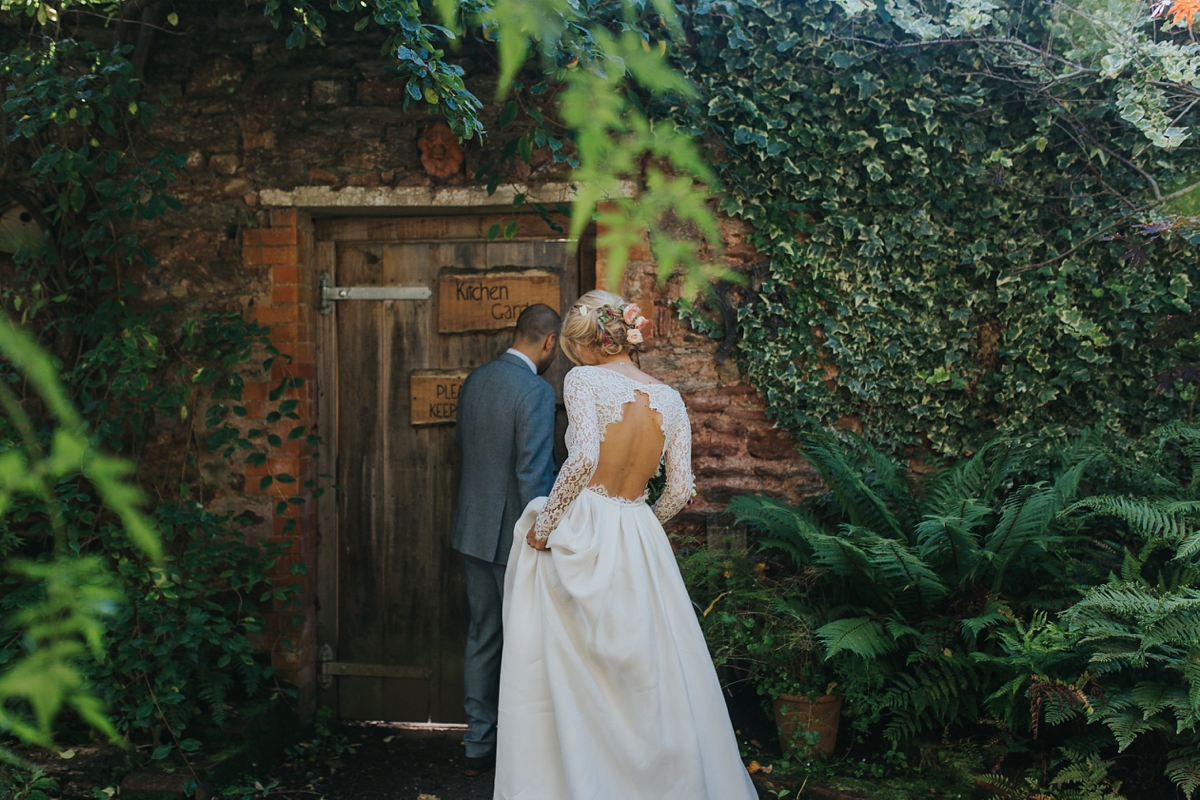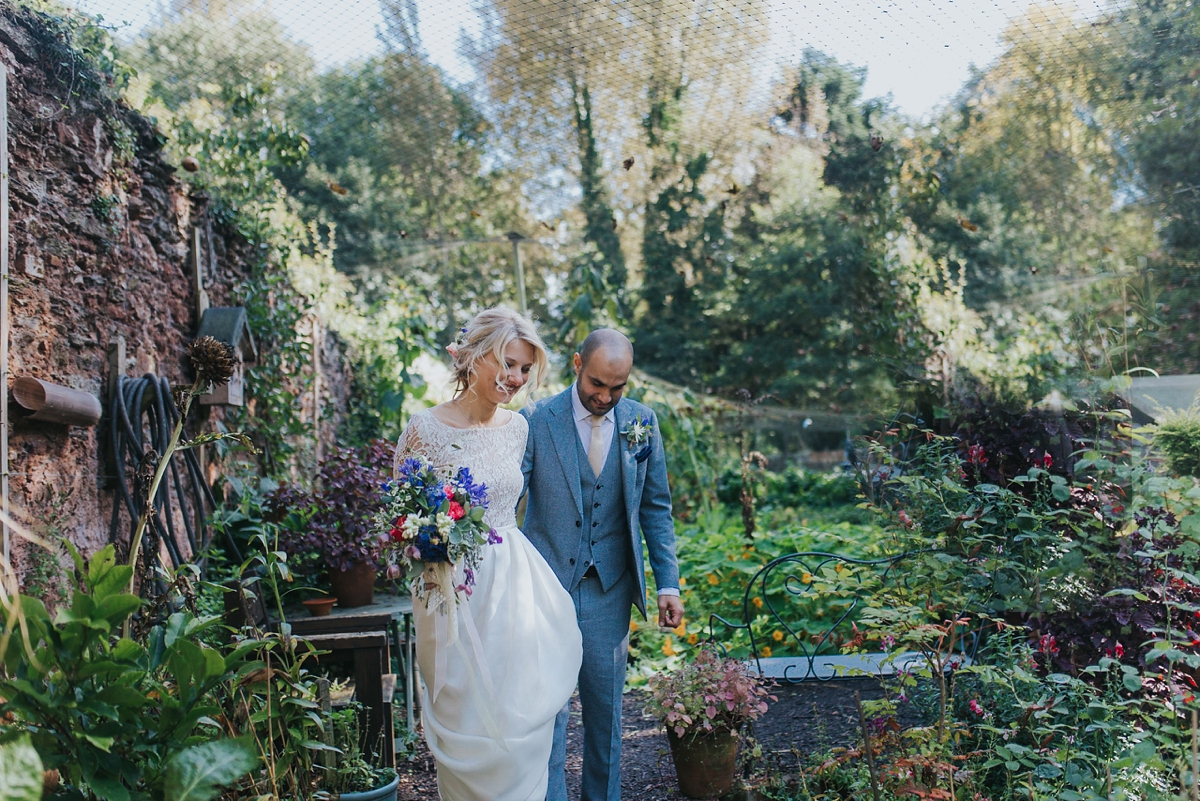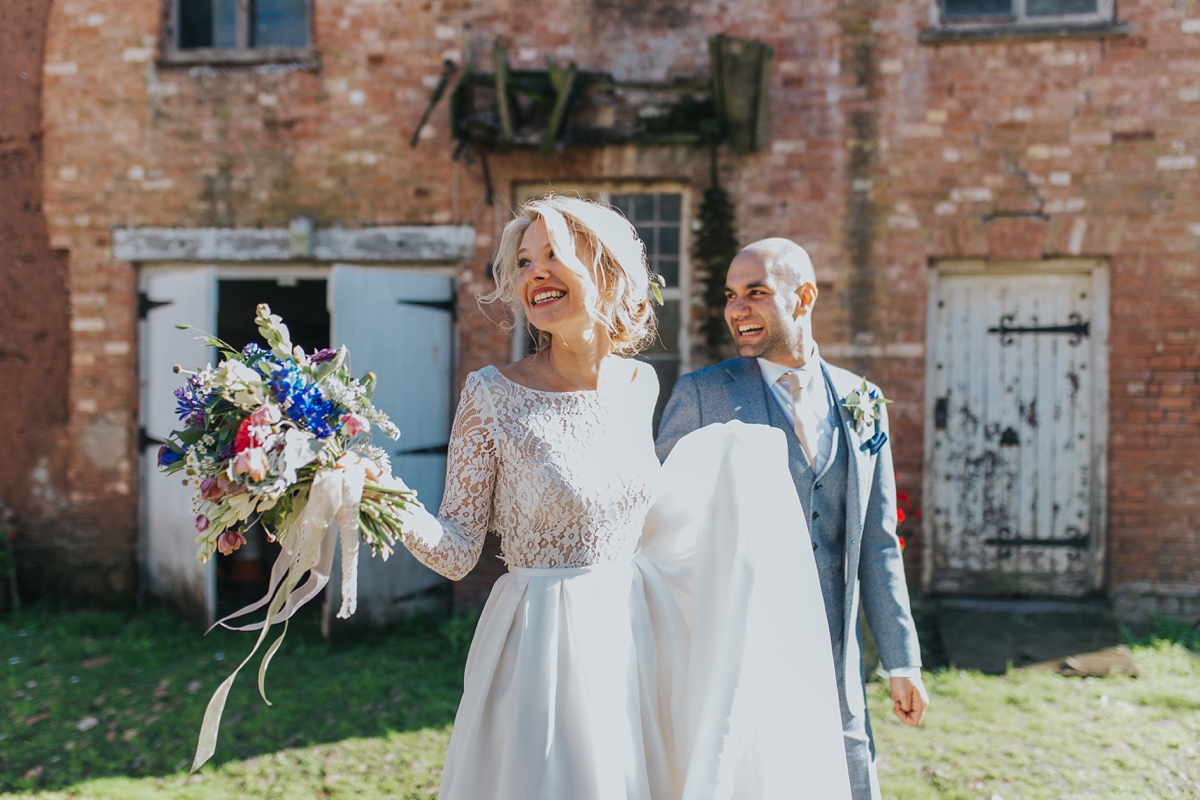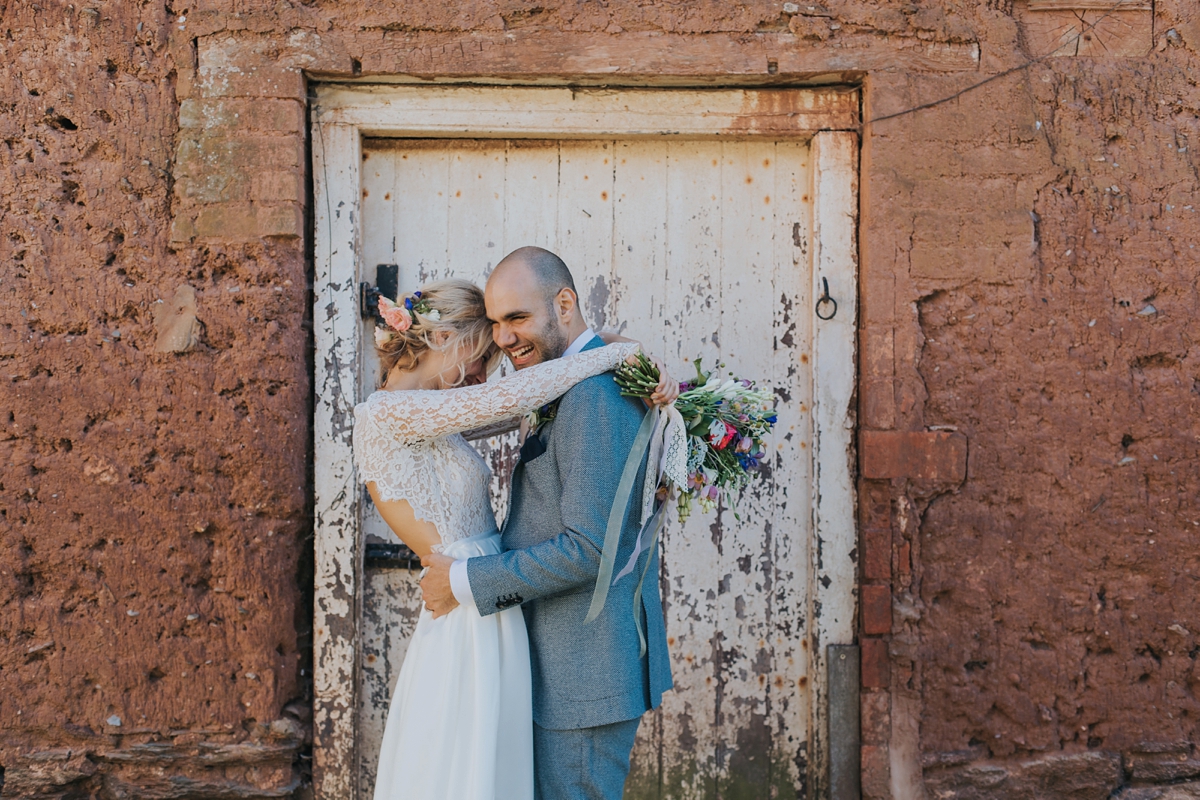 The guests gathered beneath the pergola to enjoy a wedding breakfast supplied by the Maunsel House team and, instead of a wedding cake, everyone tucked into some delicious ice-cream. The newly-weds invited their guests to make impromptu speeches too.
"The wine and Champagne was very special to us as it was brought from France by my mother and her partner.  I love ice cream so we had an ice-cream tricycle instead with a few cheesecakes for those who prefer cakes. Instead of cake cutting we lit up sparklers."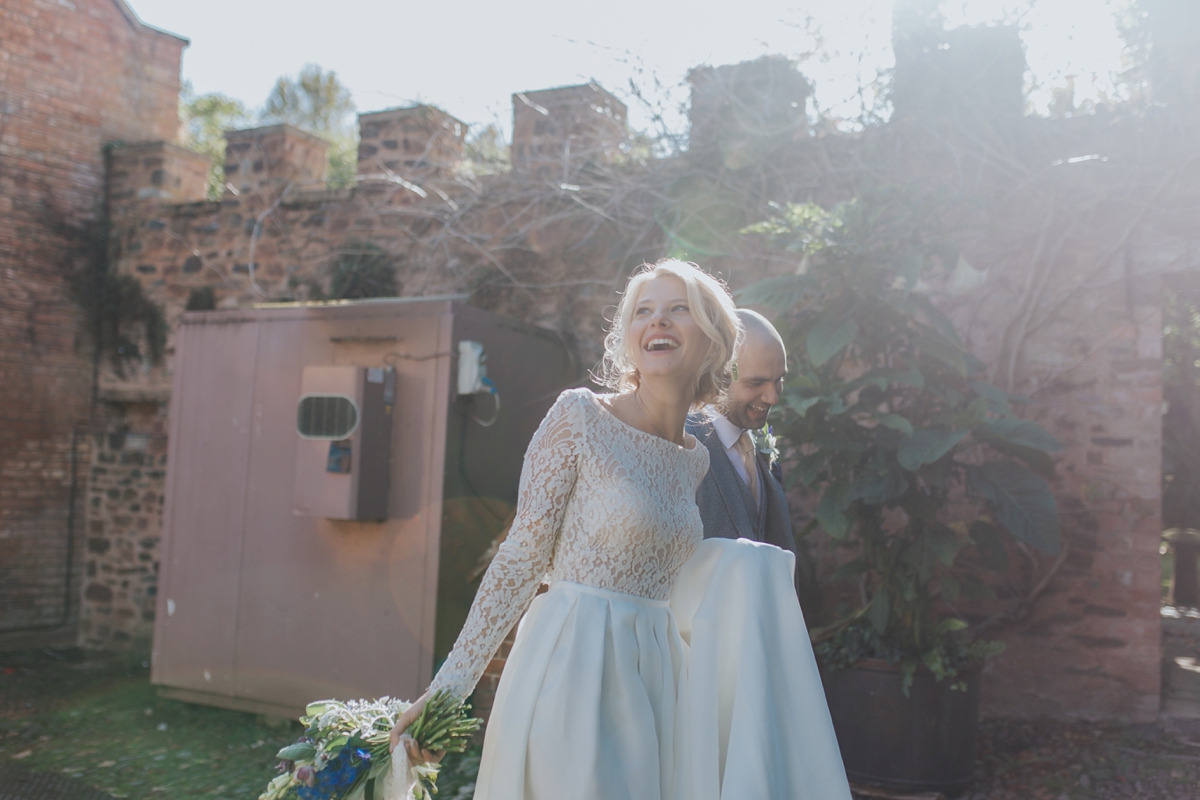 Maunsel House is surrounded by lush gardens and the interior is full of its own detail and history, so very little styling and décor were needed. To dress up the pergola where the dinner was held, Eden Florist arranged the prettiest display of flowers and colourful ribbons.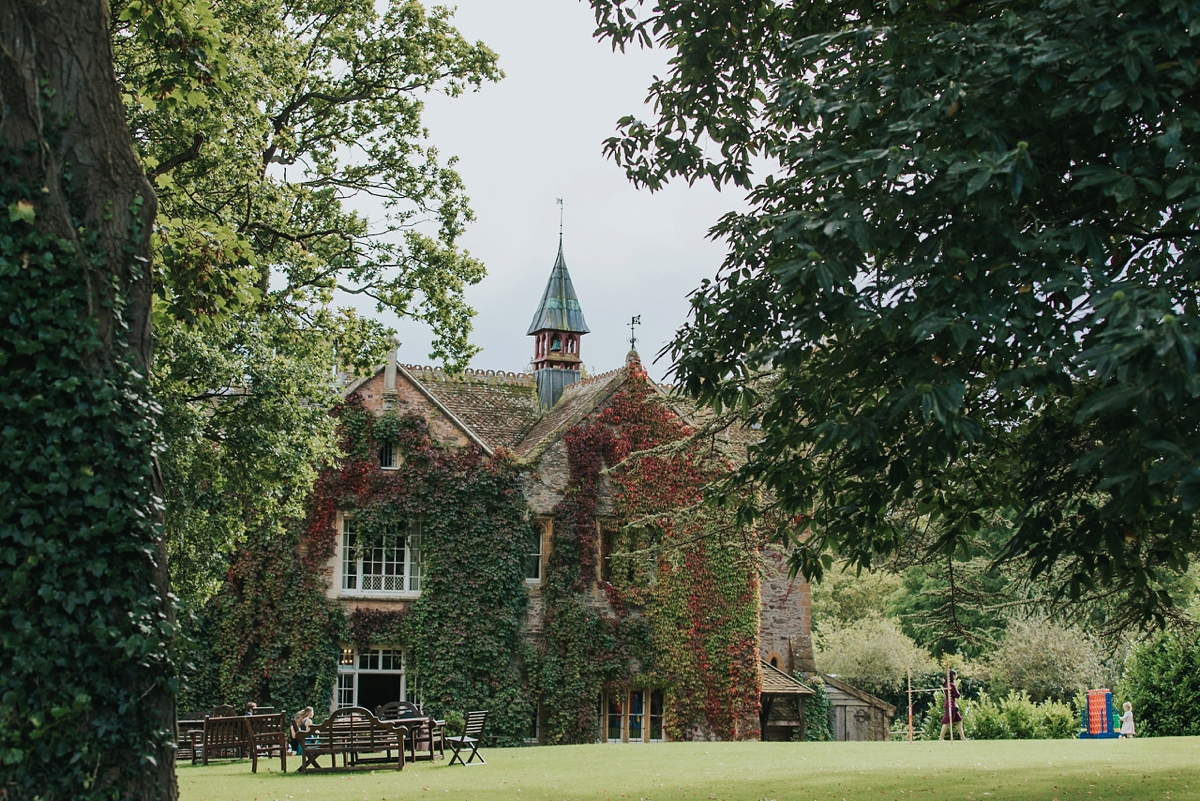 "We prepared most of our own stationery. Instead of invite cards, Joe helped me create a website with the details of our day. I dried flower petals for half a year to use as confetti. In Maunsel House on the mantelpiece we set up over a hundred old photos with friends, which was a great ice-breaker for guests to chat and get to know each other. We also improvised our own photo-booth with an instant Polaroid camera and props."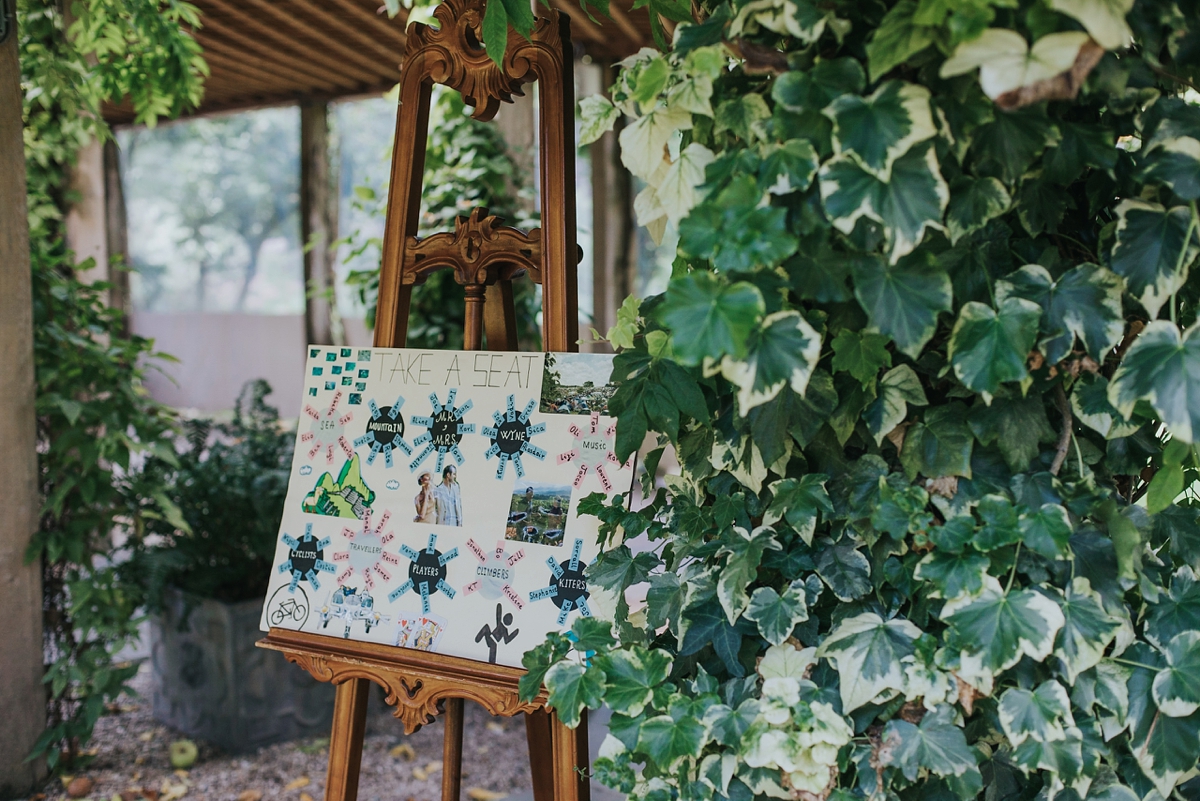 The tables were also styled with lots of vases of flowers and little trinkets to signify the bride and groom's life together. The favours were adorable little wind-up music boxes from Ermano which played a selection of melodies.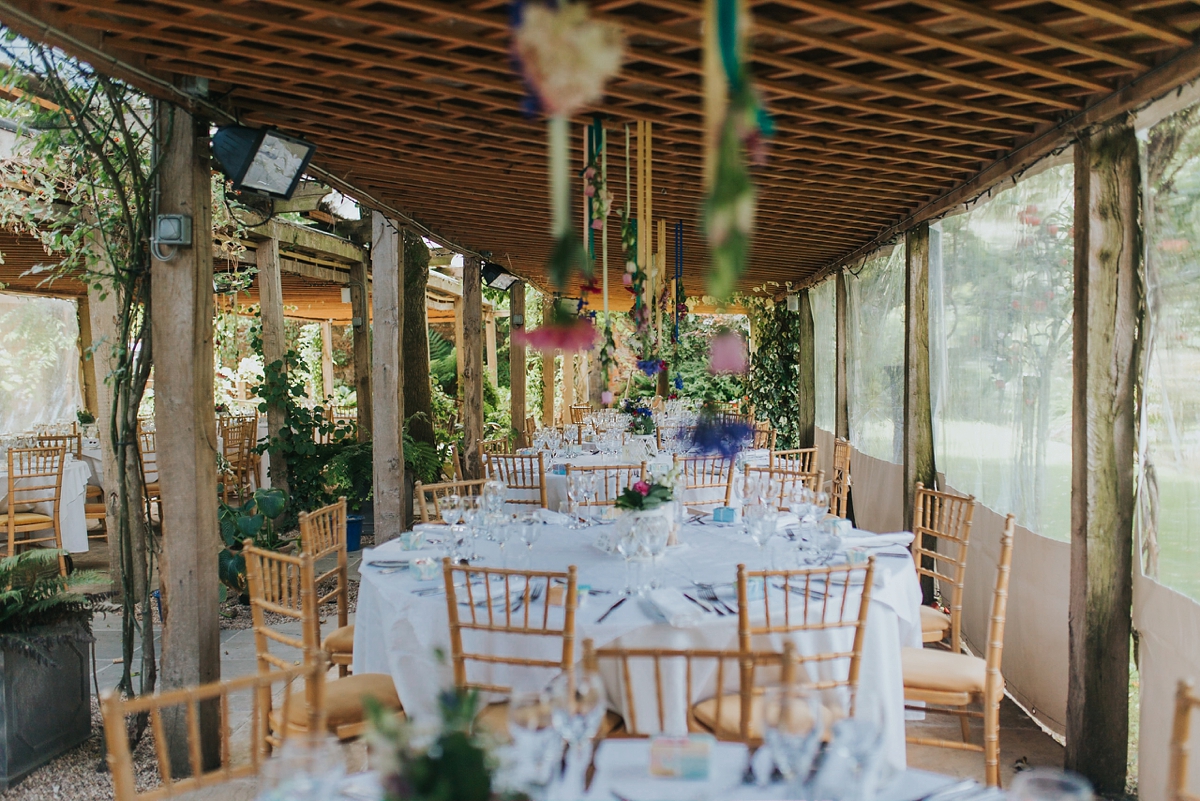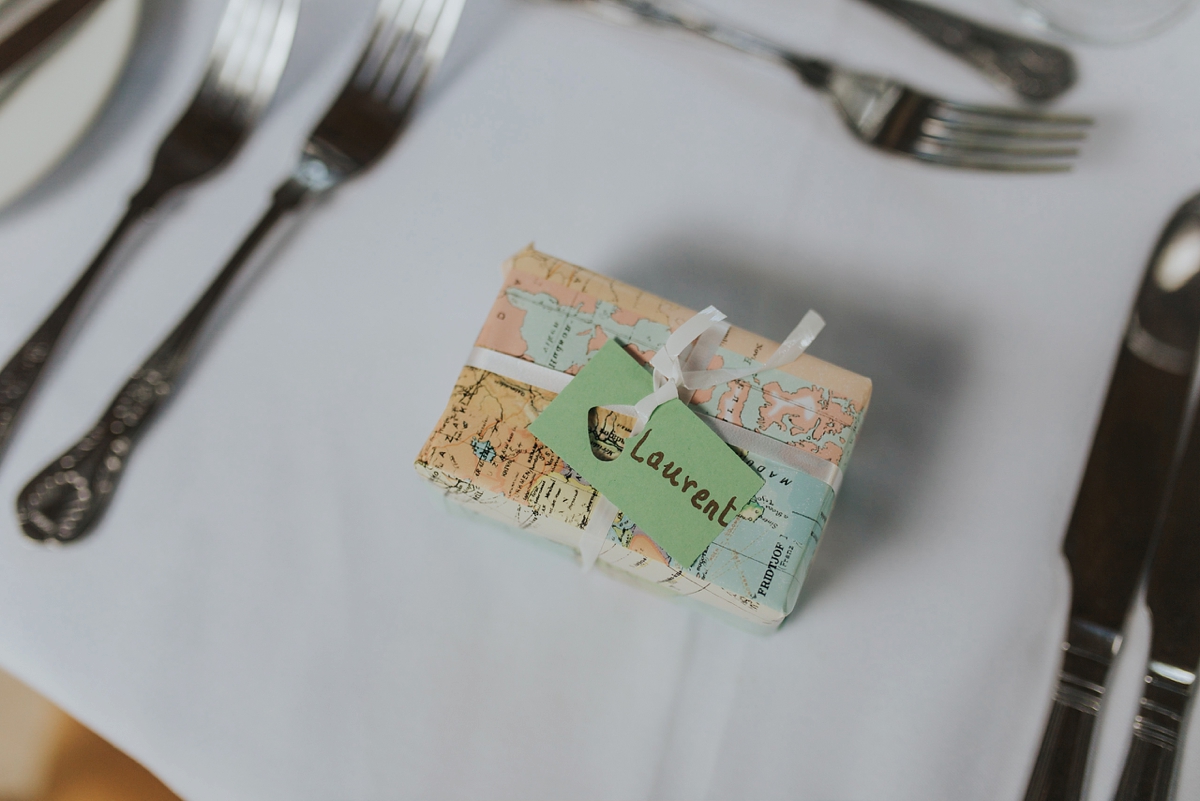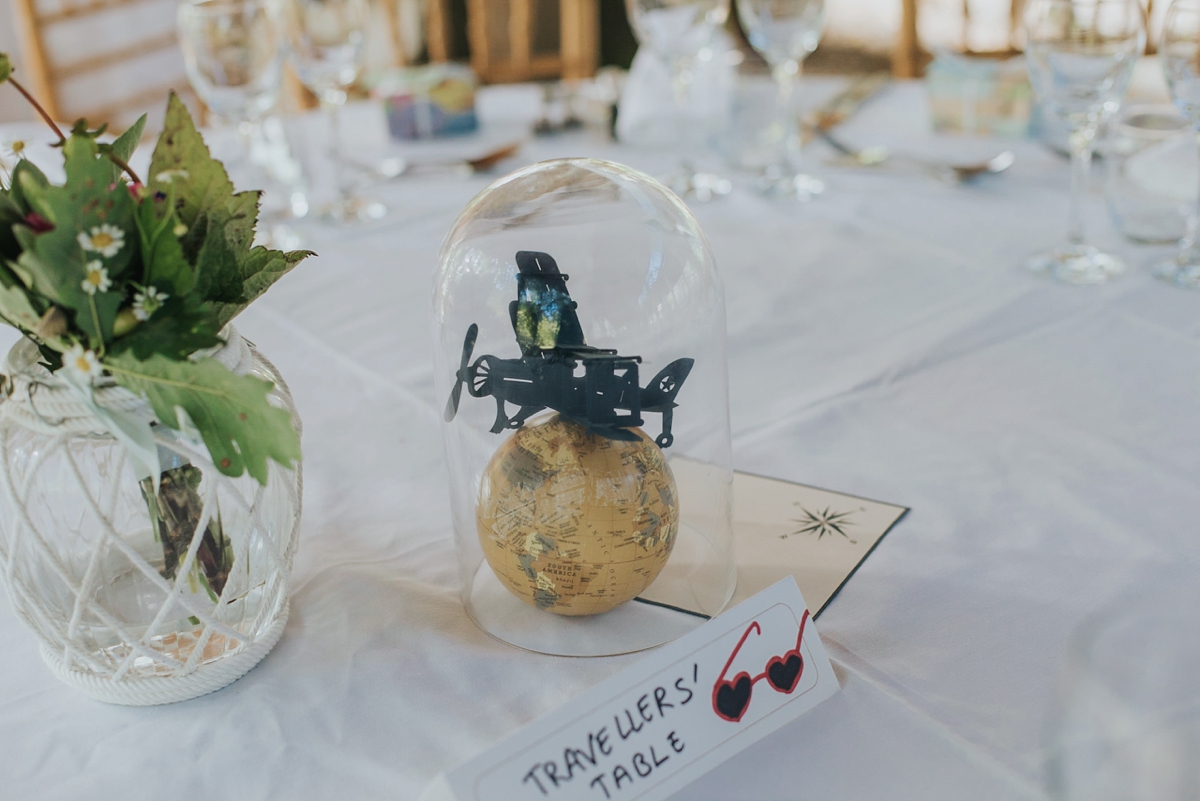 "We had a microphone during the wedding breakfast which anyone who wanted could use at any moment. This resulted in some unexpected speech improvisations that felt really sincere and special."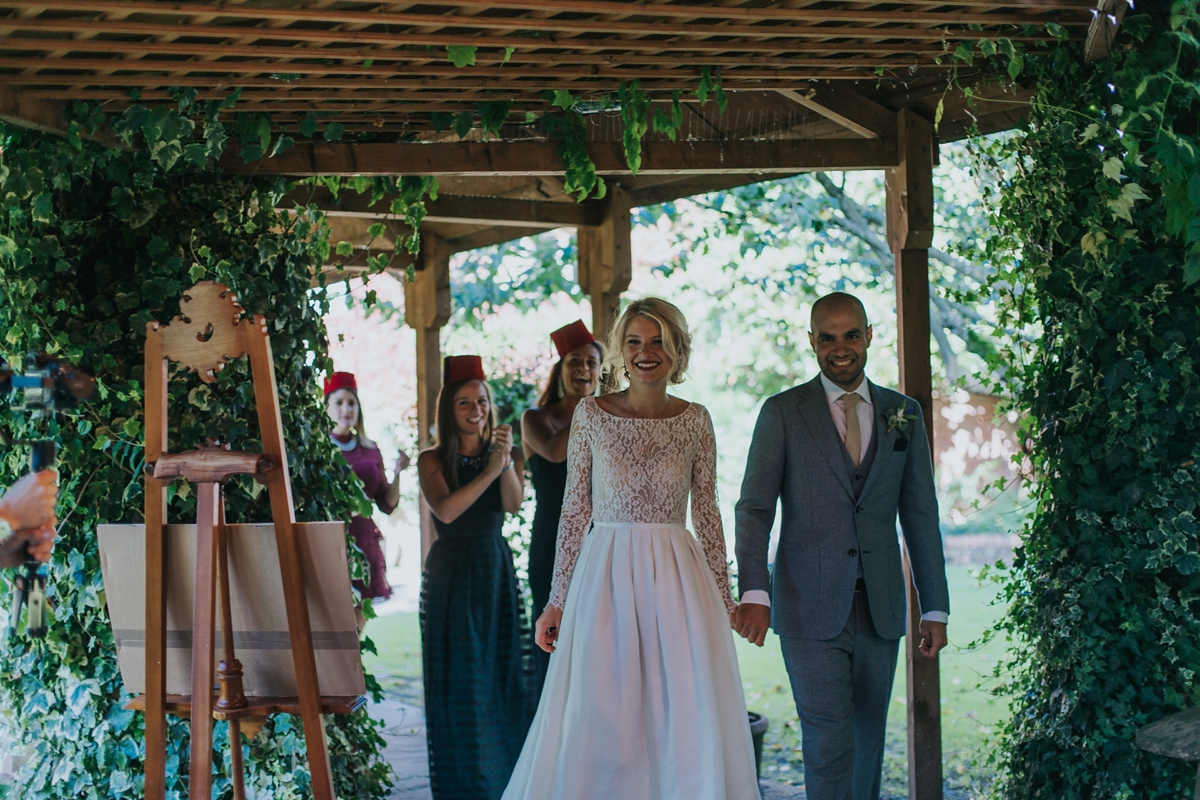 "Our friends organised a Lebanese entrance of the bride and groom called 'Zaffe' – singing, dancing and wearing traditional red hats called 'Tarbouch'. This was so entertaining; the Lebanese really know how to throw a party! Then my Moldovan friends did a 'stealing of the bride' game where the groom had to do dares as a ransom for getting me back."
"My only regret was having to hide and not seeing when Joe was performing to rescue me… but that's the tradition. Also, my Lebanese mother and sister-in-law didn't really understand that it was a game and got upset as they thought someone actually stole me… talk of culture clash and stories to remember.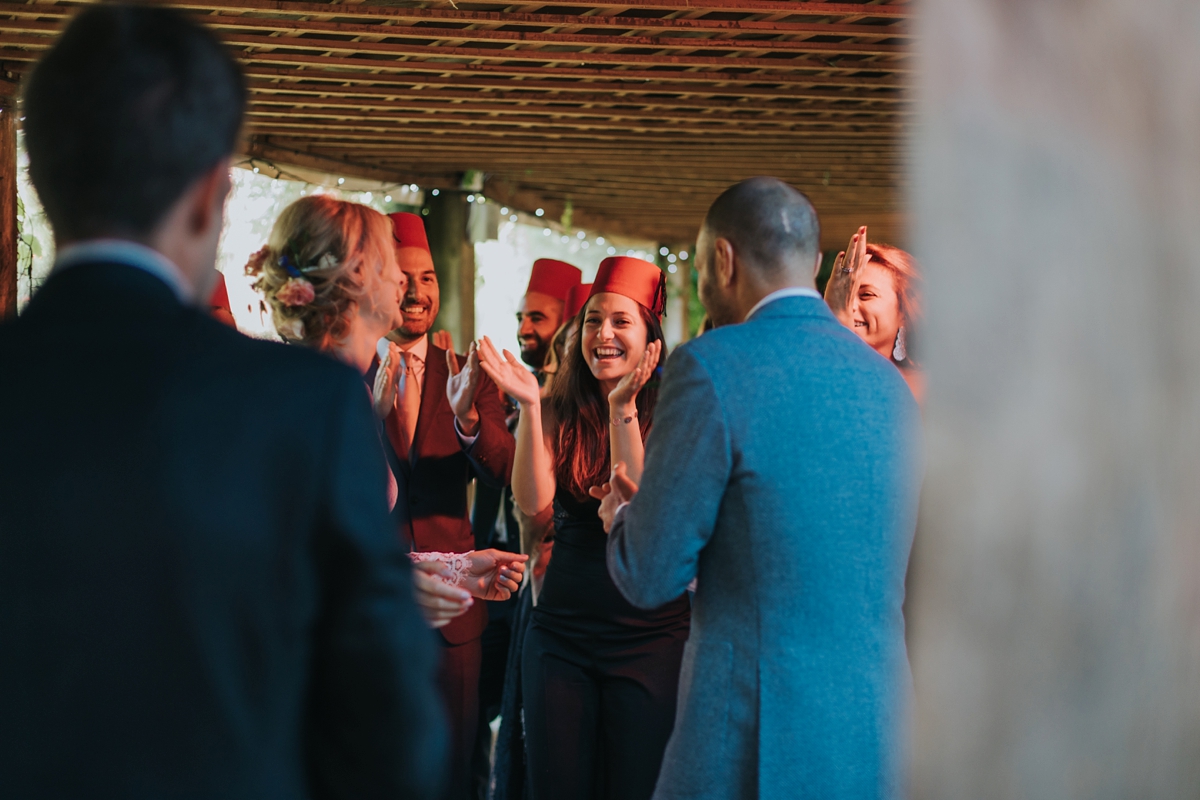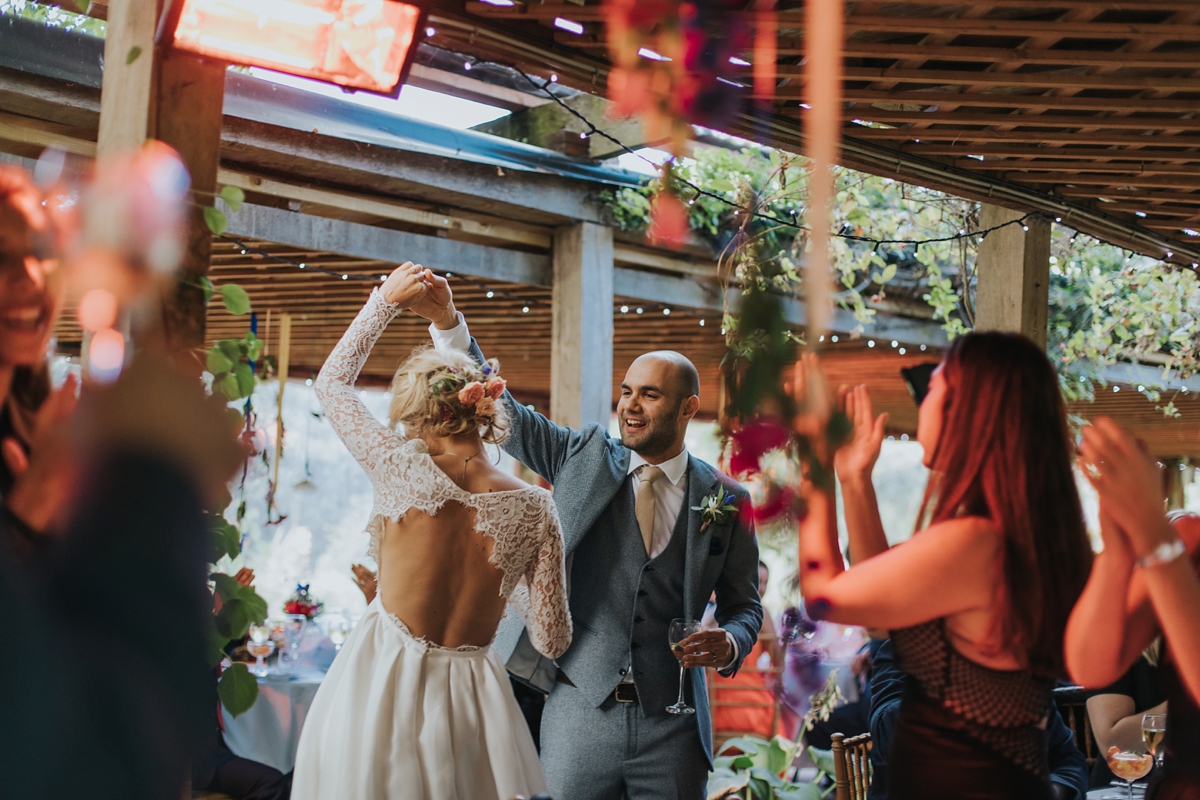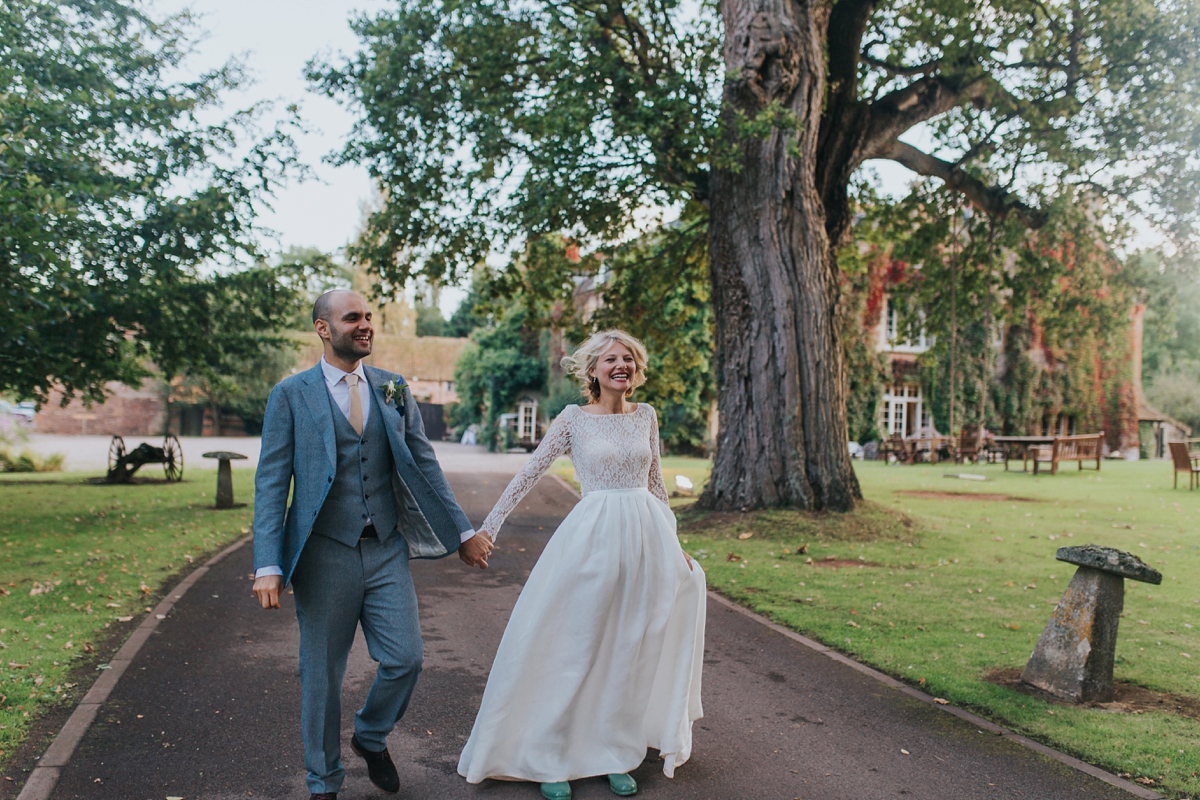 You can see from these gorgeous images that Ira and Joe had so much fun on their day, particularly later on when they could relax in the house and its grounds.
"We prepared a surprise dance choreographed with the help of Lil J at Pineapple Studios in Covent Garden. The song was 'Uptown Funk', as we really enjoyed Mark Ronson at Glastonbury a few years back."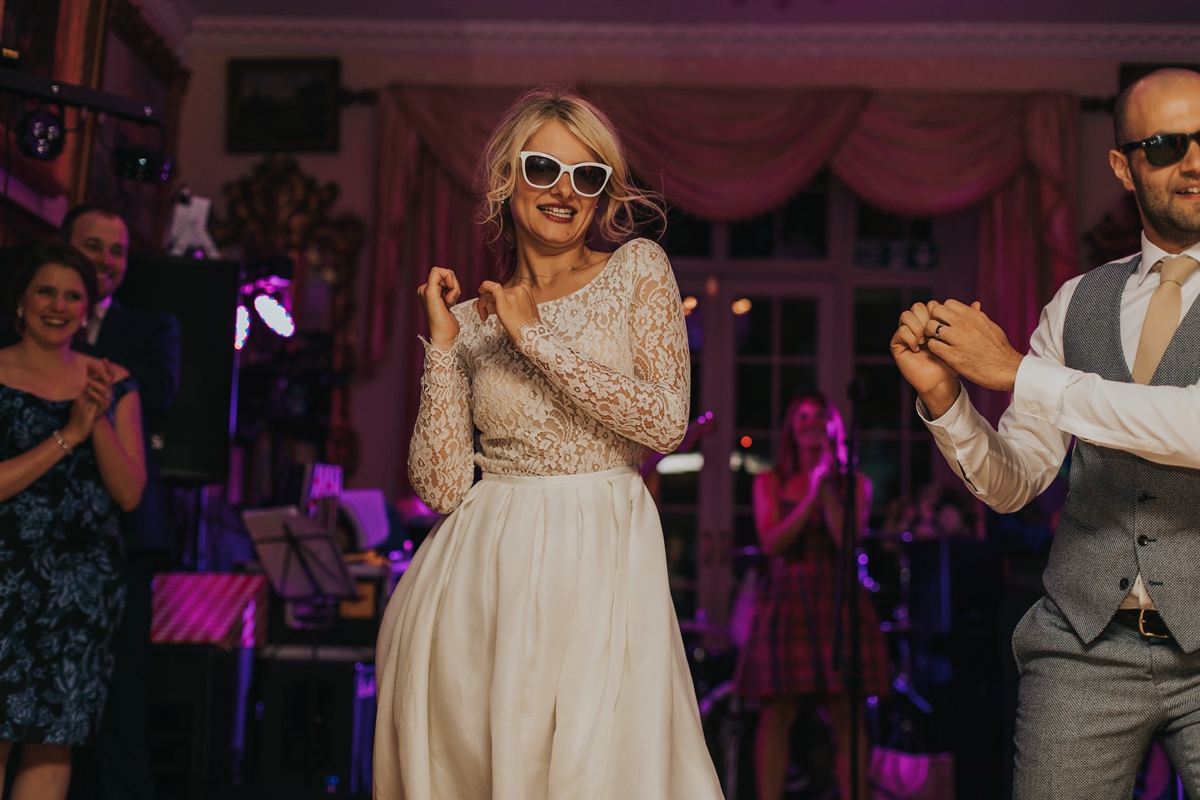 "In the evening we had an amazing band called 29 Fingers, followed by insanely energetic Lebanese dancing called Dabke. I don't think I've ever danced so much in my life!"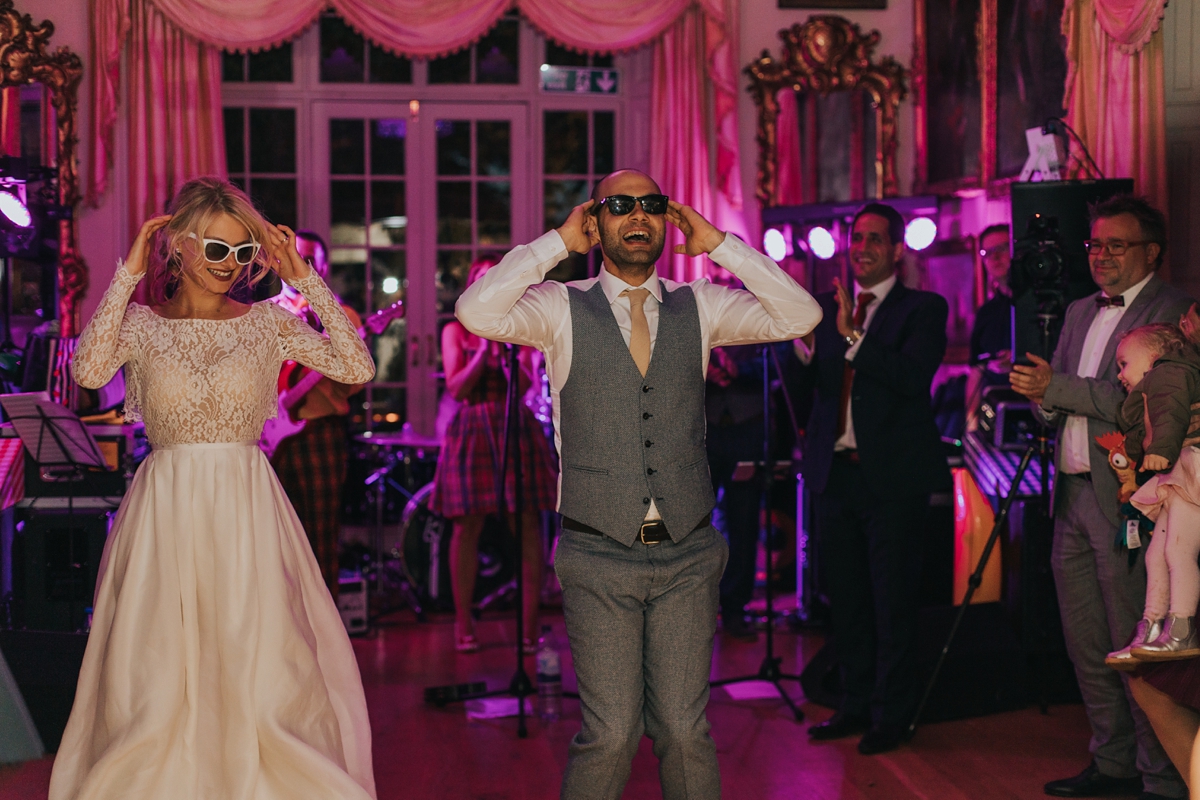 The evening before the wedding, the guests spent time together having a whole load of fun with garden games and clay-shooting. I once went to a wedding where we spent the morning playing Highland Games, so can testify for just how much fun this is.
"Joe and I were keen on fun activities. The day before the wedding we organised laser clay shooting, lawn games and friends took turns at flying a small camera drone, managing to capture some truly unforgettable moments. In the evening we stood by pit fires, toasted giant marshmallows and had a barbecue. We also had a local band playing by the fire and later inside the pub which made the whole atmosphere very cosy."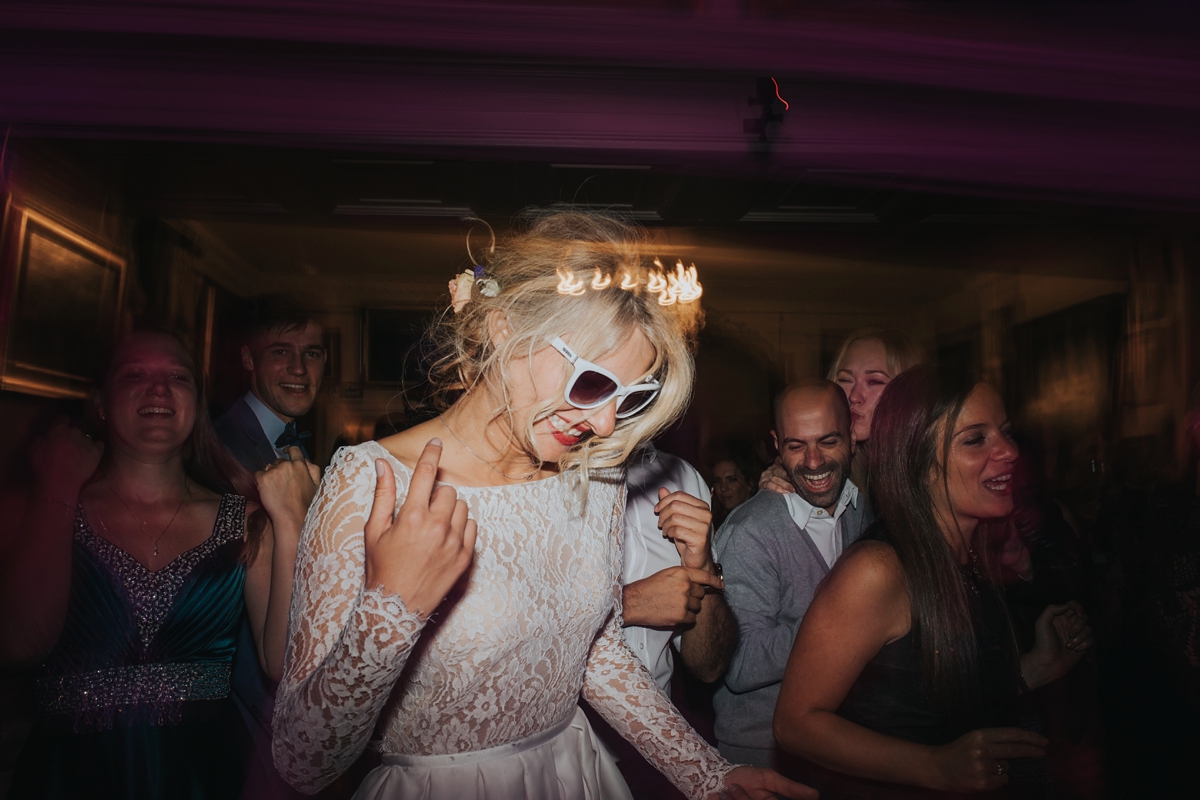 Words of Wedded Wisdom
"I'm not very girly and never thought I would enjoy planning a wedding so I was very surprised by how much fun it was. We tried to make a game out of it, turning the hunt for venues into enjoyable weekend trips."
"It's a good idea to get friends and family involved by distributing tasks, like responsibility over the photo booth props, putting up some of the decoration, helping figure out the music… you will have less to stress over during the wedding day and your friends will be happy to be involved."
"Most importantly, try to stick together with your groom. It will go past so quick, so don't lose sight of each other."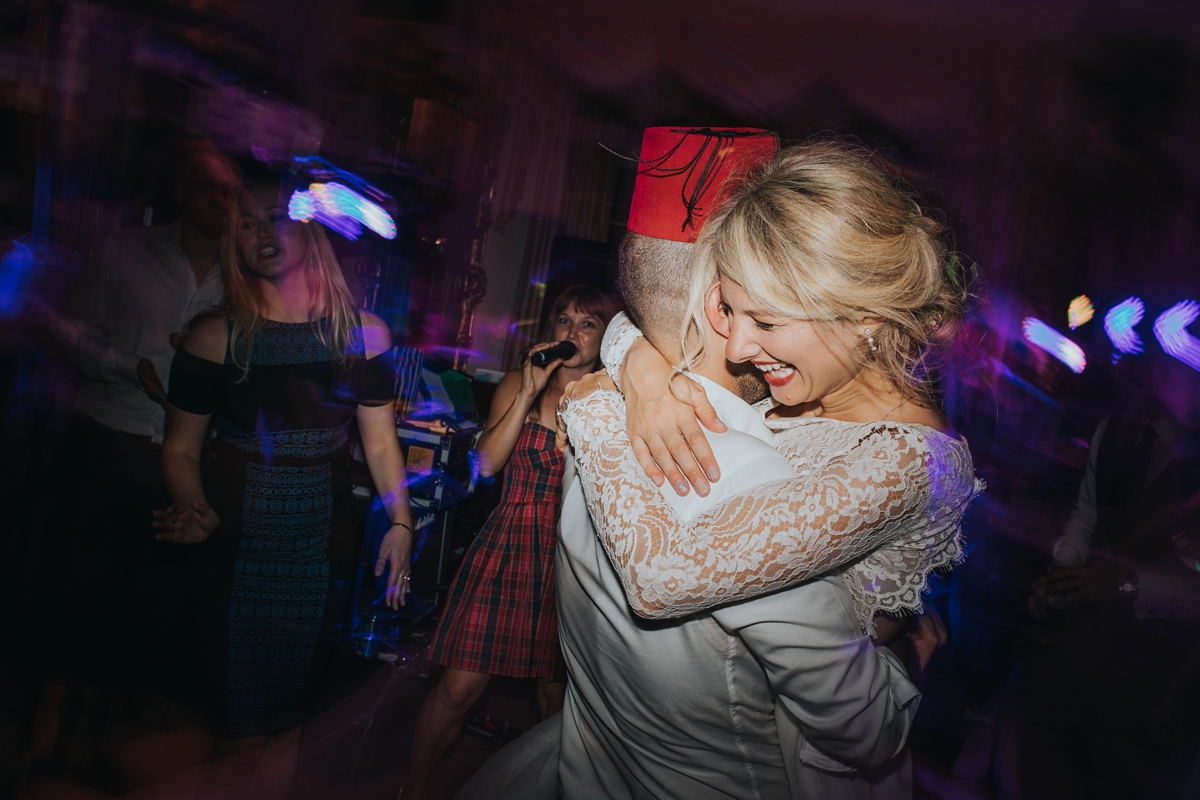 Oh Ira, how I love your gown and that riot of wildflowers. Thank you so much for letting us share these photographs on Love My Dress. Sending so many thanks as well to Mrs Mashup for your gorgeous filmography and photography – I've thoroughly enjoyed the details you've captured.
Ele xx