Hello lovelies! I trust you're well and looking forward to another wonderful wedding? Today's bride and groom's top priority for their day was fun and, by the looks of their photo's, it came it truckloads. If pizza, lawn games in the sun and a ride on a tandem bicycle isn't your idea of fun, then I don't know what it is! So without further ado, let me introduce you…
Medical Writer Becky and Doctor Andy were married on 8th July 2017 in a local village church ceremony, followed by a tipi reception at Beehive Woodland Lakes in Rosliston, Derbyshire.
"We were looking for somewhere rural to put up the tipi, close to my village church and with camping space ideally, so beehive Woodland Lakes was perfect. We just wanted a really relaxed day and for everyone to have fun and play games (weather permitting!). I loved the idea of a tipi as soon as I saw photos online of them; they just looked magical, particularly surrounded by woodland. As a result, we also went for a sort of woodland theme for the wedding too. We also really enjoy cycling so we used that as a bit of a theme too."
Images by Luis Calow
The pair recruited the fabulously talented Luis Calow to capture their day and all of its special moments on camera.
"Our photographer Luis was absolutely amazing! We loved his style of photography as it was really relaxed and artistic; exactly what we wanted. He is also so friendly that we got along really well and had a lot of fun. We didn't even notice that we were being photographed most of the time. He seemed to get photos of everything and it was great to be able to look back through our selection of photos. They really captured the feel of the day. We couldn't recommend him highly enough!"The day started with the bridal party getting ready together on the morning of the wedding. The bride and all her babes had their hair done by hairdresser Matt at New Roots Hairdressing in Burntwood, before they were driven to the church by Andy's dad, complete with champagne and personalised glasses. The bride was then walked down the aisle accompanied by her dad to Canon in D by Pachelbel, played by the church organist, in an exquisitely beautiful lace sleeveless gown by Ronald Joyce via The Bridal House in Sheffield.
"It was called the Janie 18052 by the Victoria Jane Collection at Ronald Joyce. We replaced the original belt with one called the Mary-Ann, bought from Magnificence Bridal, which was stitched on by Jo at The Bridal House. I wanted a belt that was a little more understated and this was perfect. I loved that the dress was really simple and I really liked the detail and buttons at the back."
Becky accessorised her white dress with a fingertip length veil, also from the Victoria Jane Collection at Ronald Joyce, Rainbow Club heels and gypsophila in her hair. Her stud earrings, which matched her dress perfectly, were handmade by her aunty as a wedding gift, and she borrowed a delicate silver bracelet from her mum.
In keeping with the rustic woodland theme, Becky chose bluebell coloured full length sleeveless dresses from Monsoon for her bridesmaids, and treated them each to a pair of earrings from Silver Tales Studio on Etsy as a thank you gift for supporting her on her special day.
The bridal and bridesmaid bouquets were utterly stunning and fit perfectly with the dresses. They featured white and blue blooms as well as gypsophila, and were all lovingly created by the talented Lily at Flower Design of Lichfield.
"The bouquets, corsages, gypsophila and buttonholes were all by Lily. We bought the flowers for the tables from supermarkets a few days before, as we didn't mind what flowers were on the tables, we were just keen to have a selection of all sorts for a rustic look. We wanted some tall flowers to add height to the table placings as the tipi is so tall inside I also cut some from our garden too. Then our family and friends helped us set up all the table flowers the day before – it was a big operation!"
The bride and groom swapped rings from Edward Jones and were greeted with a confetti shower on their way out of the church.
The groom chose to match his groomsmen in a 2-piece grey suit with complimenting grey waistcoat, all hired from Ashley Rogers, accessorising with a pair of O'Mario shoes and a Fossil watch.
Following the ceremony the guests congregated outside of the tipi whilst the bride and groom and their wedding party went off with Luis Calow for the photos in the surrounding fields and woodlands.
"We'd bought a vintage tandem bike from Gumtree for when we got to the venue. The groomsmen and bridesmaid decorated it for us whilst were having photos then we cycled to the tipi in it and got lots more photos of us on it!"
"One of my favourite parts of the day was cycling across the field on our tandem bike earlier in the day. It was great because we could see everyone outside the tipi waiting for us. It was a great moment to be able to share with our family and friends. Everything went so brilliantly on the day and we wouldn't have done anything differently!"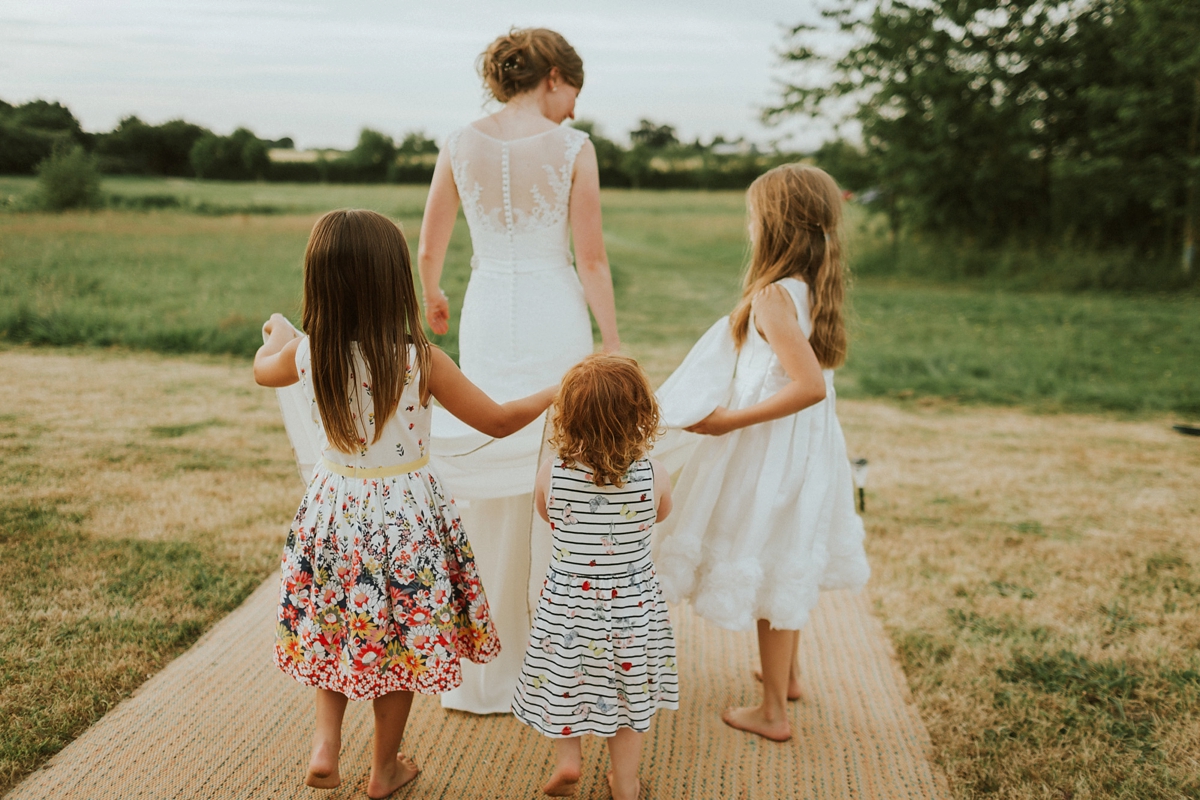 The wedding breakfast was served in the tipi with guests sat at long wooden tables. Canapes were followed by a BBQ and dessert, all provided by Claire at Clara's Kitchen, and for the evening, pizzas were supplied by Biddulph's Pizzeria.
Guests were then able to enjoy the beautiful weather outside the tipi with lawn and sports games, and were treated to an absolutely beautiful sunset.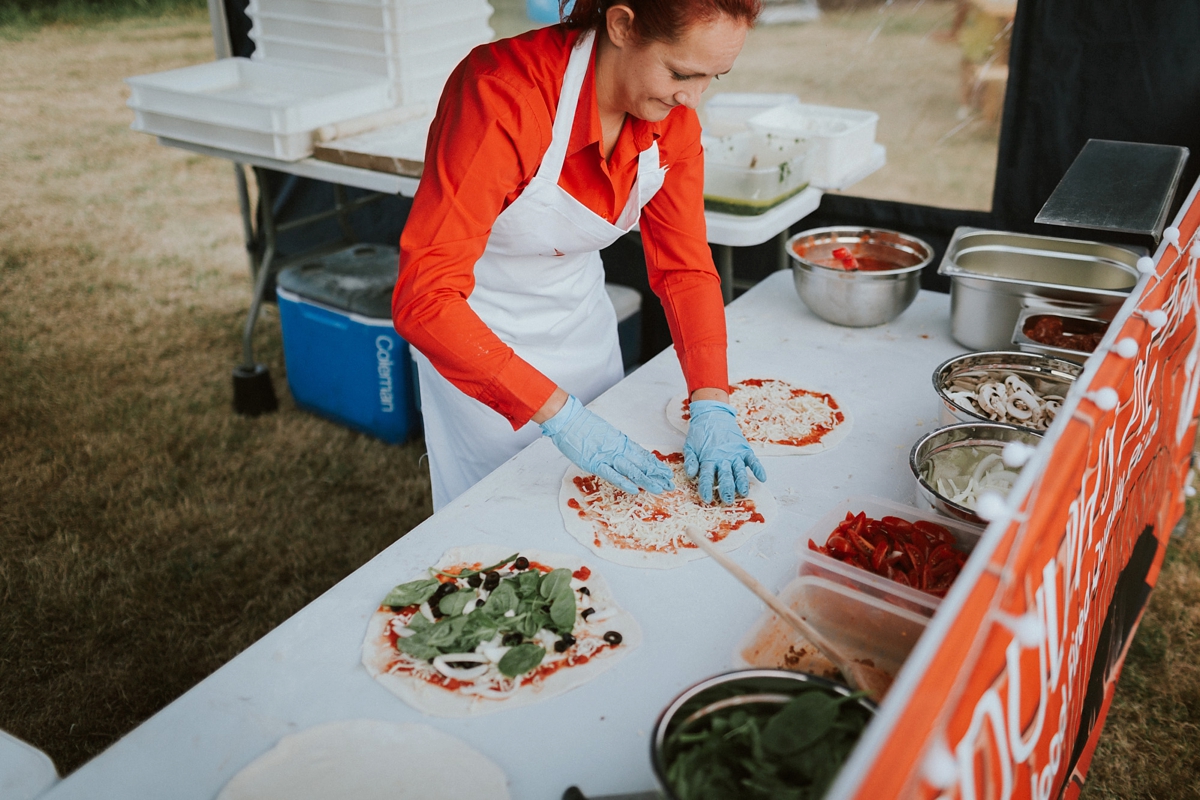 Once inside, the tipi was beautifully decorated by the bride and groom themselves, with a little help from family and friends.
"We made most of the decorations ourselves. We made all the signs for the venue and the frame for the photos out of an old fence panel which we painted. It took a long time but it was good fun. We also used an old bike wheel to attach the table settings to. We borrowed bunting, crates and hampers, and decorated jam jars collected from friends who had recently got married themselves. We decided to have lots of flowers in old wine bottles and jam jars to decorate the tables with. A few weeks before the wedding, I saw a canal barge with a hamper with flowers bursting out of it which I thought looked brilliant, so we did something similar at the entrance."
The favours were also a DIY affair with the couple foraging their own blackberries and making homemade blackberry whisky.
"We foraged for blackberries the autumn before the wedding and brewed up a massive batch of blackberry whisky which we decanted into little bottles with a label we designed on them. It was good fun to do and it made nice little souvenirs. Although there weren't many left!"
Once the sun had gone down, The Greg Bish Blueprint played the night out, with the dance floor full until the early hours. The couple chose Johnny B Goode as their first dance song due to its high energy and fast pace.
"We thought it would be a fun one to have as a first dance. Our friend was playing the drums in the band so that made it even more fun!"
Words Of Wedded Wisdom
"I think it's really important to just have the day you both want, whatever your style is. We just wanted to do something that we knew we would enjoy and then it's really likely that everyone else will have a good time too! I think it's easy to get carried away trying to copy something that you've seen or that other people have done, but we loved to do our own thing and it was really fun to think of ideas that we thought people would enjoy."
What a wonderfully fun day! And how lucky were Becky and Andy with the weather?! A huge congrats to the happy couple and a big thank you to photographer Luis Calow for the gorgeous imagery; the fun relaxed atmosphere of the day really shone through.
Until next time…
Much love,
Holly x