Happy Saturday readers – I hope your weekend is going well?  I do hope it is, and you're enjoying the lighter evenings and warmer weather of spring, but if not, I have the perfect pick-me-up.
Meet Holly, a print designer, and Will, a motor sports mechanic, who married on the 2nd of September 2017 with a ceremony at St Peter's Church, Dunchurch, followed by a tipi reception at Holly's parents' home.  The whole day is so pretty and filled with quirky details- its the perfect antidote to a mid week slump.
"Planning the day was a very organic process.  I started by collecting images of what I liked, knowing that I wanted it to have a country feel with a bohemian edge, and created moodboards which started to form a colour palette of soft pinks, tweeds and gold."
Images by Kuder
Holly looked fabulous in Elise from the Wtoo Collection by Watters, purchased from Serendipity Brides in Weedon and with alterations by The Fitting Room, Dunchurch.
"I had my heart set on a different designer but before I even looked in the mirror I knew it was the one.  I loved how different the lace was and the beaded embellishment made it sparkle.  It was perfect for the bohemian, relaxed vibe I wanted for the day.  I felt fabulous."To accessorize, Holly chose a beautiful Joyce Jackson lace edged veil (also from Serendipity Brides) which she wore with the most gorgeous delicate headband- Mimosa by Ivory & Co.
On her feet, Holly wore 'Blossom' by Charlotte Mills, while for scent she chose La Vie est Belle by Lancome, which was bought for her by her sister.  For jewellery she opted for a stunning vintage opal and diamond necklace from eBay and an infinity bracelet from Links of London, given to her on the morning of the wedding by her siblings.
Transport came in the form of a red vintage Ferrari and a red VW camper van loaned by two friends, one of whom also chauffeured the girls to church.
"We were so lucky to be loaned such wonderful wedding transport and it was really lovely for it to be just my dad and me on the way to the church and for it to be Will and I on the way home.  It gave us precious moments together on our first journey as husband and wife."
Holly wore her hair down in beautiful relaxed waves, while for make up she chose a natural look with a rose pink lip, perfect for her soft and romantic style.  Both hair and make up were the work of Leanne Knighton of Knighton Beauty (sadly we don't have any details).
Will rocked an informal country look in a tweed blazer and waistcoat from Marc Darcy, paired with chinos from Next, a tweed tie from ASOS and silver racing car cufflinks from Aspinal of London which were a gift from Holly.  His groomsmen matched, but with the opposite colour waistcoat and tie and the little page boy wore a very similar outfit from Mamas and Papas.
"We met when we were thirteen and Will took me to my school prom.  A few years later we met up again and we were together for three and a half years before we got engaged.  Will proposed on a beach while we were on holiday in Salcombe on a perfect sunny day.  We had an ice cream to celebrate."
"Being a print designer, I designed all the invites, signs etc myself and it really helped to bring everything together on the day and create a coordinated look.  I think people noticed and appreciated the detail.  I have recently started working on my own business The Country Design Studio."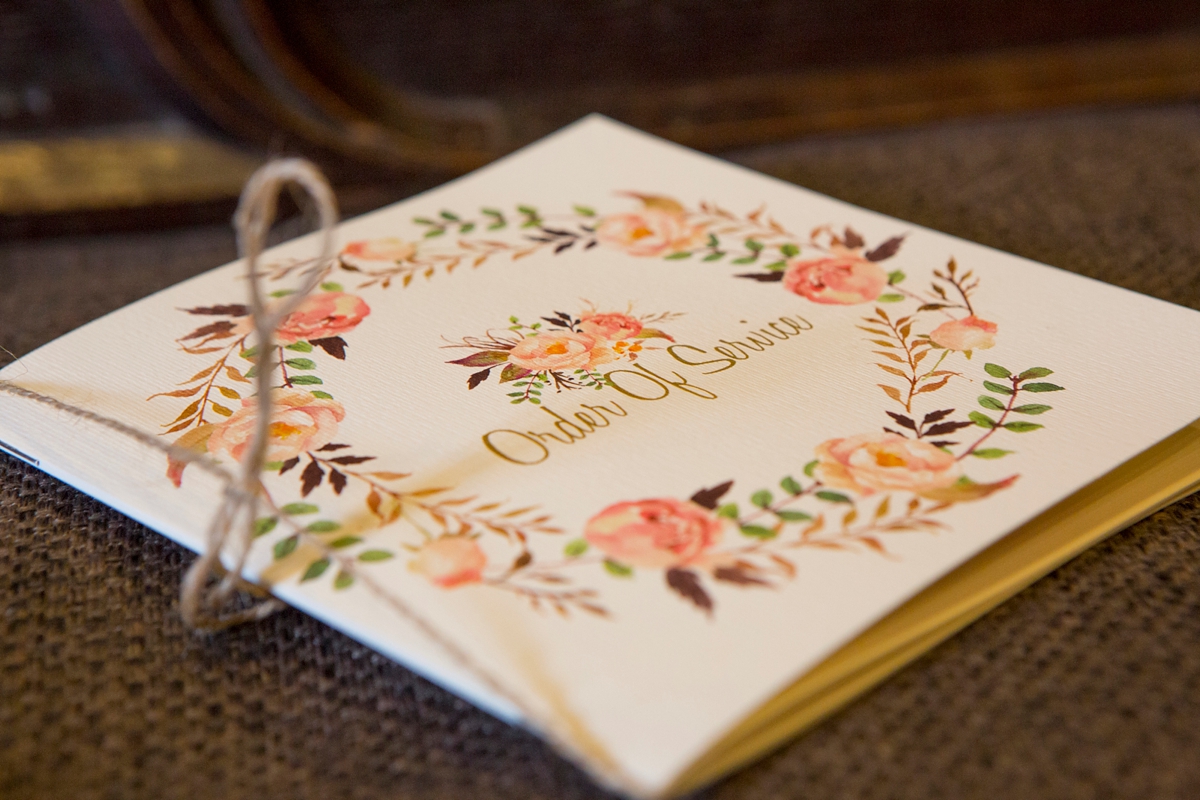 The bridesmaids looked lovely in full length pink gowns with gorgeous beaded bodices, from our Little Book for Brides members, Monsoon which they wore with shoes from New Look, necklaces from Next and bracelets from Accessorize.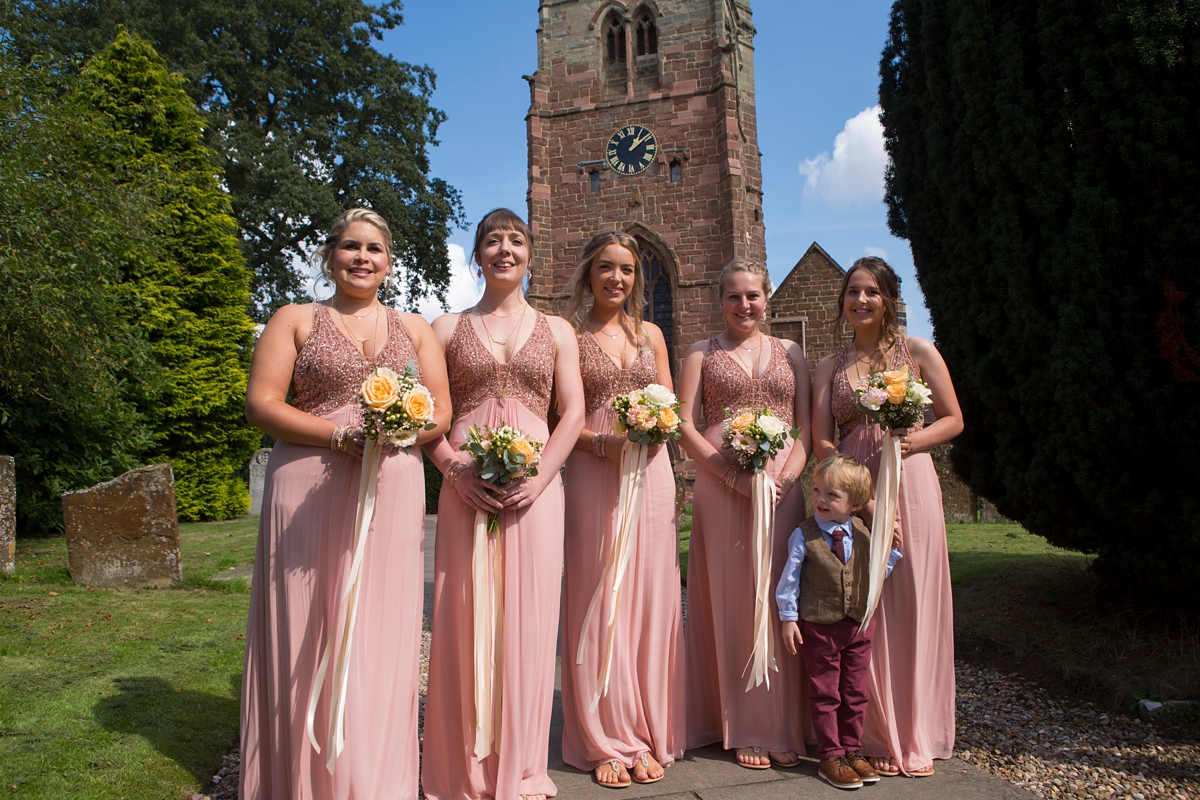 "St Peters was the church where my parents were married and I was christened- we can hear the bells ringing from home on a Sunday morning.  Having lived at Toft Farm all my life it's the only place I could have ever imagined getting married and we were so fortunate to have the opportunity to host the reception at home."
Holly was accompanied down the aisle by her dad to the traditional wedding march.
For their reading, Holly and Will chose an extract from Captain Corelli's Mandolin by Louis de Bernieres- 'Love is a temporary madness', which was read by Holly's sister (and chief bridesmaid) Rachel.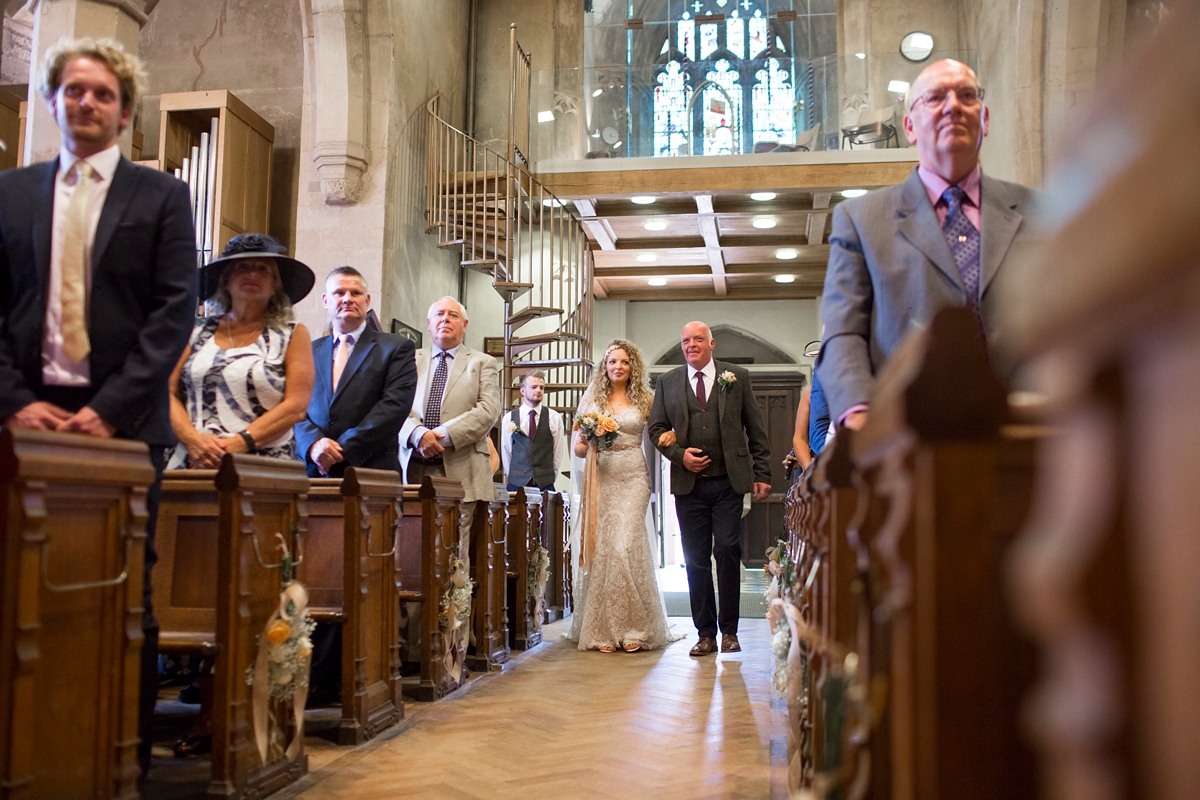 "We love this reading because it's about growing together through the trials and tribulations of life."
Will chose not to have a wedding ring, while Holly's was a bespoke ring from Waterman's in Banbury.
"We did all the flowers ourselves as my mum and her friends are very talented flower arrangers.  We roped in several pairs of hands in the days leading up to the wedding and it was great fun laughing with all the ladies while we arranged the flowers.  The milk churns were loaned by my mum and dad's farming friends and were the perfect arrangements to frame the open sides of the tipis."
"I chose the flowers mainly for their colours as it was really important to me to have a strong and cohesive colour palette and for the flowers to be the main focus on the tables.  They brought my vision to life in true midsummers night's dream fairy tale style. "
Both the photography and wedding film were the work of the talented Kuder.
"Kuder were so friendly and laid back and put us instantly at ease.  We could totally relax in the knowledge they were capturing our special day- true professionals.  They are also incredible videographers and we were so pleased with our final film.  We would recommend a video to everyone as it's such a living thing and captures not just a moment in time but the whole journey throughout the day.  It fills us with happiness every time we watch it and it's an amazing keepsake for the years to come."
Holly, Will and their guests moved to the family farm for the post-ceremony celebrations, which had been set up with a tipi for the occasion.
"All the props were collected by us in the run up to the wedding.  The cake-stand cabinet was bought from eBay for £30 and given a new lease of life by my mum and sister, the postbox was from VMBespoke along with the placenames and table names and we scoured antiques shops and flea markets for brass candle sticks and 'H & W' letters."
Favours were little jars of honey from the beehives on the farm, perfect for the country/rustic theme.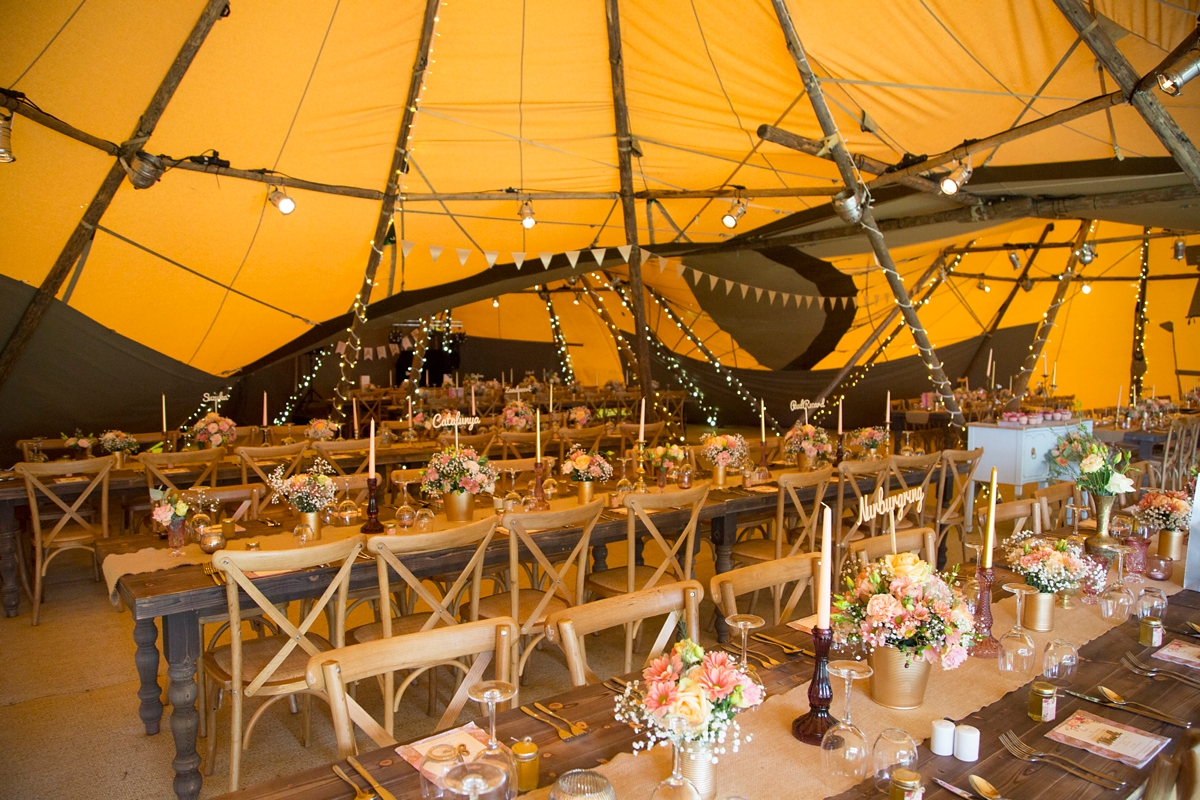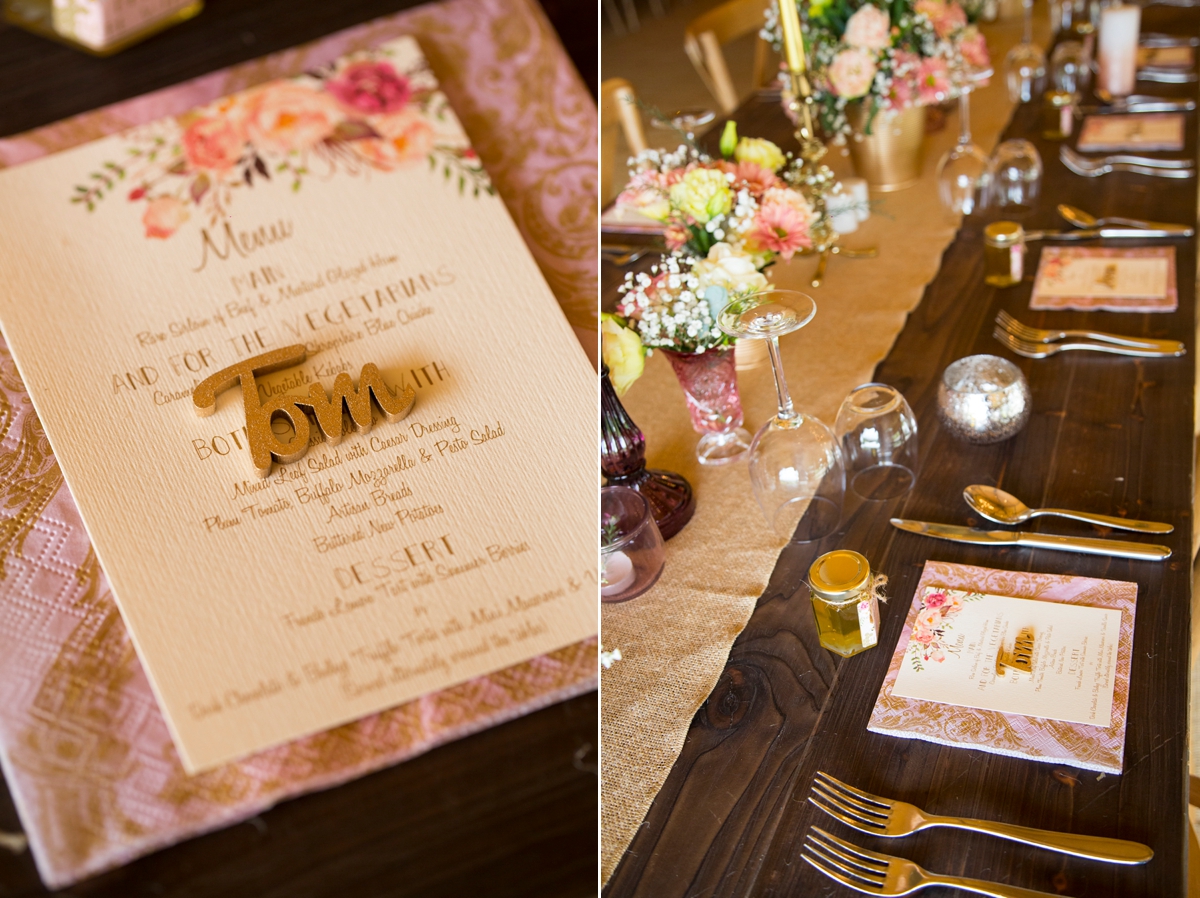 Catering was by Taste Events, who provided a farmer's feast: carved beef and ham, salads,new potatoes and artisan breads, followed by a choice of desserts.  In the evening they also provided a pizza oven and a 'build your own burger' bar.
"Taste were absolutely phenomenal- the food was exceptional and the service was impeccable, we can't recommend them enough.  They also ran our bar and we could relax knowing they had everything under control."
"My mum made our cake; she is incredibly talented.  I wanted simple icing with gold leaf and fresh flowers and it was incredibly special because it was made by her for us with all her love."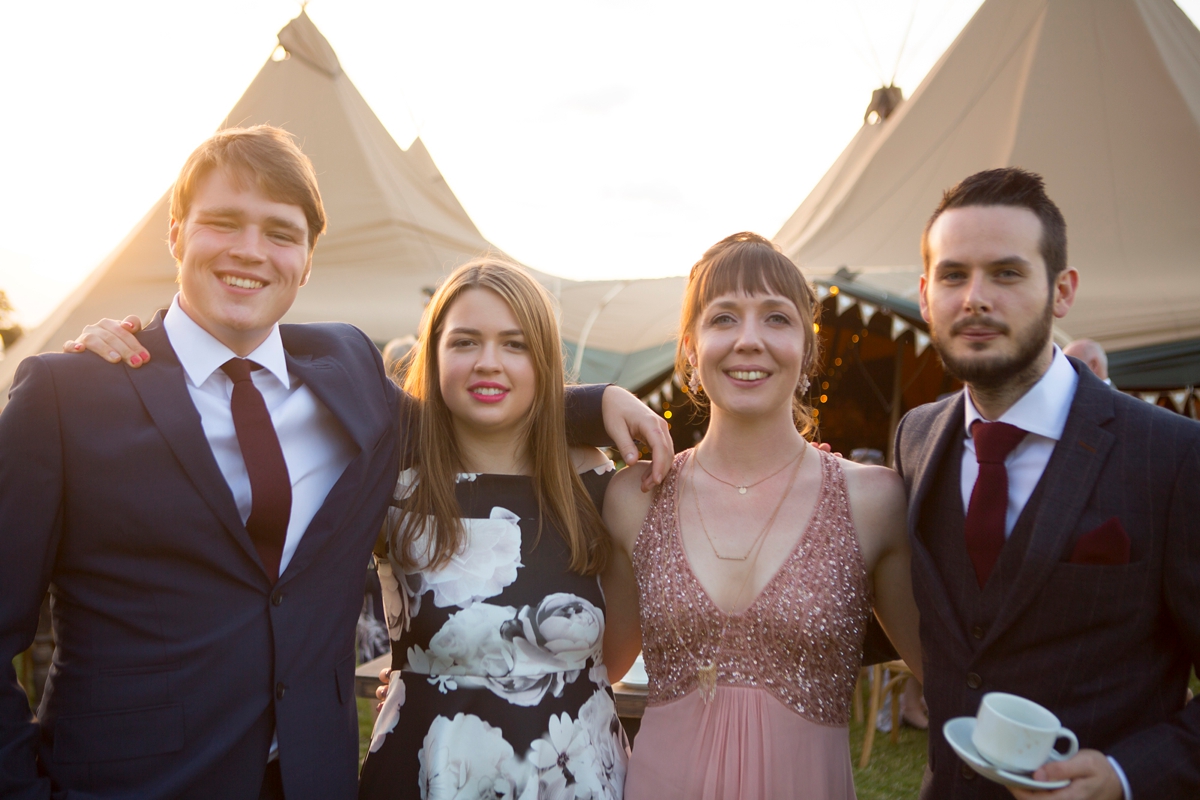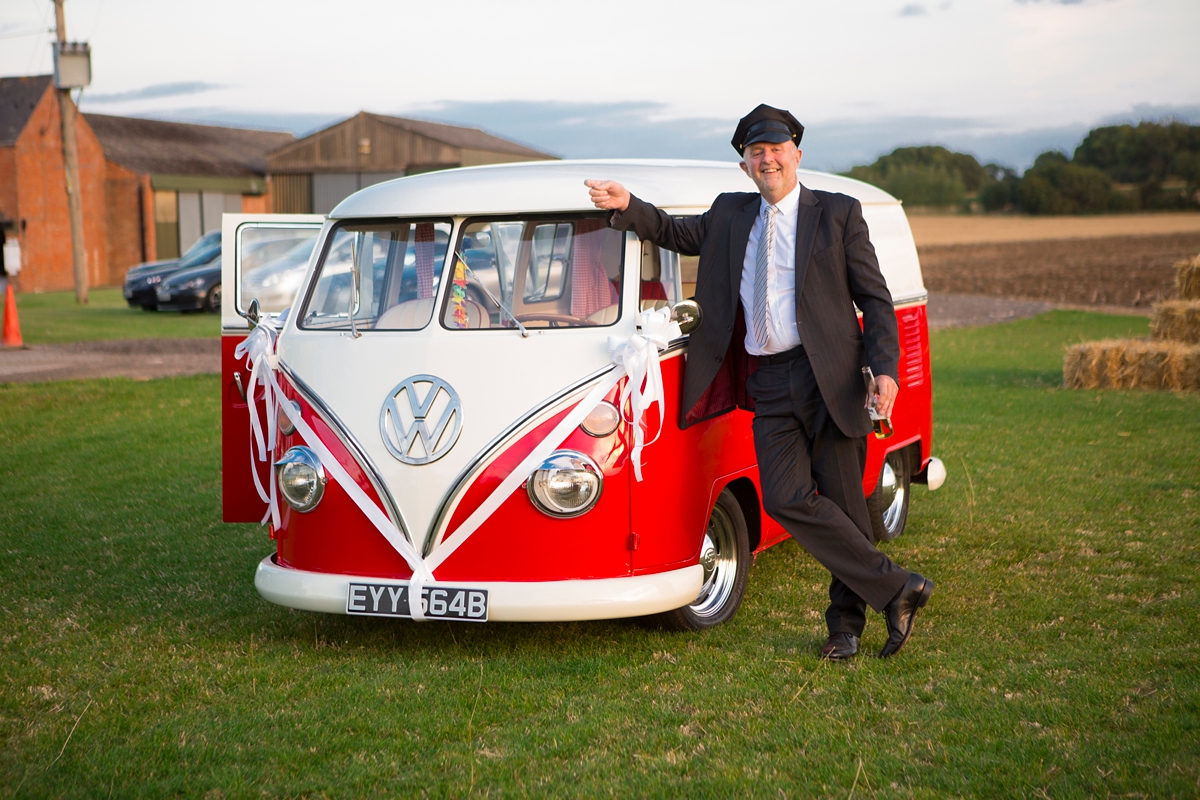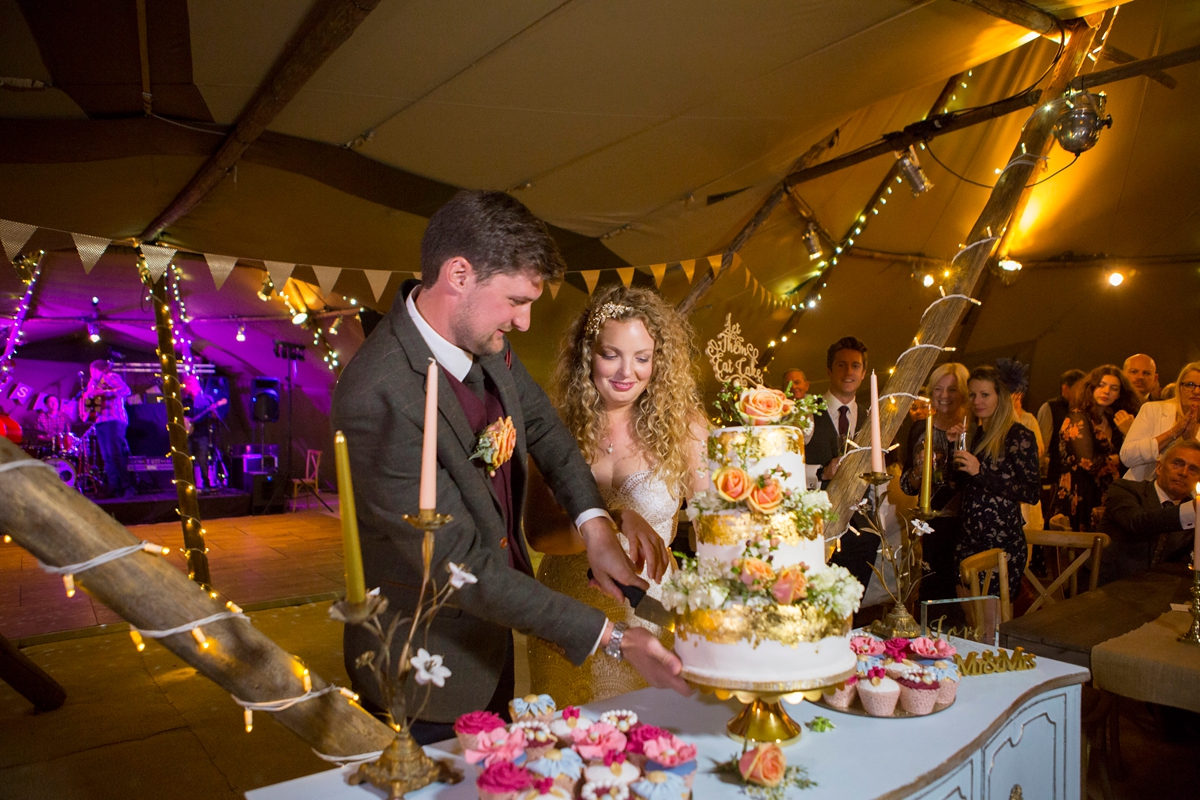 The Mumford and Son style group, Festival Nights Band provided the evening entertainment, followed by a disco by Toppers Disco, who kept the party going until the early hours.
"There are so many special moments, from getting ready with the girls, to meeting Will at the top of the aisle, to dancing under a giant glitter ball surrounded by fairy lights. There was nothing better than celebrating with our favourite people in the world."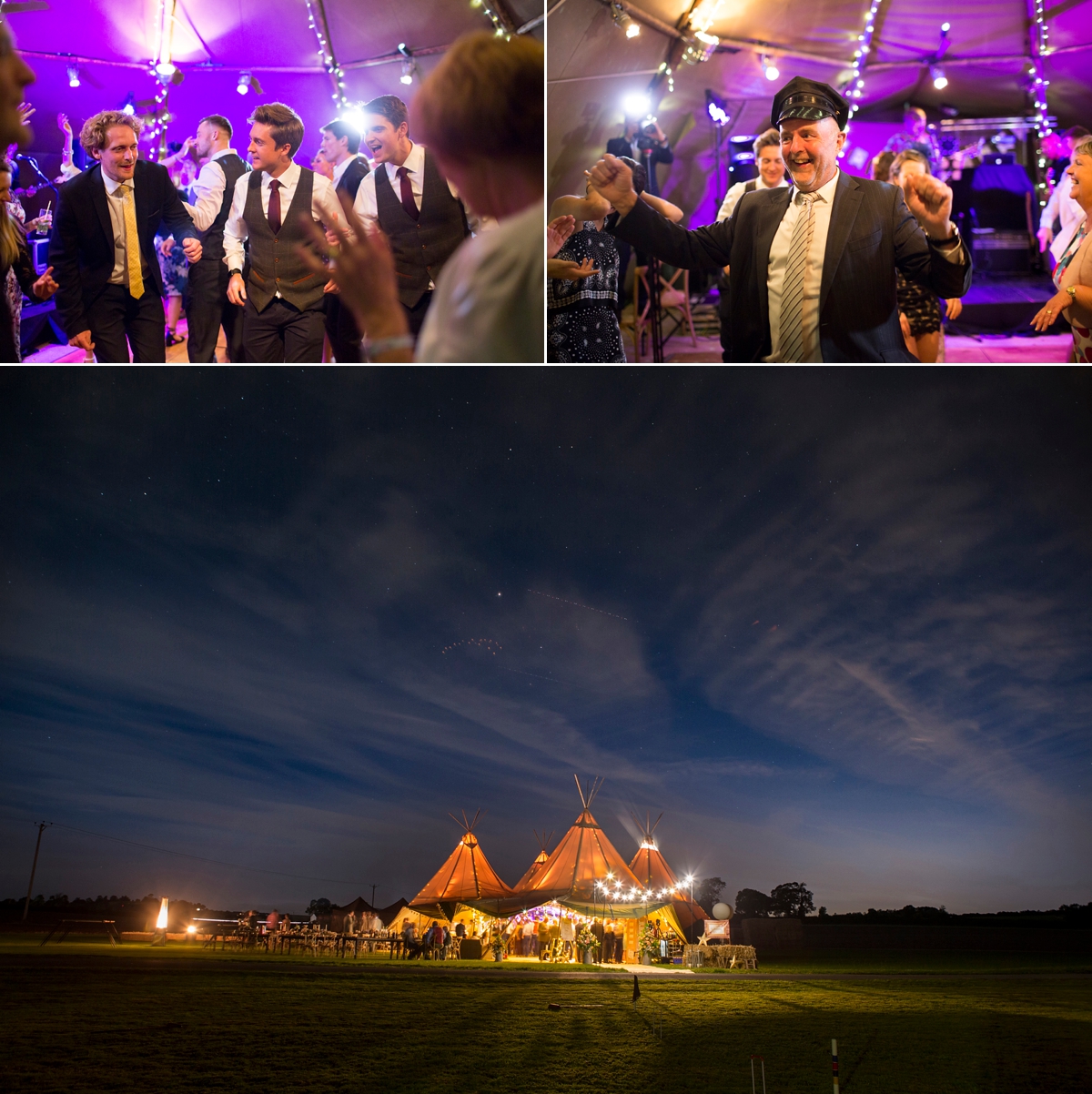 Words of Wedded Wisdom
"Pour as much love into everything you possibly can, it radiates throughout the day.  When hair and makeup arrive you can do no more, relax, let everything go and enjoy your day, your mood will ricochet throughout the day and if you're having the time of your life your guests will too."
Huge thanks to Holly and Will for sharing their oh-so-pretty wedding with us today.  Have you fallen for Holly's beautiful Watters gown too?  If so, have a look here for more brides wearing this classic designer, while if country romance is your thing, take a look here for weddings with a similar feel.  Happy browsing!
Much love,
Shona x
Credits & Thanks
Photographer and filmmaker- Kuder
Bride's Dress - Elise from the Wtoo Collection by Watters, purchased from Serendipity Brides, Weedon
Alterations - The Fitting Room, Dunchurch
Veil - Joyce Jackson, from Serendipity Brides
Shoes - Blossom by Charlotte Mills
Hair accessories - Mimosa by Ivory & Co
Jewellery - eBay + Links of London
Scent - La Vie est Belle by Lancome
Groom's outfit - Blazer + waistcoat, Marc Darcy; chinos, Next; tie, ASOS; cufflinks, Aspinal of London
Pageboy's outfit - Mamas and Papas
Bridesmaids' dresses - Monsoon
Bridesmaid's shoes - New Look
Jewellery - Next + Accessorize
Hair stylist and make up artist - Knighton Beauty (no details).
Rings - Waterman's, Banbury,
Catering - Taste Events
Band - Festival Nights Band
DJ - Toppers Disco
Stationery - The Country Design Studio
Postbox, place names and table names - VMBespoke