Hello lovelies! I hope you're ready for a lovely long bank holiday weekend. It's only been a couple of weeks since the last one but I'm already extremely ready for it! Today we have a gorgeous wedding with some really beautiful photography too. This bride and groom sure know how to put on one camera-friendly wedding, that's for sure. So, let's introduce you shall we?
Assistant Accountant Claire and Electrician Ben said their nuptials on 9th September 2017 at St Mary's Church in Selby, followed by a reception held at The Normans in Bilbrough. After falling in love with his style of photography, Claire and Ben hired photographer Ryan from Shutter Go Click to capture the day on camera. We're immensely proud to recommend Ryan through our Little Book for Weddings.
"Ryan's work speaks for itself. We love the style of his photo's and how he can see beautiful images in the most obscure and mundane locations. We were both very nervous about having to pose as neither of us are comfortable in front of a camera, but as soon as we had our first meeting with Ryan, we knew it was going to be fun. Every smile is genuine and we could not be happier with the final images and the amazing engraved USB and box we received. We can't recommend him enough!"
Images by Shutter Go Click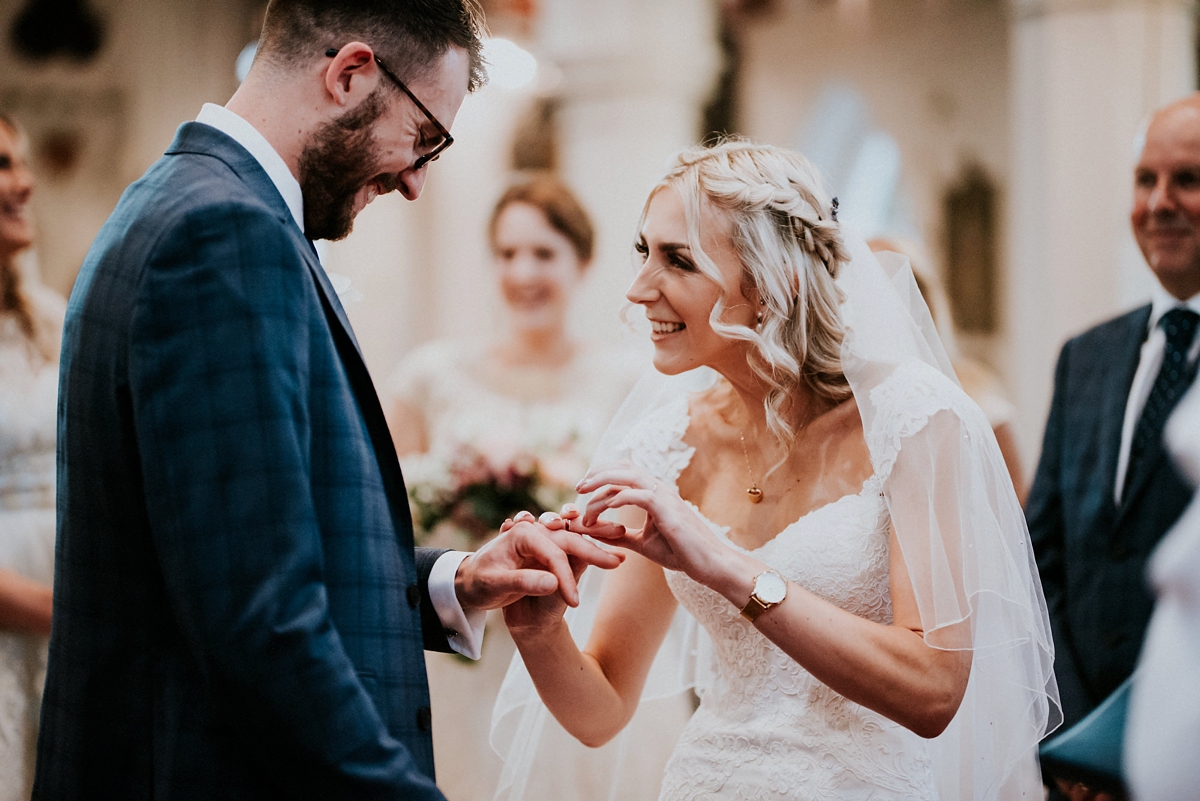 When it came to choosing her dress, Claire wanted a lace dress with slim silhouette and eventually found the most gorgeous Essense of Australia gown bought from La Belle Boutique in Sutton-in-Ashfield.
"I just loved the back of the dress and the dramatic train. I knew the shape I wanted and also didn't want anything too ordinary. I tried on several other dresses that were all slightly different but felt the same. The dress fit me so well and was much lighter than the others felt, and gave me a lovely silhouette."The flowers were whimsical and wild and the bouquets, arrangements and button holes were all created by talented florists All Occasions.
"They have a great reputation locally and were so friendly and helpful when we met. They knew exactly what we wanted from a few vague images from my Pinterest boards which was brilliant because neither of us are creatively minded."
"I also got my veil from La Belle Boutique and shoes from Aquazzura. I love the brand but could never justify the spend, so they were top of my list for wedding shoes. I waited for a sale and unlike my usual self, snapped up a pair with a low heel so I would be able to wear them all day without pain or a trailing dress."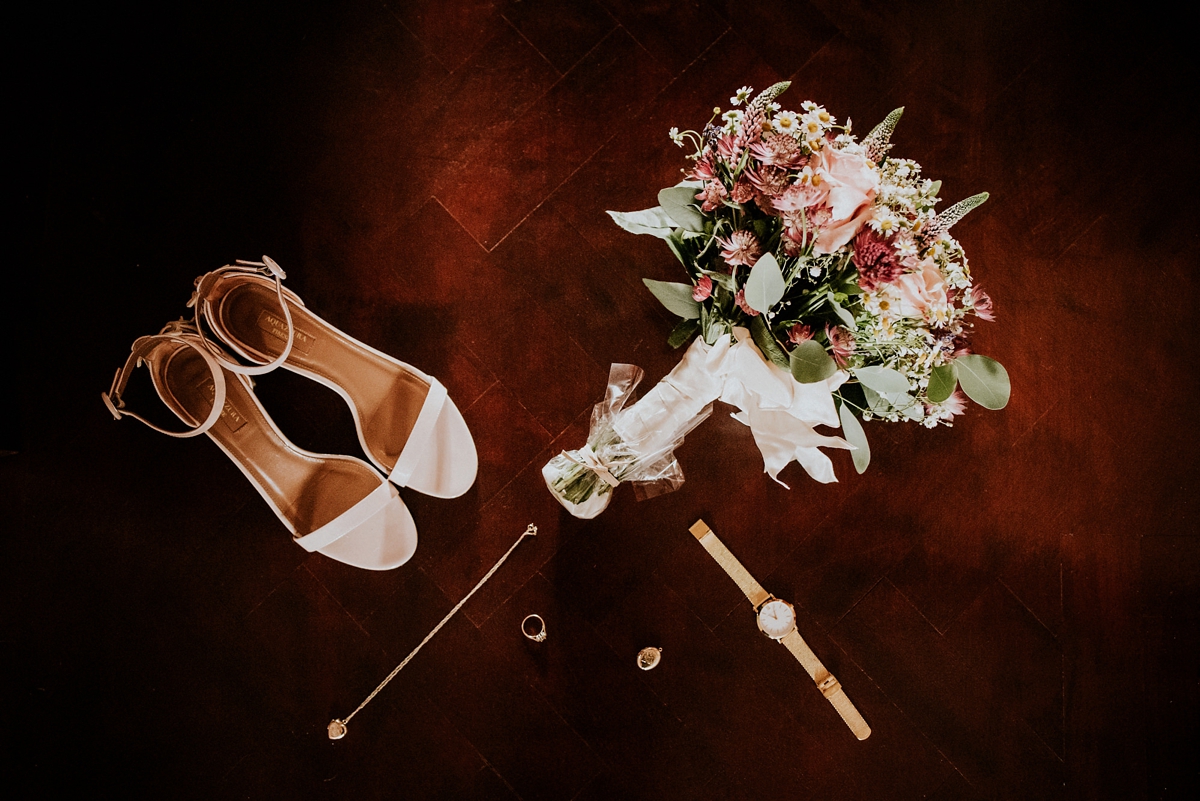 "We didn't hire a planner as such but did hire a coordinator for the day. Having booked and liaised with all the suppliers prior to the big day, I realised I would need help on the day so I could focus on enjoying it! We hired a friend of the bar company Ice and a Slice, Aine Abbott, based in Selby, who is starting out in the field. She was worth her weight in gold and took the pressure off the day and set up!"
"I just had dried lavender in my hair but wanted a new scent that would always remind me of the day and our honeymoon. However I'd been indecisive and not bought one. Fortunately my maid of honour bought me a bottle of the new Chanel Gabrielle as a wedding gift."
"My earrings were a wedding gift from Ben and were amethysts to match my engagement ring from Goldsmiths. I wore my Larson & Jennings watch, another gift from Ben, as I feel lost without it on my wrist, and the plain gold style fit with the rest of my jewellery. My necklace was an antique locket from Cavendish in York."
The bridesmaids wore blush coloured 50s style tea length dresses from Chi Chi via ASOS along with shoes they chose themselves. The flower girl and page-boy looked absolutely gorgeous walking down the aisle in a Monsoon dress and Rocha by John Rocha waistcoat, shirt and tie set – a special moment captured beautifully on camera by Ryan.
"My sister, mother, grandmother and great grandma were all married in the same church so we wanted to carry on with the tradition."
Claire's dad accompanied her down the aisle to the traditional wedding march and a traditional church ceremony followed. They then swapped simple gold bands from Goldsmiths before being transported from the church to the reception in a VW Karmann Beetle Cabriolet hired from Vintage VWs 4 Hire.
Claire and Ben first met at college but finally got together years later after meeting again in a nightclub in their hometown. Fast forward four and a half years and Ben popped the question whilst they were inter railing.
"We got the same bus every day back in college but were quite shy so just stayed friends at the time. Then, as fate would have it, several years later we were both in the dingy nightclub in our hometown and, after one too many, was beckoned over to Ben. We got engaged in September 2015 whilst inter railing so had a two-year engagement to plan the wedding. We booked The Normans in March 2016 so it gave us (and our families) time to save. When trying to book suppliers, I found people were already getting booked up 2 years in advance, so it was the perfect time for us as we got all the suppliers we wanted."
"We kept it traditional with a church ceremony but had free rein with the reception venue at The Normans. We were able to choose all our own suppliers so could really tailor the day. As a result we didn't go overly formal. We were largely inspired by Pinterest and the current trends, so lots of greenery and metallic colours and textures. We opted for a map table plan and named our tables after places we'd been on our travels inter railing. Other than that, the venue didn't take that much styling as it's already so pretty!"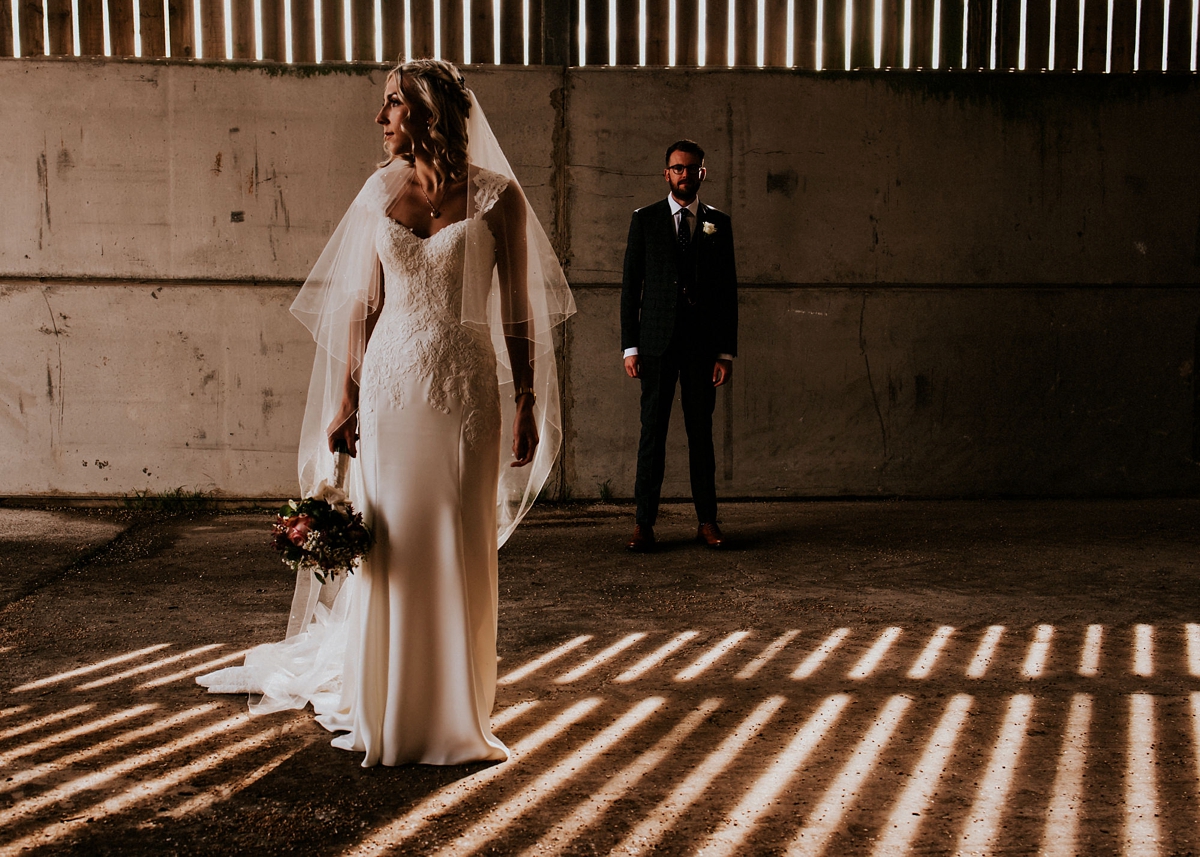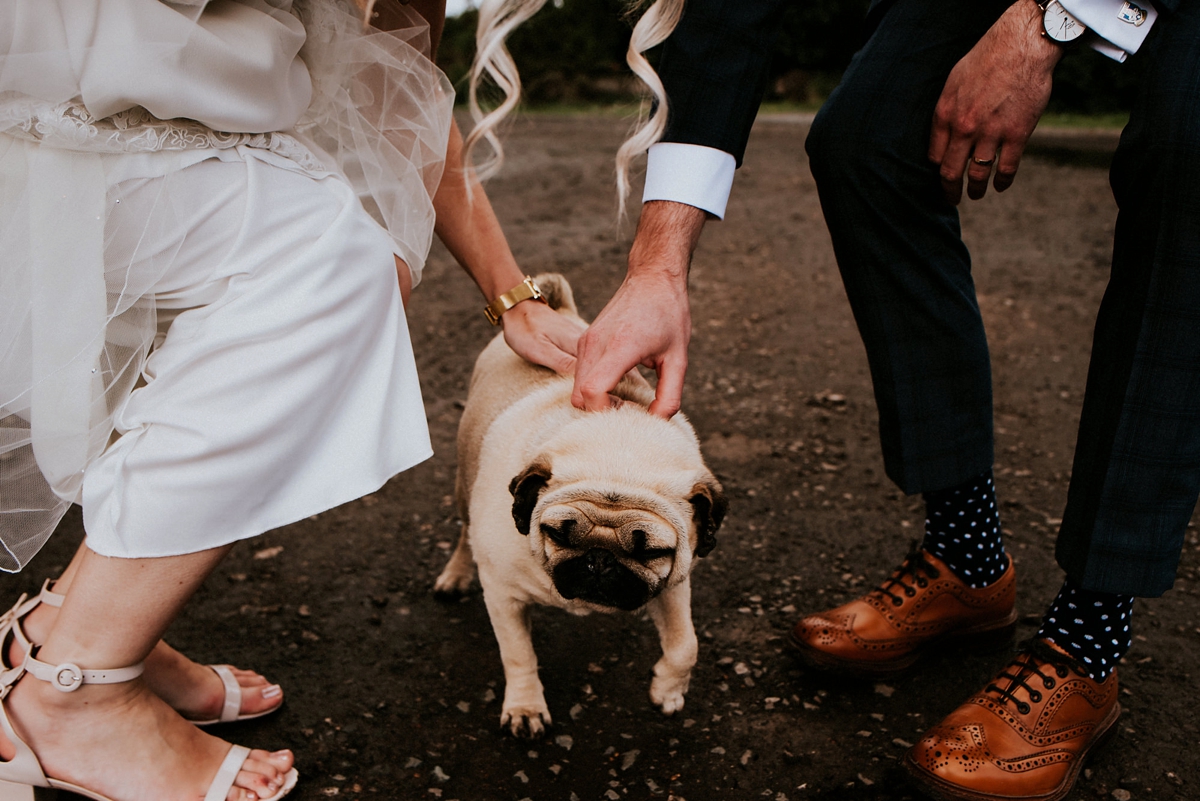 The groom opted for a 3-piece grey checked suit from Burton, accessorised with tan Loake shoes and a pocket watch and safety chain gifted to him by his family.
"Ben had three best men. They all wore Marks and Spencer suits which were similar to his own but had a subtle difference so they stood out as best men from the other groomsmen."
Guests were treated to a sit down meal provided by El Kantina, a mexican street food company, and favours in the form of a miniature Jagermeister with a little message on each of them on a sticker, followed up in the evening by pizzas served from the back of Dukes Pizza UK van.
"Our wedding cake was made by our extremely talented friend Dale Smith, who doesn't even make cakes for a living but has a passion for baking and a serious talent to boot. I had fallen in love with Cupplets beautiful designs on Instagram so sent over an image of a semi-naked 3-tier cake with gold leafing to Dale for inspiration. She made a beautiful 3 deep tired cake including red velvet, chocolate and vanilla, complete with scattered gold leafing and topped with flowers to match my bouquet."
After the speeches, Claire and Ben performed their first dance as husband and wife to Times Like These by Florence and The Machine (a Foo Fighters cover from Glastonbury).
"We were struggling to find a suitable song, then whilst we were watching the Glastonbury set on the Saturday night, the song came on and we just knew. We both love both bands so it was the perfect choice for us."
Sing Romana Sing, a York based wedding band, then played their set, keeping guests rocking out on the dance floor, before The Hi Life DJ took over to keep them there 'till the early hours.
On reflection Claire can't pick just one favourite moment and loved the whole day from start to finish.
"I loved everything from getting ready to walking out of the venue at the end of the night and looking back at The Normans by fairy light. I guess my favourite part would have to be when I got to the end of the aisle. Ben's face said it all and we nervously laughed through the ceremony. If I could change anything, I wouldn't have left my bouquet in the car! Luckily my bridesmaids flowers were the same so that saved the day! There are more photo's I would have liked and moments I missed, but to get those it would have taken me away from the day more, or to have more time would have meant less photo's, so you just have to find the happy medium."
Words Of Wedded Wisdom
"I'm sure everyone says this but RELAX! I was in a constant state of stress for the weeks leading up to the wedding because I'd planned so much myself, but I really enjoyed the morning because I just let go and thought, it's too late to change anything now so what will be will be. It helped that I had a wonderful maid of honour who was on high alert all day and used my phone to take pictures so I had my own set of candid photo's to look back on."
"The day goes by so fast, there's never enough time, so I would really think about what photo's and moments are most important to you and the rest is a bonus."
"And finally, if it rains it's not the end of the world, but you do have to accept your dress will get dirty, no matter how hard you try to keep it clean!"
What a wonderfully modern and pretty wedding – congratulations to Claire and Ben for planning such a lovely day! Special thanks also goes to Ryan at Shutter Go Click for getting all those little moments on camera. I've fallen particularly in love with the gorgeous photo's from the walk back down the aisle after the ceremony – so sweet!
Until next time…
Much love,
Holly x