For all brides-to-be looking for ideas for an era-inspired wedding, you are in the right place today as today's celebration is a feast of all things glamorously Art Deco. With photographs by the incomparable Lee Garland, an exquisitely-embellished Eliza Jane Howell gown and sharp Lipstick and Curls styling, all that is left to say is, 'Enjoy'.
The bride and groom are Emily, who works in criminal law and Gareth, a history teacher, who married on 22 December 2016 at Prestwold Hall, Loughborough. The couple love all things Christmas, and their day was strongly influenced by the glamour and opulence of the Art Deco period, with the Hall providing a wonderful backdrop for their chosen colours of deep reds and blues, with festive metallics. It's so wonderful to feature brides who found Love My Dress a source of inspiration and support, and we thank you Emily for your kind words.
"Love My Dress was my absolute favourite blog from the beginning. The thing I love most about it is that you can search by era and season. Instead of having to trawl through years and years of real weddings I could go straight to 1920's winter weddings. The weddings are all so cool. Every morning on the bus to work I'd look and think, what wonder will there be to feast my eyes on today? So much of my inspiration came from Love My Dress and I can't thank Annabel and her team enough for their hard work to make it such a valuable resource for brides-to-be."
Photography Lee Garland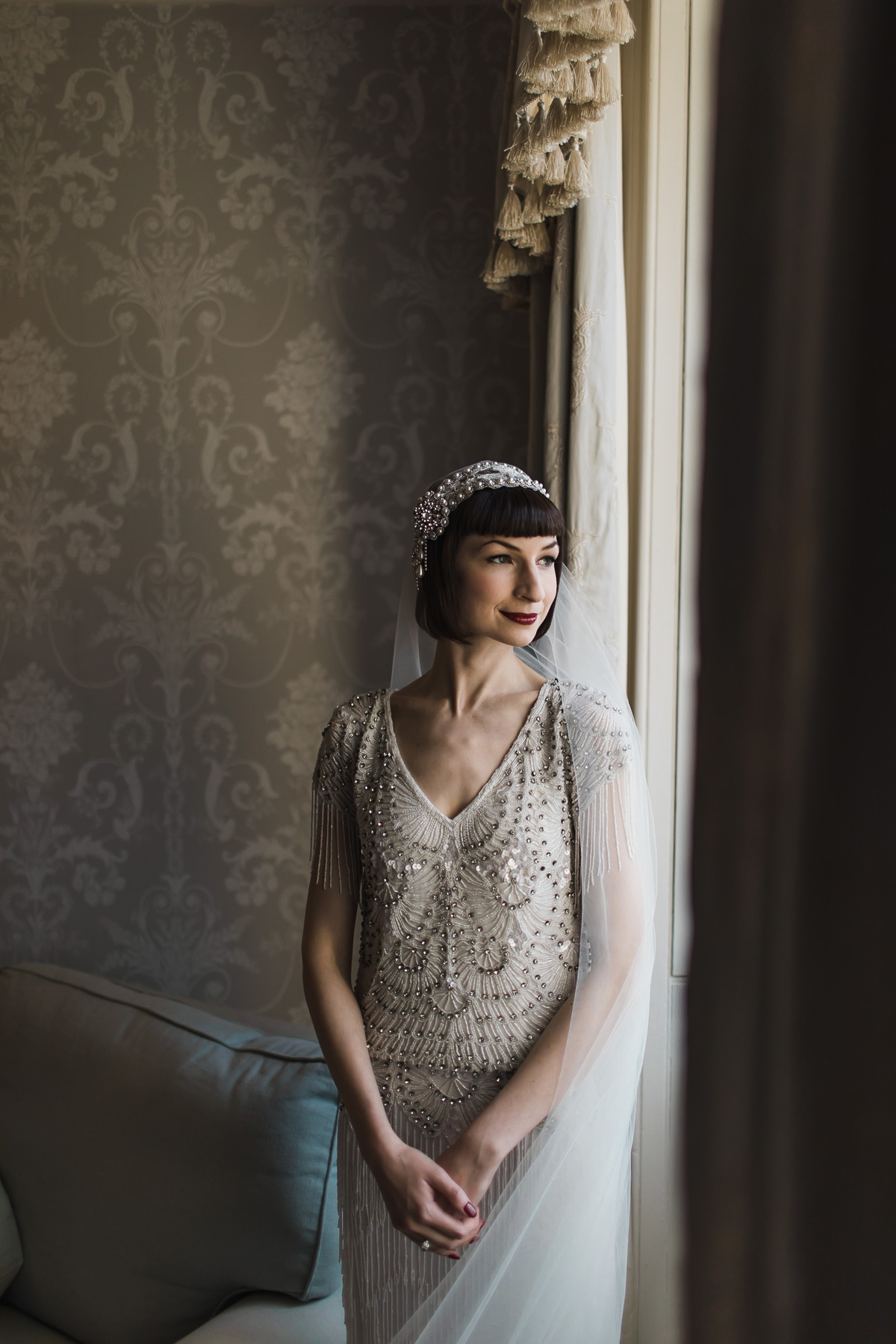 "I knew way before we got engaged that I wanted a strong Art Deco influence through the wedding. Especially when it came to my dress and hair. I'm a big fan of that glamorous, androgynous style that Louise Brooks et al pulled off so well. I was certain I didn't want a traditional wedding dress; I really wanted people to remember it long after the wedding. I wanted it to make an impact! We're both big fans of Christmas so deciding on a season was pretty easy.
We thought it would remove the stress of hoping for sun as you would at a summer wedding though in actual fact the weather was perfect on the day. I wanted rich colours such as wine and navy with metallics and Christmas lends itself so well to all things opulent, rich and glam."
Nottingham-based photographer Lee Garland is the man behind these wonderful images – his use of light is sublime and I love their timeless quality, particularly those portraits of the bride in the Hall's Orangery. Lee was accompanied by second shooter Kim, and Emily has some wise words to share for brides-to-be:
"We can't praise Lee enough. He is honestly absolutely wonderful. When I began researching photographers I knew as soon as I stumbled across his work that he was the man for us and given that we met with him two years before our wedding, I was praying he had our date free! He was the first supplier we booked. The photographs were the most important thing to us as it's what you're left with when the day is over.
""He has a fabulous artistic, relaxed style that really conveys the emotion and beauty of the day. He is so friendly and puts everyone at ease. We saw him as part of the wedding party. We also have to say a huge thank you to Lee's second shooter Kim who took some fantastic shots of Gaz and his groomsmen getting ready on the morning. If you can fit two photographers into your budget I would thoroughly recommend doing so."
Gareth and Emily met at university and got together in 2008.
"In our final year Gaz lived round the corner from me and one day he walked out in front of me on the way to uni and he said hello but I was caught offguard and didn't have time to say it back before he was turning round and walking off! I felt so bad I messaged him on Facebook later using his mismatched gloves and Converse as a conversation starter (I knew who he was as he'd lived with a friend of mine in second year) and from there a romance was born! In the early days he was most commonly known as 'round the corner boy' to my friends."
"He proposed in a hotel in Greenwich in August 2014 with a beautiful lilac sapphire in an original 20s filigree setting which I had been eyeing up for ages and was heartbroken when I thought it had sold. He'd bought it and was having it resized."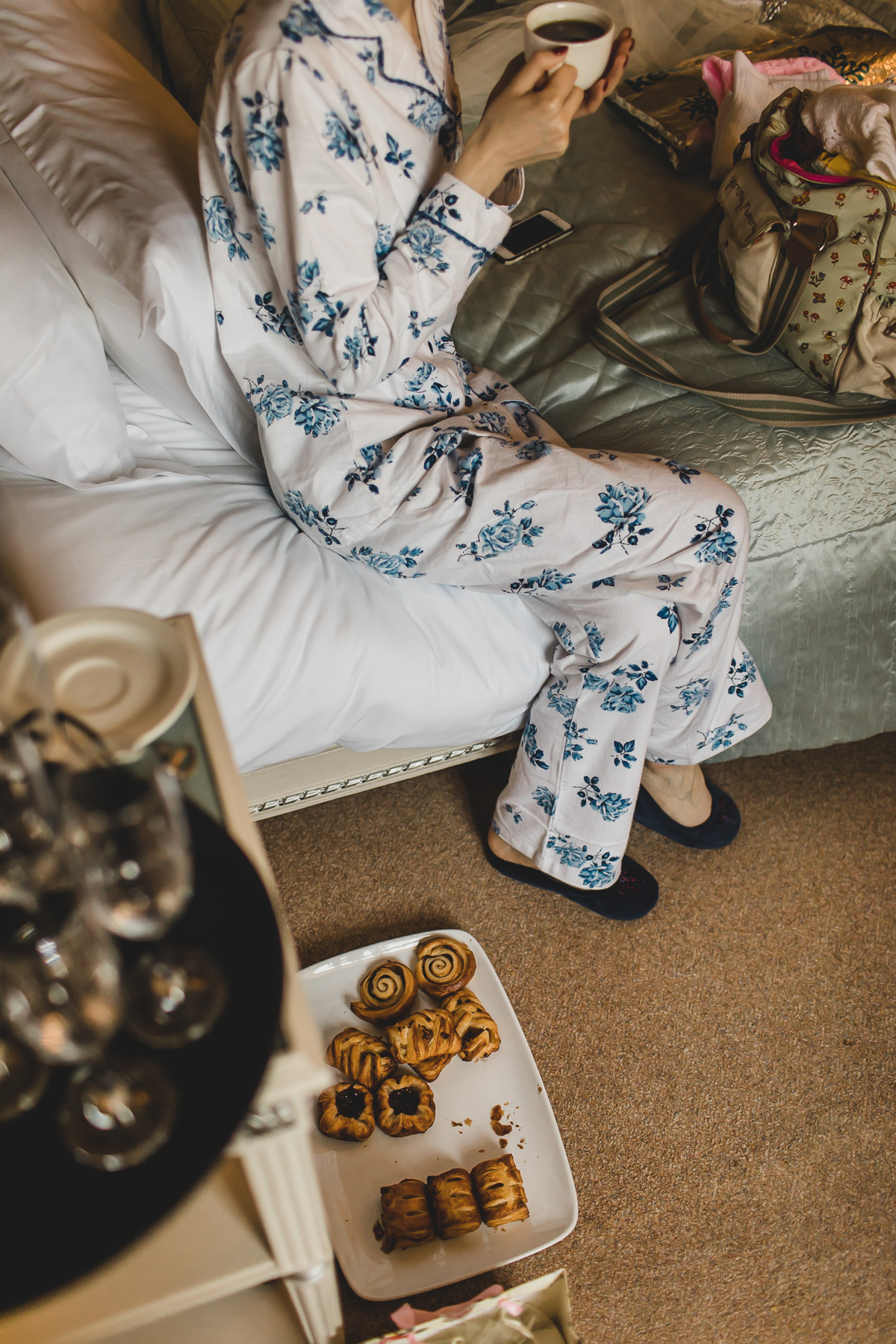 I'm sure you'll agree that Emily looks spectacular with her sharply-cut bob and dramatic make-up. Our Love My Dress and Little Book for Weddings favourites Lipstick and Curls helped the bride prepare on the wedding morning.
"Lipstick and Curls specialise in vintage style hair and make-up and so their founder, Amanda, was the natural choice to do my make-up on the day. She did my bridesmaids' hair and make-up as well and they all looked stunning."
"I was always certain I wanted a red lip and Amanda is so experienced with brides who are looking for something a little bit different.""
I was very lucky that she'd recently moved north and was happy to come to Leicestershire so close to Christmas! If you're looking to channel the vintage vibe on the special day, this is the company to go to."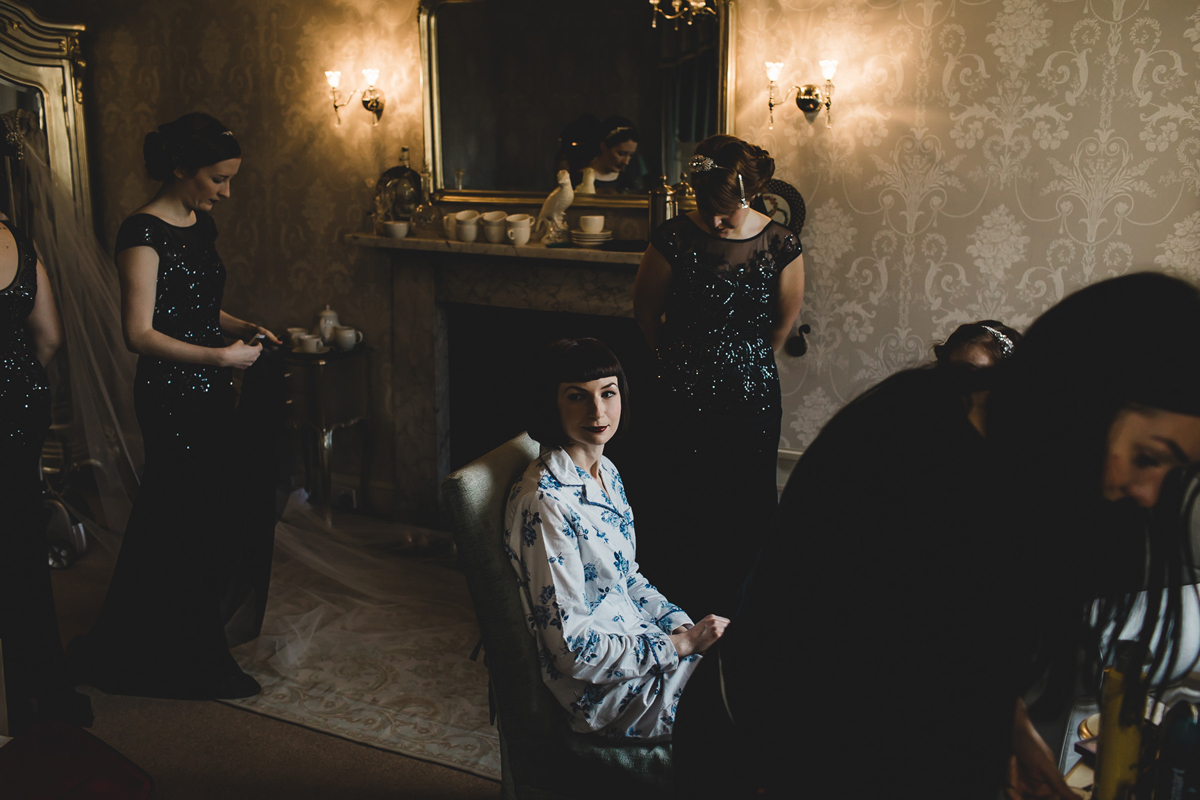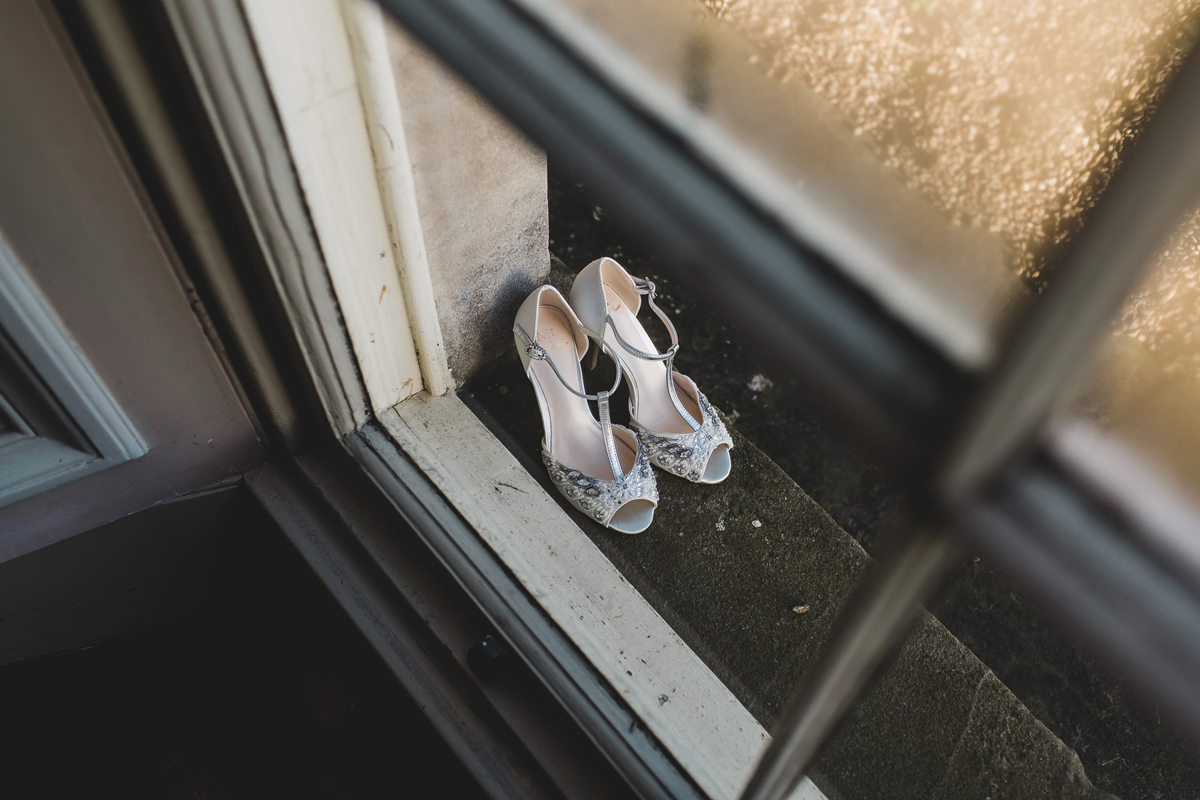 It's time to talk about Emily's choice of gown – an elegant, detailed Eliza Jane Howell design featuring a sparkling beaded bodice, drop waist and slim-fitting tasselled skirt. Just look at that detail!
"It was unlike any other wedding dress I'd seen before. I really wanted a gown that people wouldn't forget and Dorothy definitely fitted the bill. At my age you go to so many weddings and the dresses begin to merge into one. I wanted something truly unforgettable."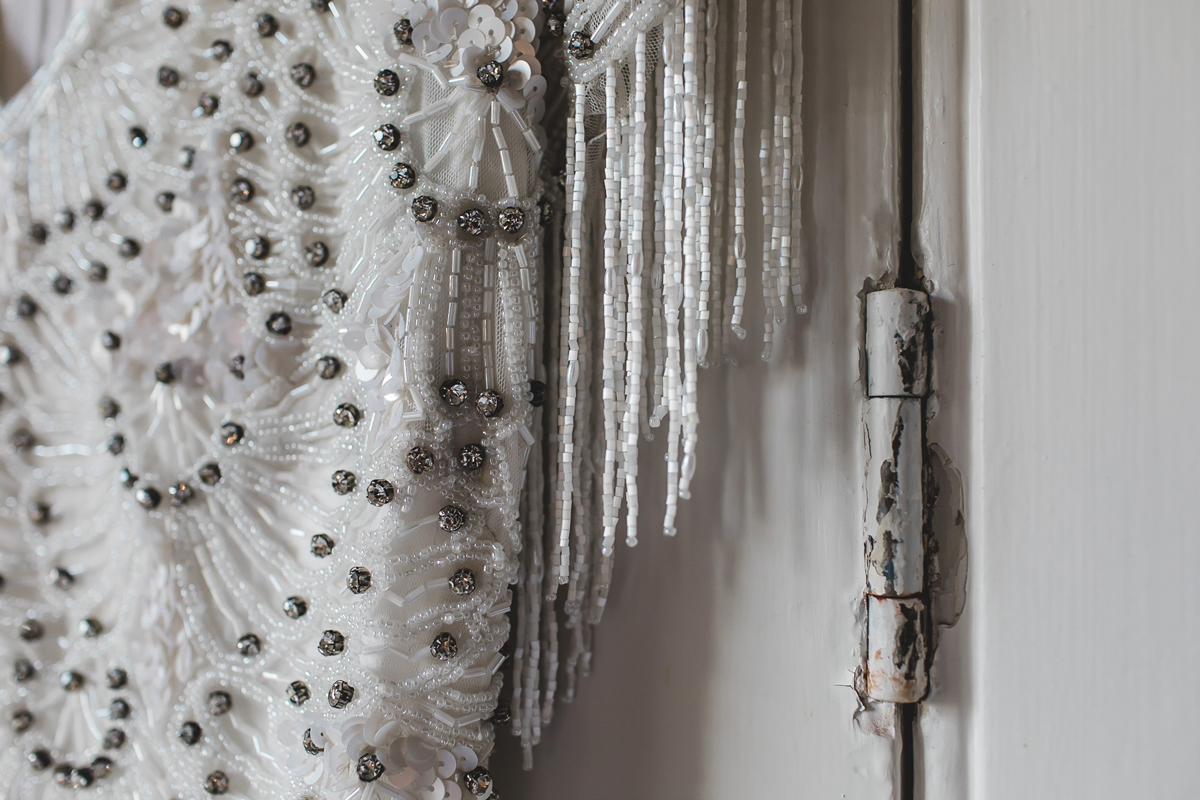 "It was very heavy because of the beadwork and I know that may put some people off but I just loved that feeling – it felt luxe and glamorous. The way the gown moves with the tassels on the skirt and the sound they make, completely divine. I came out of the changing room and my mum (who had been very sceptical about me having a Deco-style gown) was really beaming."
"Because it was at the National Wedding Show there were a lot of people around, some of whom were taking photos, and others who came up to tell me it was the best dress they'd seen all day and it was made for me. It was a very surreal moment. I picked it so far in advance of the wedding as well; more than two years in advance! I definitely had a panic that if I left it, I'd never find anything that compared. Stepping into it on the day, I'm so glad I did. It's totally made for a winter wedding as well; so twinkly."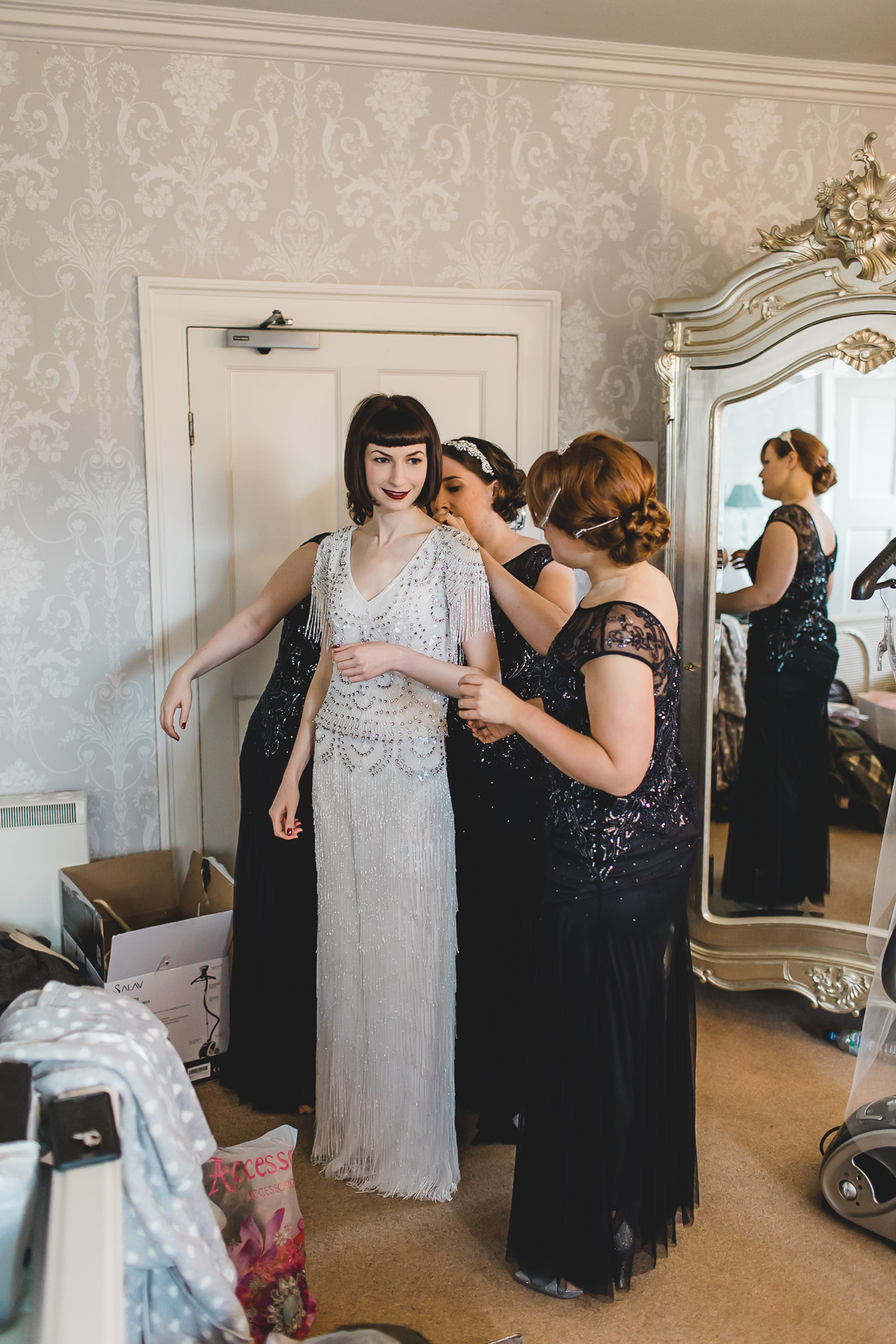 I always love to hear about brides' choice of scent. It seems to play such an important part in sense of 'self' and celebration. Emily's choice was Coromandel by Chanel.
"I really agonised over what scent to wear. I'd worn Coco Mademoiselle since I was fifteen but I wanted to enter married life with a new fragrance that I could associate with the wedding and wasn't as popular as Mademoiselle. Again, something that felt unique to me. It felt only right to choose Chanel and I wanted an oriental – a warm, heady fragrance for the colder months. It's Frankincense, Benzoin and Patchouli."
"Coromandel is like a warm blanket that envelopes you and draws you in. It seduces you. It's from Chanel's Les Exclusifs range and I'll probably never be able to afford it again! It has absolutely superb longevity. By the end of the day it smells almost chocolatey but without the sickly sweet tones that some American fragrances have."
To further invoke the Deco period, Emily chose an exquisitely-flowing Juliet cap veil, paired with a unique headpiece which captures the essence of the period.
"Whilst at the National Wedding Show at the NEC I came across the most spectacular headpiece by Amanda Caroline Couture called '1910 Bohemia' inspired by brides of the early 1900s. It was a one-off showstopper of heavy bead and lace but I'd always been determined to have a Juliet Cap veil."
"Luckily, I met Mary-Ann of Thomasina Brides at a fantastic (and I found they were few and far between) local wedding fair (WEWAD by Save the Date). Mary-Ann created a stunning cathedral-length Juliet cap for me which she attached the headpiece to."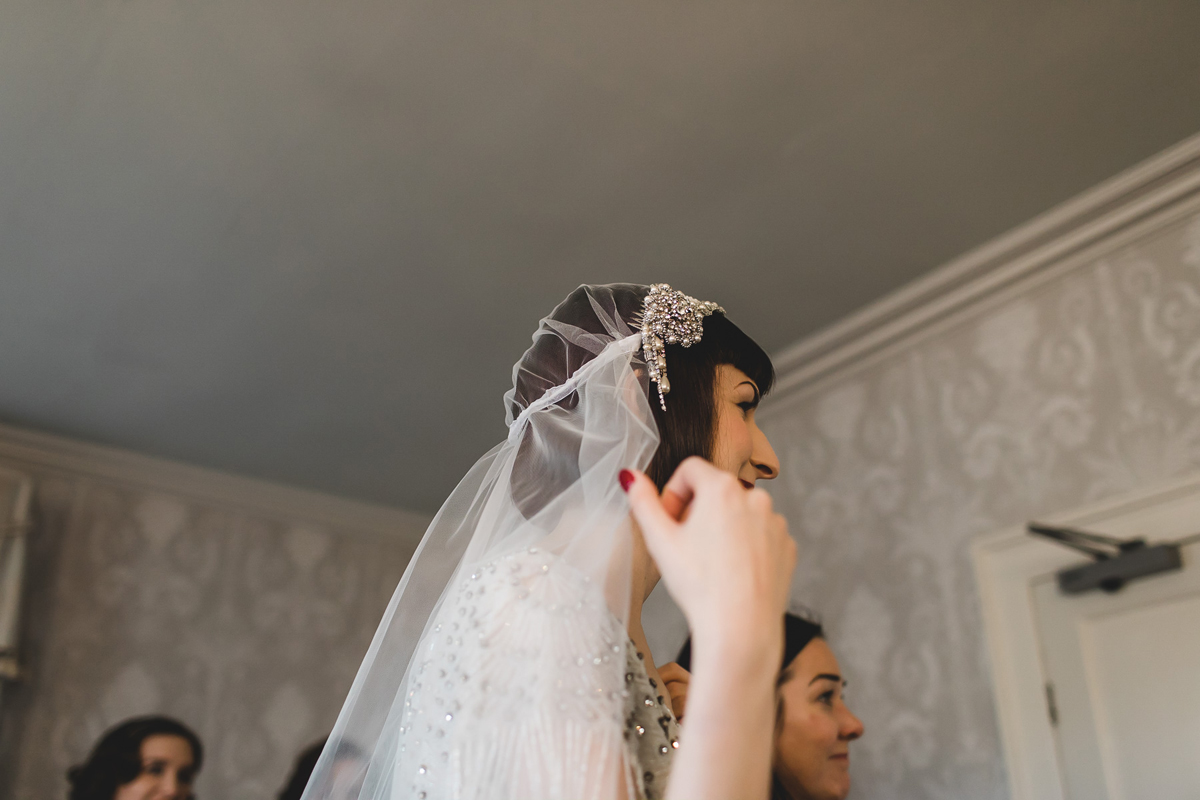 The bridesmaids' long elegant gowns in midnight blue were No 1 Jenny Packham at Debenhams, and they chose their own silver shoes to suit.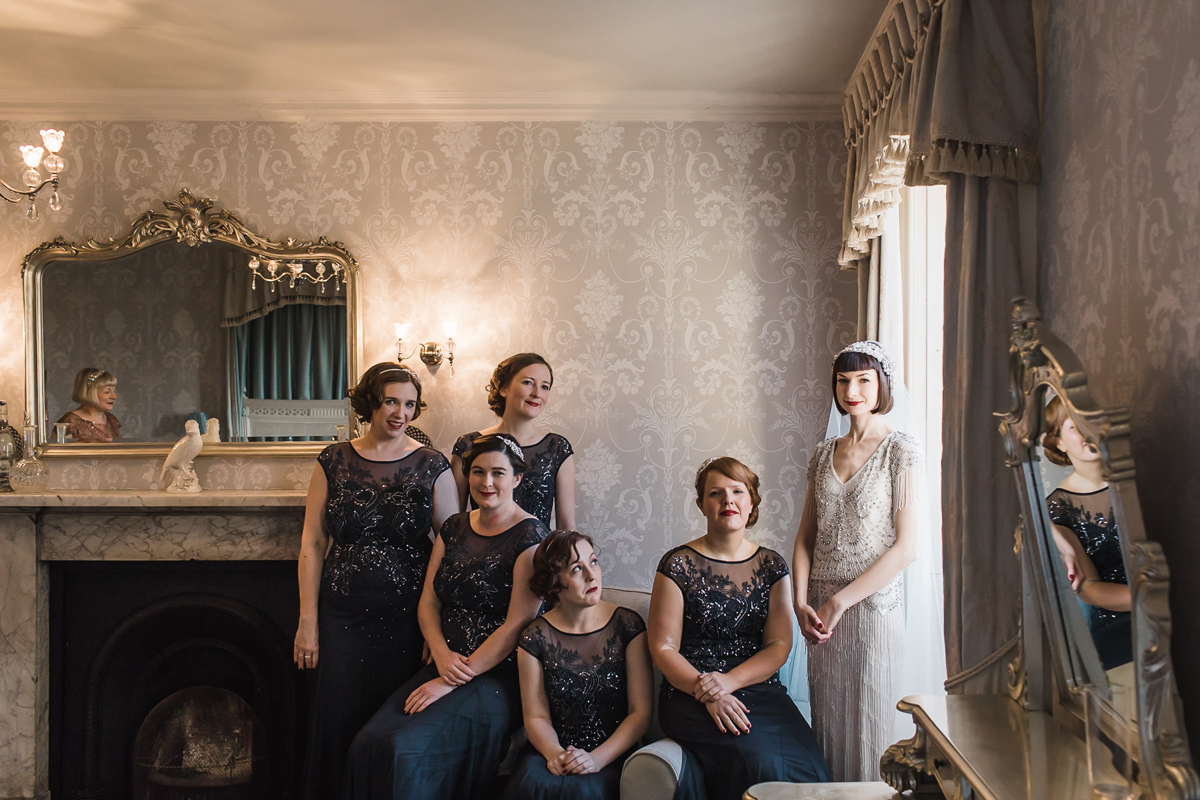 Just as Emily chose a distinctive look, Gareth did too. He wore an Edison Harris tweed jacket, waistcoat and trousers from Thomas Farthing in Bloomsbury. He accessorised with braces, arm bands and shirt, also from Thomas Farthing, and Loake's brogues. His warm tie and pocket square were from Paul Costelloe at House of Fraser.
"Gareth stumbled across Thomas Farthing by accident when his best man got them off the bus at the wrong stop. He took me to visit it later in the day and we knew it was perfect for what we wanted. Adam offers such an attentive, personal service."
"He owns Thomas Farthing with his wife who also wore Eliza Jane Howell and I felt they understood the look we wanted to achieve. The shop is a visual feast. Gaz's suit was every bit as important to him as my dress was to me and before we found this gem his outfit was causing great anxiety! Three-piece tweed suits of a good weight and flattering cut are more difficult to come by than you'd think!"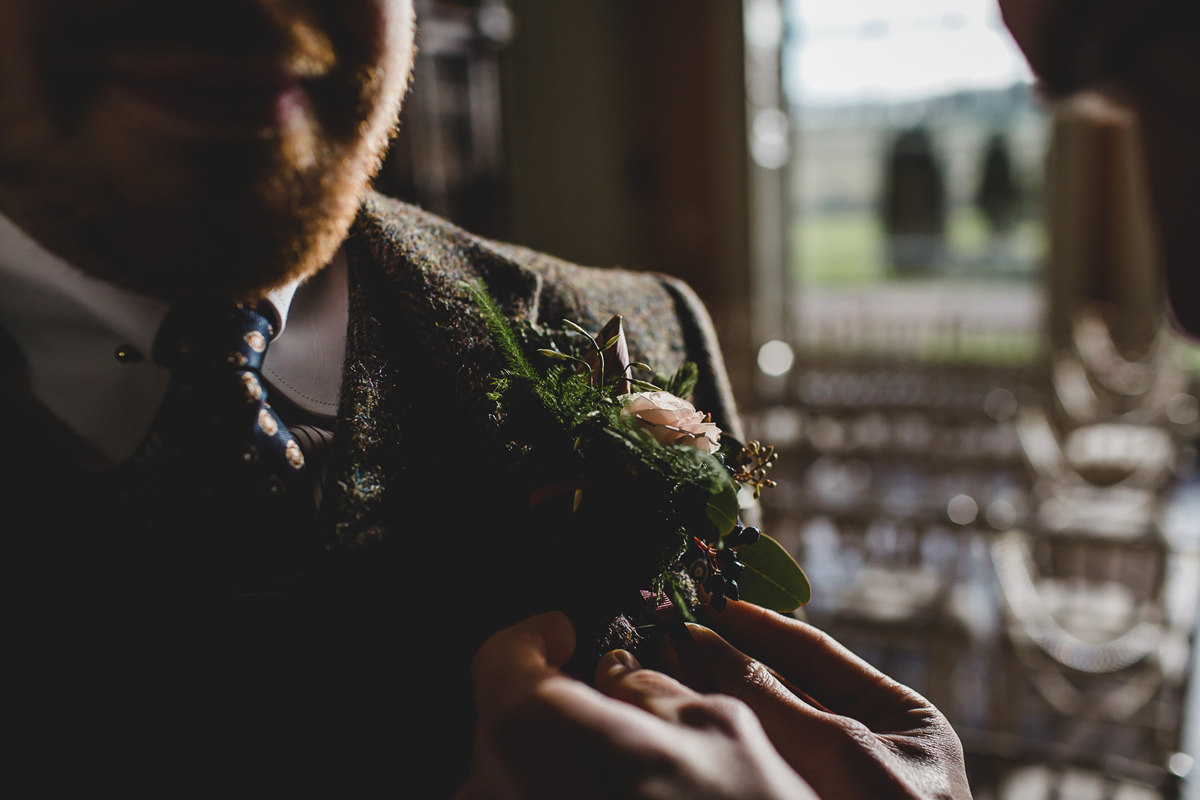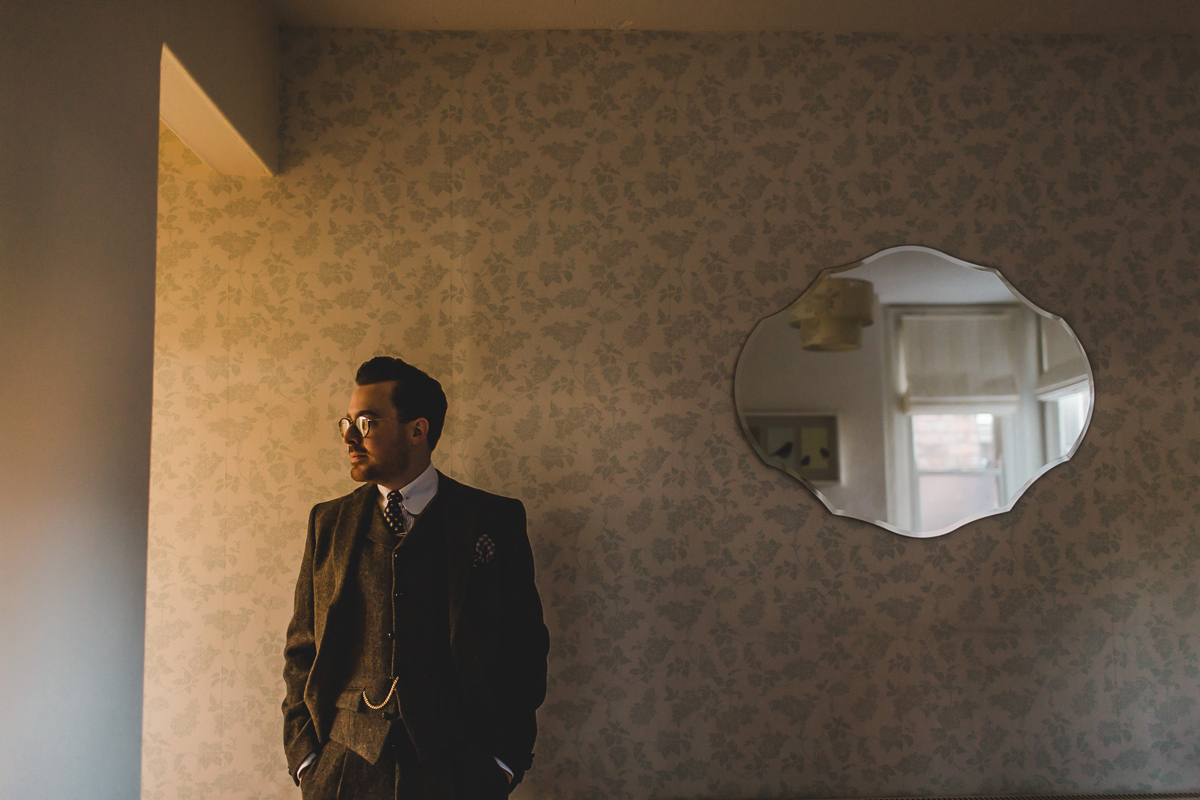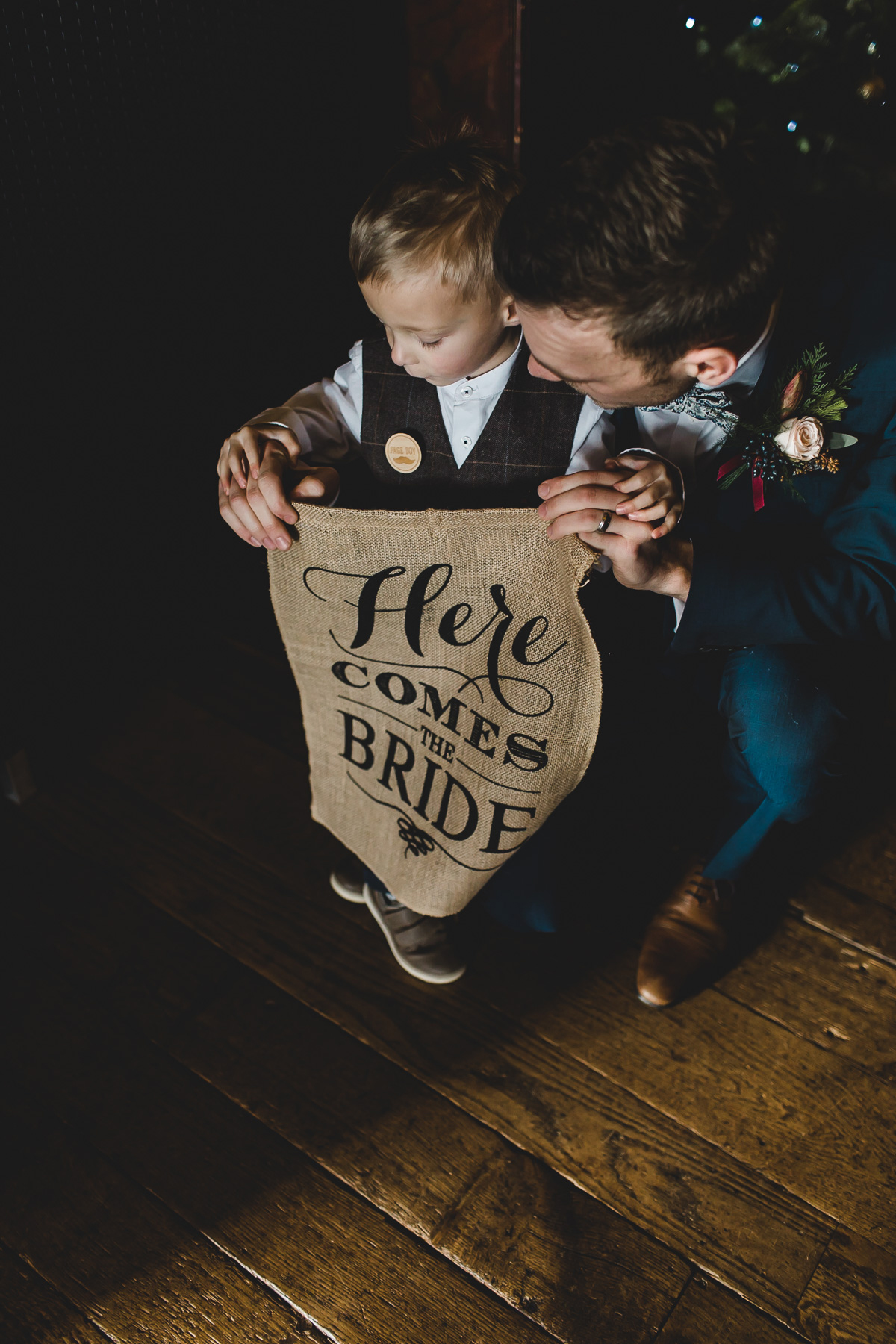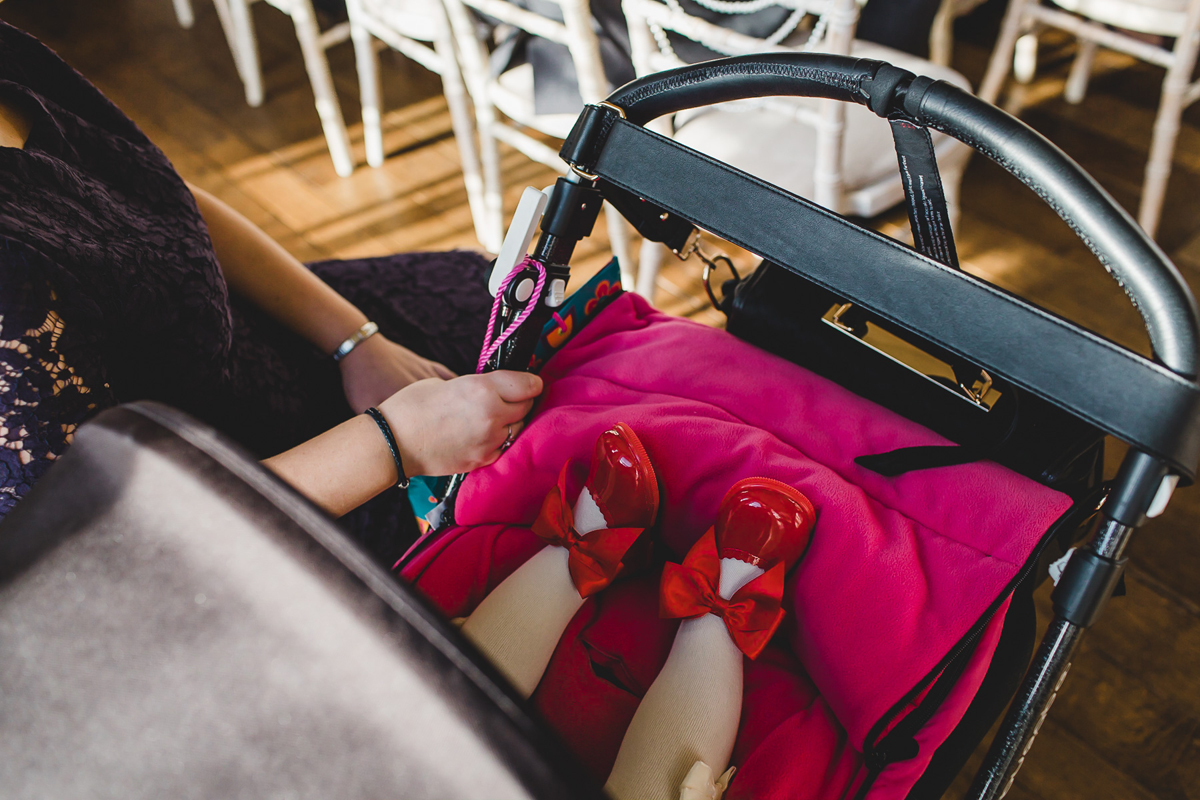 Fresh flowers played a huge part in the look of the day, and The Flower Mill really delivered, especially with Emily's breath-taking bouquet which channels the feel of the 20s incredibly well.
"I wanted 'wow' flowers. Well, I wanted 'wow' everything! I wanted a huge bouquet and I mean huge. A 20s cascading affair with berries and roses and foliage but not in any way stiff. Helen Foster of The Flower Mill was the obvious choice as soon as I saw her work; natural and beautiful. She knew instantly how to interpret my vision. The flowers took my breath away when I saw them on the day. Though I needed two hands to hold my bouquet. I definitely got what I asked for – it was almost as big as me!"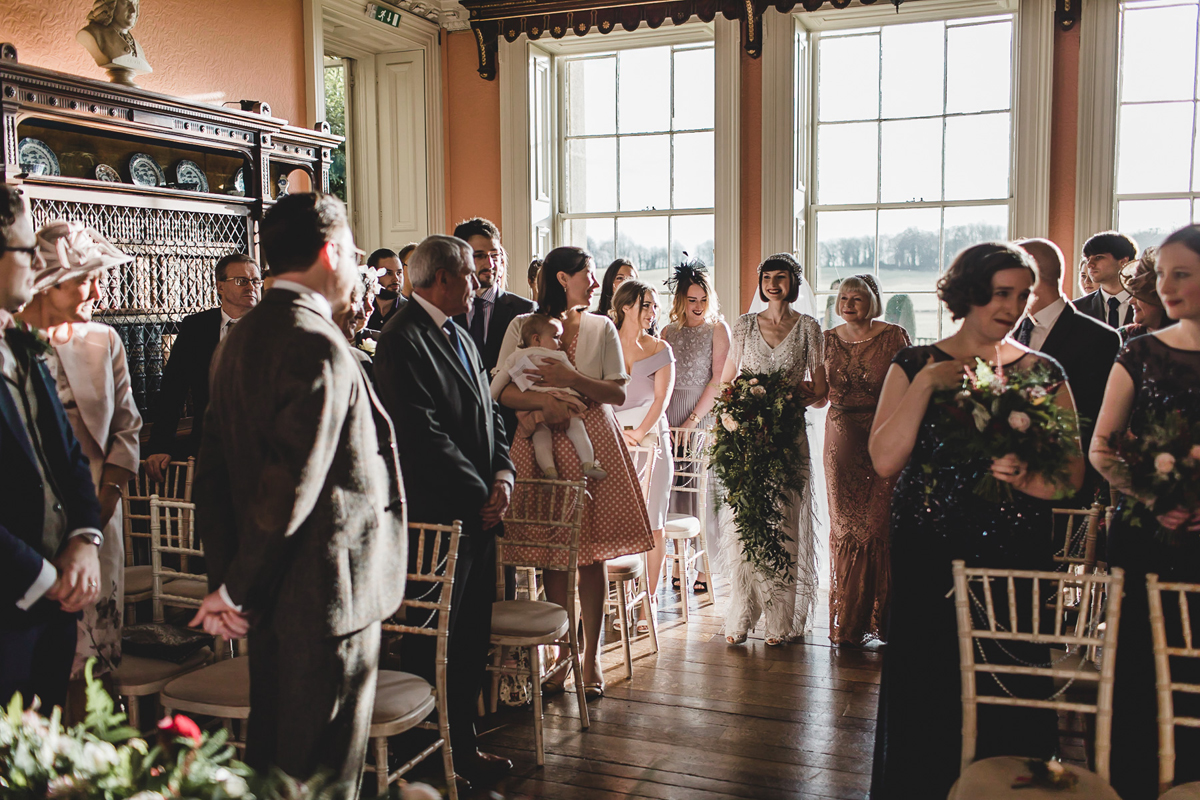 Emily's mum Christine accompanied her down the aisle, as her dad sadly passed away two months before the wedding.
"Although I'd had to come to terms with the idea that he wouldn't be able to attend the wedding long before (he had advanced working age Alzheimer's and it would have been very distressing and confusing for him), it was hugely poignant for my mum and me. I think she was very nervous about giving me away and I remember her telling me I was walking too fast and to slow down! She looked absolutely wonderful in a full-length pink bronze gown from Phase Eight. All lace and beading."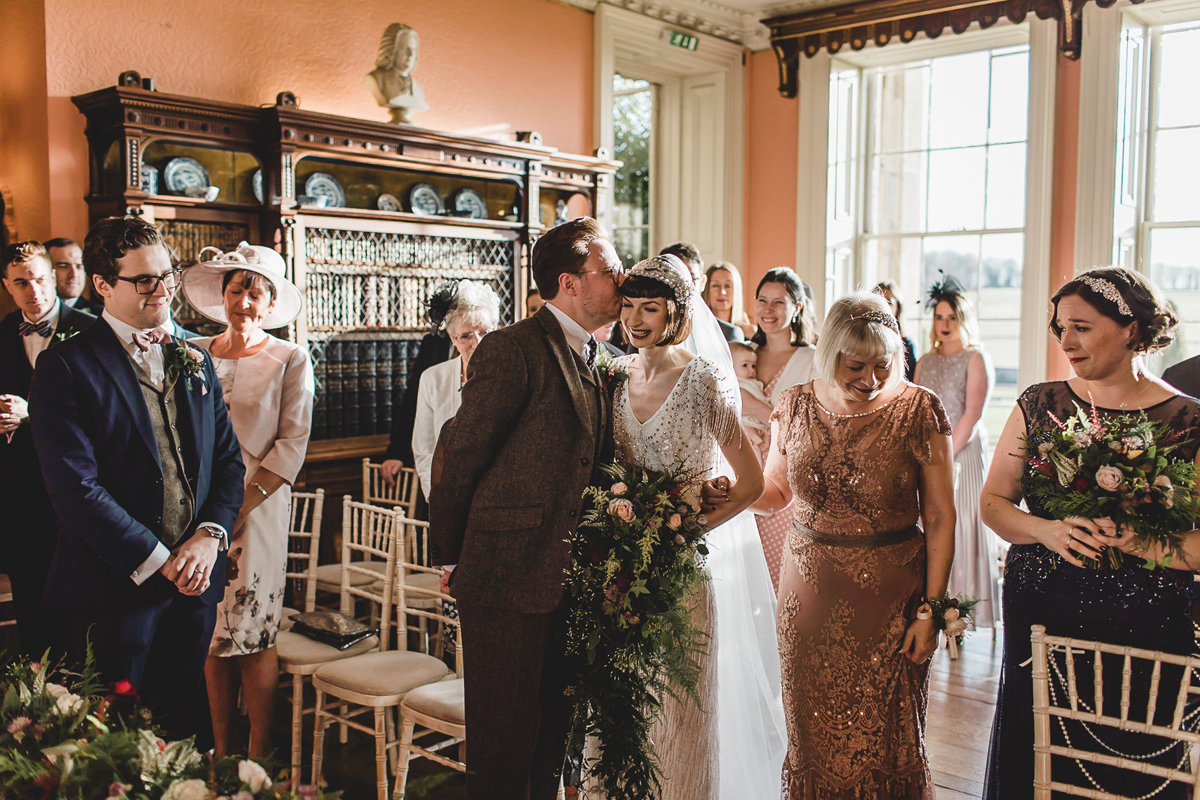 \
As the pair walked towards Gareth, Josephine of The Jazz Tonics sang a gorgeous version of 'At Last' by Etta James.
The ceremony was made personal with two lovely readings – 'She Walks in Beauty' by Lord Byron (one of my own personal favourites) and an extract from Emily Brontë 's 'Wuthering Heights', which you can enjoy below.
"Gareth chose the readings and I think he did rather well! Being from Nottingham I've always been a big fan of Byron. His ancestral home isn͛t far from us and we've visited it often over the years. Even our cat is named after him! 'The Wuthering Heights' quote 'I should not seem a part of it' really resonated with me. I simply cannot imagine my life without Gareth."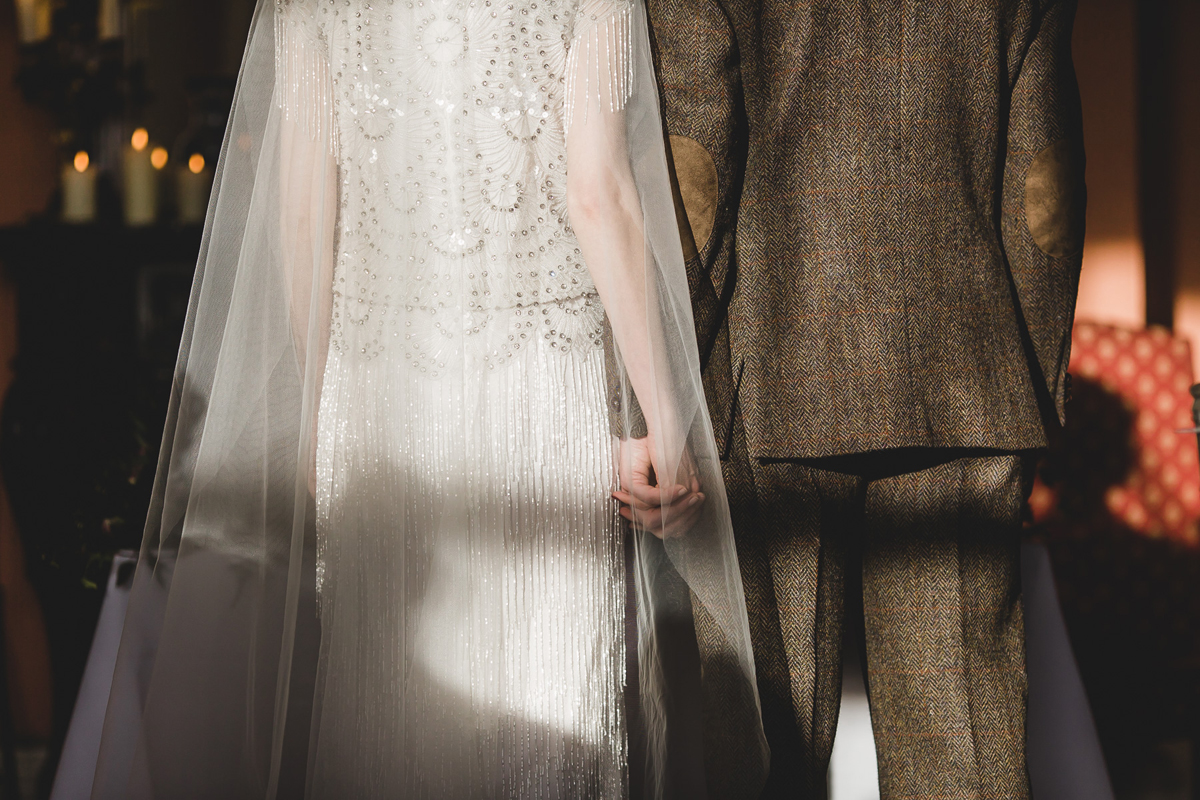 "He's more myself than I am. Whatever our souls are made of, his and mine are the same… my great thought in living is himself. If all else perished, and he remained, I should still continue to be; and if all else remained, and he were annihilated, the universe would turn to a mighty stranger. I should not seem a part of it."
I love Emily's description of the wedding rings, and how she describes the exchange of vows as her favourite part of the day.
"I expected to be so nervous but actually as soon as I saw Gareth all my nerves melted away and you forget really that you're saying these important words in front of a room full of people. Despite being the middle of December it was absolute glorious sunshine; it was radiating through the windows in our ceremony room. It was a really wonderful, momentous experience."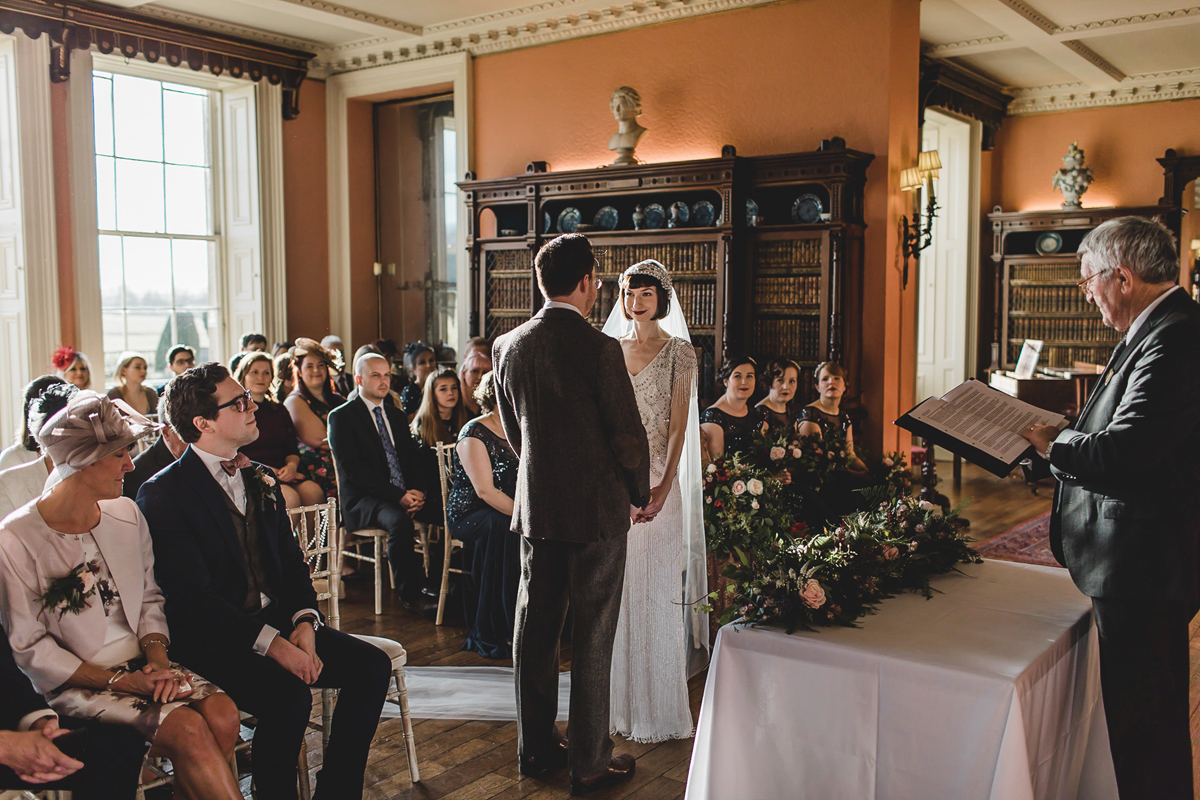 "My ring is a 20s-style from Ernest Jones which I felt complimented my engagement ring and Gareth's is a gold engraved band with enamel work. It's French and was made in the 1800s. We got it from Antique Velvet Gloves. He never wanted a plain band and originally we planned to have an engraved signet made but then we came across this and it was perfect. I'd given Gareth's my dad's black onyx signet some time previously and the enamel on his wedding ring goes so well with it."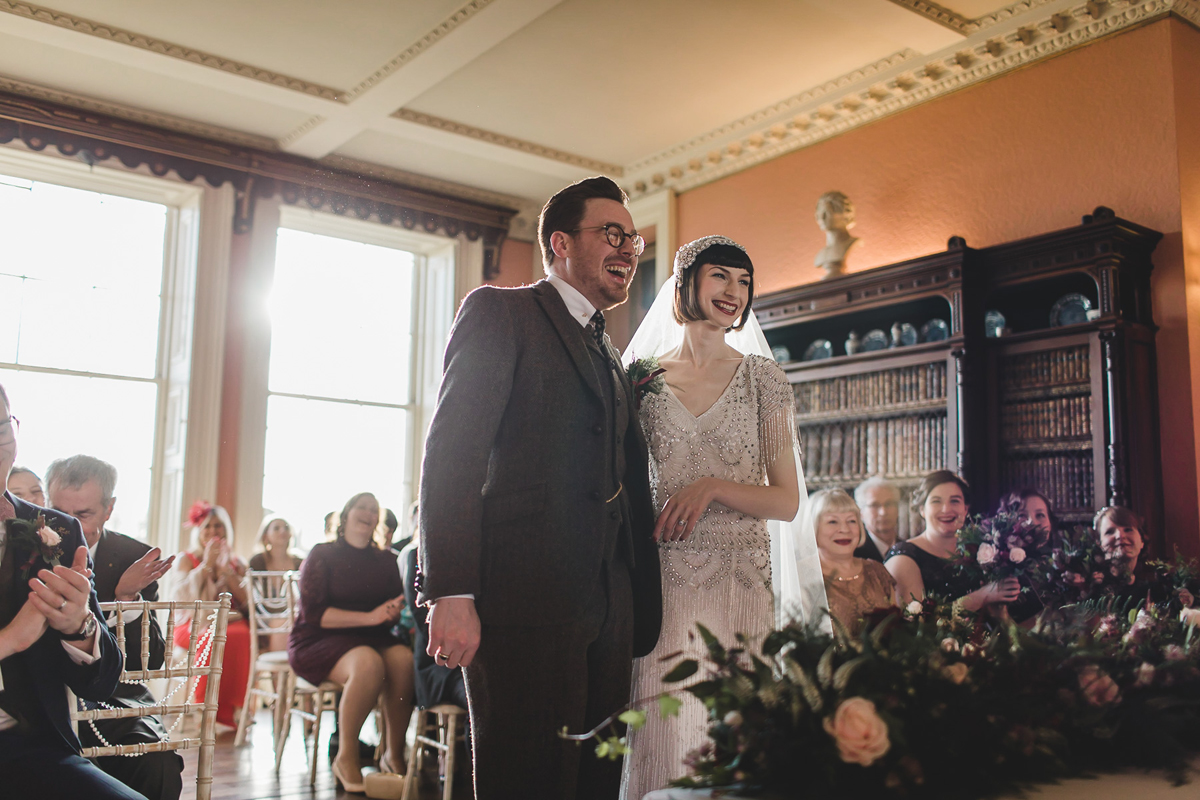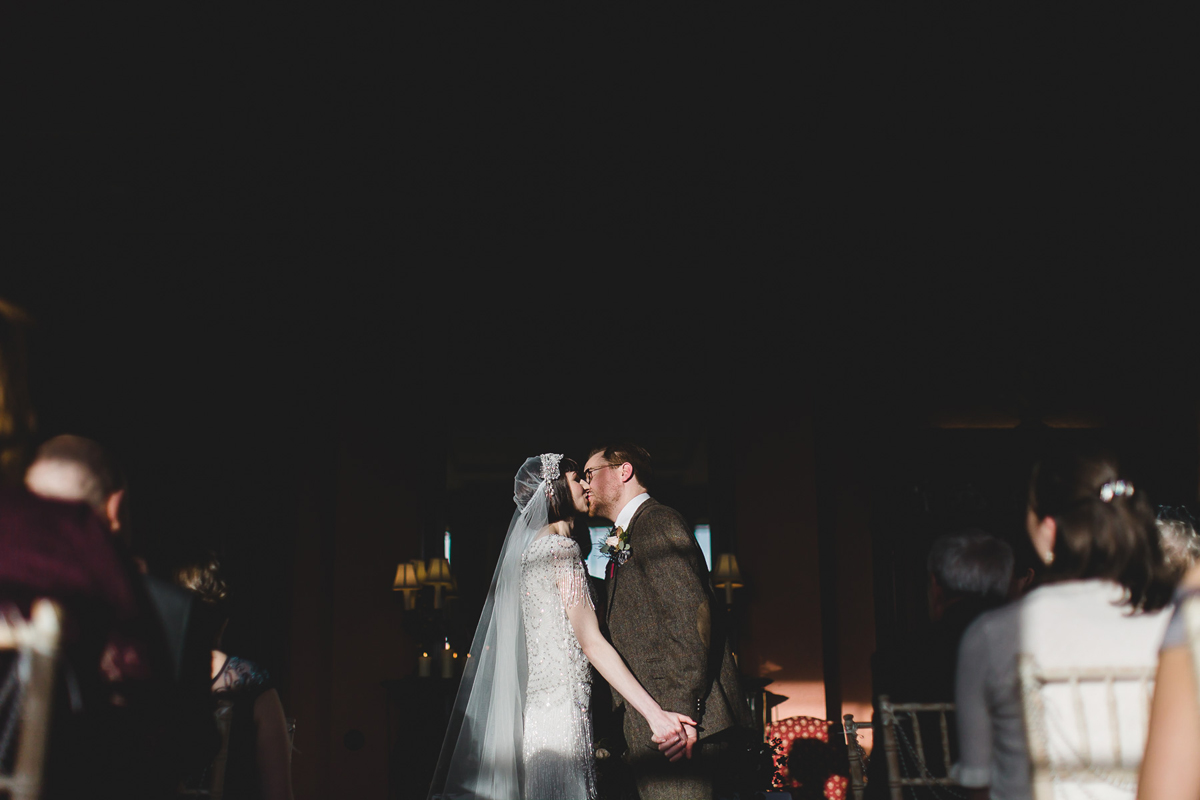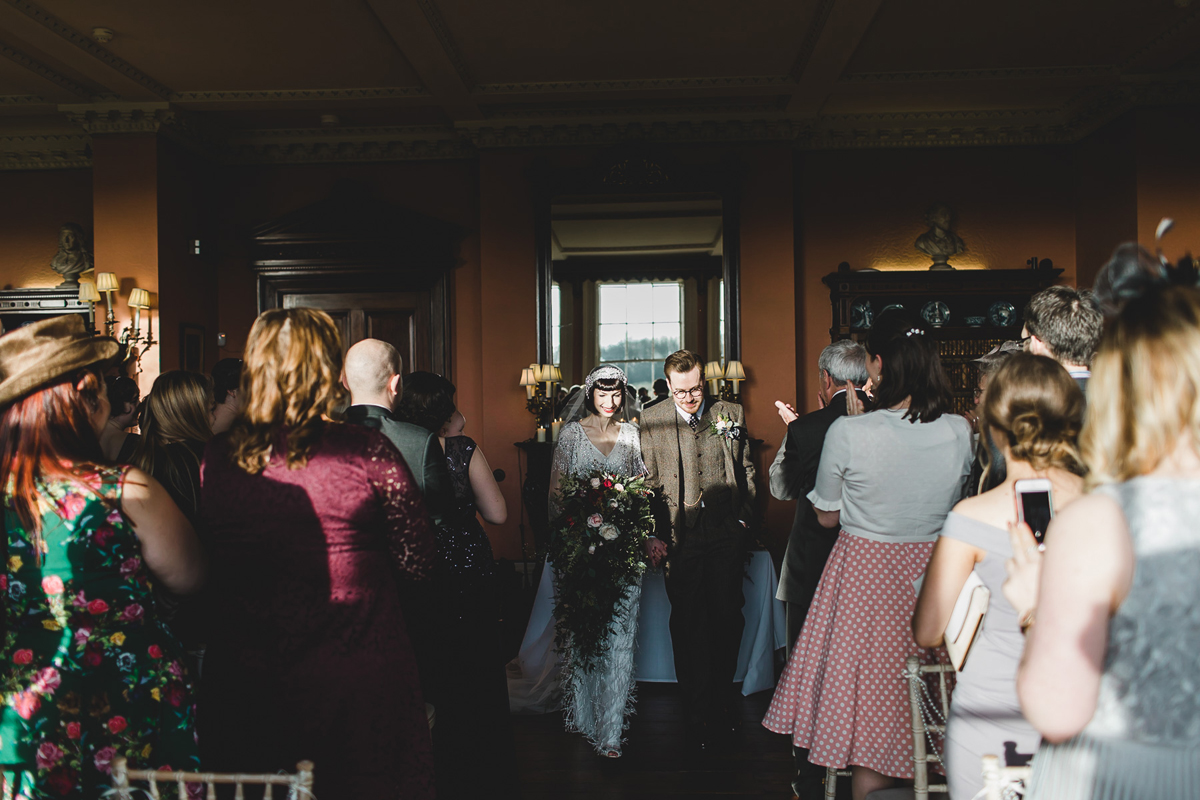 After the ceremony, the newly-weds headed outside for these atmospheric photographs whilst the guests enjoyed a glamorous drinks and canape reception, entertained with more music from The Jazz Tonics.
"Singer Josie has the voice of an angel and is absolutely stunning. She is so friendly as well and we had a lovely, lengthy chat the week before the wedding where she gave me her own wedding tips. She sang Etta James' 'At Last' as I came down the aisle and it was a dream. They then did a set during the drinks reception which Gaz and I missed as we were in a wood with Lee but guests have told me how much they enjoyed it. They're fabulous."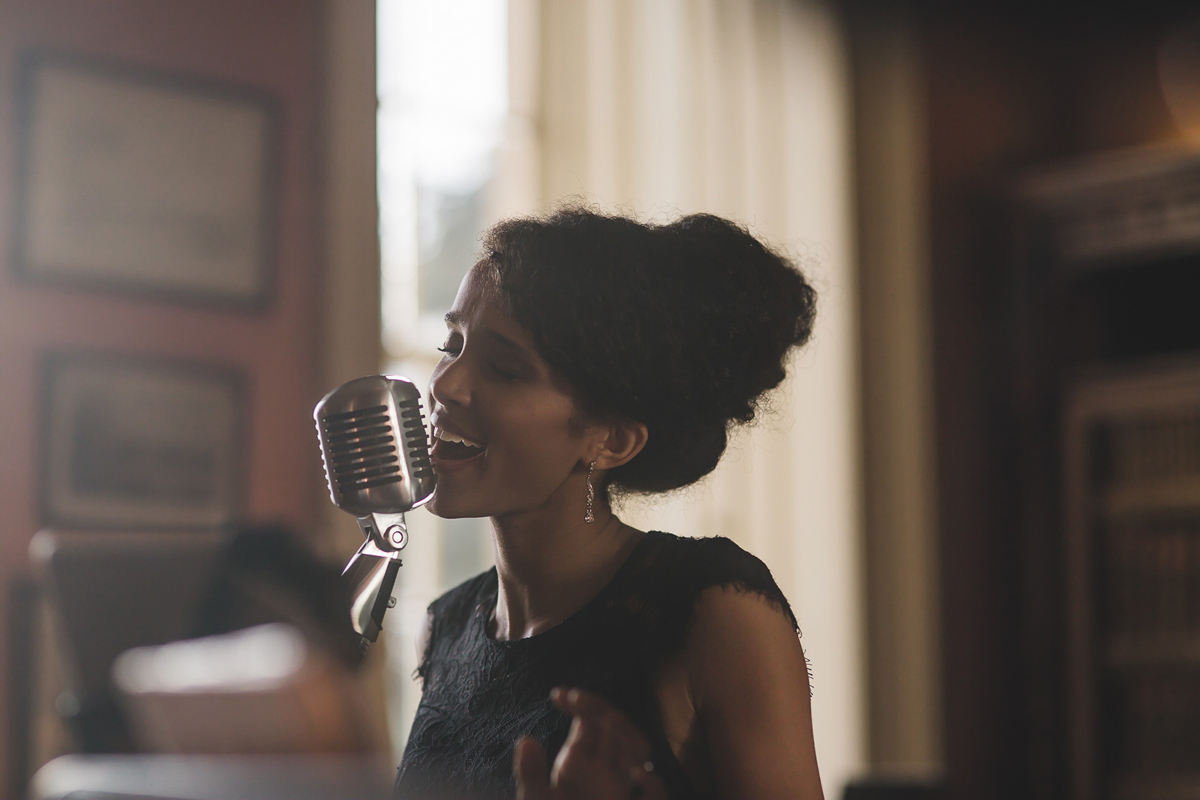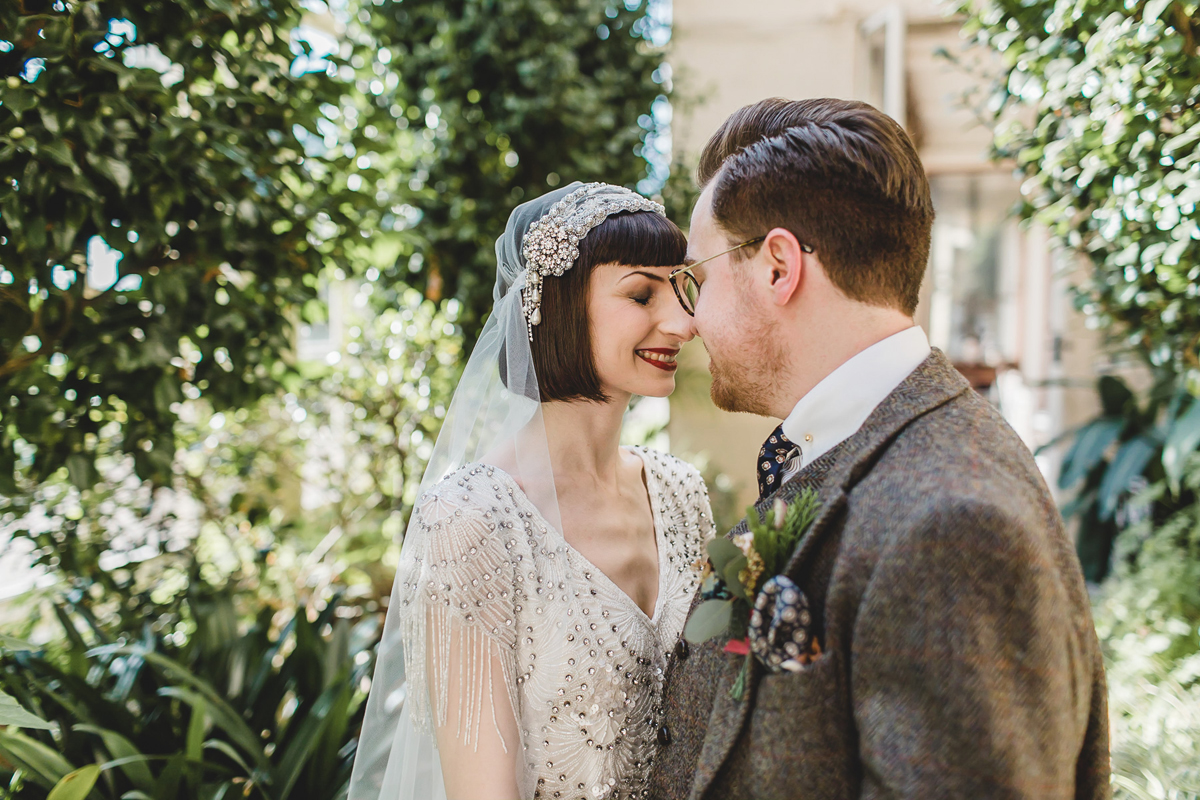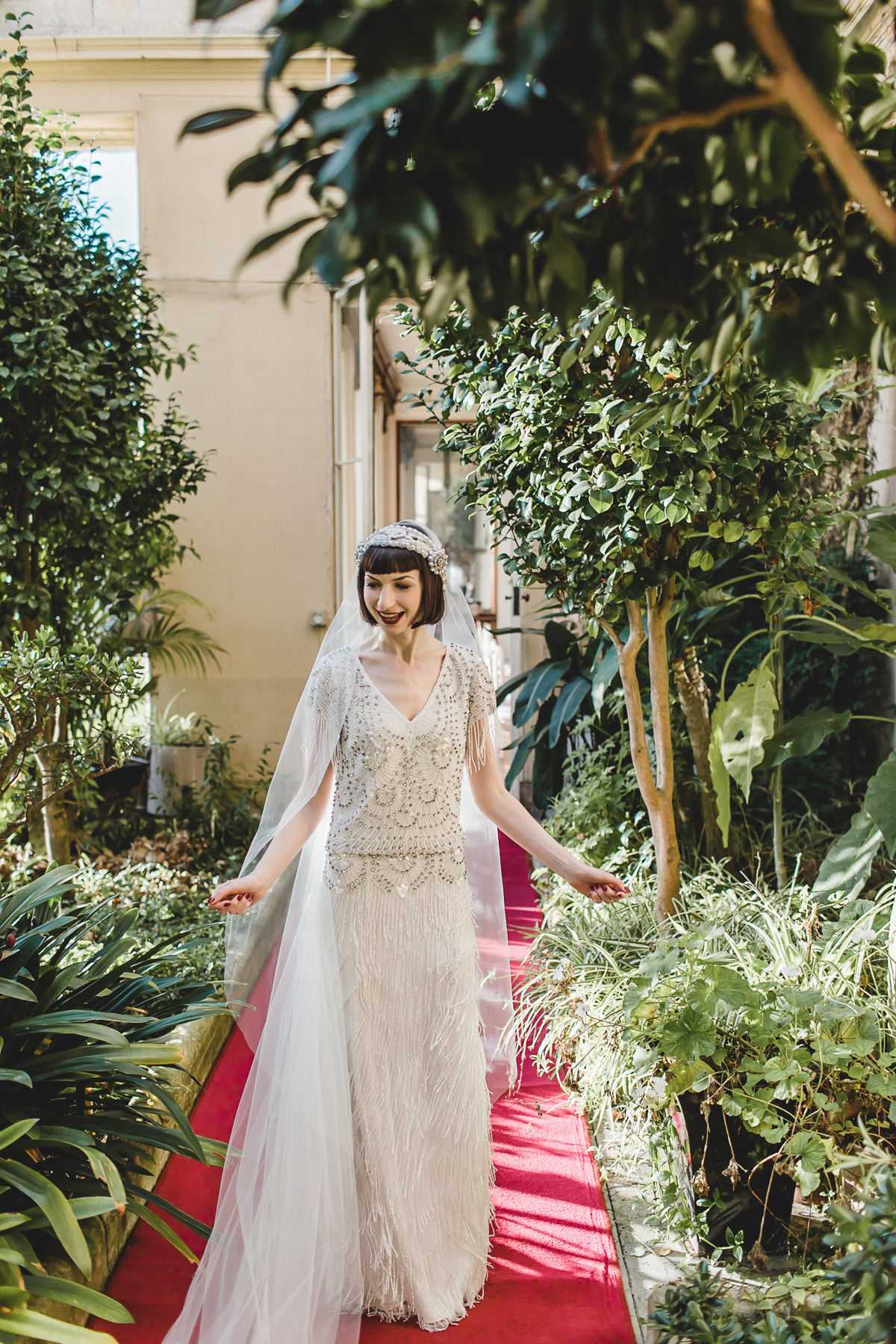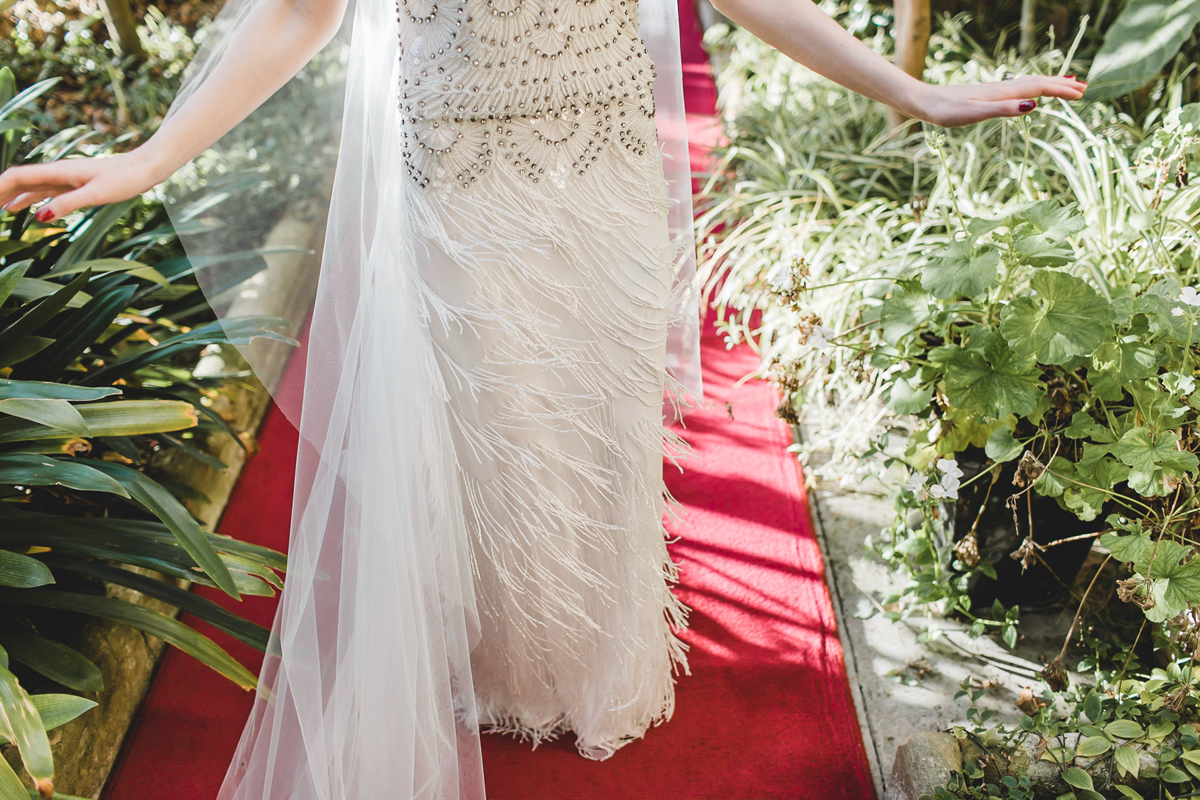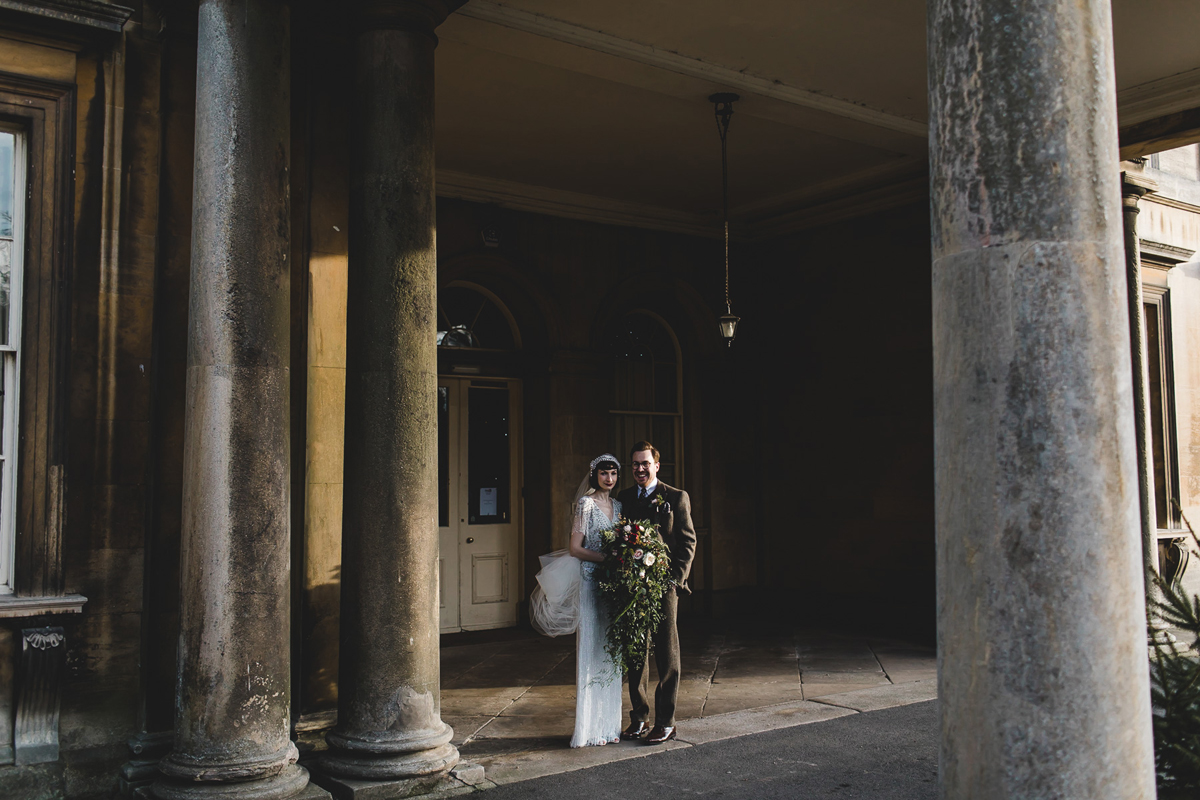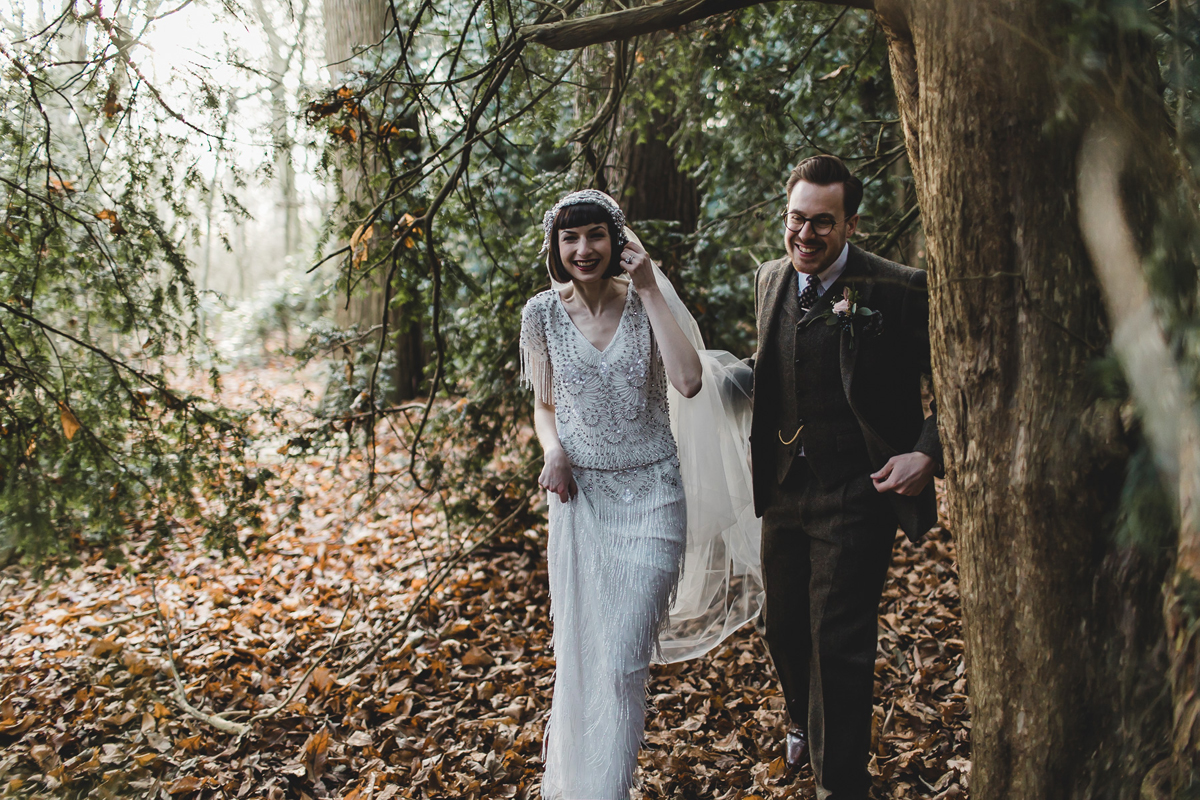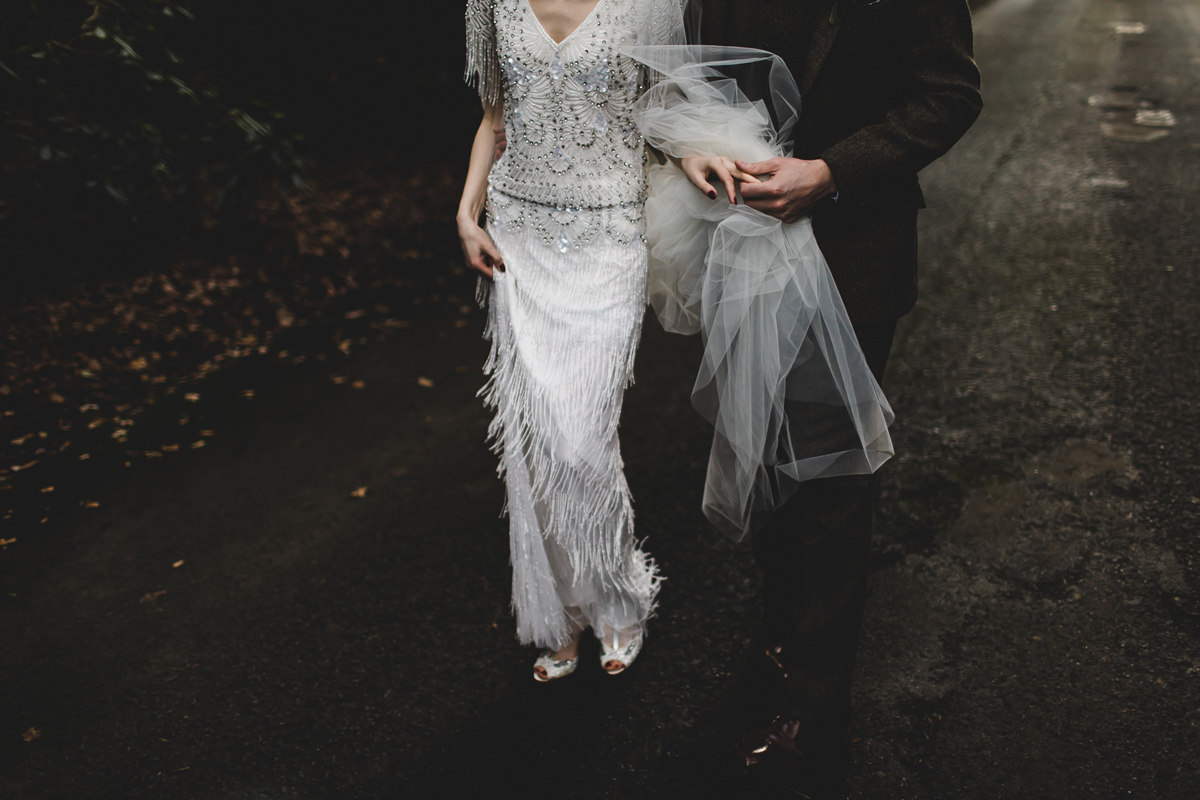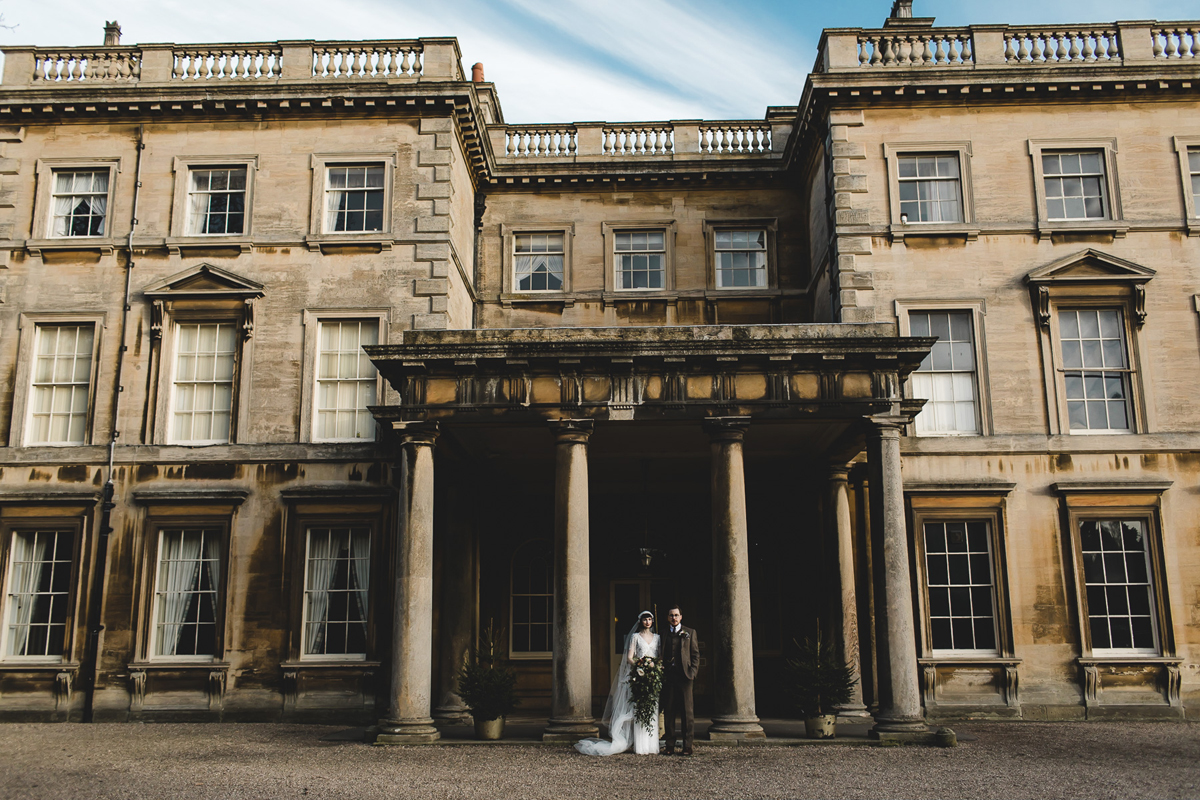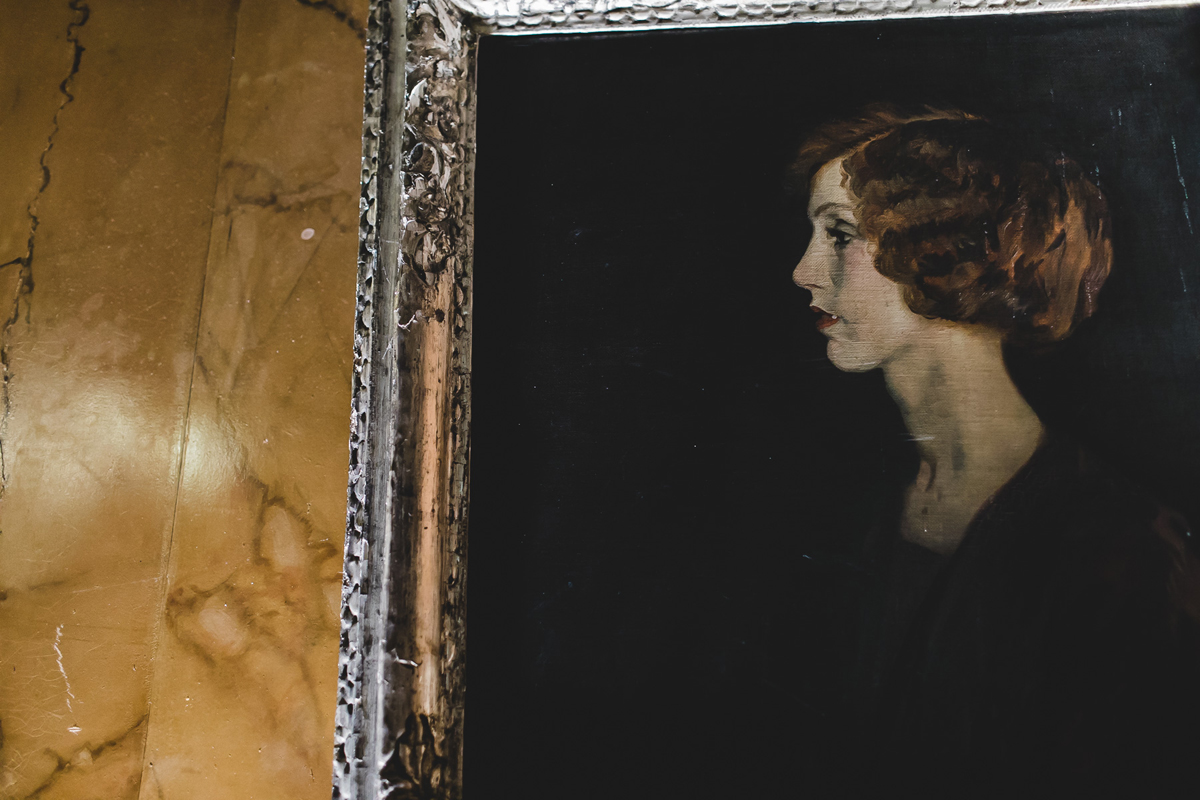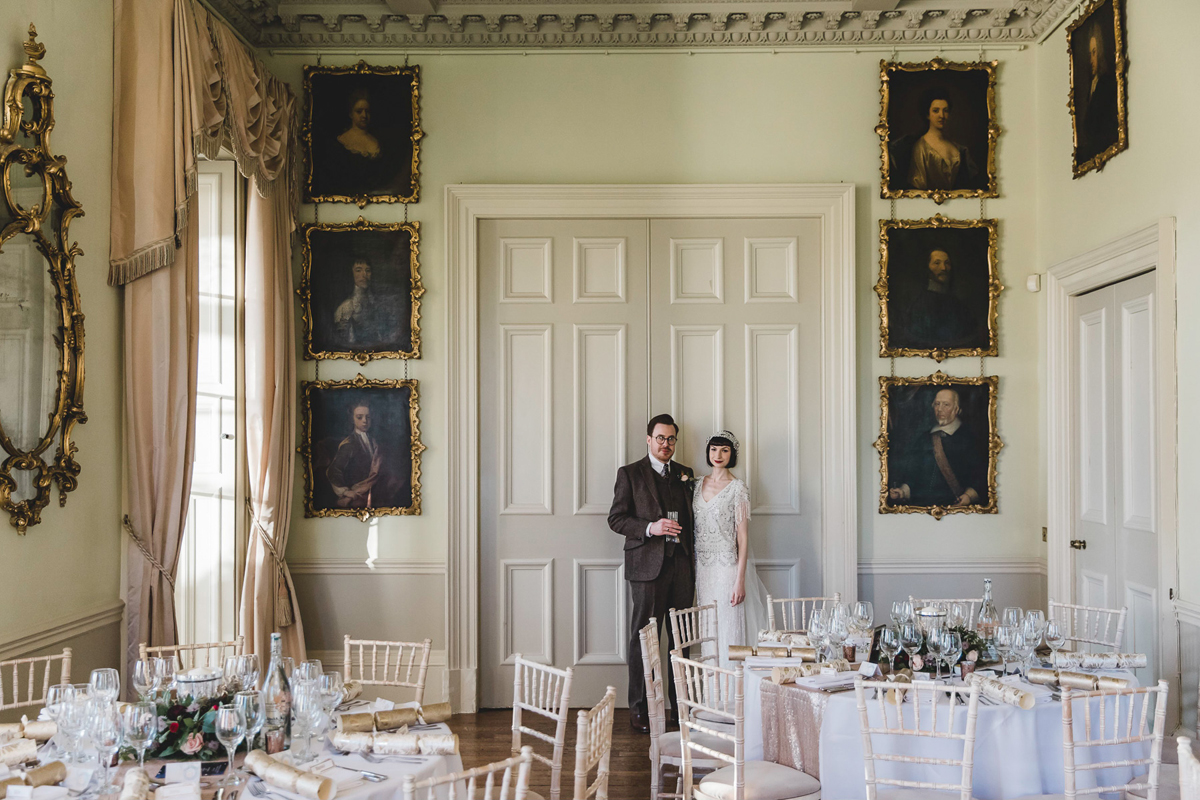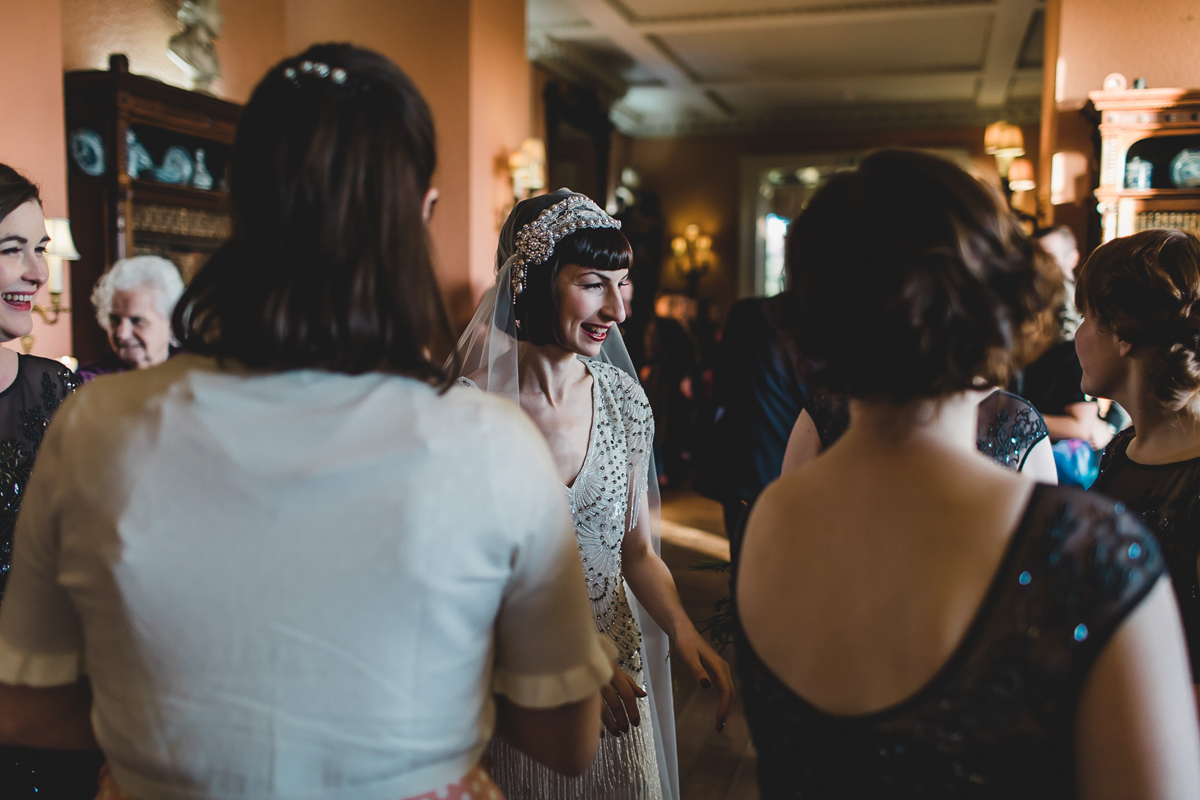 Prestwold Hall, located just outside Loughborough, looks like a really special venue, and the perfect place to hold a 20s-inspired wedding. After much heartache, the couple worked with Hannah Lane of The Lanes Lifestyle, who specialises in vintage wedding styling, to create the wonderful, festive look.
"The décor was the part of the planning that panicked me the most. I'd see fantastic creations on Pinterest with no idea how to recreate them myself. I'd lie in bed at night desperately trying to visualise centre pieces and table plans. Eventually I had my best idea yet and hired Hannah Lane to do the styling for us. She'd got married at Prestwold herself and totally understood the image I was trying to create. Hannah really did relieve me of so much stress."
To celebrate the time of year, favours were Christmas crackers, bought in the Marks and Spencer January sales, and donations to Alzheimer's Society.
"Unfortunately, my friend who was kindly making our cake as a wedding present was struck down with pneumonia before the wedding. I was really worried she wouldn't be able to make it on the day but thankfully she did. One of my bridesmaids had a friend who was really into cake making and she agreed to come to the rescue making us a wonderful semi-naked lemon creation."
"She is so calm and friendly, puts you completely at ease and sorts everything out for you on the day. You just walk into the venue and it looks a dream. She has such an eye for detail and is so creative. The venue looked incredible – from the candle-lit path to the typewriter table plan and the cigar bar. Wonderful."
I really like the table plan, which was complimented with matching menus and table numbers by Hannah. Bridesmaid Naomi made the Save the Dates and the invitations were from Etsy.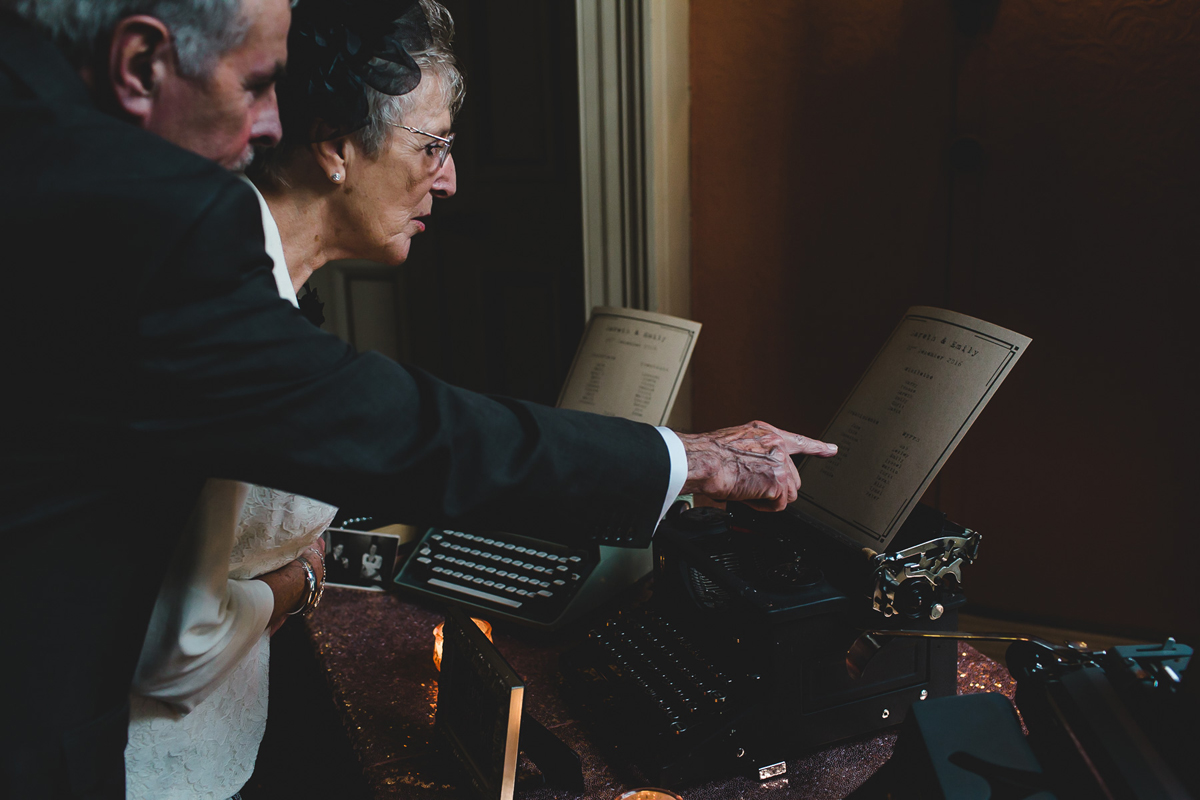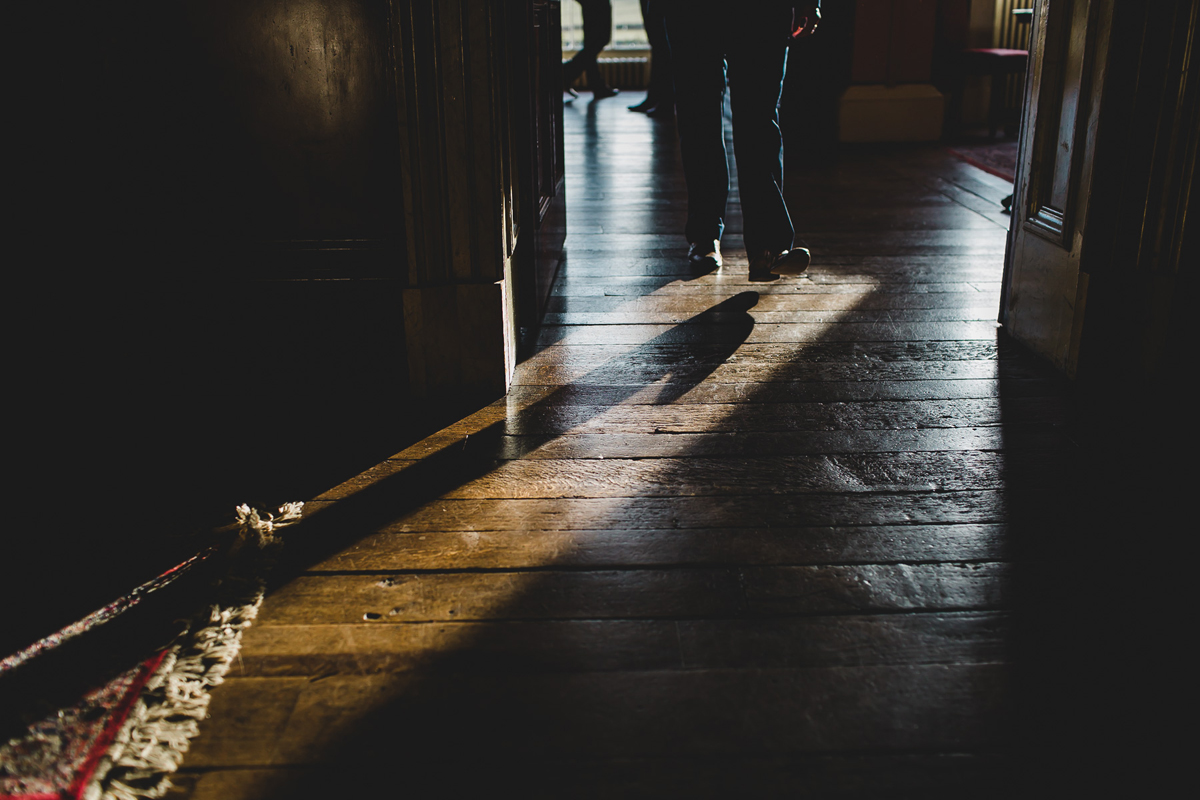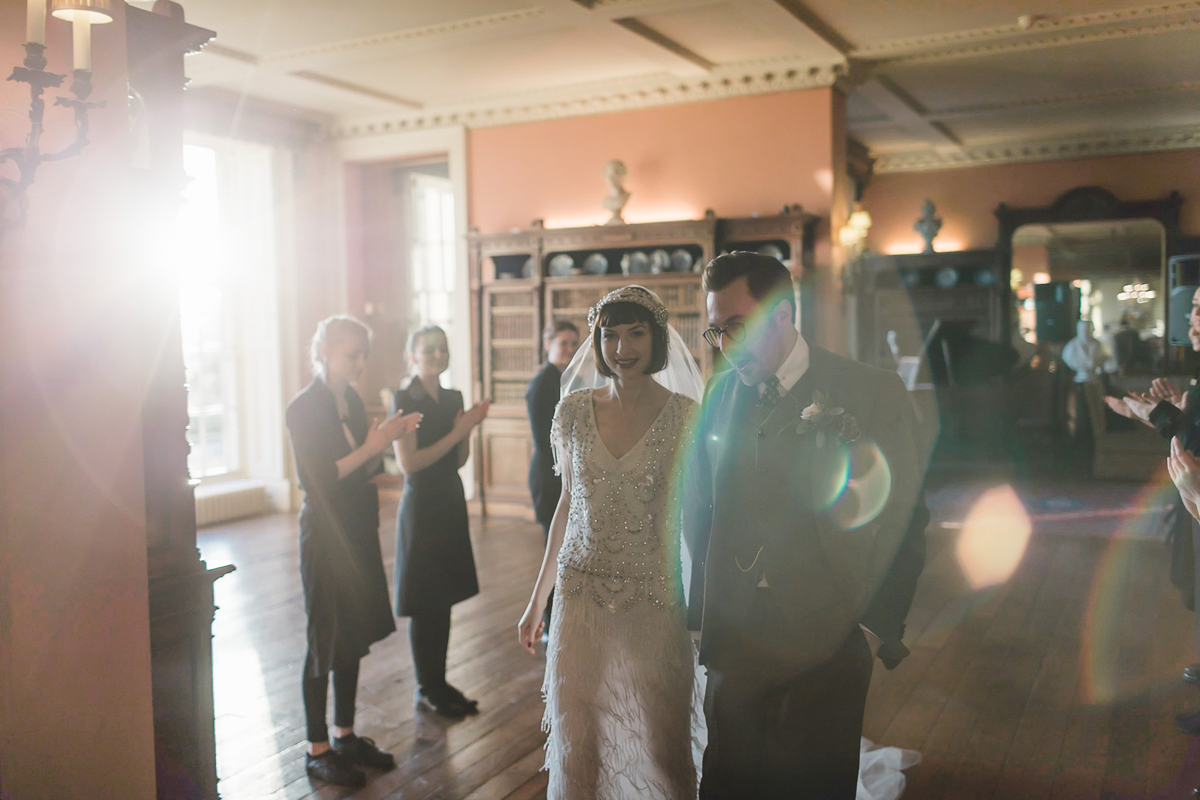 The couple are both vegetarian and they opted for a vegetarian Indian Thali feast for their wedding breakfast.
"We really wanted to give our guests something a little different and with plenty of flavour. We decided very early on that we wanted Indian food for the wedding breakfast, Thali specifically. Tamatanga is our favourite restaurant in the city and Prestwold kindly let us approach them to do our catering on the day. I cannot praise Rahul the General Manager of Tama enough; the food was sublime. We supplied everyone with an apron and tucked in!"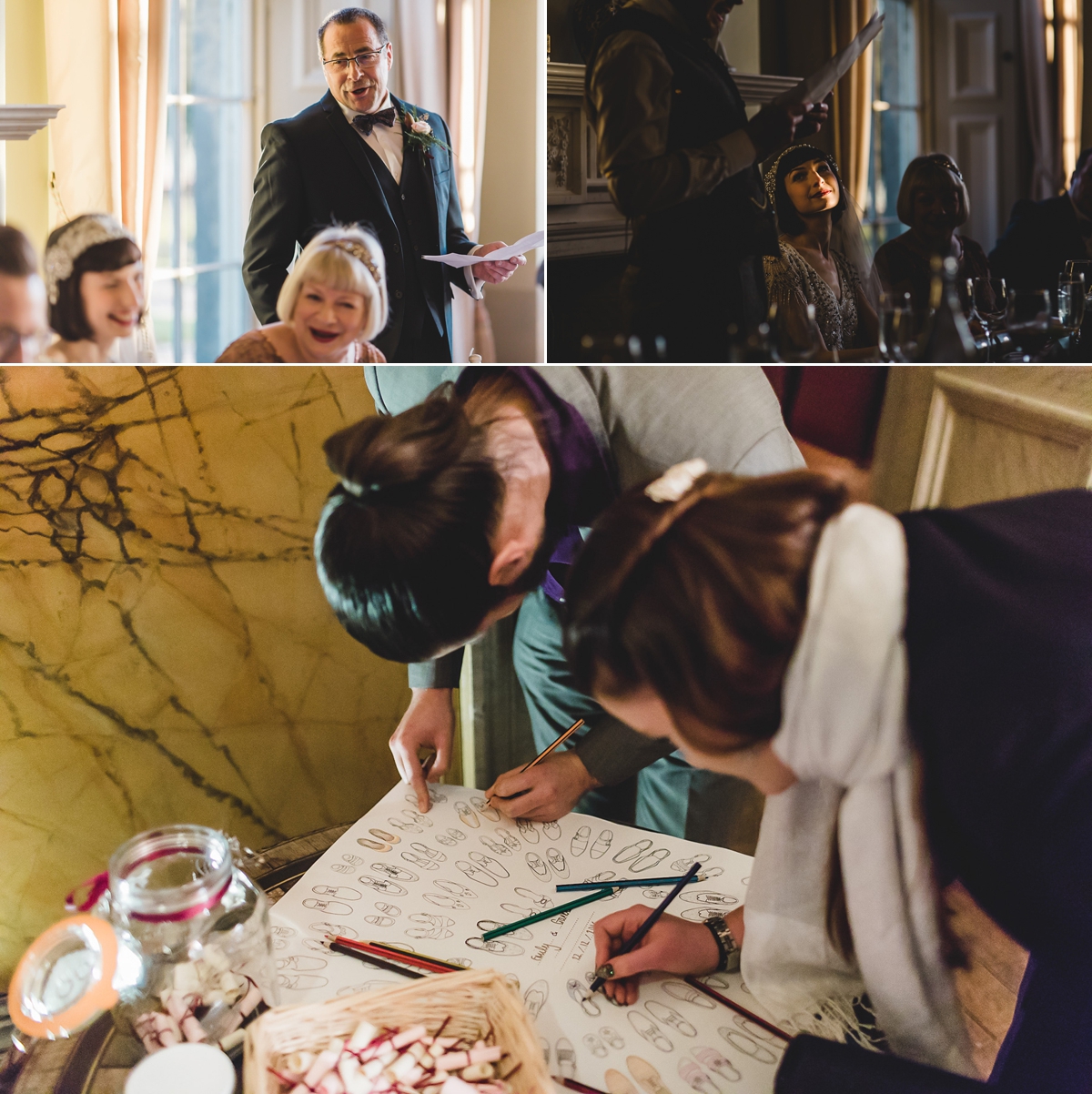 In the evening, she removed her cap and headpiece in favour of a jewelled laurel leaf tiara from Glitzy Secrets, inspired by 1920s style.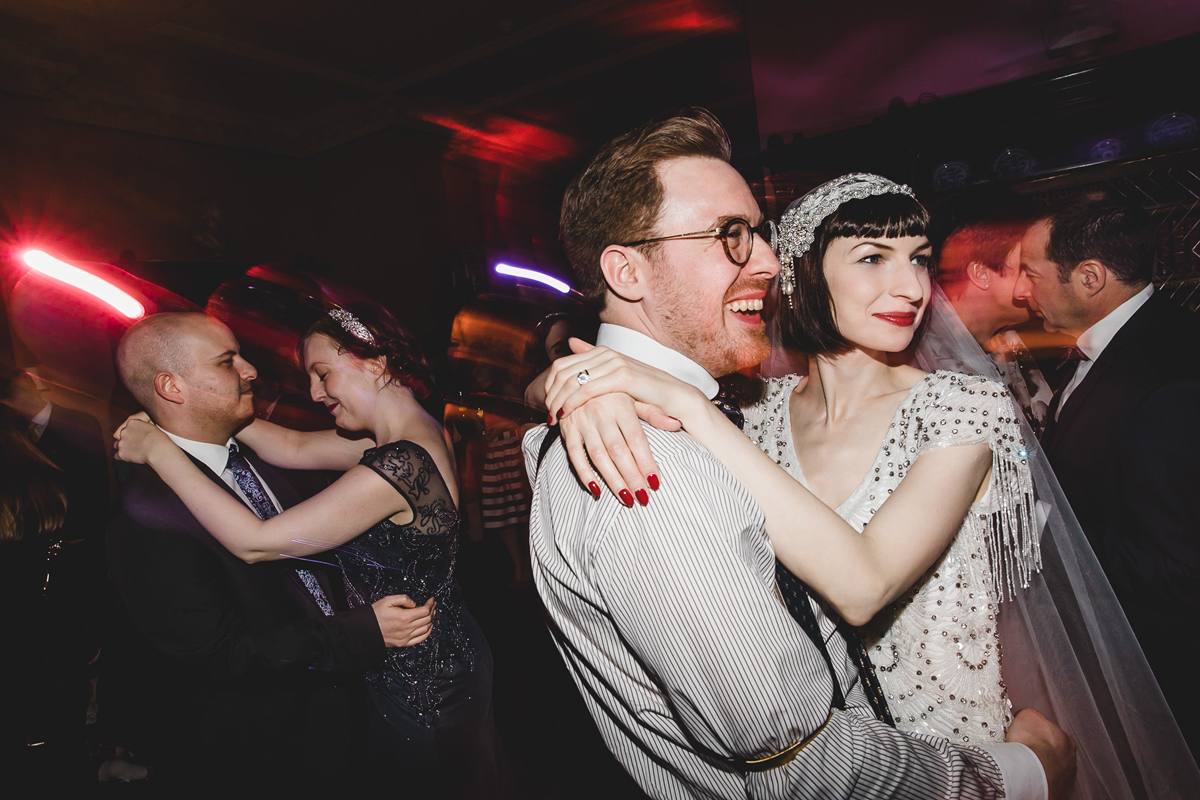 Prestwold Hall's resident DJ Guy Morris played a set for the evening's dancing, kicking off with a first dance to Roxy Music's 'If There Is Something'.
"Gareth made me a mix CD when we first got together and this was on it. We always said that when we eventually got married this would be our first dance. The trouble is that it's a very long song and we were so self-conscious about doing the first dance, we wanted people to come up and join us as soon as possible! I was rather put out when Kate Moss and Jamie Hince managed to have it as their first dance before us. Especially as they had the pleasure of Bryan Ferry singing it in person!"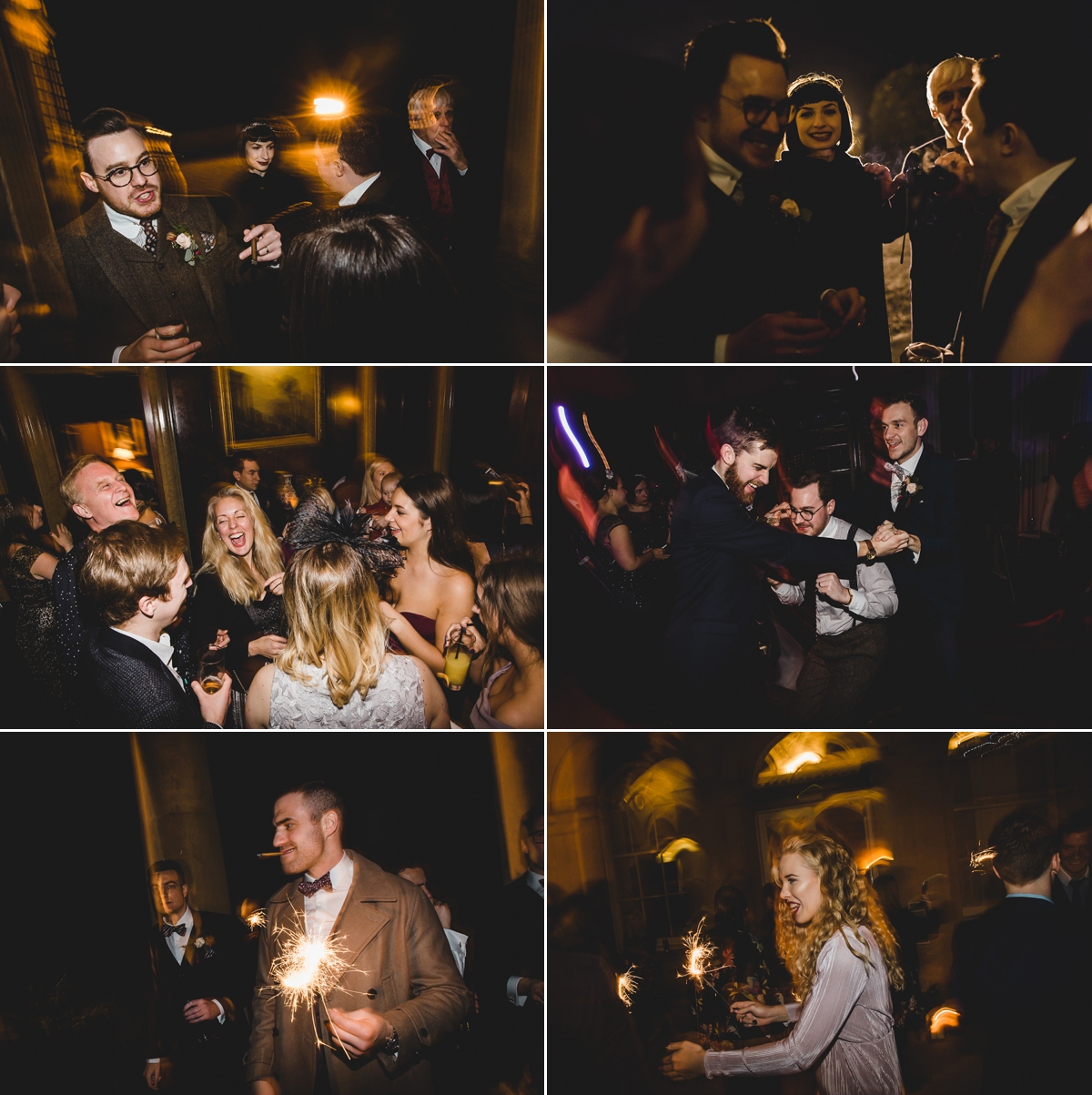 Words of Wedded Wisdom
"Remember it's your wedding. Do it how you and your partner want. Don't give in to other people's visions, ideas or guest list suggestions because you will regret it. Hopefully you're only going to do this once so make it about you two."
"I think so many couples end up trying to keep everyone else happy and then end up compromising on what's important to them. I know we did in some ways and it still annoys me now!"
Gareth and Emily, thank you so much for sharing your incredible day with us. You've channelled the essence of the Art Deco period so wonderfully, and I love Lee Garland's emotive shots of the day. What a joy.
Ele xx