Happy Tuesday lovelies!  Today's wedding is for the inner bookworm in everyone and took place in an absolutely stunning location in the heart of Oxford. Shall we meet today's book-loving bride and groom then?
Solicitor Laura and Investment Analyst Oliver said their vows on 12th August 2017 at The Bodleian Library in Oxford. In keeping with their grand surroundings, Laura chose a gorgeously elegant and traditional style gown from Love My Dress favourite and Little Book for Brides member Halfpenny London, and paired it with a Blush & ivory veil.
"I wanted a dress that was simple but elegant, and not be restricted by corsets or heavy skirts. I visited several wedding dress shops in London but couldn't find what I wanted, until I discovered Halfpenny. There were so many dresses to pick from but I fell in love with the silk chiffon fabric of the Daisy dress. It moved so beautifully when I tried it on and with the deep V back and cross over front it was perfect. I chose to add lace cap sleeves and a simple belt."
Images by Becky Harley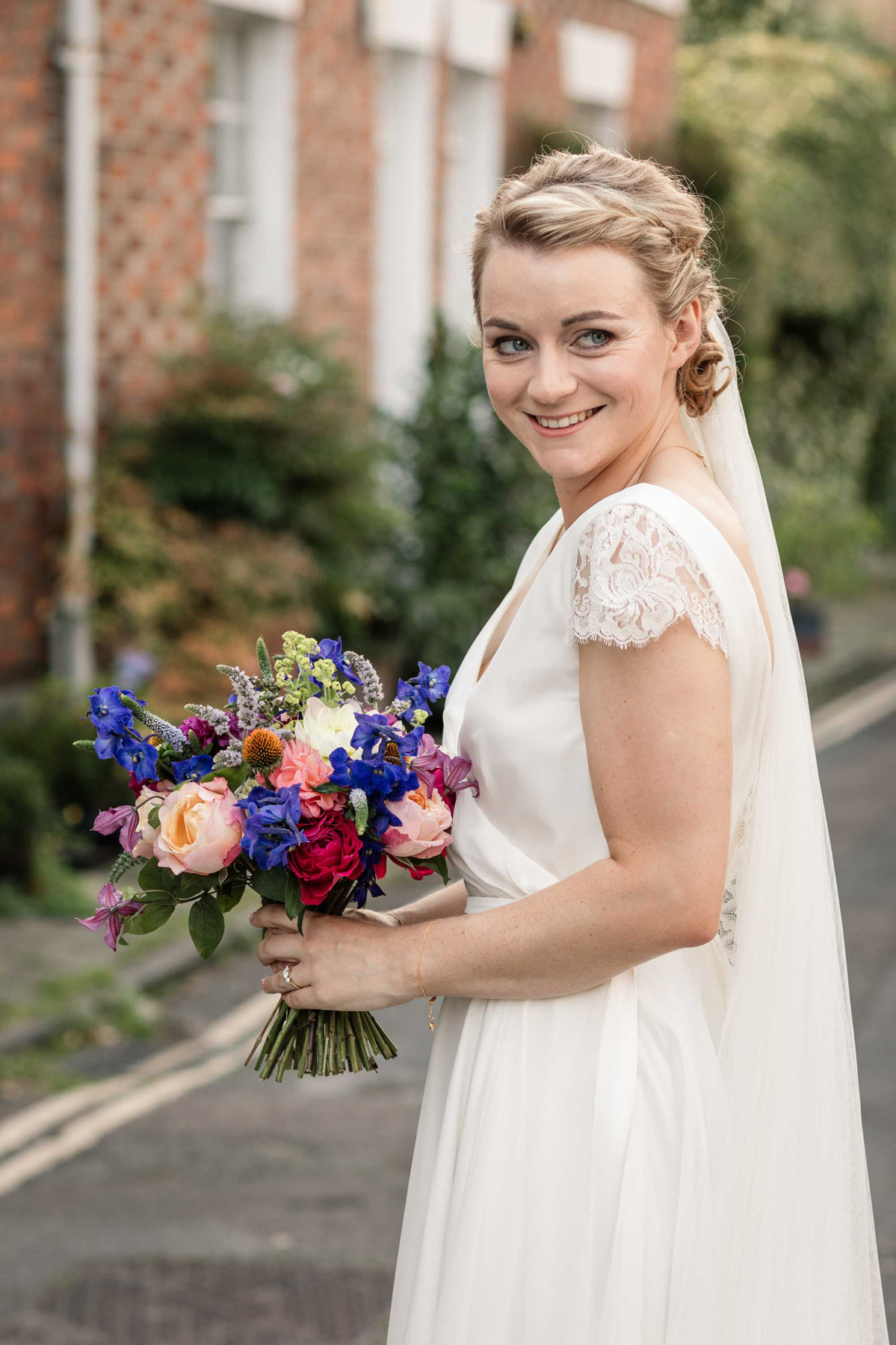 Capturing the day on camera was the talented Hertfordshire based photographer Becky Harley.
"We feel so happy to have found Becky. From the first moment we spoke to her over Skype and throughout the whole preparation, engagement shoot and the wedding day itself, Becky was absolutely fantastic. She was so calming, friendly, professional and we have the most wonderful photo's of our wedding day!"Oliver's proposal came a few weeks after the pair moved into their first flat together in London and were engaged for 15 months before getting married.
"We were both students at New College – one of the oldest colleges in Oxford University – when we met. It was the first day of Freshers' Week. We were close friends for a couple of years before we started going out. We were together 7 years before Oliver proposed!"
"The purchase on our first house together had been a very long and drawn out process and we had spent nearly a year living at my parents house. It was so exciting to finally move in. One Wednesday in May, I came home late from my book club to find the door to our roof terrace open. I stepped out and there he was. He had decorated the terrace with lots of candles and his bike lights (!) and had bought a bottle of champagne – it was a complete surprise!"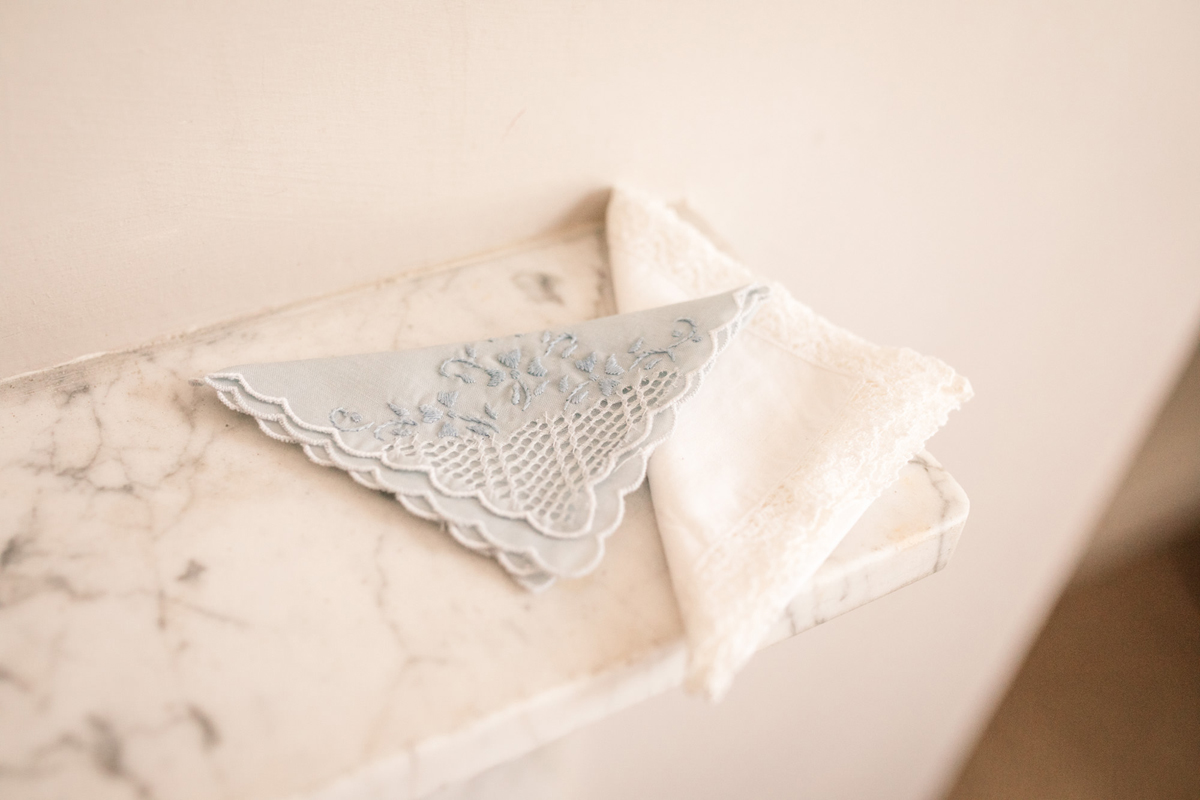 And for a perfect dress, Laura paired it with a perfect pair of ice blue shoes from Rachel Simpson, a diamond necklace from Monica Vinader, an antique diamond ring, a Missoma star bracelet and a namesake bracelet; a gift from her Italian grandmother when she was a baby.
"I also wore my go-to scent, Dolce & Gabbana Light Blue, on the day. I did consider buying a new one but I know that Oliver likes the Light Blue scent and it was reassuring to wear something familiar."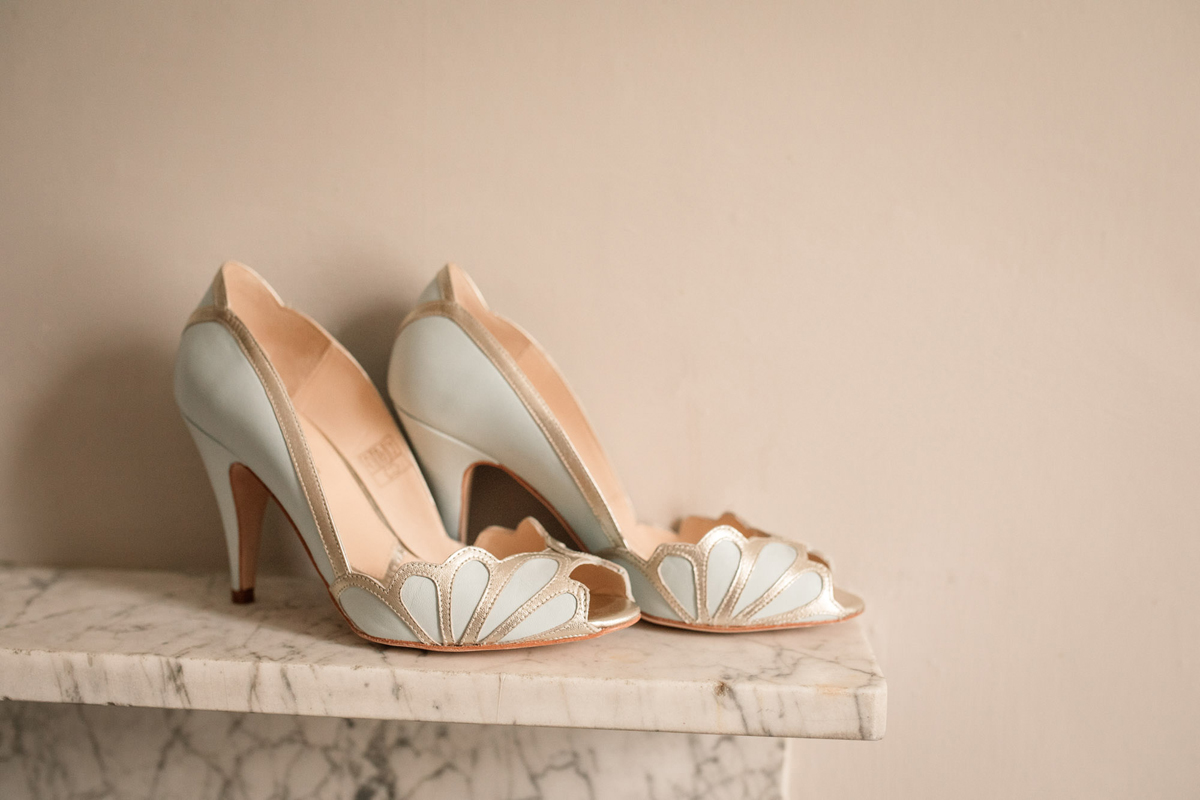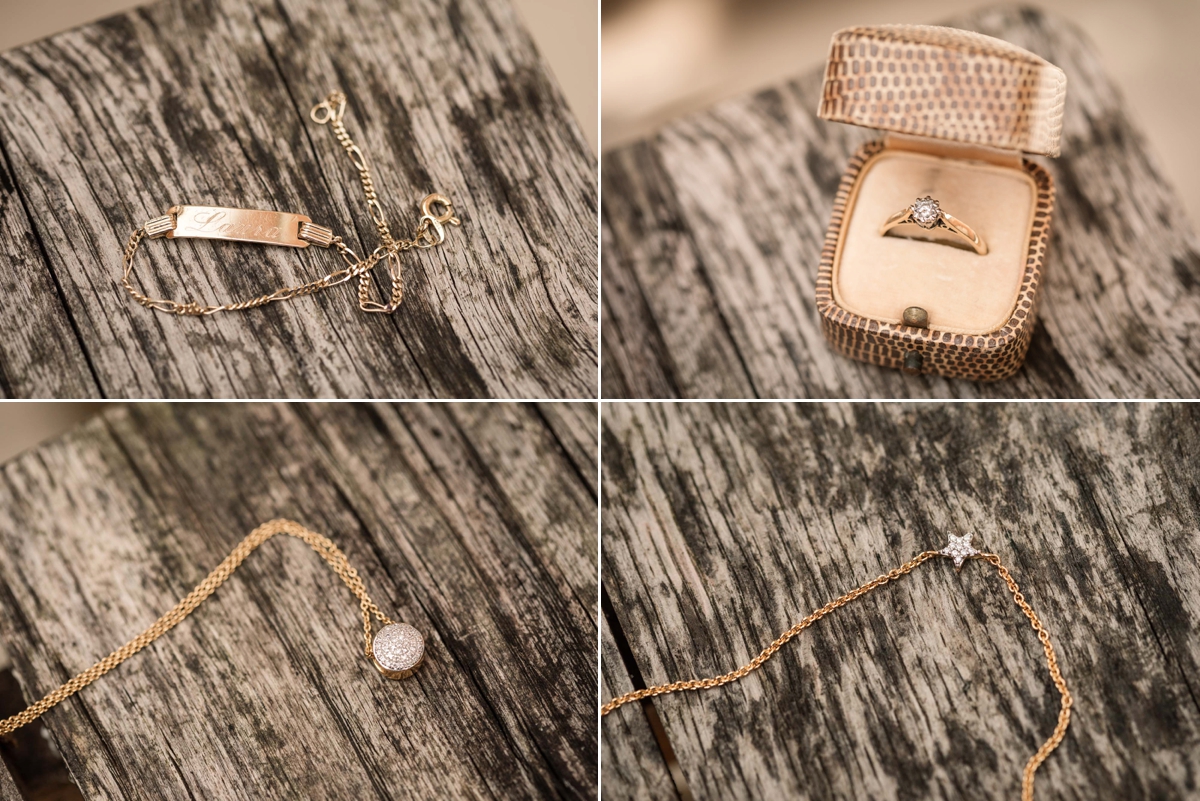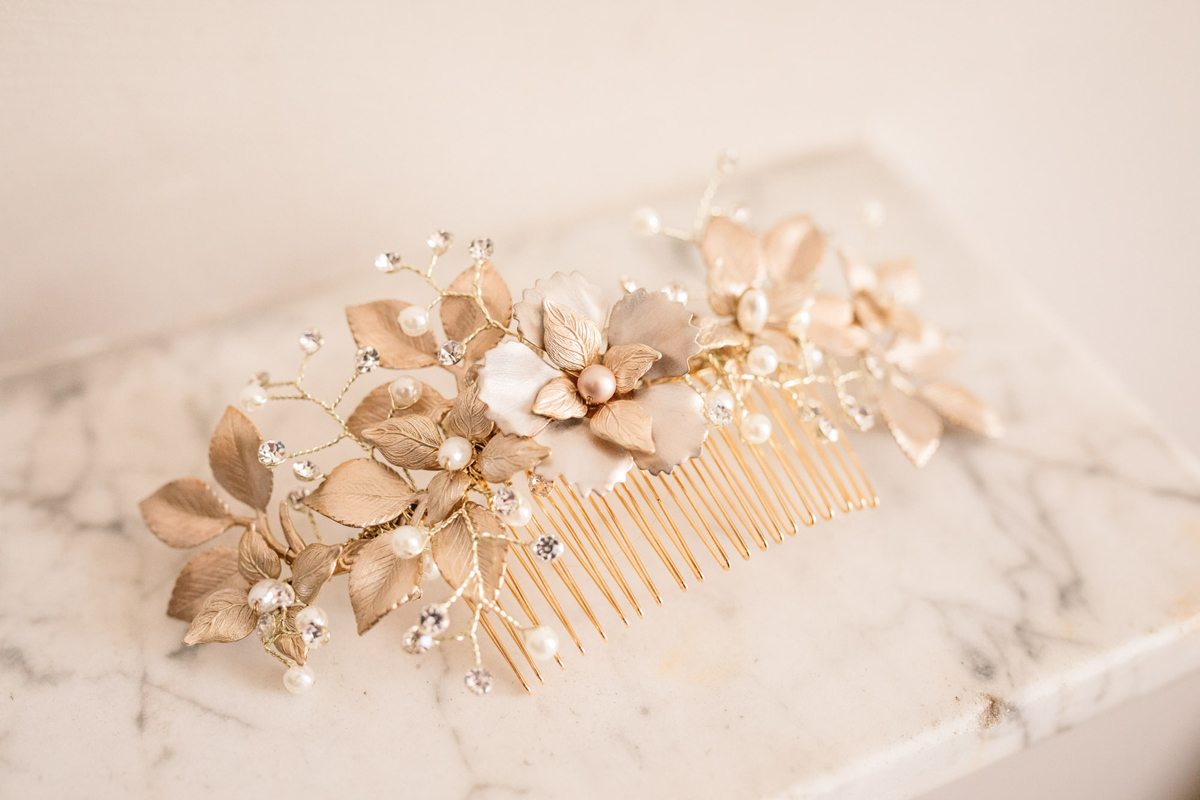 Laura's bridemaids were a gorgeous bunch, dressed in lilac Needle and Thread tulle skirts and Monsoon Bridal white sequin tops. They were also given a star hair pin from Anthropologie and bracelets from Missoma as gifts from Laura on the day.
They were all lucky enough to get their hair done by hair and make up artist Justyna from Deco Dolls, who also created Laura's bridal make up look and who Laura found via Love My Dress.
"We couldn't have been happier with the results! My make up was exactly as I'd hoped. It was natural and radiant and made me feel so confident in my appearance. I would recommend Justyna to anyone!"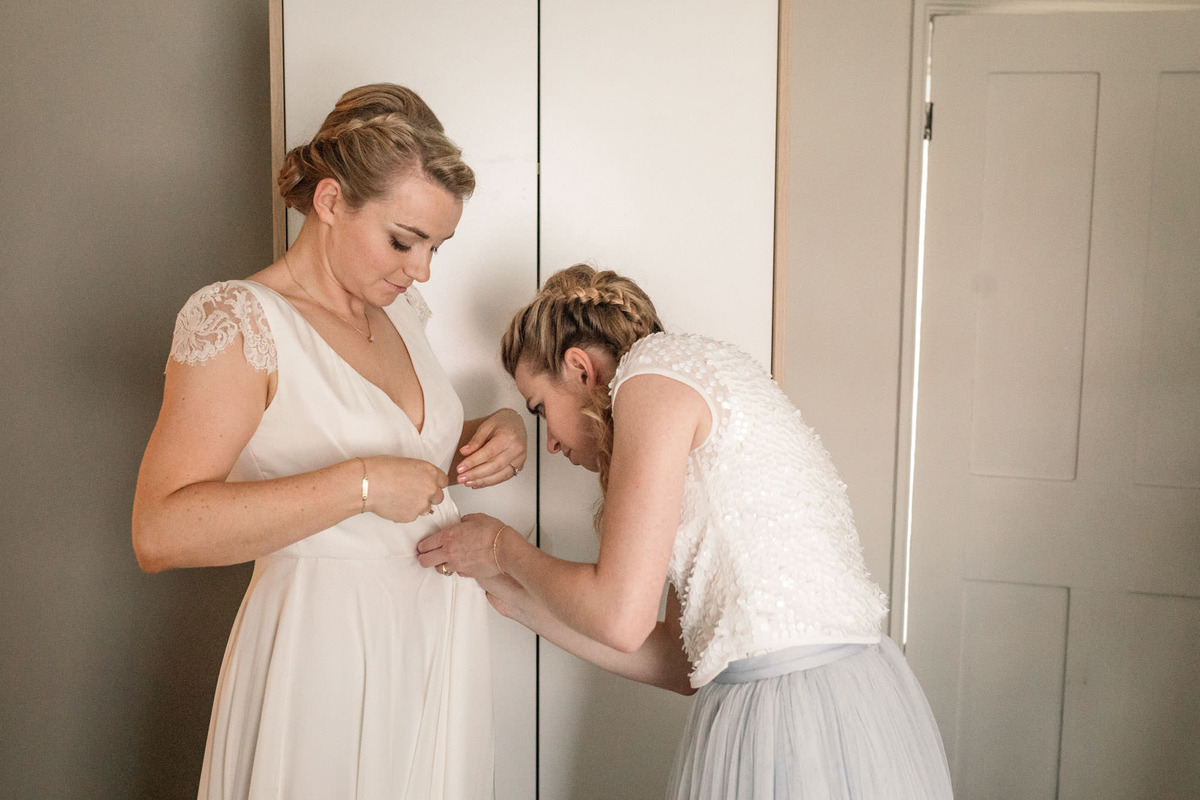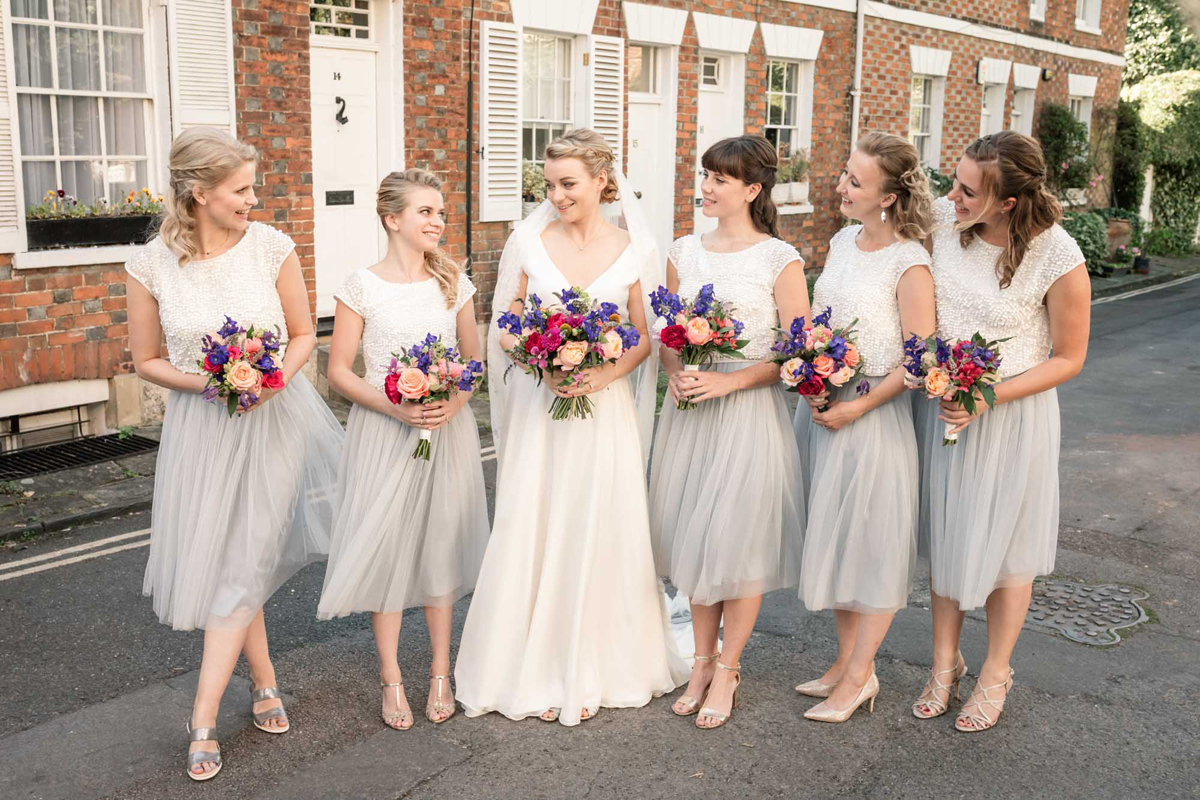 The bridal party also carried stunning bouquets of brightly coloured, seasonal blooms using a palette of purples, peaches and deep pinks, all created by Louise at Wild Thyme.
"Louise is based in Oxfordshire and did the flowers for our friends wedding in 2016 at which I was a bridesmaid. I was impressed by how vibrant and natural the bouquets were. We went to Louise with a pretty loose brief, all we knew is that we wanted bright, seasonal flowers that would add a splash of colour to the venue and to the bridesmaids outfits. Louise chose a wonderful selection."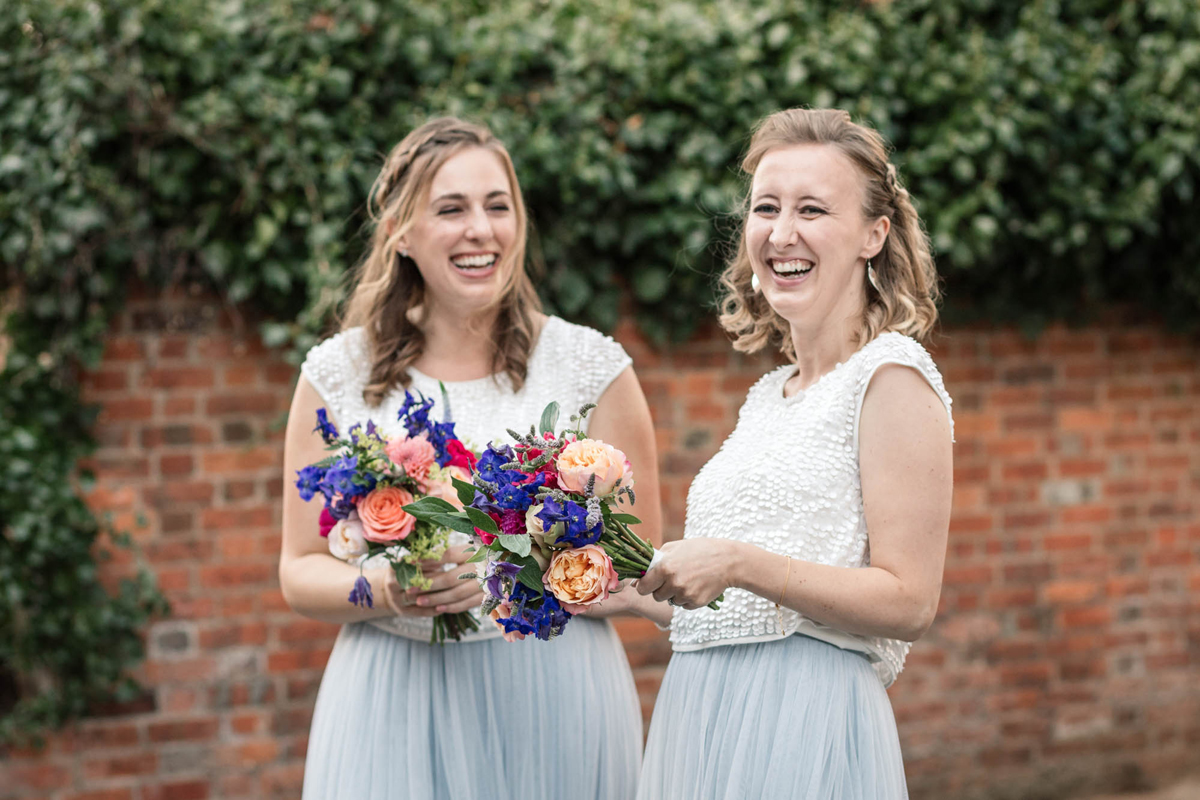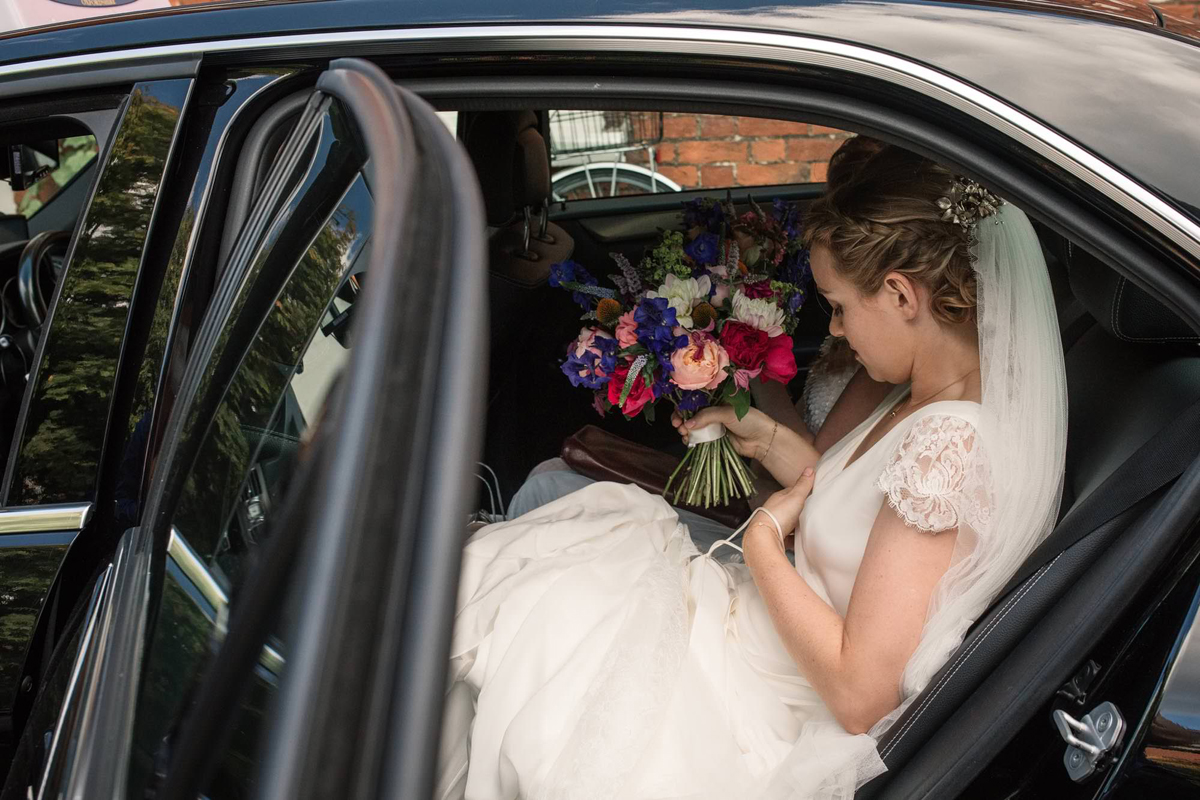 The groom choose a dapper 3-piece suit with blue trousers and jacket, grey waistcoat and white shirt from Yardsman, accessorised with a blue silk tie from Salvatore Ferragamo and Loake strand semi brogues in a mahogany colour.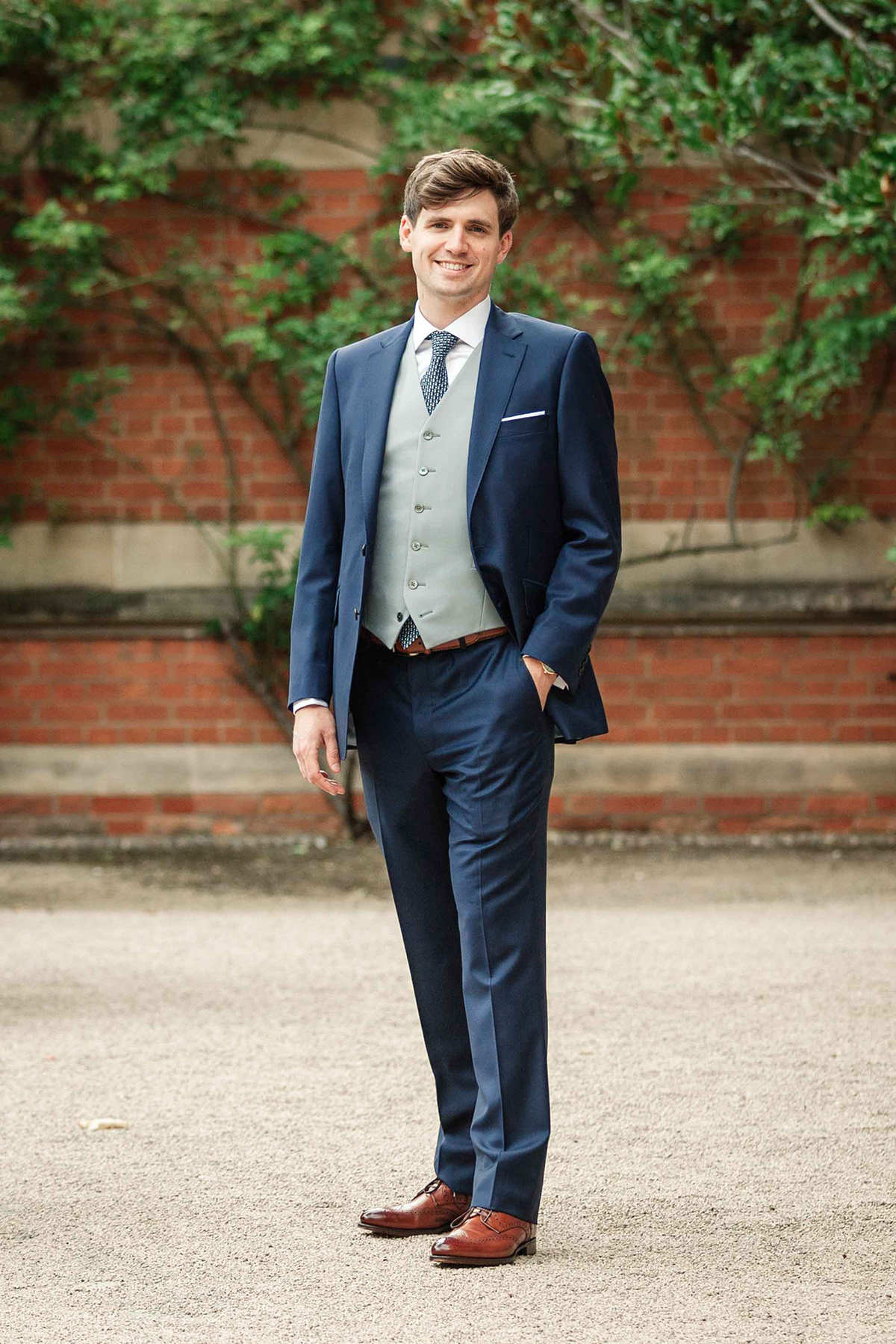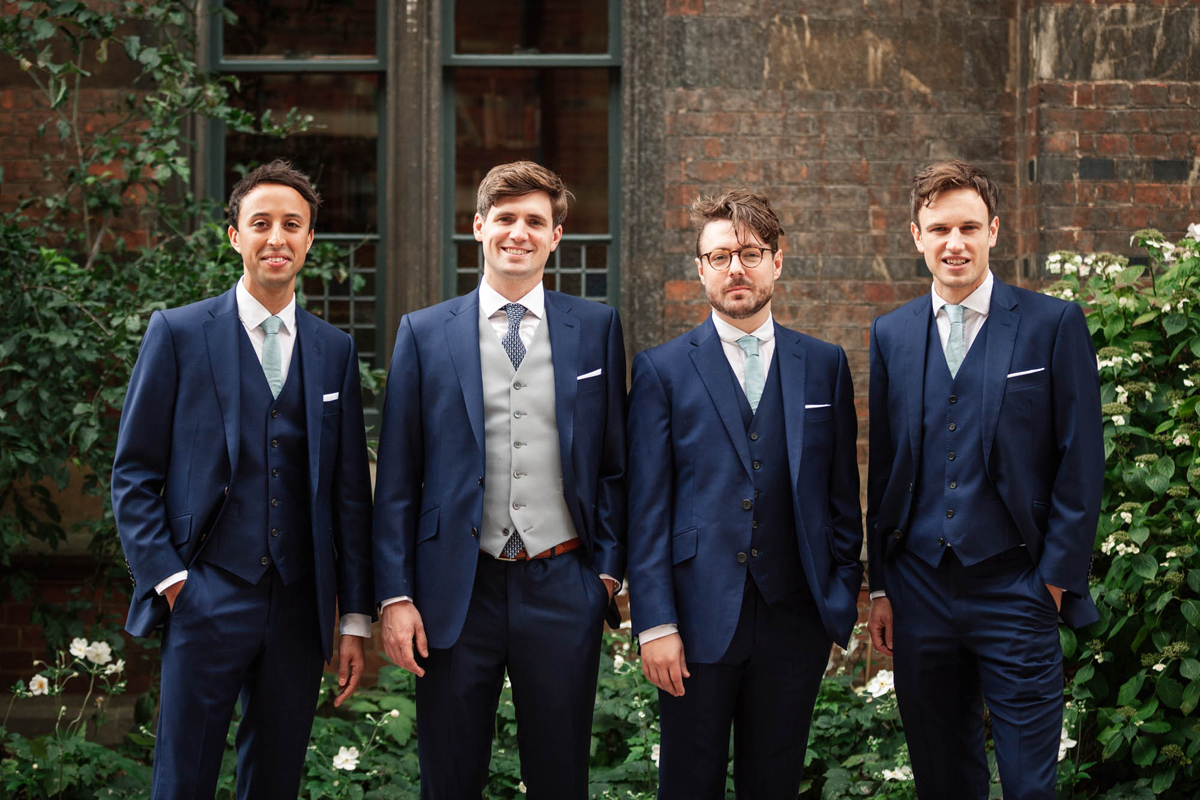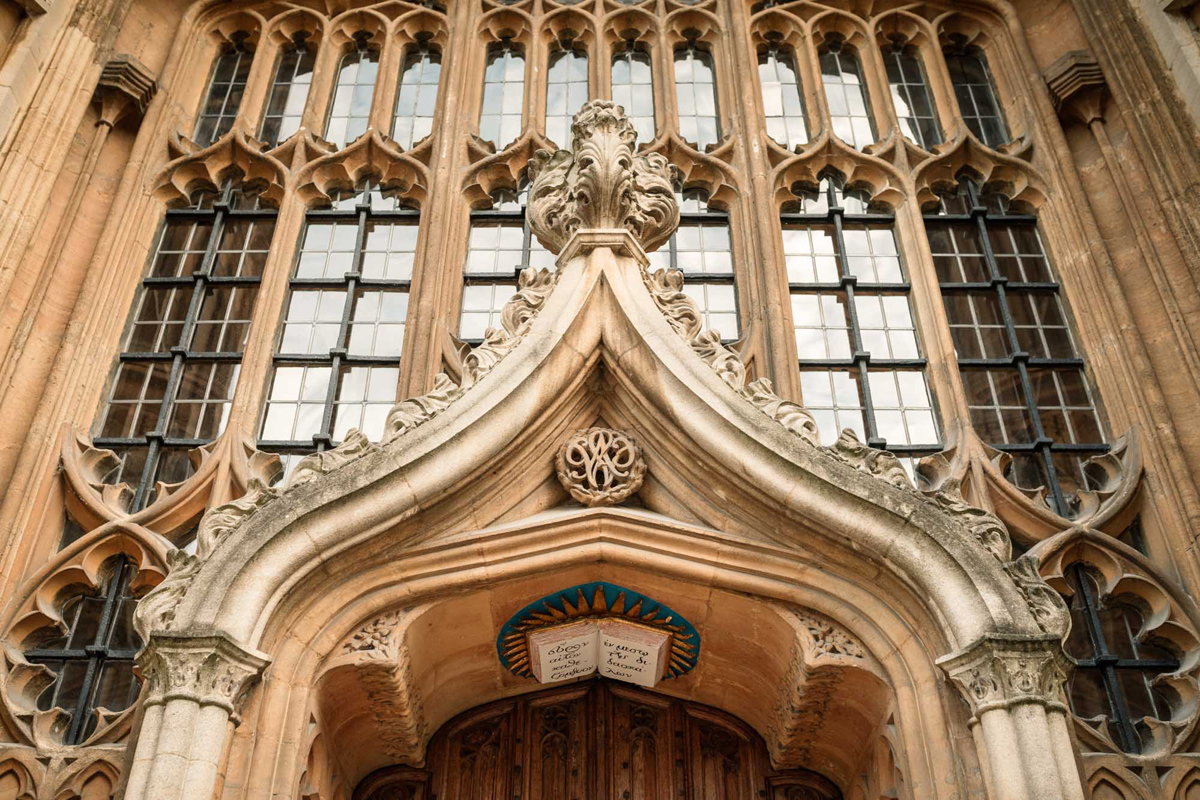 "Oliver and I both studied at Oxford so the city has a special meaning to us. We are not religious but wanted a venue that had some solemnity and beauty. As soon as we found out we could get married in the historic Bodleian Library, we knew it would be perfect for us. It is located right in the heart of medieval Oxford and the architecture is breathtaking with high windows and elaborately vaulted ceilings."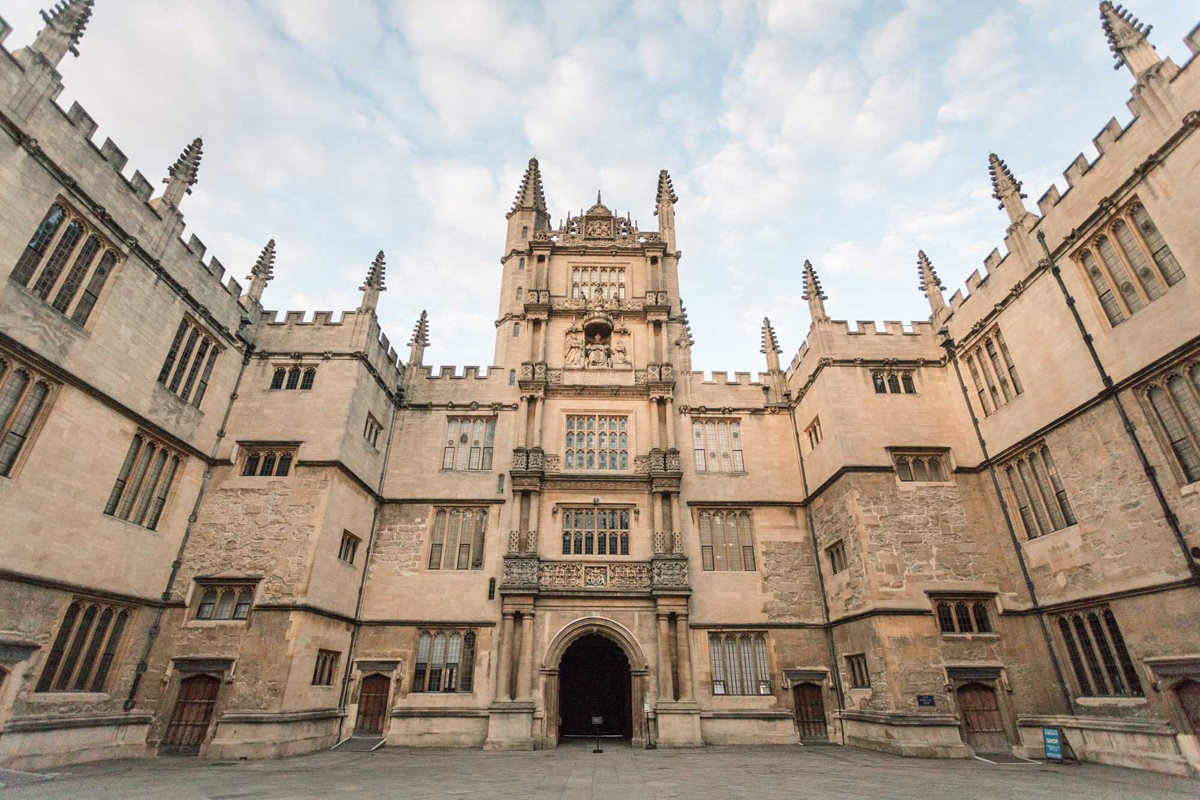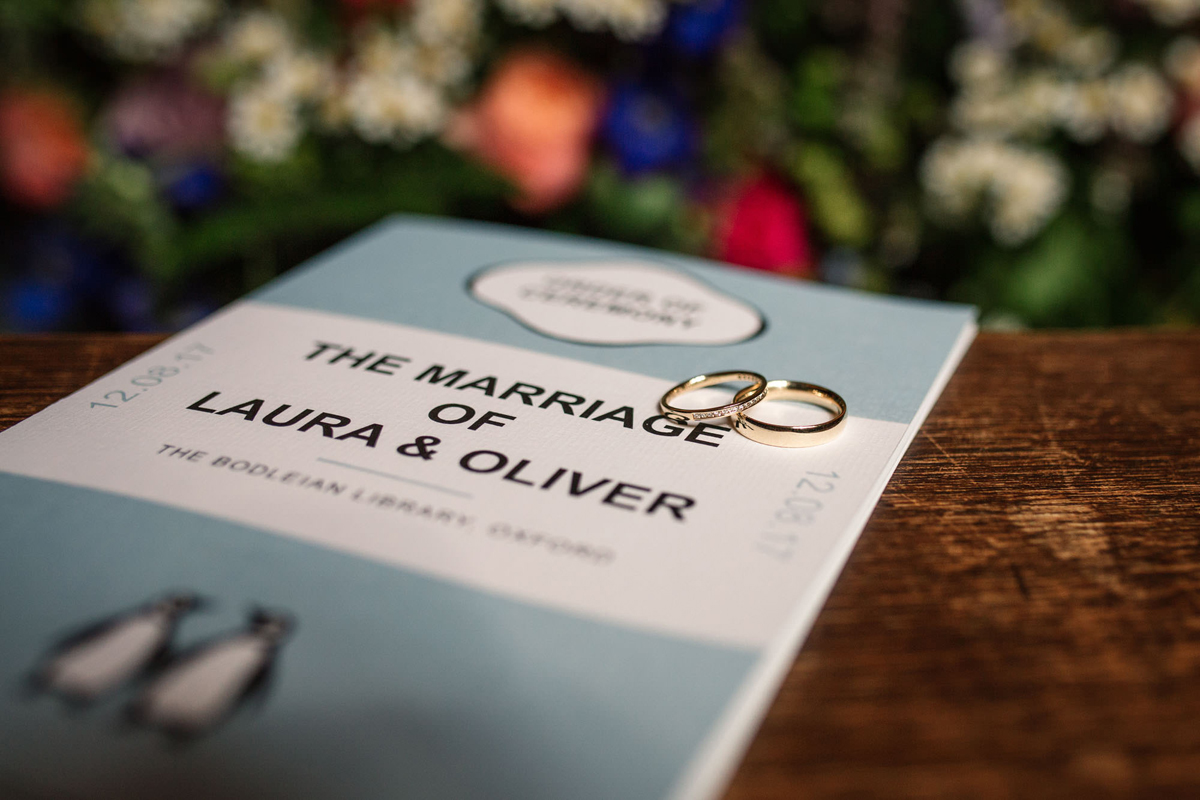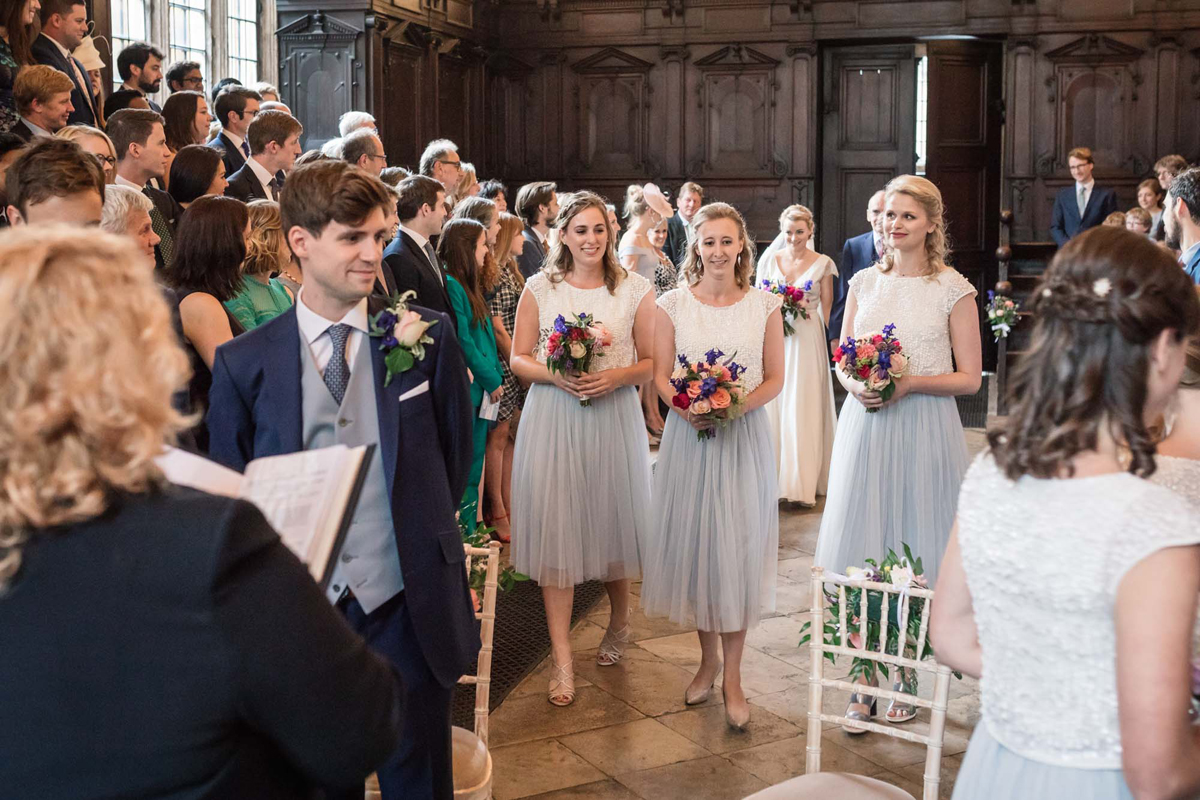 Laura's father walked her down the aisle to Crazy Love by Van Morrison and the ceremony was officiated by Sarah Cornish at the Oxford Registration Service.
"We wanted something a bit different for the track that I walked in to. A track that would make our guests pause when I came down the aisle. Oliver's mum loves Van Morrison and when we listened to the song together, we knew it would be perfect for us. The lyrics just seemed right and the beat was slow enough that I could walk down the aisle to the rhythm."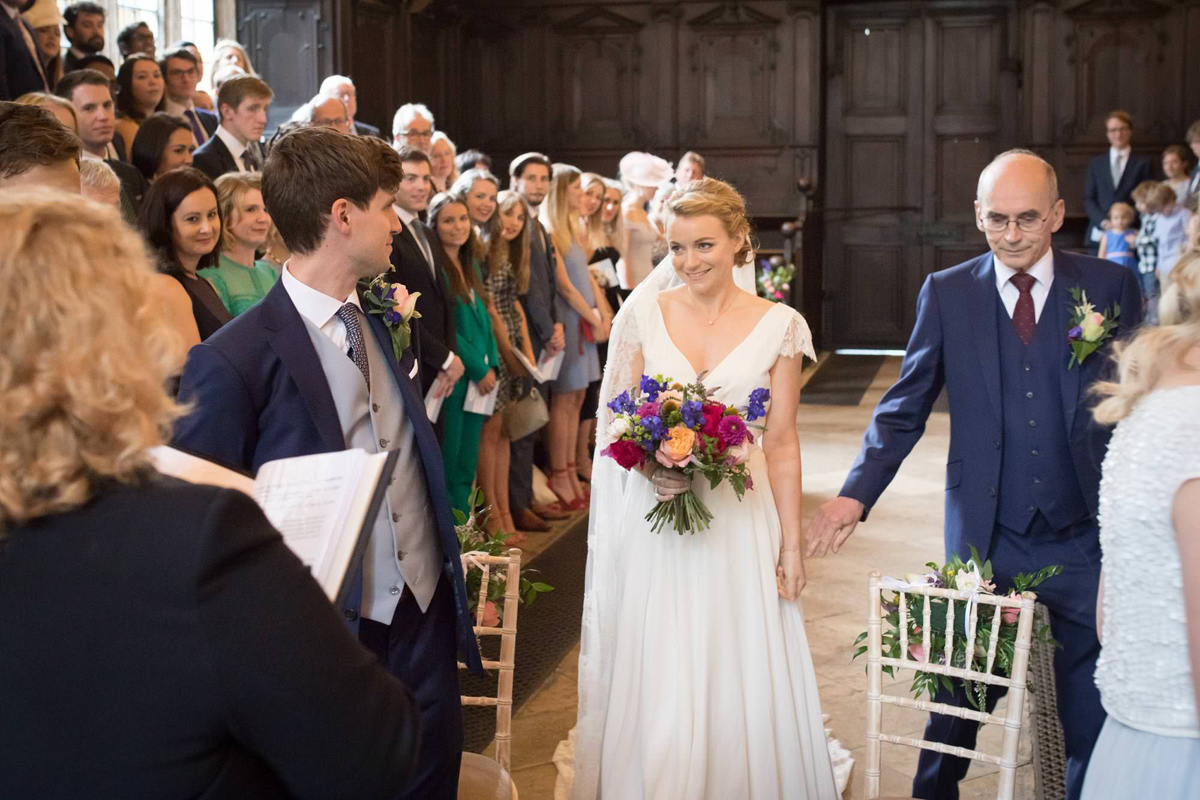 "We spent a long time choosing our readings. There is so much choice out there but we wanted to find something personal, readings which we felt were an honest reflection of our values, and the different elements and stages of our relationship. The first reading was from Pride and Prejudice (I had to get a Jane Austen in there somewhere!) and reflects the excitement and hope of those early days in a relationship. It was read by two of our closest friends, Charlotte and Li, who remember the early days of our relationship when we were all still students at Oxford."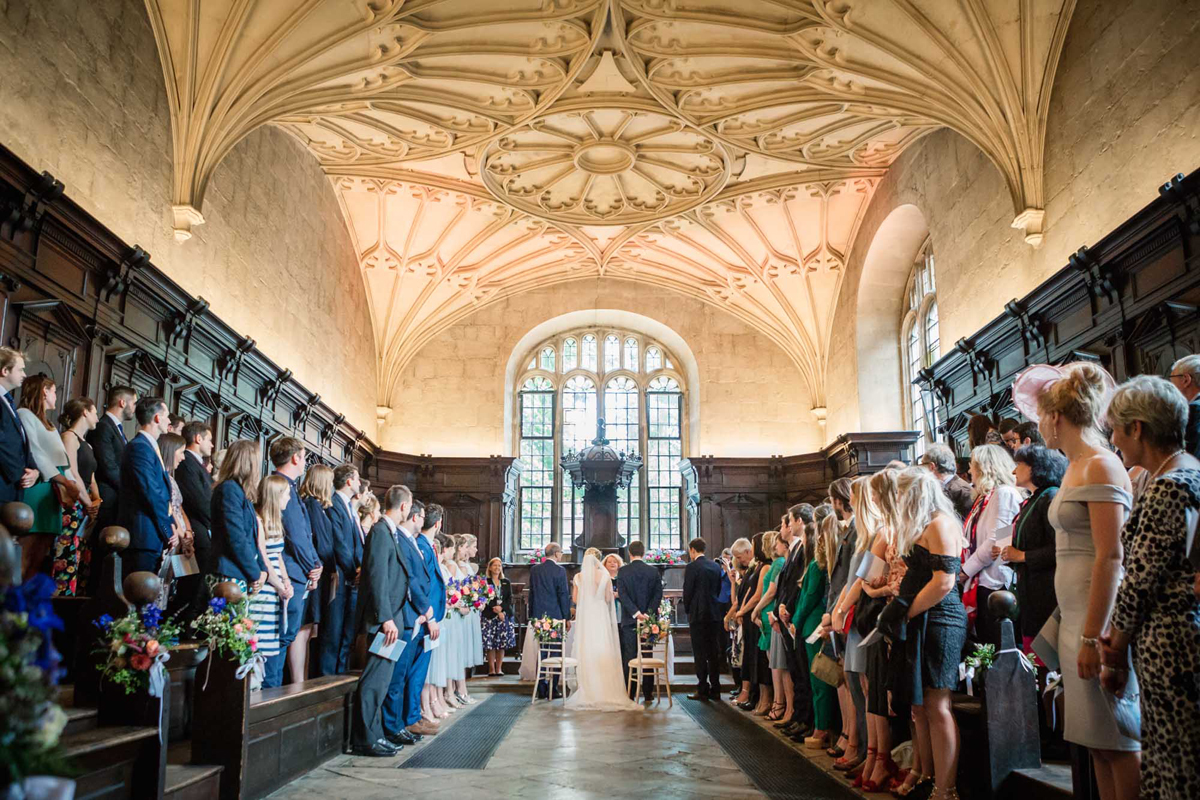 "The second reading was Shakespeare's Sonnet 116. It's beautiful and we felt reflected the solemnity of our marriage vows. Oliver's dad Loch (a retired teacher) read this and delighted our guests by embarking on a short introduction to the reading, setting out his interpretation of some of the more elusive lines in the poem."
"The final reading from The Last Good epitomises for us, the trust and companionship that you find in a happy relationship. Sometimes it's the little things that count! My mum Marisa read this and had everyone in tears."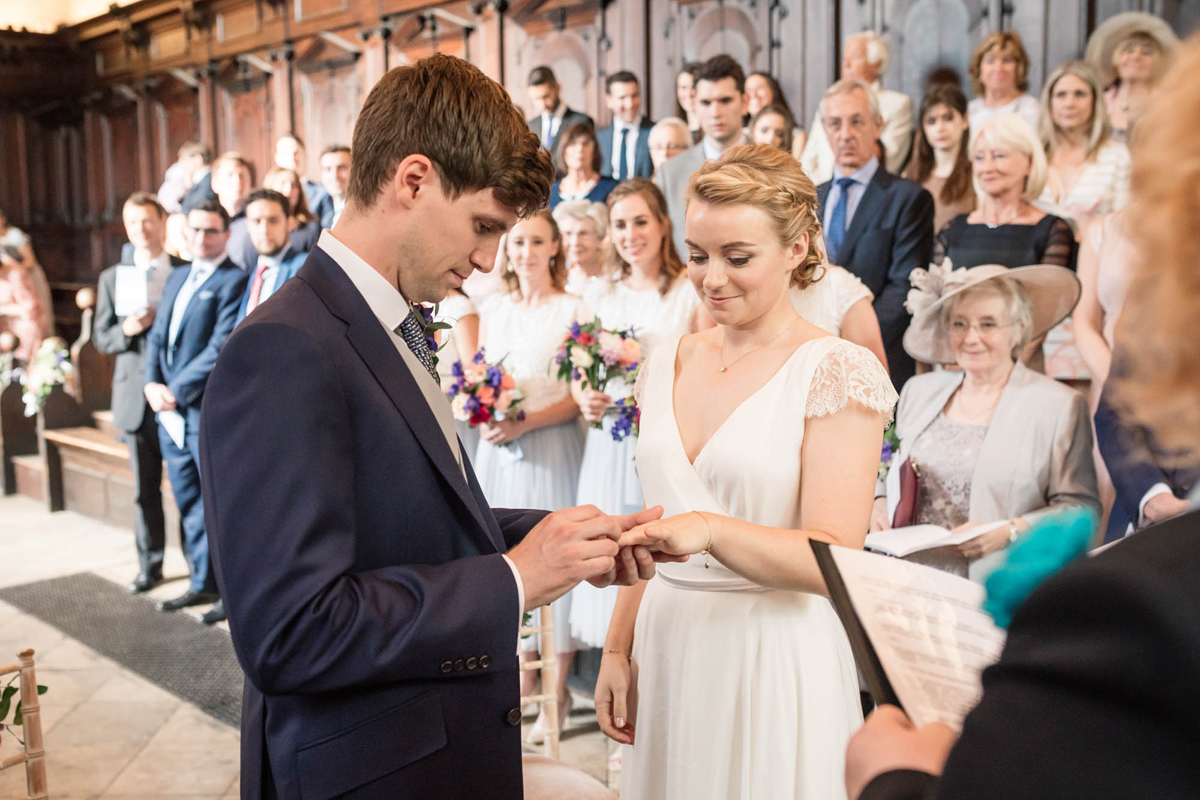 The pair finally swapped rings bought from Quality Diamonds in Hatton Garden, the same place Oliver had purchased Laura's engagement ring from upon the recommendation of a work colleague.
"The service at Quality Diamonds was excellent! I chose a gold half diamond band to match my engagement ring, and Oliver chose a simple gold band."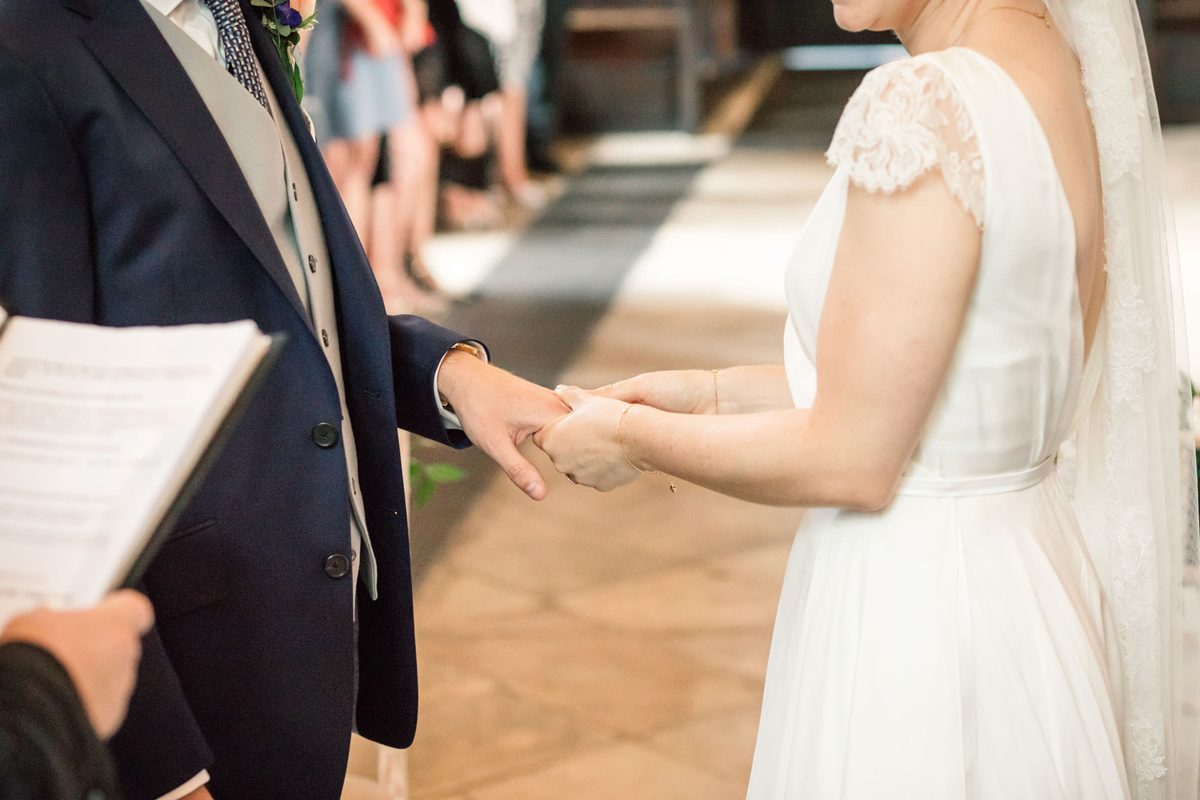 "I knew from quite early on that I wanted a veil with a simple french lace trim to match my dress. However I didn't realise how long the lead times would be. By the time I came to order the veil, 6 weeks before the wedding, I'd run out of time."
"My local wedding dress shop, Blush & Ivory, came to the rescue and agreed to dry clean and alter a beautiful sample veil with french lace which I had seen in the window. It matched my dress perfectly."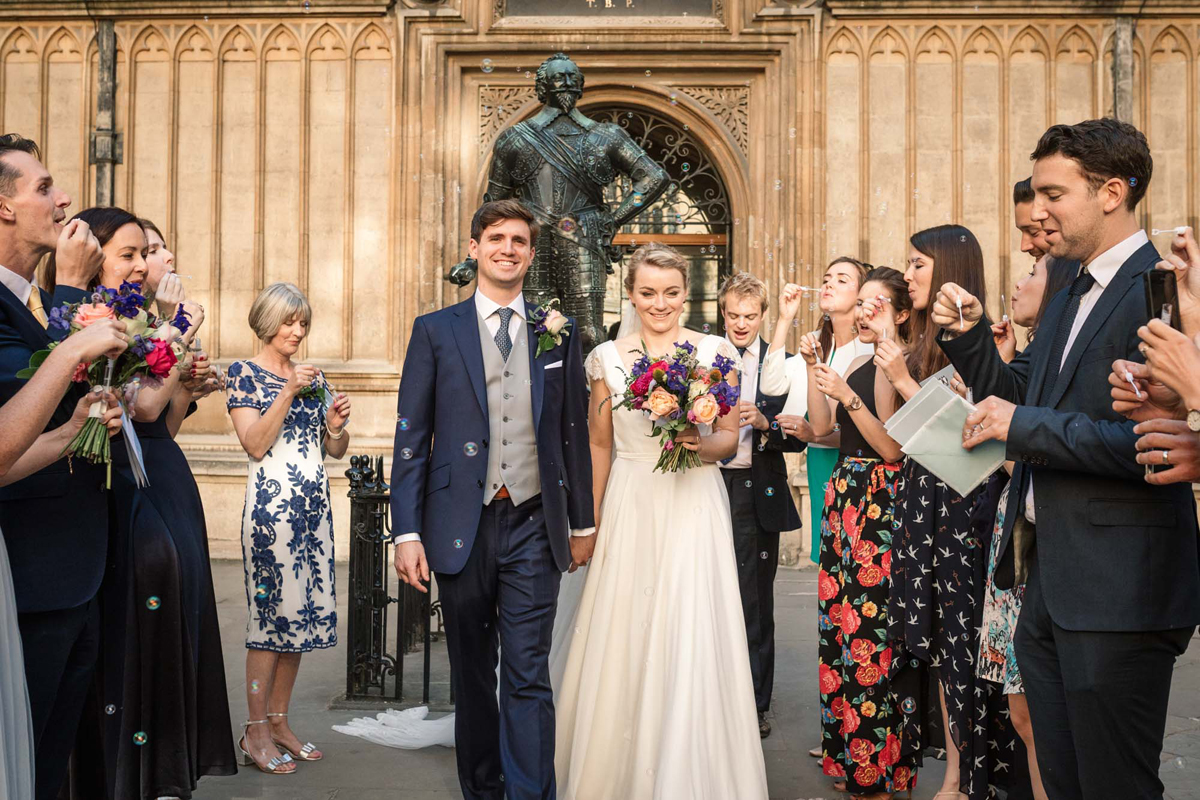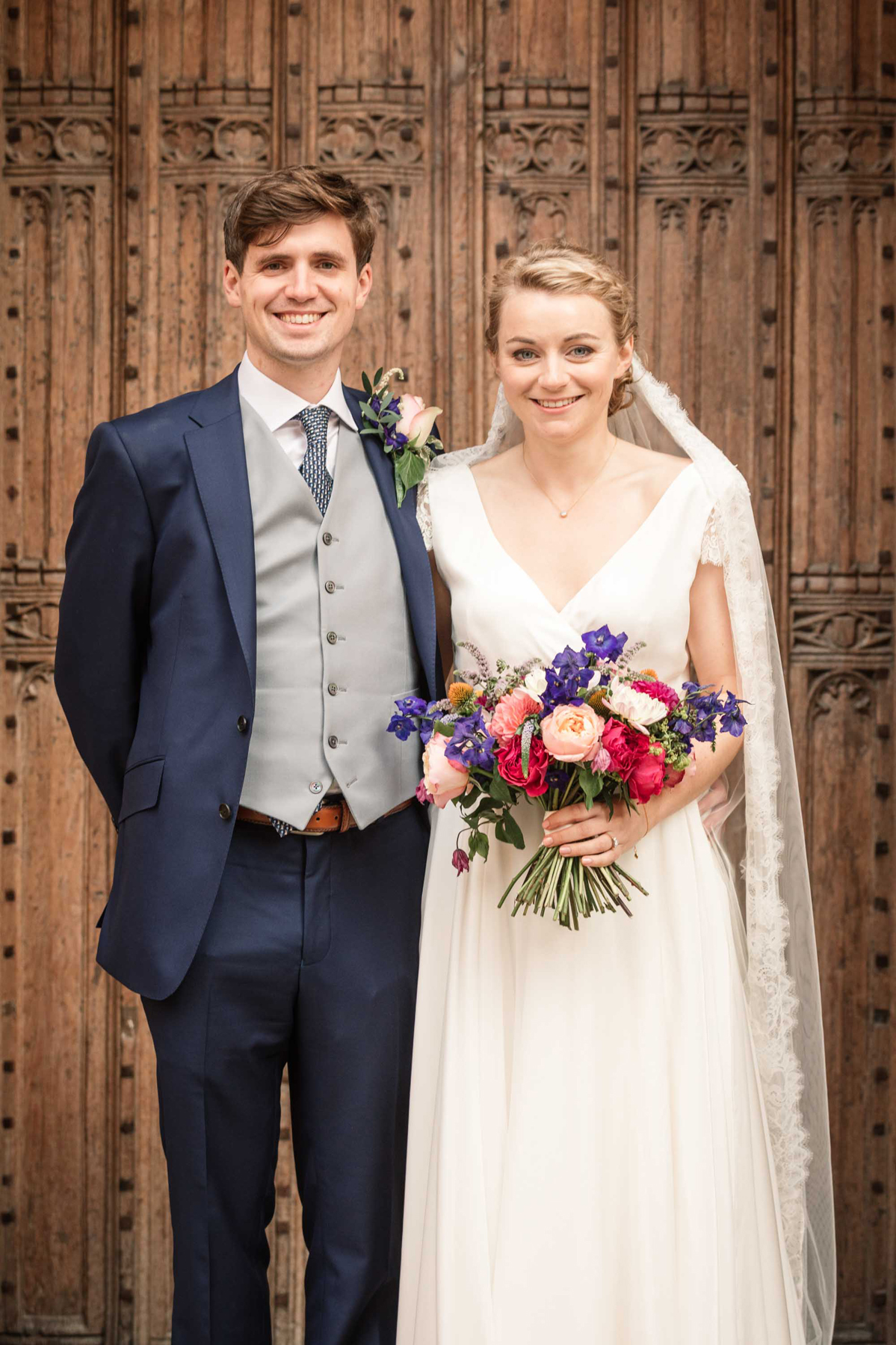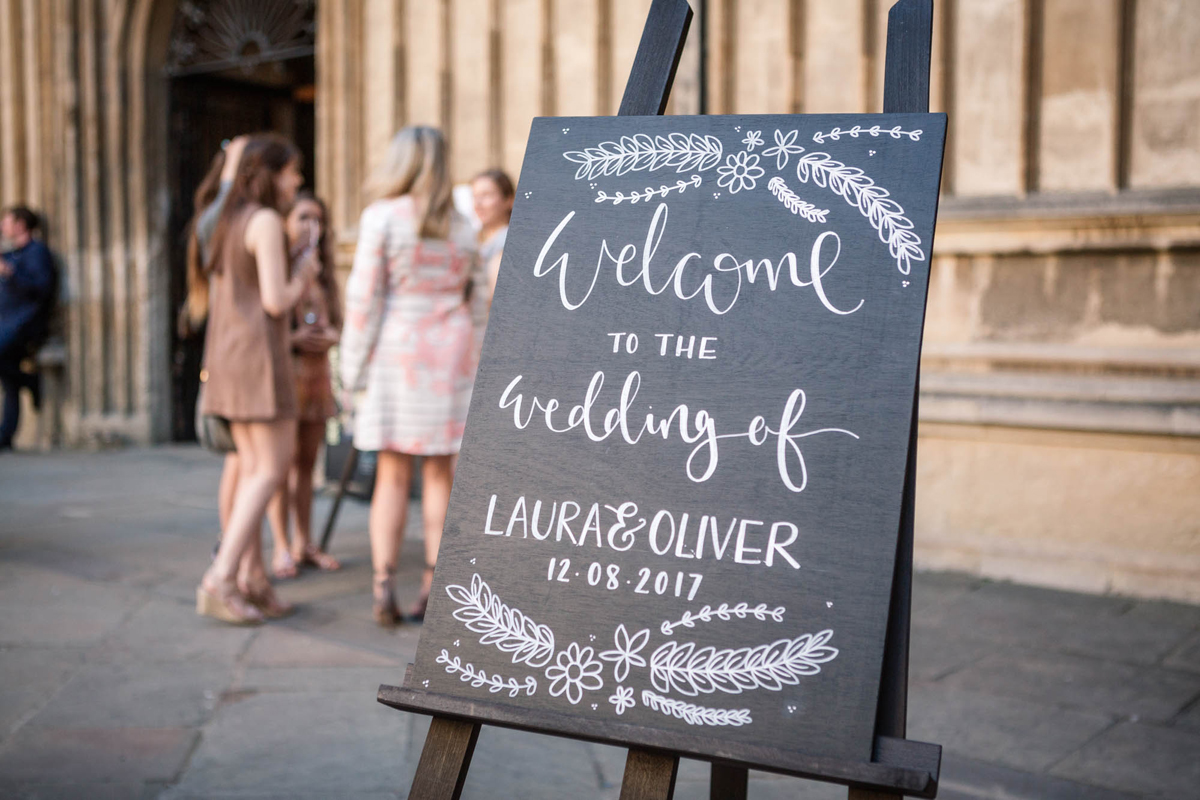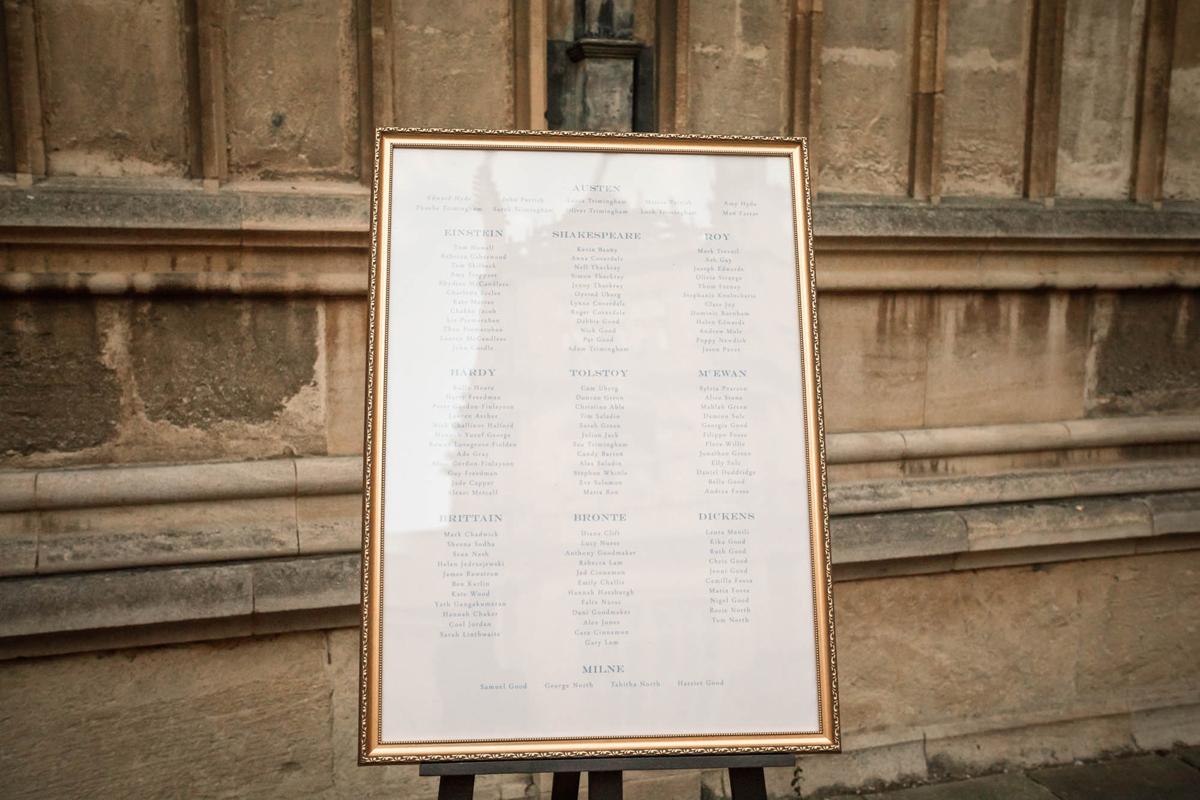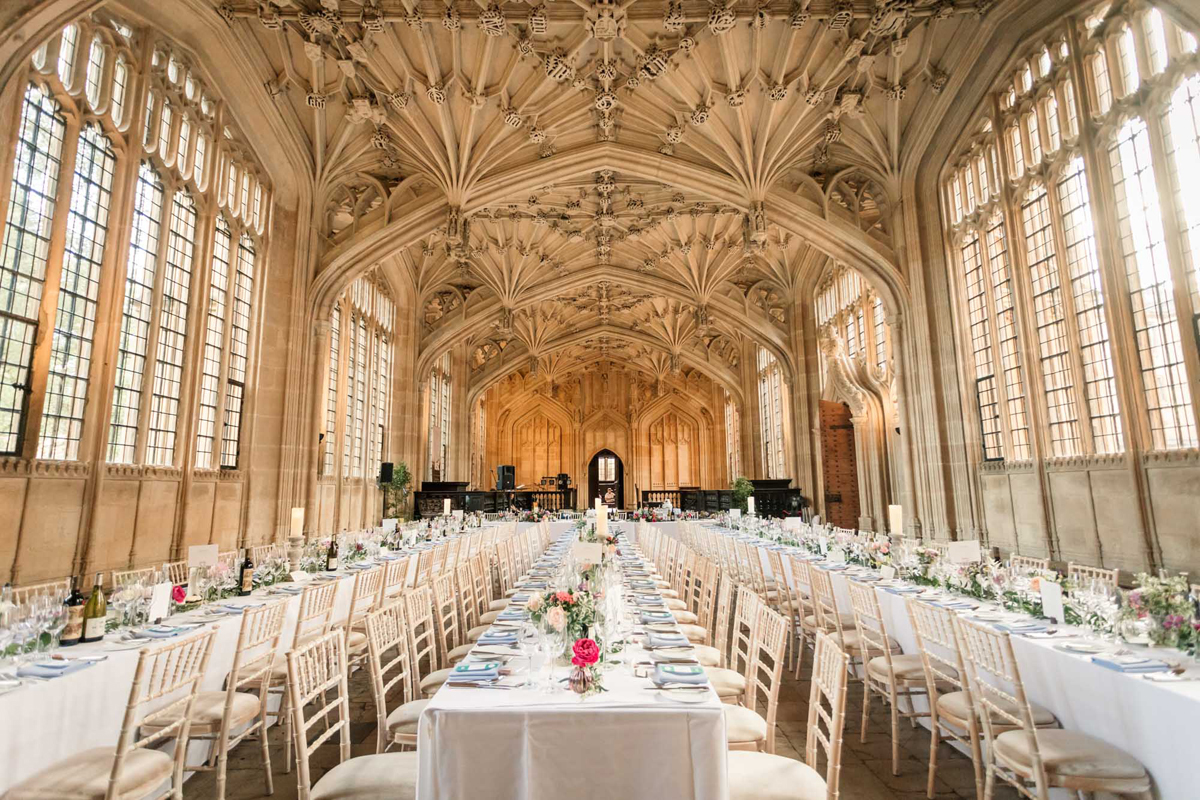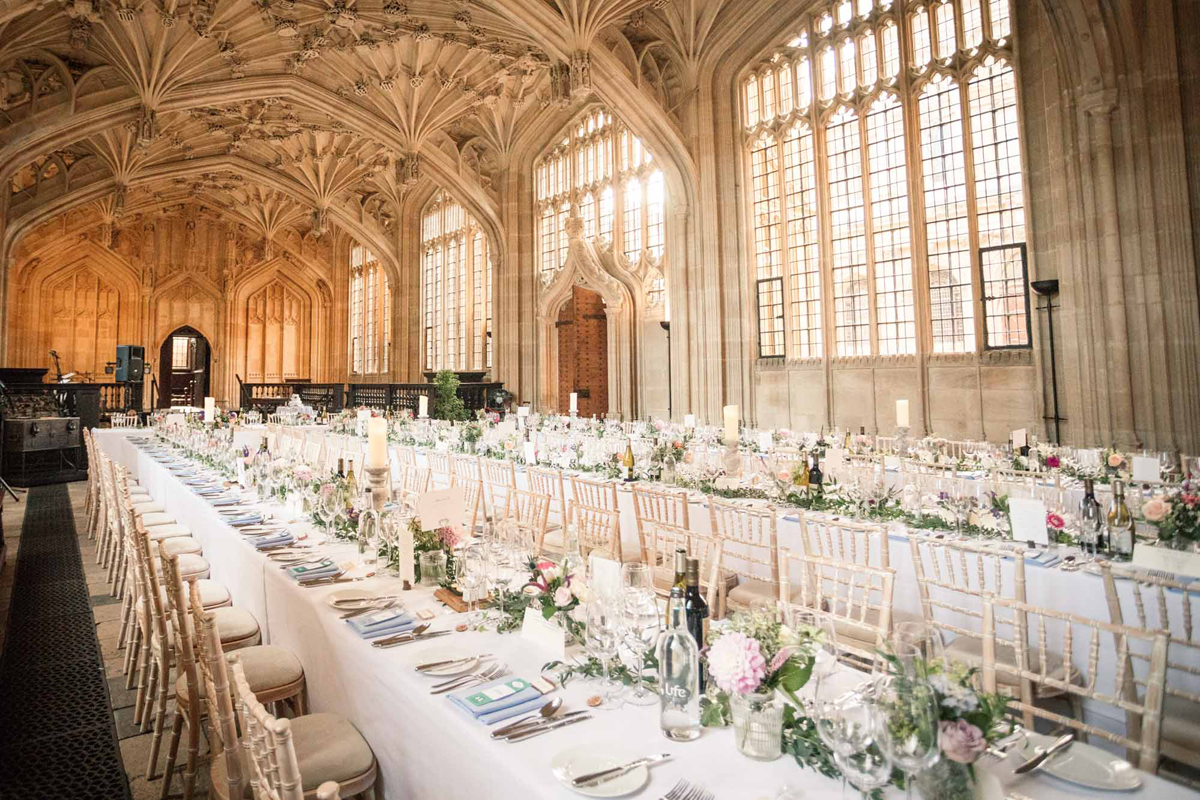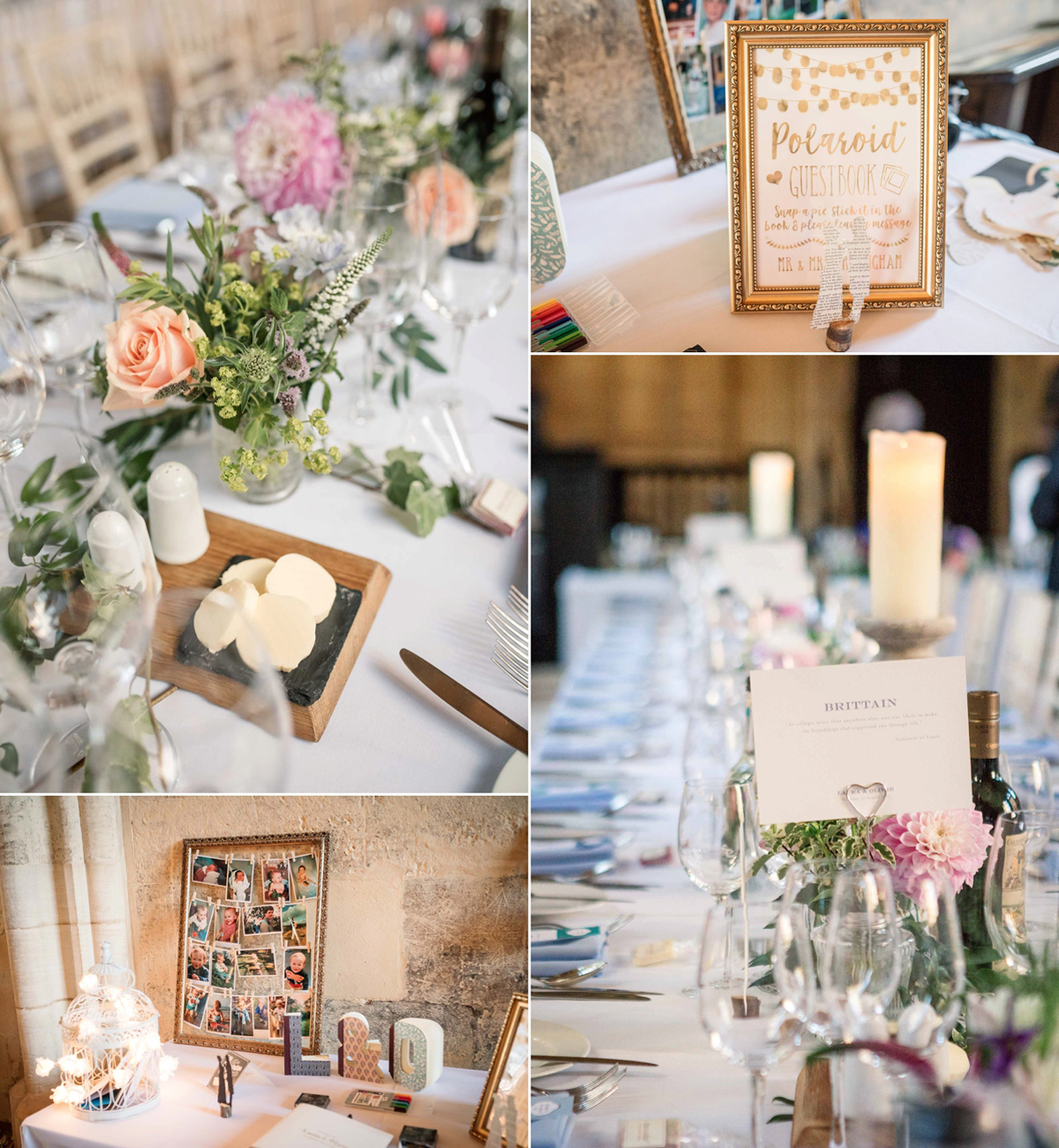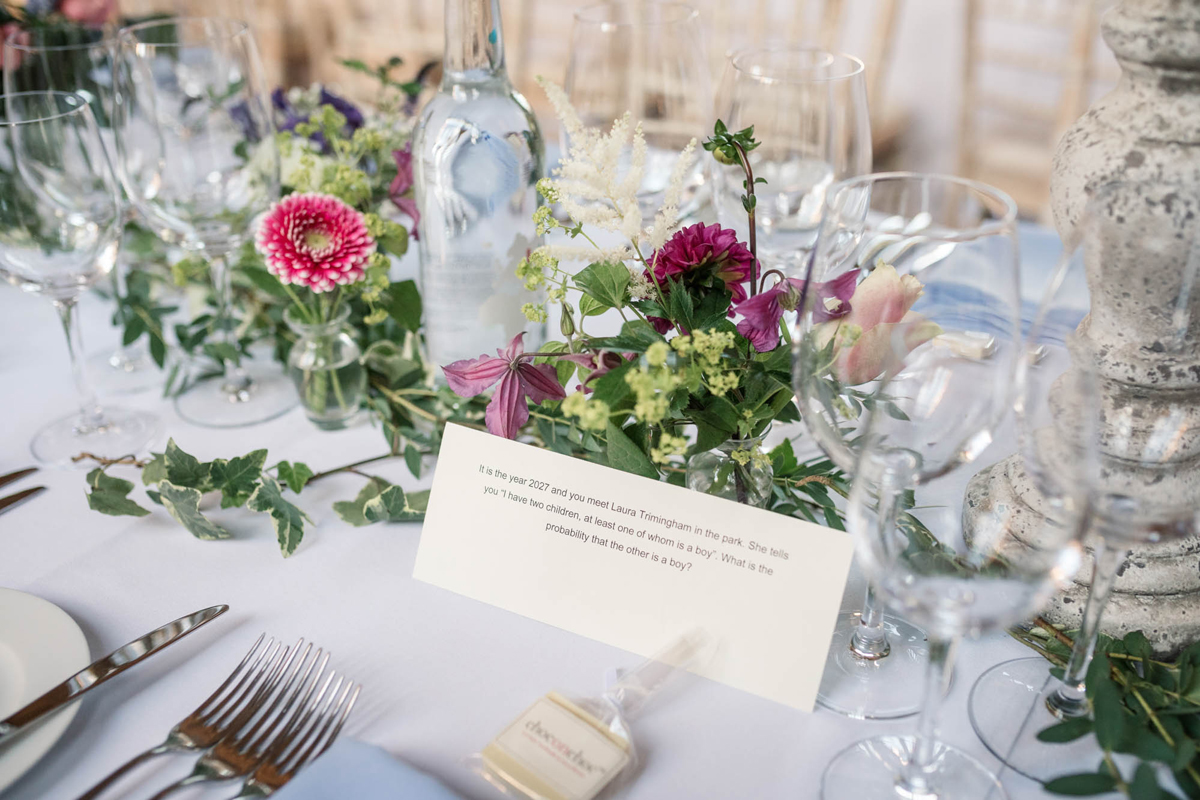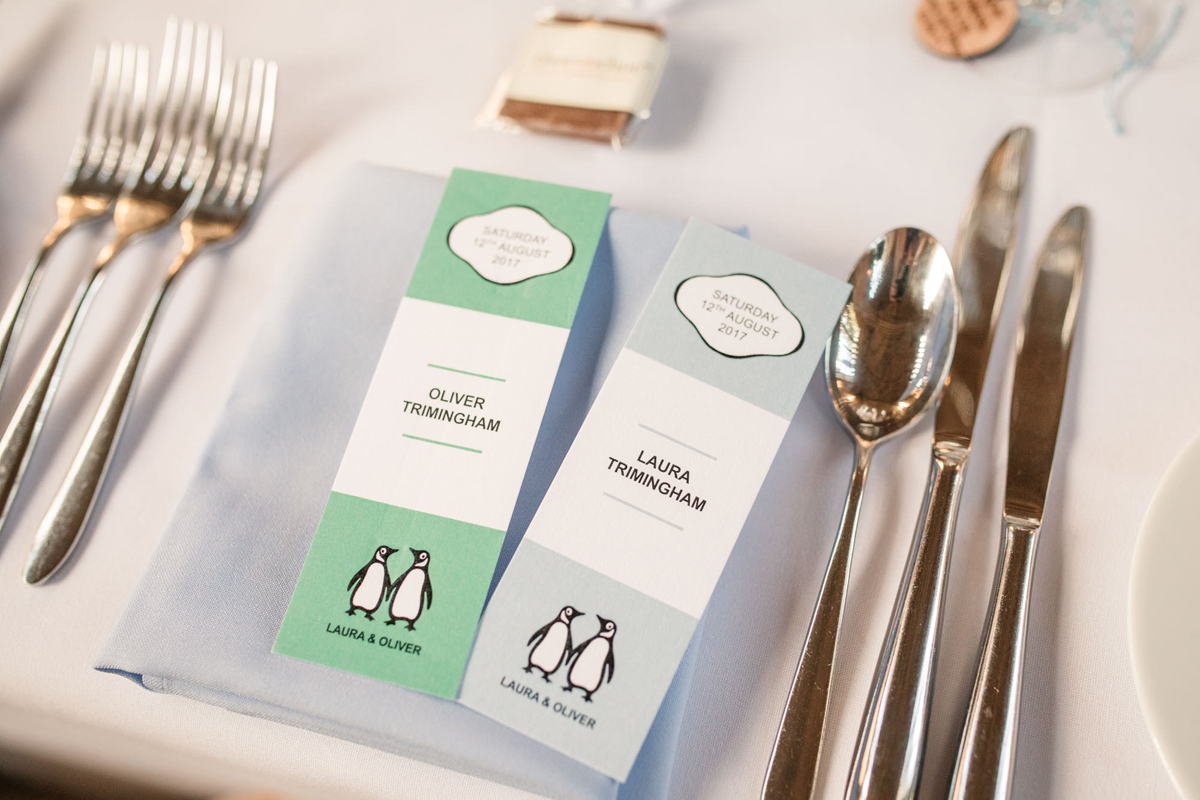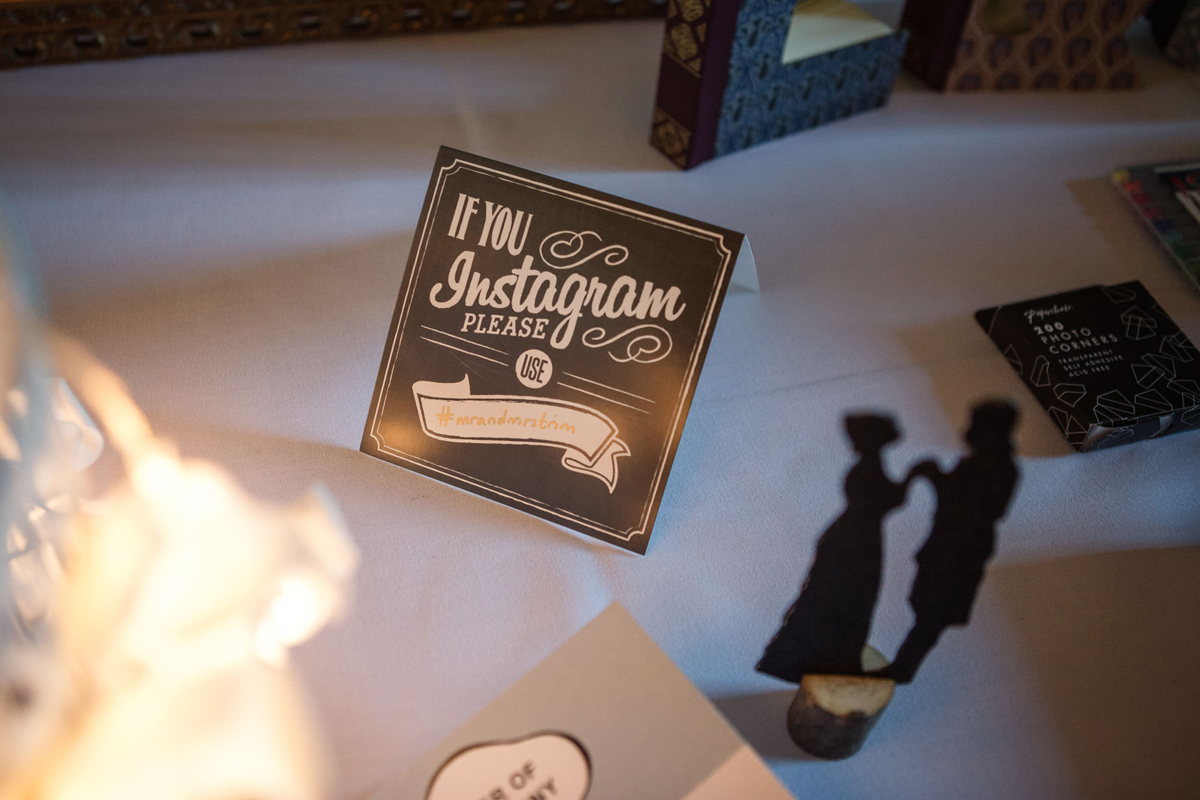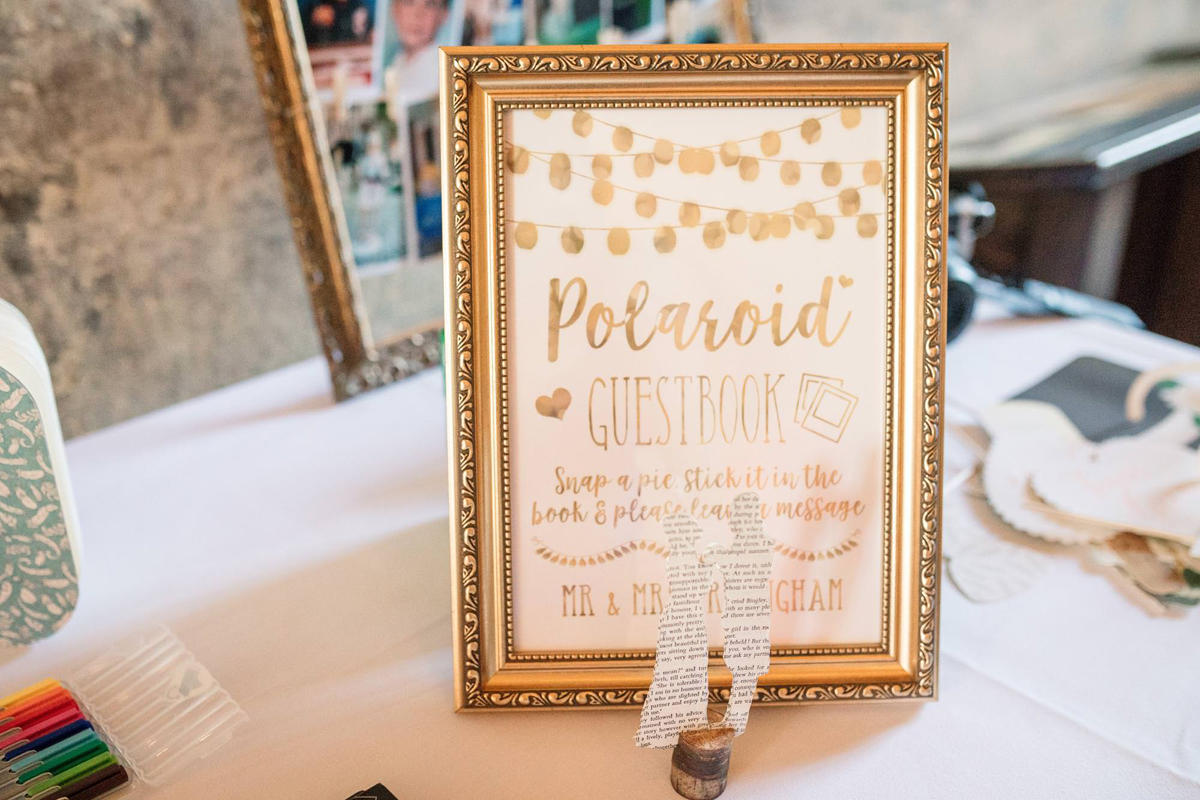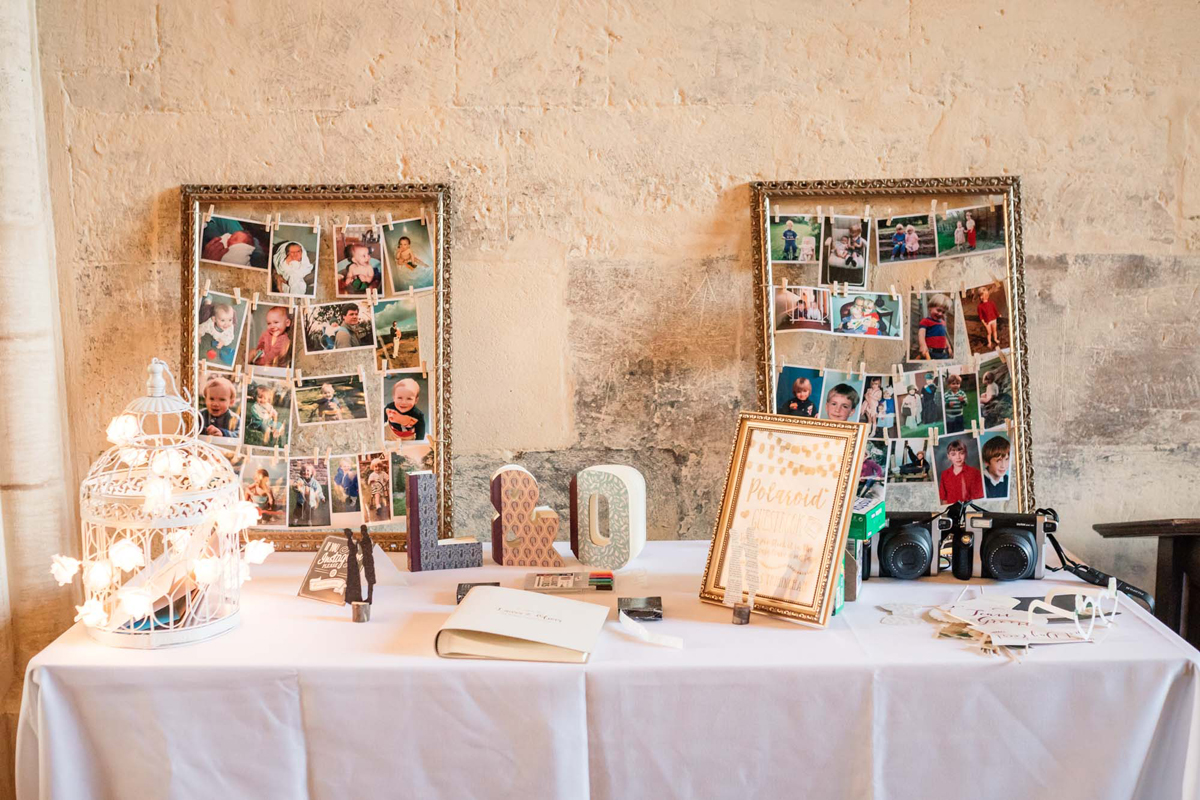 After the ceremony and couple's portraits, the wedding party and guests sat down for the wedding breakfast provided by Clerkenwell Green and speeches, with the 3-tiered fruit wedding cake taking pride of place in the Divinity School room at The Bodleian Library.
"My mum really wanted to contribute to the wedding and offered to make us a traditional 3-tiered fruit cake. She decorated it with a Regency style silhouette cut out, a light blue ribbon to match the bridesmaids and lots of books made from icing. It was perfect – simple, elegant and delicious."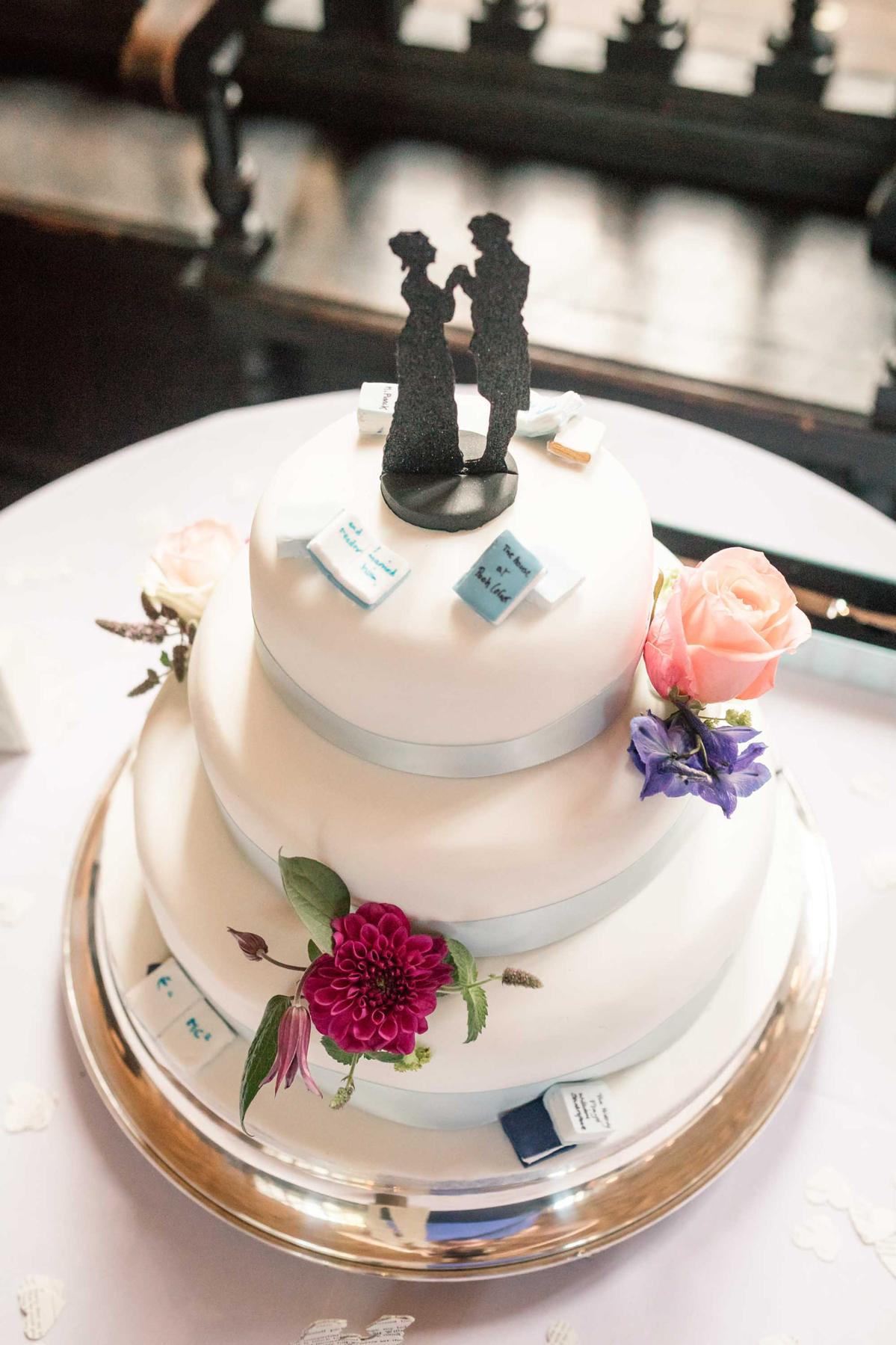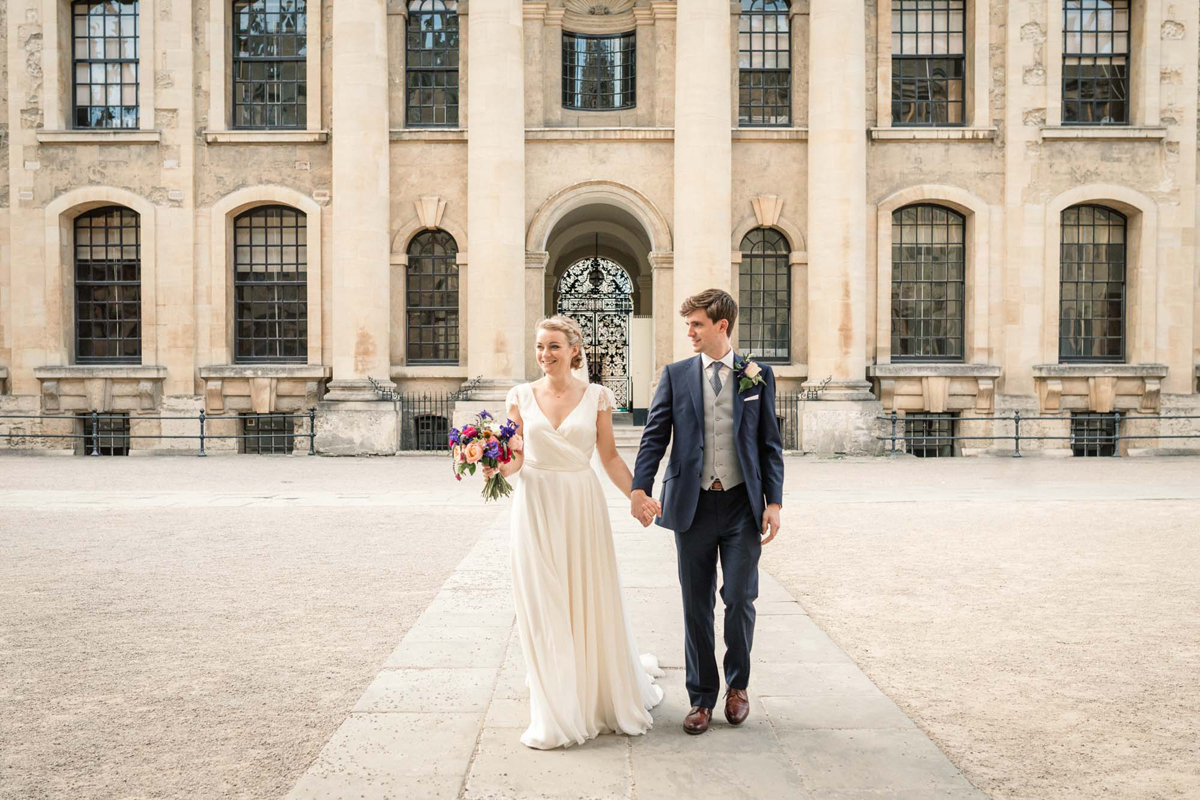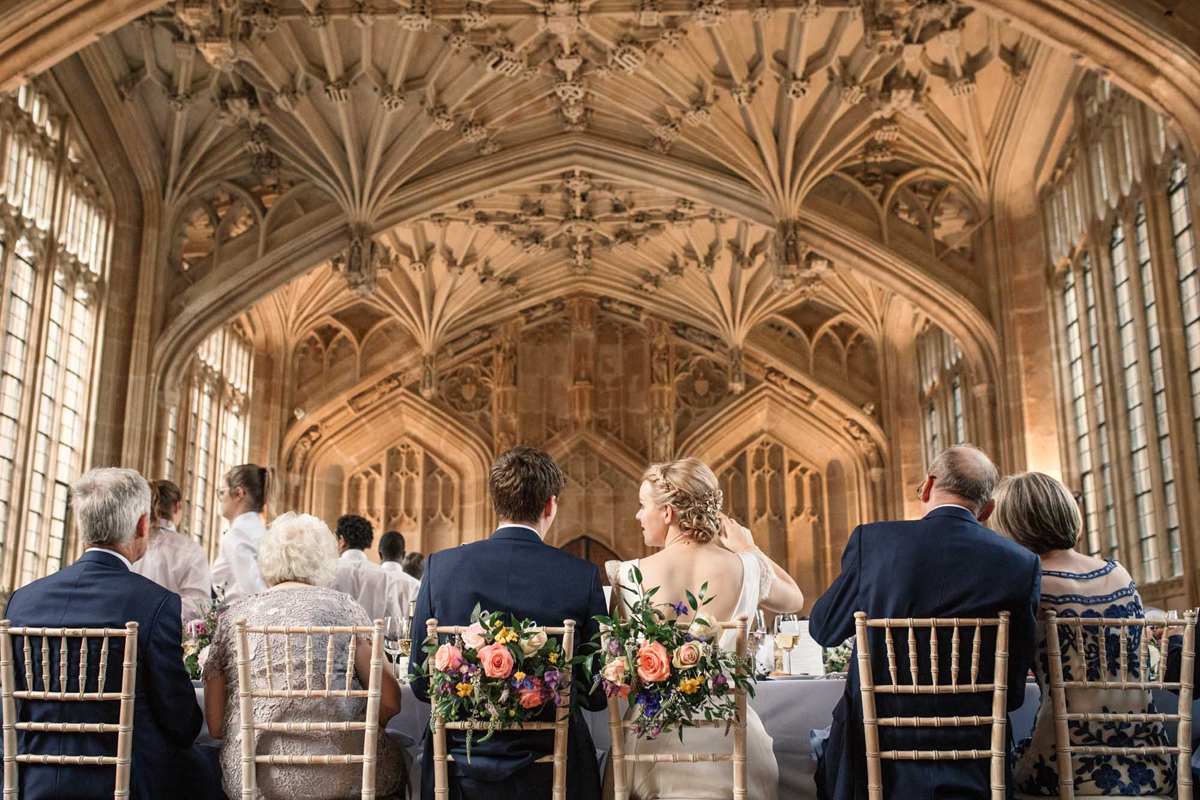 Laura and Oliver performed their first dance together to Can't Take My Eyes Off You by Frankie Valli before hired wedding band, The A List, kept guests rocking out on the dance floor until carriage time.
"We chose this song for our first dance as we wanted something we could dance to and have fun with. We didn't want to take ourselves too seriously. We started the dance ourselves but knew with this song that everyone would want to join in at the chorus!"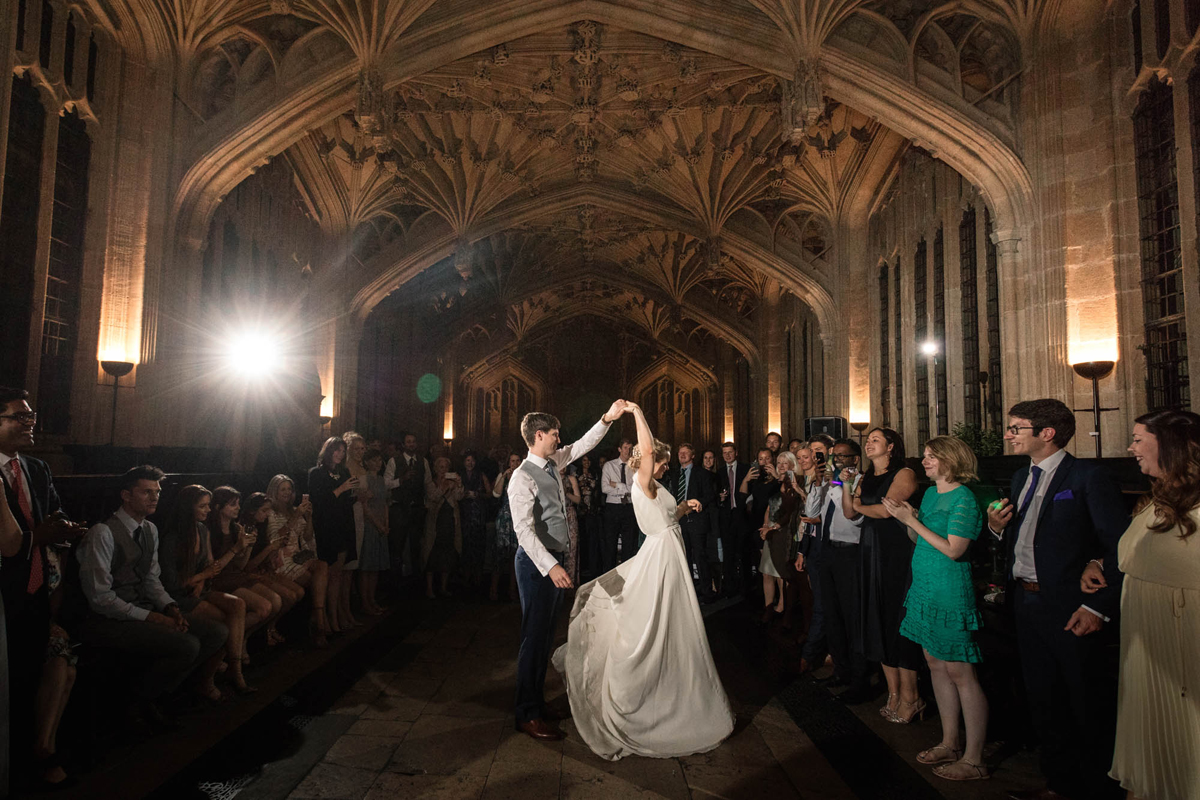 Like most weddings, not everything ran smoothly but despite a few hiccups, Laura describes it as her happiest day.
"Not everything went to plan – the timings went completely to pot and some of our close family missed the ceremony because they couldn't park in central Oxford. Despite that, there's nothing we would have done differently!"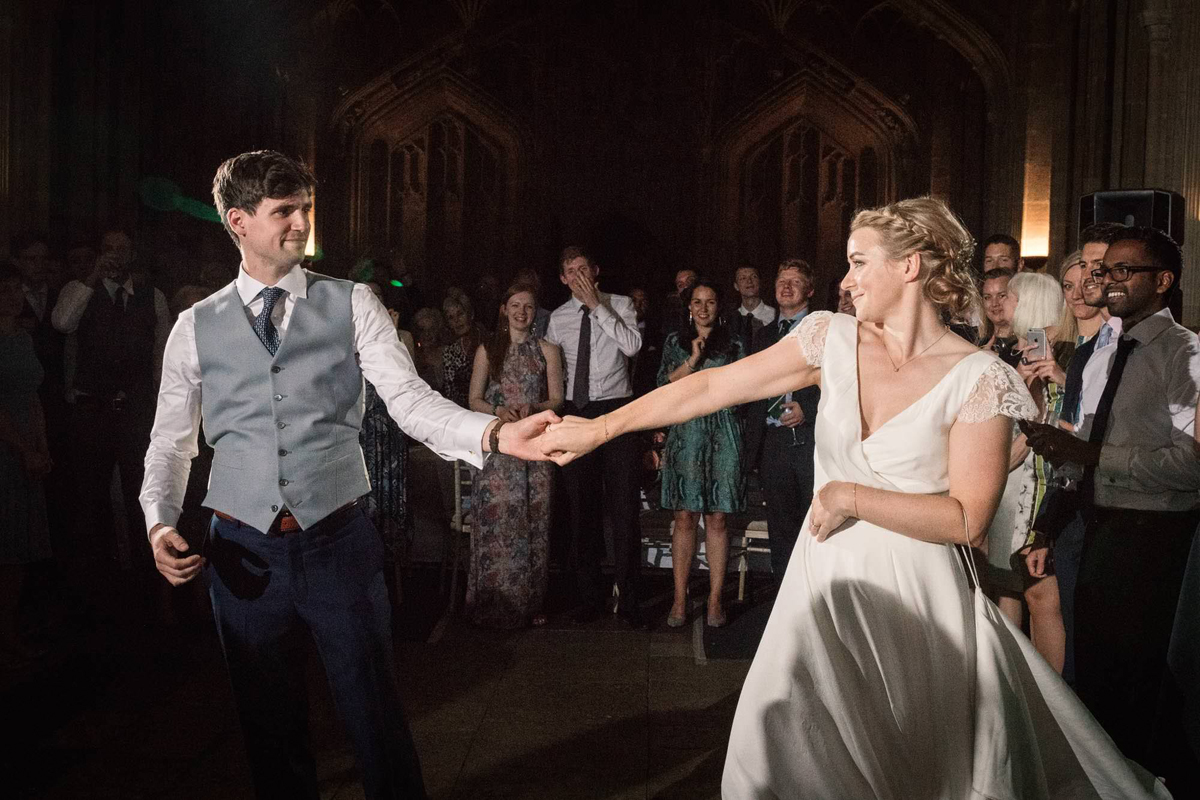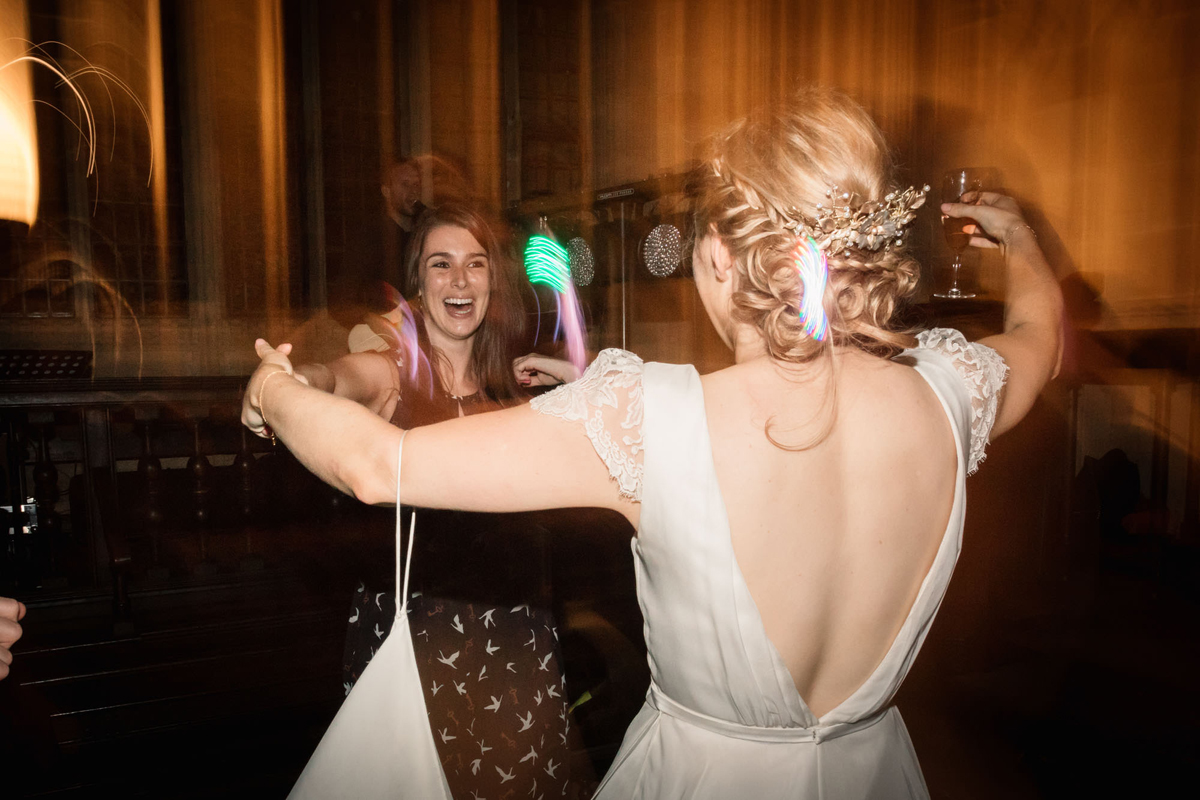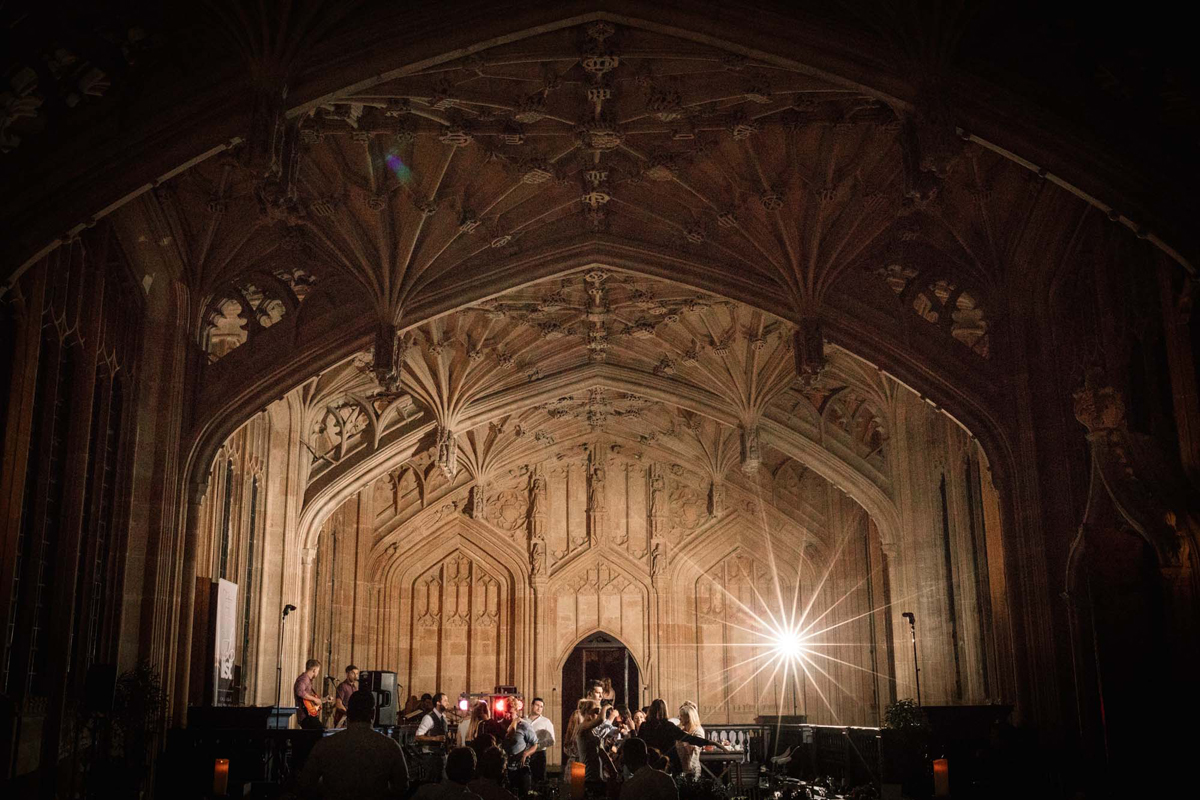 Words Of Wedded Wisdom
"Remember that the only thing that really matters is that you celebrate your marriage in a way which makes you and your husband happy. Having attended a lot of weddings in the year leading up to our own, we came to realise that every wedding is completely personal and there are no right or wrong ways to do things. As long as the bride and groom are relaxed and happy, all the guests will be too!"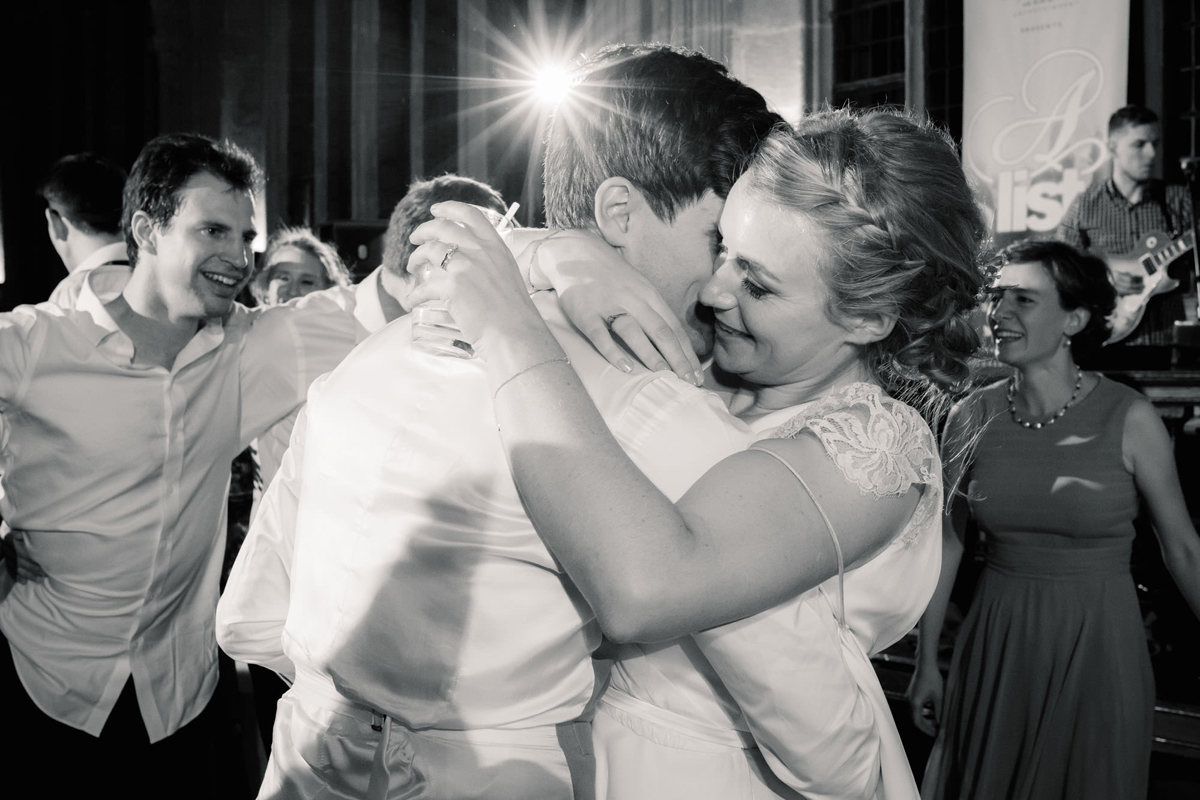 A big thank you Laura and Oliver – I love your fun literary theme and the personal touches that brought it to life. A special shout out also to Becky Harley for capturing all of the love and emotion, not to mention grand surroundings of the day on camera.
Until next time…
Much love,
Holly x