Well, this feature really is rather special because today, I have the great pleasure of sharing something new AND utterly fabulous with you. You see, the brilliant Hermione Harbutt has launched her occasion wear collection for 2018 and it's absolutely unmissable.
If you're a wedding guest yourself this year or if you're attending any glamorous summer events, then this new collection is going to make you look and feel fabulous.
Hermione Harbutt is, I must admit, one of my wedding industry favourites. She creates the most exquisite handmade accessories for weddings and special occasions and continual requests from clients for colourful and flamboyant versions of her designs has led her to develop this super exciting collection. Perfect for wearing to the races, evening events and weddings, this collection introduces a luxe array of headdresses, millinery, hairpins and jewellery options for anyone who wants something unique for a special occasion. I'm checking my diary for an excuse to wear one as I type!
Images by Amy O'Boyle Photography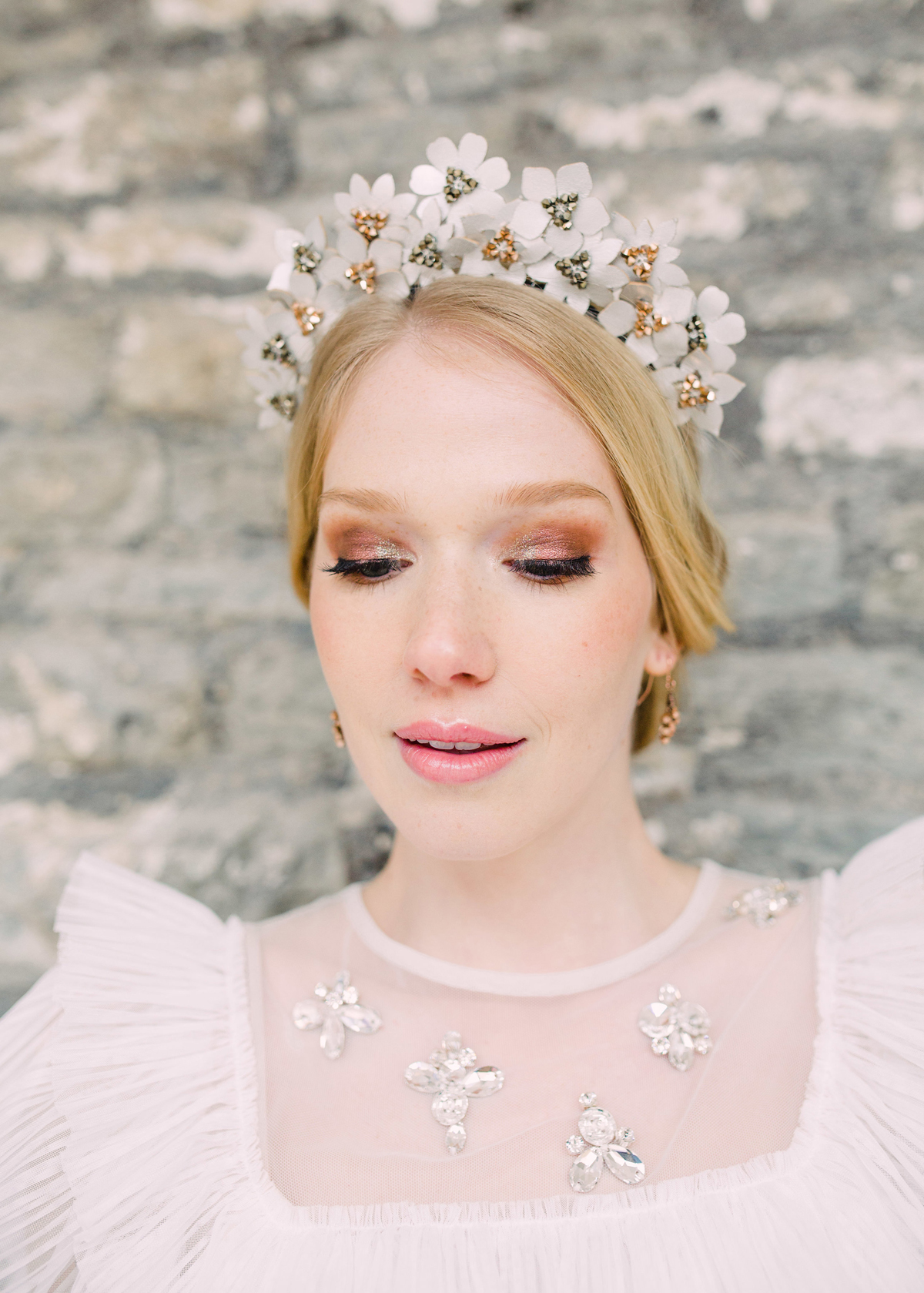 "Nature has always been a key inspiration in my work, and this collection is of no exception," says Hermione. "Looking beyond elements of nature, celestial elements and floating stars are a statement showcase throughout the range. The designs feature my signature Hermione Harbutt style and this new collection sits beautifully alongside the wide range of bridal wear which has been my main focus for more than a decade. I've enjoyed implementing the delicate beauty of bridal into bold and colourful pieces with the fashion edge we see at events such as the Met Gala and today's Royal Ascot."
This collection really does have a piece for every occasion and every event from crystal circlets to statement leather flowers with soaring height. Each piece is made by hand using the finest materials and there's even a stunning diamond collection available on request.
With a key focus on race wear, the headdresses feature new elements of the finest Nubuck leather, suede and velvet constructed in metallic leaves and bold flowers, which can all be made in a rainbow of colours.
"My latest creations incorporate two great loves of mine; nature and abstract shapes with butterflies and gemstones suspended on whimsical, arching wires. These pieces showcase dynamic, embellished height with a sense of weightlessness. I've always thrived on playing with the element of illusion in my bridal collections and exploring the boundaries of design in this manner is something I've really embraced with this collection."
Craftsmanship and true design is so important to Hermione and that's easy to see in this new collection. She's created the most amazing pieces, wiring each piece together intricately by hand. Every piece is handmade in the intimate setting of her showroom and there's a wealth of bespoke options available so, if you have an outfit in mind, Hermione can match your headpiece for a truly flawless look.
"It's a privilege to work with beautiful things and I feel so lucky to do what I do. There's something really wonderfully sentimental and almost nostalgic about having something handmade, especially today, for weddings and wonderful occasions."
To showcase this new collection, Hermione planned a shoot that would be an occasion in itself:
"Planning the shoot for a collection such as this screams for a unique location, and this stunning and derelict building was the perfect stage for it! Located in central Bristol, this amazing building used to be a brewery and the ceilings and windows are just glorious, with so much light. I loved the industrial aesthetic against these glamorous gowns and accessories."
"I was lucky enough to be working with an incredible team to bring the shoot to life. Amy O'Boyle of Wookie Photography worked her magic through the camera to capture each piece in luminous and light filled images. The gorgeous gowns by Katya Katya and beautiful shoes by Freya Rose perfectly completed the looks. The talented Becks Simpson of Thairapy and Amy of Amy Elizabeth Make Up created the gorgeous beauty looks to suit each headpiece and jewellery element. The wonderful light we had that day was perfect."
A perfect shoot for the most perfect headpieces. Occasion wear has never looked so divine.
To find out more about the new collection or to make an appointment to visit one of the Hermione Harbutt boutiques in London or Bristol, simply visit the website. For more inspirational exquisite handmade accessories, you can also follow Hermione Harbutt on Instagram.
Love,
Tamryn x