I take such delight in London weddings, and it's probably something to do with the fact that the city is currently my home, but it's also down to the fact that London weddings are pretty cool.
The city is full of hustle and bustle, always on the go, never stopping – but if you look in the right places it also has lots of quiet, quirky and unexpected corners, and I love searching them out. That leads me neatly to this dream of a wedding celebration full of joy, love and laughter, brilliantly creative details and an amazing, industrial-cool multipurpose venue, weaving in the bride's Caribbean heritage. Our bride couldn't have put it better when she described the day as tropical minimalist – it is exactly that!
Dani, a Studio Manager, and groom Tom, a UX Designer, were married at Clapton Country Club in North East London on the 15 July 2017. As I mentioned above, finding London's hidden gems is something of a pursuit of mine, and what a gem Clapton Country Club is, housed inside an old tram depot. Handily for Dani and Tom, the building also has a Brew Club, where the couple brewed their own beers for the day (Mango IPA and Guinness Punch Inspired Stout) and a light and airy studio space, Clapton Tram, filled with plants of all shapes and sizes, which they used for photos.
Photography by Andrew Brannan Photography
"I wanted to bring my Caribbean (Trinidadian and Jamaican) heritage in, and also like the colours pink and green…We're both very laid back and don't like attention, so it was always going to be a laid back affair, where we wanted everyone to enjoy themselves."
Originally opting for a vintage gown, Dani later decided to go for a bespoke dress made by Lorna at Sewing Time.
"I wanted something fun and flattering. Sequins provided the fun."
The gorgeous shimmering fabric, covered in sequins catches the light beautifully, and the overall design is simple and wonderfully elegant. Lorna at Sewing Time also made a stylish veil for Dani, and she paired these with amazing silver platform shoes from Monki, earrings from ASOS and a favourite ring from a friend's label, Gypsy East. As her perfume for the day, Dani received a thoughtful gift from her brother of Black Opium by YSL, who she says always knows what to get her.
The gorgeous florals for the day were put together by Dani herself, with flowers bought from New Covent Garden Flower Market, which is a fantastic place to visit (if you're prepared to be awake very early in the morning!). The textures and colours are so striking, with giant protea flowers, palm and Monstera leaves and astilbe, as well as ginger plants and succulents too.
"We did get advice from a friend and in a last-minute panic asked of she could do the buttonholes and milk churn. We kept it simple and tropical, which was a nod to our travels and my Caribbean heritage."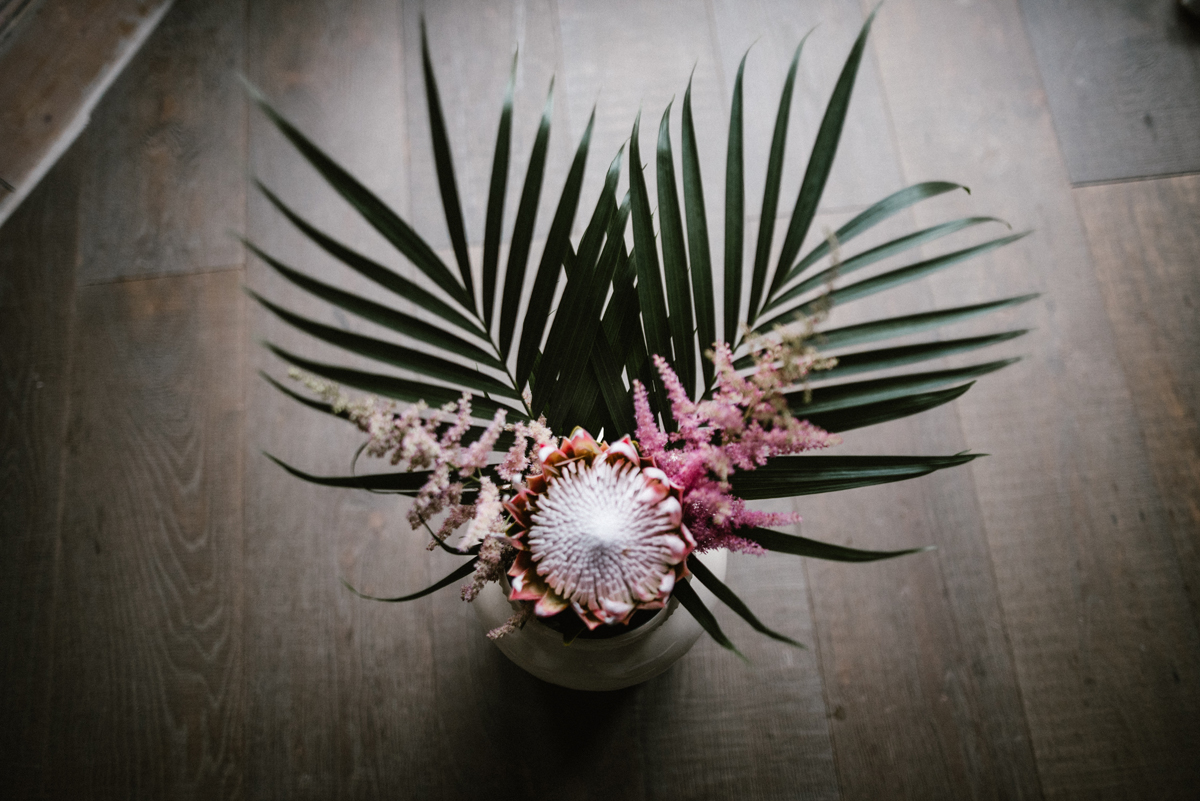 Dani wanted natural makeup, in keeping with her chic dress and accessories, and opted to create her on-the-day look herself using Lancome foundation and mascara, as well as her pretty half up-do.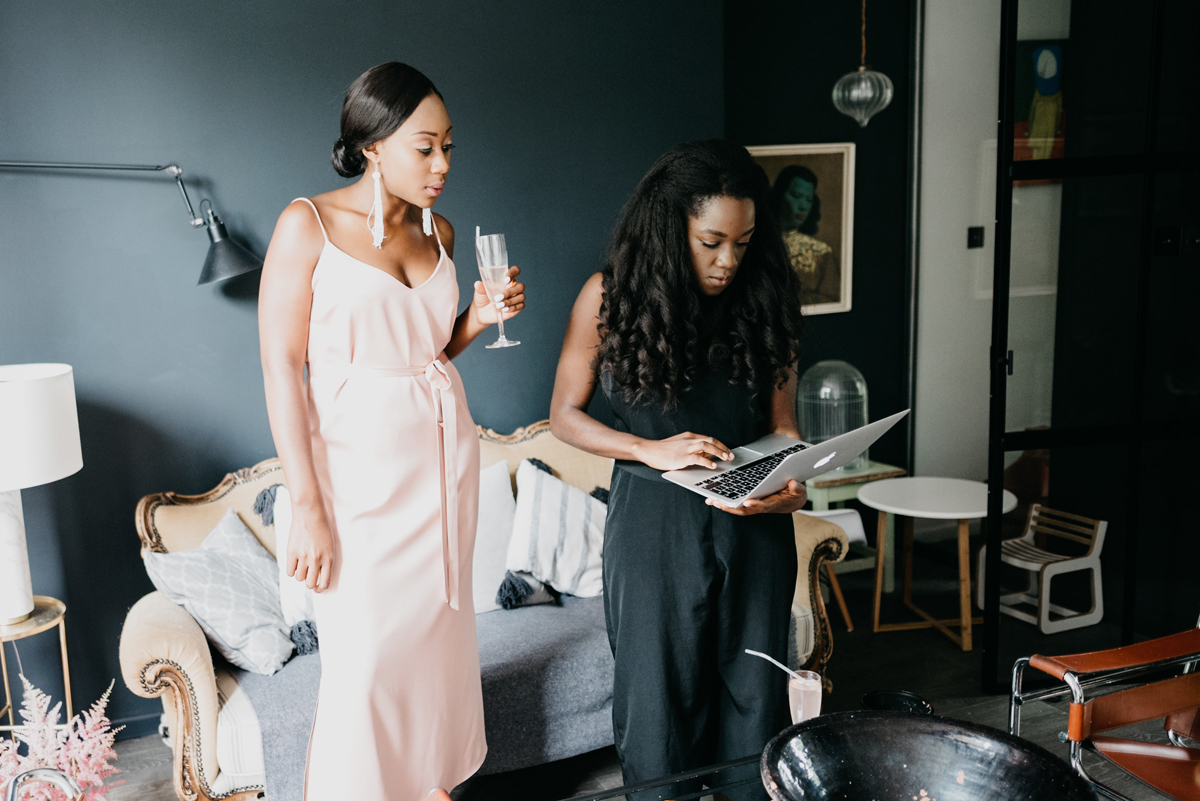 I love the different shades of pink for the bridesmaids' individual and flattering dresses, ranging from blush to candy and hot pink, all picked out from ASOS, with matching earrings from Topshop. The couple's sweet flower girl wore a pretty white dress, and smart page-boy, a blue three-piece suit, both from Marks & Spencer.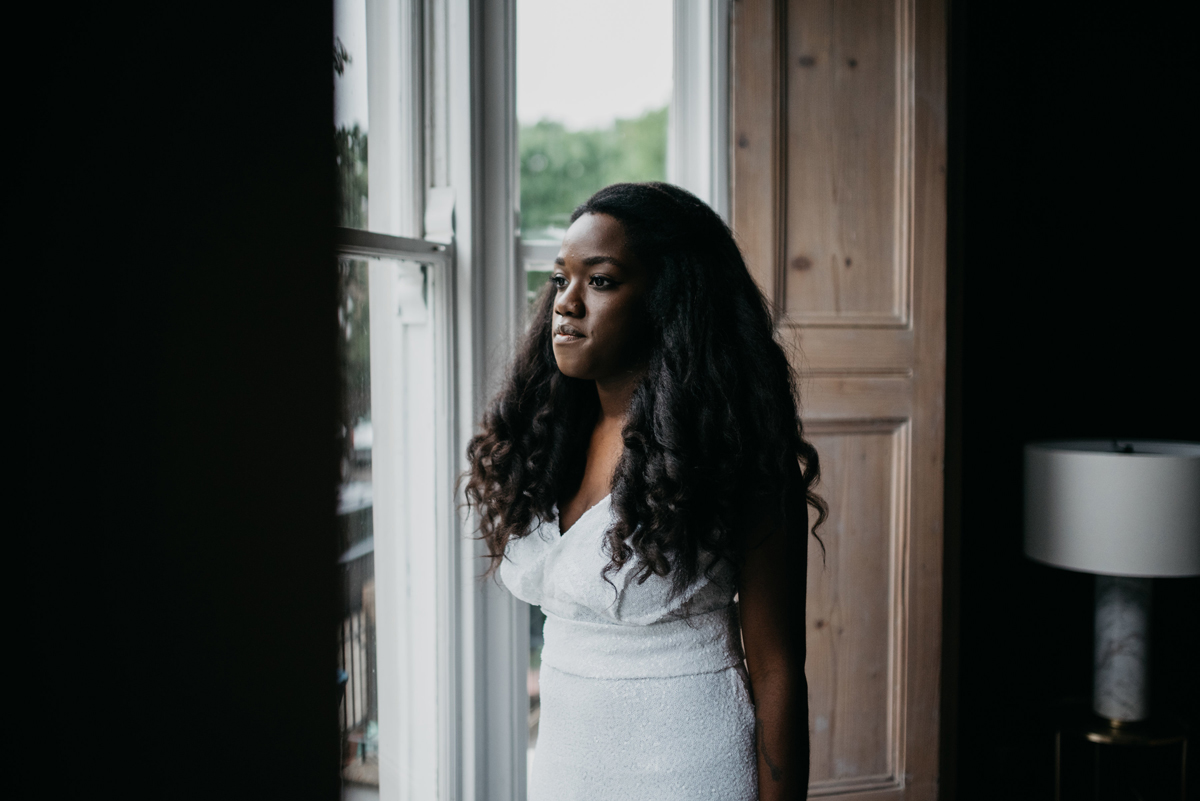 I absolutely love groom Tom's whole look, from his sharp Paul Smith suit (bought from the Covent Garden store) to an amazing animal print skinny tie and Dr. Marten boots. His groomsmen wore their own suits along with ties from Marks & Spencer.
"Tom and I were both born in London and met in London through mutual friends. We both love South East London and had our first kiss on Christmas Eve in Greenwich. We did not want to spend a lot on a wedding, so stripped everything down…Really did away with tradition."
"As we had been away for nearly two years travelling (South East Asia, Central America and the Caribbean) and living in Sydney, Australia, we knew how much money could stretch, and were quite aware that the average spend on a wedding is a year travelling! Tom proposed on the 1st January 2016, a few months after we got back from our travels."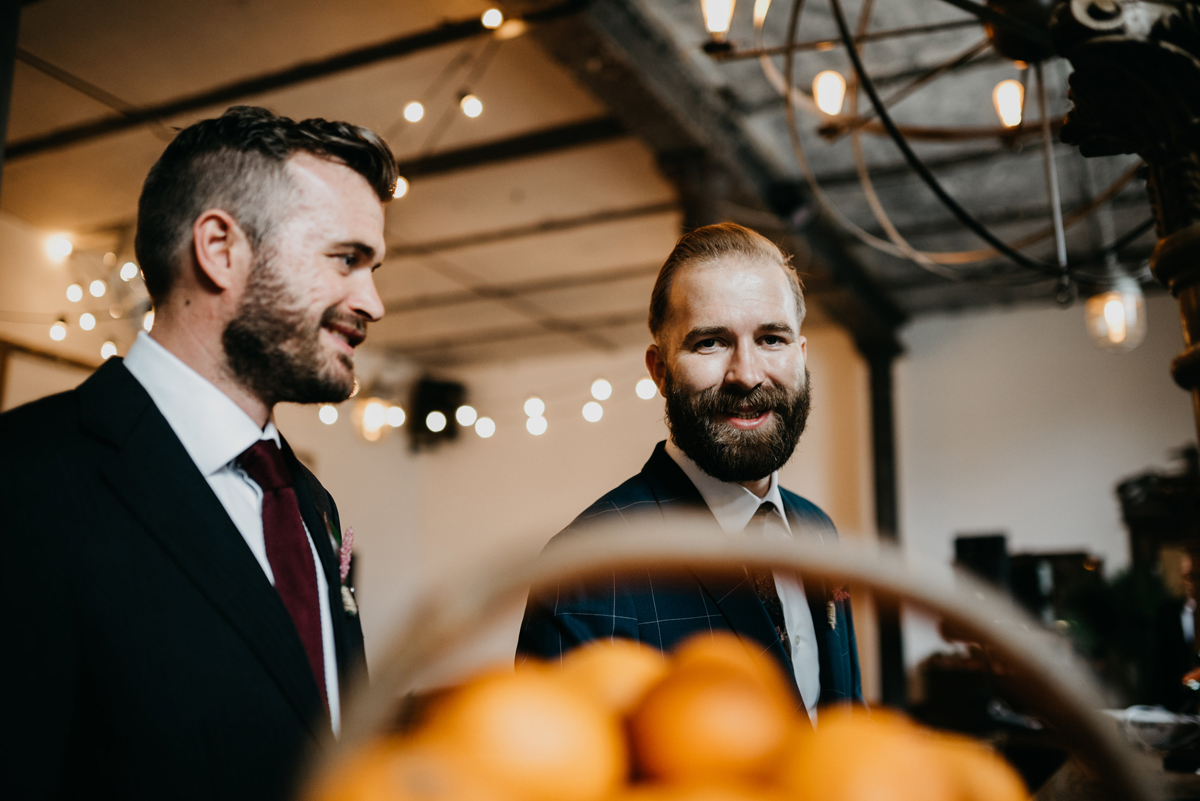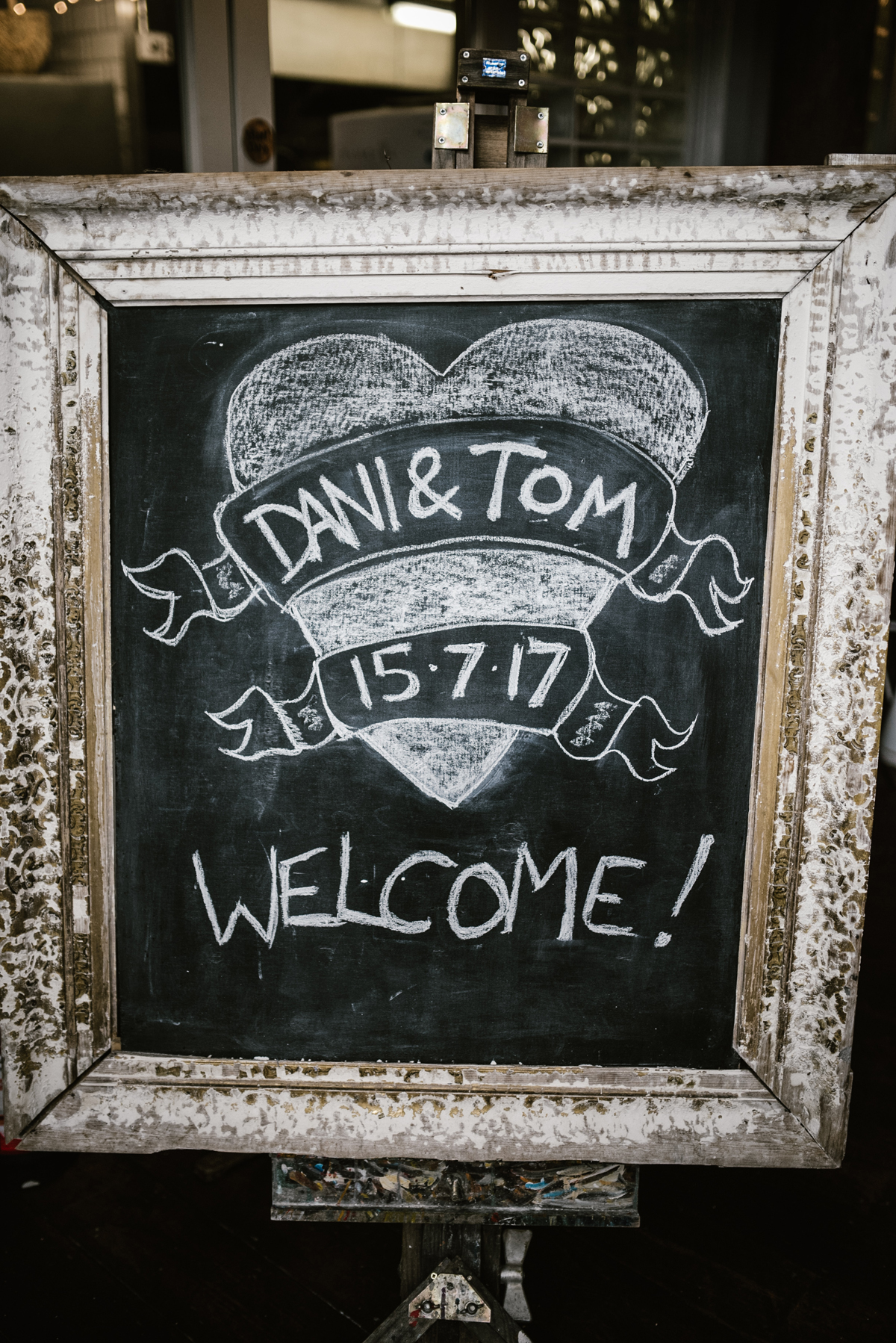 "We decided on Clapton Country Club as it was a venue we both loved, and there was no way we could not have it in London, as this is where all of our family live. Also, Tom lived in Clapton for 7 years, where the beginning of our relationship was spent."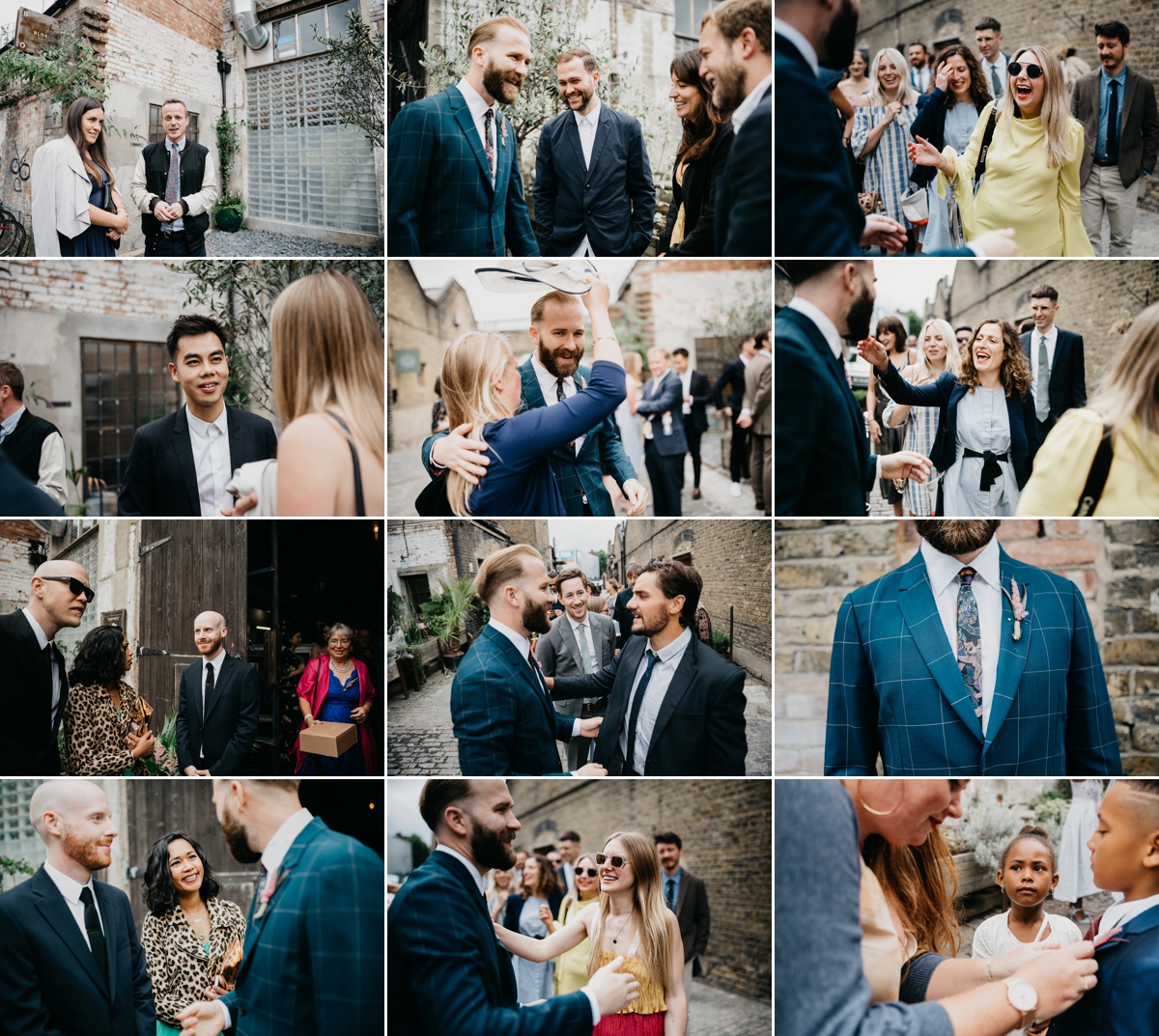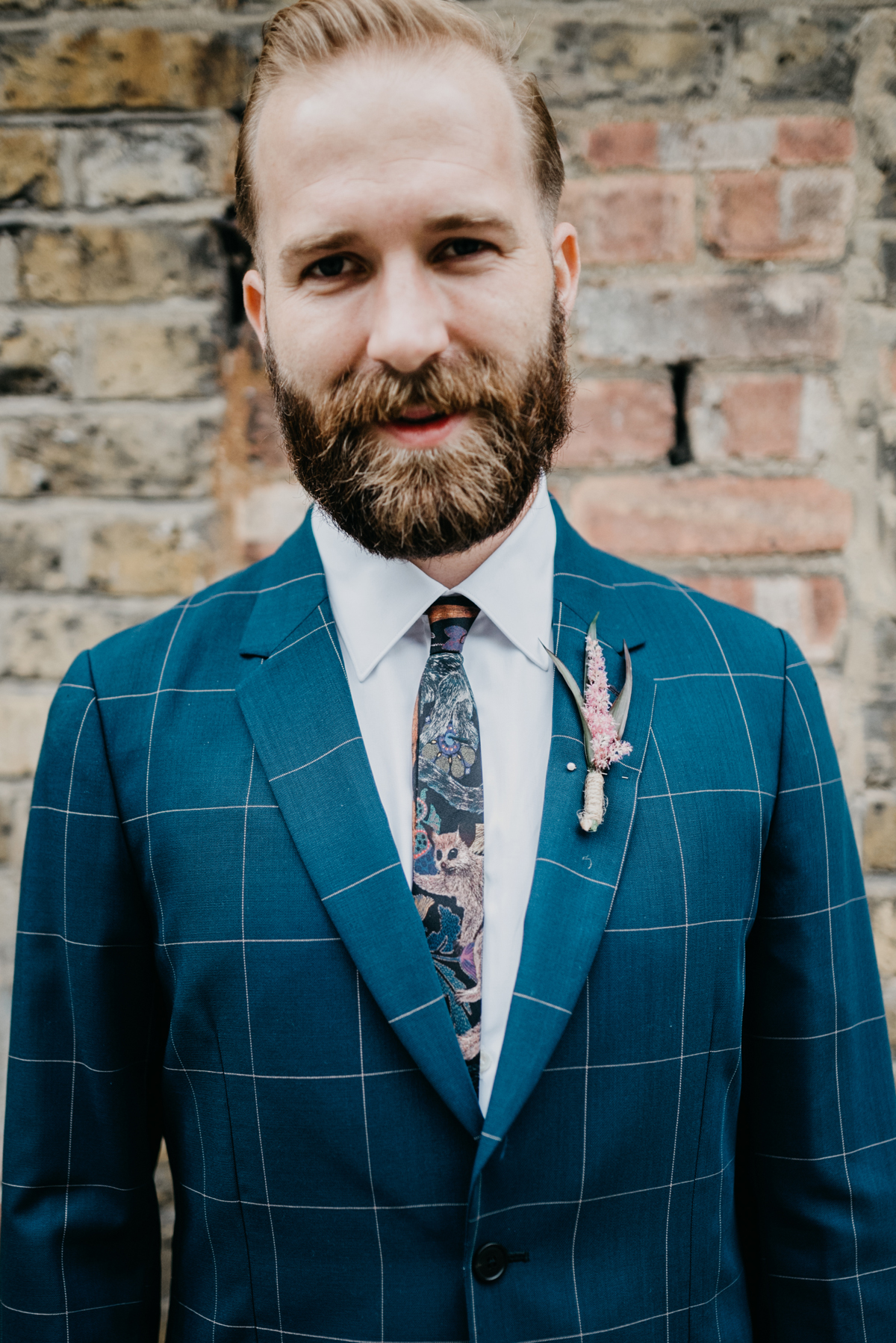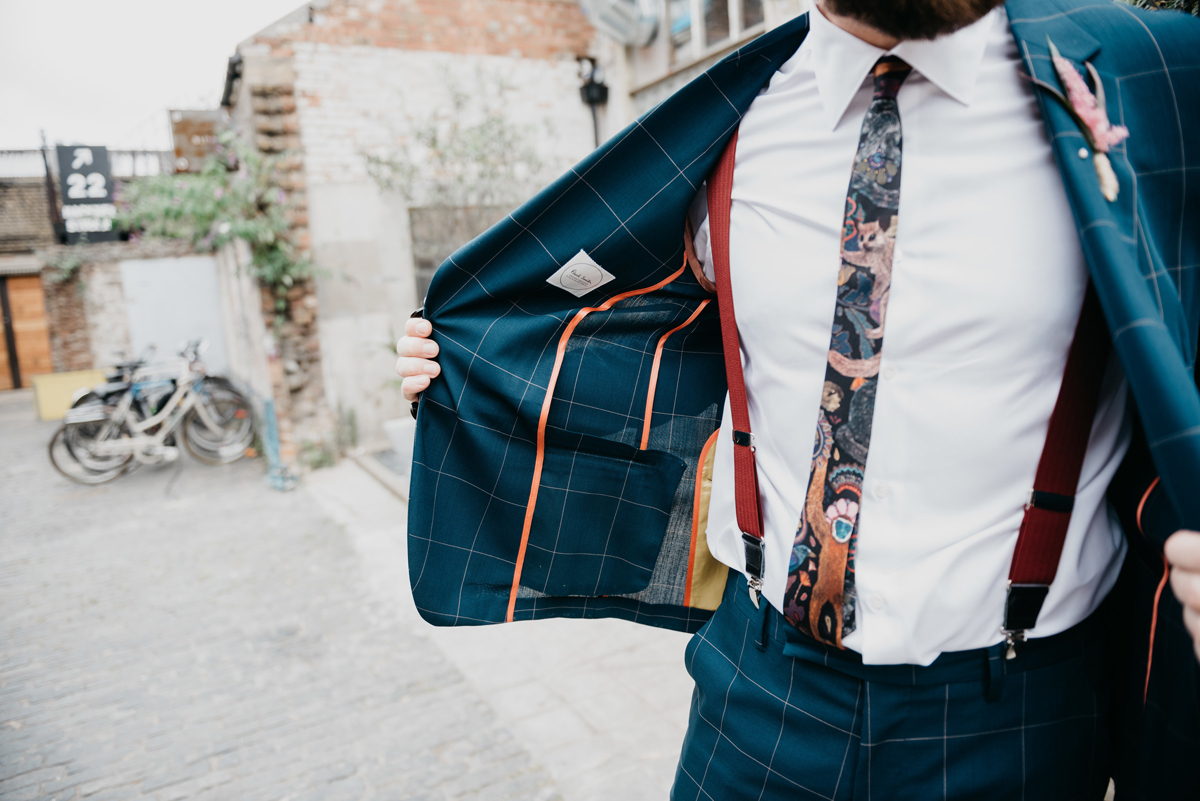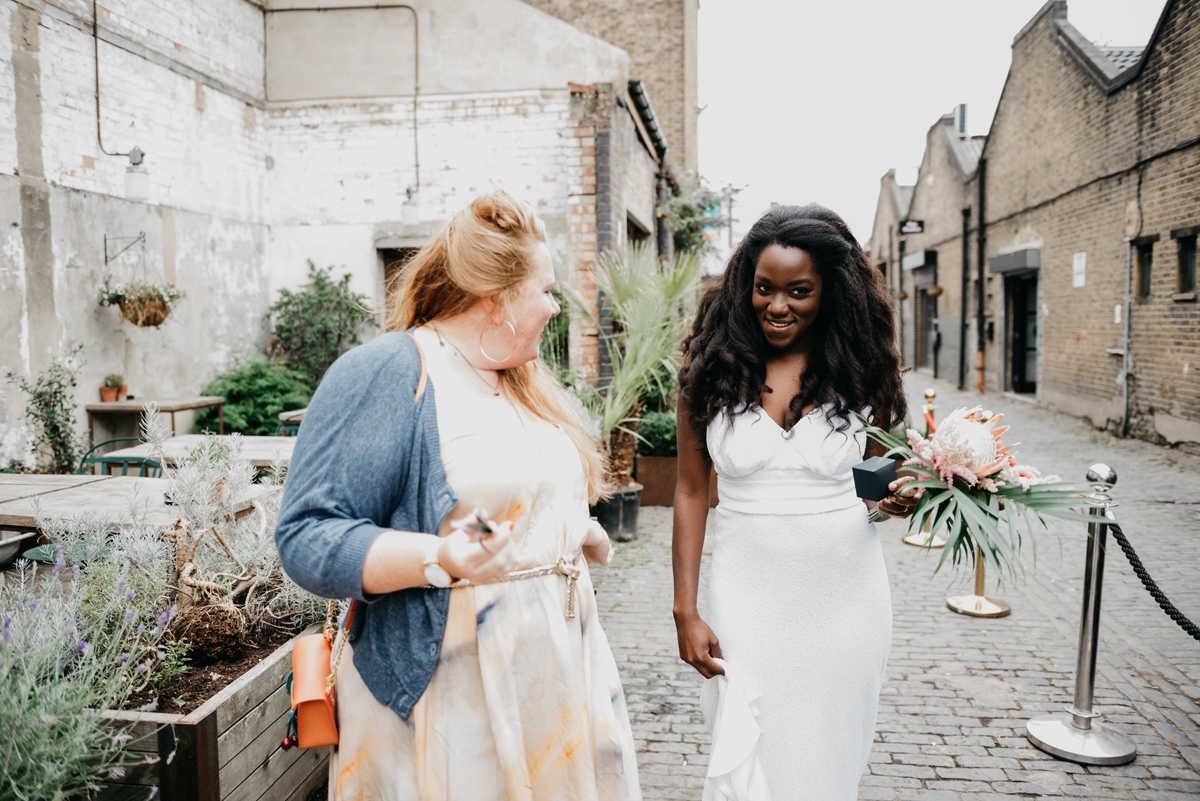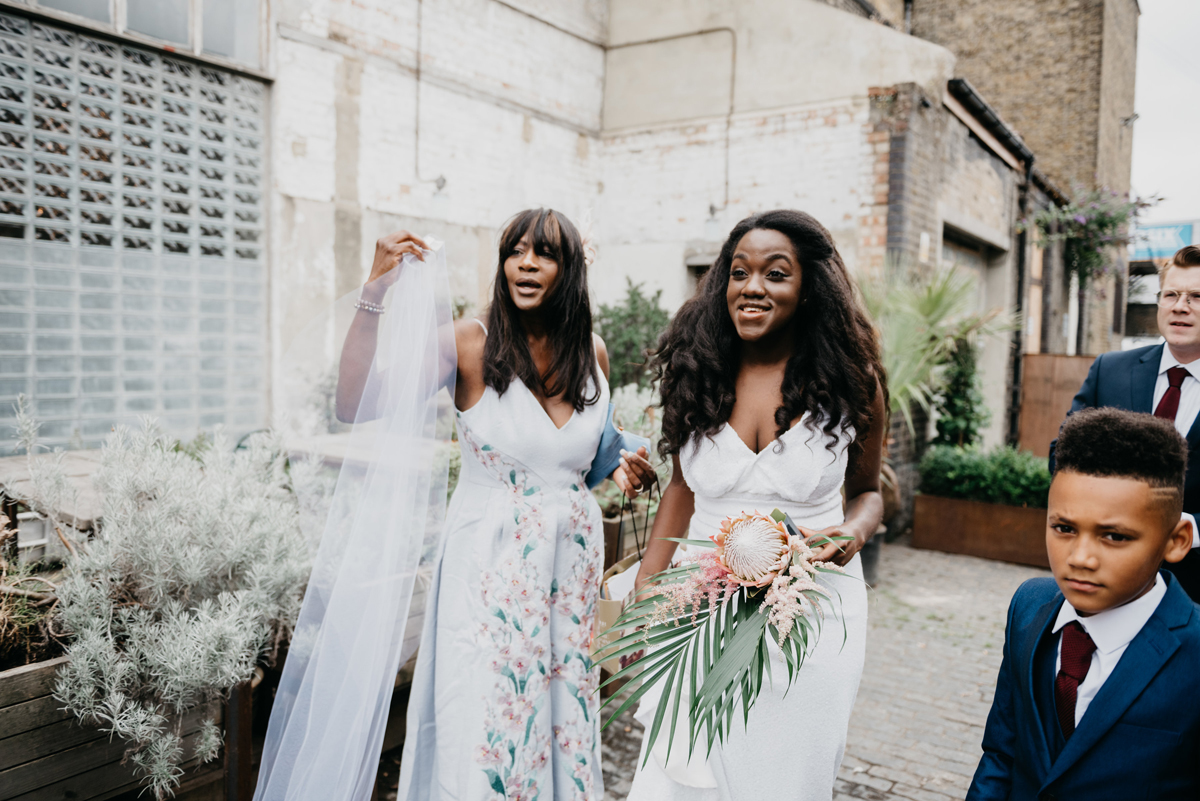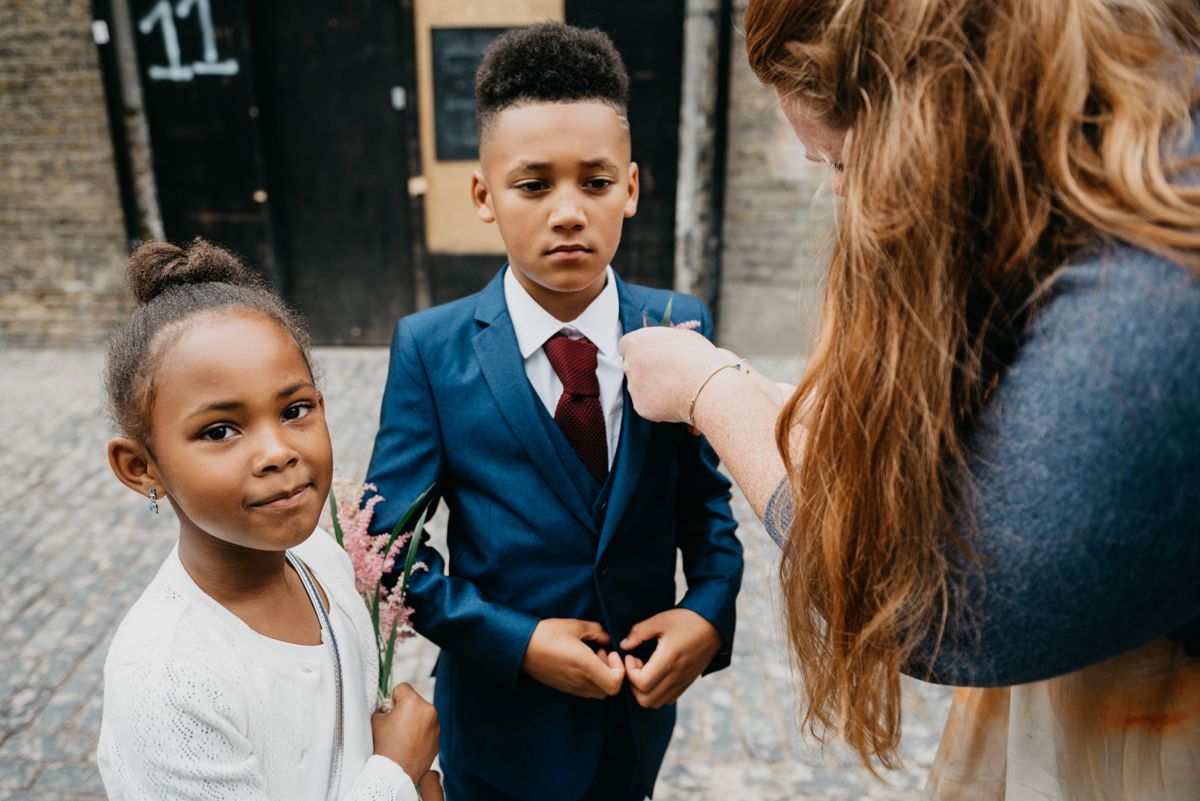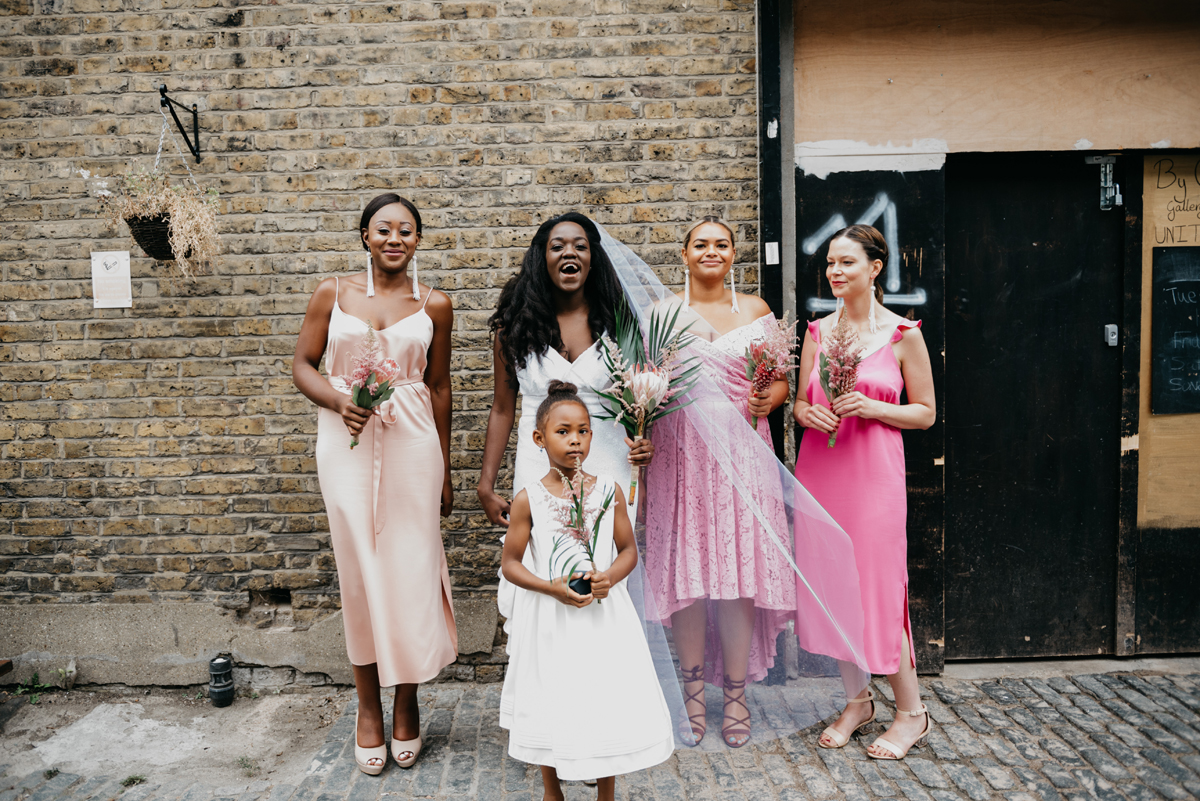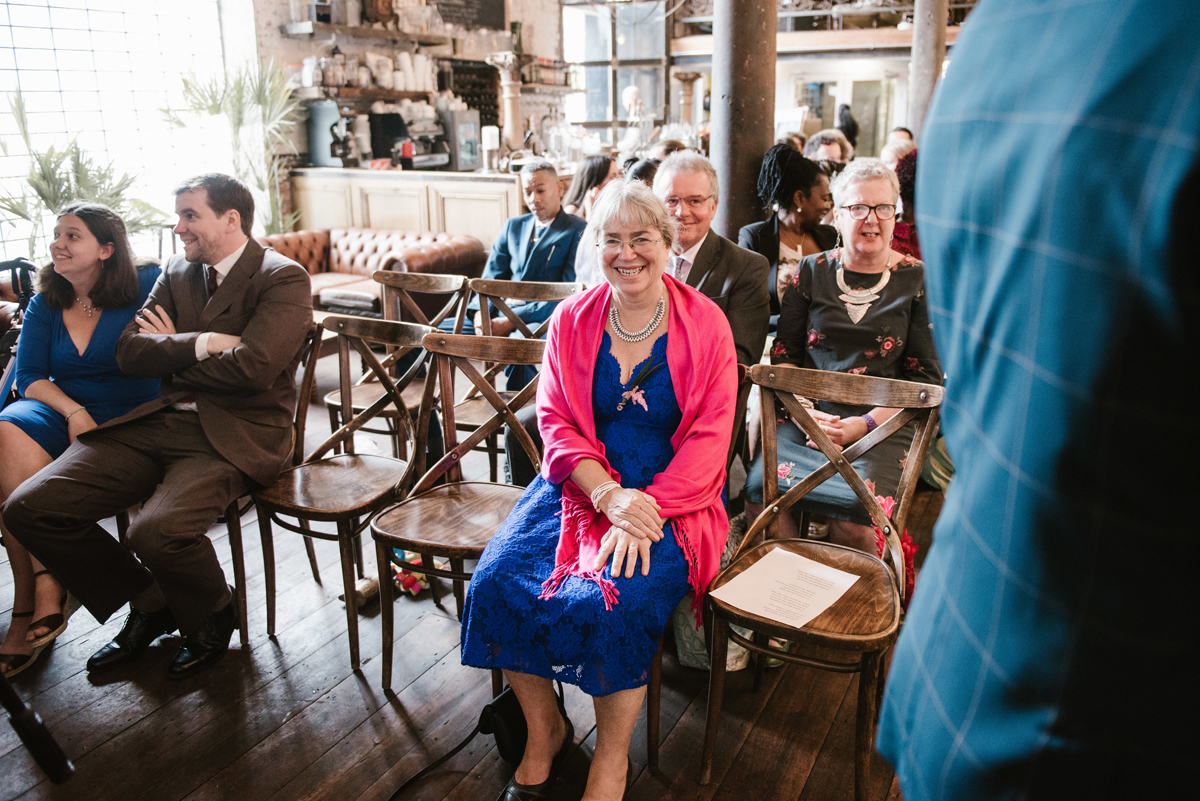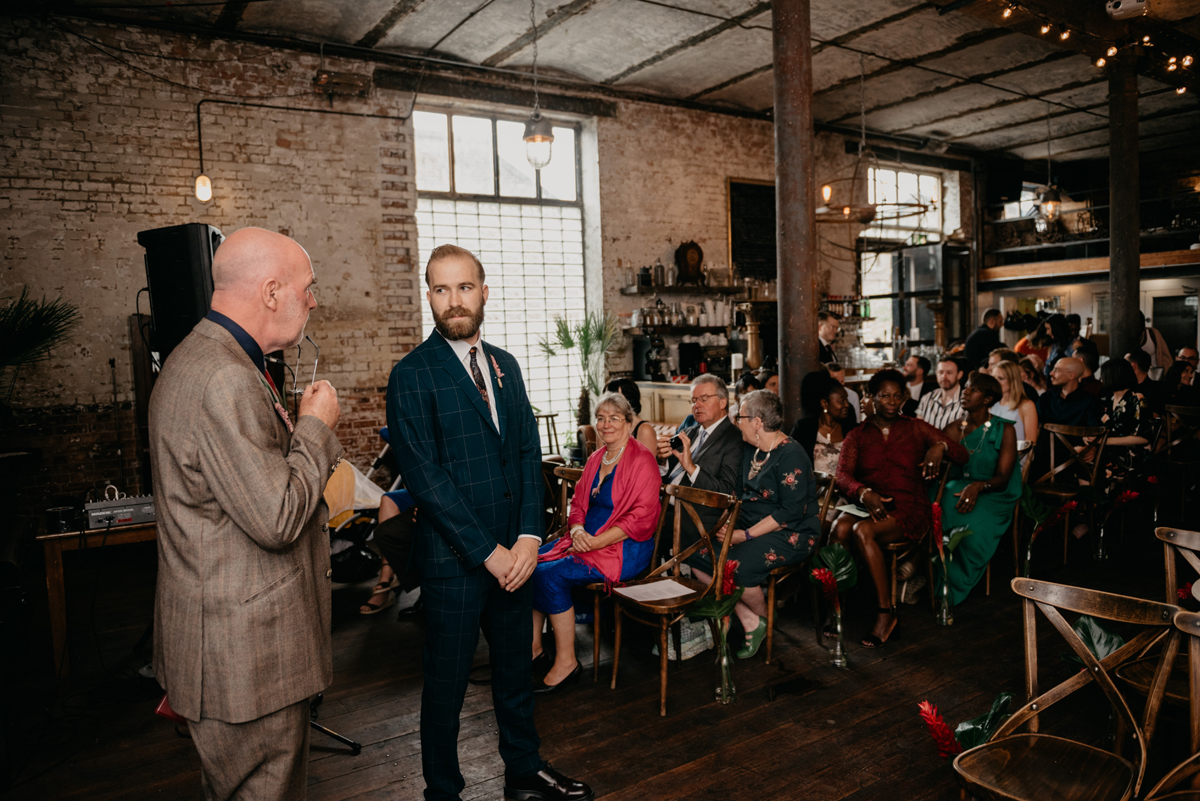 Dani walked down the aisle with her mum and brother to the song 'Baby' by Donnie and Joe Emerson, a song she and Tom listened to a lot while living in Sydney, and which caused a few tears to be shed.
"They've always been there for me and we're very close."
The couple opted for a short civil ceremony with traditional vows, which was performed by Tom's dad, who is a vicar. Dani's Maid of Honour read an extract from the brilliant Talking Heads song, 'This Must Be the Place', while her mum read the bible verses 1 Corinthians 13:4-8, an important reminder for the couple as to why they were marrying. The readings concluded with Tom's mum reading 'Calon Lân', a Welsh song, and a nod to Tom's family and heritage.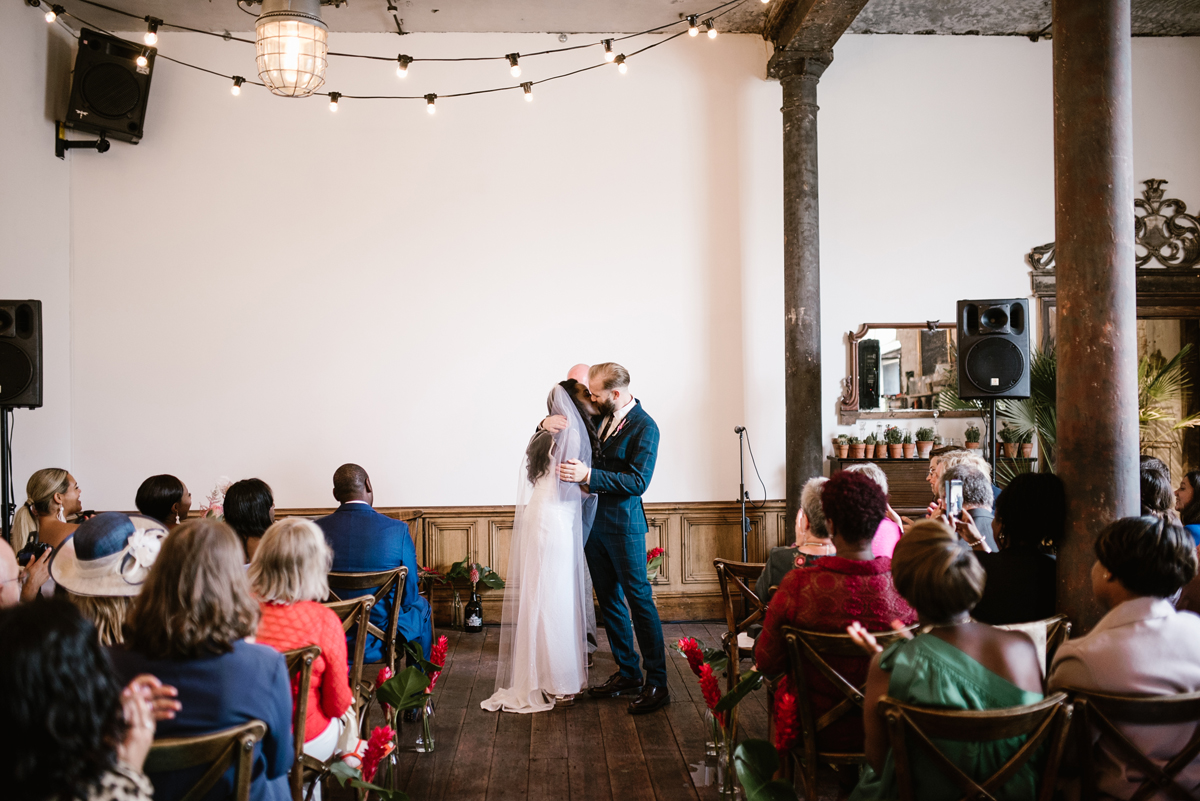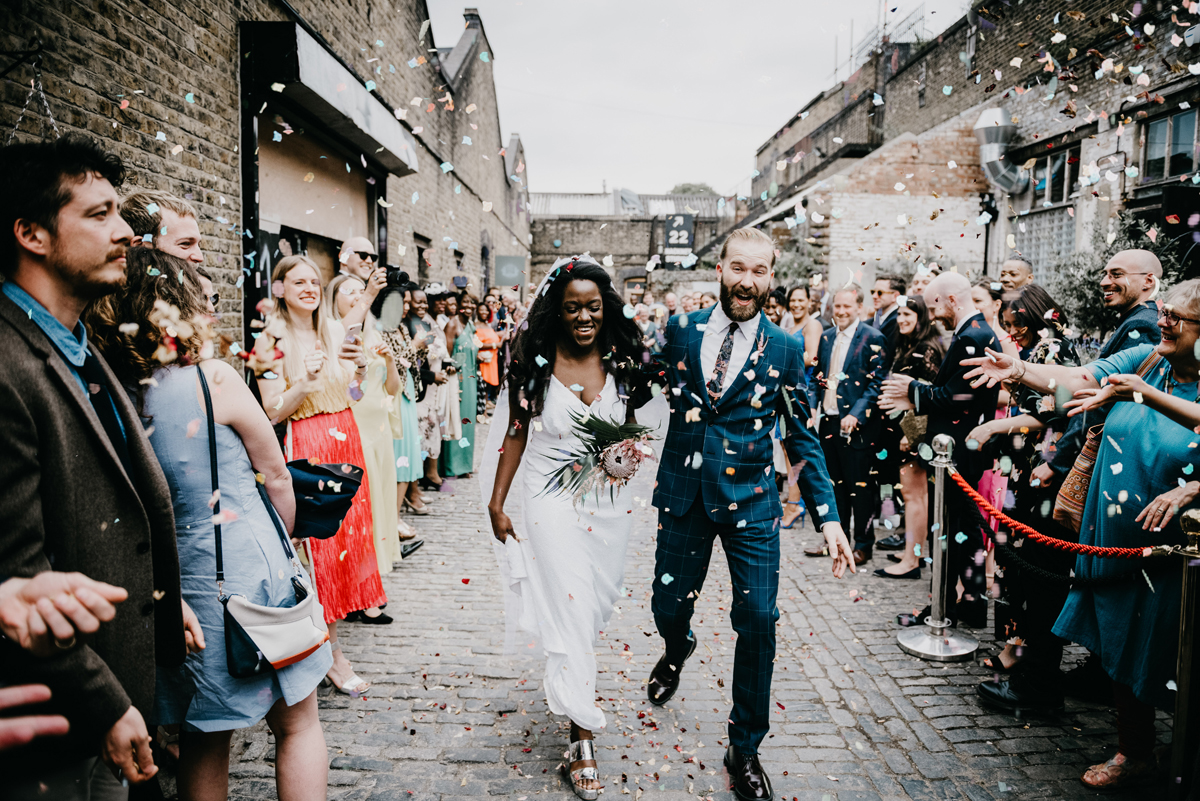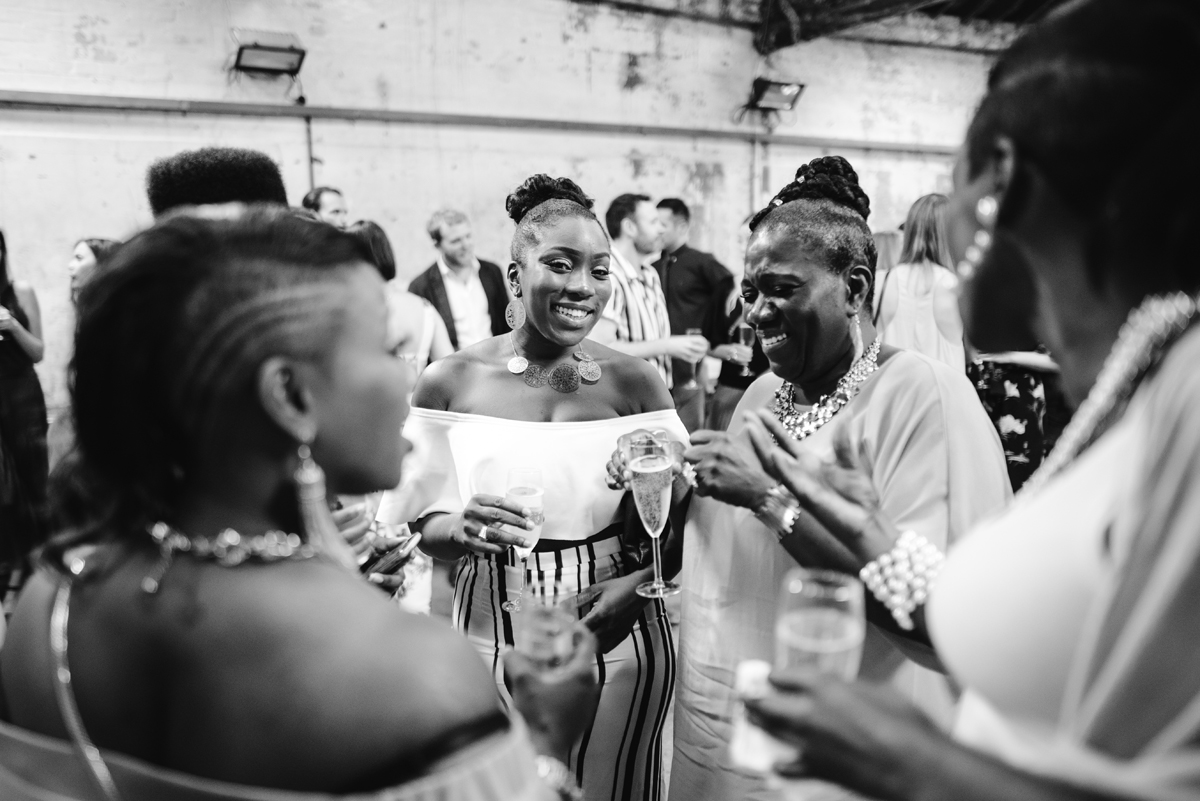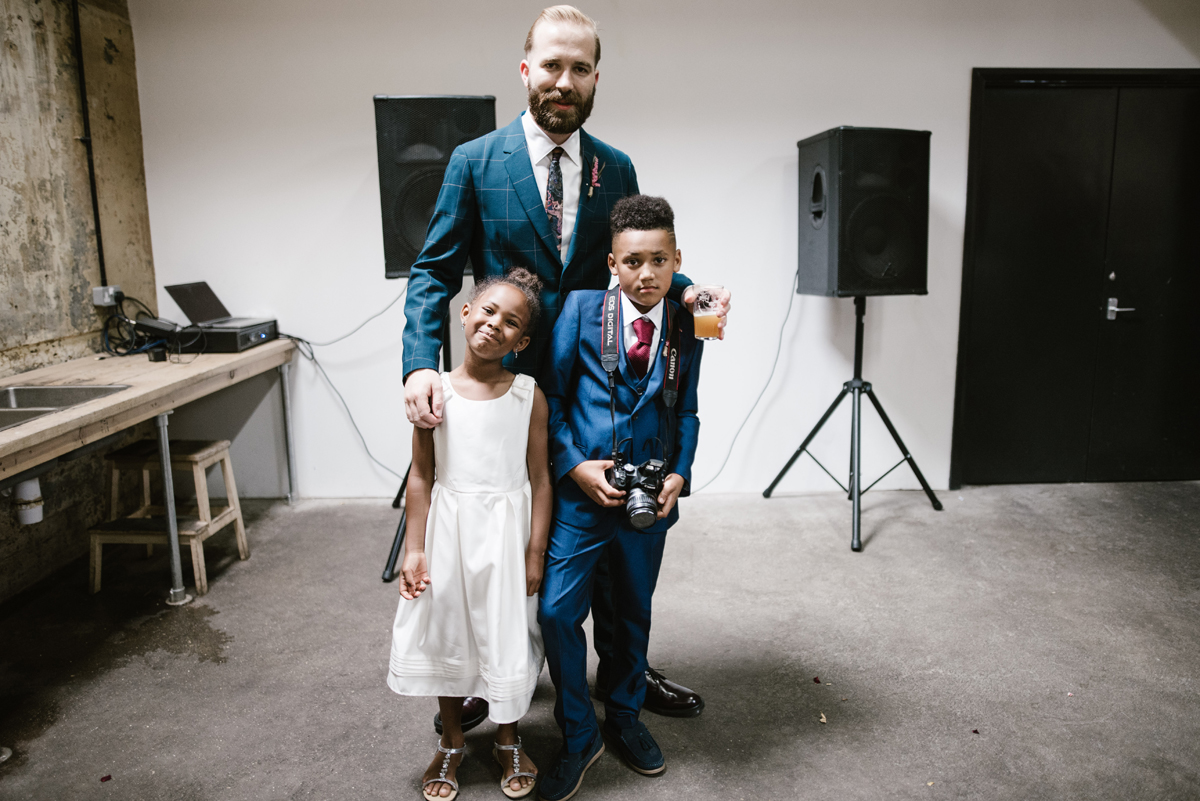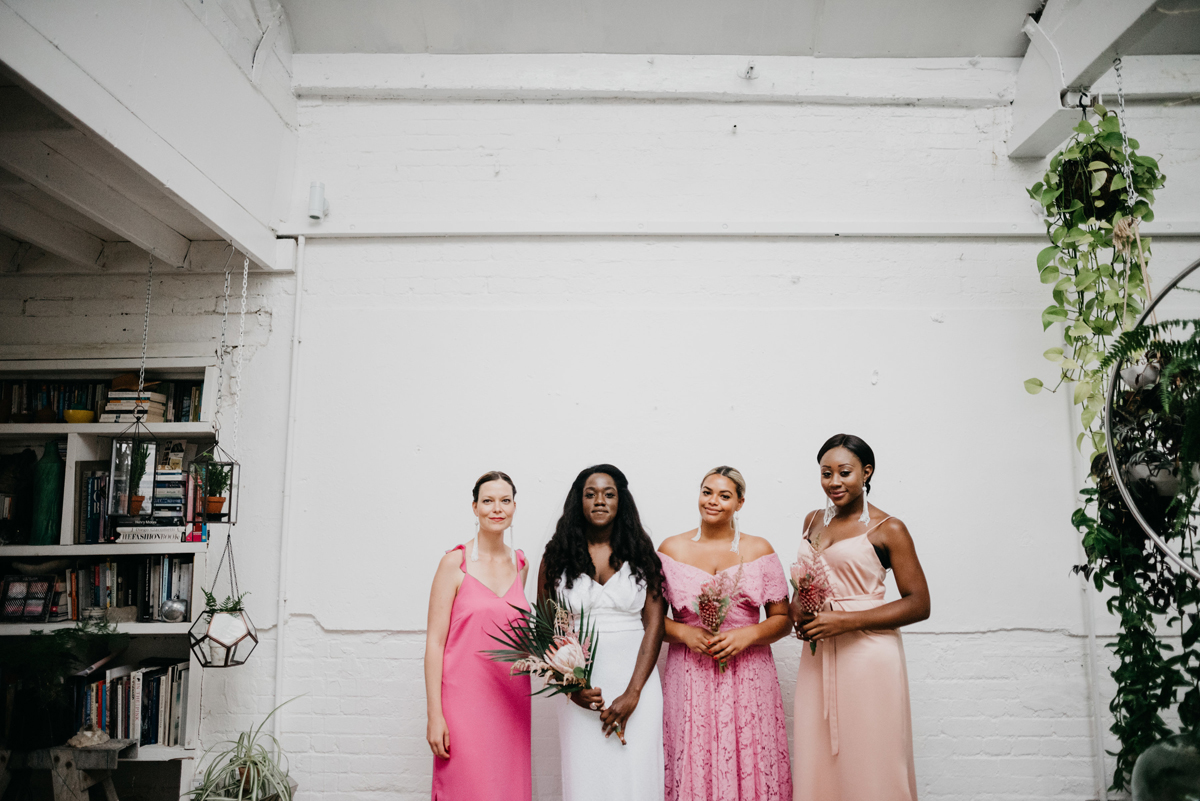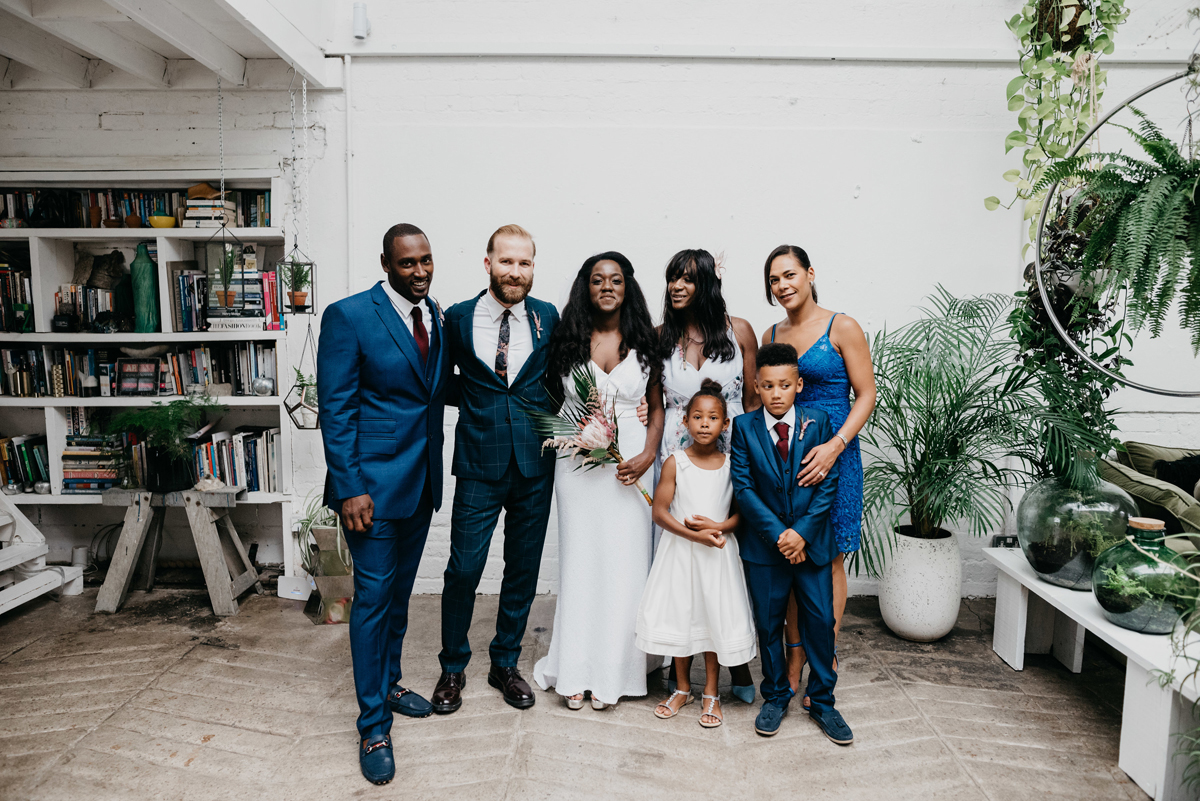 Capturing the day in all its emotional, colourful glory was photographer Andrew Brannan, who Dani and Tom found through Love My Dress, and whose lovely work we've featured before.
The shots of the couple in the beautiful Clapton Tram studio space are especially beautiful, honest and intimate, surrounded by the textures and shades of green from all of the lovely plants there.
"Andrew was really chilled and felt very natural. We would definitely recommend him."
Dani and Tom were keen to keep venue decor as simple as possible while making the most of the magnificent and historic industrial space, with its high ceilings and old pillars and floorboards. Long tables with wooden chairs were dotted with bright and stylish tropical flower arrangements, cute succulents as favours and the ceiling was festooned with string lights. As a UX Designer, Tom also designed all wedding stationery, from menus to table plans (as well as invitations).
"We really liked weddings where it was mainly plants and lots of green. Minimal tropical. We also let the venues speak for themselves as the whole unit was an old horse-drawn tram depot and all of the spaces had their own interesting features."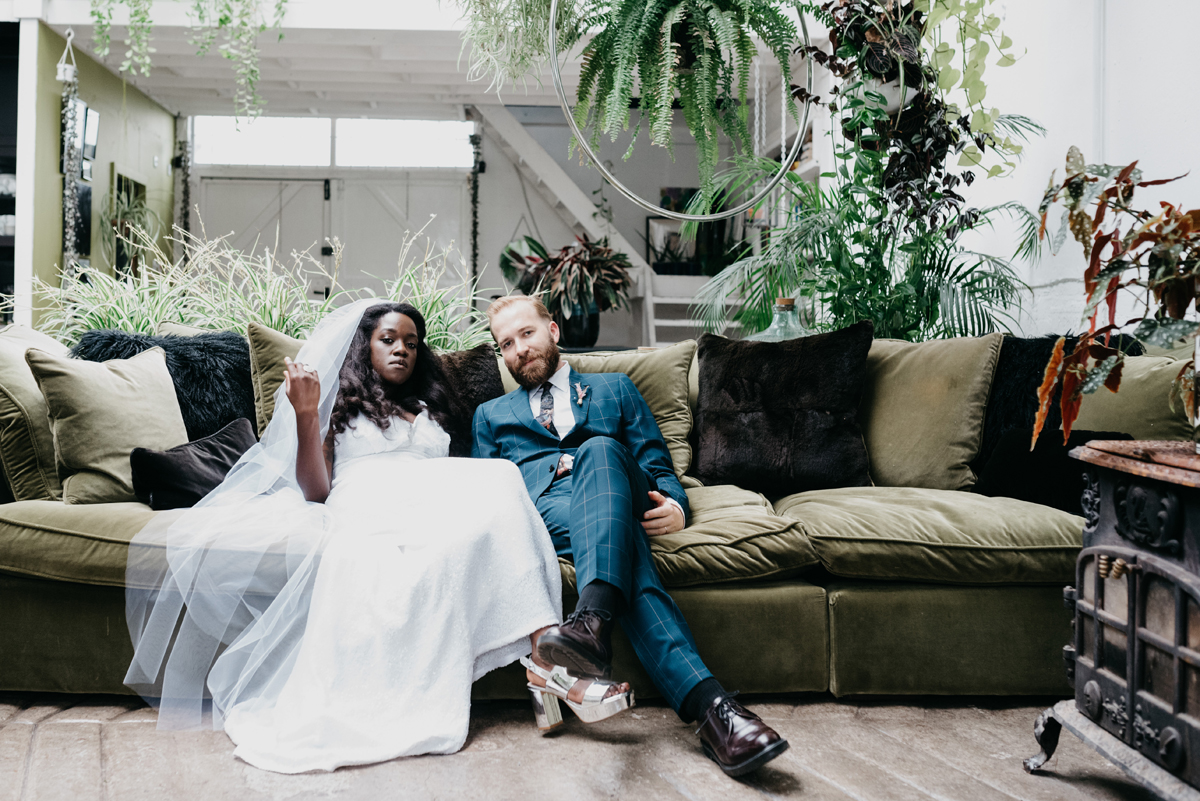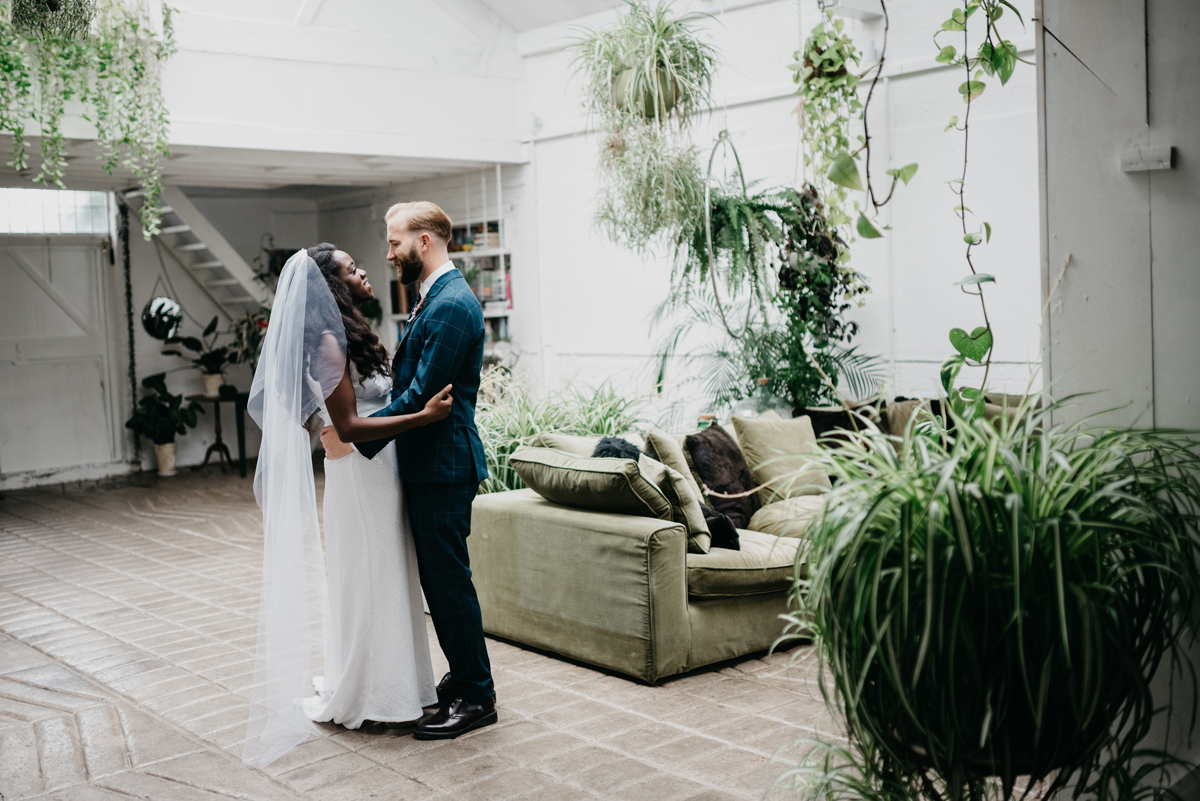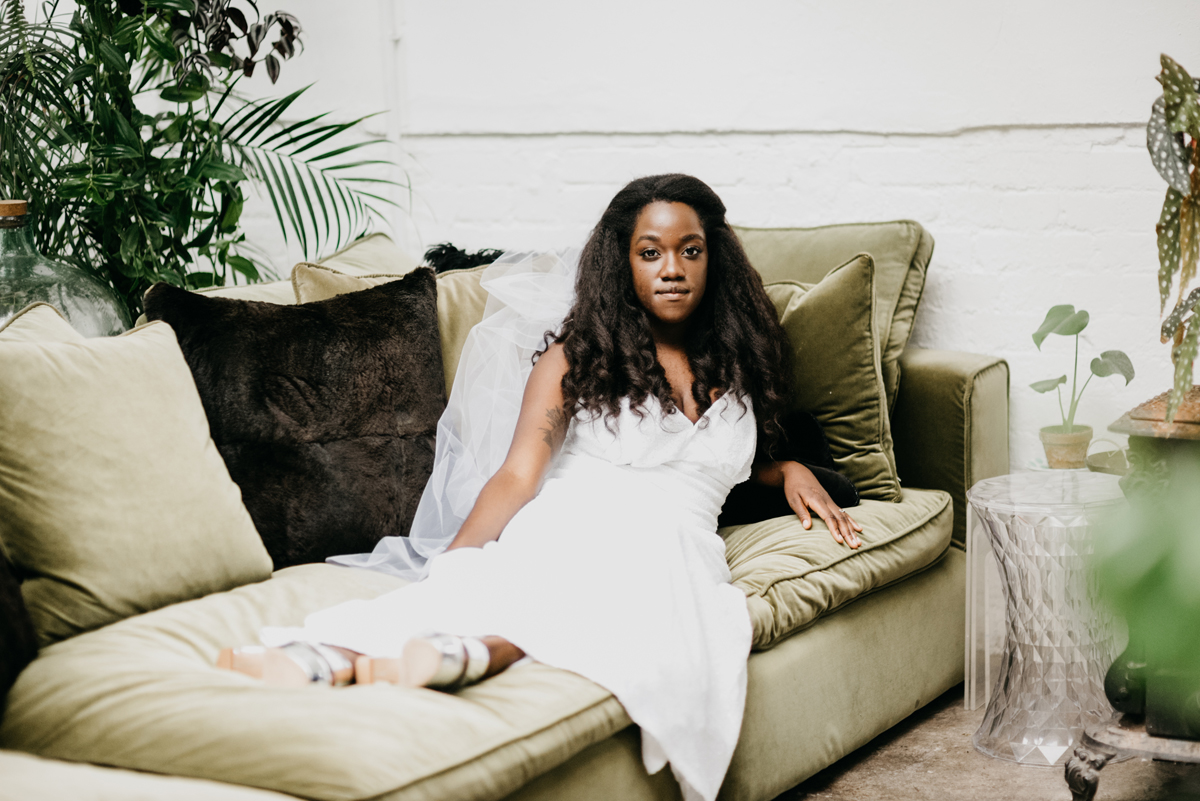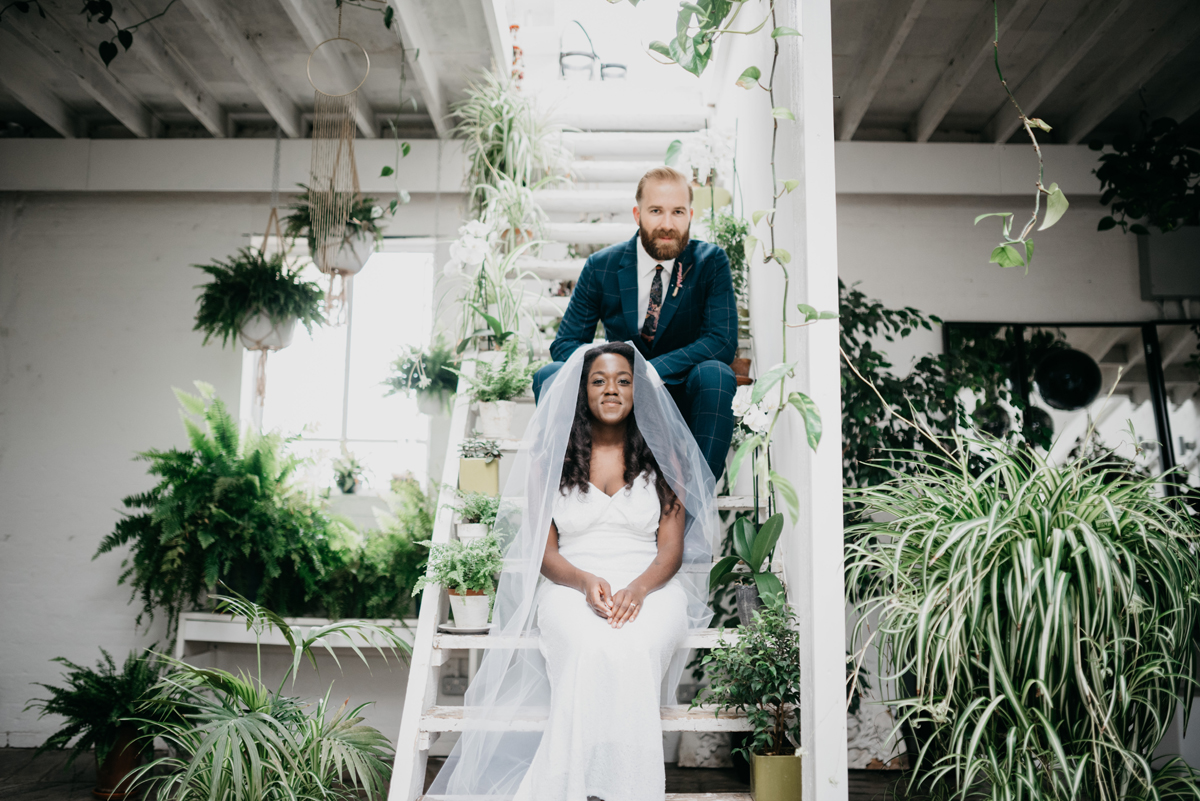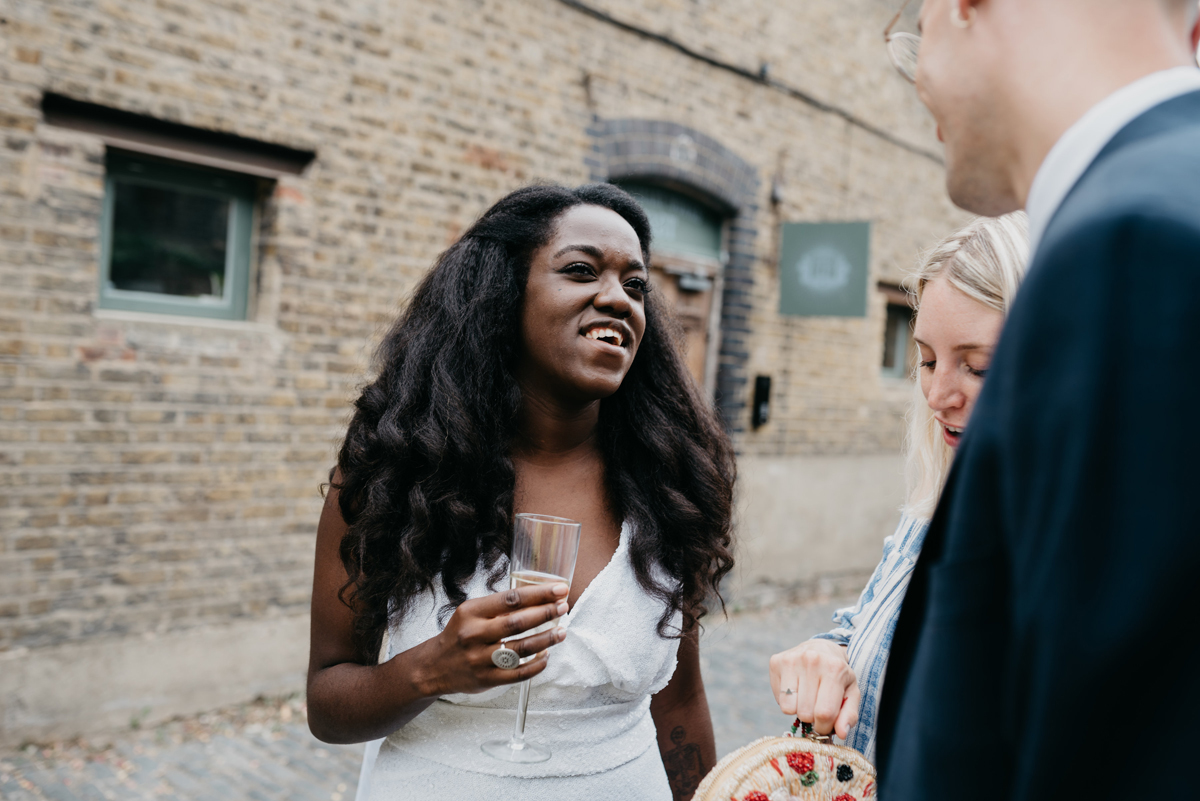 Guests sat down to an amazing sounding feast of Jamaican food from McCalla's, including curry goat and Jamaican patties.
"Everyone loved the food. We didn't want to have traditional English food….and we love street food. This was a great win and the guests loved it, and introduced a lot of people to curry goat! We also had some Jamaican patties in the evening and Vietnamese summer rolls for vegans."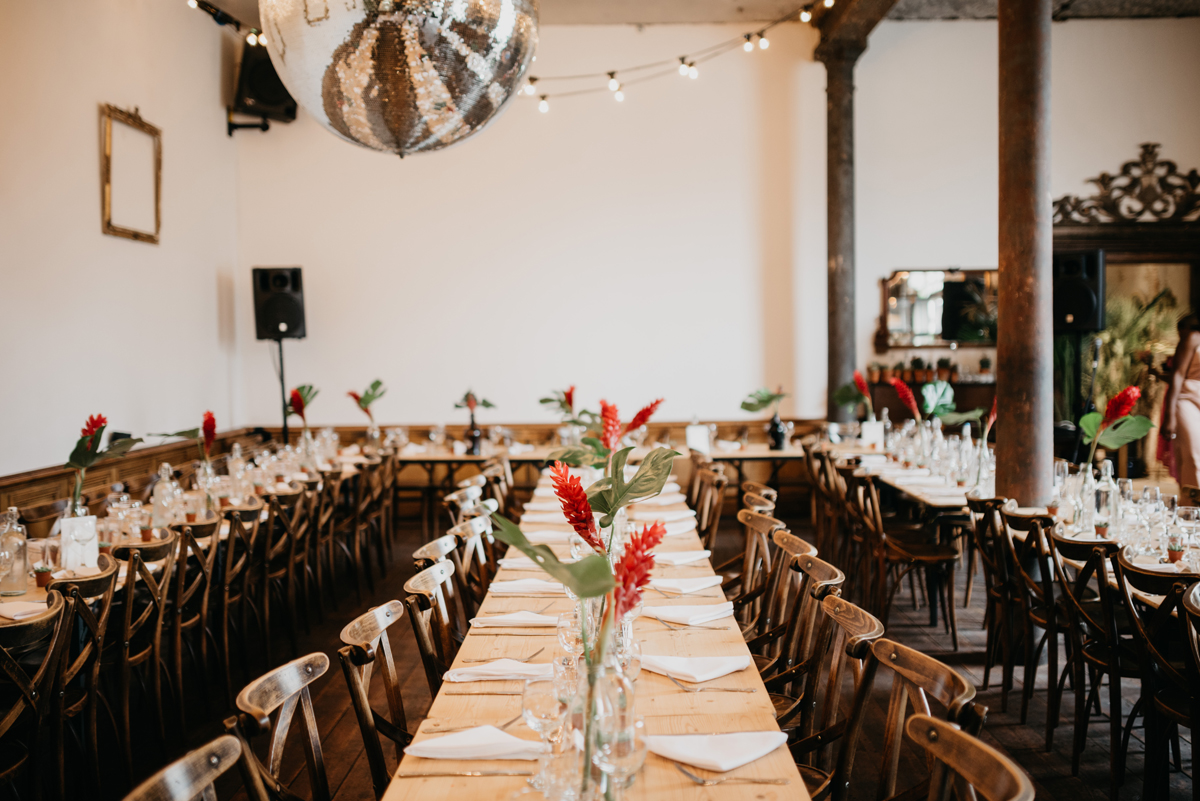 In a day filled with moments to treasure, Dani and Tom have a few favourites, from the time they spent alone chatting about the day so far, to the speeches from Dani's mum and brother.
The couple landed upon a great idea for cakes and dessert by asking lots of their family and friends to help out by baking and making a tasty variety of sweet treats!
"…which created a nice display and was a big hit. There was real variety – egg custard tarts, banana and white chocolate cupcakes, caramel cheesecake…"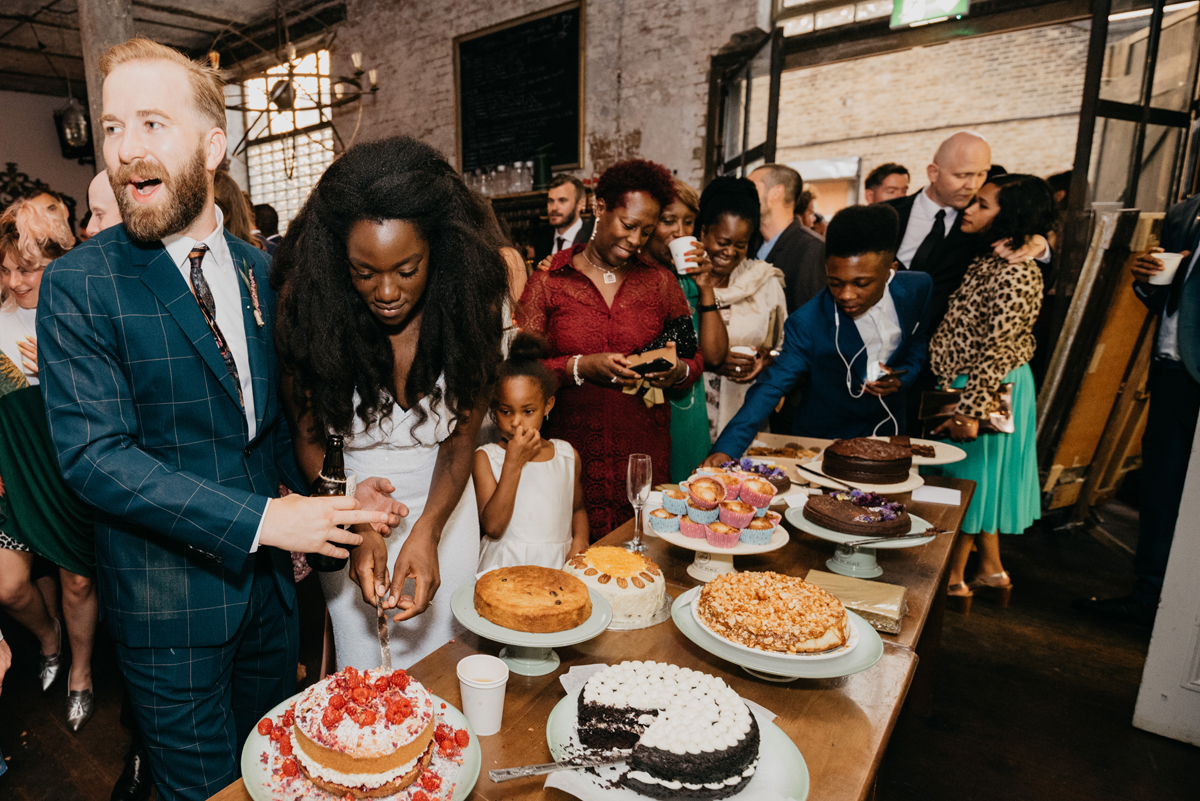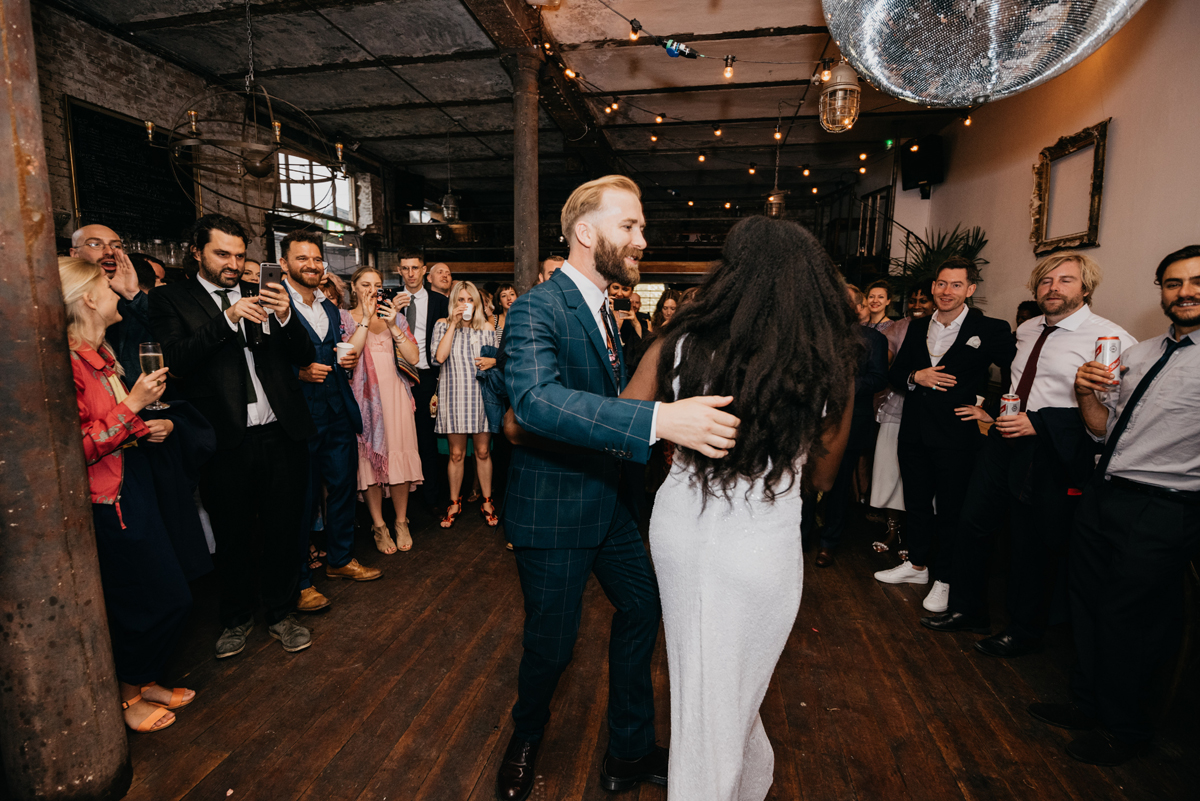 Dani and Tom treated themselves to a Sade cover band for entertainment, and while they weren't originally going to have a first dance, when Tom's best man was tasked with introducing the band, he instead introduced the newly married couple onto the dance floor for Sade's 'Smooth Operator.'
"We really loved Sade and Tom managed to find an old friend, Chris Pedley, who was in the Baker Brothers, to put something together."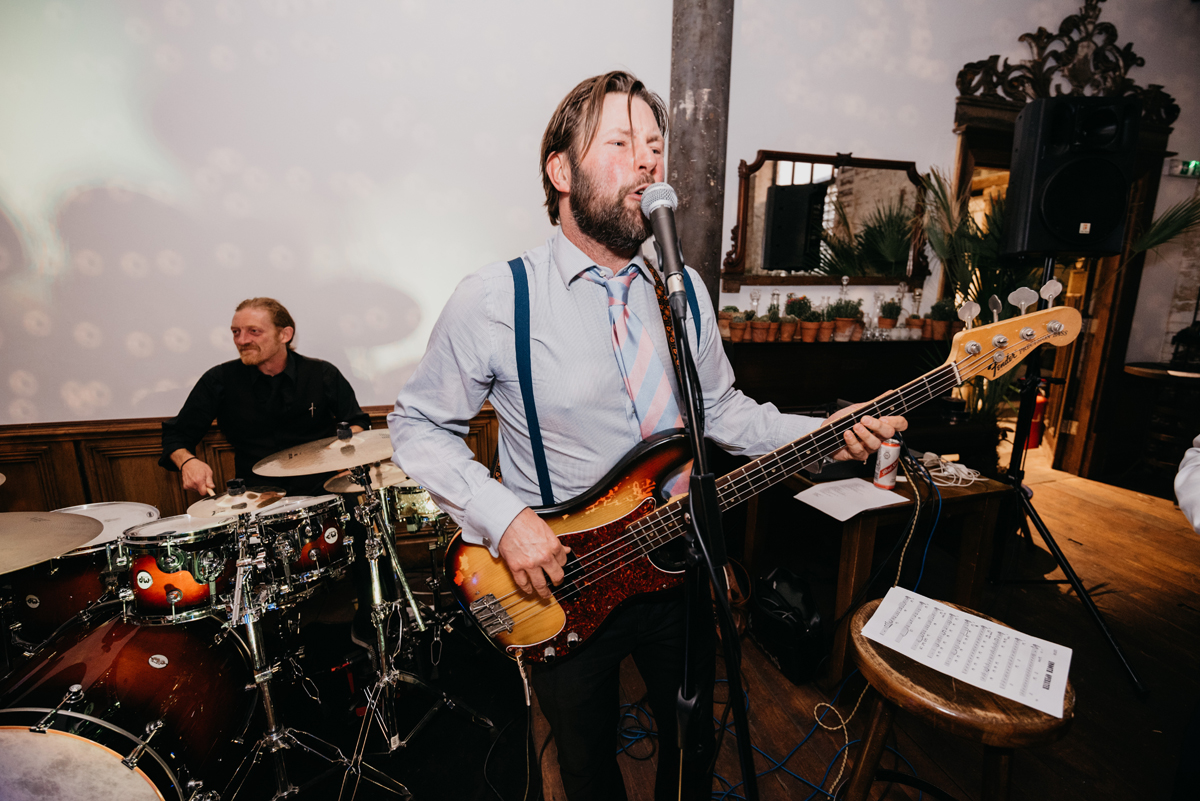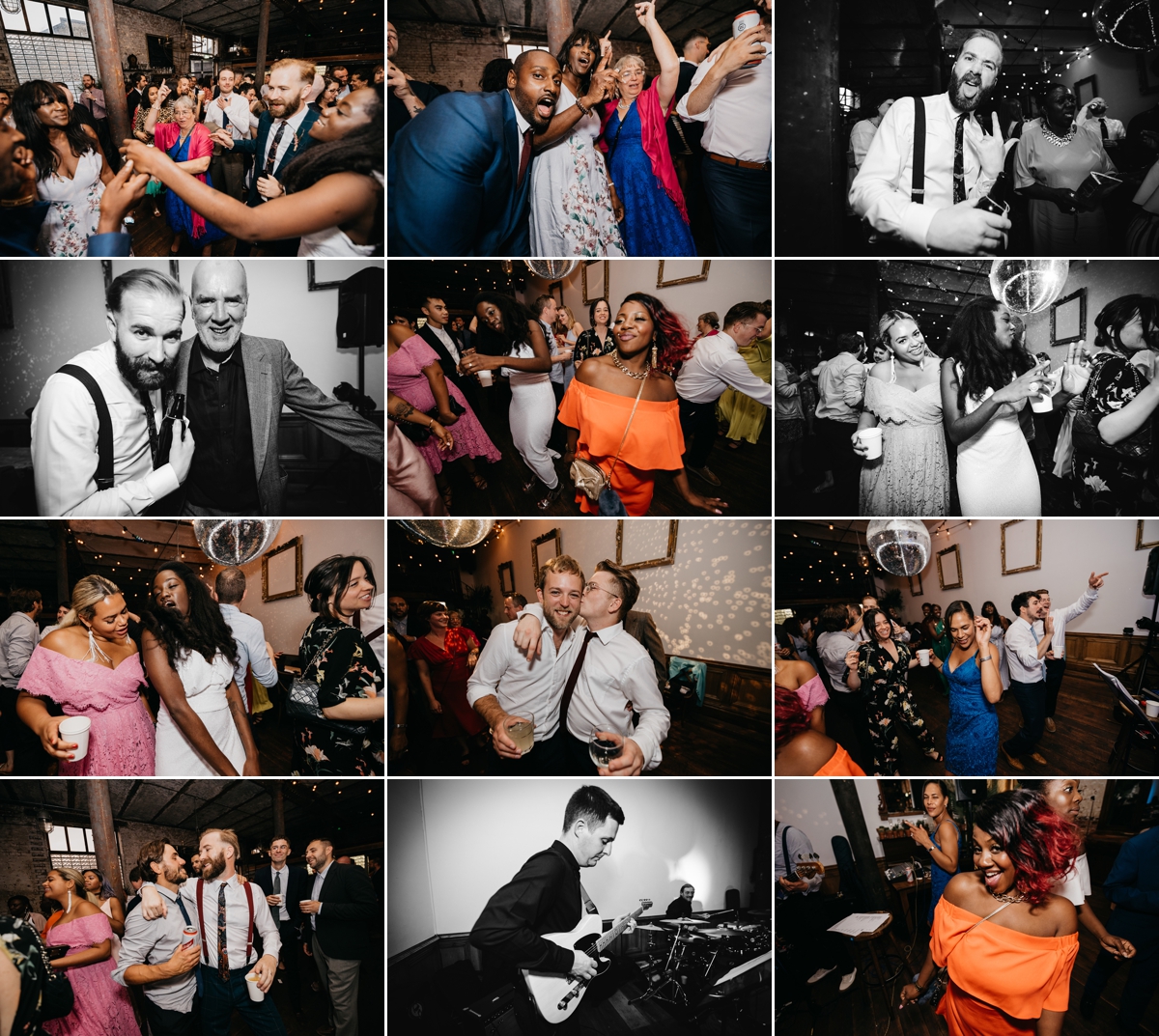 Words of Wedded Wisdom
"Relax, plan well ahead, designate, remain in control (don't let anyone make decisions for you)…do ask advice but go with your gut feelings. It was very exciting as we were both very involved and enjoyed planning it all. I would say don't follow traditions."
"You don't have to have bridesmaids, you don't need anyone to walk you down the aisle. You don't need a cake or a first dance. Brides can do a speech and get anyone else you would like to do one too. Most importantly have fun!"
"We originally wanted to spend £7k, but ended up spending £14k. I think £7k wasn't realistic for the number of guests we had (100 sit-down) plus evening guests. Also with outfits and photography, everything begins to add up."
What superb words of wisdom! Thank you from the bottom of my heart, Dani and Tom. Your wedding day has been such a joy to write about; a magical celebration of love and culture, and Andrew Brannan's images are a gorgeous treat.
With love,
Laura