Dear Readers, I hope you're having a lovely day and are ready for some gorgeous autumnal inspiration in the form of today's wedding. So many of the weddings we feature here on Love My Dress reflect the season they're held in, taking their cue from colour palettes, food and flowers, but also the more intangible feelings that all of the four seasons can stir up.
Today's wedding beautifully shows all of the warm and cosy feelings of autumn, but also the drama and the contrast of the year's penultimate season. Meet bride Becca and groom Steve, who both work in the publishing industry. They were married on the 4 October 2017 in a celebration filled with family and friends from all over the world, inspired by woodland, wildlife and nature, and with wonderful dramatic autumn colour.
"We both love nature and animals and transitioned to veganism together. We wanted our wedding to reflect lots of natural elements and used autumnal colours as a guiding post, and we were particularly drawn to the colour dark burgundy. Everything came together in our minds once we spoke with our florist. We used pictures of woodland animals instead of numbers for our table plan, to further integrate the idea of a forest themed wedding."
Photography by Emily & Steve Photography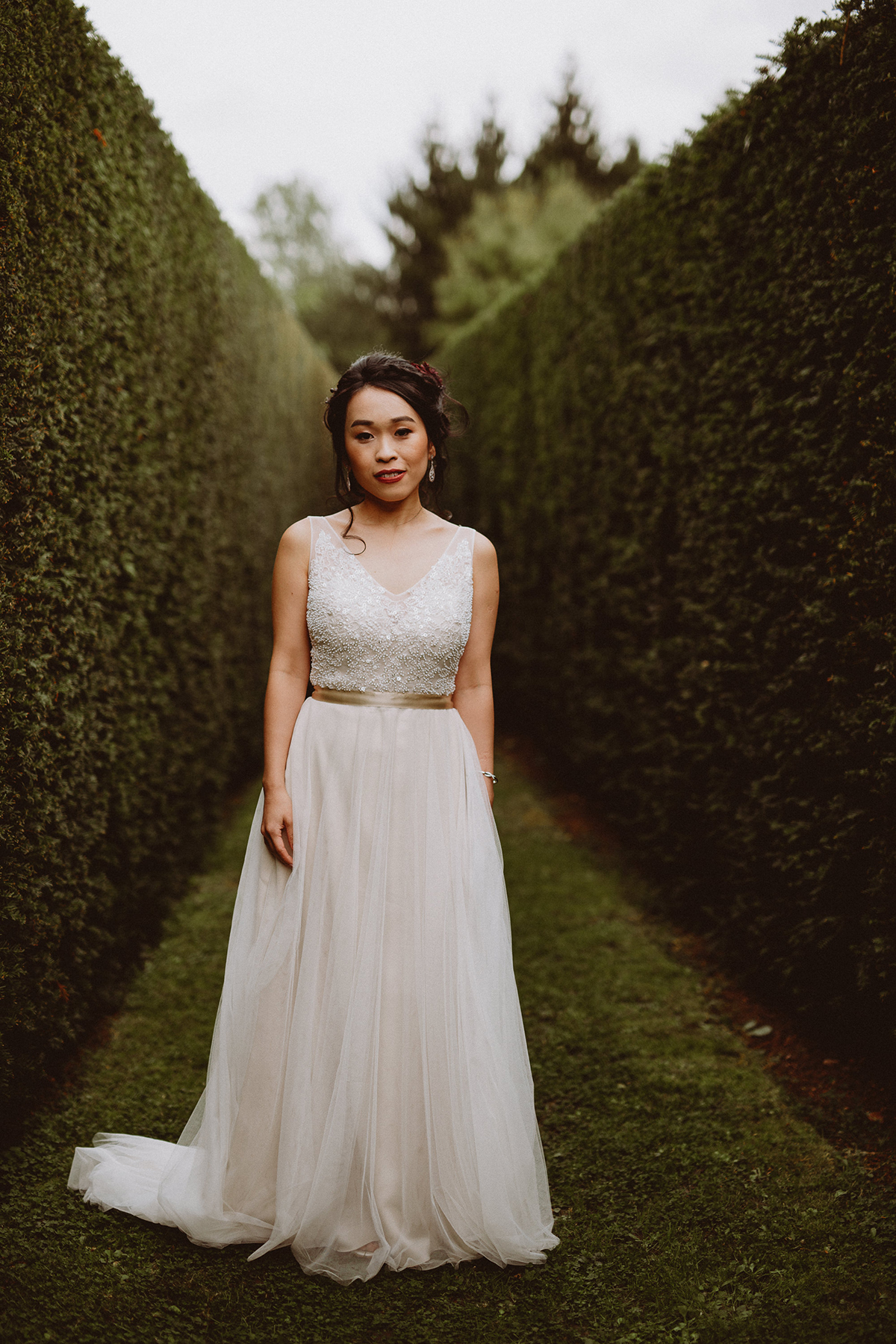 Becca's stunning embellished Wtoo by Watters gown was purchased from Bridal Indulgence in Crondall, Surrey. The bodice is covered in delicate beads and sequins in a pretty, botanical design, and Becca's choice of an ivory gown with a champagne coloured lining and sash provides a subtle, romantic contrast.
"I loved the simple, classic and timeless cut of the dress and how the sequins and beading made things a little more interesting. I also loved that I could wear a dress that wasn't just all white."
The couple chose Great Fosters Hotel in Egham, Surrey as their venue, with their ceremony in the light-filled Orangery and the hotel's Tithe Barn being transformed into a magical forest wonderland for their reception.
"We wanted somewhere close to the airport due to the number of people coming from abroad, but also close to our home, friends and family in the Surrey/ Hampshire area. We thought that a hotel would probably be the most practical choice as guests coming from abroad would have somewhere to stay. Although we wanted to have the reception in a barn, we thought that was probably impossible in a hotel, until we found Great Fosters! The Tithe Barn felt perfect and the Orangery (which was filled with lots of natural light) was a bonus (so were the magnificent grounds and the architecture of the entire hotel, which we felt was quintessentially British)."
Guests received Save the Date cards and invitations, which Becca and Steve had purchased from Papier and in the Tithe Barn at Great Fosters, the couple's woodland theme really shone, with an assortment of on-the-day stationery and decor. Tables were each given an animal as their name, with sweet images supplied by Synplus on Etsy, placed into log bases from eBay. Place cards with beautiful calligraphy were handmade by Poppy and Pipkin, another great Etsy find by the couple, along with a guestbook from Cartalia.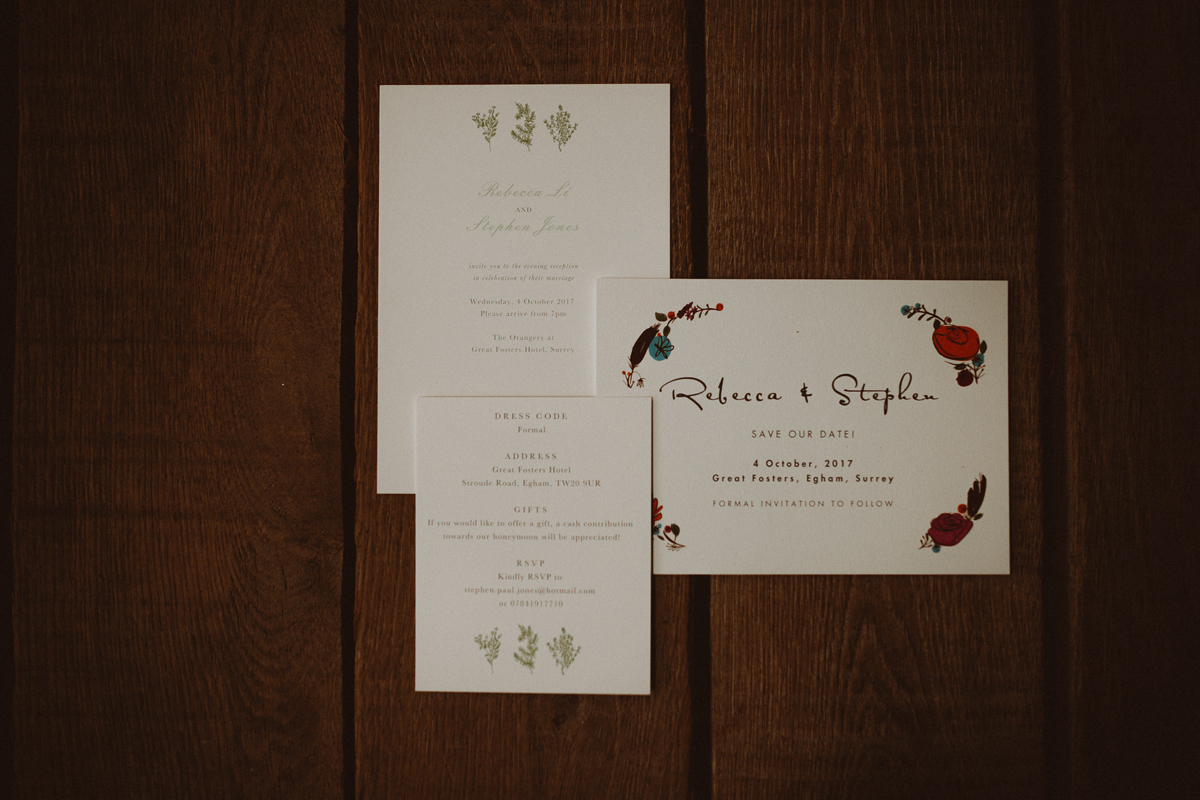 Becca's elegant ivory sandals were purchased from vegan shoe designer Roni Kantor via Etsy and made from man-made leather; something that was an important consideration for the couple. The bride accessorised with classic crystal drop earrings from Bridal Indulgence, a bracelet from MYJS Jewellery and rings from Vera Wang. As a wedding day gift, groom Steve gave his bride Jean Paul Gaultier's Le Classique perfume.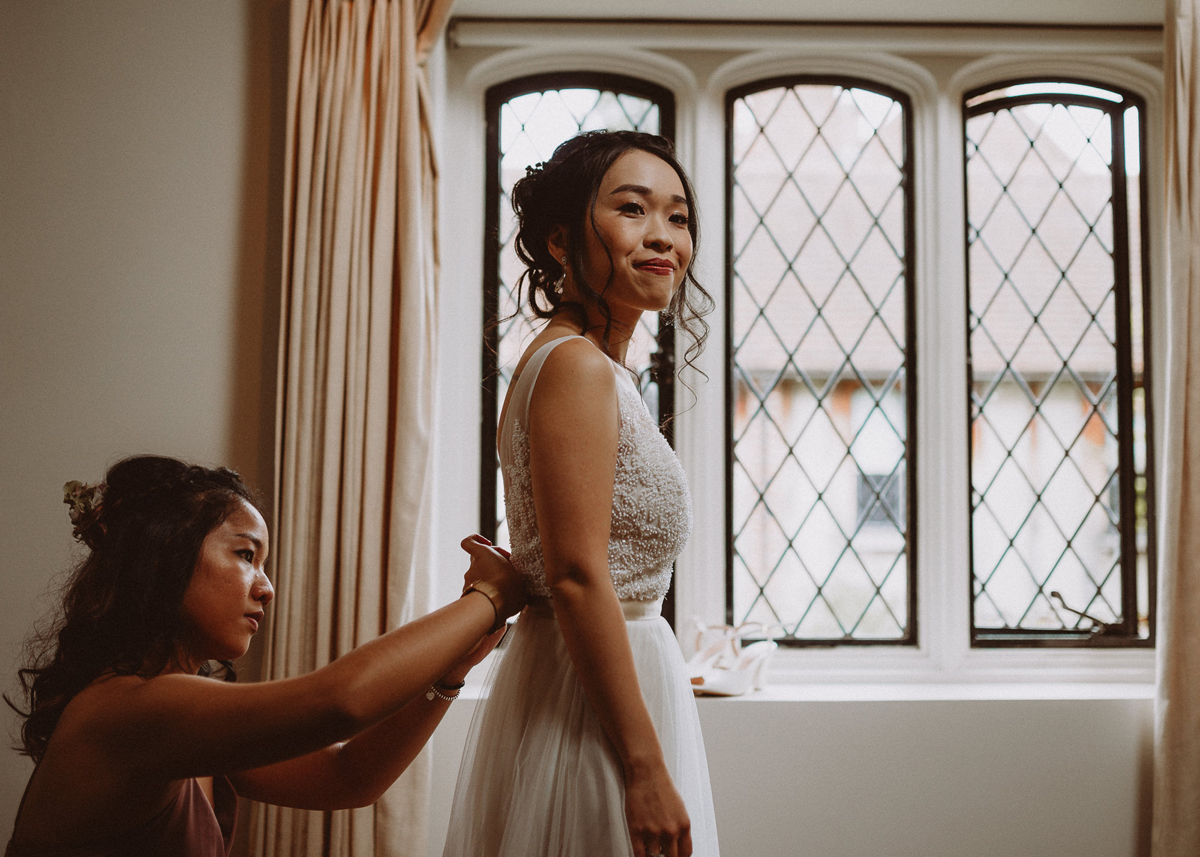 Friend Emma, of Emma at Home styled Becca's hair in a soft and romantic updo with a pretty braid and fresh burgundy blooms from the couple's florist. Make up artist Helen Andrew created a perfect autumn-inspired look for Becca; that beautiful deep wine coloured lipstick shade is so striking and dramatic.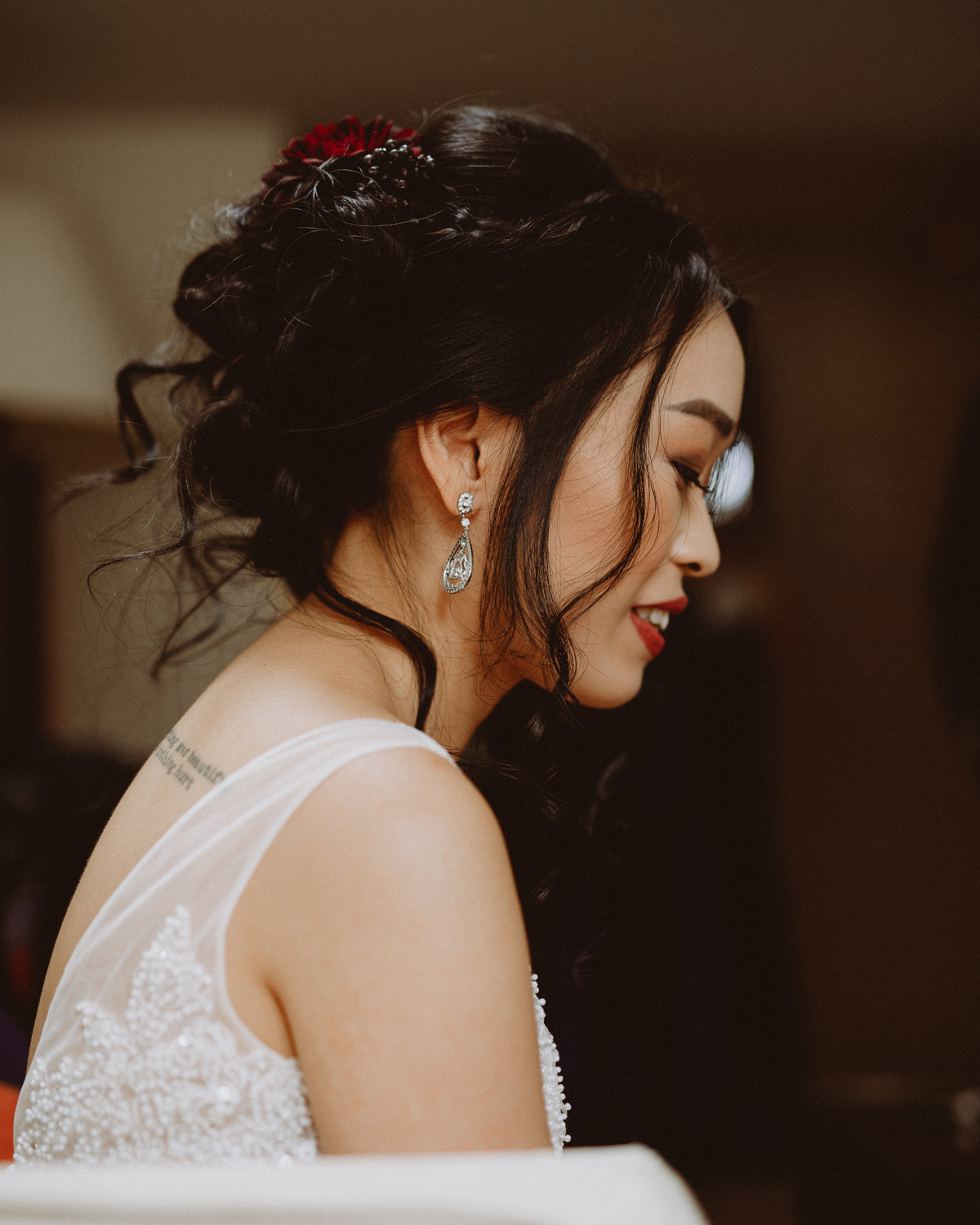 The wonderful floral arrangements for the day were created by Owen of Little Lillies, who worked with the couple to bring their dark and dramatic autumnal vision to life. There are so many lovely and unusual textures throughout, with sinuous woods, geometric dahlias and succulents and delicate roses.
"We wanted to play with autumnal colours, but didn't want to go down the orange path. During our consultation, I showed Owen some ideas from my Pinterest board, and we agreed that it would be lovely to play with some light (pinks, silvers, greens) and dark colours (burgundy, purples), to provide a contrast. I was very drawn to dark burgundy, which was the black satin dahlia in my bouquet."
"The shape of the bouquet (kiwi vine frame) and addition of coconut husk, were classically Owen and his favourite type of material to work with. I wanted him to create something that still represented him, as we adore his work. The echeveria flower was in all the groomsmens' and bridesmens' buttonholes, and Owen made a snowboard-inspired buttonhole for Steve, to reflect his passion for snowboarding."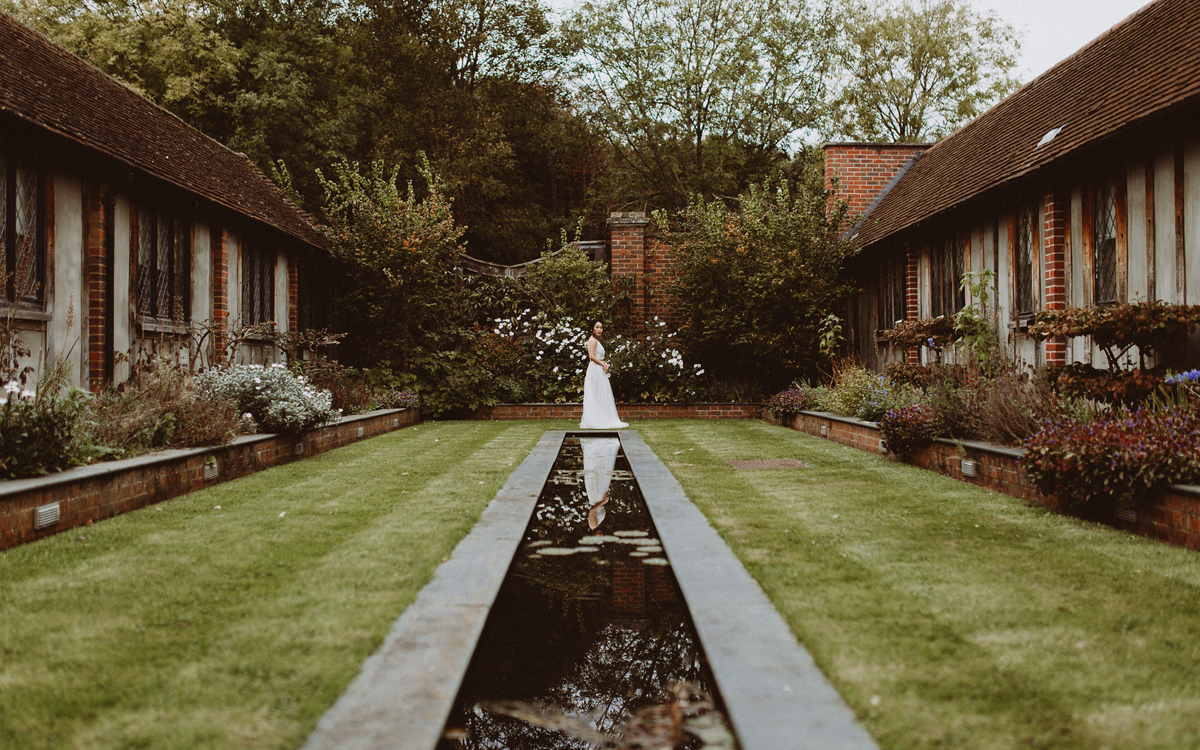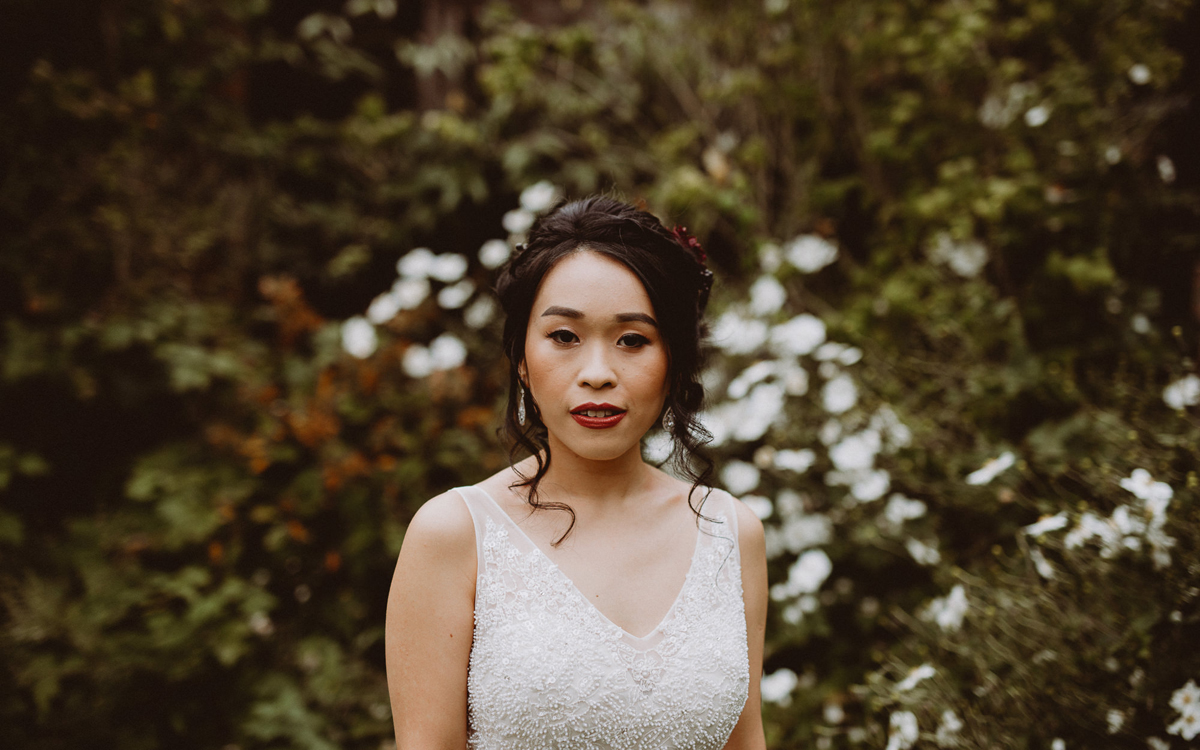 Groom Steve looked handsome in his navy blue suit and contrasting checked print waistcoat from Ted Baker. He paired the suit with a deep burgundy coloured woven tie, tie bar, cufflinks and shoes, also from Ted Baker, and a simple white pocket square from ASOS. His groomsmen also wore Ted Baker suits with matching navy blue waistcoats and cufflinks, as well as pocket squares from ASOS.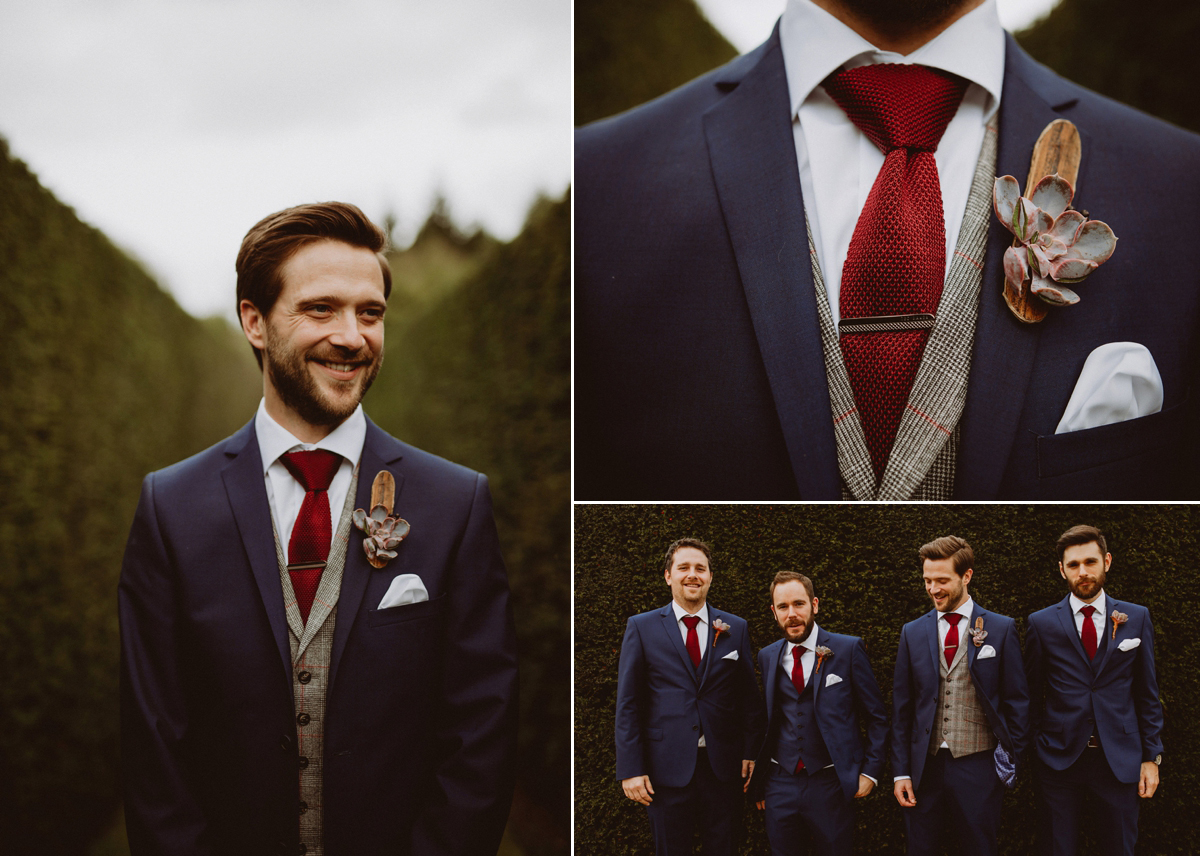 It's wonderful that Becca and Steve's wedding is the touching culmination of long-distance love.
"We met in February 2007 when Steve was on holiday in Singapore. I was working in a bar and we were drawn to each other the moment we met. We spent the entire 3 days of his stay together and bonded; it felt like we had known each other for a long time. This turned into a 1.5 year long distance relationship. However, as we were both so young (I was 18 and he was 23) and he was about to travel the world for a year, we split up but stayed friends. We decided to meet up again 5 years later (2013) and we rekindled our love. As we decided that we could not do long distance anymore, I moved to the UK for University and we moved in together. Steve proposed in January 2016 in Waverley Abbey, where we had often gone in our younger days."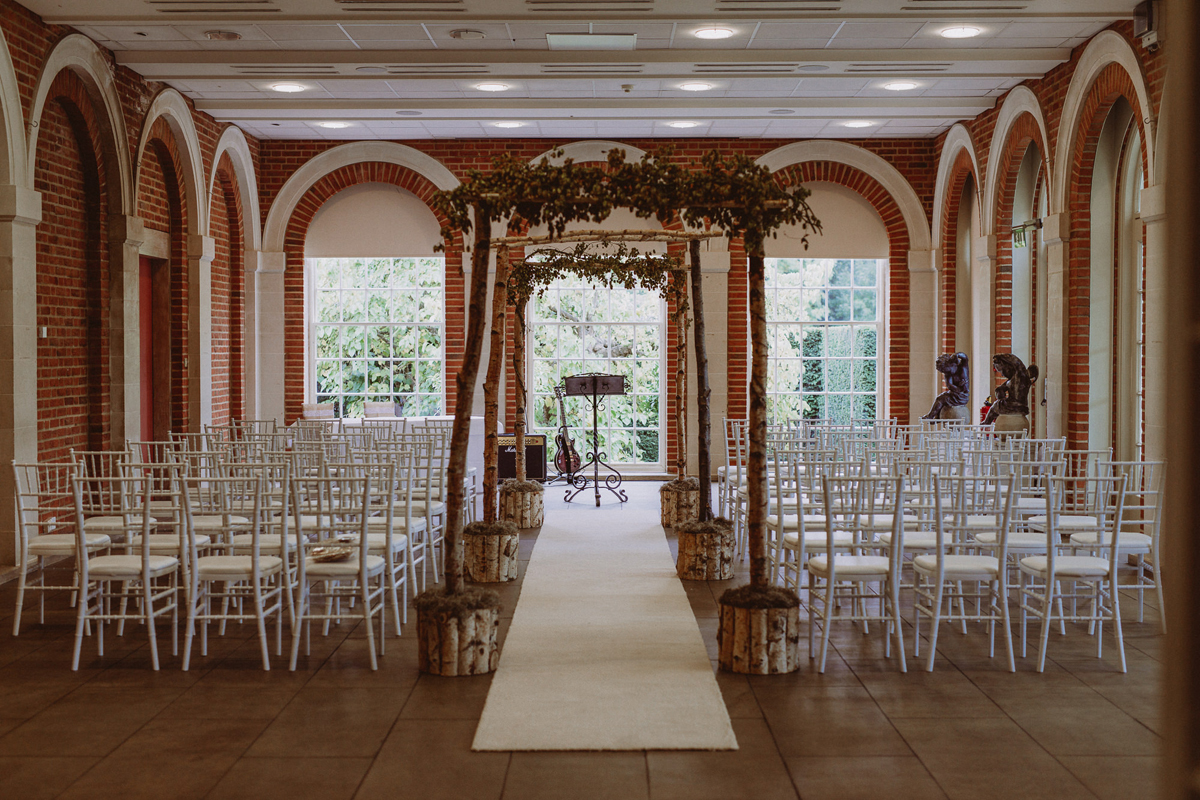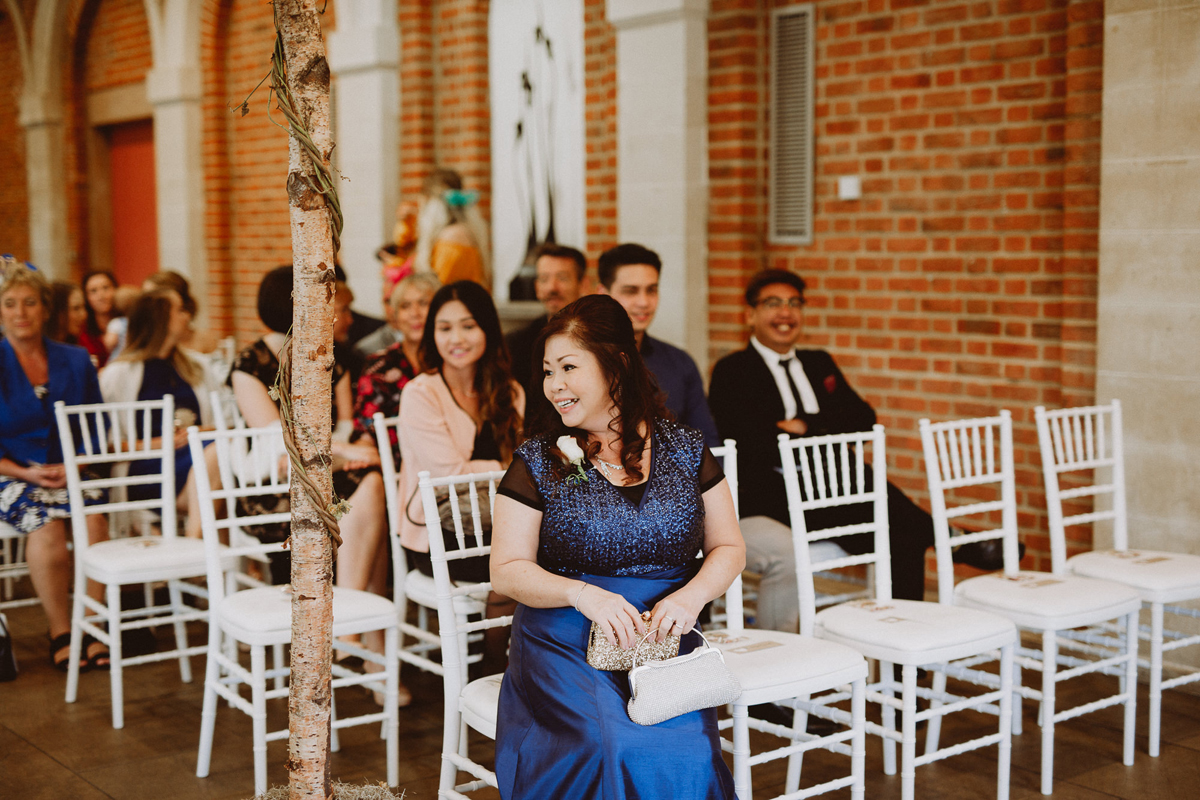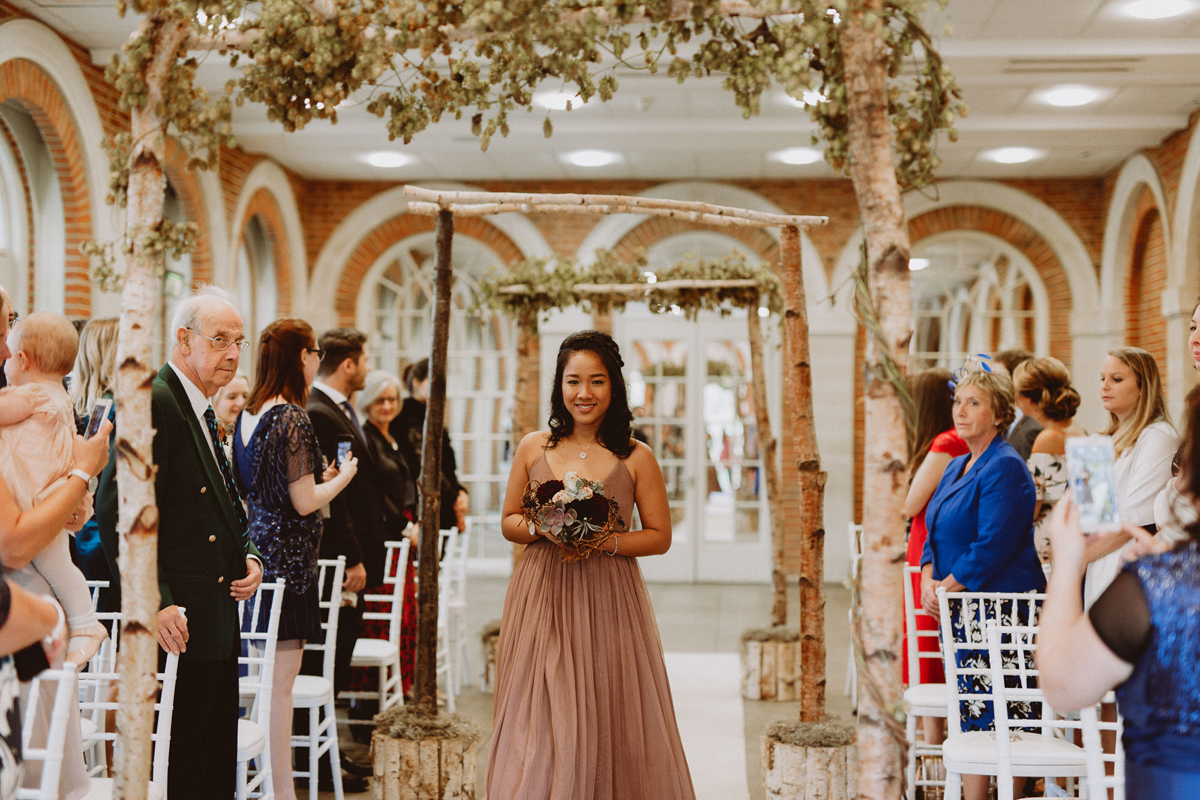 Becca was accompanied down the aisle by her Stepdad to the song Such Great Heights by Fleurie feat. LunaPier.
"We used Ginny Collins, a humanist celebrant. She was wonderful!"
The couple exchanged rings; Becca's from Vera Wang, and Steve's purchased whilst in Singapore and spoke specially tailored vows to one another.
"With this ring, I marry you and bind my life to yours.
It is a symbol of my eternal love
And my everlasting friendship.
You are my life, my love,
And I pledge myself to you for all eternity."
Becca and Steve's choice of reading is equally lovely and romantic – an extract from the movie Interstellar.
"Love isn't something we invented. It's observable, powerful. It has to mean something. Maybe it means something more, something we can't yet understand. Maybe it's some evidence, some artefact of a higher dimension that we can't consciously perceive. Love is the one thing that we're capable of perceiving that transcends dimensions of time and space. Maybe we should trust that, even if we can't understand it yet."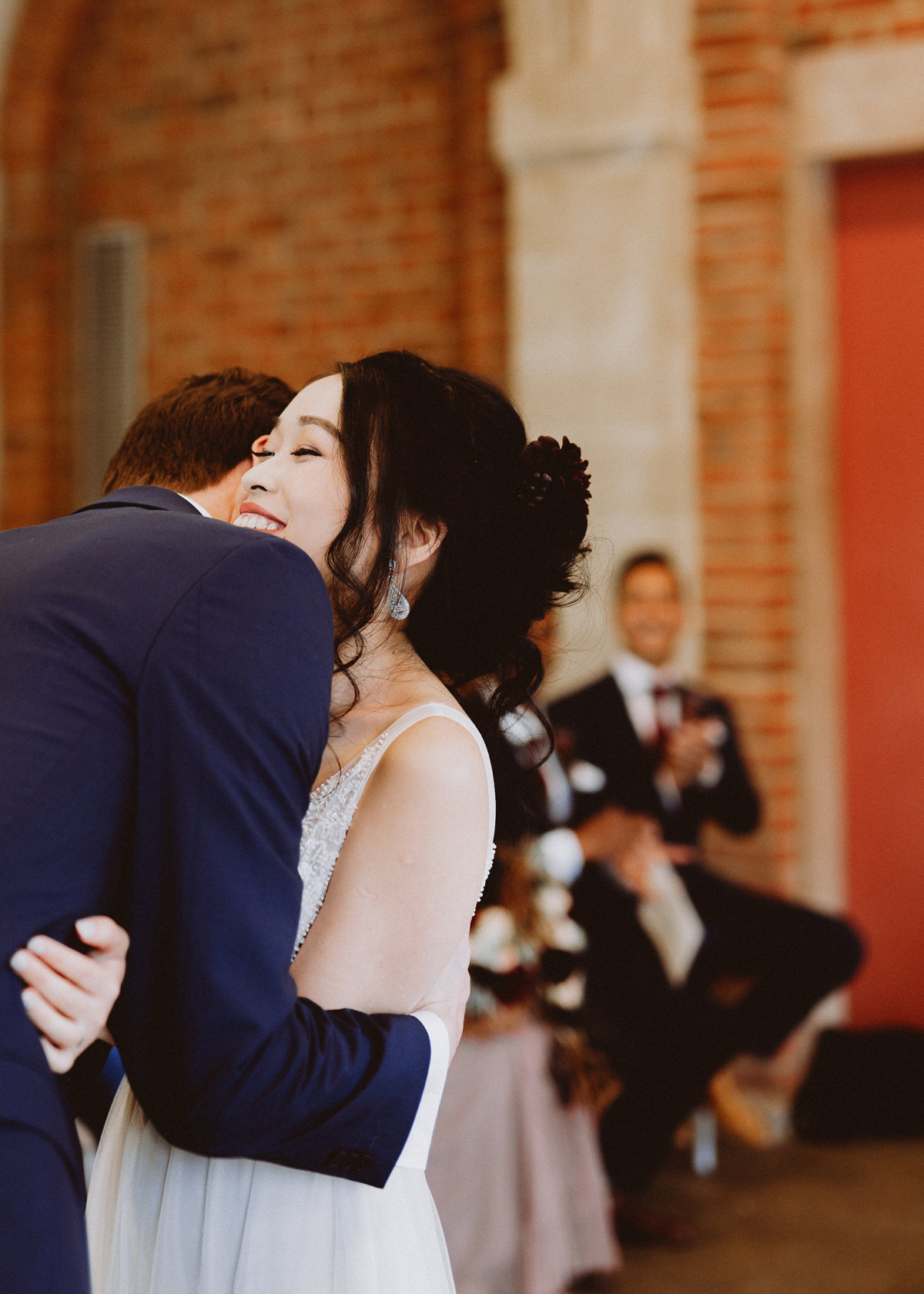 "The entire day was wonderful! I felt a lot less nervous after the ceremony. My favourite part was probably the meal, and getting to walk around to each table to speak to and interact with our guests. I also enjoyed the photoshoot, as it allowed us to have some time to ourselves to take it all in! I would have walked a little slower down the aisle, to try and savour the moment. It's easy to forget these things when the day flies by and you are trying to ensure that everything is going smoothly."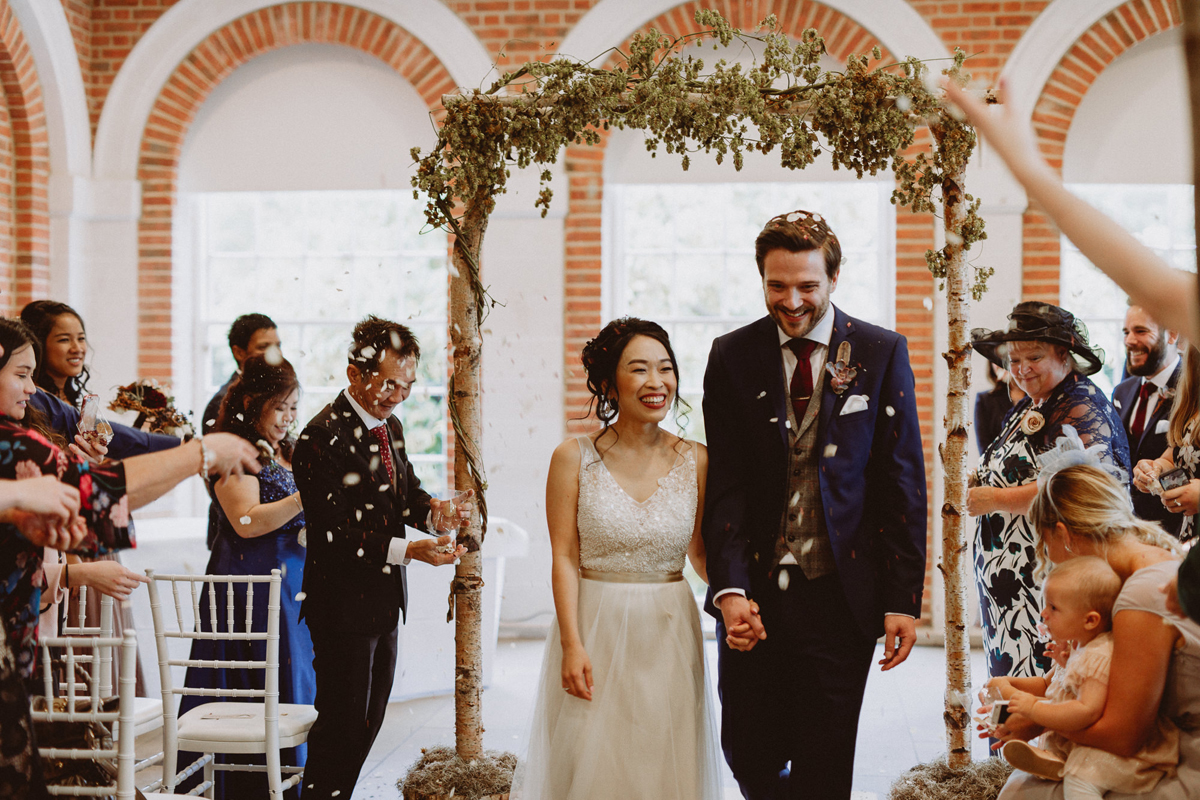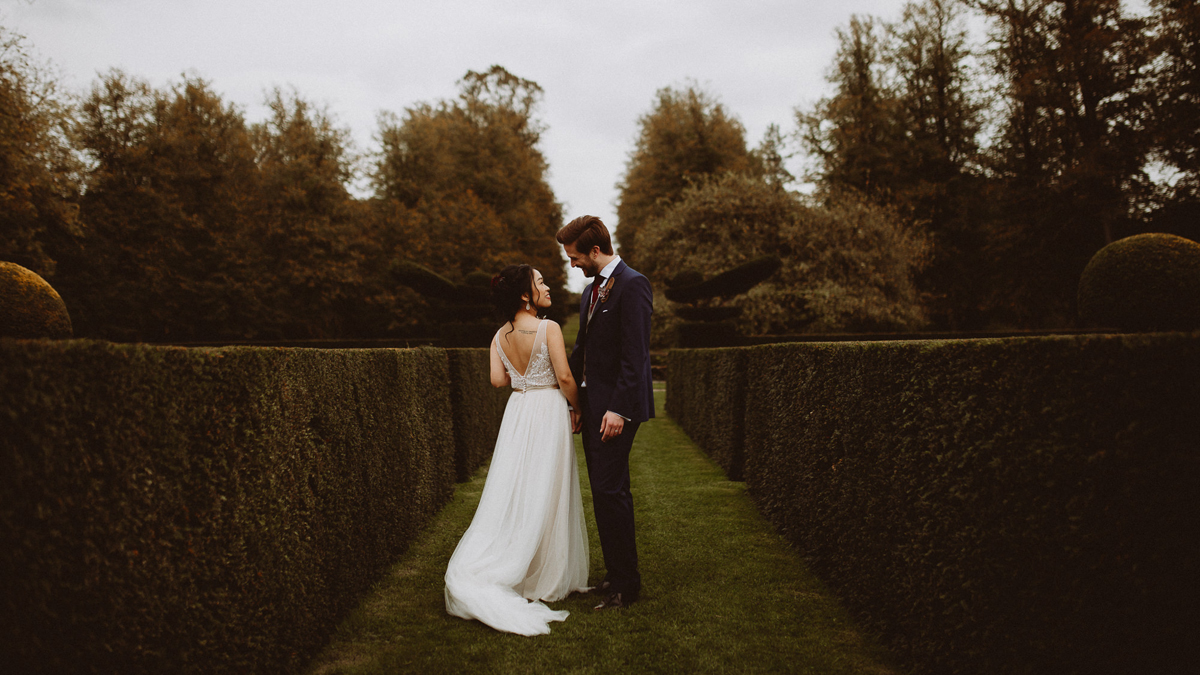 Emily & Steve Photography were the talented team who captured the couple's incredible day, making full use of the lovely autumn light and the stunning venue.
"Emily and Steve were a wonderful addition to our day. They were professional, creative, tasteful and made everyone feel at ease."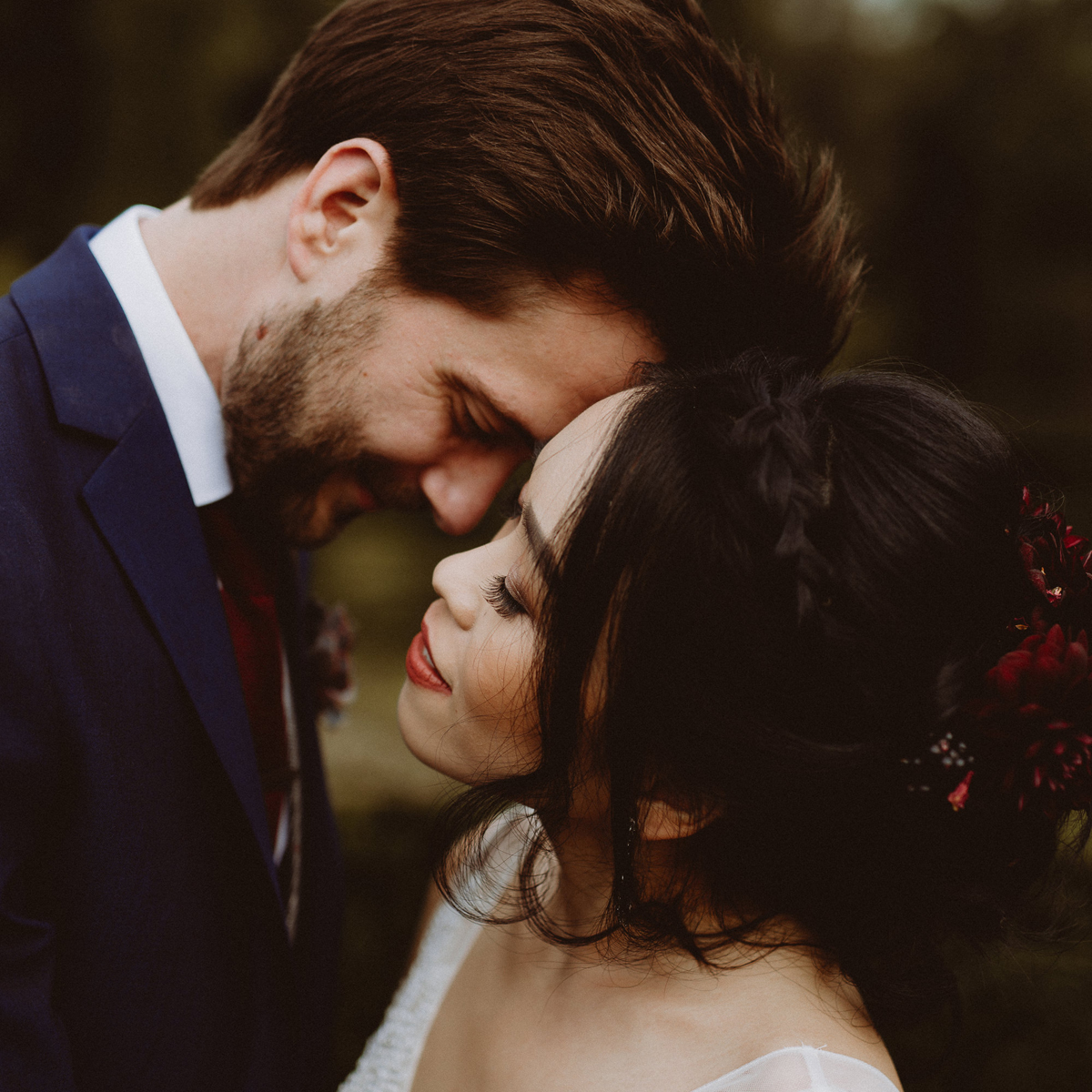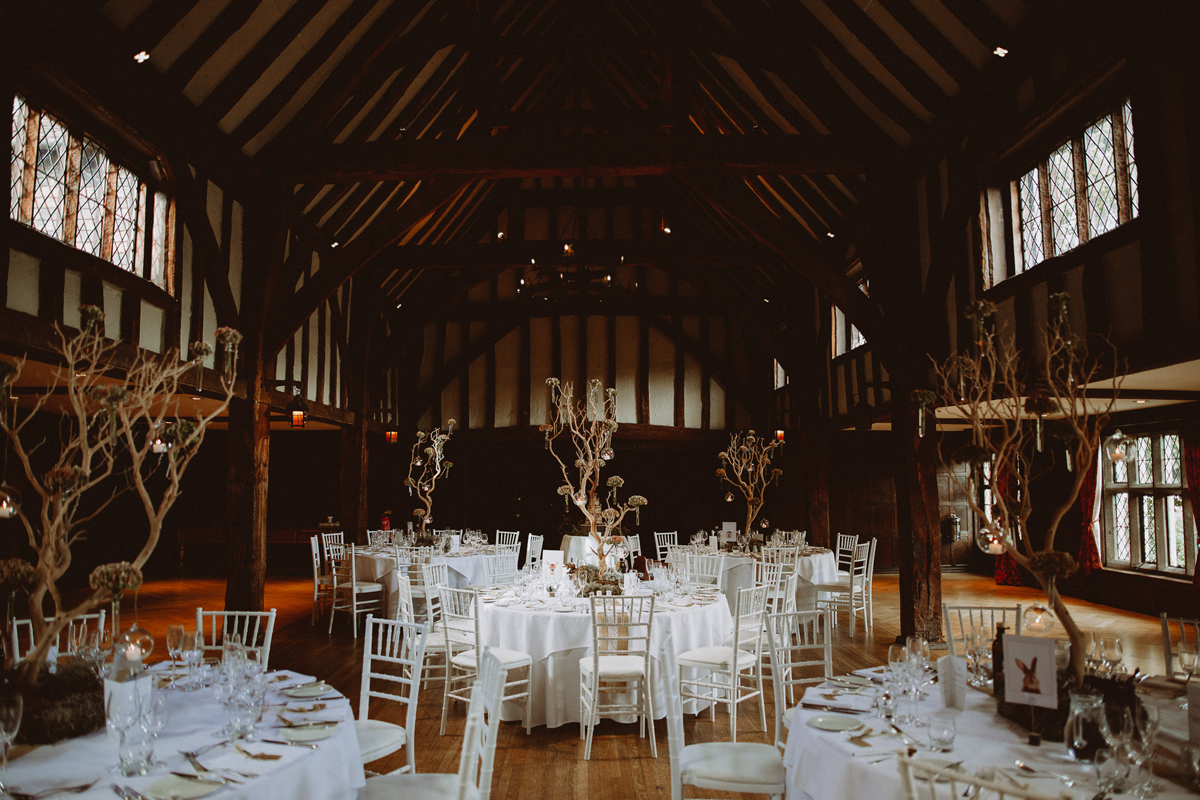 Table centrepieces were created by florist Owen of Little Lillies, and what an incredible job he did. On guest tables, sandblasted manzanita trees held antique pink hydrangea flowers and glass baubles with tealights, while on the top table, Owen made an amazing long and low forest scene, complete with branches, moss, succulents and more hydrangeas. All set within the Tithe Barn, with its weathered wooden beams, the whole effect is one of woodland enchantment, and just right for the season.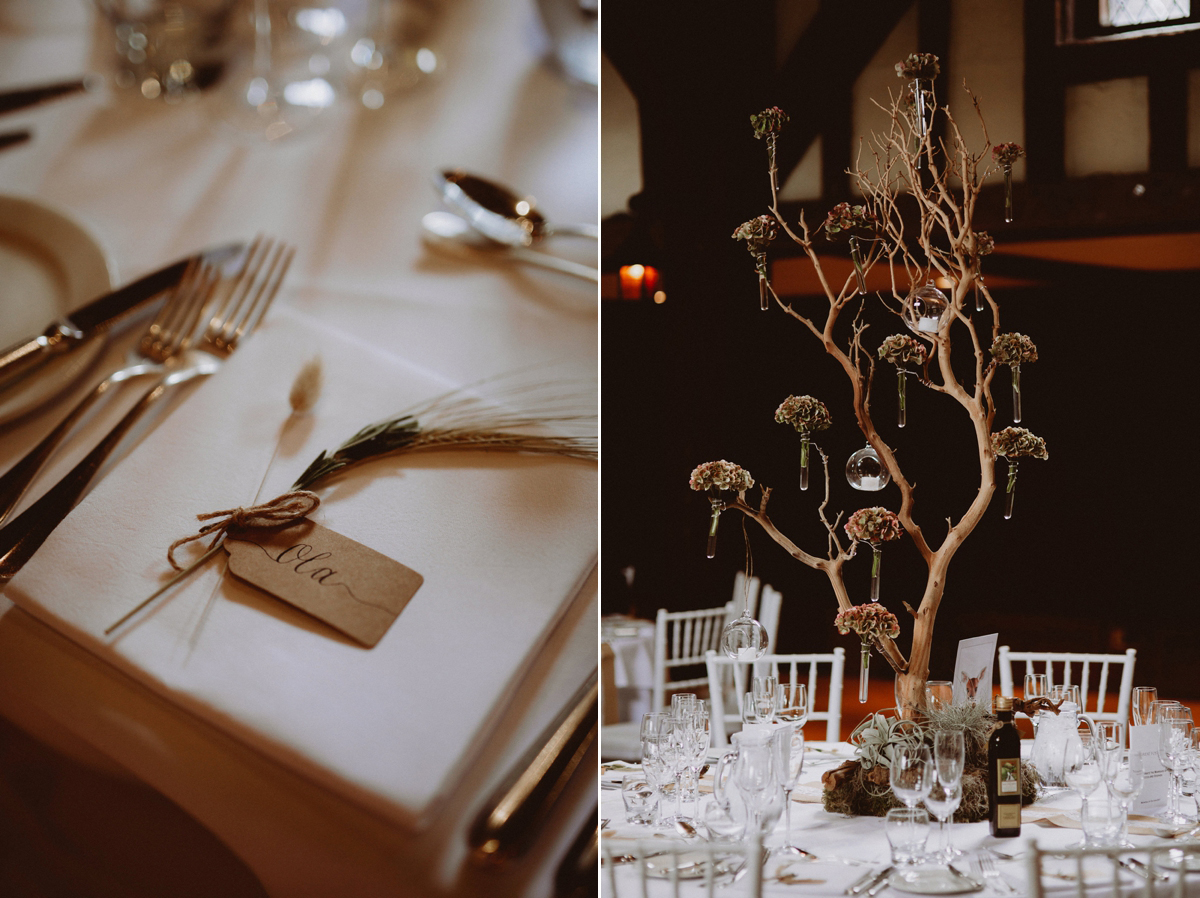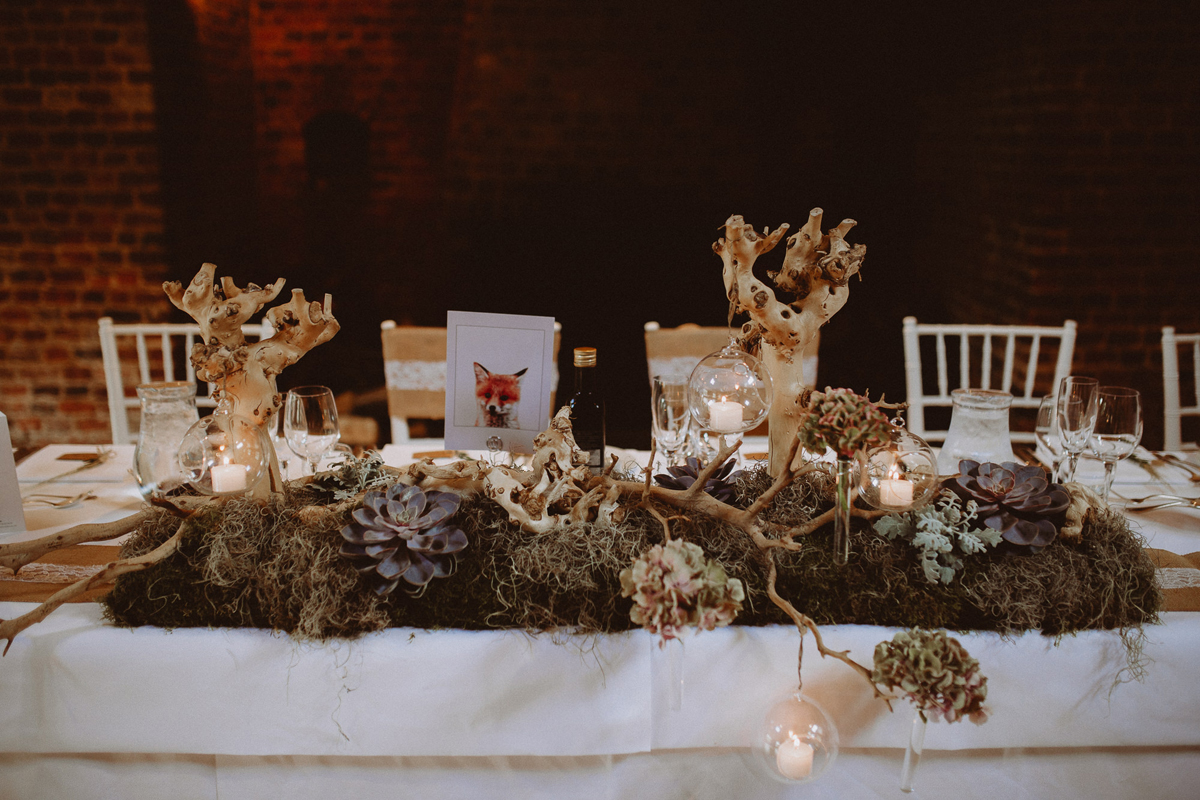 Guests enjoyed a meal from the team at Great Fosters, along with a delicious semi-naked cake decorated with flowers and berries sprinkled with a dusting of icing sugar, which was made as a gift from Steve's aunt and uncle, Deb and Chris.
"We wanted a semi-naked cake with flowers… to fit into our woodland theme. The cake topper was by Heartmade Cottage from Etsy and featured our cat, Lumi. The log base was rented from Little Lillies and  the flowers were also by Little Lillies."
Later in the evening, the happy couple danced together for the first time as husband and wife to You Belong to Me by Lifehouse.
"Our friend Andrew played it for us. It reminded us of thinking about each other, and in a way, still feeling a belonging to each other, even when we were apart and were on our own travels in different parts of the world."
Everybody danced and enjoyed music from the couple's friend Andrew, who played a 45 minute set before a DJ set from Firebird Events.
Words of Wedded Wisdom
"Make sure you pick a team of suppliers whose vision is in line with yours! When I was panicking in the lead up to the wedding, Steve would comfort me by reminding me what a great team of suppliers we had chosen, and what an amazing job they would all do."
"Take things one step at a time, enjoy the process, and remember to let yourself breathe. Know that it is ok to ask for help, or to freak out, but also know that it is all going to be ok! Also have lots of bubble baths and time to yourself. It's not easy juggling regular life, work life, and wedding planning."
Becca and Steve, thank you both so very much. Your wedding has been a delight to write about and a lovely autumnal treat, from the woodland theme to the amazing flowers and decor. It's truly heartening to see the joy of long distance love fulfilled, too. Thank you also to the talented team of Emily & Steve Photography for capturing the day. You can see more of their work gracing the pages of Love My Dress here, as well as more beautiful Wtoo by Watters brides here.
With love,
Laura