Happy May, lovelies! I hope you're having a really lovely week so far. It's going to get even lovelier when you see these images by Naomi Jane Photography – the bride wore a dress she made herself, and the reception was a home-spun affair subtly-influenced by the 50s and 60s. I hope I've well and truly whet your appetite with these details, so let's meet Eve and Dave
Costume and dressmaker Eve wed Dave, a nurse, on 29 April 2017 in an outdoor ceremony in the bandstand of the Horniman Museum in Forest Hill, South London, going on to Penge & District Trade Union and Social Club at Royston Hall for their family-focussed reception. As South East Londoners, the couple were keen to marry locally and the Horniman held many memories of childhood family outings, and recent times, as a couple, enjoying the view and alpacas. The charming afternoon tea reception had a subtle 50s and 60s vibe and most importantly, referenced the couple's history and family connections.  In the run-up to the wedding, Eve was a frequent visitor to these pages. Thank you so much Eve for your kind words about our approach to telling wedding stories.
"Love My Dress and Little Book For Brides were really useful resources when we were doing initial planning, and taught us what to look at and for in our suppliers. I really loved the focus on the dress on Love My Dress. Weddings are about being married and that's not forgotten, but as a dress-maker and clothes obsessive, its lovely to see a blog where unashamedly women can enjoy the detail and beauty of their wedding dress. The resources are great too, and helpful features on wedding dos and don'ts. I had to check several times that I hadn't forgotten something horrendously important!"
Photography Naomi Jane Photography
"I also particularly like some of the features in the Let's Talk section; honest discussions about how difficult it can be to balance the well-intentioned desires of your closest friends and family with your own and your budget, and still stay friends with your partner. Wedding blogs, in general, make weddings look too glossy, testimonies of the perfect life, when actually they can be a screaming mess of emotions; so to have them reflected is reassuring."As a costume designer, Eve clearly is very talented with needle and thread, and designed and made her breath-taking appliquéd gown in vivid blue herself. It is so, so unusual with its mid-length skirt and train overlay. She was aided by useful conversations with some of her costume and bridal friends, and the process was considerably sped up with some hard work by her mum.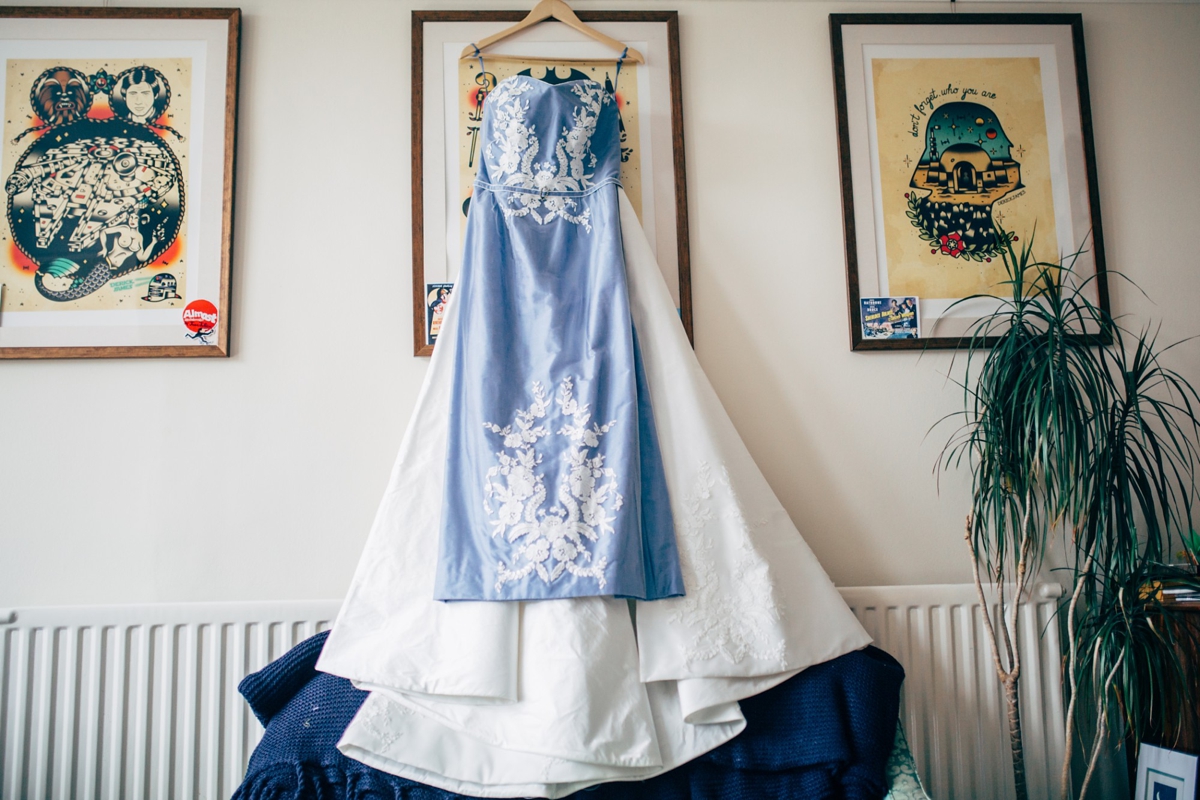 "One rainy afternoon at work my bridal designer friend Clinton Lotter asked me what my wedding dress would be like. Despite not having a boyfriend or any intention of ever marrying, some perseverance with the question later, I realised that one of my favourite dresses ever, the one I would love to spend the time recreating, was the party dress that Audrey Hepburn wears in 'Sabrina'."
"For some reason that stuck with me through the years and once engaged it basically became a life-saver. How anyone makes a choice when you are in the maelstrom of bridal shops, blogs and your over-helpful friends' questions I don't know, but after a quick investigation of what was out there I was convinced I had to make it and decided to revisit the 'Sabrina' idea. I toned it down and played around with different elements of it, to suit our more low-key day and my non-Hepburn-like figure."
"I already had the blue dupion fabric for the dress, a free remnant from a curtain shop I used to work in over a decade ago, and I found a matching ivory version for the overskirt from James Hare. The tulle was kindly donated by Clinton, the lace appliqués sourced from two different online ebay shops and some beautiful gold silk lining from Broadwick Silks."
"I'm not the most organised of people, with a tendency to leave things to the absolute last minute. I know more than one person was worried for me when due to work, I wasn't able to get started on the final top fabric version of my dress till the Friday a week before the wedding, but it was a relatively simple dress to make.
The most time-consuming bit was handsewing on all the lace appliqués, where I had some help from a very good friend Rachel and a huge amount of it was done by my mother, who is amazing in every way and I could not be more grateful and prouder to be her child. While making your own dress wouldn't be for everyone it was definitely one of the more enjoyable bits of the prep for me, particularly as it became so collaborative with my mother."
Eve wore incredible sparkling gold Christian Louboutin shoes, a gift from Dave for her birthday and Christmas the year before.
"I wore a bracelet my father had given me years earlier and a pearl necklace my oldest friend gave me on my 30th. Just a few days before the wedding, the same friend came over and gave me an early wedding present; some opal earrings. This incredibly thoughtful gift tied in with my opal engagement ring and my birthstone, not to mention looking perfect with the period feel of my dress (which she knew little about).
I would have worn them regardless of how they worked with everything, as it means more to me that special people were thinking of me that getting a perfect look, but it all fell into place!"
The couple's own history stretches back a long way, as they met back in school. Their relationship and commitment to each other became clearer as the years went on, as Eve explains.
"We first met in sixth form where he was the irritating class clown and I did my best to avoid him.  A year in and some engineering of a friend of mine later, I was persuaded to at least pretend I found him funny, beginning almost a decade of on and off as we slowly grew up and learnt how to talk to each other. Several other relationships, life changes and haircuts later everything seemed to click and we now have a partnership that works."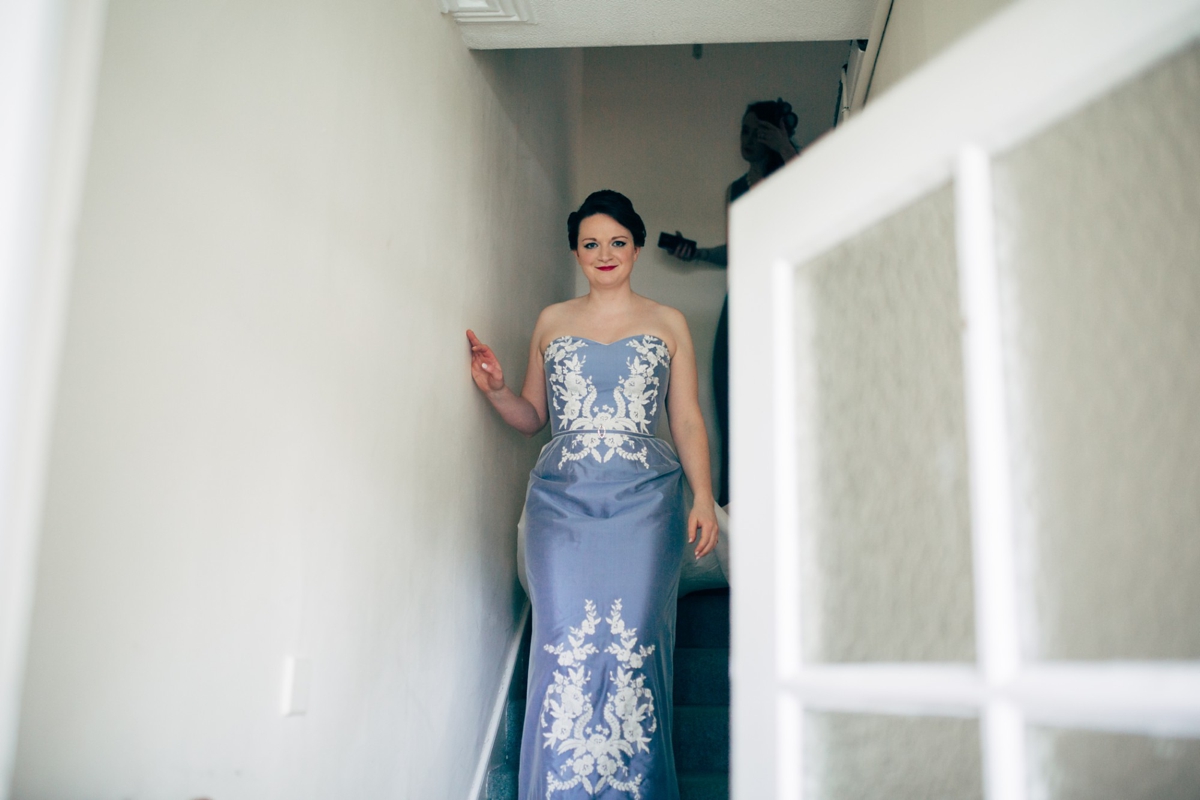 "Over the years we had discussed marriage, and I had always been very against and he had always assumed we would. As I entered my 30s and our most recent incarnation of a relationship, the balance had shifted to us both being more open-minded about it. When one of my sisters died, I began to appreciate the value of family and suddenly the idea of having as much as possible and celebrating these bonds had a strong value to me. I certainly don't think marriage is the way forward for everyone, but I think especially after our tumultuous past, it was a statement to make to each other and our weary friends and family."
"Dave proposed at the end of a long week when I was half asleep on the sofa. He may have had to repeat it a few times as I tried to work out why he was kneeling on the floor, so he definitely won in terms of the surprise factor. Having watched several friends plan their weddings for years, I knew that wouldn't suit us so after a couple of weeks we began to make some plans."
"Just over a month later we had most of the big stuff organised for a wedding six months later. The night Dave presented a ring to me we had an initial over-excited conversation, which basically made clear the fact that I wanted an intimate local affordable wedding, while Dave just wanted a huge party. Whilst nobody needs to sell a party to me, I didn't like the idea of being the centre of attention, so most of the wedding planning was based around what was the compromise between these two opposing ideas."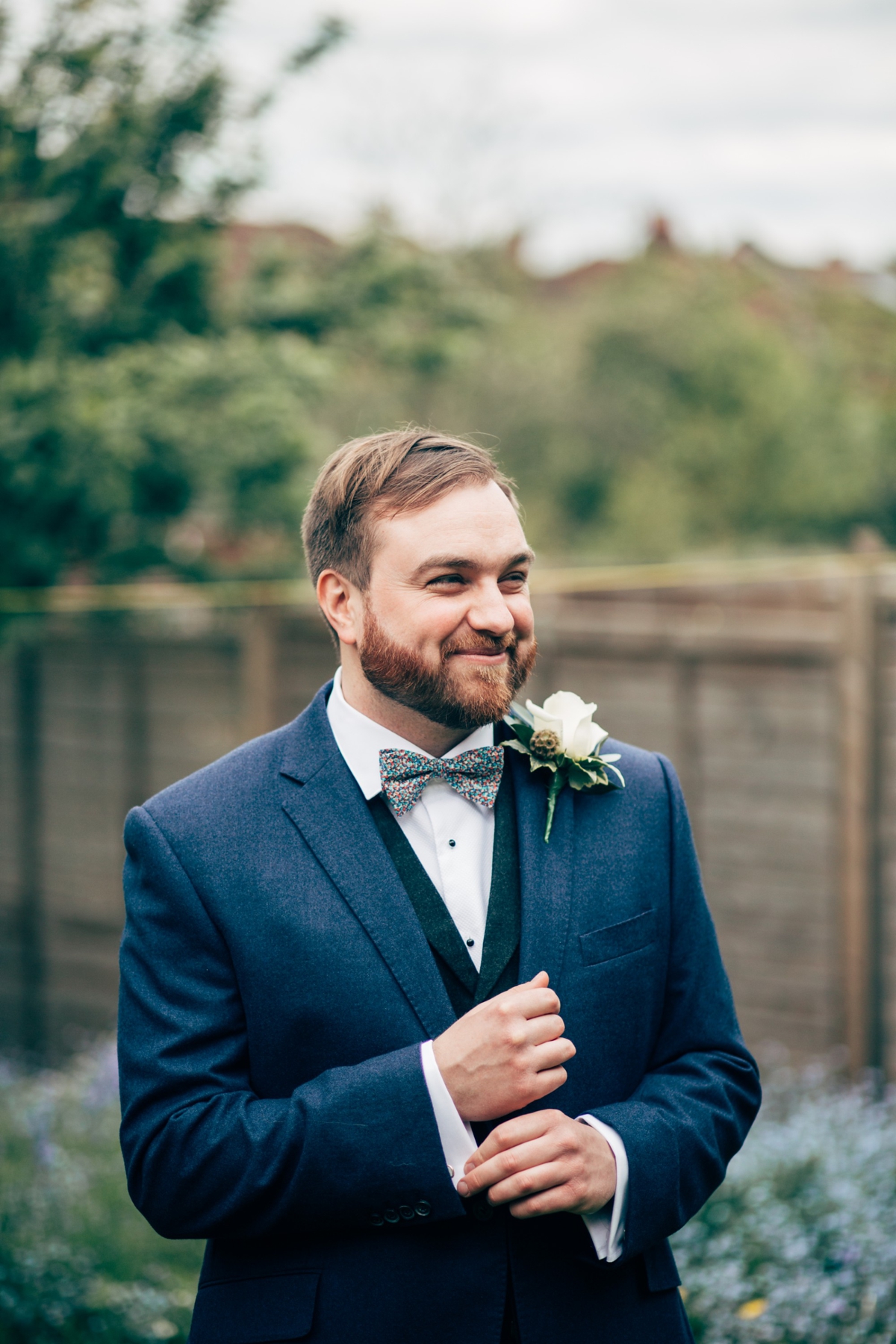 The couple chose to have a 'first look' before walking down the aisle to the bandstand together to make their vows.

On the wedding morning, Eve was busy setting up the reception venue but managed to take time out to get her hair styled into an elegant chignon, and subtly era-inspired make-up applied.
"I decided to have my hair done by a local hairdresser, Stacey at Over The Top Hair Design. Not only was she excellent, it also gave me an hour on my own at the salon after an overwhelming morning organising too many people and setting up the reception venue. Much needed! I had intended to do my own make up, but thankfully got cold feet about it with enough time for the wonderful Nadine Pyke to come to the rescue."
The early spring of 2017 scuppered Eve's plans for home-grown tulips, but the couple were helped out by Dave's old school friend. Eve grew pots of herbs too, to give to her guests as wedding favours – what a great idea!
"I am an enthusiastic if inconsistent gardener, so I had quite a clear idea of the kind of flowers that I liked. We were both keen to use things that were as simple and as seasonal as possible, both for cost reasons and to minimise the environmental impact. As it was late April, and I adore tulips they seemed an obvious choice for table decorations. The initial plan was to grow some in pots for the tables, (with a florist making up my bouquet and buttonholes) alongside all those I have every year in our front garden, but sadly it was a very good early spring and I couldn't slow them down! Although they weren't ultimately used they are now planted in all our gardens and will hopefully show up next year too!"
"The family of a school friend of Dave's owns Floral Hall in West Norwood so they were the obvious choice for a florist. His mother, Sally, knew exactly what I wanted for the bouquet and buttonholes very quickly and was amazingly reassuring, and they also stepped at the last-minute to replace all the too early flowering tulips that I had grown for table decorations, with simple but beautiful bunches of tulips. The bouquet and button holes were a mix of early spring flowers with pastel colours and green-blue foliage to mix well with my blue dress, and the bouquet was in a cascade style and just the perfect size."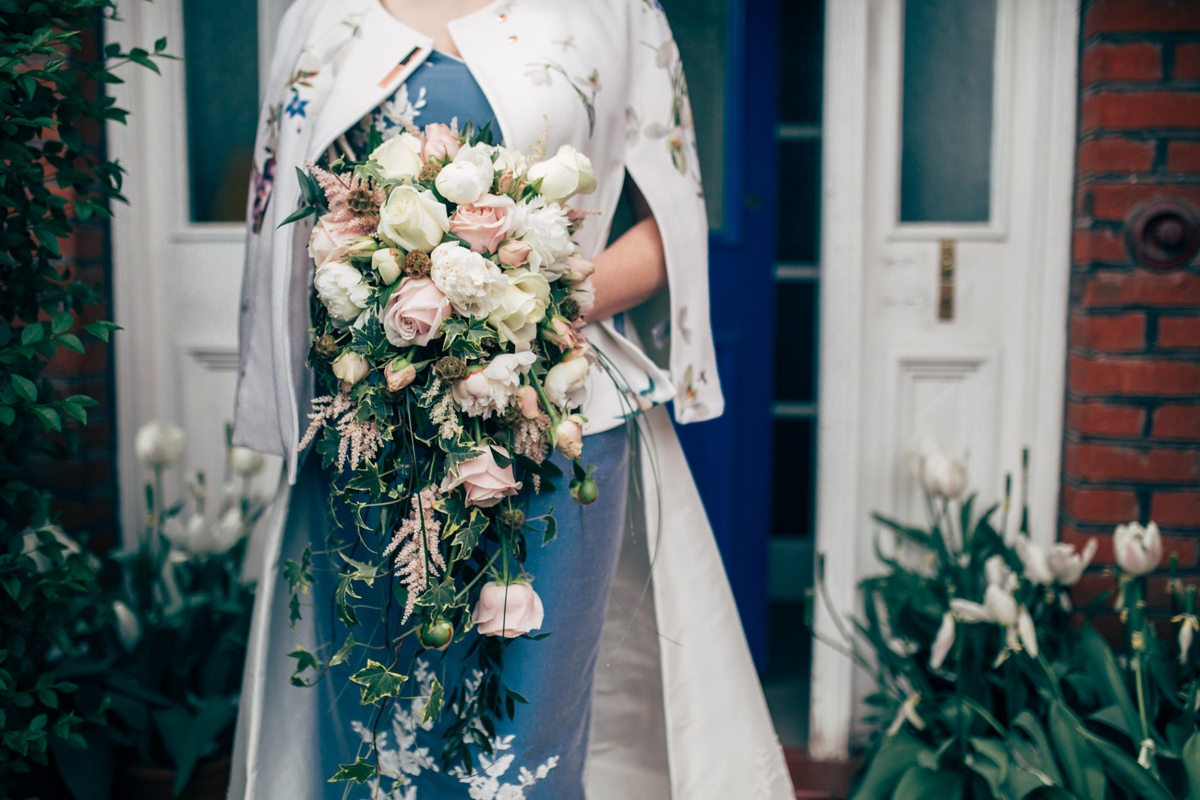 "We decided early on that we wanted to get married locally, partly to make it easy for our friends and family but also because we love where we live. We both like exploring but we are definitely South East Londoners and wanted to reflect that, so after ruling out our too small local registry office we widened the net to other licensed venues. The Horniman was literally our closest venue. It might be famous for its stuffed walrus but it's one of my favourite places and luckily Dave liked the idea of the bandstand and its amazing view into London!"
"We accompanied each other down the aisle, which felt to me like a more appropriate way to start married life. Dave took a little bit of persuading as he's traditional at heart, but I felt very strongly about not being given away and I'm so glad we did it together. I am not a fan of being centre of attention and dreaded the walking in, especially as we had quite a long visible entrance through the grounds of the Horniman Museum. Walking in united and seeing all our family and friends is a really special memory."
"We walked into Morecombe and Wise's 'Bring Me Sunshine'. We were struggling a little as we wanted something upbeat but respectful of the situation, something sweet without being too saccharine."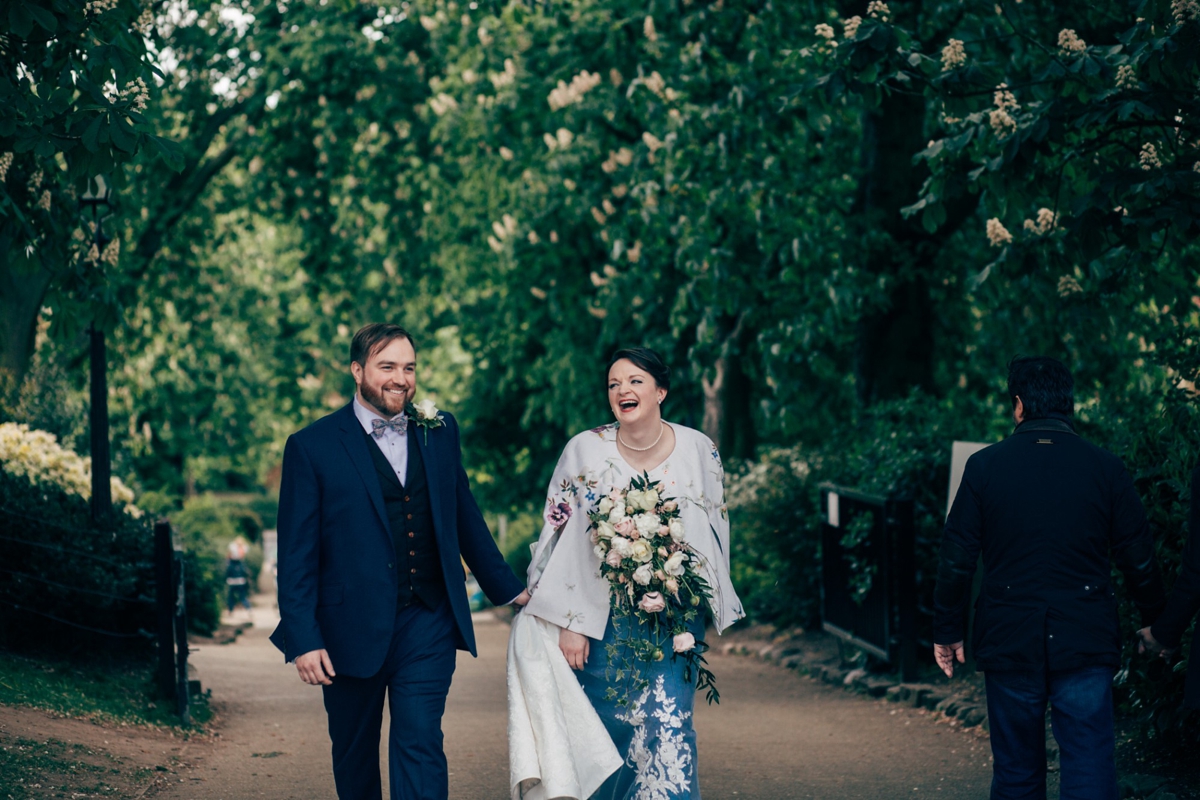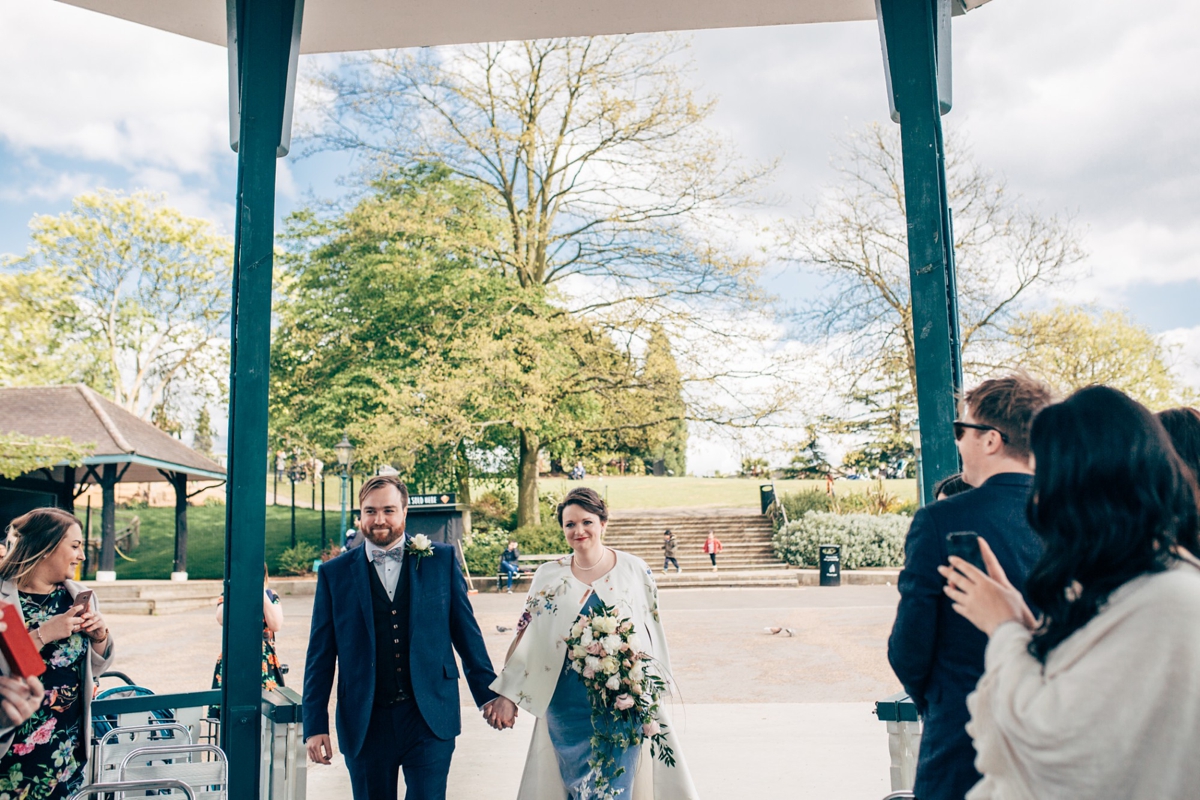 Dave found his smart suit at high street faithful, Marks and Spencer. Eve made him a beautiful custom-made waistcoat, and he added Paul Smith polka dot socks and a quirky bow tie from Liberty.
"Prior to the wedding, when it became clear I wouldn't have time to make him a suit, he searched the high street but couldn't find anything he preferred to his faithful Marks and Spencer's suit (to be fair, it is part cashmere and much nicer than the norm for high street menswear), so he decided to stick with it. I made him a waistcoat to go with it, from cloth he chose on Berwick Street, although he has since asked where the rest of the suit is."
Dave and Eve planned a simple ceremony, focused on the exchange of their vows. Their rings were simple bands made by jeweller Patrick Wyatt.
"Dave's was made out of a family ring which was in keeping with his grandmother's ring that I wore as an engagement ring. My wedding band was made from rose gold. They were recommended by a friend who was a couple of months further down the line of wedding planning and were just the nicest people."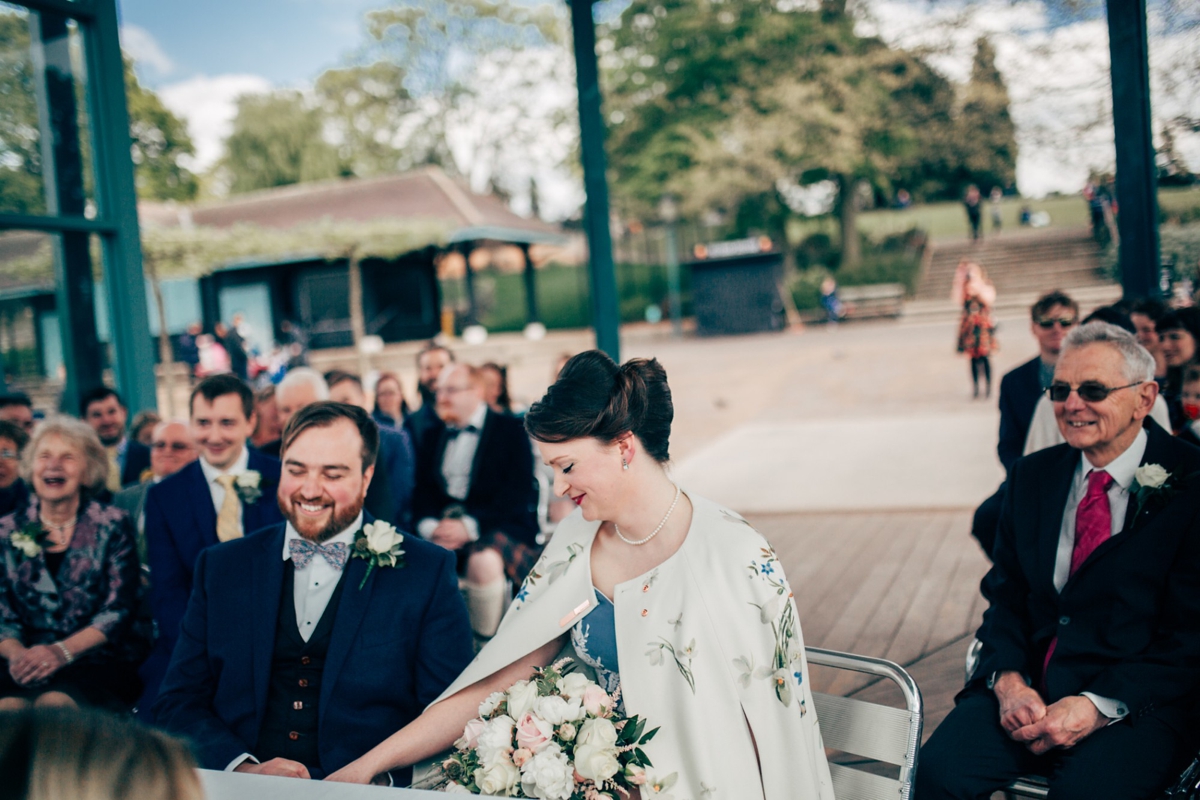 "The only input we really had in the ceremony was to choose to play 'Toothpaste Kisses' by The Maccabees during the signing. We both love The Maccabees and had seen them together a few times, with this song being a particular favourite of mine. It is as about as romantic and sentimental as we get, and meant a huge deal to hear it played during the ceremony."
"The ceremony was far and beyond my favourite bit of the day, including walking up the hill to the bandstand and spotting all our family and friends waiting (somehow such a surprise!), with my partner being uncharacteristically nervous and making terrible jokes (more normal), his friends amusingly messing up the music and the smiles of the faces of everyone every time we turned round. The reception had eaten up a huge amount of my time and energy, leaving us to slightly overlook the ceremony (we just turn up and say some words and then we can have some drinks right?) so the sheer moment of it really surprised me."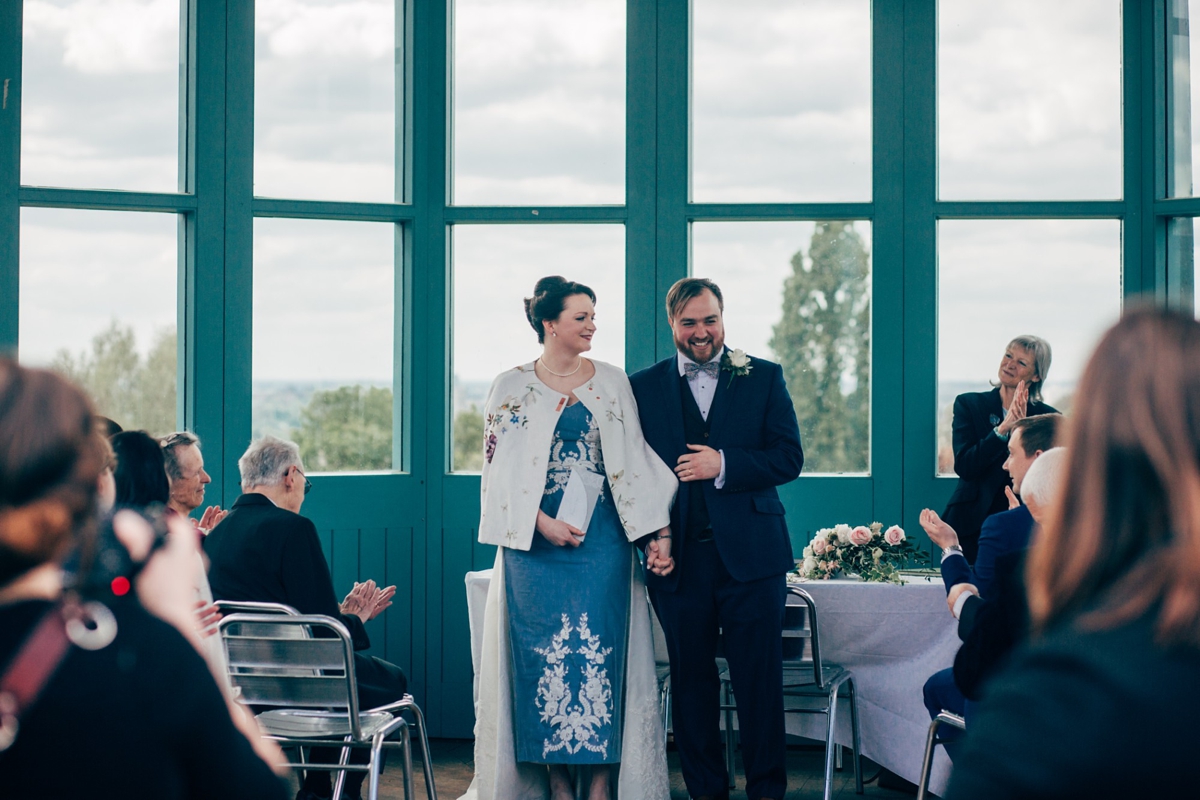 Eve and Dave asked photographer Naomi Jane to record their day; I really love the informal shots of the guests enjoying the fine weather after the bandstand wedding, and those of the couple's 'first look' are so beautiful.
"Dave and I are not very camera friendly so very honestly, the photographs were something we both dreaded. I make an effort to smile but look forced and Dave can't resist a stupid face, so coupled with the high emotions of the day I really didn't expect much of us."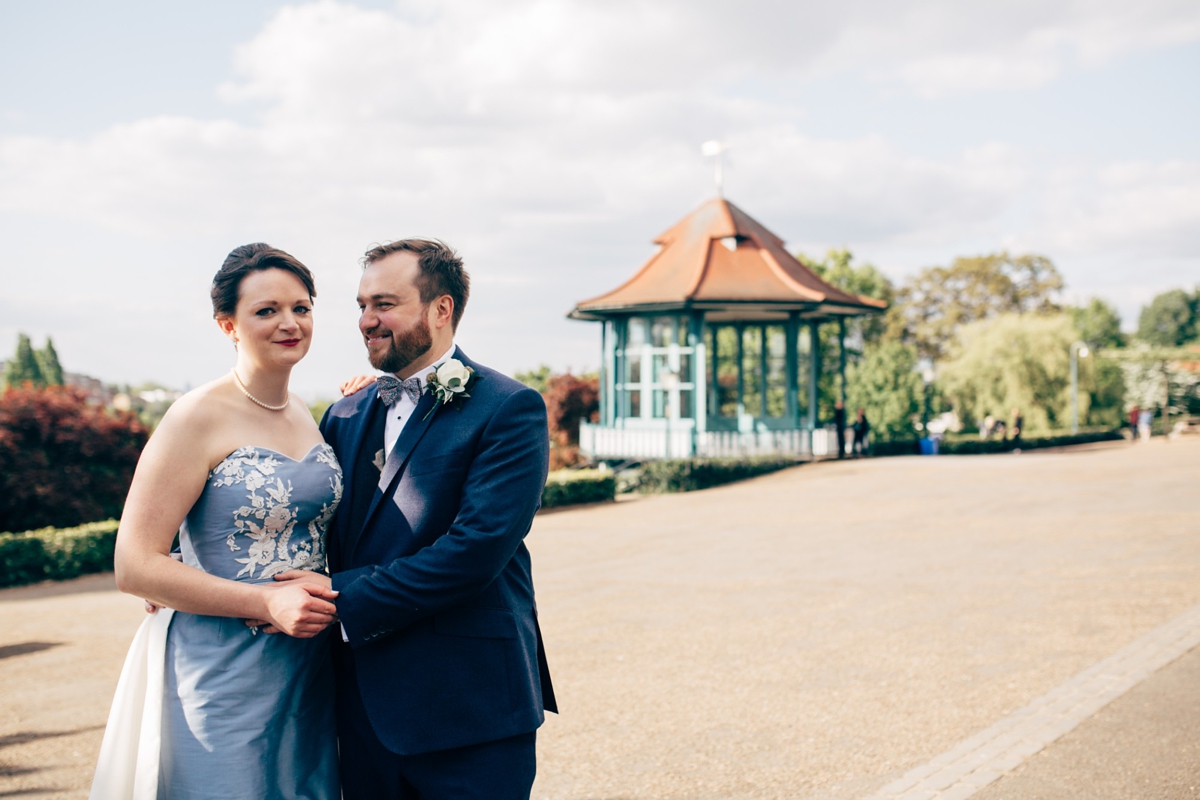 "Naomi was perfect though: unobtrusive at the right moments but helpfully organised and almost bossy when it was needed. We have some great family shots, despite both our families akin to herding cats and our own tendencies to disappear off. Before the ceremony and after, she was great for making us take a moment or several to breathe and remember. Quite honestly those moments were the best bits of the day!"
"I was so grateful to have her there on the day, especially at the beginning in the massively excited, panicky muddle but I am also pleased with the photos. Both of us are so surprised by how many we like of us, and we love that she and her lovely second shooter Flo captured so many things we didn't get to see. As well as the posed shots, she also kept in some where we were photobombed by innocent passers-by (the grounds of the Horniman are a public park) or were congratulated by strangers. It absolutely captures the joy I remember of that moment."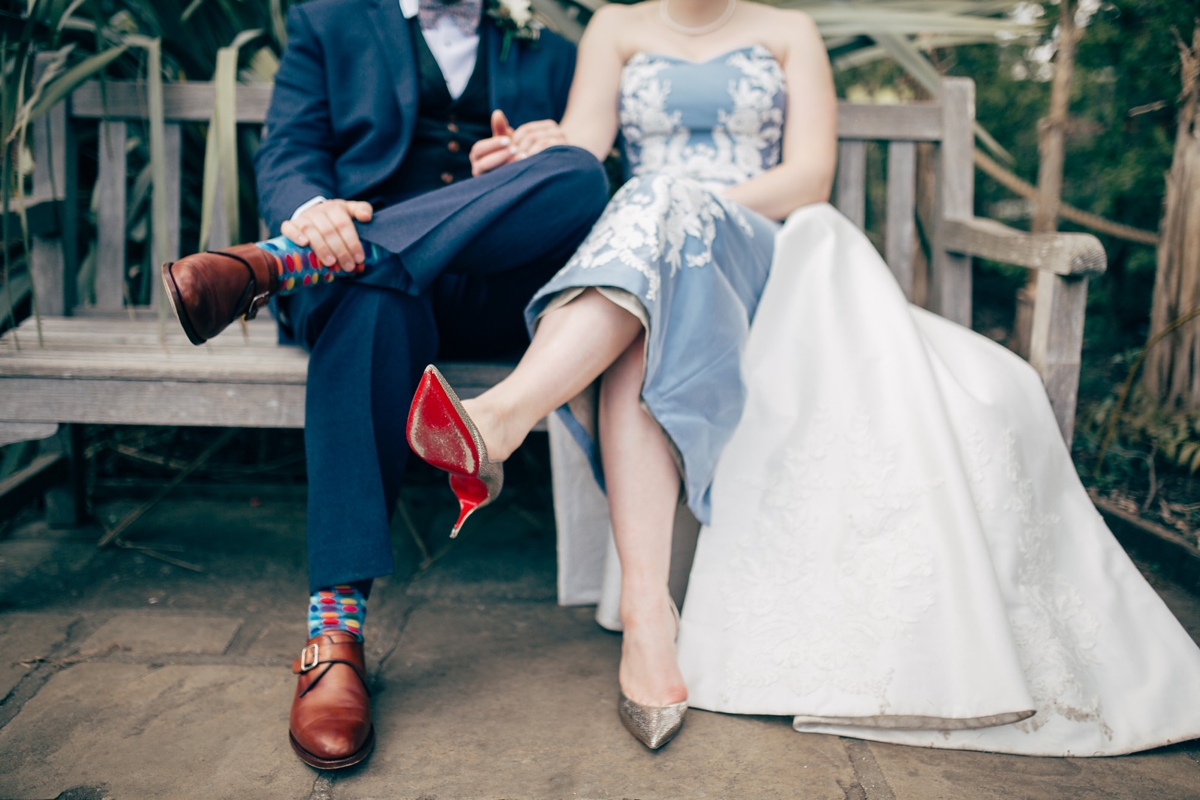 "My partner's favourite part of the day were the photos after the ceremony, partly because he had been dreading it and they were really fun (thank you Naomi) but also because he remembers the time being alone and letting everything sink in."
With two London venues, Eve and Dave organised an old London Routemaster bus to transport their guests from the Horniman Museum to Royston Hall.
"It was one of our more extravagant spends but it was enjoyed by so many people. It sounded like it was a lot of fun so it almost seemed to be a bit sad that we stayed at the venue for photographs. They even let our youngest bus enthusiast (age three) sit in the front seat for photographs."
"With the reception, the Royston came up as a nearby hall and was about the right size. After a quick visit we were sold on the faded glamour and open-minded attitude of the manager. It all felt effortless, particularly when we were discussing our plans with my partner's parents and it turned out to be where they first met, in its former guise as the ballroom home of dancers Frank and Peggy Spencer.
It felt serendipitous to have accidentally organised our wedding at a place my future in-laws had such a sentimental connection to and balanced out my family history at the Horniman."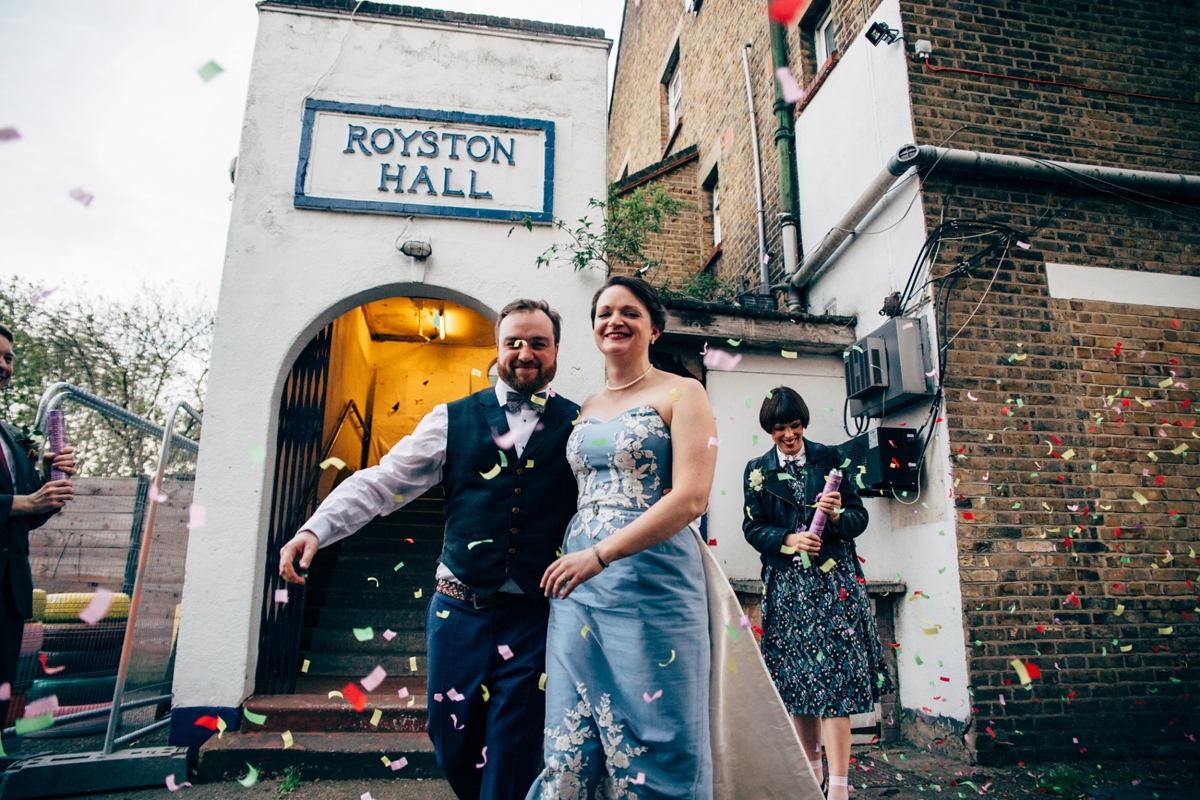 The morning of the wedding was spent decorating Royston Hall, really enhancing its faded glamour with a few carefully-chosen additions.
"We didn't want to spend a ridiculous amount of money once we had got the essentials so we kept decorations very simple. The venue itself was once glamorous, and while the mirrors and beautiful wall lights remained, it was run down and a little dilapidated, so we had some fairy lights strung up around the room by STLS Events. They were brilliant; the original plan was thrown out the window at the last-minute but they flexibly replanned and got on with it, and it definitely added atmosphere and warmth to what was a very large and faded room."
"They, with the venue staff, also managed to reconnect the old disco ball, which was down when we initially arrived to set up. It may sound silly, but it seemed impossible initially to put it up and it was quite devastating (bear in mind we were very stressed and nervous), as how you can have such an old beautiful dance hall without a disco ball? Thankfully though, they all persevered and by the time we arrived for the reception it was up: amazing!"
"My sister also helped us to put on a photo area with a photographer, which alongside the band, was probably the best bit of the evening. Some of the photos from the end of evening are… eye-opening!"
The newly-weds stayed true to themselves with their food choices, hiring Mrs Jones Tea to put on a delicious-looking, decadent afternoon tea. 
"She literally could not have done more. Not only was the food wonderful but she picked up all the disorganised pieces we left scattered around and made everything work for us, acting as host and organiser. I could not be more grateful to her and her staff!"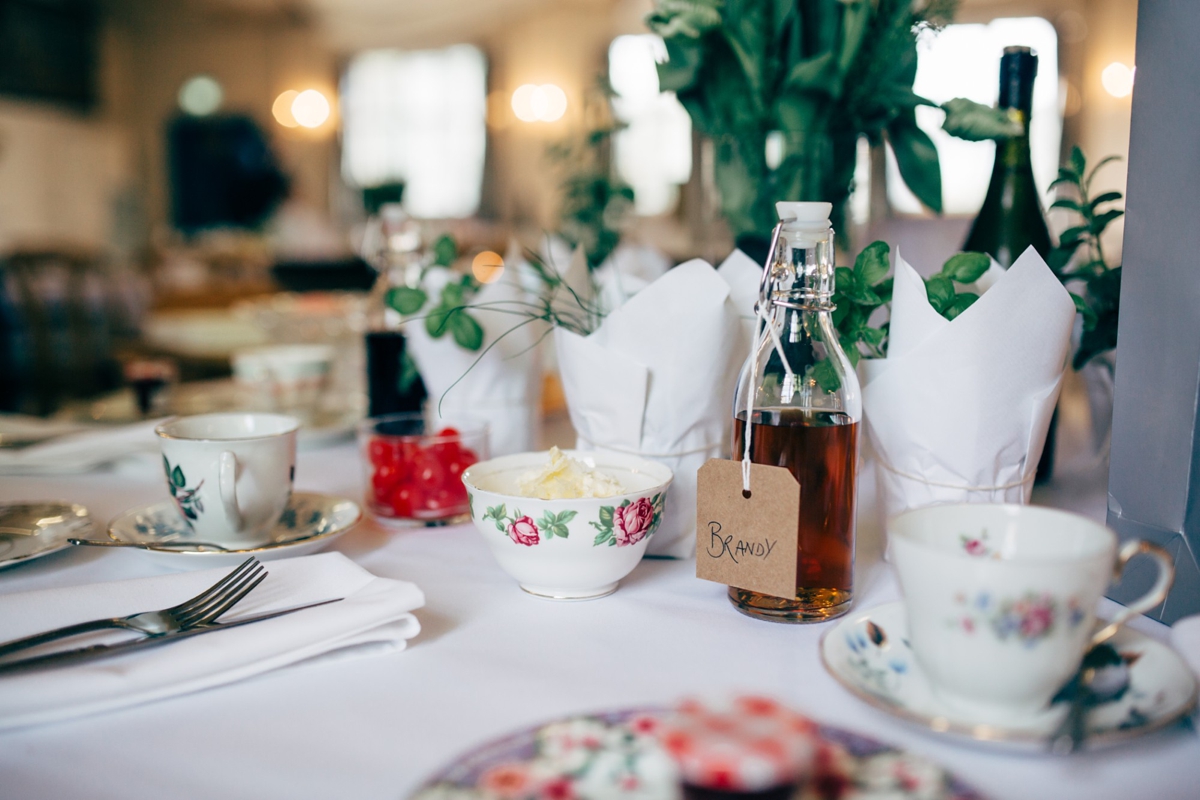 "Later in the evening we had The Frying Squad park a fish and chip van outside the venue, doing halloumi, scampi and fish, which went down very well."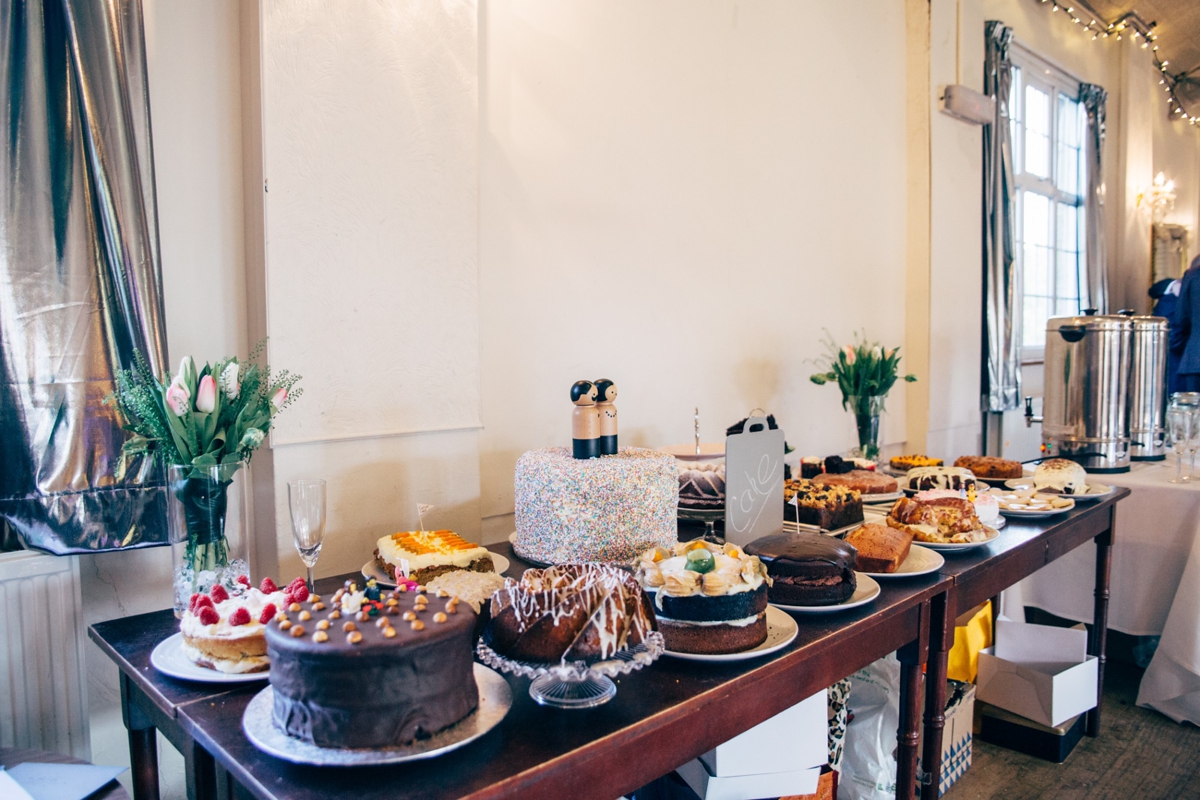 I really love that Dave and Eve made their wedding cake together. Along with walking down the aisle as a couple, it epitomises their whole approach to their wedding.
"Dave had previously made the cake for a friend's wedding, so it seemed a good idea and sentimentally appropriate to make our own together, along with asking some of our more talented friends and family to contribute for a WI style cake table. Rather than attempting the tiered cake I loved from Pinterest, we made a simplified version of four alternating layers of chocolate and vanilla sponge of one size decorated with multi-coloured 100s and 1000s."
"I underestimated both how enthusiastic and generous people would be, and how tricky it was to stick 100s and 1000s to the side of an overlarge cake late the night before you get married but, in the end, it all looked amazing. There was more cake of different styles than anyone knew what to do with: probably the best kind of problem you can have!"
 I really love that Dave and Eve made their wedding cake together. Along with walking down the aisle as a couple, it epitomises their whole approach to their wedding.
"Dave had previously made the cake for a friend's wedding, so it seemed a good idea and sentimentally appropriate to make our own together, along with asking some of our more talented friends and family to contribute for a WI style cake table. Rather than attempting the tiered cake I loved from Pinterest, we made a simplified version of four alternating layers of chocolate and vanilla sponge of one size decorated with multi-coloured 100s and 1000s."
The 50s vibe was continued with live music from Daddy Round and The Squares.
"They did a couple of brilliant sets, and really made the evening for us. They are a 50s rock 'n' roll band, which we loved, but also did a second set of mixed wedding classics, and was definitely a much enjoyed bit of the day for most of the guests."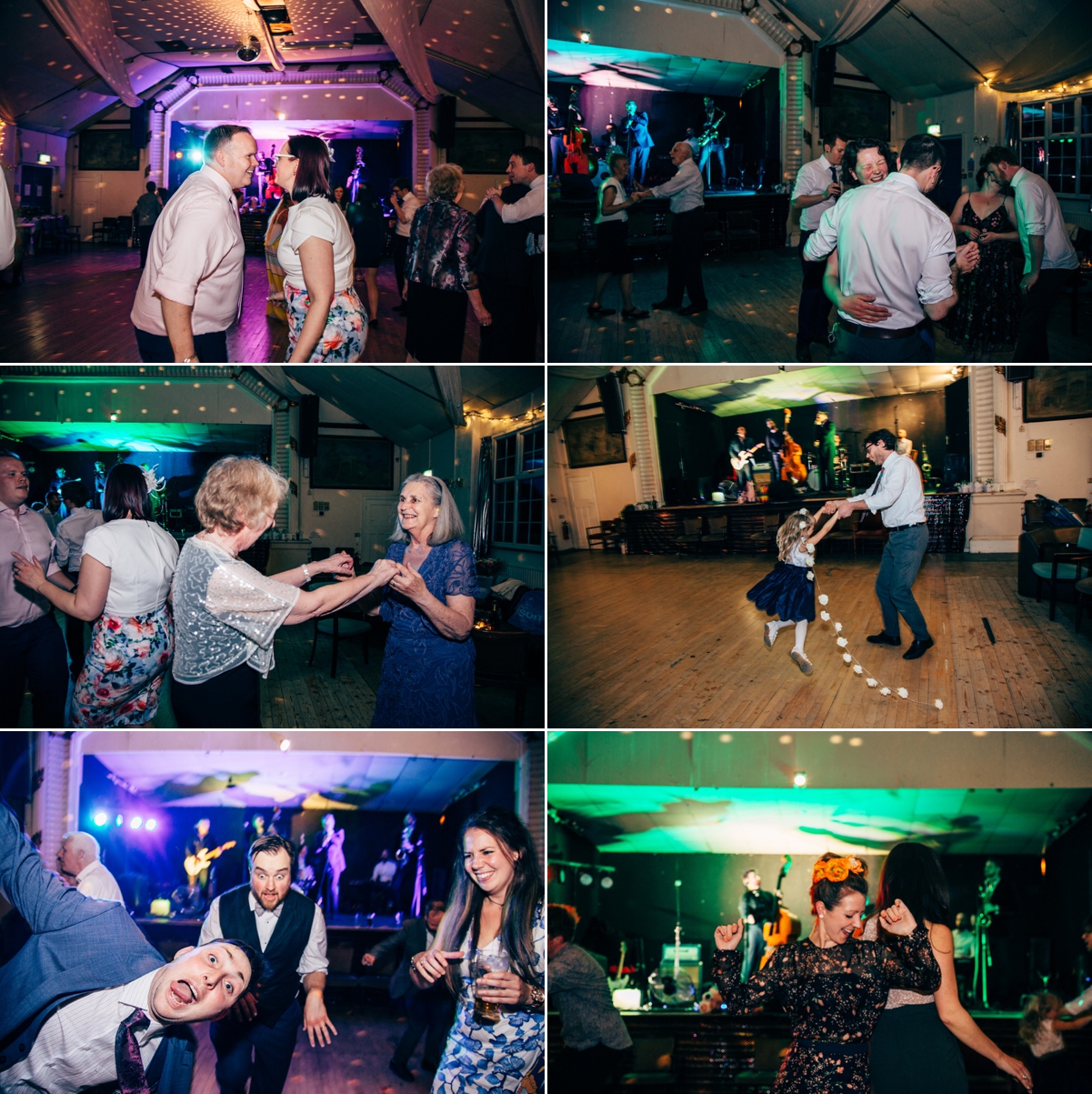 Words of Wedded Wisdom
"Looking back, I wish I could tell myself to delegate more. I did to an extent but overlooked that I was delegating to guests, who were, well, guests. People want to help, and I was overwhelmed with how generous people were but at the end of the day, a wedding is a messy, chaotic beast (if you're lucky) and people will get distracted by old friends, drink, new friends, so the more people that know when certain jobs should be done, the better. I left myself with too much to do on the day, so as a result I didn't talk as much as I'd have liked to people and some special things remained in boxes, hidden away! Also, we had a fabulous band and spent time organising poignant and fun playlists for in-between the sets, but due to a technical problem and us being totally overwhelmed and distracted on the day, they didn't get used at all. Not a big disaster, but I do look back with some sadness on not having certain songs played and avoidable if I had asked for more help!"
"Try to remember what you are organising. It isn't a party, a social event or a photoshoot. Your partner should be involved more than Pinterest, blogs and the suppliers will assume, and both of you should be planning something than reflects your past and your future. Through work and friends I see brides who lose sight of this. I can see how easily that happens, but it's always a bit sad."
"I asked Dave what he would say and his advice is much better: 'make sure you eat, make sure you take time to enjoy the day as it all passes in such a flash.' I was told this repeatedly and thought it impossible (How could I not eat? It's what I do best) but it's absolutely true. I was too nervous before the ceremony and during the meal and then too busy later on.  Needless to say, I didn't feel well the next day and some of the evening is a blur! Whatever you do, eat, or make sure someone keeps you a plate of food handy. High emotion, alcohol and an empty stomach… not ideal!"
Thank you so much Eve and Dave for your very honest and insightful words of wisdom for other brides and grooms.
Eve, I'm blown away by your talent and eye for detail with that beautiful dress. I'm full of admiration for how you involved family and friends to create a really personal day that was true to you. Thank you so much for allowing us to share your day here, and thanks of course to Naomi Jane for your lovely, natural photographs.
Ele xx