Today we're going back to the late summer of 2017 for the beautiful Somerset wedding of Milly and Dan. They wed on 2nd September in a Church of England ceremony in the local village church, followed by a garden reception centred around a sailcloth tent at Milly's parents' home near Wellington.
Taking the glorious English countryside as their inspiration, they worked hard to create a relaxed, simple day with a strong country vibe, using vibrant home-grown blooms in pink and berry tones from the family garden. The couple chose to return to Milly's home for their celebrations. I really love how determined they were to use local, independent suppliers to help them put together their beautiful day.
"I  grew  up  in  the  countryside  and  my  parents  have  remained  in  the  same  family  home  since  I  was  born.  We  love  going  back  there  and  have  a  strong   connection  to  the  area.  We  wanted  the  wedding  to  be  relaxed,  simple  and   with  a  country  vibe,  and  we  tried  to  use  as  many  local  providers  as  possible. We  chose  a  mixture  of  pinks,  whites,  plums  and  berries  with  lots  of  greenery. Basically  we  went  for  the  colours  of  flowers  that  my mum  was  easily  able  to   grow  in  the  garden."
Photography Emma Stoner
Photographer Emma Stoner, accompanied by second shooter Alice, was on hand to capture the celebrations from start to finish. She has such a natural and intimate style, capturing moments of quiet happiness as well as the fun of the garden party.
"Emma spent time getting to know us both before the day and also arranged for us to have a second shooter for most of the day. We really enjoyed having Emma and Alice there with us for the day."Milly's and her bridesmaids' flower crowns were woven using simple eucalyptus and white flowers by Hayley's Flowers.
"Hayley did the bouquets, buttonholes and flower crowns. She was incredible to work with and understood everything we described. She was completely relaxed about it all, putting us at ease. Hayley even matched the flowers in our bouquets to the flowers mum was growing in her garden for the marquee. She delivered everything to us on the morning of the wedding and nothing was too much. I would recommend working with a local florist as they offer excellent value for money and a really personal touch."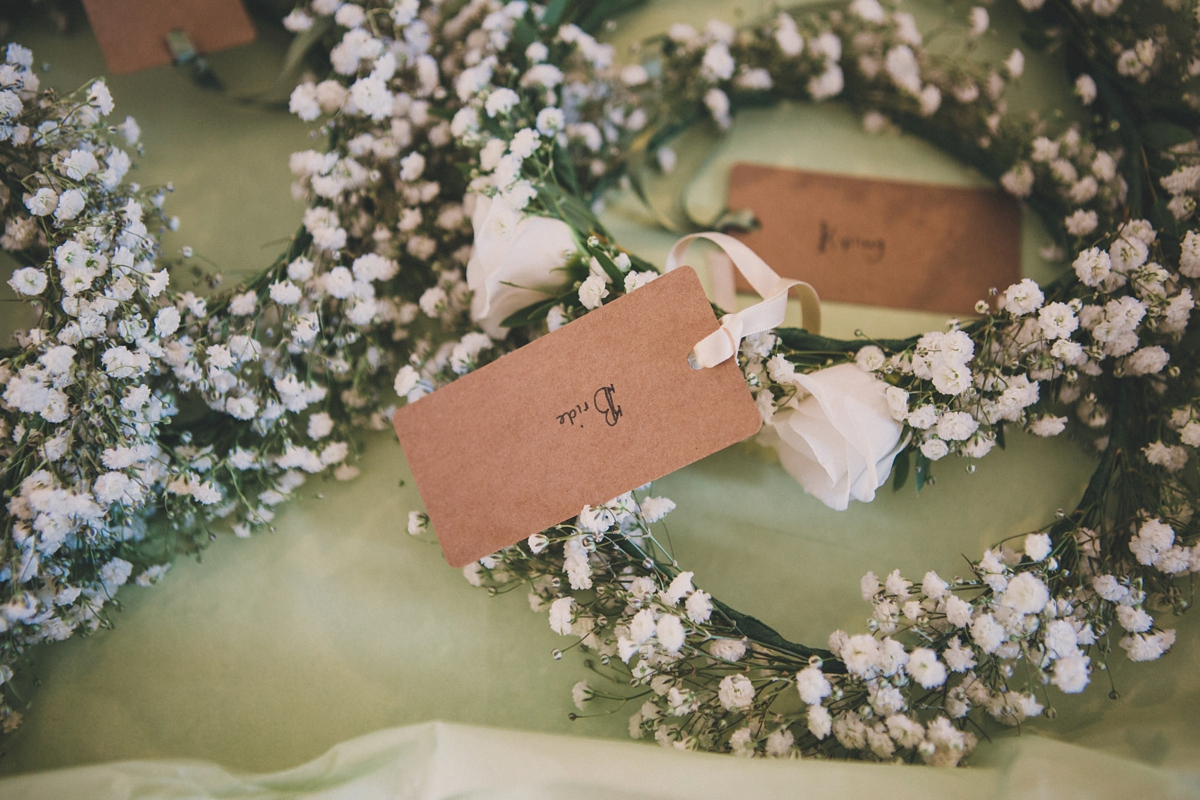 The couple were introduced by Daniel's younger sister, and married seven months after his breakfast-time proposal.
"We  got  engaged  on  my  birthday  in February. Daniel  proposed  with  a  mock  ring  in  the  morning.  I  was  in  bed   still  and  he  came  upstairs  with  breakfast. When  I  cracked  open  my  boiled   egg,  the  ring  was  inside! He  then  got  down  on  one  knee."
Local make-up artist Genevieve Satha applied the girls' natural makeup, and Milly's brother's girlfriend styled their hair.
"She is very talented and did everyone's hair in the morning – simply pinned back for a pretty country vibe."
Milly's pure white bridal separates set the tone for the day's laid-back feel. The flowing silk skirt and cropped silk top, with that gorgeous back detail, are by Ailsa Munro, a Cornish designer.
"I really struggled to find a dress initially. I went to a few  bridal shops but they all told me I was looking for something that didn't exist and I left feeling deflated. I decided to sketch my ideas and found Ailsa on Pinterest and took them down to show her with my mum."
"Ailsa's studio was beautiful – we had tea and scones and talked for a good couple of hours about ideas and the process. Ailsa made me some beautiful silk  separates – very simple and flowing, with a little bit of lace and a few silk buttons – exactly what I was looking for."
The bride accessorised with flat gold sandals from Accessorize and simple pearl drop earrings, bought from Not On The High Street.
"I was after something that I could feel comfortable in throughout the day – nothing tight-fitting or heavy."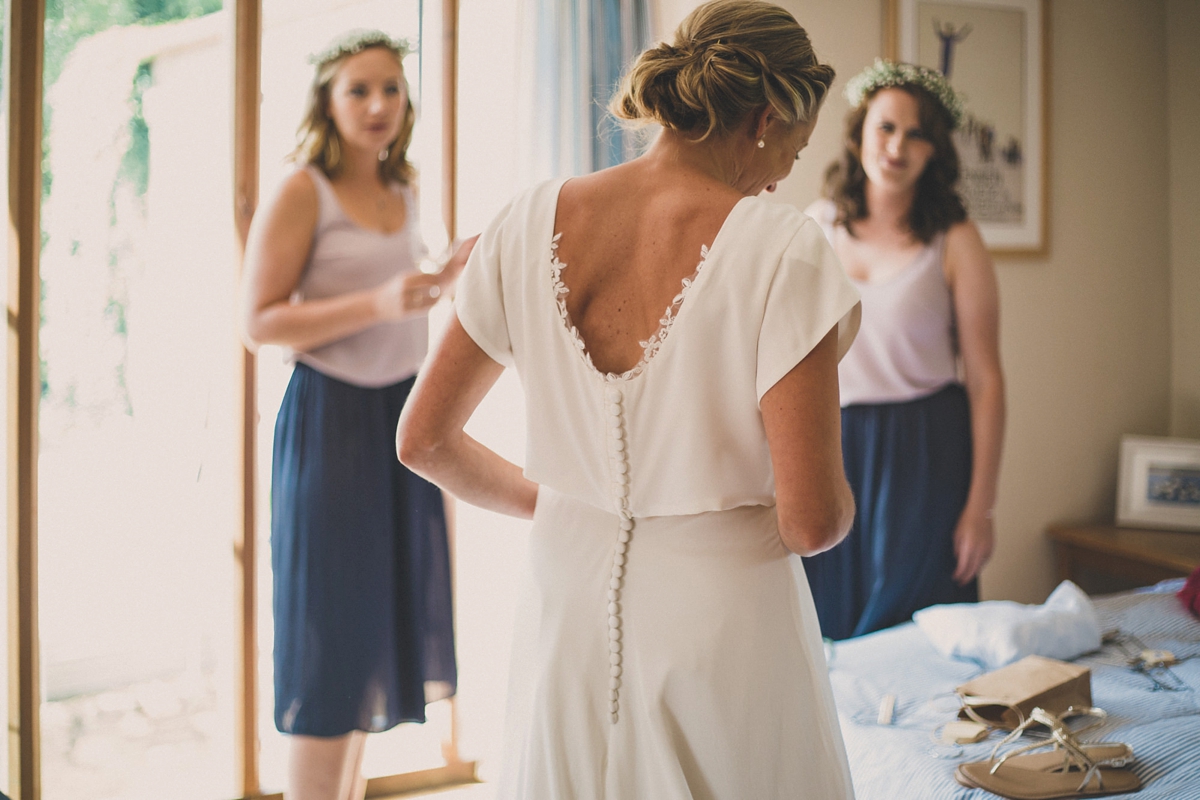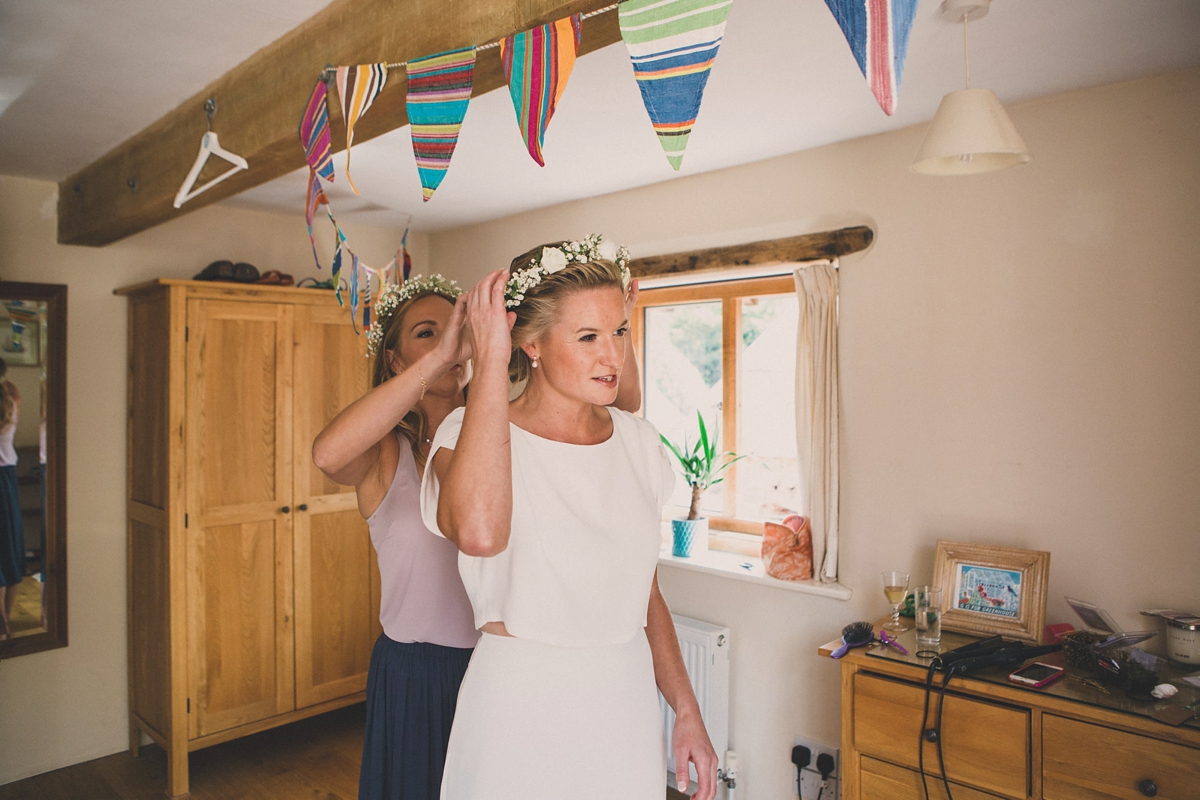 Daniel and his groomsmen chose Moss Bros tails for a classic touch, and added pale blue OTAA ties to lighten the look. Daniel looks so happy as he waits for Milly at the top of the aisle. She entered the church on the arm of her dad, as 'Jesu, Joy of Man's Desiring' rang out.
"We  got  married  in  the  local  village  church  and  my  aunty  actually  married  us,  which  made  the  whole  ceremony  really  special  for  us   both."
Milly' designed her wedding band herself, which was made by Diana Porter in Bristol – a soft file platinum ring with eight tiny diamonds set flush to the band. Daniel's rose gold band came from Nicholas Wylde Jewellers in Bristol.
"My aunt, who is a vicar agreed to marry us. She practices in a different area normally. We didn't personalise our vows as The Church of England vows had meaning for us."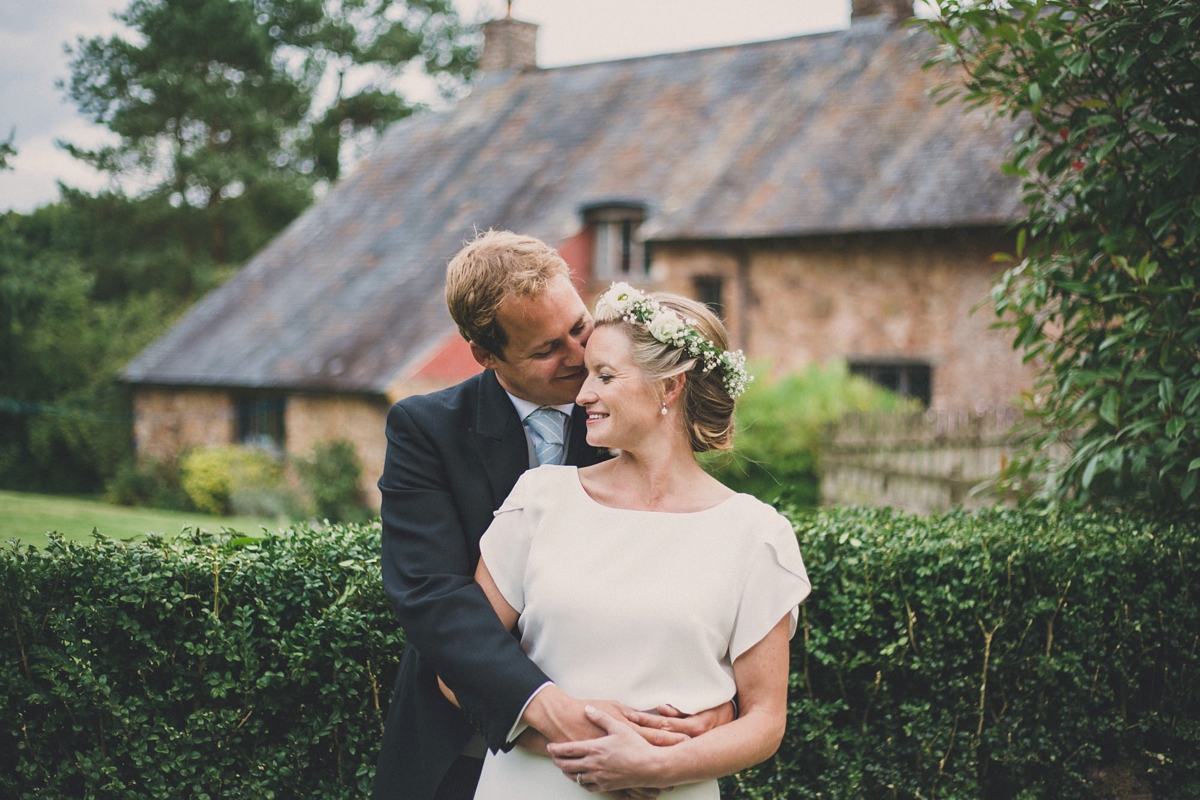 The bridesmaids' separates add a really cool modern twist to the prettiness of the day. I love how they tie in with the relaxed feel of Milly's own skirt and top. The grey silk mid-calf skirts were from Jigsaw, and they were teamed with soft pink vest tops from ASOS. The finishing touches were gypsophila floral crowns and delicate gold chain bracelets adorned with tiny pearls.
The oval sailcloth marquee was put up by Coastal Tents, who the couple highly recommend.
"This  company  were  fantastic  to  work  with – very, very  efficient  and  organised. They  turned  up  and  sorted  everything  exactly  as  they  said  they  would."
The tent was decorated with dramatic swathes of fresh greenery, and the long trestle tables dotted with vases of bright home-grown flowers and beige table runners made by the bride. The table settings look so fresh and pretty with a simple spray of greenery.
"The marquee and church were decorated by my mum – mostly home-grown flowers and foraged greenery from the woods. The greenery hanging in the marquee was made from herbs from mum's herb garden. She was incredible."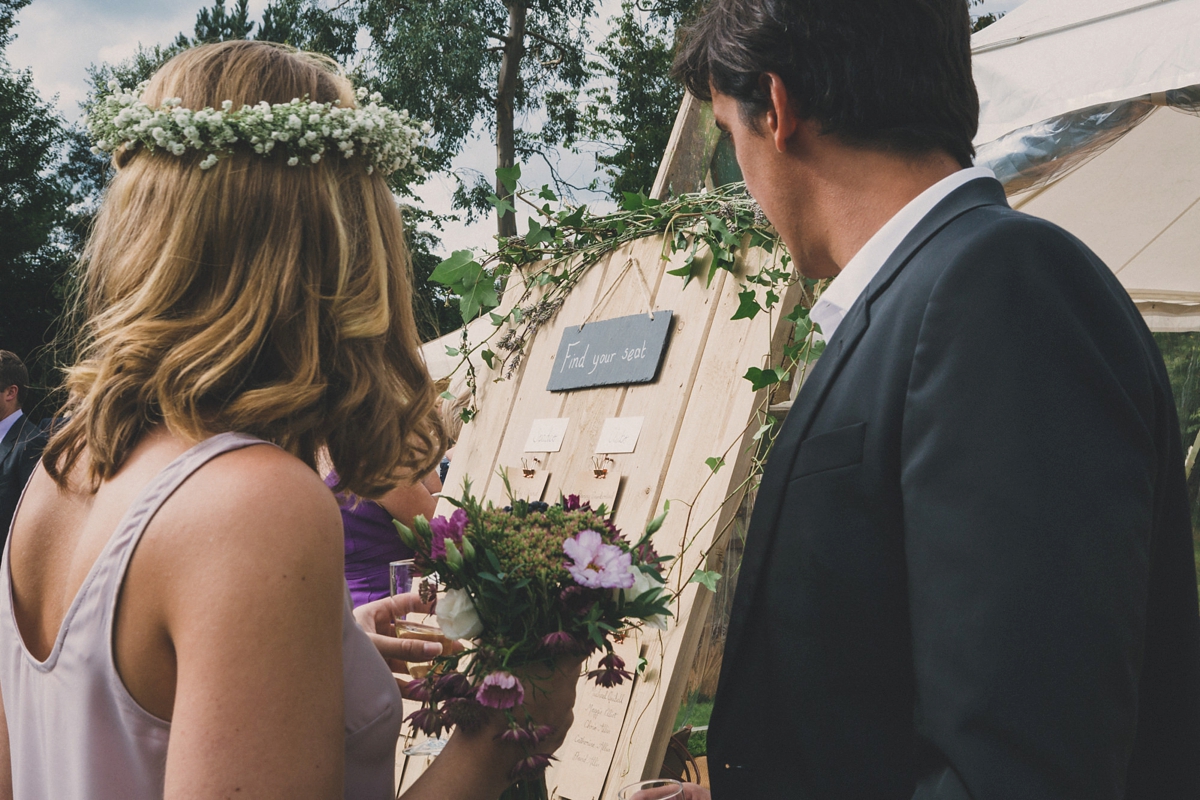 After the ceremony, the newly-weds drove back to Milly's parents' home in a soft-top BMW, lent by friends, for the garden reception. The beautiful sunshine meant the guests could relax outside before a wedding breakfast catered by Milkshed Catering.
"We had canapés and then a main course of salads and a sharing platter of meats. Katie was brilliant; the food was delicious and she was very organised."
"For pudding my mum made the most delicious homemade chocolate brownies for 125 people! But the best bit was the ice cream that was served with them. One of my school friends Rebecca, who was also a bridesmaid for me, provided vanilla and blackcurrant ice cream from Otter Valley Dairy. Becs and her family set up the business in 2010 and their award winning ice-cream is the best we've ever tasted."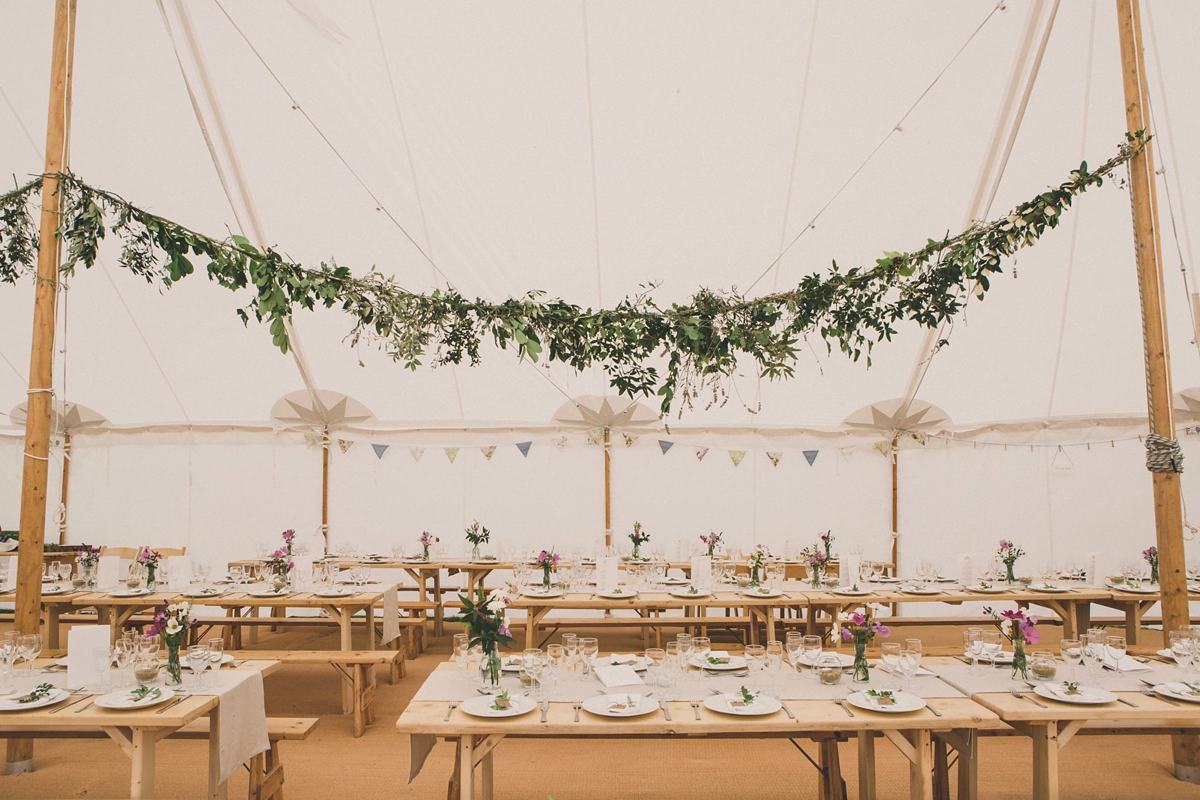 The simple two-tier fruit cake was made by the bride's mum – so pretty with the simple spray of greenery.
"We handed a couple of bottles of bubbly out to each table before the speeches and organised a ceremonial popping of corks in the spirit of a 'Feu de Joie'."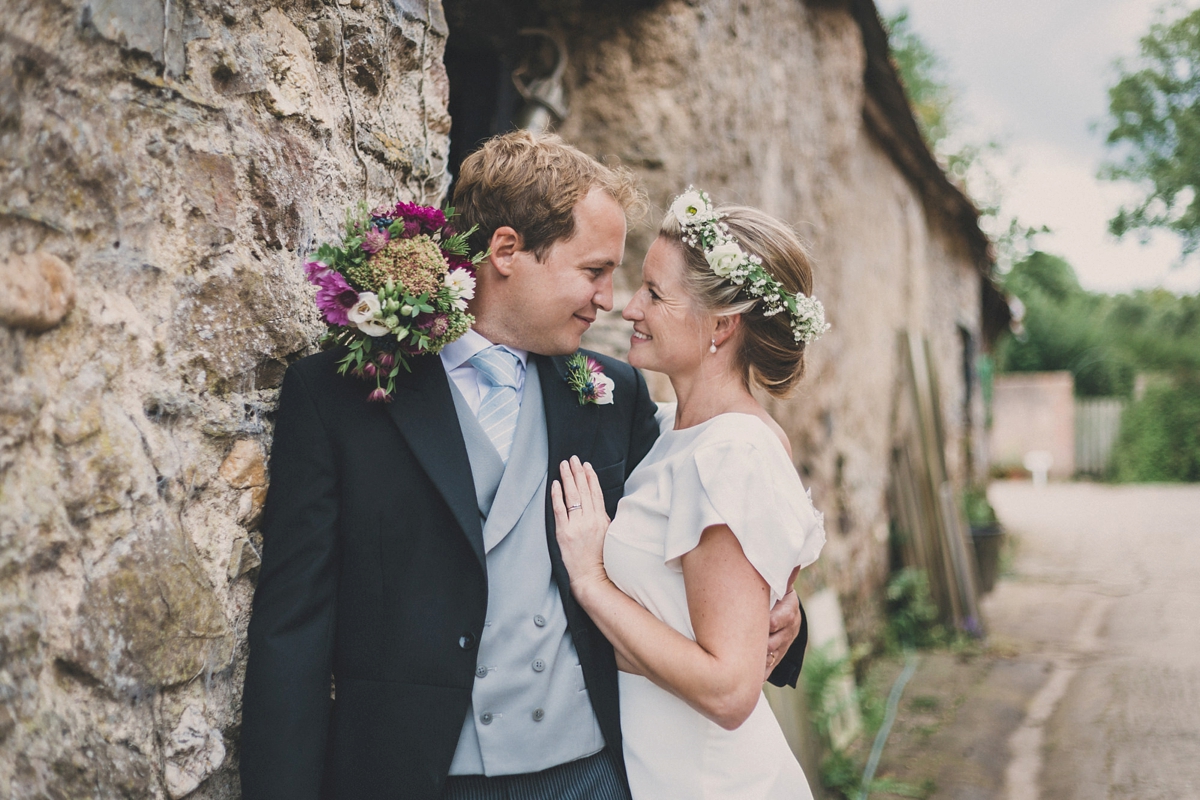 The evening passed with more celebrations and dancing.
"We had a band called The Whisky Thieves (a seasonnaires band) – a friend recommended them to us."
Words of Wedded Wisdom
"Don't allow yourself to get carried away and swept up with all the other brides. Do your own thing and stick to your guns."
"If something seems too expensive it probably is! Do your research and look around for other alternatives."
What beautiful photography from Emma Stoner – thank you so much for sharing your work. Sending many congratulations and thanks to the newly-weds too. I love the relaxed, country vibe that infused your day.
Ele xx