Dear Readers, I've got a chic and modern autumnal wedding to share with you today, featuring such a joyful couple, their sweet little boy and a whole variety of stylish details to savour, from the stunning, colourful flowers to our beautiful bride rocking bright red nails and lipstick and a gorgeous backless gown.
Sport and leisurewear fashion designer Emma married her groom Chris, a pharmaceutical quality engineer on the 14 October 2017 in a joyful, relaxed ceremony and reception at Kirknewton House Stables, near Edinburgh.
Let's begin with a film, courtesy of A Little Picture, shall we? This enchanting piece of work is a mixture of modern videography and wonderfully grainy and atmospheric 8mm film, all captured by Andy, husband of the couple's photographer, Alice.
"I was recommended Alice of A Little Picture by a colleague, and after looking at her work online, I cheekily asked her if she would travel all the way from her home in York to Edinburgh to photograph our wedding! I'm so glad she said yes! I loved the relaxed, peaceful quality of her photos and the natural story telling in them. I met her in a coffee shop in Wakefield initially, and she was just lovely! She understood exactly the kind of thing I wanted and delivered that without exception. I can't recommend her highly enough!"
Film and Photography by A Little Picture
"Our videographer was Alice's husband Andy. They made an amazing team, working together to get the best photos and video on the day. I'd seen Alice and Andy's own wedding video filmed in 8mm vintage film and loved the blurry, romantic quality to it. I asked for sections of the video to be filmed like this and other parts in regular film. The combination of the two is just wonderful, I can't stop watching it!"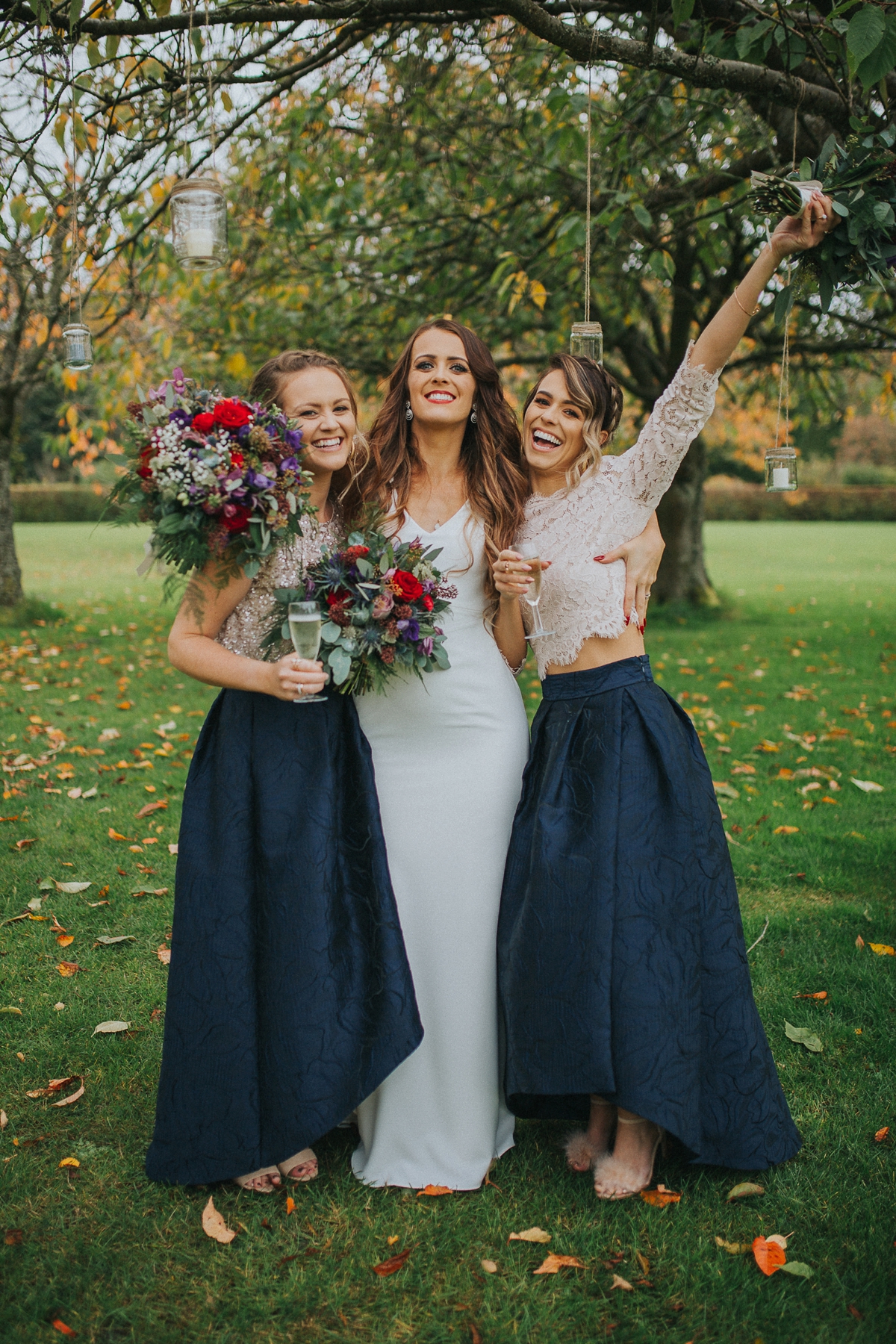 "My bridesmaids were my sisters Lucy and Holly. They wore matching navy skirts and light pink tops from Coast. Their tops were slightly different to each others; Holly's was ¾ sleeve lace and Lucy's a cap sleeved, beaded version. I liked the fact that they didn't completely match."
"I gave each of them a Swarovski ring on the morning of the wedding, for them to wear on the day, and as a thank you for their help preparing for the day and for their general life advice over the years!"
Emma's choice of backless gown ended up being a world away from the lace dress she originally envisaged, but suits her perfectly. She chose the 'Melia' dress from St. Patrick by Pronovias, and we adore their cool, elegant aesthetic at Love My Dress, previously showcasing a number of their collections. The simplicity of Emma's gown and the clean silhouette is offset by the shimmering beading on the capped sleeves and the romantic train. She bought her dress from Simply Exquisite in Edinburgh, who provided excellent and helpful service.
"I was originally looking for something lacy, fitted and with long sleeves, however, nothing I tried on with this spec seemed to look right, lace didn't suit me and the long sleeves were always too warm and uncomfortable. Charlotte at Simply Exquisite was brilliant, she took on board the comments I'd made about the first few dresses I'd tried on and came up with the Melia. I wasn't convinced looking at it on the hanger, as it was so plain, however, as soon as I put it on I knew it was the one! It was comfortable, flattering, easy to walk in and made me feel amazing!"
I've said before that I love it when brides rock a bold lip on their wedding day, and I'll say it again! I adore Emma's red lipstick and bright red nails. Make up artist Erin Moore of Livingston based Creative Hair and Beauty worked with Emma to perfect the look she was after, and hair stylist Courtney Winton (also of Creative Hair and Beauty) added soft and relaxed waves to Emma's hair.
"I wanted something quite natural and dewy, but with a slightly smokey eye and a dark lip, and Erin did exactly that! She also did my bridesmaids' make up, listening to what they liked and suggesting looks and colours that would suit them."
To match their bouquets and venue flowers, sprigs of fresh gypsophila were added to the bridesmaids' hair. All of the incredibly striking buttonholes, bouquets, cake flowers and single stem venue flowers were the work of Snapdragon, who combined colours and textures to wonderful effect, with bright red and pink roses, and thistles and soft and wispy asparagus fern.
"They're based in Bruntsfield and I had admired their flowers on display outside every time I'd passed. Their bouquets are so interesting and vibrant looking, with a contemporary edge. I was thrilled when they arrived in the morning. I'd discussed the kind of colour scheme I wanted with them and they suggested the flowers and foliage that would best suit what I was after."
Emma paired her gown with a long, simple veil by Joyce Jackson, which she also purchased at Simply Exquisite, along with a spritz of her favourite perfume, Narciso Rodriguez For Her and amazing sparkly sandals from Miss KG.
"My earrings were Swarovski and given to me by Chris's mum Tracey, who wore them at her own wedding a few years previously. They were teardrop shaped and totally different to anything I'd ever wear, I loved them! My necklace was also Swarovski and given to me by my mum, Sharon. It was pear-shaped and matched so nicely with the earrings."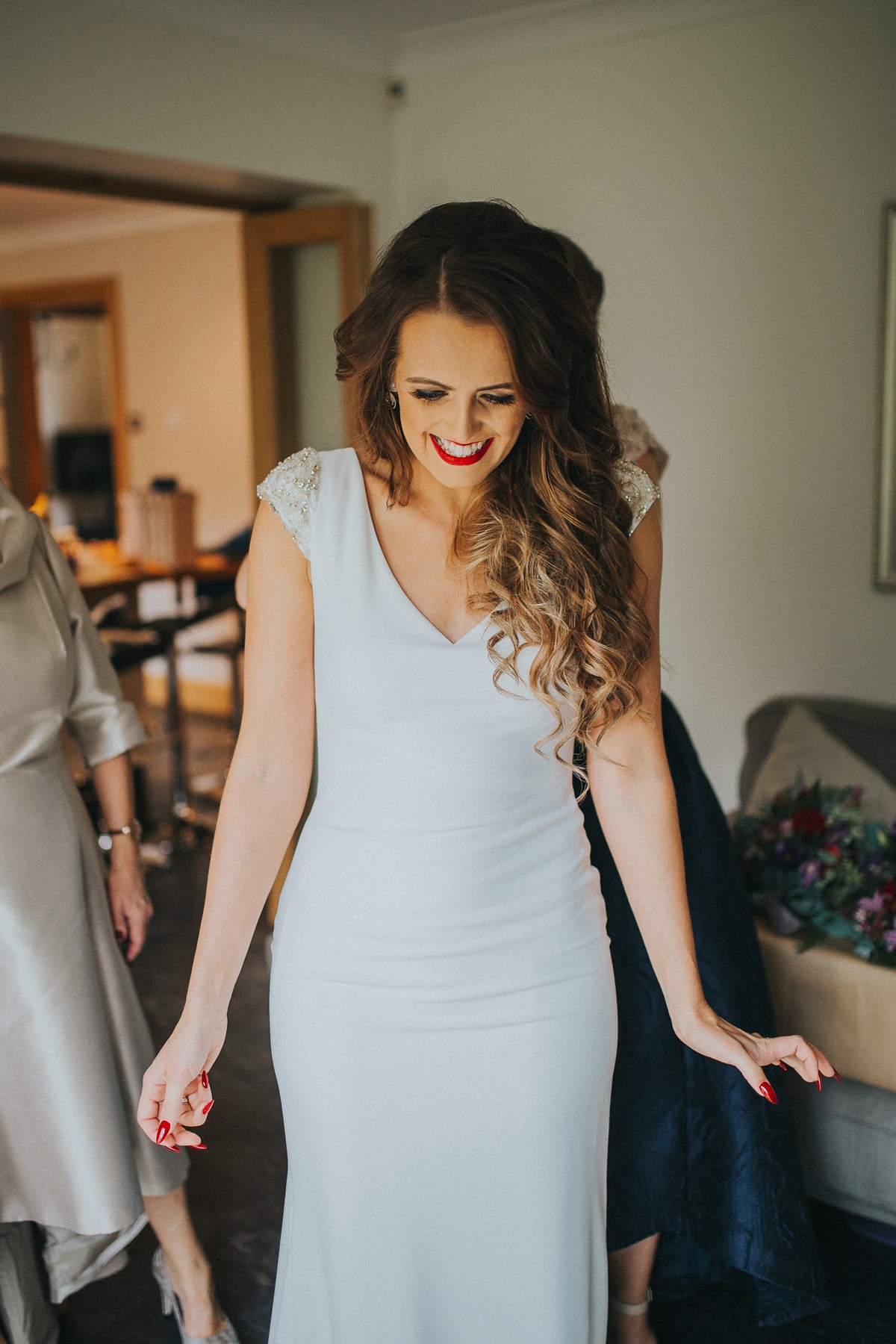 1w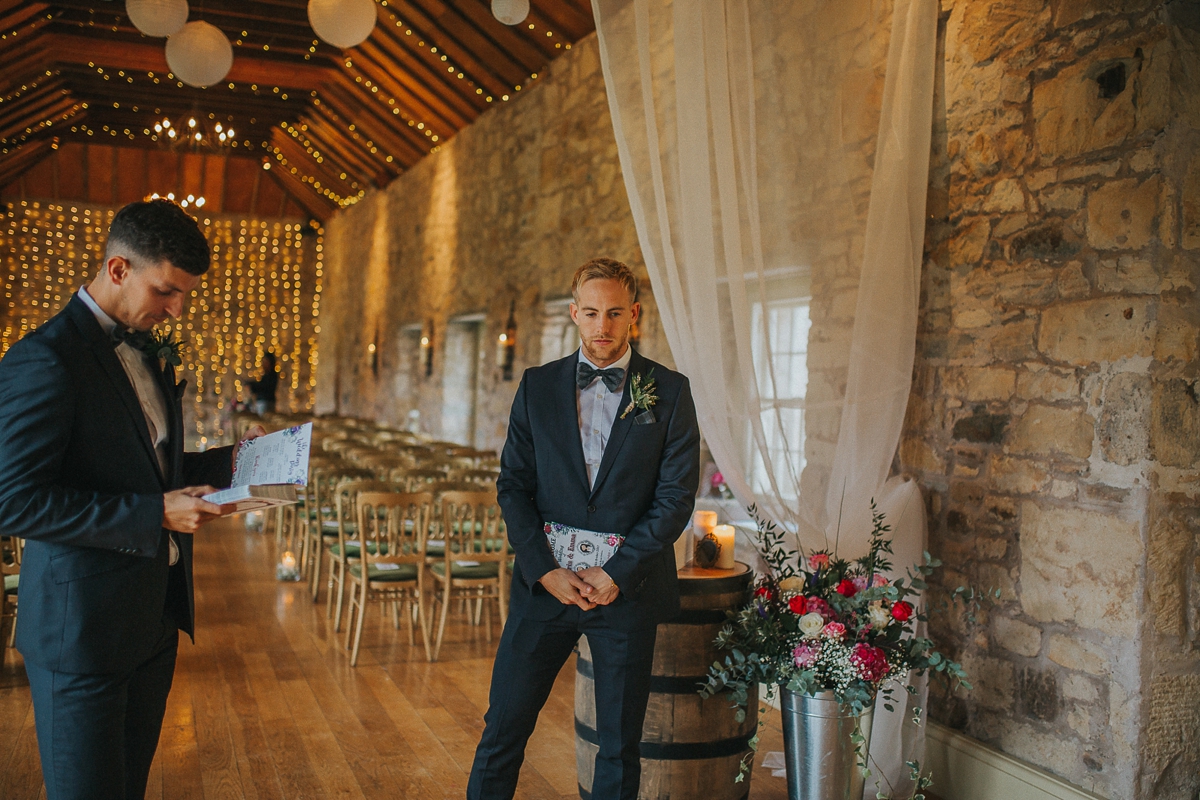 Emma and Chris' relationship is an online dating success story.
We met online in early 2011 on Plenty of Fish! We dated for a couple of years, whilst I was based in Manchester and Chris in Leeds, and then in 2013, I moved over to Yorkshire to live with him. We bought our first house in 2015 in Wakefield, and not long after, our son Alfie made an appearance in March 2016. I was always pretty convinced Chris wasn't that keen on the idea of marriage, so I was blown away when he got down on one knee during a family holiday to the south of France and asked me to 'be a Weston too'! We got engaged in July 2016, just over a year before our wedding."
Dashing groom Chris and his groomsmen wore matching navy blue ASOS suits, and the groom and best man added a contrasting grey waistcoat from Next.
"Both my dad and our son Alfie wore kilts on the day, hired from R&I MacDonald Kiltmakers in West Calder. However as the Groom's party was English, they preferred to wear suits. I asked the kiltmakers if they could make tartan bow ties and pocket squares for Chris and the boys in the same tartan as the kilts we'd chosen and they were happy to oblige. It created a nice link between the whole wedding party."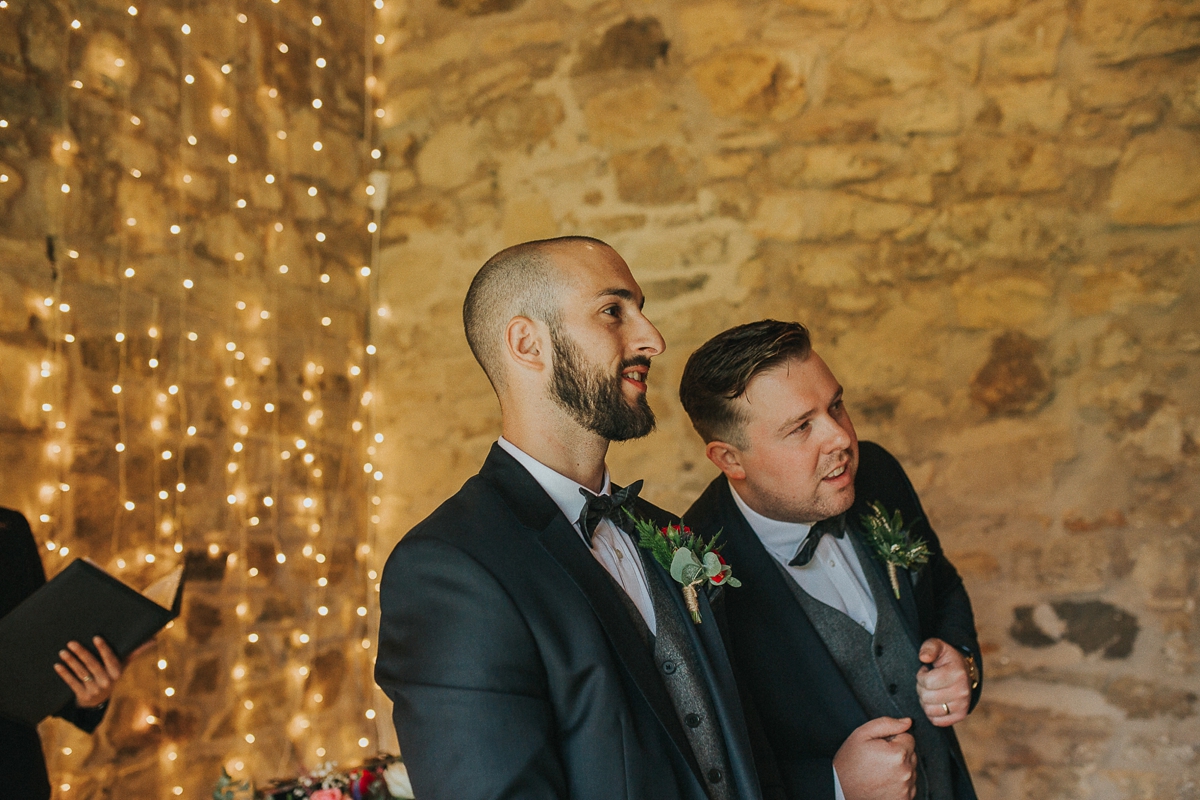 The bridal party travelled to the ceremony in white hackney cabs from Edinburgh based City Cabs. Emma and Chris' son Alfie walked down the aisle with his two aunts, and Emma was accompanied by proud dad Alistair. Emma recounts a cautionary tale about the dangers of using modern technology to stream and play your entrance music!
As well as being a fashion designer, our talented bride is also a stationery designer (Alf & Alba), creating everything for the day – a favourite aspect of the planning and creative process.
"I loved seeing everything link together. I'm a stickler for detail, and made sure everything was labelled, sign posted, painted, decorated or covered in flowers!"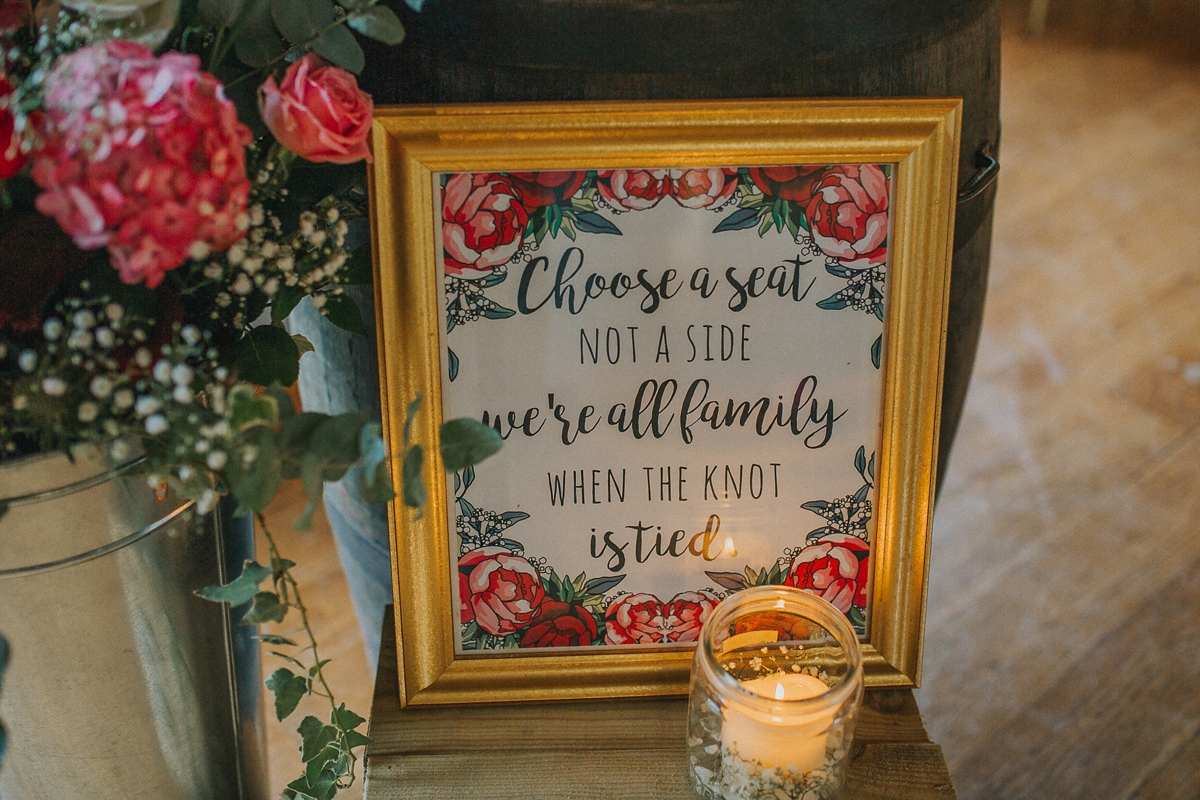 "We had chosen Eric Clapton's 'Wonderful Tonight' performed by The Vitamin String Quartet to be played as I entered, however, when our friend Dave tried to play the track from Chris' phone through the sound system it turned out it hadn't downloaded properly, and as the barn is relatively remote, the data signal just wasn't good enough to download it there and then! So in a moment of quick thinking, Dan, our best man, asked Ryan, our piper who had piped everyone in as they arrived, to play instead. He played Highland Cathedral on the bagpipes as my Dad and I walked down the aisle."
The couple opted for a Humanist ceremony, conducted by celebrant Candice Dillen with specially tailored vows that held great meaning and significance.
"Chris and I wanted our vows to be meaningful but also truthful and in context to our marriage and our relationship. As part of the ceremony, Candice asked us to write a few things about what we love about each other and what marriage means to us. This effectively shaped what we wanted to say in our vows."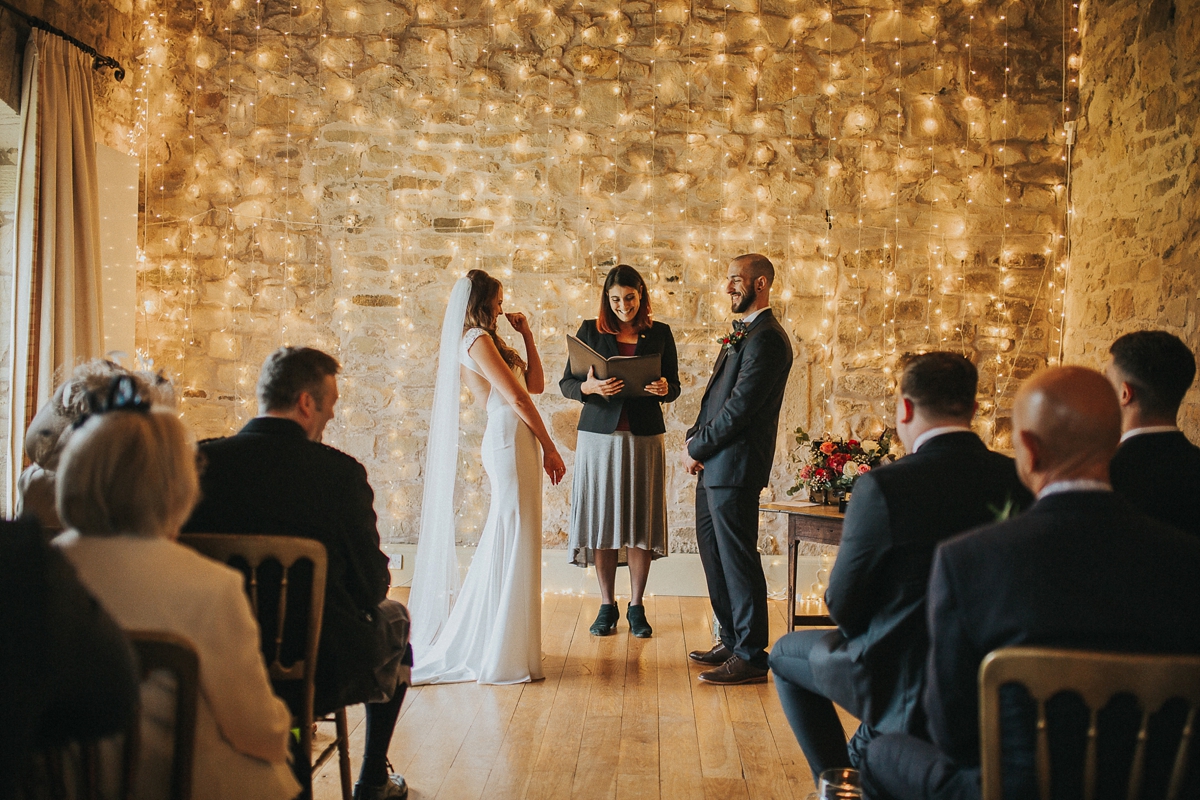 "I promise to be true to you, to uplift and support you, to frustrate and to challenge you and to share all of the beautiful moments of life with you as your best friend and your confidante. I promise that you will never have to face anything alone and to love you completely and forever."
Friend Laura read the anonymously authored poem Marriage, while Emma's school friends Shayma and Jenna read Bob Marley's He's Not Perfect.
"I chose both of these because they sounded real. They weren't about promising the earth but about what marriage is actually like – love, hard work, good fun and support of one another."
The couple exchanged rings; groom Chris chose a palladium band from Star Wedding Rings, sweetly engraved with the date of their wedding, and wanting something a little different, Emma had a bespoke piece made by locally based jeweller Carol Docherty.
"I'd seen some of the bespoke pieces she'd completed for others and loved the intricacy and attention to detail in her work. Following a couple of meetings, a few sketches back and forth and a prototype ring in silver, we got to the final piece; a deep 12mm white gold band, broken up with cut out flowing lines and white gold discs. It is also shaped to sit alongside my engagement ring perfectly."
"I loved the ceremony, it was so personal and inclusive. Many of our guests said it was the most romantic ceremony they'd been to, but happy and funny at the same time!"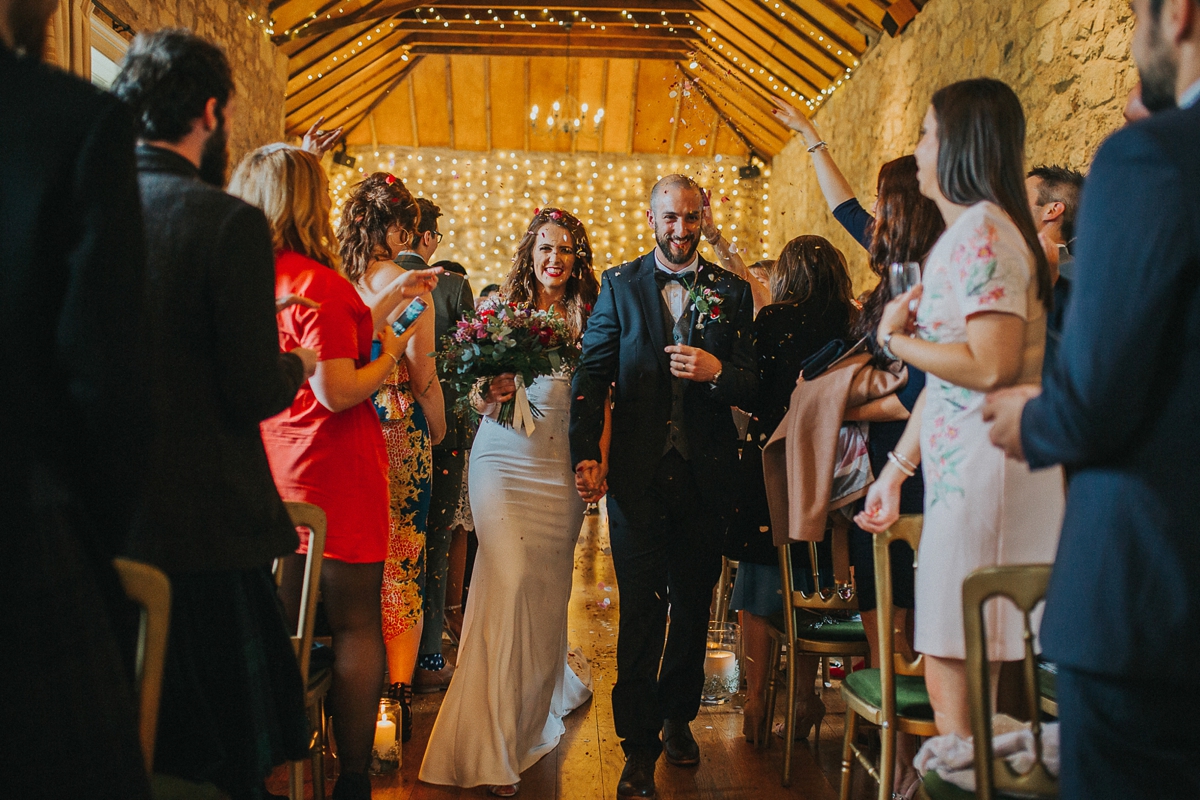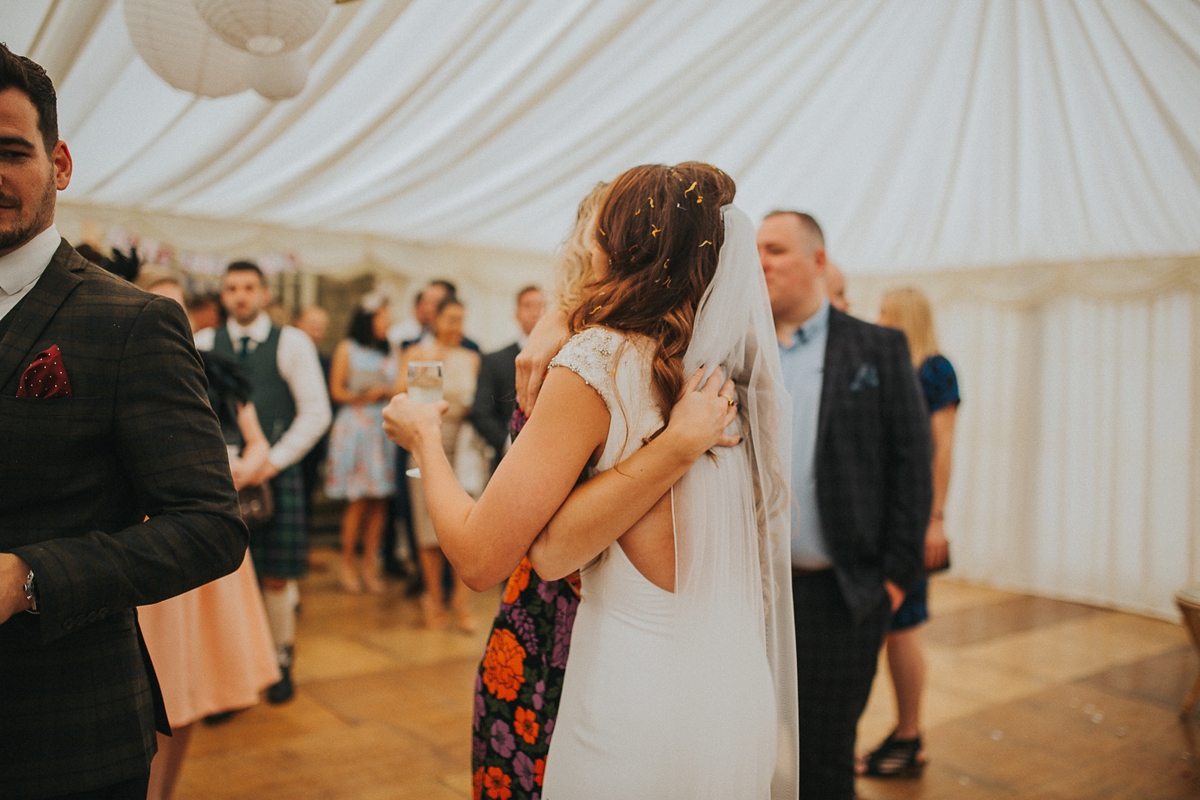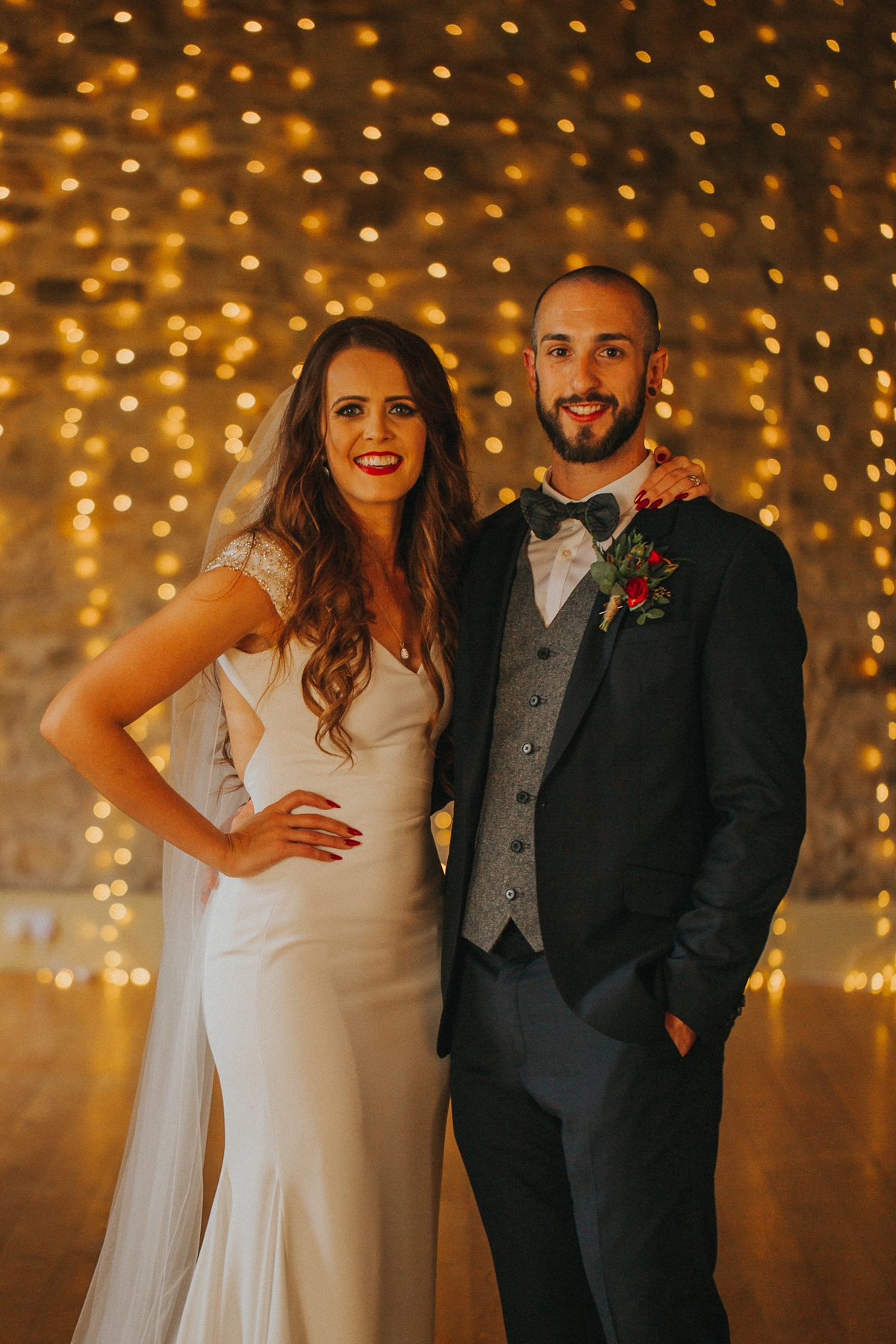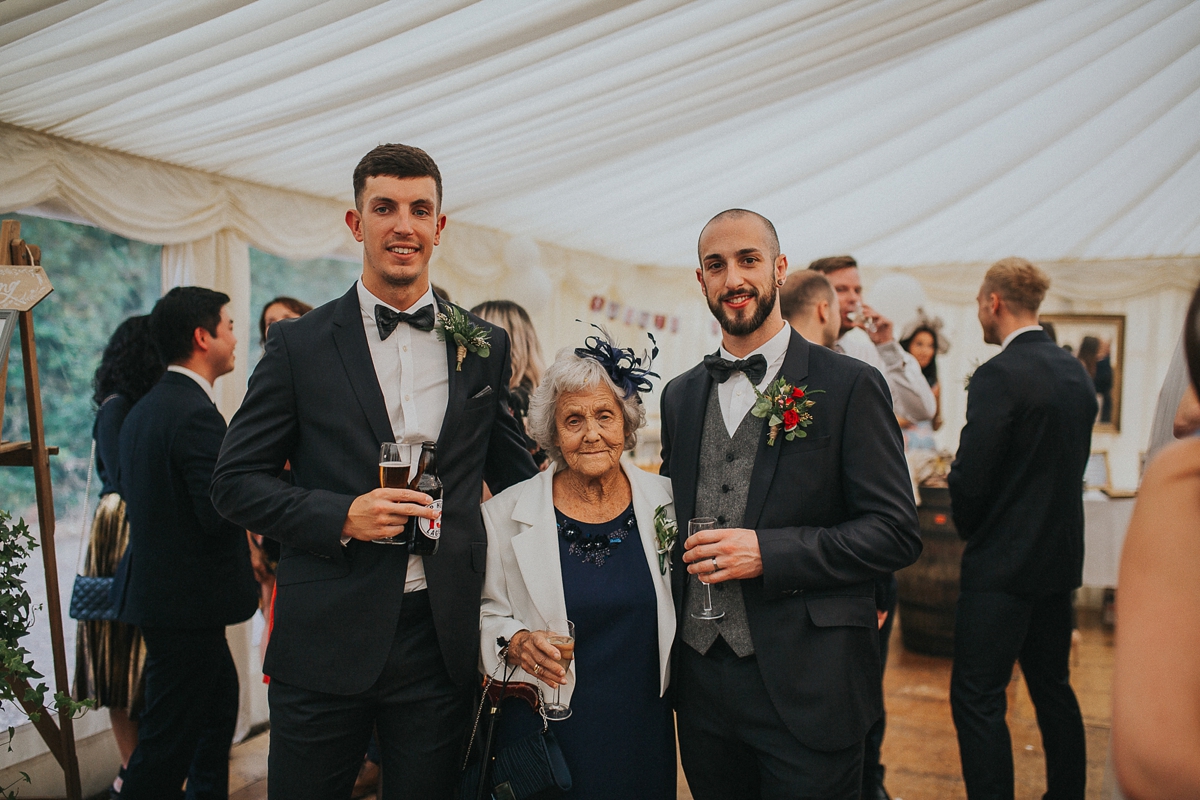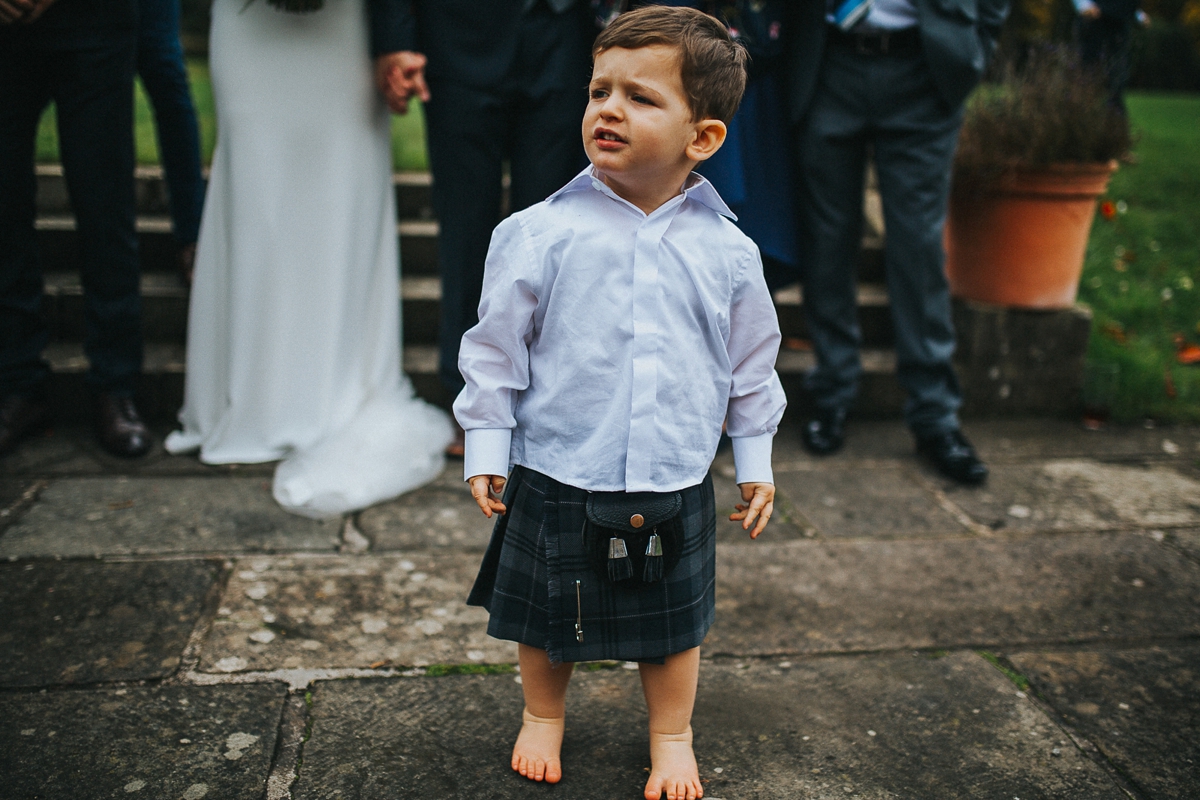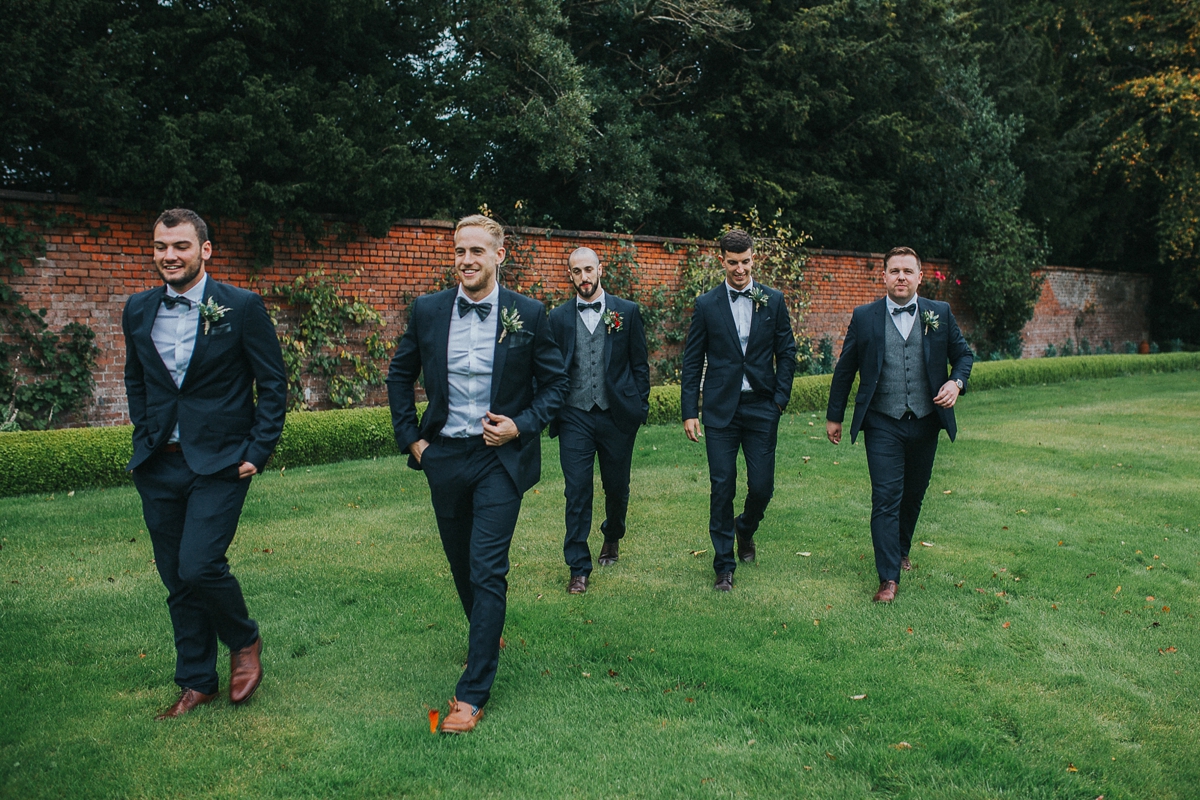 Avid brewer Chris made beer favours for the guests, which they called 'Westy's Home Brew!' He also made two other kinds of beer to be drunk during the reception, and Emma made 6 litres of infused gins in three different flavours, which were then decanted into small jars and also given out as thoughtful favours.

At Kirknewton House Stables, Emma created a gorgeous, romantic autumnal feel, with softly twinkling lights, candles and lanterns, and flowers arranged by her mum and her mum's friend.
"For the venue flowers, my clever mum Sharon and her best friend Wendy took a trip to the flower market in Glasgow at 5am the day before the wedding and loaded up on mountains of roses, gypsophila, sweet peas, dahlias, eucalyptus and thistles and went about arranging the various pots, urns and jars we had planned for the venue. They even raided Wendy's garden for ivy to include. Everything they did looked fantastic, and everyone commented to that effect on the day."
"I had done a lot of research on what kind of look I wanted for the day and wanted to show off the best the Stables could offer at the same time. I settled on a kind of 'laid-back-slightly-fancy-barn' theme, with twinkly lights, hundreds of Chinese lanterns and lots and lots of flowers! The colour palette was based around the flowers I wanted in my bouquet. I had made a few selections early on and given these to the florist, and then when it came to designing the Save the Date and Invitations, I included these same flowers and colour combinations. With that, the colour story was born – as I carried these over into most of the on the day stationery as well, used similar shades in the cake and also on the centre pieces."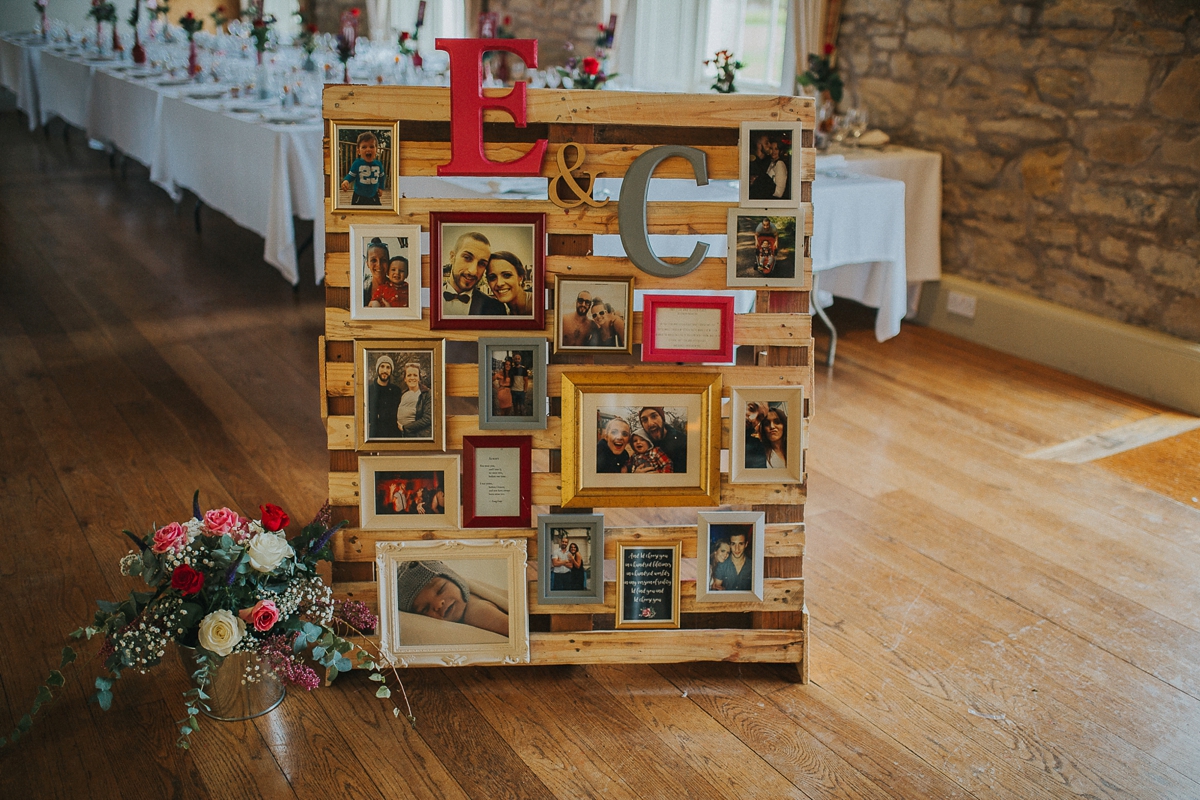 "The barn has a huge vaulted ceiling with lots of wooden beams running across. Chris' Aunty Sam bought over 100 Chinese circular paper lanterns in various sizes and lots of tiny LED lights for us, which we tied (individually!) from the beams with fishing wire – it created a sort of floating ceiling, and the tiny LED lights glowed when it was dark in the evening.We also had a curtain of fairy lights that filled the end wall. My mum had found four used whisky barrels on eBay, which my dad cleaned up, re-painted the black metal tape work and stencilled our names and the date in the top – they were perfect as bar tables in the marquee and we used two to create an entry at the top of the aisle for ceremony."
Another favourite part of the day for Emma was listening to the speeches given by Chris, her Dad, and best man Dan.
"It was also a nice time to finally sit down, relax for a moment and look round to see all of your favourite people all in one room together, having a lovely time."
Rather than a dessert as part of their meal, Emma and Chris decided on a dessert table laden with sweet treats for guests to enjoy later in the evening – cookies, brownies, fudge, marshmallows, tarts, macarons and cupcakes – all made by Lindsay of Bav's Bakehouse. As well as all of those goodies, Lindsay also made a three-tier, soft iced sponge cake, decorated with gold leaf and fresh flowers from Snapdragon florists.
"My best friend Jenna's big sister Lindsay made the cake. Her business Bav's Bakehouse specialises in celebration cakes and sweet treats, and I'd been lucky enough to taste her cakes before – she also made my 30th birthday cake and the one I had at my baby shower before Alfie was born. I gave her a very rough brief of the kind of thing I wanted – bold colours, simple shapes, flowers and a bit of gold if we could squeeze it in, then I left it to her! Lindsay did an amazing job, making sure everything matched with the theme, and displaying it for us on the day. How she managed to do all of that plus the wedding cake by herself I'll never know! She's superwoman!"
Nicola from Annabelle's Catering worked together with Emma and Chris to put together a delicious meal for all their guests, informally served on sharing platters.
"Annabelle's Catering were recommended to us by Charles at Kirknewton Stables, and selecting them was one of the best decisions I made! Nicola was absolutely amazing in every way! She tailored a menu for us that was tasty, in budget and allowed us to serve it from sharing platters on the table. She was on hand all day Friday to ask advice of, give suggestions for lighting, music, and decoration and helped us with the ceremony and table set up (whilst all the while, preparing and cooking enough food for over 100 guests!)"
"The bar was provided by Neil at Perfect Parties Glasgow. They were also mega helpful! As the venue is not your typical wedding venue that comes with its own staff, we really relied on Neil and Nicola's teams to take on a mountain of duties to make the day run smoothly. The bar itself looked amazing – and the rustic wooden facade and crate box details really suited the venue and the theme of our day."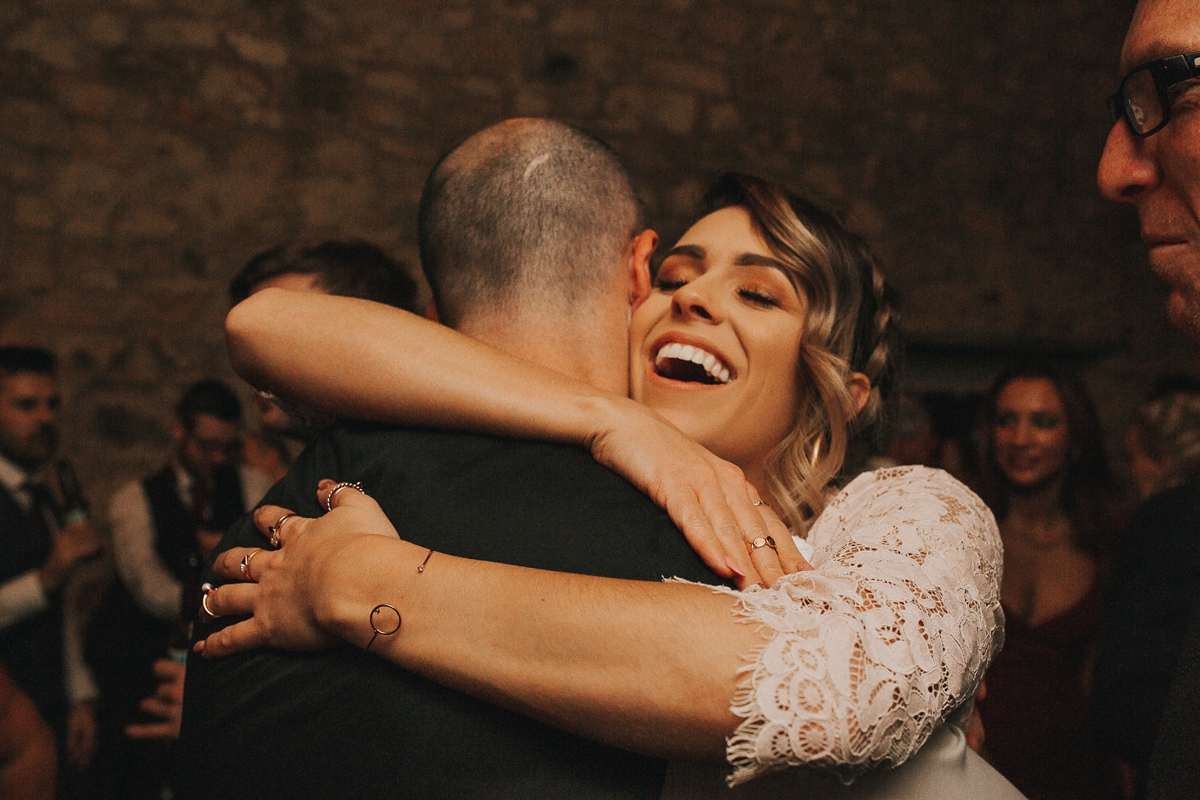 "Our first dance was 'Beast of Burden' by the Rolling Stones. This was Chris' selection and on hearing it I absolutely agreed! We had a couple of dance lessons with a dance teacher friend of mine who helped us come up with a few steps and a bit of a routine so that we didn't stand and sway in the middle of the room for 2 minutes! I'm glad we did, the tempo of the song is perfect; quick enough that you can dance to it but not too fast that things get complicated!
"Our band were Matt Gloss and the Emulsions and had been suggested by a few people after asking for recommendations from friends on Facebook. We listened to a few of their covers on SoundCloud and YouTube and decided they were the ones for us."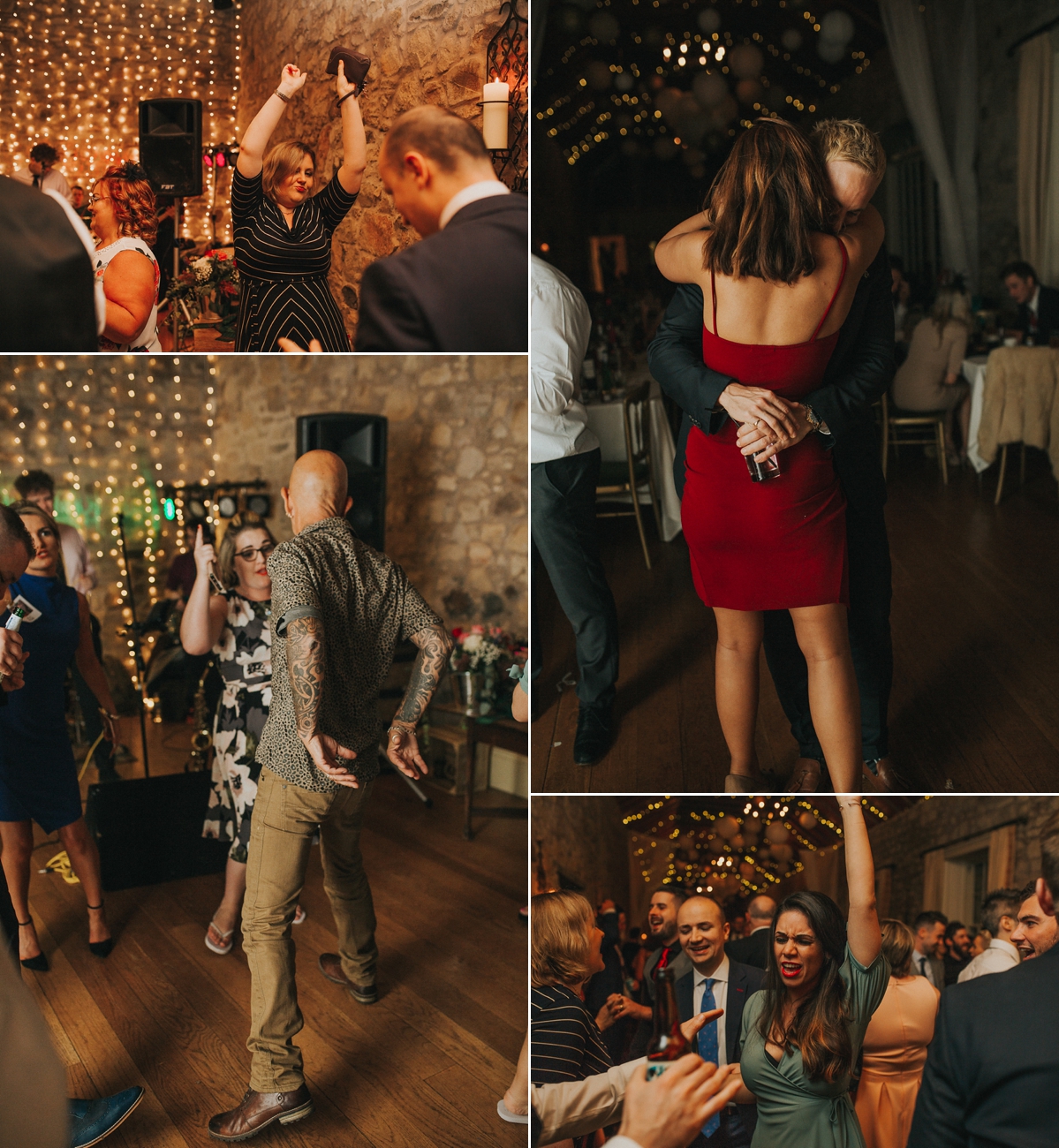 Words of Wedded Wisdom
"One of my best friends got married last year and passed on a piece of advice that she had received, which was to try and enjoy as much of the day together as you can. Every time either of you had to leave the room, go to the bar, go to the loo etc, try to come back in together, and share those moments of watching your best friends and closest family having an amazing time in your honour.
There was so much happiness and love in the air the whole day, it still makes me emotional thinking about it now."
Thank you so much Emma and Chris, it's been fantastic to share in your day and in your happiness, and wow, what a stunning, stylish celebration. Thanks also go to photographer Alice and videographer Andy of A Little Picture, for their magical, atmospheric images and film.
With love,
Laura