I'm writing this piece while enjoying some long-awaited warm sunshine, and it's absolutely lovely to be able to share a gorgeous and timeless summer wedding with you today. I'm in complete awe of the bride, who runs her own bespoke bridal wear business and who designed and made her own beautiful wedding gown, and who has generously shared a wealth of wisdom and advice below.
Bride Kelly is owner of and designer for KMR Bespoke Bridal Designer, and she married her groom Glynn, an Electrical Engineer on the 29 July 2017 in a ceremony at St. Andrews Church in Burton-upon-Stather, followed by a fun, relaxed reception at the lovely Elsham Hall.
"Our videographers were the amazing Pete and Ben from The Cine Collective. They did such a wonderful job and I would highly recommend them. We spent so much of the day with them…and they did such a great job of making us feel comfortable in front of the camera. The finished product completely exceeded our expectations. We have had so many comments from family and friends, it is something that we shall treasure forever."
Film by The Cine Collective
Today's stylish, fine art photography comes courtesy of our valued Little Book member, Folega Photography, whom bride Kelly first met when she began her business.
"I met Sarah when I first started my business, she was one of the first wedding suppliers to offer me support and asked me to be involved in my first shoot. She is a great friend and I was thrilled when she agreed to photograph our special day. We didn't confirm the venue until we knew for definite that she was free! Sarah is an incredible photographer, she documented our day beautifully and captured memories that we shall treasure forever. I have always loved her documentary style and we were thrilled with our wedding photos. She is such a wonderful, enthusiastic and friendly person I would recommend her to any couple."
Images by Folega Photography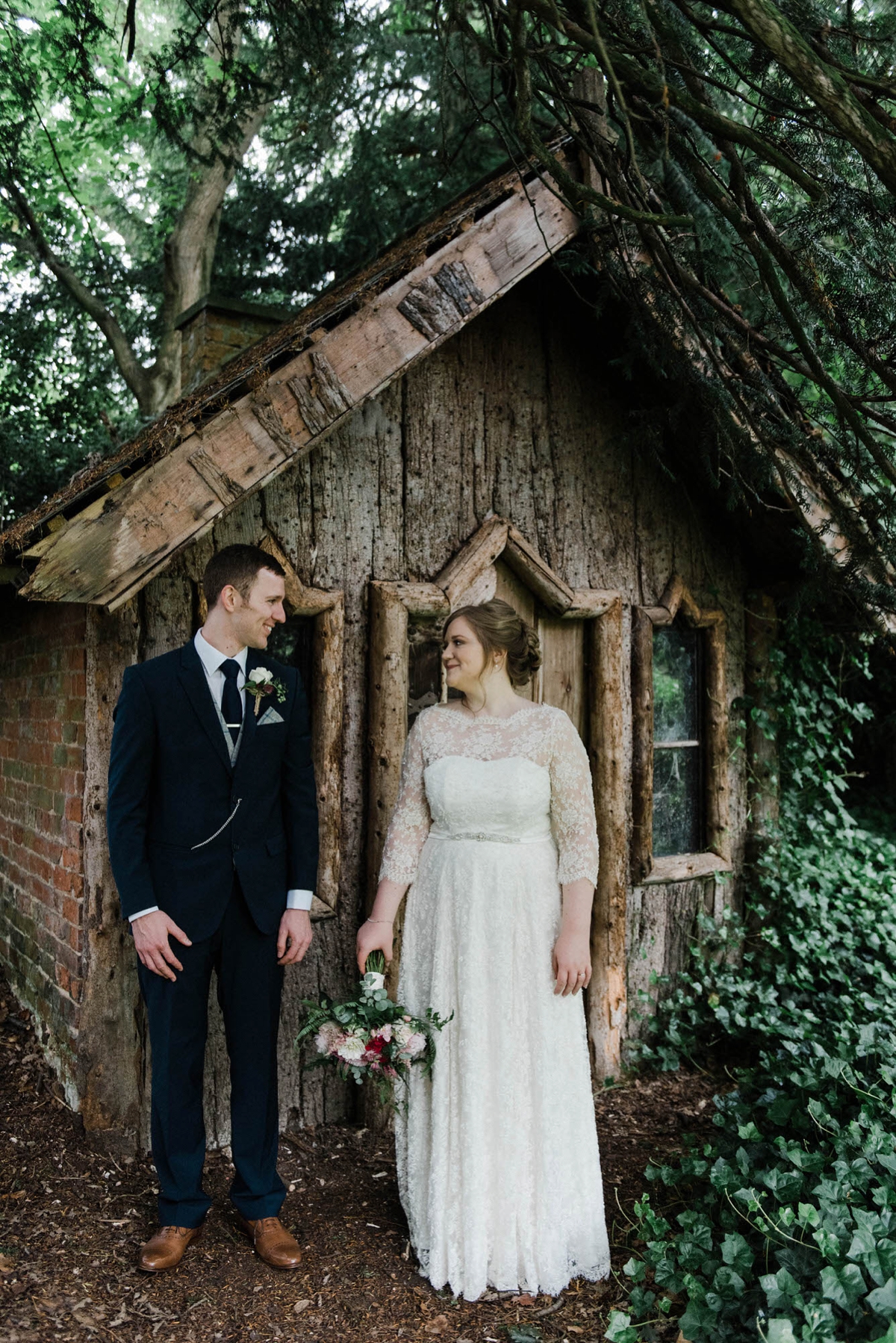 "We are both camera-shy and I hate having my photo taken. Although I have worked on many shoots being on the other side of the camera was a whole new experience for me. We had a pre-wedding shoot with Sarah a couple of months before the big day and this really helped us prepare for the wedding day. I would definitely recommend it to any camera-shy bride and grooms."
The happy couple first met at school, aged 11 and became close friends before beginning their relationship when they were 18.
"We started dating aged 18 and both happened to choose Sheffield to study at University. We have lived in Sheffield ever since. Glynn proposed in our first home together just before my 21st Birthday in 2011. It was a complete surprise and we were engaged for five and half years before we got married. We got engaged young and wanted to wait until we had finished our degrees before we got married."
Kelly also handmade her cathedral length veil, keeping it simple with lace edging along the bottom, in contrast to the detailed lace of her dress. For her shoes, she chose the vintage inspired 'Ginger' shoes by Rachel Simpson, whose wonderful designs are a popular choice for Love My Dress brides.
"I have always been a huge fan of Rachel Simpson shoes. Many of my brides have chosen to wear their shoes and I have always known that this would be the brand I would choose. I chose 'Ginger' in silver and they complimented my dress perfectly. They were also incredibly comfy."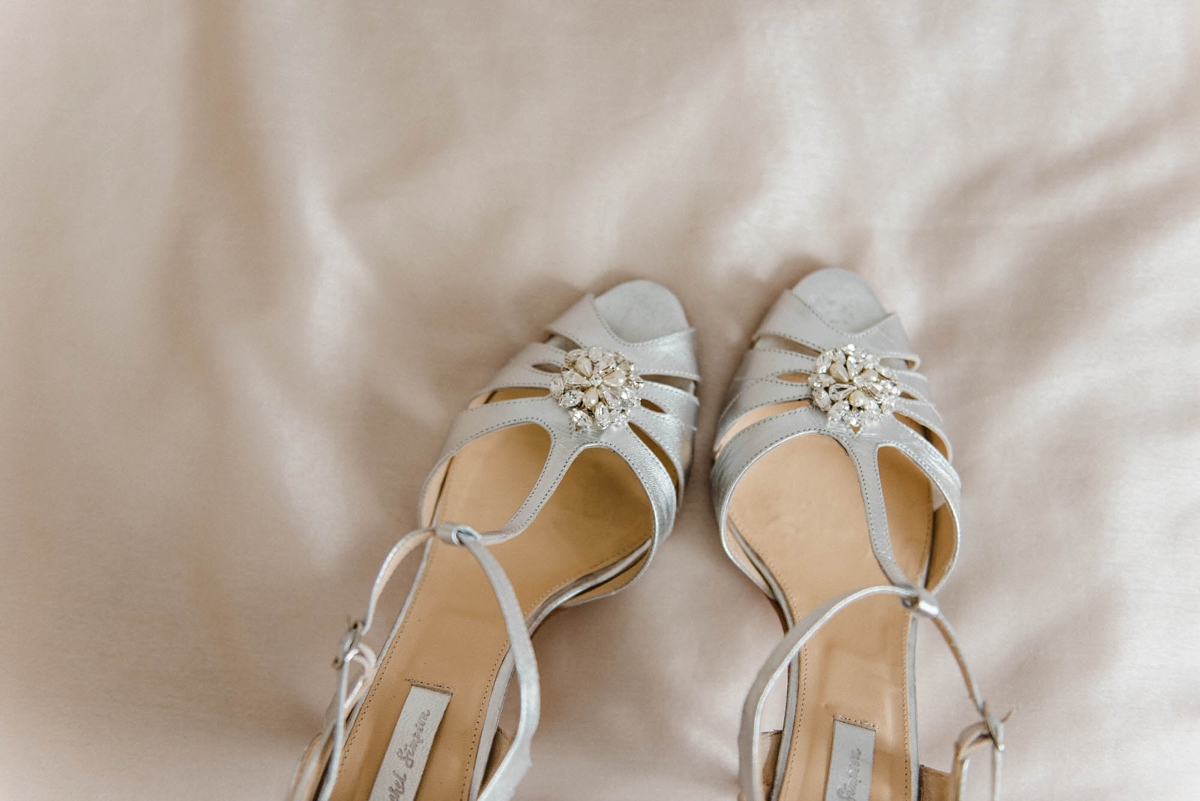 In keeping with the pale grey and pastel colour scheme for the day, the bridesmaids wore gowns from Jenny Packham's No.1 range for Debenhams, with soft, flowing skirts and sparkly bodices, together with silver sandals from Dune.
"Originally I had planned to make my bridesmaid dresses myself. With a fully booked wedding season, a wedding to plan, decorations to make, my wedding dress and my mother-in-law's and mum's outfits to make we all felt it was just too much work. I knew from the start that I wanted a dove grey shade for the bridesmaid dresses. We came across the perfect dresses from Jenny Packham's range in Debenhams. They suited all the girls and were exactly the shade I was looking for. I was so pleased that we decided to buy them in the end. It took off a lot of pressure and meant I could enjoy being the bride and planning the wedding."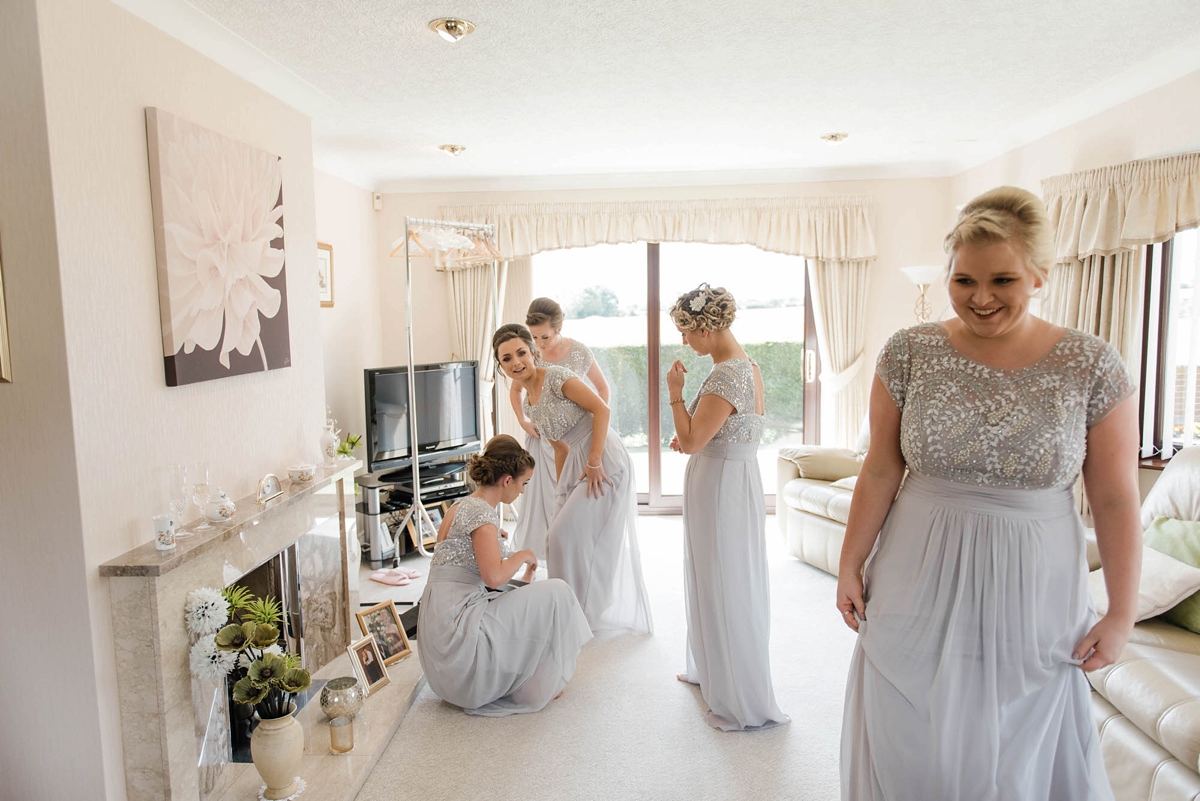 Kelly knows many wedding suppliers in the course of her work, but it's lovely to read that she took such inspiration from the pages of Love My Dress, both as a bridal designer and business owner, and as a bride-to-be. She chose to make her own gown, and what an elegant and timeless design it is, with intricately beaded French Chantilly lace and chic bateau neckline, all fitted to perfection.
"From starting my business as wedding dress designer I have been an avid reader of Love My Dress. It was always a huge inspiration source when planning our own wedding. I designed and made my own wedding dress. I run a bespoke bridal wear business – KMR Bespoke Bridal Designer, which I launched in 2013. I have had the pleasure of designing and making so many beautiful wedding gowns and bridal accessories and loved that I was able to make my wedding gown. The only people who helped fit the dress to me and saw it before the big day were my mum and mother-in-law."
Even though she didn't end up making her bridesmaids' gowns, Kelly was keen they wear something on the day made by her, so gifted them her 'Abbie' hair comb, and bracelets engraved with each of their initials from Bloom Boutique.
"Working in the industry I definitely felt the pressure of creating a dress that everyone would love. As I always say to all my brides, your wedding gown should reflect your own personal style and it should reflect you as a person. You shouldn't have to conform to any stereotype or have to follow any particular trend. I would constantly remind myself of my own advice and it really helped reassure me that no matter what I chose, as long as I loved it and felt confident wearing it nothing else mattered. It was such a wonderful experience as I was able to share my own wedding journey with my brides who also married around the same time as me."
"I chose a silhouette that I knew best suited my figure. My dress was fitted to the waist with an A line skirt. I am a lover of lace and particularly vintage inspired lace…I chose an illusion bodice fitted to the waist with a boat neckline at the front and back edged in the lace scallop edging. I also chose three-quarter length lace sleeves and silk covered buttons down the back. I had a thin silk waistband at the waist with a beautiful diamante and pearl motif at the front and a bow at the back. The A line skirt flowed beautifully in the silk crepe backed satin with an overlay of the lace edged at the hem with scallop lace detailing."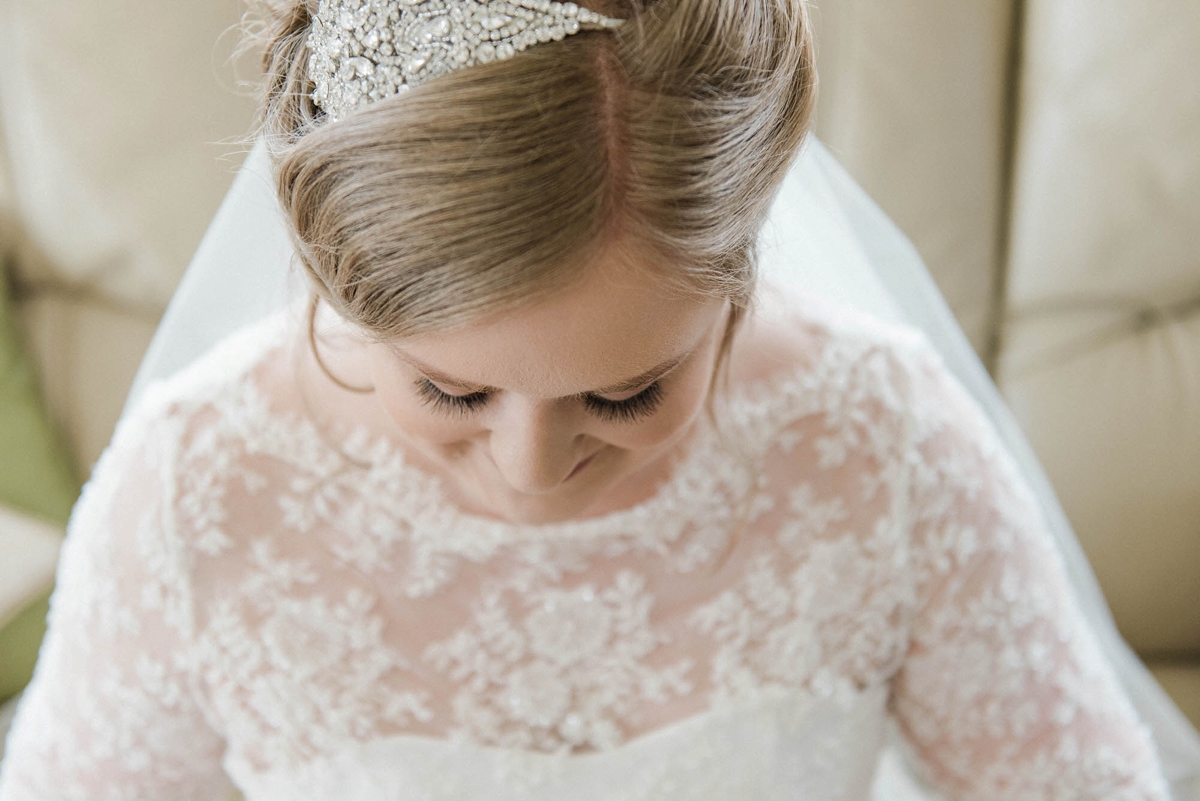 "I loved my dress, I loved how the skirt moved and I purposely didn't want a petticoat as I wanted the skirt to move naturally. I also loved my train, I always knew that I would want a train on my dress and it worked really well with the weight of the lace."
Kelly bought a new fragrance for her wedding, wanting to have a scent that would then always remind her of the day. She chose Jo Malone's Peony and Blush Suede cologne, which she layered with the matching body cream.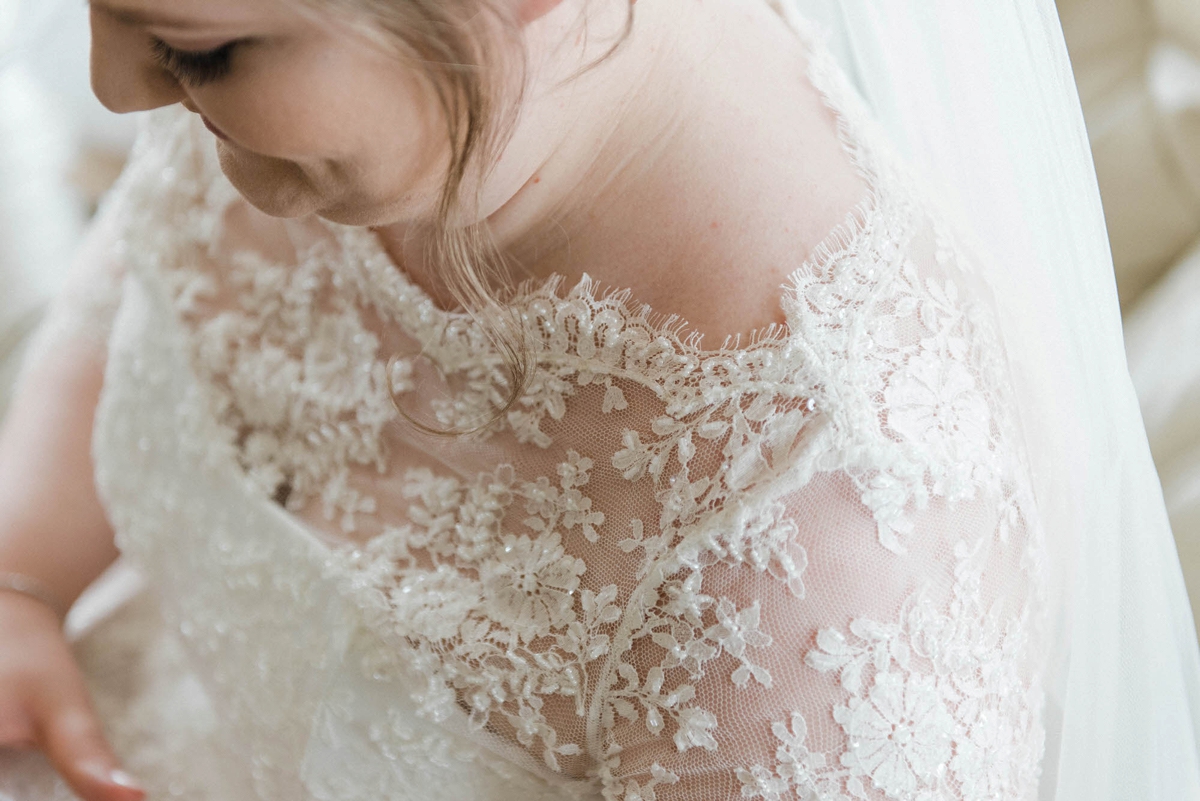 "I bought both Glynn and my Dad a beautiful embroidered handkerchief from Extra Special Touch. They made such lovely keep sakes and I was able to embroider a personal message to them both."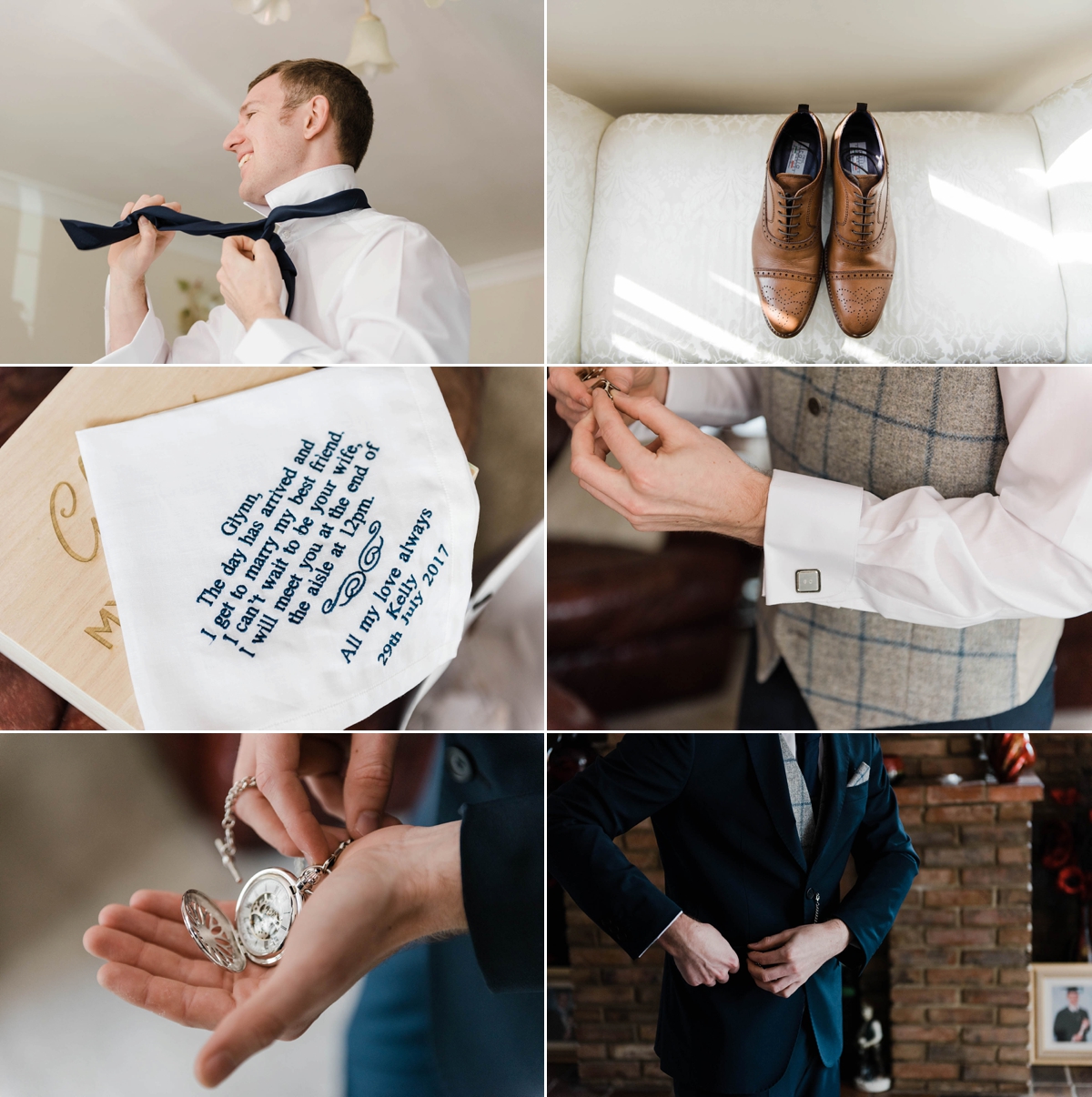 Our bride also made her own lace garter from the same material as her dress, adding a pink rose from her mum's wedding gown as an extra personal touch. Around her wrist she wore a delicate silver bracelet from Pandora, which was a gift from her parents and brother, and a pair of pearl and diamond drop earrings from Glynn, which he purchased from PA Jewellery and matched the pearl beading on her gown perfectly.
"I sadly lost my Grandma in 2013, she was a huge part of my life and I wanted to make sure she was part of our wedding. I chose to wear one of her rings which she had passed on to my mum. It is a beautiful gold ring with a pale blue sapphire in the centre. This was my something old, borrowed and blue. I also attached one of her brooches onto my bouquet. It was my way of having her there with me on the day."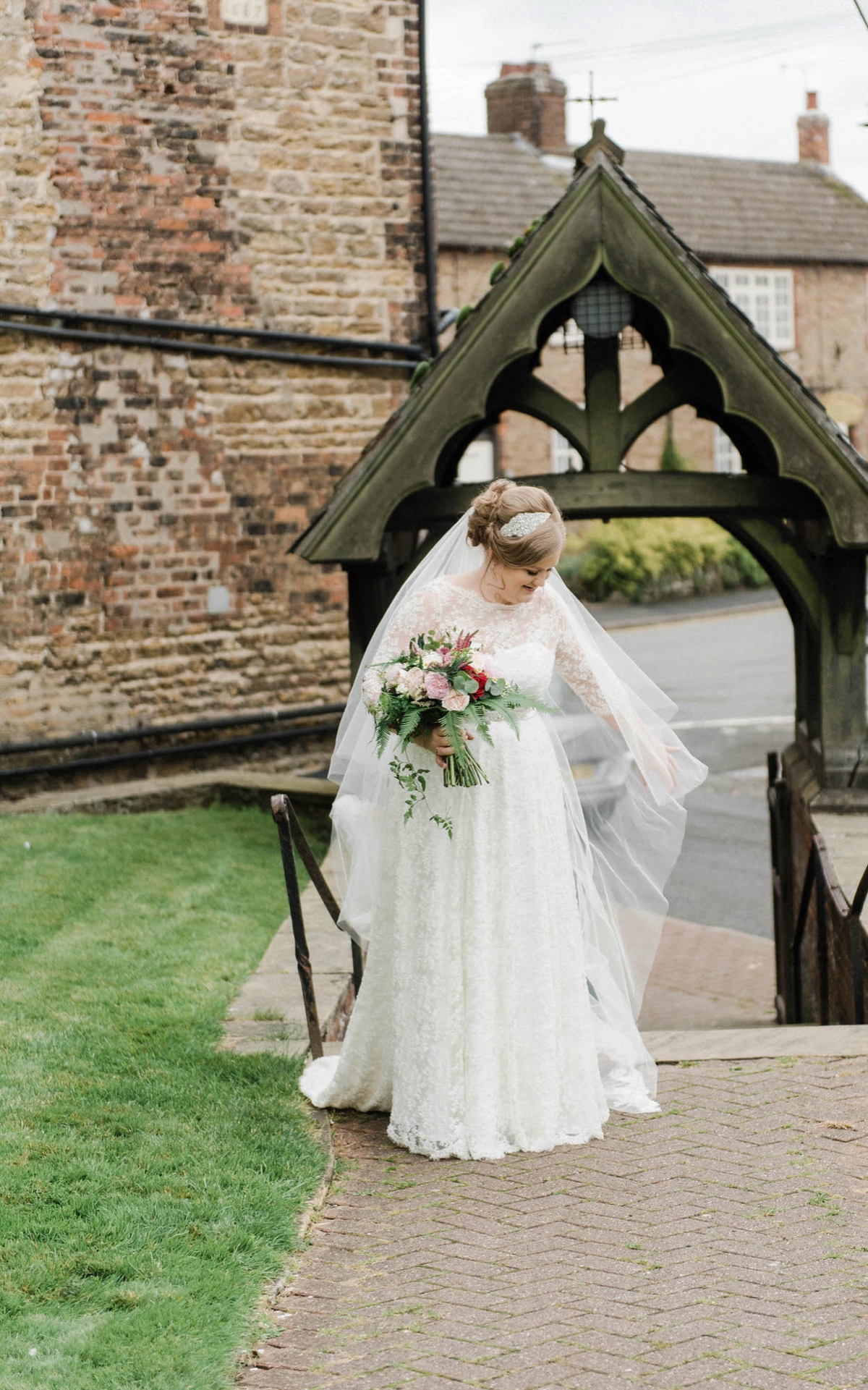 The hair and make-up team on hand to style Kelly and the bridal party were Halo by Hazel and Sarah Grey and assistant Ria Amelia.
"Both Hazel and Sarah are great friends who I have had the pleasure of working with on many occasions. They did hair and make up for myself, my 5 bridesmaids, my mum and mother-in-law. We had a wonderful morning being pampered and I felt wonderful on the day. I opted for a loose up do and fairly natural make up – nothing too bold. Both the make-up and my hair lasted all day and I have never felt more special or beautiful as I did on my wedding day.I can't thank them both enough for everything they did for us on the morning of the wedding."
"Hazel who styled my hair helped me decide on the size of headpiece I should go for and I found my hair trial very helpful in helping me decide on what I would choose. In the end I opted for a headband which I made myself with beautiful vintage silver crystal diamante. It caught the light beautifully and made a nice feature when I removed my veil."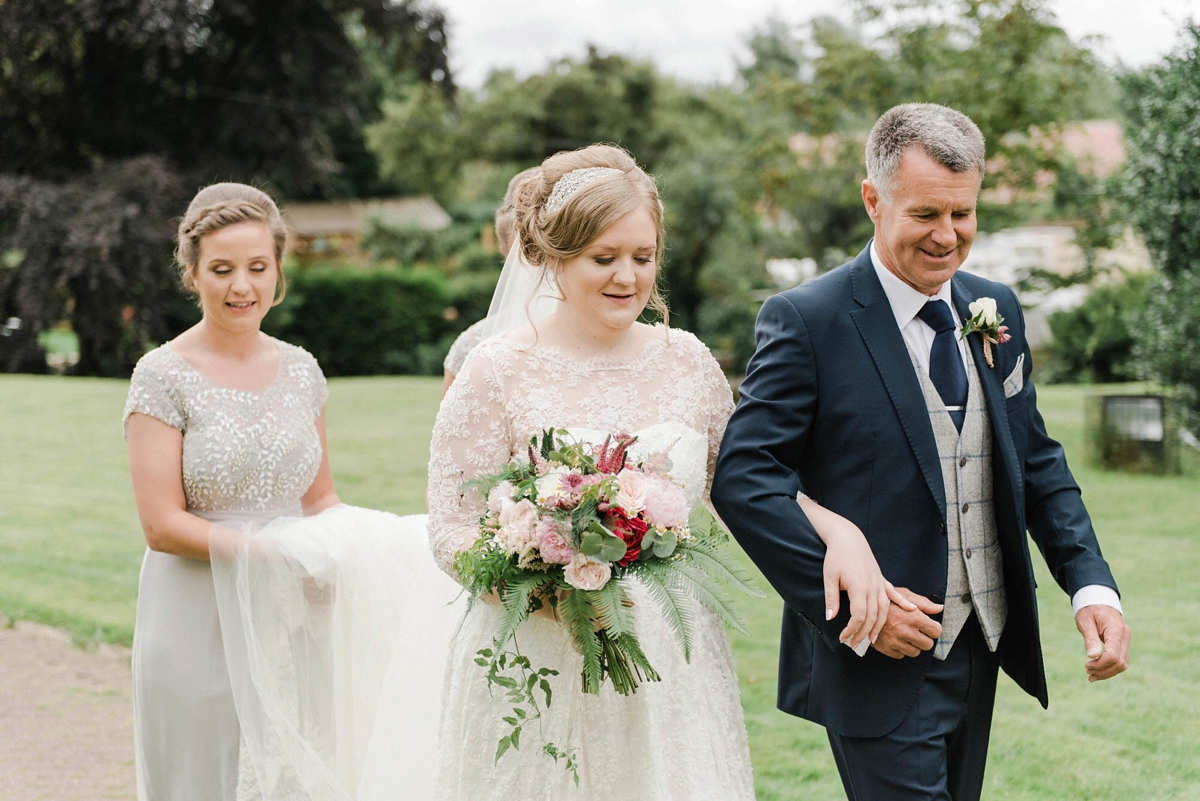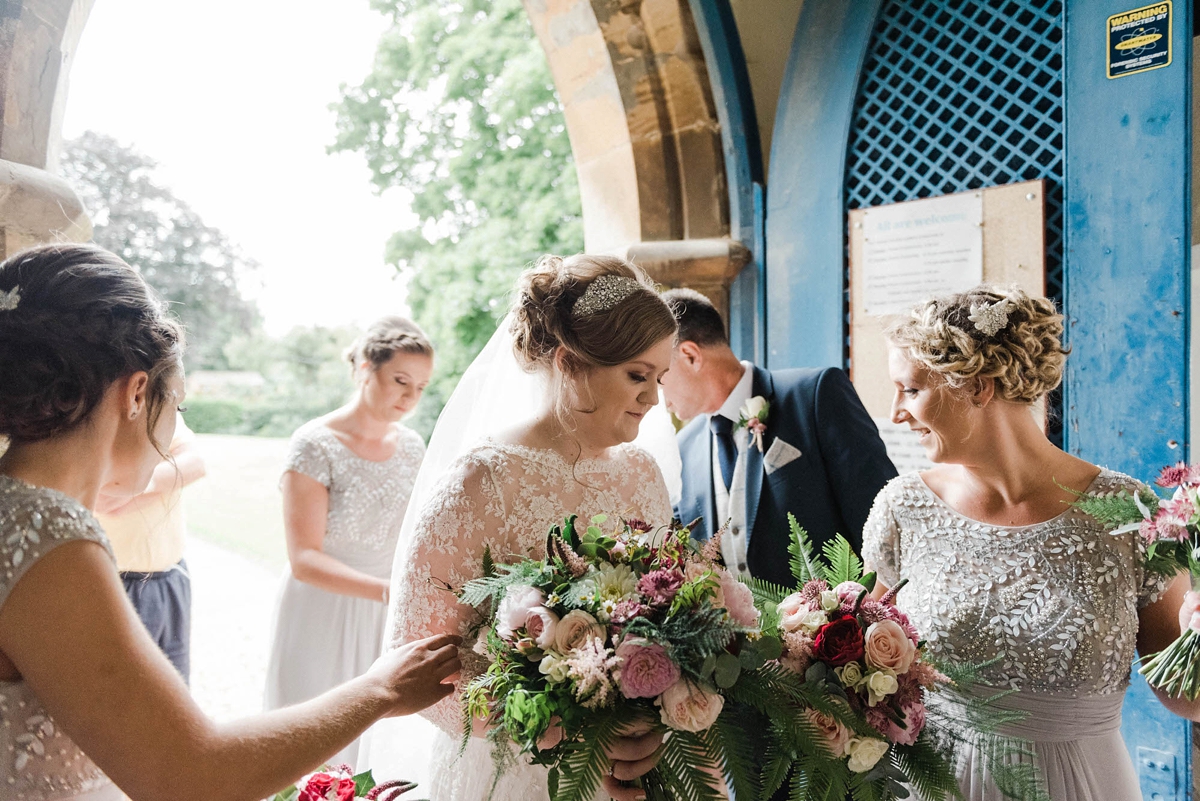 Kelly and her dad are very close, and so it was a lovely moment for them both as they walked down the aisle of St. Andrews Church to meet Glynn, to Wagner's Bridal March. The couple chose traditional vows and exchanged rings from Sheffield based PA Jewellery.
"We loved that they were local to us, just down the road and were a long-established family run business in Sheffield. They were very helpful and designed a bespoke ring to perfectly match my engagement ring and Glynn chose a classic plain band."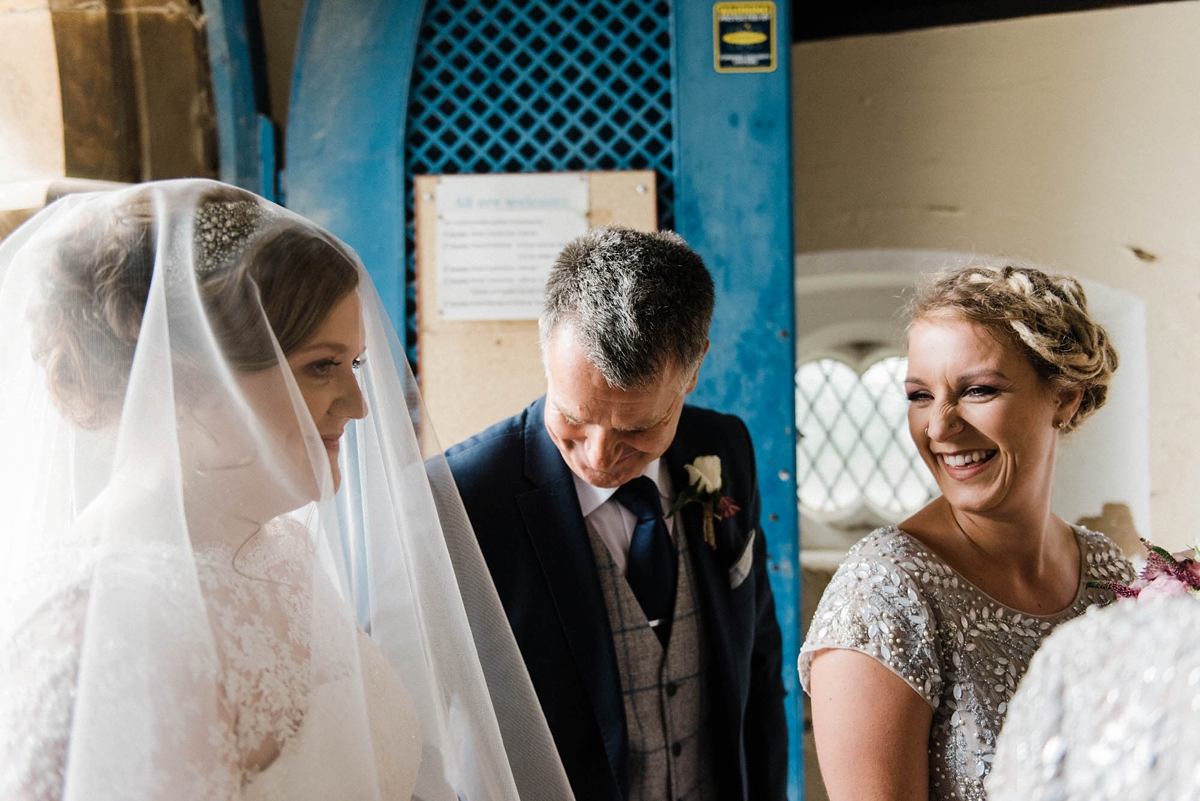 Being married at St. Andrews held special significance for Kelly, as it is her family church, and was where her own parents had married 33 years before.
"We always knew we wanted a traditional church service and although we have lived in Sheffield since aged 18 we wanted to be married close to our hometown where we grew up and where we first met."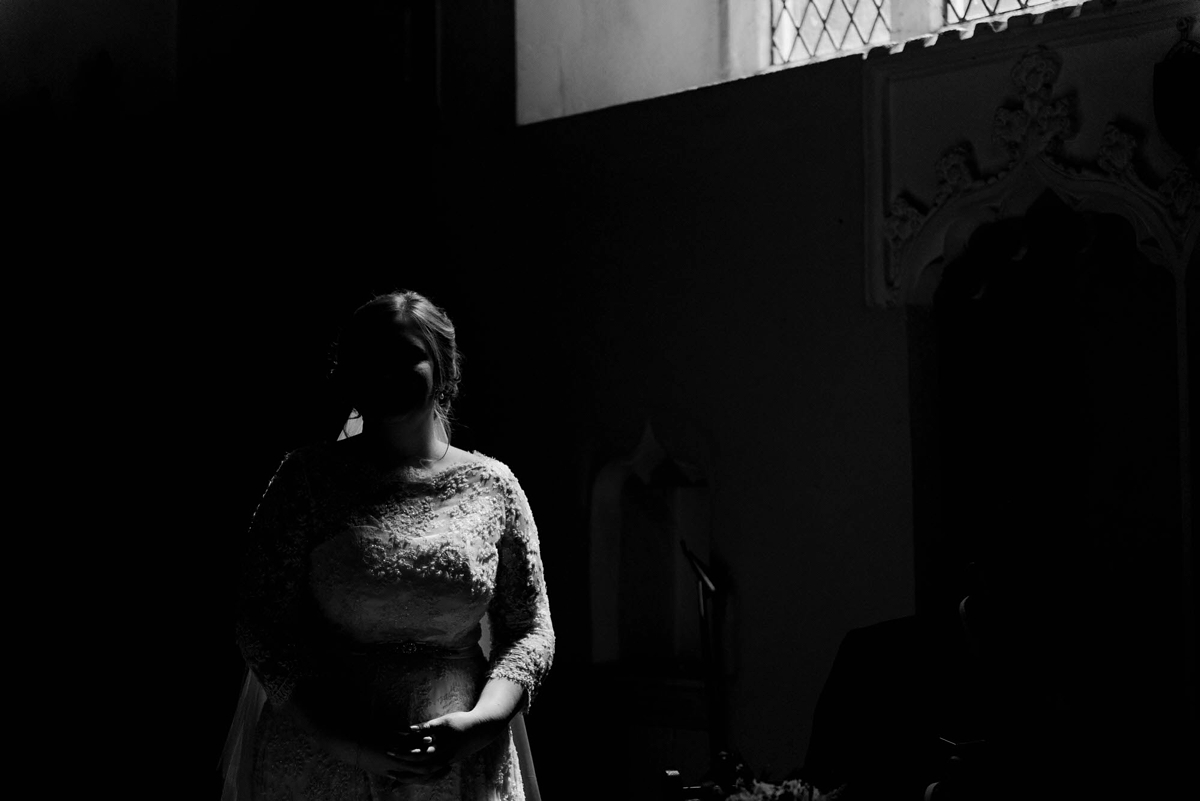 Kelly and Glynn's mums read 1 Corinthians 13 and a poem entitled The One by Cheryl J. Barclay.
"We chose 1 Corinthians, Chapter 13 as this is a reading close to my heart. I read it at my Grandma's funeral and it always makes me think of her. We came across 'The One' poem online and loved the message of the poem. Equally we felt it was nice to have a traditional reading and a modern poem."
"Our favourite part of the day was the ceremony and marrying my best friend. We had been engaged for over five years and spent two years planning the wedding. By the time the wedding came round I was so excited for the day but most importantly we just wanted to be married. Saying our vows in front of the people we love most in the world was also particularly special to us."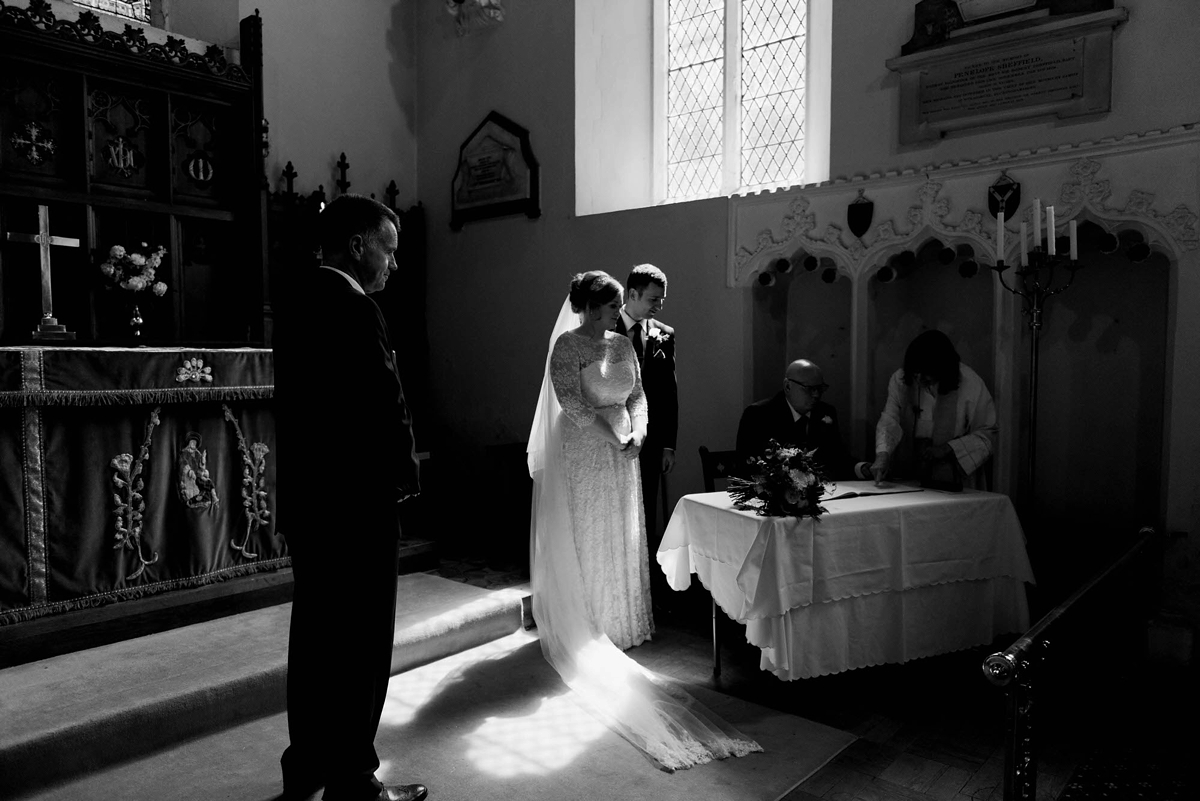 Kelly and Glynn hand painted a welcome sign and order of service for the church, which were then decorated with more gorgeous flowers from Paeony Floral Design. Lauretta also filled jam jars with more blooms, which were hung with string and used as pew ends inside St. Andrews. These decorations served double duty, being transported over to the reception venue as extra decoration. Baskets were filled with handkerchiefs for guests, as well as the printed order of service.
"We made our own confetti cones out of paper doilies and filled them with confetti from Shropshire Petals. We filled two wooden crates full of the cones and the ushers handed them out to our guests. This meant we got some great confetti shots."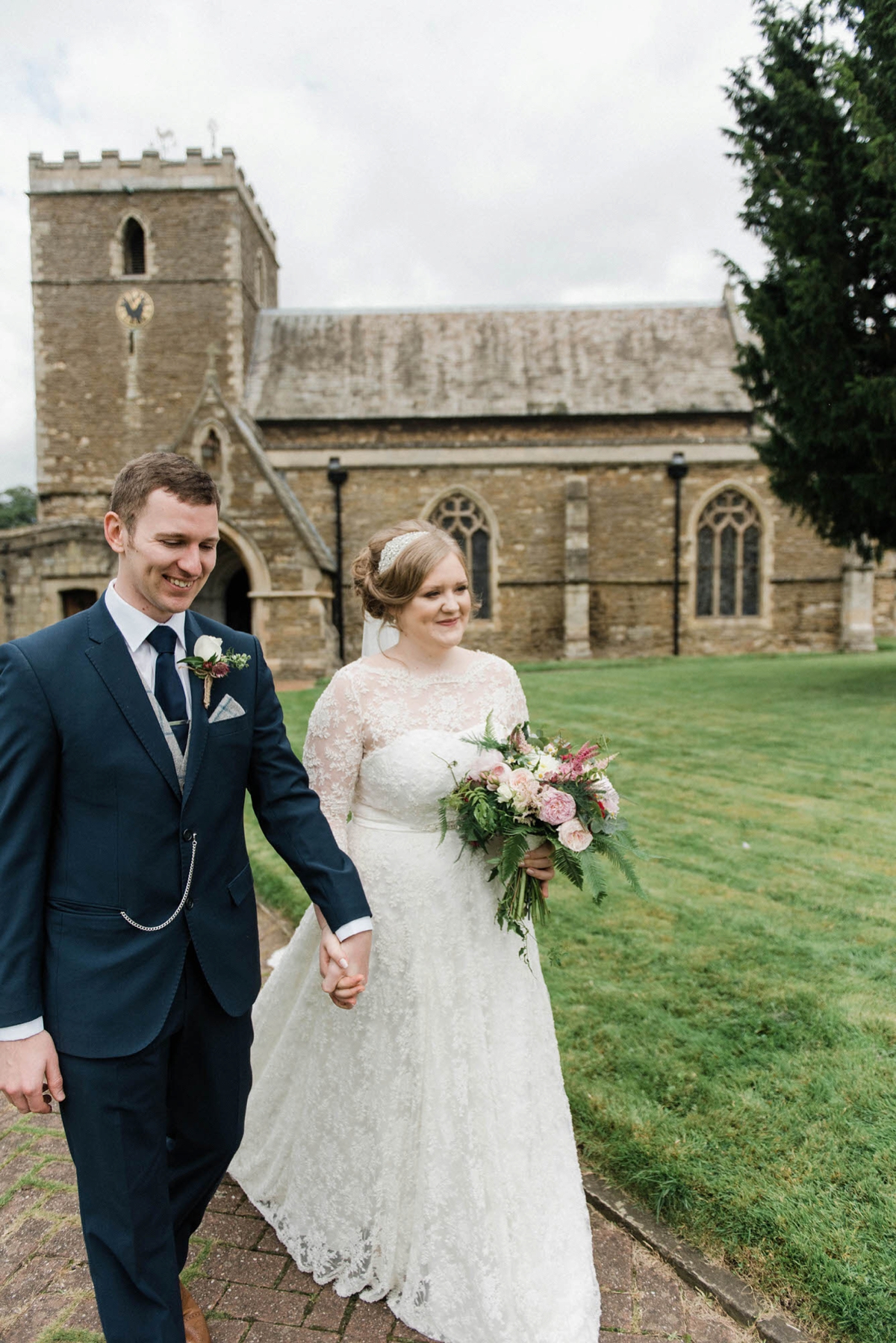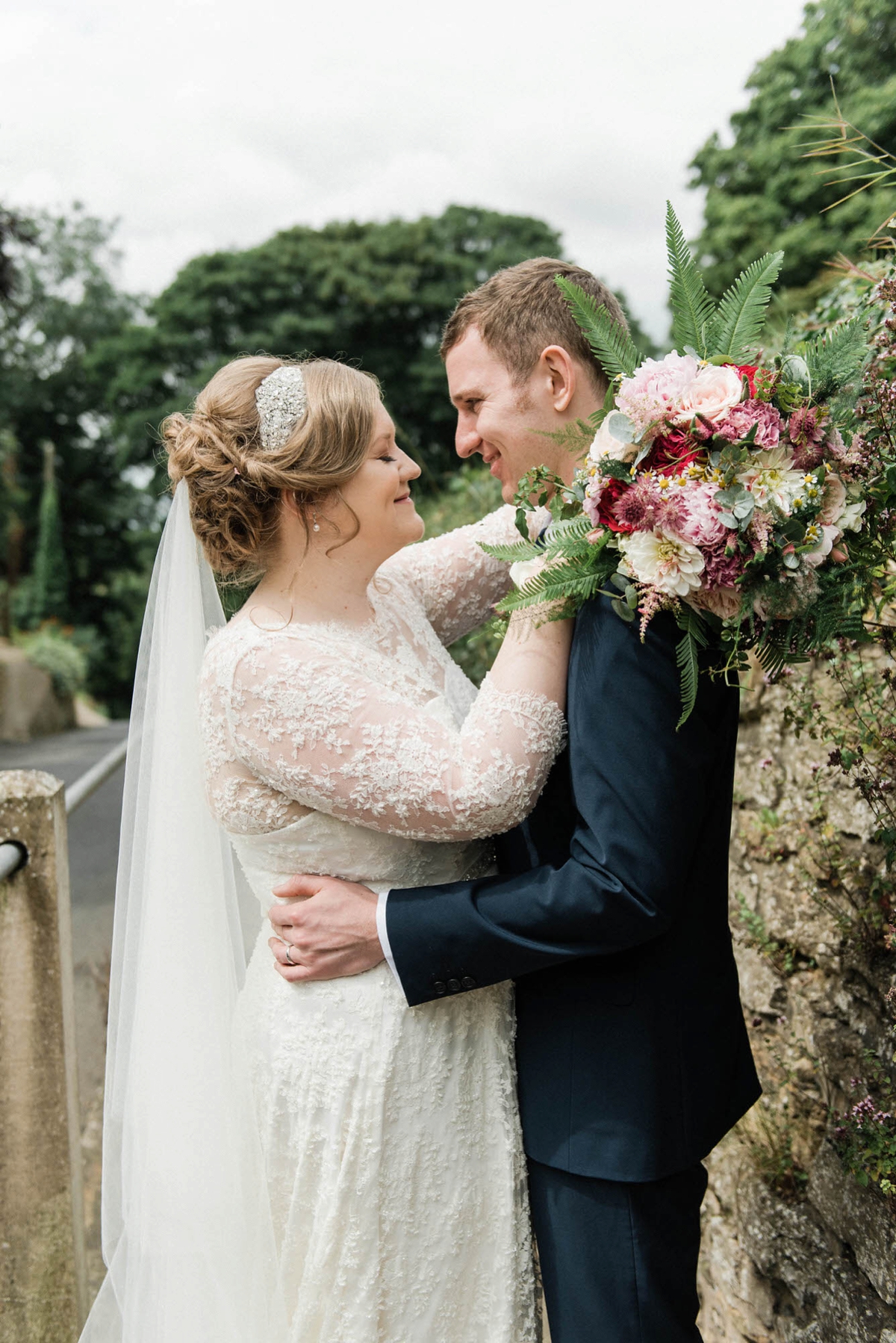 The romantic, blowsy blooms and floral arrangements were the work of Lauretta at Paeony Floral Design. Kelly chose shades of cream and pastel pink roses, peonies, tanacetum daisies and antique carnations (as they were her grandmother's favourite flower).
"Lauretta did an incredible job with our wedding flowers. We did a shoot a couple of years ago and I loved the bouquet that she made for it so I asked her to base my bouquet on that…She really listened to what we wanted in terms of the aesthetic and completely exceeded our expectations. I would highly recommend her to all brides."
"We booked our transport with All Occasion Cars and chose a classic 1974 Daimler, which started out life at Claridges Hotel, London. We looked at their fleet but fell in love with this vintage classic. We also loved the space it gave us, it was such a large car! It seated seven which was great as it took Glynn and the groomsmen to church first, then the bridesmaids and my mum and finally me and my Dad."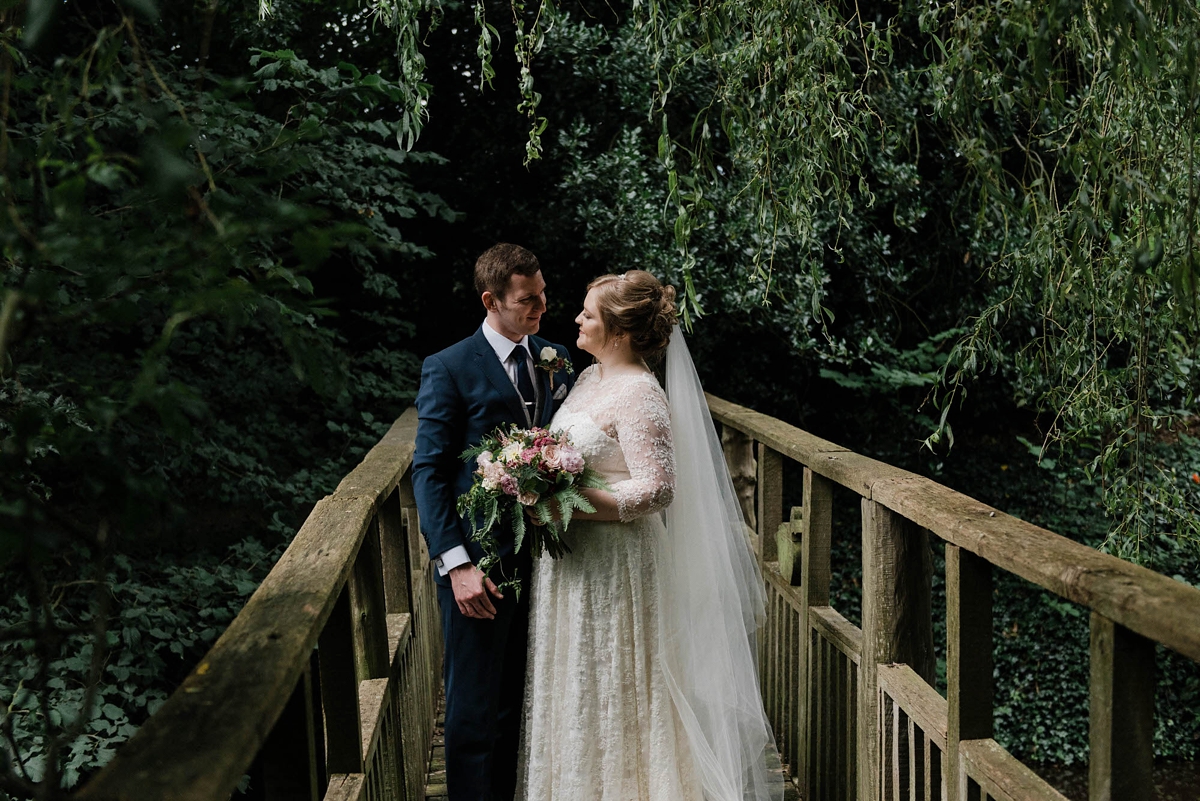 "We chose Bon Appetit to cater our wedding. Julie and her team were fantastic and catered a menu to suit our tastes. They served the most amazing canapes along with my favourite cocktails, and Glynn's favourite bottles of Peroni as arrival drinks, which went down a treat with the guests! We decided that we wanted a 3 course sit down meal and the food was incredible. We based the menu on our favourite foods and were blown away on the day with the quality and the size of the portions. During the evening we had a Hog Roast, which was served with a salad bar along with the wedding cake."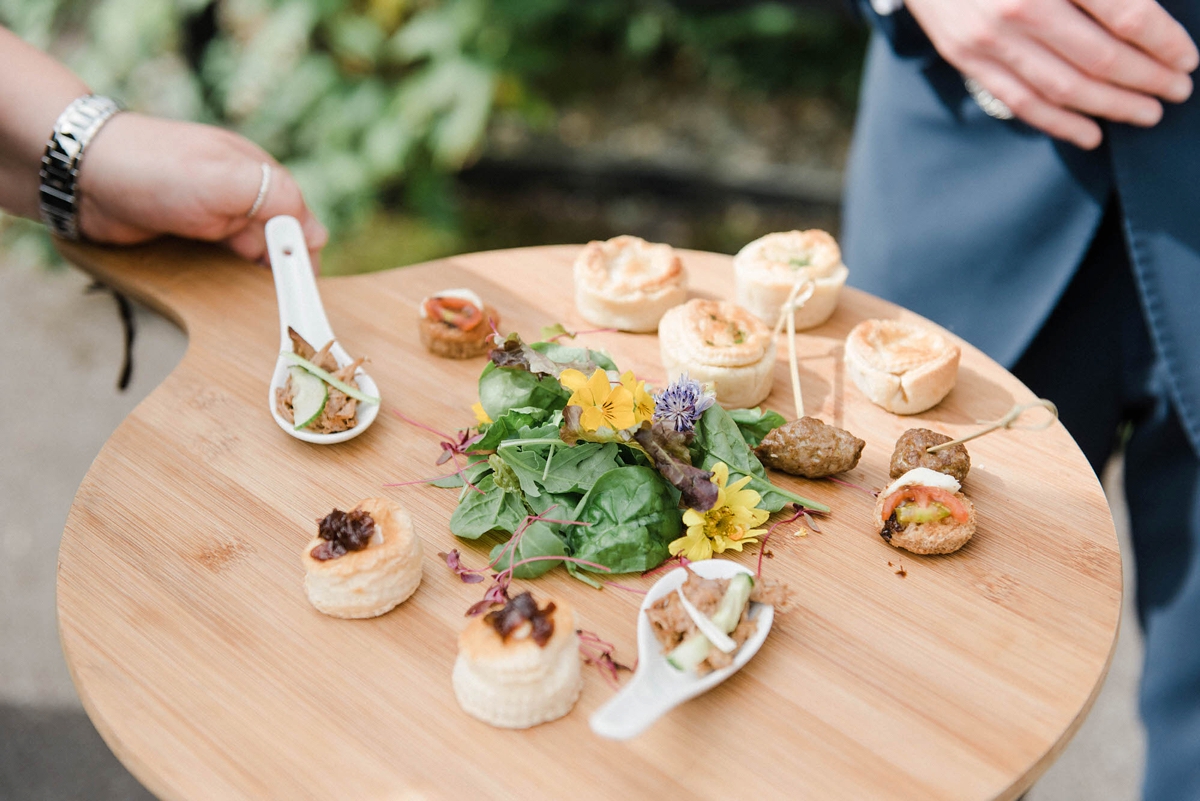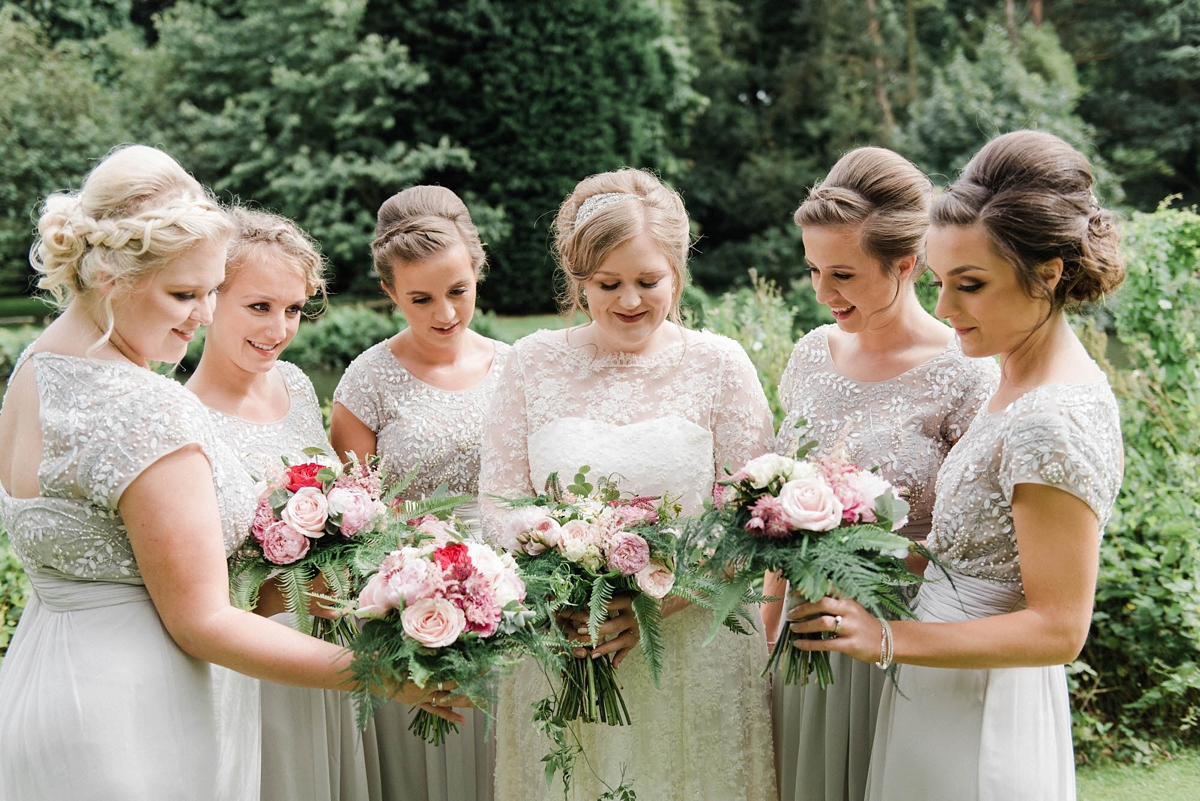 Groom Glynn wore a sharp navy blue suit with a matching tie and pale grey tweed waistcoat and pocket square from Reece Ford Suit Hire, with the groomsmen in matching attire. As a contrast, Glynn wore a tan belt and shoes from Next, and knowing that he wanted to wear a pocket watch on his wedding day, Kelly gifted him one from PA Jewellery.
"I also bought him the same cufflink and tie pin set that we bought all the groomsmen as a gift. They were from a store on Etsy and were hand stamped with their initials."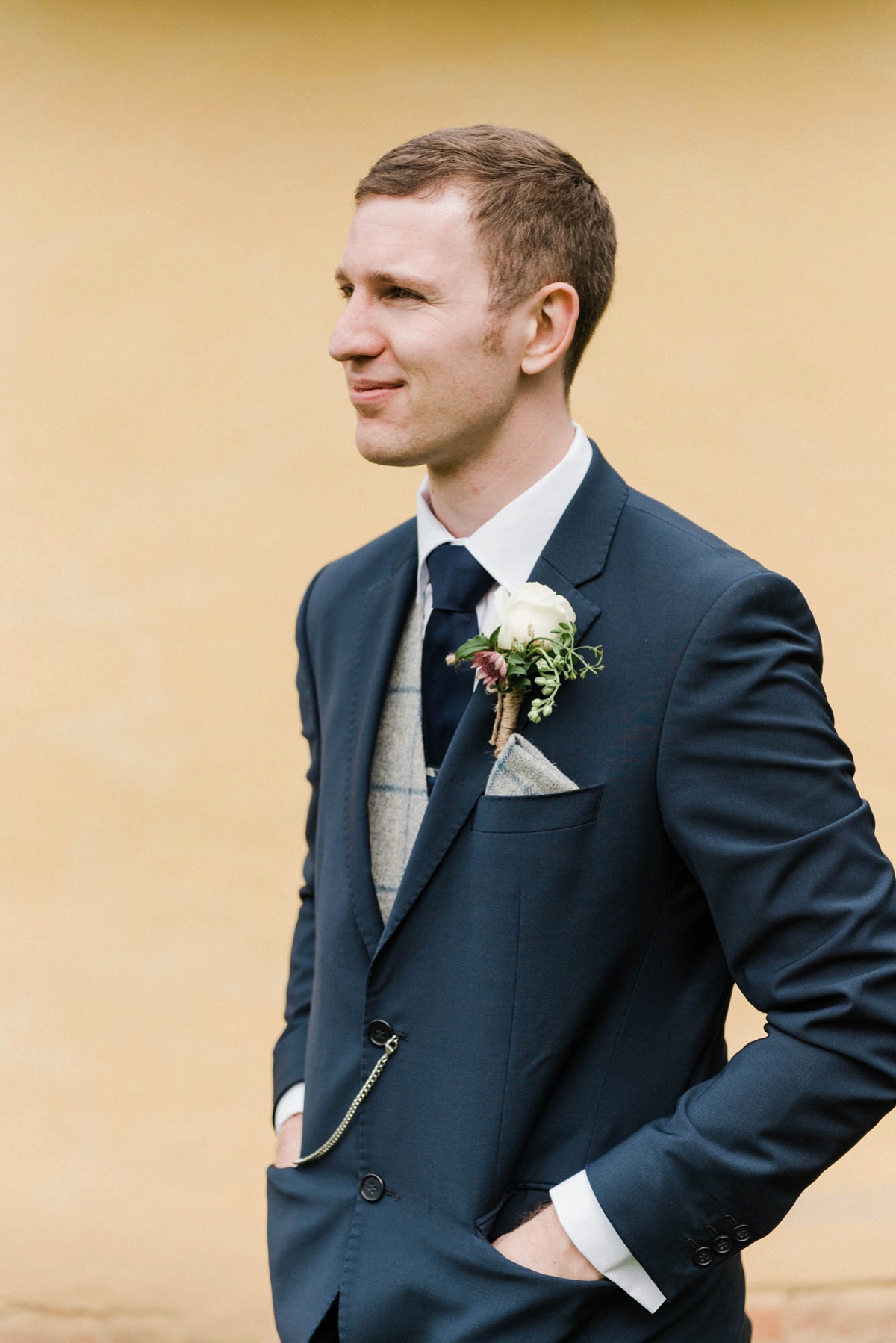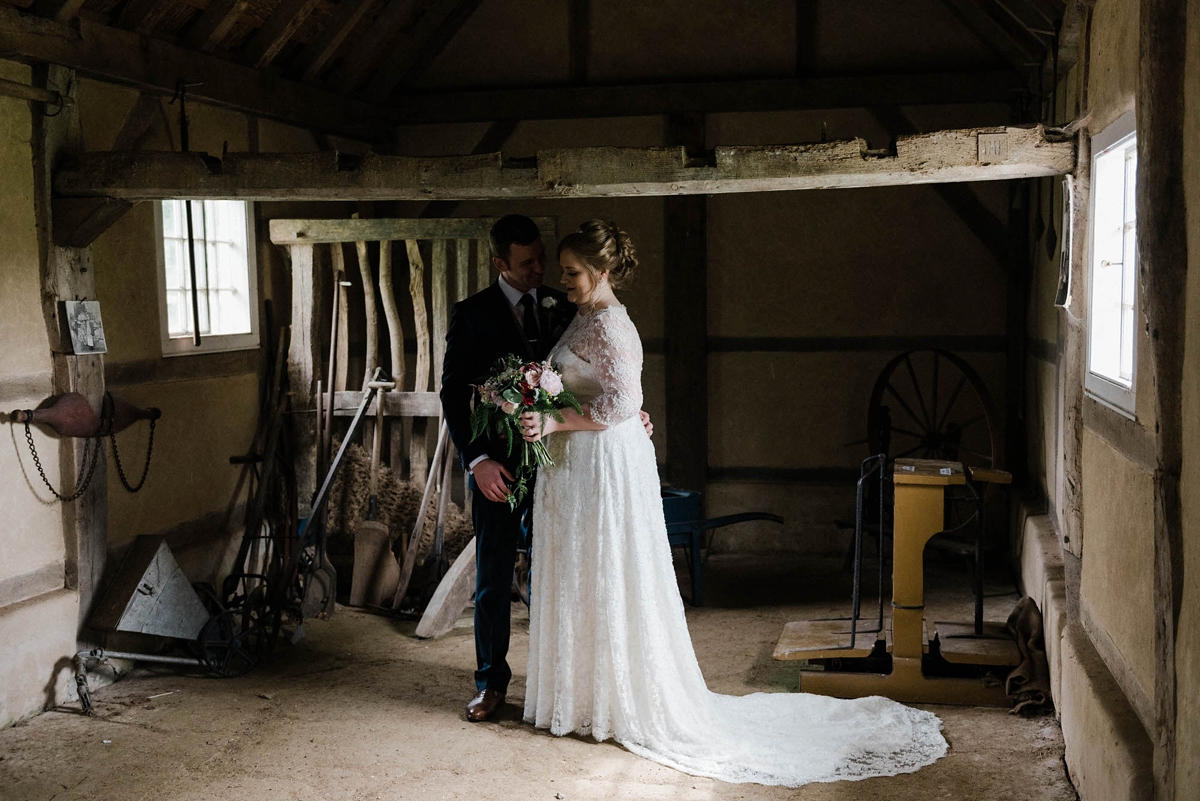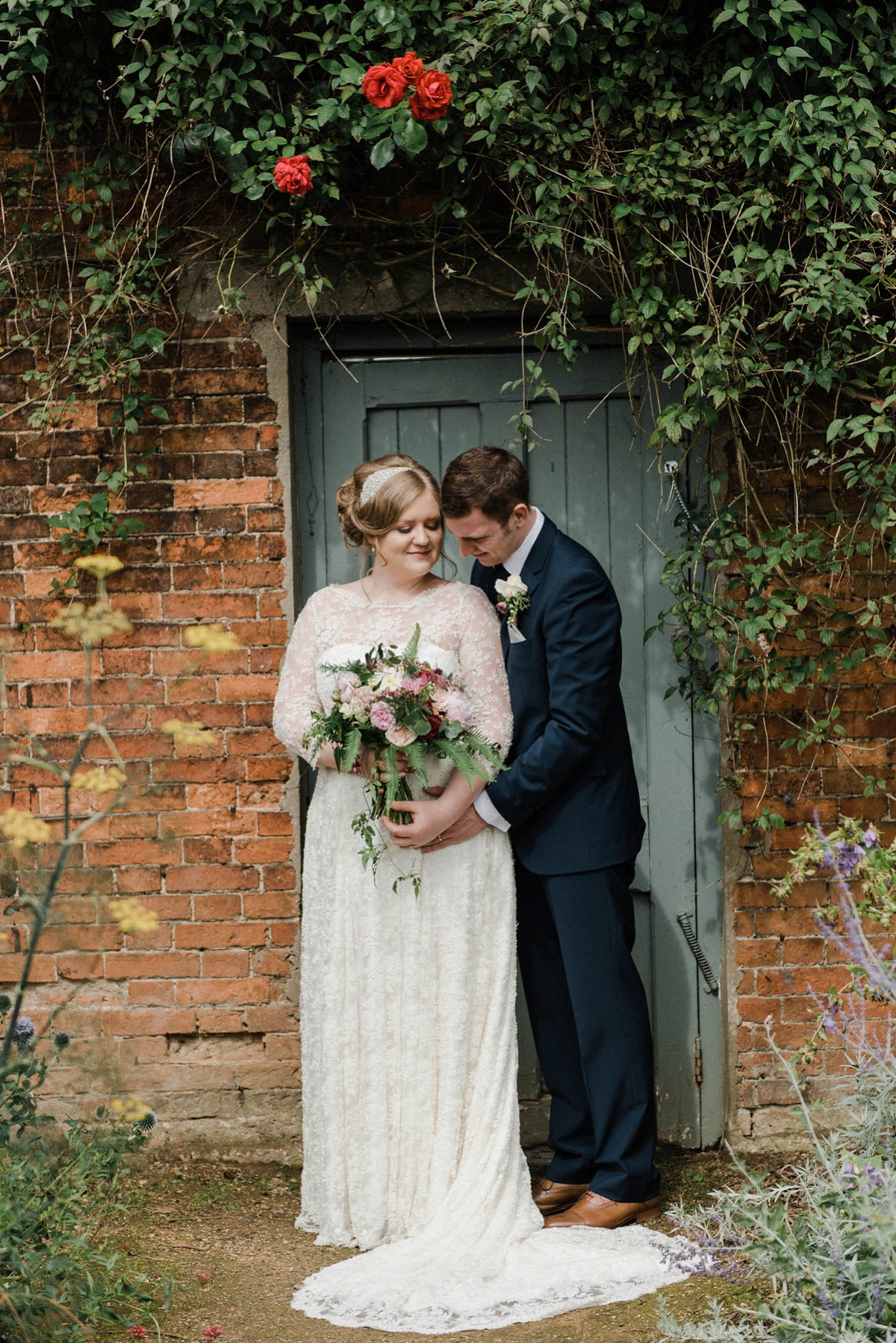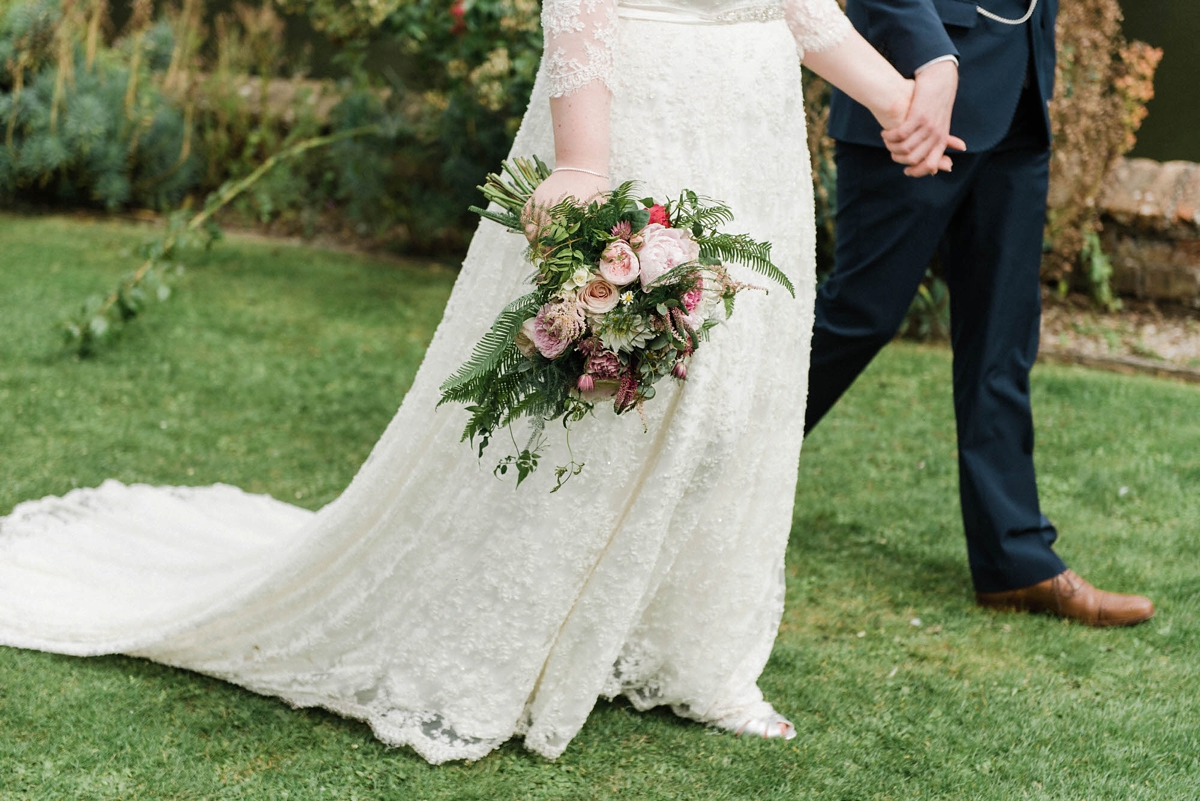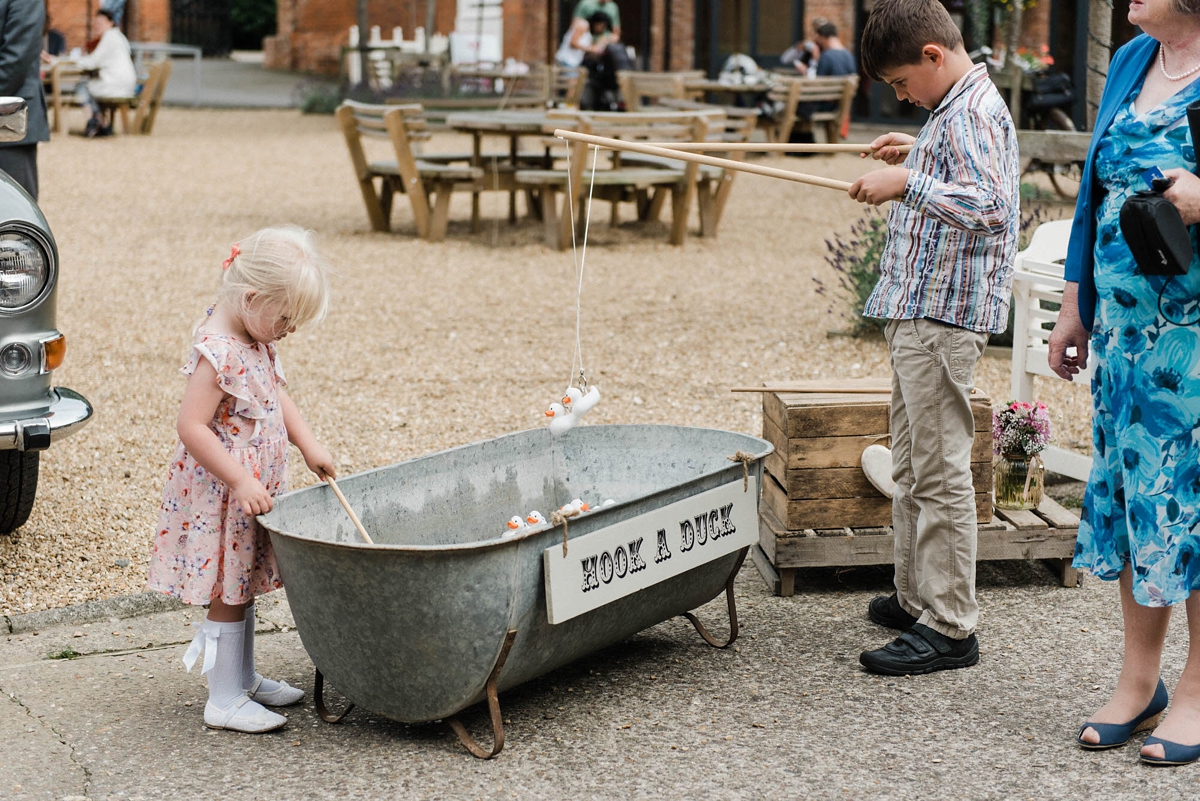 "Our reception was at Elsham Hall. We decided that we wanted a relaxed wedding and fell in love with the barn at Elsham Hall. It was the perfect size venue for our 100 guests and it ticked all the boxes. The gardens at Elsham also made the perfect back drop for photos."
Kelly and Glynn also chose Elsham Hall as they were able to style the venue to their liking, and it was very important to them both that this reflected them as a couple.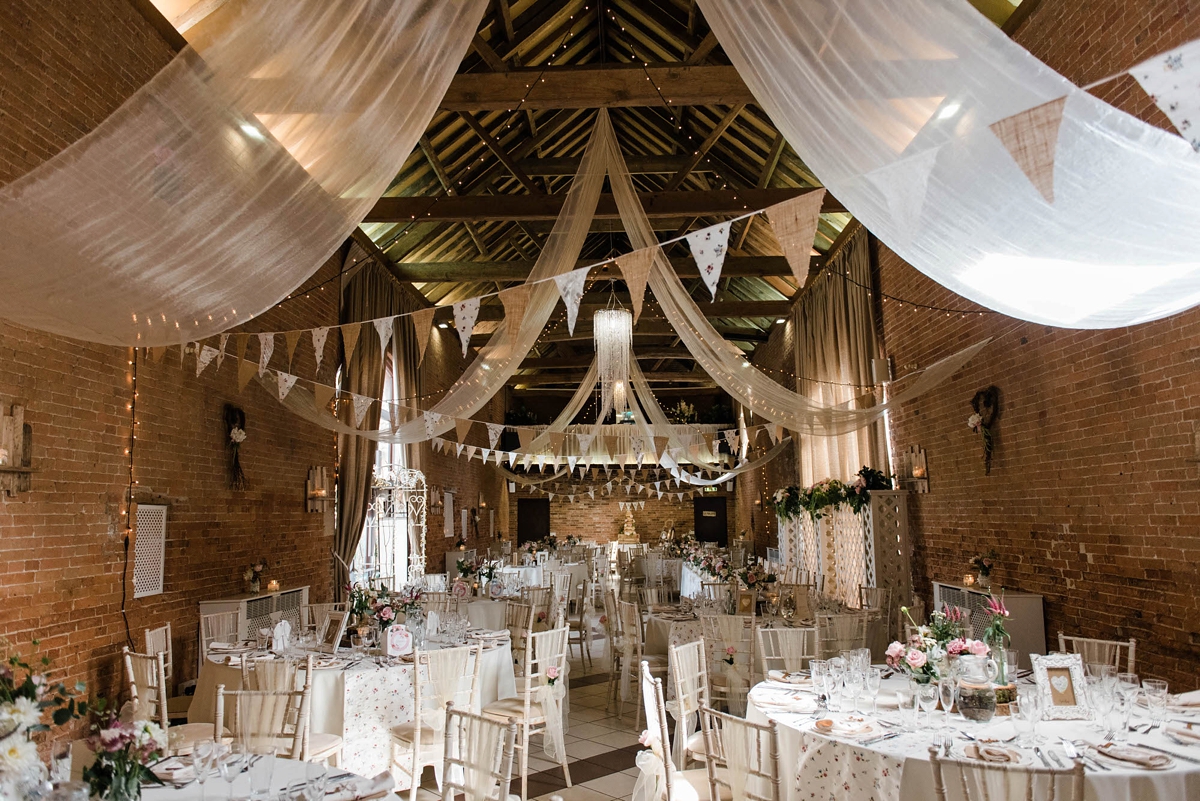 "We wanted to create a relaxed rustic English garden party wedding with vintage inspired DIY touches… I love flowers so wanted the wedding to be styled with lots of beautiful blooms. We choose a colour palette of greys and pastel shades."
"With the venue package we had a wedding planner and coordinator who guided us through the wedding planning and coordinated the day perfectly. We were lucky enough to work with two amazing ladies Aimee and Elaine who both took our ideas, our endless boxes of décor and transformed the to something even better than we could have imagined. I could not recommend the team at Elsham enough for their dedication and hard work in ensuring we had the perfect day."
Elegant stationery came from The Vow Wedding Design and their 'Charlotte' range, and the bride and groom made their own table plan along a Sheffield theme, with a map of the city and its areas used as table names.
"On each table we had the name of the area in Sheffield along with a heart cut out of that area on the map. We spent months collecting a variety of different frames for these to go on each table as we wanted them all to be different."
Inside the barn more jam jars decorated with lace, teapots and medicine bottles were filled with fresh, summer flowers and behind the top table, florist Lauretta created a stunning garden trellis backdrop covered in fragrant blooms.
"At Elsham Hall the barn was naturally beautiful and already had stunning drapes and fairy lights so this gave us a great starting point. I sourced 25 metres of the most incredible silk floral embroidered dupion from a fabric supplier and this formed the main basis for the décor in the barn. I used it along with vintage pieces of lace and hessian to make over 100 metres of bunting to be hung throughout the barn…Luckily I had help from our mums and bridesmaids and can't thank them enough for giving up some of their weekends and bank holidays to help."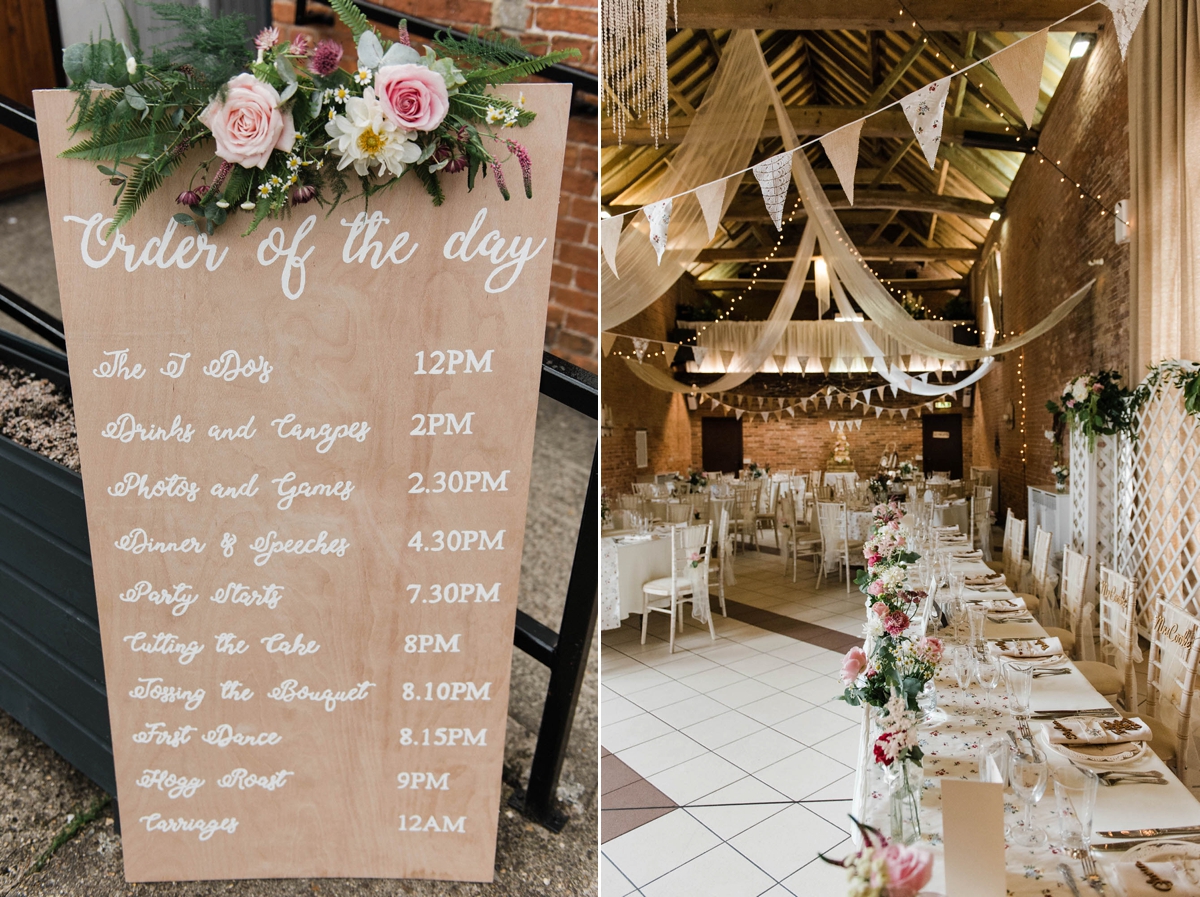 There were more delicious sweet treats in the form of favours, with Kelly and Glynn providing an amazing cookie bar (yes) for their guests. Caterers Bon Appetit made over 200 cookies, and Kelly and Glynn decorated the pretty vintage trolley they were all laid out on with candles, doilies and bunting.
"For the children, as well as the cookie bar we also ordered them a personalised box with their name on. This was filled with small toys, a colouring book, bubbles and sweets. Many parents commented on how great these were and how it kept the children entertained during the meal and speeches. We were lucky enough to find the boxes from Dotty Hens on Etsy and they were a great match to the rest of the stationery."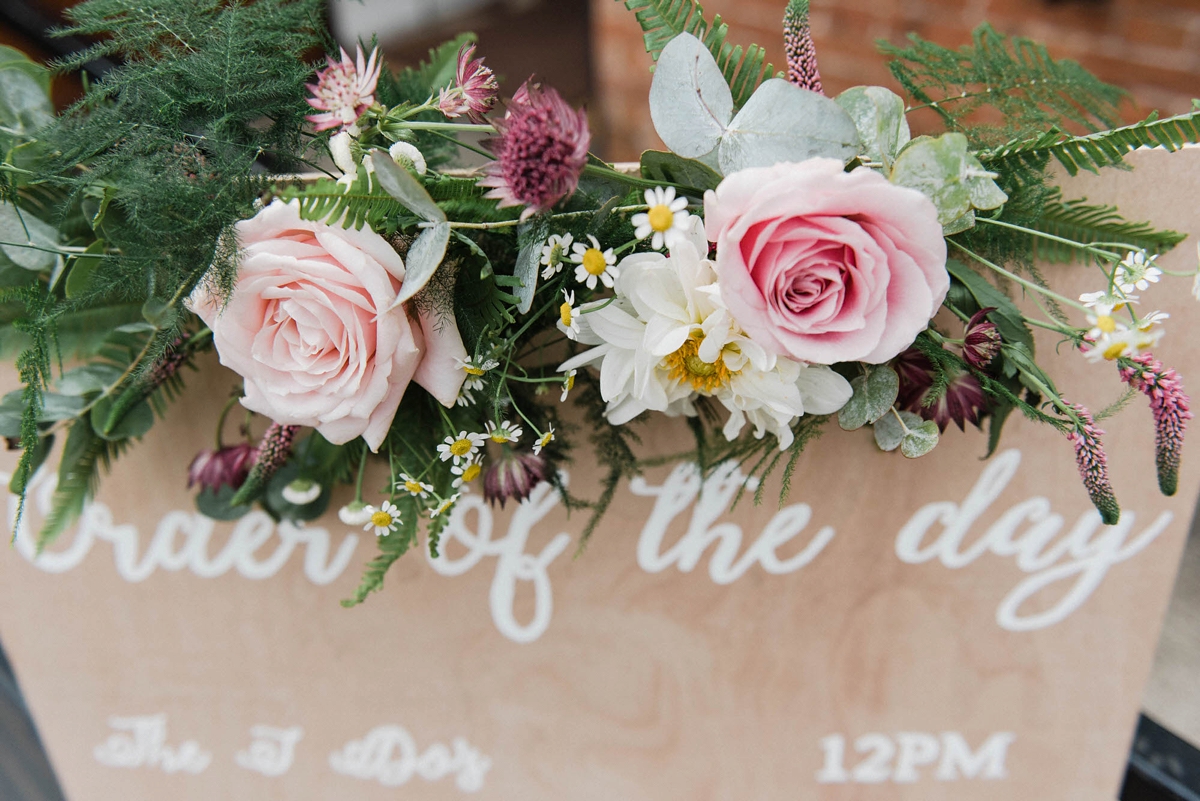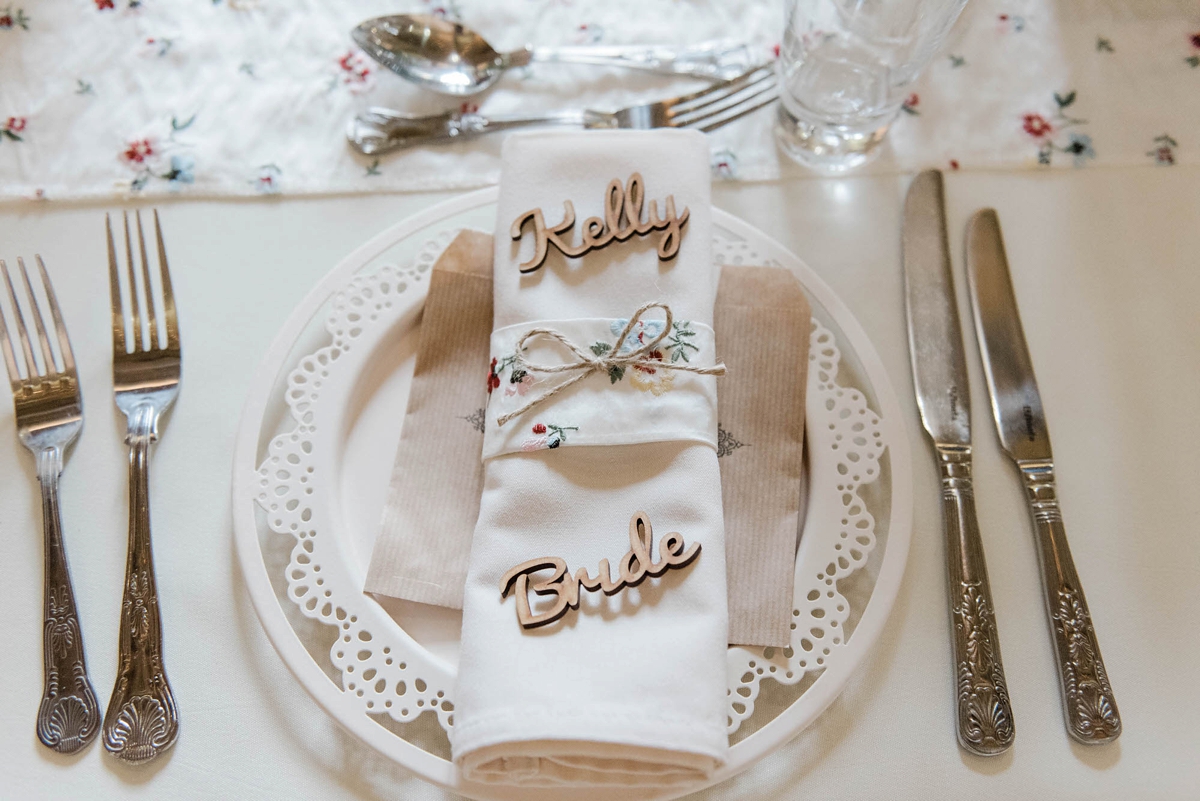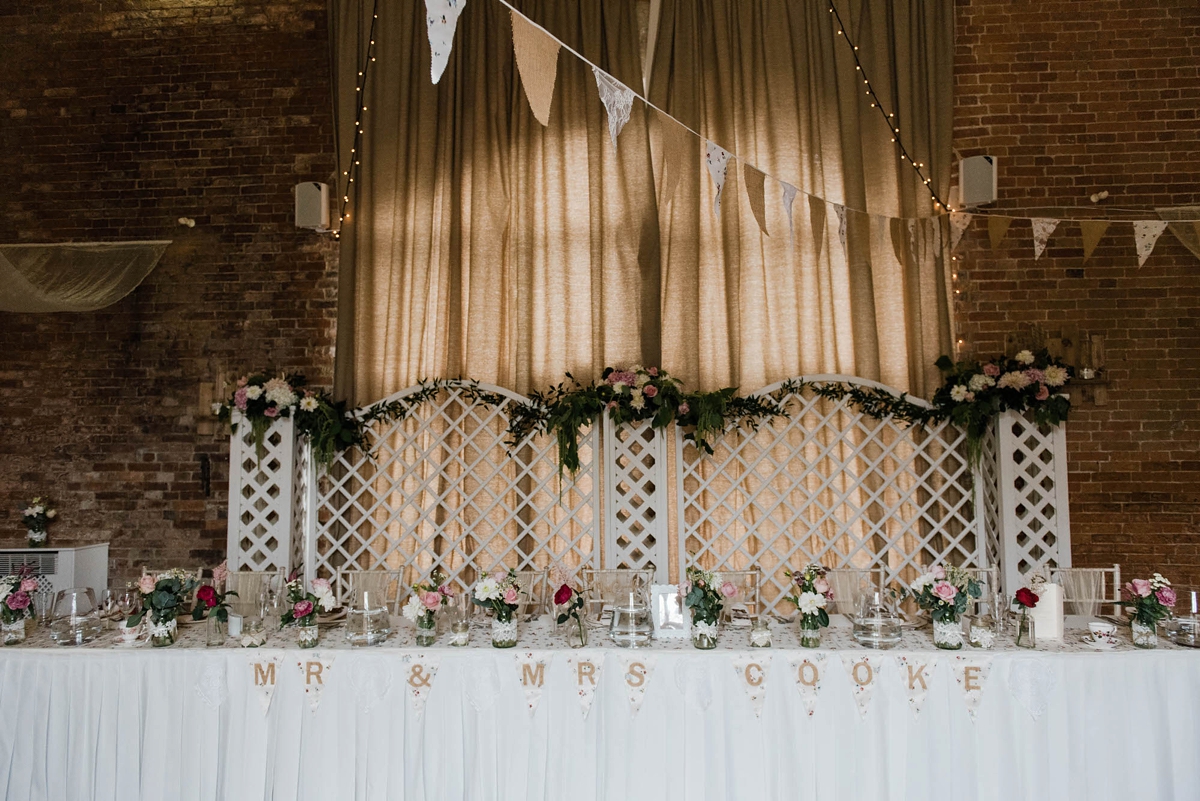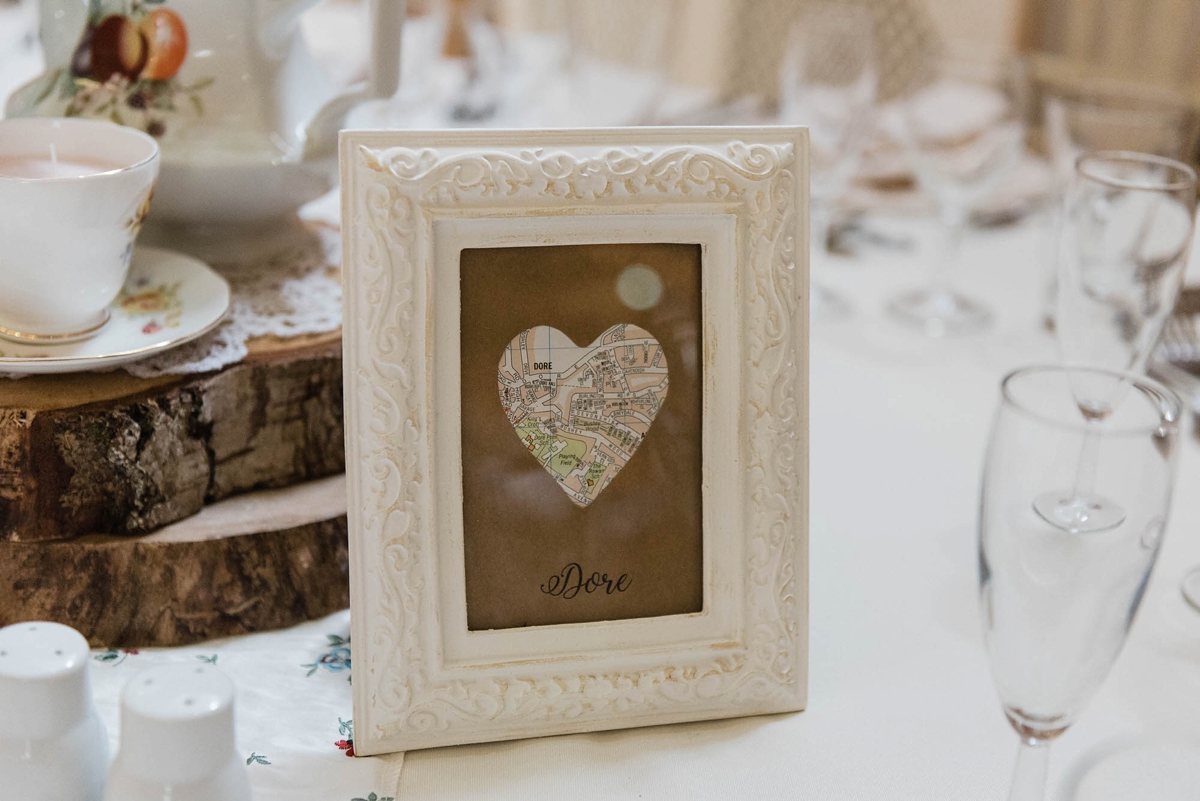 Kelly is full of praise for Ange at the Snowdrop Cakery, who made an incredible five tier naked cake in flavours of lemon and orange blossom, along with heart-shaped cookies to scatter around it. Florist Lauretta then did an incredible job decorating the showstopping five tiers with fresh flowers.
"For our cake stand Ange provided a handmade crate with went with the venue perfectly. The cake table was one of my vintage sewing machine tables with an antique lace cloth…The cake toppers were two handmade clay owls, which we ordered from Etsy. Glynn and his family are Sheffield Wednesday supporters, better known as the Owls. We felt this was a nice personal touch."  
Kelly and her mum also handmade over 100 napkin rings for each guest, with silk embroidery and a string bow, which proved a hit with guests, many of whom took them home as a keepsake. They also made table runners, and to complete the table settings, laser cut wooden place names, which were ordered from VM Bespoke.
"The lovely Beth from Old Brumby China made us beautiful tea-cup candles from vintage tea cups and saucers. They looked beautiful and were fragranced with cranberry and orange, they smelled amazing! They finished off the centrepieces perfectly. When all the candles were lit it looked beautiful. Everything was then placed on two wood slices and a hand crocheted doily."
The ladies' dining chairs were adorned with a single pink rose each, in memory of Kelly's much-missed grandmother.
"We also had a memory ladder and lit a candle in memory of my Grandma. On the ladder we also hung photos of both of our parents and our grandparents on their wedding days."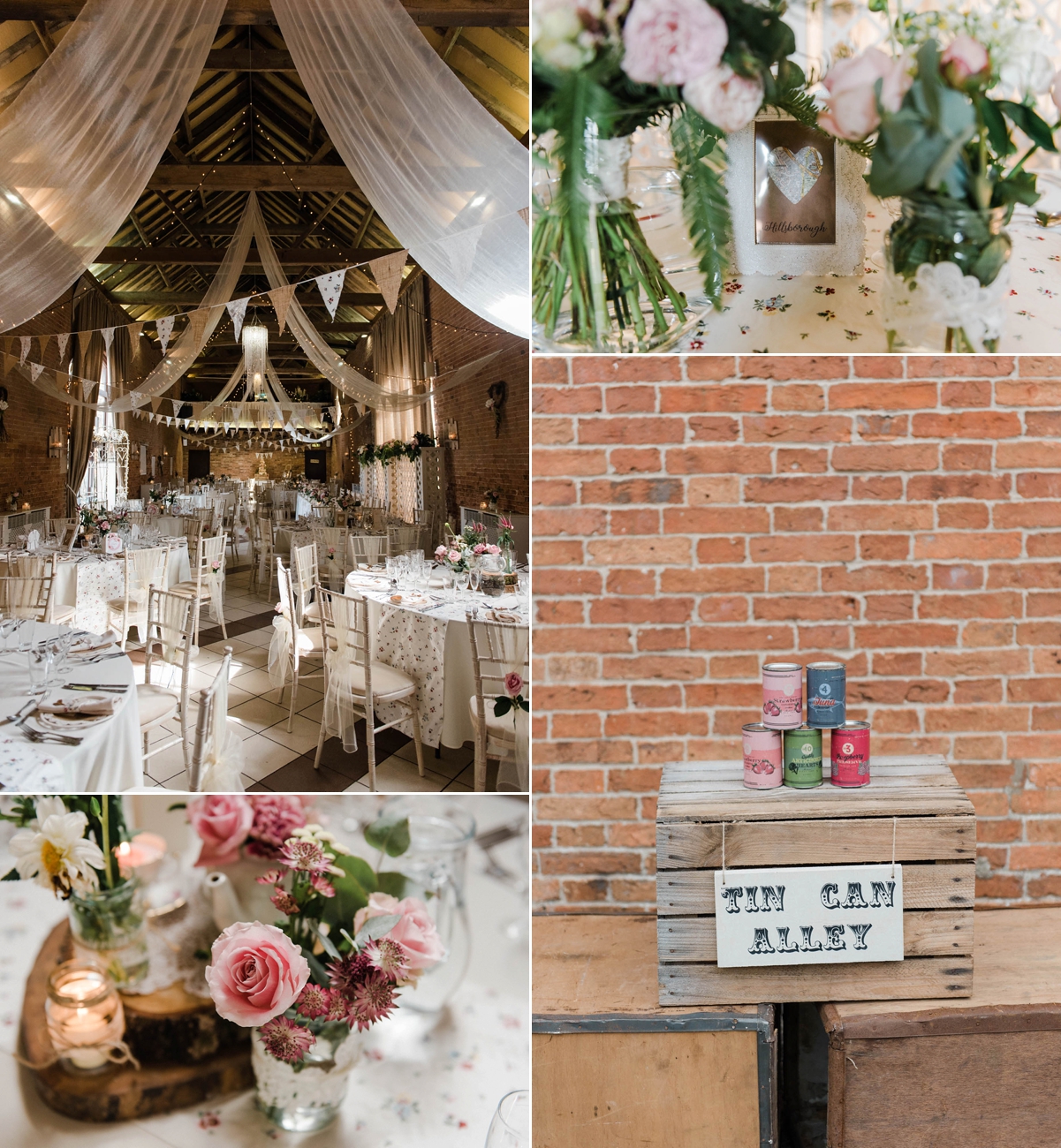 More lovely, personal touches were added to the barn – Glynn and his dad made giant wooden initial letters, which they then painted black and encouraged guests to write words of advice on them, along with a vintage suitcase found in Whitby for cards, and a guest book from Not on the High Street.
"Around the room on the additional tables and wooden shelves we had more jam jars filled with flowers from the church and candles. We also had copper letters and my great grandma's vintage sewing machine. We were so thrilled when we saw the barn complete for the first time with all of our personal touches."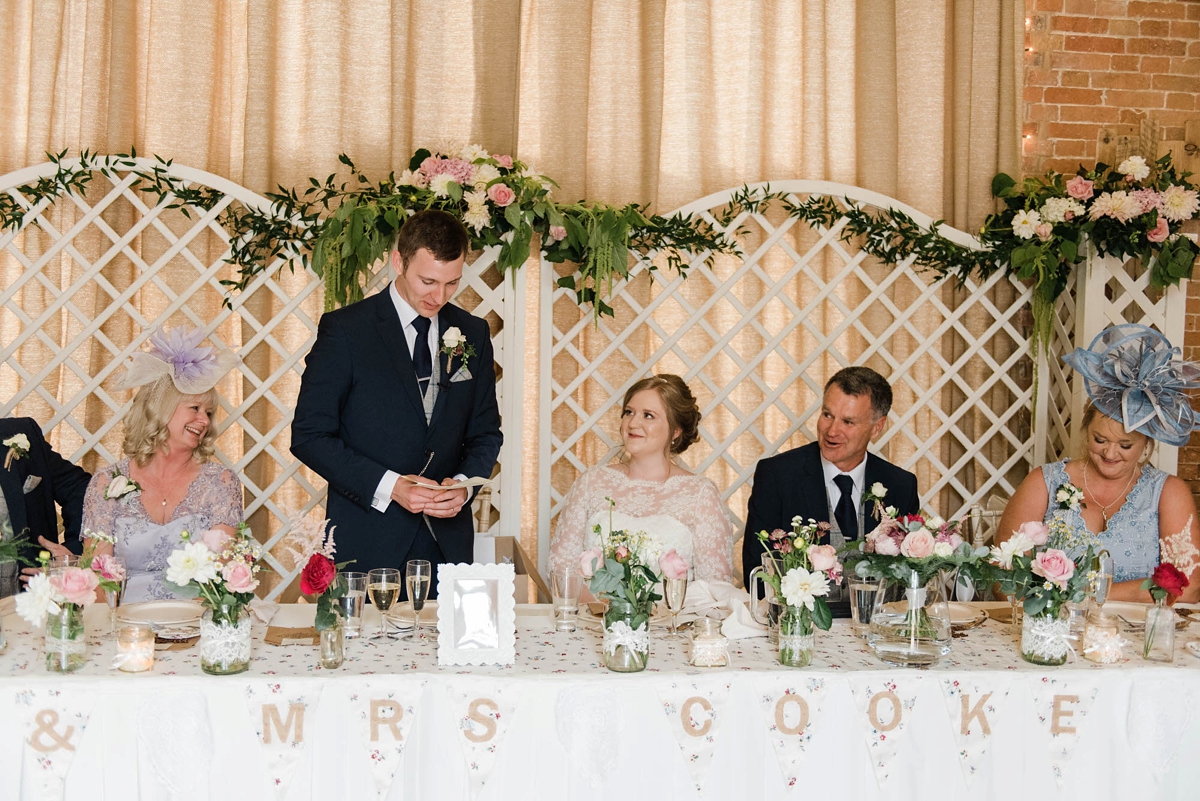 Later in the evening, guests enjoyed a variety of thoughtful and fun entertainments, including a handmade photobooth. Glynn and his dad had made the frame, while florist Lauretta decorated it with flowers.
"Guests used a Polaroid camera which we provided and we now how a lovely frame full of their photos and messages. The booth looked amazing and was a real showstopper with the guests! We hired some classic fete games which went perfectly with our relaxed garden party theme. We had five different games and they went down a treat with both the young and old guests!"
"For the evening reception we hired the fantastic Silver Circle Band. The guys were amazing and did two sets as well as our first dance song. They created a great atmosphere and had people on the dance floor all night!"
As huge fans of Ed Sheeran, the couple chose his song Tenerife Sea as their first dance track, and the song holds particular meaning for them both.
"It is one of our favourite songs and is very poignant as we have enjoyed many holidays in Tenerife. We had an amazing band for the evening reception and they learnt our first dance song. It was amazing that they made their own version of the song to perform for us."
"For the evening we also had a selfie station and provided a picnic hamper full of flip-flops. These were very popular and there wasn't a pair left at the end of the night!"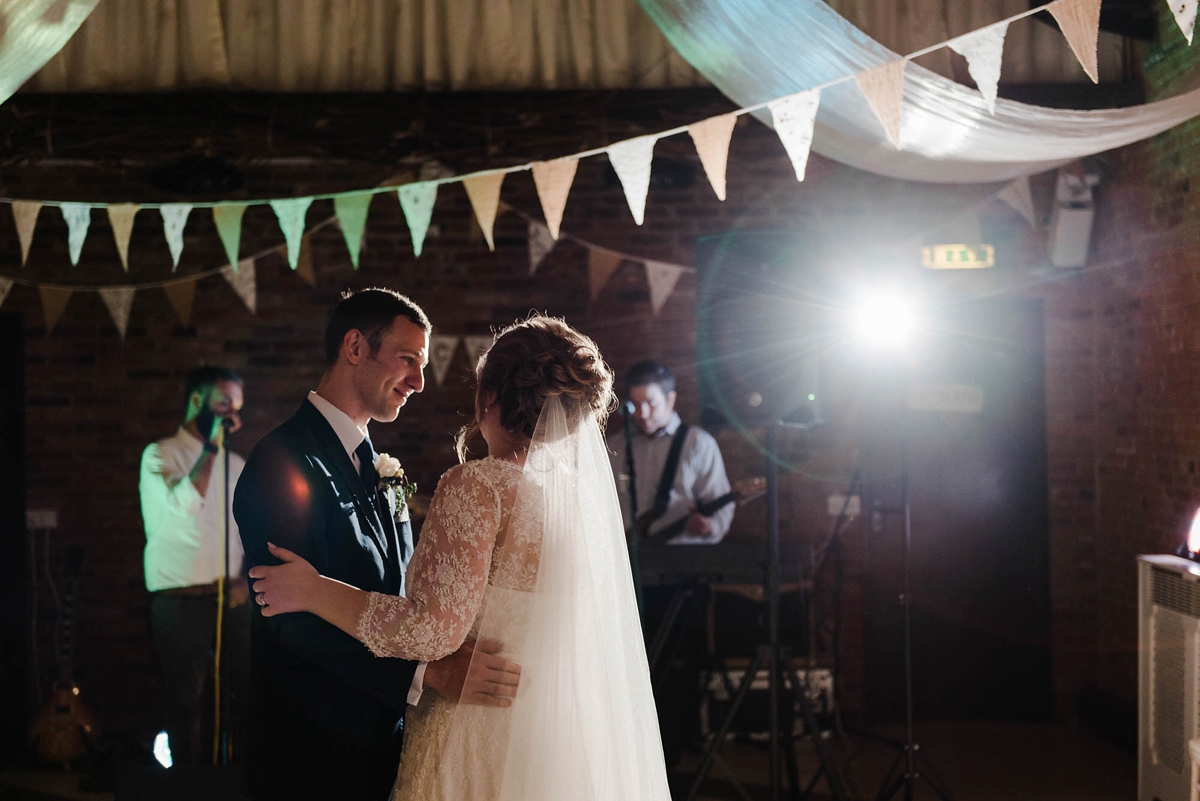 Words of Wedded Wisdom
"A tip a couple of brides gave me was to ask the vicar or registrar to write two marriage certificates on your wedding day. Not only is it cheaper to order an extra one to be done on the day but it also means you can keep one for best and have one to send off if you choose to change your name. That way if one does get lost in the post or damaged you will still have an original!"
"Have the day you both want. Don't feel that you have to do things a certain way or follow traditions that you don't want to. The day should reflect you as a couple. Decide what is important for you both and spend your budget on what you want and not what you think you ought to have."
"I think a lot of brides always say that DIY weddings take a lot of work. They are right – they really do! Never underestimate the time that it will take. After the wedding we definitely felt it was worth it though and seeing all our ideas come together was amazing. You just have to make sure you are organised and start working on the wedding as soon as you have set a date. We pretty much managed to make everything that we wanted to, which still amazes me! I know many brides say if you don't get all the details done that you want to it doesn't matter, guests won't notice. However, many of our guests commented on the attention to detail that we had gone to."
"Accept help from friends and family, you can underestimate the time jobs can take. It's also nice to include them in the planning of your day as they will love being involved in the preparations for your day."
"If your budget can stretch to a videographer I would highly recommend it. I think many couples underestimate the value of a videographer. We planned our wedding two years in advance so that we could save and have exactly the day and suppliers we wanted. It was worth the wait. Both the film and our photos are such a wonderful documentation of our day."
"Embrace anything that goes wrong on the day. As soon as we got to the reception venue and went into the gardens for photos my veil got covered in wet mud. Before the wedding day I would have been mortified at the thought it getting covered in mud but on the day it didn't matter. I had just married my best friend and nothing else mattered. I took the veil off and by the evening the mud had dried off and I was able to wear it again for more photos and our first dance. These things happen and you just have to embrace it. They become stories of your day."
"Make sure you order plenty of confetti for your guests if you want good confetti shots. We ordered more than enough in the end and ended up having some spare in the end."
"Finally enjoy every minute of your day, from getting ready with your bridesmaids to the last dance of the night. Take a bit of time with your new husband or wife to take it all in. It is all over before you know it!"
Thank you, Kelly and Glynn, and many congratulations. I've been totally blown away by your dedication to the fine details of your day, and to your design and crafting talents, from Kelly's breathtaking lace gown, to all of the handmade items of decor. Finally, thanks to Sarah at Folega Photography for a stunning set of joyful images, and to The Cine Collective for their wonderful film.
With love,
Laura