What scents evoke summer for you? For me it's cut grass, fresh tennis balls, the faint smell of crushed lavender and heady, full-blown roses. Today's wedding really brings to mind the feeling of the warmer months, so sit back and soak this up.
Mr and Mrs Wood married in the height of summer, on 21 July 2017, at the bride's local church, All Saints Church, Old Heathfield, East Sussex, with a garden reception afterwards at Broyle Place, Ringmer, near Lewes. The day was a true celebration of the English country wedding, using lots of pastel florals and foliage for decoration and adding in allusions to the couple's love of the 1920's and 30's, particularly through their choice of swing band who played throughout the day.
Mr and Mrs Wood fell in love with the beauty of Broyle Place, and were so impressed by the enthusiasm of the wedding team. As you can see in these charming photographs, Broyle Place needed little decoration other than masses of fresh flowers, provided by Kerrie at Highgate Florist. The feel for the day was set by the leafy foliage design of the stationery, created by the bride's very talented sister, Abi Bayley.
"We found the Love My Dress directory really useful, and sought inspiration came from the Collections Pages, and the real weddings featured."
Photography Joanna Brown Photography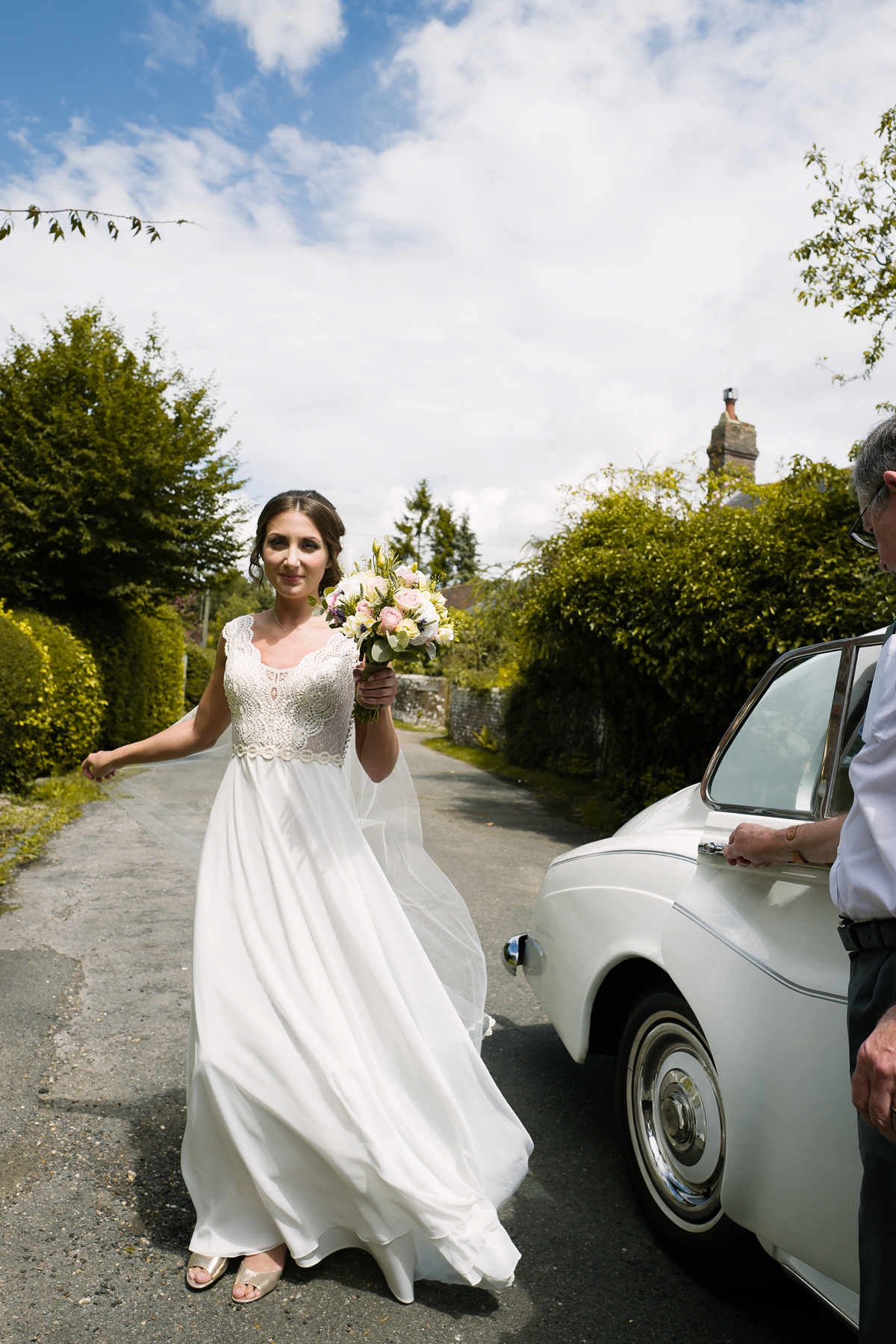 We always love featuring Joanna Brown's work on these pages (take a peek here for other weddings photographed by her). She has such a natural approach and sets up the most beautiful outdoor compositions.
"We feel so lucky to have found Joanna. We had so much fun together – Joanna creates such a relaxed atmosphere and we felt as though we had another friend to celebrate our day with. Joanna is an absolute professional and the results speak for themselves. It's brilliant to see photos of our friends and family so comfortable in front of the camera and having a great time. Joanna just seems to float unassumingly around a room, capturing both beautiful and hilarious moments, brilliantly. We honestly cannot speak highly enough."
The couple first met at university and were good friends for nearly ten years before finally getting together.
"Gary and I met at Sussex University in Freshers' Week 2006 and we remained great friends until 2015, when we finally confessed our love for one another, despite us both having hinted for years. Gary proposed in Lisbon in June 2016, during a very unexpected (and very romantic) private Catamaran ride on the Tagus, as the sun was setting over the city. We were engaged for just over a year before the wedding day."
What do you think of the bride's beautiful fitted gown? It's a custom-made Flora gown from Blackburn Bridal. Simple and pretty, it flatters her figure so well and I love the delicate lace detailing.
"I loved the lace and pearl detail and I honestly fell in love with it the minute I tried it on. It felt so glamorous and the fabric is so luxurious. I think the sheer lace on the side made it far more interesting than other designs. The dress was custom-made and fitted me perfectly, which felt so special. Hannah at Blackburn Bridal initially suggested the style to me and paired it with a pearl belt, which she made herself and they stocked in store. I tried other dresses, but nothing was going to compare! I felt so comfortable and elegant, which I think is really important."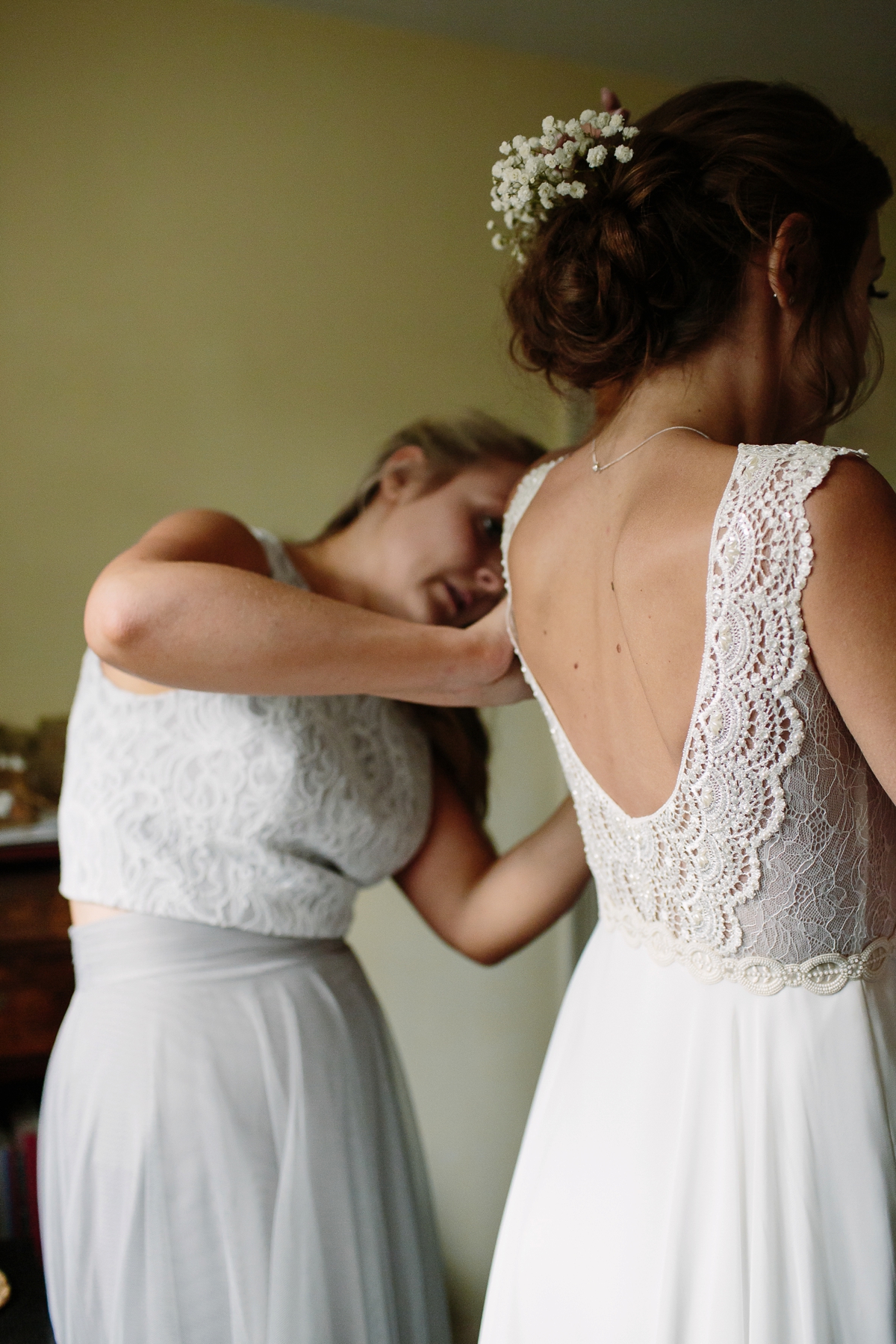 On the morning of the wedding the bridal party were joined by Vanessa of Lipstick & Curls – a make-up and hair team who we just love at Love My Dress and are proud to recommend through our beautiful directory, Little Book for Wedding).
Lipstick and Curls have a team that can work with brides up and down the UK, so no matter where your wedding is located, a skilled makeup artist and a hair stylist is on hand to help you look and feel your most beautiful on your wedding day. We absolutely love working with this small but brilliant team of wedding suppliers.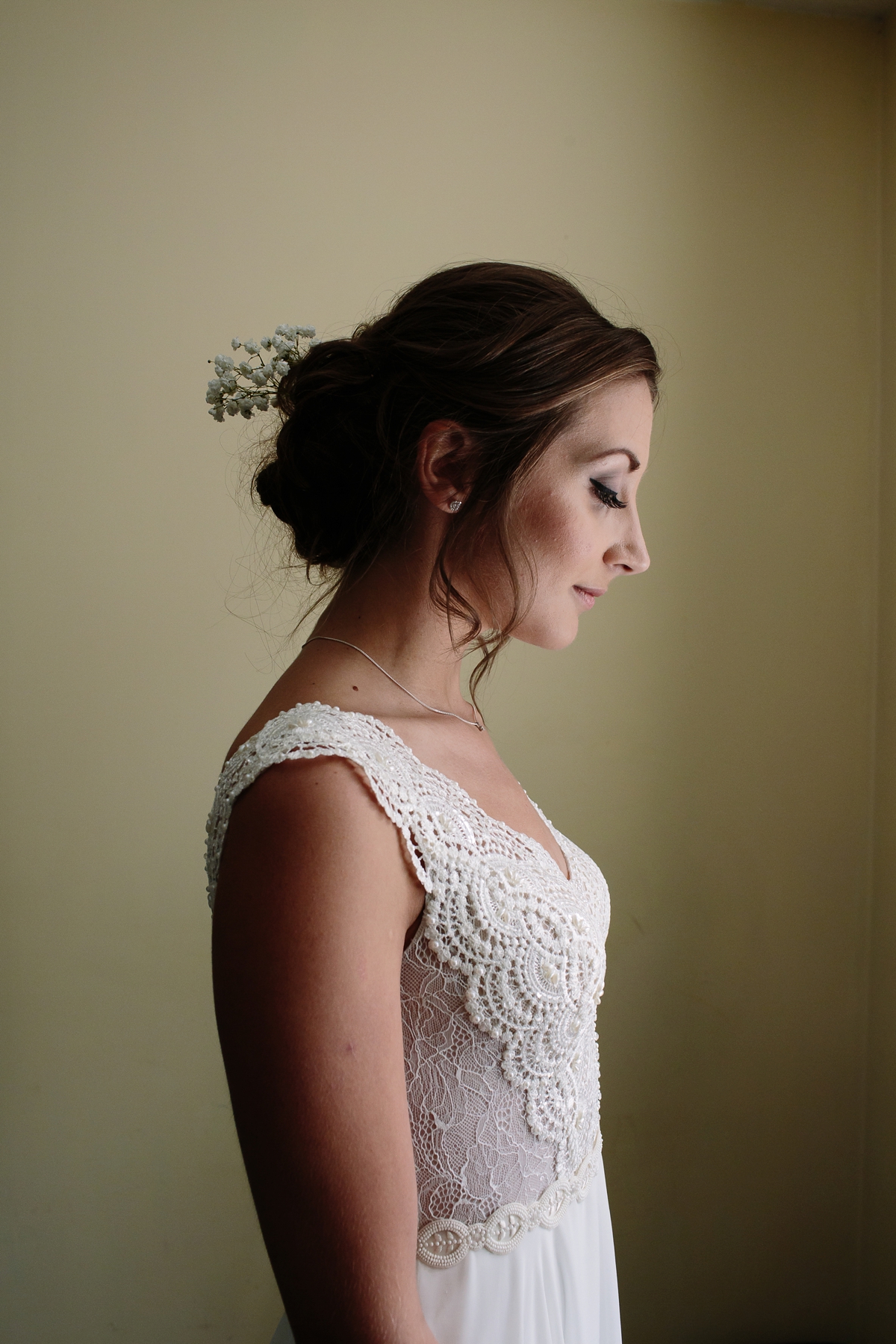 The bridesmaids were pretty and elegant in Dessy gowns which matched floaty skirts with pretty fitted tops in a super-soft blue.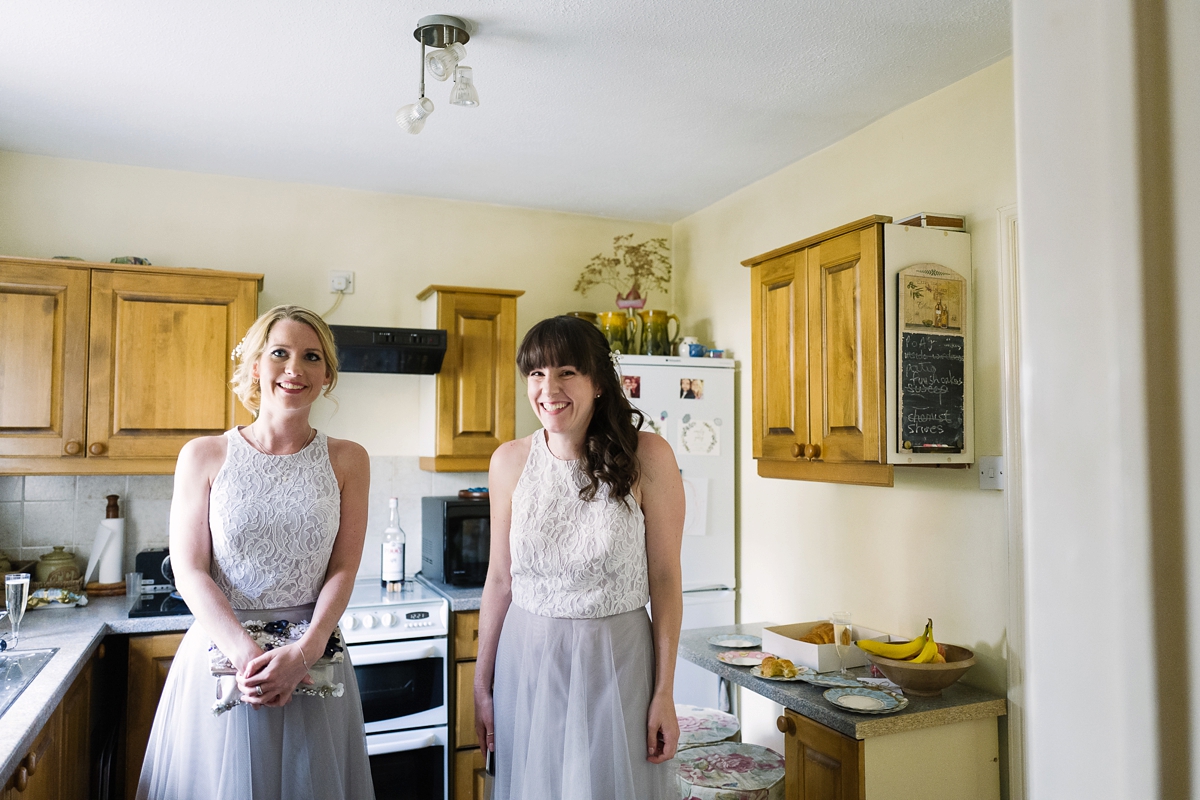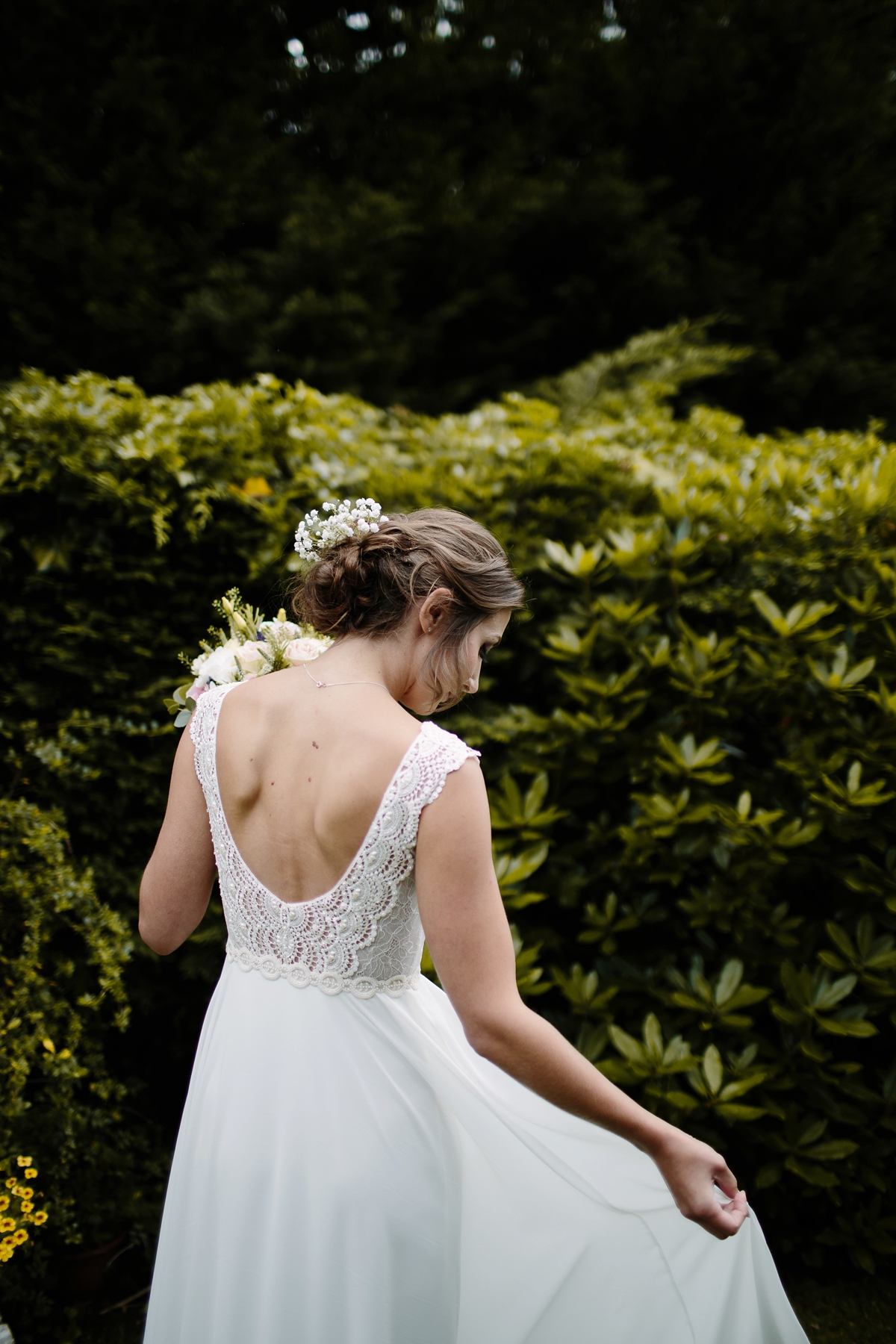 The bride's long, fluid veil was a Claire Pettibone piece.
"All Saints was the local church where I grew up. It's really beautiful inside and it was great to have everyone there. No words can describe how much we love Broyle Place. We had been looking in the area and been disappointed, as no venue had excited us."
"We dropped in on the off-chance and it happened that the manager, Betty Mathues, was available to take us around. We were so excited and had absolutely made our decision before we left. Betty was absolutely brilliant and the venue is beyond magical."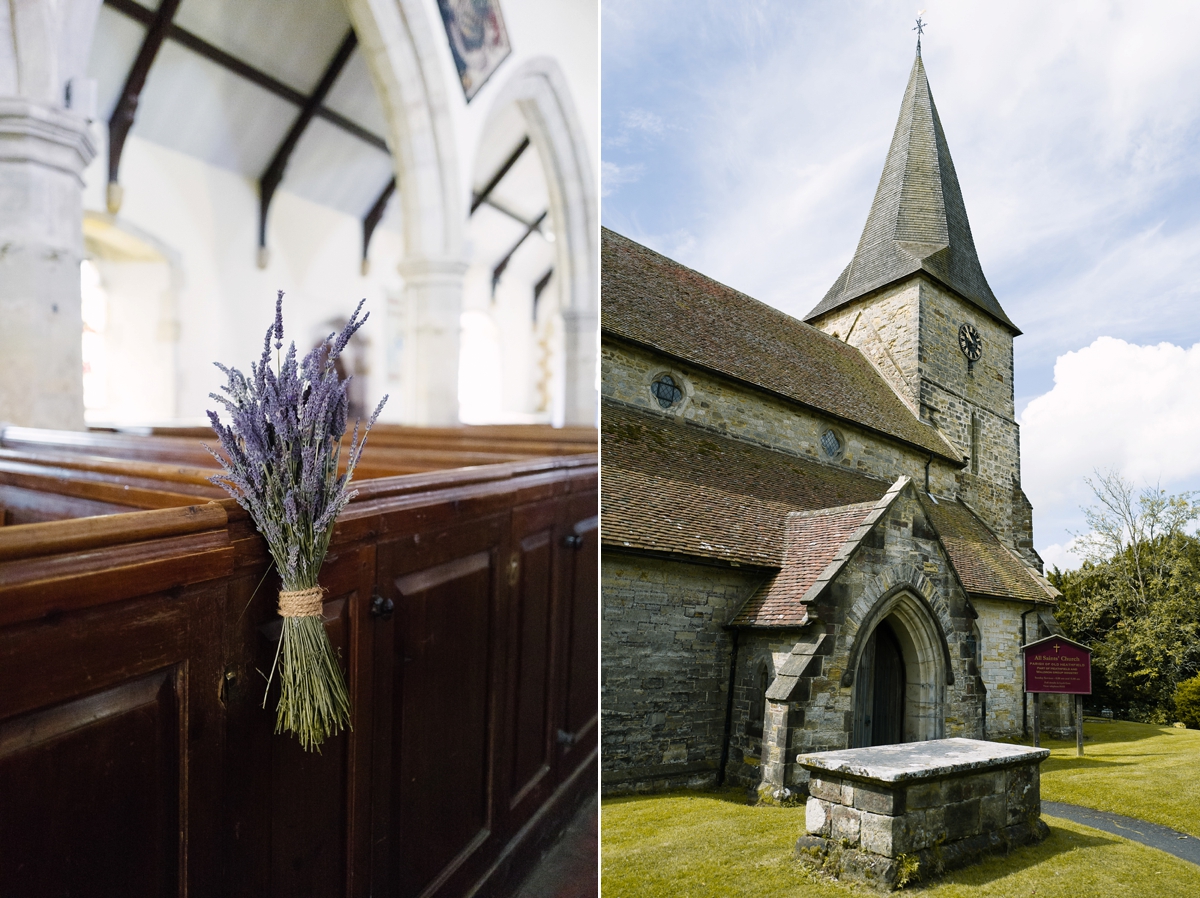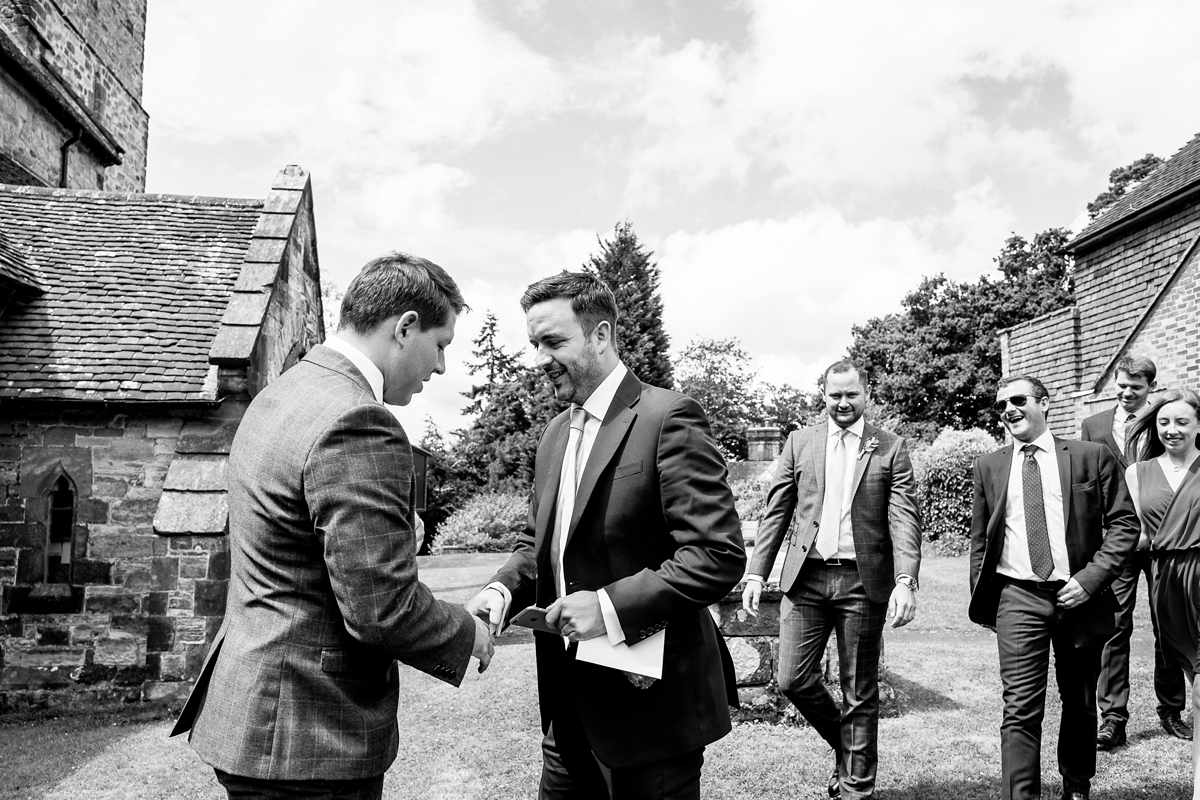 Once they were ready, the bride and her father travelled to the church in a White Rolls Royce Silver Cloud, from Cars 4 Weddings. Pachelbel's 'Canon in D' was played as they walked down the aisle together, to meet the groom at the altar and get married.
"We managed to find a great organist for our ceremony, Gareth Giles. Gareth's breadth of repertoire was so vast, he could play any song we requested. He also suggested music to accompany the registry signing, so incredibly, we managed to cheekily incorporate some Harry Potter to our wedding!"
The wedding bands were from Ring Jewellery in Brighton, and I love the story behind their choice.
"When we were walking in The Lanes before we were engaged, Gary saw the ring that was later to become my engagement ring, in the window of one of the shops and took a photo. However, there are many lovely jewellers in The Lanes and the photo was rather blurred (as he'd taken it rather quickly, so I didn't see!). He emailed various jewellers in The Lanes to see if they could help him locate it, and Ring Jewellery responded with the name of the jeweller. As a thank-you, we decided to have our wedding bands made at Ring."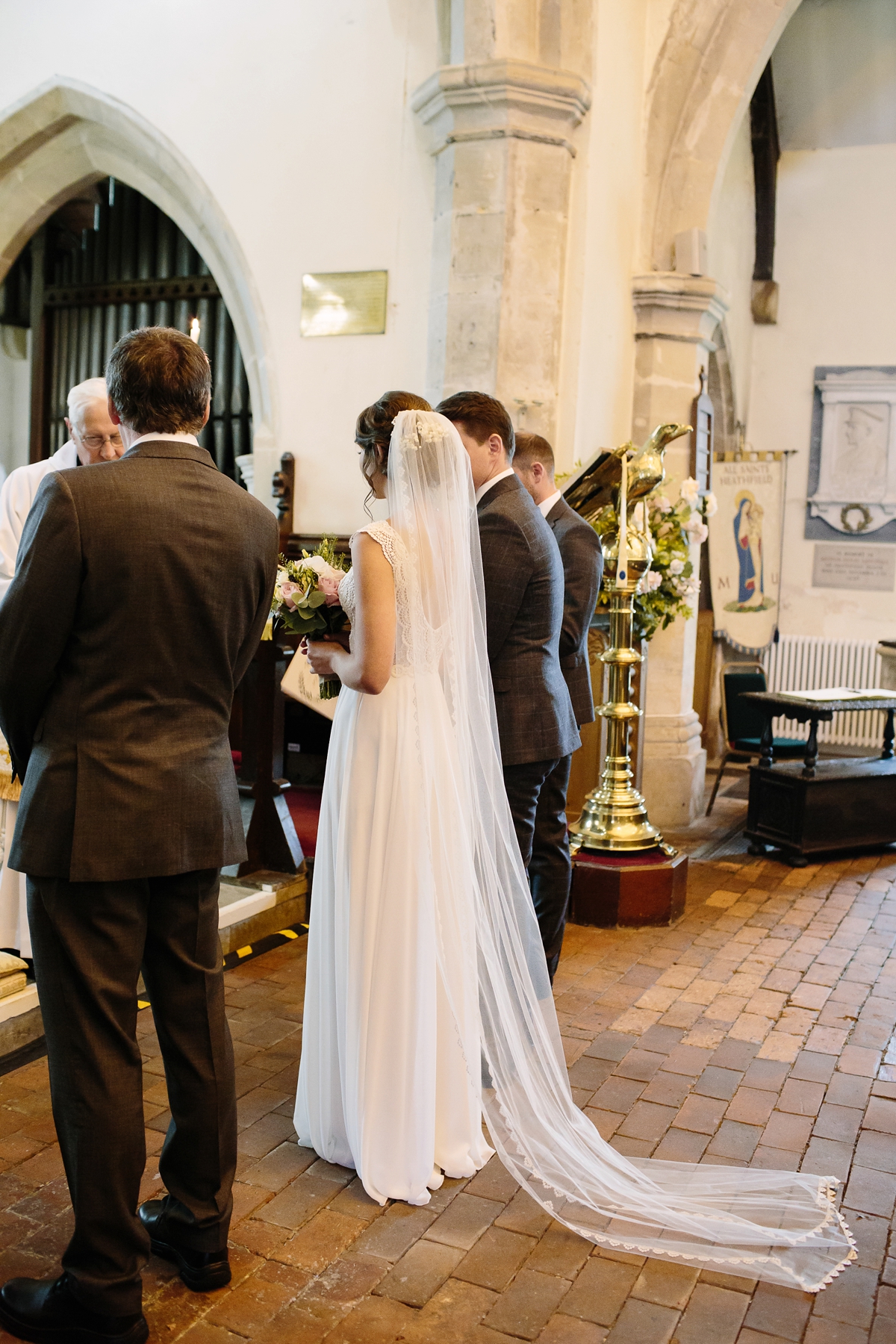 In addition to 'Song of Solomon Chapter 8.6-7′ read by Stuart Barnard, the couple's friend Marie Horner wrote and read a poem especially for them.
"Our wonderful friend, Marie, writes poetry. It was really special having such a personal and brilliant reading, 'A Good Place To Start', included in the ceremony."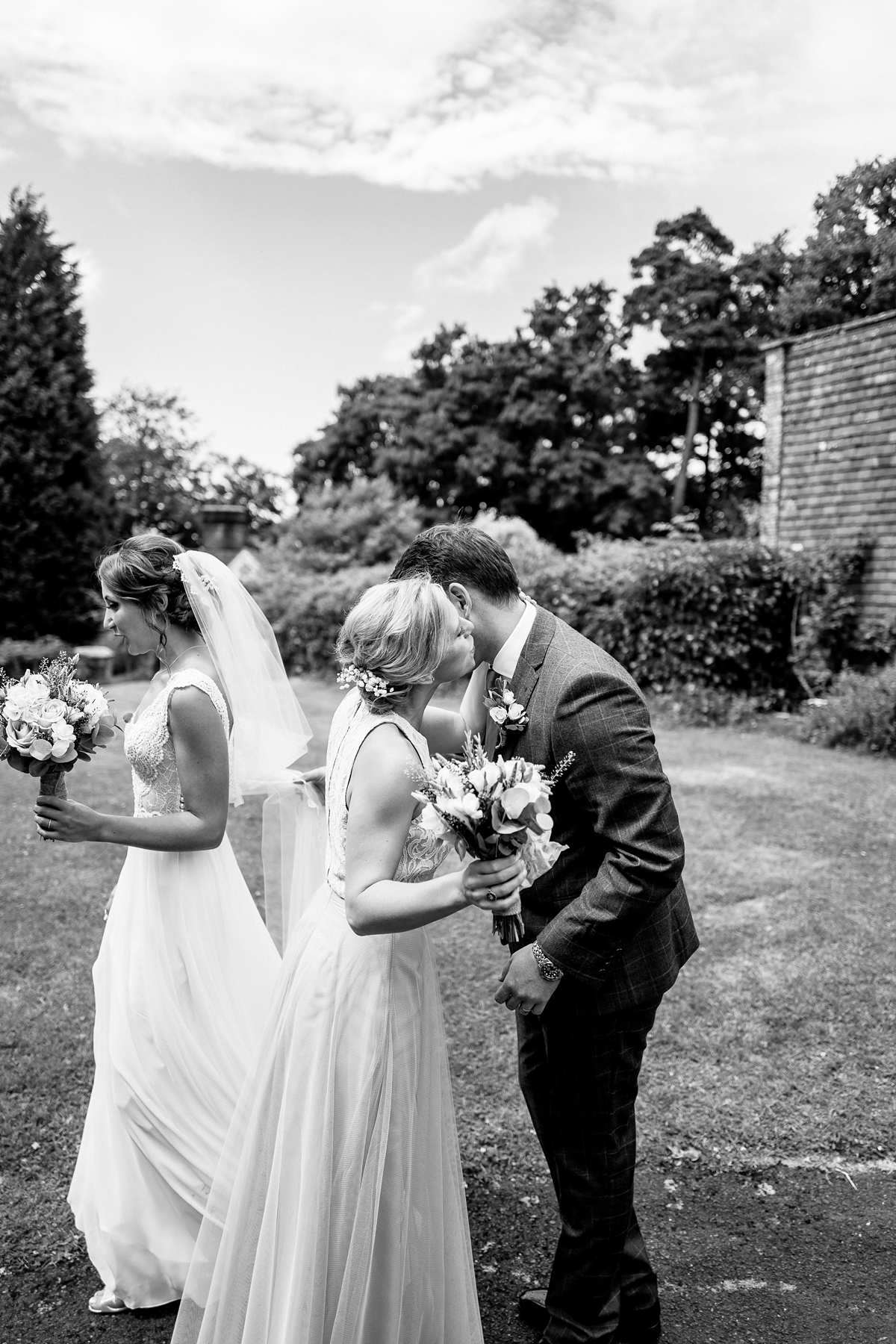 The gorgeous weather meant that the guests and newly-weds could start the celebrations in the gardens at Broyle Place, serenaded by The Night & Day Collective.
"We hired The Night & Day Collective, a brilliant Jazz/Swing band during the day to reflect our love of the 1920s/30s, and set the scene for the reception."
"We wanted a strong presence of flowers and foliage at the reception venue. We had seen the flower arches Kerrie creates and decided these would be perfect. There was no firm colour-theme but we wanted bouquets and table decorations in pastel colours."
Super Event, Heathfield provided the wedding food, and the couple chose Brighton baker Angel Food Bakery to design the beautiful wedding cake.
"We've always loved Angel Food Bakery. They create a brilliant chocolate orange cake, which we chose for the bottom tier. The middle tier was banana and peanut, and the top tier was carrot cake. We decided on a basic, rustic butter icing on the outside, placed on a slice of tree trunk and surrounded by ivy. The florist surrounded this with lavender and foliage, to keep in with the country-wedding theme."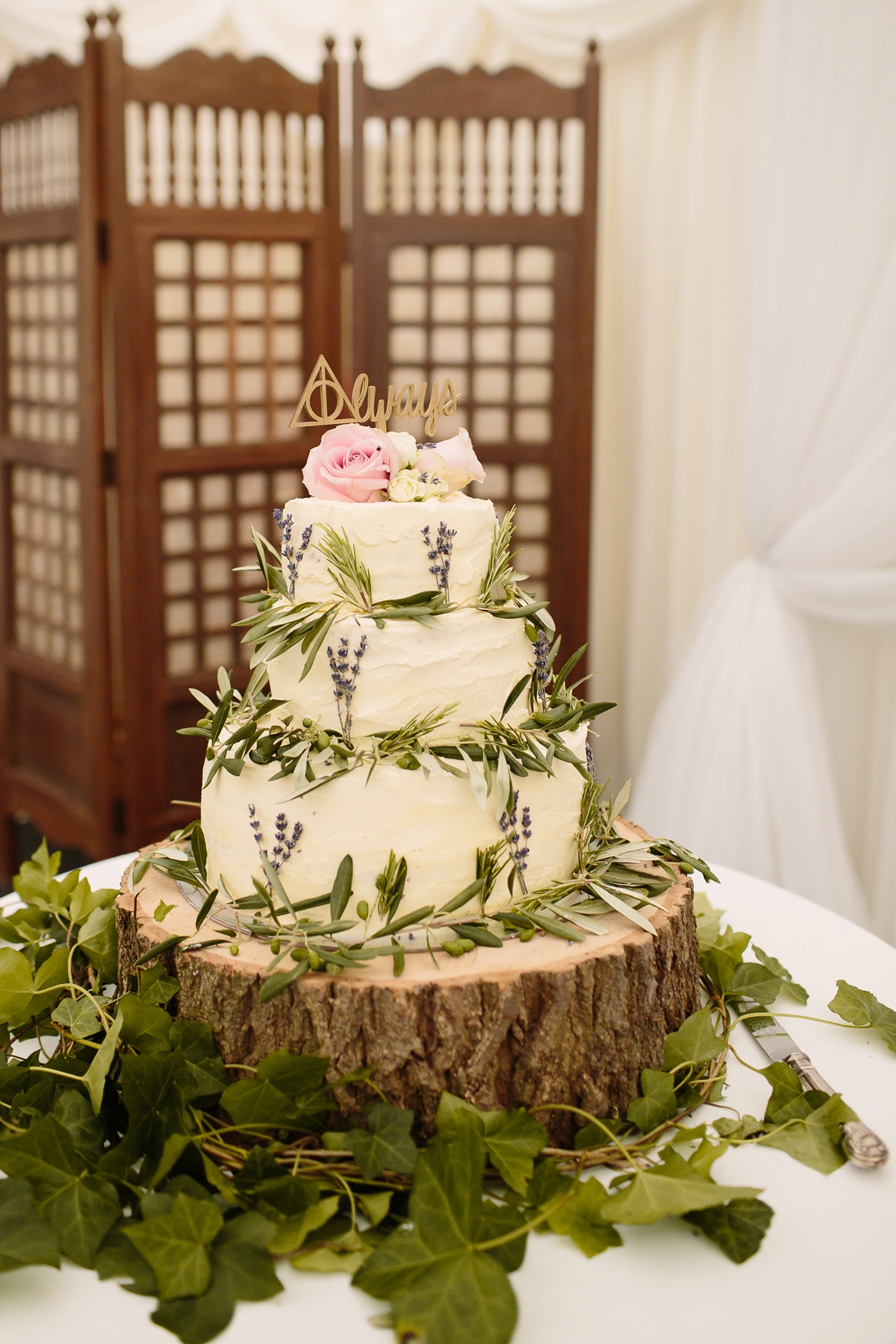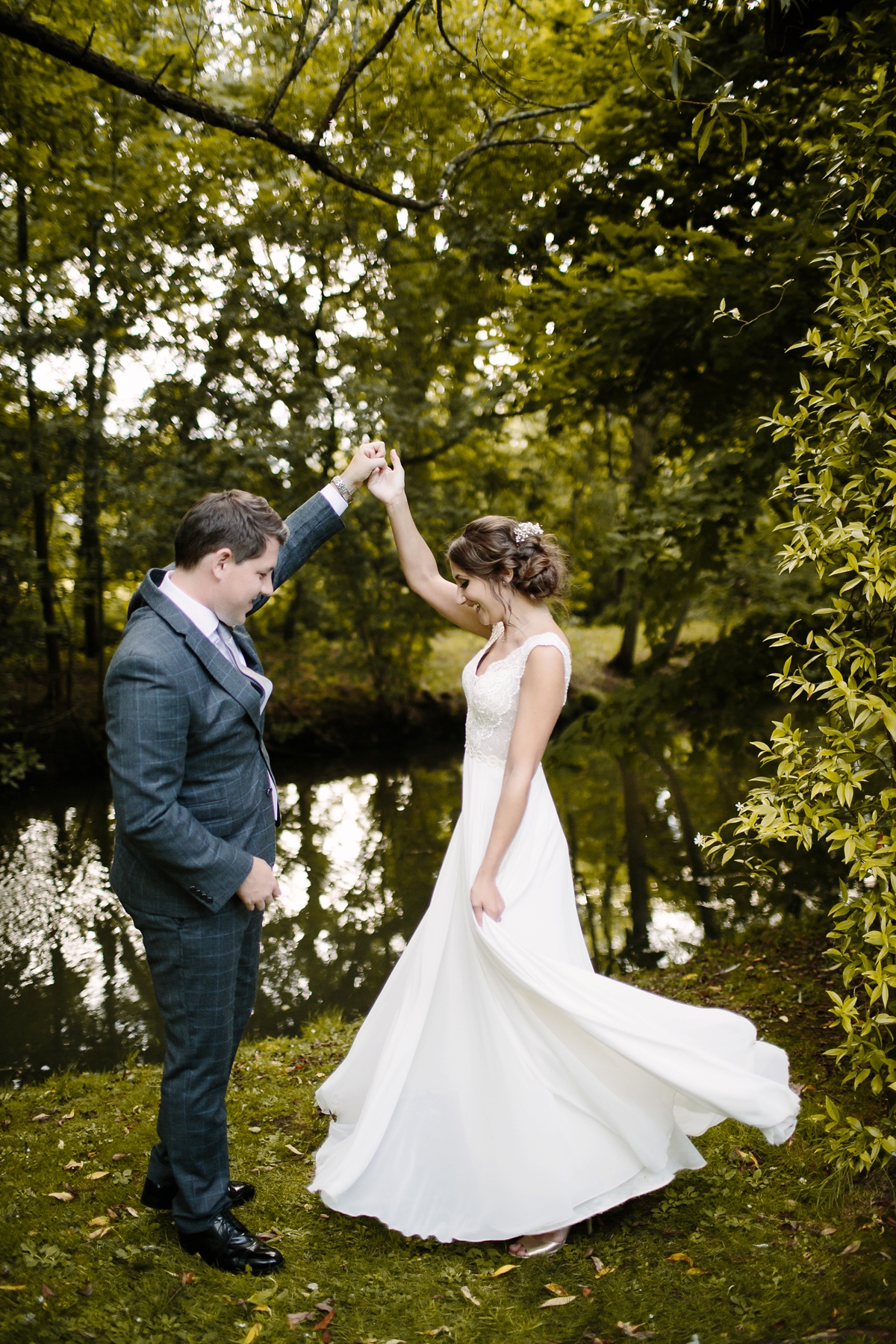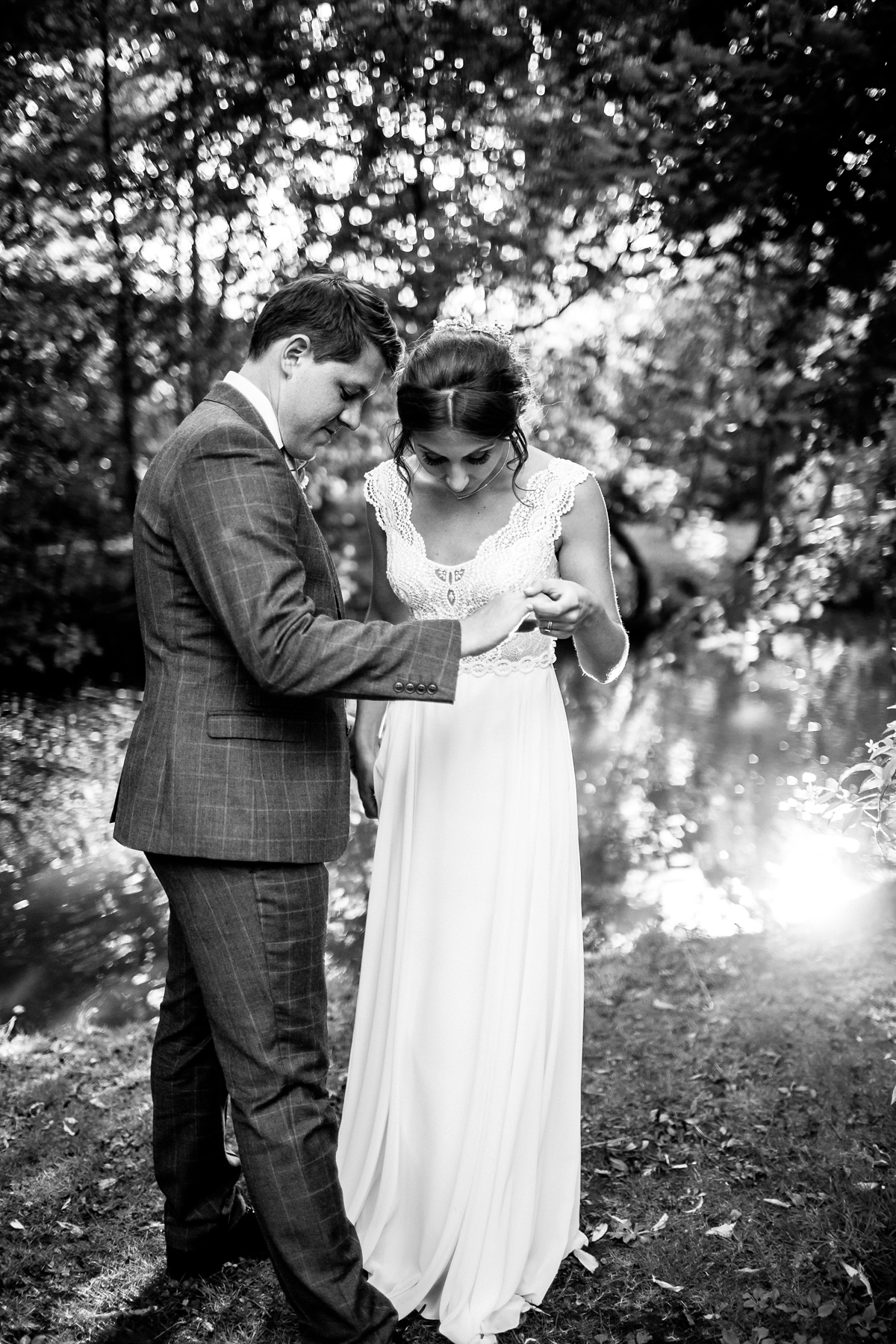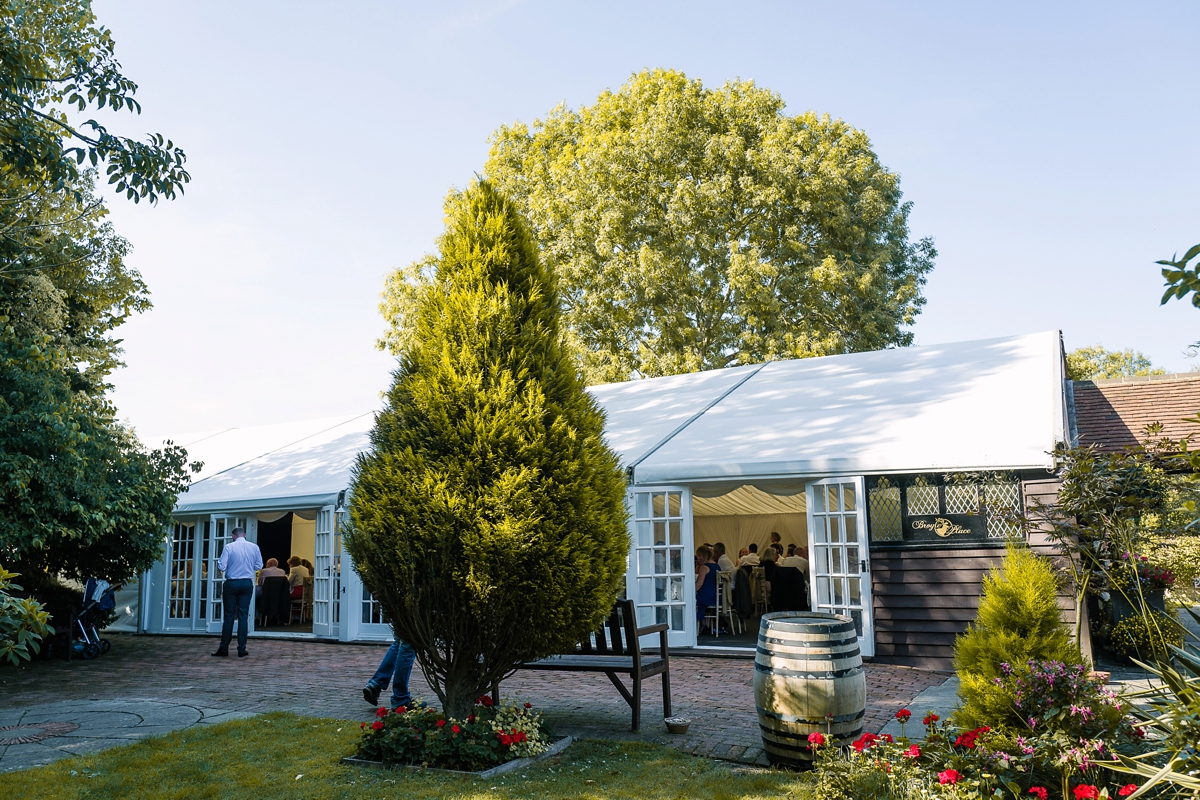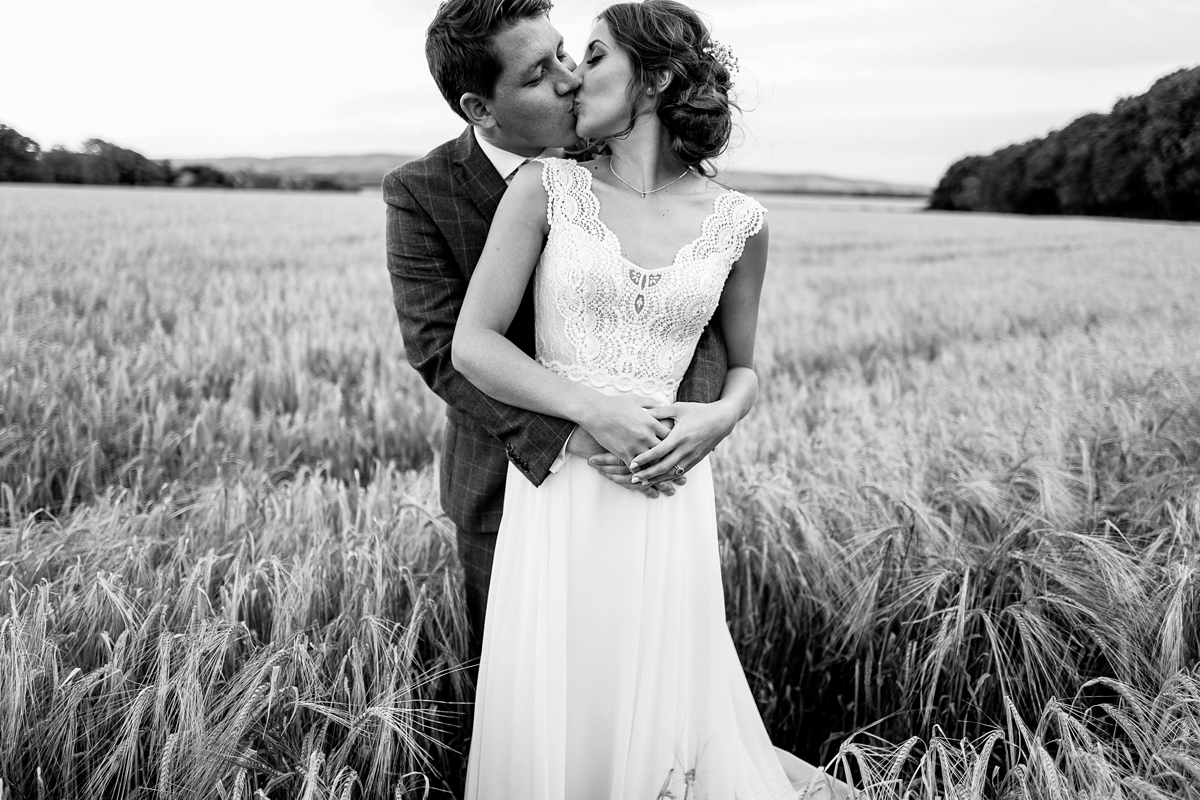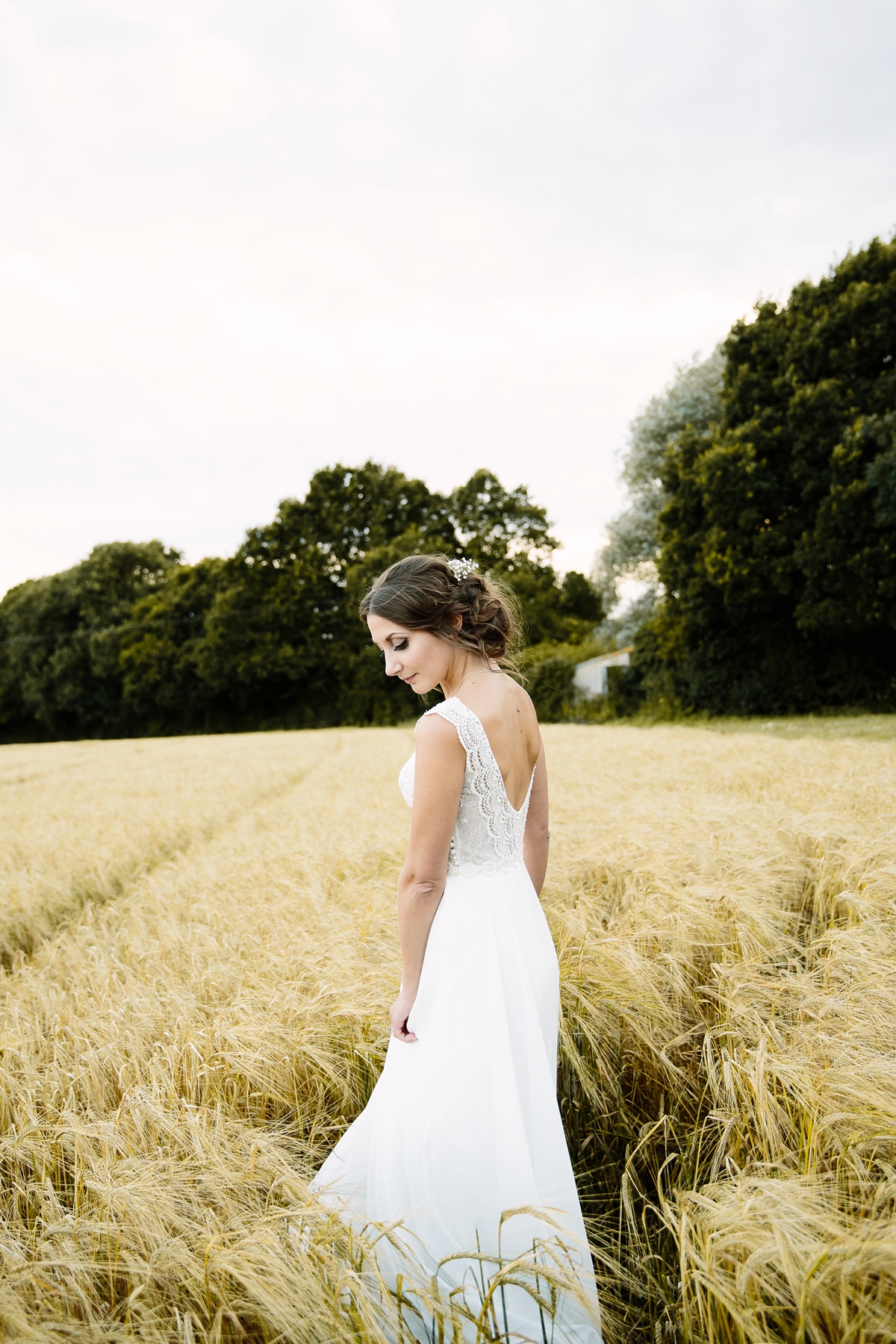 The couple were lucky enough to have two first dances, kicking off with Oasis, 'Stand by Me'.
"We both love this song and it was a great warm up for our band, who began immediately afterwards.  We also had an 'unofficial' first dance song – The Power of Love, by Jennifer Rush. After various nights out, this would often come on the radio on our Uber rides home. We would find ourselves singing this song to one another and it became our song. We decided it might have been a bit intense as an actual first dance, but this was played later in the evening and it was brilliant."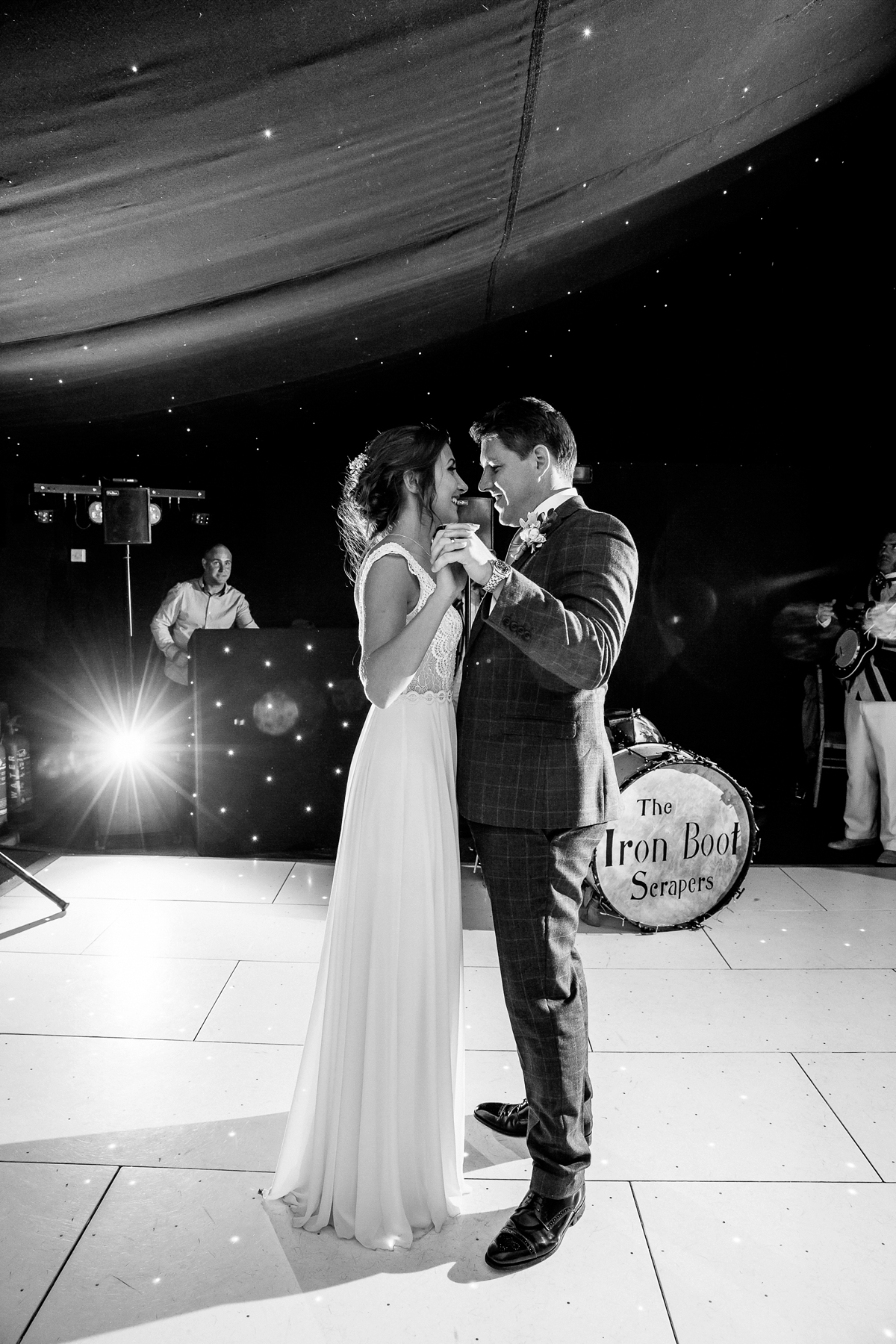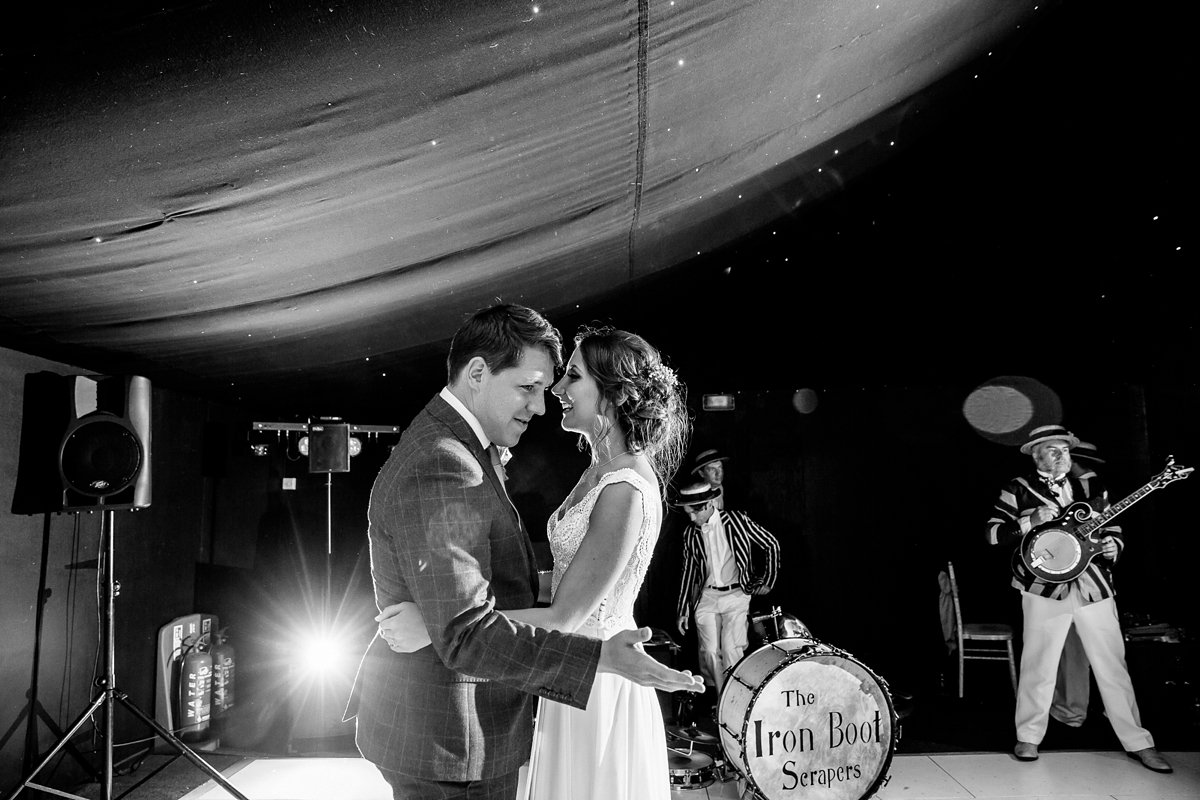 The band who followed up Oasis were The Iron Bootscrapers.
"If I had to pick a highlight, I would probably say when The Iron Bootscrapers played. They create such a fun atmosphere, which gets everybody dancing. Seeing our guests – young and old – laughing, dancing and having a great time was brilliant. Followed by Hotsteppaz DJ, we had the chance to dance throughout the evening."
"The whole day was absolutely brilliant – we were really able to relax and enjoy the company of our lovely friends and family. We were told by many people before the day that we would barely see one another, and that the day would go so fast. We can gladly say neither of these points proved to be the case. We had a wonderful day together and managed to savour the moments!"
Words of Wedded Wisdom
"I would definitely plan as much as possible – if you have a vision of what it is you want, try to break that down into different components to create exactly what you're imagining."
"Shop around – sometimes you can save significant sums of money by doing this."
"Lastly, enjoy the day and don't let small issues bother you. If you let go and enjoy the day as it comes, your planning will payoff and you'll have the best time."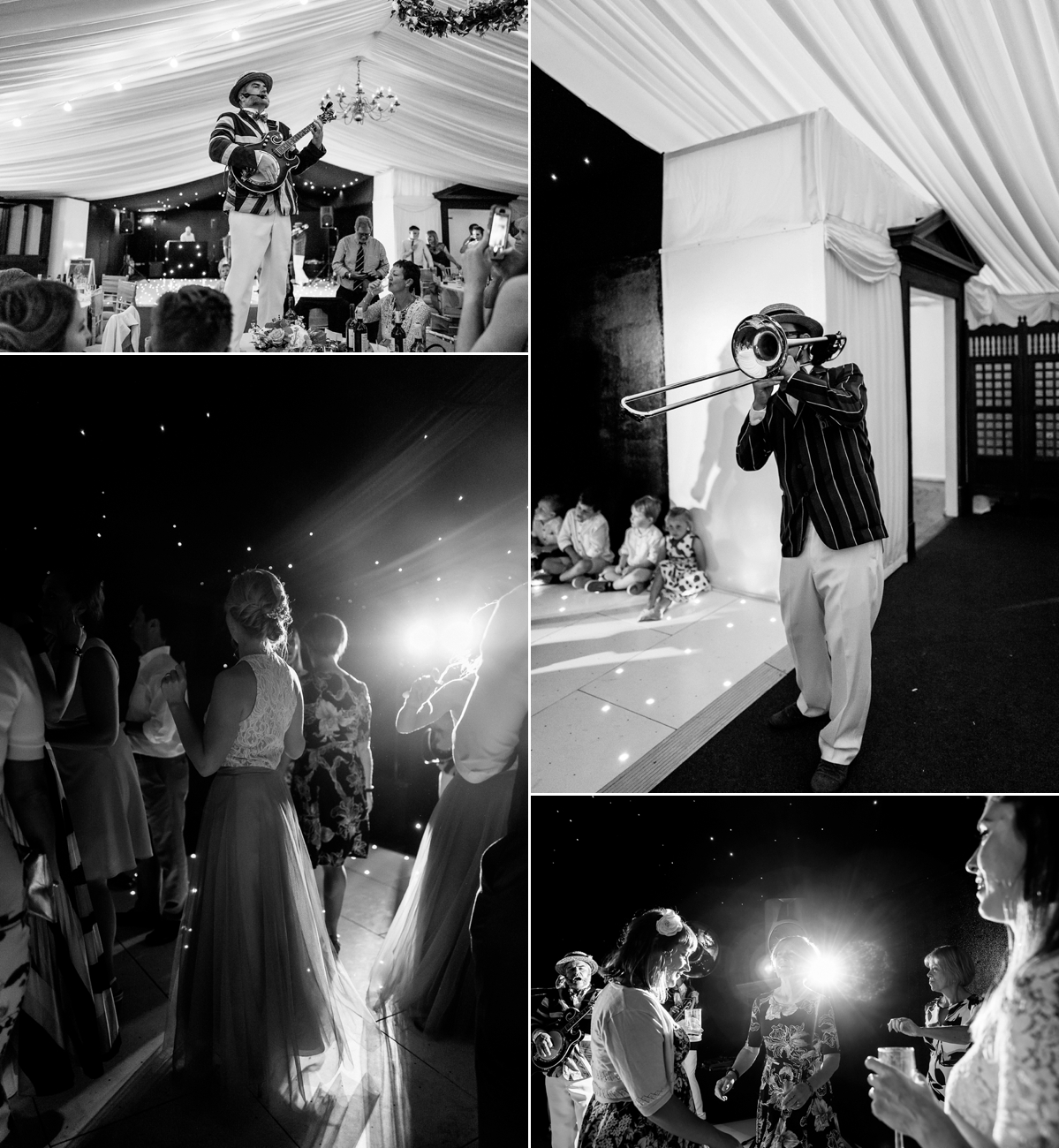 Oh what summertime gorgeousness! Thank you so much Joanna Brown for your evocative and totally beautiful work. It's been such a joy to share your wedding today Mr and Mrs Wood – sending many thanks and congratulations to you both.
Ele xx