Happy Saturday folks – actually I hope by the time you are reading this it's the evening because you'll have been outdoors enjoying the sunshine in the afternoon!
It's an absolute pleasure to share these images with you today. Sent in by professional Makeup Artist, Alison Jenner, who styled and brought this photoshoot team together, I'm delighted to see my design favourites Jesus Peiro, on loan from Francis Day Bridal, featuring so beautifully in these images. You can find out more about Jesus Peiro by visiting their collections page or brand new and updated Little Book directory listing. More from Alison on these beautiful Peaky Blinders glamour inspired photographs…
"This photoshoot was a beautiful dreamy day full of style and glamour. We took our inspiration from days gone by, a nod to  the olden times in England when men were very dapper and ladies oozed style. Starched collars and impeccable tailoring by Clements and Church sat alongside the understated yet the total wow factor of Jesus Peiro gowns."
Images by Jess Petrie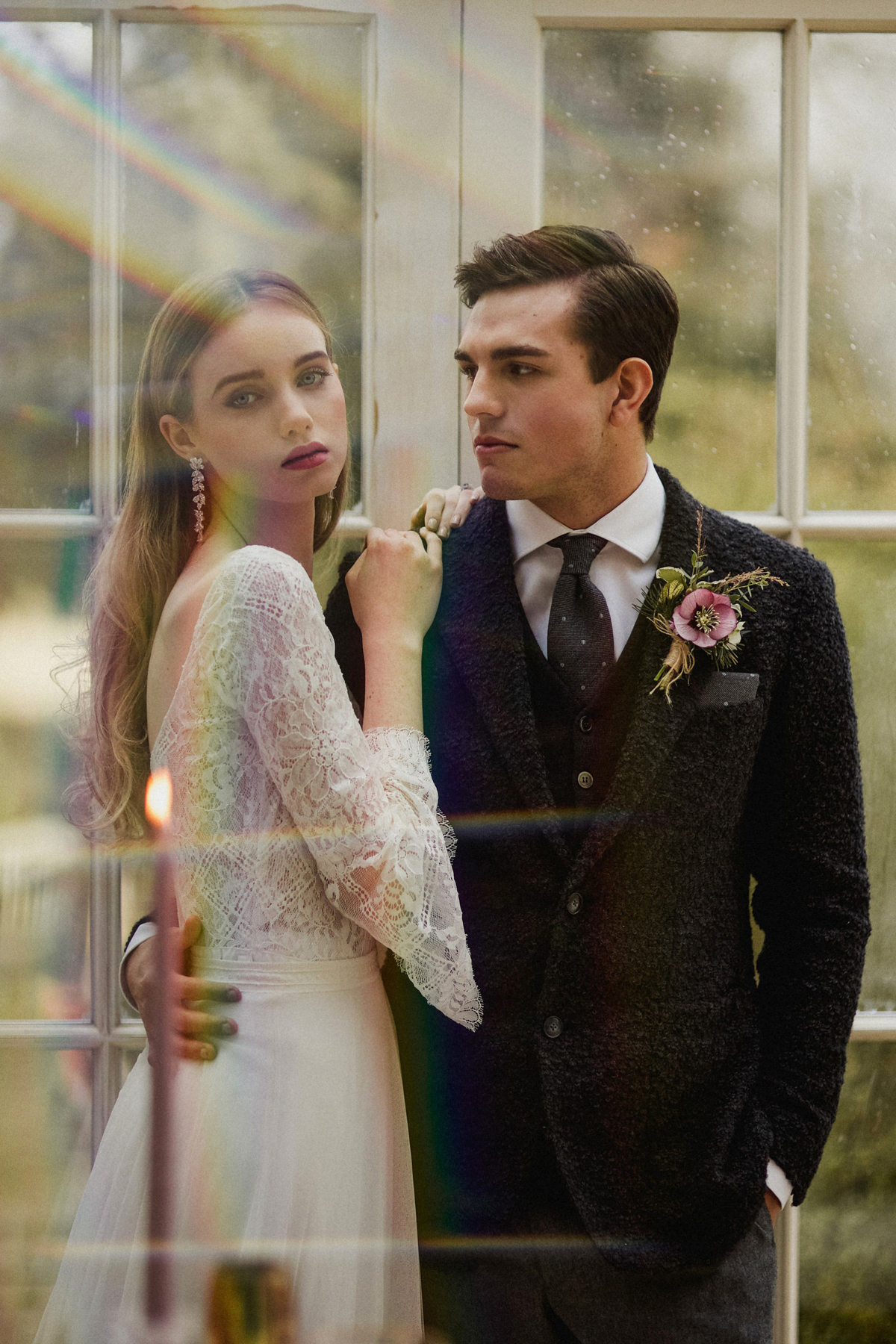 "When you hear the words Clements and Church you instantly recognise style; bespoke British tailoring at it's very best with a fabulous mix of edginess and class to set you above anyone in the crowd. Our very own Peaky Blinder groom oozed all of these things. To compliment this fabulous look, we opted for the wonderful Jesus Peiro Wallis dress from Francis Day Bridal, with features the most beautiful back beading detail to contrast with the classic front."
"The incredible lines and total coverage of this dress had everyone in awe. From it's high neck and structure to its beautiful delicate drape, simply stunning, Hair was kept very neat for the groom and a lovely low chignon was created for this gorgeous look for our bride.  Makeup was kept natural with hints of lavender by Tom Ford for the eyes to add a little warmth yet still have enough drama. The most amazing Miss Clemmie drop earrings completed the look perfectly."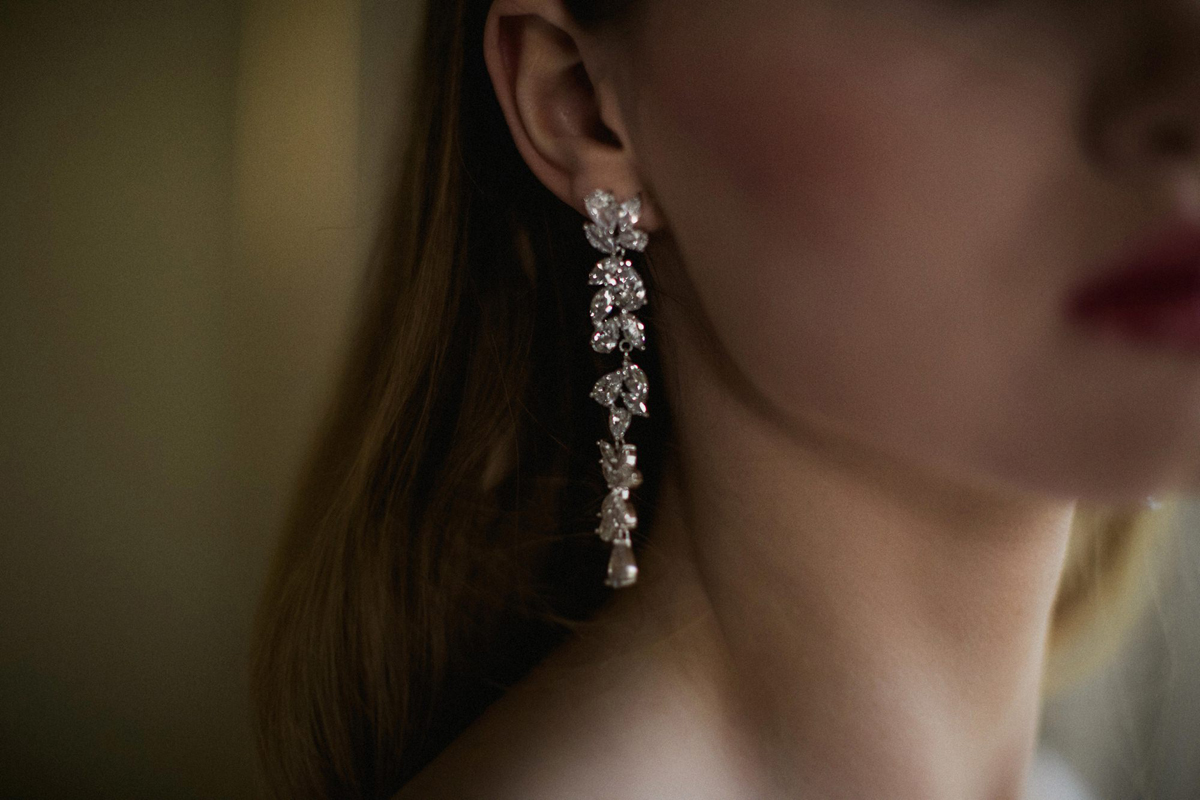 "Stationery was a stunning mix of calligraphy and bold type on vellum and natural materials…..our gorgeous table runner looked perfect with its stylish words of love and togetherness in a beautiful sweeping font. The table setting encompassed soft greys, blush and beautiful naturally hand made beeswax taper candles. A touch of glamour with the edginess of gold which everyone loves, in cutlery, glass wear and candlesticks."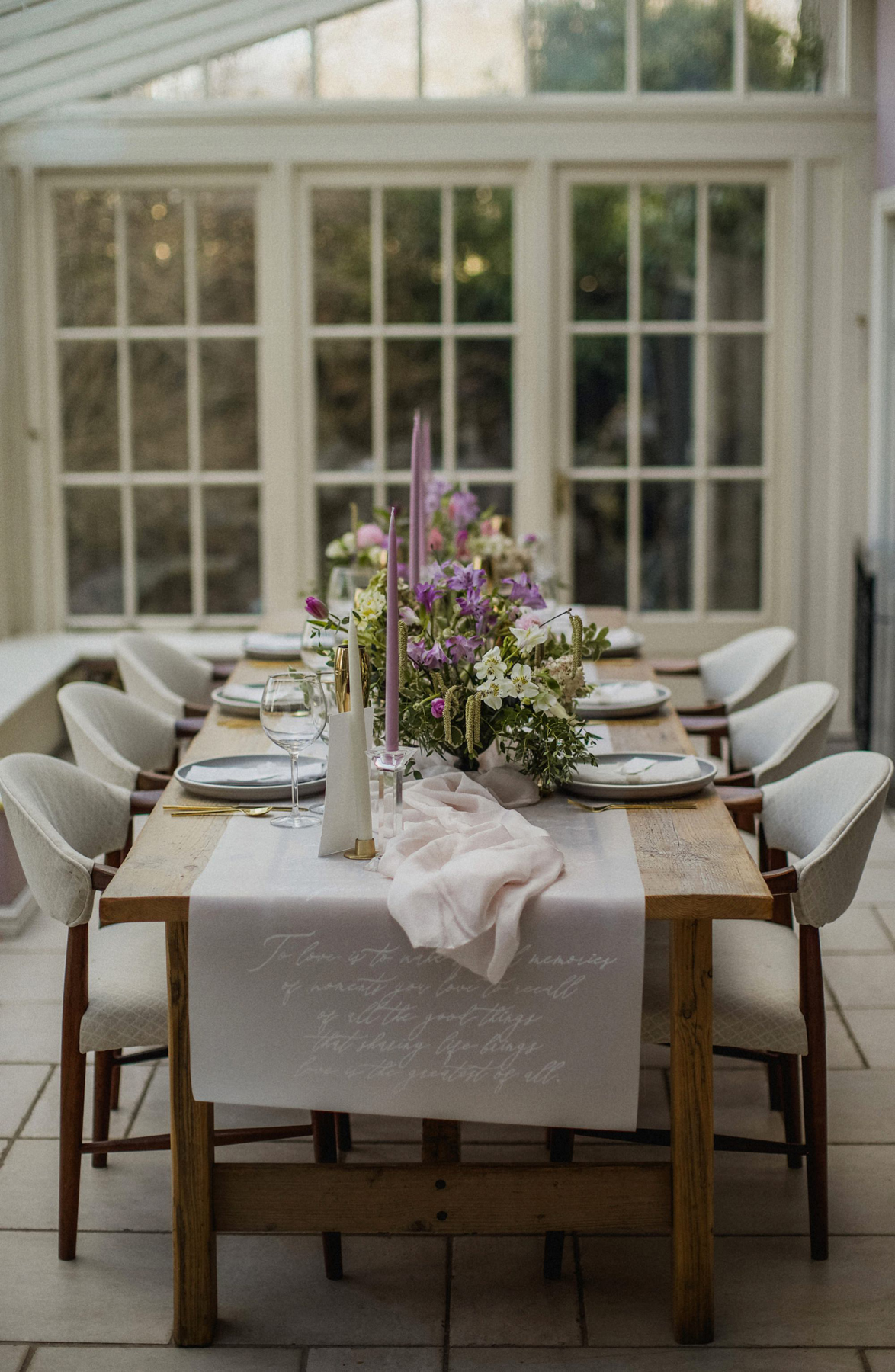 "Blooms were very lose, natural and all home grown, eco and British – something our florist prides herself on. They featured hints of wild, deep rich purple amongst a very soft muted floral colour palette."
"Tying all of these things together was our beautiful silks, by Pompom Blossom, in a soft pampas shade to add a dreamy edge to any wedding table. And of course to complete any bouquet of standing."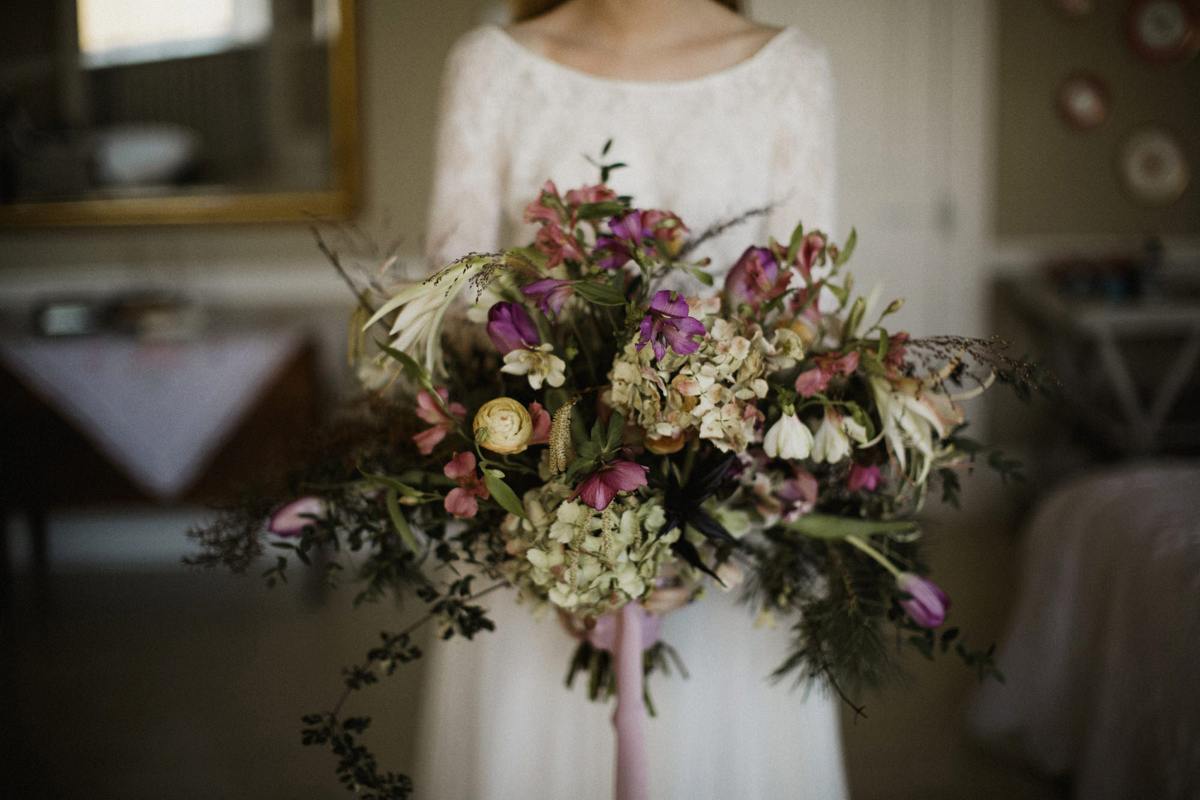 "Our second bridal look was more relaxed, bridal hair was soft and lose – tamed away from the face with a slightly heavier look for makeup to add a contrast. Gorgeous Raspberry by Bobbi brown added wow to the lips."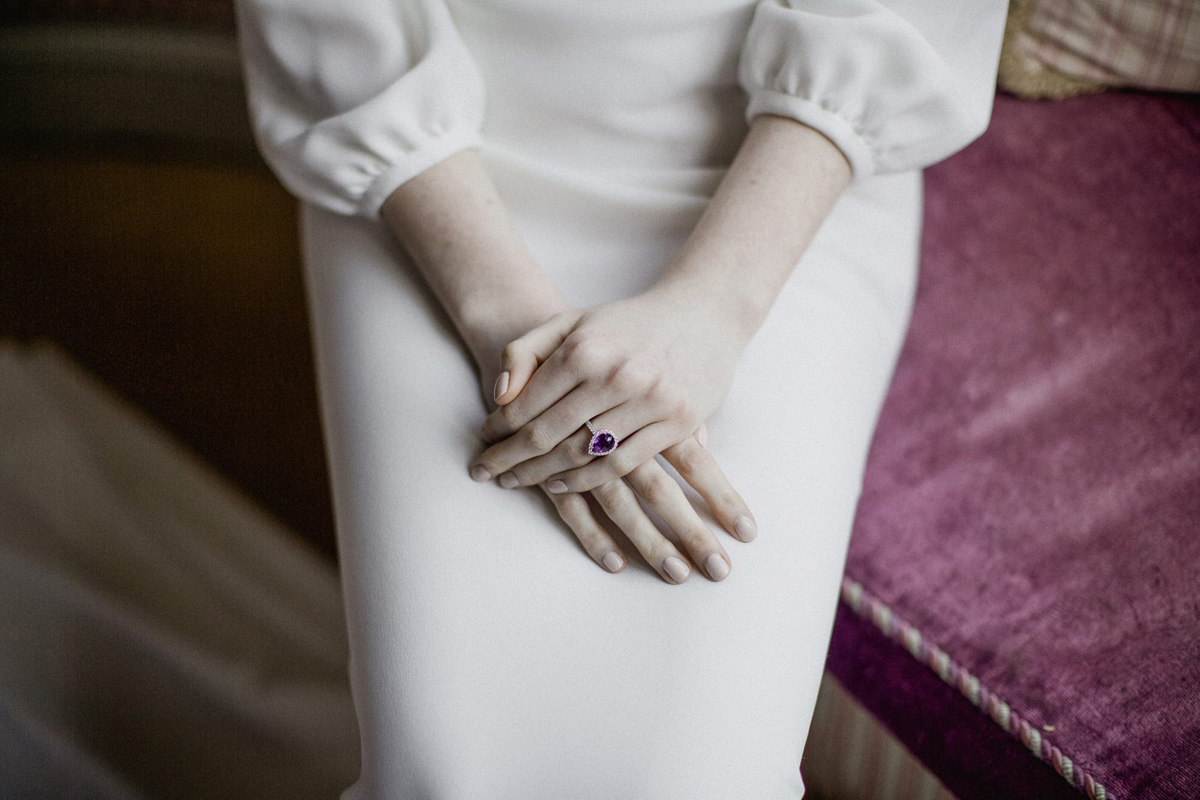 "Again a Jesus Perio two piece shone – it's classic long skirt complimented the intricate lace detail of the overtop and three quarter sleeves, teamed with the most stunning miss clemmie earrings to keep the look of the moment yet collectively create a lovely look of innocence and youthfulness. Both bridal looks were completed with lovely classic I am Florence shoes…..with a wonderful chunky heel.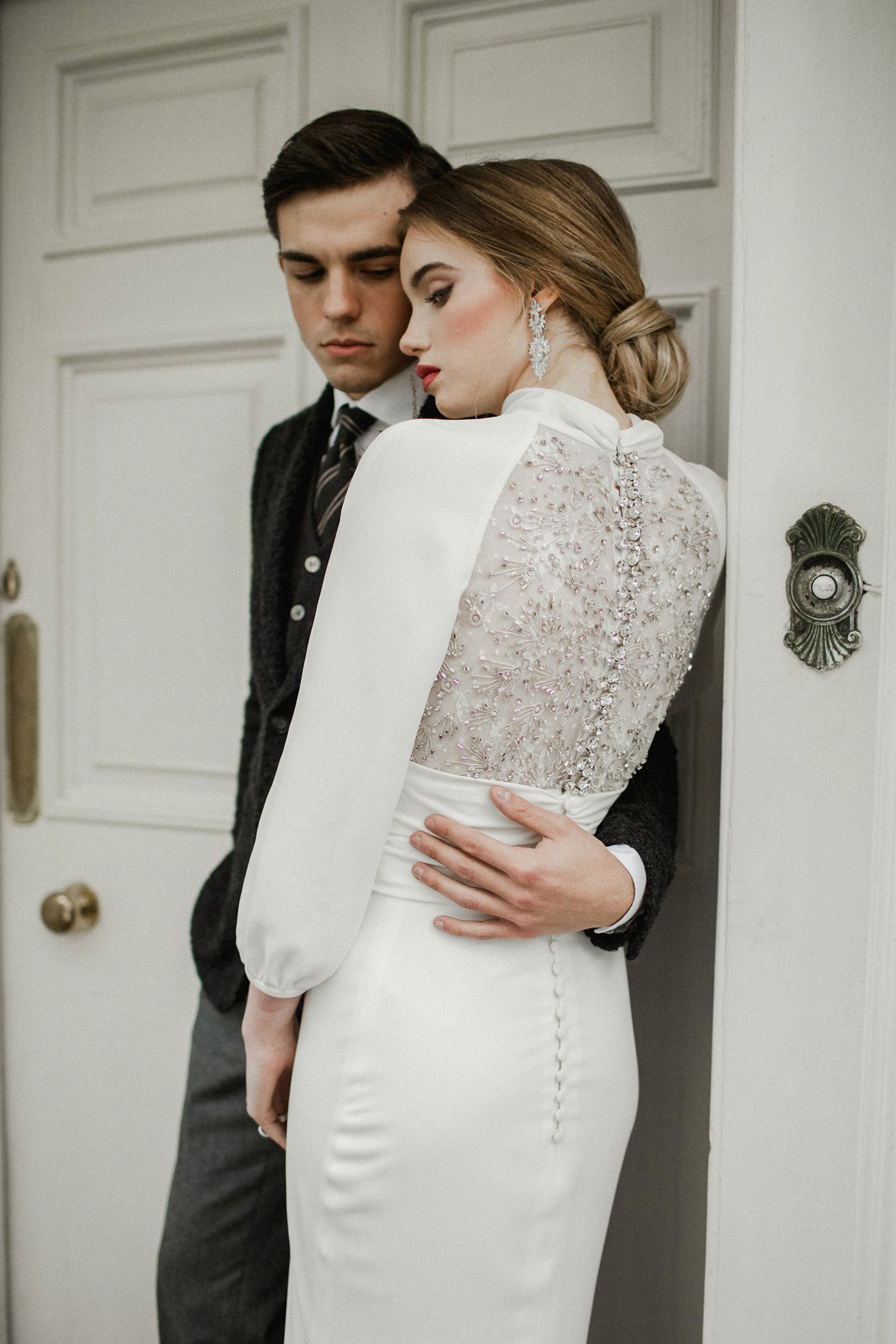 "Jess Petrie was the chosen photographer as she has such a delicate and gentle style which is both beautiful and timeless.  She always takes the time to understand the brief and she makes sure she captures each supplier's creations the best way possible, which is every supplier's dream.  Her patient and calming persona means she can also capture special moments, feelings and emotion between people.  Her photography is just stunning and of a high class, so there is no question that she was the perfect fit for the project".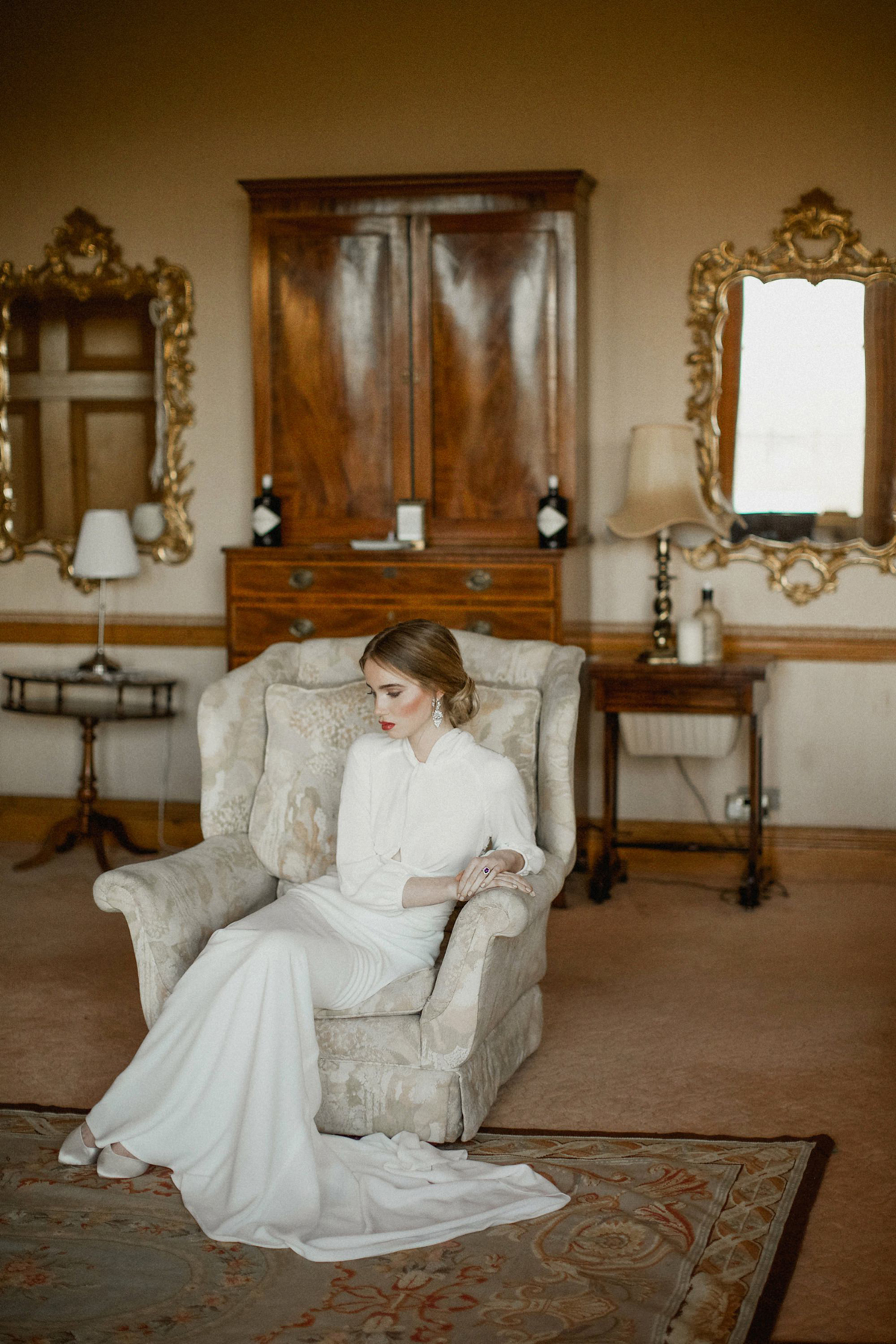 Stationery Lisa Jayne Yates says "Simple, elegant calligraphy was combined with bevelled edged watercolour paper and wrapped with a print vellum wrap. The subtle calligraphy and paper textures were then carried through to an elegant table runner with a hand calligraphy love poem, menus and place settings all adding to the layered textured elements of the table setting. Finishing the look elegantly long hand dipper taper candles were also created using natural beeswax and dyed using natural dyes to match the silks and flowers."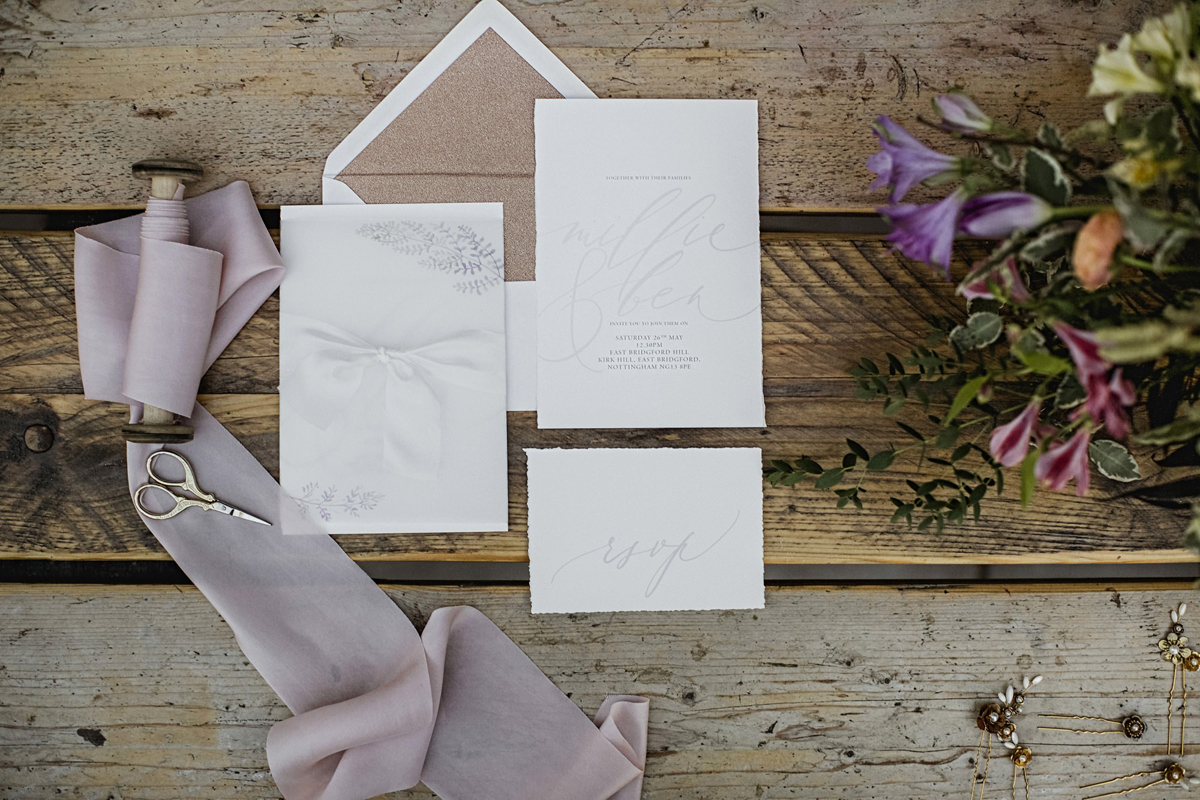 Florist Fiona at Daisy Works says, "I chose soft violets and vintage golds to reflect the beautiful clothing and table dressing. I used all British grown flowers & foliage for my gracious butterfly amaryllis 'Emerald,' soft vintage gold Cornish ranunculus and delicate Sussex-grown alstrowmeria, along with soft ferny local foliage of cryptomeria and glaucous Scot's pine."