Oh my, readers, are you sitting comfortably?  I have the most incredible elopement to share with you today- I love it so much I want to steal the photos and pretend they're mine (I know that's weird but I don't care, it's too lovely).
Meet Teri, communications manager for a theatre company, and Gareth, a GP, who married on the 24 October 2017 at The Dell of Abernethy in Inverness-shire, Scotland.  Just the two of them, surrounded by nature. The day was also captured on film by Sugar8, who created a vintage-style video of the day.  A little taster is available here.
"Caro and Eileen are the dream team and were a joy to have around.  They also acted as our witnesses and I think they might have cried as much as we did during our vows!"
Film by Sugar8
Today's glorious pictures come to us from the talented lens of Caro Weiss, whose work I just adore and who we are super proud to recommend through our beautiful new Little Book wedding directory (have you seen our gorgeous new redesign?)
"We booked Caro before we did anything else as we loved her style so much.  We couldn't be happier with our photographs- everyone has commented on how stunning they are.  It's quite an art documenting a small, intimate wedding without being obtrusive – she was like a wee wedding ninja (and it helps that she is utterly adorable)."
Images by Caro Weiss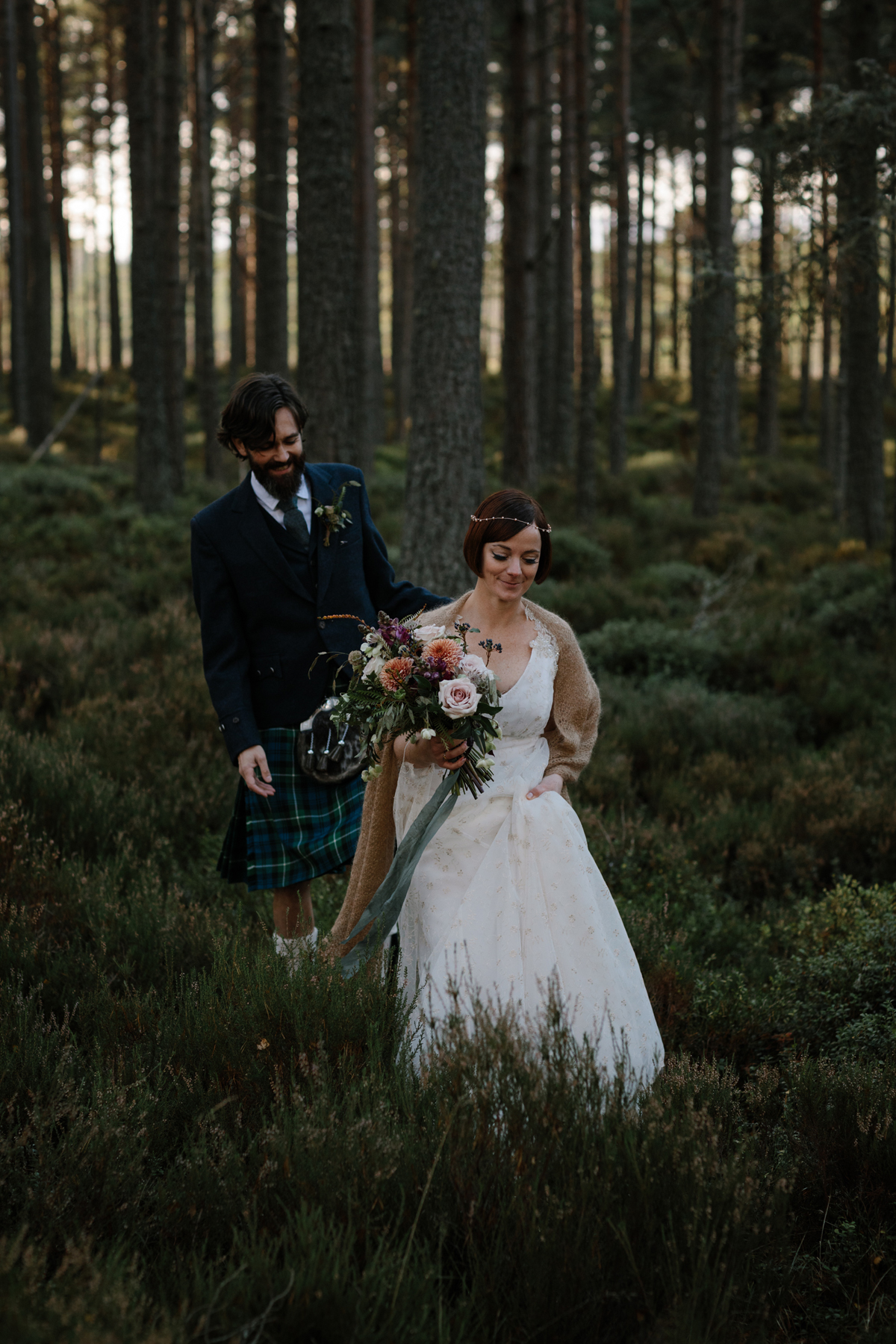 "Nature was the biggest inspiration – autumnal colours, the Scottish landscape, wild flowers and an ethereal, romantic vibe.  I wanted a vintage feel but wasn't defined by an era – my dress gave a nod to the 1940's, my hair 1920's and my makeup 1960's. That mash up felt very me."
"We met online in 2015.  I was living on a remote Scottish island but back and forth to London for work. We were pretty much smitten after our first date and moved in together after a couple of months.   Gareth had the romantic proposal all planned- a remote windswept beach, sun setting, down on one knee… but I refused to come for the walk as I wanted to finish packing."
"Back in London the next week we went for dinner in Jim's Café.  I suggested we get a 'Divorce Papers' cocktail and he said: 'Why don't we get married instead?' and pulled out a ring.  I said 'OK!'"
"We agreed from the start that we'd get married in Scotland because it will always be home for both of us.  The laws in Scotland also mean we could get married anywhere and we liked the ease of being able to open the front door and stroll into the forest.  We wanted to stay somewhere beautiful but low key and as soon as we saw the farmhouse in all its stripped-back loveliness, and met Polly and Ross at The Dell of Abernethy, we knew it was perfect."
"After weeks of terrible weather the sun came out on the day and Scotland was at its most beautiful.  A red squirrel greeted us at the kitchen window that morning and as we left the ceremony a family of red deer skipped past us – it felt like a Disney movie."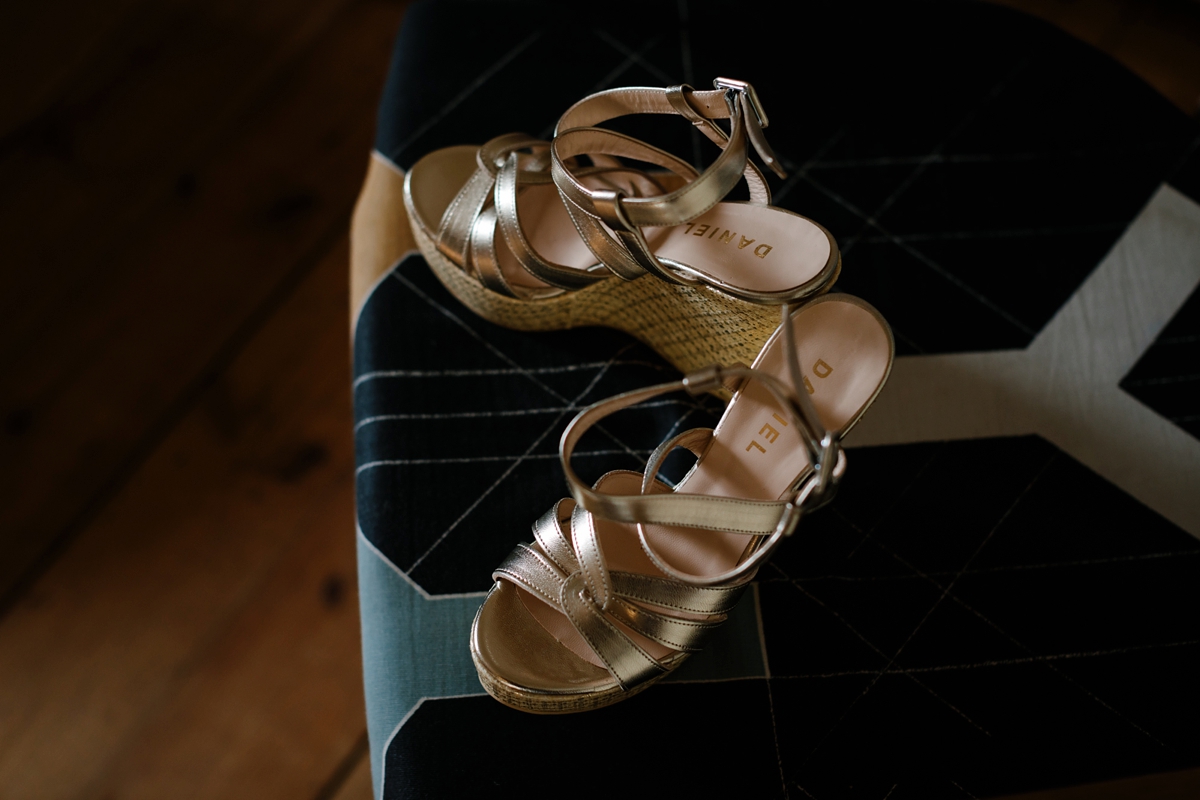 Teri looked beautiful in 'Ginger' by Rowan Joy, Edinburgh, which she paired with a delicate bespoke headpiece by Rene Walrus, gold wedges from Daniel and a beautiful soft mohair shawl from Crimson Rabbit Burrow on Etsy.
"I'd convinced myself I didn't want a white gown and fell in love with a dusky pink, floral design of Rowan's on Instagram.  Unfortunately, the shape and colour did nothing for me.  My friend Claire convinced me to try 'Ginger' on and it felt like it was made for me.  I loved the classic 1940's shape and the delicate gold embroidery. We discussed customising it with different materials and adding some colour but ended up going with the original design as it was perfect as it was."
Teri wore her hair in a sleek 1920's style bob, while for make up, she opted for a soft 1960's feel with lashings of eyeliner.
"We used Elope with Us (owned by photographer Caro Weiss) for our photography, video, hair/makeup and flowers. We were worried it might be too much faff for our tiny affair but they were all so lovely and it did just feel like having a few friends round – so much so that they had to remind me to put my wedding dress on, and I even had an impromptu hair cut on the day."
Peggy Sue, Teri and Gareth's dog, also scrubbed up well in a tartan collar and bow tie from Hiro and Wolf.
Teri's stunning bouquet came from the talented hands of Barbara at the Wildflower Workshop in Glasgow.
"Barbara's floristry is incredible and I knew that I'd love anything she did.  Because of that, the brief was simple – autumnal and non-traditional, like I might have picked them myself.  She delivered the most beautiful bouquet and button hole, which were wild and rustic but also delicate and oh-so-pretty.  The colours were amazing and really complemented my dress."
Gareth wore a kilt in his family tartan, paired with jacket, waistcoat and tie from Stewart Christie in Edinburgh, boots from Blundstone and a pair of cufflinks from Paul Smith.
The ceremony was led by Iain Whitelaw of the Humanist Society Scotland.  Teri and Gareth decided on a Humanist ceremony because it gave them the freedom to express what's was important to them, which is just perfect.
"Iain is such a warm, kind man and he conducted our ceremony with grace and sincerity.  We wrote our own vows, which was the most important factor for us.  We both cried our eyes out writing them but managed to get through the day with minimum leakage."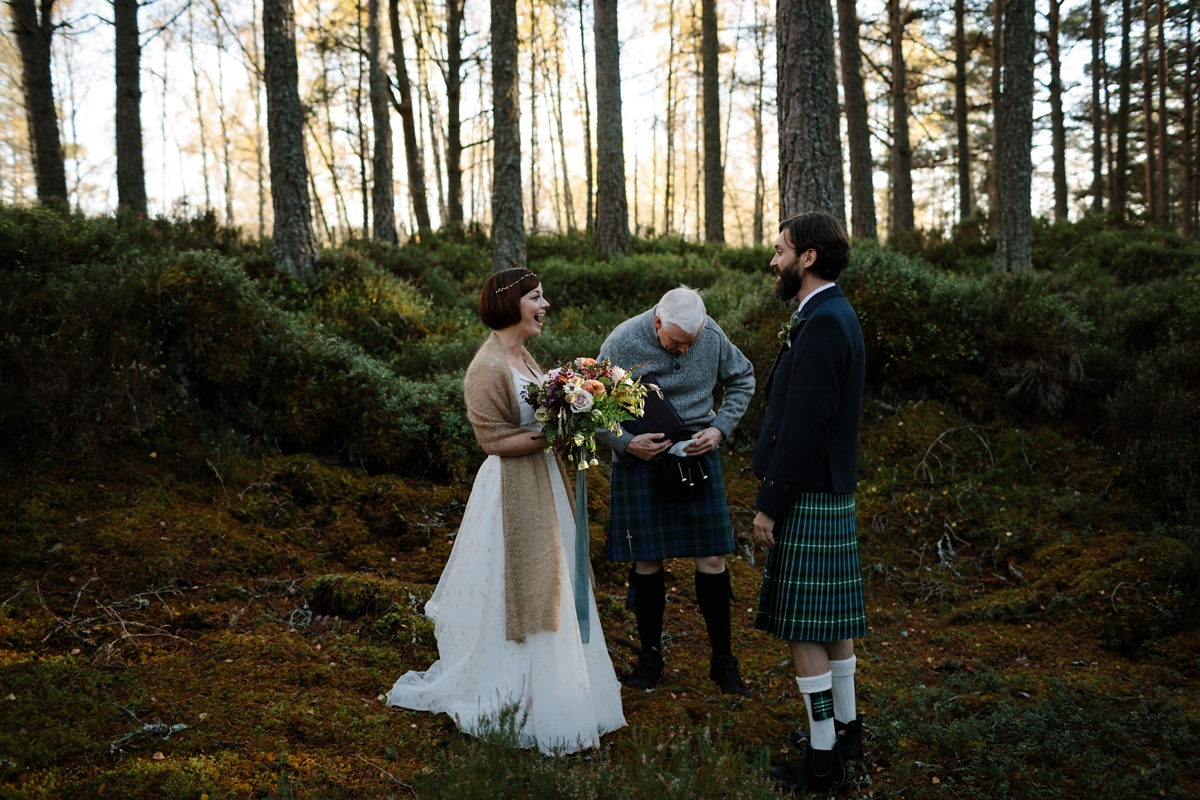 As part of the ceremony, Teri and Gareth chose quotes from Alain de Bottom and Patti Smith.
"We wanted to reflect the reality of marriage, what it means to us, and that we were stepping into it with our eyes wide open. We chose a verse from Leonard Cohen's 'Dance Me to the End of Love' as a reading as we both feel so lucky to have found the person we'll dance with for a lifetime."
Teri's engagement and wedding rings were the work of Poppy Dandiya, while Gareth's ring came from William Cheshire in Broadway Market.
"Poppy's work highlights the defects in the stone, rather than hiding them, to bring out their beauty, and I love that my rings are a bit wonky.  We asked Will to design a ring that mirrored mine and he designed a beautiful white gold band with a delicate cut-out, the shape of the tiny trillion in my ring."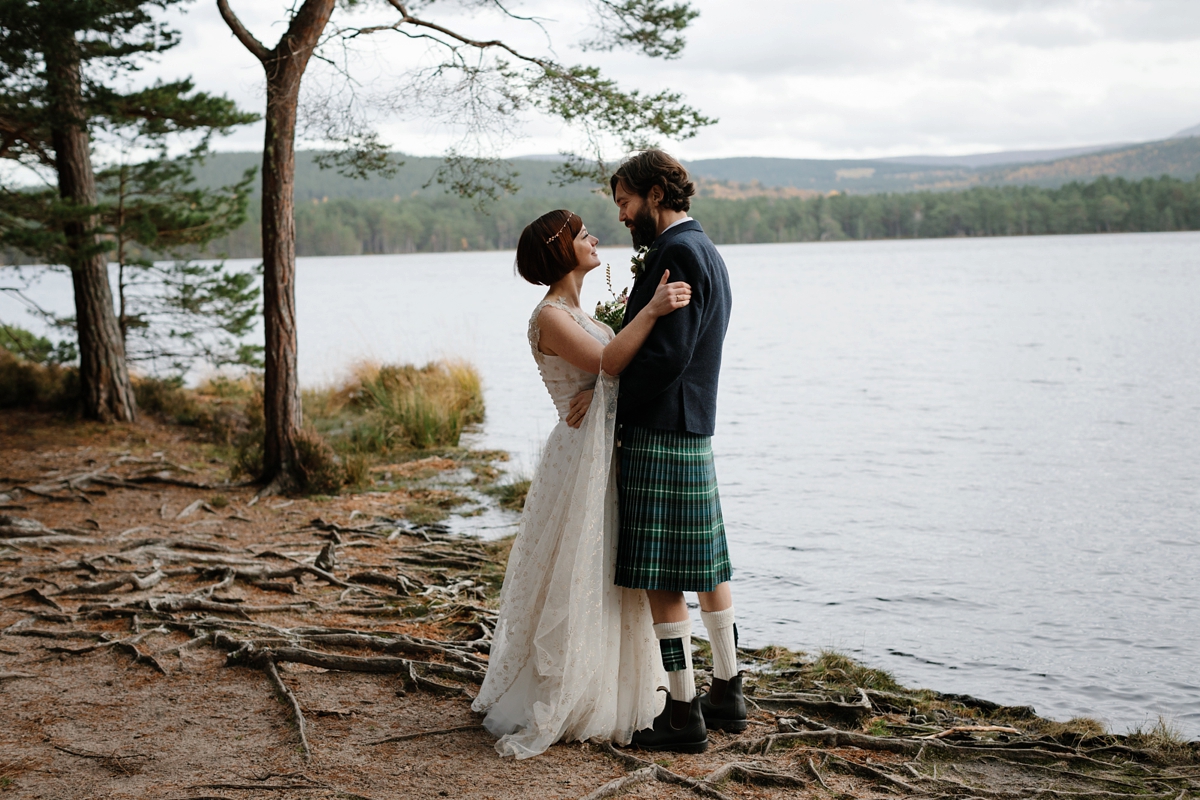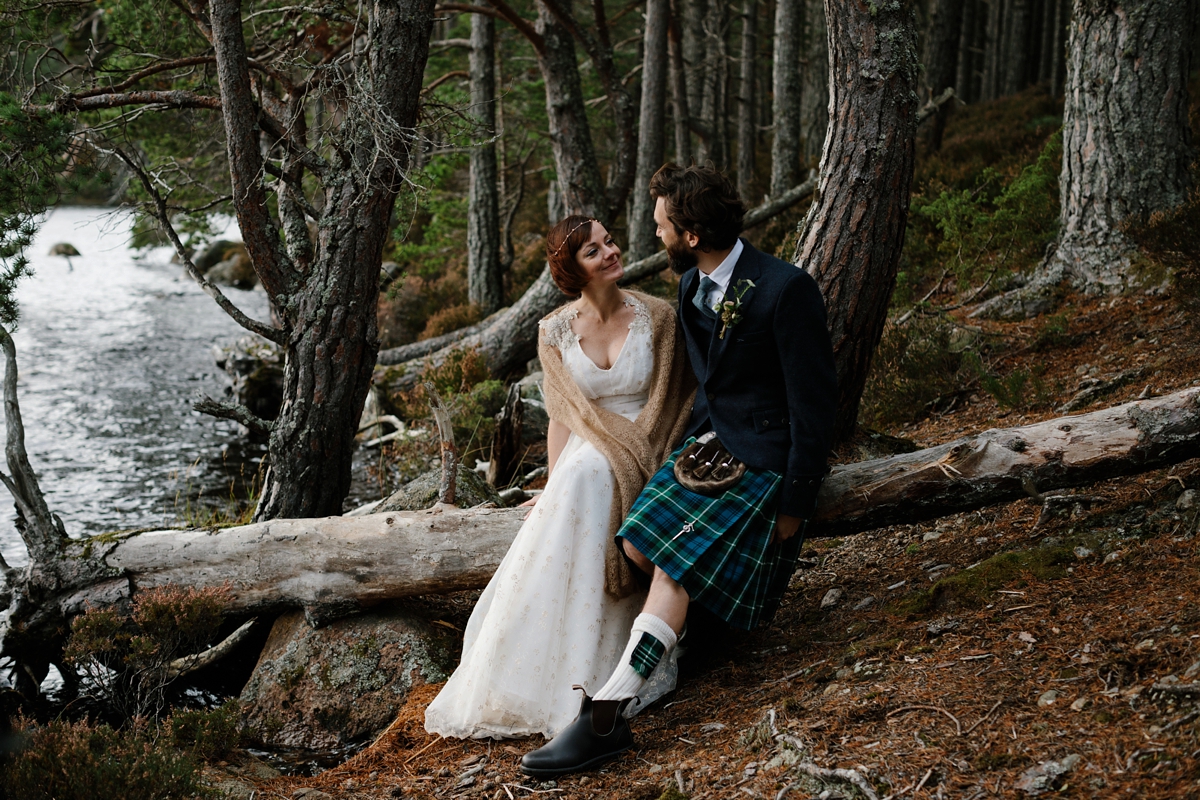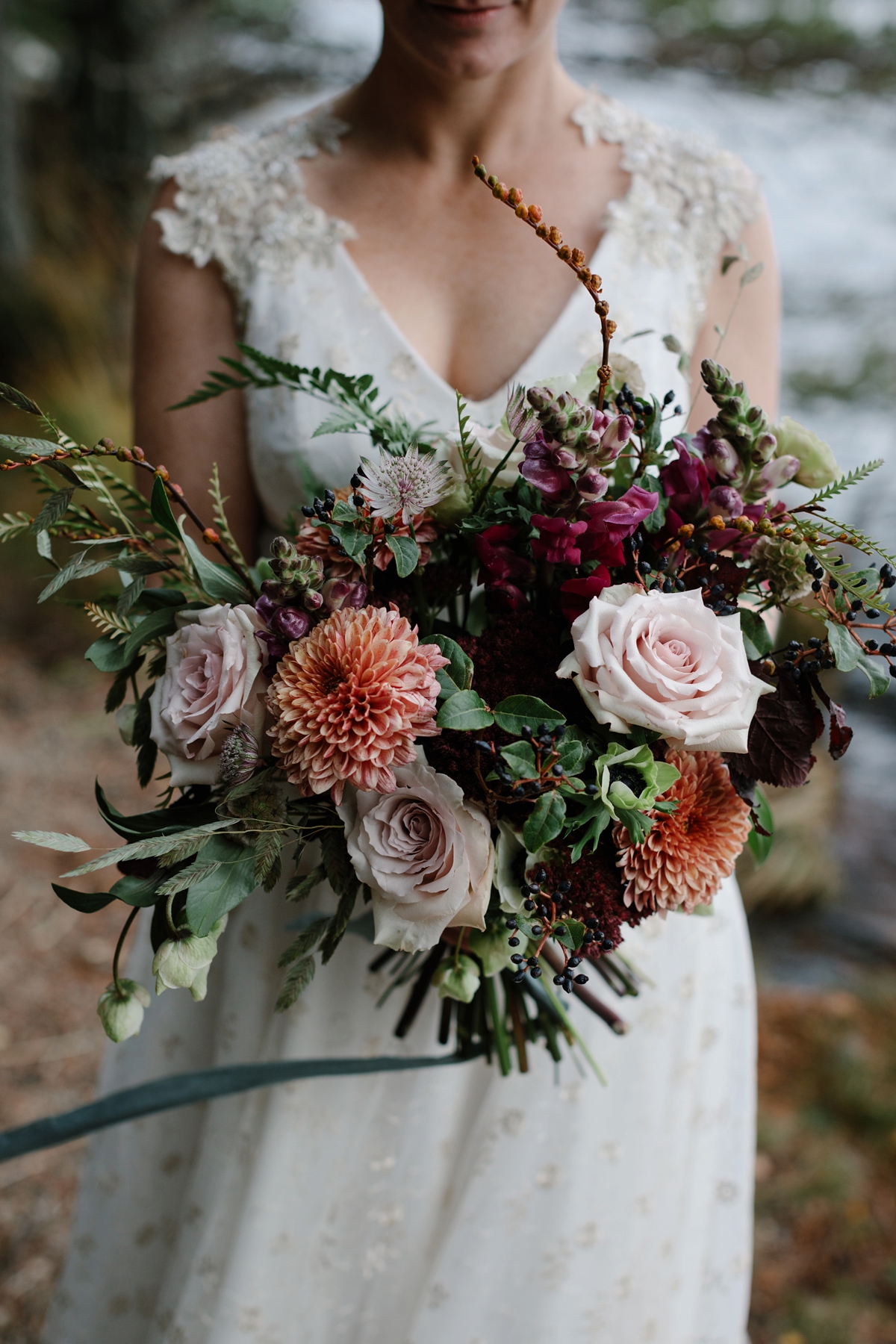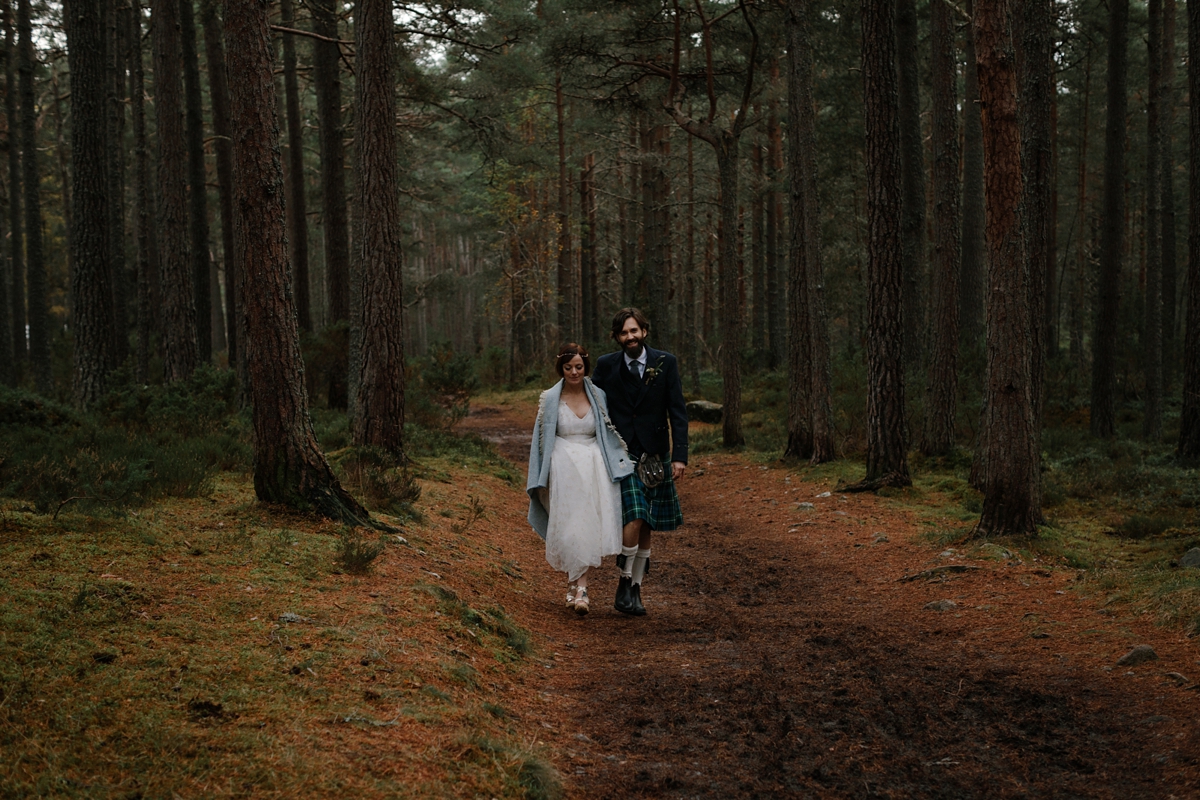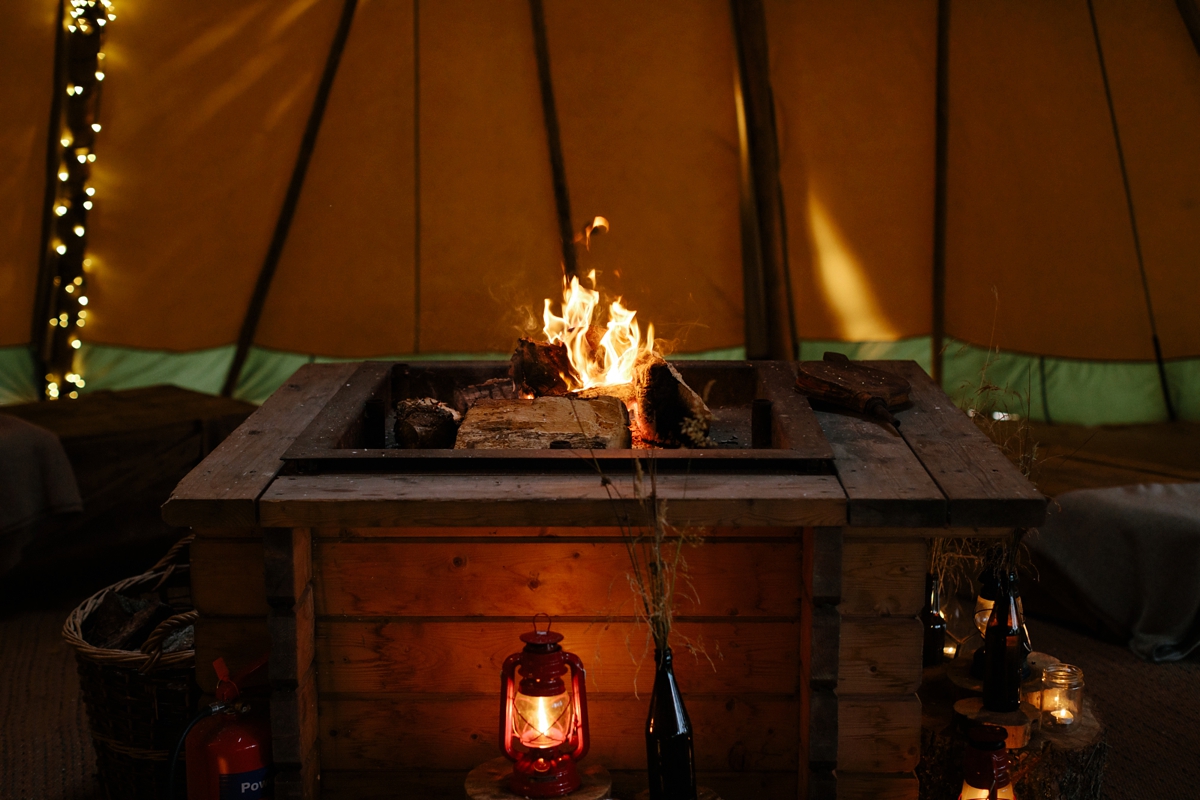 Catering was done in-house by Polly of The Dell of Abernethy
"Polly is an amazing cook and she prepared the most delicious six-course tasting menu for our wedding feast.  She even made us the same cocktails that Gareth proposed over."
"My favourite part was coming back to the Dell as a married couple.  Polly and Ross had lit the fires and were waiting for us with champagne and canapes.  We were deliriously happy."
Although their big day was just about the two of them, Gareth and Teri also held a party for friends and family later in the week, at Sloans in Glasgow.  Invitations were designed by friend Jen Collins as a wonderful gift.
"Our party venue needed minimal décor as it's such a beautiful old building.  Wildflower Workshop provided jars of flowers for the tables and we pinned up photos of our wedding with leaves and berries we'd foraged in the forest.  We booked the Homecoming String Band for entertainment and I can't recommend them enough.  They played a mixture of Appalachian and Bluegrass tunes, Scottish jigs/reels and folk music and everyone was up dancing.  Big Bear Bakery provided a cake table which was divine."
Words of Wedded Wisdom
"We knew we wanted to elope but we were so worried about hurting people's feelings and we went around in circles until we realised that no matter what we did, we were never going to keep everyone happy.  We felt a whole lot better after that.
Having a party a few days later took the pressure off and we celebrated in style, without any of the traditional wedding formalities.  The room was so full of love and everyone was supportive of our elopement.
It's your day and it should reflect who you are.  The simplicity of our day made our vows to each other feel even more meaningful and real."
So many thanks to Teri and Gareth for sharing this very personal day with us all.  I for one am completely in love with it.  Adore the dress?  Take a look here for more brides wearing Rowan Joy gowns.  Love the photography?  See here for more work by Caro Weiss.
So much love,
S x