Do you need a little injection of cool today? Well, lovelies, you are in the right place as the wedding I'm sharing with you today is a luxurious blend of contemporary modern styling and traditional, timeless appeal. Get a cup of tea, turn off all your notifications and enjoy.
Please meet Megan, a beauty therapist who also runs online business Megan Cattermole Weddings & Occasion Styling making signage, stationery and gifts. She wed Davin, who is a dispatcher for a UK power network at newly-opened venue Houchins in Coggeshall, Essex on 27 August 2017 – a totally glorious sunny day. The couple loved that the venue offered an outdoor ceremony loggia as well as a blank canvas industrial barn that they could style with a modern, contemporary aesthetic. Megan and Davin were inspired by their love for minimal Scandinavian design, and created a muted colour palette of white and greys with shots of glam with gold geometric shapes. Over to Megan to tell us more about the venue and its styling.
"I follow Love My Dress on Instagram and often visit the blog whenever a picture catches my eye. I still read it now as inspiration for my business. I like it because it features modern, unique brides. The weddings are beautiful and the brides often think outside the box. So much inspiration."
Photography Katie Drouet Photography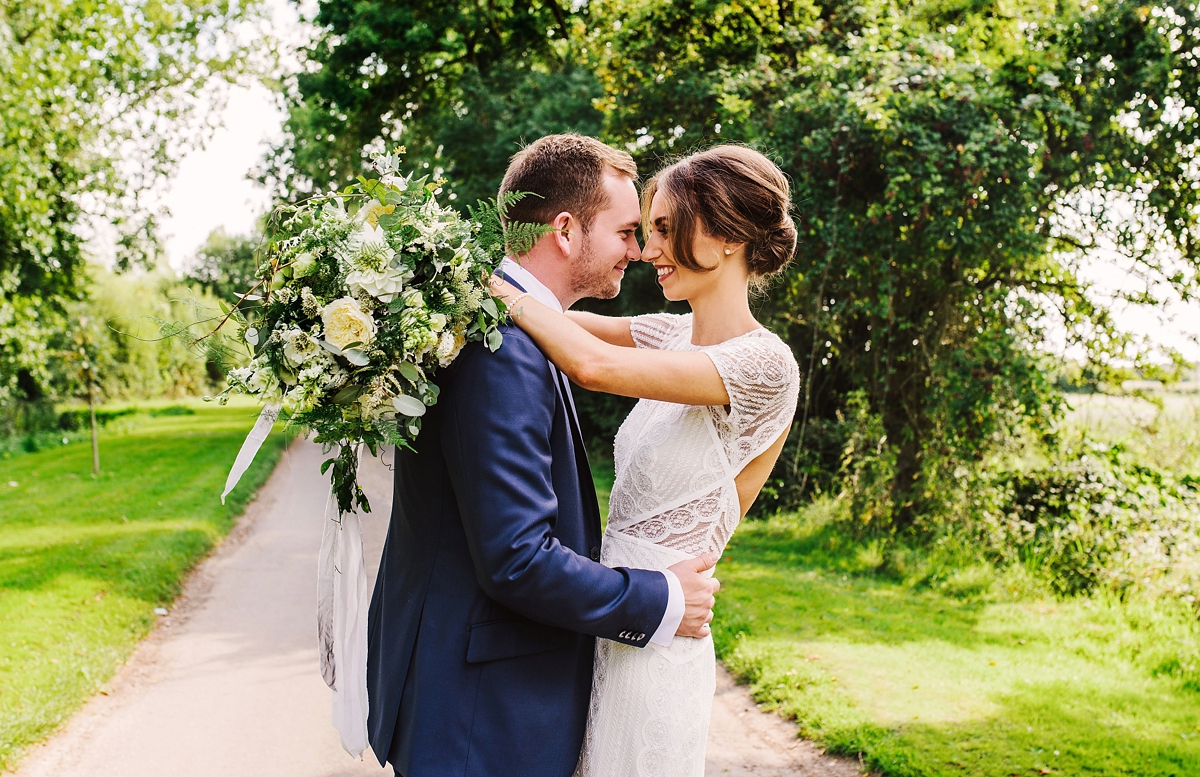 Just like the venue, Megan's choice of gown was a wonderful blend of modern and timeless. She found her Wtoo by Watters 'Lenora' gown at House of Snow in Bury St Edmunds, Suffolk. I'm a big fan of the slim, modern design and the puddle train, made modern with the cut-out back and lace detailing.
"I had visited a couple of local boutiques but knew straight away that none of them had what I was looking for. I wanted something unusual and I knew I wouldn't suit a traditional dress. I didn't like floral lace and thought I would opt for something completely plain and minimal. I was resigned to the fact I would have to travel to London and spend a big chunk of our budget to find what I wanted. Then I was scrolling Facebook and a sponsored post for House of Snow popped up – a brand new boutique in Bury St Edmunds. There was a big picture of my dress on the Home page and I fell in love with it; I knew it was my dress.""I loved the high neckline and the elegant, flattering panels of the dress, the key hole back and most of all, the unusual, circular lace. I rang Harriet, the owner, straight away and she informed me that the dress was new season and she didn't actually have it in stock yet. I patiently waited and eventually went to try the dress and knew straight away. I must have been the easiest sale ever as I didn't even try any other dresses on."
Megan added a sheer chapel-length tulle veil, also from House of Snow, and unusual, structural Dune London heels. Her finishing touch was a Mikimoto pearl bracelet, given to her by Davin on the birth of their son, Arthur.
"Davin gave me the matching necklace and earrings as a wedding gift but I couldn't wear the necklace because of the dress neckline, so I just wore the earrings and bracelet."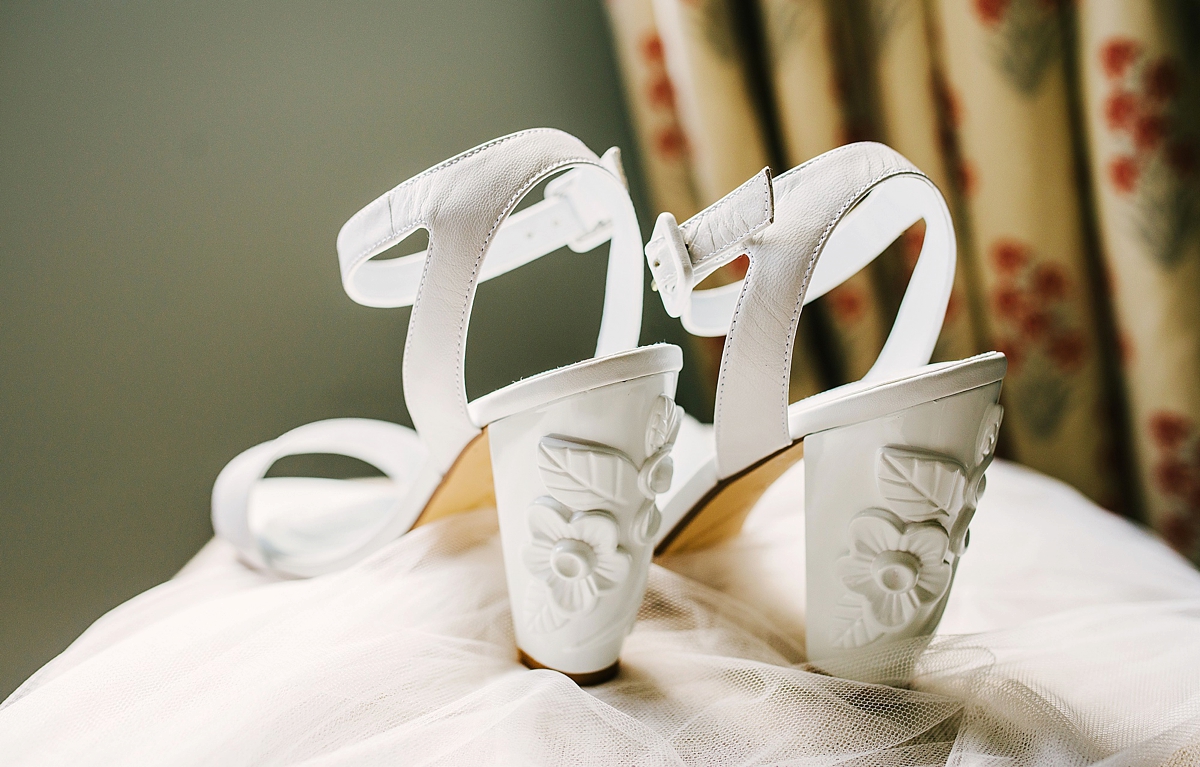 Flowers were an important theme, and florists Myrtle & Mint really did deliver. Just look at these organic, opulent blooms and foliage. So luxurious.
"Flowers were really important to me. I knew I wanted a lot and I knew I wanted BIG! I chose Myrtle & Mint as I have long been a fan of their beautiful shop and contemporary, modern style of floristry. I felt confident they would achieve the look I wanted. My brief was white flowers and green/grey foliage with lots of hydrangeas and eucalyptus (my faves)."
"I wanted loose and informal and big enough to make a statement. The grey raw silk ribbons were from Kate Cullen. Myrtle & Mint did all of our bouquets, button holes and ceremony table and top table pieces and a freelance florist called Jessica Lugo did our beautiful table pieces and large aisle display on the plant stand."
Time to talk about the bridesmaids' elegant gowns – modern, origami-style dresses from TFNC Wedding via ASOS. They look perfect for a summer's day. Their shoes were designed by Lost Ink at ASOS, and they wore Orelia necklaces and earrings.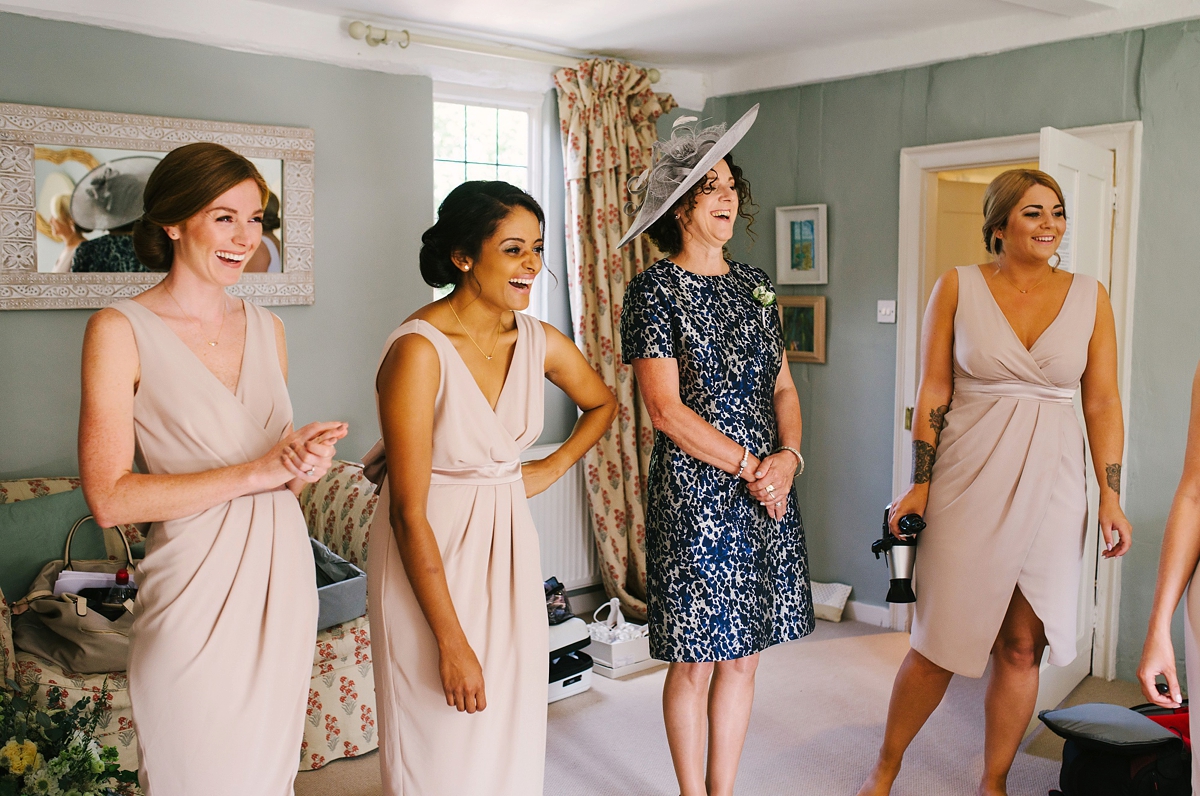 "I always thought I would have a plain dress but surprisingly my dress is very detailed. I even opted for beading on the circular lace and I decided on a long train on the dress along with a long silk veil to make me feel more bridal. Thank goodness for House of Snow. Harriet is young and stylish and this is reflected in her choice of fashion forward designers and dresses in her boutique."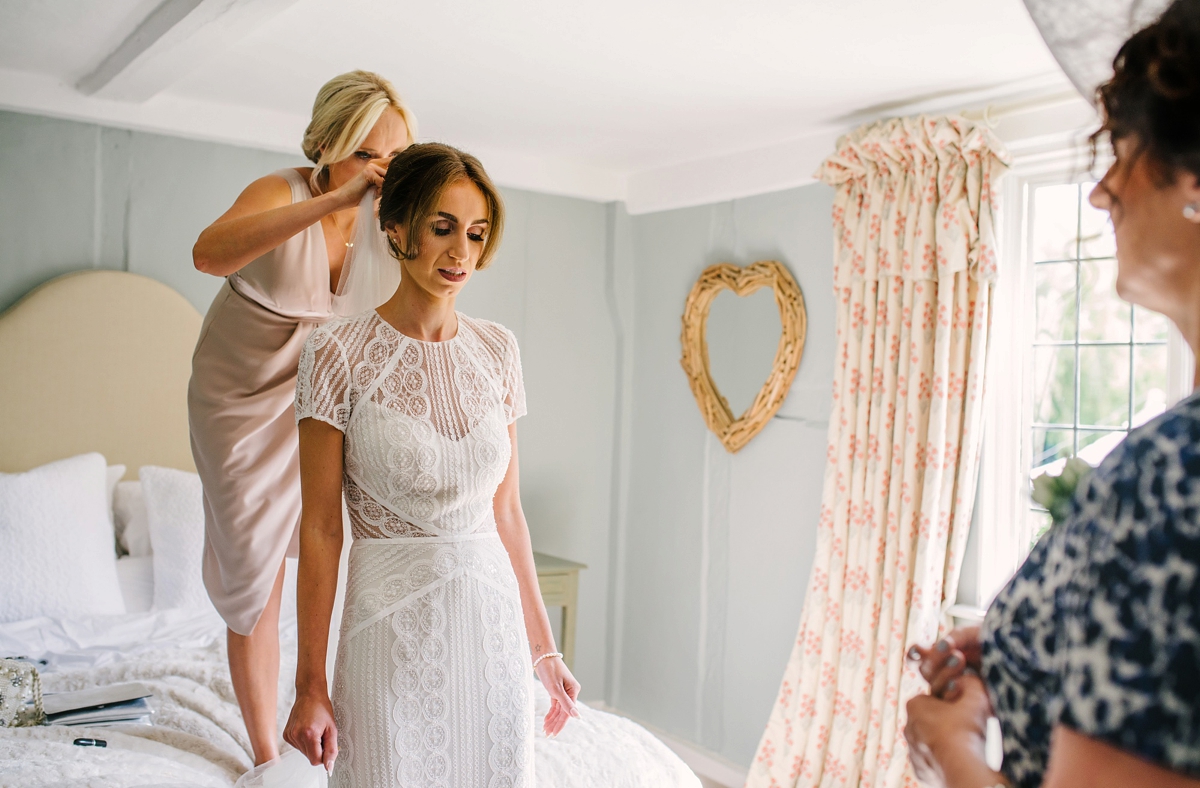 Megan applied her own make-up, and wore her hair in a sleek, modern up-do, styled by Fiona Parish at Ace Hair, Ipswich.
The couple have been together for eleven years now, and were engaged for two years before these celebrations.
"I was 18, he was 19 and we worked in a busy bar in our hometown. I worked nights, he worked days, but it happened to be the World Cup and due to staff shortages we ended up working alongside each other. He had his face painted like an England flag and had lost his voice from singing football songs and I'm pretty sure he was drunk, but for some reason I thought he was charming! We went out on a date, he bought me fish and chips and a carton of Umbongo at the seaside (how romantic!) and the rest is history. Things have moved on a lot since then. We have travelled the world together, settled and have a little boy called Arthur who is now four years old."
"Davin proposed in Lisbon, Portugal in Eduardo VII Park. It was completely unexpected. We were holidaying with my in-laws and Arthur and had gone out for the day, just us. After nine years and many an engagement-worthy trip, you stop anticipating it and to be honest I thought marriage was something we would maybe do later in life, but it was a wonderful surprise."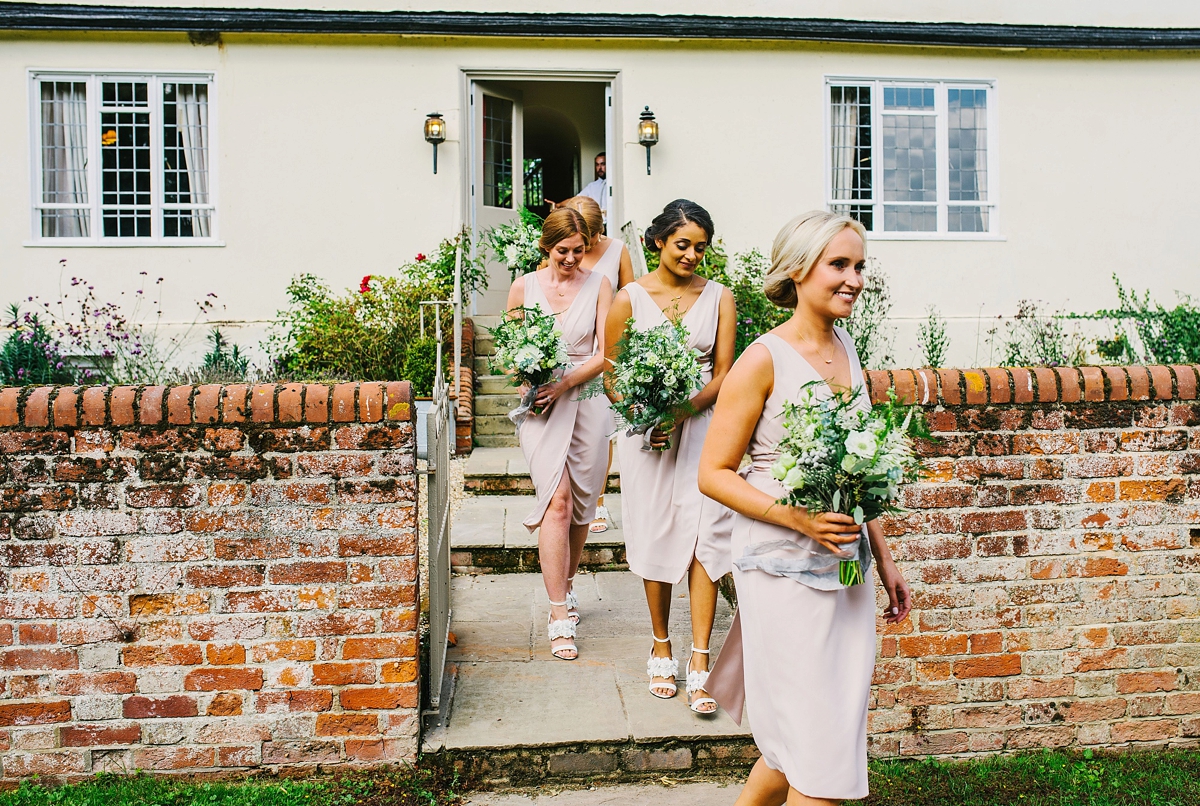 "We came across Houchins which had literally just opened! We loved the fact we could get married outside in the ceremony Loggia in the beautiful garden, then have the barn for the reception, which has been renovated from 1950s Utilitarian buildings. We absolutely loved the corrugated iron roof and screeded concrete floor. It was the simple, industrial look we wanted."
"The quirky Grade 2 listed, 17th century farmhouse makes a stunning backdrop and we stayed both the night before and night of the wedding. The house has so much history. Oliver Cromwell is rumoured to have stayed there during the Civil War and in the 1920s, silent movie star Tallulah Bankhead used Houchins as a refuge from London Paparazzi. The venue really is 'Heritage meets Modern' and we got such a great feeling about the place we booked straight away."
"We have always loved all things modern. We like simple minimal interiors. architecture and fashion and love Scandinavian style. Grey is my favourite colour and I knew straight away the wedding would have muted tones. I adore flowers, and always have them around our home so I knew straight away that they would play a huge part in the overall look of the day."
Houchins boasts an outdoor loggia for wedding ceremonies, set in the beautiful green gardens. Megan walked down the aisle with her mum Debbie, to the sound of Fleetwood Mac and 'Songbird'. They couple have chosen to keep the details of their ceremony private, but you can see the happiness in these lovely photographs. They exchanged rings from Riley & Riley in Ipswich.
"Davin got my engagement ring from there and they were very accommodating, altering an existing ring they had there to fit Davin's requirements. When it came to choosing wedding bands we went straight to them."
The groom's grey suit was a made-to-measure piece from Trotter & Deane in Bury St Edmunds. He wore Barker shoes from Coes, Ipswich and added a personal touch with a Liberty-print tie and pocket square from Kate Temple.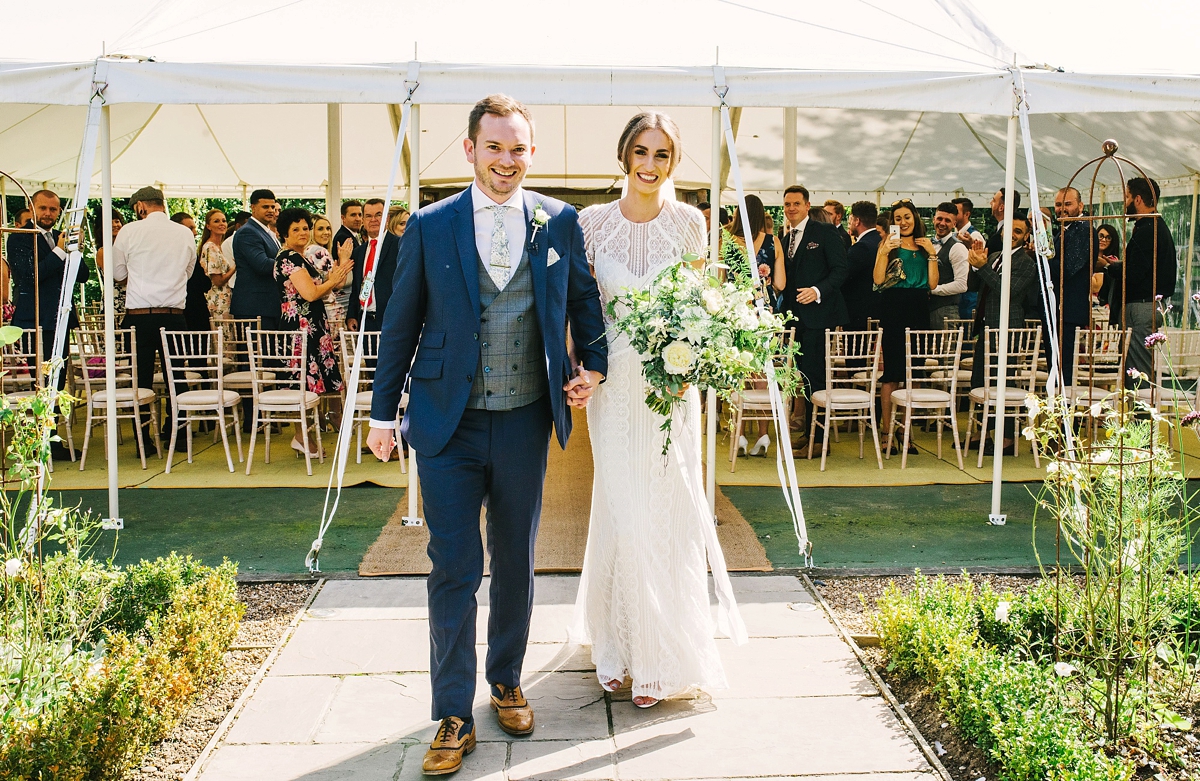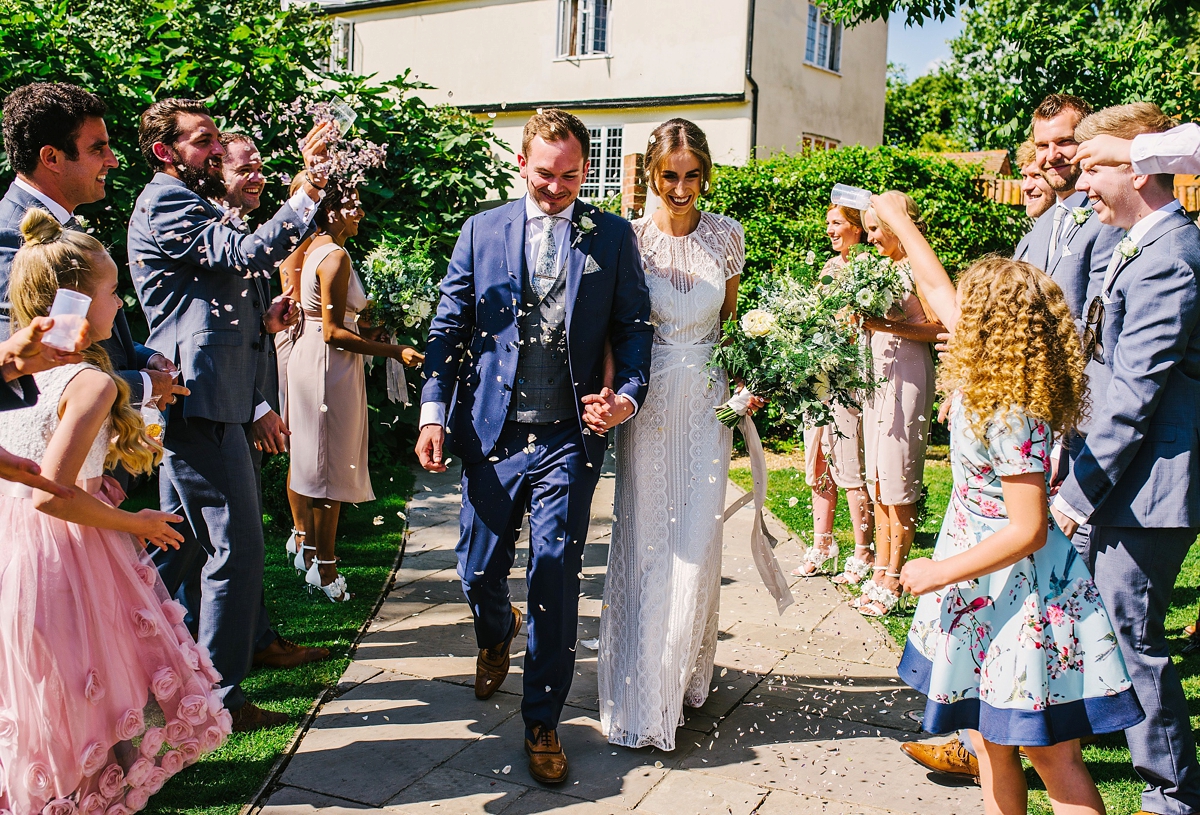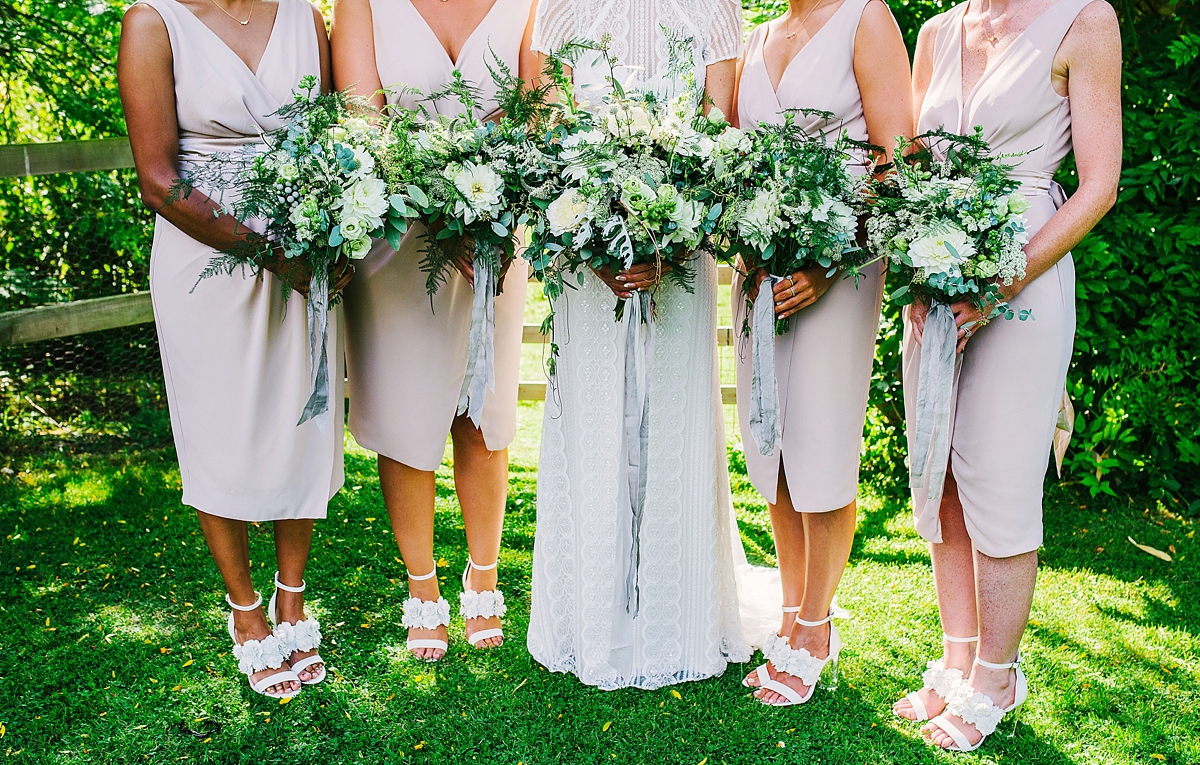 The couple asked Katie Drouet Photography to capture their day on camera. She's recorded so many details in perfect clarity, really giving us a flavour of the style and emotion of the day.
"Katie is fantastic! She is such a warm, kind person and makes you feel totally comfortable. We loved her from the moment we met her. We booked her as soon as we'd chosen our date and venue as we knew her style would perfectly compliment our relaxed wedding. We had a family shoot with her prior to the wedding which really set my mind at ease and I knew what to expect on the day itself. I can't recommend her enough."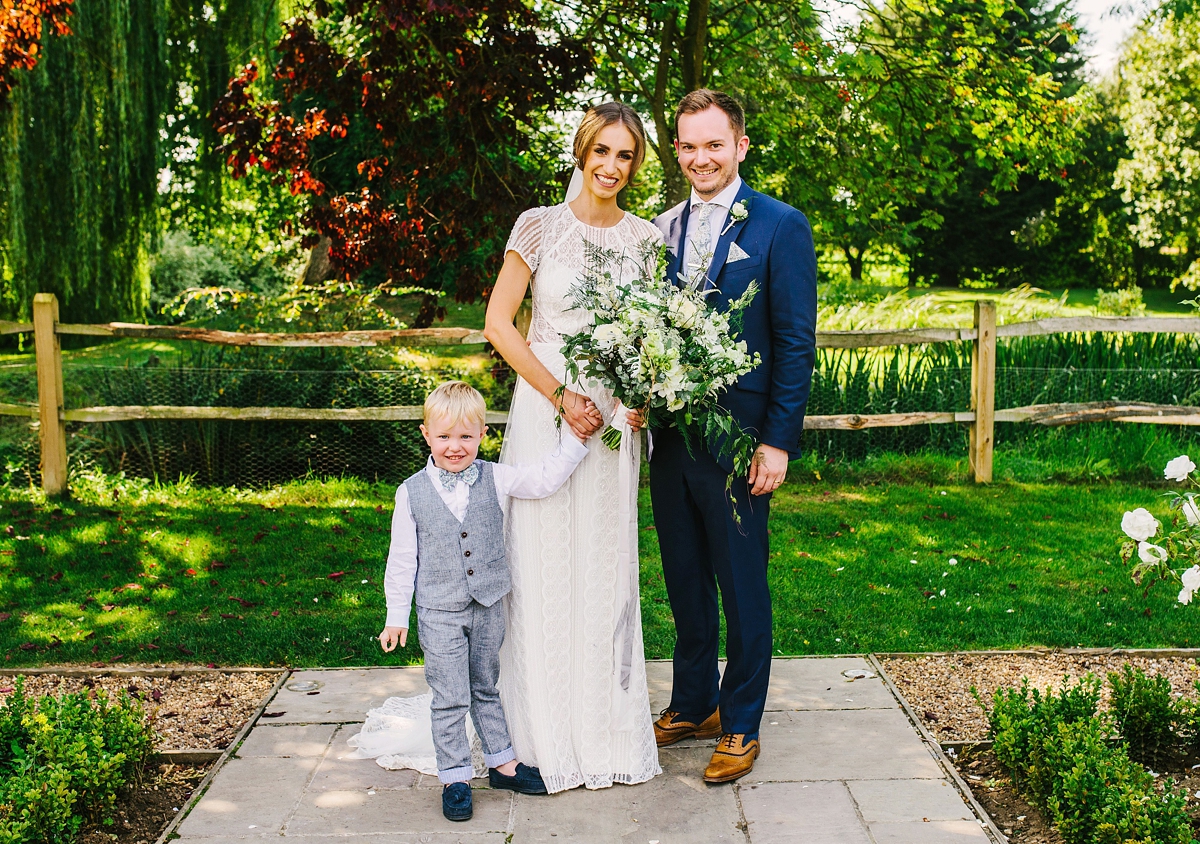 The wedding film was shot by Blooming Lovely Films, who Katie came across on these pages. It's really lovely to hear that Megan was inspired by our featured weddings.
"I loved the style of their videography and although they really weren't local we put them up in a hotel so they could do our wedding. It was worth it."
The couple's son Arthur made the cutest page boy in his Next suit worn with blue suede loafers and a handmade bow tie.
Megan and Davin worked closely with the wedding co-ordinators at Houchins to shape and style their day. I'm particularly taken by the gold calligraphy on the perspex – so simple but so effective.
Megan herself designed the stationery – in grey, gold and marble tones. She and Davin commissioned bespoke bars of Creightons Chocolate in various flavours which, along with grey origami birds (for good luck) formed their wedding favours.
"Jayson Hewitt and Taylor Howe were invaluable in the planning process. They have a wealth of knowledge and were amazing."
The reception and party took place in the modern barn – which was transformed from a blank canvas by the sumptuous florals.
"My favourite part of the day was returning from having our photographs taken to the barn, full of our nearest and dearest who had been seated and our friend Callum announcing us as 'The New Mr & Mrs Cattermole'. Walking in to such a huge, loud round of applause with all the nerves gone felt amazing."
"We had friends seated on the mezzanine who were all standing and cheering and everyone was clapping. We felt so loved and it reminded us how lucky we are to have such incredible friends and family who are so invested in us as a couple and truly happy for us."
A relaxed buffet was served up by Heathcote & Hare at Bruisyard Hall – it sounds simple and delicious. And what do you think of this indulgent drip cake by Moo Moo Cakes?
"We are real foodies and decided we wanted a relaxed style rather than a three-course, sit down meal. We opted for a huge paella, antipasti, fish and salads in a buffet style and I worried people wouldn't like the food choices but they LOVED it! So many people said it was the best wedding food they had had."
"Fiona at Moo Moo Cakes was amazing. We wanted a more relaxed style wedding cake that looked good but also made people really want to eat it! We decided on a drip cake and she made it fresh and delivered it literally just before the ceremony. We had two tiers of chocolate and one vanilla with salted caramel buttercream throughout and salted caramel dripping down from the top. Delicious!"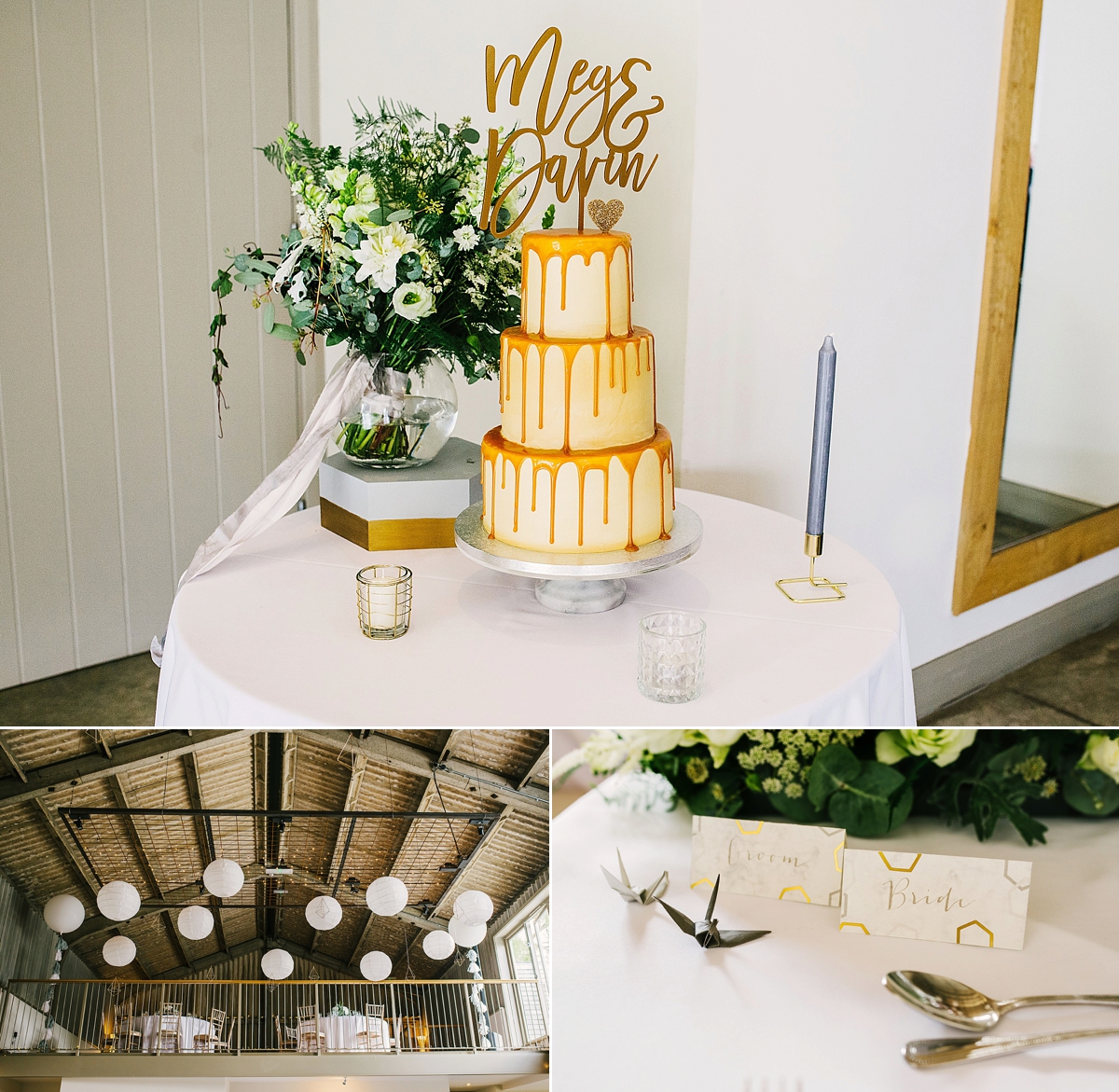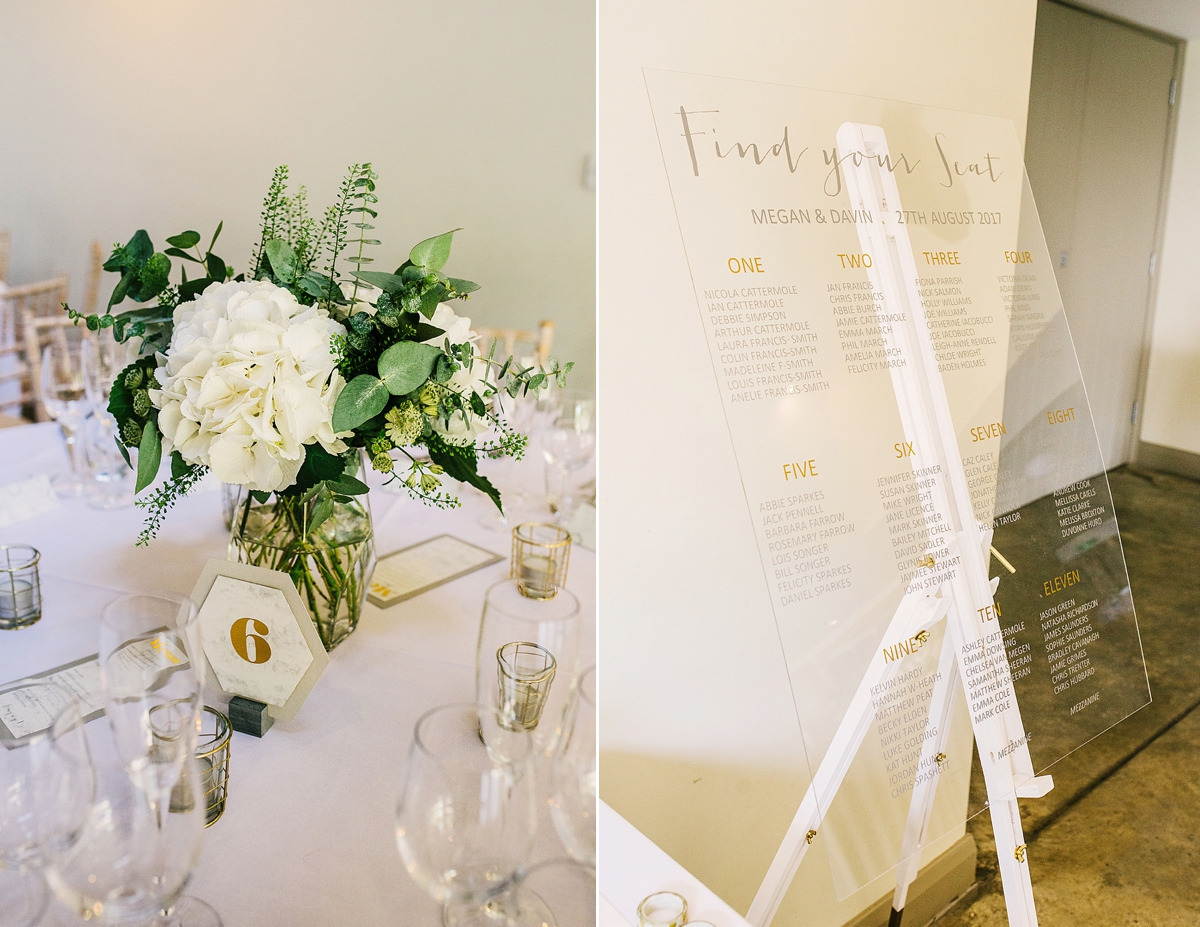 There are so many covetable, glam details in this wedding styling, I have to hand over to Megan for all the information.
"We had giant round white and clear confetti balloons with tissue paper tassels in white and light and dark grey, white paper lanterns hanging from the ceiling with gold geometric hanging decorations. There was a hexagonal mirror welcome sign, lots of matching perspex signage including a large table plan and a very large top table 'Just Married' backdrop hanging on gold chains with gold hexagon mirror detail. There were lots of glass and gold geo candle holders and lanterns on wooden hexagon plinths, and an upcycled marble and gold drinks trolley with a Bellini bar for welcome drinks."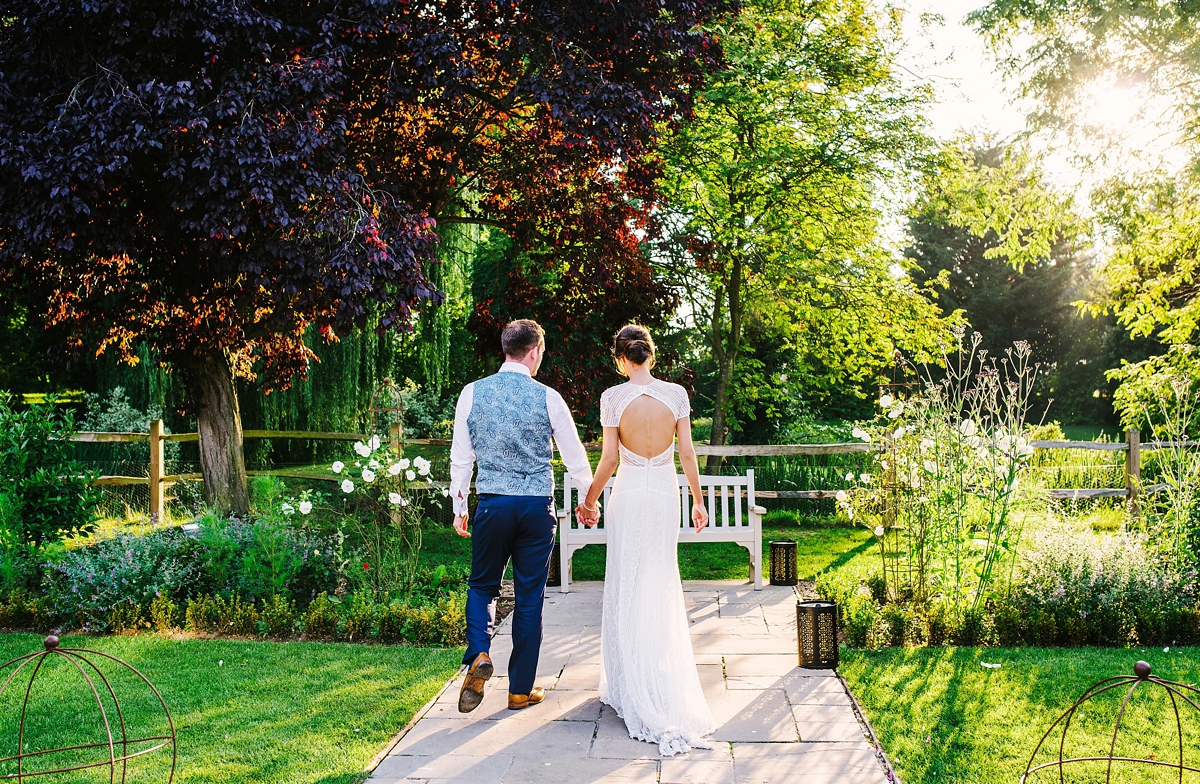 Electric Ocean played for the evening dancing, after a first dance to James Morrison's 'You Give Me Something'.
"It was performed acoustically by our band. It was a song which was on all the time when we were first together and we always say it is 'our song'."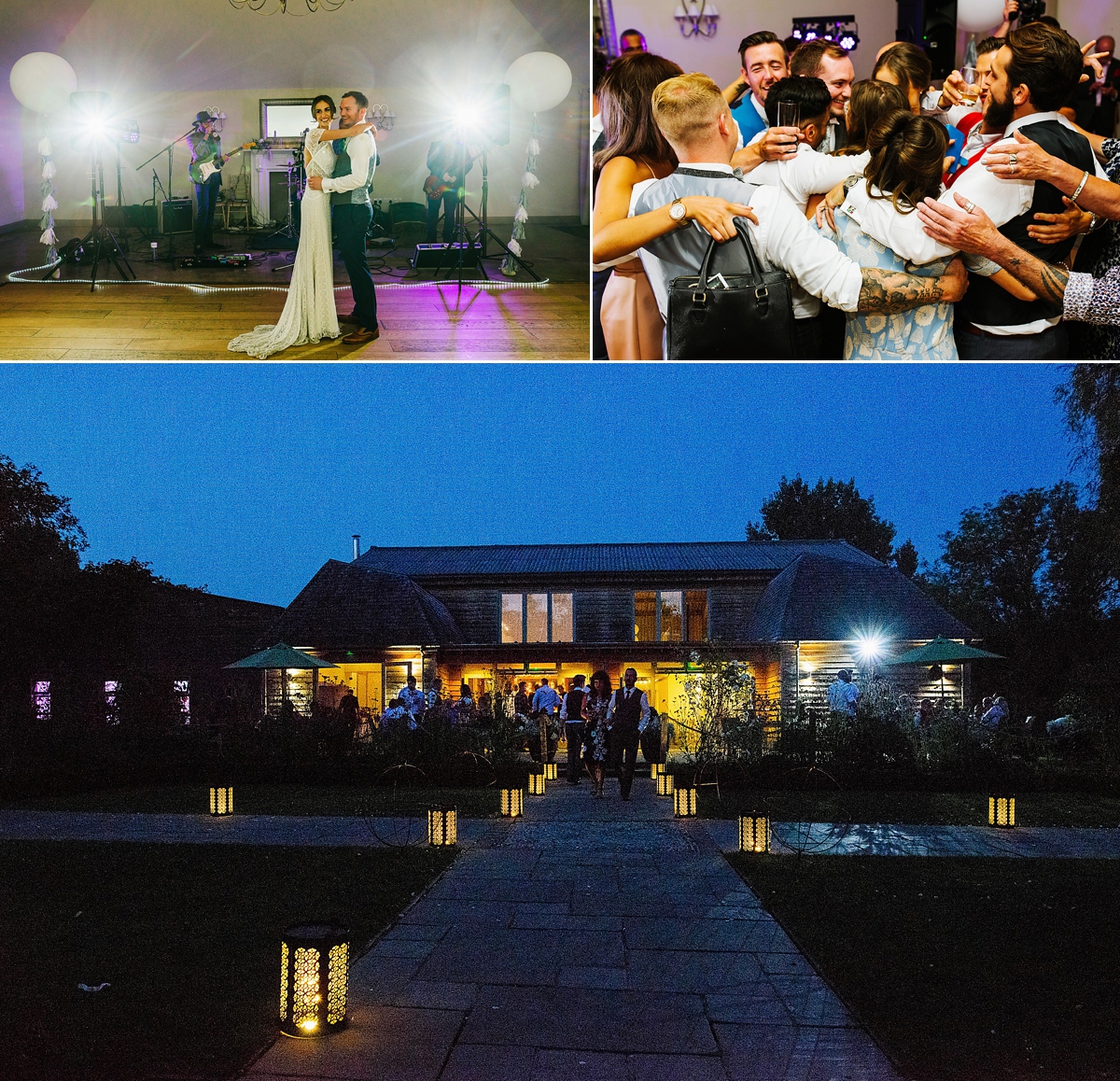 Words of Wedded Wisdom
"My advice is to go for a style that suits you as a couple. I think so many people have an idea of what they think a wedding should be and what it should look like and stick to it. Weddings always tend to follow the same format but don't be scared to break that format: do what you like and don't be scared your guests won't like it or approve. They will love the difference!"
"I worried that people would question our choice to have a top table with just us and not like it, but we had so many comments on how nice they thought it was for us to concentrate on each other and a refreshing break in tradition. If you like it, do it… your guests will love it too, trust me!"
Please join me in saying thank you to Megan and Davin for this insight into their day. I adore the pops of gold against the muted tones, and your gown is so, so lovely. Thank you Katie for your gorgeous photography too. For more inspiration for modern weddings with a contemporary twist, please take a look at these other Love My Dress weddings.
Ele xx