Today's wedding takes place in my absolute favourite place in the world (let's call it my spiritual home even), Ibiza, so I'm extremely excited to be sharing this one today! The White Isle is one of the most beautiful places I've ever had the pleasure of visiting and you really can't go wrong with it as a wedding destination, with its blue skies, sandy beaches and gorgeous countryside. So without further ado, let's find out more…
Bride and groom Louise and Paul were married on 7th September 2017 on a clifftop opposite the gorgeous beauty spot of Es Vedra, followed by a party at a private villa called the Blue Hill House in San Jose.  The bride wore an incredible beaded Rue de Seine gown bought at the Secret Lace Bridal store in New Zealand.
"The dress was so different to anything else I'd seen. A simple silhouette with the most amazing gold hand beaded detail. The sleeves were my favourite part of the dress and I loved the bohemian vibes it gave off. I loved the shape and it wasn't over the top – it was just right for me."
Images by Nigel Edgecombe
Louise and Paul took their main inspiration from the 1960s; the music, fashion and freedom, as well as their love for the outdoors and Ibiza itself.
"We are big fans of the 60s and our love for the outdoors played a big part of the day too. We collected fallen pine cones for the Ibiza forest floor and I sprayed them gold which was inspired by the gold details on my dress. We also brought some over from Tatton Park in Knutsford in the UK which is where we loved to spend days with the dogs before we moved to Ibiza."The pair first met far from Ibiza in a bar in Liverpool, before getting engaged in the slightly more exotic Ciel de Paris restaurant whilst on holiday in Paris.
"We met in a bar in Liverpool one weekend – not very romantic! However we did seem to click straight away and things moved quickly between us. We got engaged on Christmas Day 2014 overlooking the Eiffel Tower which was much more romantic! We got married three years and nine months later."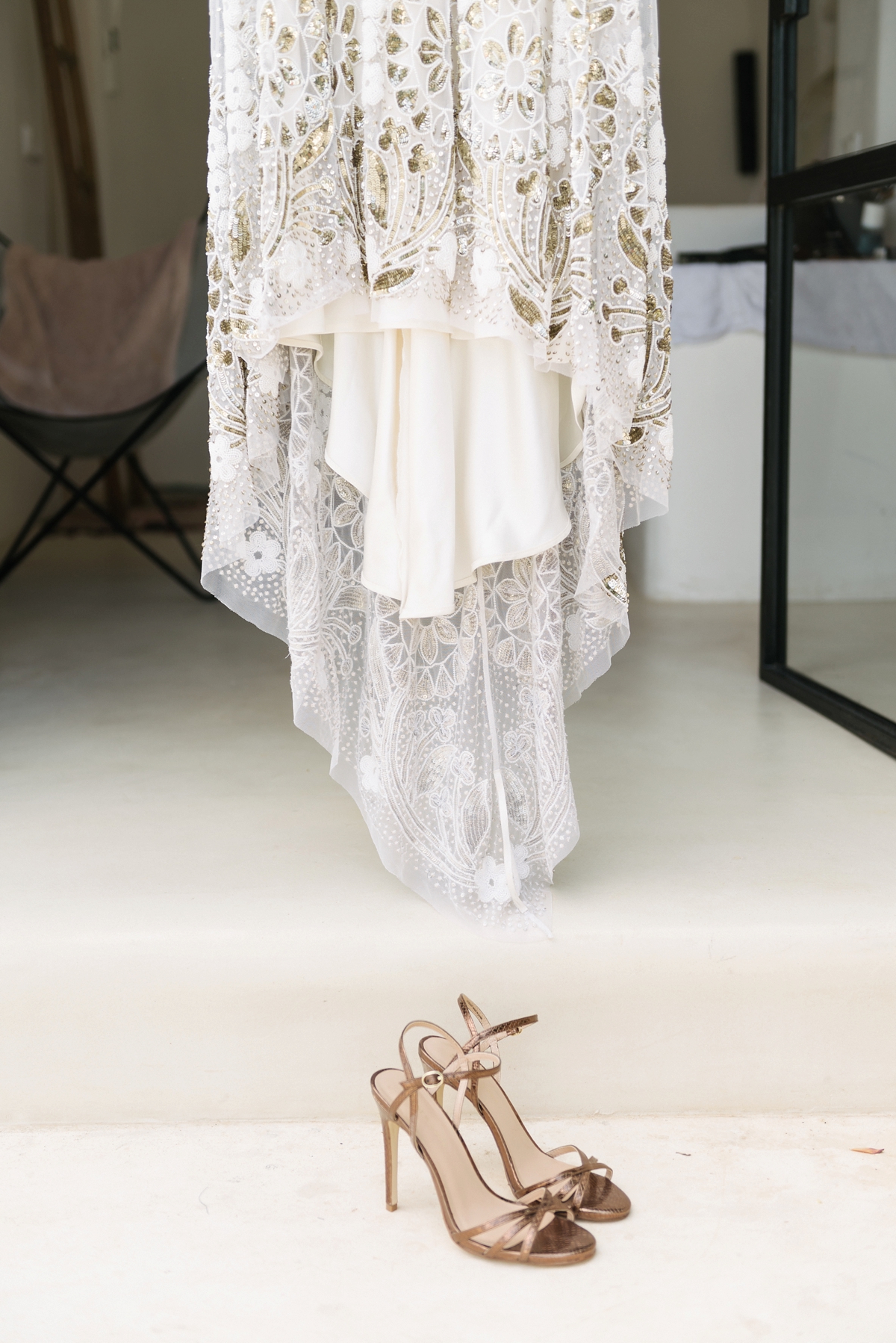 She accessorised the dress with a pair of bronze strappy heels from Dune, a cubic zirconia Tikka headdress from Arianna Tiaras, gold bangles and two rings from Victoria Deny Jewlry, one ring from SORU and a pair of gold studs from ASOS. Louise also bought a bespoke beaded belt made by Boutique Alterations in Manchester and finished it off with a spritz of Daisy by Marc Jacobs to match her daisy-filled bouquet.
"We chose to have the ceremony opposite Es Vedra as it's a really magical spot. It's a place of natural beauty, intense power and magic that needs to be experienced to be understood. Es Vedra's mythical stories go way back thousands of years with stories of sea nymphs and mermaids calling the rock island home."
"Es Vedra is also known to be the sacred home and birthplace of Tanit who is known as the Phoenician goddess of love and fertility. This mysterious and beautiful rock is generally considered to have positive healing and creatively inspiring energy."
"The party was held at a private villa called the Blue Hill House and the clue is in the name. It really is right on top of a hill overlooking Ibiza and you feel like you're standing on top of the world. Views to die for and a house that looks like it would be found in a magazine. It's no wonder we chose this Ibiza gem of a venue to celebrate with our family and friends."
"We also used sprigs of wild rosemary and pine down the centre of the tables. I used small fairy lights scattered down the centre, and solar operated bulbs wrapped around trees and railings. I also used dream catchers and small mirrored balls and hung them around the villa grounds. We really did create a magical venue."
Louise's dad walked her down the dusty clifftop aisle to Here Comes The Sun by The Beatles and performed by guitarist Dan Bentley on the day. As a non-religious couple, Louise and Paul wanted to keep their vows simple yet still with meaning and chose the following words…
"I promise to give to you
Respect, love and loyalty
Through all the trials and triumphs of our lives together
This commitment is made in love
Kept in faith
Lived in hop
And made new every day of our lives."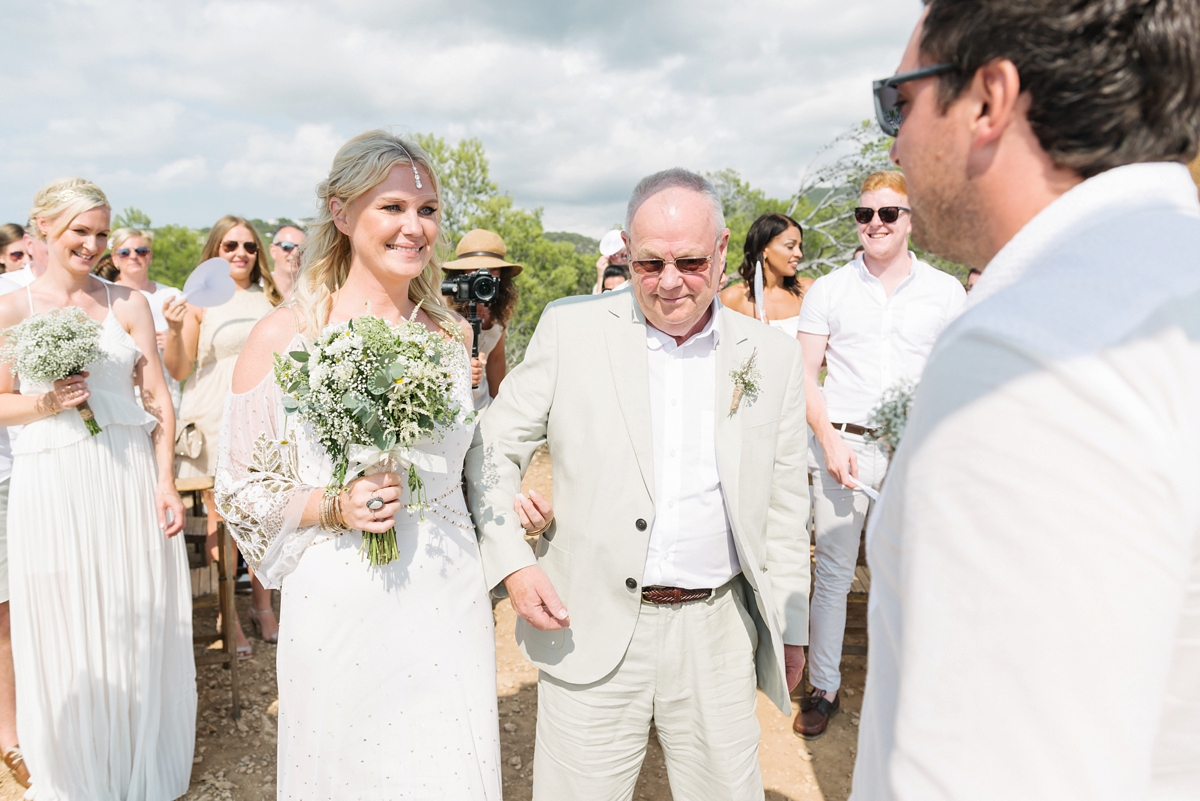 Louise cleverly thought of providing guests with fans for the ceremony to cool them down in the hot Ibiza sun, which also doubled up as favours. Lastly, the couple swapped wedding rings bought from Victoria Deny Jewlry based on the island.
"Firstly, this is our friends business. We love the edgy and simplistic style to the rings we chose. My ring fits perfectly inside Paul's and they're both engraved inside with our names and the date of the wedding."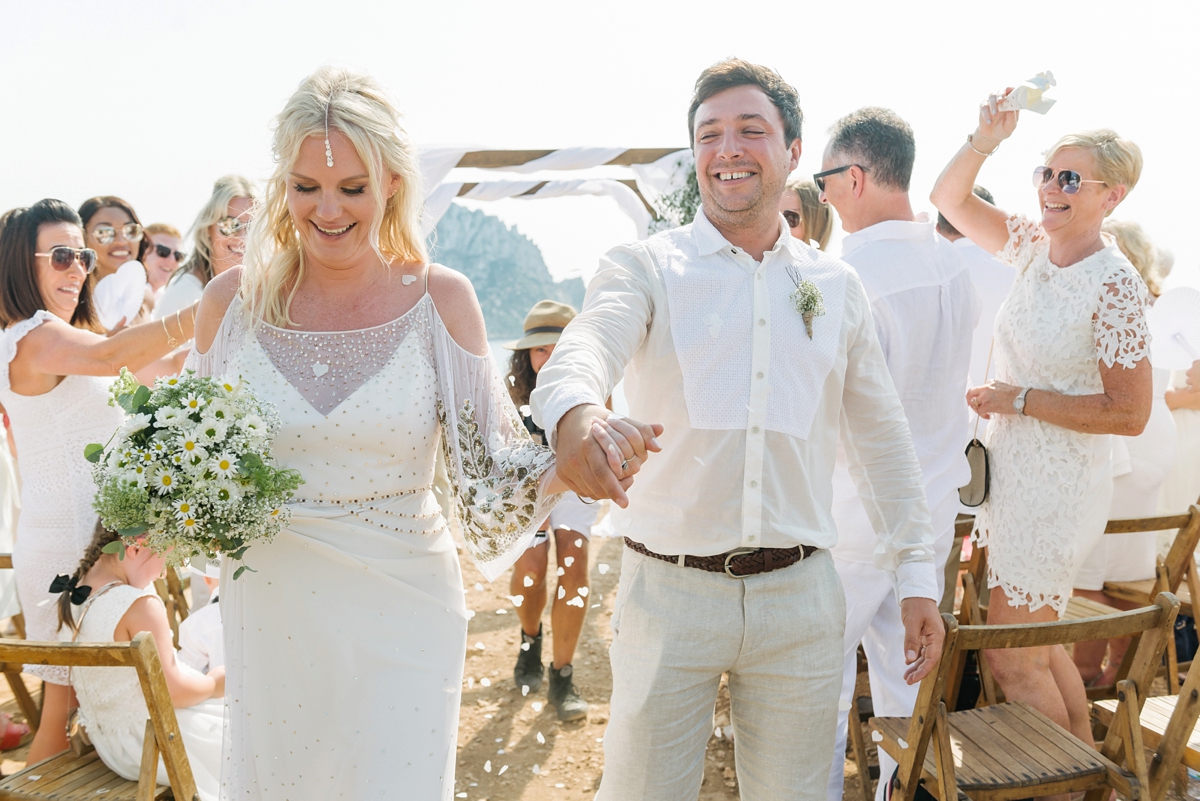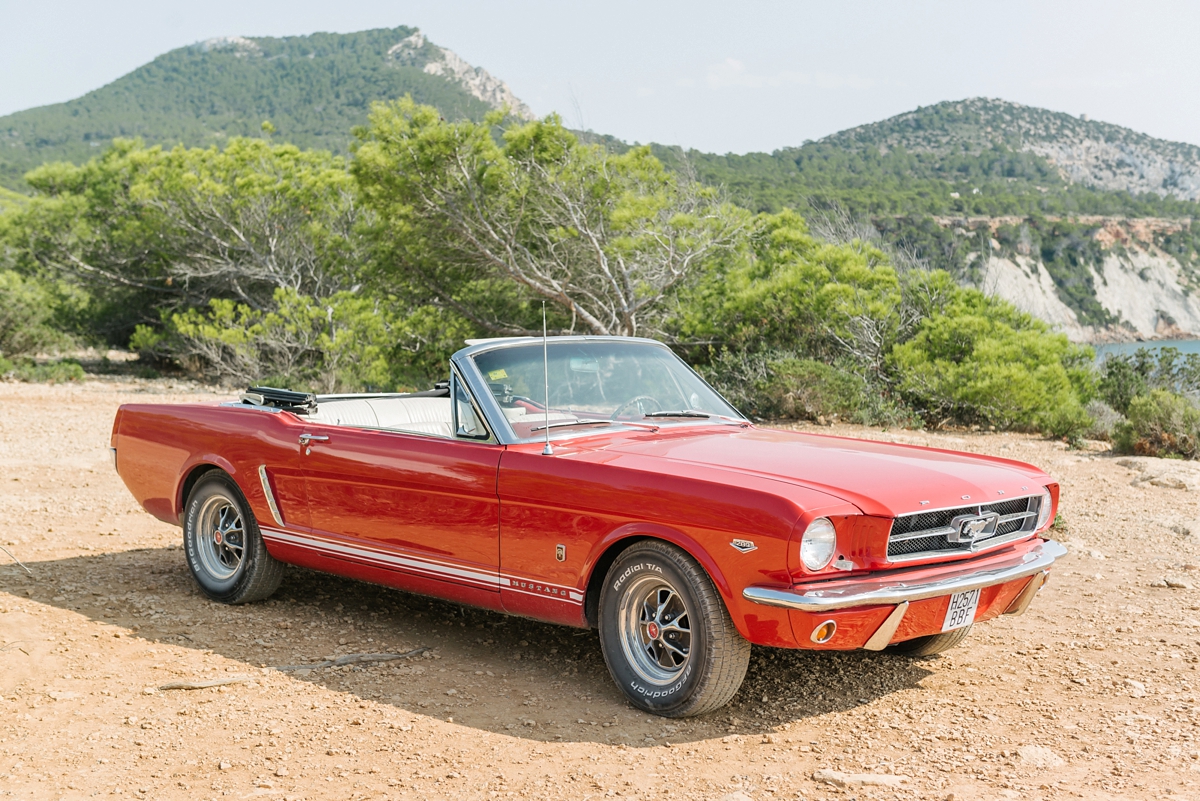 The bouquet of daisies was complimented with greenery which also ran through into the reception venues decoration and were created by Margaret at Ibiza Flowers.
"I wanted wild rustic flowers that didn't cost thousands of pounds! I managed to track down the lovely Margaret and she delivered! As we had a gold and white theme, I wanted white flowers with vibrant green leaves and peachy roses and it worked!"
And to capture all the magic on camera was Ibiza based photographer Nigel Edgecombe.
"Nigel is a great guy and was amazing from start to finish and made everyone feel so relaxed in front of the camera."
"We also used Tomas Toonders as our videographer, along with his partner Sasha who both have an incredible talent. Having a video was the best decision we made!"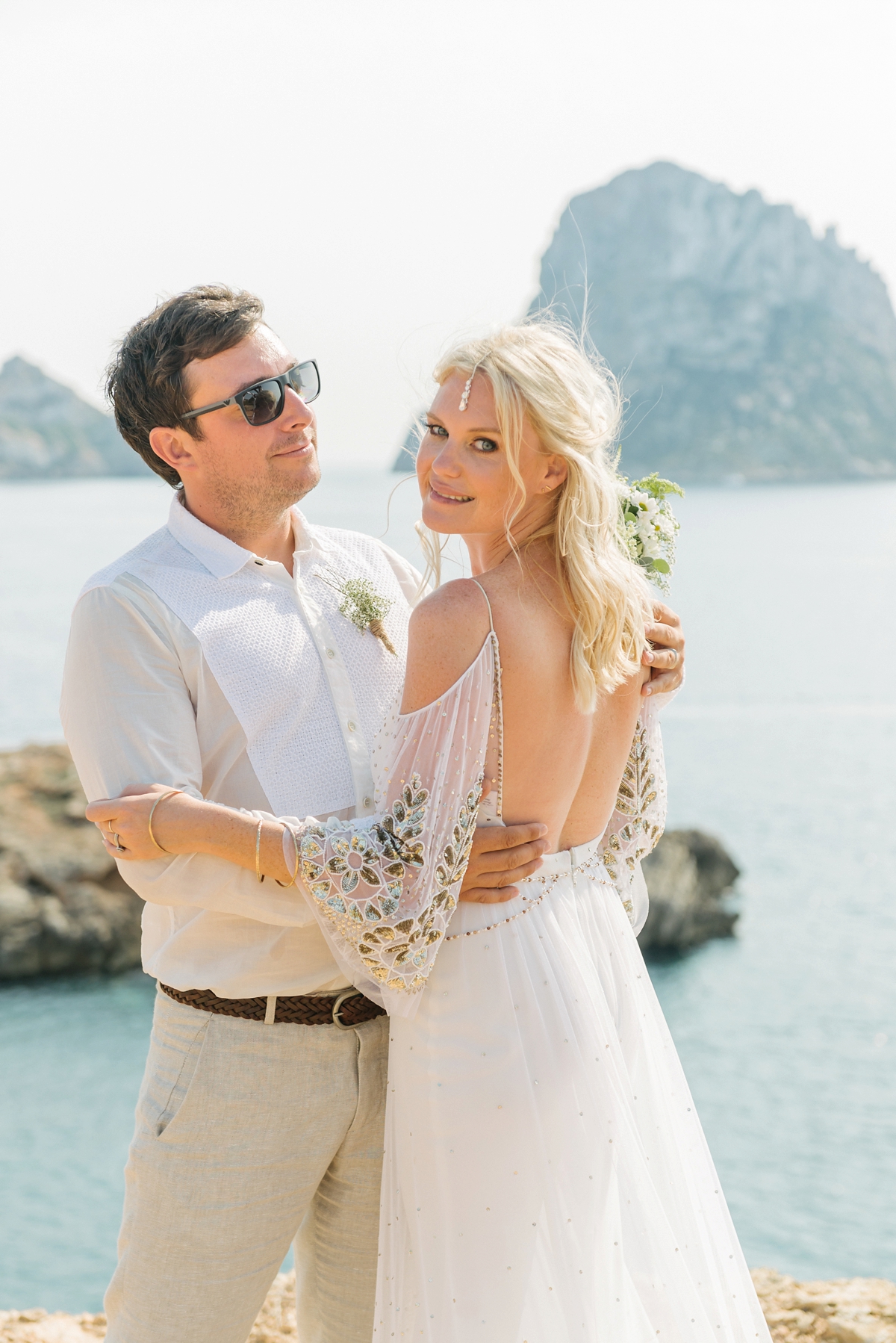 As residents of the island, Louise and Paul are already in the wedding business and run their own company, Ibiza Bugz, renting out 1960s VW classic campervans and VW Beetles for self-drive hire around the island.
"A lot of our customers explore the island and stay on campsites. We also hire the vans and beetles out as wedding cars. I've also recently started wedding planning. I was a project manager in a previous life so planning and coordinating has always come naturally to me. Ibiza really is the perfect place to get married and I welcome all budgets. I love planning something as special as someone's wedding that they'll remember forever – what could be better than that!"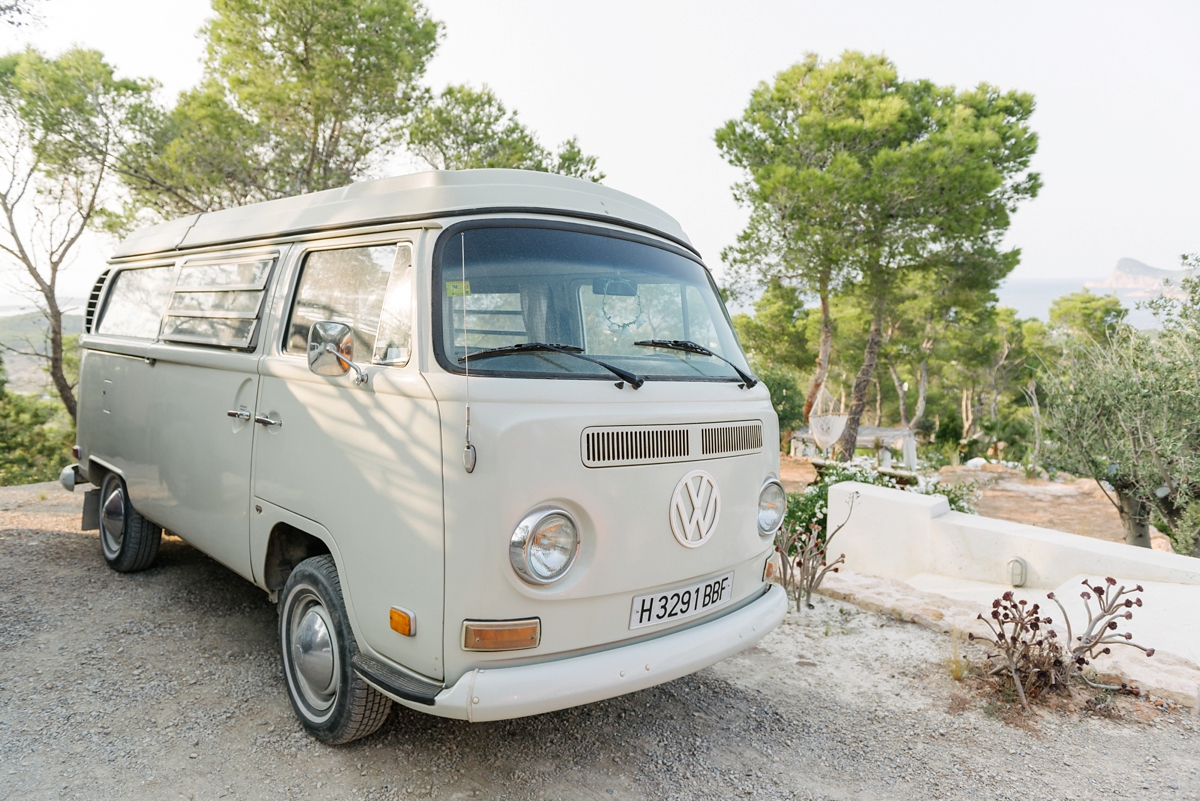 As the sun started to set, they were then served a BBQ meat feast with potato salads, roasted vegetables and freshly baked breads as accompaniments.
Following the ceremony, the newlyweds posed for photo's on the cliff top, using their own VW Beetle and camper van from Ibiza Bugz, as well as a red mustang hired from Mustang Adventures as props. Once everyone had been transported up to the hill-top villa, they were welcomed with incredible views of Ibiza and canapes of mozzarella balls, cherry tomatoes and basil, figs and jamon iberico, fresh rustic breads, aioli garlic mayo and black and green stuffed olives made by the couple themselves.
"We also provided a huge cheese board with breads and chilli jams that all the guests tucked into on arrival."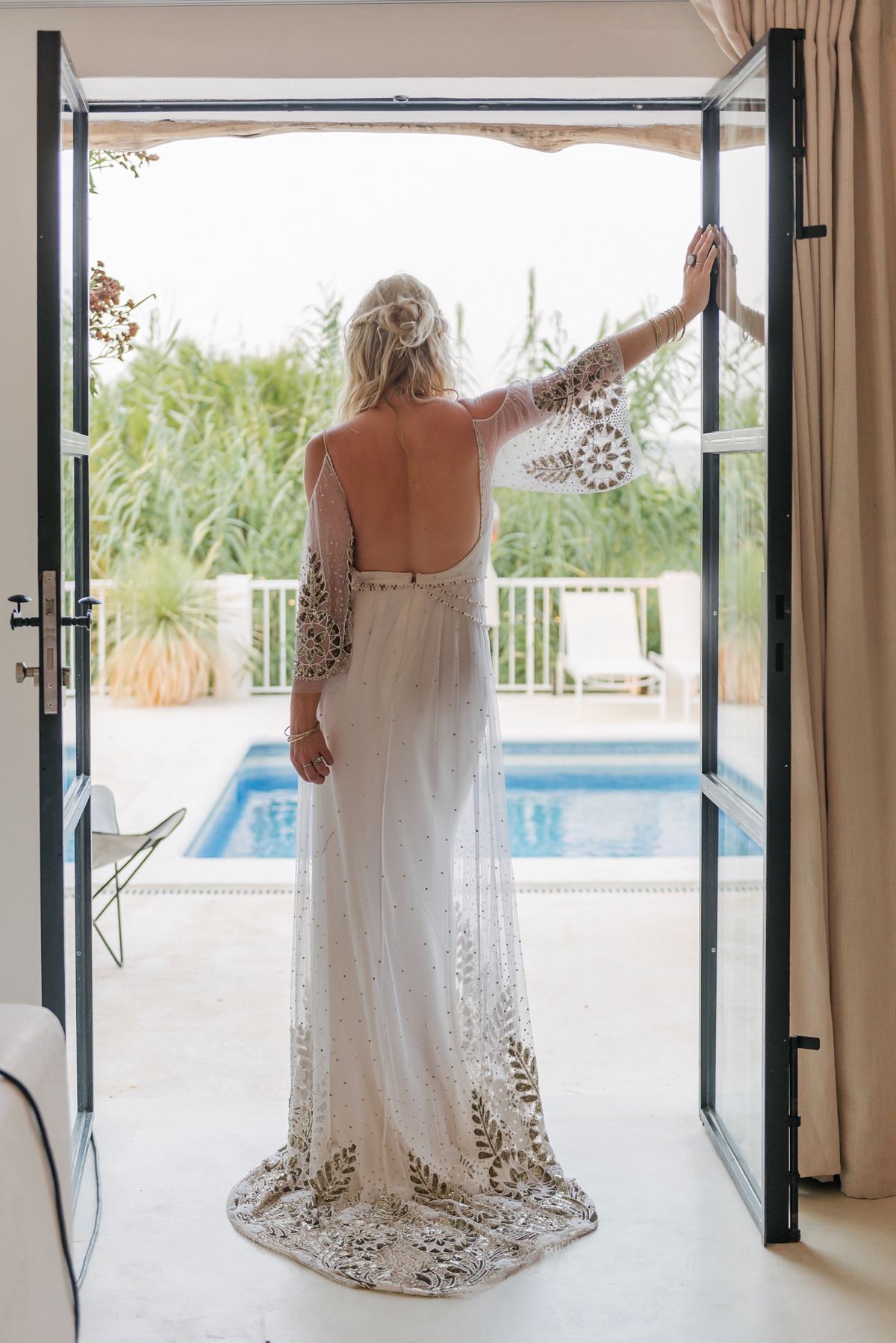 They chose Get Lucky by Daft Punk to kick off the evenings celebrations before a DJ friend took over, along with saxophonist Tomas Toonders, playing late into the night.
"My favourite part of the day was arriving at the ceremony! I'd spent so long planning the wedding, it was amazing to see that it really looked like I had imagined it. I had asked everyone to wear white and everyone made such an effort – it was amazing to see! Looking back, I think I would have had another bridesmaid. There's a lot going on and I think it was too much for one bridesmaid to deal with alone."
Words Of Wedded Wisdom
"If you're planning a destination wedding, do not get involved with booking flights and hotels for family and friends. I found I was spending a lot of time dong this when I should have been more focused on the wedding. You can't do it all! Send them a link to a hotel maybe, but leave it for them to book!"
"Make sure your day reflects you both as a couple and include all your favourite things like food, music, drinks, decor to share with all your friends and family."
"If you have a budget like I did, then spend it wisely! Spend money on the important stuff like food, good lighting and music. Don't waste money on a cake or favours if you can't afford them. No one ever remembers the cake and most of the time it doesn't even get eaten. Welcoming everyone with a drink or a fun shot on arrival is better than a useless favour. As we got married in Ibiza it was really hot during the ceremony so everyone got a fan, which also became a favour."
"The cheese stacks are a great idea instead of a wedding cake which then doubles up as dessert. Be clever with your ideas and make sure they are used."
"Don't worry about the things you're expected to do as a bride. The truth is, it doesn't matter! Don't worry about being a traditional bride if you don't want to be. If you don't want to cut your cake, don't do it. If you want to arrive together, just do it and if you don't want to throw your bouquet – don't!"
"It's about both of you and what you want. We made sure the whole day reflected us. Most of all, just have fun and enjoy every moment because it does go very quickly!"
A big thank you to Louise and Paul for sharing their fabulous day with us. If only I could go back and do it all over again! A special shout out also goes to Nigel Edgecombe for capturing the magical properties of the island and the wedding so perfectly on camera.
Until next time…
Much love,
Holly x