Weddings and the way they are celebrated, embraced and marketed has changed enormously over the past century and many of these changes reflect how society itself is moving on, leaving traditions of the past to make way for more modern interpretations of love and ceremonial commitment.
Feminism has played a huge and influential role in these changes – the view being that traditionally, weddings have been steeped in somewhat sexist tradition (it's only in recent times that we've seen the bride take to giving a speech of her own, or choose not to be 'given away' from one man to another. Vows are modernised so that the bride no longer has to agree to 'obeying' her husband. Interesting fact: 60% of the 2,300+ brides who partook in our survey last year identify as feminist.
Whilst we will always respect those who prefer tradition, we wholeheartedly embrace these feminist led changes, which is why I personally might have let out a little squeal of delight when The Groucho Club got in touch last month to not only share these drop dead gorgeous images, both styled by and featuring the gowns of Halfpenny London, but to tell me this…
"The Groucho Club, London's first private members club to welcome and celebrate women in a world of patriarchal gentleman's clubs, has collaborated with Halfpenny London for a unique shoot offering a sneak preview of the designer's new collection, 'Fly Me to the Moon'. Celebrating femininity in all its unbridled glory and multiple interpretations, designer Kate Halfpenny's latest collection uses innovative techniques which turn traditional bridal wear on its head." 
Images by Billie Scheepers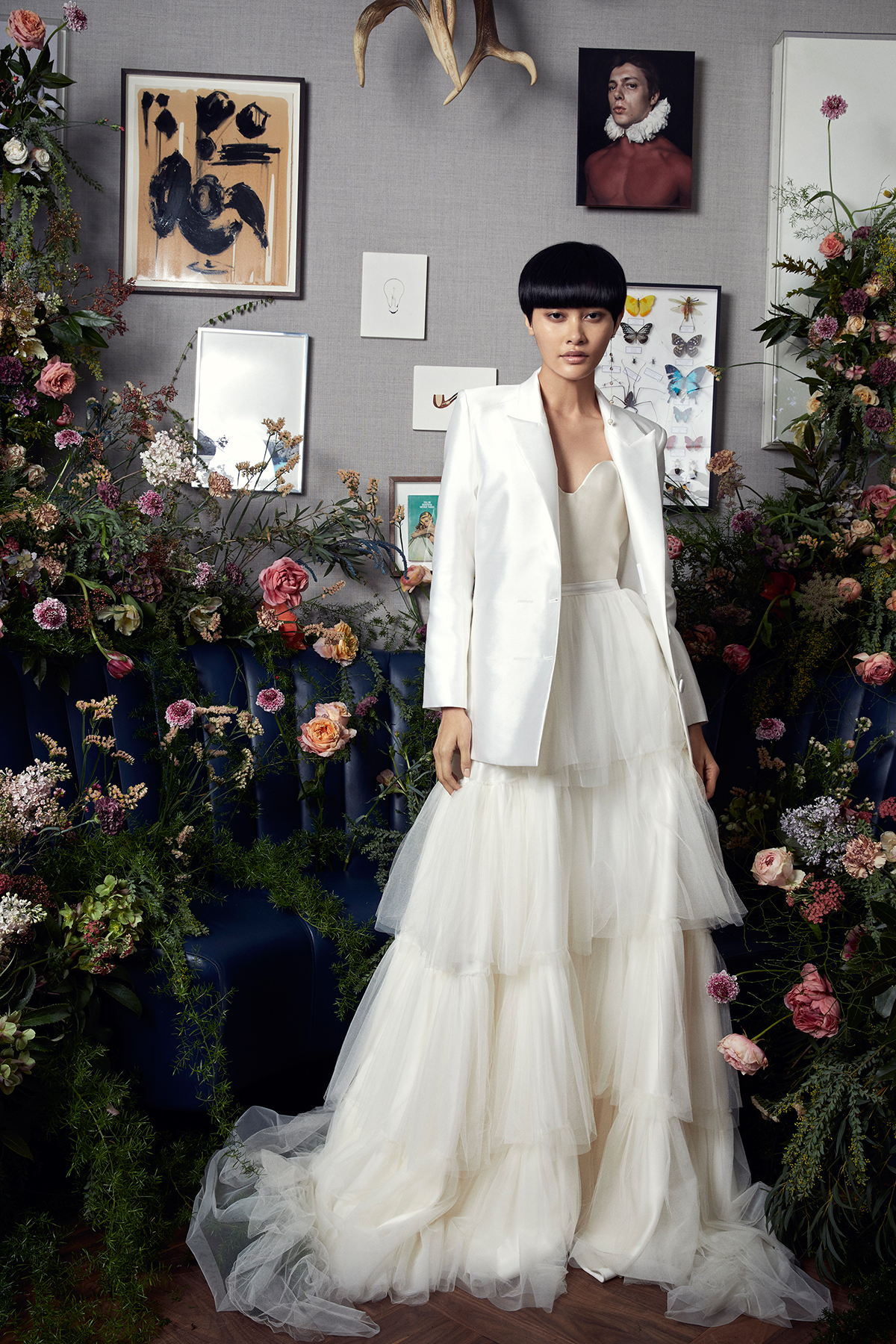 The Groucho Club remains London's best kept wedding secret – few people know that the unique venue is licensed to perform wedding ceremonies. The team can expertly turnaround a striking and unforgettable wedding within a month's time with their wedding planning service and various packages.
Newlywed couples, and their party of anywhere between 60 to 300 guests, can move from the intimate ceremony to lively reception before retiring to one of the Club's 20 bedrooms – with a special bridal room for the happy couple. The celebrations are held all under the roof of one of the city's most iconic locations, where the bride and groom are surrounded by works of art from David Shrigley, Tracey Emin, Damien Hirst, Rachel Whiteread, Keith Tyson, Sir Peter Blake and many more.
For more information on weddings at The Groucho Club, please visit these pages.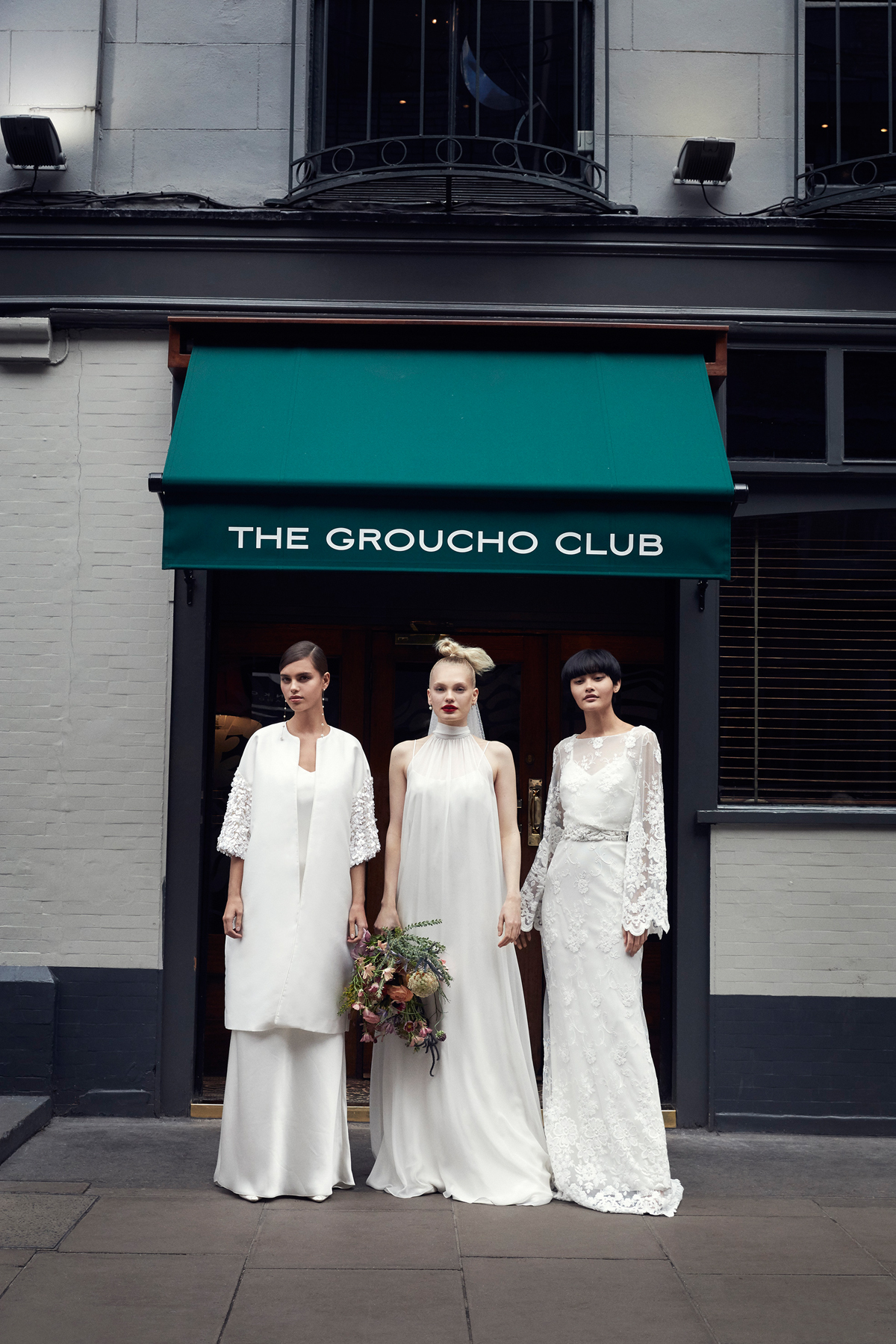 Fly Me To The Moon, the new Halfpenny London bridal collection, celebrates femininity in all it's unbridled glory. Understanding that a woman can be full of exquisite contradictions, designer Kate Halfpenny plays with the concept of gender conventions and what it means to be feminine in 2018, provocatively naming each piece after a prominent or influential man in her life. With this collection, Kate turns traditional bridalwear on it's head, using innovative techniques to create a multifaceted and nuanced edit of interchangeable separates and dresses.
A boxy sequin jacket is trimmed with soft, pleated lace, while voluminous sleeves offer a glimpse of bare skin. Showcasing her passion for textiles, each piece is a lovingly crafted work of art, an heirloom designed to become a part of the bride's family history and remain loved across many generations.
In the world of fast fashion, Kate refuses to compromise on quality and is passionate about sustainability, so it's no surprise her quintessentially British brand is making waves in the bridal world. Founded in 2005, Halfpenny London has become one of the UK's leading luxury bridal wear brand and is now stocked in exclusive boutiques around the globe. After huge success with her first capsule collection for Net-a-Porter, she is working on a second range exclusively for the luxury online retailer. With a background in styling celebrities renowned for their fashion nuance, such as Kate Moss and Rhianna, Kate has an enviable directory of A-list clients and her Bloomsbury boutique has become the go-to destination for the fashion elite when it comes to finding their wedding look.
Fly Me To The Moon will be available to try on at the Halfpenny London boutique in Bloomsbury and at stockists internationally from July 2018. You can find your nearest store here.
Aren't those florals immense? Floral design was the work of the wonderfully talented Juliet Glaves. Her floral installations are home grown in Shropshire and designed to each bride's bespoke request; the perfect addition to The Groucho Club's backdrop of works from the world's most sought after contemporary artists."