Hello lovelies! I hope you're all doing well and enjoying this divine weather. The Lincolnshire countryside is looking just beautiful. I've had a couple of weeks off work for a relaxing and rejuvenating holiday in Kos, but I'm so happy to be back to share this gorgeous Liverpudlian City wedding today.
Please meet marketing manager Hannah and Steve, a civil asset manager, who wed on 15 September 2017 at Liverpool Town Hall with a reception after at the Merseyside Maritime Museum, Albert Docks. As Liverpudlians, they were keen to celebrate the beauty of these historic buildings, and designed their simple wedding styling to complement their architecture. Warmth and a nod to autumn were added by sumptuous florals in deep tones of red, burgundy and green.
The intimate shots of Hannah and her bridesmaids preparing for the day are the work of Paul Joseph Photography, and he's recorded the ceremony and reception in such a sensitive way that still captures the vibrancy and energy of Liverpool. We really do love his clean, crisp work, and you can find out more about him on our Little Book for Weddings.
Video Lovebug Films
"We love that these guys felt like friends there on the day. It was so nice and relaxed and that shows so much on our photos which we absolutely love. We were lucky that our photographers were so keen to help us get some great outdoor shots, so we got to spend some amazing time just the two of us (and Paul and Kel) wandering around the Albert Dock and along the waterfront. It's in those photos that we think you can truly see how happy we are.
There was no pressure, just us two on a walk in a wedding dress and tails with photographers following us and lots of people watching and taking selfies with us. I thought we'd feel self-conscious but it wasn't like that at all; it was perfect."
Photography Paul Joseph Photography
The Lovebug Films team was there to capture the day on film, and isn't the resulting video just wonderful?
"Similar to our photographers Rachael and her team were just incredible. We hardly even realised they were there and we have the most amazing video of our day – we couldn't be happier."
Hannah cuts such an elegant figure in her simple, beautifully-cut Sassi Holford gown, finished off for the daytime with an off-the-shoulder lacy topper. She found it at The Bridal Collection Harrogate (about which you can find out more our Little Book for Weddings pages here).
"I wanted something quite simple and this was one of the first I tried on. I loved that I could add the shrug in the day and remove it in the night for two different looks."
The overall look is light and feminine, made even more so by her delicate Britten Weddings veil and sparkling pale gold Jimmy Choo shoes. She finished her look with a hair accessory from Very, earrings from Utility Design and, a wedding gift from Steve, a Wong's Jewellers bracelet. The final flourish was a spritz of Jo Malone Peony and Blush fragrance.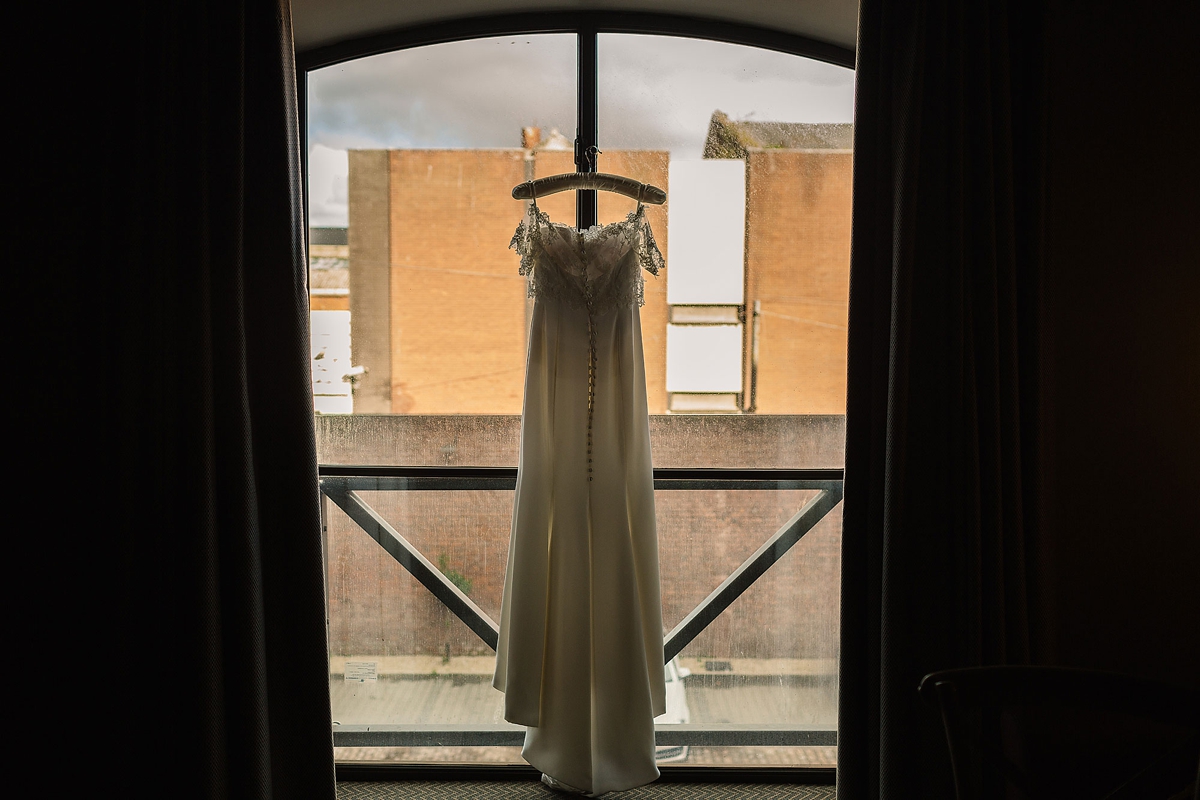 Hair and make-up, also light and natural, were applied by Nala and Knot, who Hannah really does recommend to Liverpool brides. I love the elegant swept-up look; the perfect way to show off her divine veil and lace topper.
"Such fun girls, they were an extension to our group of friends as we were all getting ready."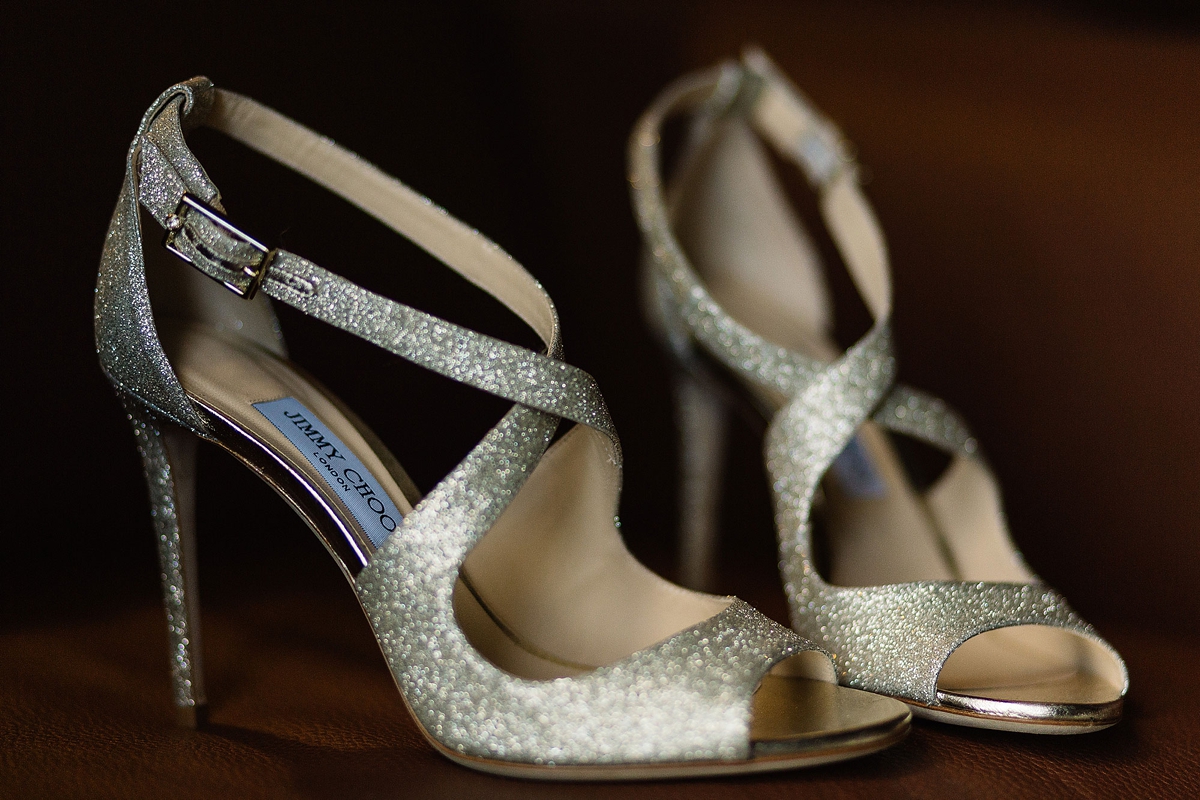 I adore sophisticated bridesmaids' gowns in pale lilac – so flattering with their midi skirt and off-the-shoulder design. They were chosen from ASOS and accessorised with bangles and earrings from Oliver Bonas.
The simple cuts of the gowns make the perfect canvas for the opulent flowers, which actually contain raspberries.
"We relied so heavily on Kylie at Blush Blooms to help choose our flowers, giving her a bit of an idea of colours and some photos we'd found, she went away and showed us what was in season and what would work together. We had complete trust in her and were ecstatic with what she did for us. One of our more interesting conversations was around berries in my bouquet. Kylie had suggested raspberries and I loved the idea, but both my mum and Steve talked me out of that knowing how clumsy I am and that I was wearing a white silk dress! We still had raspberries, but they were fake rather than real ones."
"The stationery was designed by my very talented little sister Amy Kirkpatrick, at the same time as she was organising the opening of her new restaurant! We're so grateful for what she did – they looked incredible."
The groom's party included Steve's older brother Martin as best man and his groomsman were his son Dylan, his two nephews and three good friends. They wore smart three-piece suits hired from Groom Hire, and added stylish Jeff Banks ties.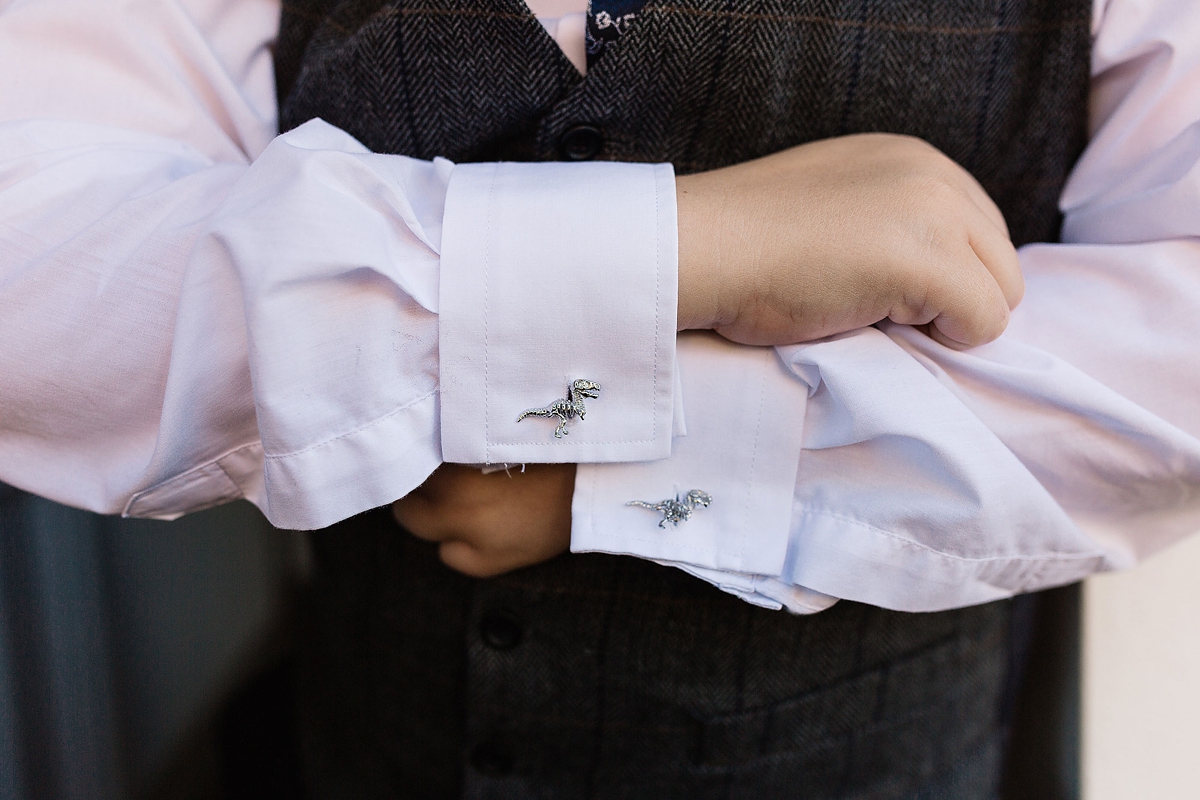 "We chose the venues because we love Liverpool – both locations are places that are Liverpool landmarks but that, as Scousers, we don't visit all that often. We had so many people that told us they were so happy because they'd never actually been in. Now we get to wander or drive past all the time and it puts such a huge smile on our faces."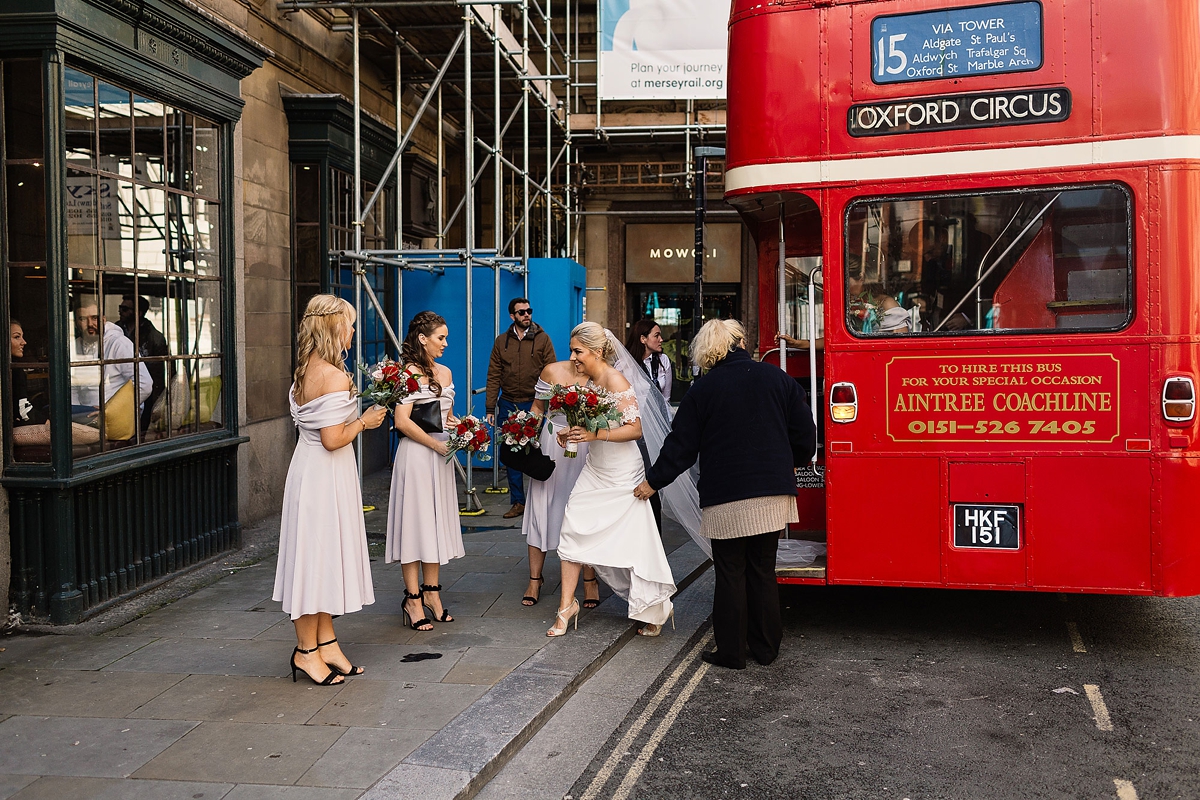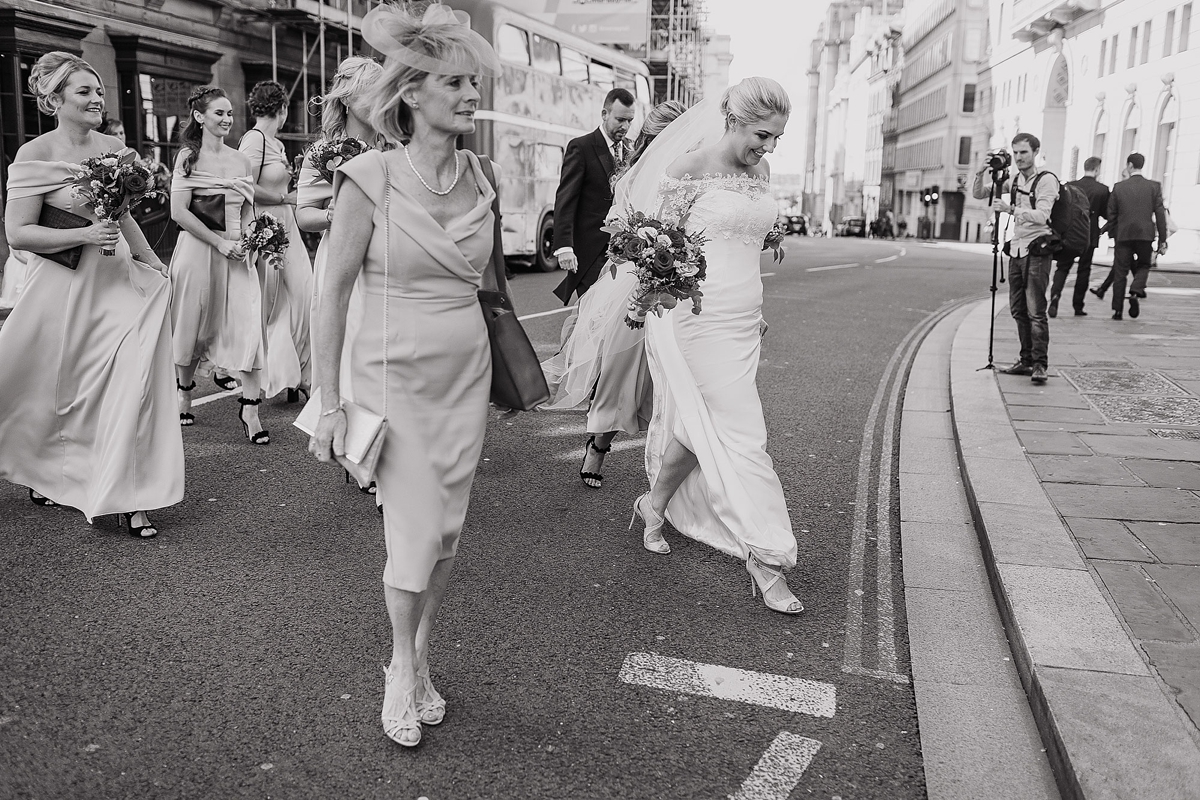 The ceremony was held in the majestic setting of Liverpool Town Hall, and Hannah was walked down the aisle by her younger brother Ross, as her father sadly passed away when she was younger. The music was an acoustic version of 'Wedding March', which must have sounded wonderful.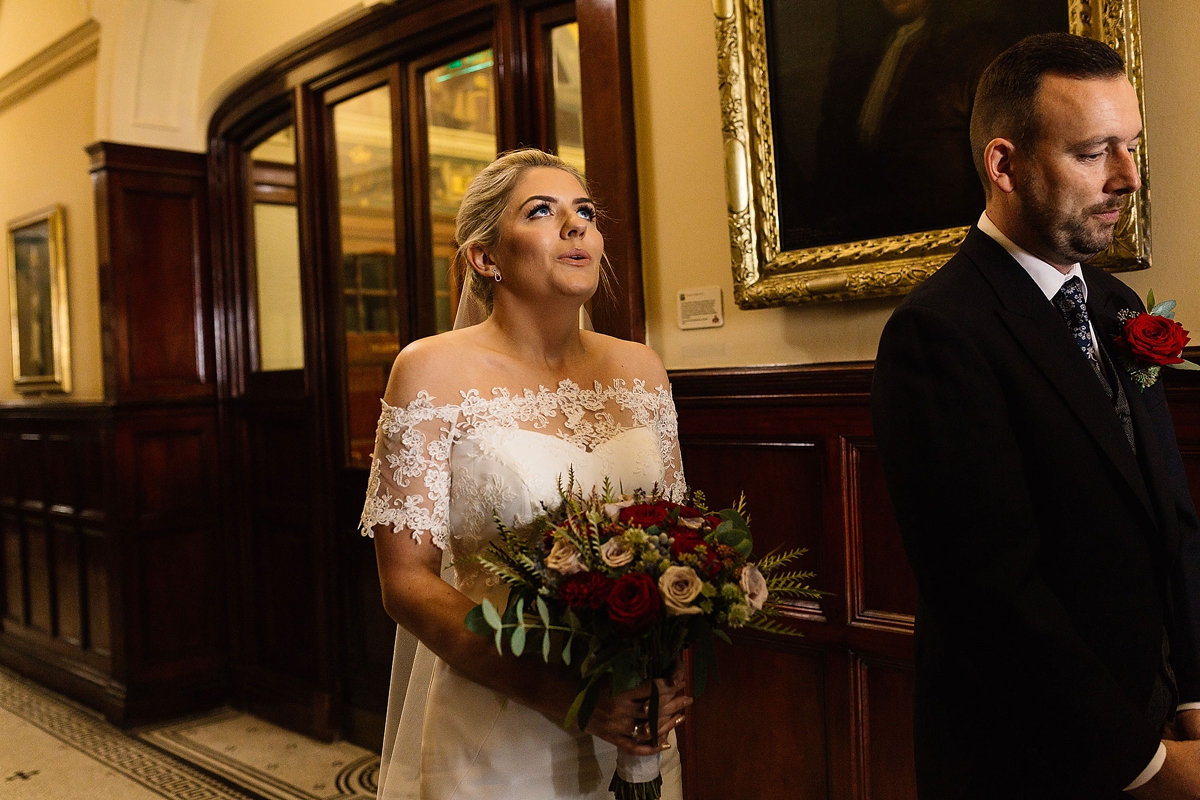 Readings were chosen from Paul Coelho's 'The Alchemist' and 'Letter from Vincent van Gogh to Theo van Gogh The Hague, 21-28 March 1883', an extract of which is below.
"It may well seem to you that the sun is shining more brightly and that everything has taken on a new charm. That, at any rate, is the inevitable consequence of true love, I believe, and it is a wonderful thing. And I also believe that those who hold that no one thinks clearly when in love are wrong, for it is at just that time that one thinks very clearly indeed and is more energetic than one was before. And love is something eternal, it may change in aspect but not in essence. And there is the same difference between someone who is in love and what he was like before as there is between a lamp that is lit and one that is not. The lamp was there all the time and it was a good lamp, but now it is giving light as well and that is its true function. And one has more peace of mind about many things and so is more likely to do better work."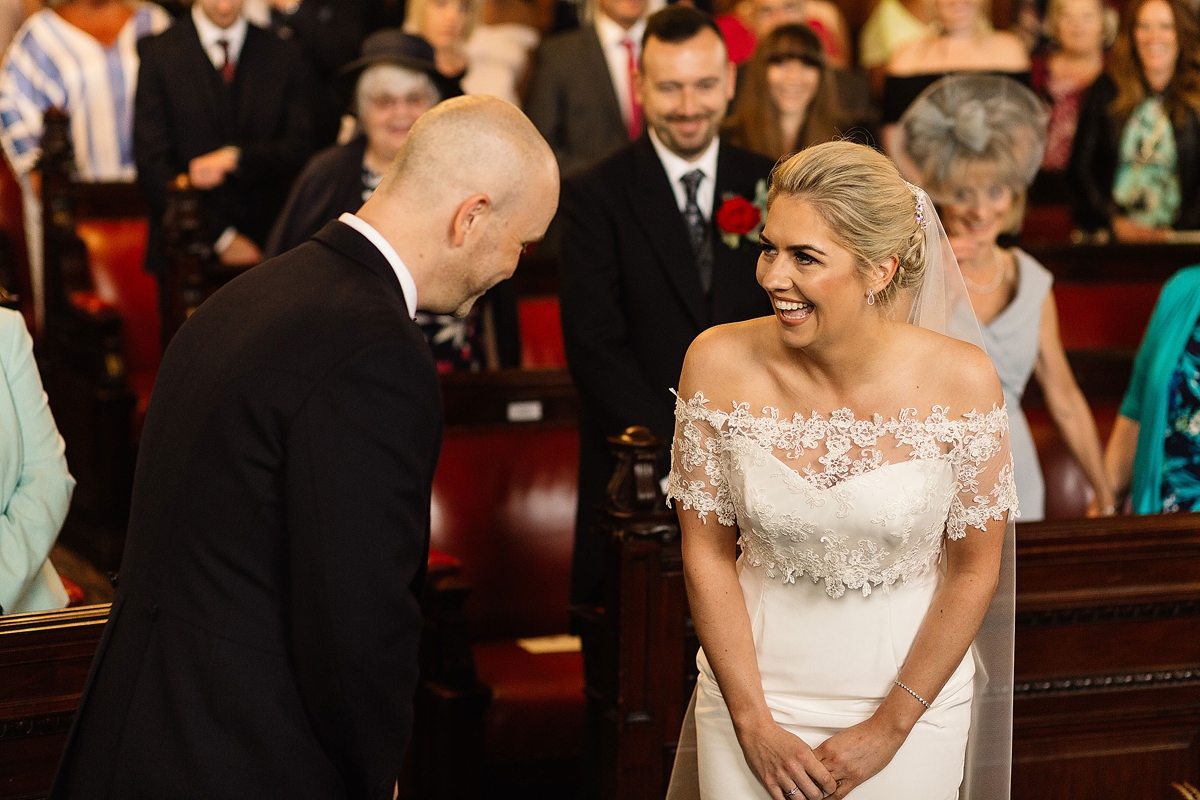 The couple chose their rings at Liverpool jeweller Wong's.
"We looked in a few different places but both of us found our favourite rings in Wong's. It was so nice for us that they were both bought together. It's great having them in Liverpool city centre as they're always happy to clean them for us when we go shopping. The girls were fab."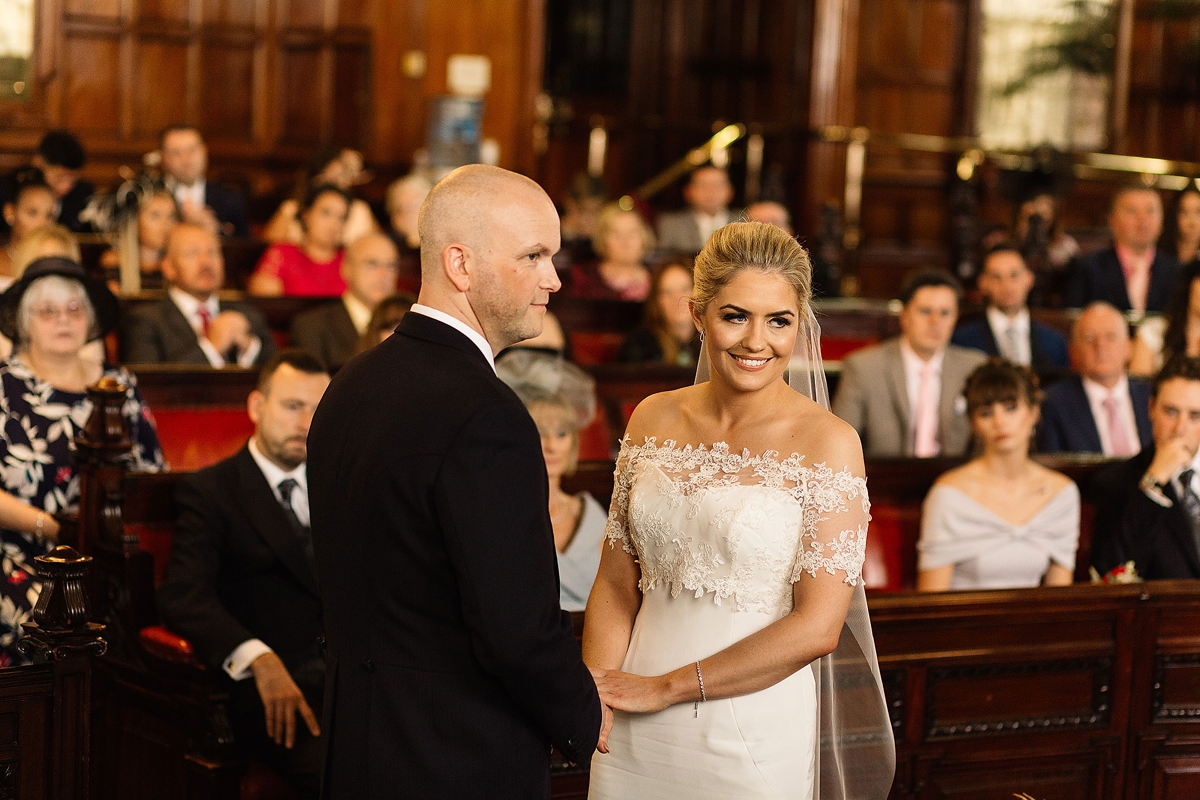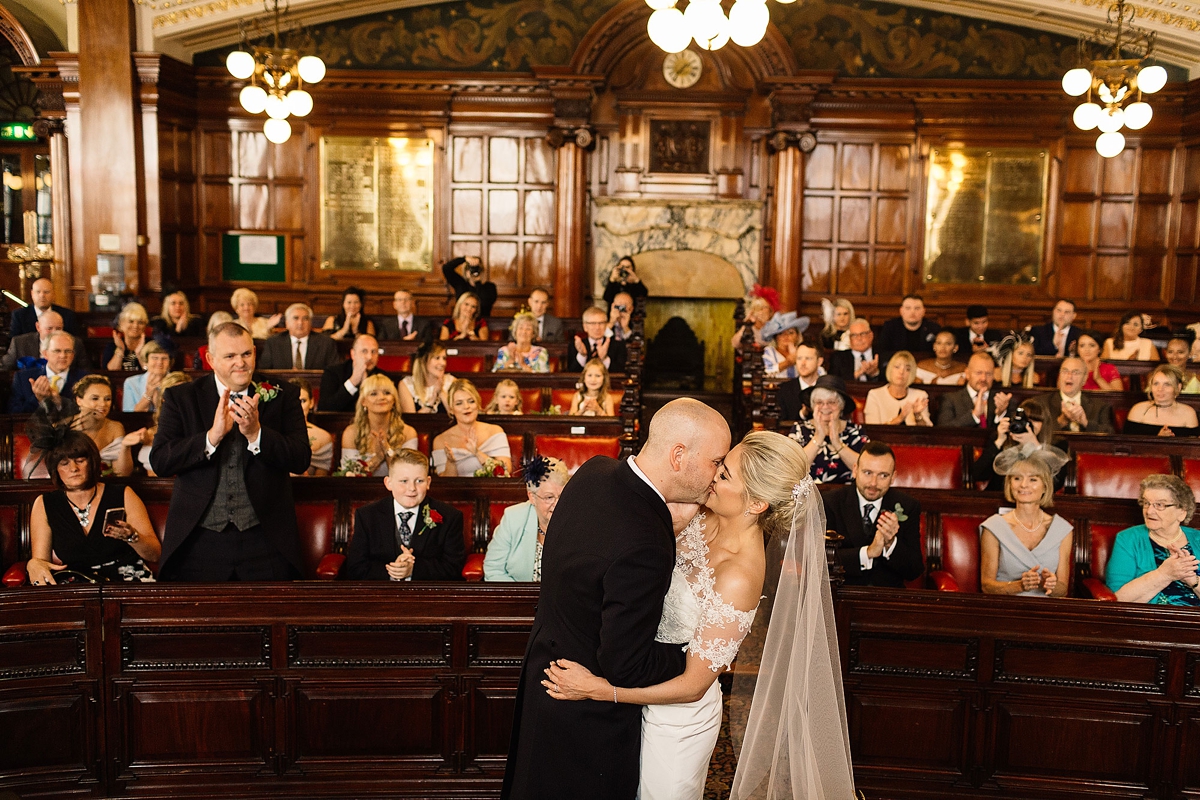 After the ceremony the guests relaxed and chatted over delicious canapés by Delifonseca, before being whisked away to the Maritime Museum in red London buses.
"Danielle at Delifonseca was so much fun and made choosing our canapés a lovely treat."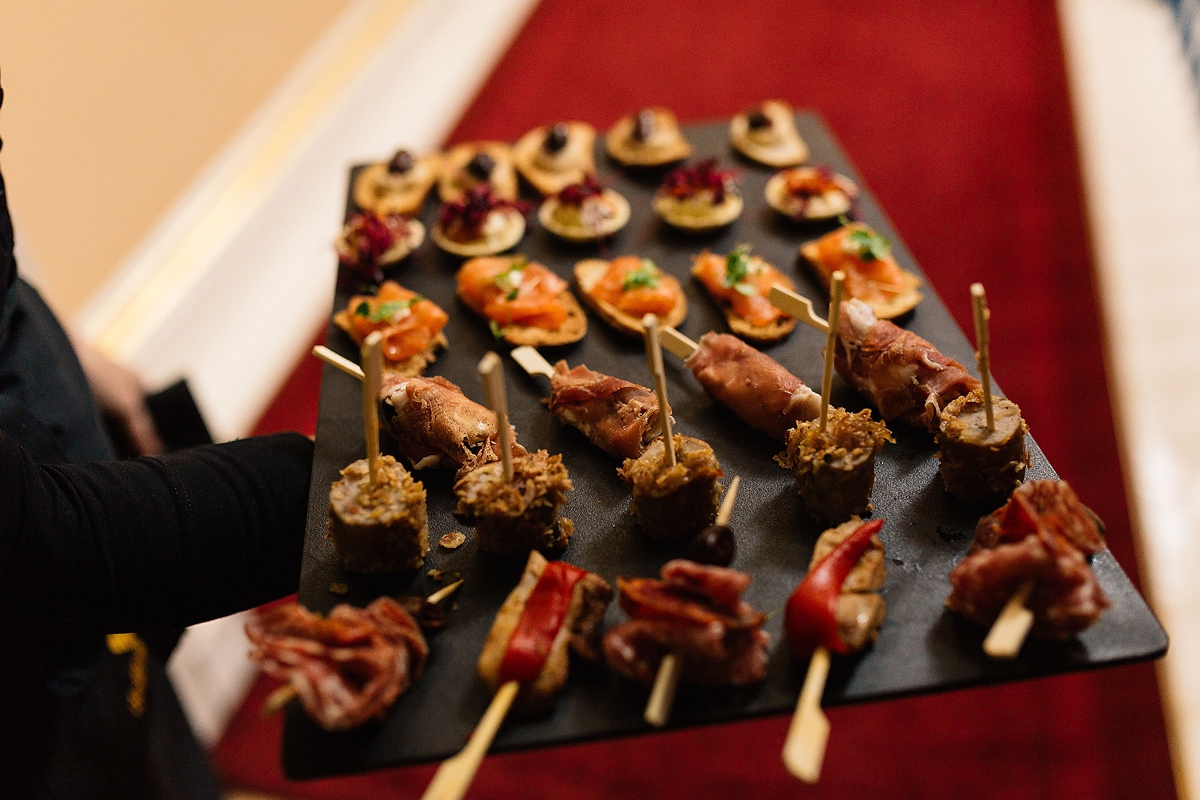 "A Big Red Bus Company bus took guests the short journey from the Town Hall to the Museum. The bus was part of our wedding gift from my big brother and he made sure everyone had a nice trip, providing beers and Prosecco on the journey."
The Maritime Museum is such an awe-inspiring space, with a light and airy reception room. The couple cleverly took inspiration from its features for their styling.
"We were very keen to make sure that all the decorations we had really complemented the venues we had chosen. Both the Town Hall and the Maritime Museum are beautiful buildings with a lot of red throughout, so we chose to use this for our beautiful flowers and from there we were just looking at pieces that worked together."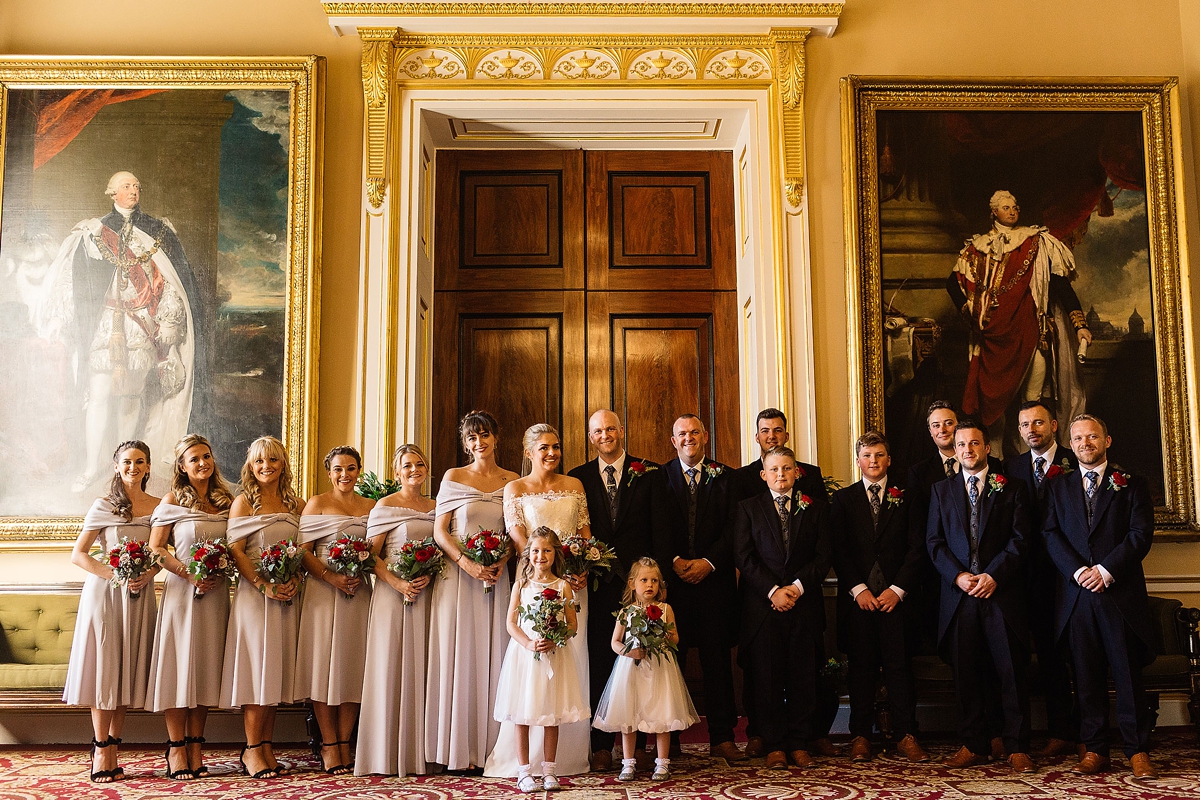 Oh, this cake! I love the geometric gold design, so elegant with a contemporary edge.
"Laura's Little Bakery makes the most incredible tasting cakes in Liverpool. We had three layers – one red velvet, one Victoria sponge and one chocolate. It was white fondant with a slight marble effect, gold piping and gold hexagon features. It wasn't too big or too fancy – just what we wanted."
I love the DIY details, from the stationery and calligraphy designed by Hannah's sister to the fairy lights and sweet favours.
"Our table decorations were pieces we had picked up over the months in the run up to the wedding, including the table numbers (in picture frames) bought the day before the wedding and written by my amazingly talented sister on the morning of the wedding in the hotel while we were getting ready.  For wedding favours we bought little jars and filled them with a variety of sweets, including millions, bon bons, skittles, cola bottles and fudges. There were lots of fairy lights, a selection of Laura Ashley lanterns, terrariums and tealight holders as centrepieces alongside vases for our beautiful maroon, red and lilac flowers including raspberries."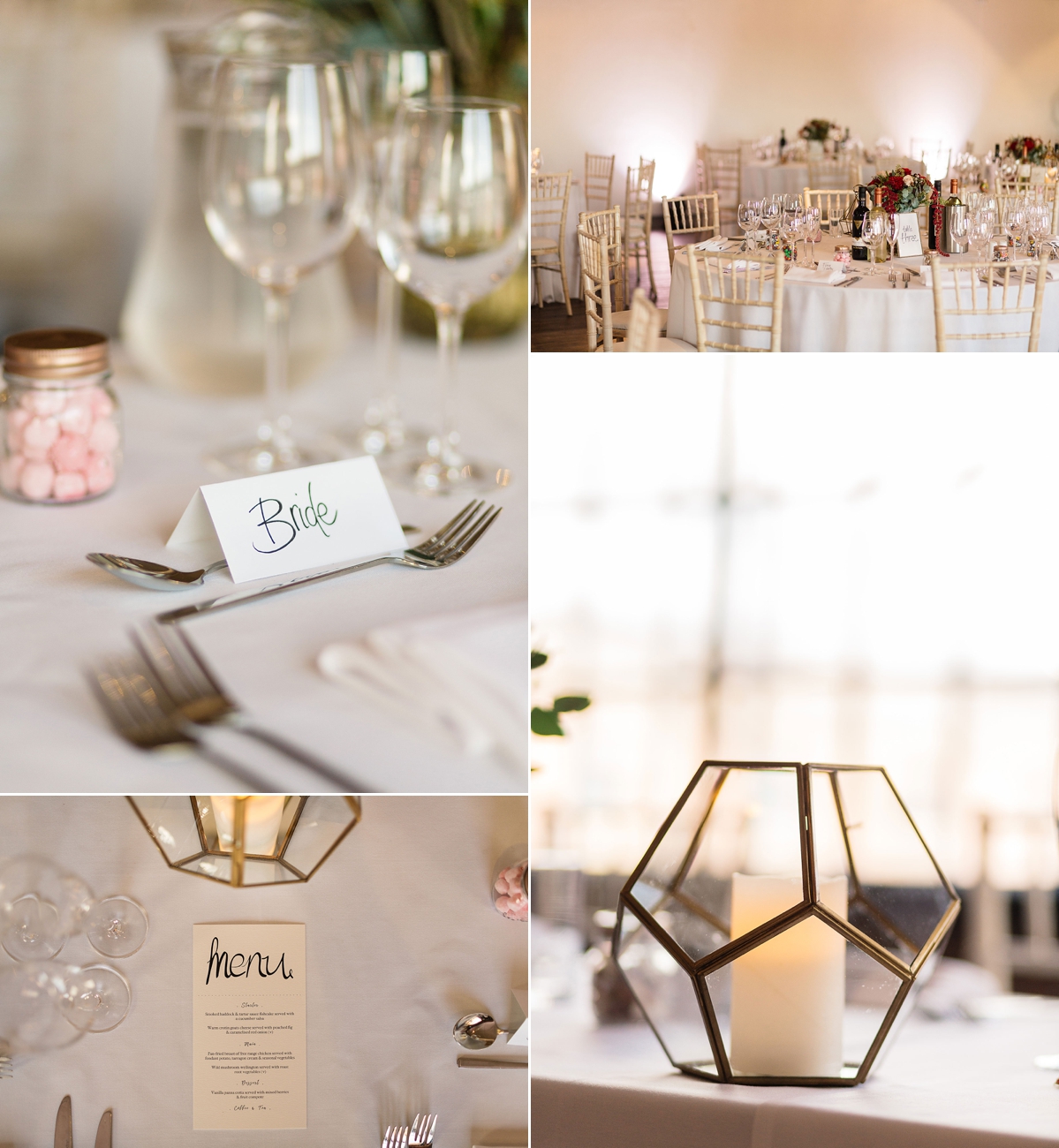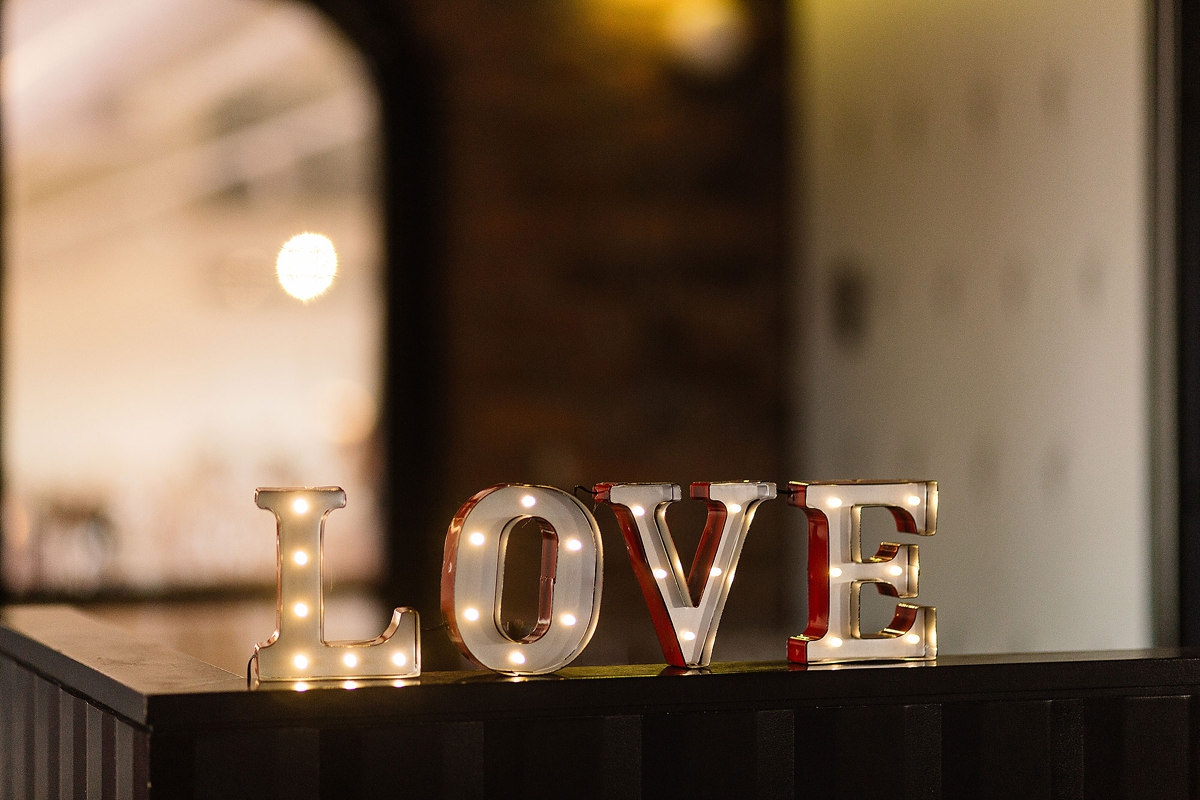 One of the things I love about Love My Dress is when we hear from brides about their favourite part of the day.
"We loved it all. Obviously the ceremony was incredible and we loved the speeches and our first dance but we also loved the less formal times – chatting with people we'd not seen in a long time who'd travelled halfway around the world for us and also speaking with our closest friends and family."
"We didn't really give ourselves a budget (I know, it's not a good idea). We didn't make any stupid expensive decisions and spend where we didn't have to but we also recognised were spending a little more was necessary. We didn't want any regrets. A couple of examples were the wedding video which we're so happy we went with in the end as it captures so much of our day. Also, at the reception we were originally going to use the plain chairs and chair covers that the venue had for the tables at the wedding breakfast and we made a fairly last-minute decision to hire ones in. It made such a huge difference to the look of the room, so we're glad we made that change."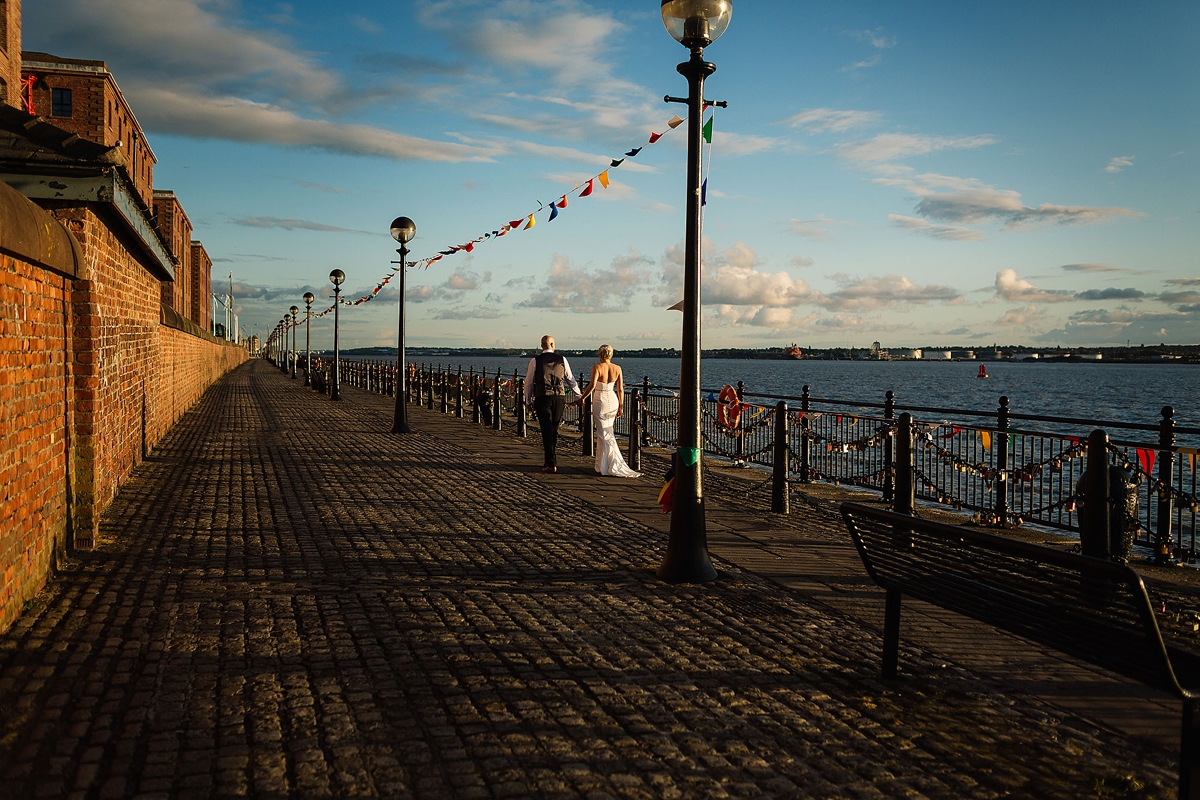 "The only thing we might have done differently would have been to take people up on their offers of help over the last couple of weeks before the wedding. We were keen to do lots ourselves but on reflection, writing wedding table numbers the morning of the wedding and sending my brother to drop them off at the venue was probably unnecessary!"
Live music was provided by The Muskets featuring Chesqua. It's great to hear Hannah's enthusiasm for this band.
The first dance was a tricky decision for Hannah and Steve, but I love their final choice of Kodaline's 'The One'.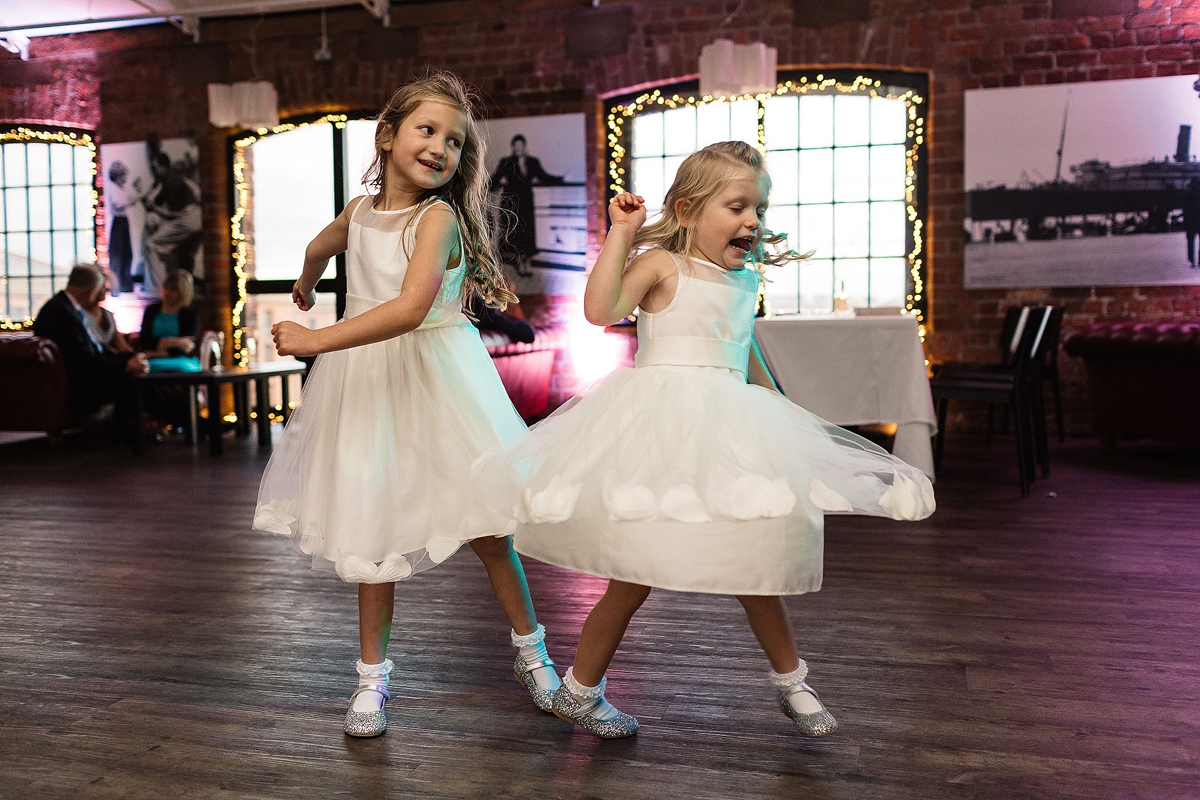 "When we first saw Chesqua perform we got goosebumps. Her voice is incredible and with Matt and The Muskets we were absolutely delighted. We look forward to going to see them perform again soon. We struggled to find a song that we were both happy with. We felt it had to feel right and hadn't quite appreciated how hard it would be to find that. When we listened to 'The One' together we were driving home and we just looked at each other and we knew the words just rang true for us."
Words of Wedded Wisdom
Thank you so much Hannah for taking time to note down your invaluable words of advice for brides to be.
"Your wedding day is about you and your husband/partner having the best day ever to celebrate your love for each other. Everything else will pale into insignificance on the day. Obviously, you want everything to be perfect but if you're anything like me, when you walk into that room, church or hall, nothing else will matter."
"When you're planning, if you're not sure something is right don't do it. Don't settle for an ok photographer, videographer, cake etc. if they mean a lot to you. You will find what is right for you, even if it's the night before (in the case of my table numbers). If you really want something and can afford it, do it. Sacrifice something else that you're not as keen on if you need to."
"Everyone knows that Pinterest for research is brilliant, but it was Instagram that helped me the most. When looking at photographs of one of the venues we were considering, I spotted a photograph of a girl in a wedding dress that I loved and basically stalked the girl pictured to try to find out where this dress was from. In doing so, I realised how much I liked her wedding photos. It was Paul and Kel, so we contacted them and the rest is history. So, seeking out people with similar styles to you is really useful – you might just find the perfect supplier for you if you stalk enough."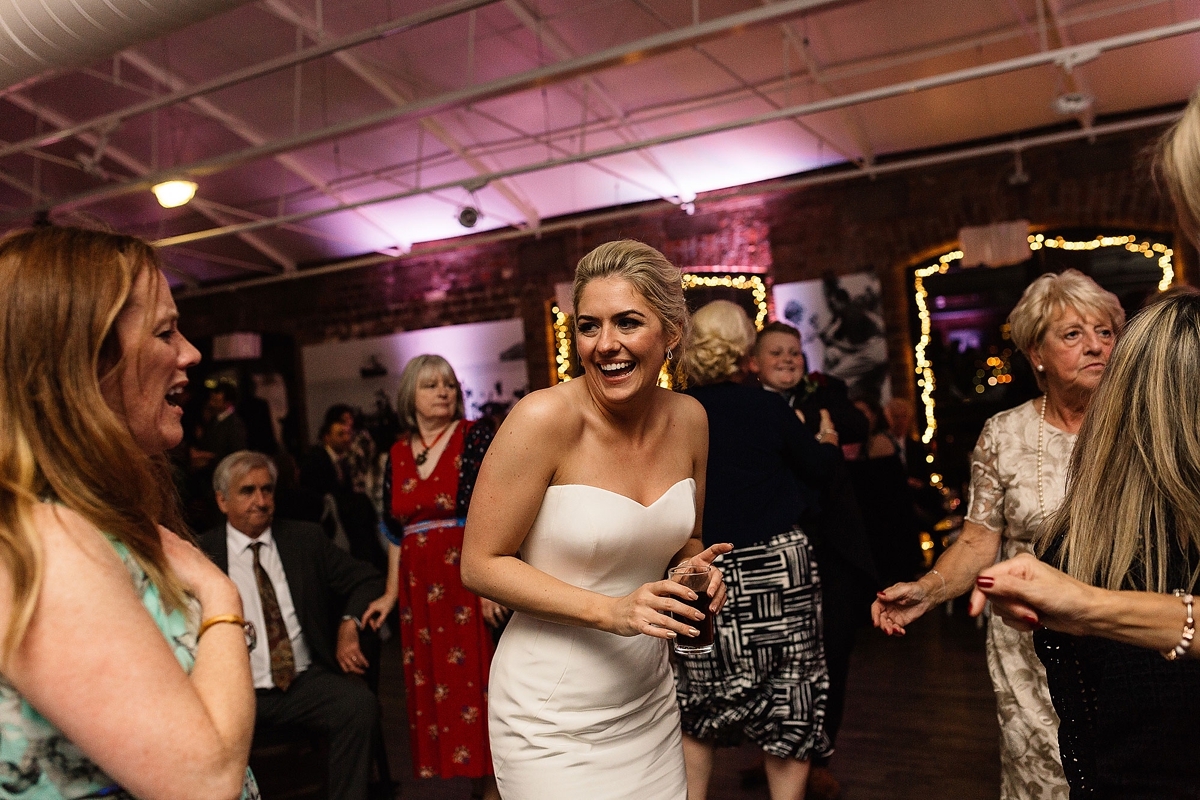 Thank you so much Hannah and Steve for sharing your day with us; what a treat for me to come back to writing to. Thanks of course go to Paul Joseph Photography for these lovely images. If you've been inspired by Hannah's Sassi Holford style then please visit her Collections pages on the blog here.
Ele xx