WHAT A DAY! Gorgeous sunshine and a world-cup result of dreams! Simply fabulous on every level so far. We've saved today's wedding to share with you this evening as we knew you'd probably be a little pre-occupied on the glorious weather and international sporting fixtures.
It was well worth the wait though lovelies – for today's wedding made me all giddy inside as soon as I saw the images land in my inbox. We have a super talented bride today who nailed the botanical theme just perfectly! So, are we ready to see and read all about a gorgeous day full of lots of greenery and DIY? Let's go…
Wedding stationery business owner Emma and mechanic Dave chose St Michael's church in Marbury as the location for their vows, followed by a reception at The Barbour's Institute in Tattenhall on 16th September 2017.
"As we both love the outdoors (with Dave being a keen fisherman), and all things vintage, we decided to combine the two when it came to the style of our wedding. Bringing the outdoors in I wanted to use a palette of our favourite colours whilst also bringing in a botanical element. I chose shades of green which worked well with the existing colours of the hall, then added touches of burgundy, white and gold throughout the flowers and table decorations."
Images by Christina Sarah Photography
Emma first spotted photographer Christina Sarah Photography on Love My Dress and after falling in love with her natural light and classic photography style, immediately booked her for her own wedding day.
"Christina captured each moment perfectly and I couldn't recommend her enough. We wanted our day to be relaxed and not like a photo shoot. We spent the perfect amount of time posing for shots which gave us most of the day to enjoy with family and friends. I've been to many weddings where the photographer rules the day. Christina was like one of my bridal party and her style fitted our day entirely."
"I went a little over budget on my dress but came across a lady who made veils on eBay. As it turned out, it matched the lace on my dress perfectly! I loved the length of the veil and how it flowed over my dress. I also chose a gold pair of Clarkes shoes with a small heel. I wanted something extra comfy so I could dance and venture down to the lake in without worrying too much. They were the perfect dancing shoes!"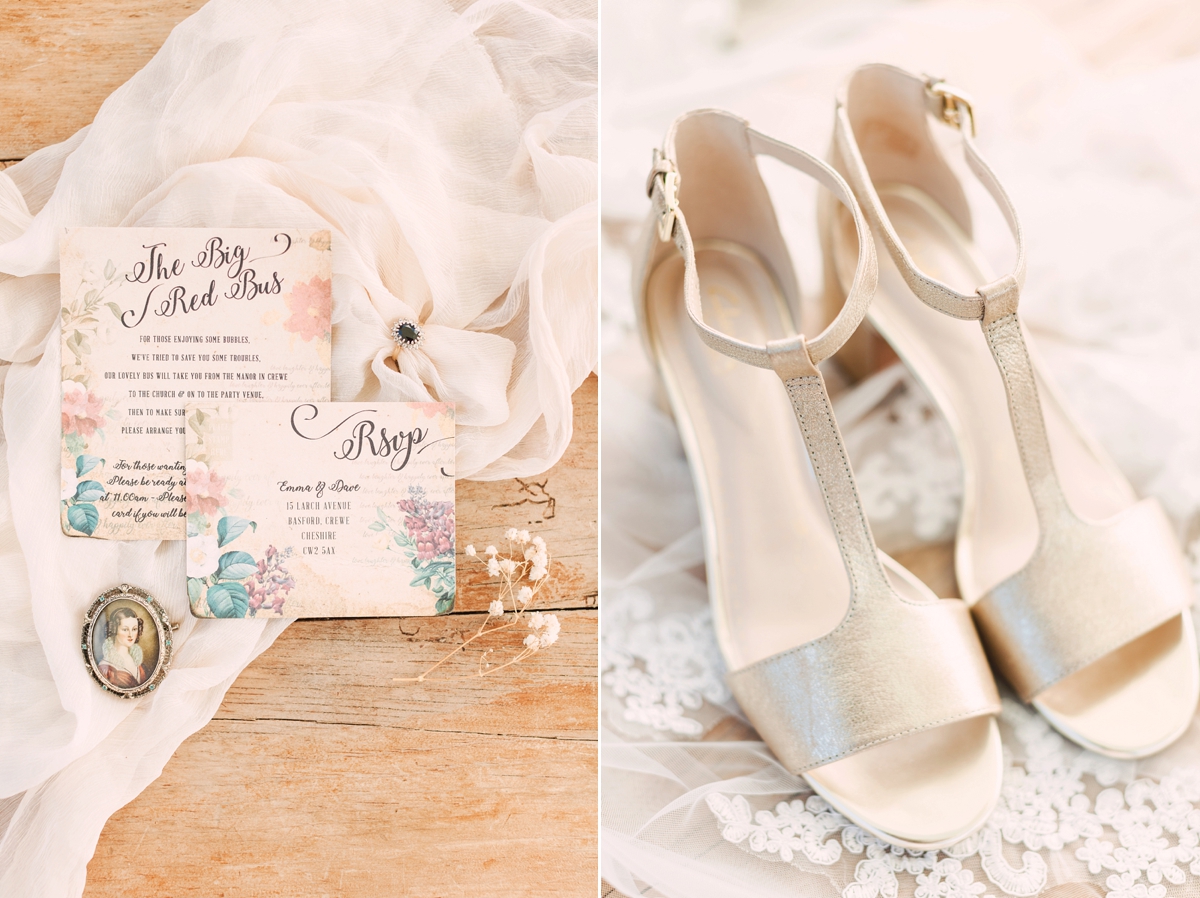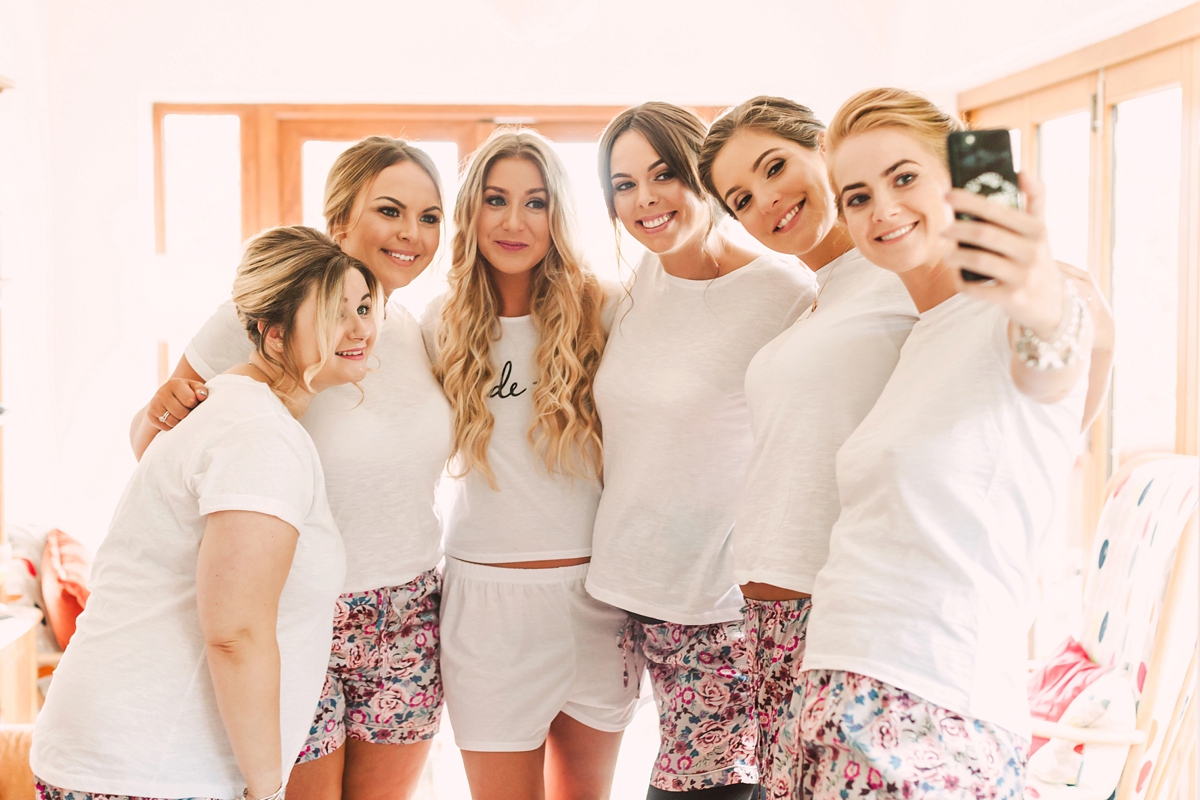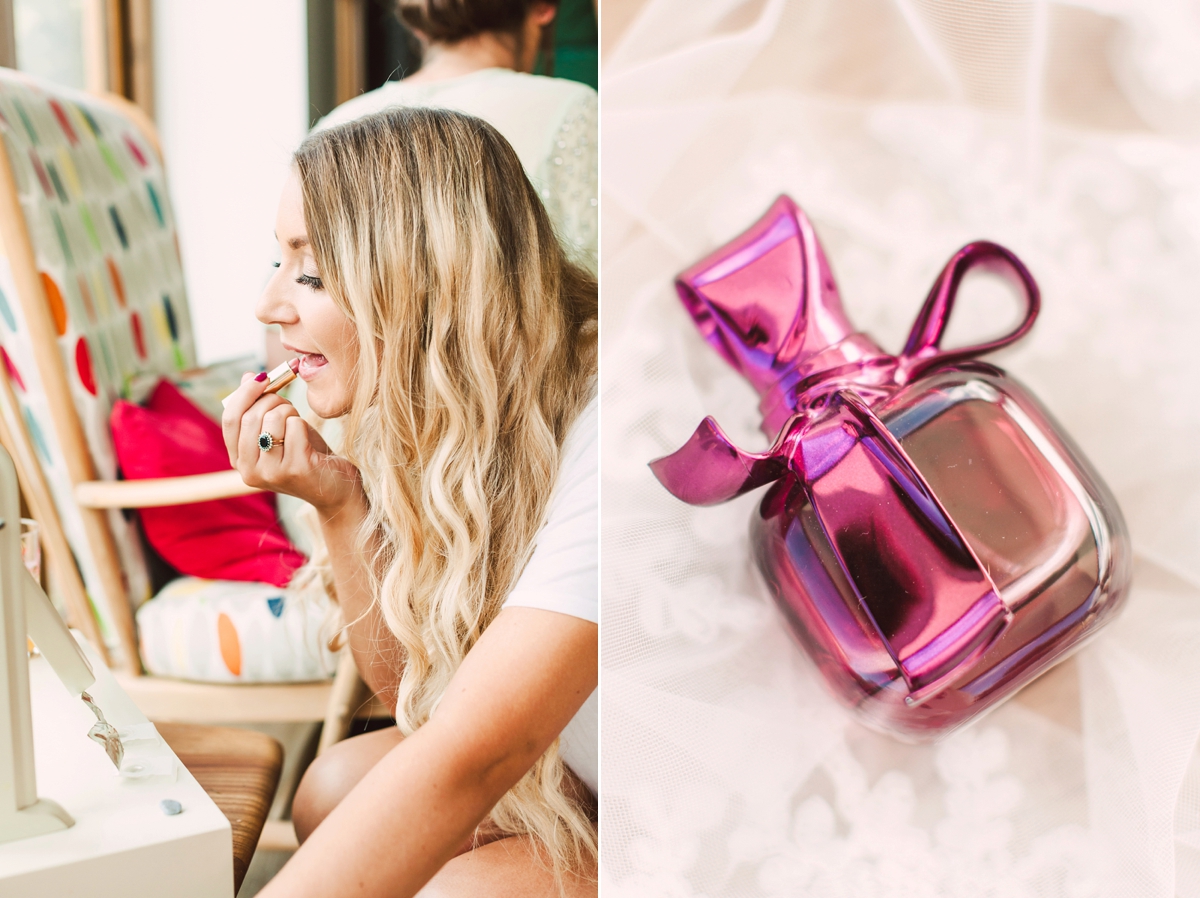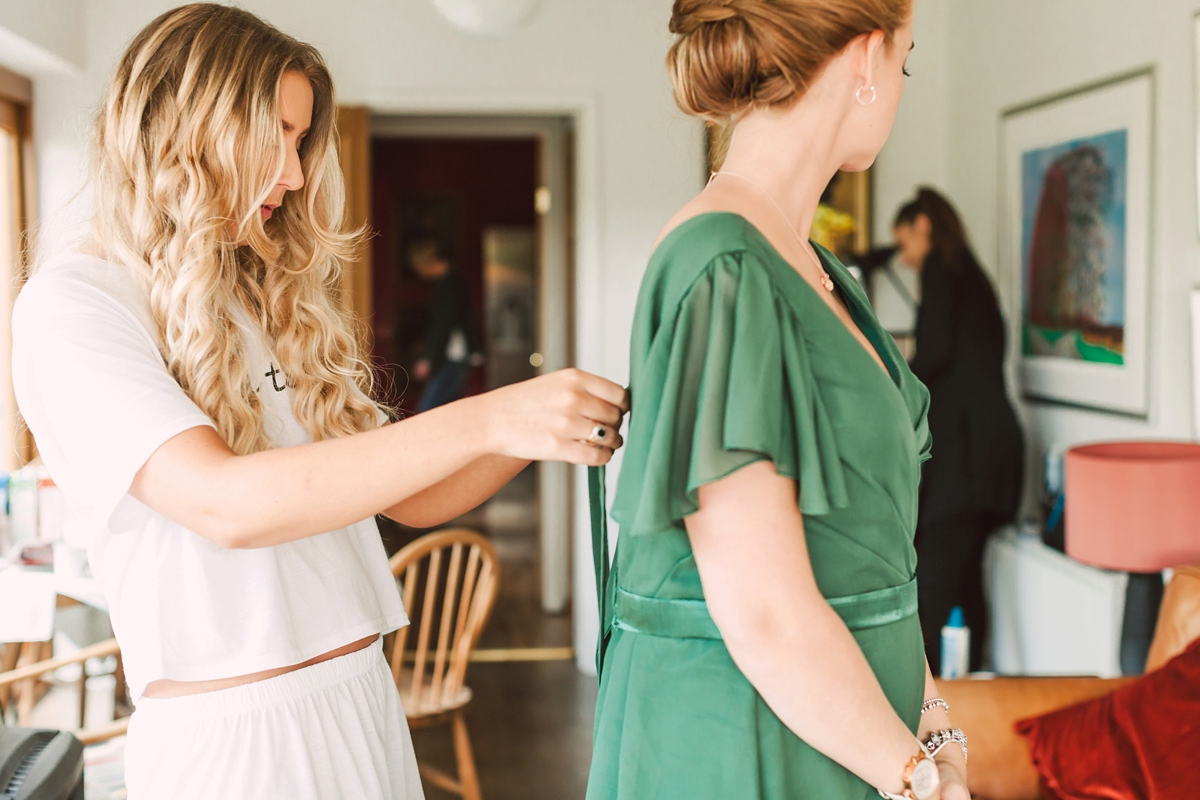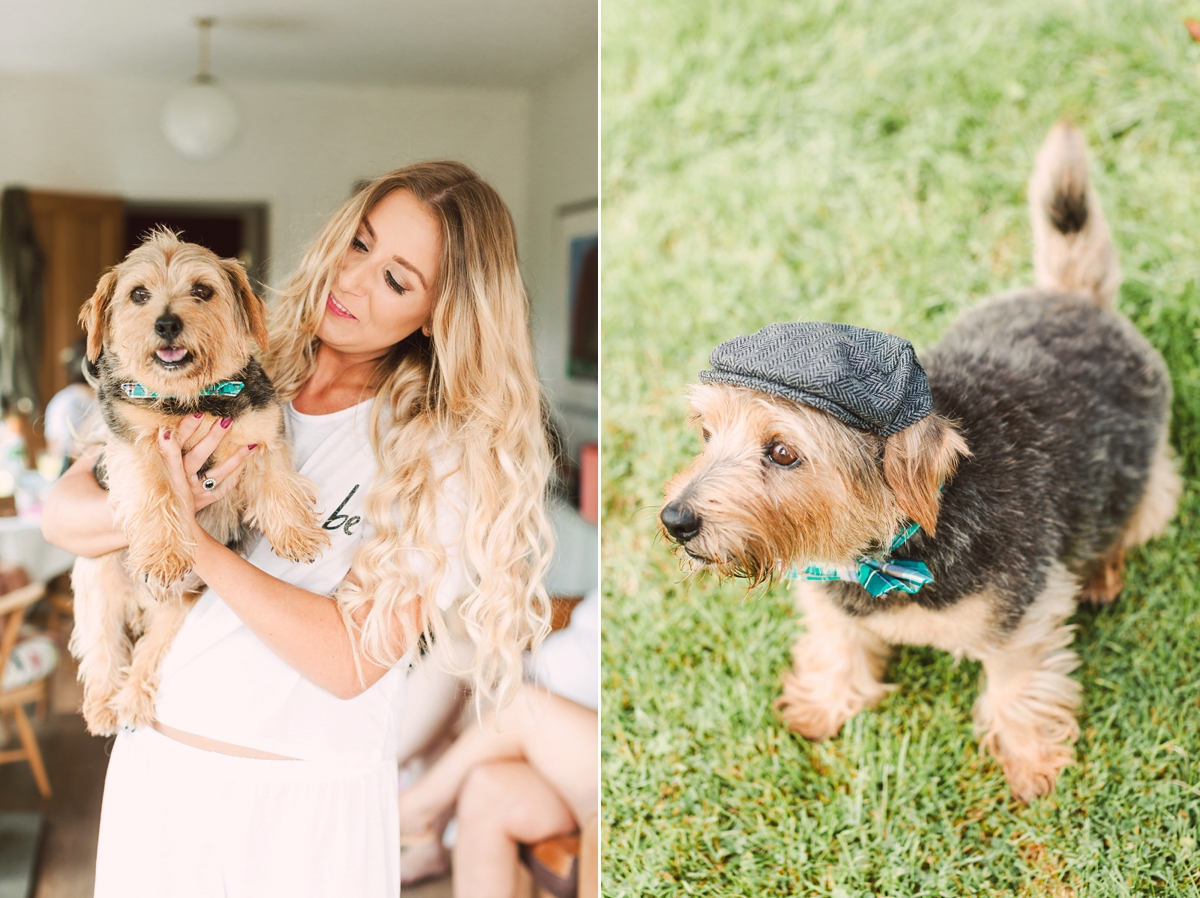 With a touch of vintage running throughout the wedding theme, Emma chose a beautiful bohemian style long sleeve dress by Allure Bridals via J&J Designs in Newcastle for her special day.
"I always knew I wanted something vintage and bohemian, but also something I felt comfortable enough in to dance the night away. I thought I had found The One in another dress shop and it was the complete opposite to the dress I eventually chose. My sisters knew all of the styles that I'd always envisioned wearing so said I needed to keep searching for my dream dress."
"They were right and I finally found it! I loved everything about it and didn't want to change a thing (I didn't even need any alterations so it was meant to be!). I really love the full lace with slight plunge neckline and the flare sleeves. It was the perfect dress that I had always wanted."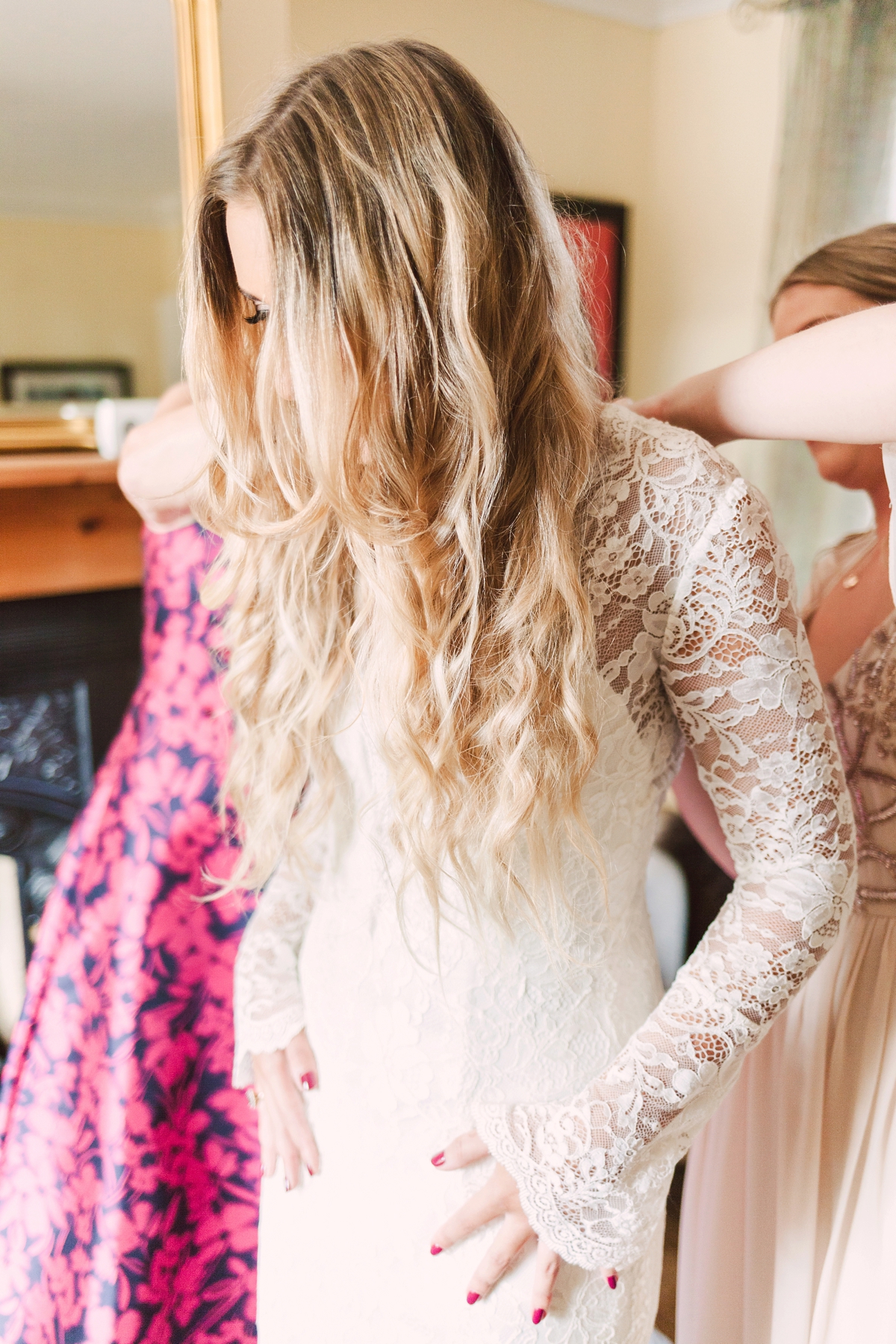 Again bringing in the element of botanical, Emma's bridesquad looked gorgeous in full-length green dresses from ASOS and Boohoo. Each bridesmaid also wore their own shoes, a touch of gypsophila in their hair and a rose gold necklace which was gifted to them on the day by Emma.
"I wanted the dresses to be relaxed and floaty. Something they would feel comfortable wearing all day. Two of my bridesmaids were heavily pregnant so comfort was important. I went with two different shades of green for 5 of the bridesmaids and a nude dress with gold detail for my maid of honours. I loved the tone of the colours at the end and each bridesmaid looked beautiful in their dress."
"I wore a flower crown on my head by Adorabella Crowns which was a must! I wanted to add a botanical touch to my hair and then found the amazing Adorabella! My best friend brought Nina Ricci round to me on the morning of the wedding, knowing it was my favourite scent, for me to wear and I added a vintage brooch to my bouquet, which belonged to my late grandma. It was a lovely sentiment and meant a lot to me to have something of hers with me on my big day."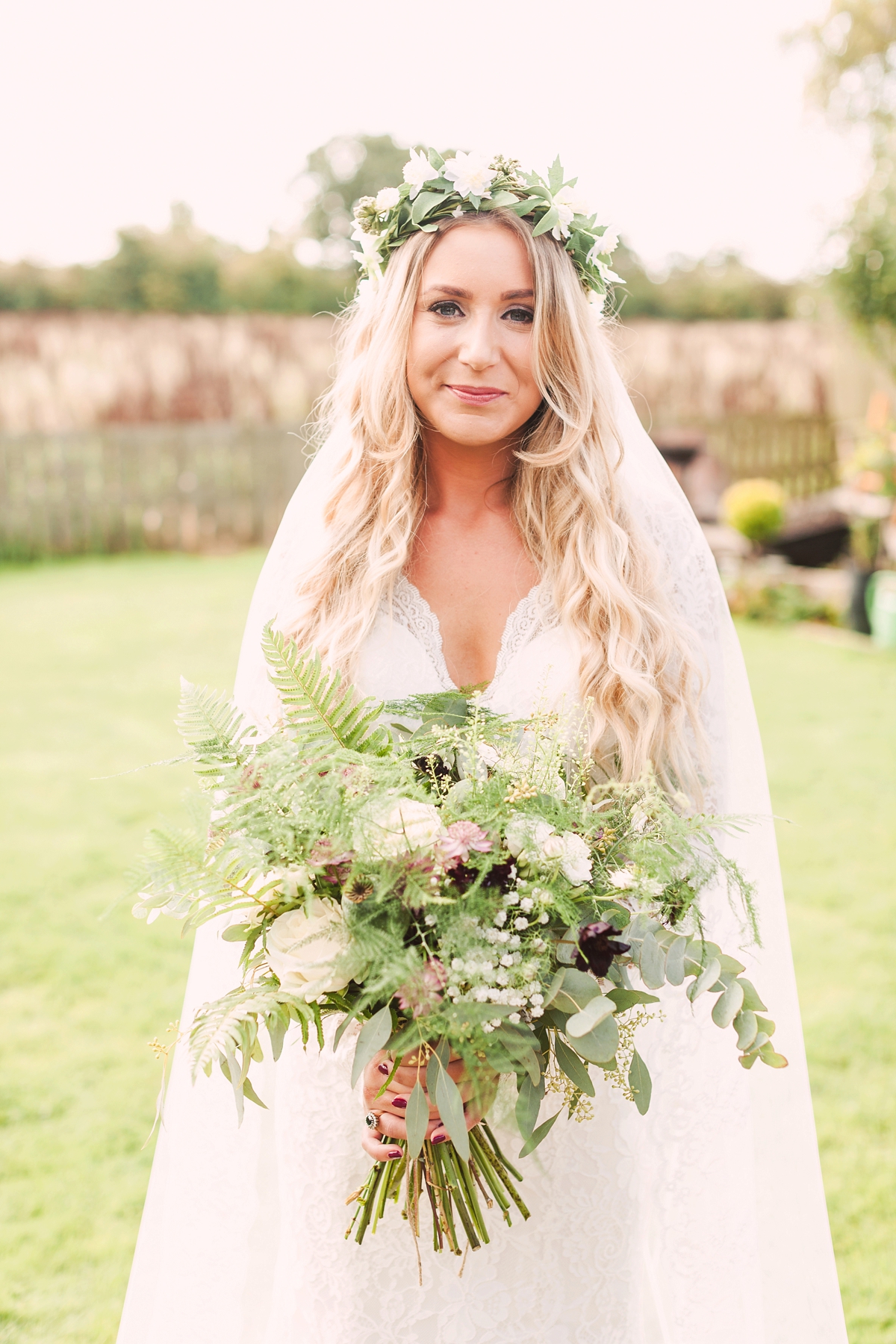 Emma kept the flowers botanical, wild and free and the bouquets and buttonholes were all lovingly created by Ruby at Crewe based florists Ruby Doodles.
"I wanted the flowers to look wild and handpicked. Rachel made my visions come to life! We have very similar tastes so I knew I could trust her. She made all the bouquets and buttonholes but we dressed the venue ourselves, sourcing flowers from local supermarkets the day before and displaying them in my large collection of bottles and jars."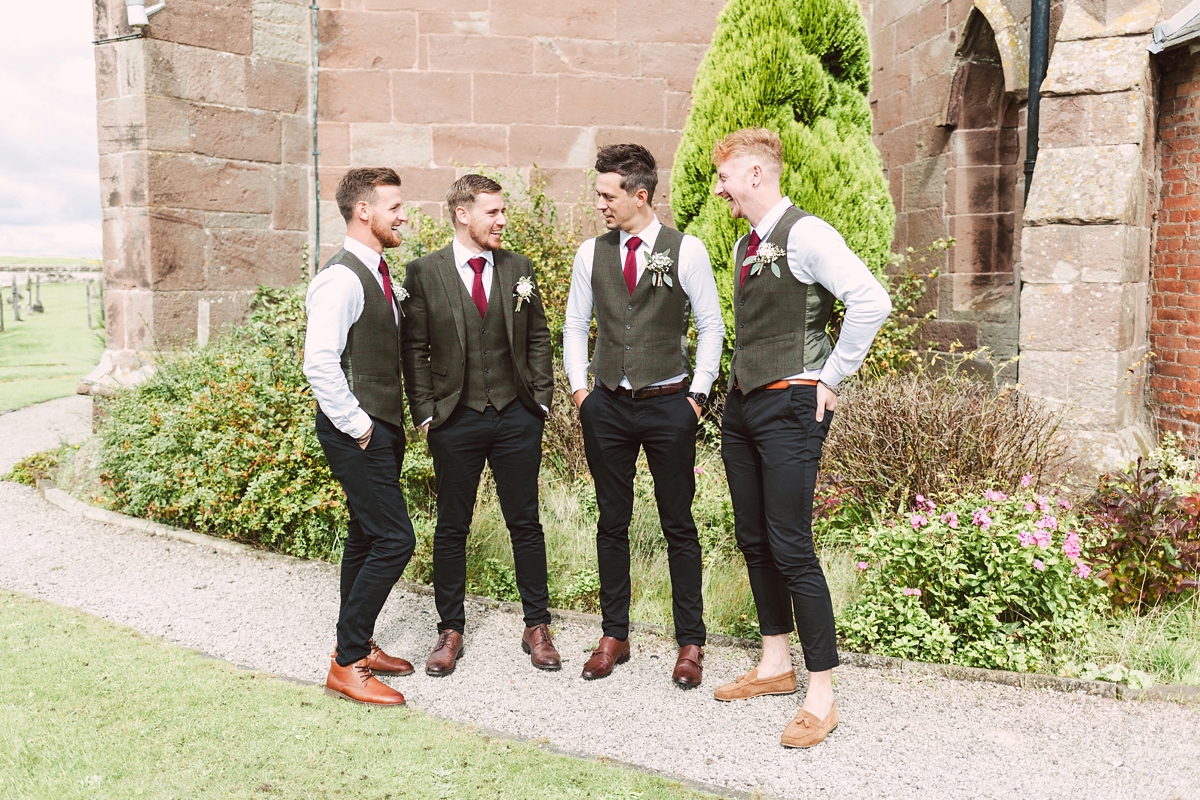 The groom looked dapper in a 3-piece suit from Moss Bros, with a berry coloured tie, and his groomsmen all matched in the same trousers and waistcoat.
As the owner of Paperlace Invites, Emma also created all of the stationery herself including the save the dates, invites, order of service, menus and seating plan.
"Being my occupation, I felt I could really go to town with the stationery and I let my imagination run wild. For the save the dates I created small parcels filled with moss and a wooden magnet. For the invites I created a story book with the invitation inside, complete with gold foiling, moss and roses. For the menus and place names I created scrolls printed on watercolour card and finished with silk ribbon, and for the seating plan I created a large wooden table plan with our names burnt into the wood."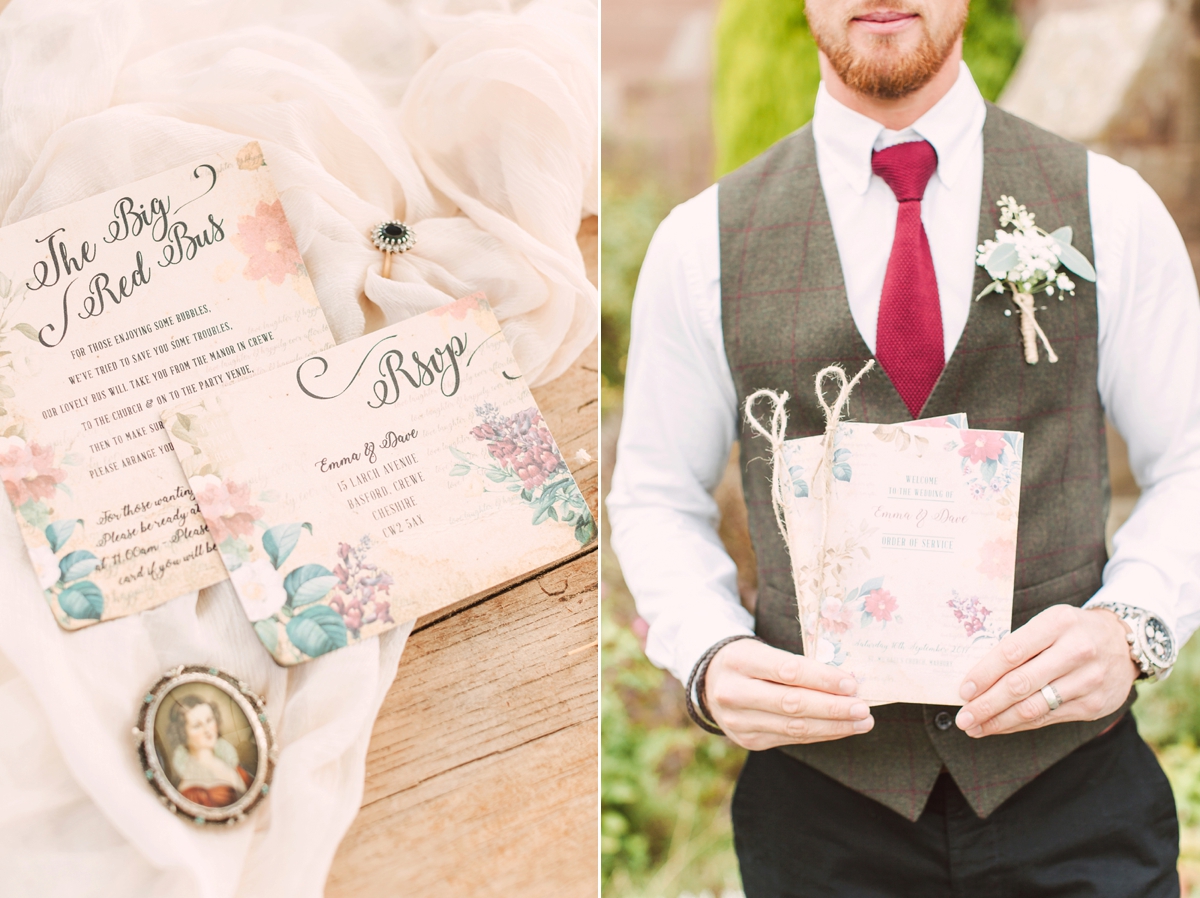 "I used to love walking to St Michael's church as a child and dreamt of getting married in the church since I was a little girl. We searched for local village halls which still had a vintage feel to them and this hall was perfect. The existing decor matched our vision perfectly and it was also used to film a television series called Home Fires."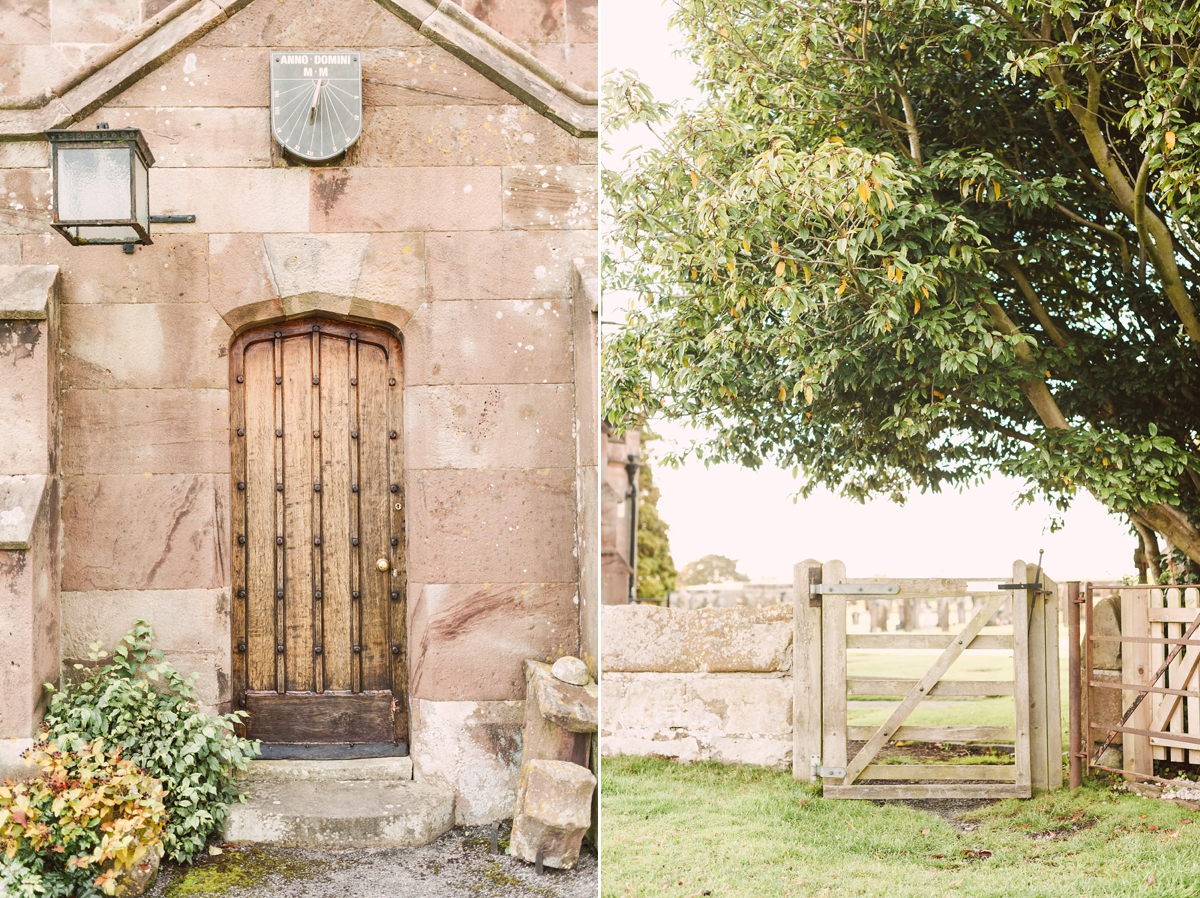 Emma was accompanied down the aisle by her dad and describes the ceremony as one of her favourite parts of the day.
"I found the things I enjoyed the most were the things I didn't plan too much. The church ceremony I thought I was going to be very nervous in but as I walked in and saw Dave was a little teary, I felt I needed to hold it together for the both of us. I loved looking around and just taking it all in."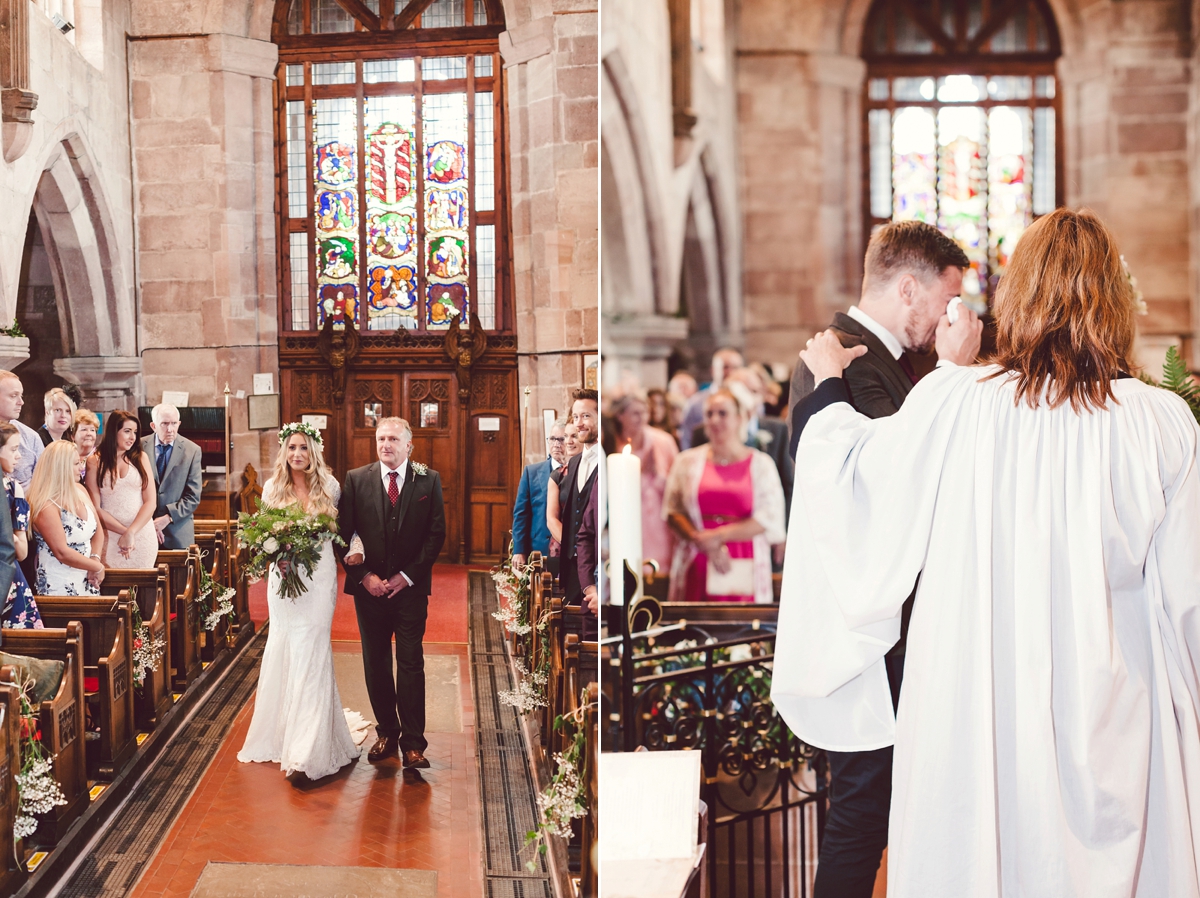 The vintage-loving couple met through mutual friends and were engaged for just over a year before tying the knot.
"We met over 8 years ago through mutual friends (who were our bridesmaids and ushers). We got engaged on a road trip through France, Germany, Switzerland and Italy. My engagement ring was my late grandmas which means so much to me."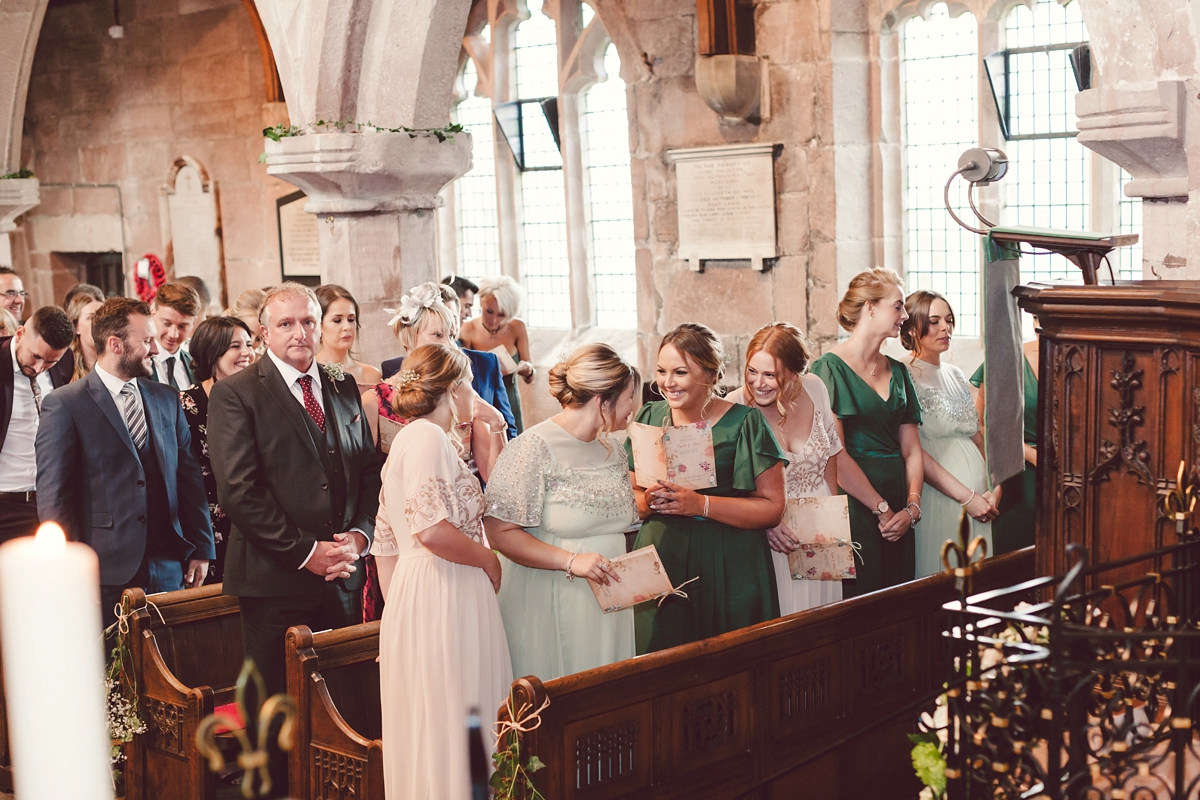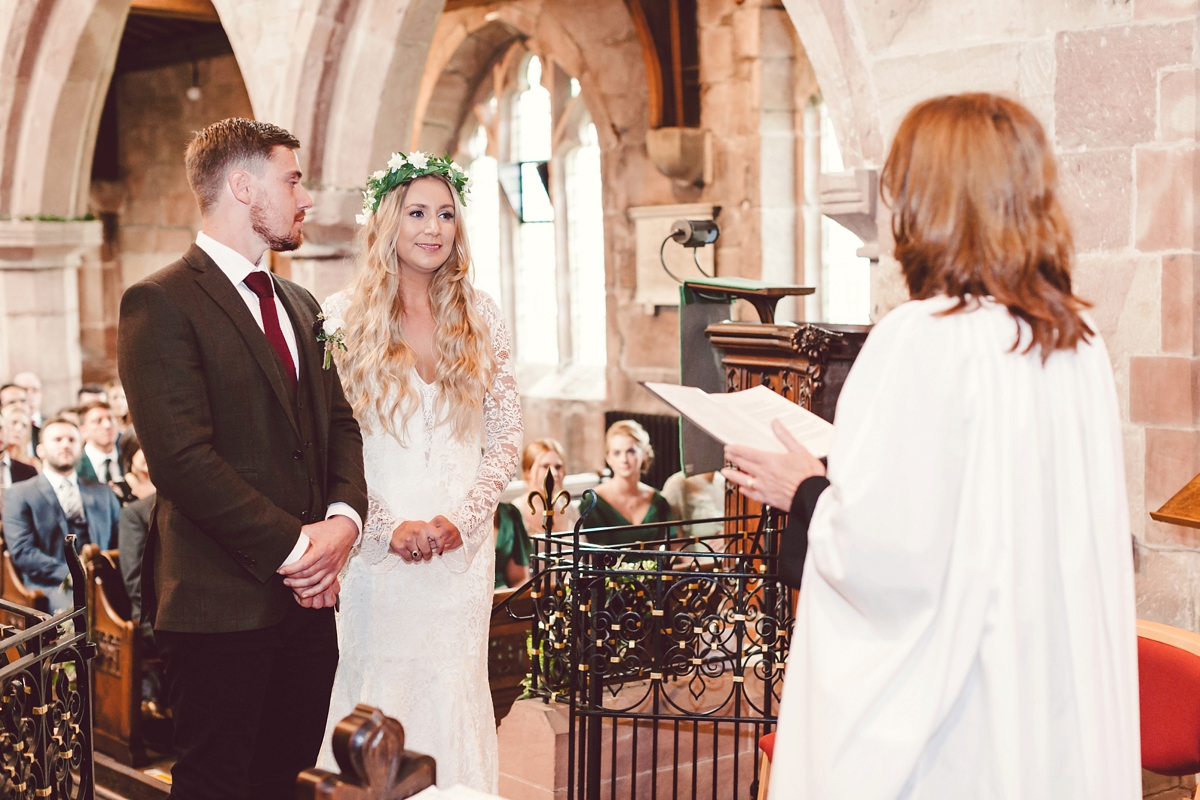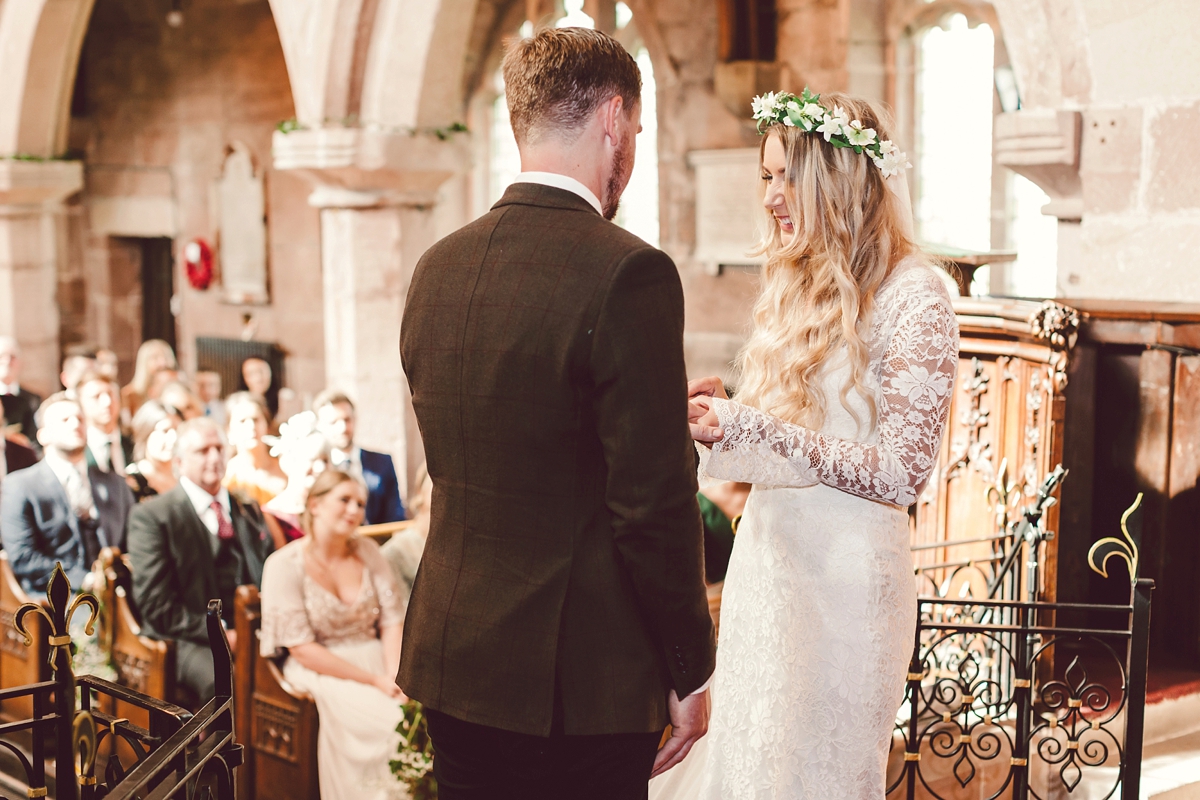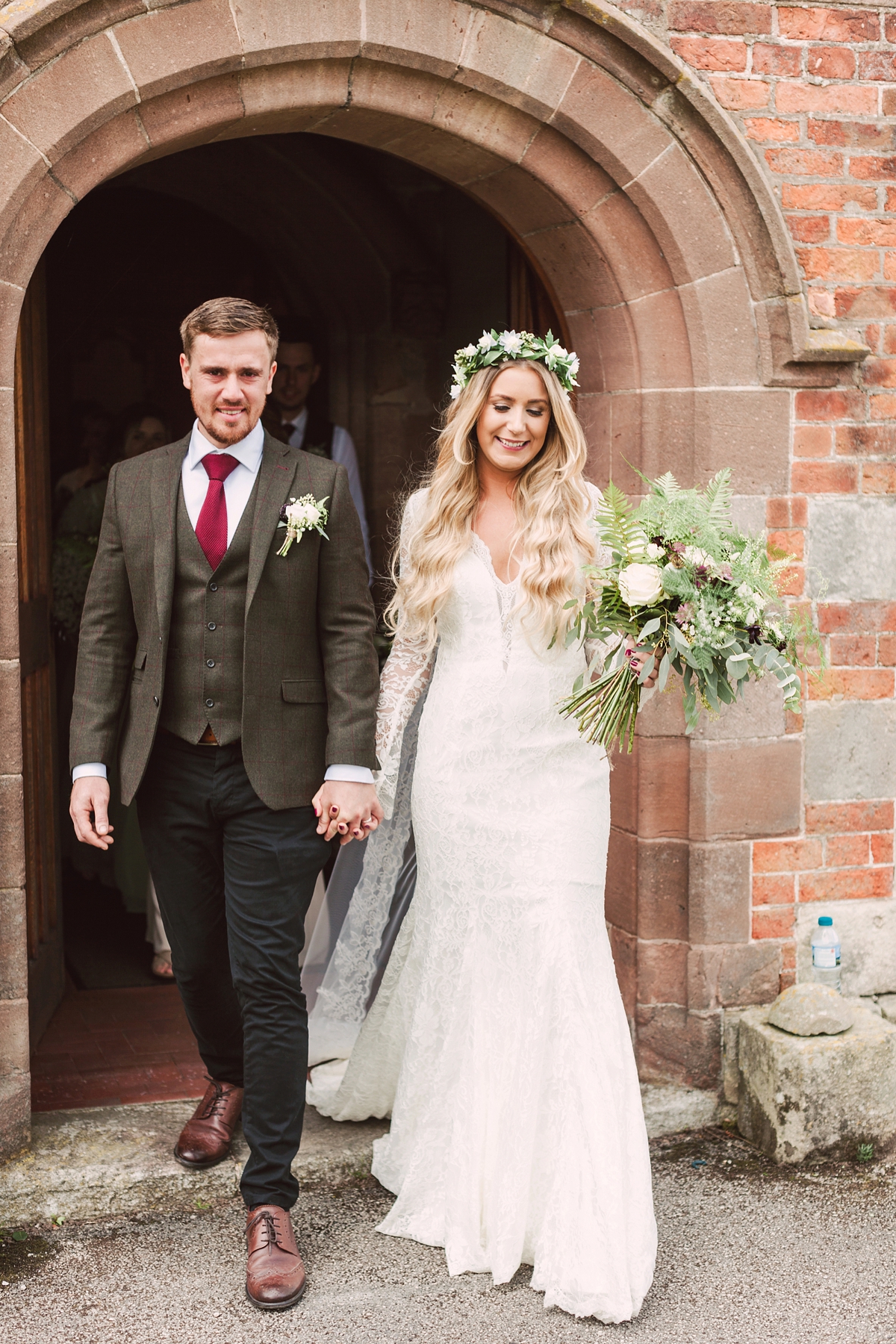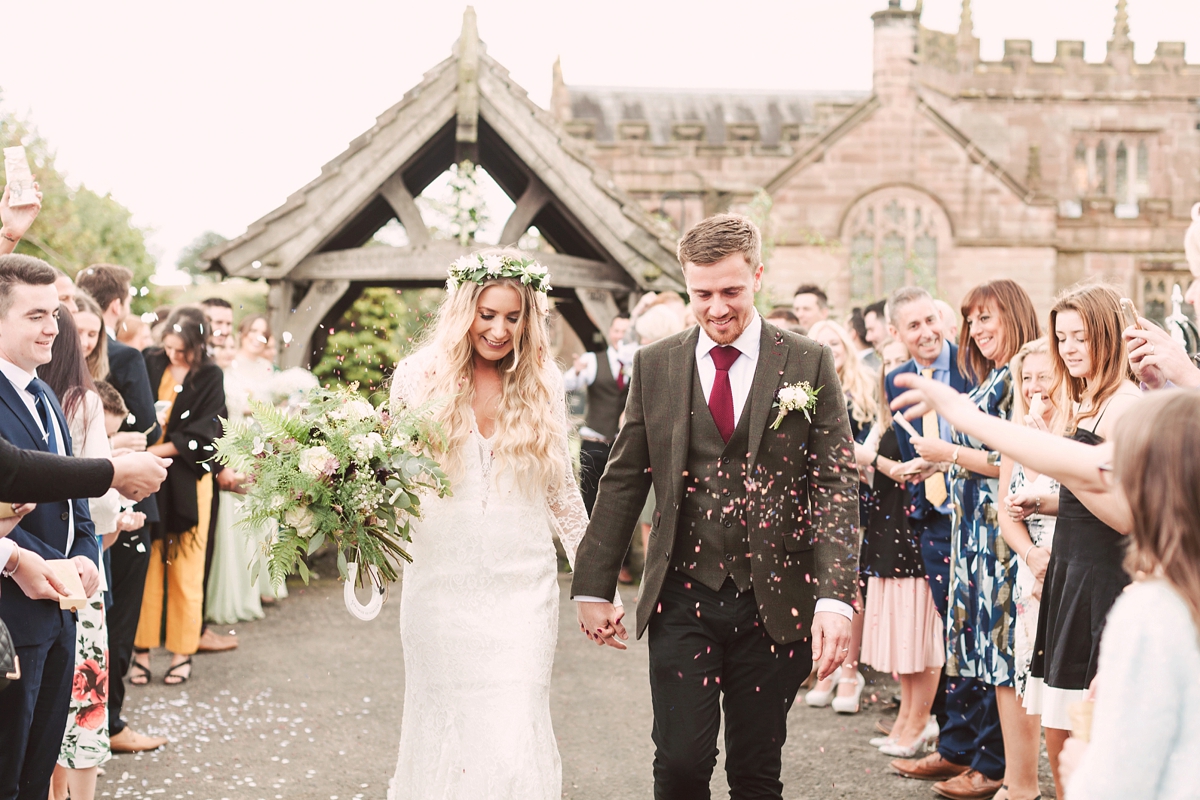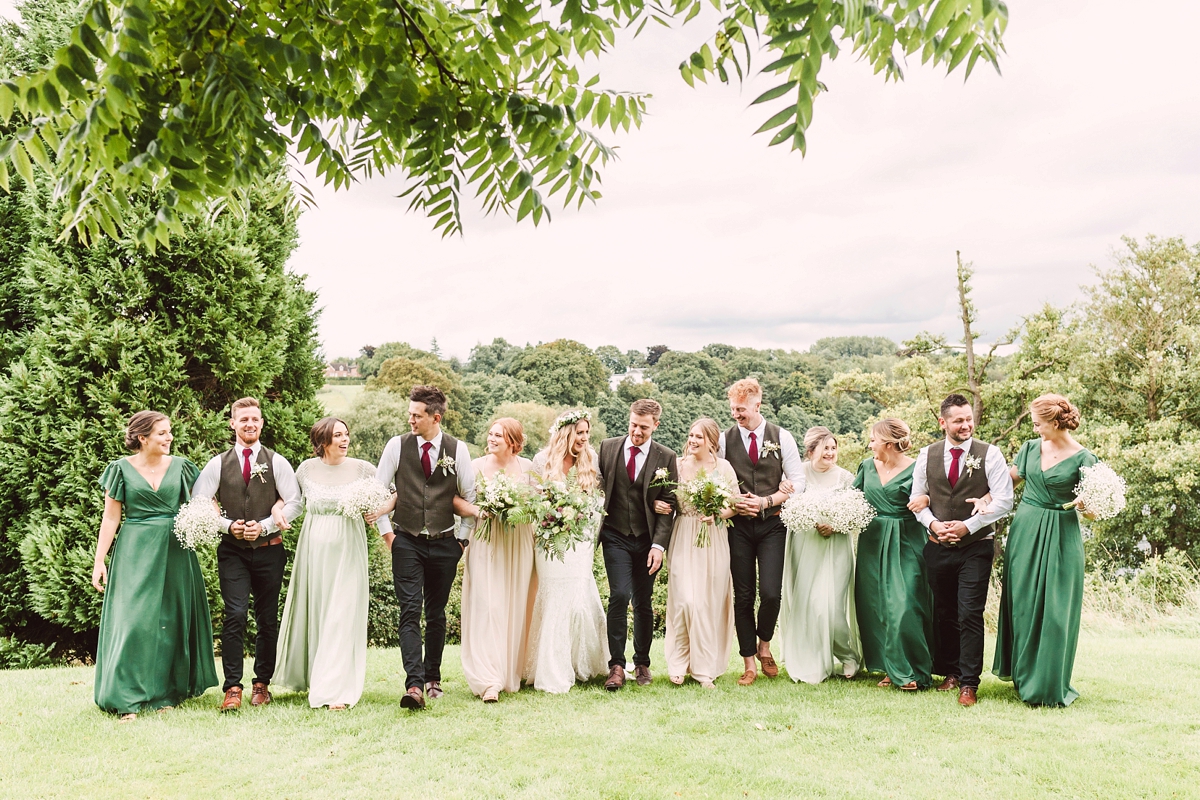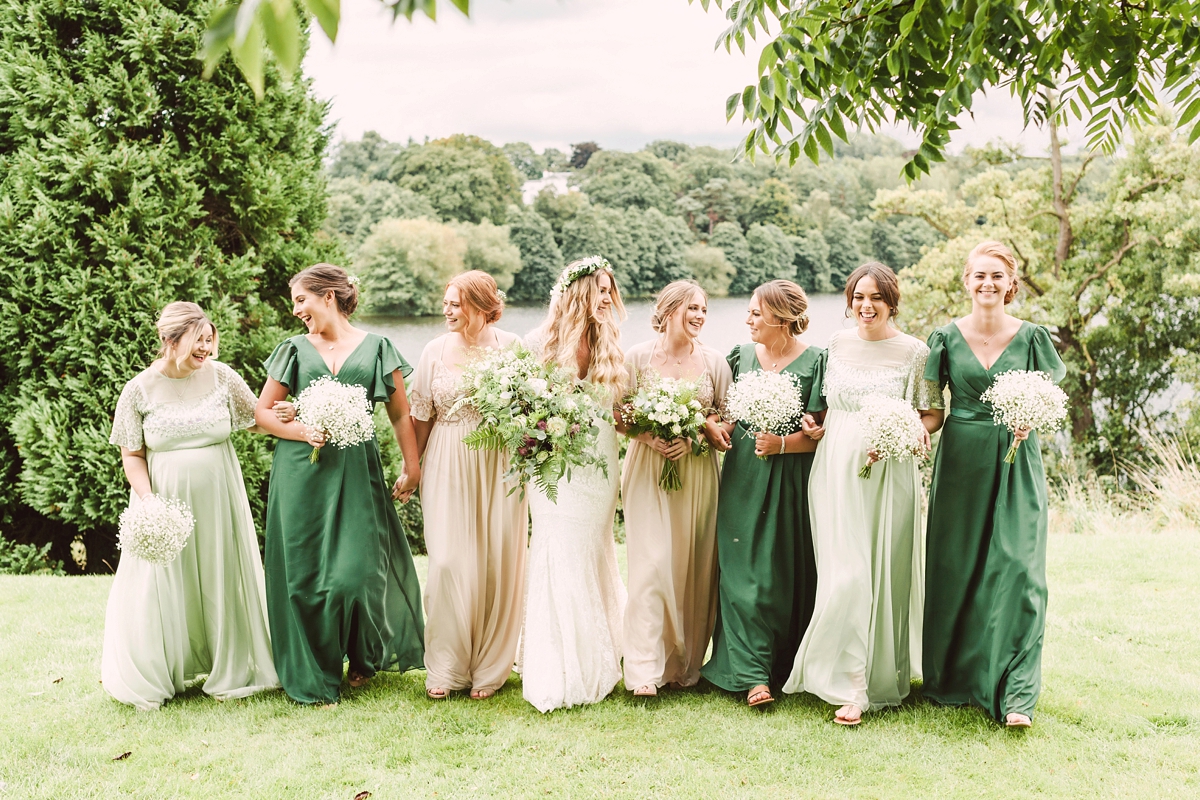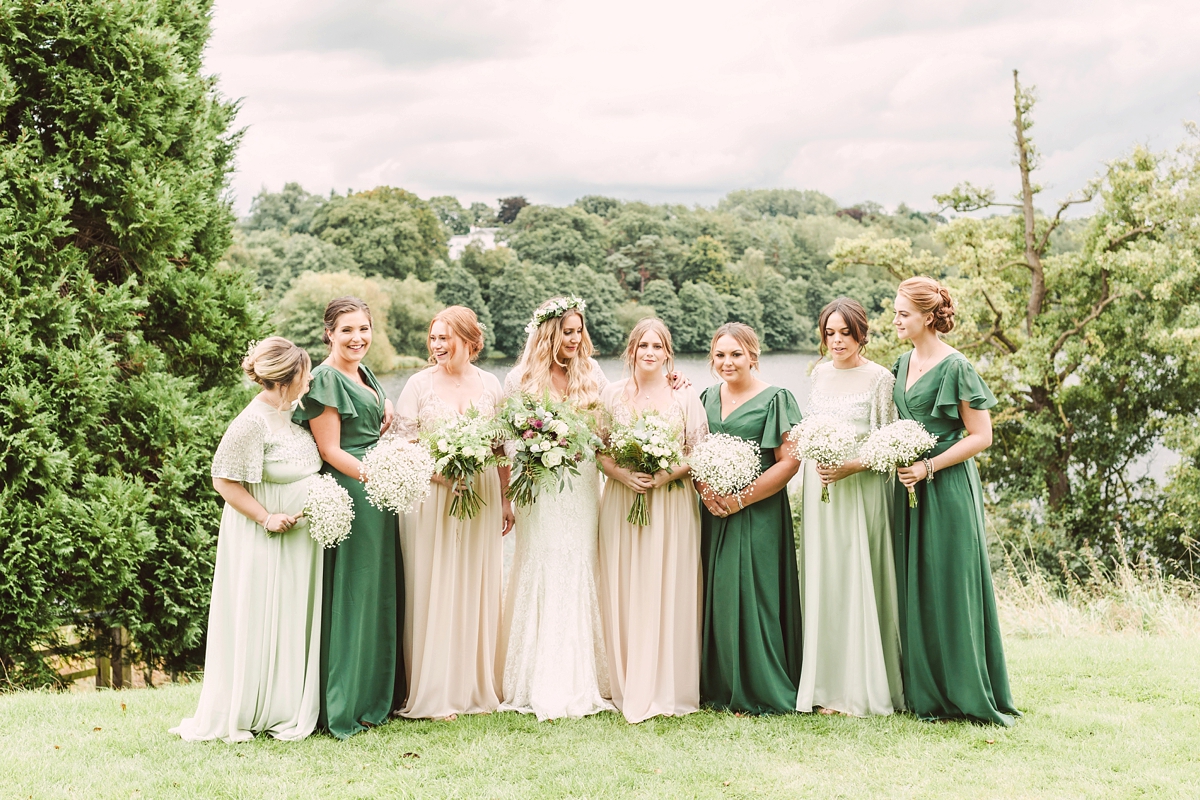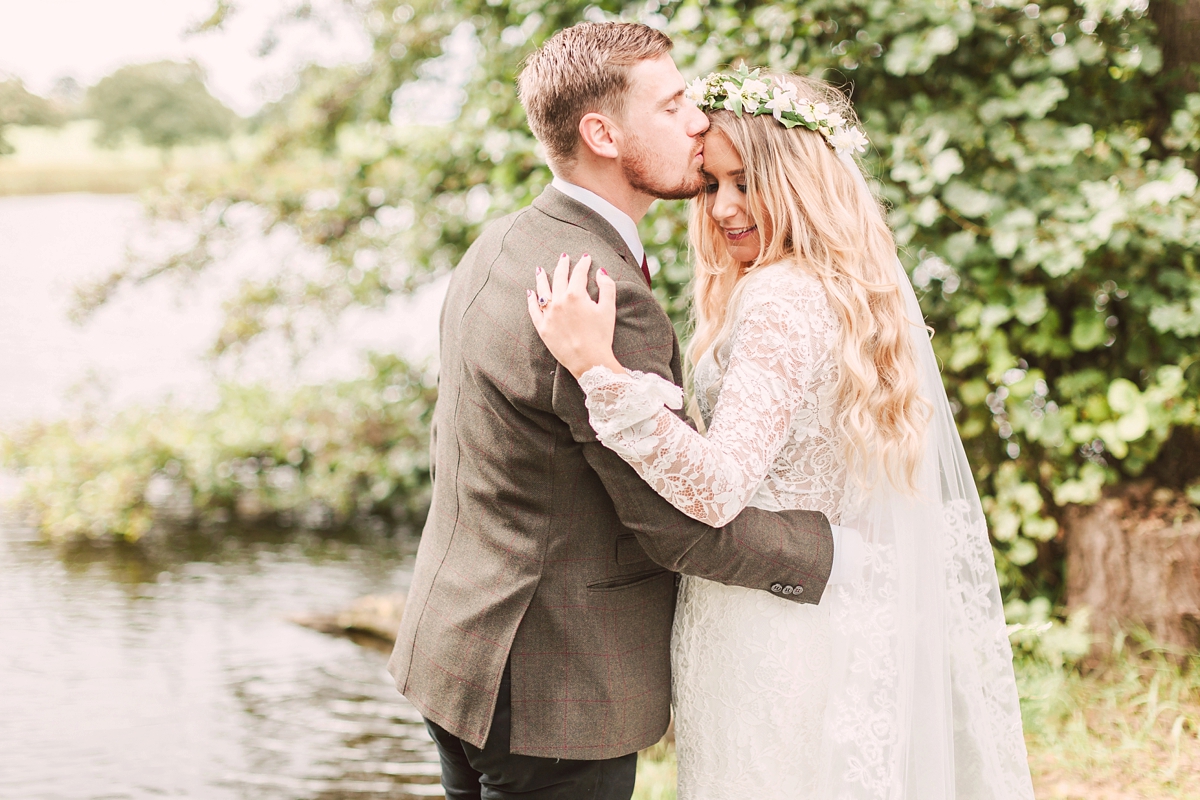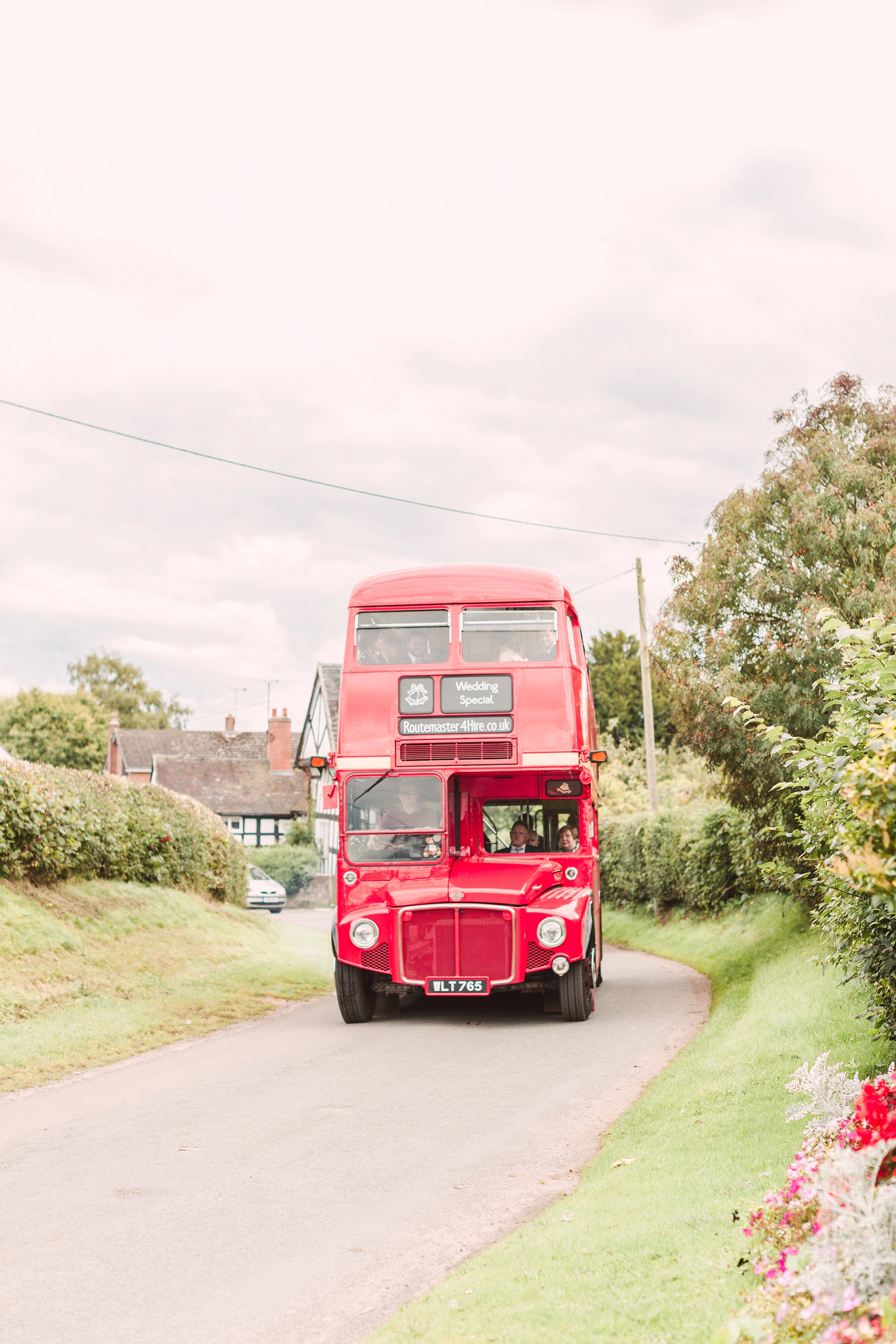 Following the ceremony the guests and the bride and groom were all transported from the church to the hall in a vintage red bus from Routemaster 4 Hire before heading inside to be greeted by the  breathtaking decor all created by the bride and groom themselves.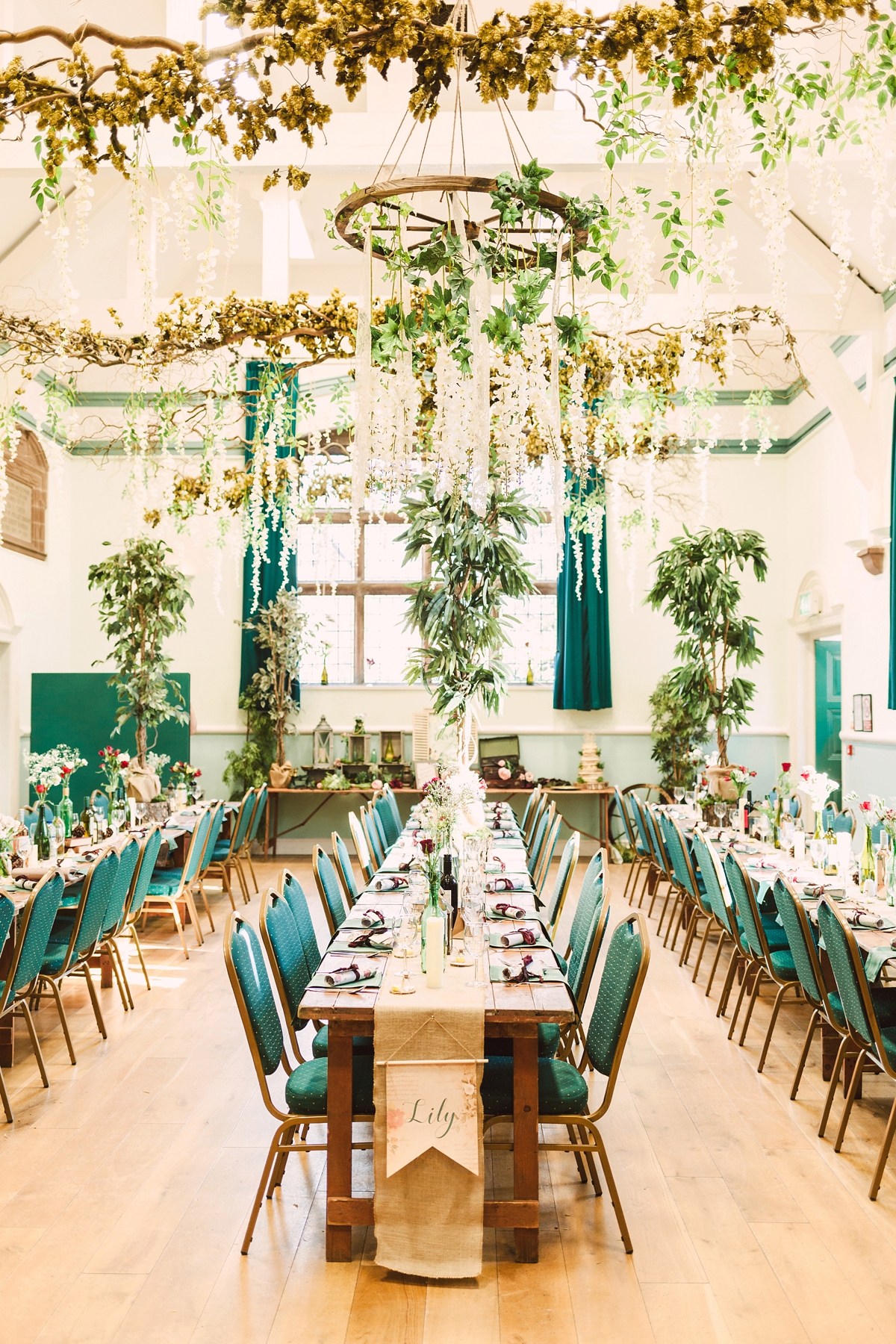 "We dressed and sourced everything you see in the hall ourselves. I wanted to create a magical canopy over the hall, using willow from a friends garden, hops from a farm in Devon and beautiful white wisteria. I also added large green trees on the table to add to the botanical theme."
"I collected things for months and had great fun searching charity shops, car boots and eBay for anything that fitted into my master plan. I had the whole hall planned out in my head for over a year, I was so happy it turned out exactly as I had imagined. At points it was difficult to picture how everything would look in place."
"When it comes to my botanical decor, my motto was definitely more is more! I couldn't have created the overall look without the help of my bridesmaids, family and friends the day before, and of course, my new husband who braved the great heights off the hall to hang the greenery."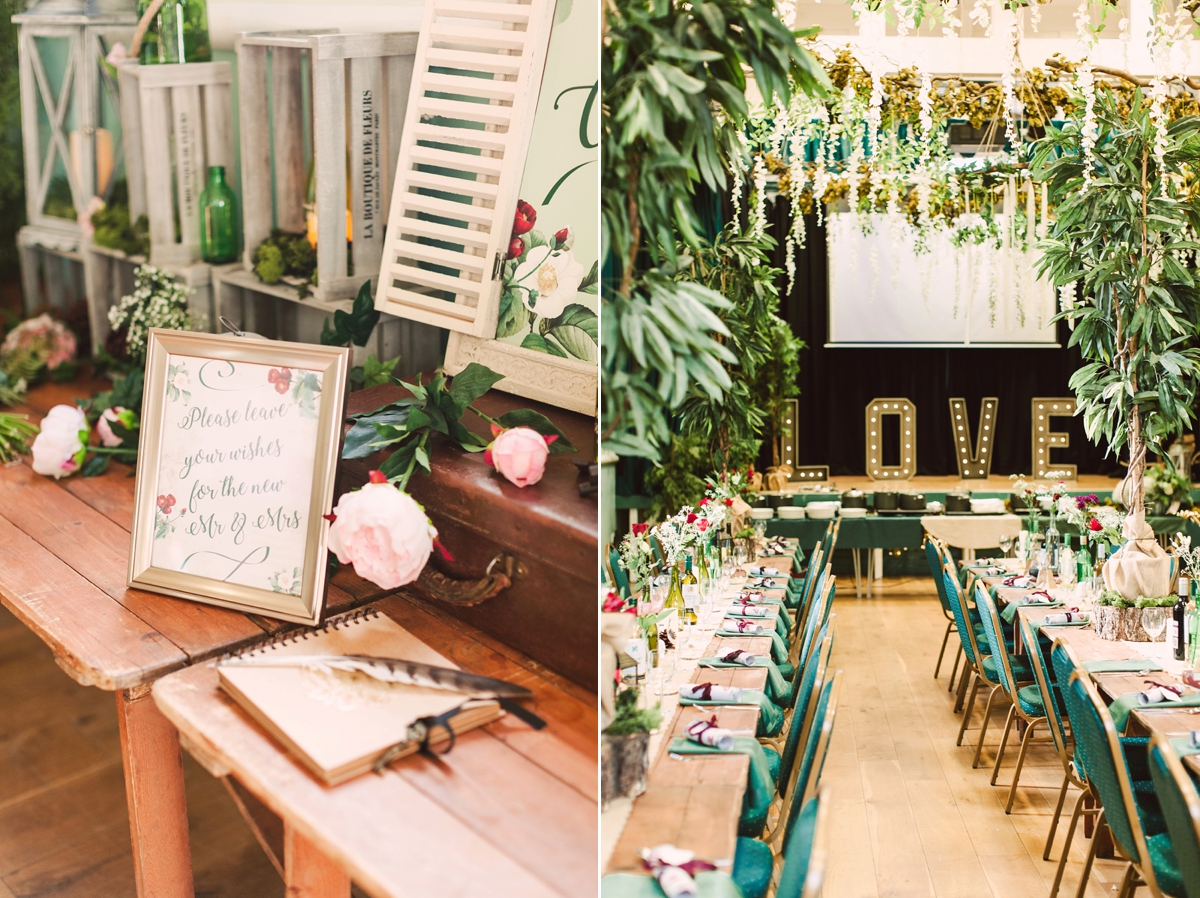 Guests were seated at long tables for the wedding breakfast which was catered by Pamela Cheshire Caterers.
"We wanted a relaxed atmosphere so went for a hot buffet where people could even have seconds if they wanted! We decided on great home cooked food and received lots of compliments from the guests."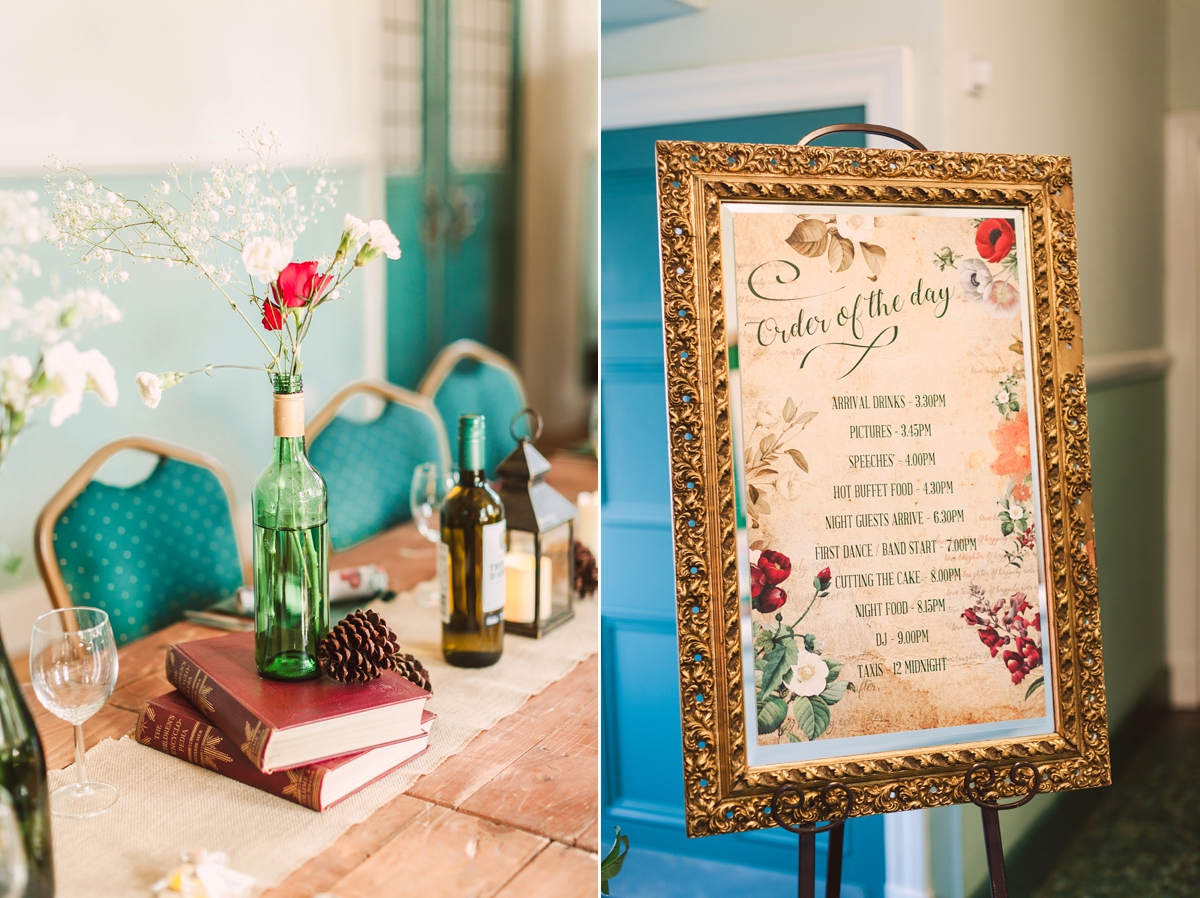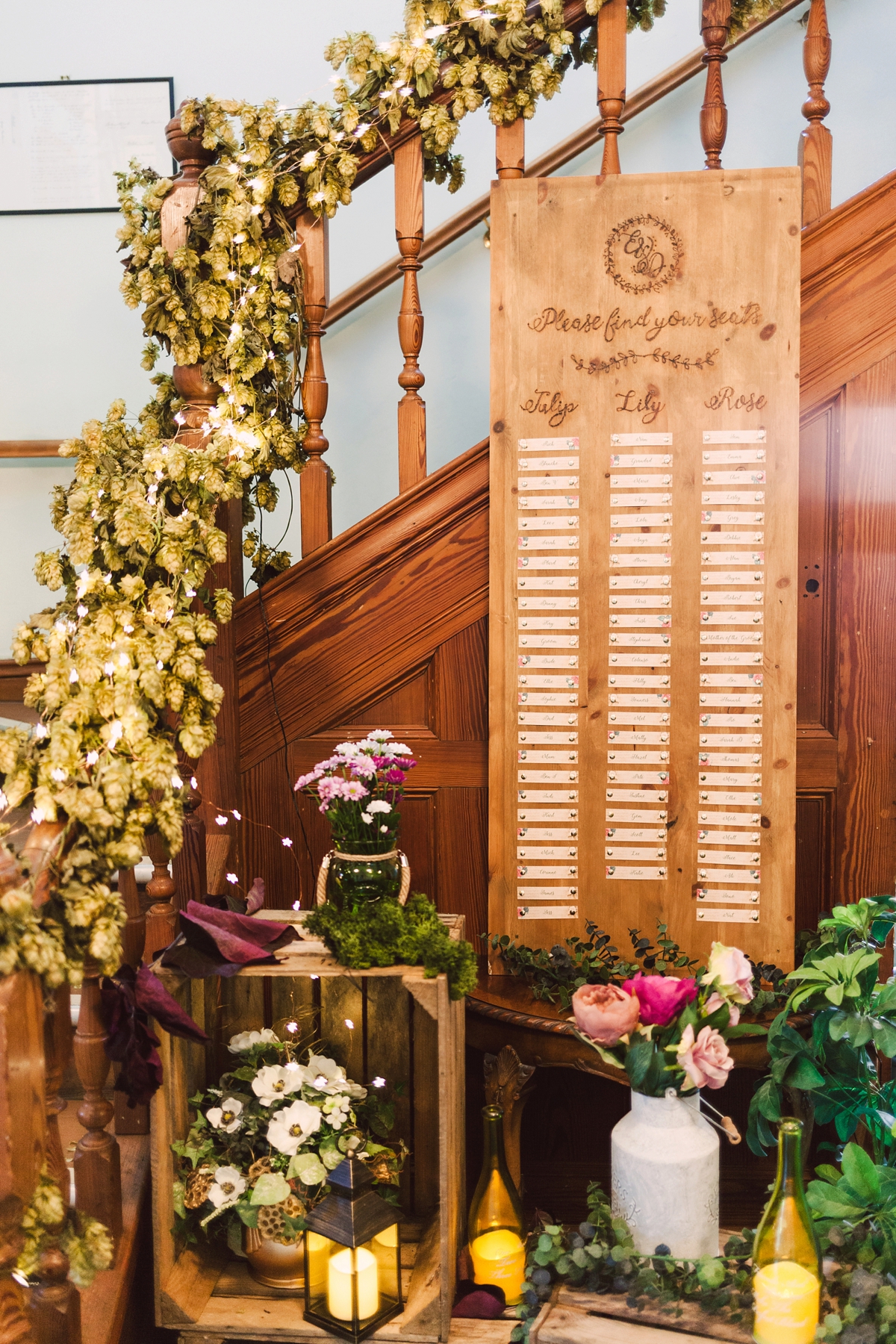 The favours were cork topped bottles filled with tequila, disguised as a love potion and the gorgeous 3-tier semi-naked cake was created by Emma's youngest sister and mums best friend.
"The cake tasted amazing! I wanted something simple but still in keeping with the style of the day. I decided on a 3-tier semi-naked cake with a thin buttercream, and added succulents for decoration. Having a homemade cake was another special extra to add to the day though we were having such a good time we almost forgot to cut it!"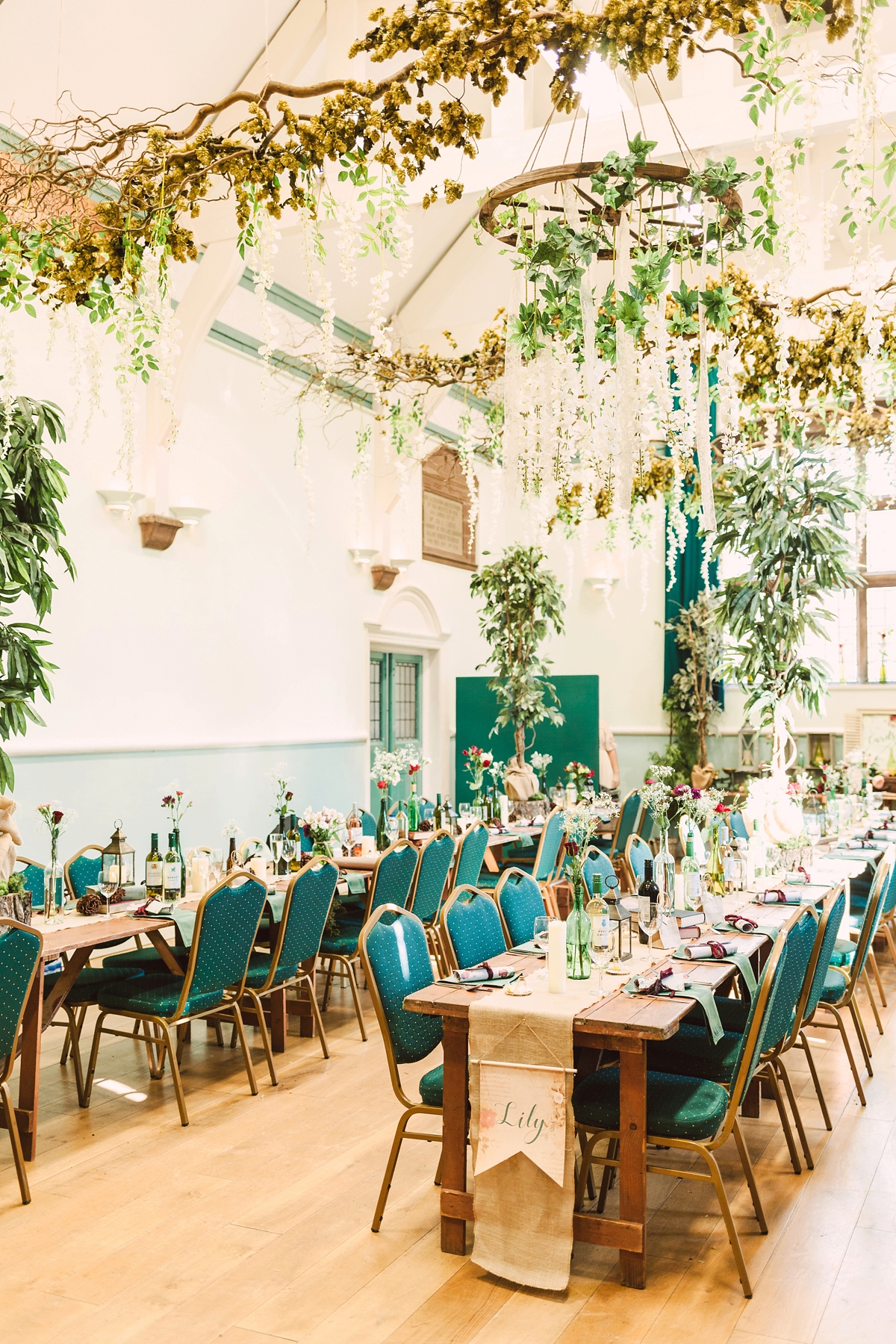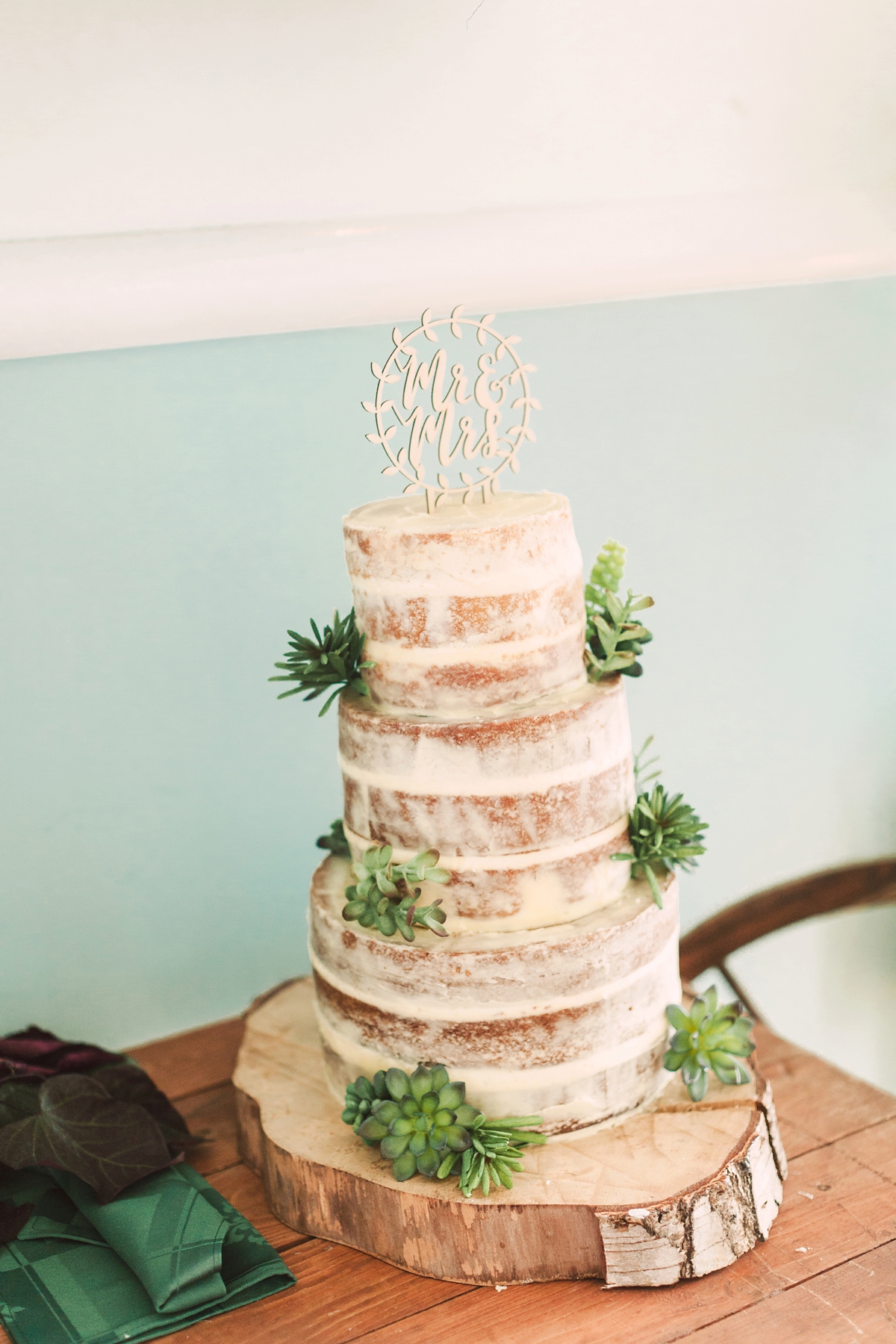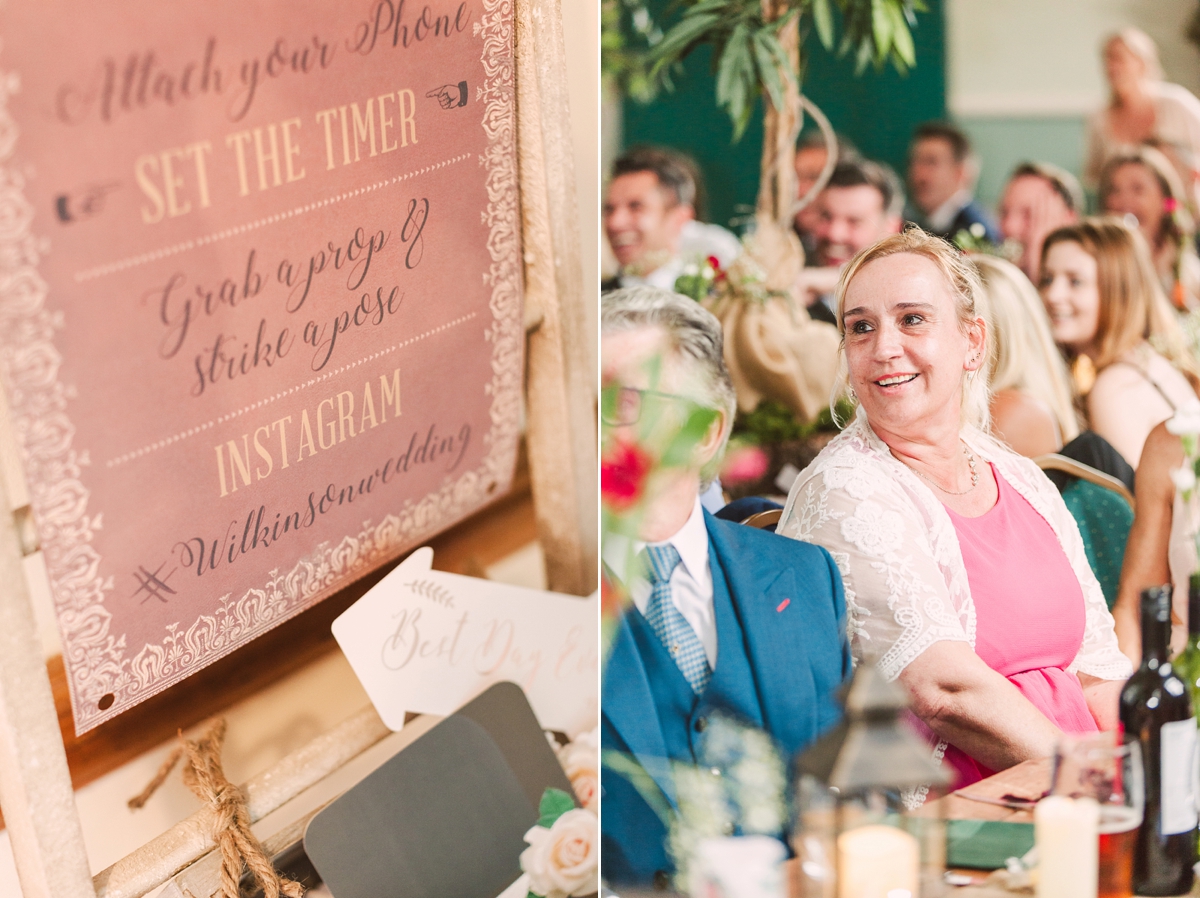 "After the wedding breakfast my dad did an amazing speech with a little film of all home videos when I was little growing up. I don't think there was a dry eye in the hall!"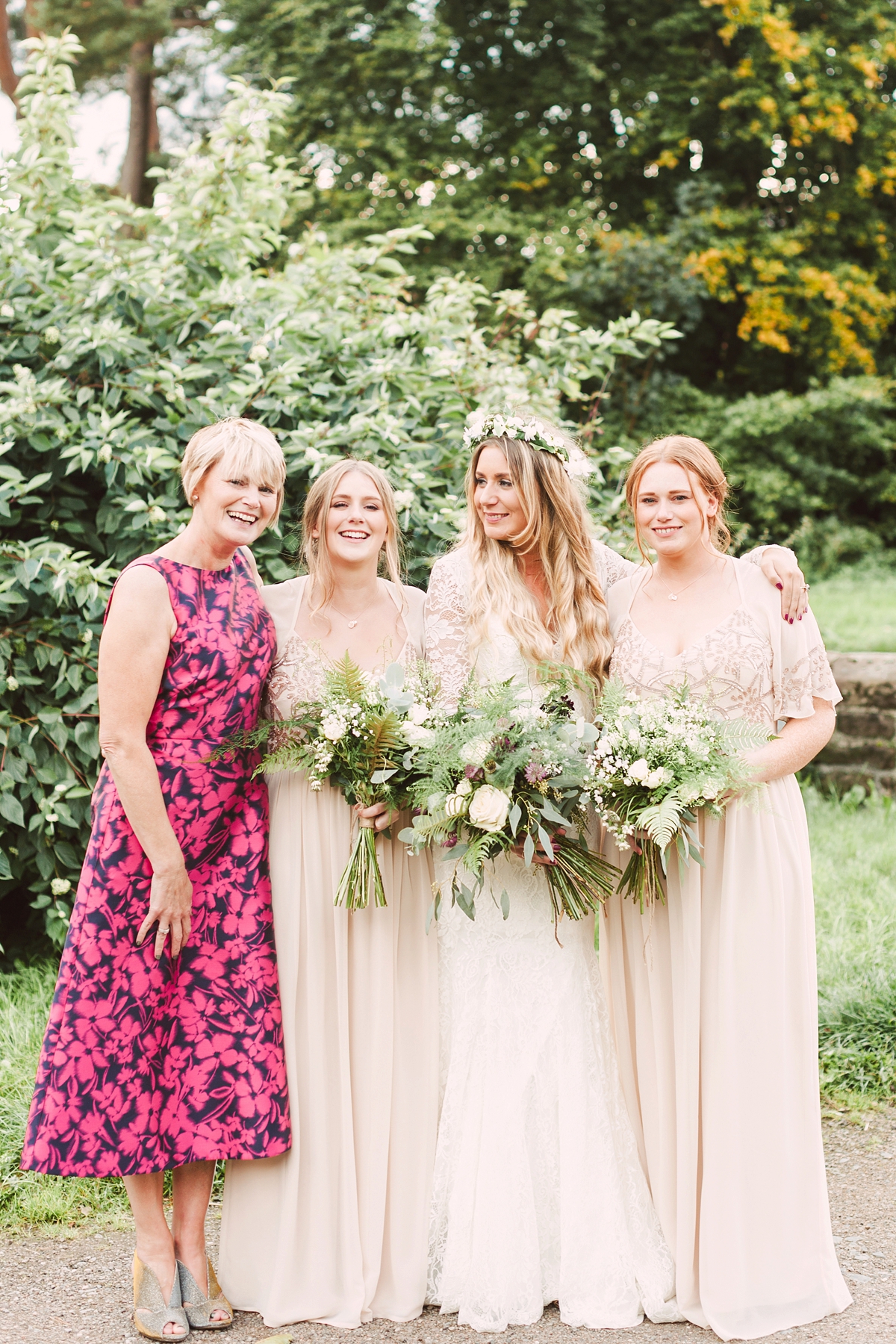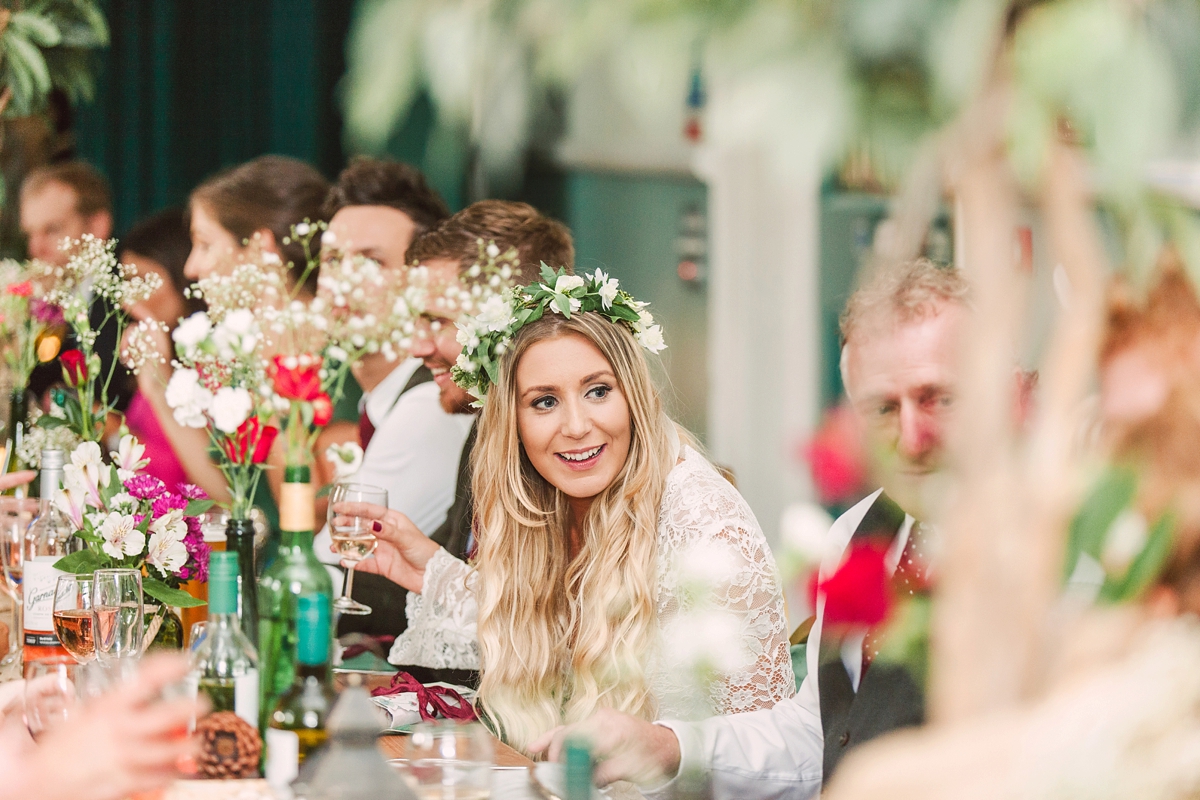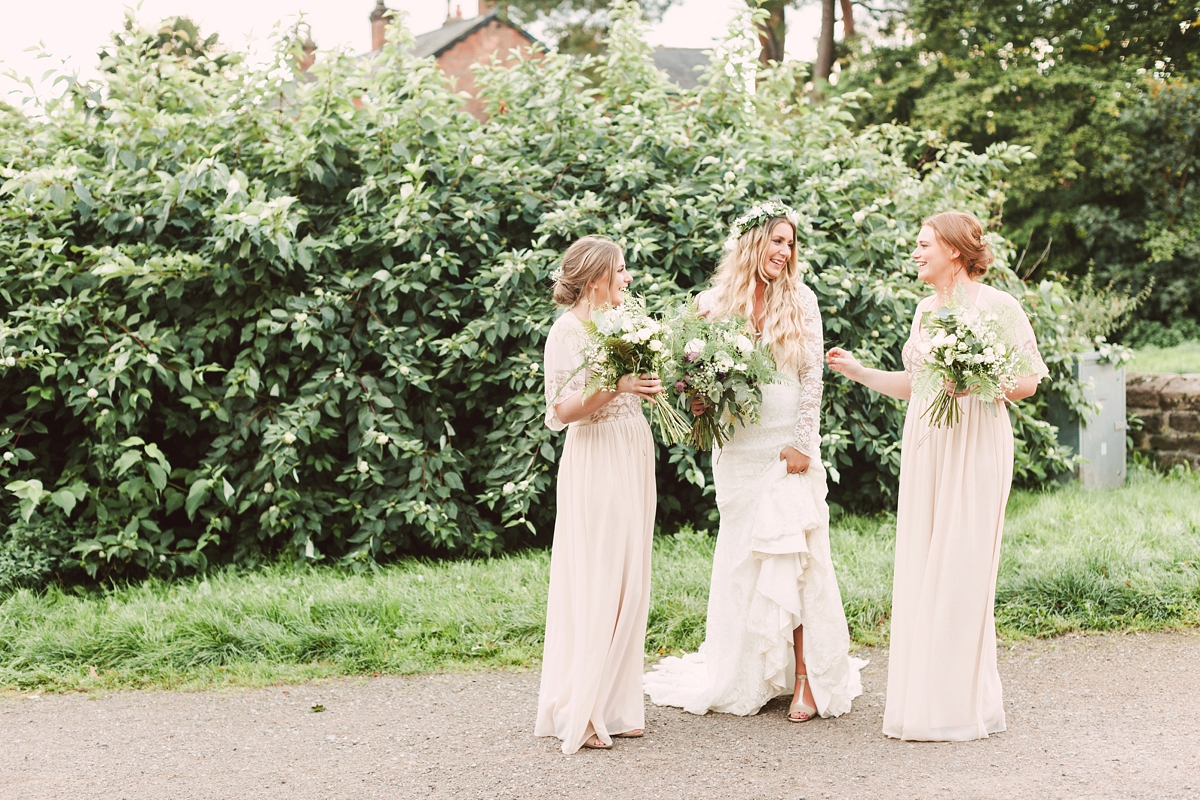 The couple then kicked off the evening with a first dance to Fast Cars by Tracey Chapman and You've Got The Love, both performed by Baxter the Band, who then carried on rocking the dance floor late into the night.
"Baxter the band were one of the highlights of the day. They were great fun and really got the guests in full party mode. They're a great local band too and we spent the year before the wedding going to their gigs as often as we could. They really got everyone on the dance floor and Hayley and Paul from the band perform a drinking song where everyone joins in which was one of my highlights!"
"Looking back on the day, the only thing I always say to brides to be is if I could do it again, I'd have a greeting line. I know our day wasn't formal, but on occasions I was worried I hadn't said hello to all our guests (as I was too busy dancing!)."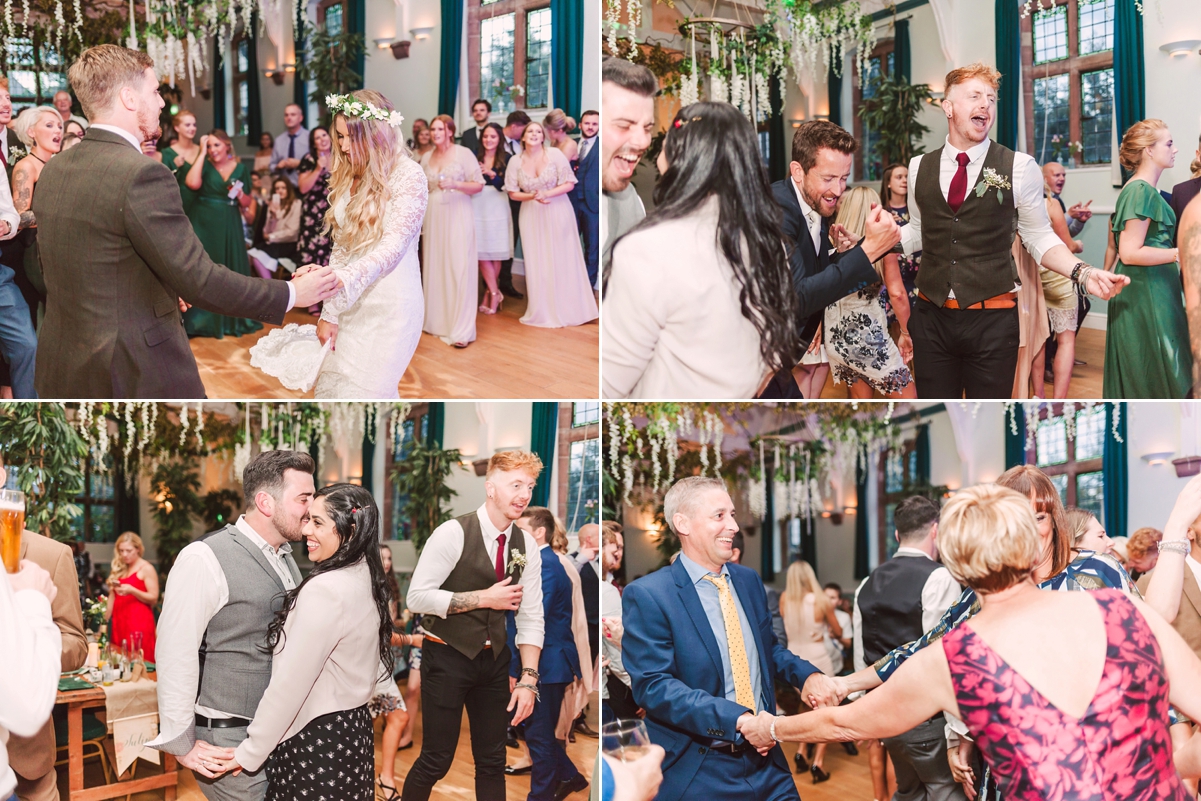 Words Of Wedded Wisdom
"It might sound a bit soppy but after seeing a lot of weddings due to my job, I think you can sometimes get carried away with what you think you should do on your wedding day, rather than what feels right for you as a couple. My advice would be to choose things that matter to you both personally. Part of the enjoyment for us was dressing the room and having a big relaxed party, rather than spending tens of thousands of pounds on something over formal."
"I would also say enjoy the run up to the wedding as much as you can, and relax, dance and take a few minutes to take it all in."
What a wonderful day, with props to the bride for creating such a gorgeous reception venue all with her very own hands. A huge congratulations to the newlyweds and a big thank you to photographer Christina Sarah for capturing all of the colour pops of green and the emotions of the day so perfectly.
Until next time…
Much love,
Holly x