Dear Readers, I hope you're having a great week so far! I'm gearing up for a fun few weeks with friends getting married and a summer holiday to look forward to – it's going to be great.
Today's wedding, takes us back to autumn and a gorgeous south London celebration that was intimate and relaxed, with a seasonal colour palette of deep green and a lovely pub reception.
Graphic designers Mr and Mrs Barrow were married on the 3 October 2016 in a ceremony at Asylum Chapel in Peckham, followed by a reception at the East Dulwich Tavern.  As the couple live in London, they also wanted their wedding to be held in the capital, and found the incredible setting of the Asylum Chapel with its history and atmospheric interior and weathered beauty to be perfect for the kind of celebration they wanted. They also took inspiration for the whole of their day from the chapel too.
"I really liked the idea of having a lot of greenery so dark green was definitely a running theme. We also wanted a really down to earth pub reception so the interiors of the pub really set that as well."
Images by AW Wedding Photography.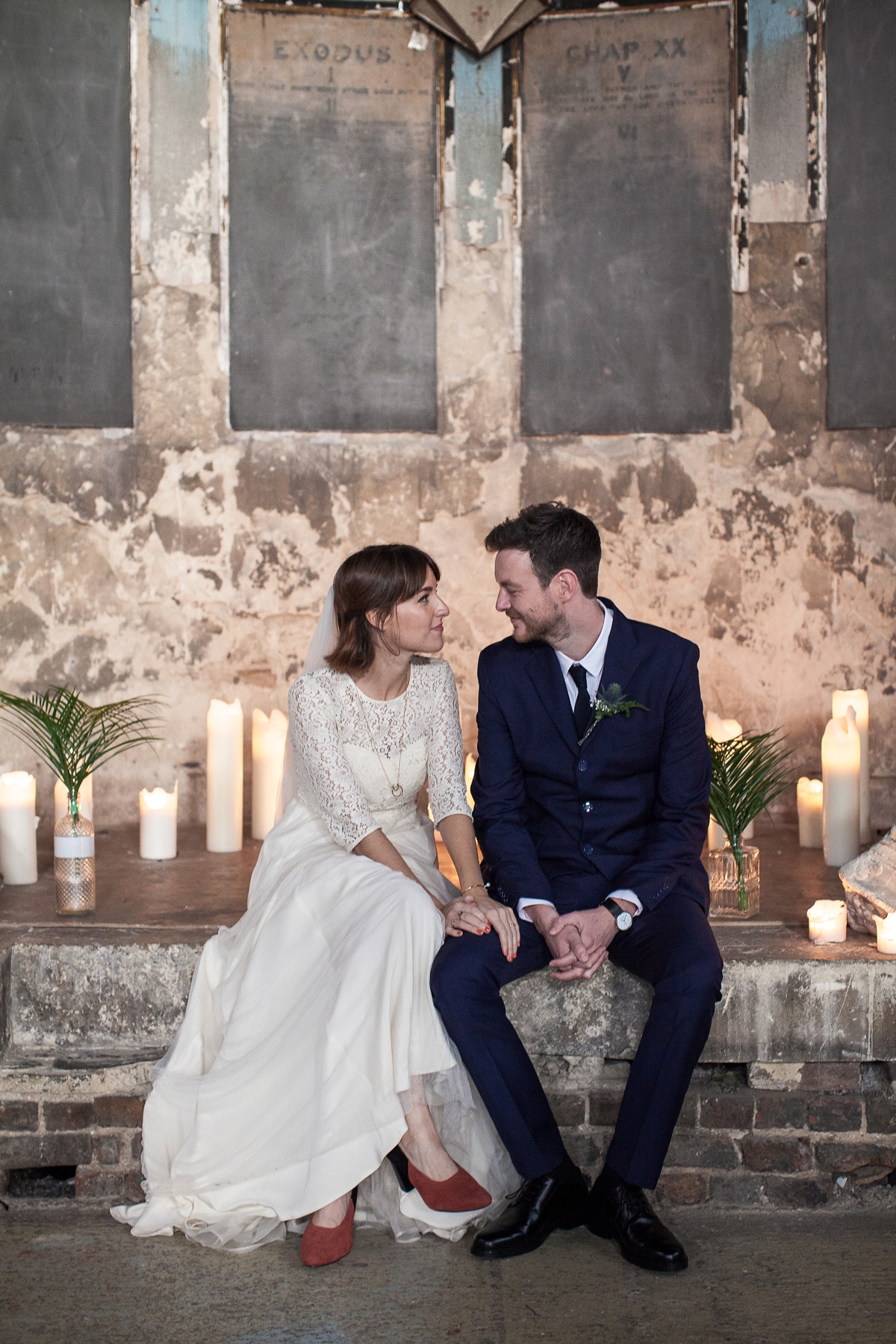 Mrs Barrow wore an elegant and simple dress with an empire line sweetheart bodice from the brilliant Charlie Brear, and over it, a delicate three-quarter length sleeved lace top from Zara.
"I just loved the fabric and the cut and how it hung from the waist. I paired the dress up with a top from Zara."Mrs Barrow did her own hair and make up, and I love the choice of bright red-orange lipstick! She also added a pretty veil with scalloped edging, also from Charlie Brear.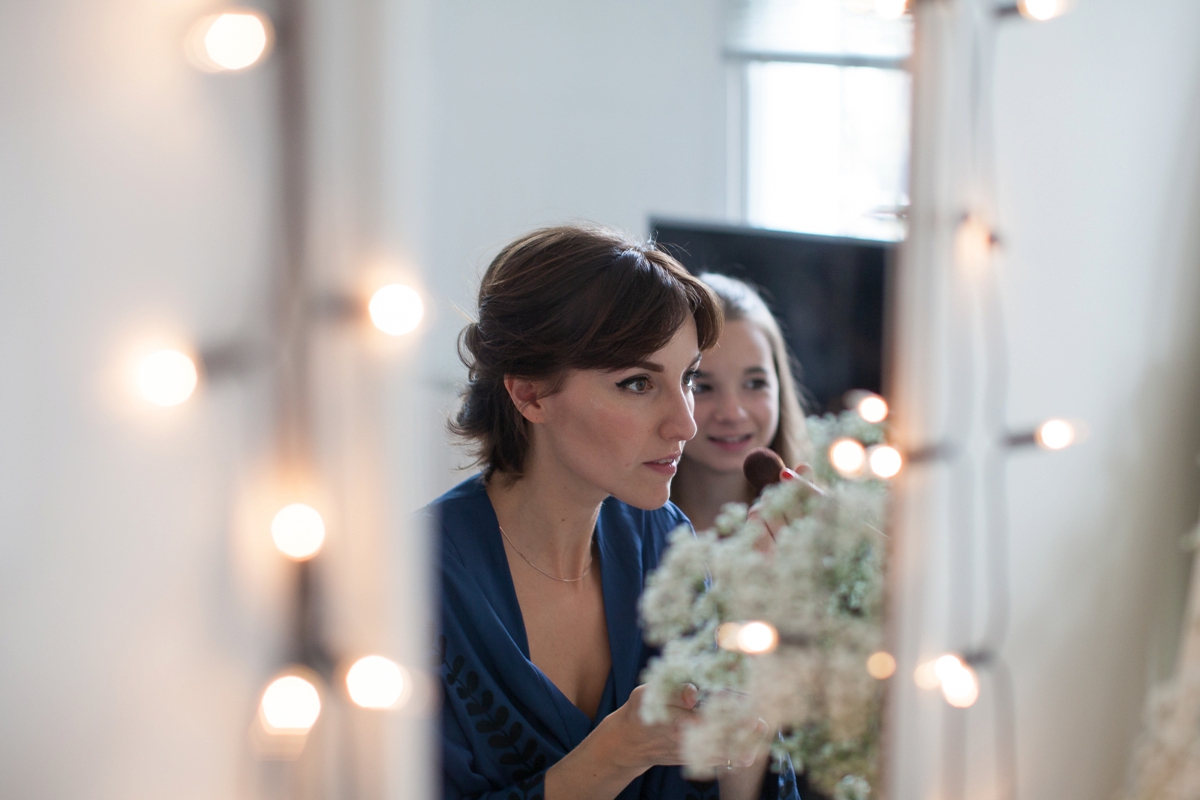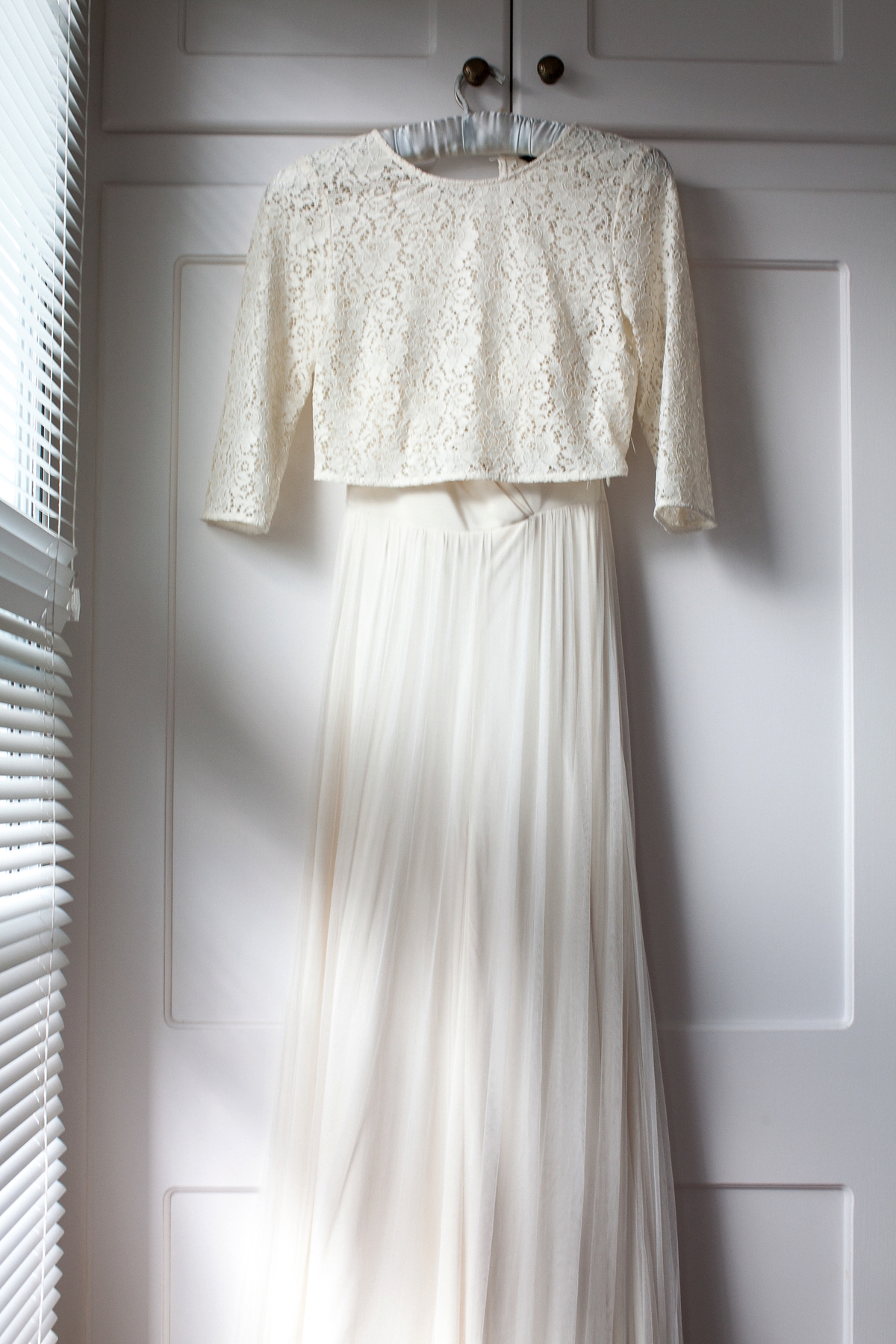 Orange shoes from & Other Stories provided a pop of autumnal colour, as well as contemporary gold jewellery – a long necklace, bracelet and earrings from Whistles.
Mr Barrow wore a smart navy blue suit from Acne Studios with a matching tie and black shoes.
"We met ten years ago when we lived in Brighton. We met in a club, which was quite random and after instantly getting on moved in with each other about a month later, and we've lived together ever since. We had been engaged for two years before we got married. We got engaged in Barcelona on my birthday in August."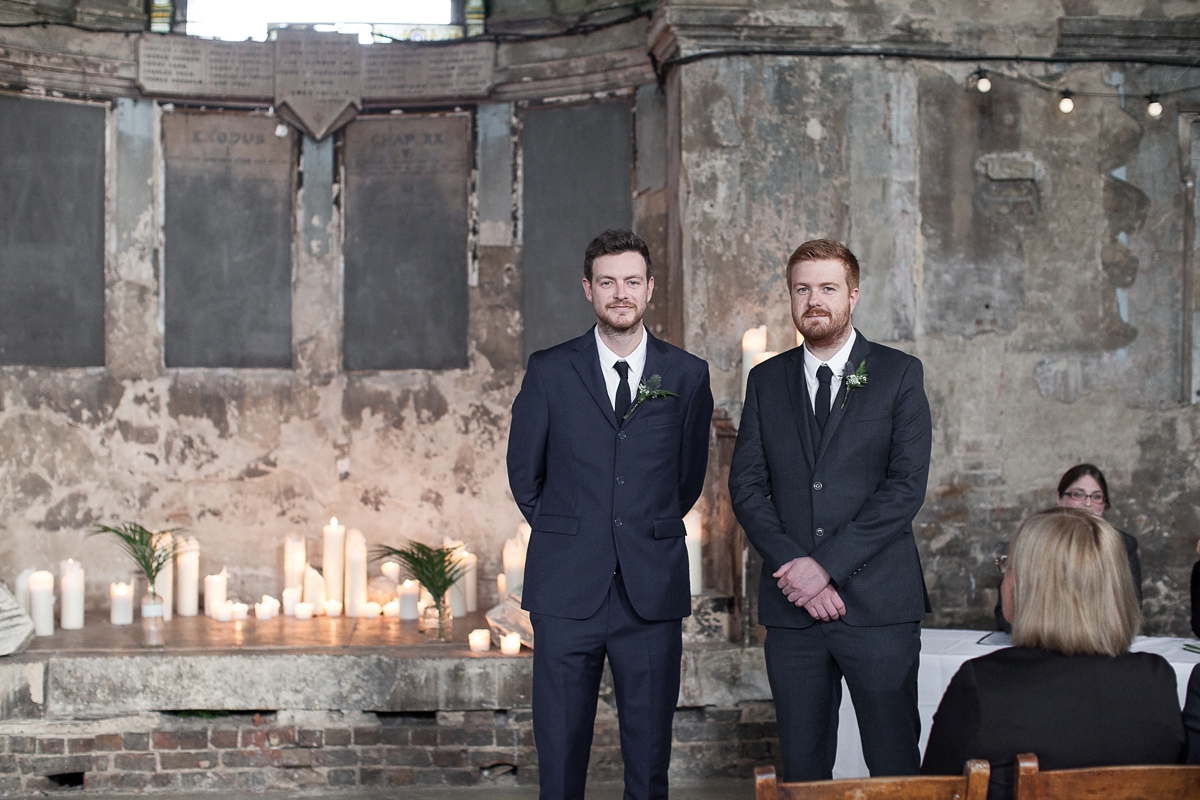 Accompanied by her dad, Mrs Barrow walked down the aisle to the sound of Postcards From Italy by Beirut. They said their vows to one another, surrounded by loved ones and with the glow of lots of beautiful pillar candles in the Chapel. They exchanged rings, which they had purchased from the same Richmond-based jeweller that the bride's parents had bought theirs from.
Hitchhiker's Guide to the Galaxy by Douglas Adams is a shared favourite of the couple, and so they chose a reading from So Long And Thanks For All The Fish. Their second reading was John Cooper Clarke's brilliant I Wanna Be Yours.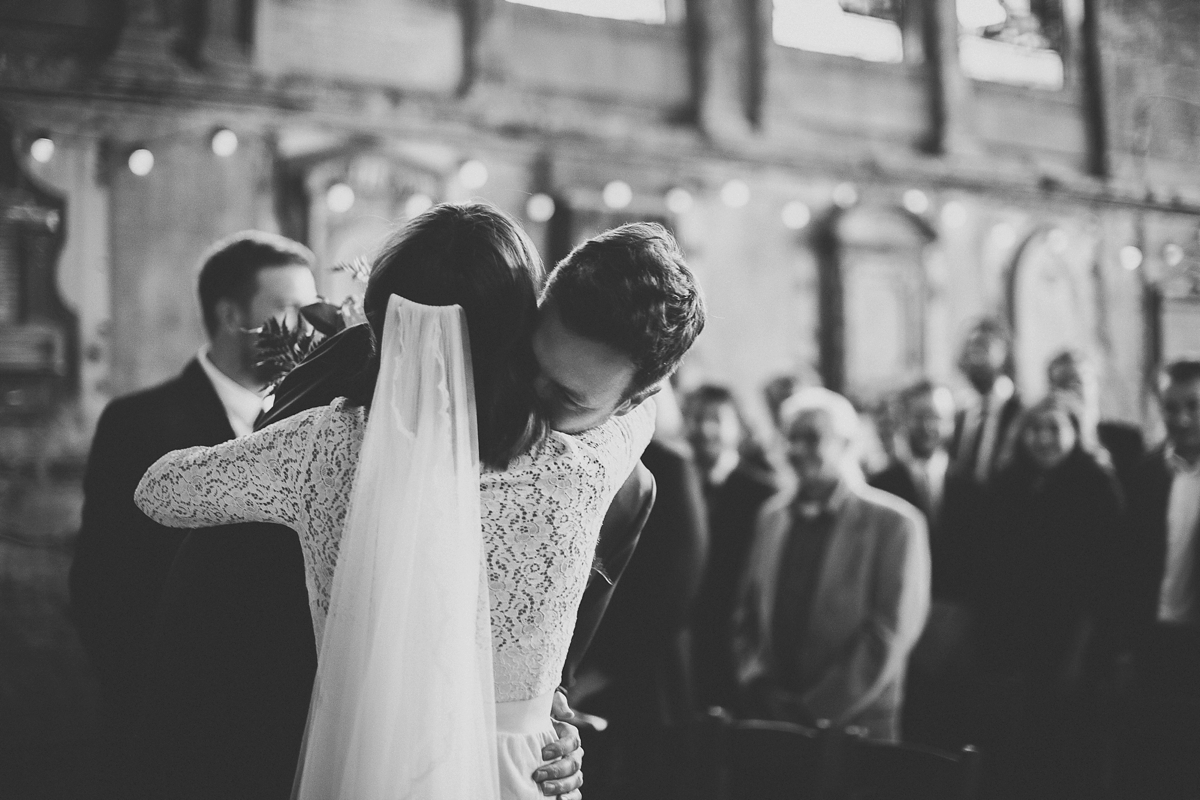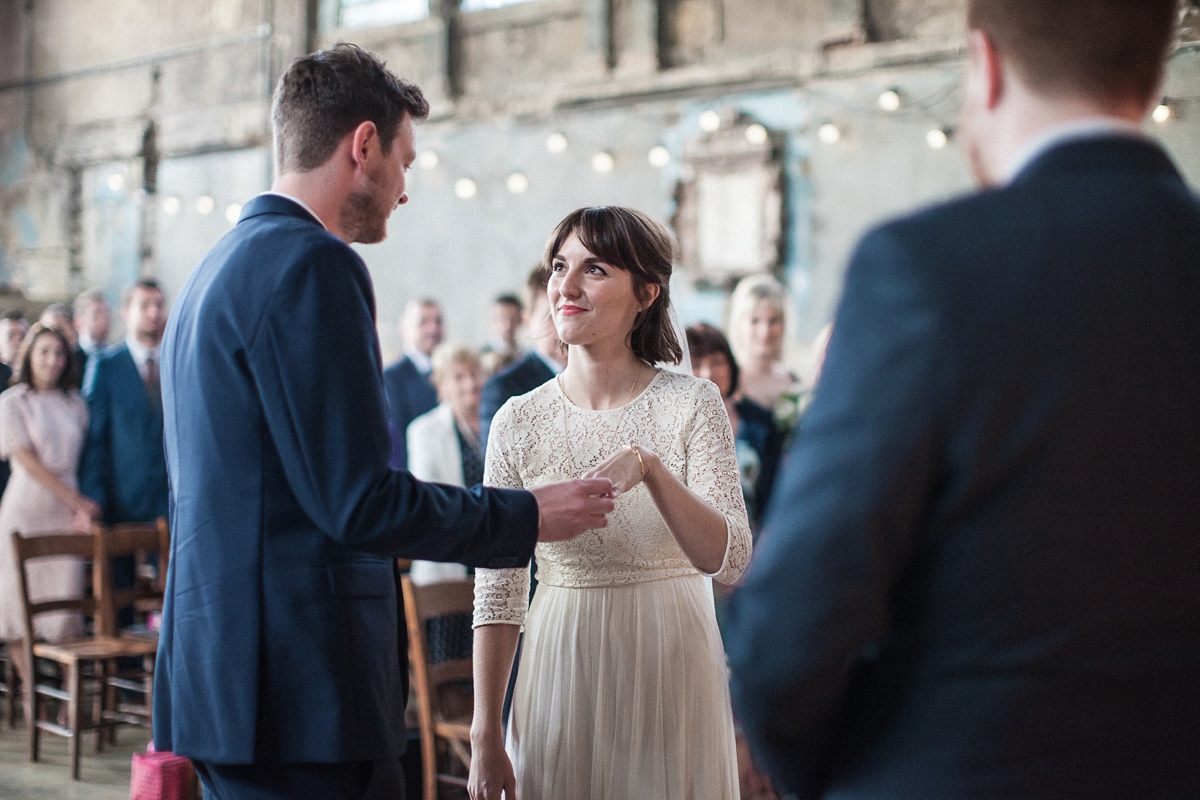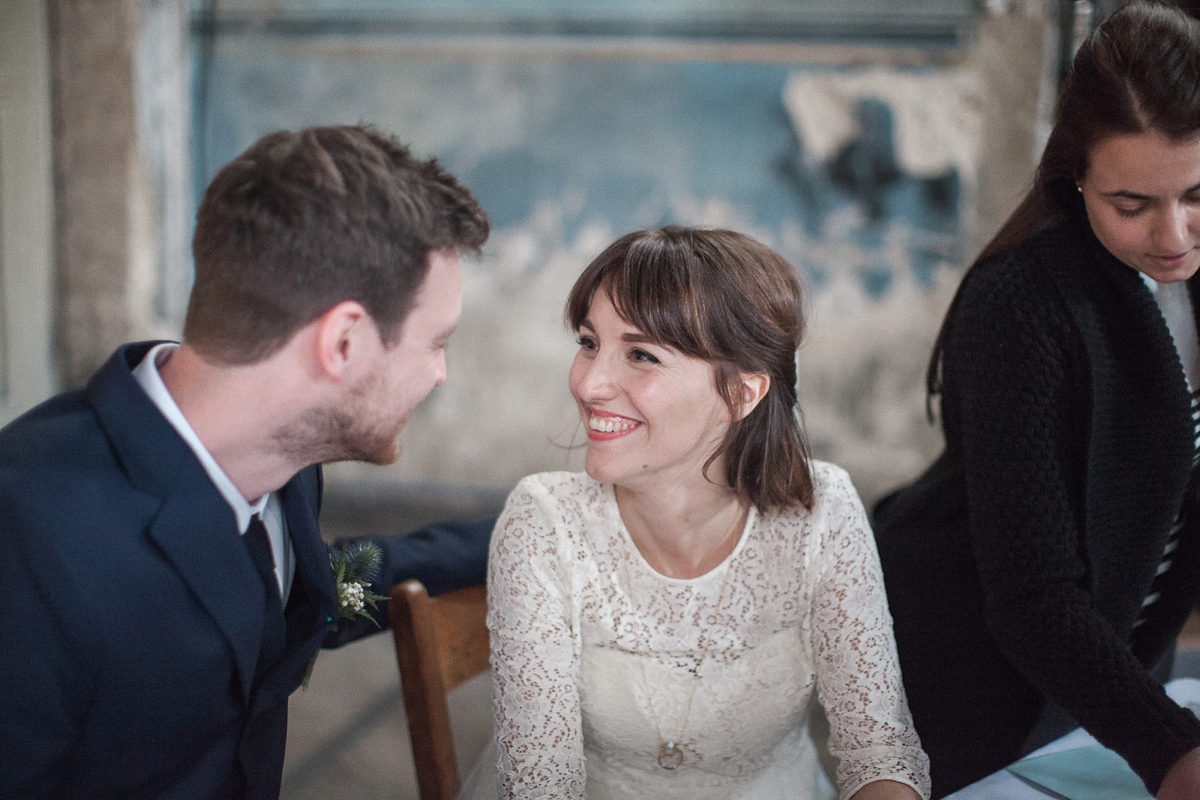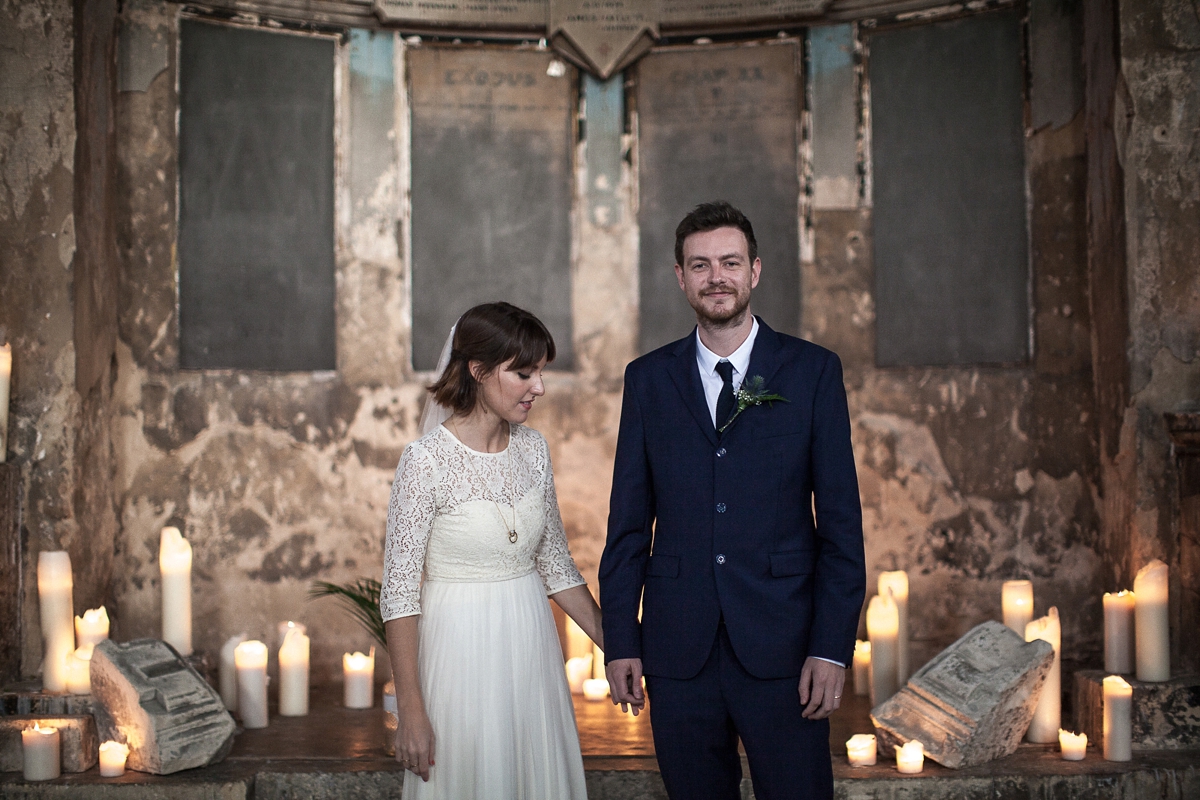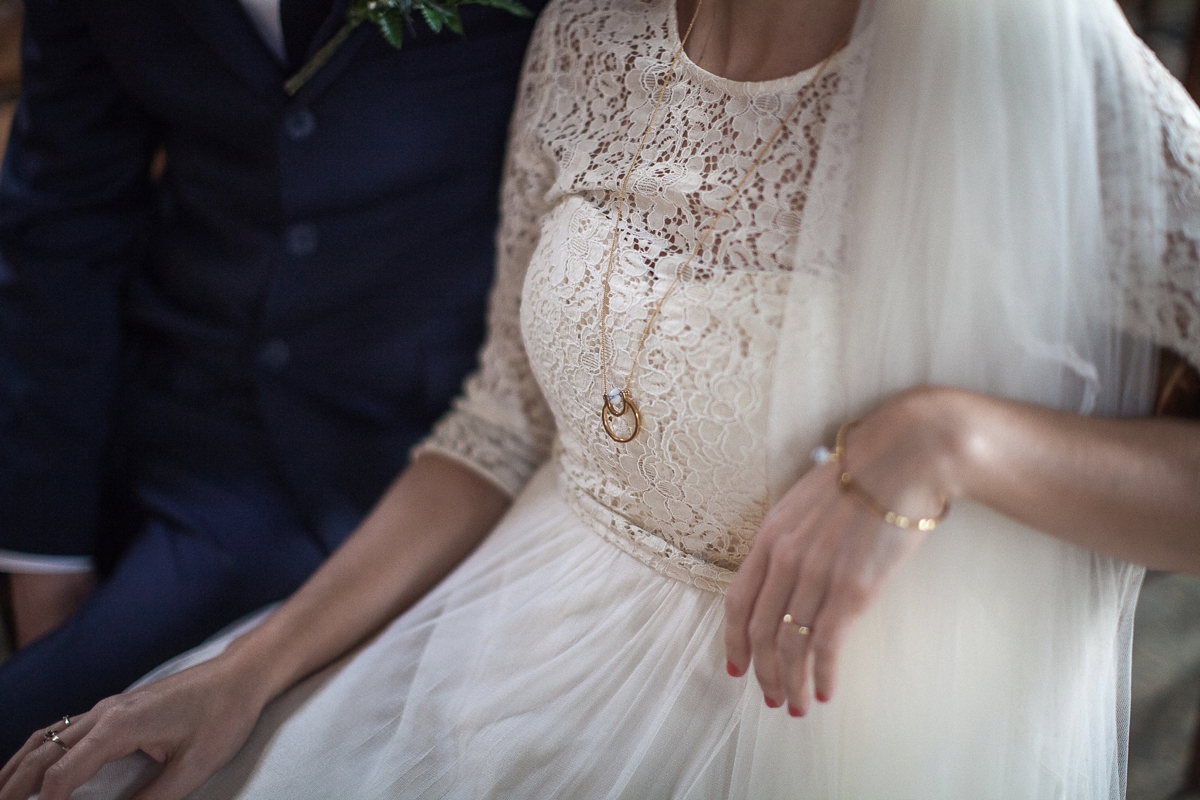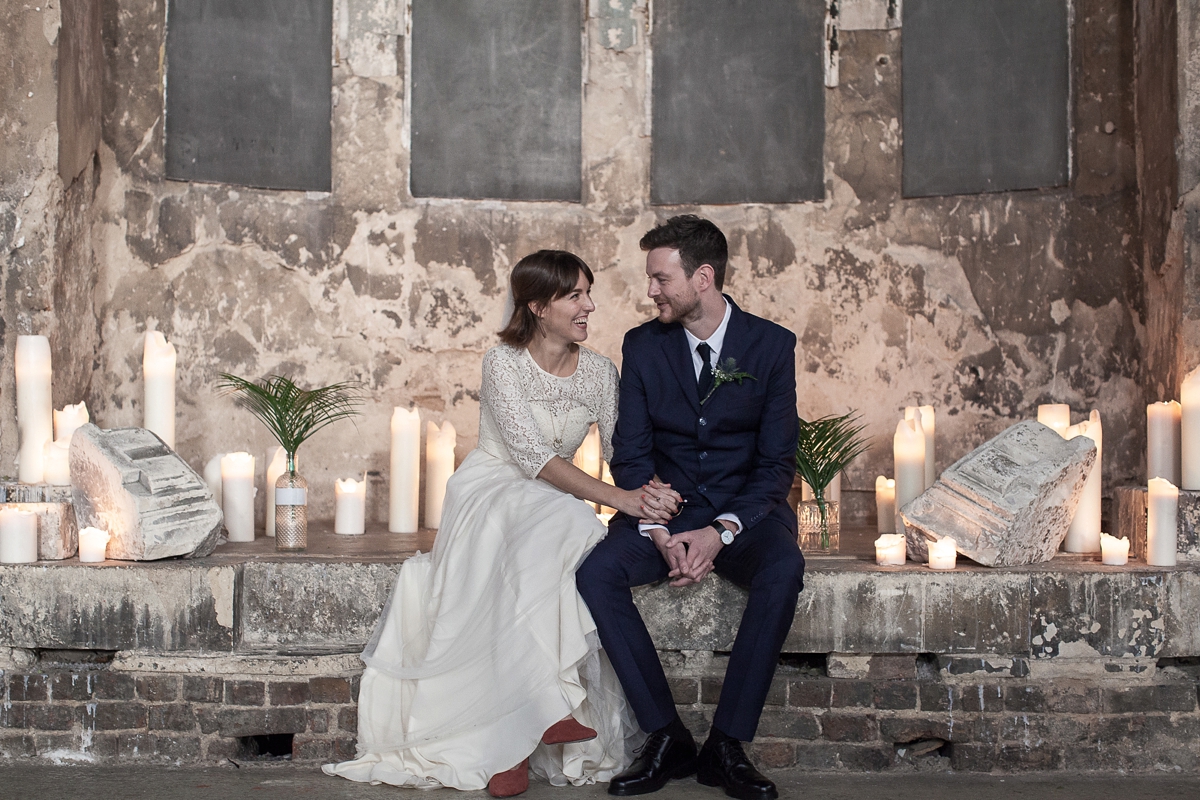 The couple chose Adele of AW Wedding Photography to capture the magic and intimacy of their day, and so she did with a wonderfully relaxed and natural set of images.
"Adele was absolutely amazing, she was so friendly and welcoming, put everyone at ease, organised everybody really well, and most of all took incredible photographs that truly represented the atmosphere of the wedding. The results were absolutely fantastic!"
The bridesmaids looked lovely in champagne coloured skirts and tops in a deep, forest green from & Other Stories with their own sandals.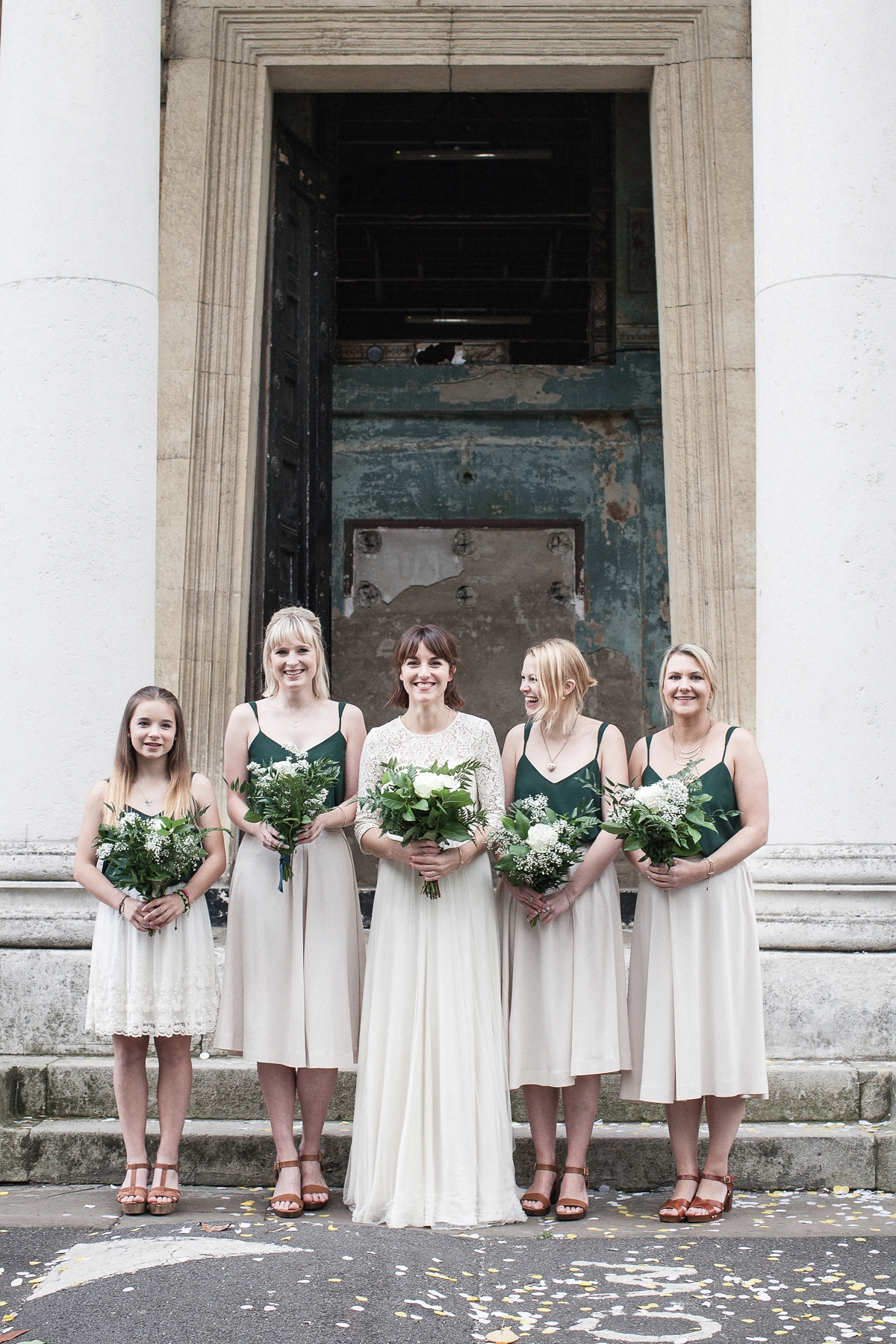 Mrs Barrow turned her design talent to the floral arrangements for the day, choosing lots of ferns, palm leaves and other foliage, gypsophila, thistles and luxurious avalanche roses.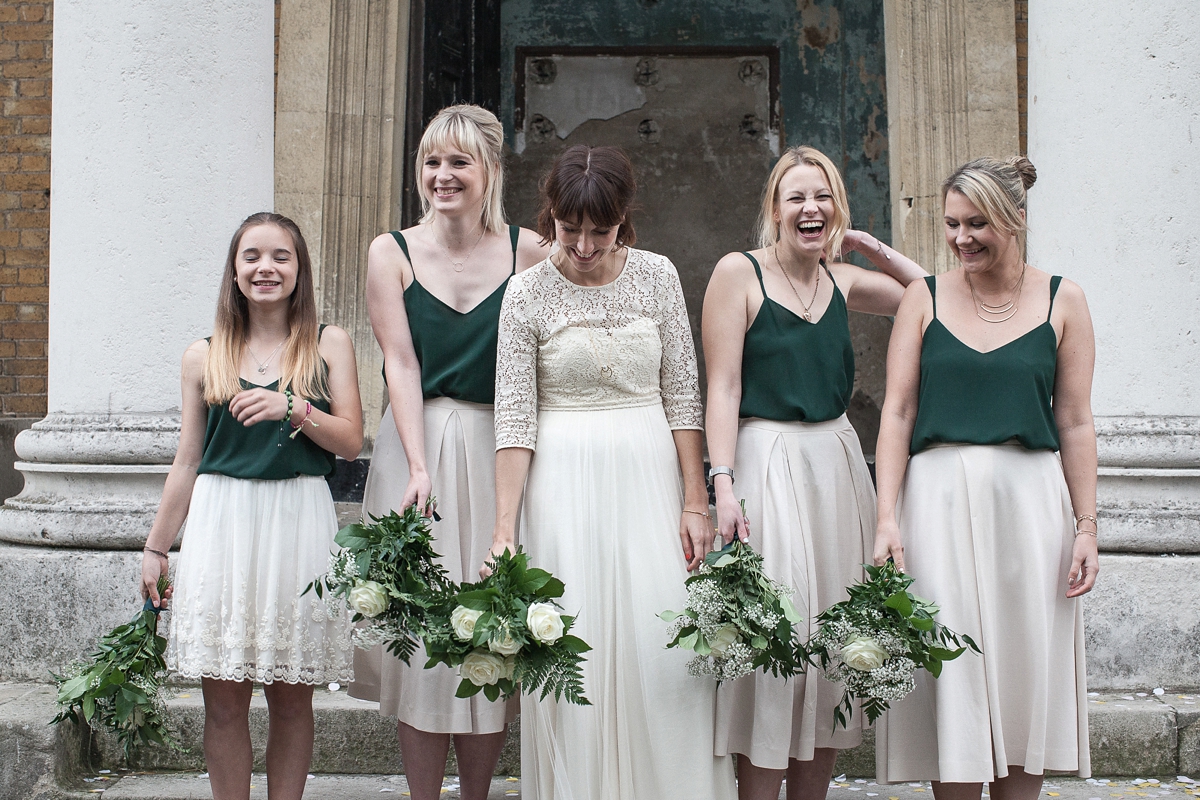 After the ceremony there were drinks and canapes followed by a meal at the East Dulwich Tavern. In the cosy pub room, long tables were decorated with pretty vases of flowers and greenery, and jewellery favours from & Other Stories.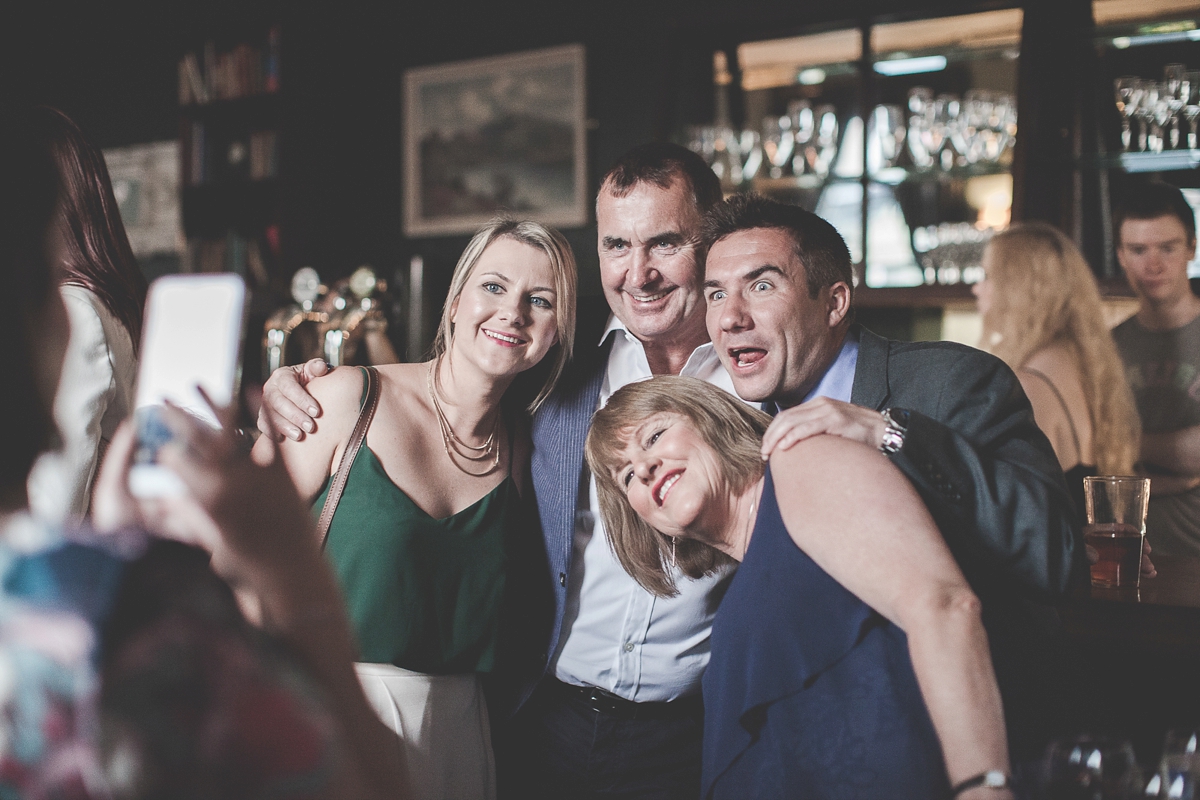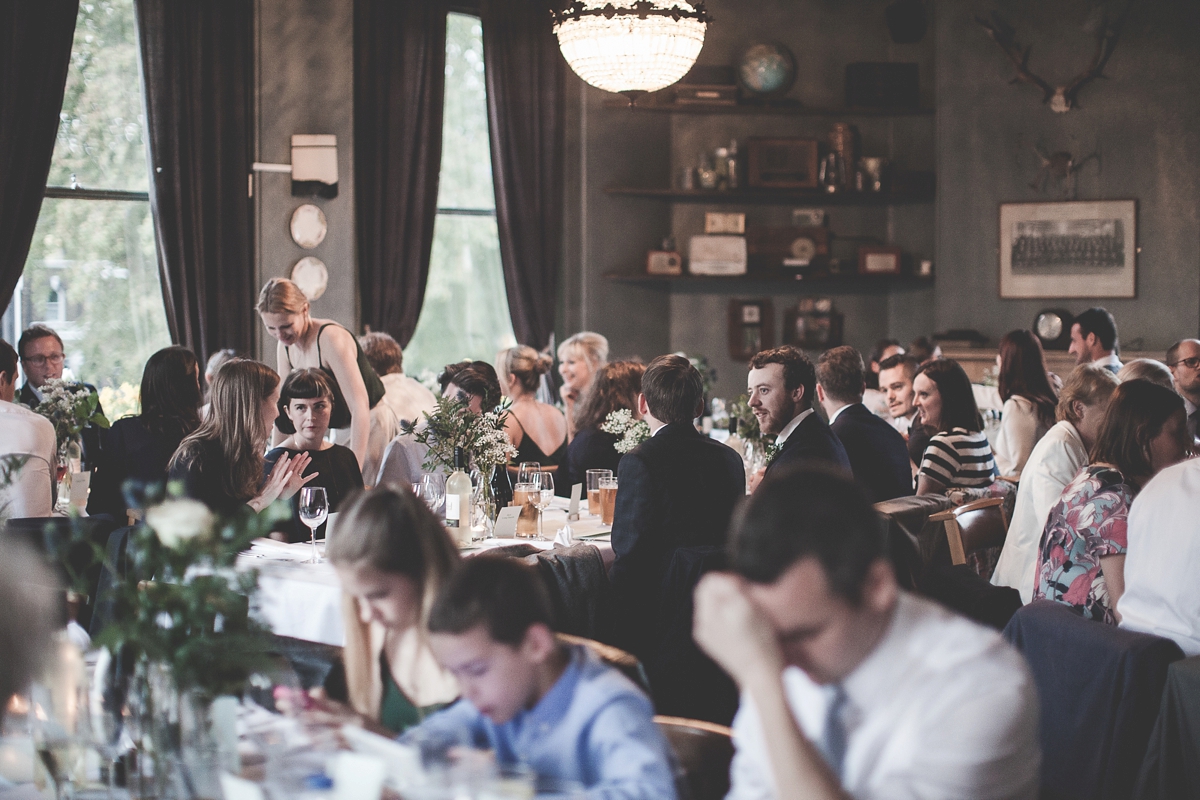 "My friend Hannah made the cake. It was a naked sponge with cream and lots of fruit and decorated with flowers. We just wanted a simple cake that was very tasty!
Words of Wedded Wisdom
"Enjoy it. It's not really that stressful. Just give yourself plenty of time. Do a timeline of the whole day so you know exactly what is happening."
"If you're on a budget … then go to a sample sale to actually get the dress. Obviously this is trickier if you have an exact dress in mind but if you are just aware of style then it's a really good way of getting a good deal."
"We had a friend use a Polaroid camera during the reception– it was really nice to get instant images and a nice addition to the photographs."
"We bought our own canapes and prosecco from M&S for after the ceremony (whilst we were having our photos done), but stupidly thought everyone would have just 1/2 glasses, but within about 20 minutes we'd run out. Luckily our friend ran down to the newsagent and bought another 5/6 bottles. Never underestimate how much people will drink! And don't forget soft drinks!"
Thank you so much Mr and Mrs Barrow, for your sweet words and for this peek into your gorgeous and atmospheric day. You can see more Charlie Brear brides on our pages here, as well as more beautiful Asylum Chapel weddings, here.
With love,
Laura