Sometimes the British weather does not want to play ball on a wedding day so it's a good job today's bride and groom decided against the outdoor wedding they had originally hoped for. Storm Brian reared it's head on the day but it was nothing this bride and groom couldn't take in their stride.
This is exactly what they did and pulled off a spectacular real northern wedding, true to themselves as a couple. Let's take a look, shall we? Coordinator Rosie and teacher Caleb said their I Do's on 21st October 2017 at the Priests House in Barden Tower, followed by a reception at Burnsall Village Hall. The couple chose a simple yet extremely effective relaxed northern vibe for the day, using a palette of autumnal colours for a proper Yorkshire wedding.
"We wanted a relaxed feel that reflected us as a Yorkshire couple, so good beer, simple food and great scenery highlighted by the beautiful deep autumnal colours. Caleb didn't want to wear a traditional suit, so we just pieced together a mis-matched suit in his favourite colour green."
Images by Gareth Newstead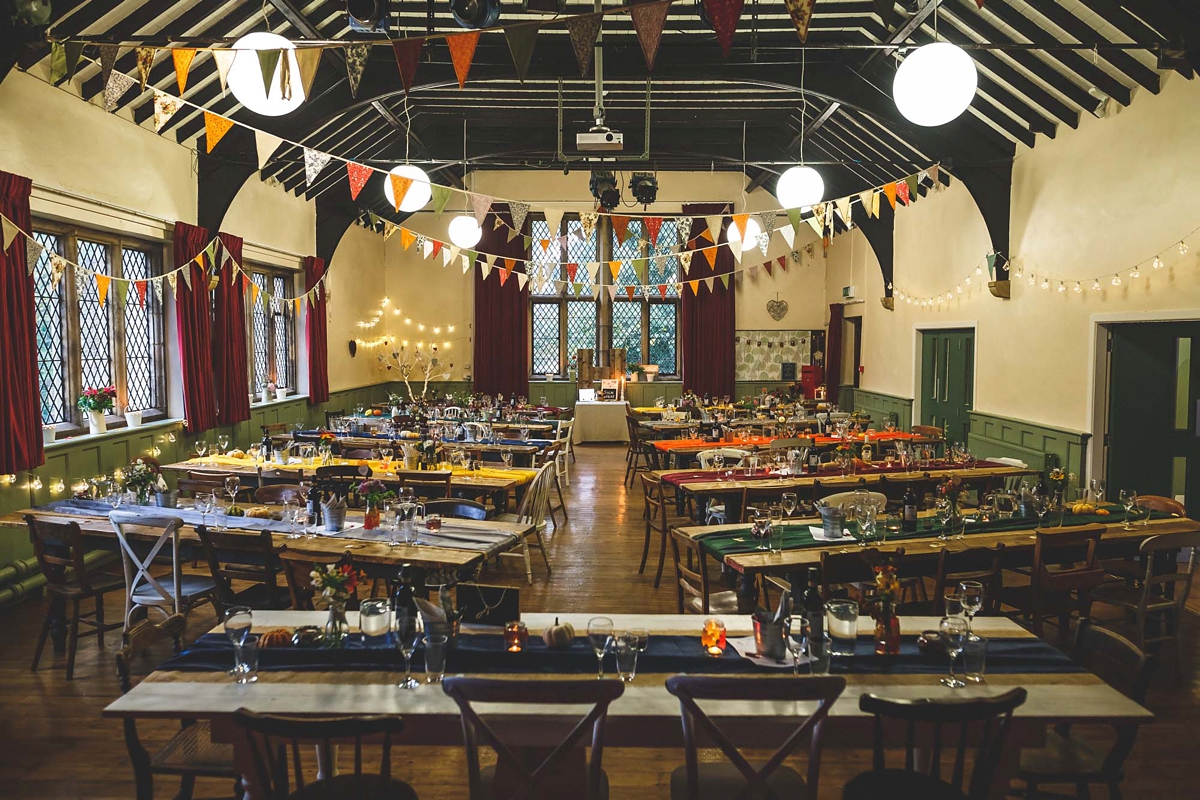 Capturing it all on camera was Staffordshire-based wedding photographer Gareth Newstead whose relaxed and natural photography style drew the couple in.
"Gareth was incredible. He just completely understood the feel we were going for. He managed to capture the autumnal colours, relaxed boho vibe and the gorgeous views we'd hoped for. Despite storm Brian making an appearance, he braved the outside with us in his wellies, and made us feel relaxed and happy all day. We were lucky enough to spend our day with this fabulous man who we think did the best job in the world capturing us and our guests having so much fun."Rosie was accompanied down the aisle by her dad and chose a long sleeve lace dress made by Adam Shaw Couture for the occasion.
"I couldn't find what I wanted in any shop. We went to Adam with ideas and absolutely loved the creative process of designing a dress. I had ideas in my head; I wanted lace sleeves and a layered skirt. Adam brought it all together and worked with my body shape so well."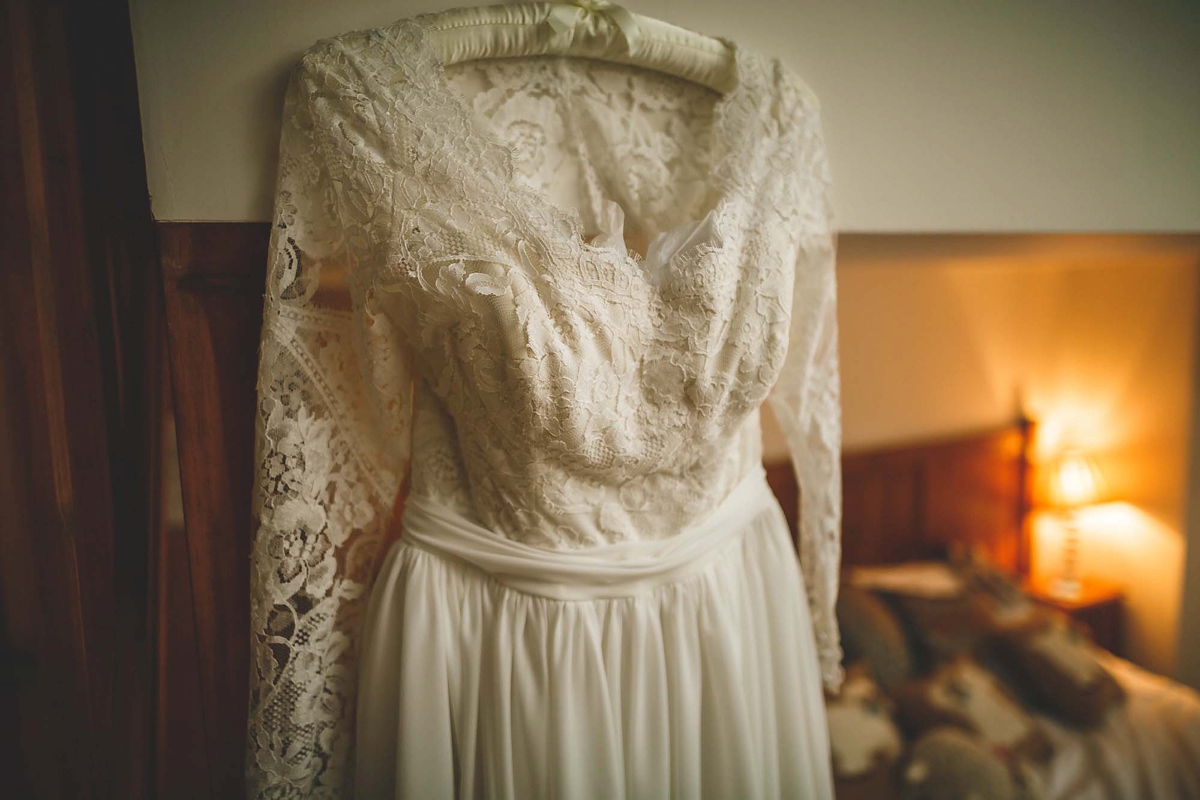 She accessorised her look with a pair of boots from Silk Fred, Accessorize earrings, a necklace from an independent market stall in Leeds and a spritz of Addict by Dior. Rosie's beautiful cascading curls were created by hair stylist Craig from Craig Simon, who also did all the pinning up and adding flowers to both the brides and bridesmaids hair, and make up was by Helena from Jenn Edwards.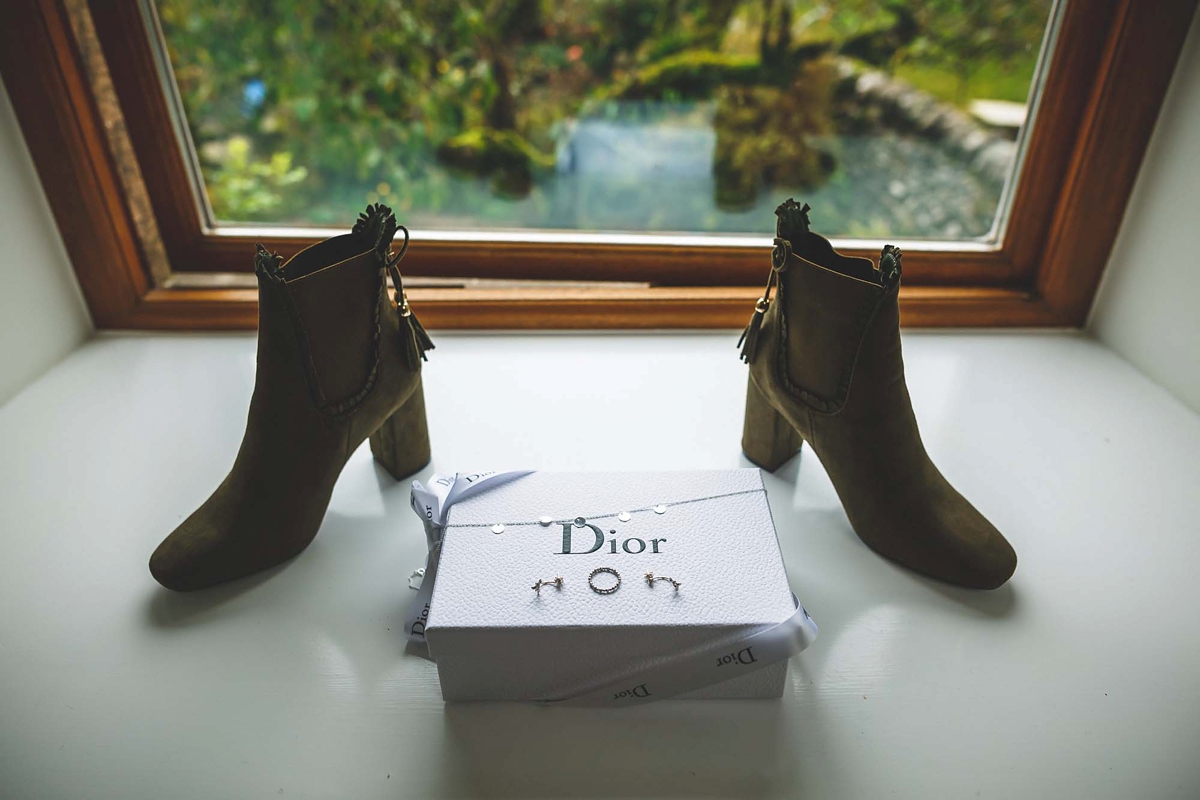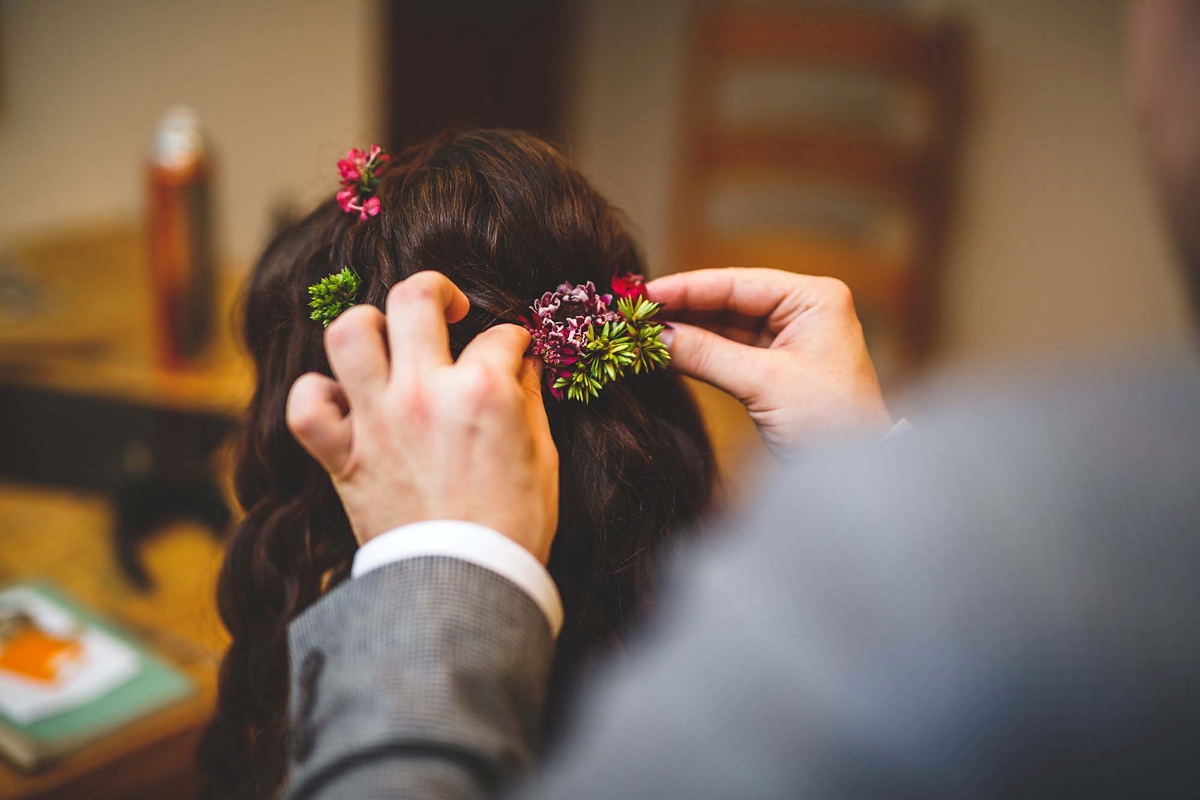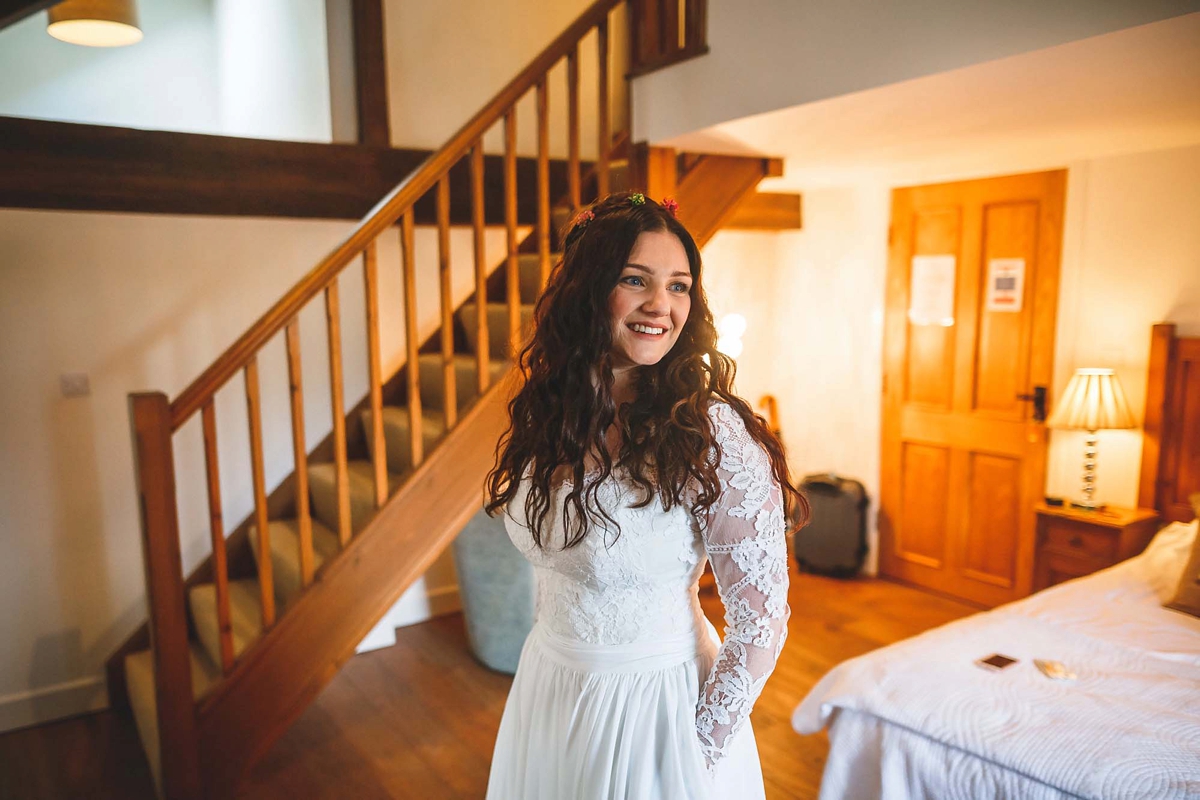 "We hired wedding planner Sian to help us with the on-the-day coordination following a recommendation from a friend in the wedding industry. All the planning and design was done by us, but then Sian ran the day."
"We also had videographer Chris Ball to video the wedding. He's a friend who did it for us and is looking to potentially go into wedding videos."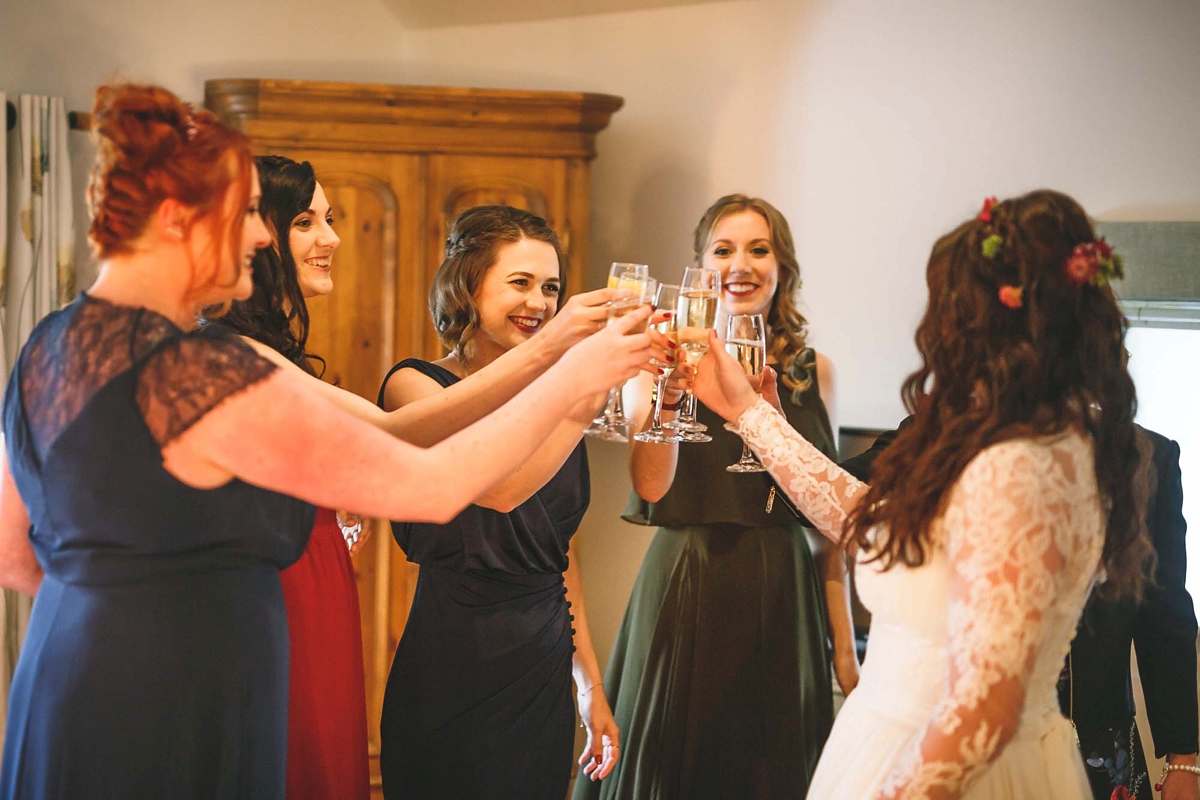 Rosie's bright, wild and colourful bouquet was created by the talented Alison Hayes from Flowers from the Garden.
"We wanted locally grown flowers and also wanted to use a business local to us. We were after that 'just picked' look. Alison grew all the flowers specifically for us based on the look and the colours we were after."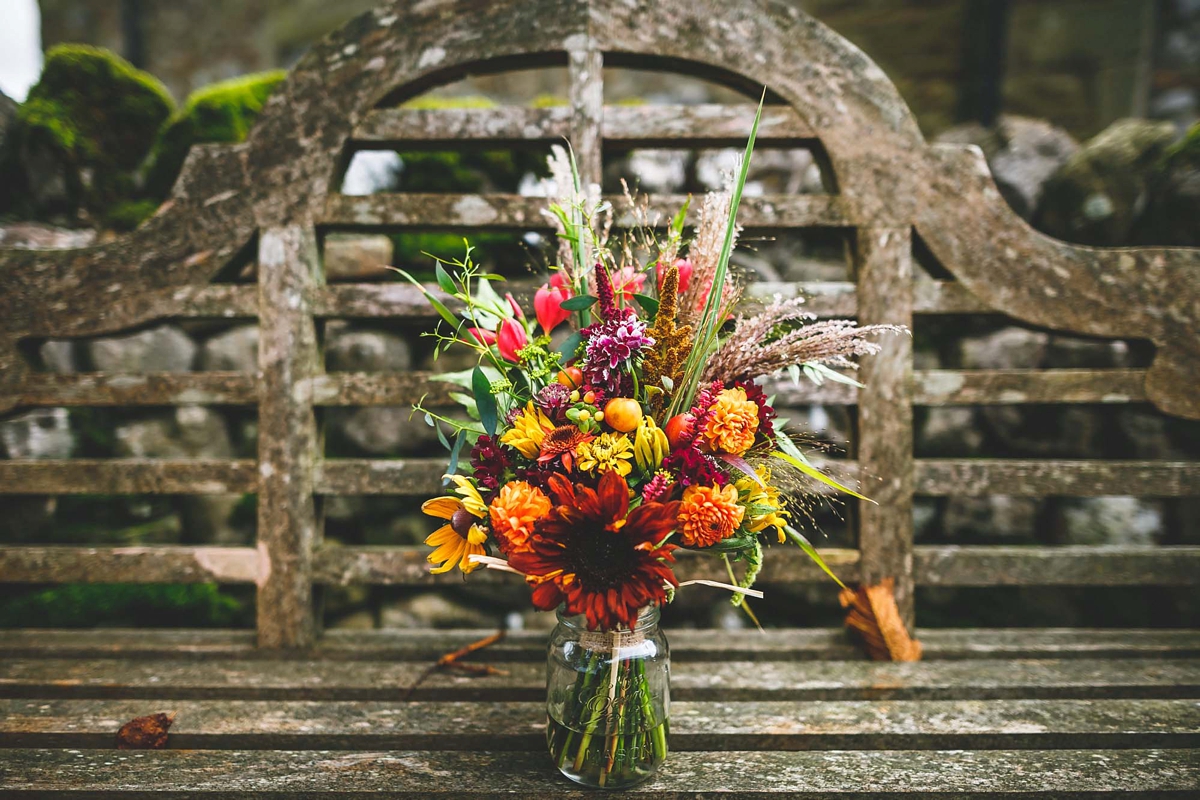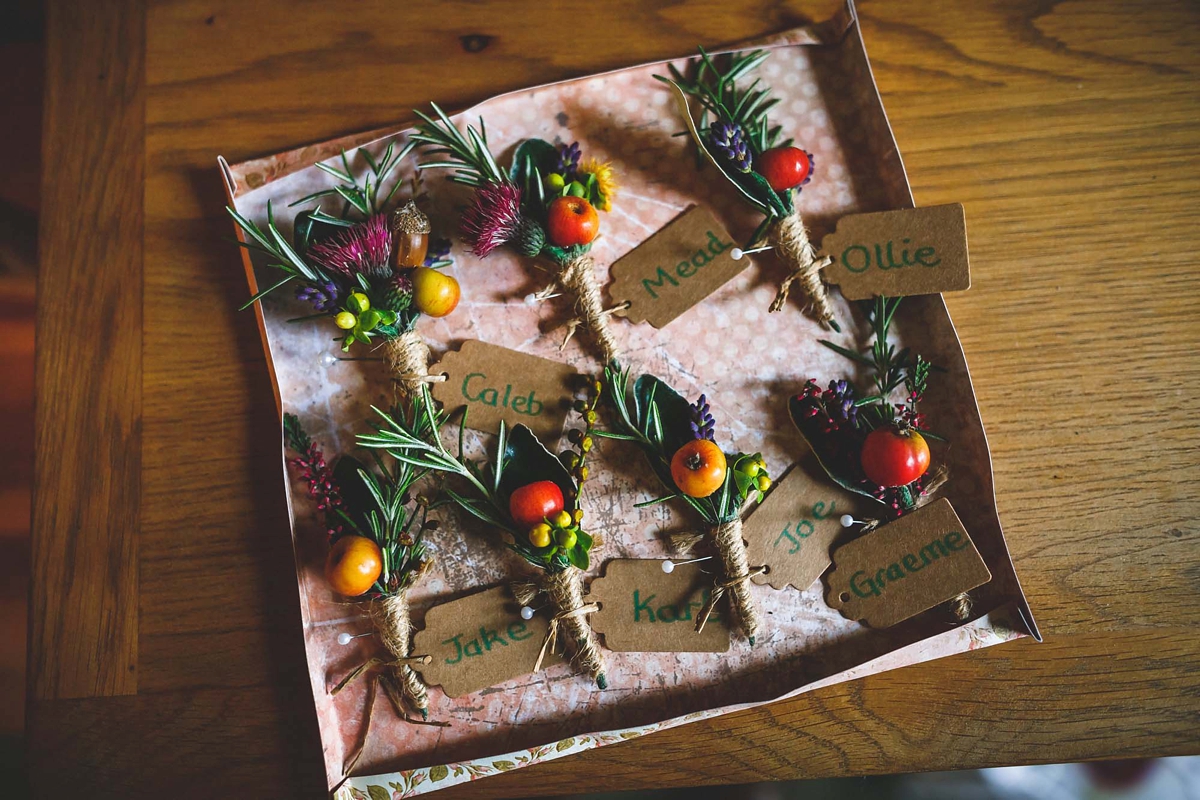 "I gave my bridesmaids a colour palette of autumnal colours and we went shopping together in the autumn before the wedding. Two of my bridesmaids picked berry and navy coloured dresses from House of Fraser and the other two were green and navy with capped sleeves which were ordered from ASOS later."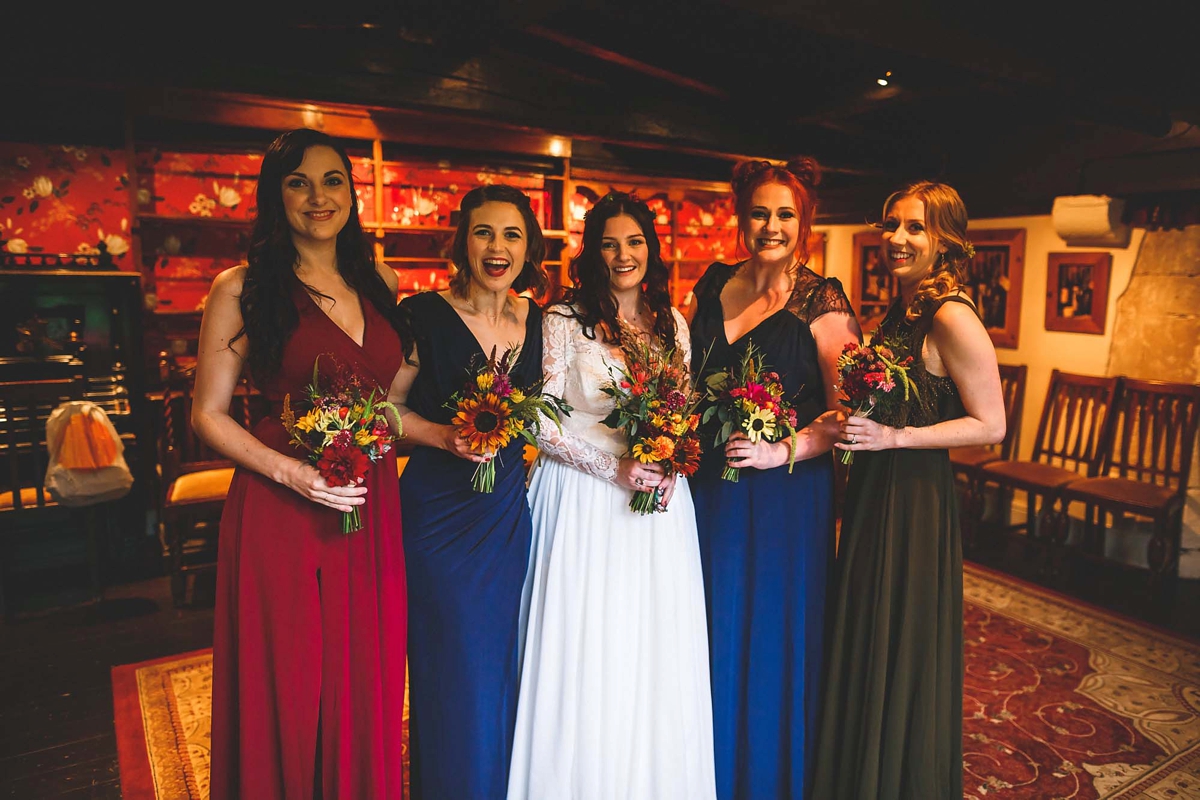 Rosie and Caleb first met at a mutual friends 18th birthday party back in August 2009. Fast forward 5 years and Caleb proposed on Christmas Day in 2014 and the wedding followed 3 years later.
"When we met at our mutual friends birthday party, I drunkenly followed Caleb around all night pestering him. It was five days later and we went on our first date to Varsity in Huddersfield and played pool. Caleb got down on one knee on Christmas Day in front of the Christmas tree surrounded by candles with music playing in the background. I cried a lot! We got to spend the rest of the day celebrating with our families. Originally we talked about getting married in Autumn 2016, but Caleb decided he wanted to become a teacher so his year studying put us on hold for a bit."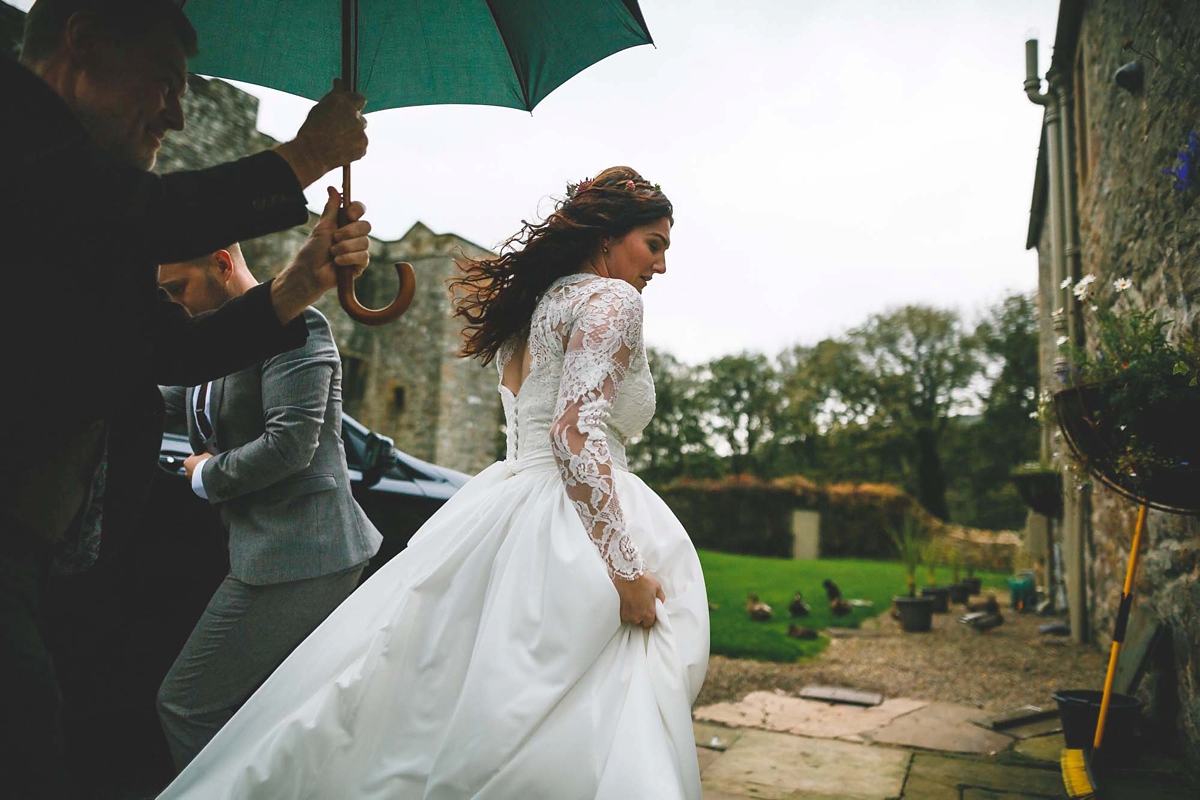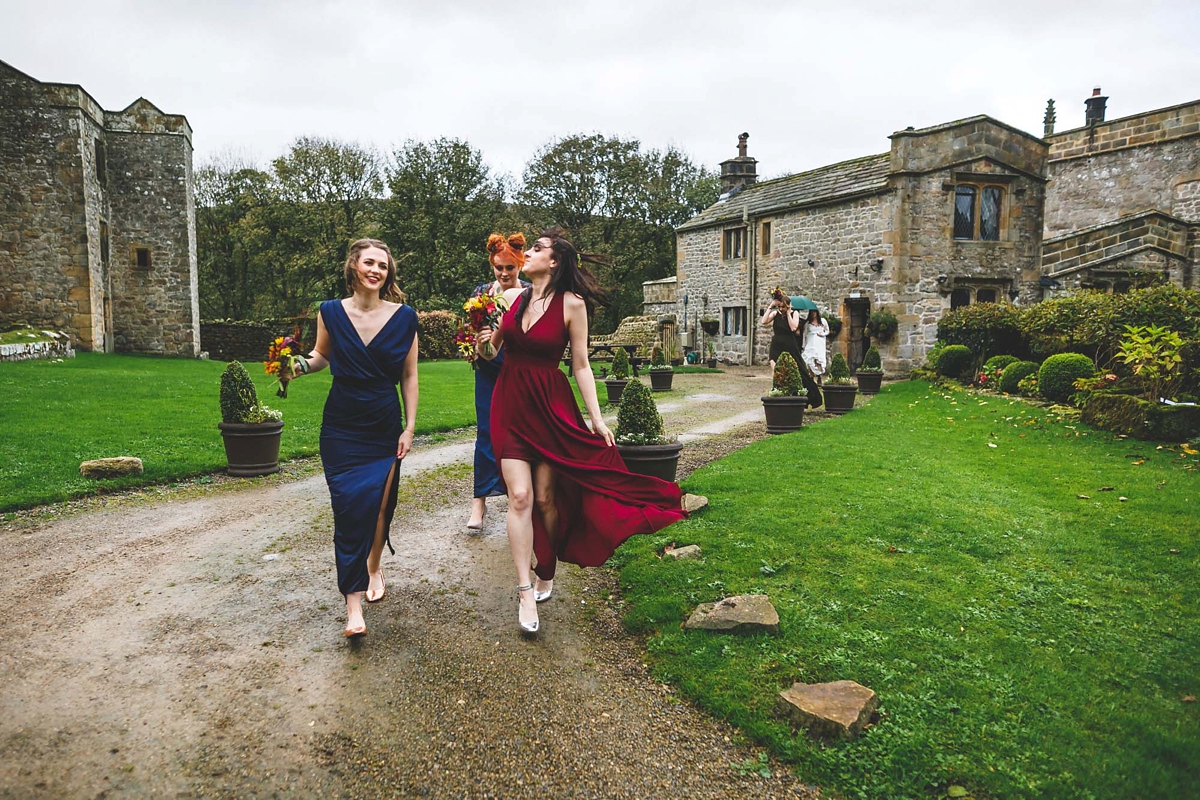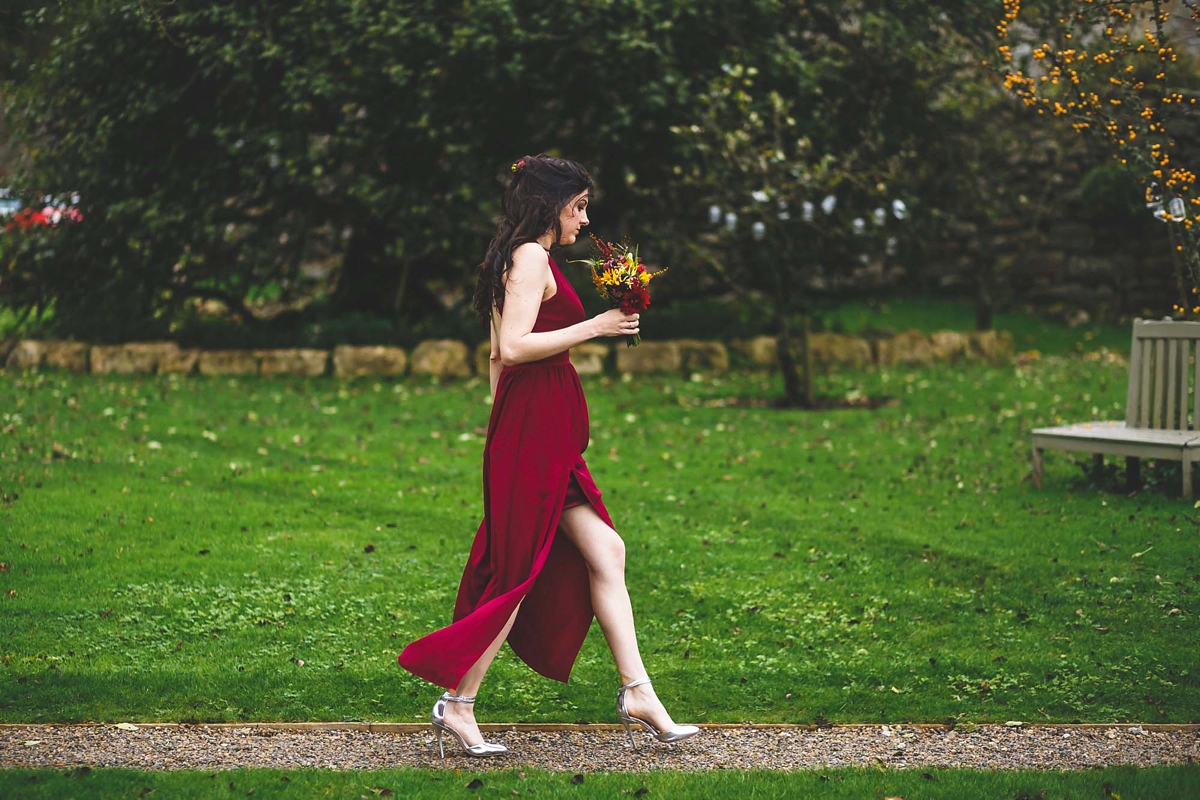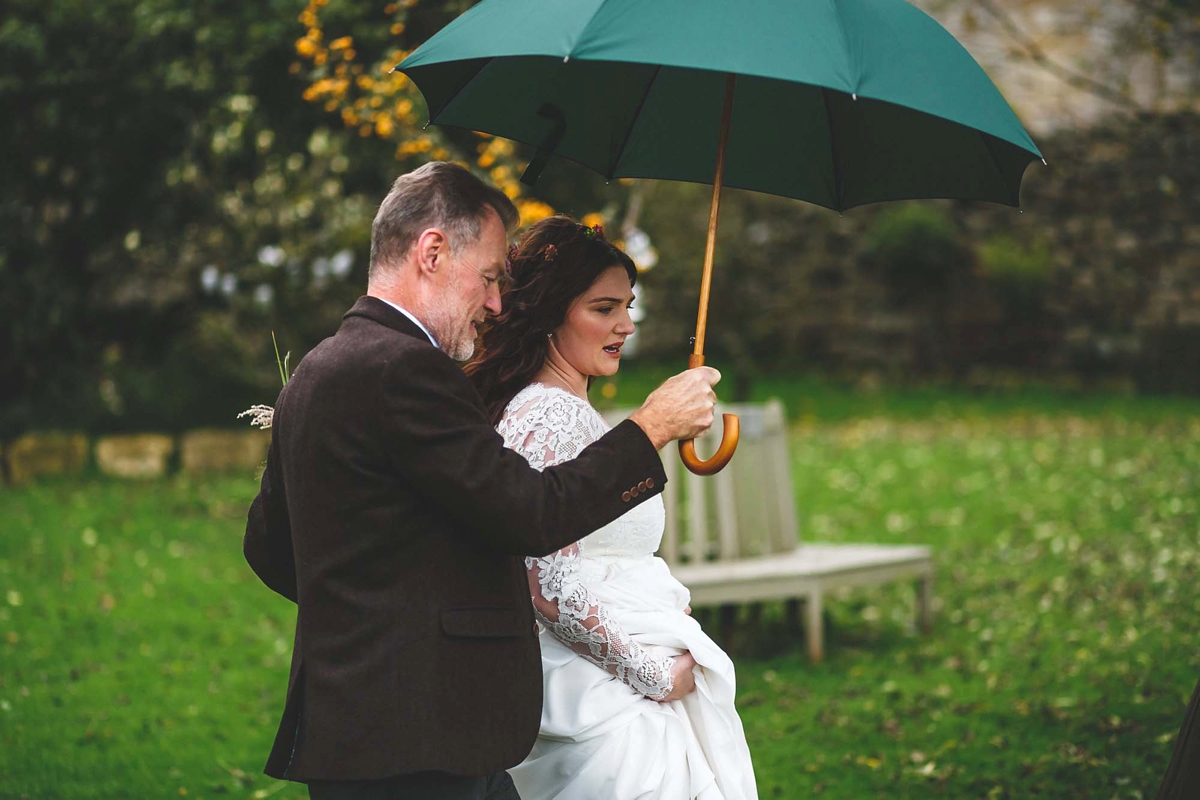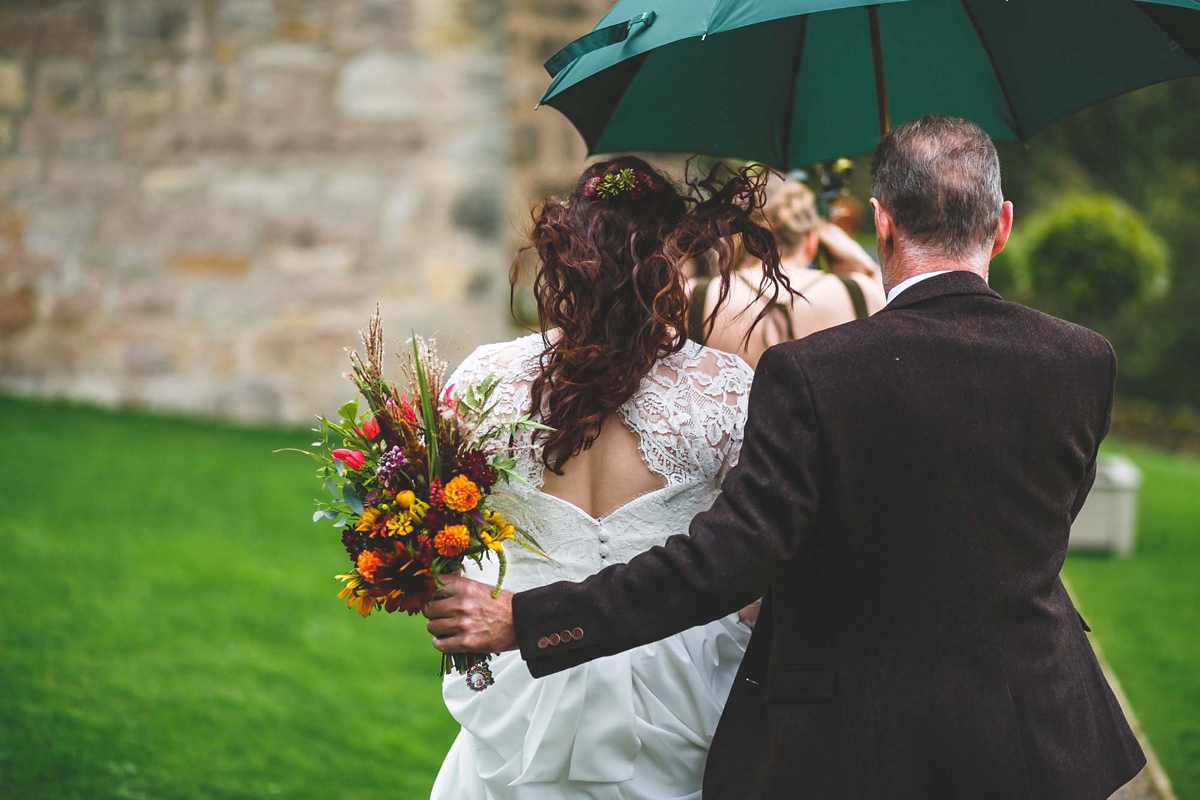 The groom tied into the autumnal theme perfectly in his mis-matched green suit including trousers from Topman, a white shirt from Heart and Dagger via ASOS, a jacket from Feraud and shoes from ASOS.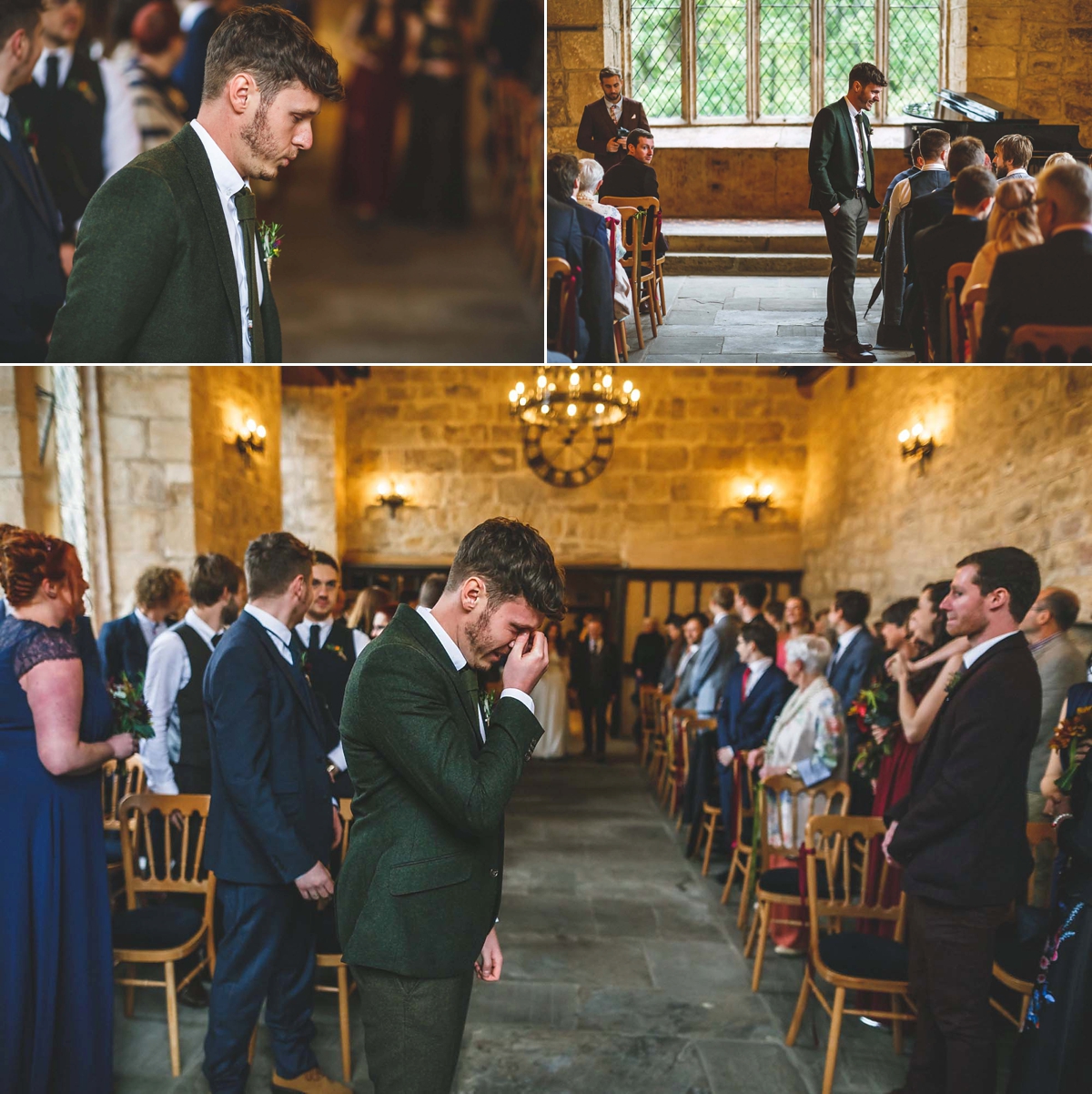 Rosie and Caleb decided to write their own 'thoughtful words' as their vows during the ceremony which was officiated by Skipton Registry Office.
"I based my loving words on a quote from Bridget Jones, 'sometimes you love a person just because they feel like home'. Caleb listed everything I am to him (chauffeur, the reason he's always in a good mood etc.) and finished by saying he's my biggest fan."
"My cousins Amy and Emily then performed a reading called The Future. They tweaked the reading to suit us as a couple; 'In our future we see the Hornsbys, and a house and garden filled with trees. We see dinner parties surrounded by friends, and a vegetable patch you love to tend.'"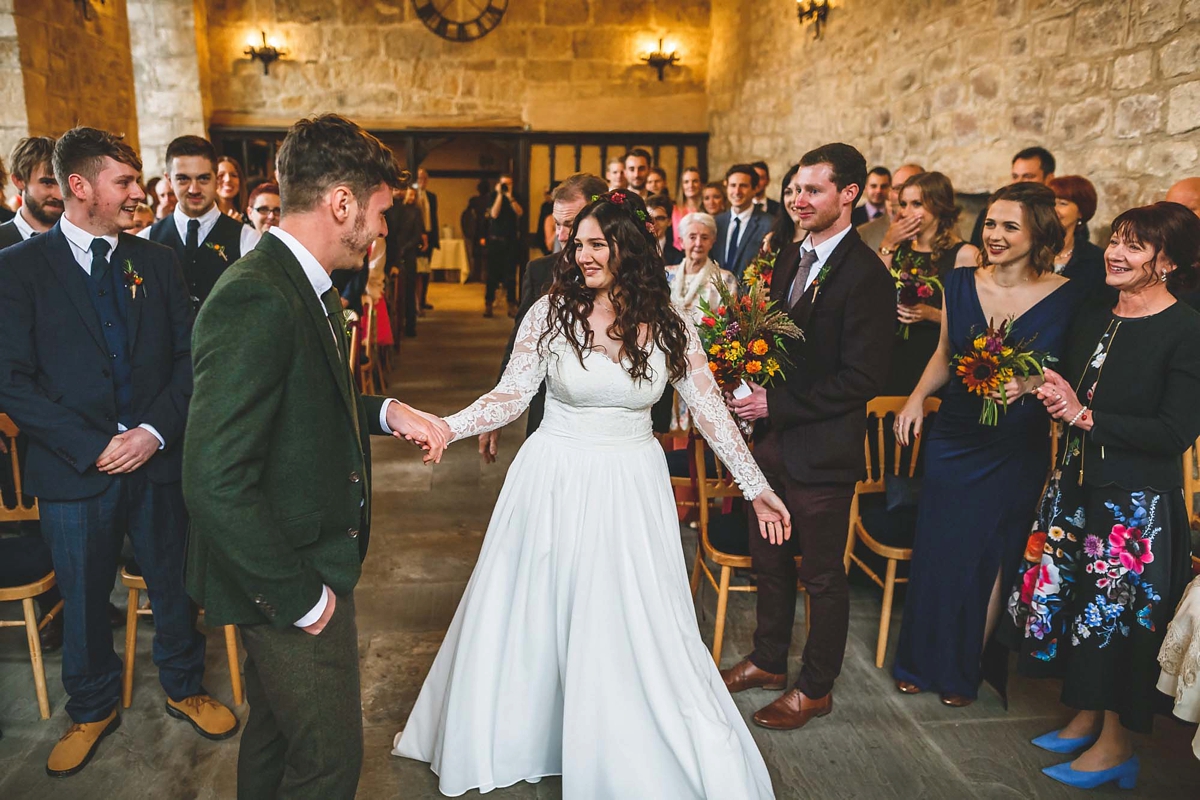 "I asked them to choose the reading themselves – we didn't know what it would be until the day!"
And to finish the ceremony, the couple swapped wedding rings from independent jewellery retailers Walkers in Huddersfield.
"Walkers are a quirky local jewellers. We didn't want to spend a fortune but we were drawn in! We wanted one of a kind rings. My wedding ring was the only one in store like it and Caleb had his ring specially made."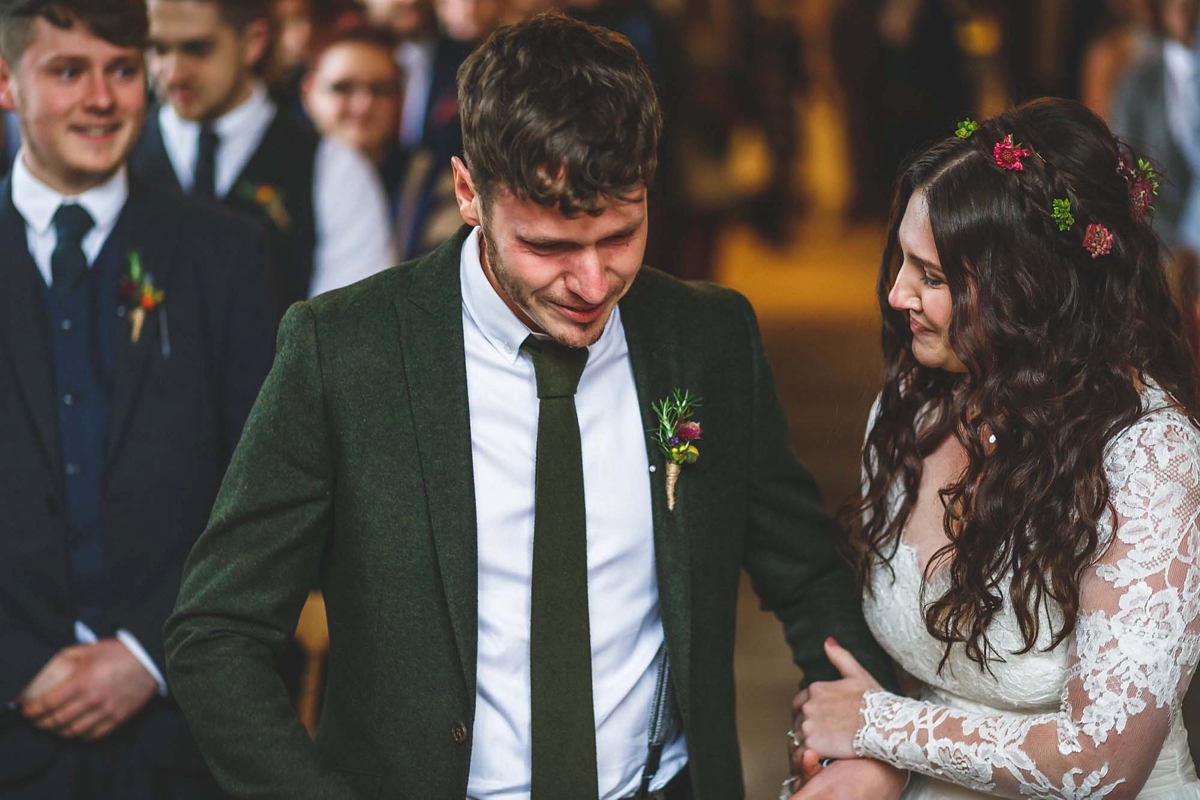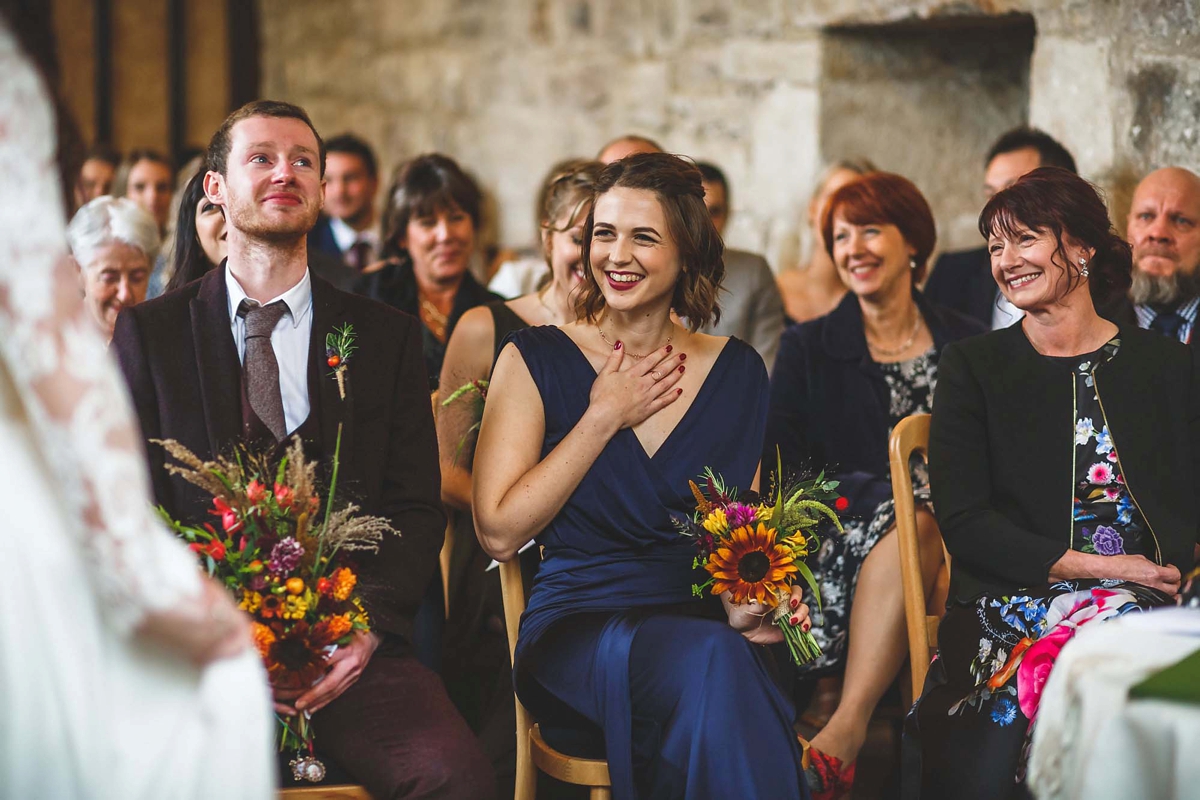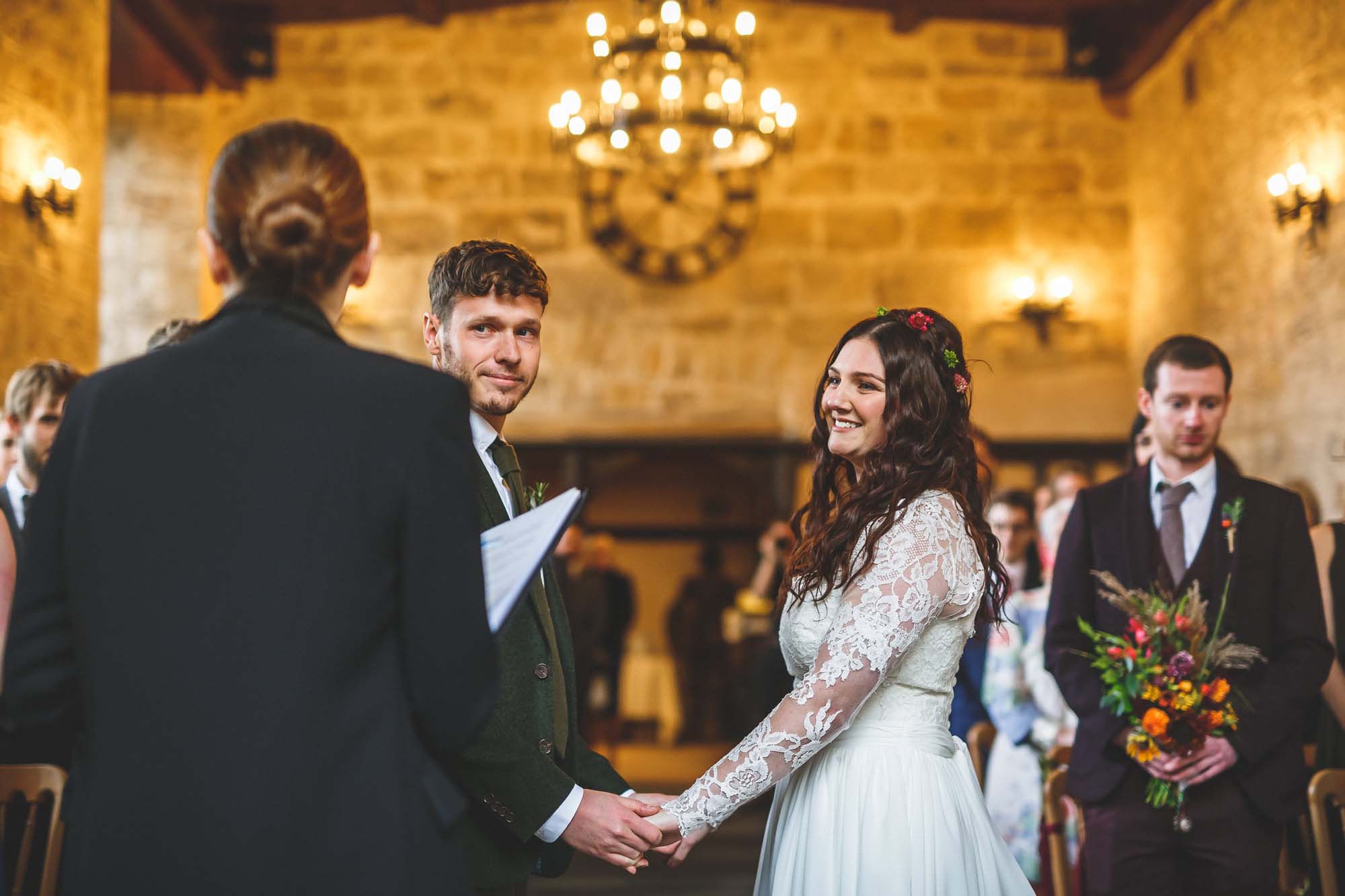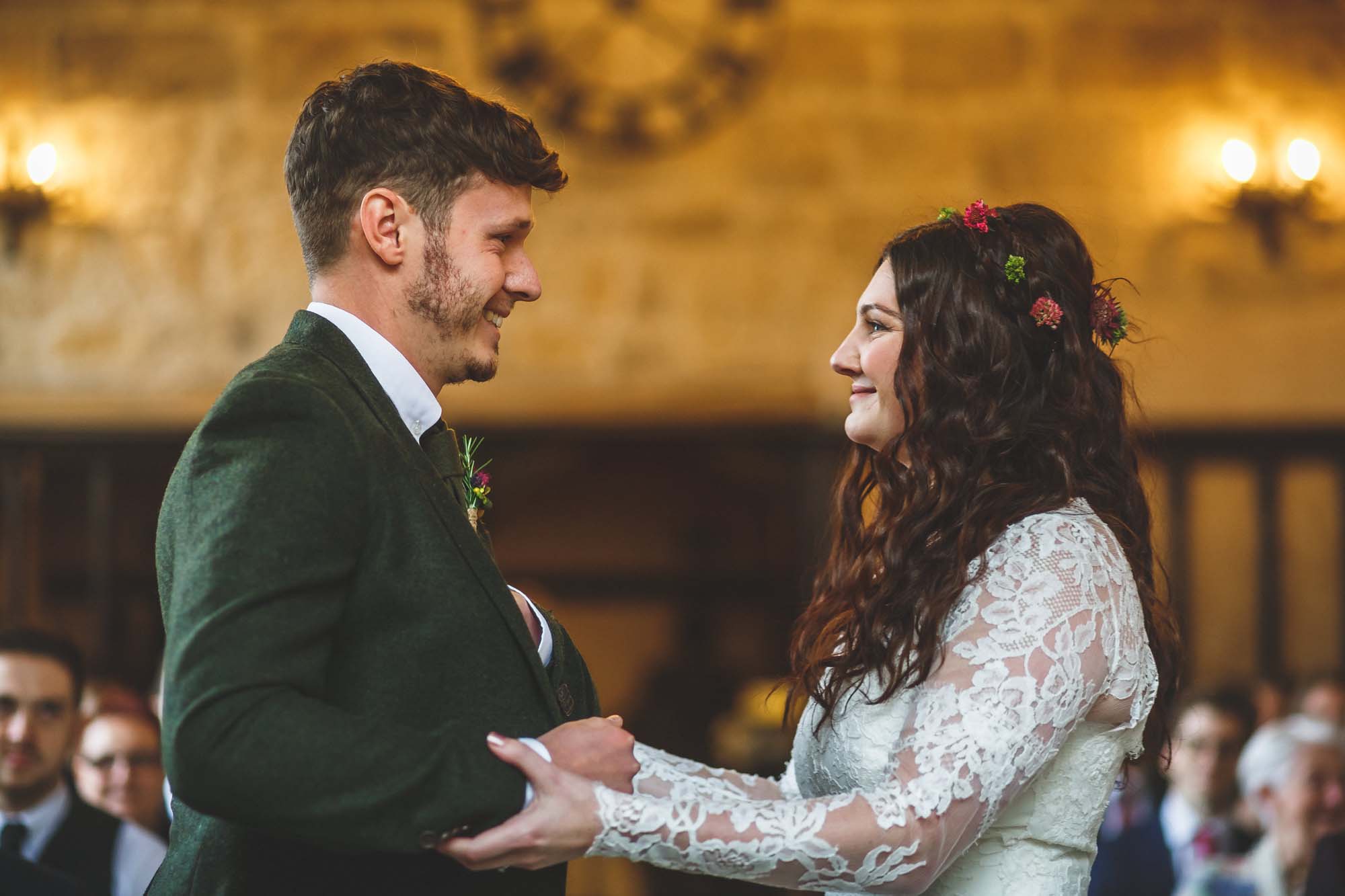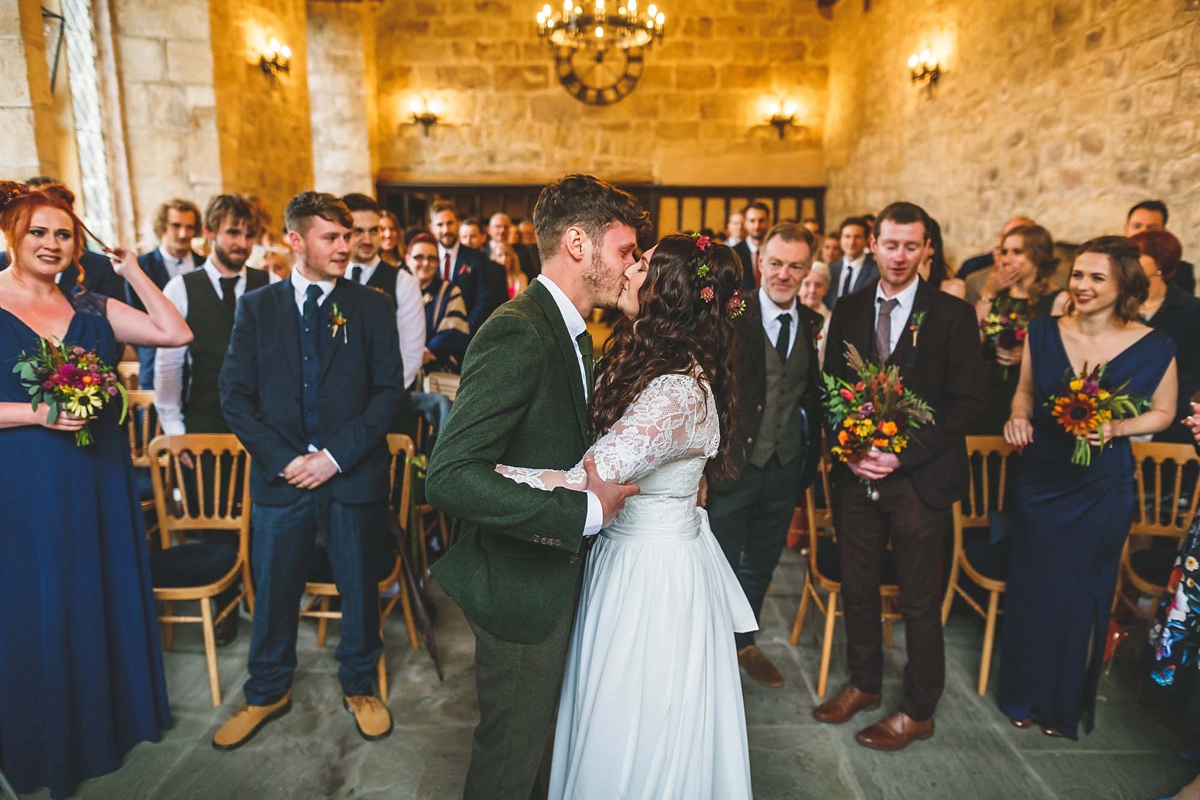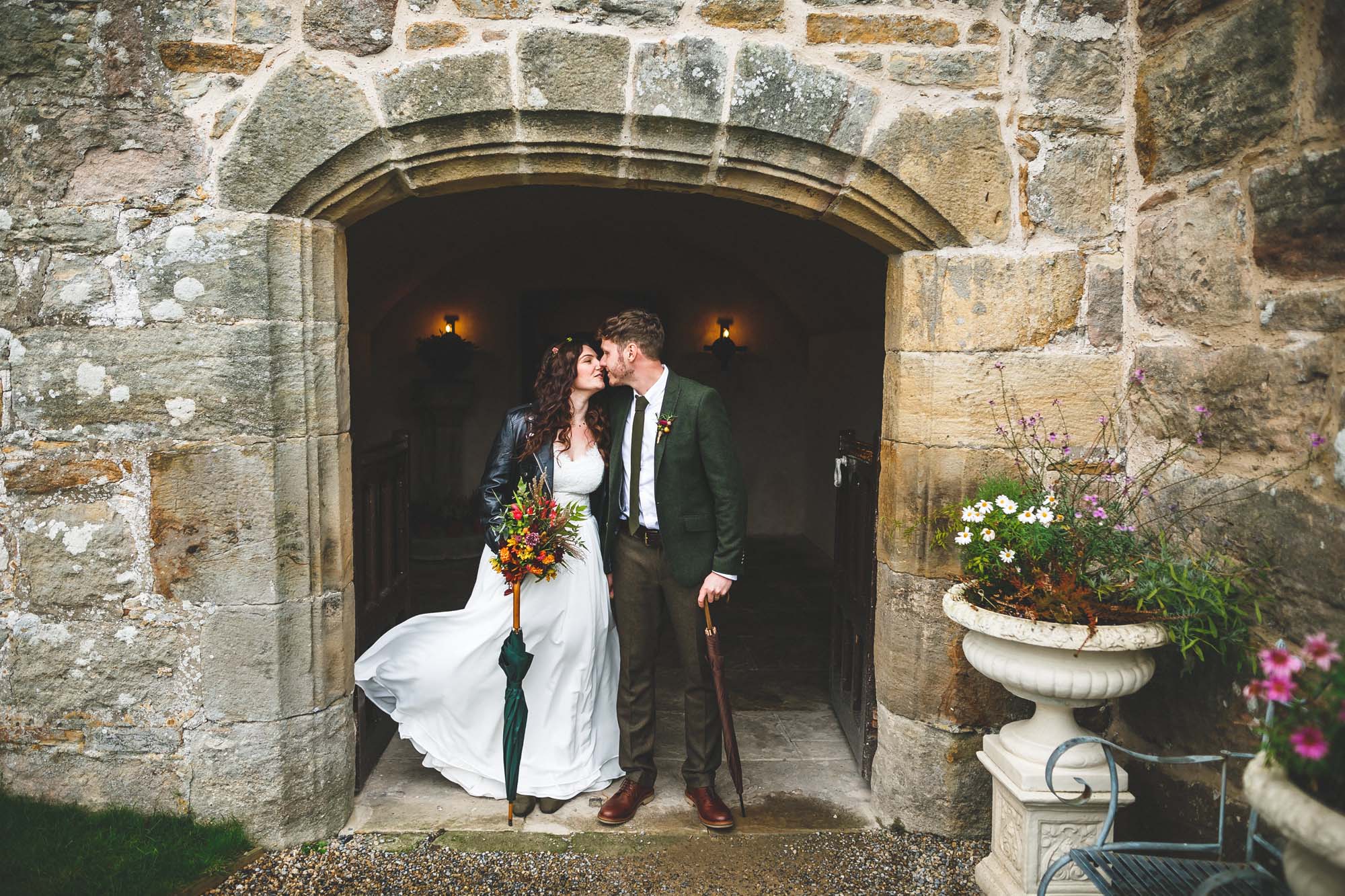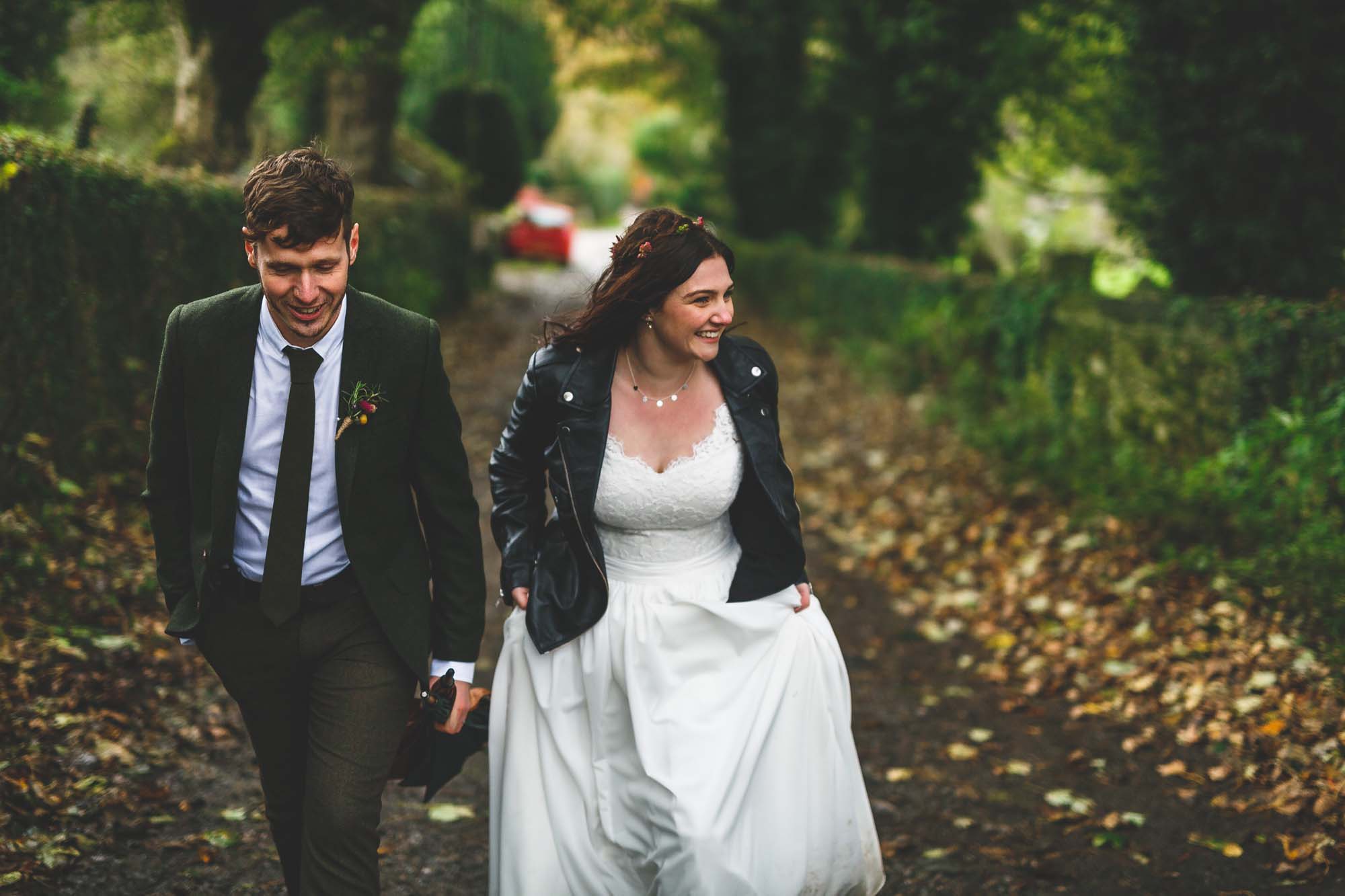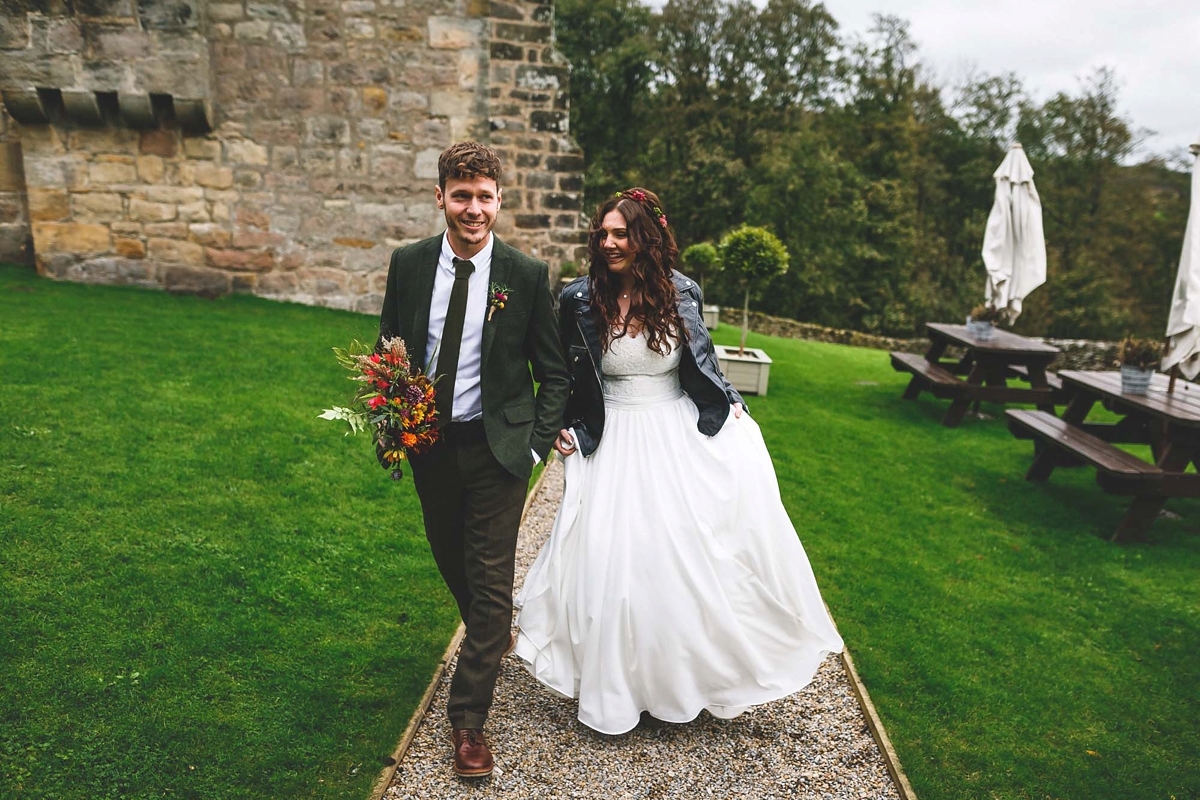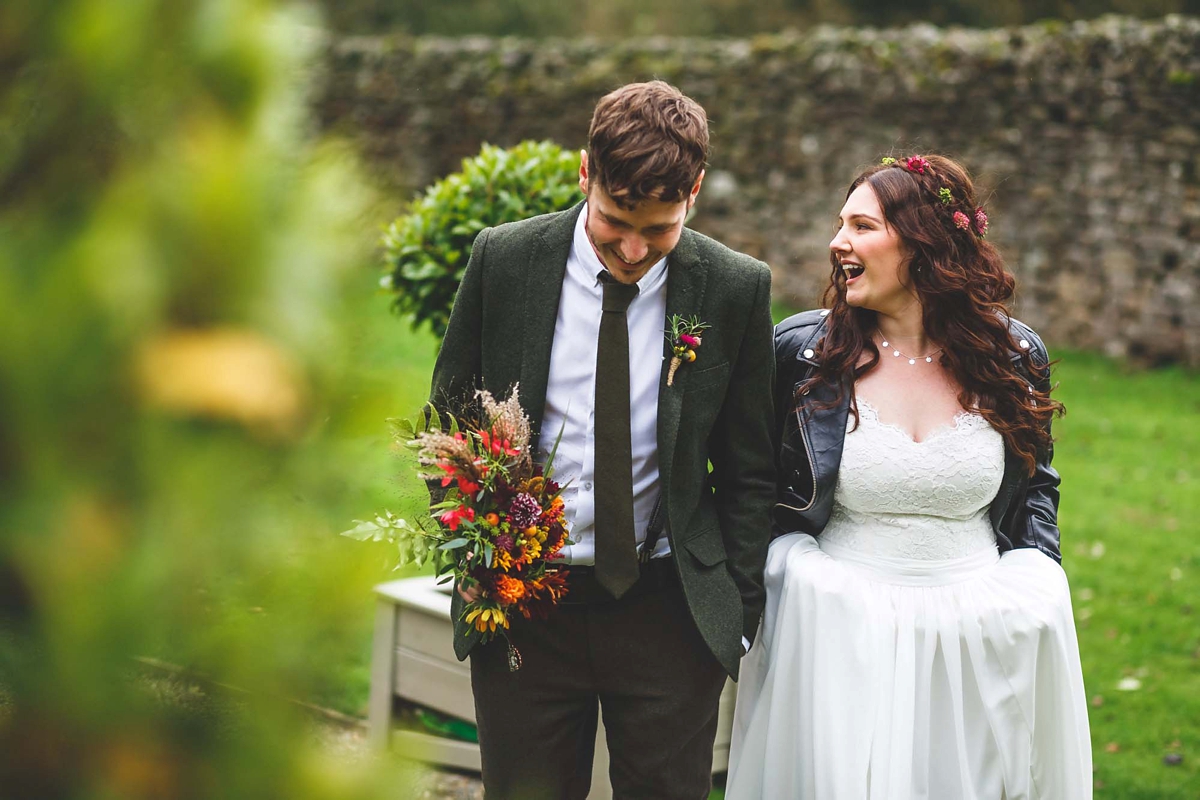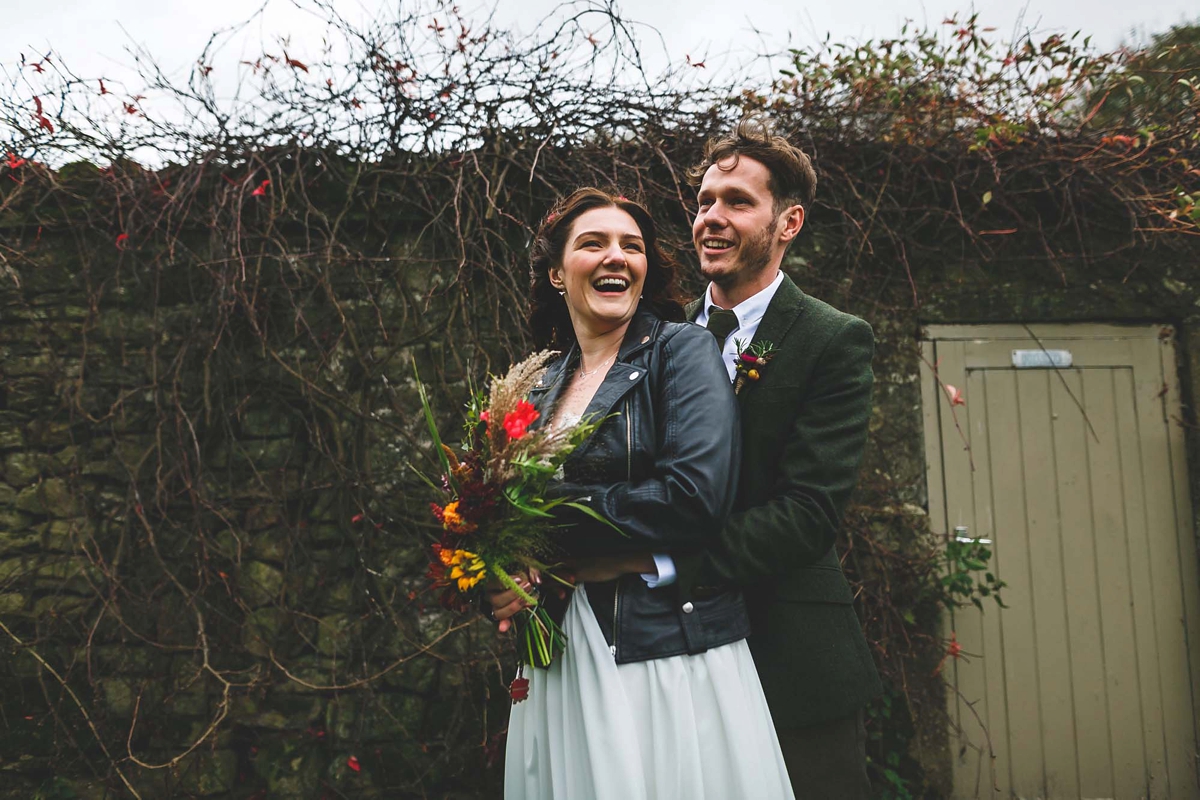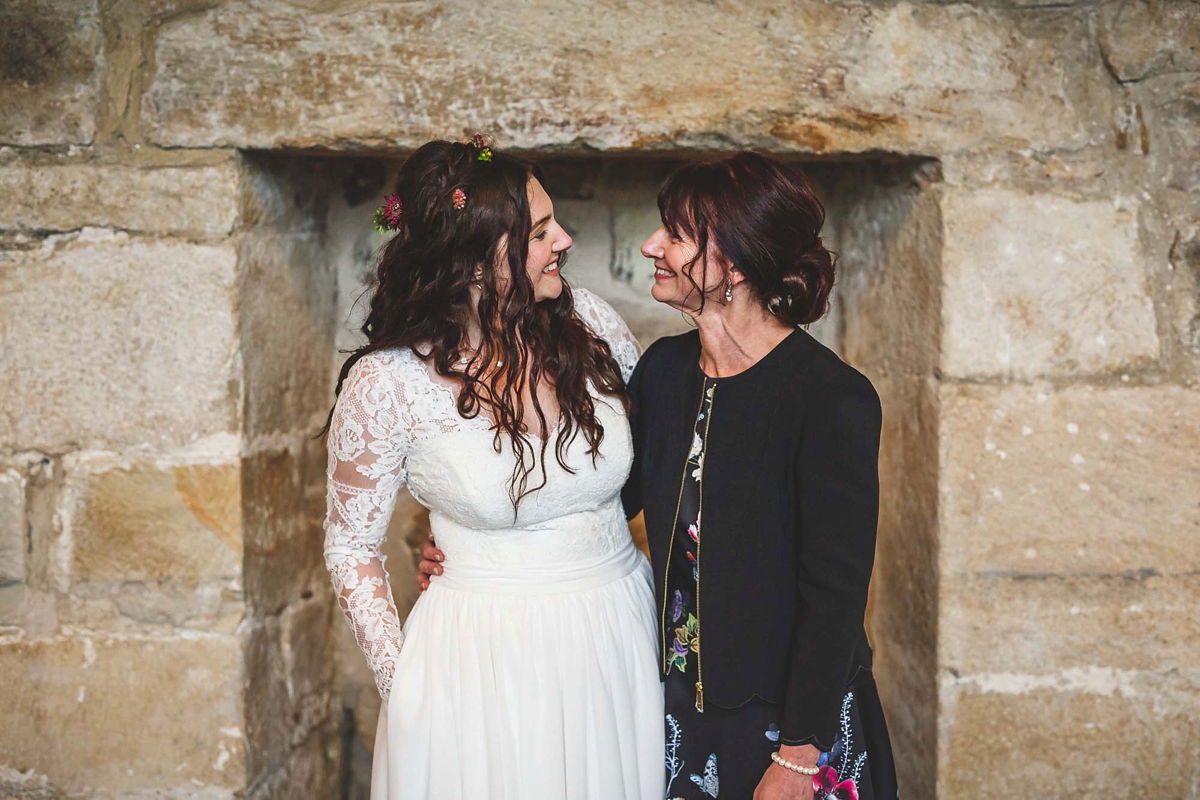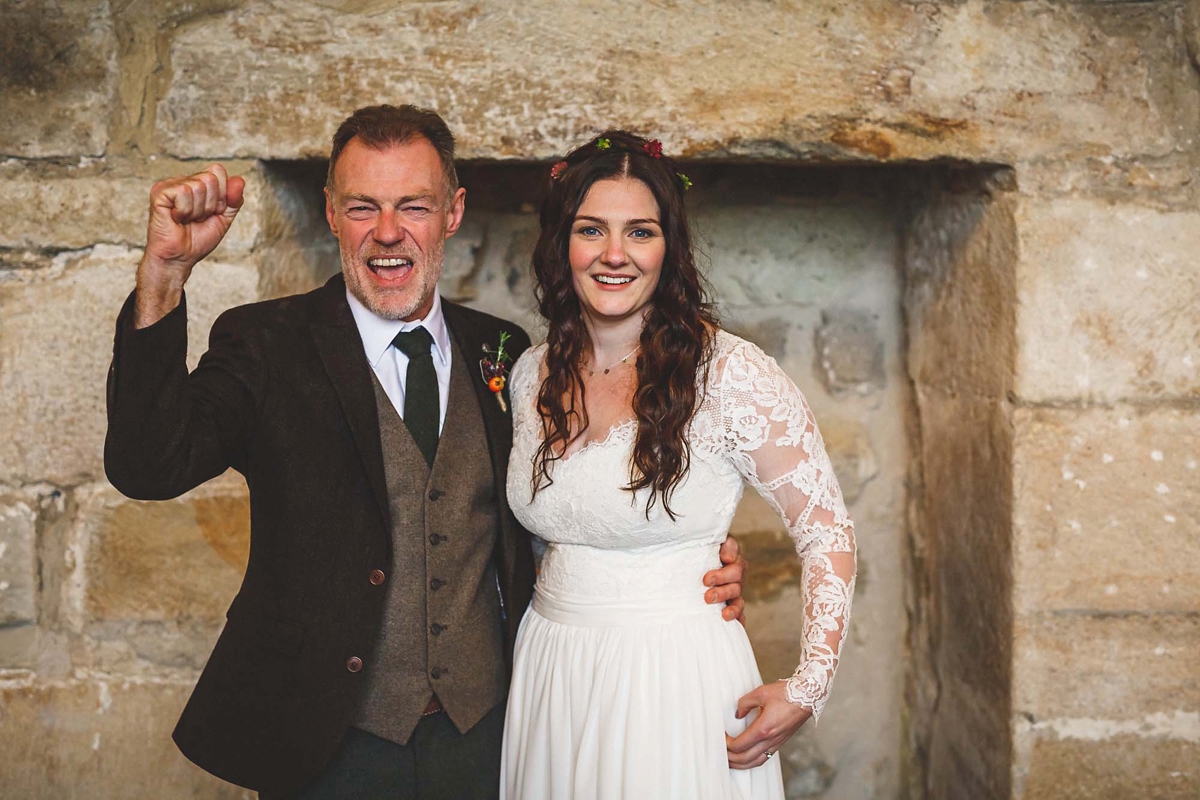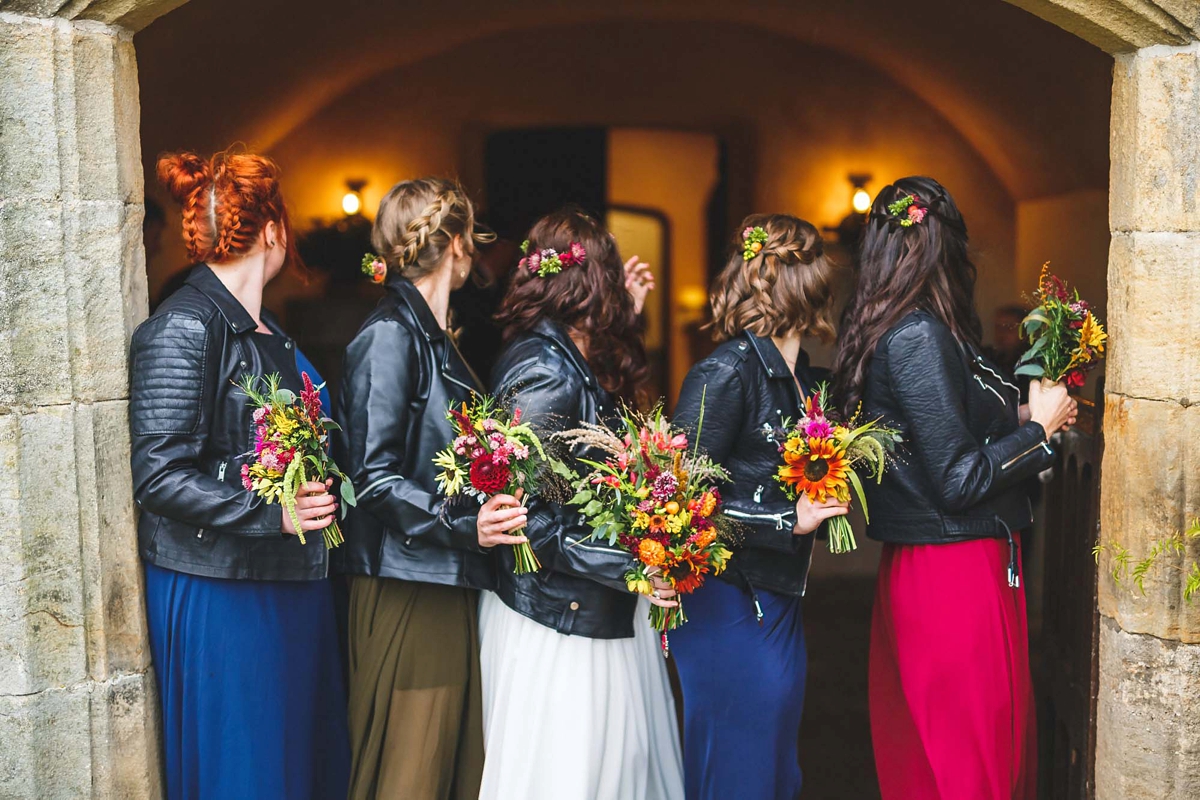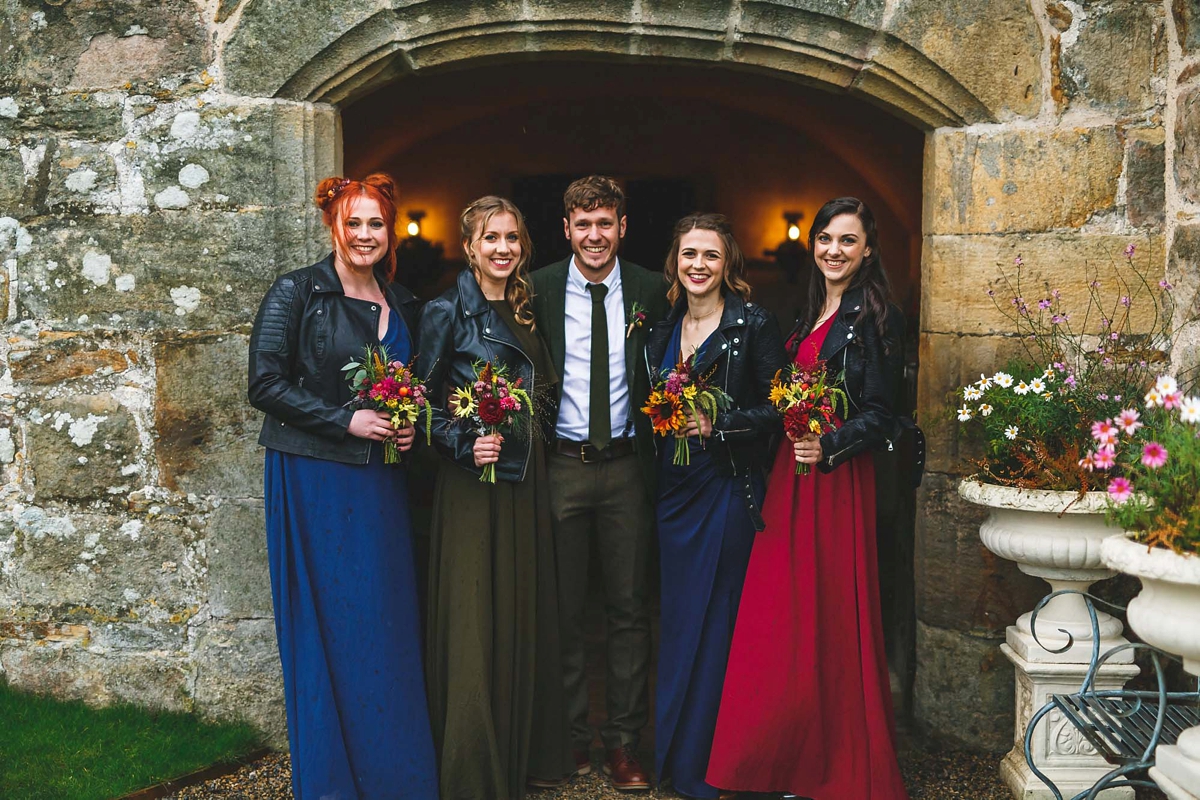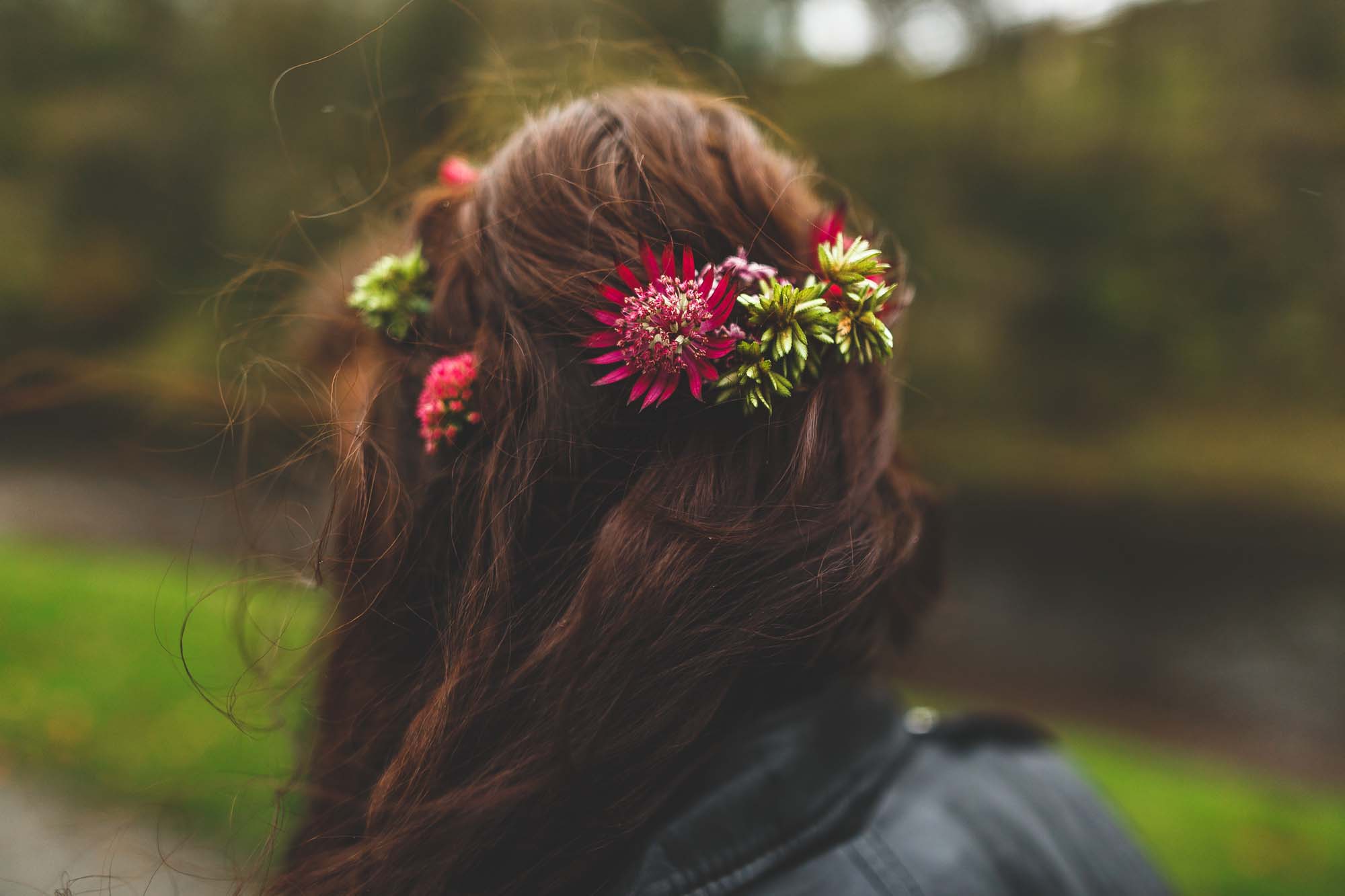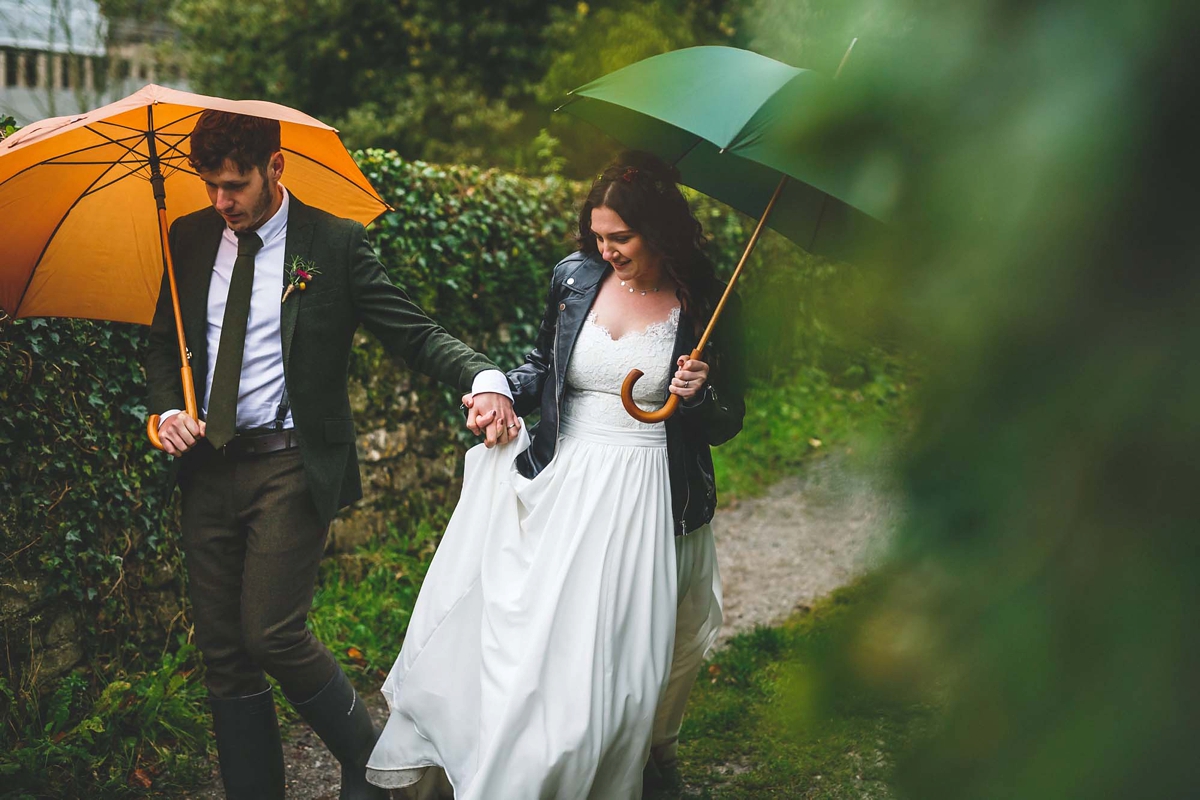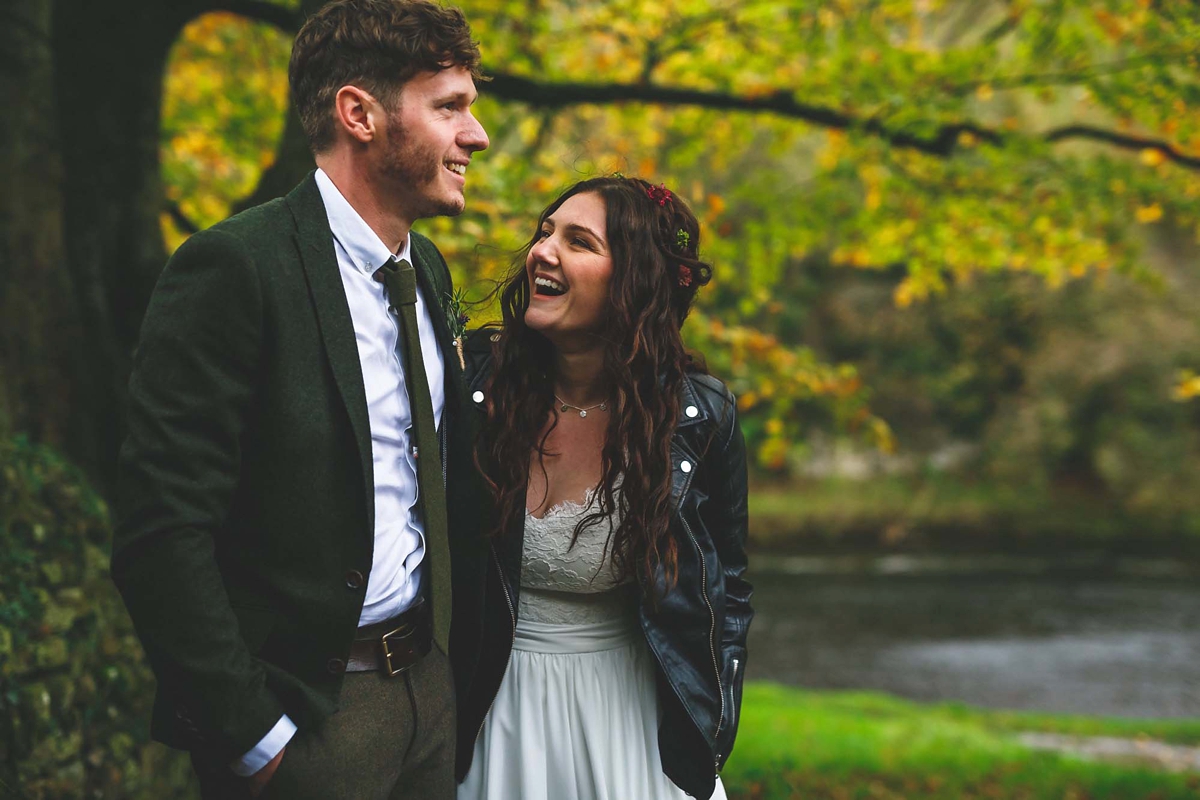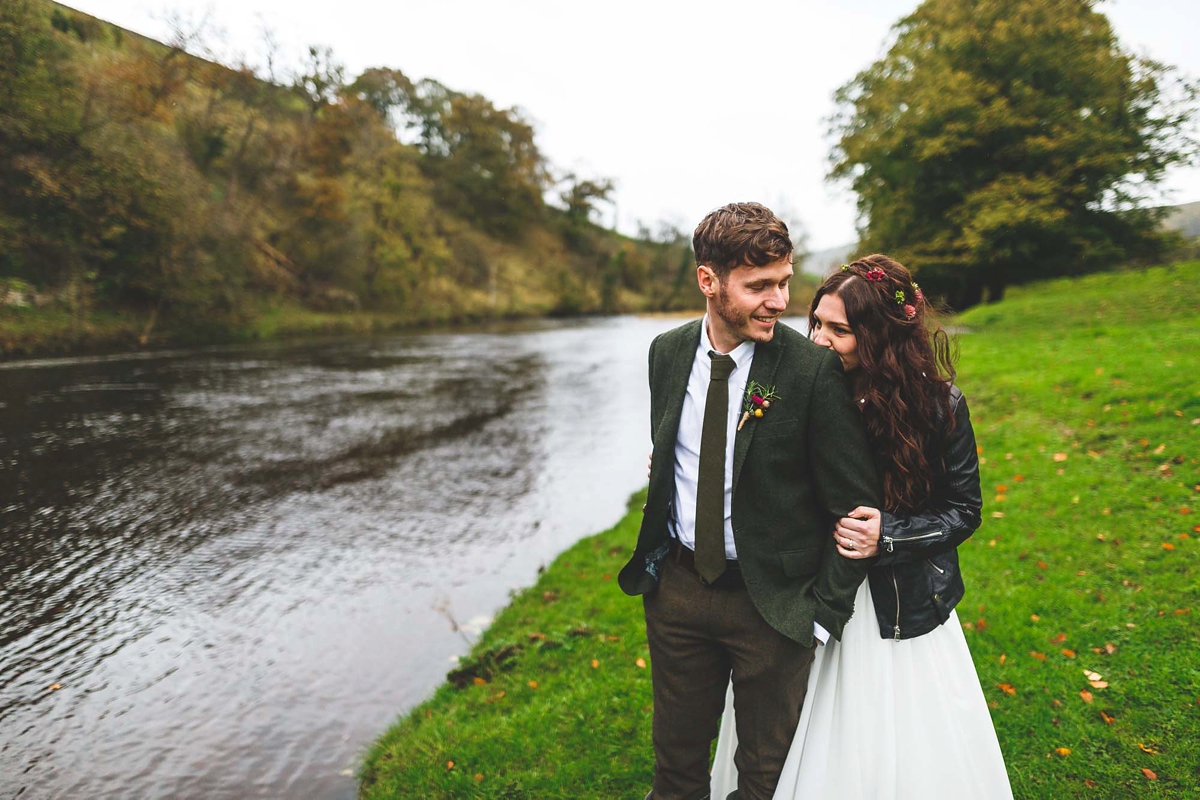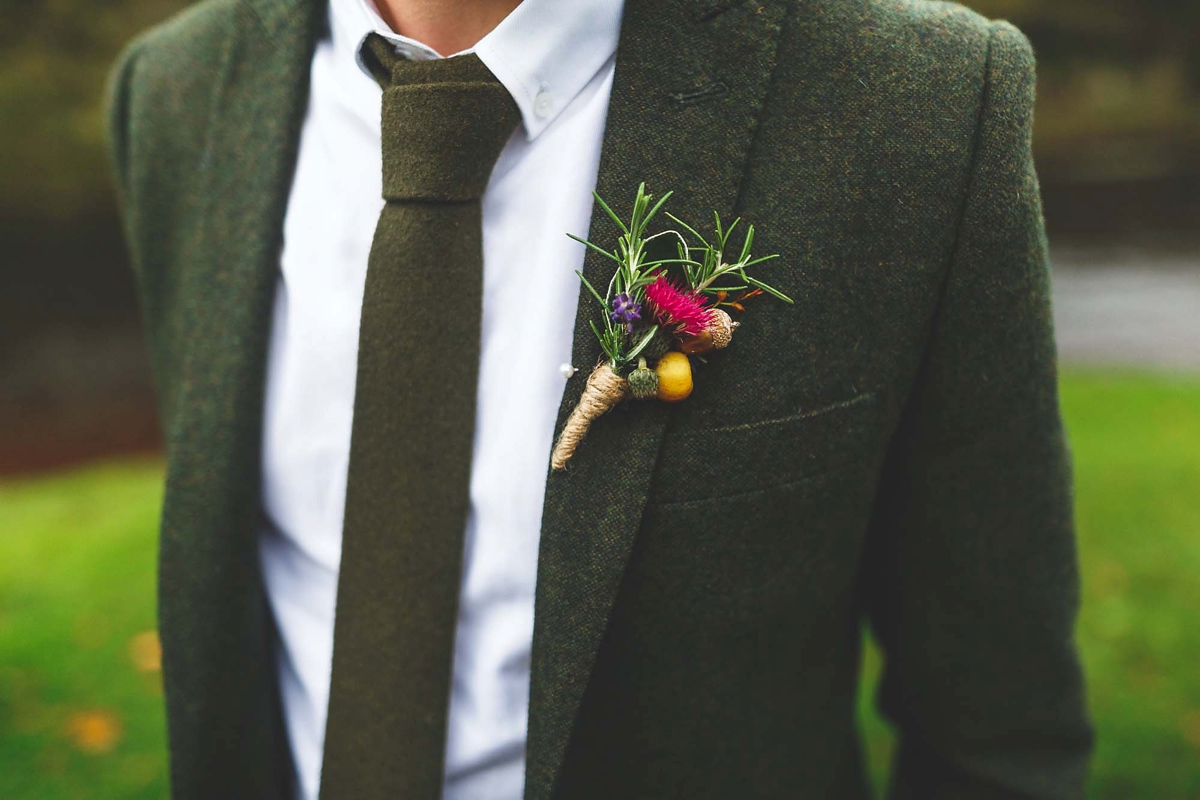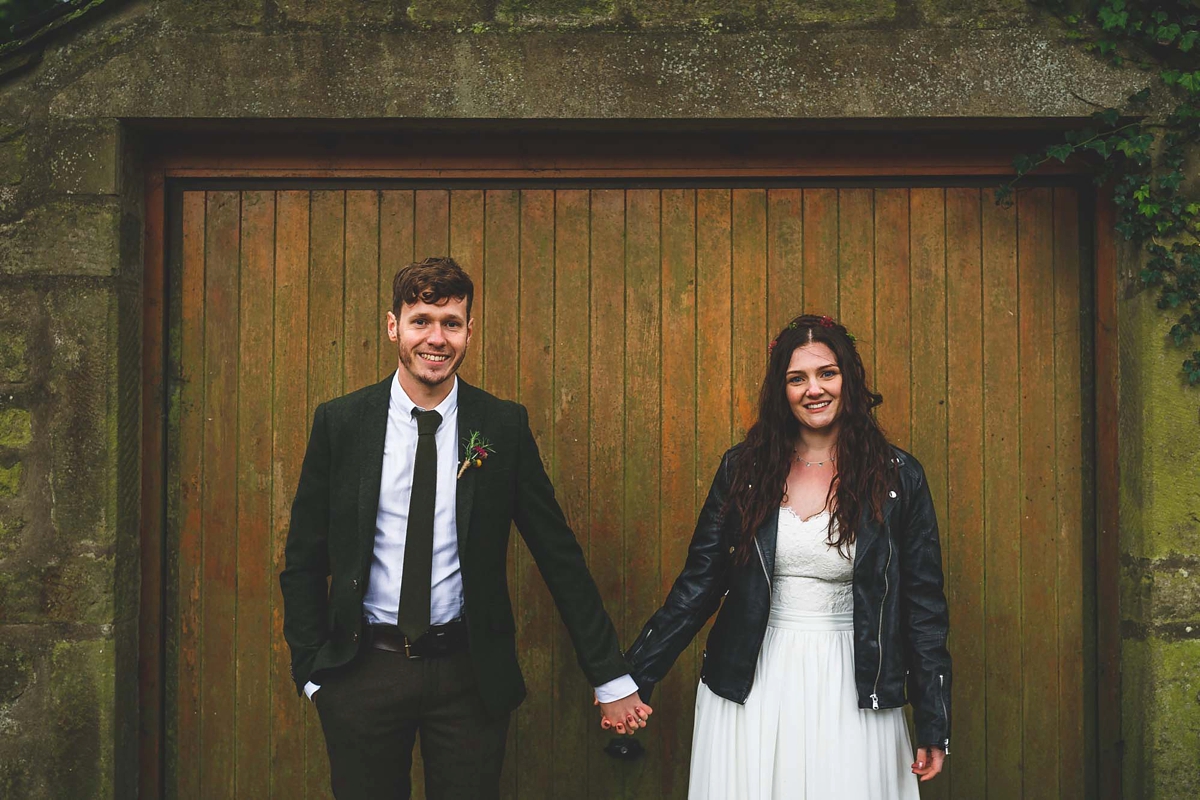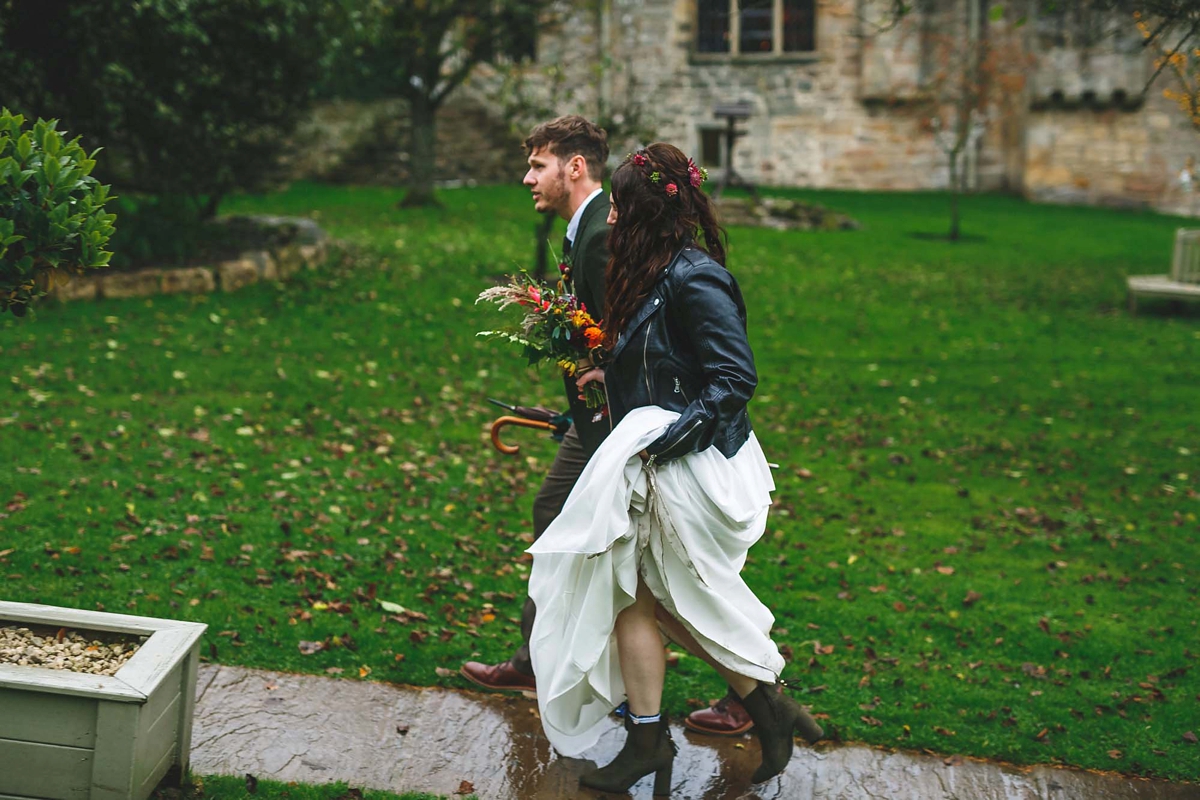 After the ceremony, guests were transported from the ceremony venue to the reception venue by Hargreaves Coaches, where on arrival they were greeted with a beautifully decorated village hall, just in time for the wedding breakfast catered by Ribble Valley Group Catering.
"We brought loads of our own nick nacks from home and my parents home to decorate the hall with. We used hanging hearts, signs and jars, borrowed the bunting and table runners from my auntie Sally and used lots of flowers everywhere from Flowers From The Garden. My aunt Sally also designed and made all of our invites one by one!"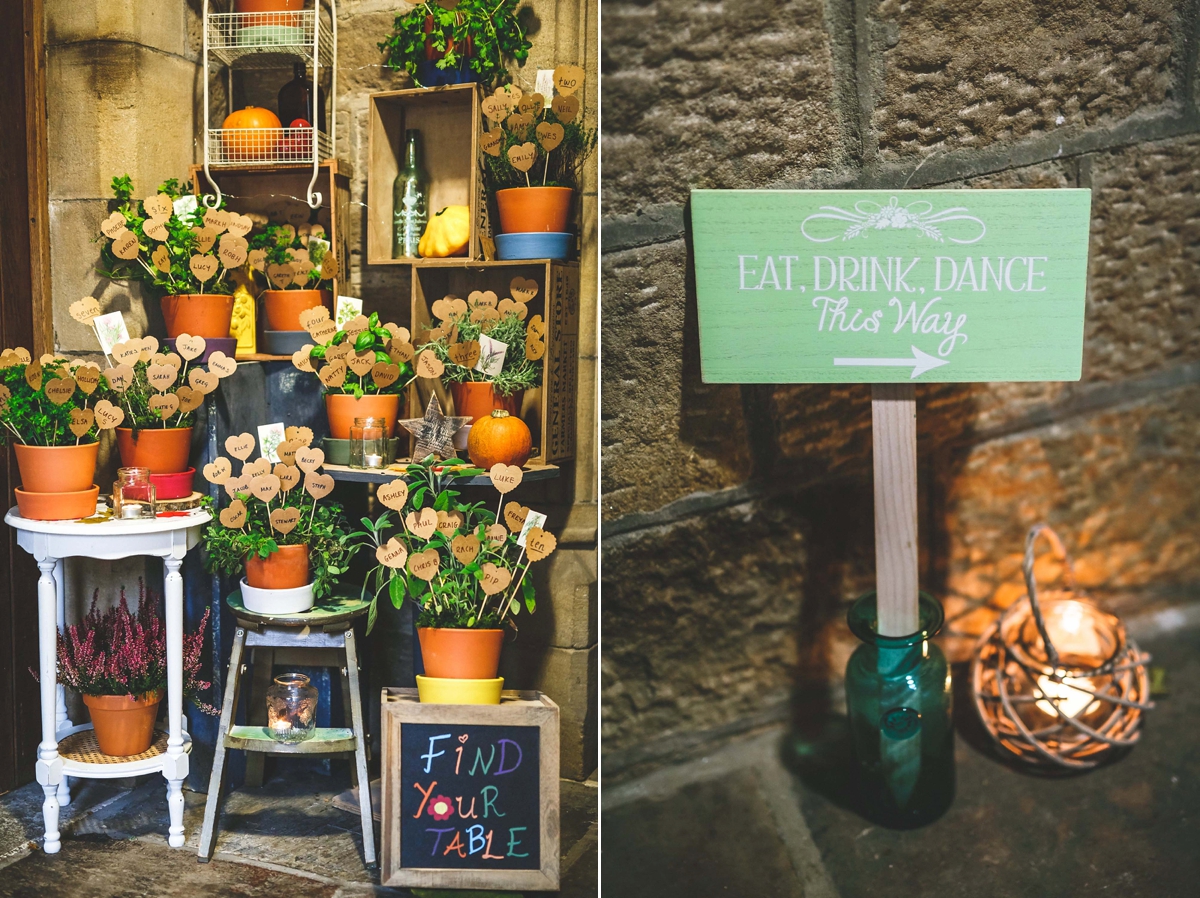 "We chose the reception venue first – we really wanted a Yorkshire venue and we definitely wanted a blank canvas. We had looked at some beautiful places in North Yorkshire that were way over budget (glamping venues, converted barns etc.) but nothing quite ticked the box. Caleb's mum suggested Bursnall Village Hall. We went and fell in love instantly, so much so I cried when we found it."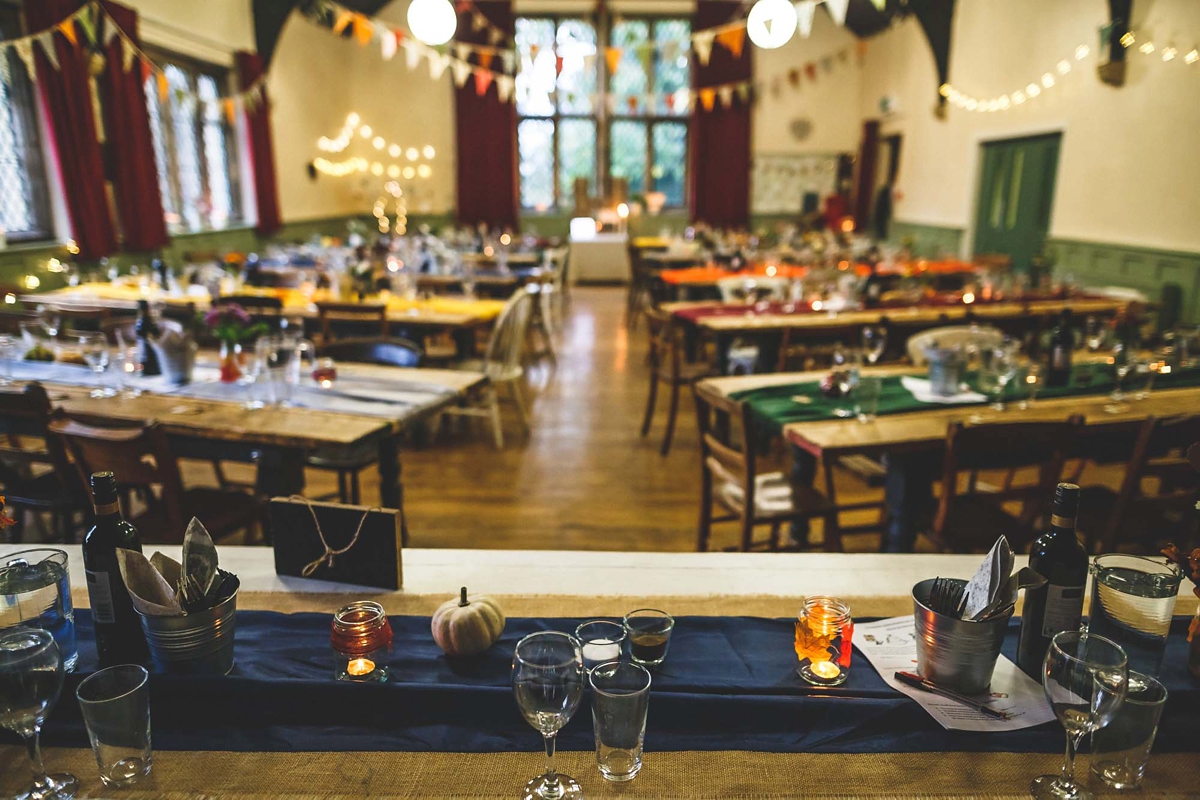 "Not only was it a perfect blank canvas, but the setting was idyllic too. A gorgeous spot and a stone's throw from the river for some great photo opportunities. Following that, it took us a little while to settle on the ceremony venue. We were thinking outdoor originally, but after an open day at The Priest's House, we knew the beautiful building with the gorgeous surroundings would do the job nicely."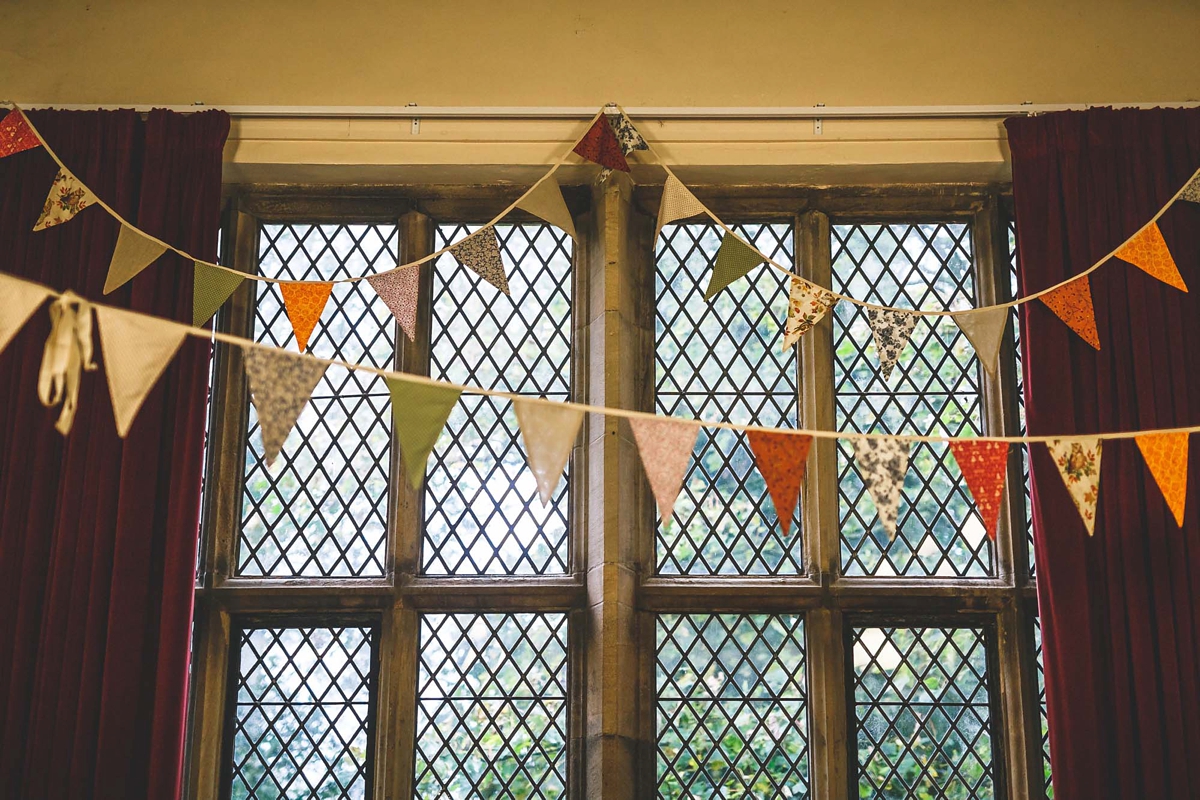 The delicious looking 3-tier naked cake was also a family affair, made by two of Rosie's extremely talented family friends.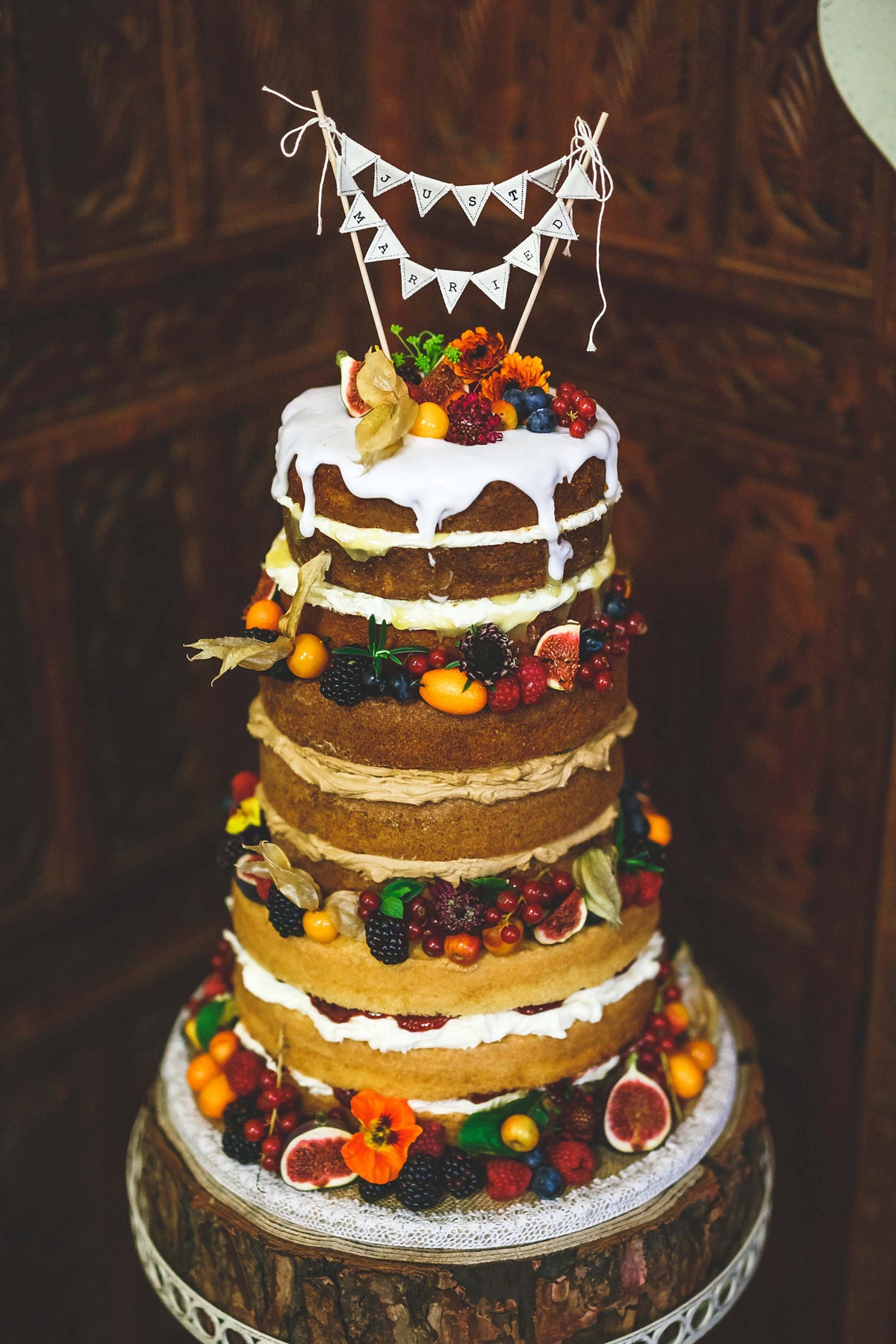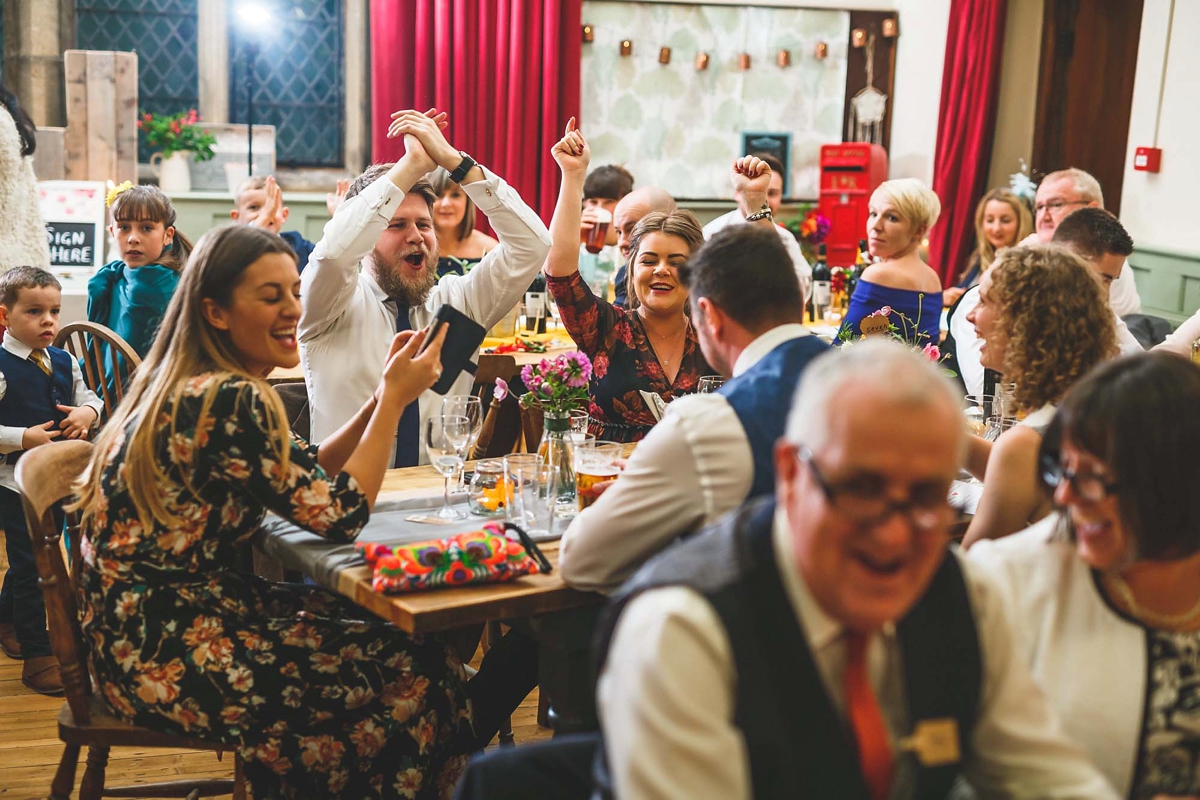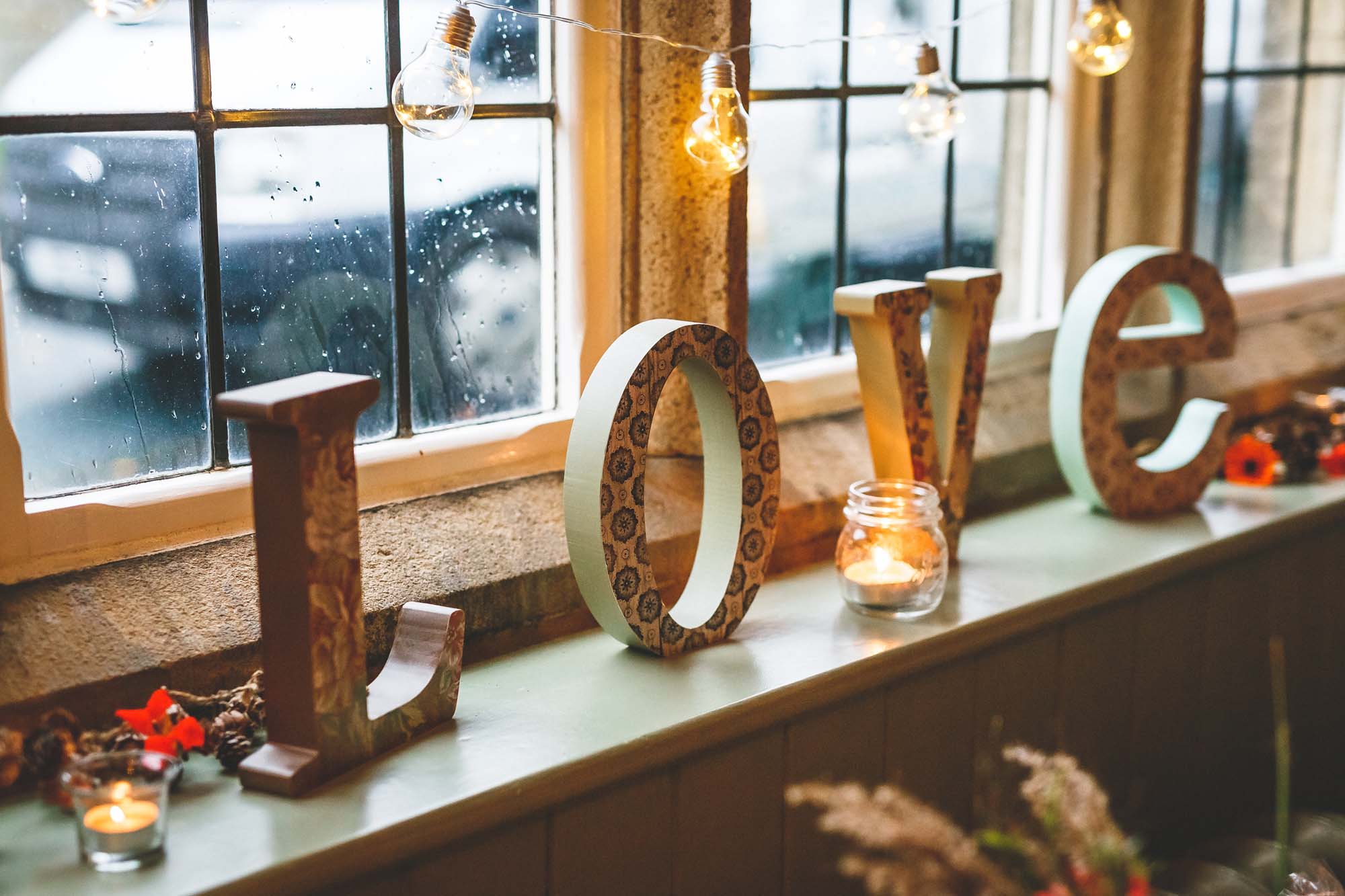 "Our favours were toffee and chocolate apples from Stud Farm Fruit. My mum sorted these for us and labelled them all up. We didn't leave them on the table, instead we left them for guests to help themselves to if they wanted one."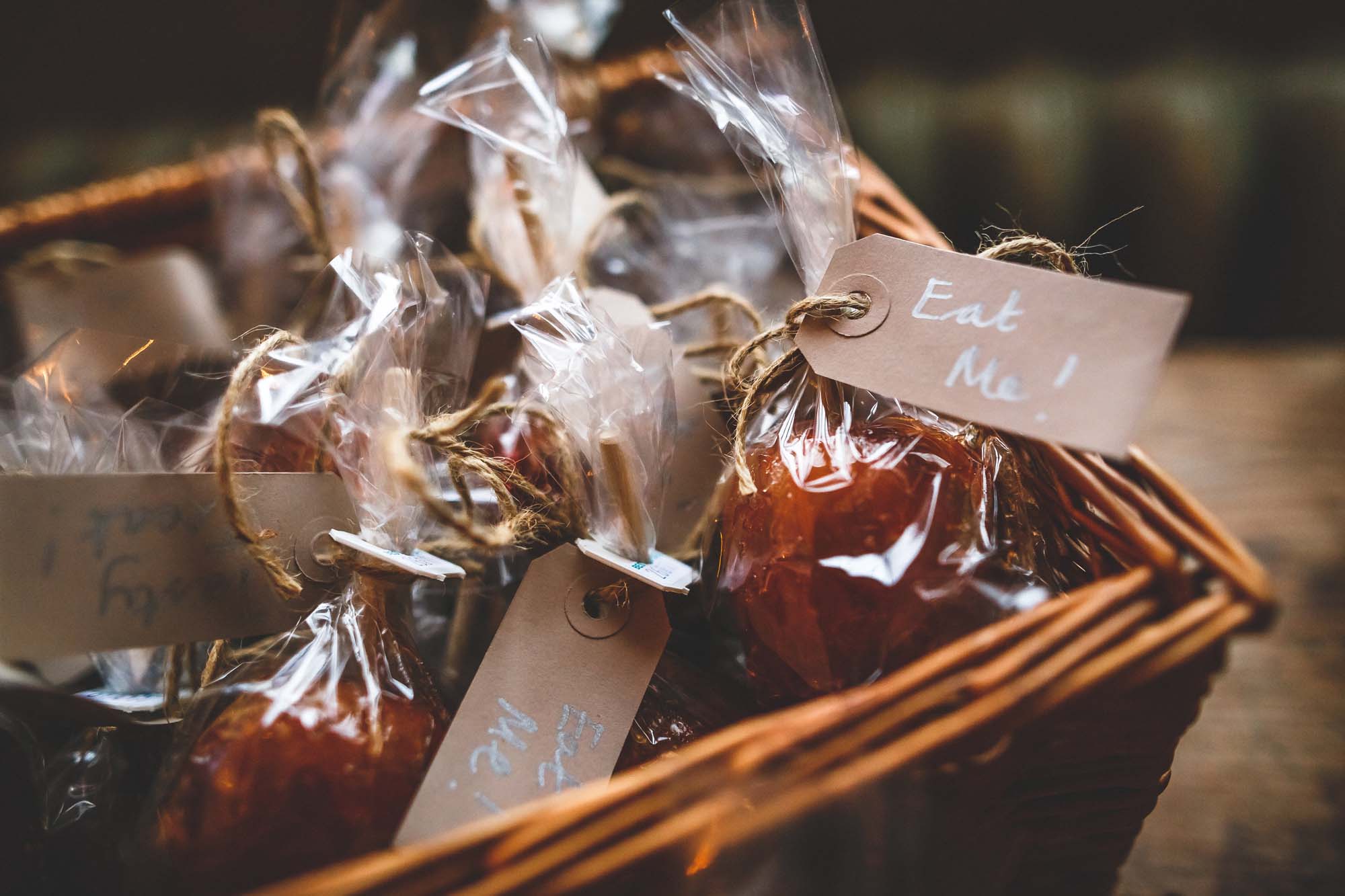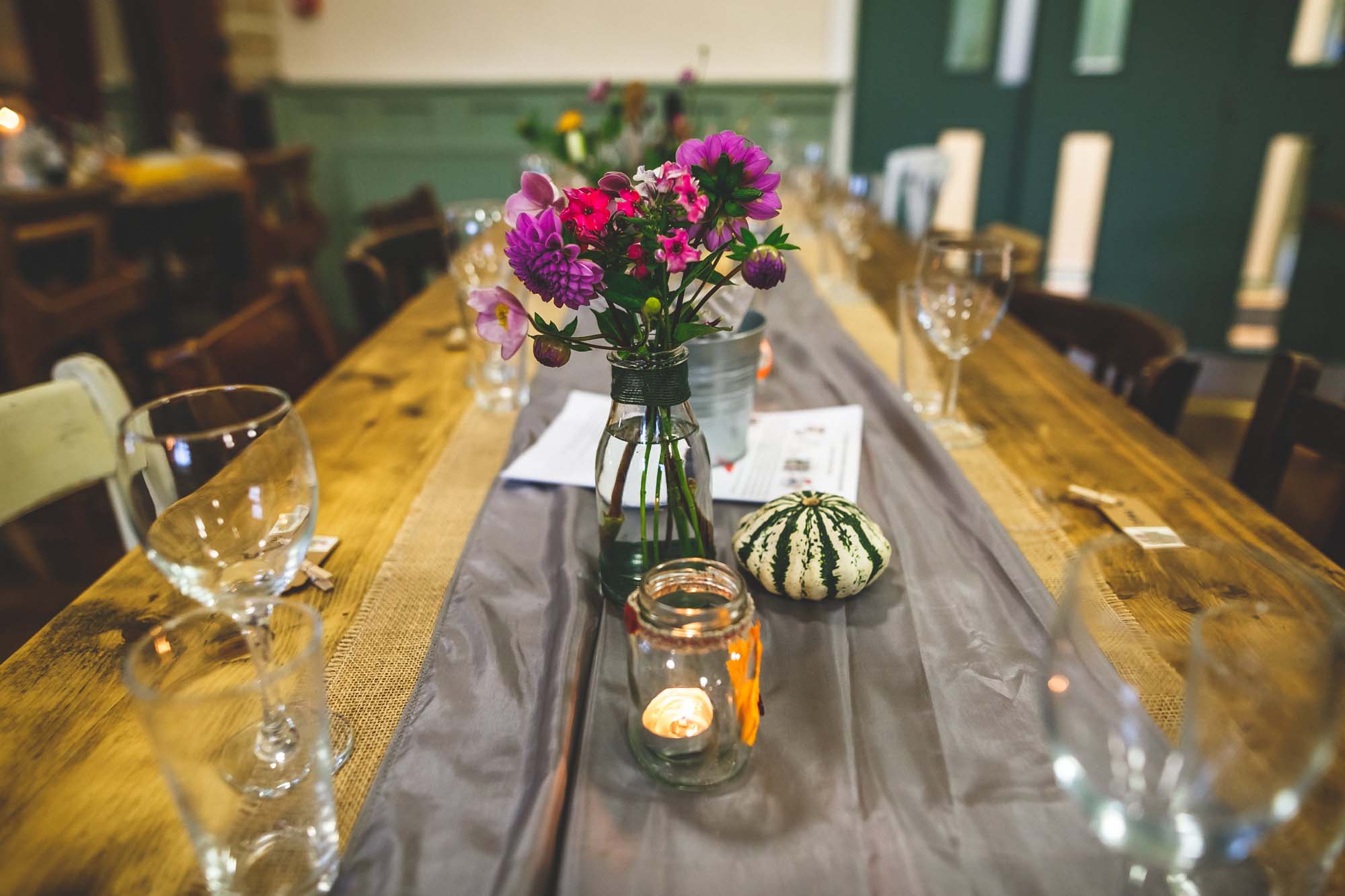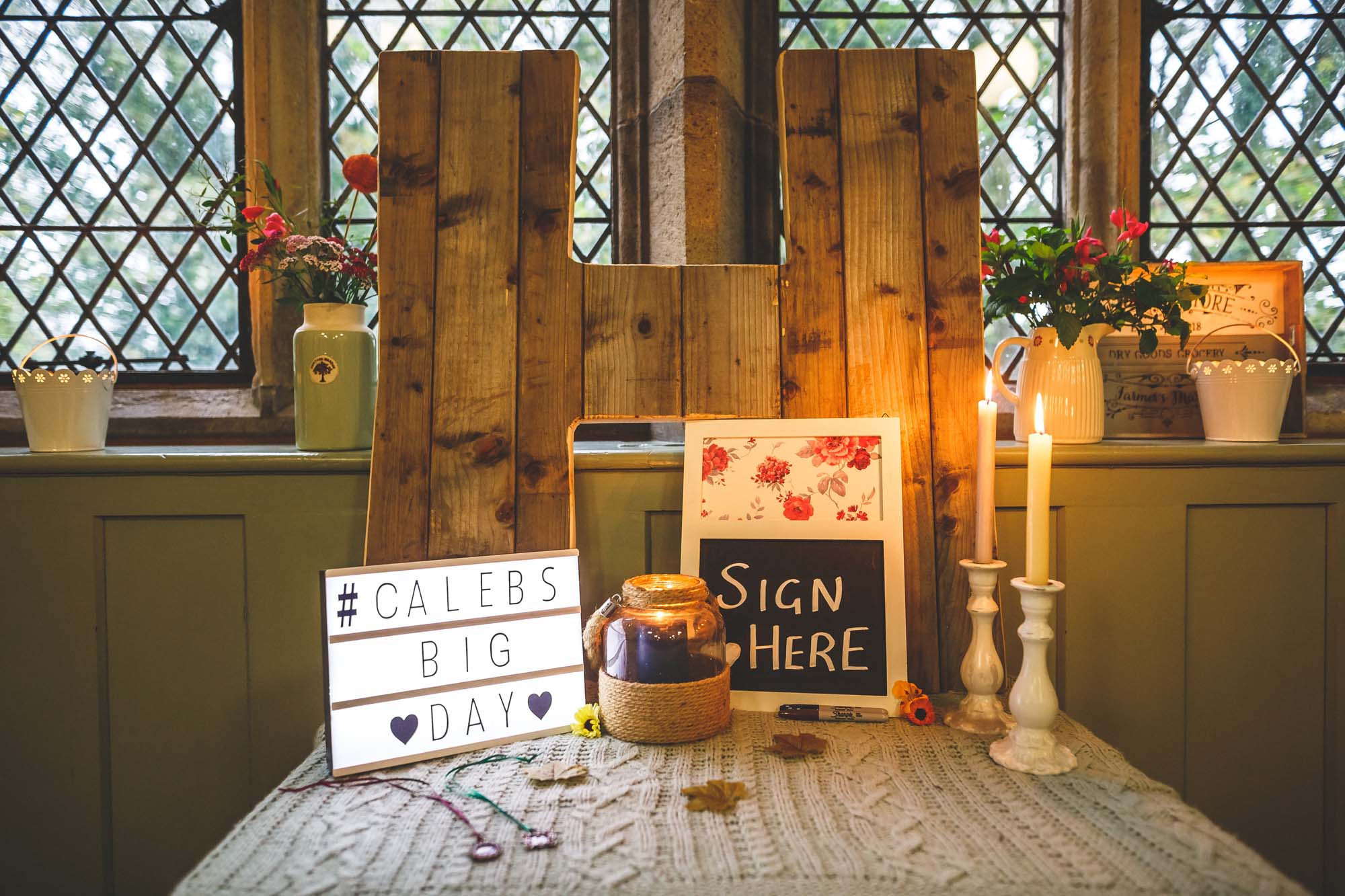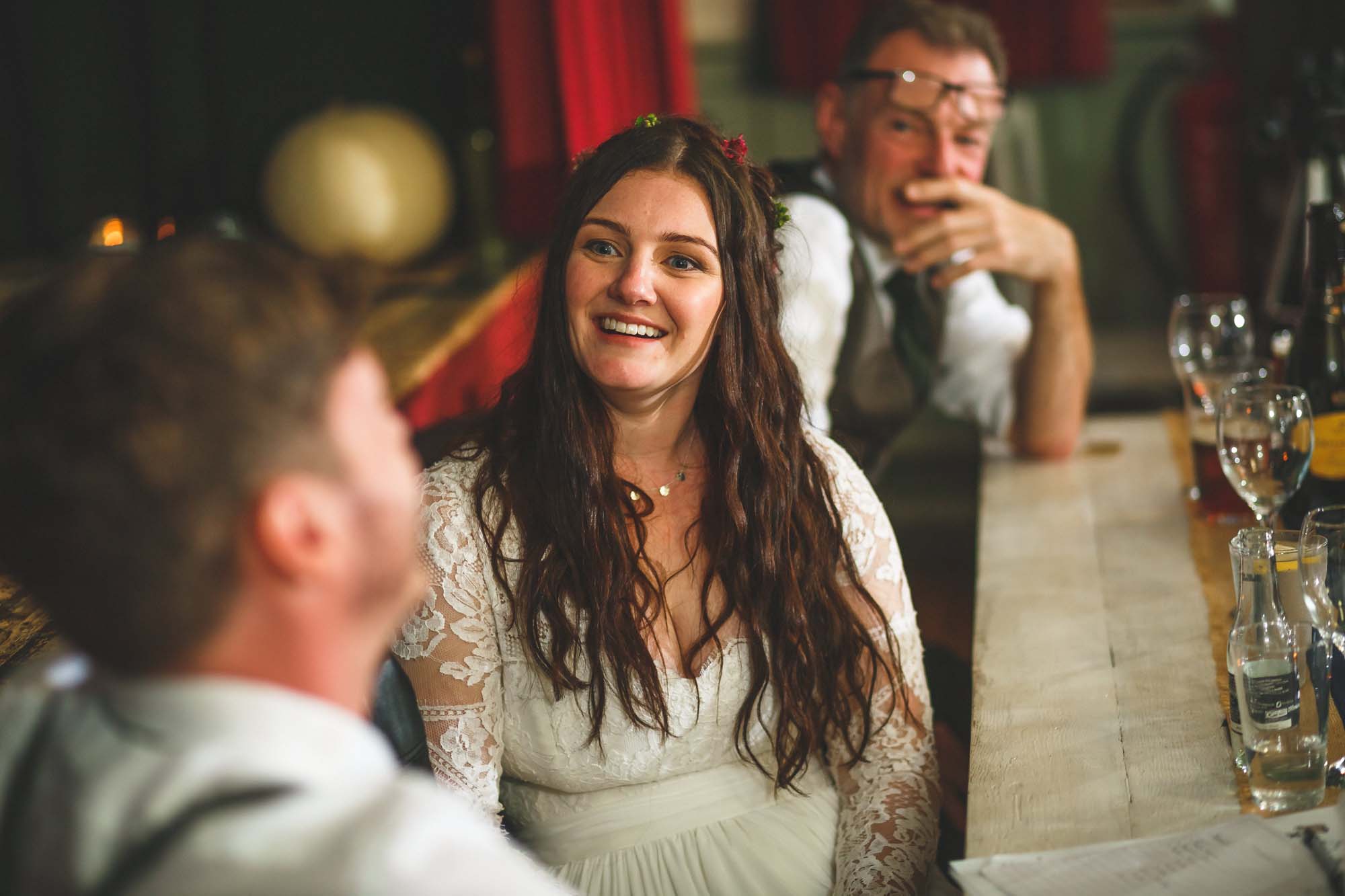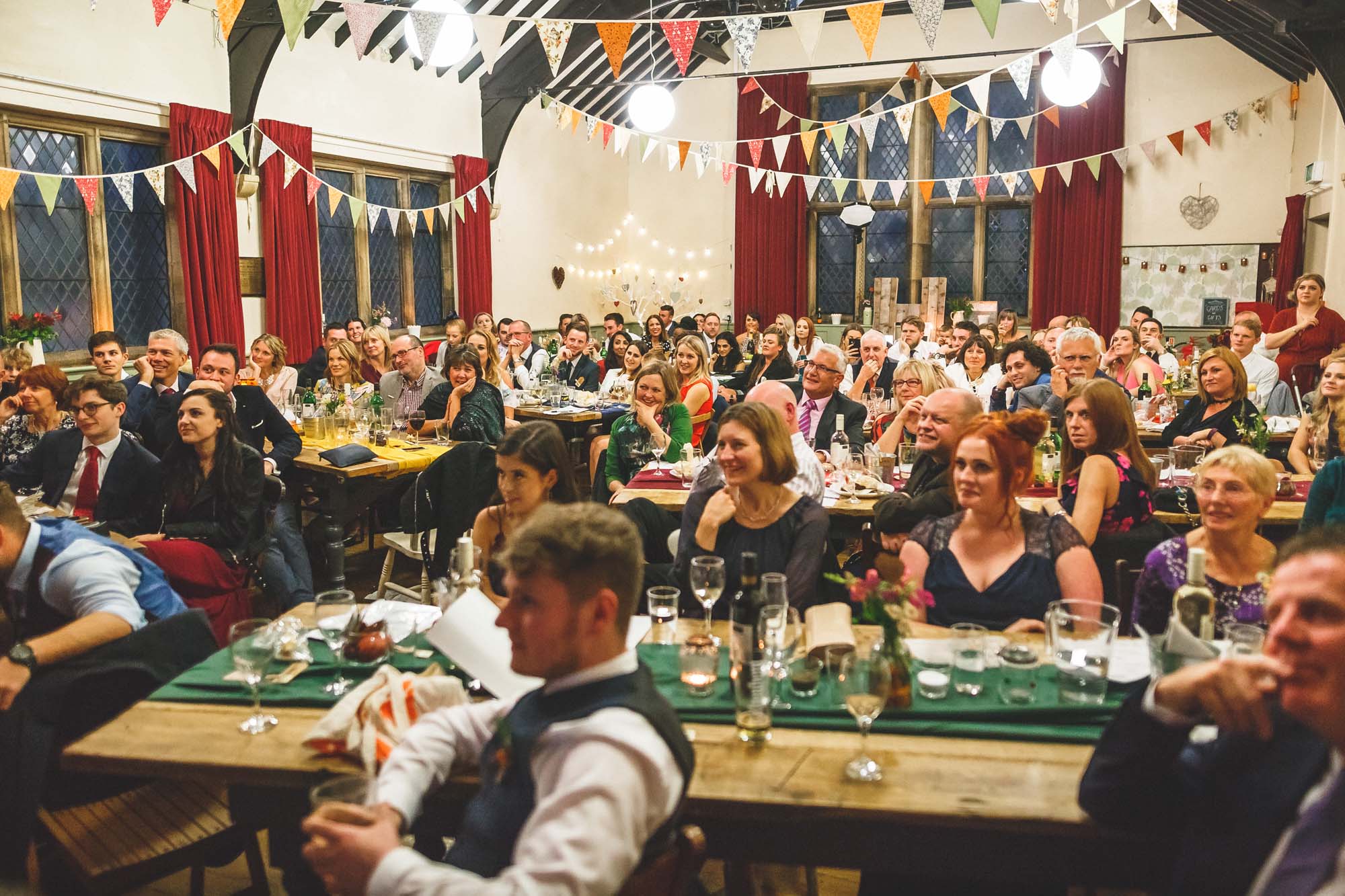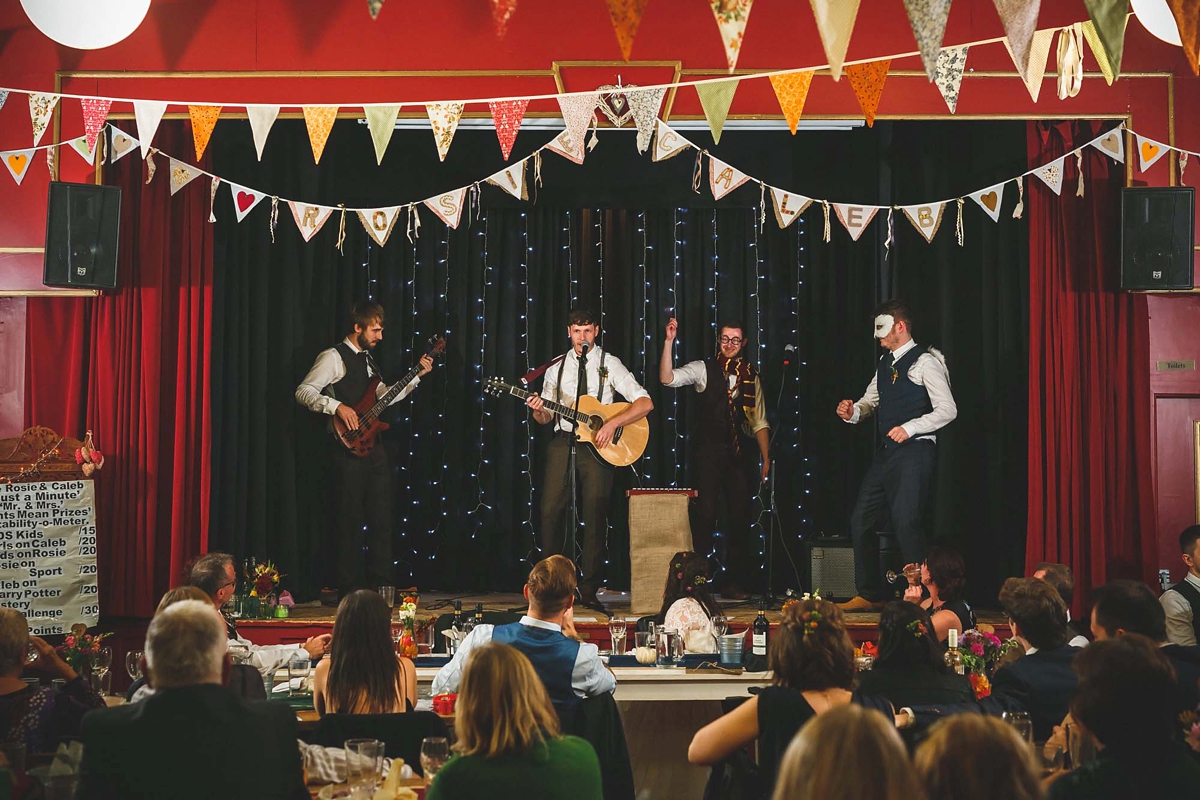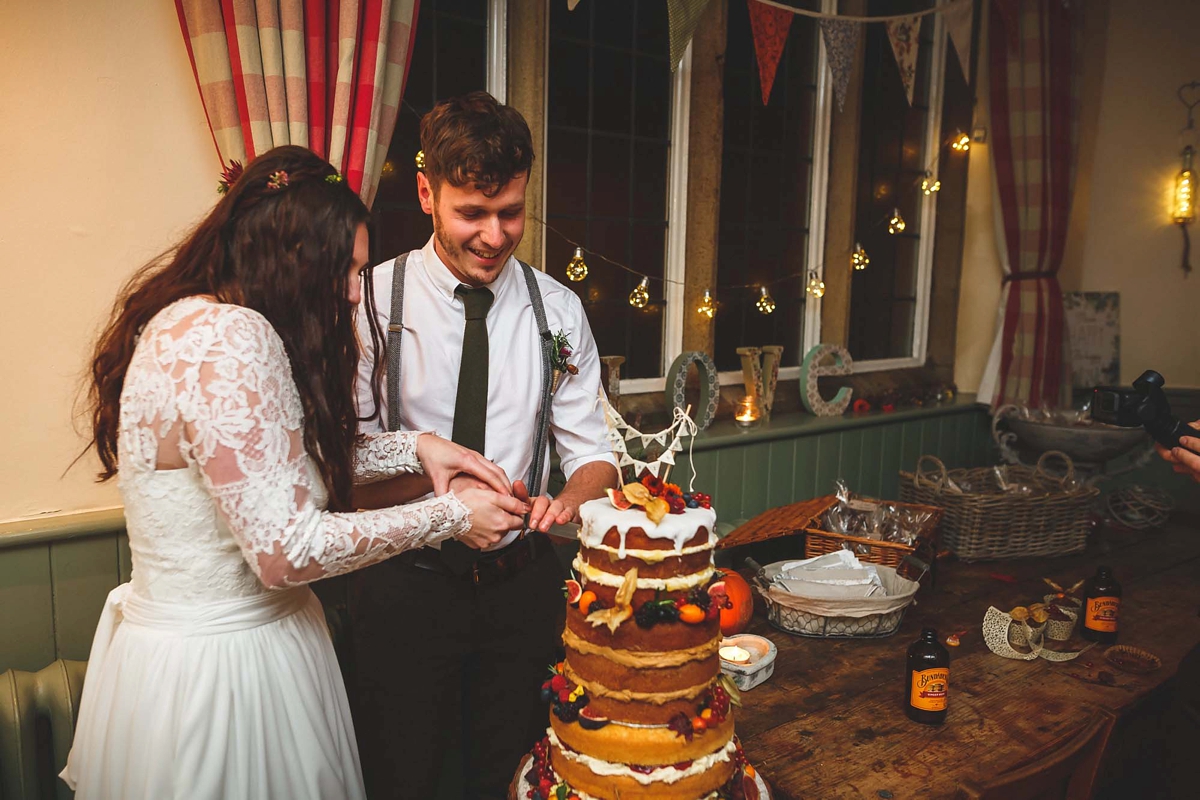 The bride and groom then kicked off the evening celebrations with a first dance to Hooked On A Feeling by Blue Swede.
"It's an upbeat and fun track and true to us as a couple. It was also only 2 minutes long as Caleb wanted this part to be over quickly! We got everyone to join in after about 30 seconds. Marc and Abi were our evening band who then played the night out and they were unreal!"
"The day went so much better than we could ever have imagined despite Storm Brian swooping in. We loved the day just the way it was because we stayed true to ourselves. My favourite moment was Caleb's speech and saying our loving words during the ceremony, and Caleb's favourite moment was seeing everyone we love in the same room."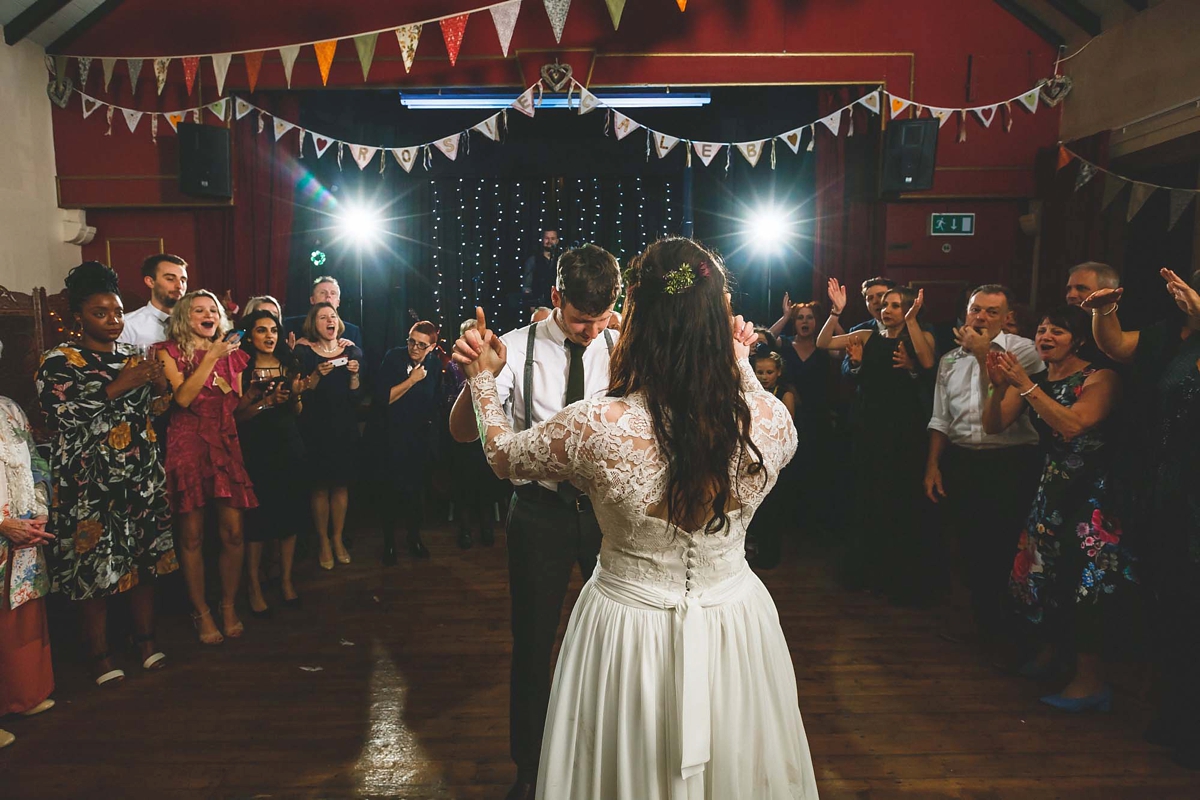 Words Of Wedded Wisdom
"Whatever you think is going to matter on the day, it really won't. Whatever you imagine it to be, it will be better. Whatever you do, make it personal and true to you as a couple – these moments were what made our day so special."
"Also, as a bride, if things go wrong, you never find out until after the wedding anyway, so embrace it!"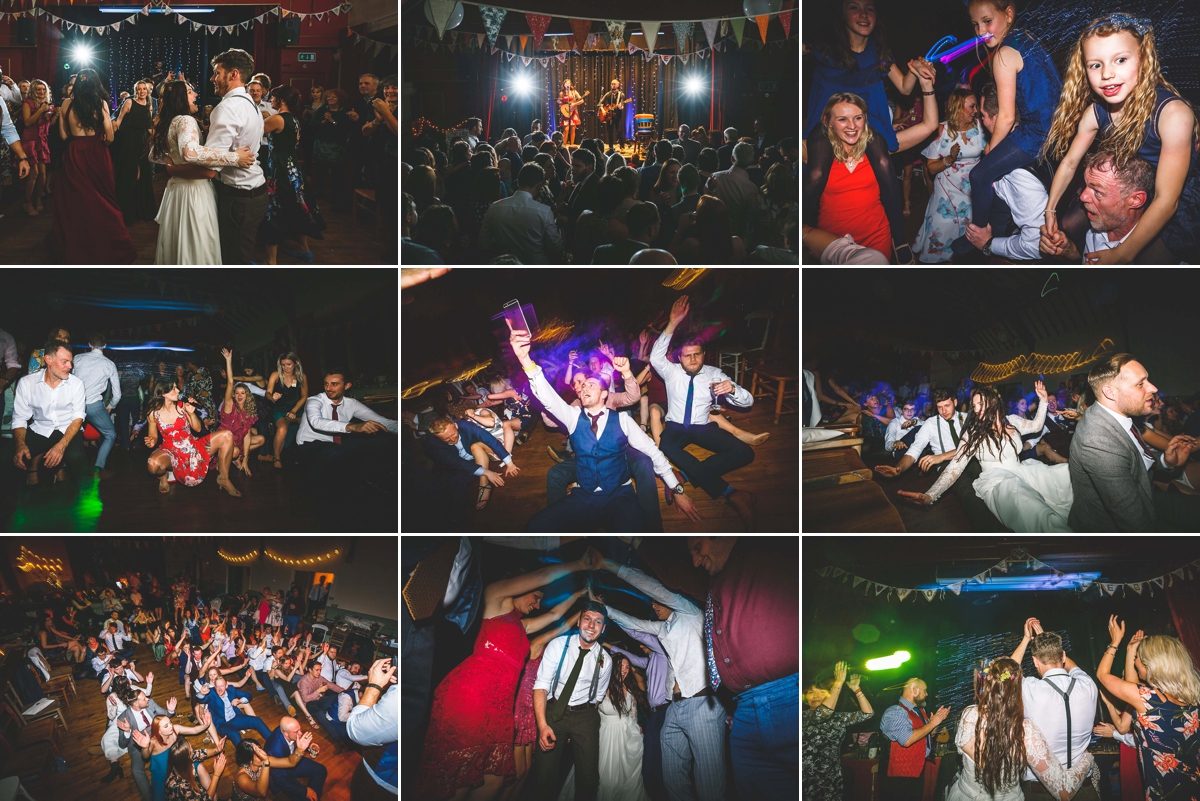 What a gorgeous, down-to-earth and truly personal day – a big congratulations to Rosie and Caleb for pulling off such a great day, even when up against Storm Brian. And a big thank you to Gareth Newstead for capturing it all so perfectly on camera.
Until next time…
Much love,
Holly x