Firstly good morning lovely ones – and for those of you who are parents to school-aged children, welcome to the summer holidays! Let's make this a good one shall we? Whilst these glorious summer days still bestow us with their warmth, I wanted to to share a wedding that really captures the essence of a care free summer wedding.
Sally, currently on maternity leave from her receptionist job but in the middle of starting her own  prop hire and styling business for small events and weddings, wed Kris, a Senior Credit Analyst on 22nd June this year at Cripps Barn, in Bibury, Gloucestershire. I adore the elegant, ethereal vibes in this beautiful wedding. The children in their sweet tutus, the flowers in the brides hair, the stunning barn decor – enjoy lovely ones.
"A Midsummer Night's Dream was the inspiration for the day. I have always had a love of fairies and all things magical and woodland related. We wanted the day to be natural, but magical, romatic, ethereal, colourful and fun.  We knew we wanted a barn or somewhere natural such as a field or woodland. After viewing several options, Cripps Barn really stole our hearts. It was the only barn we found that had a natural, wild and rustic feel to it, rather than the 'purpose built' look we had seen in most of the others, clean lines and cream everywhere. We were even more in love with the venue when we saw 'the 'glade' where weather permitting, we would be married. I am starting out as a wedding stylist and so this really put my venue styling skills to the test!"
Images by Albert Palmer Photography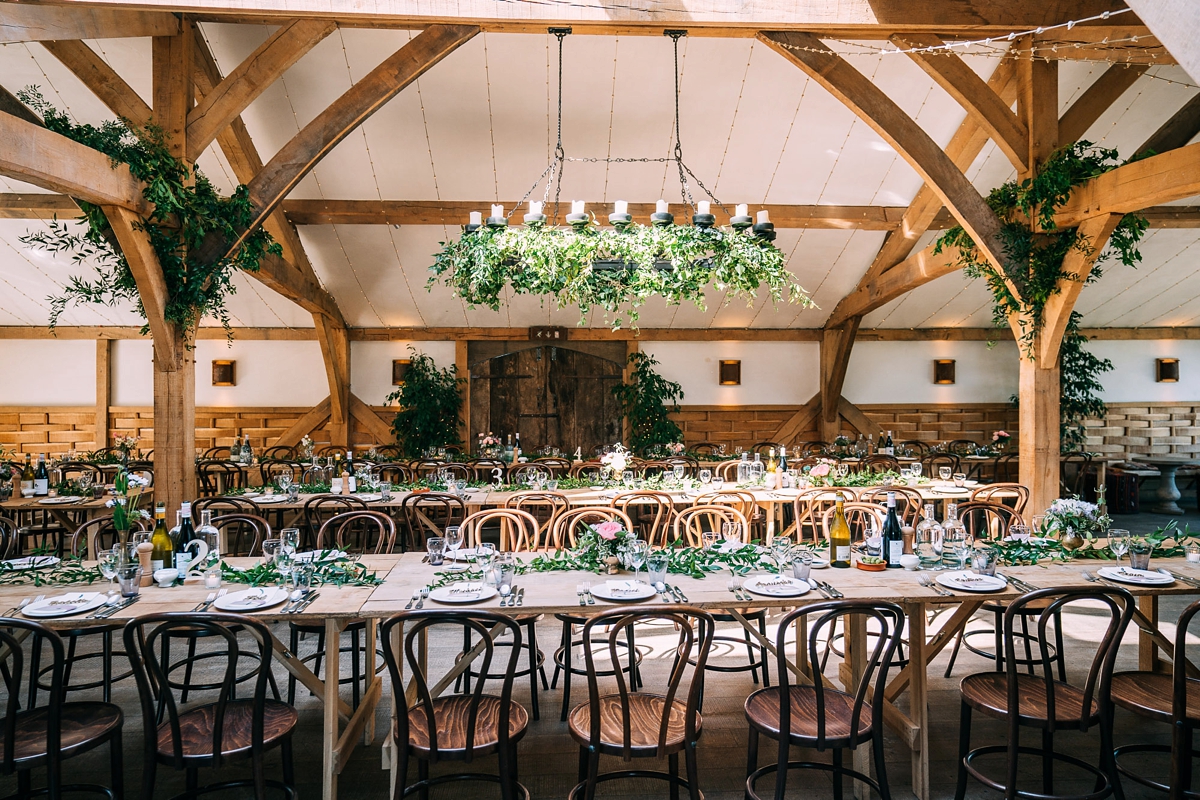 "We did however, hire a coordinator. Nina from Occassion Queens was there to bring our vision to life. I knew that with a 6 month old baby and not being able to access the venue until 9am, I'd need some special help. Fairy godmother Nina to the rescue. I told her exactly what I wanted placed and where and she made sure it was done and done perfectly. She totally took the stress out of the morning, meaning I could enjoy getting ready and concentrate on being a bride! I cannot recommend her enough, especially for brides like me, who know exactly what they want, but don't have the time to do it. Just knowing she was going to be there took a huge weight off my shoulders.""Kris and I met travelling in Guatemala. I had just been in Costa Rica volunteering with orphans and Kris had been in Las Vegas partying. Kris returned to his home in Australia and I to the UK, but we kept in touch and when I came over to Australia on my working holiday visa, our relationship really developed. Kris proposed on holiday in Barbados during a private dinner on the beach. We were engaged for a year and a half before our wedding, and had a baby in the middle."
"Julia Eastwood designed our invitations and save the dates. She was so lovely to work with and made as many changes to colours, fonts and the main design as we wanted without batting an eyelid. The end result was perfect."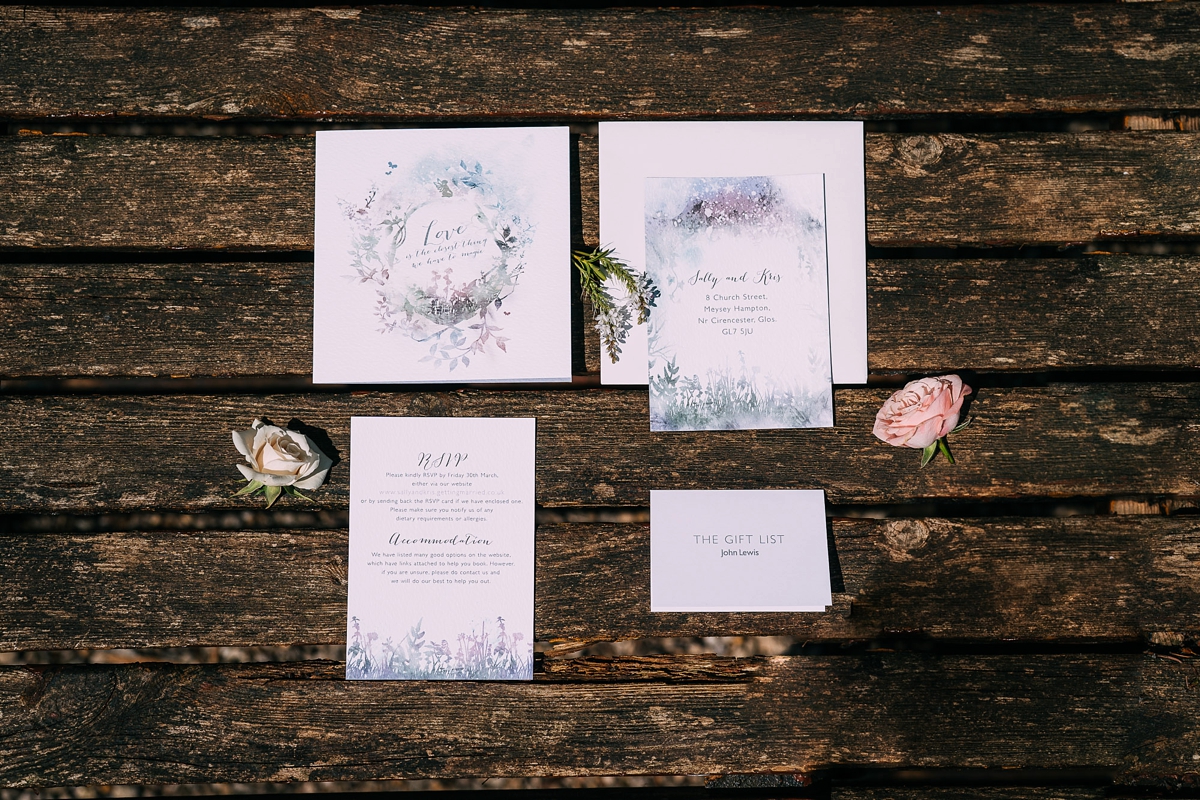 Sally wore some beautiful fresh flowers in her hair, provided by her florist, the Honeysuckle Flower Co.
"Our hairstylist was Sheena of Sheena's Wedding Hairstyles. Such a lovely, warm person, so calm in all the chaos, and she performed a miracle on my hair! After my hair trial with her, I knew I was in good hands and felt so relaxed in her presence. My dear friend Ian Hencher did our makeup – he is wonderful, and also a kindred fairy spirit of mine so really got what I wanted. He has done my makeup many times and knows my face and what suits me really well."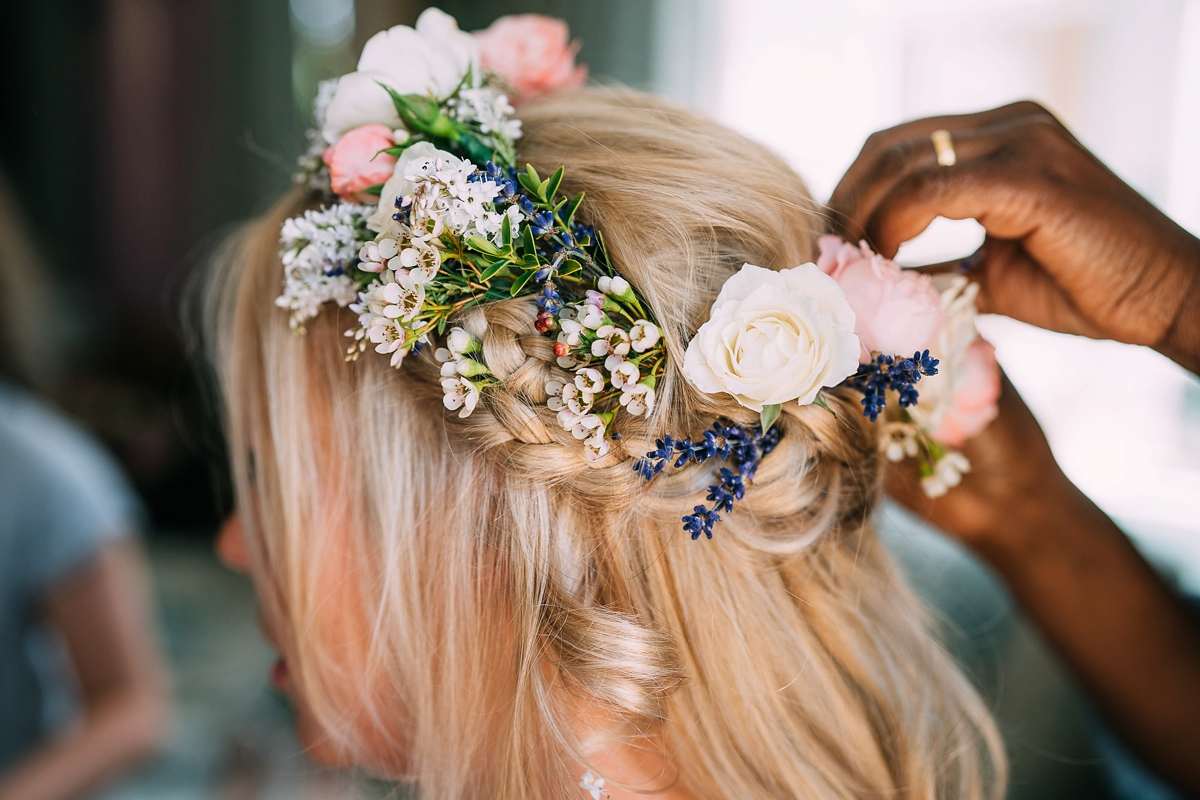 Sally wore an elegant off the shoulder design by Ti Adora Bridal, which she purchased from Satin and Silk in Hereford.
"My dress was by Ti Adora . I had an exact idea of what I wanted, but couldn't find it anywhere and after searching and searching for 'the one', getting more and more heavily pregnant (I gave birth to my beautiful little Willow in December last year), I finally found something that caught my eye on Instagram."
"I emailed boutique after boutique and finally someone responded saying that they were getting this exact dress in for a show! So off I went to Hereford, popped it on over my jeans and big pregnant tummy, and said 'that's it'. It was the first dress I felt like 'me' in. I then had little straps added to the dress, as I wanted to wear the original lace straps off the shoulders."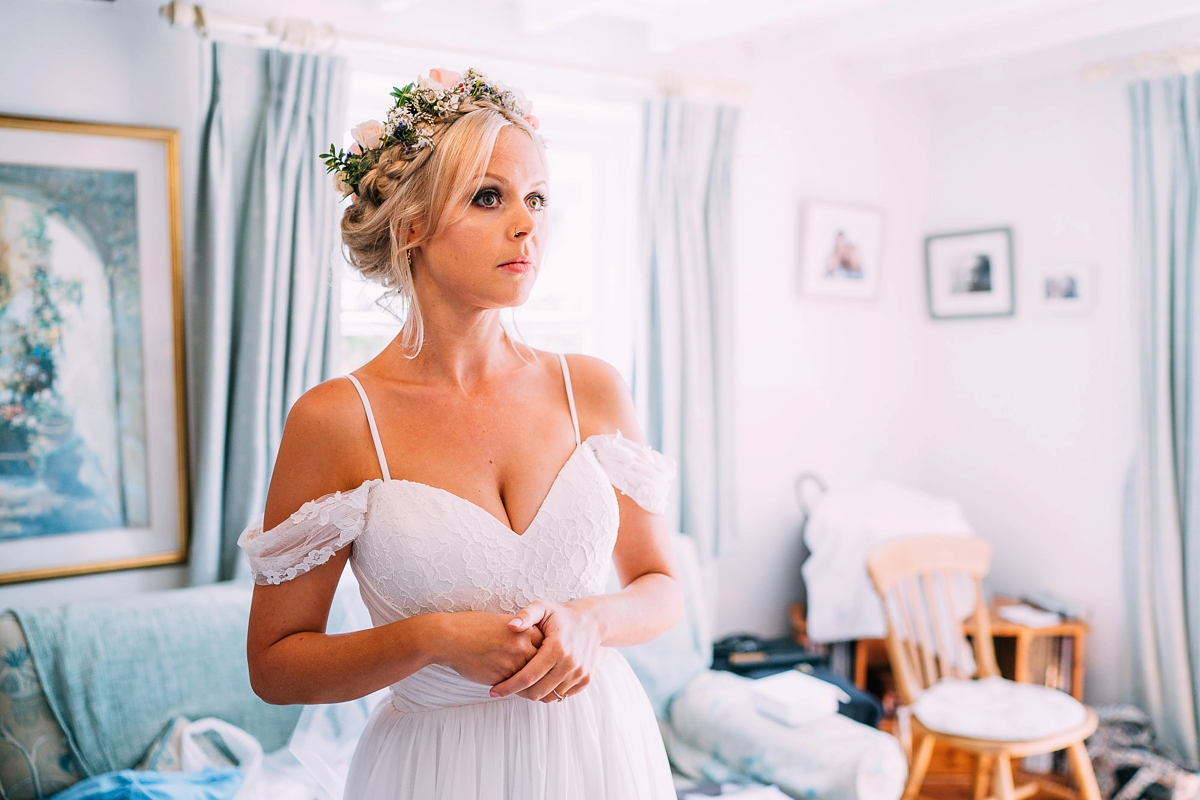 And these gorgeous floral heels were from high-street favourite, Marks and Spencer.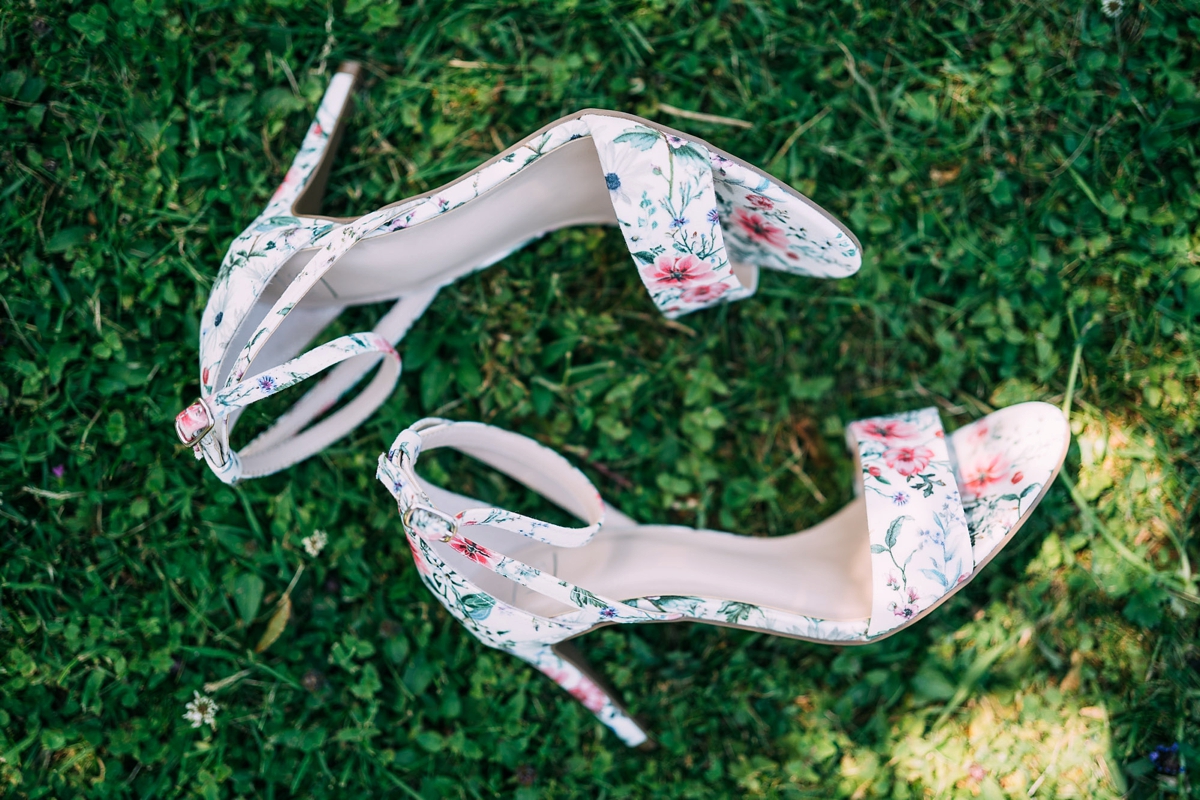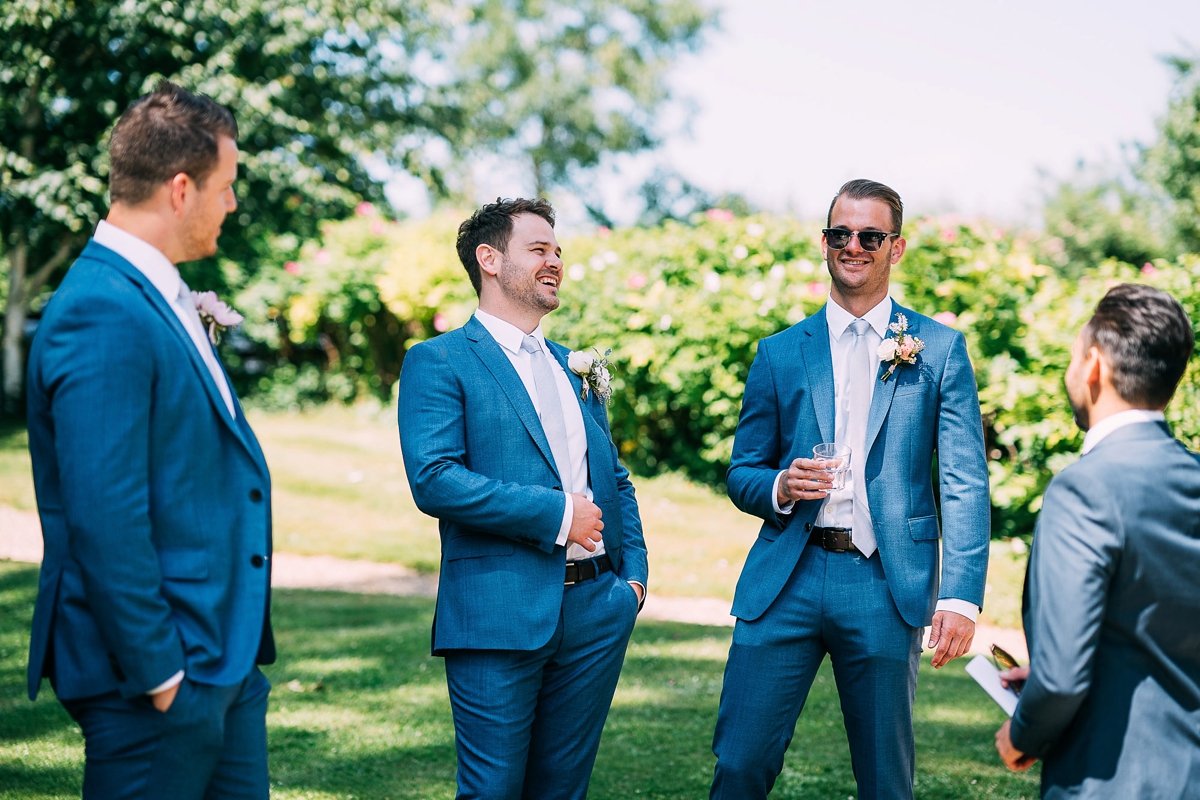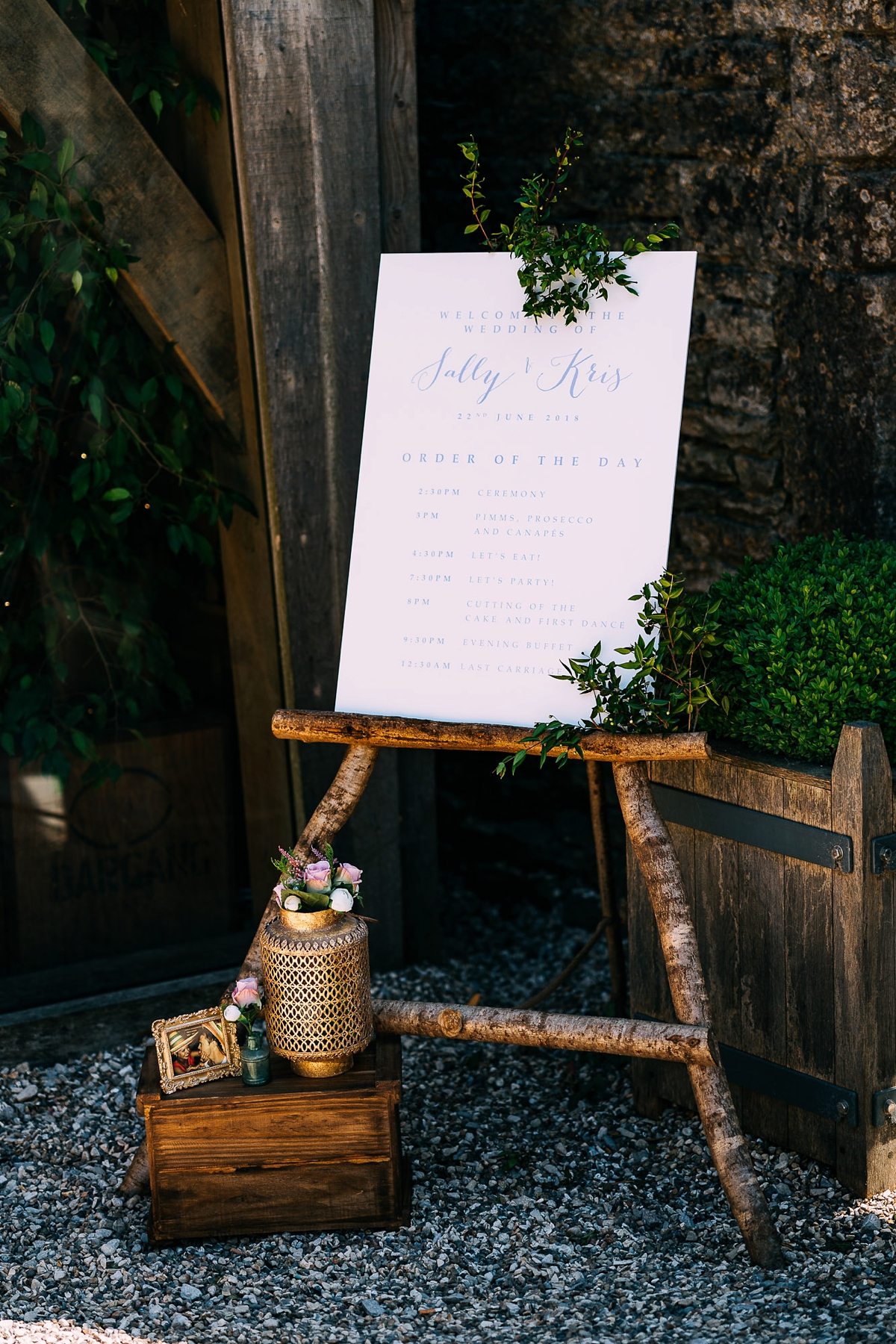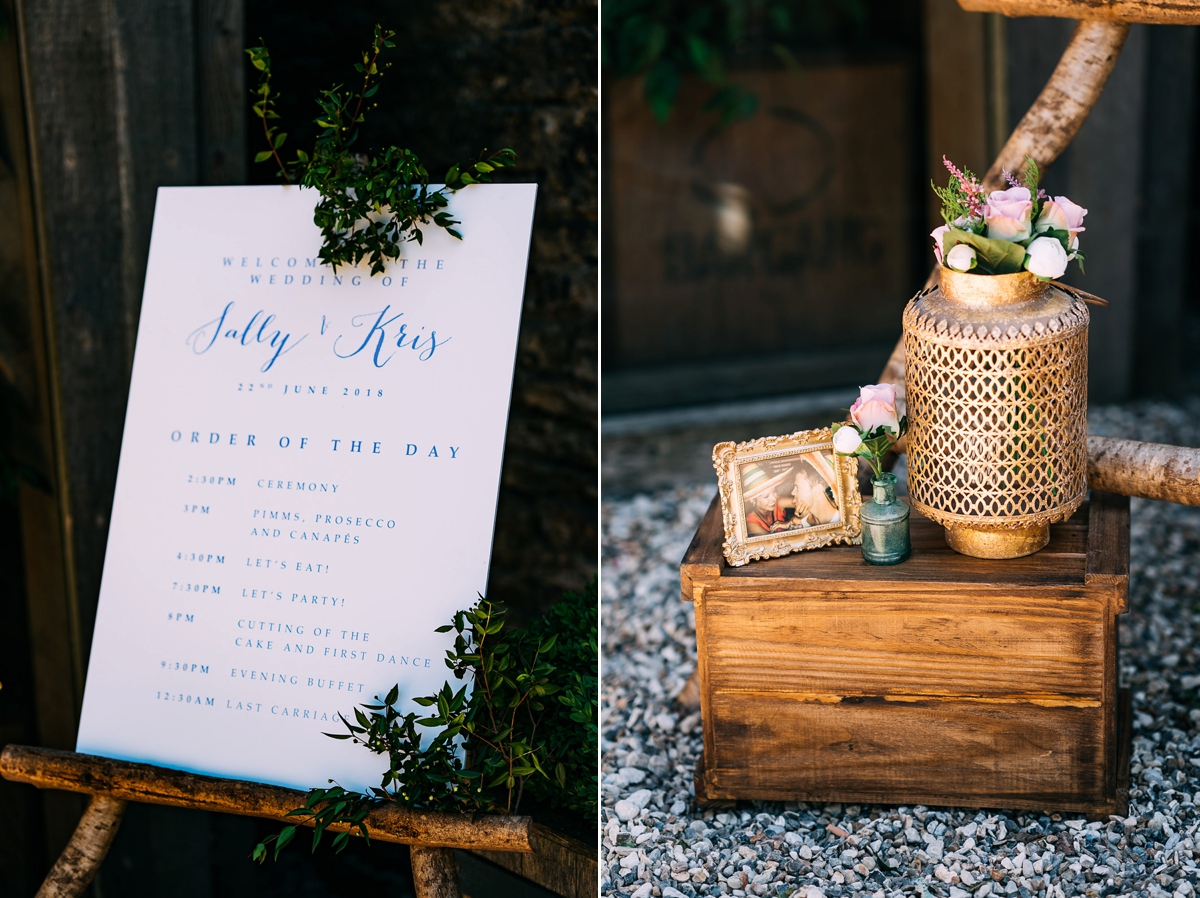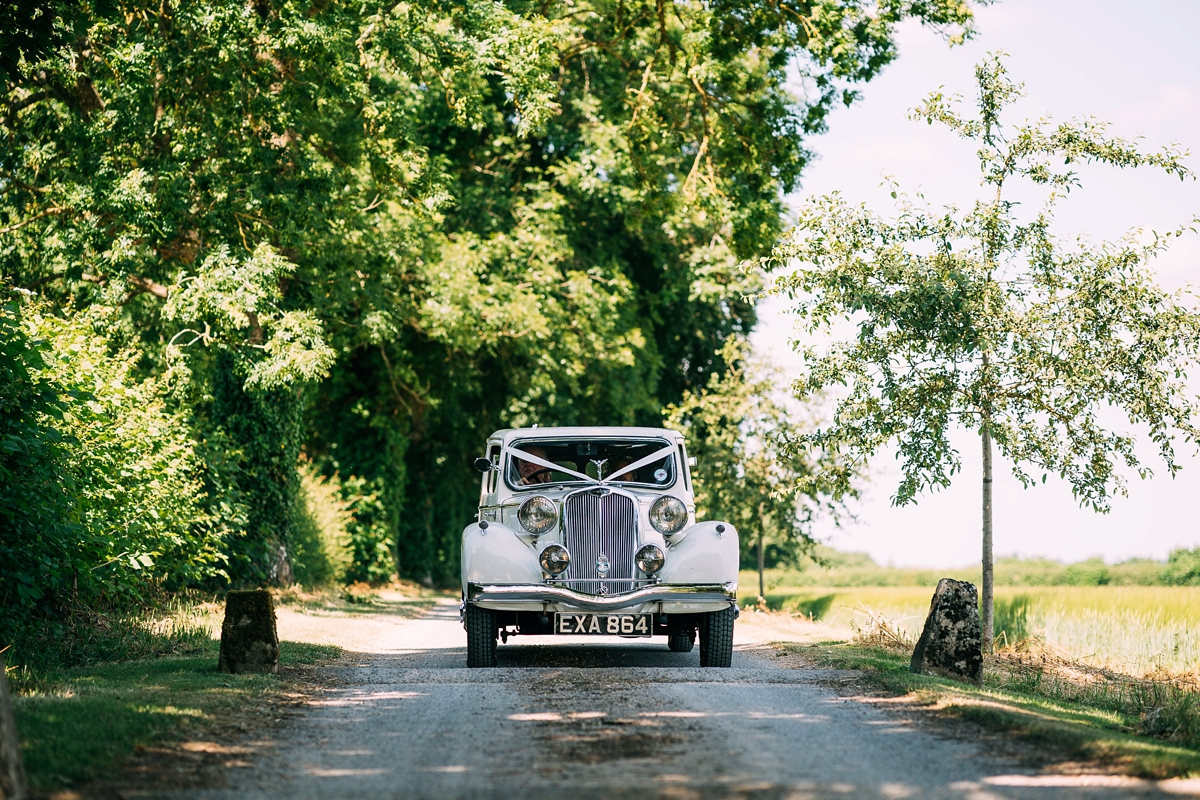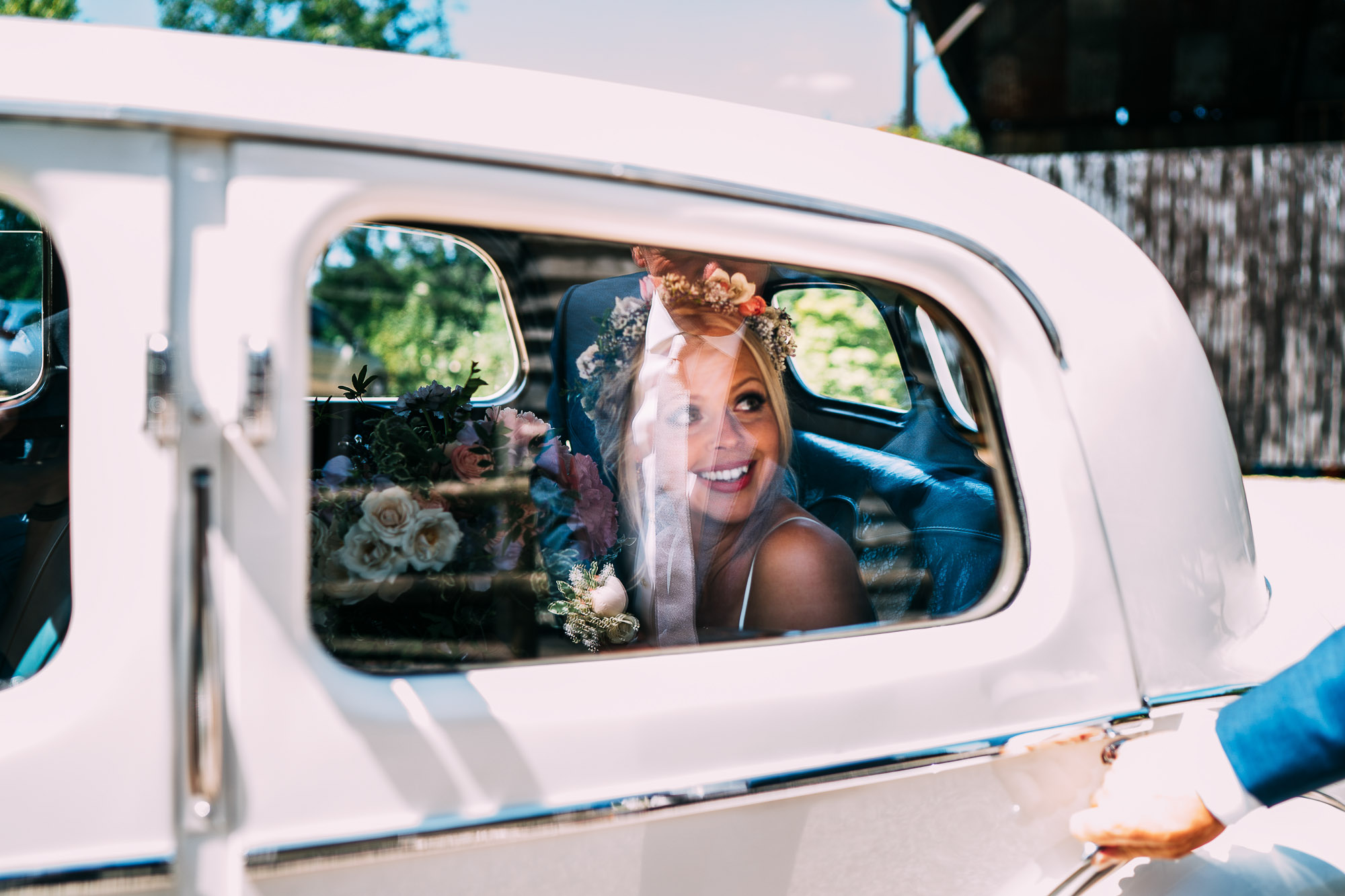 "Our florist was the Honeysuckle Flower Co. We wanted the flowers to be colourful and fit in with the whimsical wildness of our theme. We wanted to avoid the neat, uniform look and Christiane completely understood what I was after. The arbour arch outside where we got married was so stunning, I can't stop looking at photos of it."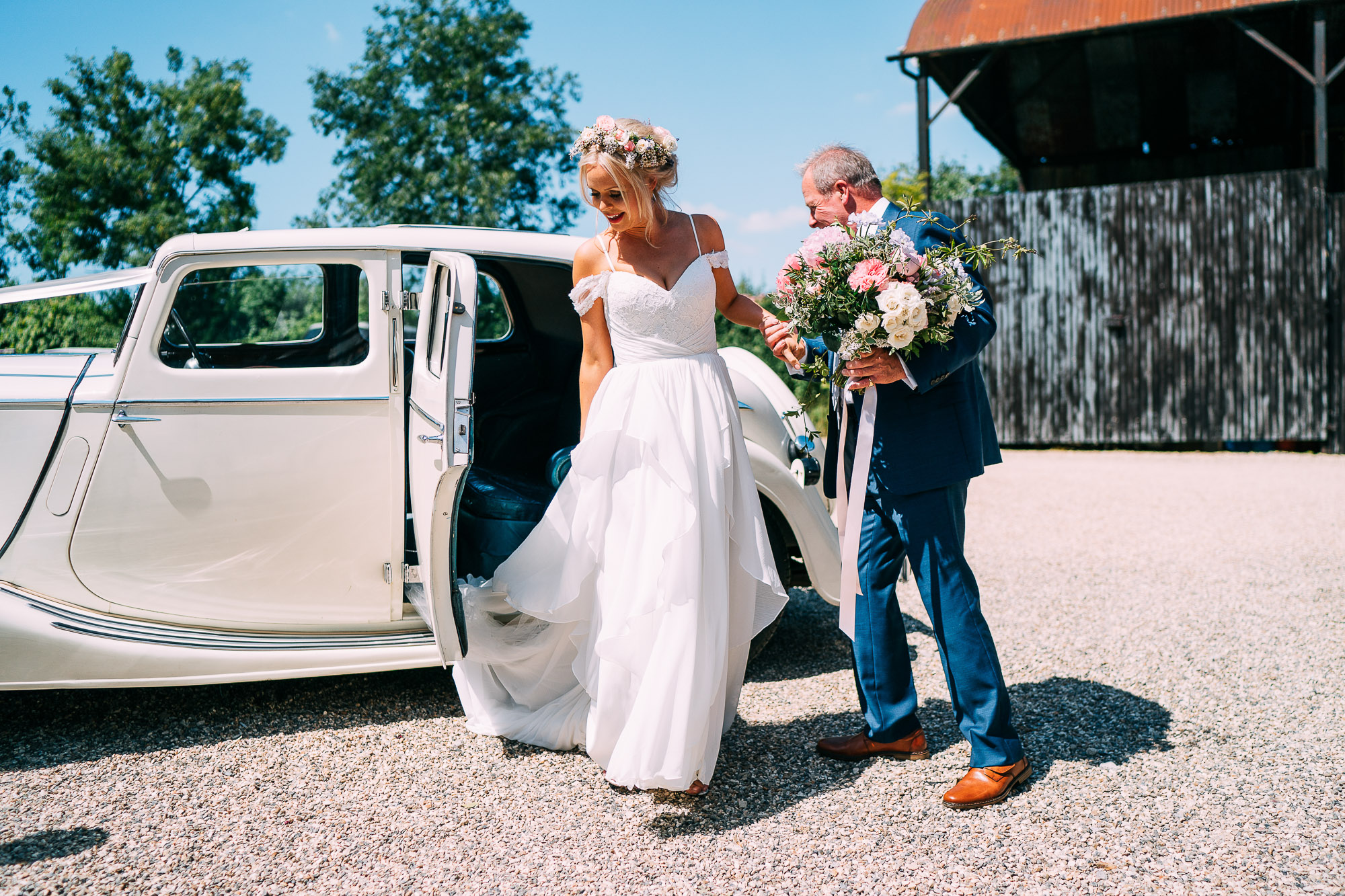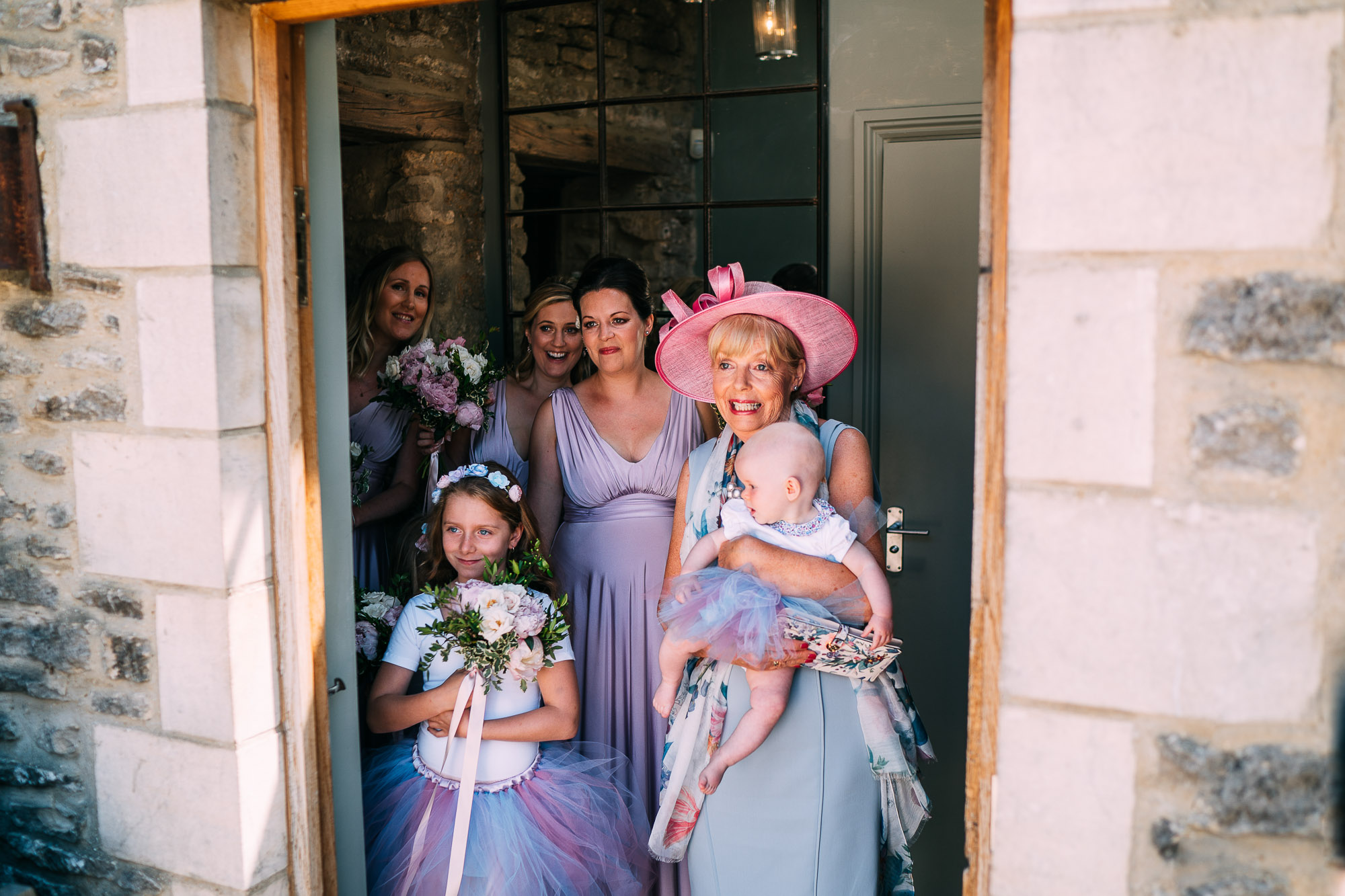 "My dear friend Sandra of Waterlily Costumes (no site details provided) made the Flower Girls skirts, including a surprise little miniature version for Willow."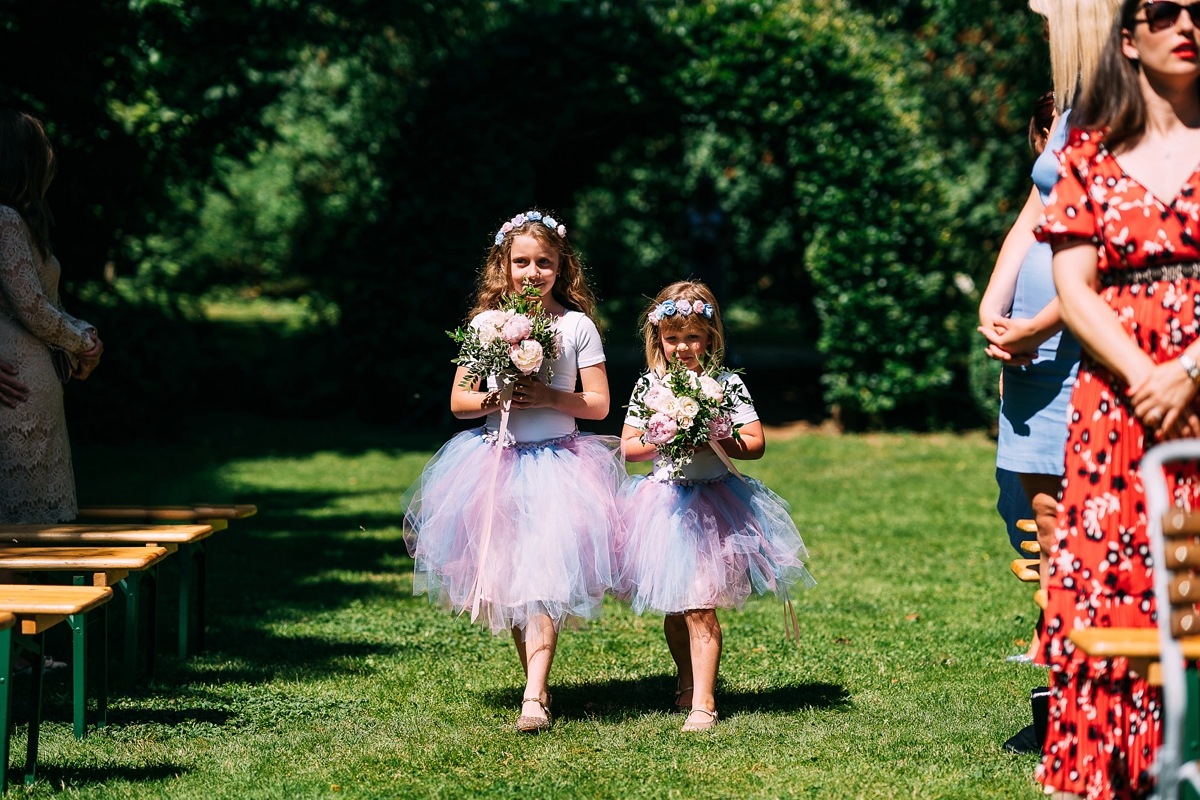 "We hired harpist Jemima Philips – not only the most wonderful person, but an amazing musician. She plays an electric harp and her sound is so unique."
"One of the highlights of the day. She played Reign of Love by Coldplay to accompany my dad and I as we entered the ceremony."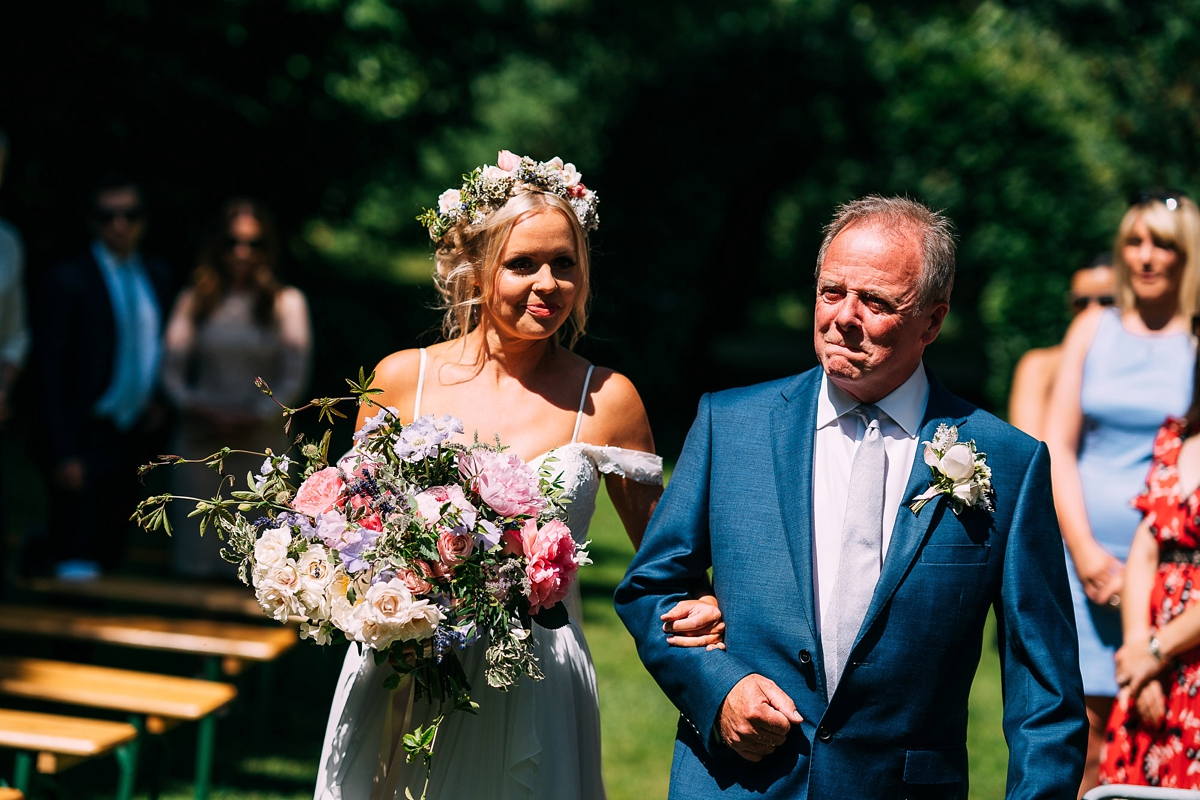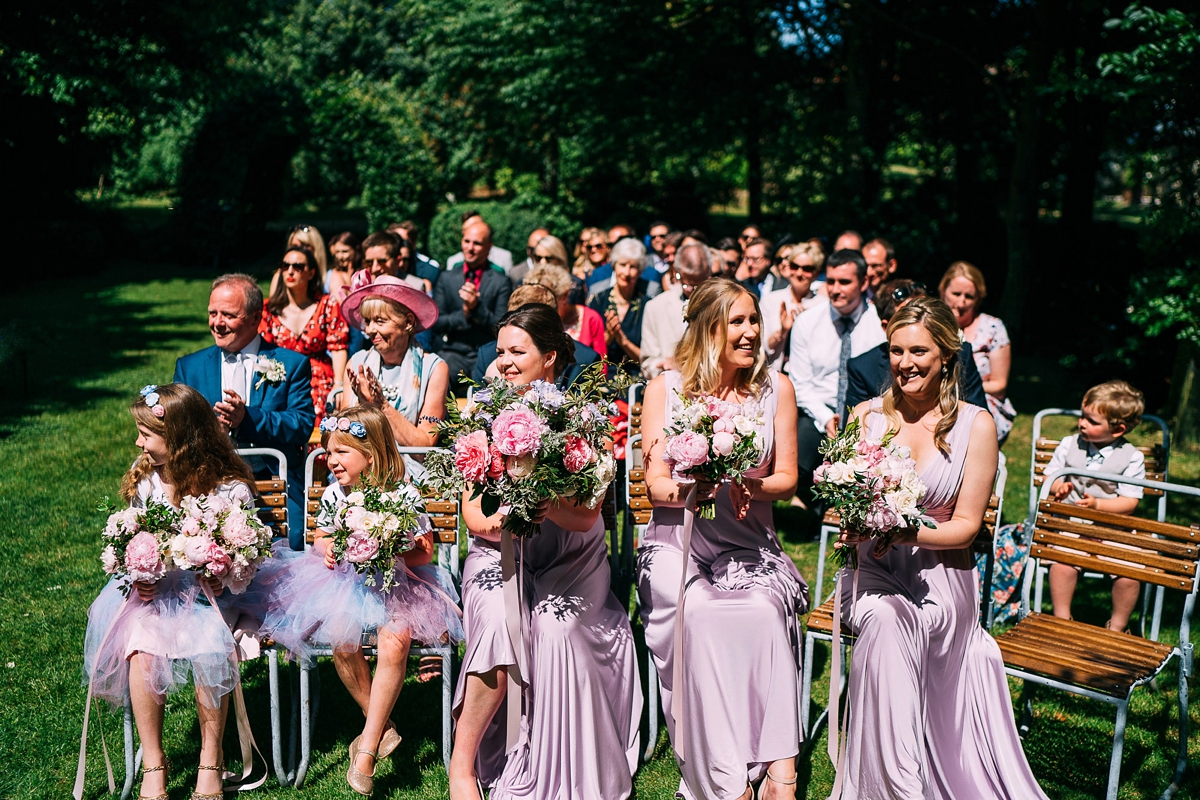 "Our celebrant, Jane Arnold, was amazing and helped us write our own vows. She came up with the most beautiful ceremony that we couldn't have written alone, it was so personal and full of laughter, smiles and love. We included a hand fasting section as I have a pagan heart and this seemed fitting. It also meant that we could include little Willow in our vows and Jane made such beautiful hand fasting chords in our wedding colours, with little trinkets attached that are so personal to us. She kept what she was going to say about us a total secret, which was really exciting and was so lovely to listen to in that moment."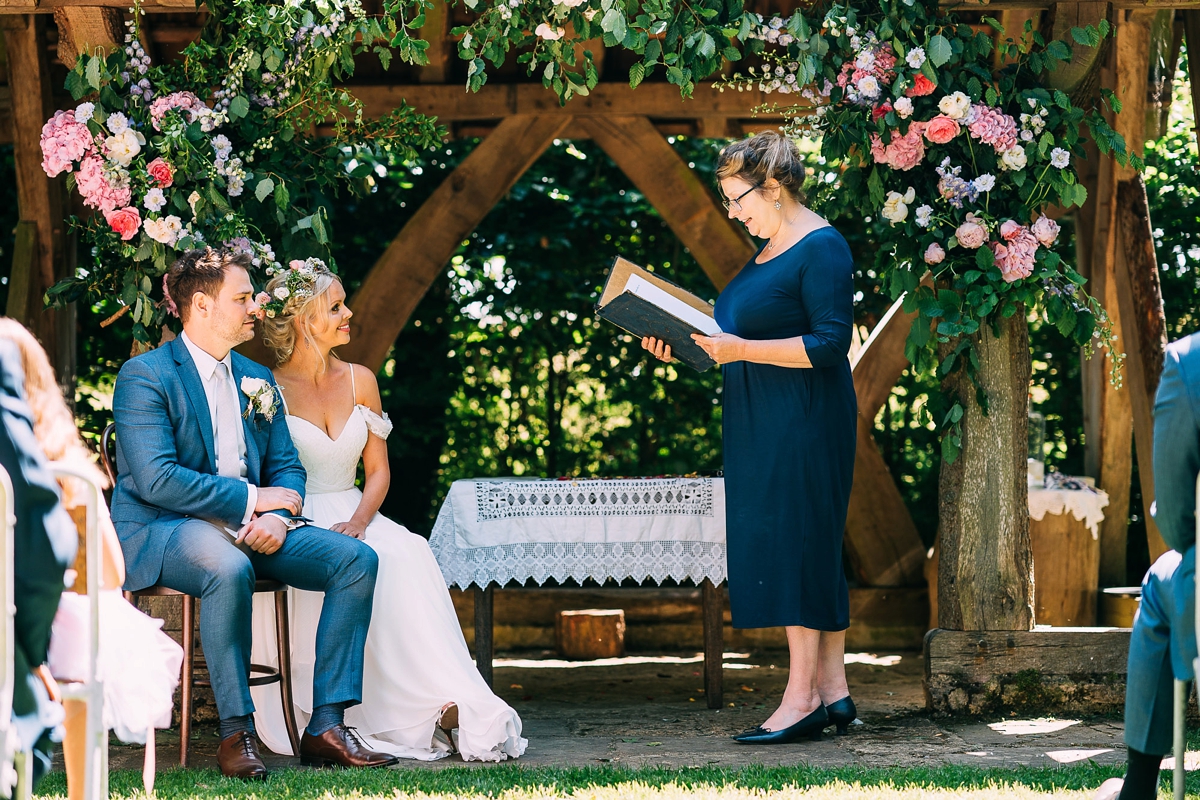 "Jane started the ceremony by reading an extract from Midsummer Night's Dream – which summed up the day to perfection…"
I know a bank where the wild thyme blows,
Where oxlips and the nodding violet grows,
Quite over-canopied with luscious woodbine,
With sweet musk-roses and with eglantine:
There sleeps Titania sometime of the night,
Lull'd in these flowers with dances and delight.

(An extract from Midsummer Night's Dream)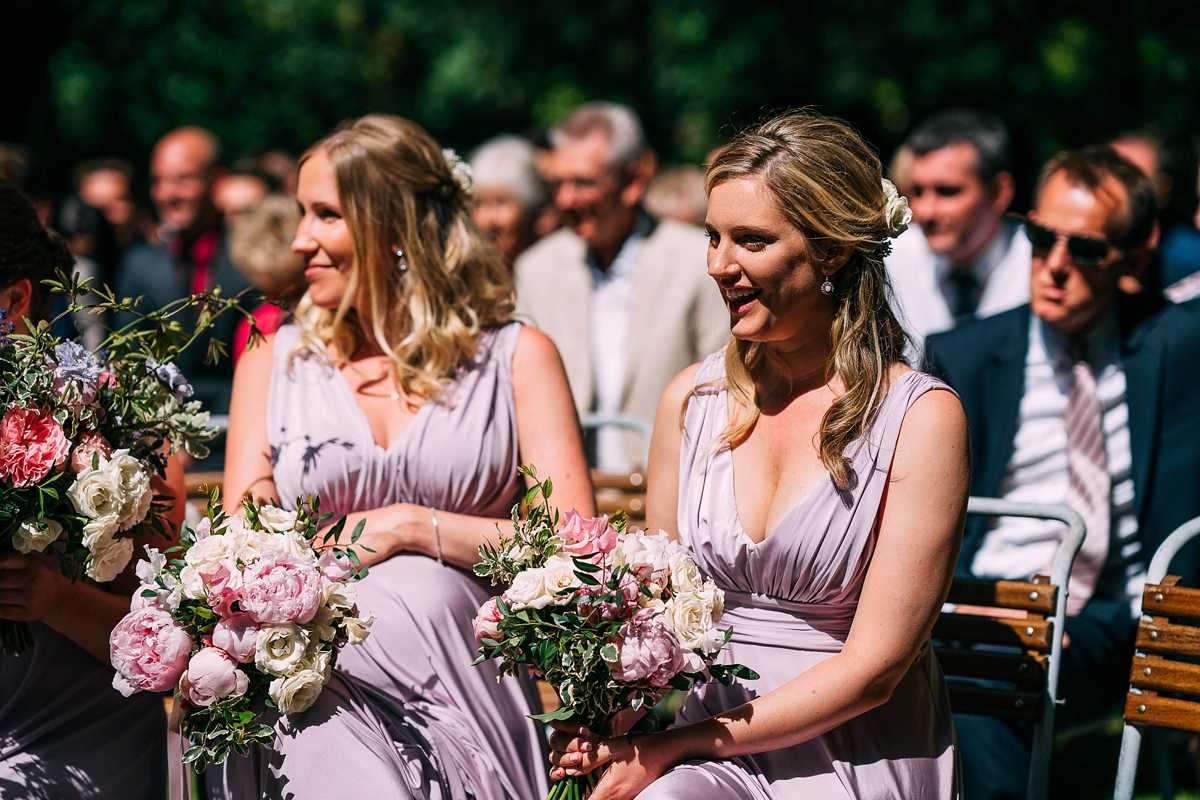 "We had three readings, E.E Cummings 'I Carry Your Heart', a poem that Tolkien wrote to his wife and lastly, the song lyrics from one of our favourite songs by Ben Harper 'HappyEver After in Your Eyes'. The first reading is a poem I have always loved – its so beautiful and when I read it to Kris, he agreed it was perfect. The second seemed fitting to our theme, and tied in with the magical element and also the setting in amongst the trees."
"We both love Lord of the Rings and this seemed like the perfect poem. The third is a beautiful song, that we almost has as our first dance. We knew we wanted to include it in the day somehow, and it made sense to use it as a reading. Its almost like a lullaby, and means more to us now that we have our daughter, Willow."
Lo! Young we are and yet have stood
like planted hearts in the great Sun
of Love so long (as two fair trees
in woodland or in open dale
stand utterly entwined and breathe
the airs and suck the very light
together) that we have become
as one, deep rooted in the soil
of Life and tangled in the sweet growth.

(From a poem Tolkein wrote to his wife)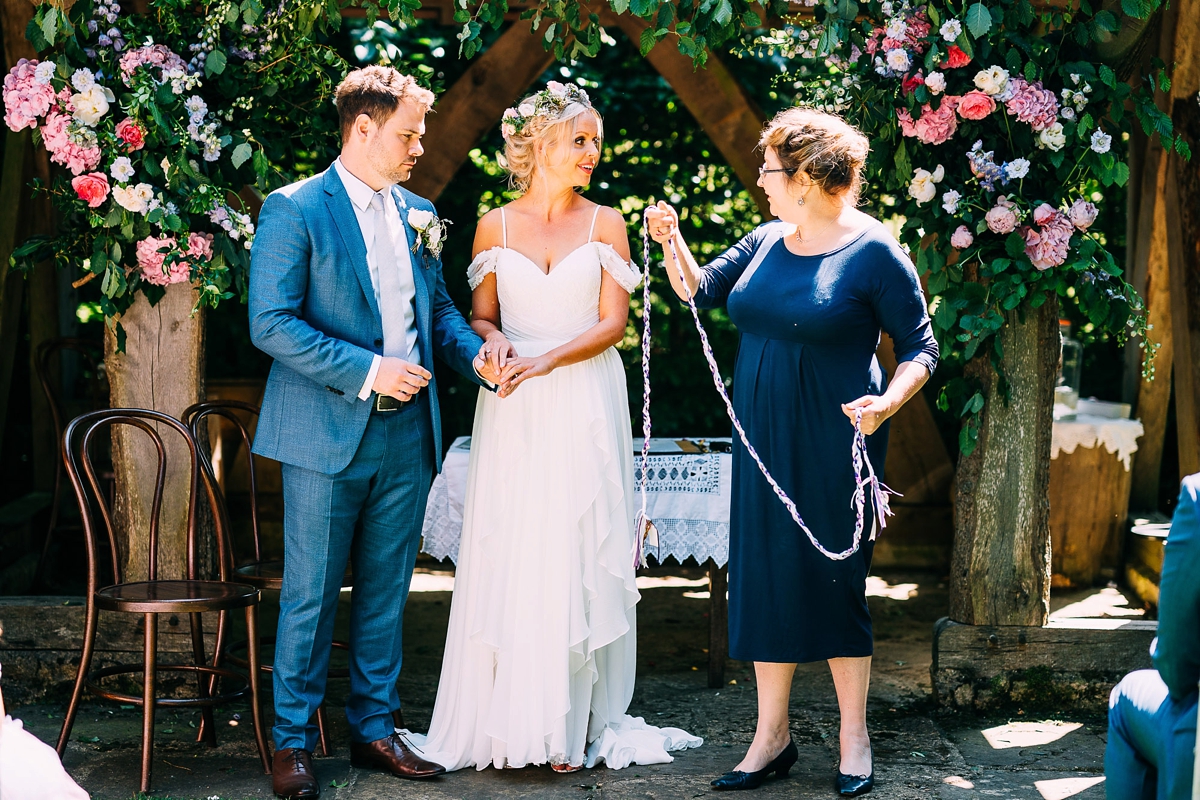 "The ceremony was really our most favourite part of the day. Jane did such a wonderful job in helping us create such a beautiful tribute to our love story. To walk through the green archway and step out into the sunshine in the glade and see everyones smiling faces is something I'll never forget. I remember feeling so relaxed and comfortable, in Jane's safe hands, and also knowing it was all so meaningful to us."
"My rings are both by Susie Saltzman, who is such a wonderful lady and great to work with. I LOVED her designs on Instagram, and Kris knew this so arranged for her to make my dream engagement ring. I chose something that reminded me of starlight – almost like something one of Tolkien's heroines would have worn. The wedding band was then made to fit around this perfectly."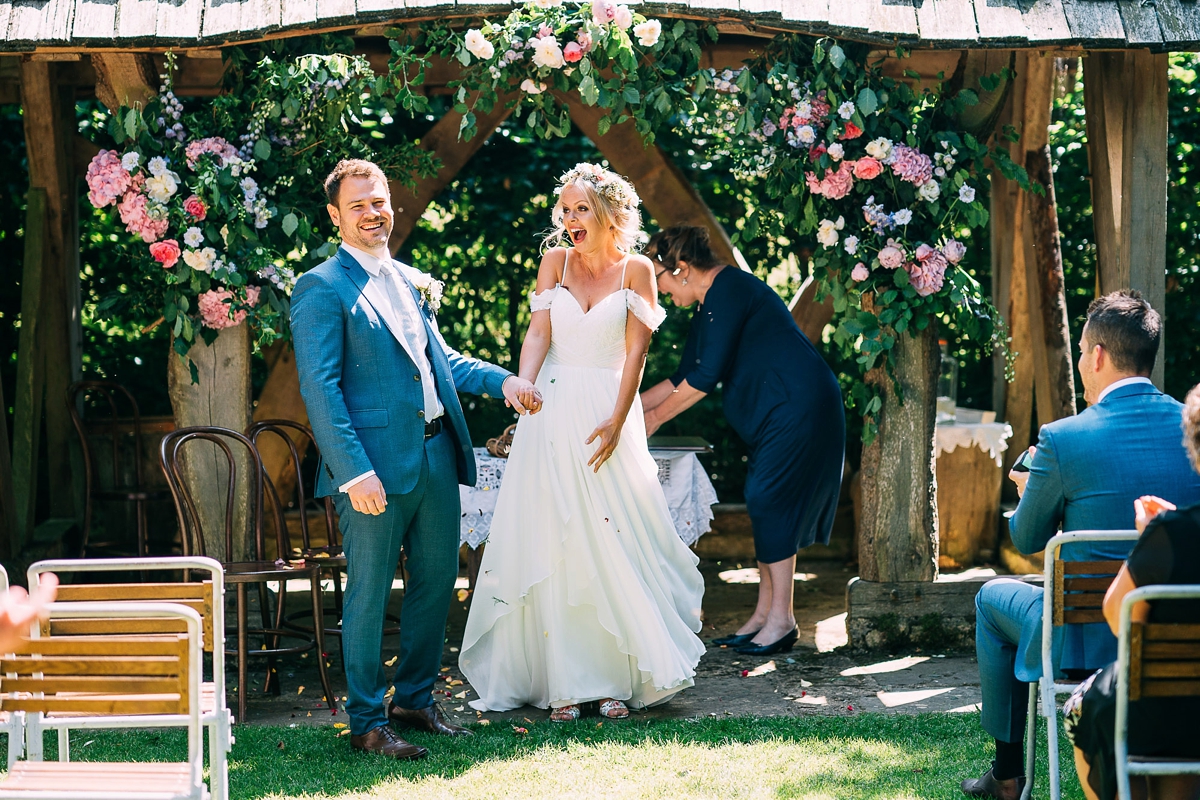 "Hearing our harpist Jemima play during the ceremony made it even more special. She played 'Sweet Child of Mine' as our exit music, as this was the song Kris used to sing to me at the top of his voice."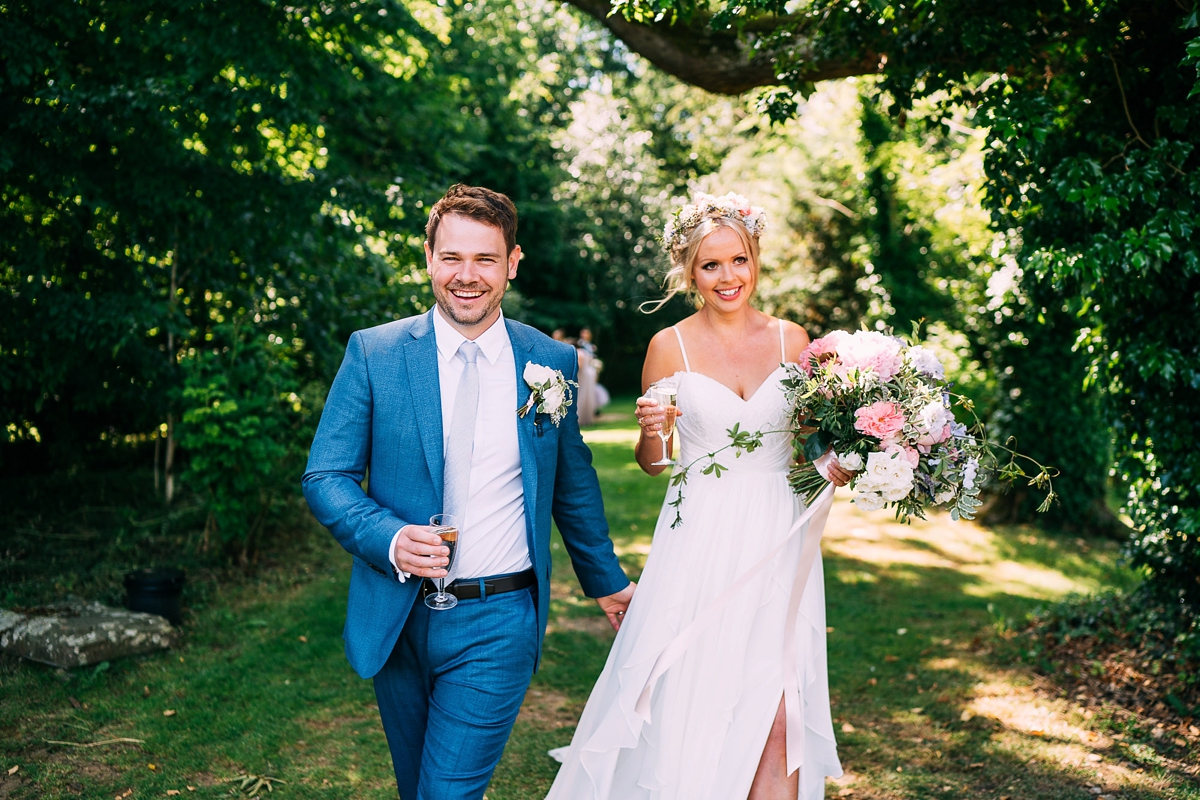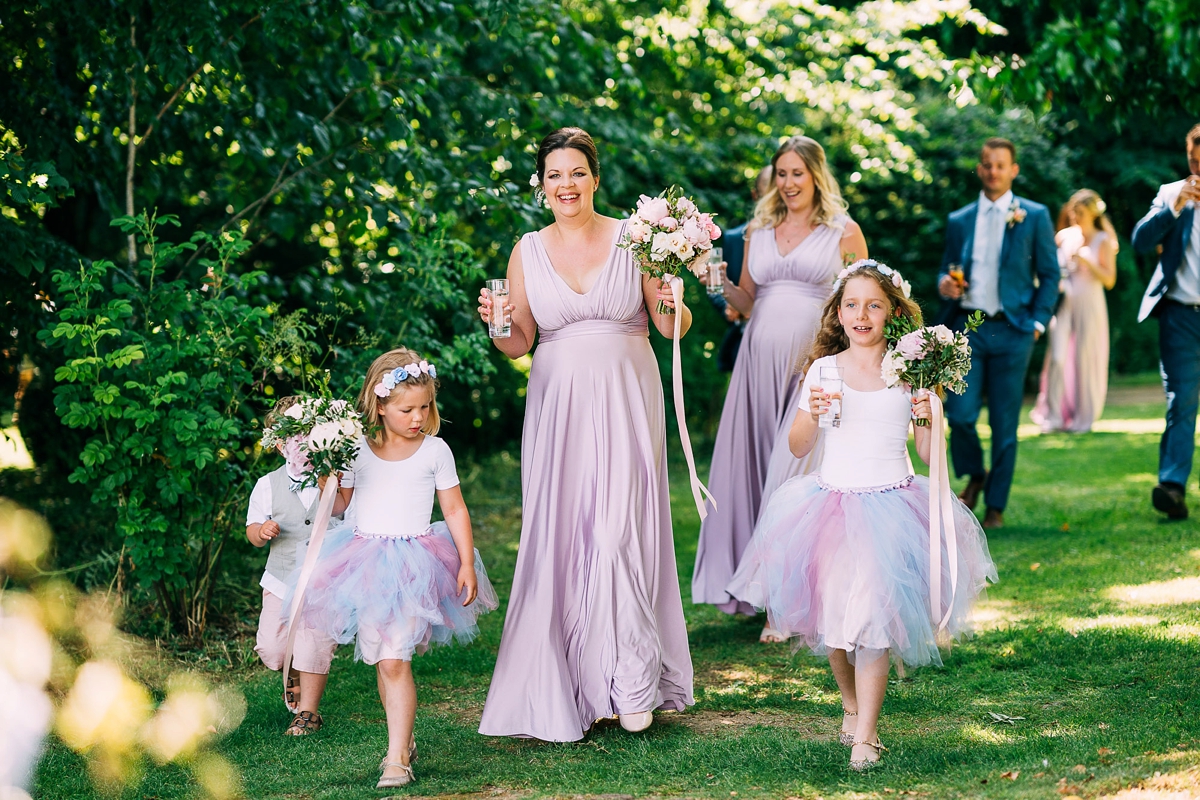 "We were recommended our photographer, Albert Palmer, through another photographer who I found on Love My Dress, and after looking at his website, knew he was the right man for the job (thank goodness he was available). His images were so beautiful, when looking through other weddings he has photographed, you really feel as though you were there. The warmth and all the moments he manages to capture really tell the story of the day. His images are so vibrant and full of emotion! He is also the calmest person in the world – a real godsend when you are super stressed out."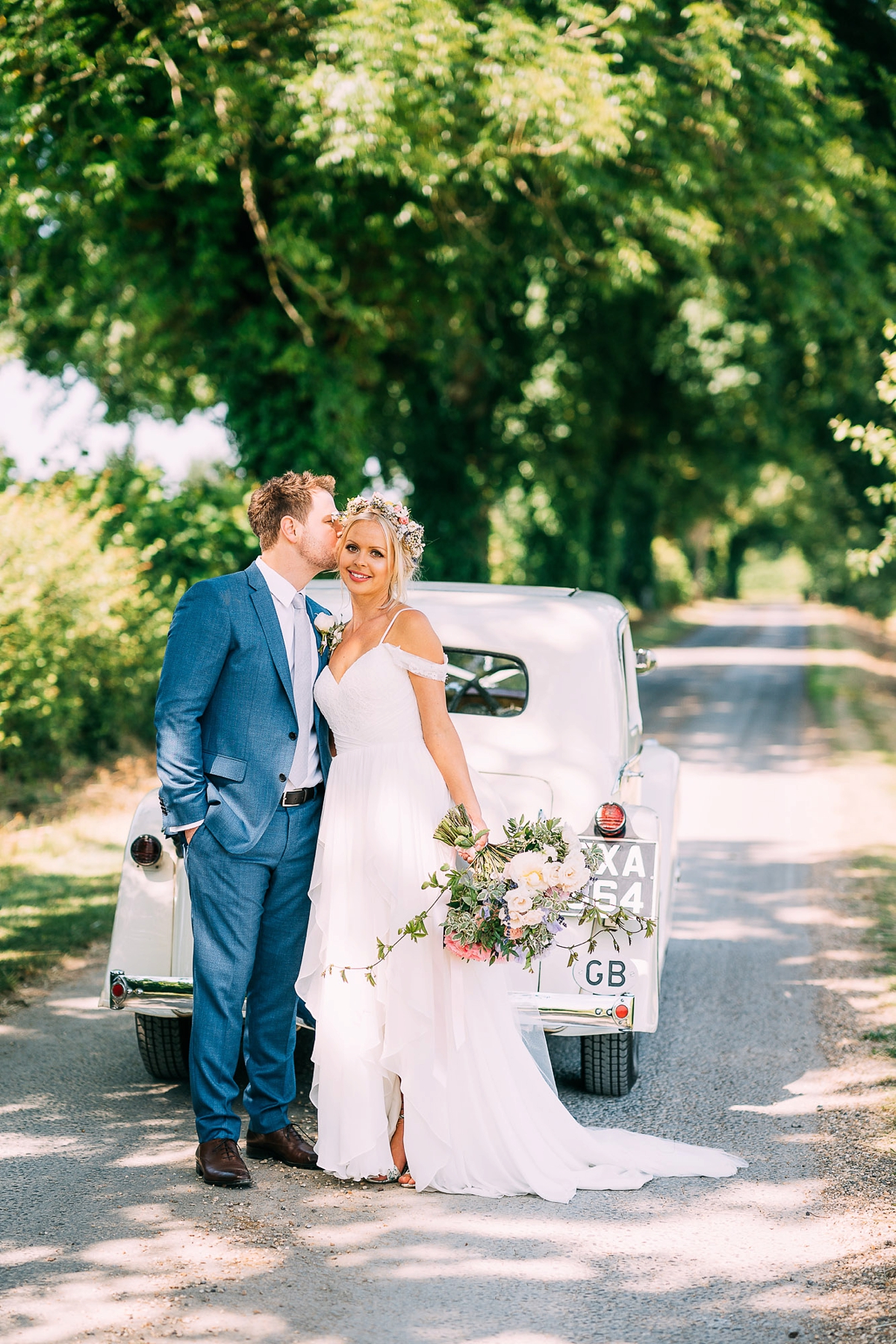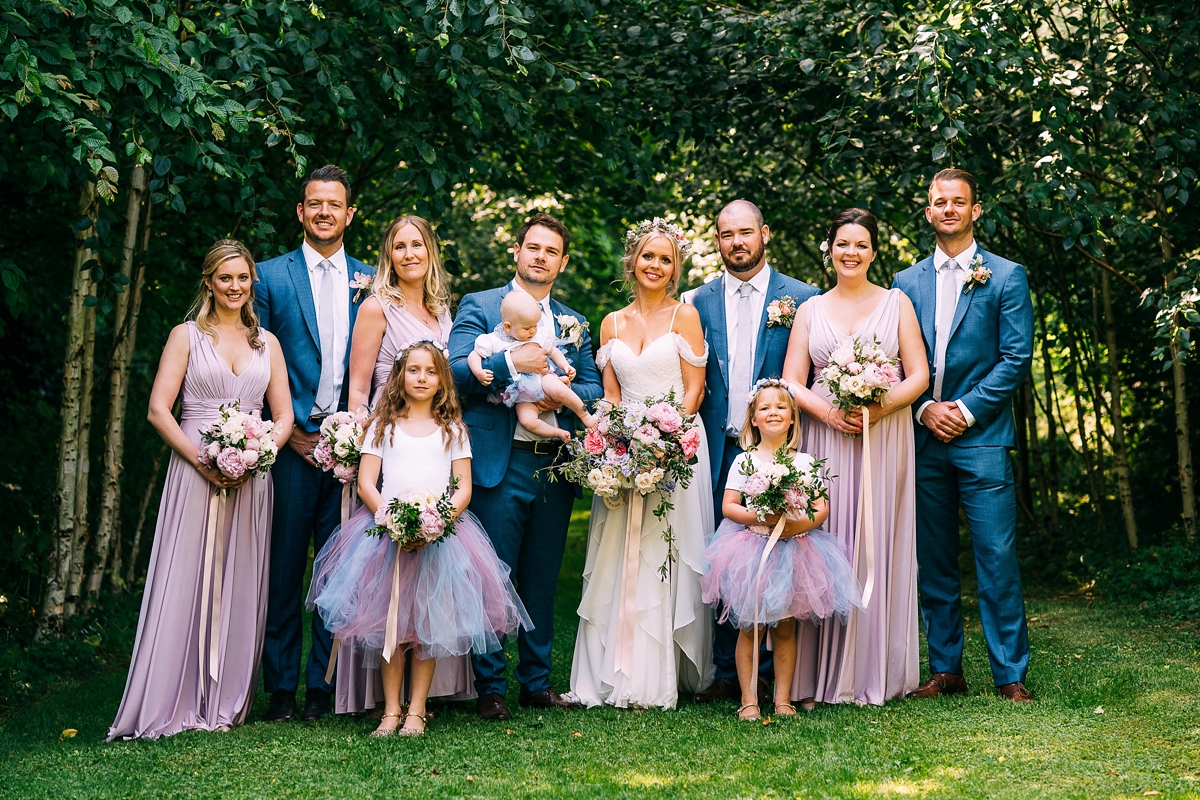 "We bought some lavender water glasses to add more colour to the tables, and used a sprig of lavender on each place setting, along with blush pink Menus as napkin bands. A gold wooden calligraphy name for each person completed the look."
"I asked Nina of Occassion Queens to place lots of little vintage glass bottles filled with flowers on the mantlepiece and these were also used on our pimp your Prosecco table. Outside, we hid little fairies amongst the trees for the children to find, which kept them busy for a while."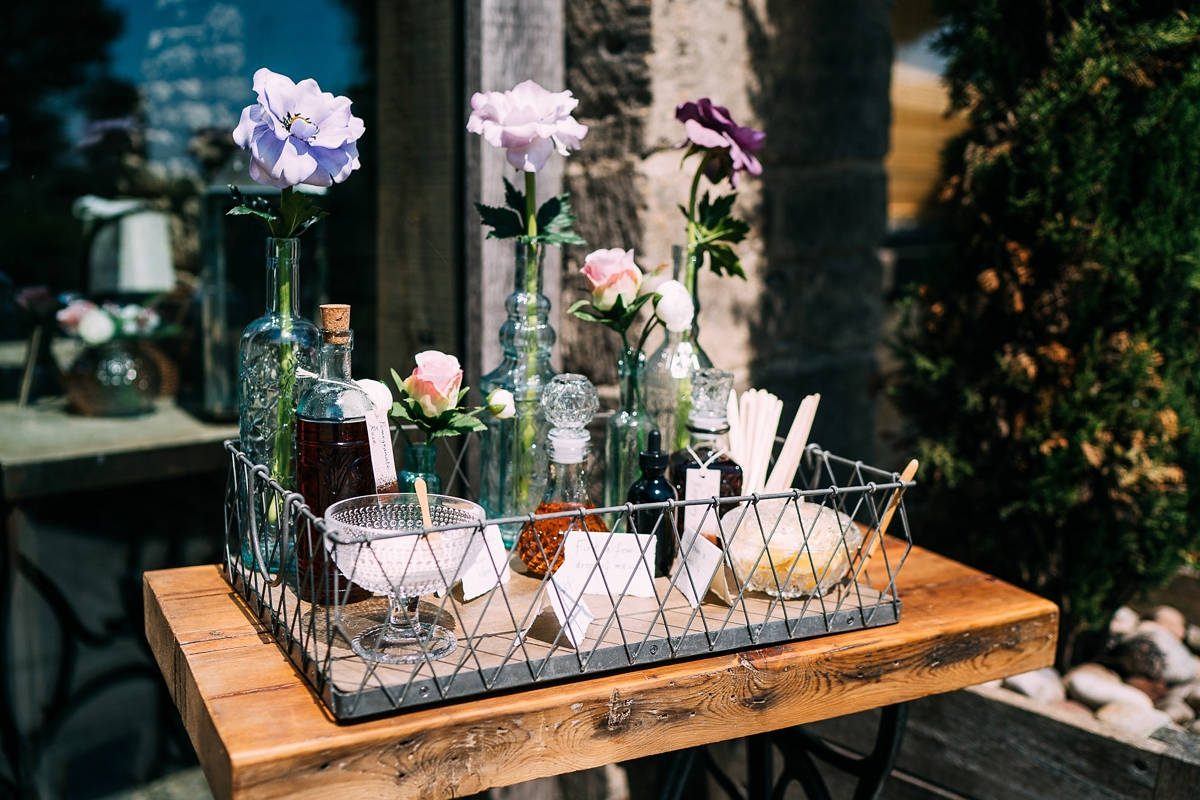 "Menu napkin bands and our welcome sign was made by Paula Pigeon from Lilac and White on Etsy."
"I used quite a bit from our Sally's Secret collection, including some Indian doors that I just love. We also have an amazing little vintage sewing table that was used for our 'Pimp your Prosecco' station. I had a willow basket full of flower crowns for people to wear, next to a framed Mumford and Sons quote that means so much to Kris and I (….with grace in your heart and flowers in your hair)."
"We also used my collection of cake stands and some beautiful new Indian and Persian platters for our marshmallows that were then toasted outdoors on the fire pit later in the evening."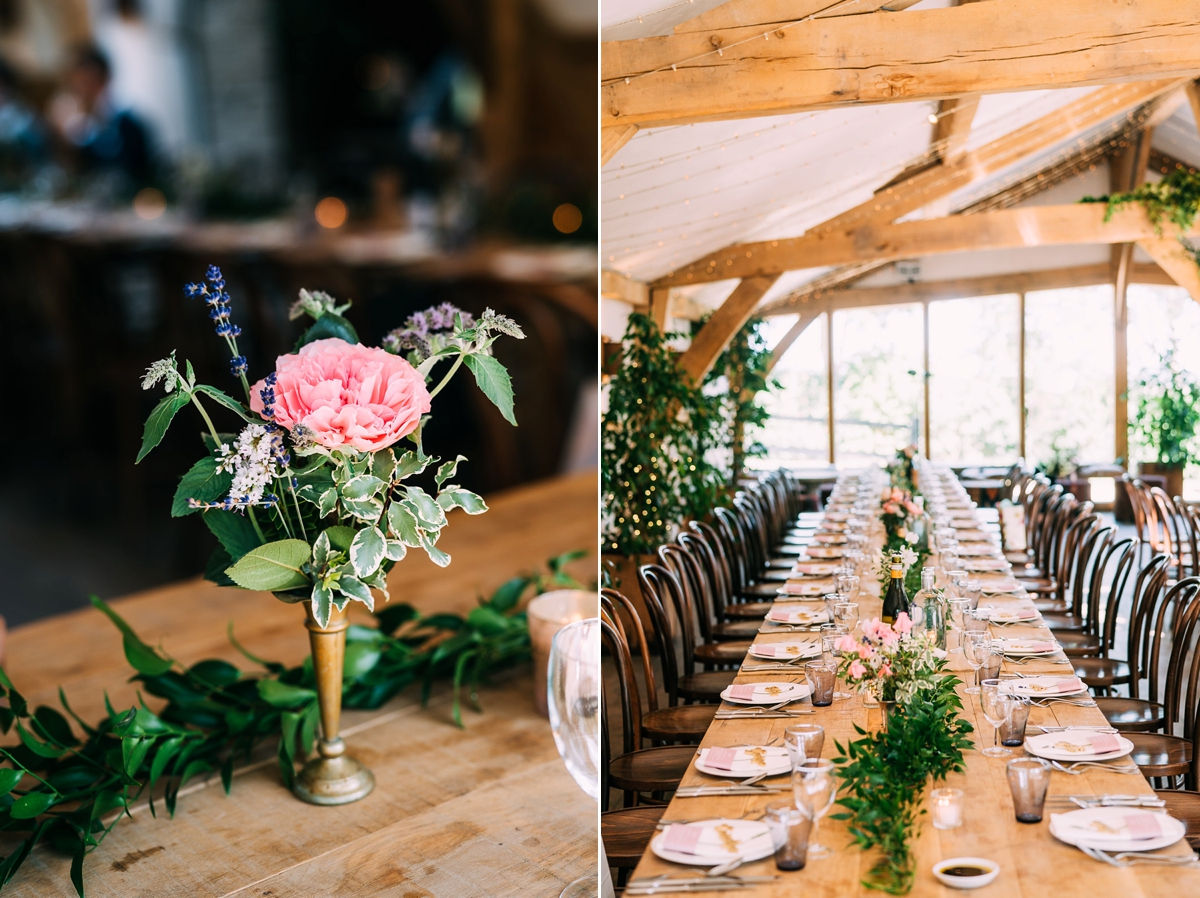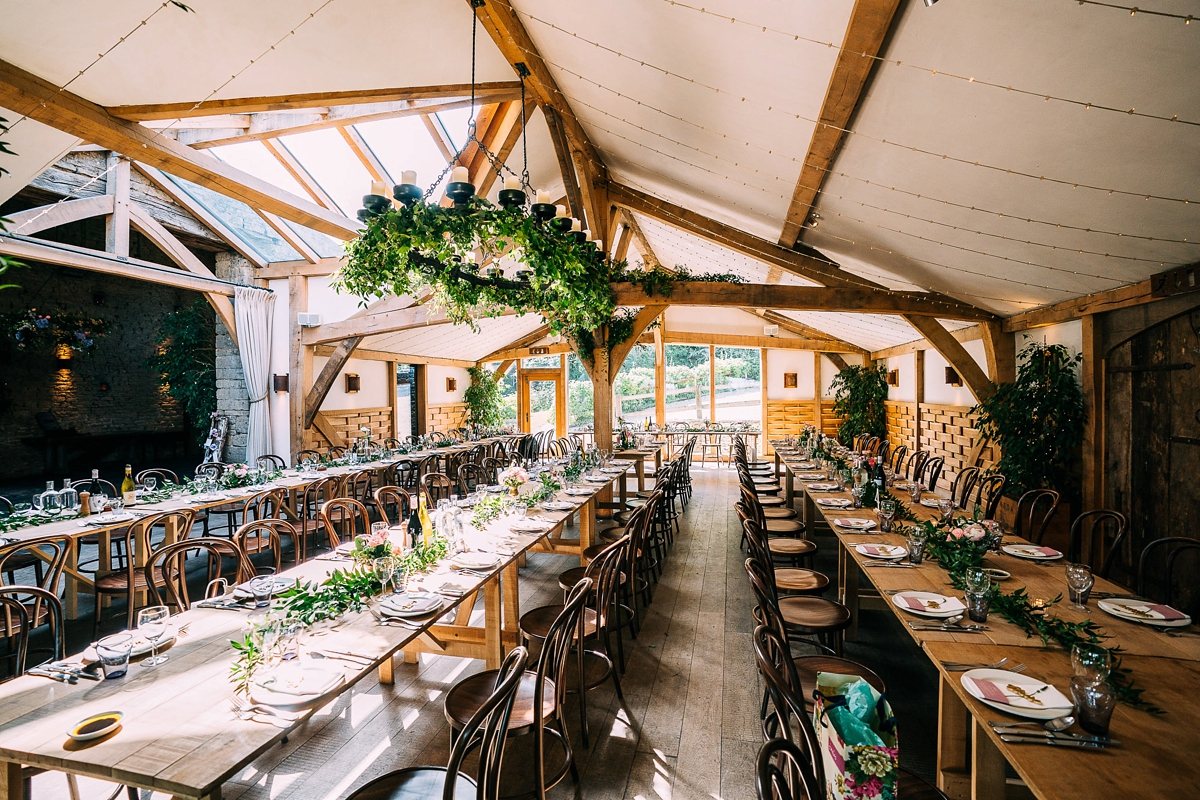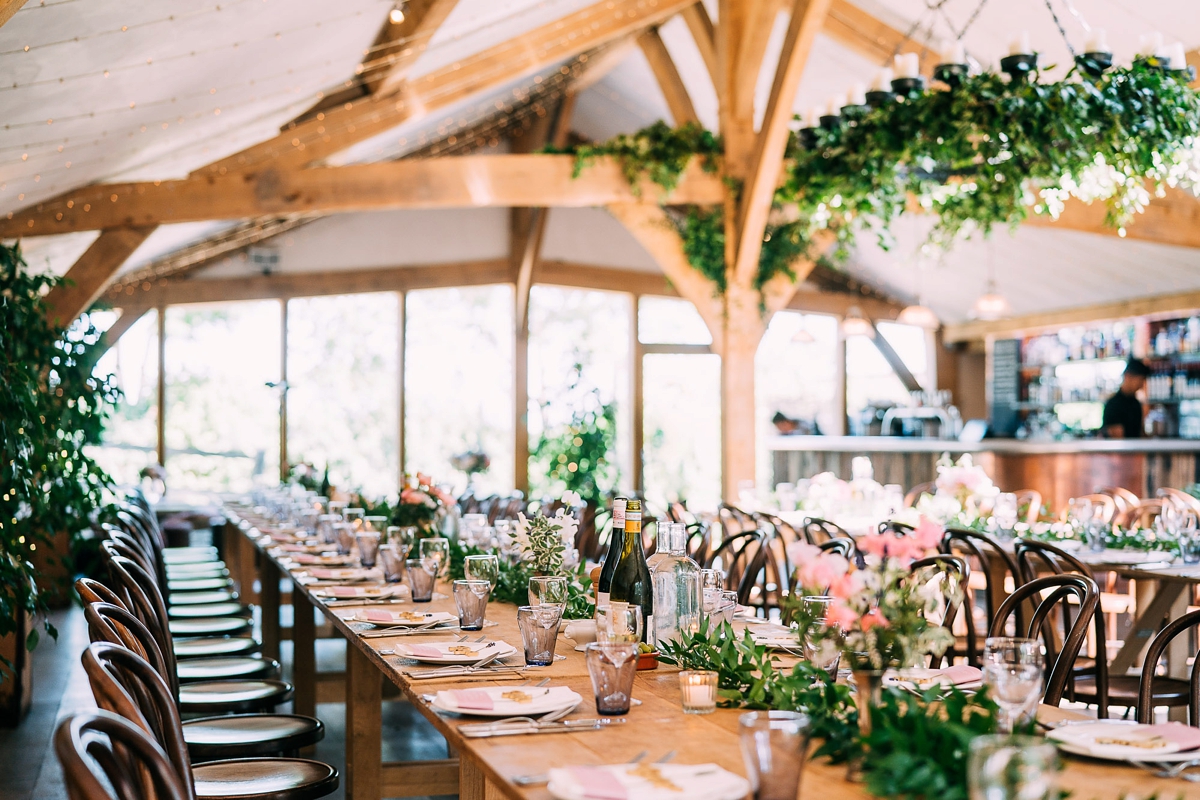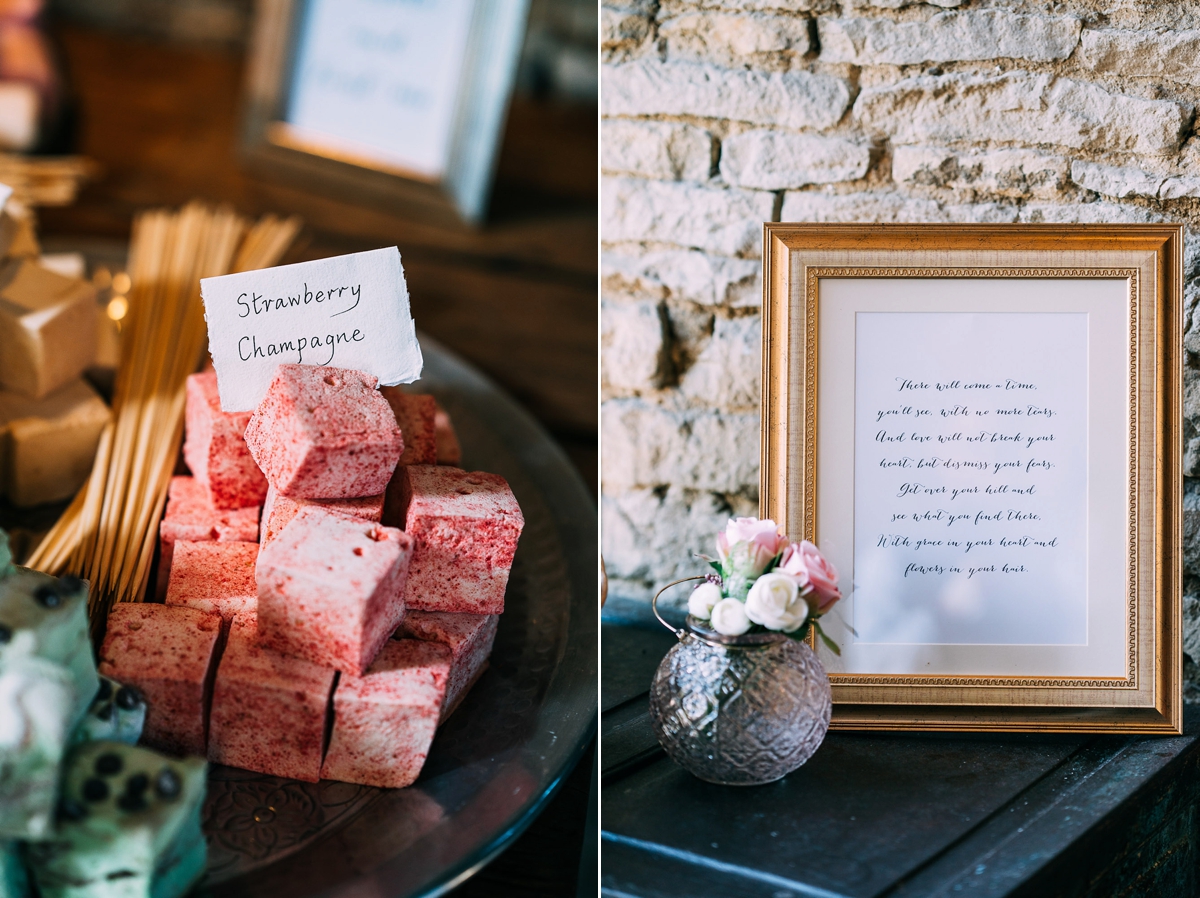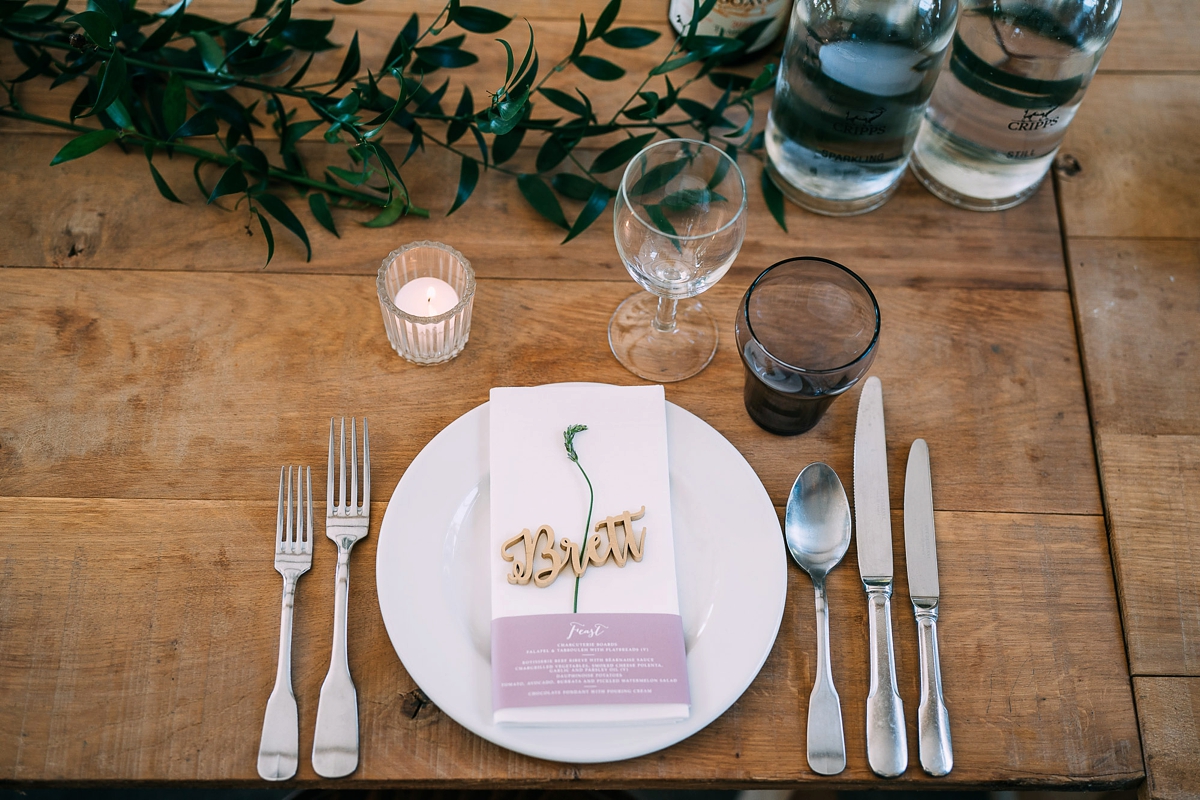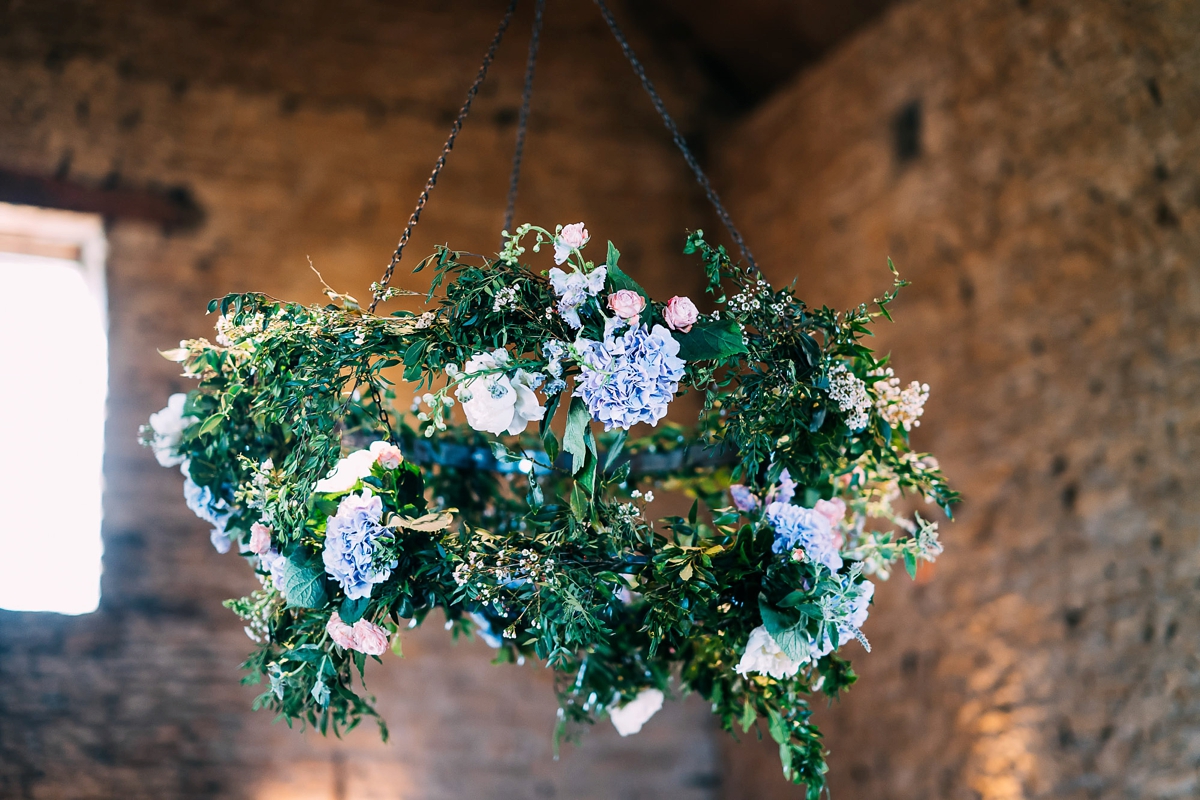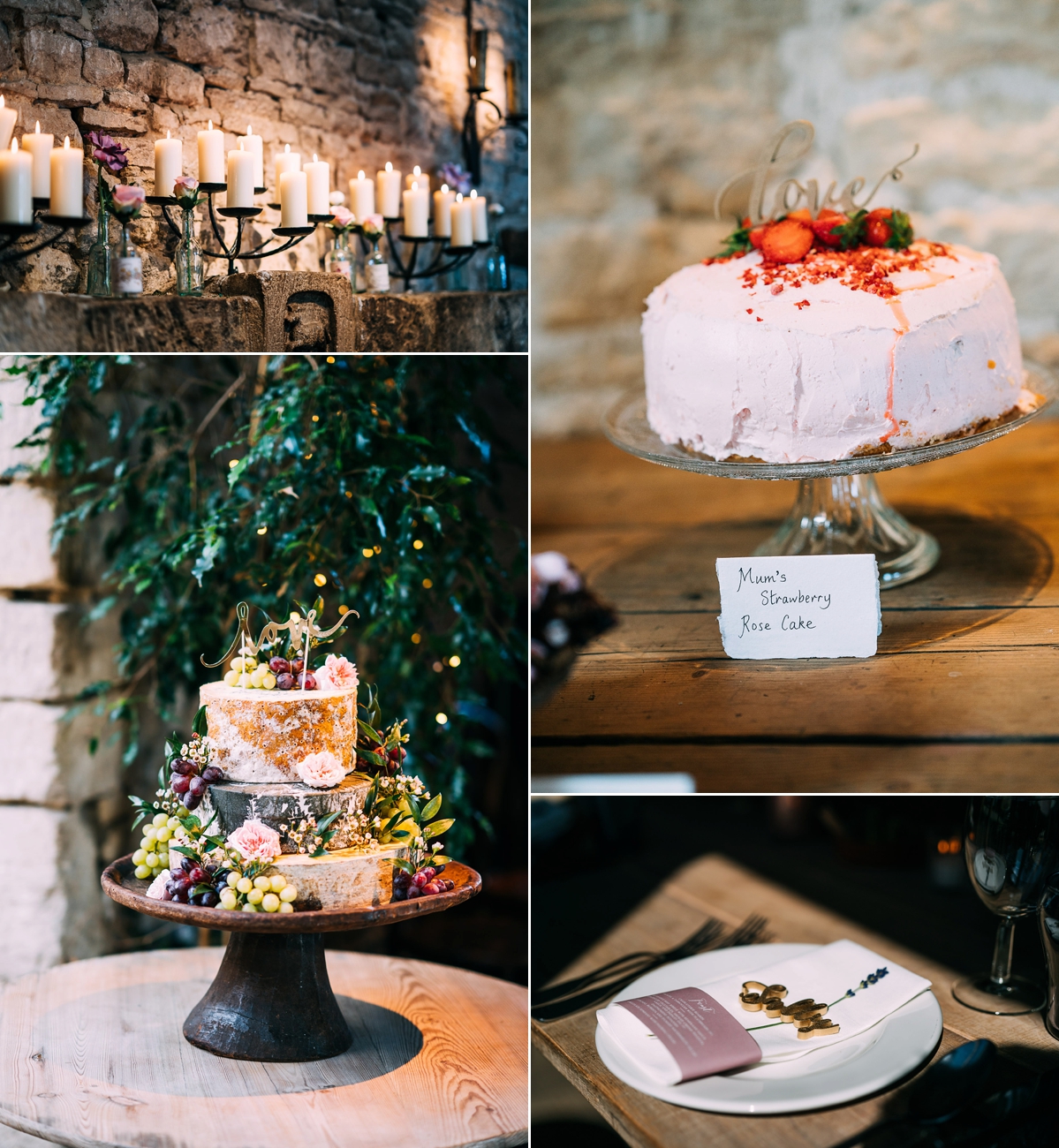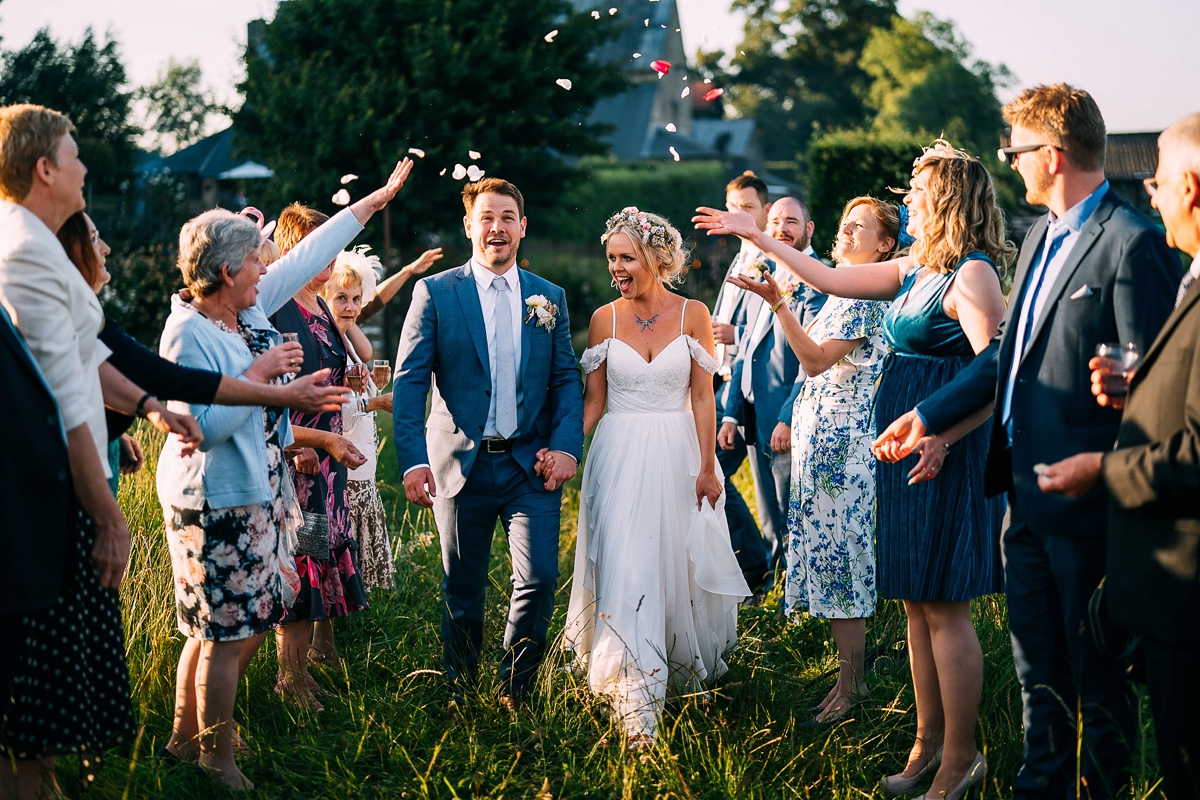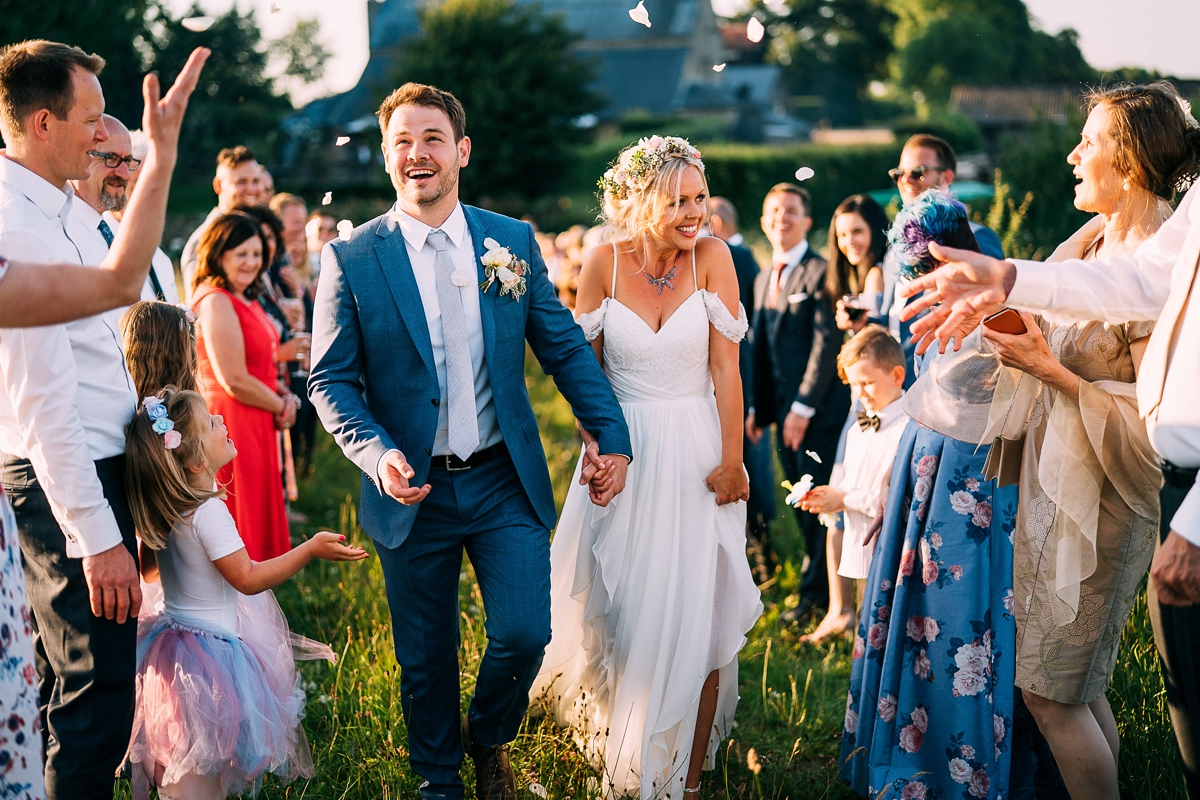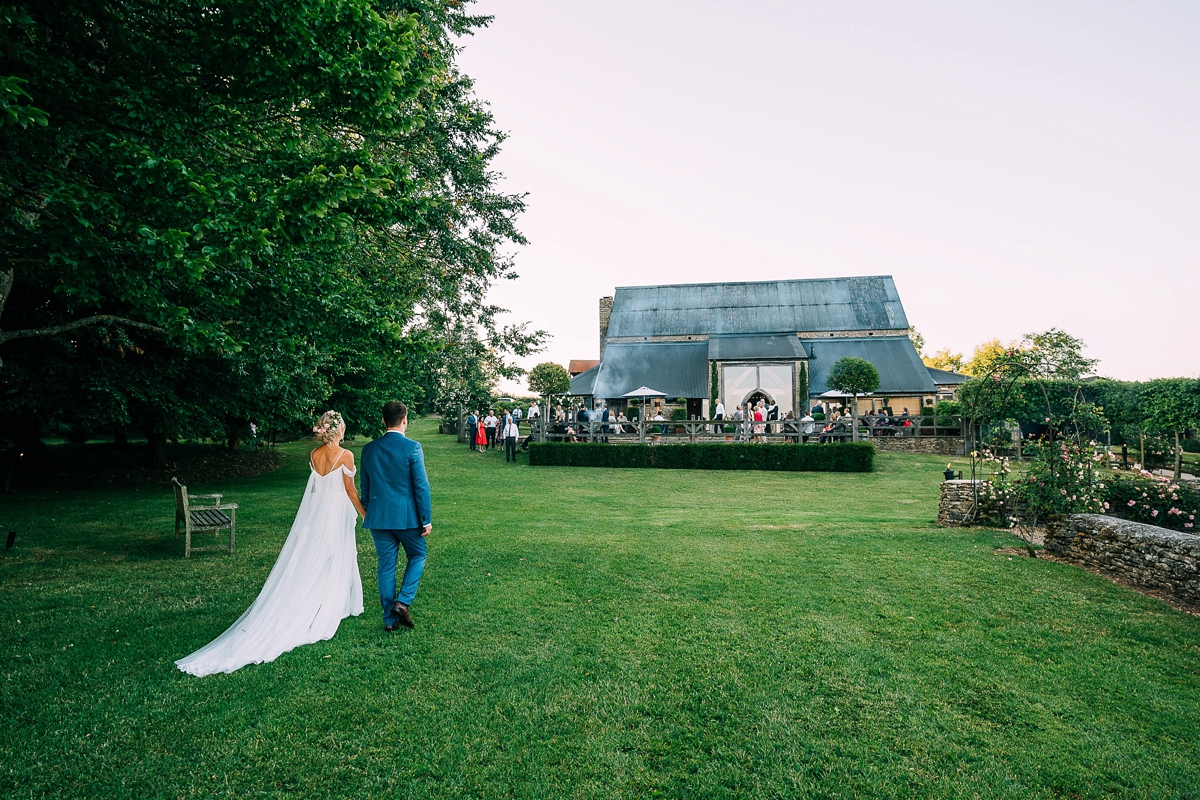 "We had a cake and sweetie table, with cakes made by Penny Cakes and my mum. We also had some amazing marshmallows made in three yummy flavours by Mallow Magic, which Nina from Occasion Queens had recommended – we are so glad she did! We continued eating these at our bbq the next day in my parents back garden as the sun set."
"Our first dance was to Mumford and Sons 'There Will Be Time'. We chose this as its such a wonderful, happy and upbeat track – you can't help but smile when hearing it. The words seemed perfect for us and the section that Baaba Mail sings in Pulaar when translated is so beautiful. Ben from the band hummed this bit as we couldn't expect him to learn a new language, but it worked perfectly."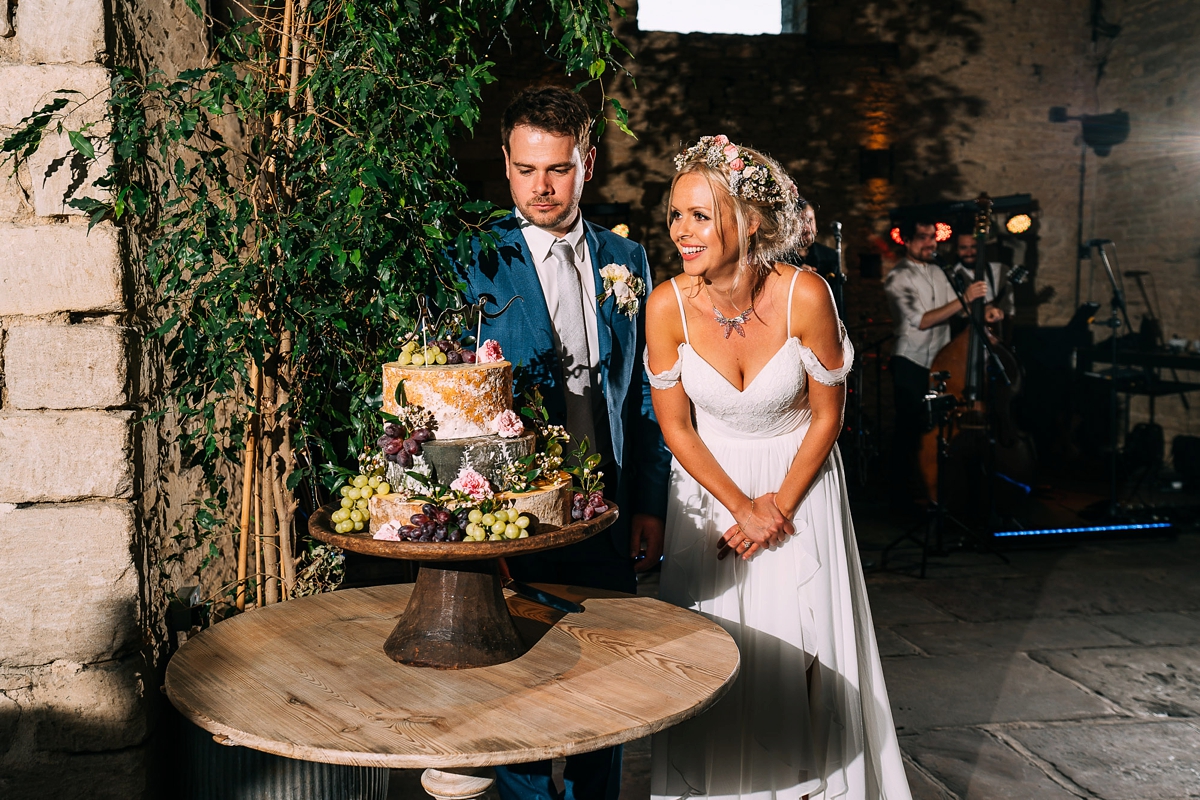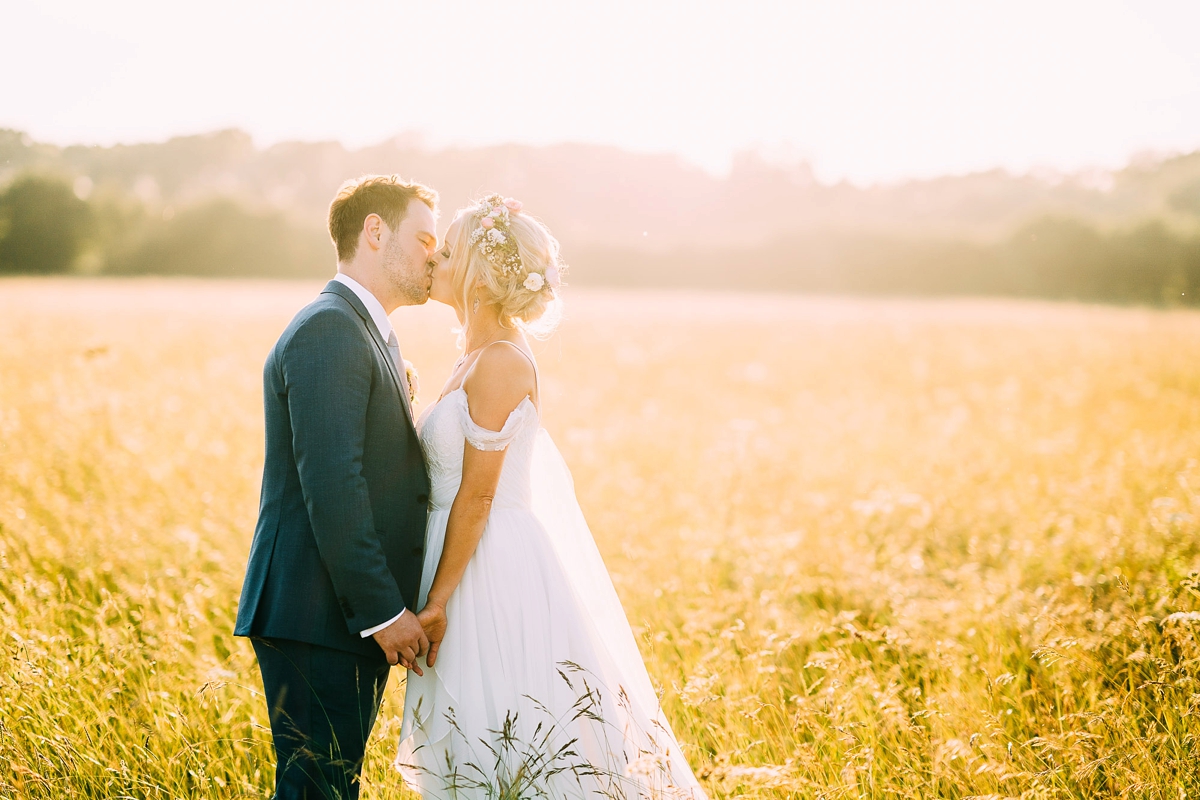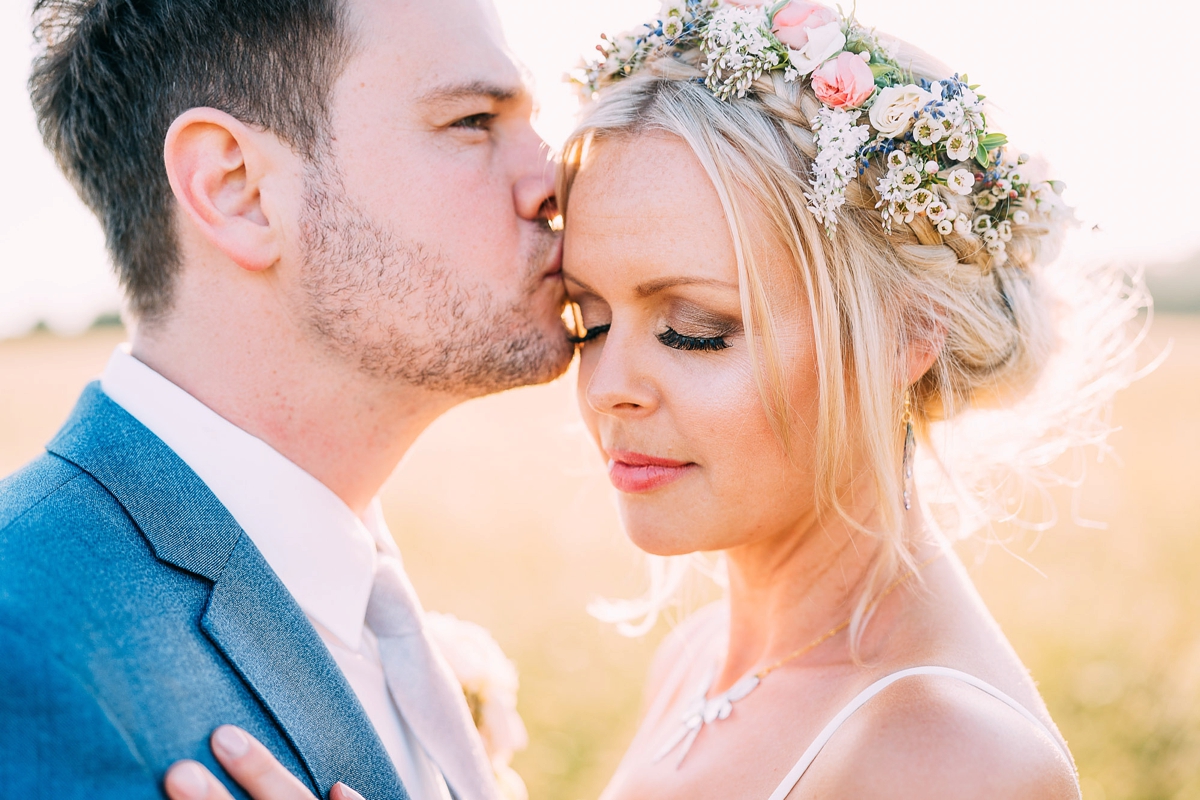 "I returned the veil I bought and purchased my 'fairy wings' – a cape that attached to the straps at the back, which I bought from Etsy. This really completed my look, and made it the dress of my dreams."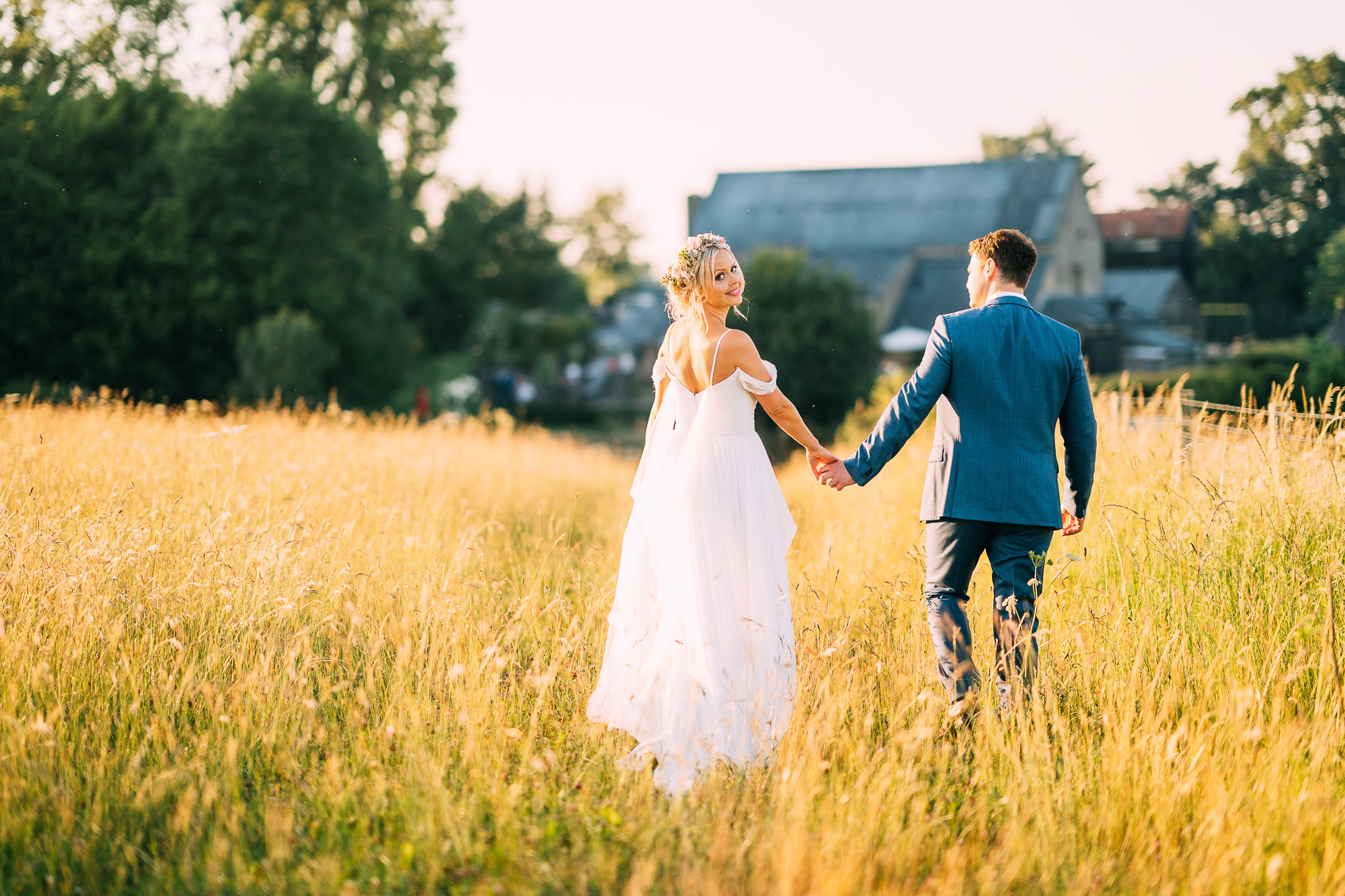 Words of Wedded Wisdom
"Everyone that I spoke to gave this very same advice to me, and I listened, but I didn't actually take the advice. That was to take a moment to sit back and take it all in as it goes by so fast. Kris and I didn't even eat the food we had so carefully chosen. We were so busy making sure everyone else was ok, that Willow was ok and checking the time that we both forgot to eat properly. I still think of that gorgeous chocolate fondant pudding sat there in the middle of our table that we never ate."