The last words I spoke to The Telegraph journalist were "please can you report this accurately, as the mainstream media are largely irresponsible when it comes to reporting bridal retail."
I was phoned this week for comment on the subject of charging for appointments, because the journalist in question had seen an article I had written four and a half years ago (four and a half years!) about my bridal boutique, Miss Bush, starting to charge for appointments on a Saturday.  The journalist's opening question was "are you charging to stop people taking  'selfies' in your shop or because they are buying online?"
What Miss Bush and a handful of other retailers began doing by charging fees for wedding dress appointments in 2014, was not a desperate act of defence against an ASOS intrusion into the world of wedding dresses (as suggested by the article in The Telegraph). It was our response to the huge popularity of wedding dress shopping making Saturdays unimaginably busy and stressful for everyone.
Brides have never had as much choice as they do today, because (and this is the serious business content here), we know as consumers ourselves that these are turbulent and revolutionary times for retail. The High Street continues to live in it's paradox and failing chain stores with square footage too big and product offer too bland are closing daily, while small niche retailers are priced out of main thoroughfares by sky high rents. (Incidentally, dear reader, BHS, now closed, were the first high street chain store to throw their weight behind inexpensive wedding and bridesmaids dresses, thus reducing the price and quality expectations of wedding dresses, but increasing convenience). Wedding dress shopping can now be as soulless and convenient as your 'click and collect' grocery experience. Something that it was hard to predict would happen.
However, there are brides to be and boutiques that believe in a more luxurious and personal approach.
However, there are brides to be and boutiques that believe in a more luxurious and personal approach. On the one hand, this seems quite old-school; being greeted by name, having your preferences noted and your service levels deferential, exemplary and expert. Yet on the other hand, this is what every piece of  data analysis, algorithm, pixel and cookie is trying to mimic; that personal, tailored experience you get at the best level of concierge retail.
The initial charges for wedding dress appointments were to encourage brides to think carefully about what experience they wanted ahead of a shopping trip and to make sure they found themselves in the right shop with the right products. In some areas, particularly out of London and the South East, where population is less dense, bridal shops are fewer and traditions are different, bridal boutiques don't charge appointment fees. Theses shops are still affected by 'no-shows' and can still find themselves sitting in an empty boutique on a premium shopping day.
From the very start, all fees have been redeemable. Some stores, ones that had problems with 'no-shows' (brides simply not turning up for their appointment) charge a small amount and then refund the bride on arrival. Lauren Wade from Milli Milli Bridal in Colchester, Essex charges £20 which is refunded on arrival.
Miss Bush uses their charge as 'store credit', which is redeemable against any purchase (shoes, accessories, gifts) as does fellow Luxe Bride retailer Natalie Hamer from Exquisite Bride in Winchester. Bethan McCall from Courtyard Bridal in Kettering, Northants has felt they can't charge for appointments as there would be local resistance.  Hayley Hoyle from The Wedding Lounge in Harrogate only charges for Sunday appointments in line with other Yorkshire stores as do sisters Nicole and Alexandra, who own The Wild Heart Bridal in Rochester.
Chatting with an Irish boutique owner, Annette Dilworth Enright from Cinderella's Closet in Cork, Annette feels "you put value on your time and expertise" and providing a service simply unavailable at High Street level with a small charge should not seem controversial.
 The only unifying aspect between an ASOS wedding dress and one from a bespoke boutique is generally the colour, beyond that there is no comparison. They are chalk and cheese.
In conversation with my boutique owning peers, we were keen to underline that having a dedicated stylist, a private and catered experience that only 'begins' at the initial, one-off, chargeable appointment, should be reason enough to explain the fee in areas of population density where the luxury experience would otherwise be compromised.
Similarly, as a person who rarely has a Saturday off, I always have the benefit of blissfully easy shopping if I go to the High Street on a weekday.  Quiet car parks and senior staff wanting to help as opposed to students with a siege mentality are just a couple of the benefits. Charging for appointments on a Saturday helps to regulate footfall and provide a calm, senior mid-week experience at the weekend. Like a queue-jumping pass at a theme park.
Having The Telegraph decide not to include any of my thoughts, or indeed the thoughts of the Retail Bridalwear Association, because these honest, factual thoughts didn't fit the premise of the article is one thing. Having The Daily Mail pick up the ball and run with it in a ridiculous, erratic, sensationalist direction is, I suppose to be expected.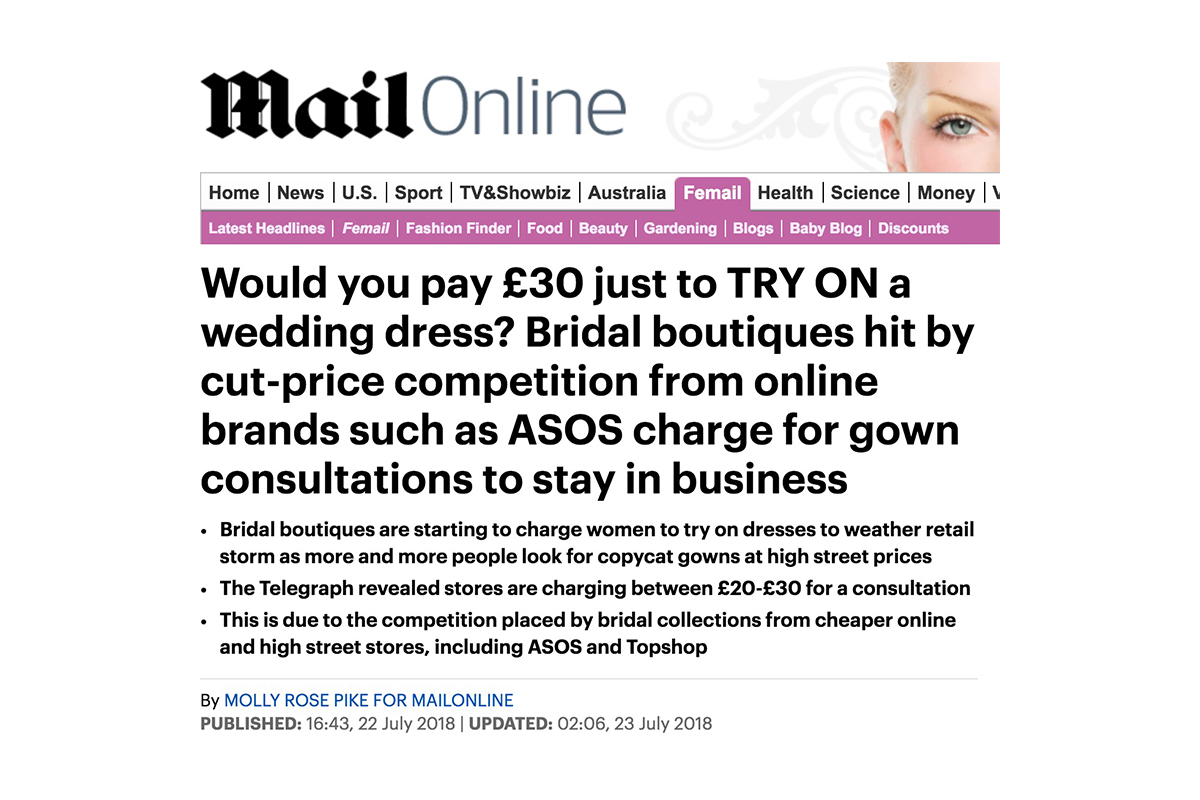 Dresses from ASOS are great! I am myself a huge ASOS White fan. But the only unifying aspect between an ASOS wedding dress and one from a bespoke boutique is generally the colour, beyond that there is no comparison. They are chalk and cheese.
The UK bride can seek inspiration for her Asian Wedding, her Afro Caribbean wedding, her Jewish wedding, her WASP wedding, their LGBTQ wedding, hell even her "I hate traditional weddings so much I am going to identify as an anti-bride" wedding from  a zillion different Instagram accounts, specialist blogs and consumer shows. But please, people of The Daily Mail and The Telegraph – don't reduce this wonderful female first, diverse, ethically inclusive strand of independent retail that is actually bucking the trends of the High Street decline, down to a misinformed, hysteria filled headline.
I also don't know who put me in charge of the defence of bridal retail, but my Sunday evening was spent aghast, consoling fellow small business owners and refuting the insidious Telegraph/Daily Fail articles.  Women business owners who on another day would be celebrated as entrepreneurial #girlbosses are once again being cast as 'rip-off merchants.'
Our nation of shopkeepers is changing beyond the comprehension of even those working at its heart. Improving and delivering the best client experience, is at the very forefront of every bricks and mortar bridal retailer's philosophy, whether at a discount chain, free to access regional shop or high end boutique. To lift another quote from another Prime Minister, Macmillan, brides have "never had it so good". Brides with a luxury budget are very prepared to pay to find the right dress with exemplary service and fee paying stores set a benchmark for a unique and experiential service.
With thanks to Love My Dress founder Annabel for sharing the quotes below, which she obtained from real brides in her closed member groups on Facebook this morning;
"I had three appointments and paid for one but that was to have the shop to ourselves and brunch with champagne. I didn't end up getting my dress there but it was a great experience. I actually felt a bit sad that I didn't find my dress there because it was a lovely morning and they put a lot of effort into it. It was possibly the most fun appointment because it was the third and last so I was a bit more relaxed. I knew deep down I had found my dress at the first shop so at this point I was just seeing what else was out there to make sure. I tried on all sorts of styles I didn't think I wanted."
"I paid for a Saturday appointment at Ellie Sanderson, Beaconsfield (if its in the week their is no charge) it was only £20 and redeemable if you purchased your dress from them. I did, so really the appointment was free in the end. I found the service at Ellie Sanderson impeccable and compared to the other boutique I had an appointment with on the same day, with no charge, it won hands down. I didn't mind paying the charge as in the grand scheme of wedding costs it was minimal and I understand that Saturday's are their biggest trading days and they need to protect that time – it makes sense to me. I think had the service been poor I would have felt short changed so if you do charge you must make sure that you are offering a premium, luxury service so even if the bride doesn't find her dress with you, she still feels like she has received something in return and if possible make the cost redeemable if they do make a purchase."
"I booked a VIP appointment at Blackburn Bridal which meant we could have the entire boutique to ourselves one Sunday afternoon with Russell Blackburn himself. It was worth every penny for this privilege. The appointment was so much fun and my Mum and I were both made to feel really special with bubbles and Russell's undivided attention throughout. I had in fact booked 13 other appointments at other boutiques, all of which I had paid a fee for a standard appointment at or planned to take time off work to visit on a weekday instead, and these were all refunded without question when I called with plenty of notice to advise I had surprised myself and purchased my dream Claire Pettibone dress on the spot at the first boutique I visited! I think it is worth the investment to take shopping for your gown seriously. It was one of the most special parts of the planning process for me personally. I know if I had avoided the boutiques that had charged a fee, I would not have had nearly the same memorable experience. Plus, if you go on to purchase a gown at a boutique, fees can almost always be redeemed against the cost of it. I completely understand and appreciate the need to charge appointment fees to avoid time being wasted and help towards overheads when the margins for boutique owners are often minimal."
"I had to pay for an appointment at Jean Jackson couture, the dresses were in brilliant condition and I ended up buying a rue de seine sample gown from them. In my opinion it was worth it. The service was brilliant, they made me feel so comfortable and displayed all the dresses they though I would be interested in. I ended up with my dream dress."
"I had a lovely experience at the Jenny Packham flagship store where they charge for appointments."
"I paid £20 for my first appointment at The Mews in Notting Hill – all subsequent return and fitting appointments were free of charge. I did eventually buy my Laure De Sagazan dress from there and adore it, so I don't resent the fee (plus, £20 is a drop in the ocean in the grand scheme of wedding spends)."
The images in this feature were taken at Miss Bush Bridal in Ripley, Surrey by photographer Hayley Bray.