Hello lovely ones. I can't tell you how invigorated I feel after taking a little step back this week to spend time with some of my favourite work friends and brilliant minds. I have big plans for this beloved blog of mine, sometimes it doesn't feel like I have enough time to make them happen quick enough, so I'm trying to remind myself today of that old adage; the best things come to those who wait.
Now let's get cracking with some actual real wedding inspo shall we? Leah and Malcolm's wedding took place on 9th September last year at St. Donat's Castle in Llantwit Major, Wales. Leah is one of those thoroughly modern brides who knows her own style and pulled off a killer Grace Loves Lace bohemian inspired gown to perfection. I'm absolutely thrilled to see the couple booked our Little Book member Joasis Photography to document their day in photographs – a wise choice indeed.
"In terms of my dress, at first I didn't know what style I wanted to wear. I kept thinking 'How on earth do you find 'the one'?!' I'm quite indecisive at times. I started looking online and on Pinterest and loved the vintage style of Jenny Packham dresses. All I knew was that I didn't want anything too structured. I wanted to look amazing, but also feel like me and be comfortable. When I tried a few dresses on, I realised that I actually quite liked lacy, figure hugging dresses. I liked styles with a high neckline as it flattered my shape really well. I also wanted something to show my back off, as Malcolm loves my back."
Images by Joasis Photography
"I couldn't find any dresses that ticked all the boxes of things I wanted. Most dresses I tried on had unflattering and uncomfortable boning in the boob area, or he wrong neckline, and I struggled to find one that I loved. So I decided to get a dress made for me, using the different ideas I'd got from trying dresses on. I found a lovely woman in Wales, who understood my ideas and agreed to make my dress. But as the months went by, I realised that it wasn't going to be exactly what I wanted. And I panicked. I'm a fussy mare."
"I'd already found a beautiful dress online that I loved the look of. The Alexandra dress by grace loves lace looked perfect in every way. Lacy, unstructured, high neckline, backless…I loved it! But there wasn't an option to try it on in the UK. And I was nervous to order it online and send my measurements.When they announced they were opening a showroom in London In April last year, I knew it was fate and booked an appointment as soon as I could. I took my best friend with me to try it on."
"The showroom was amazing. And I absolutely fell in love with the dress! The front split of the dress was perfect to to show off my gorgeous burgundy velvet Jimmy Choo's. I had to have it. But convincing Malcolm I needed a second dress wasn't going to be easy. He eventually came around and I was able to say yes to the dress!"
"My hair was styled by a freelance hair dresser based in Cardiff – Ceri Louise Hair. She did an amazing job on my hair and all the bridesmaids hair too."
"I did my own make-up on the day, after an unsuccessful make-up trial. I'm just too fussy! I did lots of online research and also got tips from make-up artists on the counters of Nars, Lancome and Laura Mercier. I used products from Nars (primer), Georgio Armani (foundation), Charlotte Tilbury (bronzer, powder foundation and lipgloss), Lancome (eye makeup and mascara), and Laura Mercier (highlighter and finishing powder)."
Leah wore a burgundy pair of Jimmy Choo 'Lucy'  shoes.
"I used simple real flower pin hair accessories, made by my florist to match my bouquet."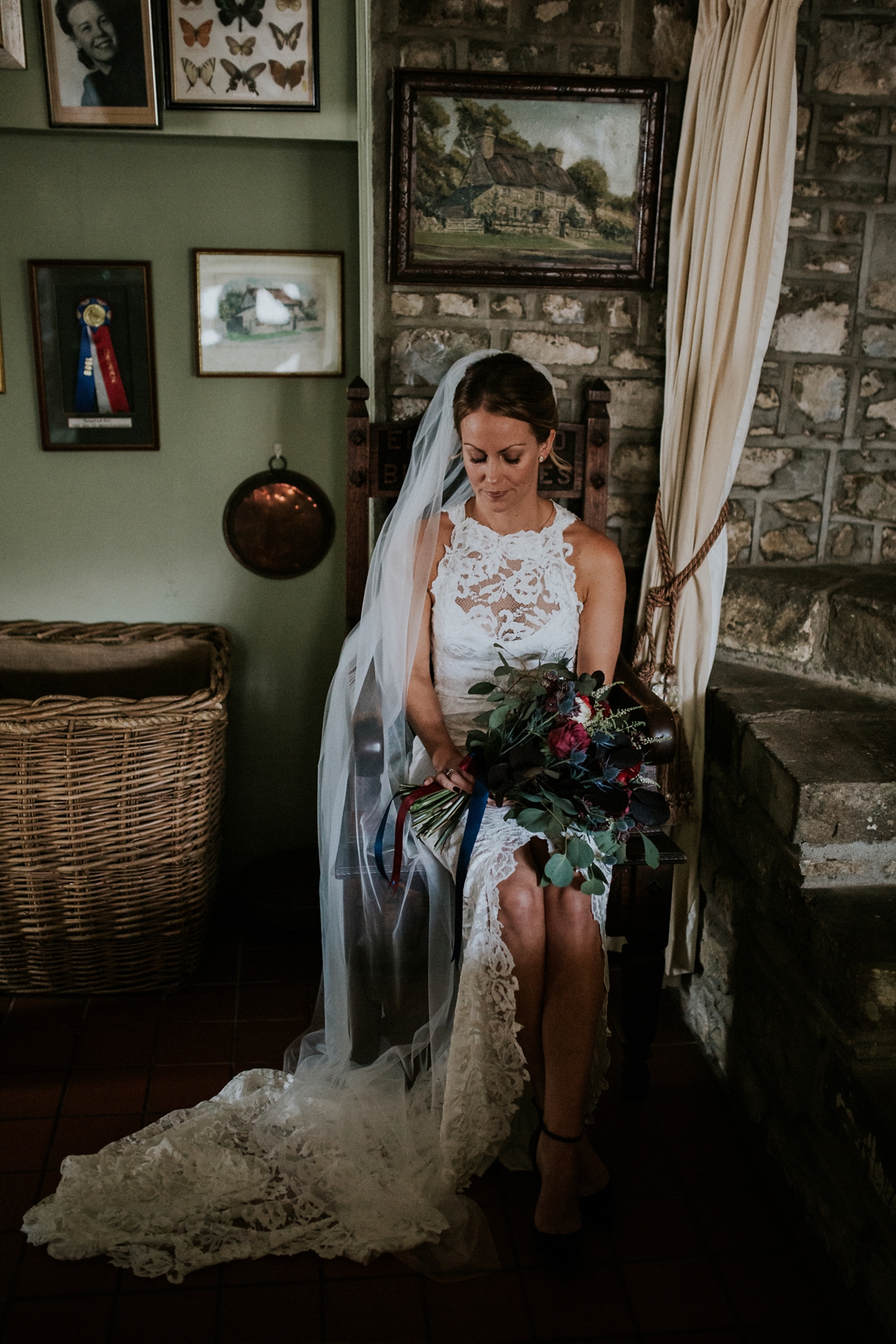 My back necklace was an old gold necklace I had from Monica Vinader, with a gorgeous moonstone. I had the gold moonstone earrings from Monica Vinader to match. I wore a simple gold bracelet with two joining loops from Auree jewellery. And I wore my grans old gold watch, and borrowed my sister-in-laws sapphire gold ring to wear on my right hand, which had been inherited from her gran."
"For scent, I wore Modern Muse by Estee Lauder. This has become my favourite scent over the last few years."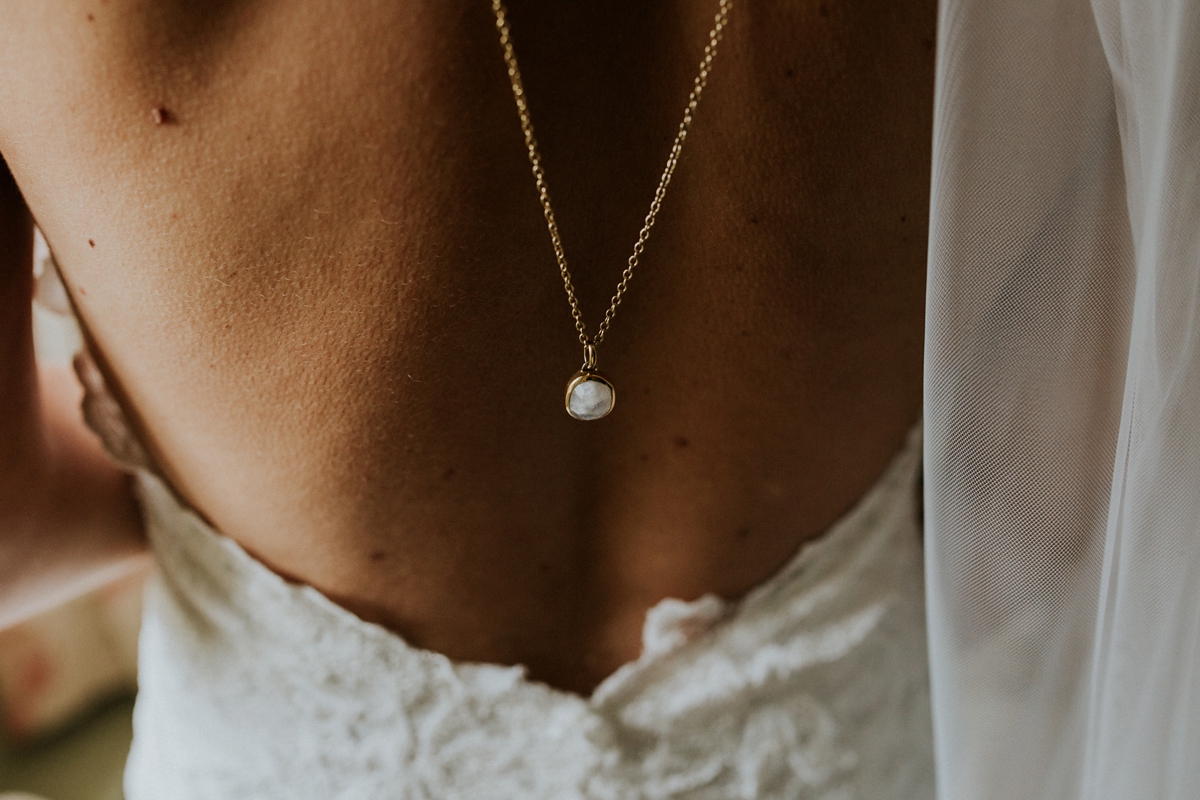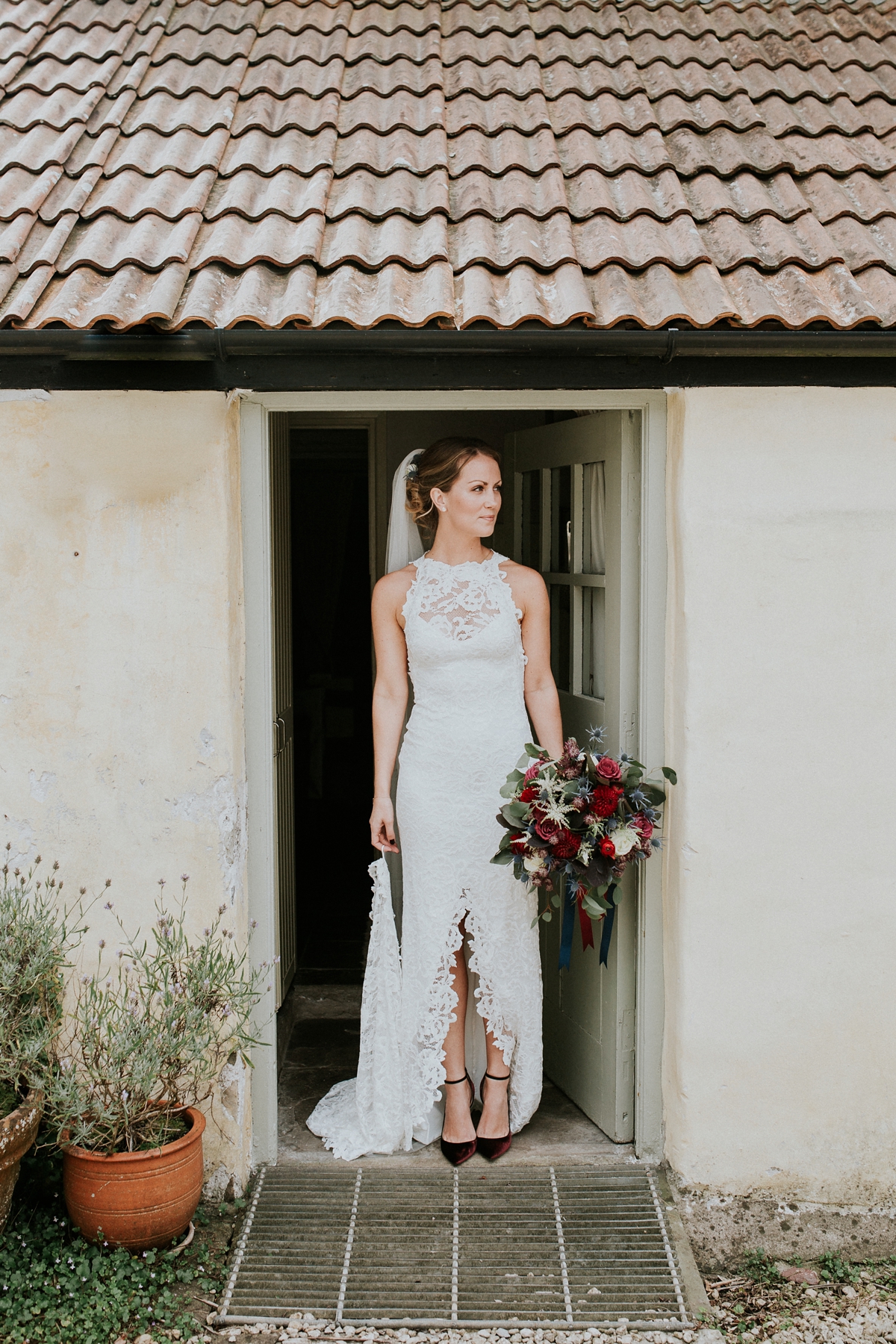 "Our florist was Kath from St. Bride's Flowers. We had a hexagonal shaped cake made for the big day, with a gemoteric cake topper. It had one large chocolate tier on the bottom and two vanilla tiers on top. But we couldn't use it on the day. It hadn't been boxed up properly by the supplier, and didn't make it to the venue!."
Caution brides – make sure that your cake is boxed up properly and that care will be taken transporting it to the venue!
The Bride made the couple's stationery herself using Paperchase marble card and Microsoft word. The aim was for it to be simple, modern and understated.
"We used lots of terrariums, cacti and succulents. And lots of items from our home. Most of our centre pieces had sentimental meaning to us – 2 wooden wheelbarrows were made by Malcolm's grandfather, 2 of the books were written by his mother (Moira Forsyth), the old mining lamp and the wooden chest belong to Leah's parents, and the wooden camel was bought on our first holiday together in Marrakech."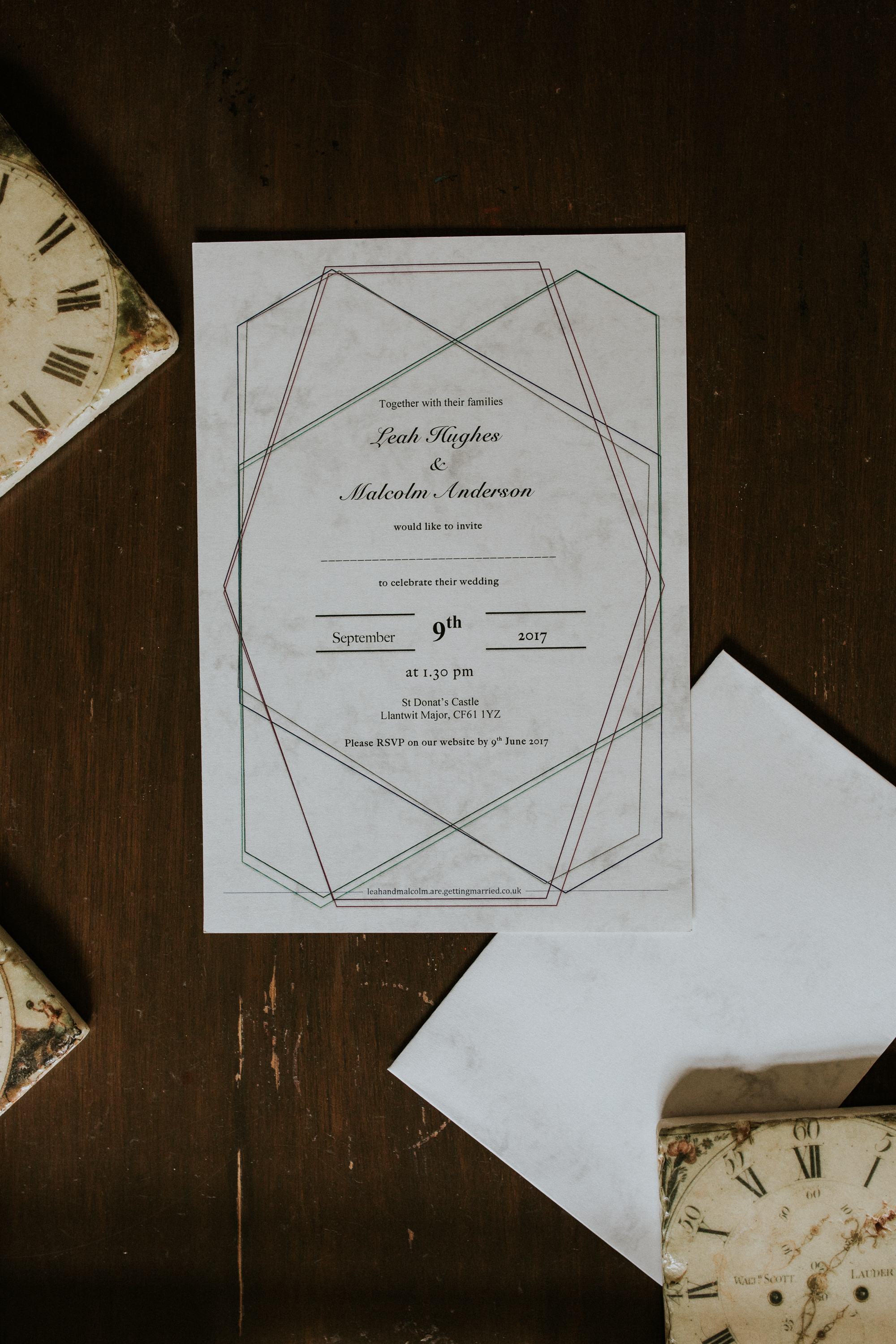 "We found each other online in August 2014, on the infamous Tinder. Malcolm was the only guy I found interesting on there, the only one I enjoyed chatting to. He seemed like a decent, normal guy (a rare thing in the dating game!). His messages made me smile along with his bad dad jokes."
"We soon met up, in Paradise no less! And for me, there was an instant connection. I think we both felt that this was going to be different, and special. We dated and it quickly got quite serious. Within a year we'd moved in together and then about six months after that he proposed."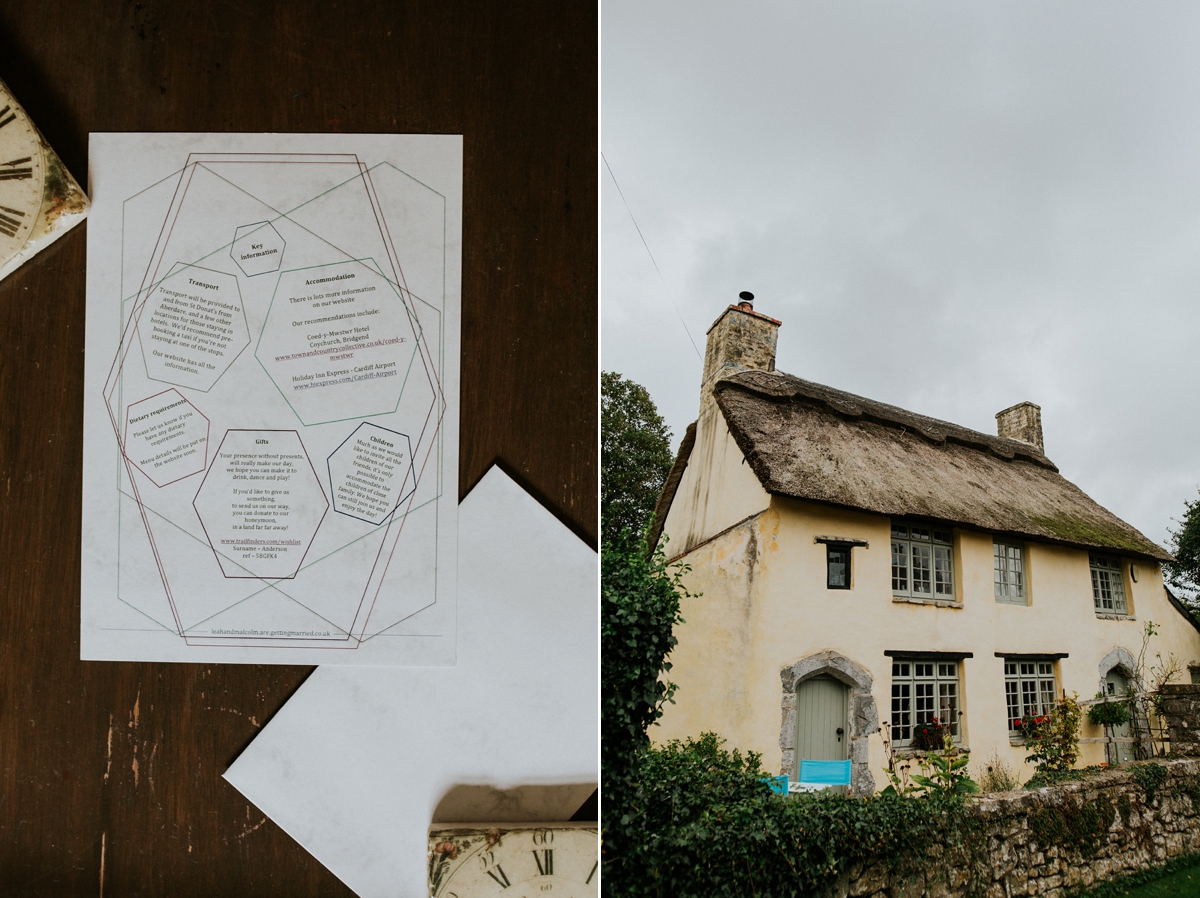 "We got engaged on 18th February 2016. Malcolm had arranged a wonderful weekend away for us in a gorgeous country spa hotel. He popped the question in our room, as we were getting ready to go down for our meal. He opened a bottle of champagne and said he needed to talk to me! He handed me a small package all wrapped up. I was shaking and so nervous it took a lifetime to unwrap it. And when I finally got it open, it was just an empty wooden box! I was totally confused. He nervously told me to read the lid of the box, which said 'Leah, Marry me?'. And at this point he got down on one knee and asked me to marry him. It was very sweet and very emotional! I was very glad he did it in the privacy of our room, as I'm quite shy like that. I was also happy that he let me be part of choosing the ring 🙂 He knows me very well."
"For Malcolm, it was always going to be a kilt for the big day. He's Scottish and that was never up for discussion. But I do love a man in a kilt, so that wasn't an issue. The colour of the tartan was my only concern! They can be very dull and usually involve lots of different shades of green and black. Luckily his family clan tartan, the Anderson, is a nice bright blue tartan with reds and yellows. I helped him choose a modern version of that, which he had lots of compliments about on the day. Malcolm's kilt was from MacGregor and Mcduff."


"We both chatted about our wedding and said we wanted all our family and friends to be there, so that ruled out a wedding abroad for us. And at that point I knew I wanted to get married in Wales. It's where I'm from and means a lot to me. I originally had it in my head that we would do it in a vineyard. We both love wine and i wanted somewhere unique and special."
"We arranged to see lots of venues across south wales, so we could see all the different options. When we came across St Donat's castle, in the height of our Game of Thrones obsession, we just knew it was 'the one'! The venue is just stunning, inside and out."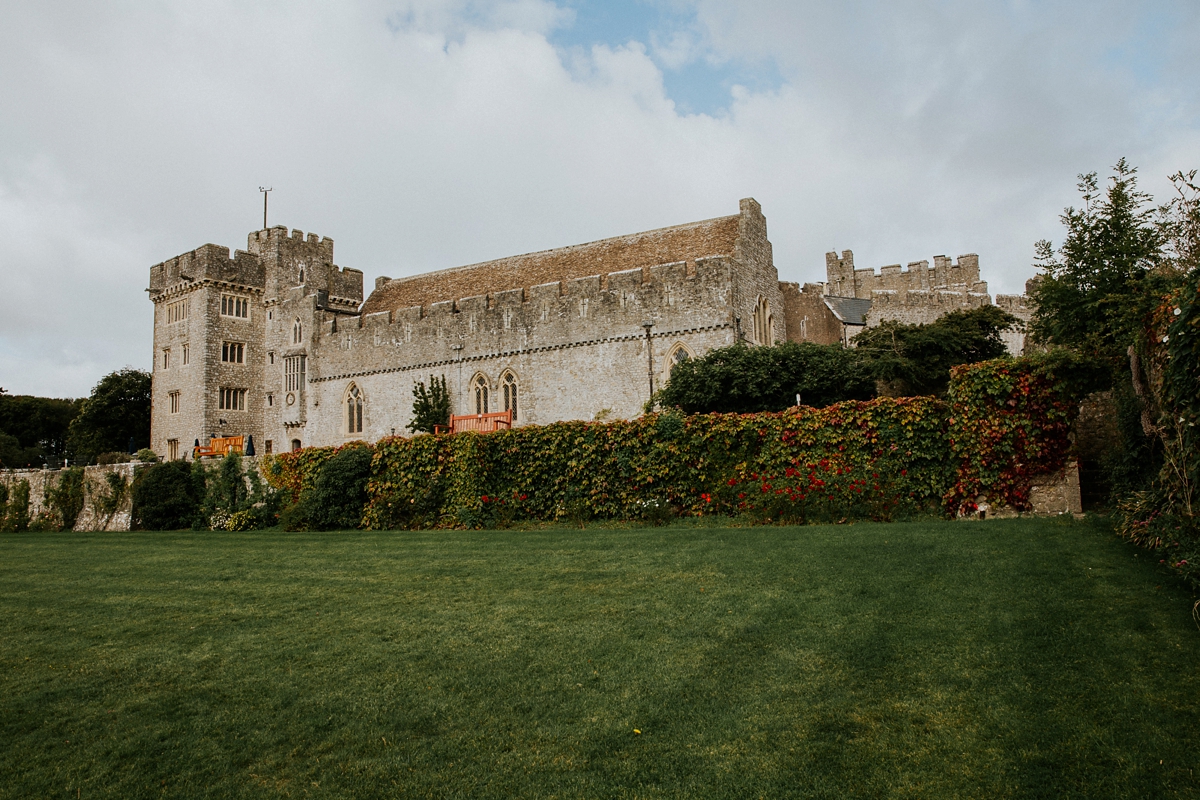 "With the infamous wet welsh weather, we had to think about how the day would be if it rained and we were stuck indoors. St Donat's has lots of space indoors filled with character. Bradenstock Hall where we ended up holding both the wedding ceremony and reception is so beautiful. And the staff at St Donat's were so lovely to us when we turned up unannounced on our first visit, we knew it had to be there. We both fell in love with it."
"I wanted mismatched navy, burgundy and dark green dresses for my bridesmaids. I had seen some inspiration on Pinterest and loved the idea of different colours. I had five bridesmaids and wanted them to wear a style that they felt happy in. But they were all located in different parts of the UK. So we had to find styles online and make decisions via Whatsapp! I found it difficult to find nice dresses online, in the right colours, for under £100 per dress. So after weeks and hours of searching, I went with a navy multiway dress I'd found on Debenhams. It was a great price, suited all the girls really well and I knew that navy wouldn't clash with the tartans or my burgundy shoes."
"My bridesmaids wore their own jewellery. But I gave them a thank you present on the morning of the wedding as we all sat down for breakfast, which was a matching silver and gold bracelet from Auree jewellery to match the gold bracelet I was wearing."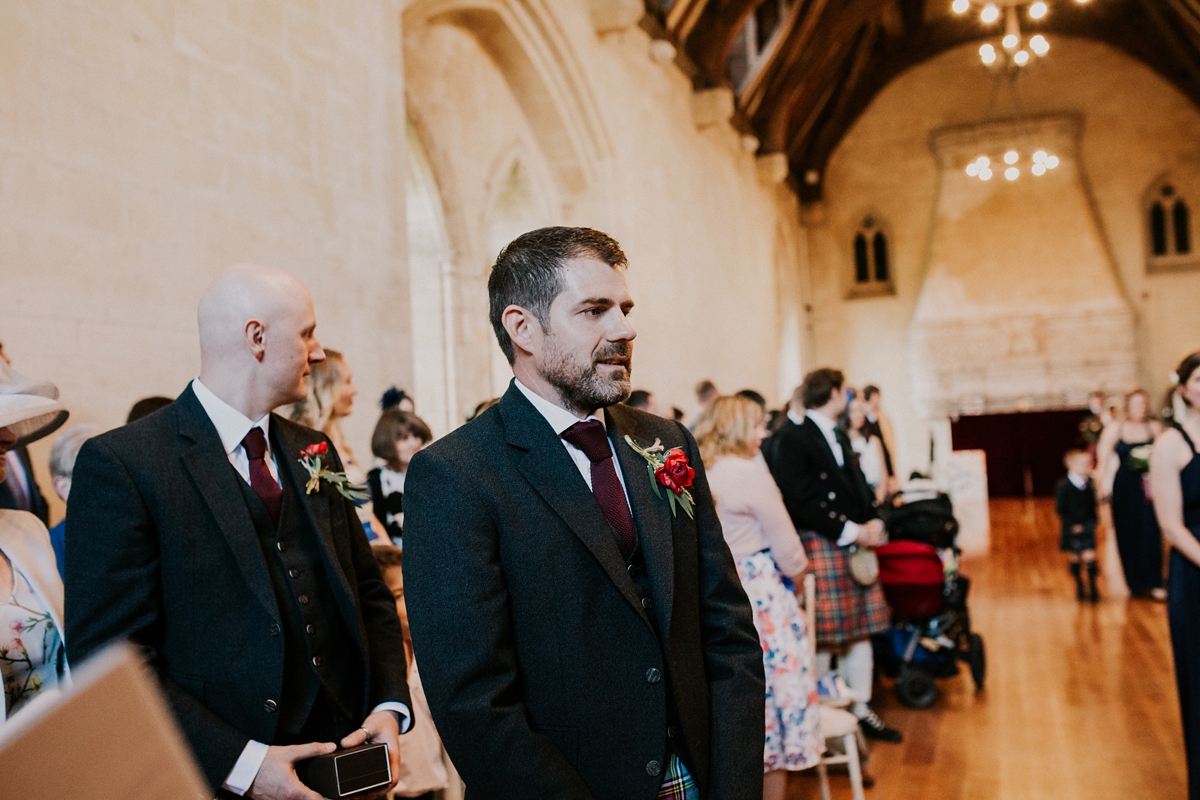 "My father accompanied me down the aisle to the sound of a bagpiper playing 'Calon Lan',  a welsh hymn that I love.Walking down the aisle with my dad, was a very special moment. Seeing all our friends and family there, and Malcolm waiting at the end of the aisle was quite overwhelming."
"We used a Humanist celebrant we found on the UK humanist website. His name is Richard Paterson. Ours was his last wedding as a humanist celebrant. Richard wrote our vows for us. He sent the words through to us to give us as an idea and for us to change or personalise. But he summed up what it meant to us perfectly, so we didn't make any changes."

"We decided to have a humanist ceremony for the wedding, as we wanted to it to be a warm and personal event. We found our humanist, Richard, online. And when we met him in Wales we really liked how warm and friendly he was. He had plenty of experience doing weddings and understood what we wanted from the ceremony. He helped us with our vows and told our story in a very lovely way."
"We feel honoured that our wedding was his last as a humanist celebrant. We asked both our sisters to do a reading for us. And we asked Malcolm's mum, an author, if she'd like to do a reading and maybe write something herself if she felt inspired. But we didn't want to put any pressure on her to do this."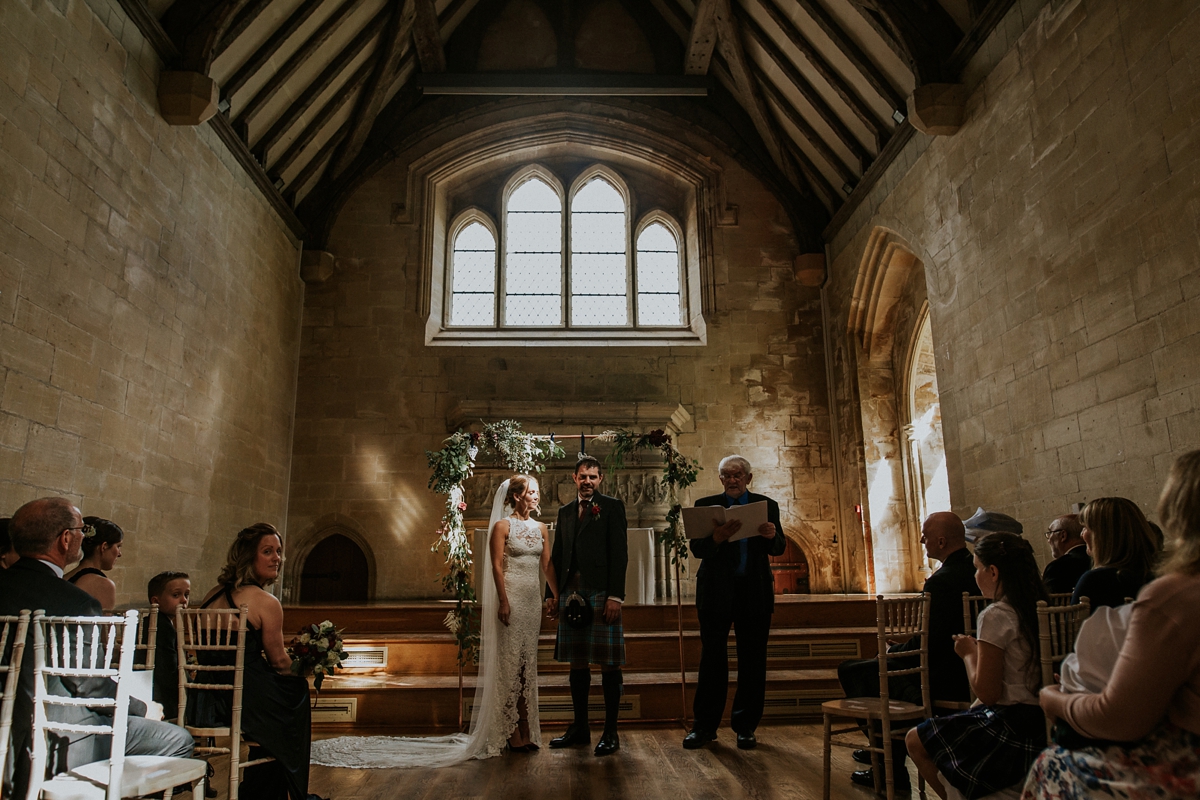 "My sister read my favourite E.E. Cummings poem, I carry your heart with me. Its such a beautiful poem, and I adore it. Malcolm's sister read out a more light hearted poem from a Harold and Kumar movie! It's maths related, and we both find those films ridiculous but funny. It's The square root of three by David Feinberg. Malcolm's mum ended up reading out Shakespeare's sonnet 116. As it's one of her favourites. It was very special for us that they could be involved in the ceremony and it made us both very proud."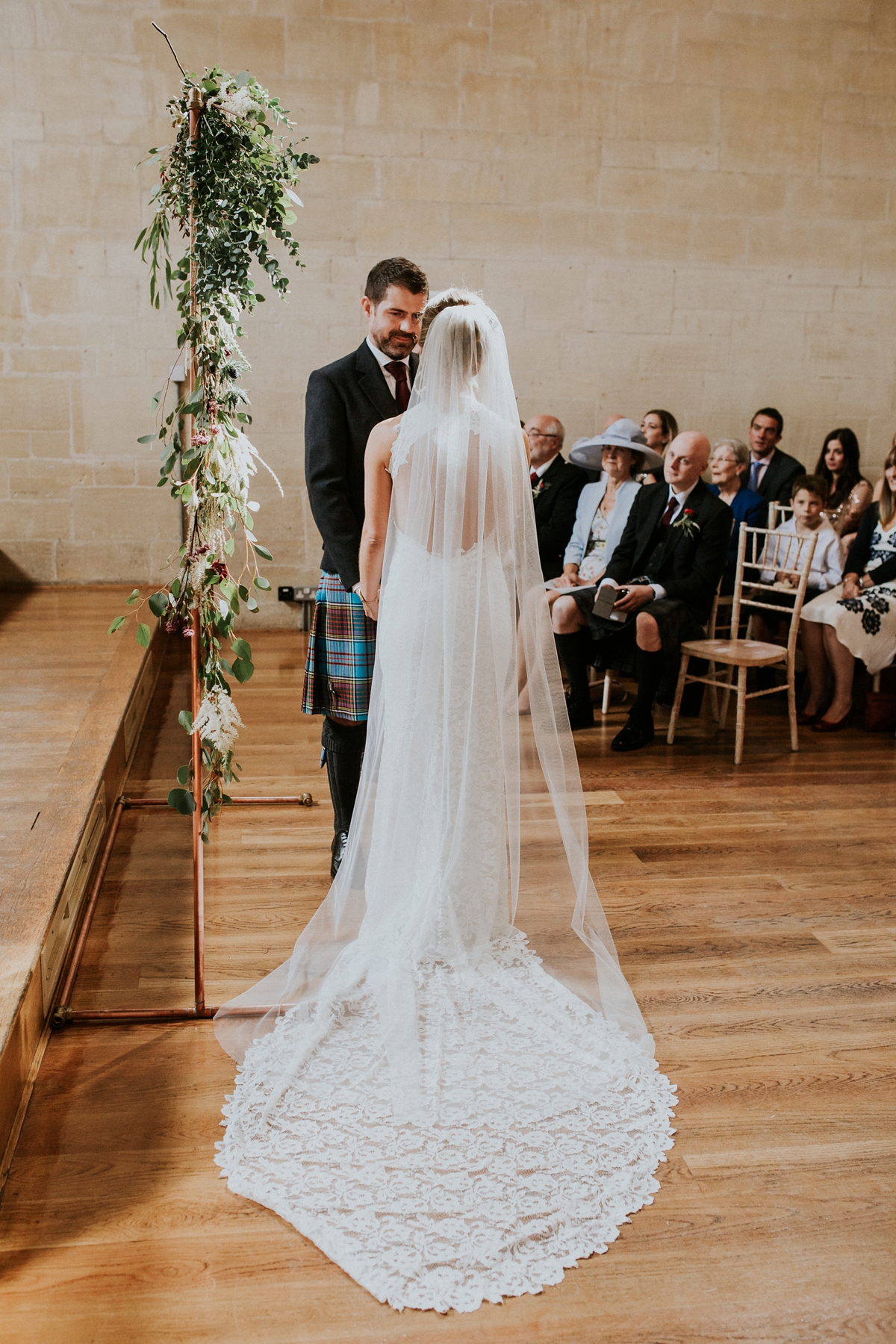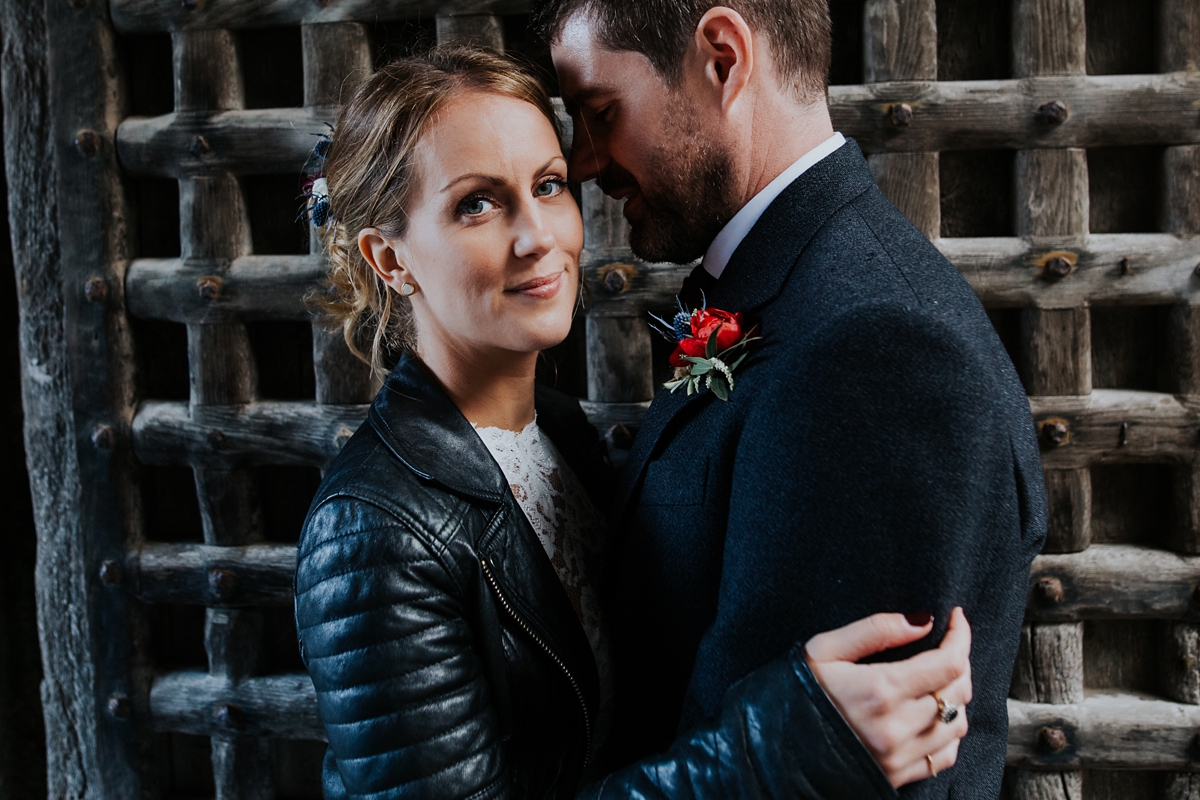 "As with loads of brides before me, I got a lot of inspiration from Pinterest. And far too many ideas. I wanted the decor to be unique, quirky, and modern."
"But also to be a reflection of us. Malcolm is an actuary and loves all things maths. Using this as inspiration, I had the idea of using geometric shapes for the decor."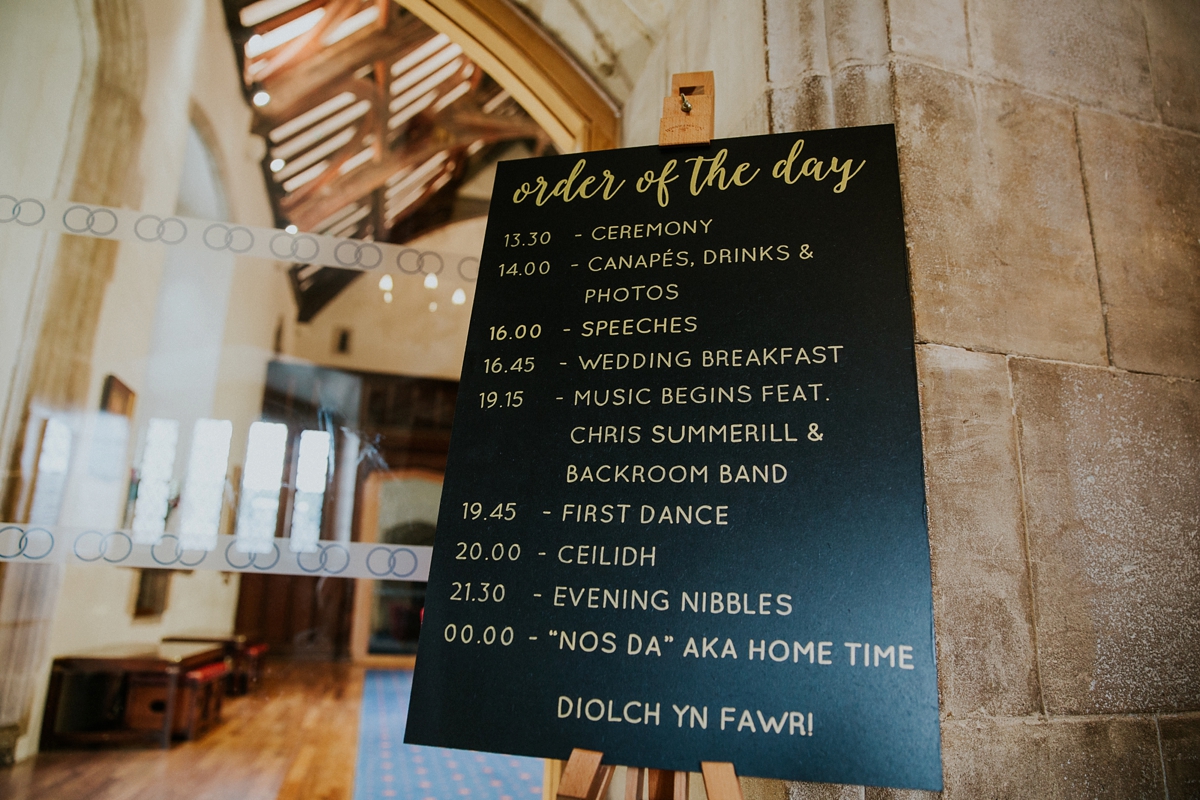 "I designed invites using geometric shapes printed on marble card, and the name cards were a mix of pentagons and hexagons on marble card. I also wanted to incorporate my love for all things copper."
"We used copper, gold and black geometric shaped terrariums and lanterns for the table decorations. Another idea I had to personalise the decor was to use items we owned in our flat. Things like the wooden camel we bought together in Marrakesh, the wooden wheelbarrows Malcolm's grandpa had made, books Malcolm's mother had written, and an old welsh miners lamp that my parents gave us."
"We filled the terrariums with cacti and succulents and also had a few in plant pots. I incorporated a lot of copper into the decor (an old copper kettle, an old copper planter, a copper floral arch made by my brother-in-law). It was a good mix of old, sentimental items with contemporary design. I loved it. We also had some flowers on the day – the bouquets, button holes, greenery on the flower arch and two tall vases for the large windows. These were a mix of green foliage, burgundy and deep red flowers, thistles and eucalyptus. It brought everything together perfectly."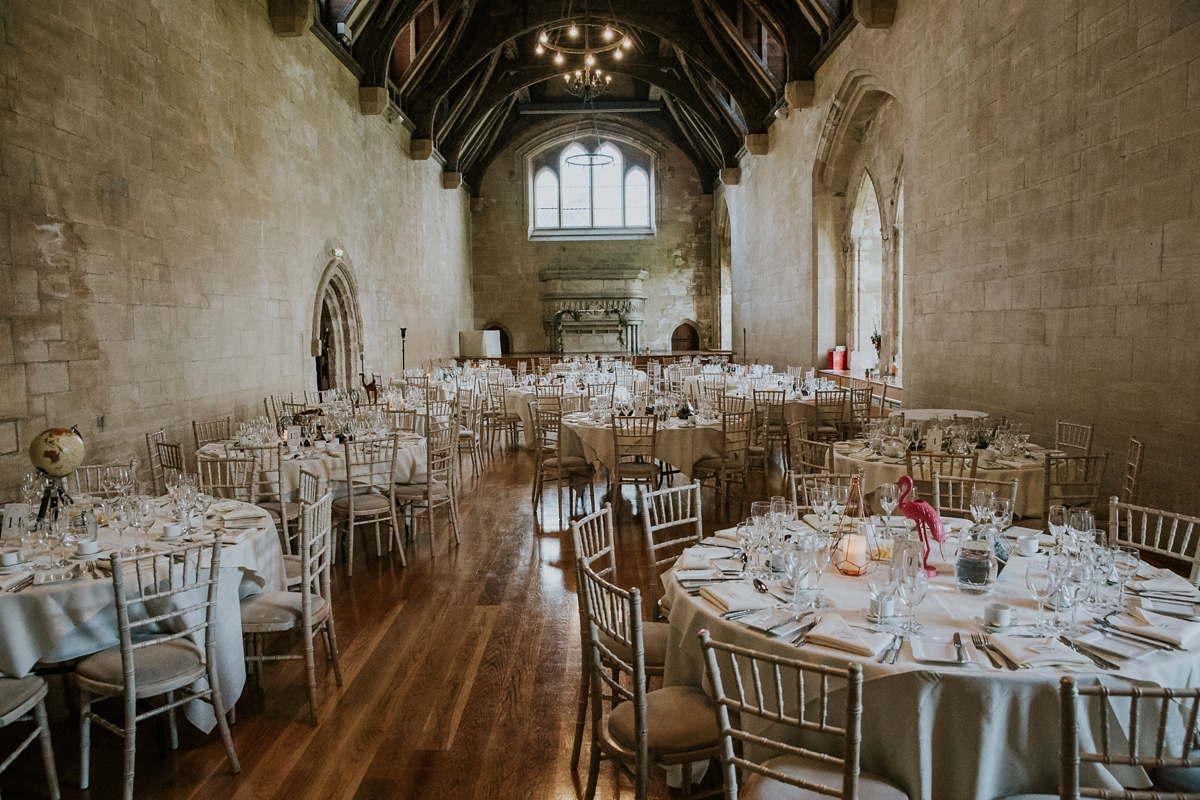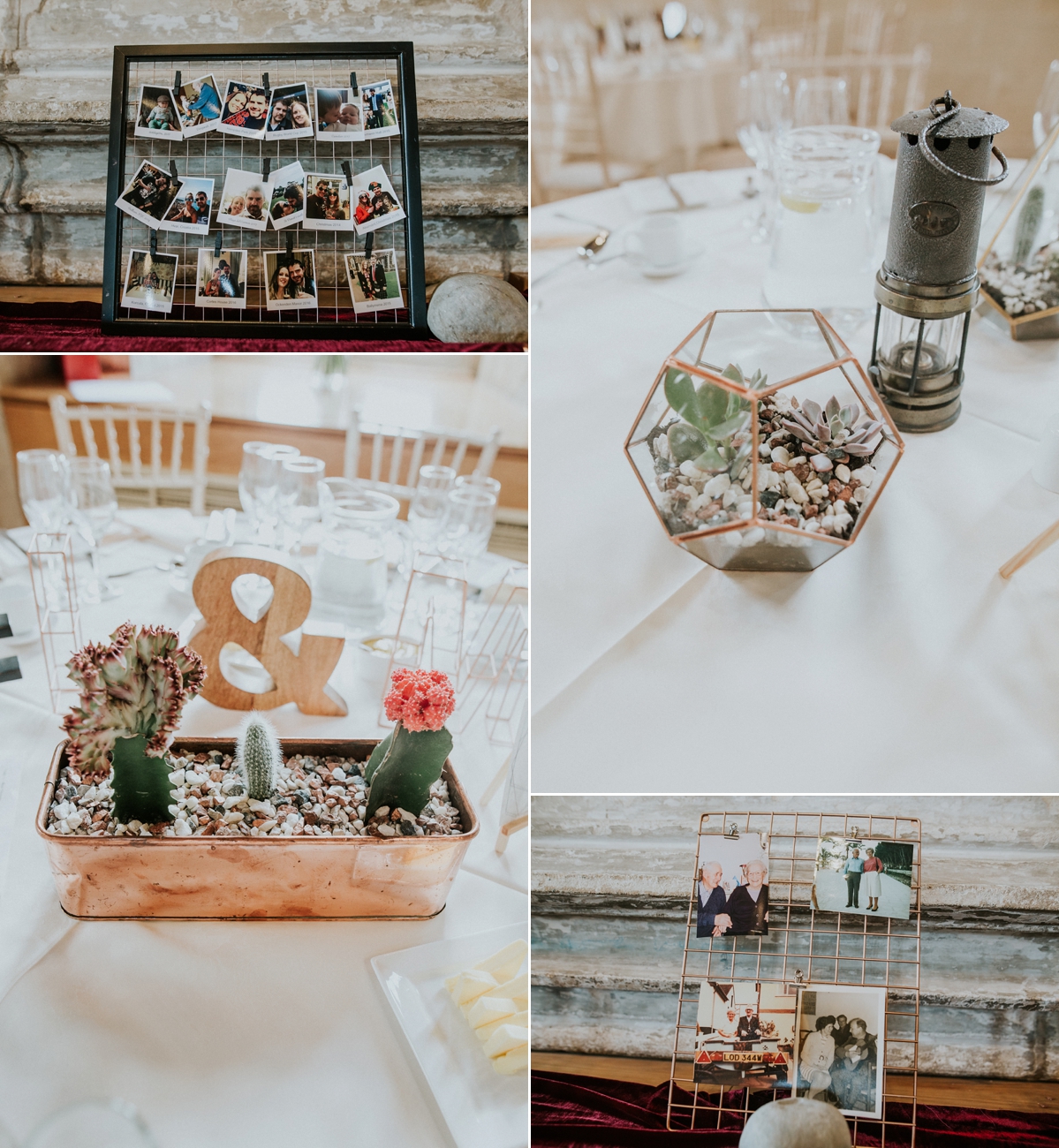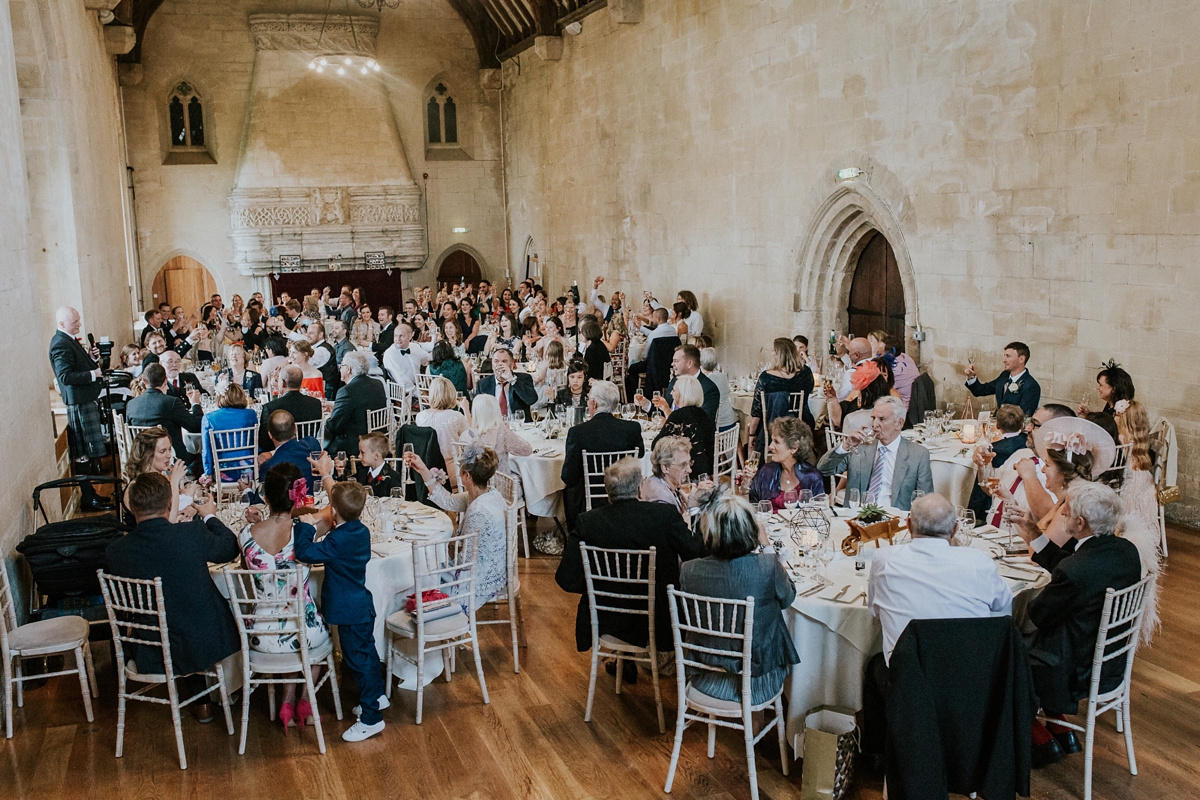 "We're really pleased with our wedding photos by Joasis Photography. We loved the style of the photography that we'd seen online by Joasis. It's contemporary and fun. A colleague at work recommended Joasis. And Jo was lovely when we first met up to discuss the options, and the price was also competitive. Joasis captured the day perfectly, all the special moments and family group shots."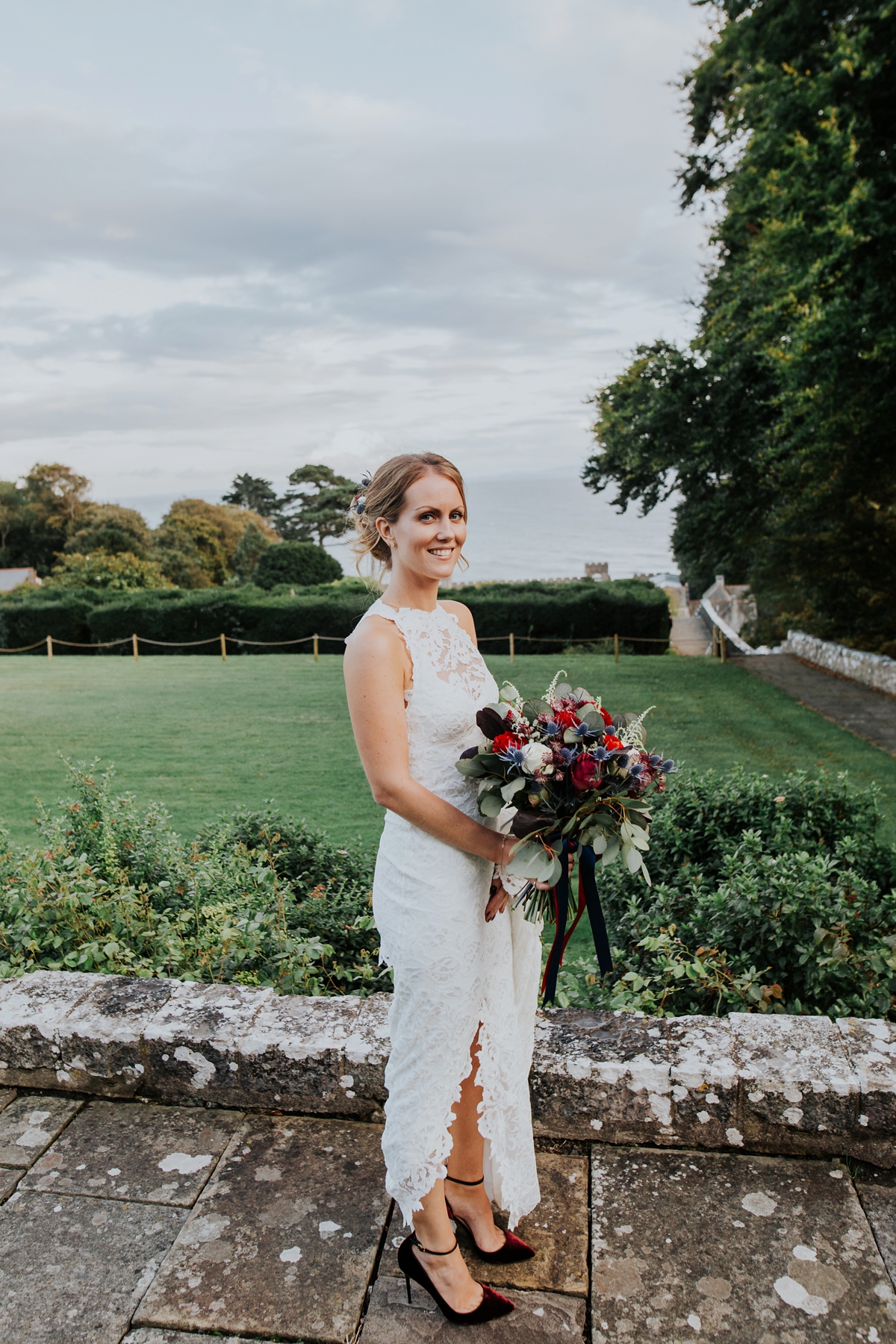 "Both Jo and Raf worked so hard to get great shots. Jo gave us lots of advice during our engagement shoot, which really helped with the planning of the day. It was great to have a session with Jo before the big day so we could get a feel for what it'd be like."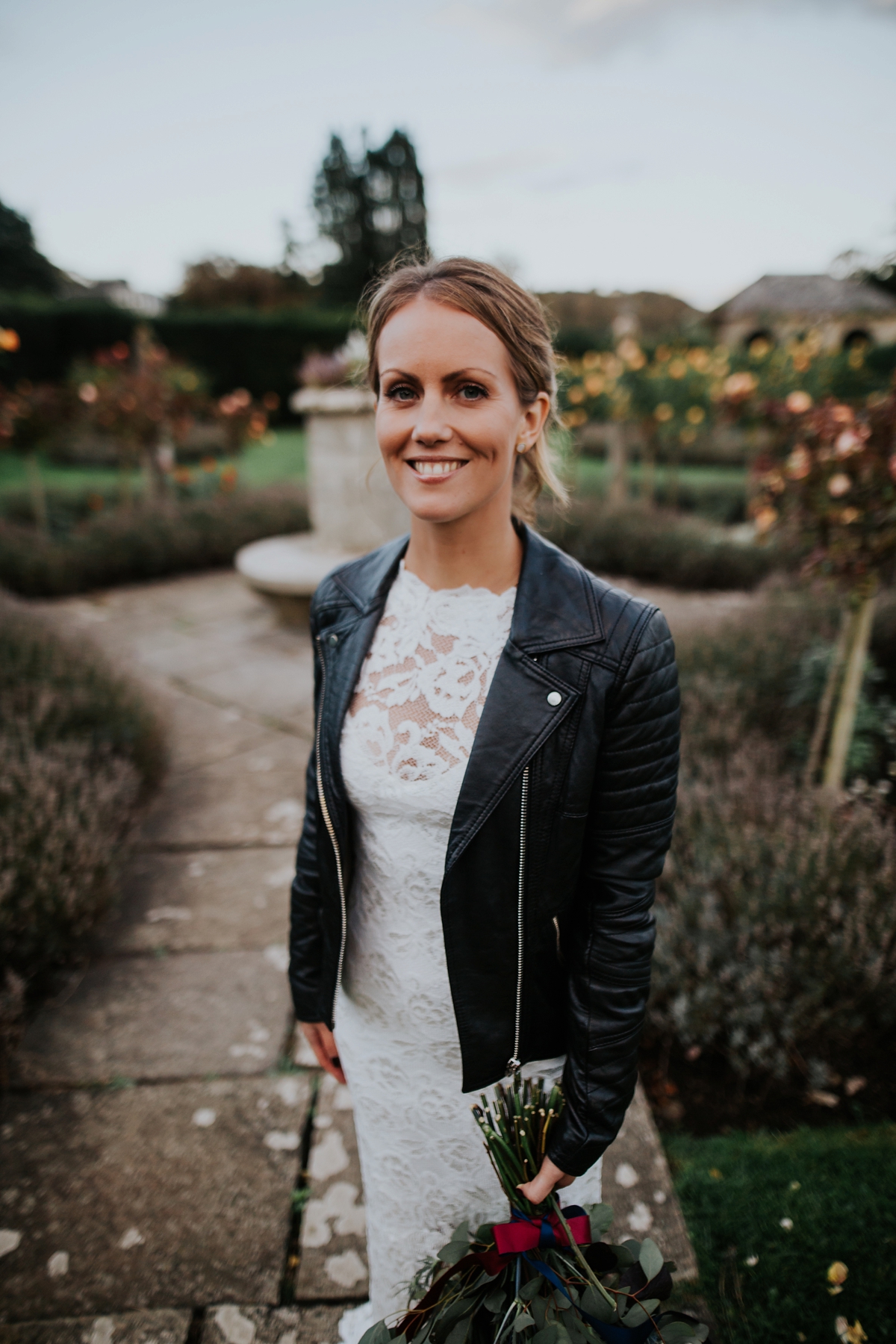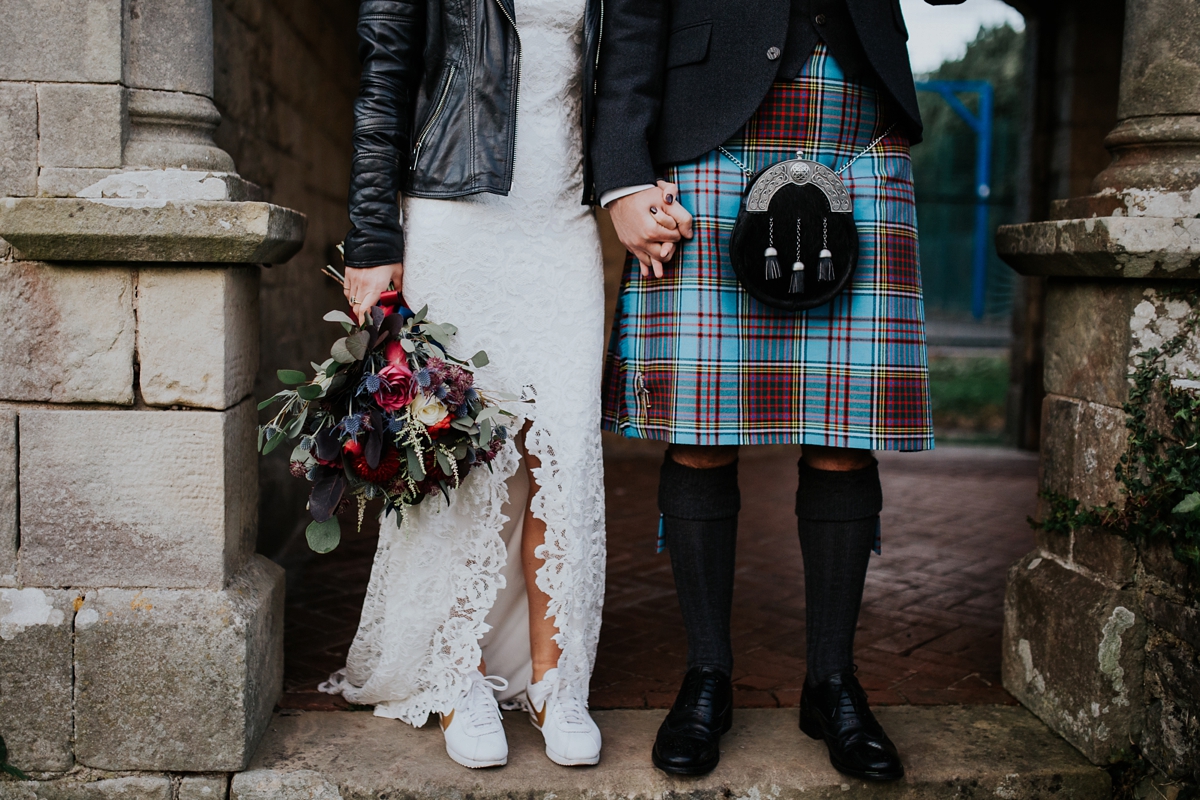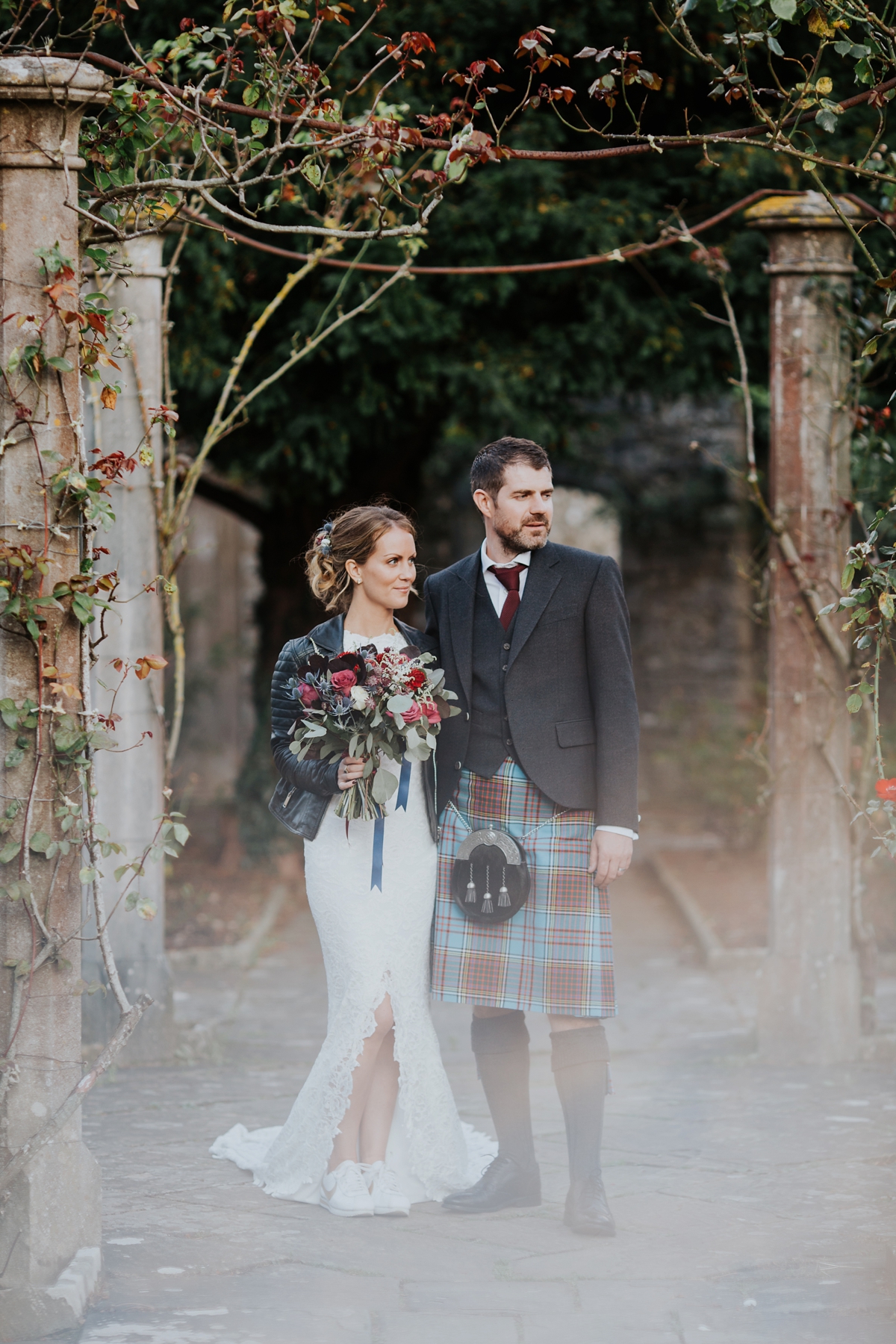 "It's really hard to pick out one part of the day! There were so many special moments – walking down the aisle, saying our vows, hearing the speeches. I guess it would have to be when we both said our vows and officially became Mr & Mrs! It was such an important moment and that kiss was very special."
"Our first dance song was Neil Young, Heart of Gold. It's an artist and a song that we both love. There's only a few artists that we both like. We have very different taste in music most of the time. But I played it in the car one day, not long after we got engaged, and we both realised that it would be a perfect first dance song for us. So that was an easy decision for us. And ever since then, this song has become 'our song'."
"An old friend, Chris Summerill, agreed to play music at the wedding. He sang a few songs for us during the canapés and drinks. And later on he played with his band, at the end of the night. He's such a brilliant musician and entertainer! We were both really impressed and absolutely loved his performance. And he also helped malcolm and his ushers to set up the hall for the wedding ceremony, after the heavens opened and the outdoor ceremony had to be written off.
We also had a welsh ceilidh band play for an hour at the beginning of the evening entertainment! It got most people up on the dancefloor. Even though most of us were completely confused by it all and causing all sorts of mayhem! It was lots of fun. And it got the evening off to a really good start."
Words of Wedded Wisdom
"It's hard to give advice as every couple is so different. But as many people said to me on the lead up, the most important things you need to worry about are the food & drink, and the entertainment.
You need to enjoy the day and remember why you're there. It's hard not to be sucked into the things you think you should have, or things you think you should do on the day. But it's your day, so do what you want and make it fun for you. The rest of the details are nice to have, but on the day you really don't care about it. Flowers, the cake, the decor, and all the small details are great but not essential."
"We definitely exceeded our budget. All I'll say is that it ended up being well above £20k. We were very lucky to have help from both our parents towards the costs."
Lots and lots of things didn't quite go to plan on the day; we wanted an outdoor ceremony and it rained about 15 minutes before we were due to get married. Total chaos ensued to bring everything indoors. Our flower arch was literally dragged indoors (leaving the floral arrangement in a bit of a mess!). Our cake didn't make it to the venue because it fell over en route. And our DIY photo booth and photo guest book didn't work out either, due to a faulty camera! But regardless of all that, we had an amazing day with lots of happy memories. It makes you realise what's important and you really don't care about it on the day.
What a flipping gorgeous day – ladies, if you'd like to see more brides wearing a Grace Loves Lace gown on Love My Dress, take a look here and also explore our Instagram images for Grace Loves Lace too. Enormous thanks to you both Leah and Malcolm for sharing your day with us, and to our talented Little Book member, Joasis Photography too.
Annabel x