My excitement is mounting today as this Saturday I'll be standing beside one of my very best friends as she exchanges vows with her fiancé. I really cannot wait, especially for the chance to spend time with her in the run-up to the weekend.
I hope that you are all enjoying these long, hot summer days and making the most of the fine weather, as soon we'll be waking up to the crisp, fresh air of autumn. Speaking of which, we're throwing back to last October for a magical day of autumnal woodland bliss. Make yourself a long, cool drink and enjoy.
Today's beautiful couple are Lucy,  a freelance graphic designer, weaver and Peas and Needles blogger and Laurie, an animator, who wed beneath the ancient trees at Beaulieu Treehouse, Beaulieu, Hampshire on 7 October 2017. The venue was special to them as their first holiday together was in a treehouse and they really connected with the forest setting. The styling for the day drew on the natural woodland and crafter Lucy added lots of gorgeous homespun touches – in dusky pink and macramé – which I'm sure you're going to love.
"We were mainly inspired by the venue. The nature and just our natural tastes really came into the design of everything."
Photography Kari Bellamy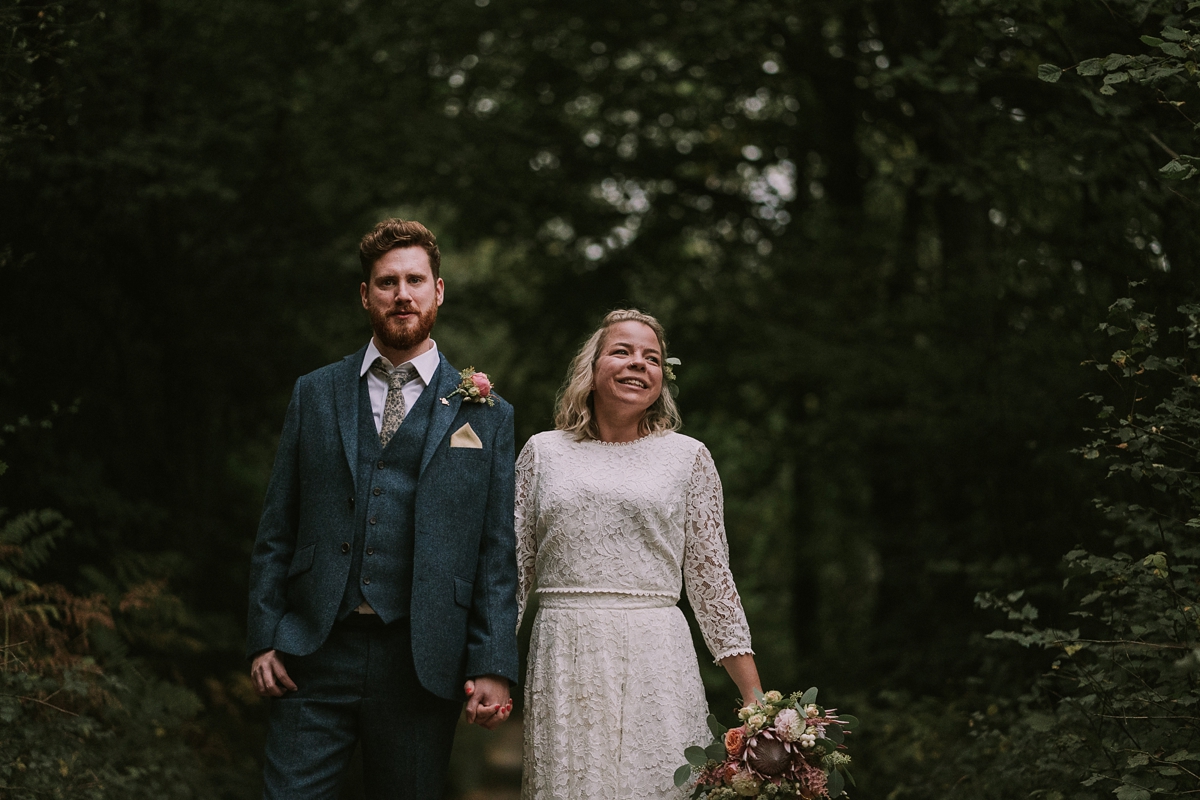 Kari Bellamy was called on for her photography skills and what a beautiful set of images she's captured – so full of light and love, and catching the forest and its beauty so well. I really love the evening-time images when the forest and the treehouses were lit up by thousands of fairy lights.
"Kari came by a recommendation and we instantly fell in love with her style seeing it on her website. We originally met up to chat through our ideas in London which was great. We decided to have an engagement shoot as Kari had recommended it as we both felt awkward in front of the camera. It was great to have this so we could try and relax into having our picture taken. Kari was so patient with us and we ended up spending a few hours there. This really helped us on the day and were a lot more relaxed. On the actual day Kari was amazing, she took so many great photos it really is hard to choose our favourites. Everyone has loved our photos and it has been so great showing everyone. Kari was amazingly discreet on the day and we barely noticed her snapping away."Laurie and Lucy met through work, and got engaged on holiday in Tuscany.
"I was freelancing at his work and found out we had quite a few mutual friends. Brighton is a small town so we ended up bumping into each other a lot after this. We became really good friends until eventually we got together. We got engaged in Tuscany, Italy. We were going on holiday with my uni friends and he had been planning it for while along with my best friend Laura, who became my bridesmaid. No one else was aware of what was going on. We were on an afternoon and evening out and separated from the group."
"We were walking around and came across a small square and decided to sit on the steps to have some water. When we sat down he told me he had a gift for me and pulled the ring out his bag and asked me to marry him. I obviously said yes and then we called our families to tell them the news. Later on we caught up with the group and told them all. We went and celebrated with pizza and beer, followed by a Nutella pizza. It was a great night!"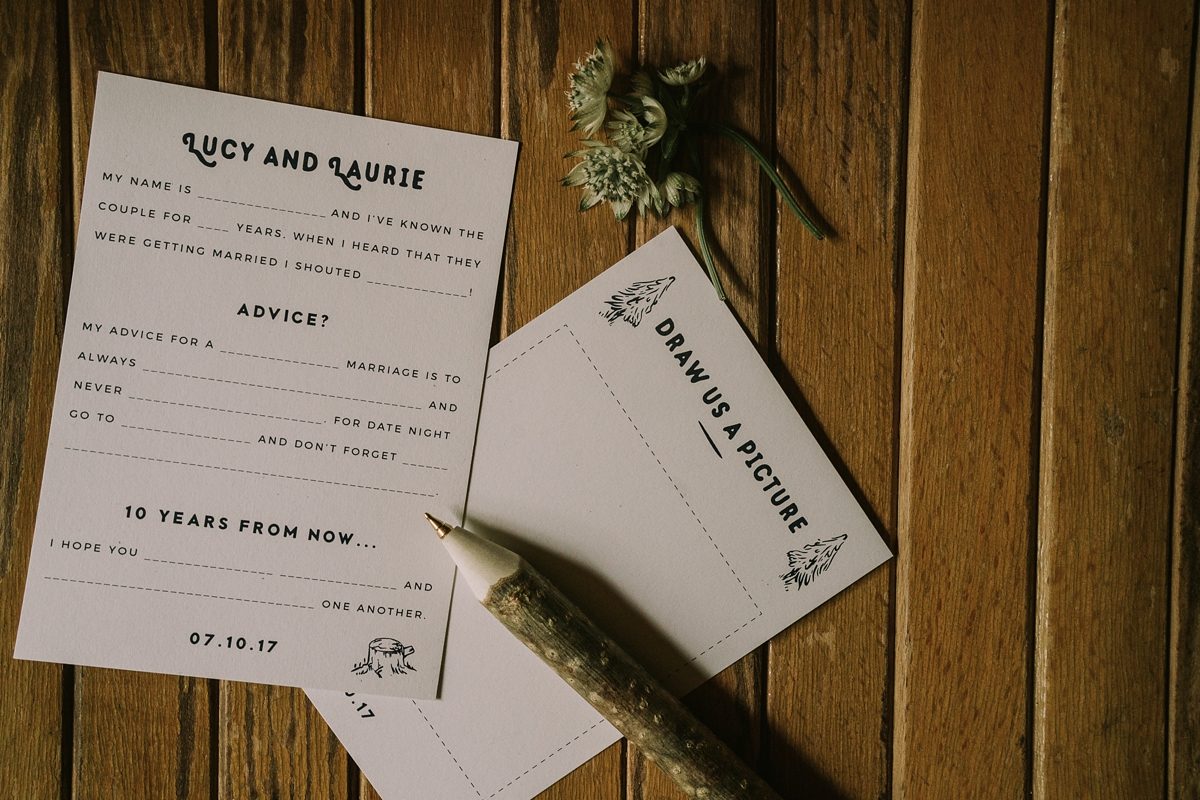 Lucy's relaxed, natural style was perfect for the outdoor setting. She chose to wear bridal separates from Monsoon; the scalloped Dominika skirt with a small train and a sleeved top in a heavy lace. She looks beautifully relaxed, and the high-low hem of the skirt is a really lovely detail. She added a pair of gorgeous gold clogs by Swedish Hasbeens, shown off wonderfully by the high-low hem of the skirt.
"I really loved my dress because it was a two piece, a top and a skirt. I loved the way it came up at the front which showed off my gold clogs. As soon as I put it on it felt right and didn't want to take it off. I saw this as a sign because with all the other dresses I had tried on I didn't have this feeling. It was the one thing my mum had said too – if I felt like I didn't want to take it off then it would be the one. My mum sewed a small piece of blue ribbon in the inside as my 'something blue'."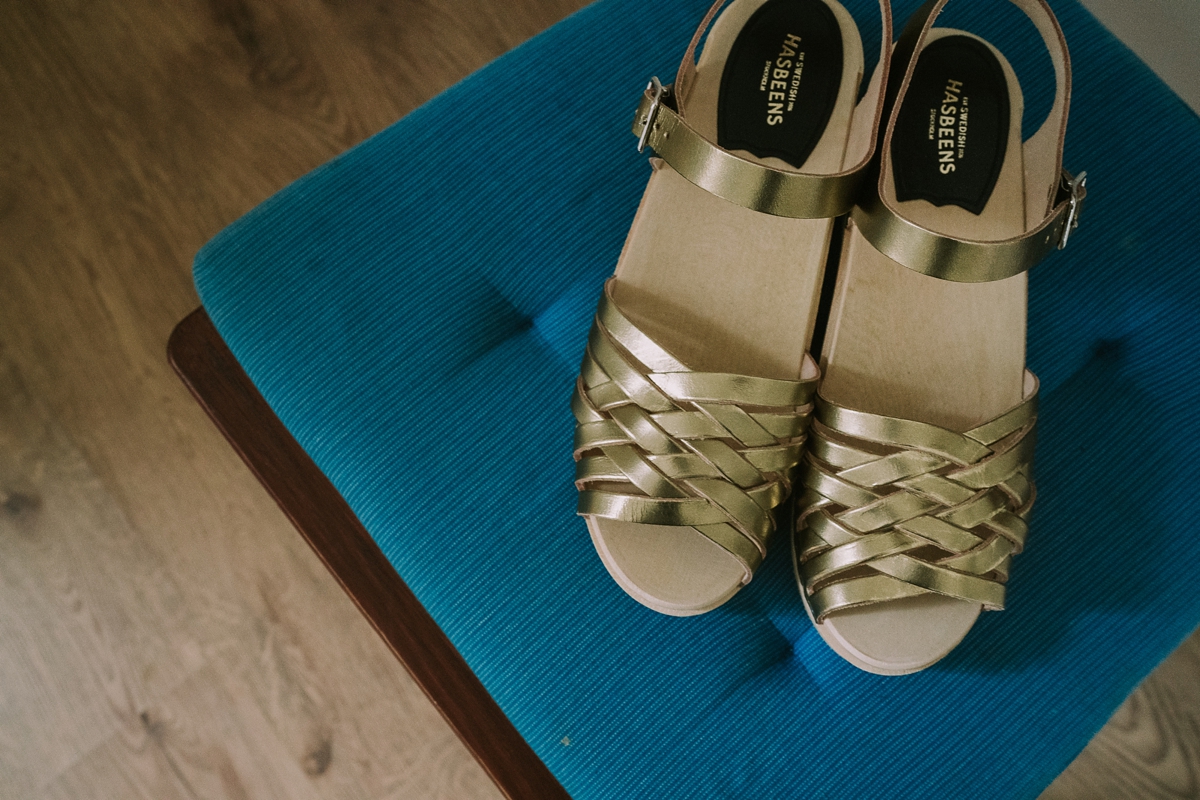 The wild and natural florals picked up on the dusky pink of the home-crafted elements, and I love the combination of whites, pinks and greens which incorporated some really unusual flowers.
"I was going to have a good friend of mine do our flowers but she fell pregnant and was going to be eight months pregnant around our wedding so she recommended Nicola at The Wright Choice Flowers to us. She was amazing. I am quite fussy when it comes to the design and style of things so put a moodboard together for her."
"As soon as I sent it to her we had a chat on the phone and she knew exactly what we wanted. She did all our bouquets, button holes, hair bits and ordered in the flowers for us to do the venue. I made forty ceramic pots running up to the wedding and my bridesmaids then put these together the day before."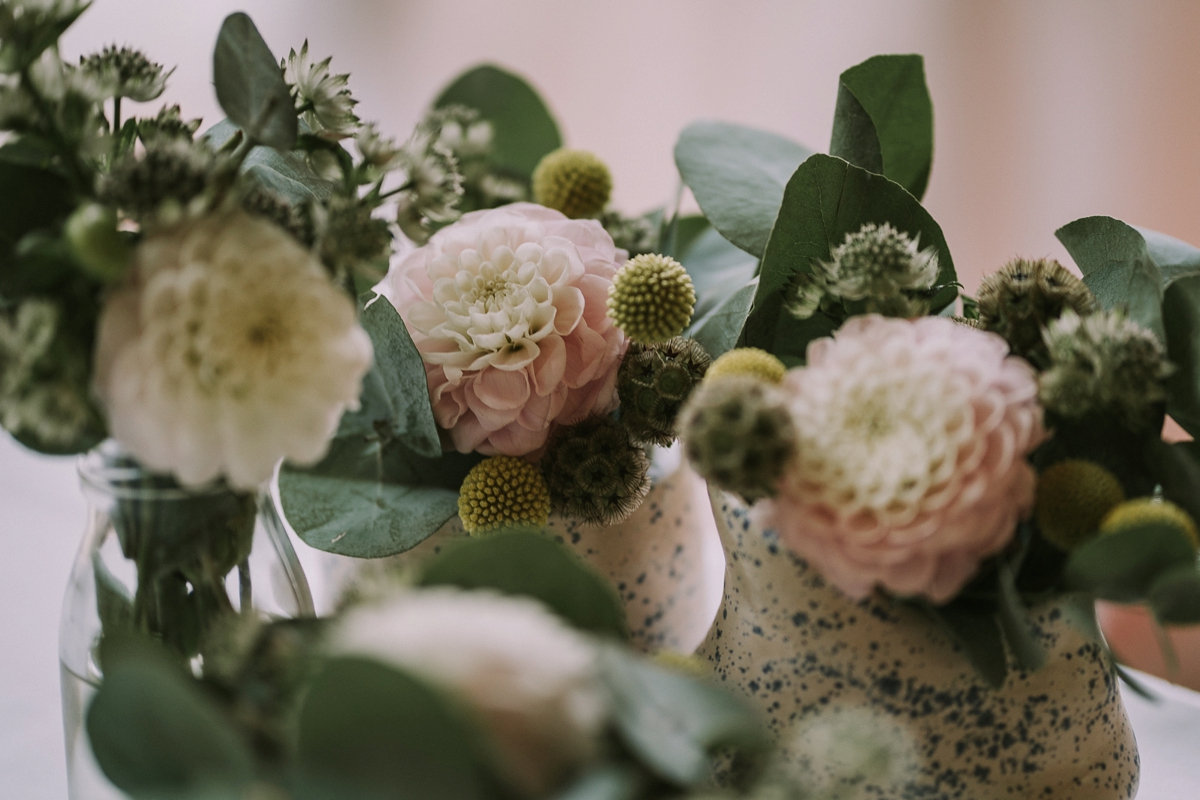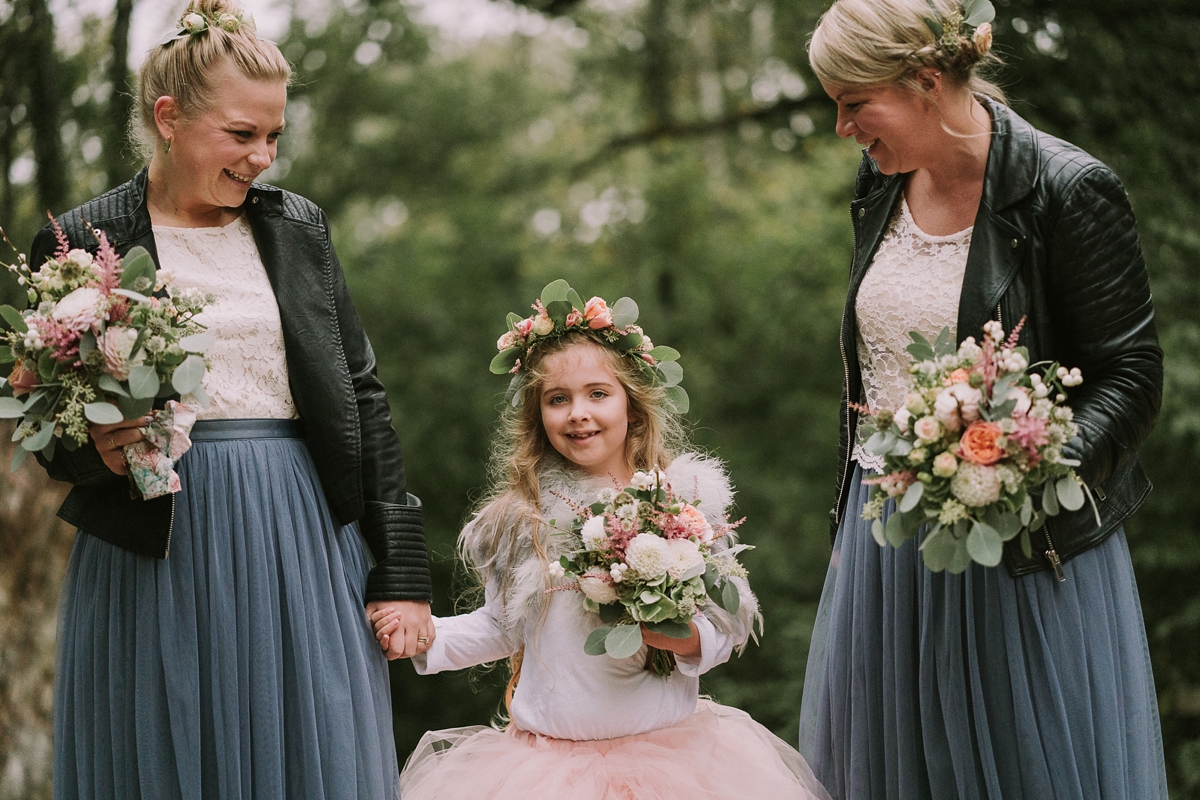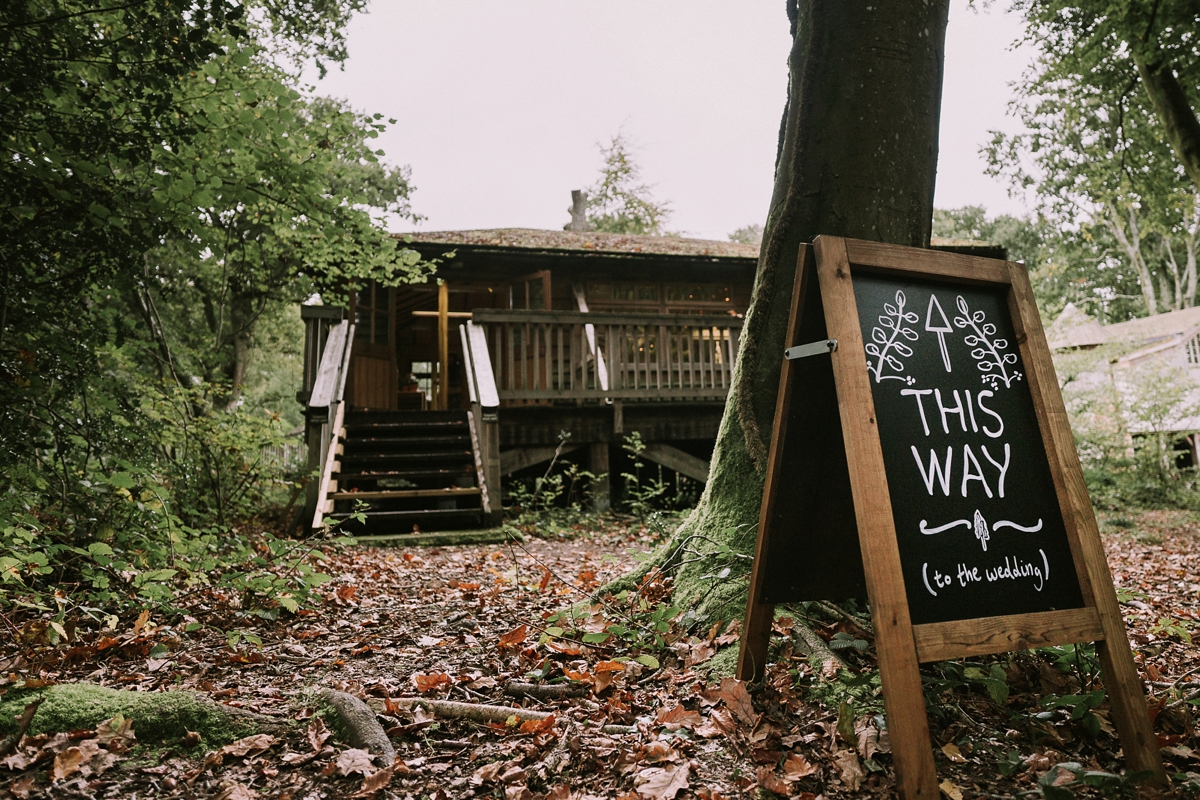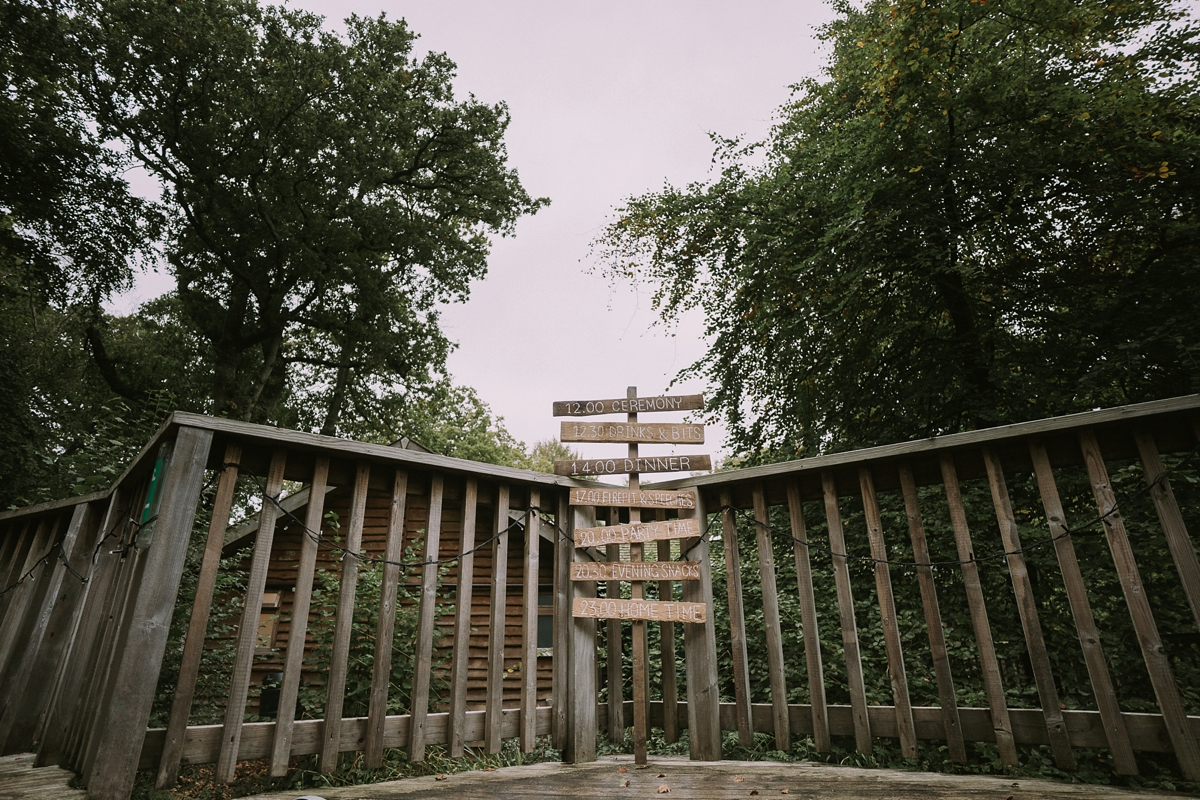 Lucy, whose blog Peas and Needles focuses on craft and lifestyle, was able to indulge her talents for craft and creating in the treehouse styling. Over to Lucy to describe how she created this natural but chic look.
"The venue was an empty shell. We hired in vintage tables and chairs from Bath Vintage Hire to keep in with the natural feel of the Treehouse. These were delivered to the venue the day before and luckily we had the Friday afternoon to decorate the Treehouse."
"Both of our families were there to help out. We had spent a lot of the summer making everything for the day. I hand dyed bed sheets with avocados to make them a nice dusky pink, I ripped these up into strips and made the ribbon garlands that hung around the venue."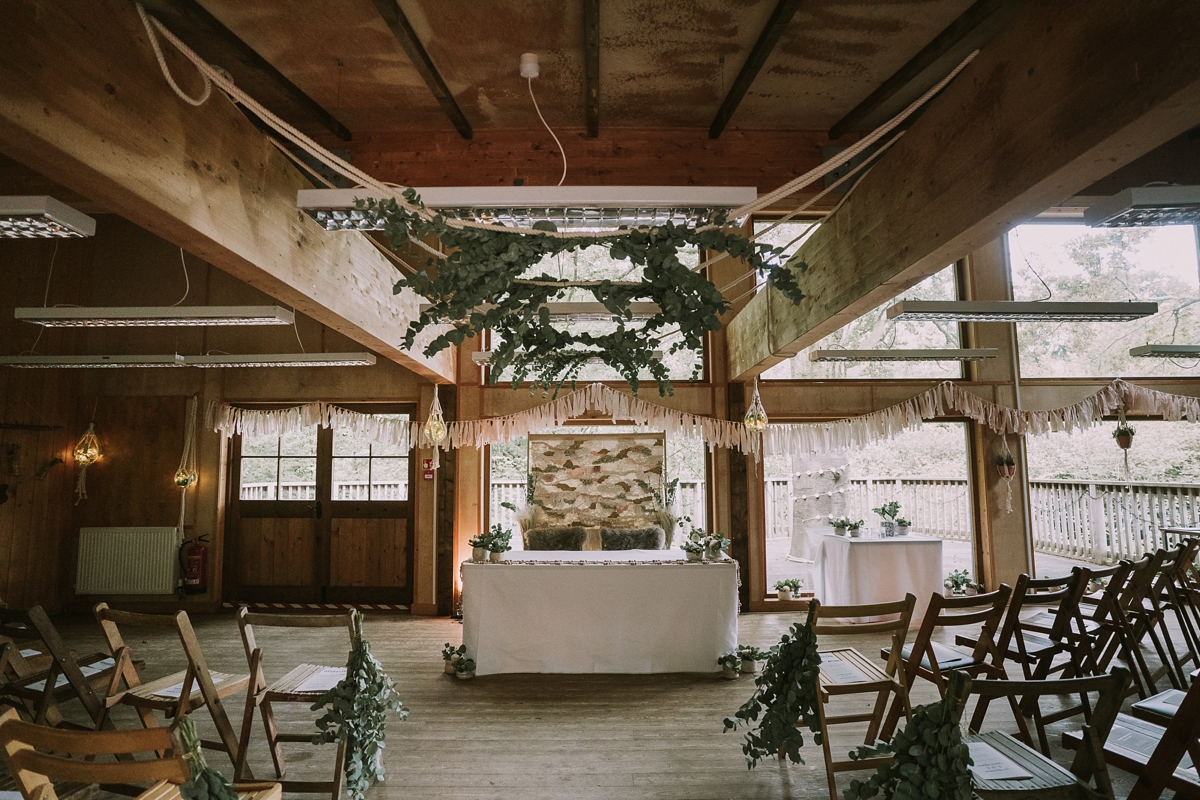 "As I am a weaver I made a giant weave for us to get married in front of. This was one of the first things I wanted to do, I guess the decorations all then got made around this in mind. It was really nice to take some time out of the stress of planning the wedding and weave." I made about thirty macramé plant hangers that hung around the Treehouse. We hung some with plants in and some with plastic fish bowls from the pound shop and put fairy lights in them. We dyed all the napkins with avocados too, to match the other dusky pinks in the room."
"We handmade and hand painted all the wooden signs. We strung eucalyptus all around the treehouse which smelt lovely and looked lovely too. Laurie's mum Jeannie made us so many cream pompoms to make more garlands with. These looked lovely strung around the trees. We paid for one of the Treehouse suppliers to light up the walkways with fairy lights, all along the rope bridge and the balconies. They up-lit all the trees in the forest too which gave it a magical feel once it got dark. There were so many contributions from our families we could not have done it without them."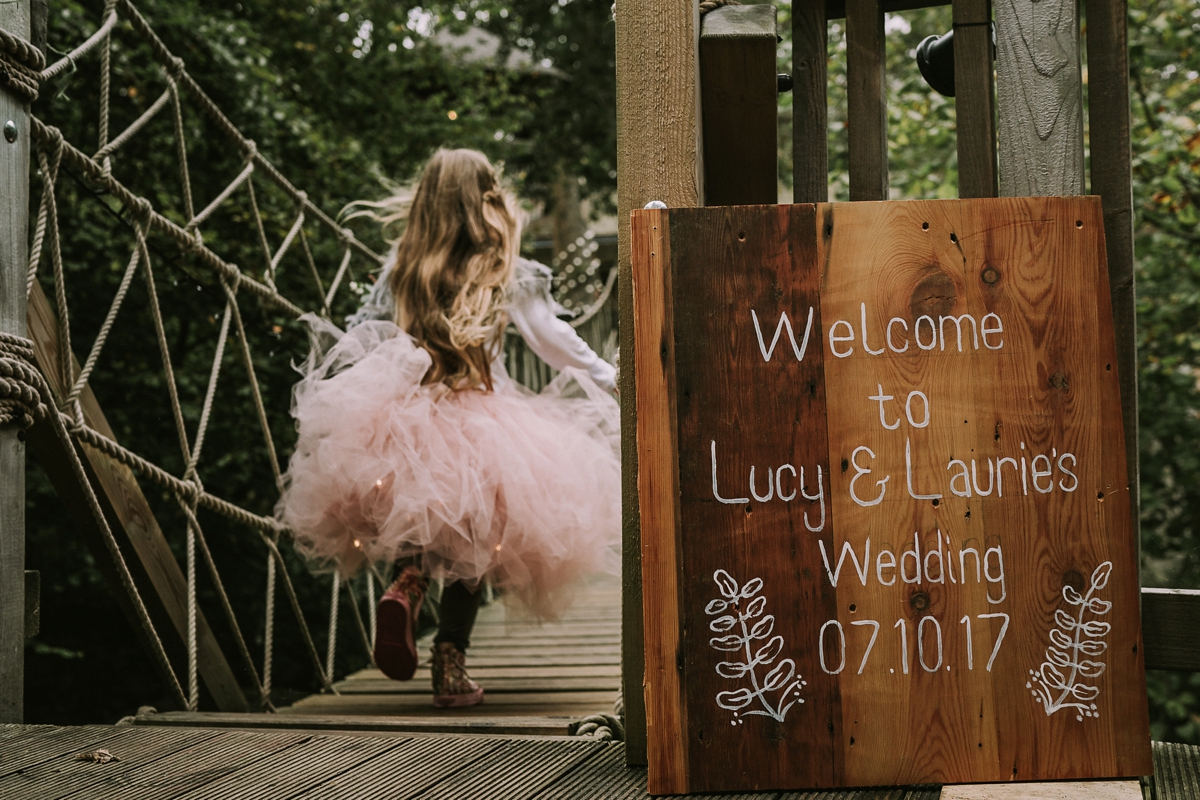 I love the slightly vintage feel of the bridesmaids' outfits which matched Lucy's own separates. They wore floaty mid-length tulle skirts in teal green from Needle & Thread, topped off with warm lacy tops. Lucy's talented mum made her sister's. I love flowergirl Ava's little outfit. She looked magical in her Flowers and Confetti tutu skirt which Lucy's sister-in-law customised by sewing in battery-powered fairy lights.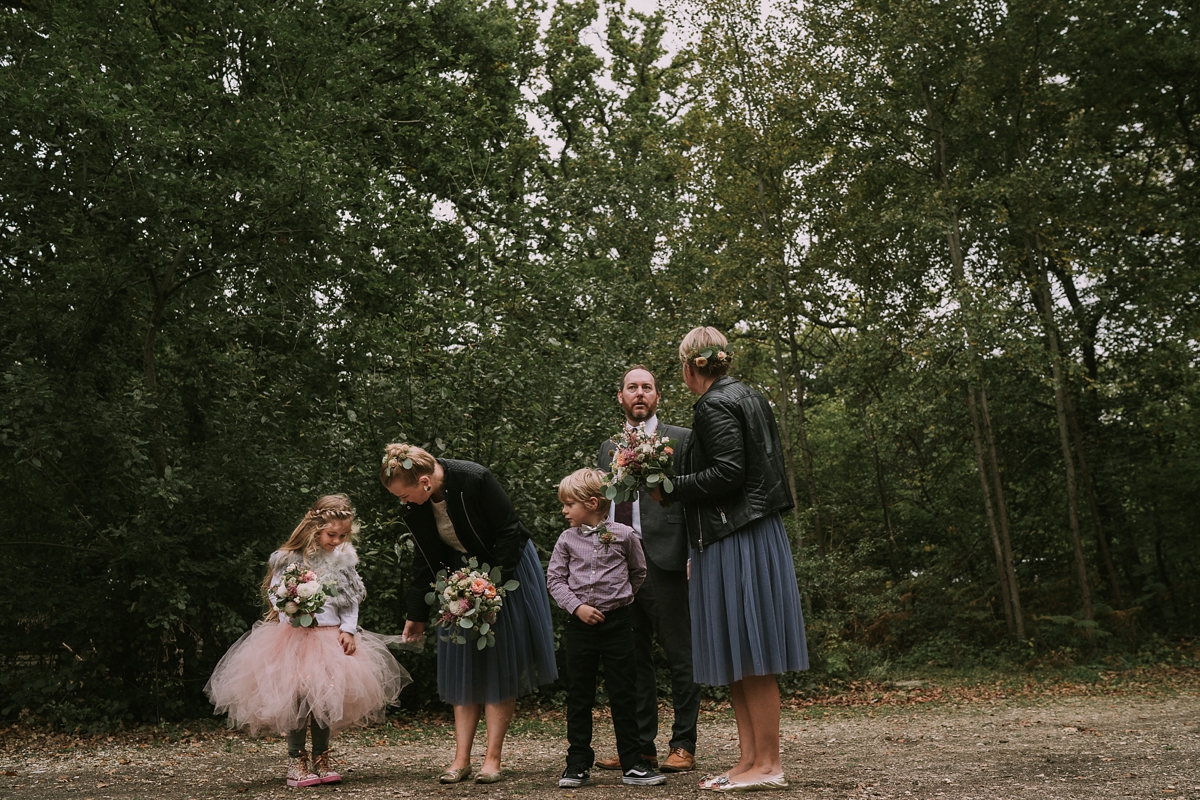 Lucy and her father travelled to the venue in their old Renault Traffic (which was transformed later on into a photobooth), and they walked down the treehouse aisle to the sounds of 'Khala My Friend' by Amanaz. The service was led by Hampshire Registrars and the couple handpicked their vows from the options offered. The reading was a Celtic Blessing, spoken by Laurie's Dad Trevor.
"Laurie went to Rina Tairo in Brighton for my engagement ring which he picked one of their rings and asked them to embed a diamond into it. We went back there for our wedding rings. I wanted a yellow gold ring to go alongside my rose gold ring. They both have a hammered texture. Laurie went for the same but in silver."

Lucy's hair was styled into pretty ringlets, and caught back from her face with fresh flowers.  Pretty gold rings and fresh flowers in her hair completed Lucy's relaxed, boho look.
"We all had our hair done by my mum's hairdresser, Beth Ellis. Beth was so lovely and calm and knew exactly what we wanted. We had a trial a week or so before so we were all happy. She is so lovely. We all had our make-up done by a lady called Lisa Virgo-Cox. She was recommended to us and we also had a trial."
"I wore some rose gold stud earrings that Laurie had given to my mum to give to me as a gift the morning of the wedding. I wore my rings I normally wear and my mum also gave me her mum's diamond ring to wear on the day as my 'something old'."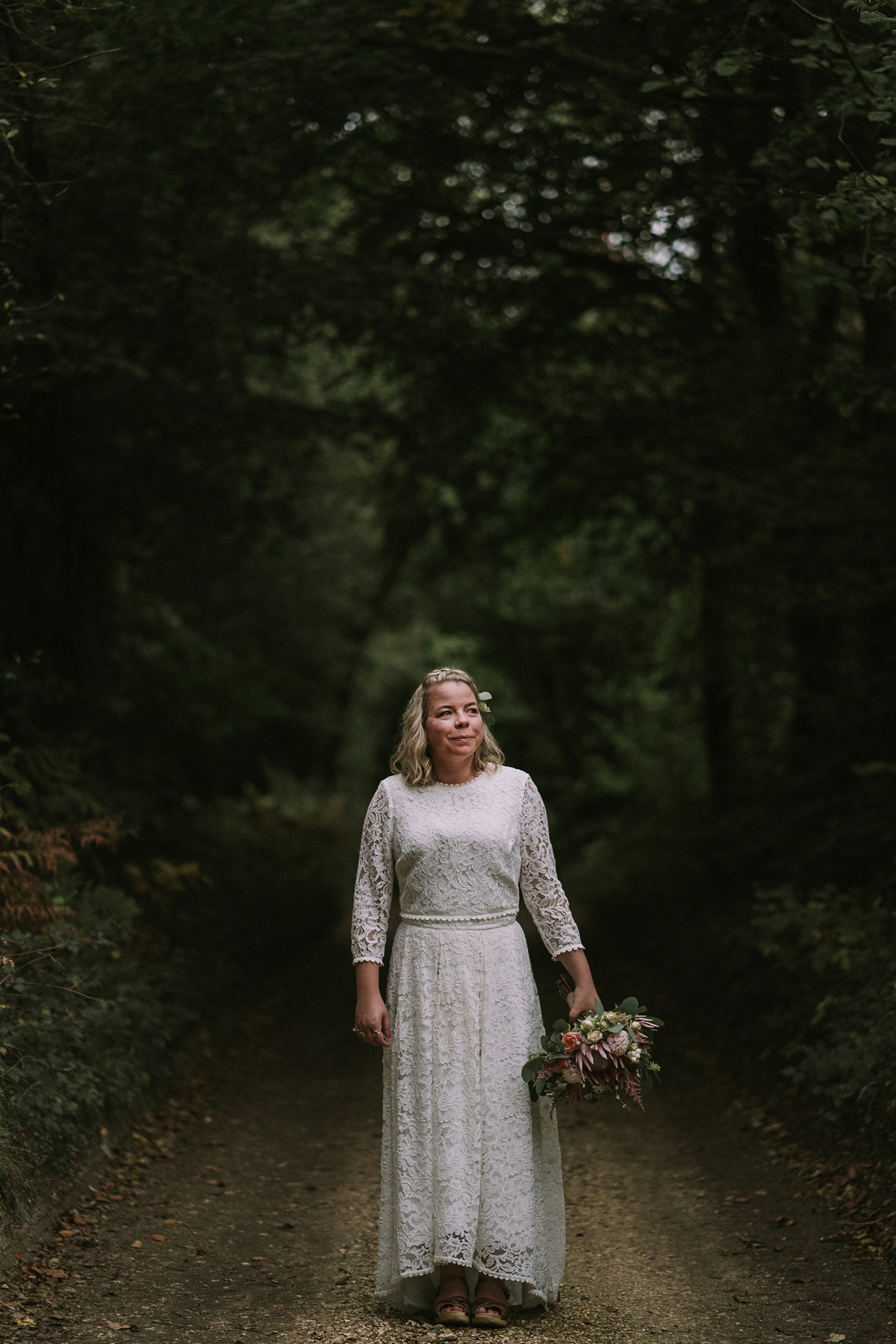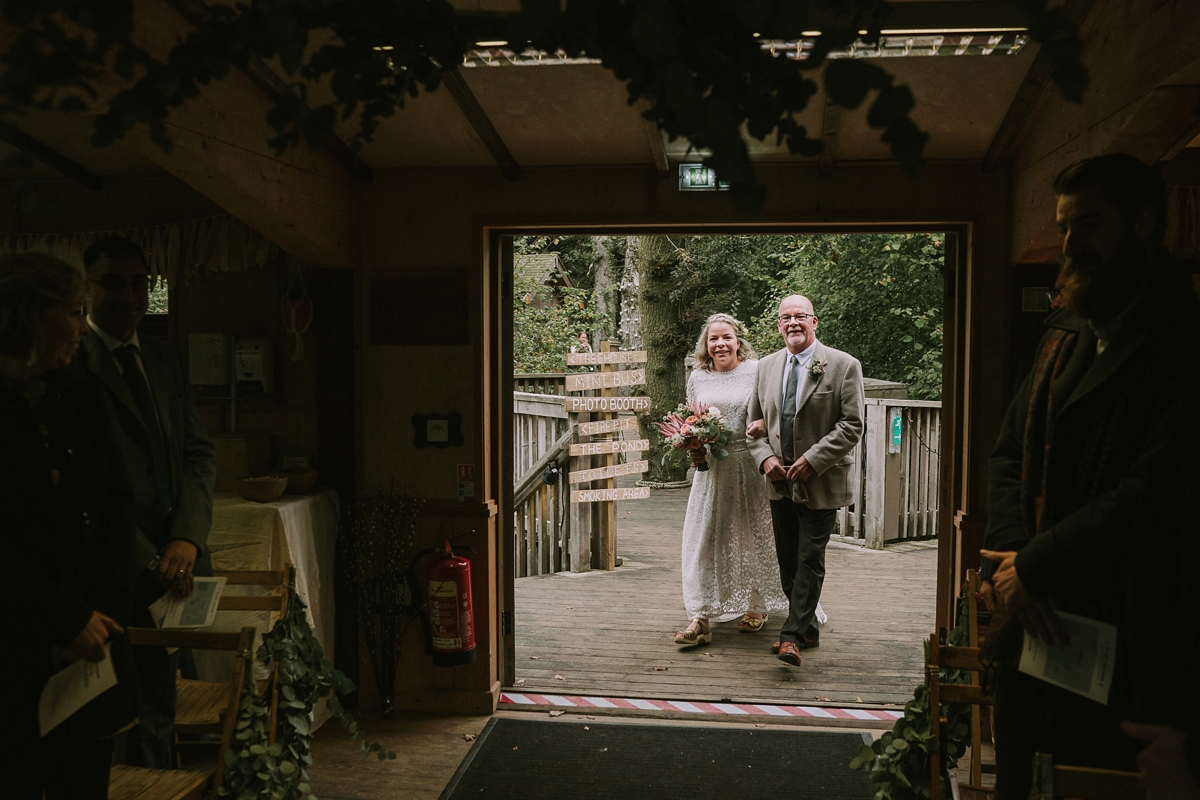 When I first saw these photos I couldn't wait to examine the styling of the ceremony space in more detail. The light, airy room is nestled amongst the leafy canopy for a breathtaking feel.
"We chose to get married there because we wanted somewhere different and as our first holiday together was in a treehouse this was perfect. The treehouses are a wonderful place and they only hold eleven weddings a year so it feels very special to be able to get married there."
Laurie chose a bespoke tailored three-piece suit from Hugo Morris in Brighton in a soft flecked blue, paired with a soft tie from Woodies in Brighton, brown Clarks boots and a watch given to him on the day by Lucy. The blue theme continued in the groomsmen's Next suits, and Lucy's nephew Flynn looked smart in his pageboy outfit of H&M shirt and trousers.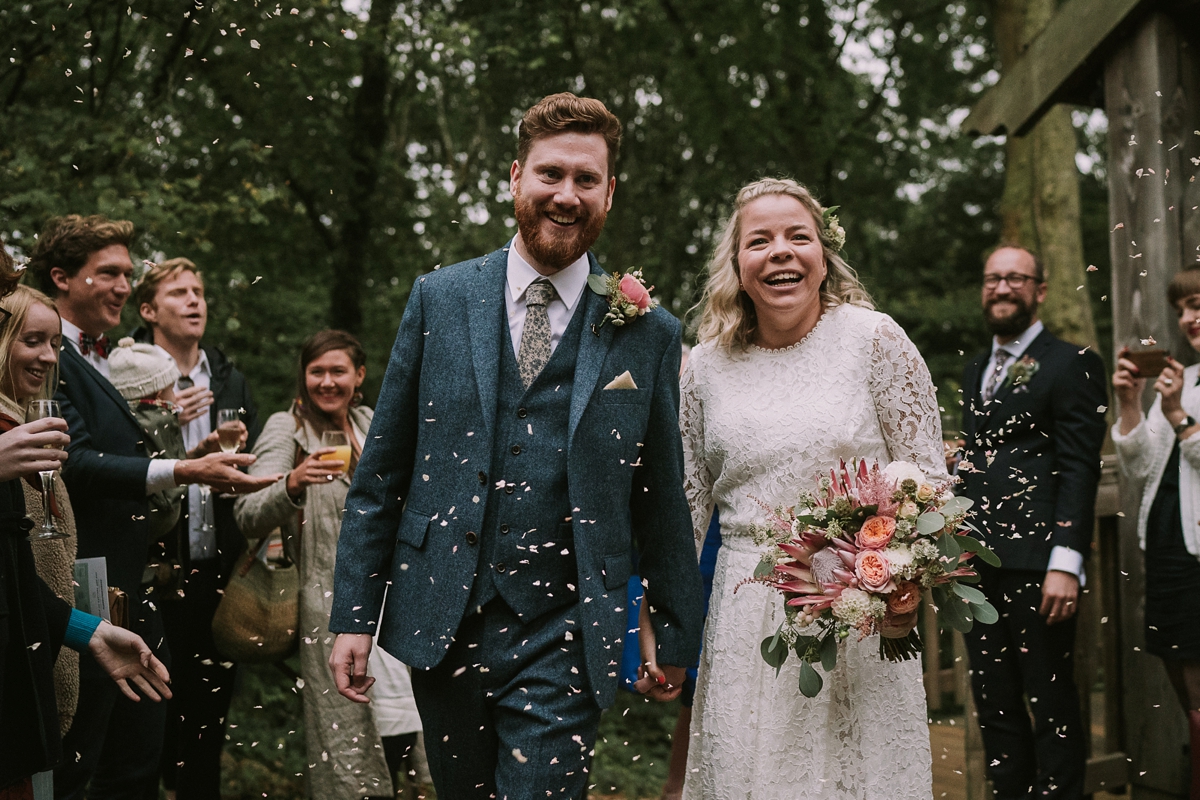 "We chose Ginger Catering Company which came highly recommended by Nicola who runs the events at the Treehouse. We met Sally from Ginger and tasted their amazing food and was instantly sold. The food tasting was one of our favourite parts of the planning."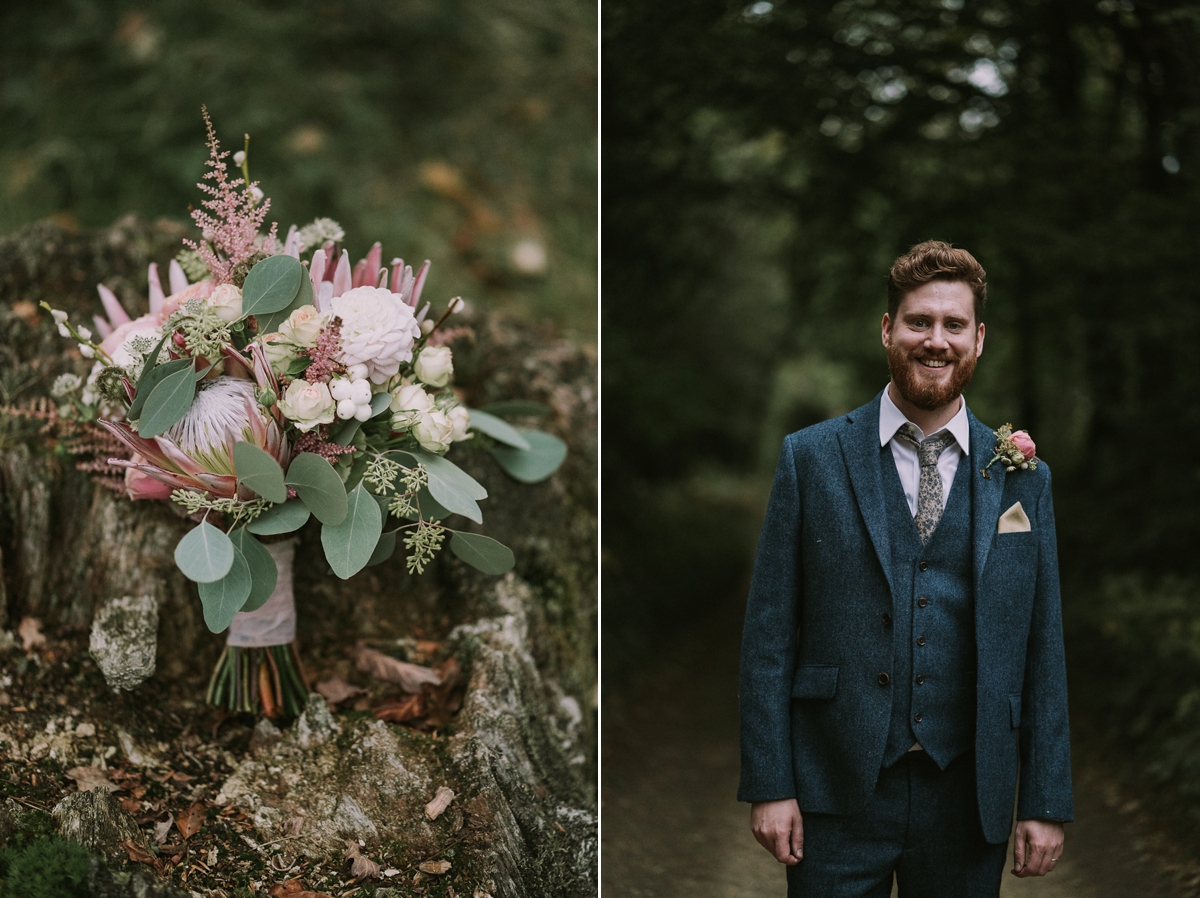 Whilst the guests mingled on the forest floor following the ceremony, Lucy and Laurie escaped for some precious time together and some beautiful newly-wed portrait shots. Later on, everyone piled back into the treehouses for an absolutely delicious-looking sharing feast. The styling for the banquet is just so perfect – I love the delicate flowers, the woven backdrop and the natural wood furniture.
"Laurie drew all the illustrations for everything and I designed it all. We used a local printer to get it all printed. We used names of trees for our table names and Laurie illustrated all the leaves for these."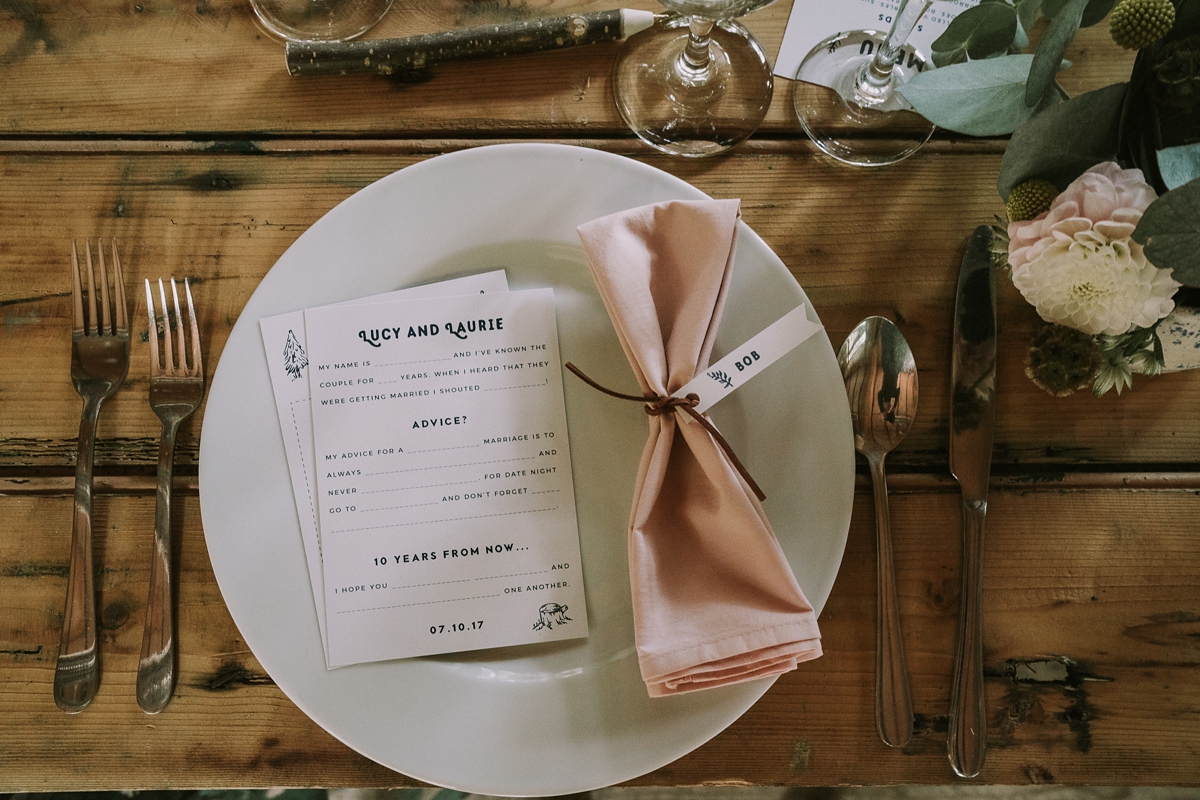 If you love simple, classic cakes then I think you're going to love this stacked tower of carrot cakes, baked by Honeycomb Cakes.
"We were recommended Honeycomb Cakes who is a local lady to us. We went to meet her and she gave us the largest box of samples to try. We went with the naked carrot cake with figs as decoration. Carrot cake is our favourite and we served it up for everyone's dessert."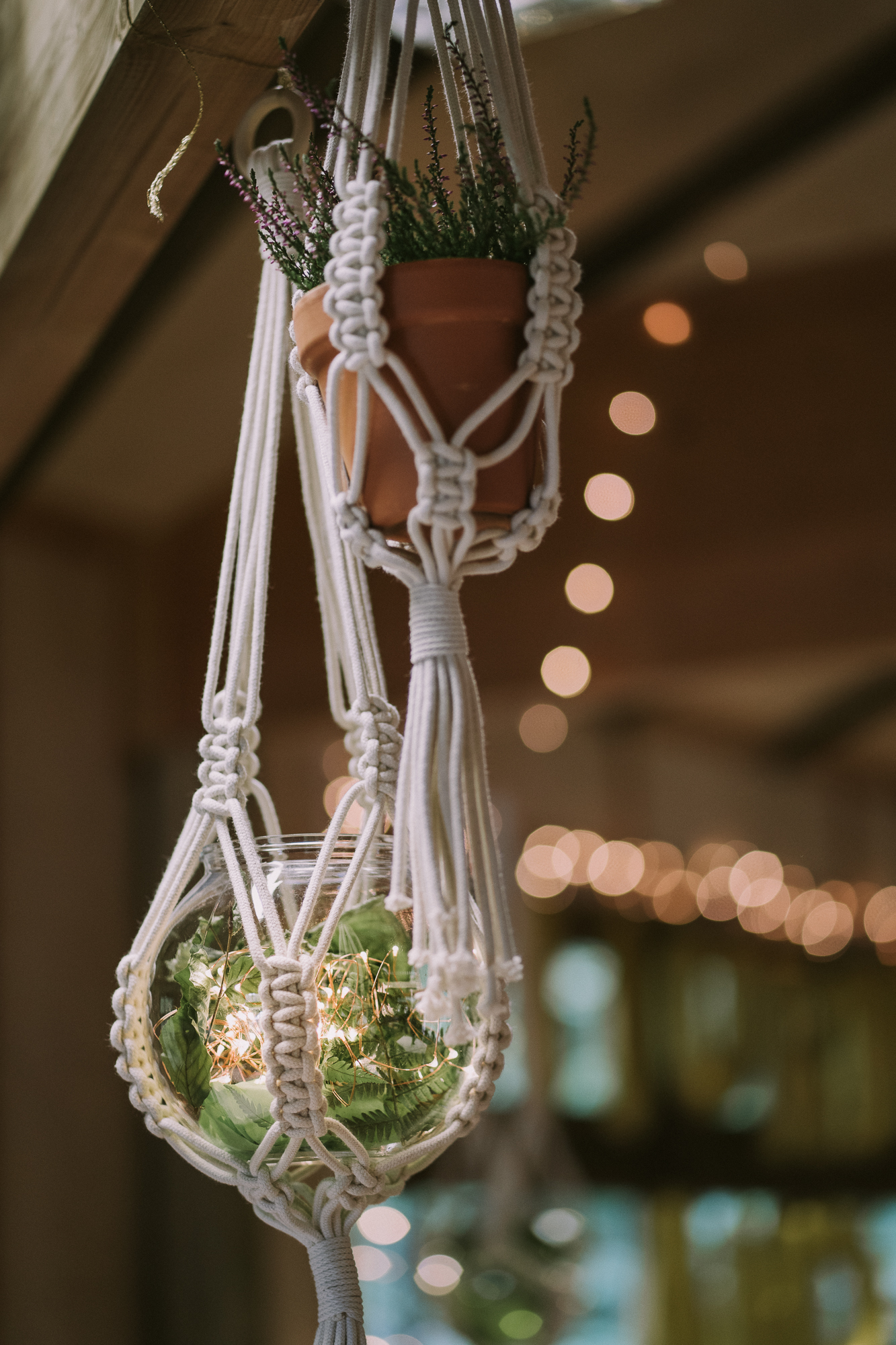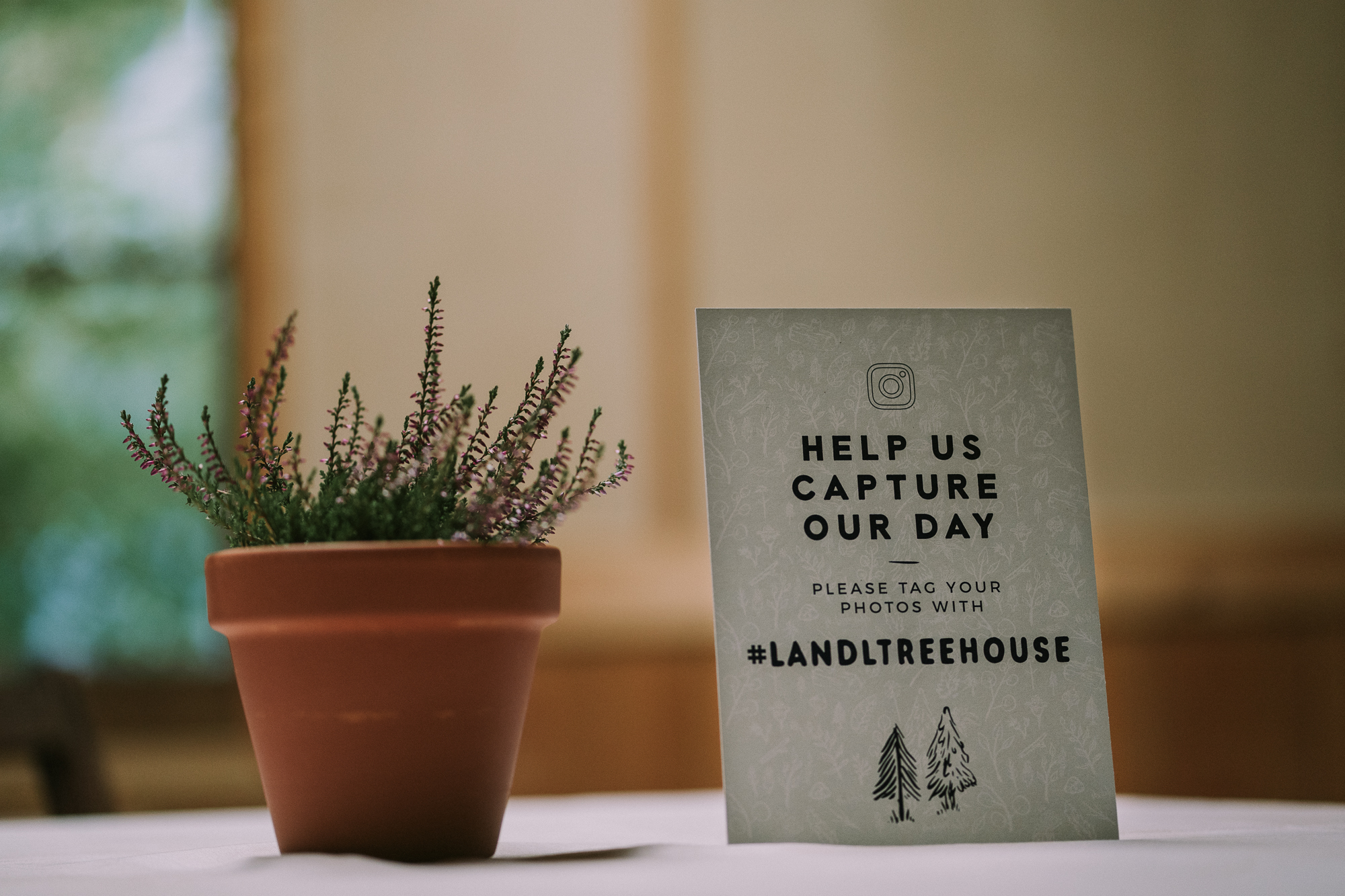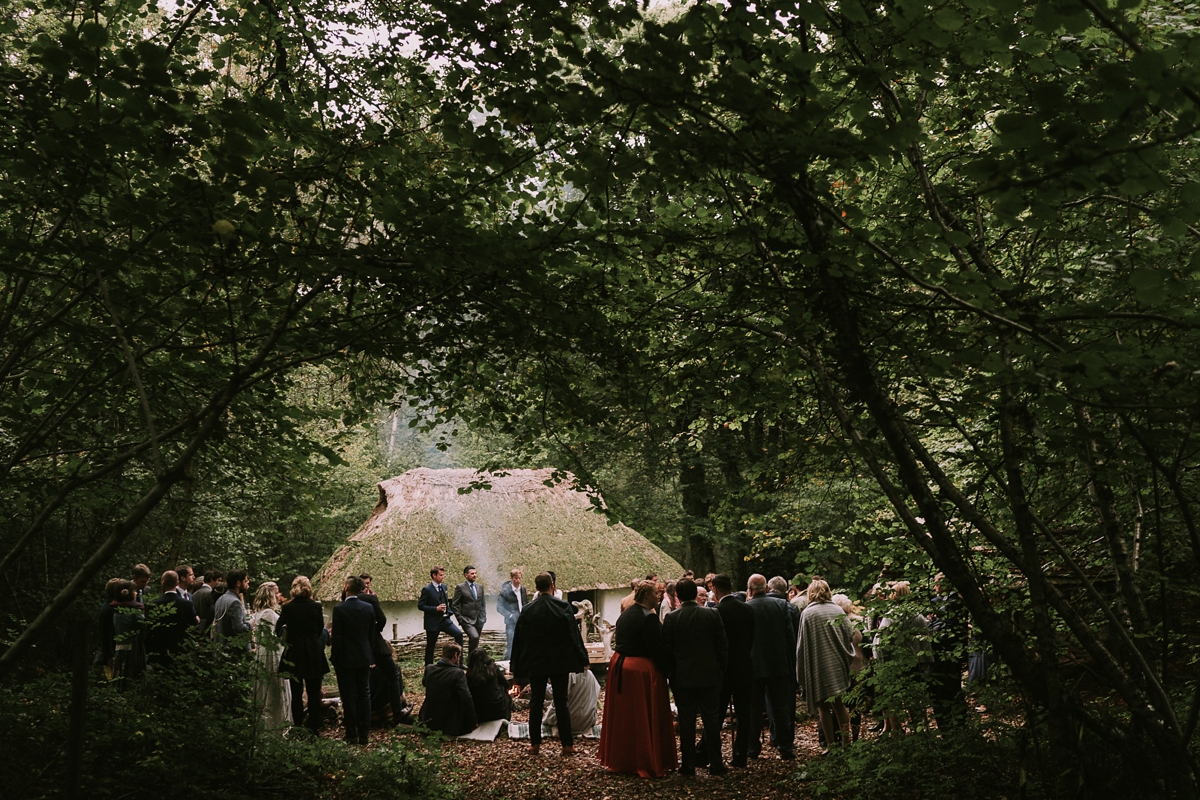 Back outside, speeches were a relaxed affair around the firepit. What a fabulous idea!
"We had the groom and best men speeches down by the fire pit (where we had toasted marshmallows and mulled cider). After the speeches we had Laura the bridesmaid and our good friend James sing a few acoustic songs. We had no idea what they were going to sing, it was a total surprise."
"Once we had finished down at the fire pit we went back up to the Treehouse and the evening entertainment started. We had two great DJs called Rob and Nick. They DJ purely with vinyl on record players from the 60s. We originally had a friend of ours who was going to DJ but unfortunately couldn't make it at the last minute and Beth's (who did our hair) husband Rob came to our rescue."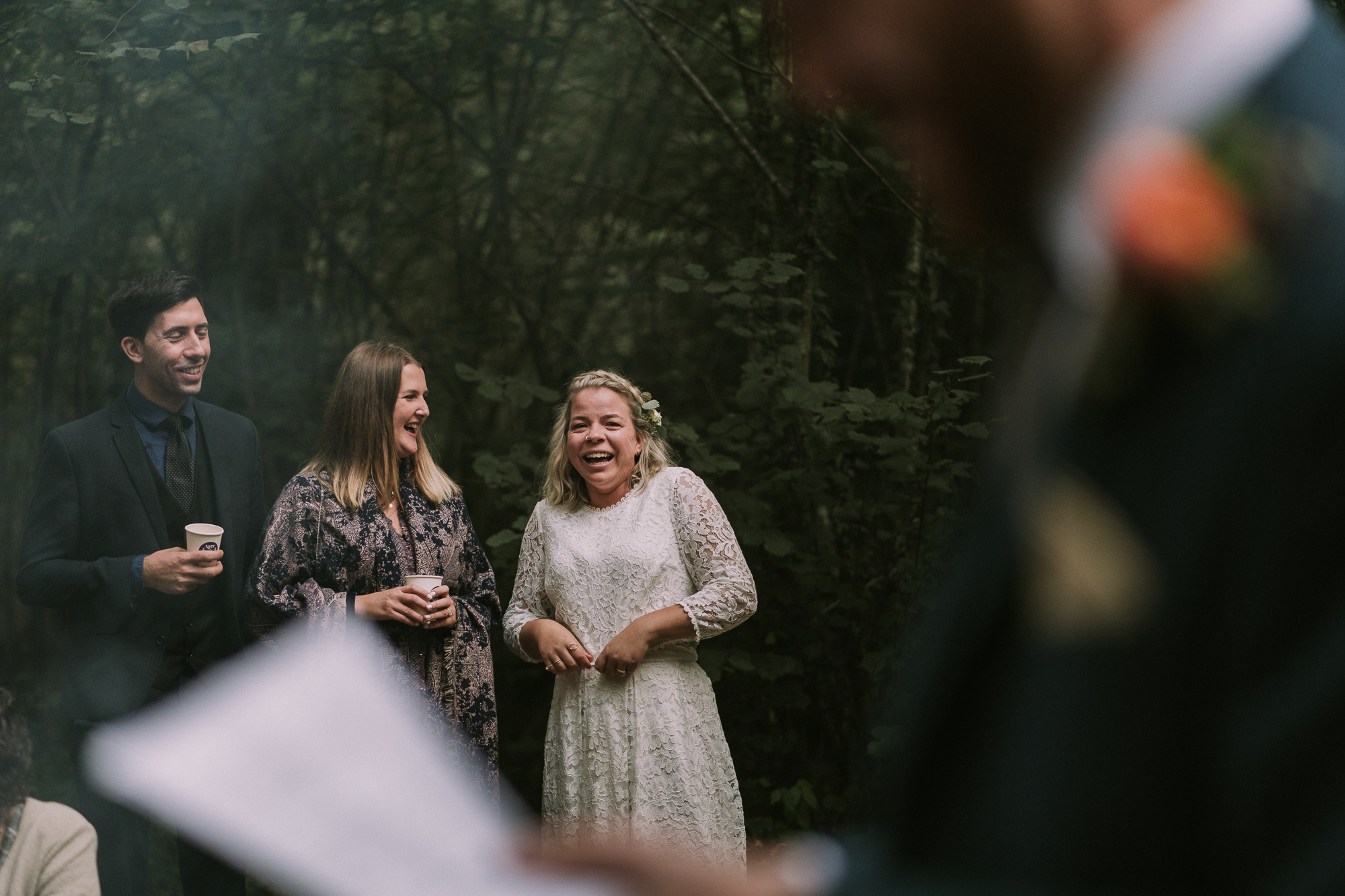 "Rob and Nick were amazing; they had never DJ'd at a wedding before and it was the best. We had so many people come up to us and say it was the best playlist ever. We didn't stop dancing the whole night. We are so glad it turned out this way."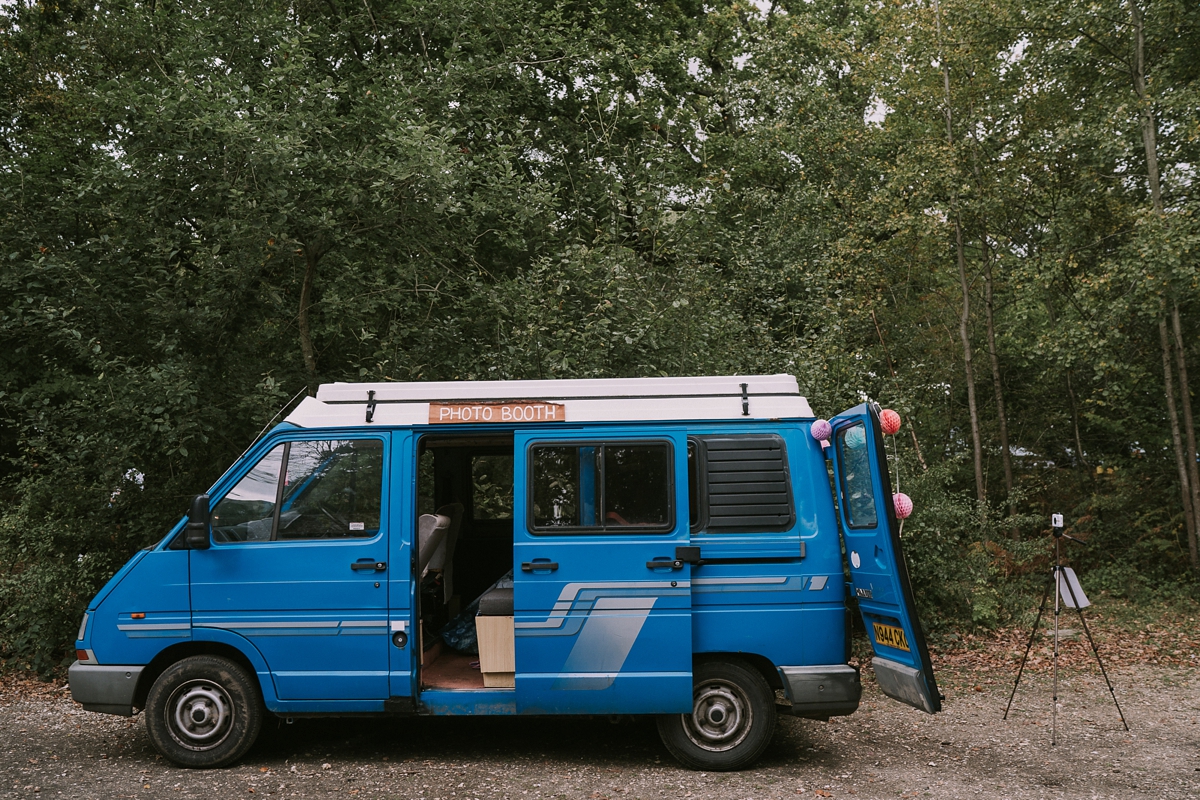 "We had our first dance to Talking Heads' 'This Must be the Place' because it's one of our favourite songs."
"The whole day was truly wonderful. The best part was having everyone that you love in one place. That never happens!"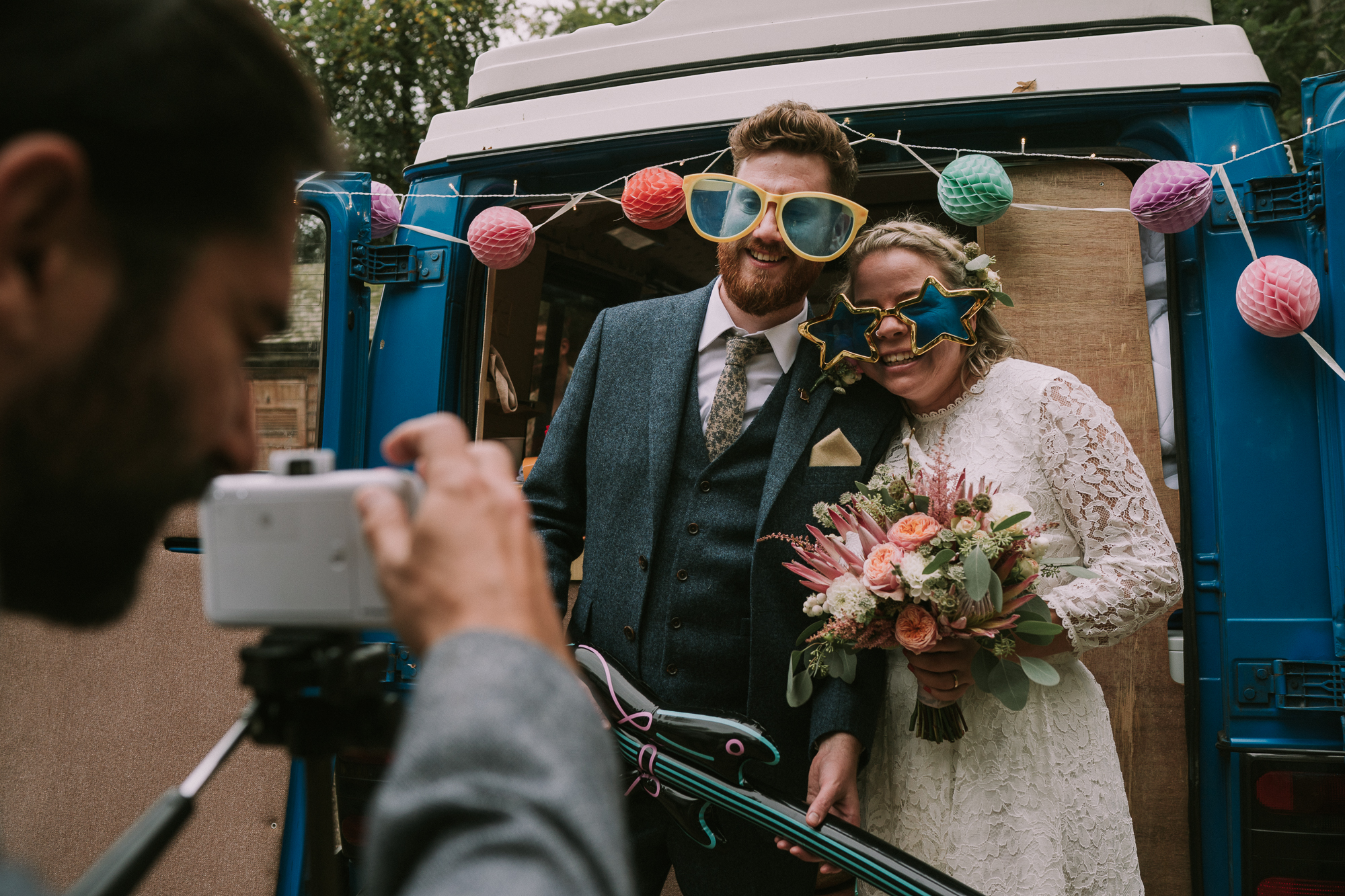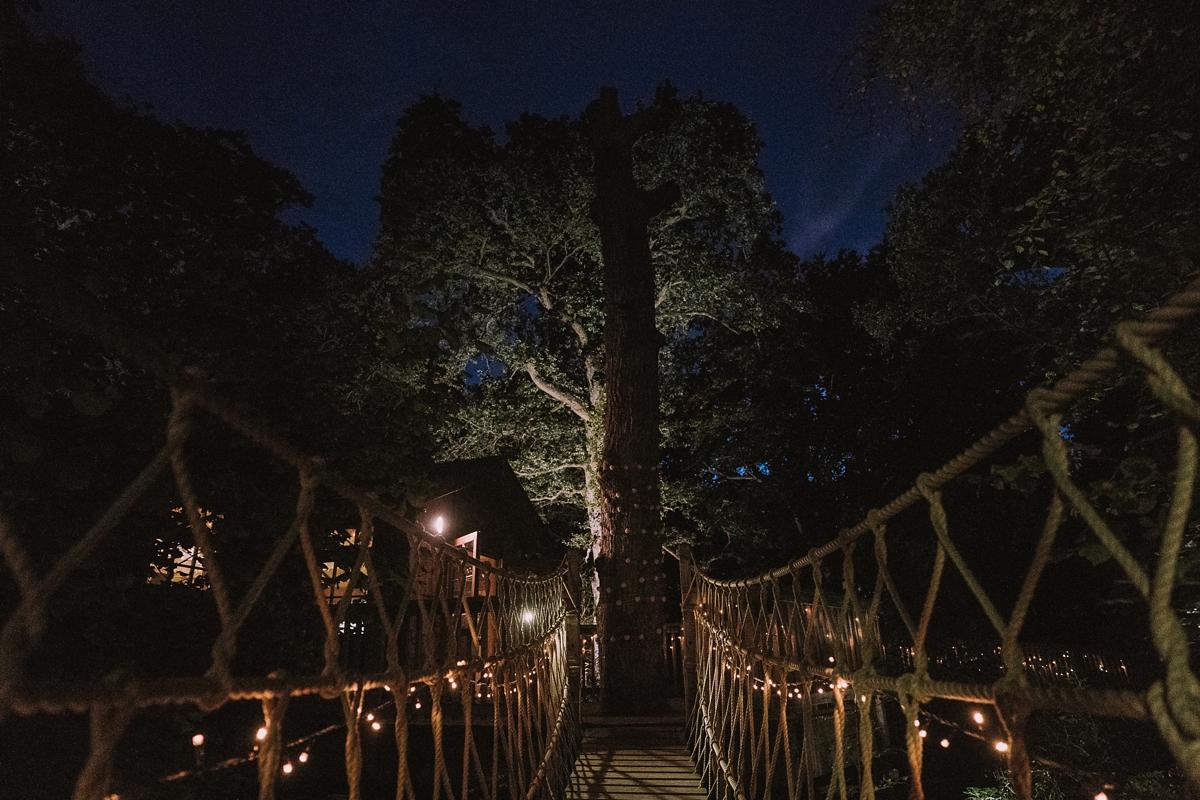 Words of Wedded Wisdom
"Do what you want to do for your day. You will find so many people will have their own ideas and opinions on your day and that can become quite stressful. We stuck with our ideas and so glad we did, everyone loved the day in the end and had the best time. I wish we could do it all over again!"
"Also, as everyone says, try and take some time out in the day just you two. It's amazing how quickly it goes and how much time you are spent apart.""We would have hired a videographer. We would have liked to have watched the speeches again and the day goes by in such a quick happy daze its hard to take it all in."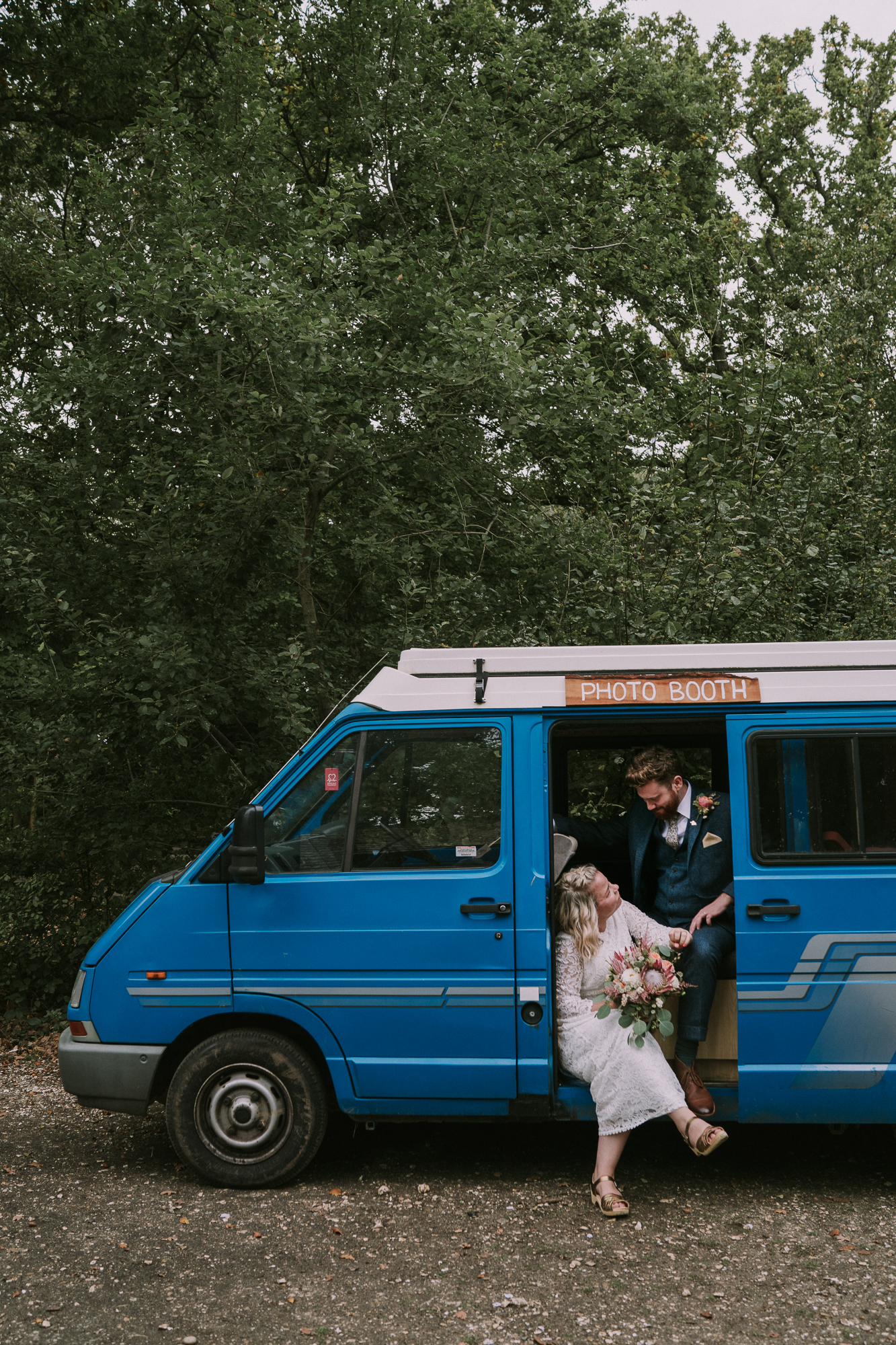 Such a magical day, and I hope it's given all of you lovelies so much inspiration for weaving in homespun details into your own celebrations. Lucy, thank you so much for sharing your and Laurie's wedding with us today. You are clearly so creative, and I can't wait to head over to your blog and Instagram to find out more about your skills. Thank you also to Kari Bellamy for your beautiful work; I do hope to see more of your photographs soon on these pages.
If you'd like to see more forest weddings then there are plenty more to inspire you here on Love My Dress.
Ele xx