Dear Readers, if you're in search of a fresh, modern and minimalist approach to wedding styling, then I have just the celebration for you today. Set in a classic and beautiful country house, this day is achingly cool, joyful and inspiring, in shades of white and green with metallic accents.
Let's meet the happy couple, shall we? Laura and John Dunster (Head of Marketing and Communications, and a Creative Producer respectively) were married on the 25 August 2017 at Hampton Manor in Hampton-in-Arden.  Laura looked incredible in her chic and modern Jesus Peiro gown, which she purchased from Morgan Davies Bridal in London. The simplicity of the bias cut dress with its gorgeous train pairs perfectly with the sleeveless abstract lace top worn over it. We truly adore Jesus Peiro and are proud to recommend this family brand that celebrates it's 30th year in business in 2018, through both Love My Dress and Little Book For Weddings.
"This dress was not what I was looking for originally. I was looking for something very boho, backless and lace. I was interested in a two piece but did not really consider this type of style. I had tried on a number of dresses on the day I found 'the dress' and instantly fell in love…I booked to go back the following week with one of my best friends and the minute I tried it on again I knew the search was over."
Images by John Barwood Photography
These gorgeous, honest and natural images are by John Barwood Photography, whose work we've loved sharing previously on Love My Dress.
"The photography was one of the most important aspects to the both of us and we cannot praise John and Soph more. From the moment we first met them they understood exactly what we wanted. On the day, they made us feel so relaxed and they felt like part of the wedding party. The photographs captured both the private personal moments, without ever feeling intrusive, and the fun and enjoyment that everyone felt on the day. We were looking for a photo-journalistic approach to our imagery, rather than more traditional posed photographs, and the result was perfect. We honestly don't think anyone could have done more for us or captured such beautiful images. We could not recommend them highly enough."Laura added touches of subtle sparkle to her outfit – gold sandals from Jimmy Choo and a bracelet and drop earrings from Swarovski. She also wore a favourite Prada perfume as her wedding fragrance.
"Prada – this has always been a favourite of mine and has become my signature scent. After trying a range of options for the day I decided that nothing felt as right as the Prada perfume I have always loved. John did buy me a bottle of Chanel No 5 to open on the morning of the wedding but I was dosed in the whole range of Prada at this point."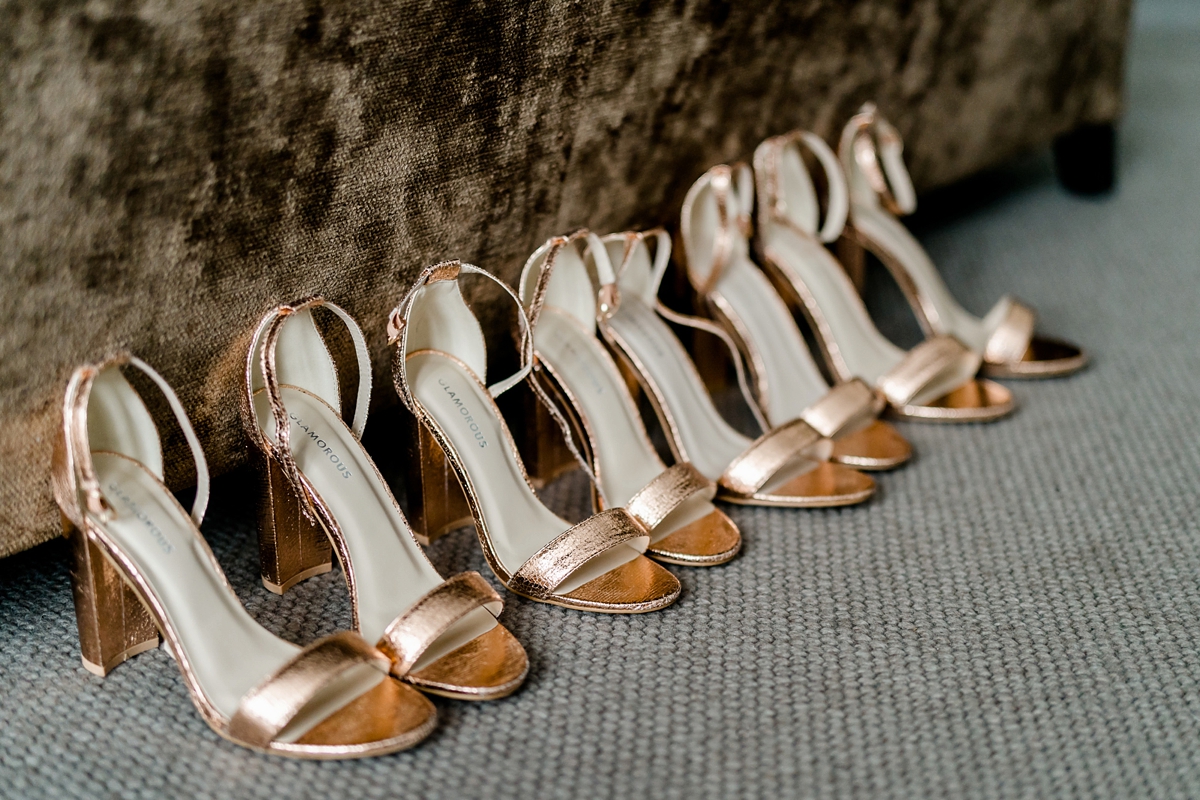 Laura wore pretty white flowers in her exquisite hair style of romantic and loosely pinned curls, which was created by Jessica from Mode Bridal.
Make up artist Nicola Honey added more sparkle to Laura's look, with glittery copper eyeshadow completing her look. Both Jessica and Nicola were booked via By Jodie Hair and Make Up Team.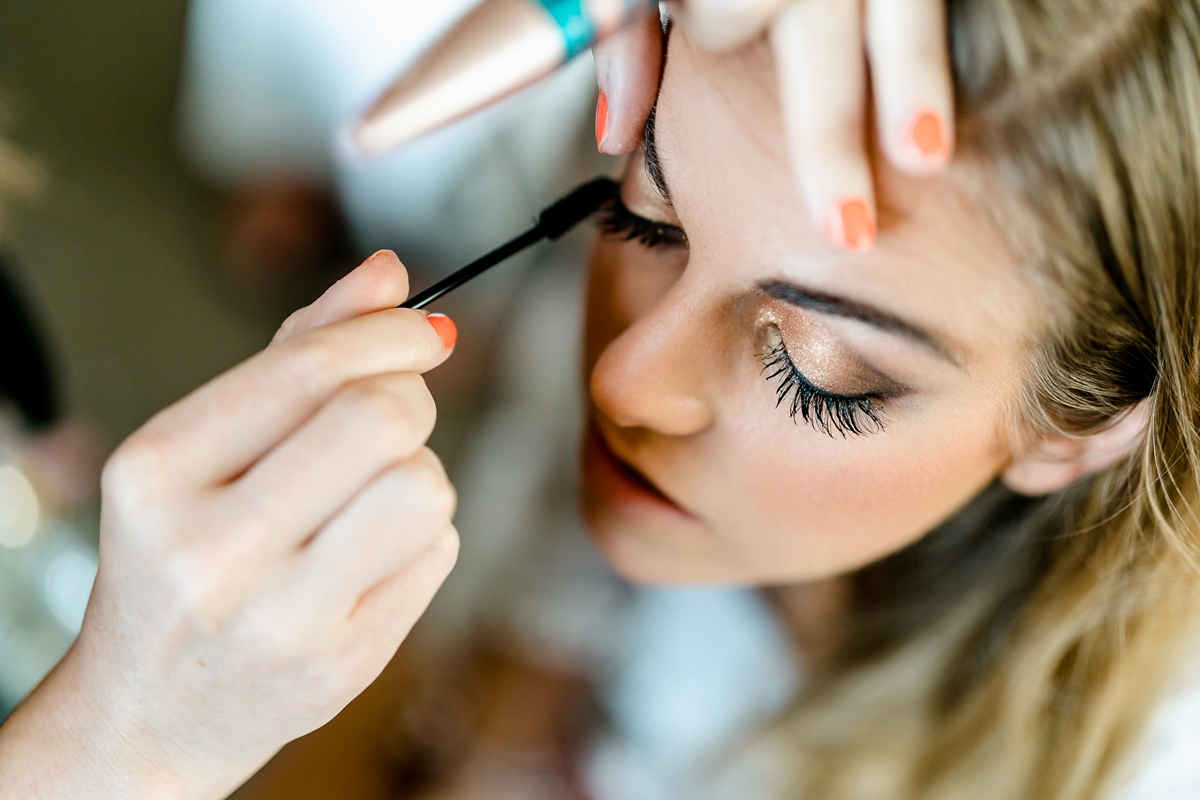 The bridesmaids wore elegant pale grey midi dresses from Coast, and I love the nod to Laura's lace top in the modern, geometric lace trim on these.
On their feet, they wore matching gold sandals from ASOS, and personalised bracelets from Not On The High Street (gifts from Laura). Laura's flower girl wore a lovely white lace dress with a high-low hem from Monsoon.
Laura carried a beautiful bouquet of different vibrant ferns together with creamy white dahlias and roses, and the bridesmaids carried striking bunches of fern leaves, and even wore some in their hair.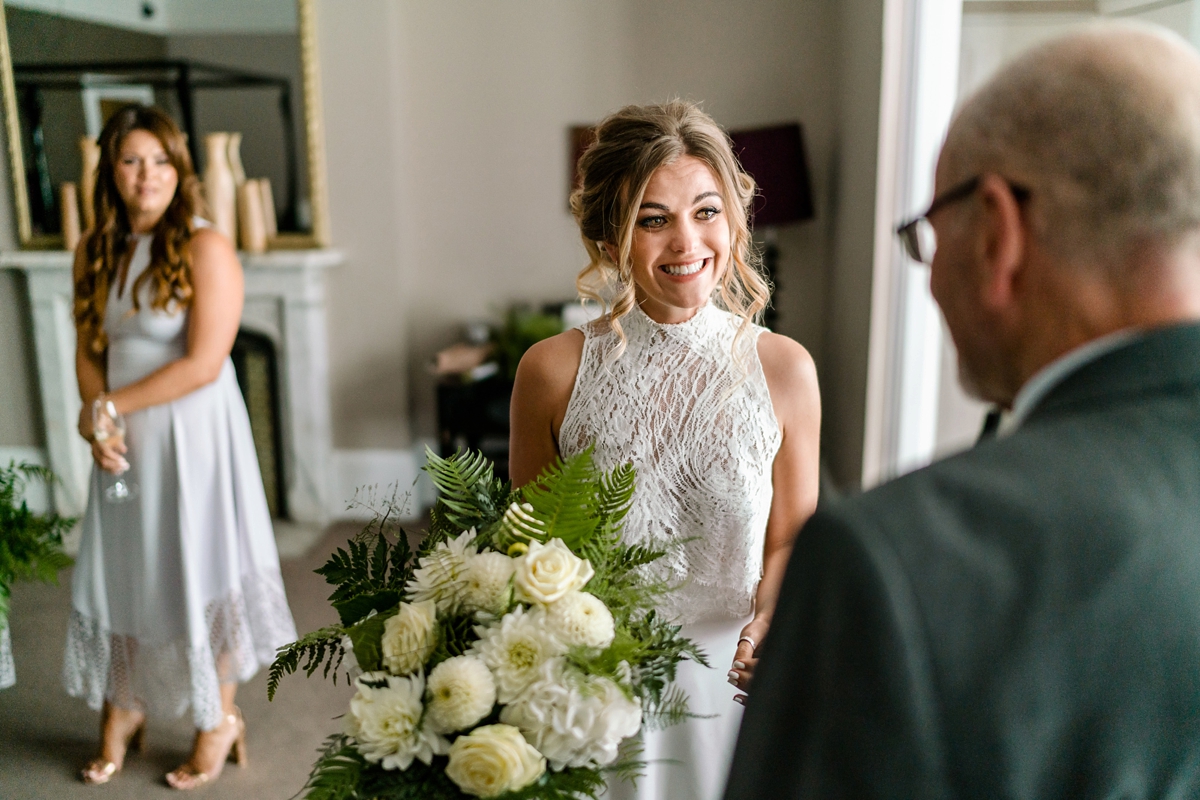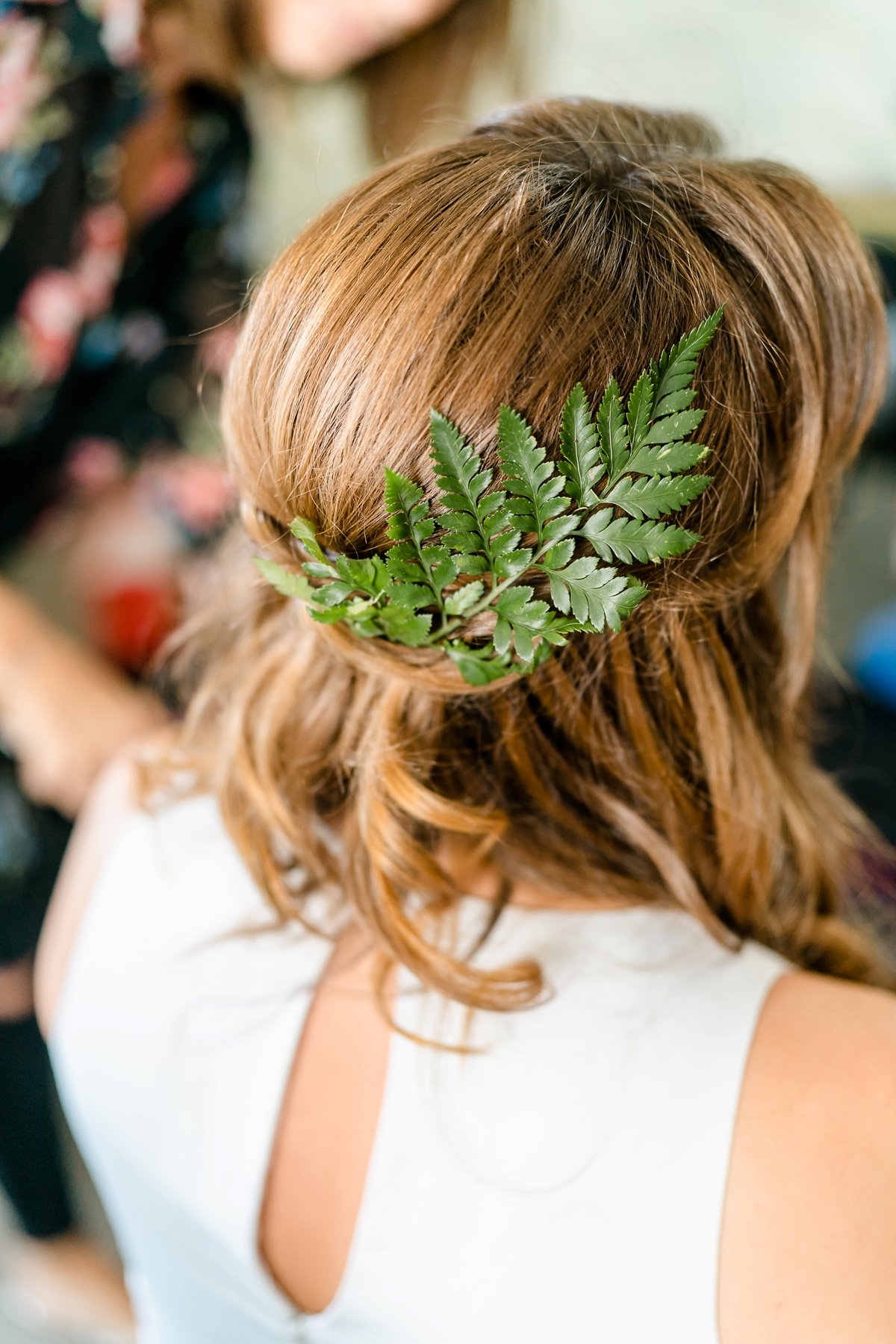 For their initial venue research, Laura put together a spreadsheet of possibilities. With John originally from the West Midlands and Laura from the North East but both living in London, they began by scoping out barn venues near the city and also their hometowns. This all changed, however, when Laura challenged John to search after trawling through over 100 places online! This led John to discover Hampton Manor, and although Laura felt it might be too grand for what they had in mind, they made an appointment to view it.

"Hampton was our first appointment and both of us fell in love as the house came into view as we made our way up the driveway. The staff were incredible and immediately made us feel at home. After seeing less than half of the venue I think we both knew it was the place for us – neither one of us wanting to admit it to the other."
"We were allowed to take our time and look around on our own after the formal tour. We left our appointment buzzing but knowing we had one more venue to view that day. We thought that the second venue was going to be perfect but the initial feelings on arrival were far from what we felt at Hampton. After a quick look around we left knowing that we had found our venue. Hampton Manor was the very first venue we viewed (out of only two) but we immediately knew that we would not be able to have our wedding anywhere else."
John and Laura first met through work, when John was called in for a photoshoot for a relaunch campaign they were both working on.
"After the first meeting at the shoot we continued to bump into each other at the local pub until John eventually asked me out on a date. The rest, as they say, is history."
John proposed to Laura in Paris on their third anniversary by asking her to flip a coin into the Seine and make a wish. When he asked her what she had wished for, Laura replied that she couldn't say in case it didn't come true!
"John quickly responded, 'Well hopefully it was this', as he got down on one knee and producing a ring.We were married after 15 months of engagement."

John wore a pale grey three-piece suit from Reiss, together with a light blue tie, as well as shoes from Reiss and a smart watch from Shore.
"John had one best man (Toby) and three groomsmen (Steve, Jez and Nick). They collectively call each other 'The Big 5' (after the big five safari animals – lion, leopard, elephant, buffalo and rhino) and have been close friend for over 15 years. John bought hip flasks featuring an engraving of each of the animals as a gift for the boys."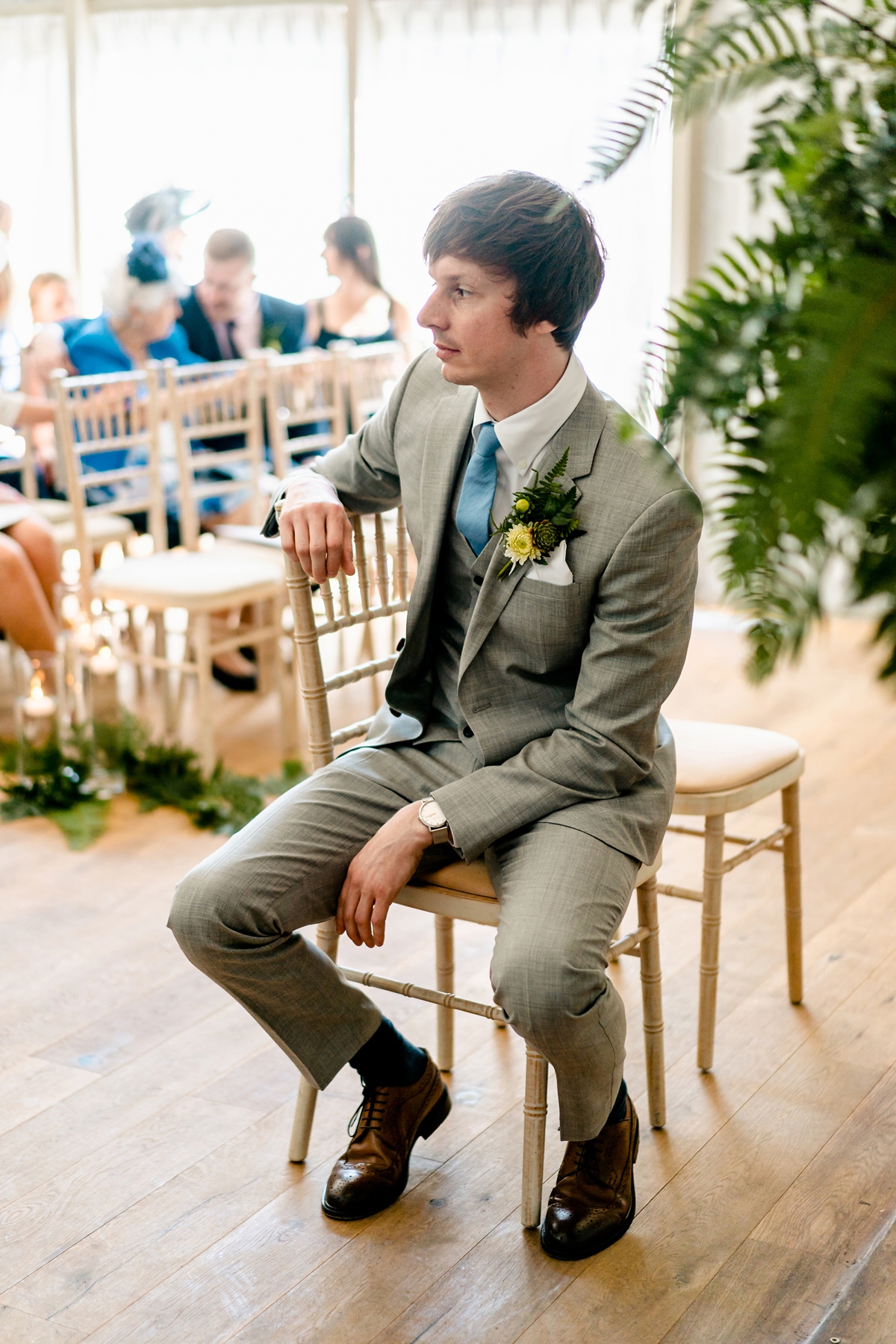 Laura and David, her dad walked down an aisle strewn with fern leaves to the song Angels by The XX. These lovely words from both John and Laura show how this part of the day was a favourite moment for them both.
"The moment the curtains were drawn back and I saw Laura walk down the aisle. I always knew that she would look truly stunning and that I would be blown away by her dress and overall look, but nothing could have prepared me for what I saw and felt. She literally took my breath away; I don't think I took a breath the entire time she was walking down the aisle. I'd never felt so happy, and I never once took my eyes off her – we might as well have been alone."
"I loved every moment of it but as the curtains opened and I saw all of our friends and family looking at me as I made my way towards John it was the first time it all felt real. I gripped onto my dad and could not stop smiling."
For their vows, Laura and John chose simple, classic options offered by their registrar, as well as exchanging rings. Laura's ring was from Vogue Diamonds in Brighton, and the town holds special meaning to the couple, being the location of their first weekend away together. John also purchased Laura's engagement ring from The Lanes in Brighton, too.
"When looking for a wedding band it seemed natural that we would make the trip back to Brighton. After looking at a range of designs in a number of stores we worked with the team at Vogue Diamonds to create the perfect wedding ring."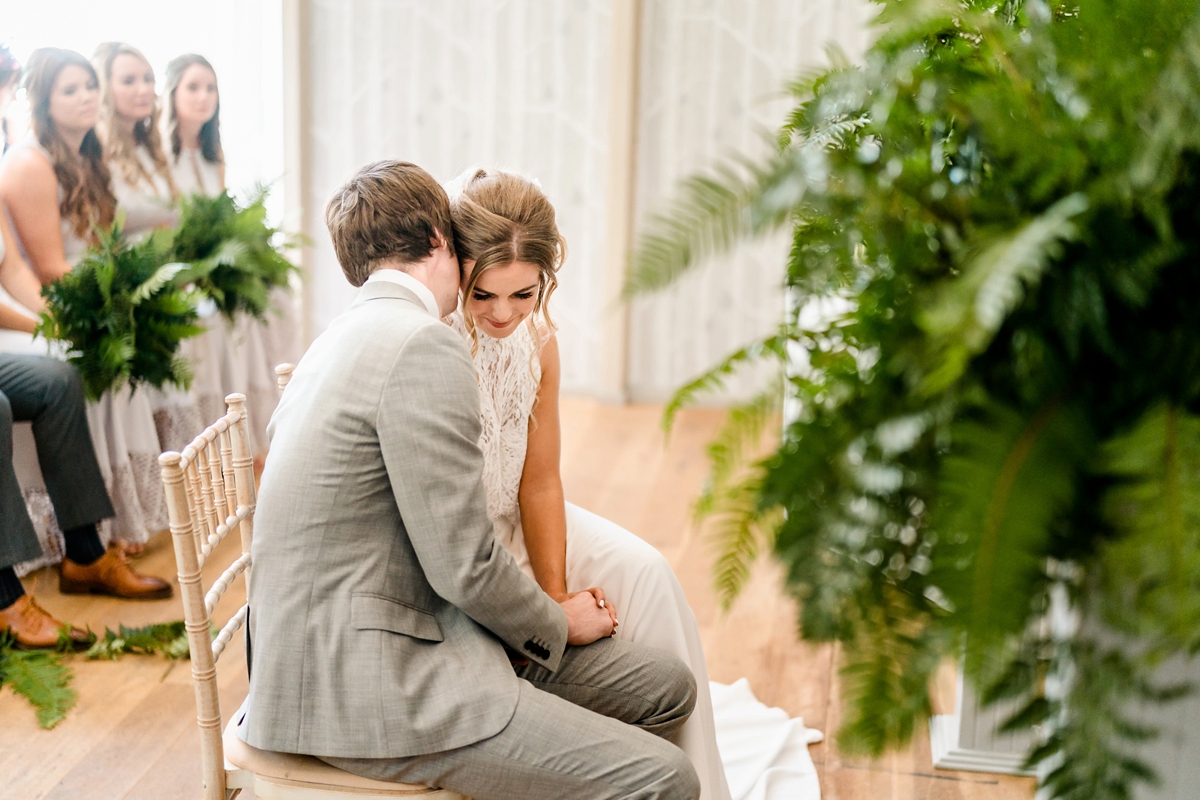 John designed his own wedding band, which was then made for him by jeweller Brian Eburah.
"Brian Eburah made my ring to my design, a simple silver palladium 7mm band, with a subtle flat head texture finish. He is the father of one of my groomsmen, and was also my Sunday league football coach growing up as child."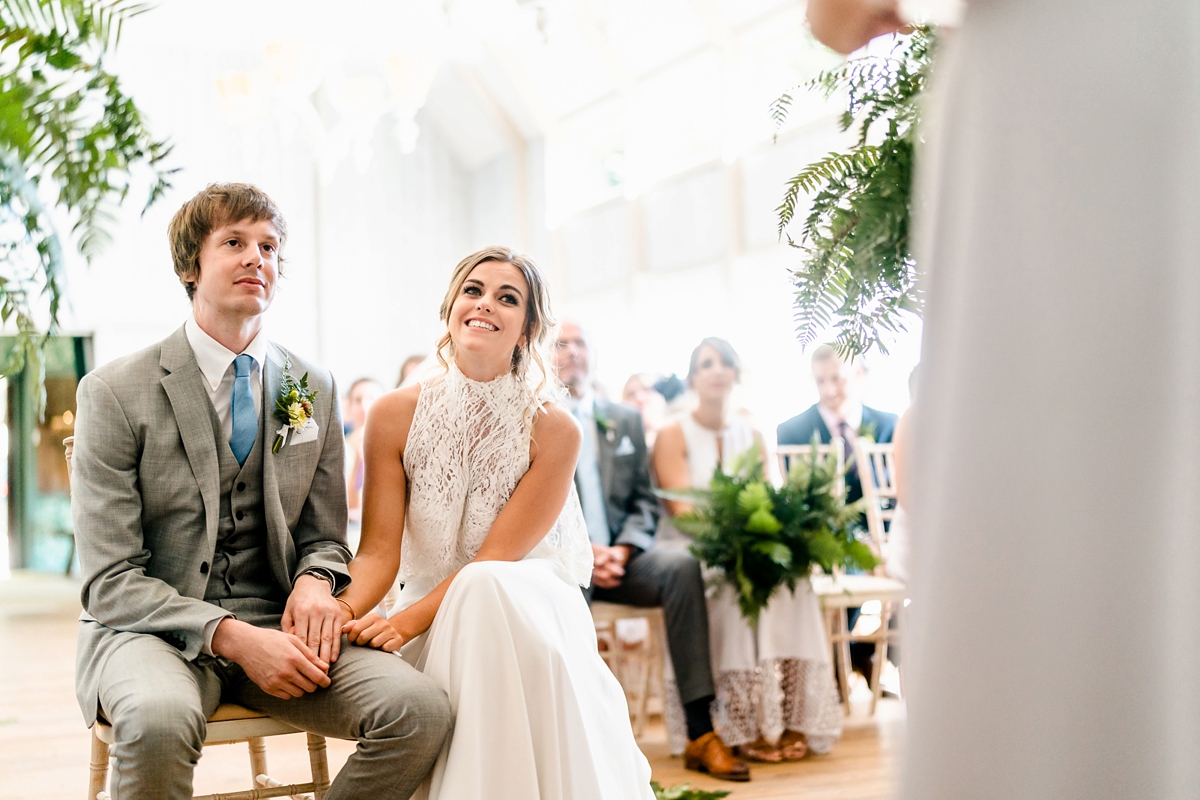 The couple chose two readings for their ceremony, the first being an incredibly sweet poem by Sandol Stoddard Warburg – I Like You, read by bridesmaid Emma, which they felt reflected them as a couple and everything they had been through together. For their second reading they chose an extract from William Goldman's book The Princess Bride, read by John's friend Paul.
"John picked the reading as it from one of his favourite films growing up, and we loved how unique and fun it was compared to a lot of traditional readings, whilst still representing how we both feel about each other."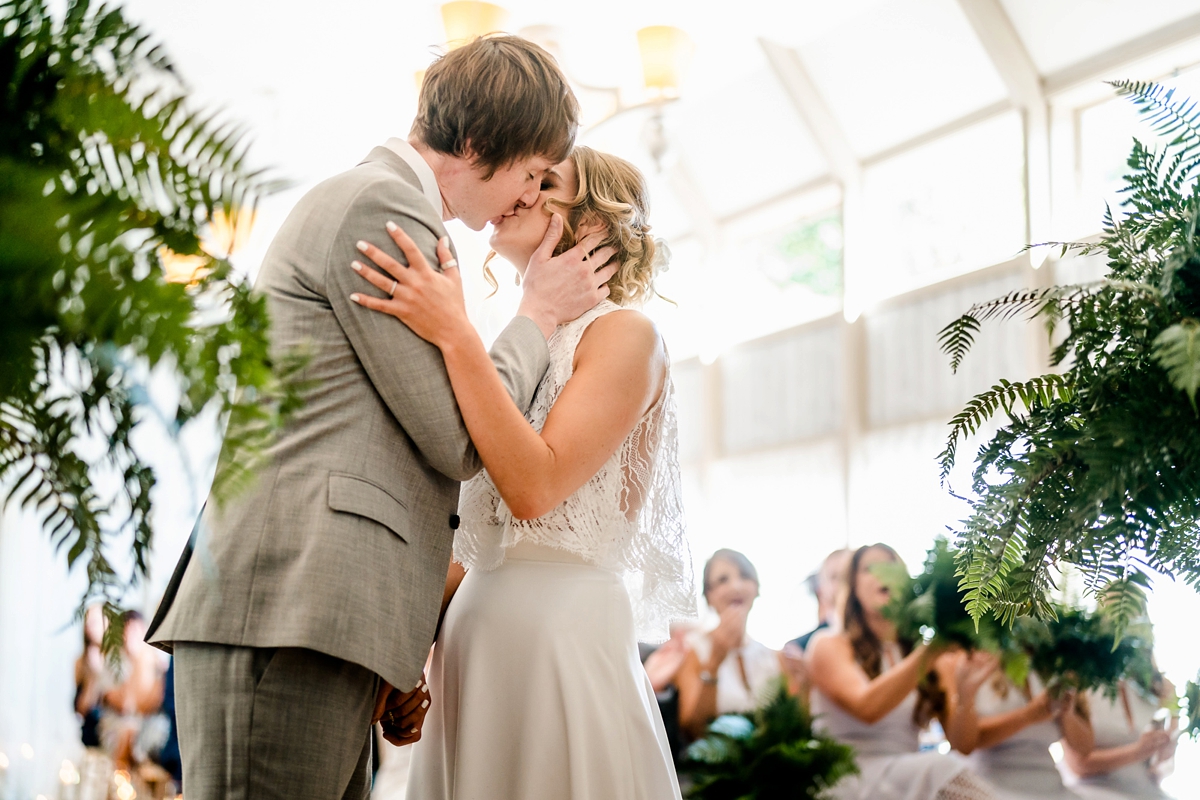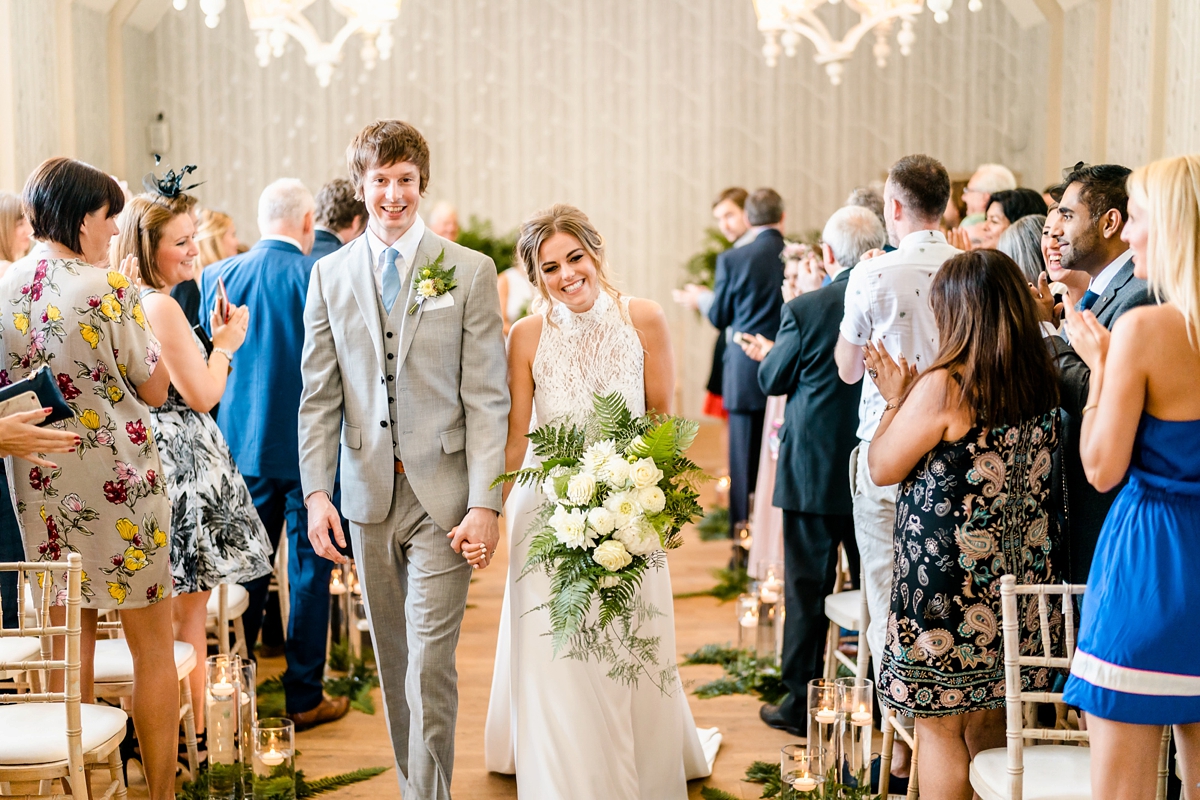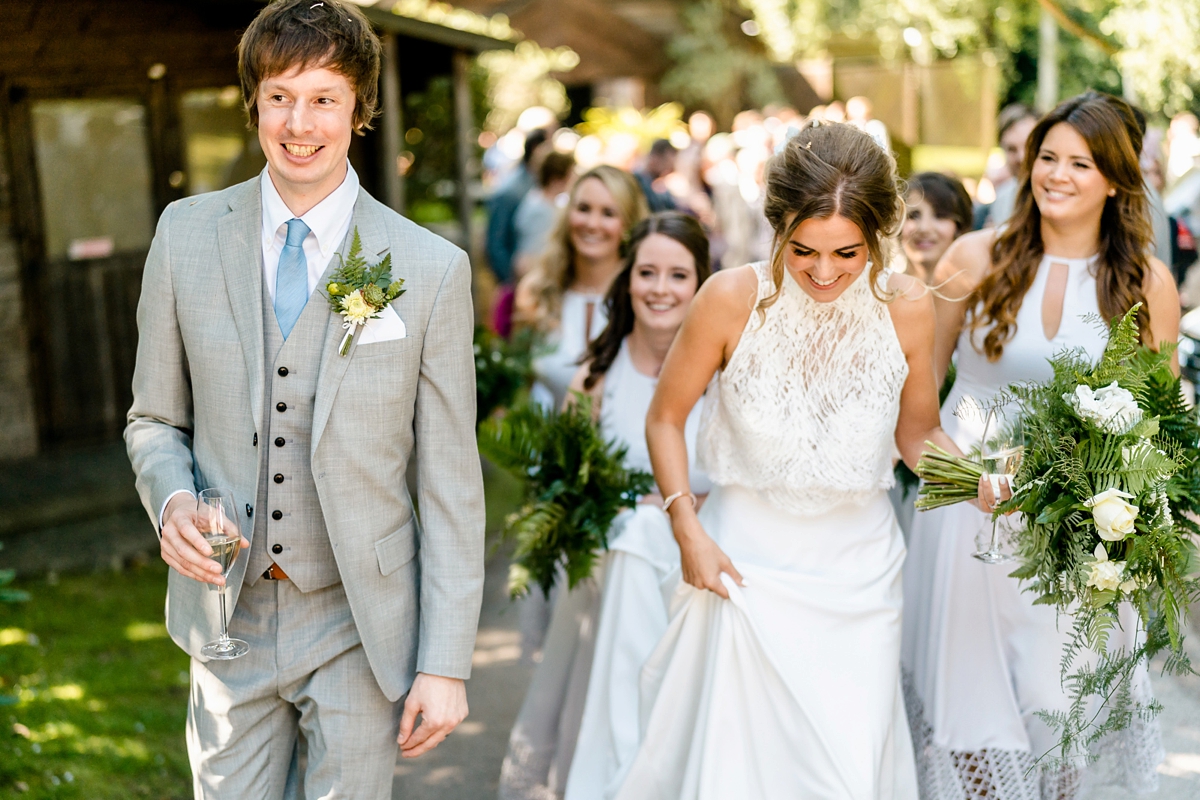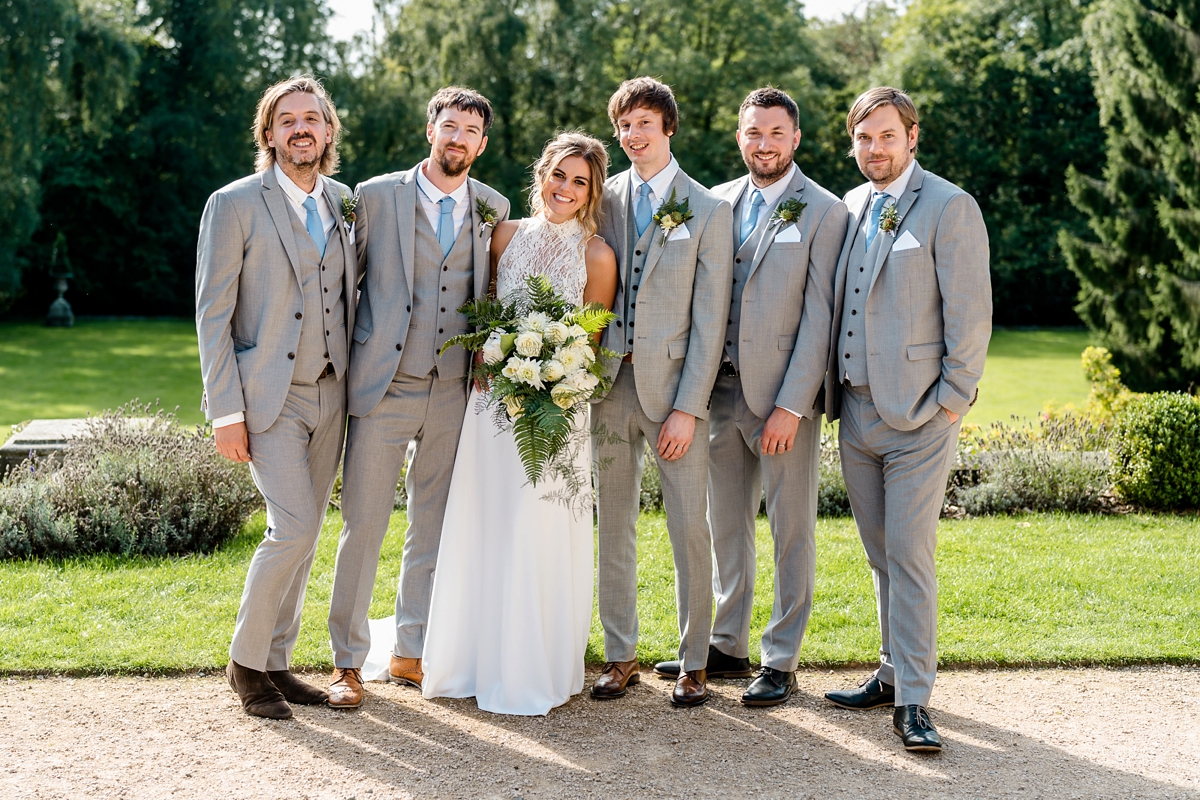 Hampton Manor turned out to be further away from home than Laura and John thought their wedding venue would be, so they hired Ava Event Styling to assist with the planning, take care of the flowers and breathe life into their ideas by presenting a scrapbook, which formed the basis of the look and feel of the day.
"Amanda and Amy took our ideas and ran with them. We were in contact regularly and they created a personalised Pinterest page for us to share ideas. Flowers and styling are not something you can have a run through before the day but working with Ava we were assured we were in good hands. When we first saw what Ava had pulled together on the day we were amazed. It was not how we had imagined it would be, it was better. We wanted minimalist, modern and classy, with a twist and that is exactly what we got."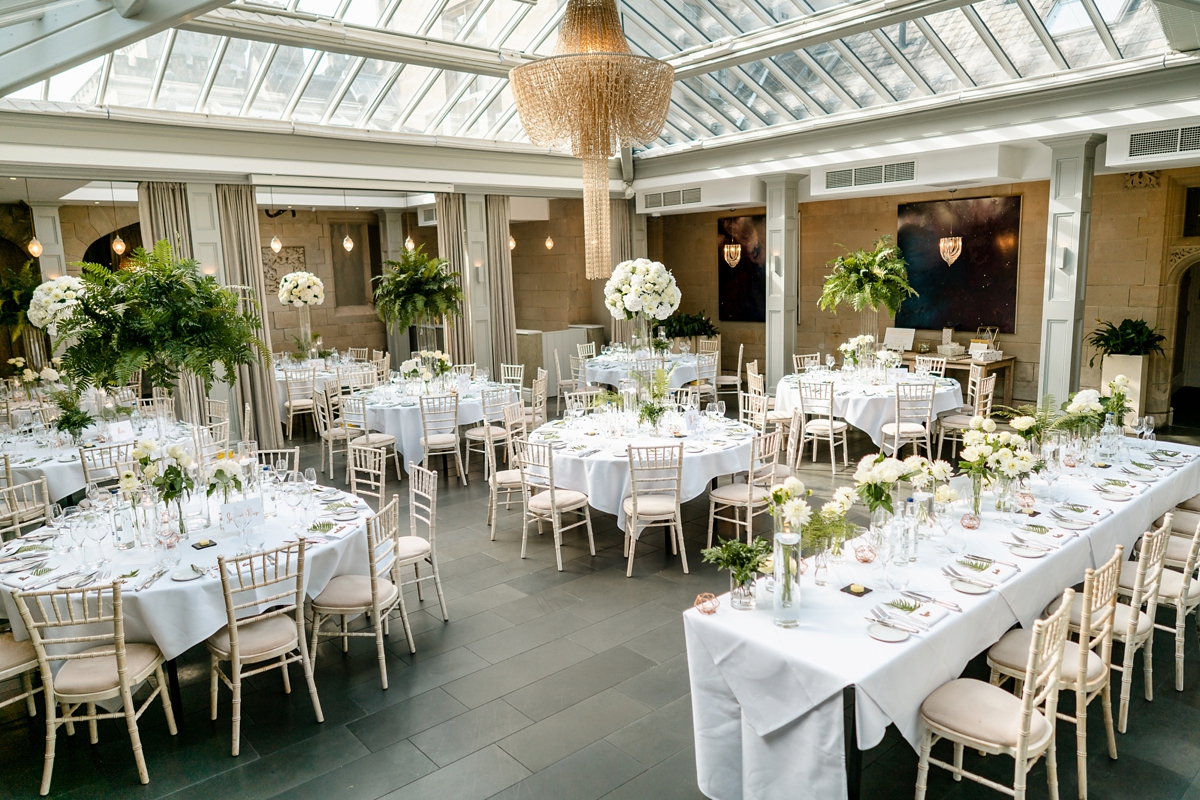 The team at Ava Event Styling oversaw reception decor, with more incredible displays of fern leaves and white blooms on tall pedestals for table centrepieces, interspersed with smaller vases of flowers and foliage and geometric copper candle holders, which beautifully reflected the light. Table names, menus and the cards for the table plan, with shimmering copper lettering were supplied by The Foil Invite Company.
Wooden laser cut place names were made by Never Forget Design, with larger signs from Painted By Katie. Laura also put together table favours for the guests – handy hangover packs containing chocolate, chewing gum, a sachet of coffee, paracetamol, a hair tie and plasters.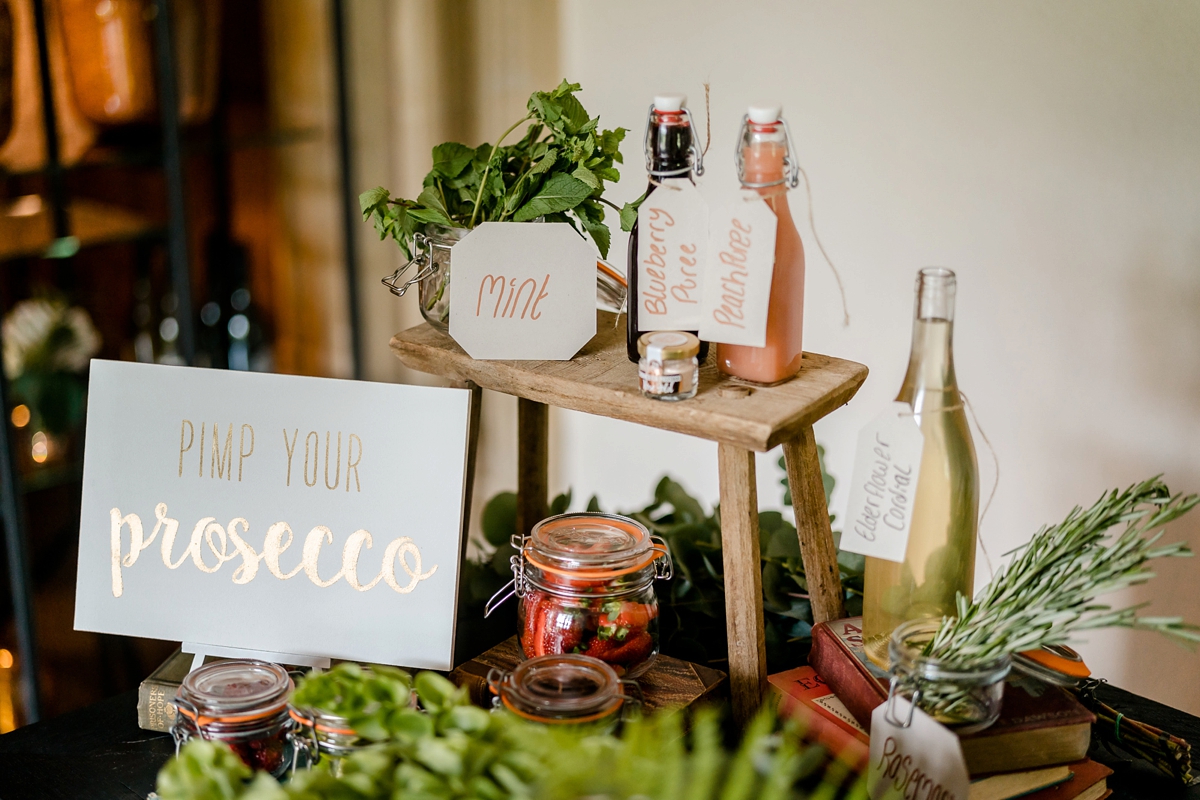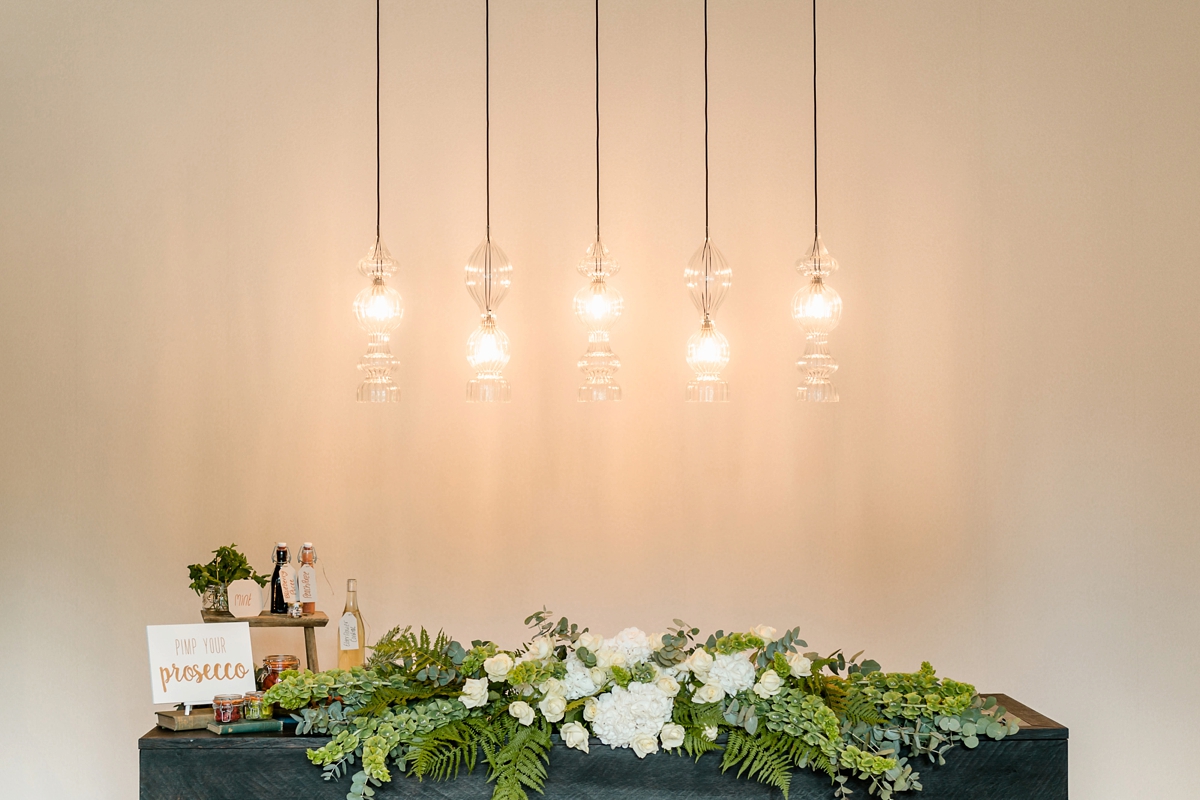 The team at Hampton Manor provided a wonderful wedding breakfast, and following this, there was showstopping cake from Ben the Cake Man.
"We wanted a very simple cake but Ben made simple magnificent. The choice of flavours were incredible and we chose to have champagne and strawberry, raspberry ripple and lemon drizzle – something for everyone. The simplicity of the cake was finished with beautiful styling by Ben and his team (they worked closely with Ava Styling to ensure the look and feel matched). This was all topped off with a Perspex stand that gave the impression that the cake was floating. Simple, modern and unique – everything we wished for."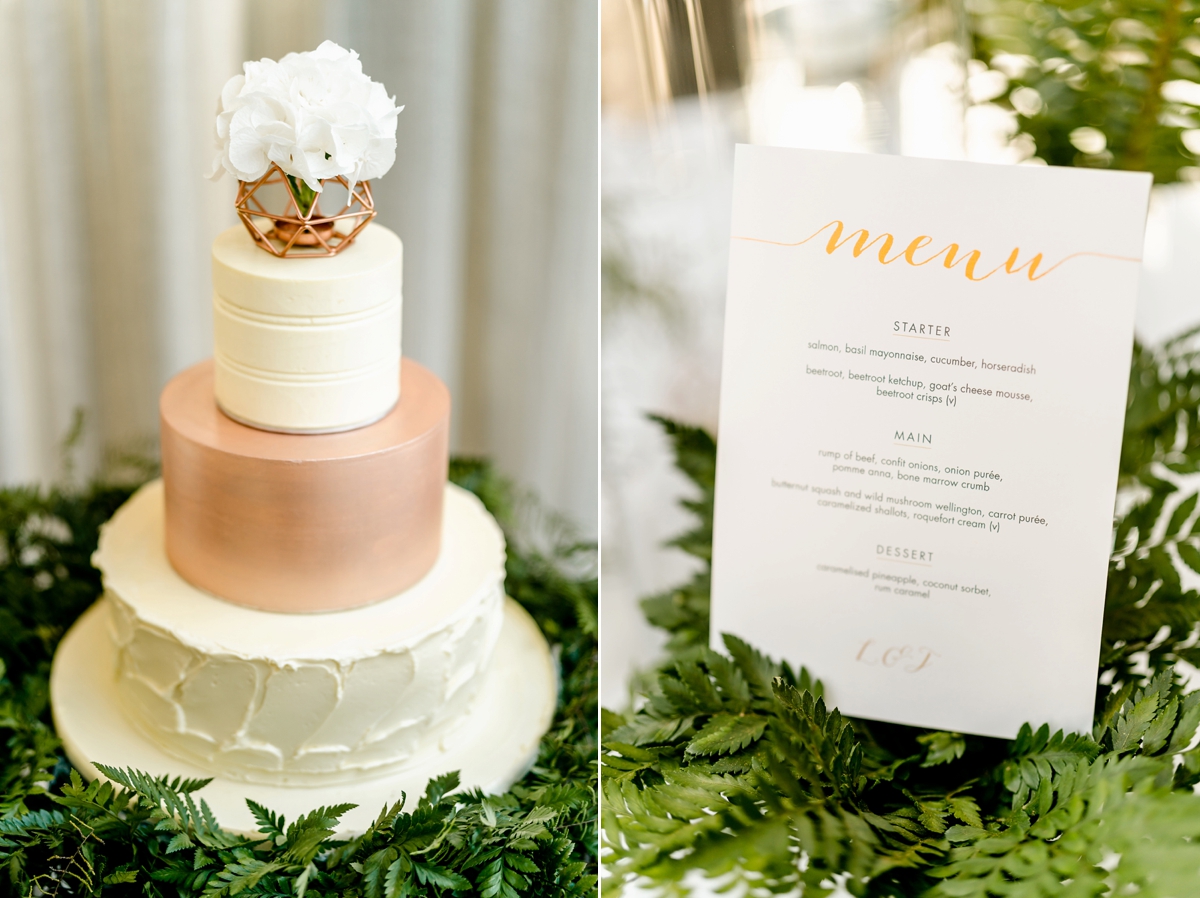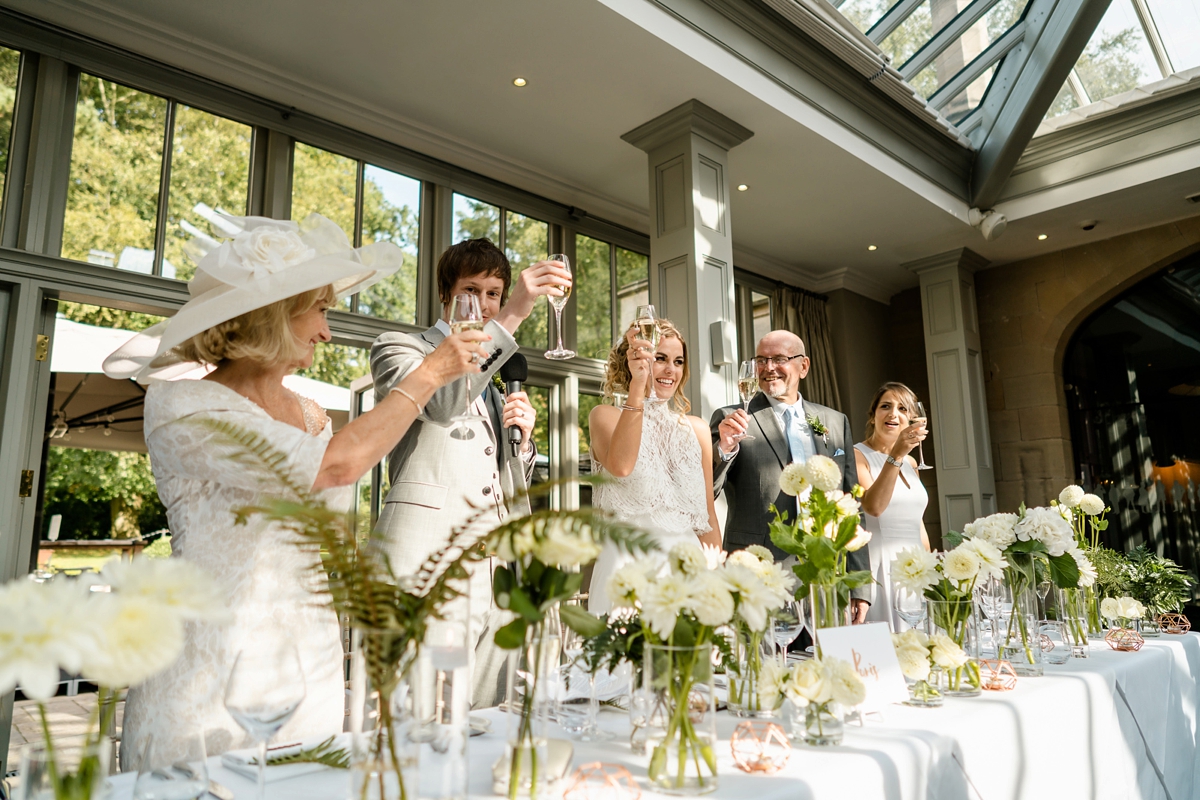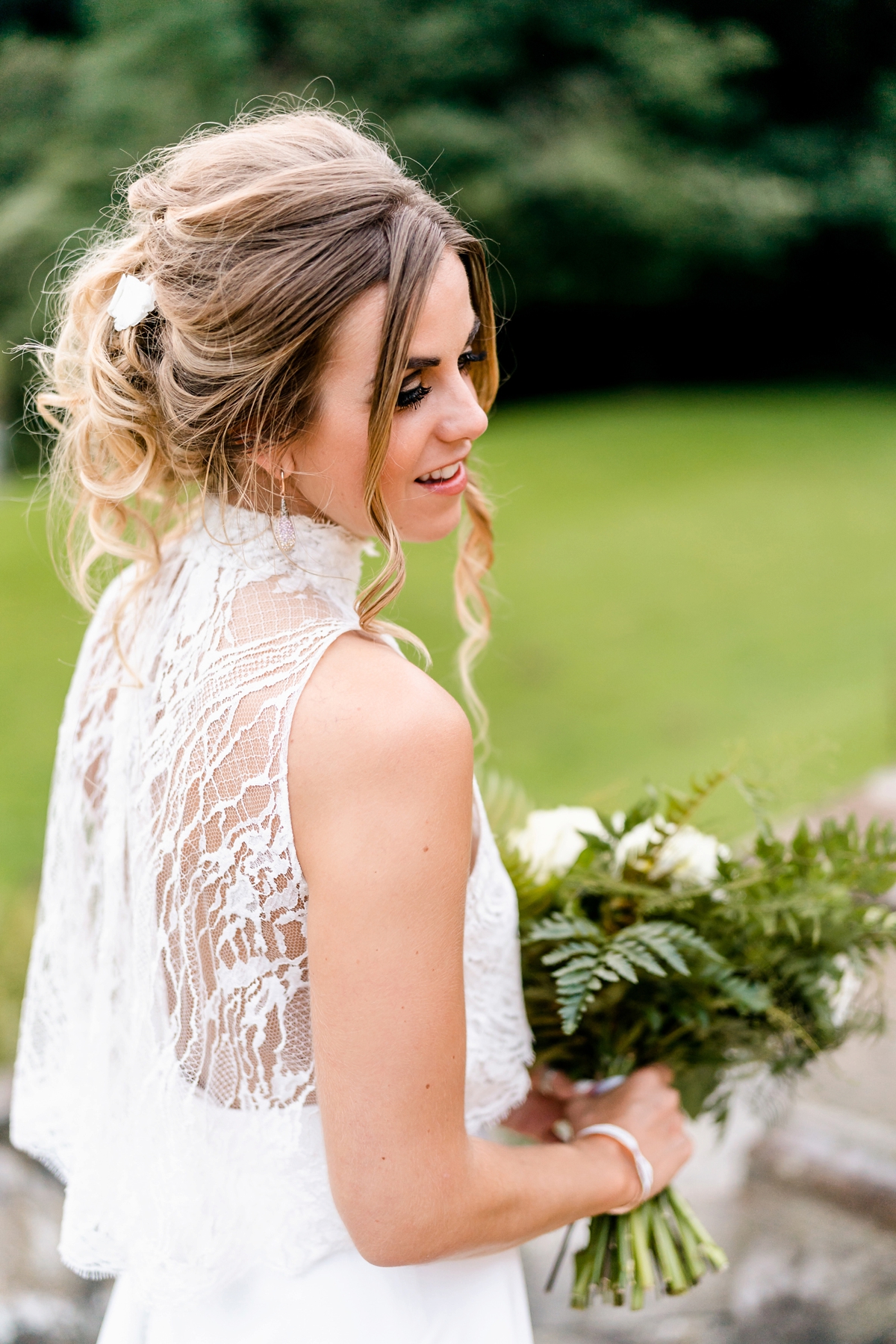 For their first dance, the couple chose a song with touching significance, and a lovely connection – Weathered by Jack Garratt. Laura had been part of the team who promoted Jack, and had immediately loved his music. When she played the song for John, he loved it too.
"Music was so important for both of us so a first dance was a big decision. We made a shortlist and when we listened to all of our options we both knew that Weathered was the track. It was an unusual choice but it could not have gone down better. We both loved the build of the track and the lyrics resonated with us both. It was the perfect song for us to have a personal moment before inviting all of our family and friends to join us on the dance floor. We made sure this was followed by one of John͛s favourites, Bon Jovi, Living on a Prayer to truly kick off the party."
"Our first dance was just perfect. John and I both love a bit of a dance so this just came naturally and was one of the first moments we both truly relaxed. One of my other favourite things was being able to share our day with such amazing family and friends; it would not have been the same without them."
Words of Wedded Wisdom
"We were both told the day would go so fast and to try and capture moments together. This was amazing advice and we made sure to spend time together. What no one told us was how surreal it all feels. It took a while to sink in but reminiscing about our favourite moments definitely helped with that."
"There were a few very small things on the day that didn't quite go to plan. My honest advice is to not let anything worry you or stress you out. No one else knows the details that you do and it is not worth any stress – it will still be perfect no matter what."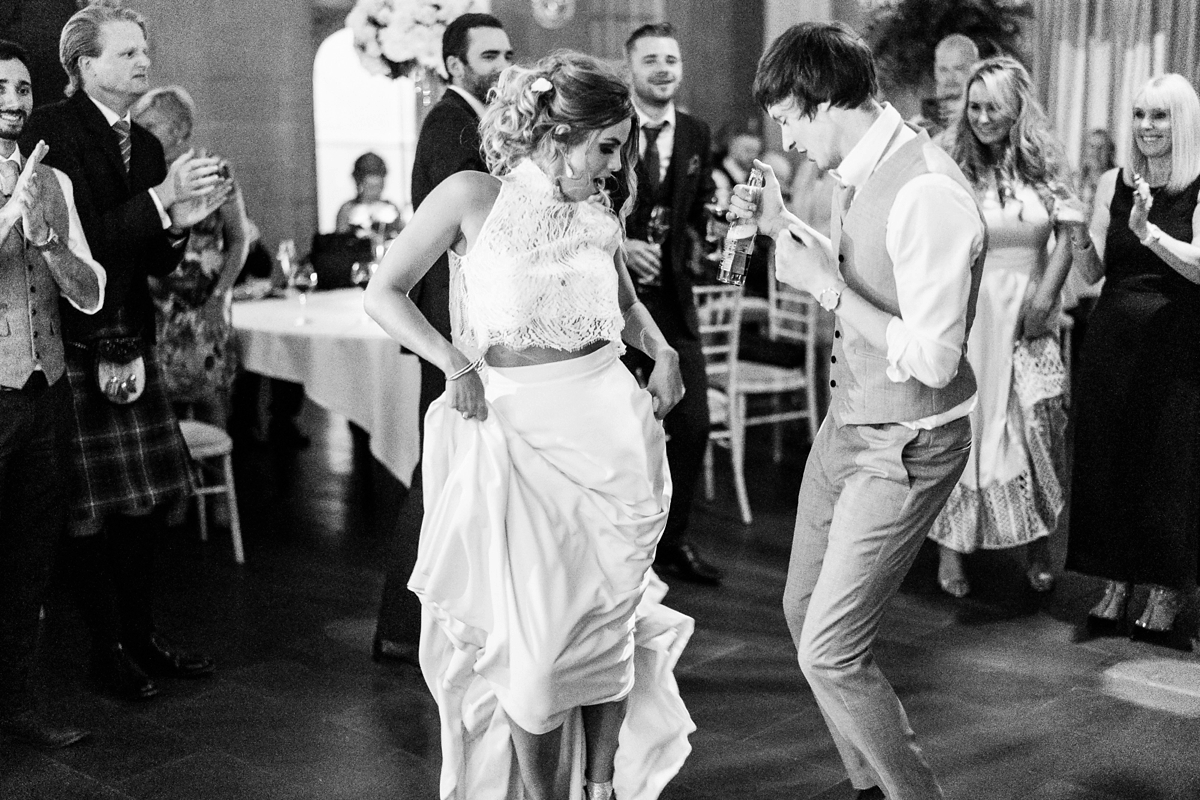 Many congratulations, and thank you Laura and John. It's been a pleasure to write about your delightful day – so stylish, fresh and modern with all of those amazing fern leaves and accents of copper and gold. Thank you also to John Barwood Photography for another stunning set of images. You can view more of his work on Love My Dress here, as well as more chic Jesus Peiro brides here.
With love,
Laura