Happy wonderful Sunday everyone! IT'S A HEAT WAVE. And I am loving every single moment of it! I hope you're not even setting eyes on this sumptuous wedding until after you've spent some quality time outdoors soaking up those rays and vitamin D.
But when you do get a chance to immerse yourself in this wedding loveliness, I hope it makes you feel all the feels. Tom and Amy tied the knot in June at Clive Church and Pimhill Barn in Shropshire. We were absolutely thrilled to discover that several of the suppliers involved in this wedding were sourced from these very pages of wedding inspiration. By the way, if you're looking for a place to start in terms of finding great, hard working and reliable providers to work with, you absolutely must visit our Little Book directory.
"Our venue, Pimhill Barn, inspired us. It is a very natural setting and the barn retained all of the old beams and brick walls. This inspired a casual, organic style that we contrasted with glamorous, metallic details. We also found lots of suppliers through Love My Dress. This included the Blackburn Bridal, Lila-Lila, Gilly Gray and Michelle Gledhilll."
Images by On Love and Photography
Amy wore the most drop-dead sensational gown by Flora Bride from the wonderful Blackburn Bridal in London.
"I am utterly indecisive and initially thought I'd have a dress made. I imagined a dreamy, romantic tulle dress with a fitted top and full skirt, but then I started getting the jitters. I hadn't tried any dresses on and wanted to be sure this look suited me before I committed. So Mum and I snuck off to a bridal shop and I realised my chosen style didn't do me any favours at all! With a smaller waist and curvy hips, I looked and felt so much better in the fitted shapes."
"But what about my vision?! It took me a little while to change the picture in my head and after a day of shopping and fizz, we walked into Blackburn Bridal. I knew instantly that it was the place I'd find my dress – it's so girly and special. I tried on a few of my picks, but ultimately left it to the professionals to select something I might not have spotted."
"When I slipped into the Flora Bride dress, I felt like it was my style wrapped up in a wedding dress. I felt like me, but an amazingly awesome and glamorous version. When my Mum started tearing up I knew I was onto a winner."
"Unfortunately, the dress arrived in a much larger size. After lots of work trying to make it right, the store eventually had to order a new skirt for the dress.  Blackburn Bridal's seamstress was an absolute dream and on the day I had so many lovely compliments. My advice to future brides – if something isn't right and isn't what you paid for, speak up and don't compromise."
"I wore a pair of Jimmy Choo Romy 85's in Champagne Glitter (they sparkly gold and silver, and we used both metallic in our wedding invites). My Mum treated me to my Choos and Tom bought me the matching bag as one of my wedding presents (again, thanks Mum for planting that seed). I was completely spoilt, but I would recommend taking the plunge and investing in some beautiful accessories for your wedding. I have worn my shoe and clutch combo to every event since!"
"We hired a on-the-day wedding co-ordinator, Sian Jones from Top Banana Weddings (weblink no longer working). This was an absolute essential for a wedding in a 'hire empty' venue or at home, where there isn't a team to make it all happen on the day. You and your wedding party want to relax and completely let go to the fun and frivolities, not run an event."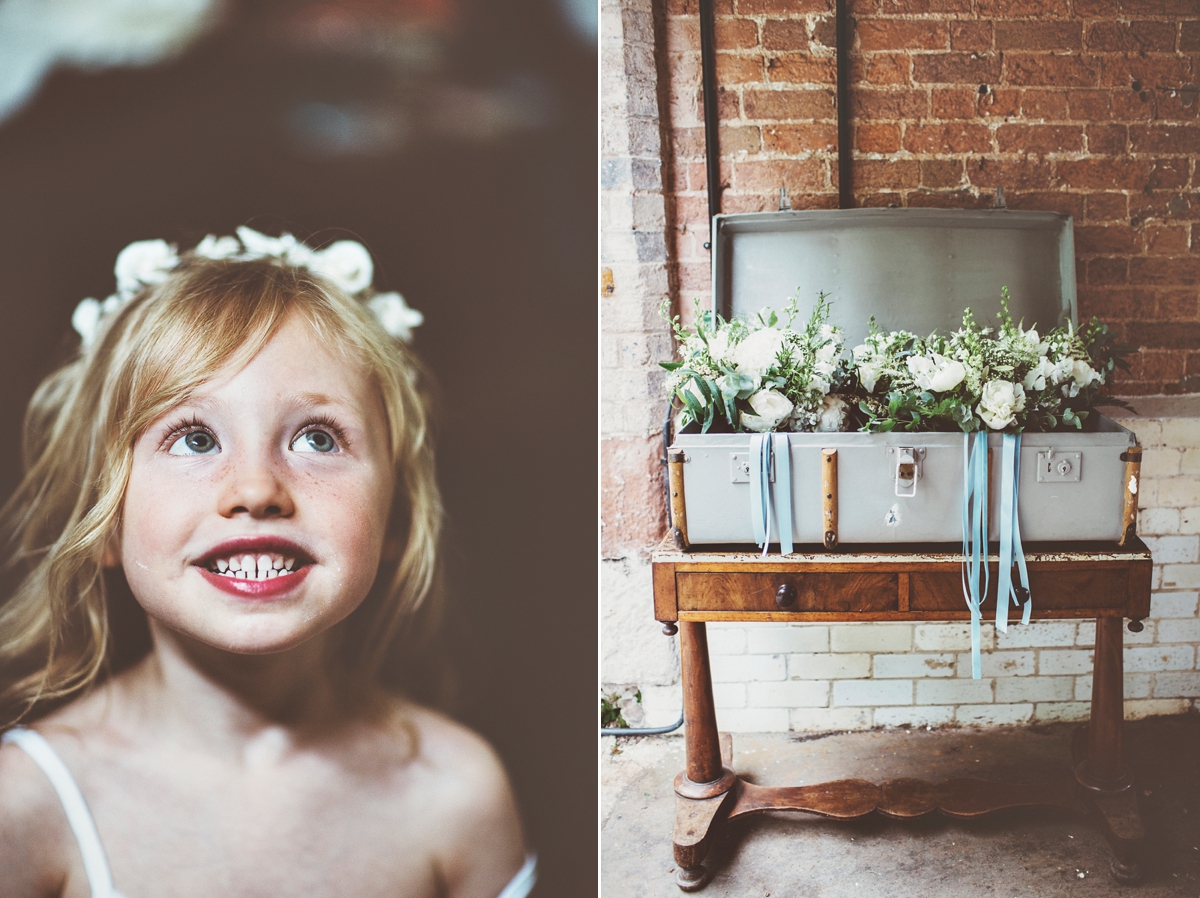 "One of my favourite processes during the wedding planning was having my bespoke headpiece made. Sofia from Lila-Lila (discovered through Love My Dress) created a clay flower and beaded crown that set off the beads in my dress perfectly."
"When you meet someone who is on completely the same wavelength as you, the creative process is so exciting."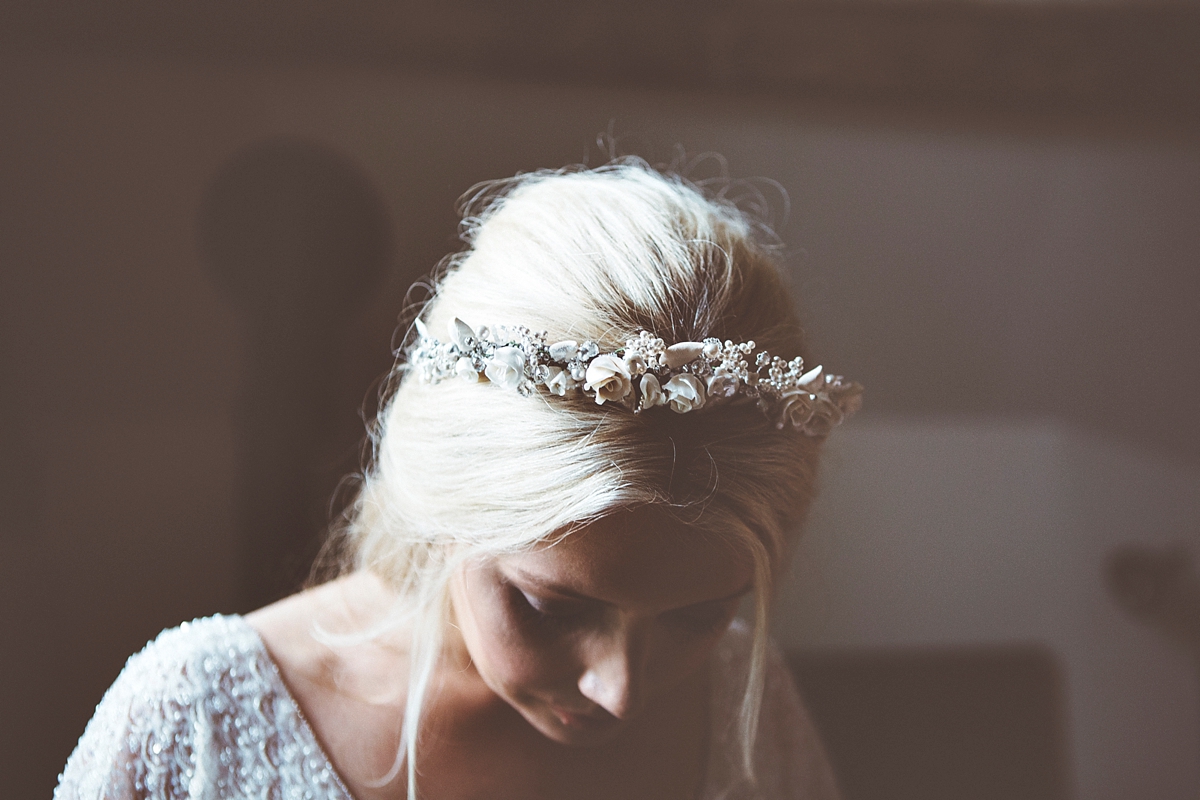 "I wore Victor Rolf Flower Bomb. This is what I wear every day and I love the smell. I wanted to still feel like me, but the best version of myself."
"My make-up was Charlotte Tilbury and applied by Gavin Pickle. He is such a sweetheart and achieved the fresh, girly look I wanted. My hair was kept really loose with a messy, knotted pony tail by Royston Blythe, to contrast with the rest of my look as I'd gone quite glitzy."
"My earrings were from Jenny Packham Bridal – going to the Jenny Packham accessory store in Kensington was like stumbling into a dream."
"Sofia from Lila-Lila also made a small version of my crown for my flower girl and clay flower accessories for my bridesmaids – all whilst she was heavily pregnant. I was so happy with what she created."
"The princess flowergirl dress in pure silk and tulle is from Gilly Gray. I just loved the little scalloped lace cap sleeves, as they mirrored the top of my dress and I wanted my little cousin to be my mini me for the day."
"We met in our first year at Cardiff University. It sounds cheesy, but we feel like it was fated – I wasn't going to have a gap year, Tom was going to have two and then one admin person put us in the same corridor in halls, without realising they were changing our lives. At first neither of us wanted to meet someone, we wanted to be free and single, but after time we realised it was pointless to resist. My Mum still can't believe I married 'the boy I kept kissing on a night out'."
"Our stationery designers were The Old Marketing Printing Co., who tailored one of their standard design so it fitted in with our wedding. Our colours were very neutral, but we did use metallic tones to add some interest and glamour. Our stationery was gold and silver – not a conventional combination, but I really like them together."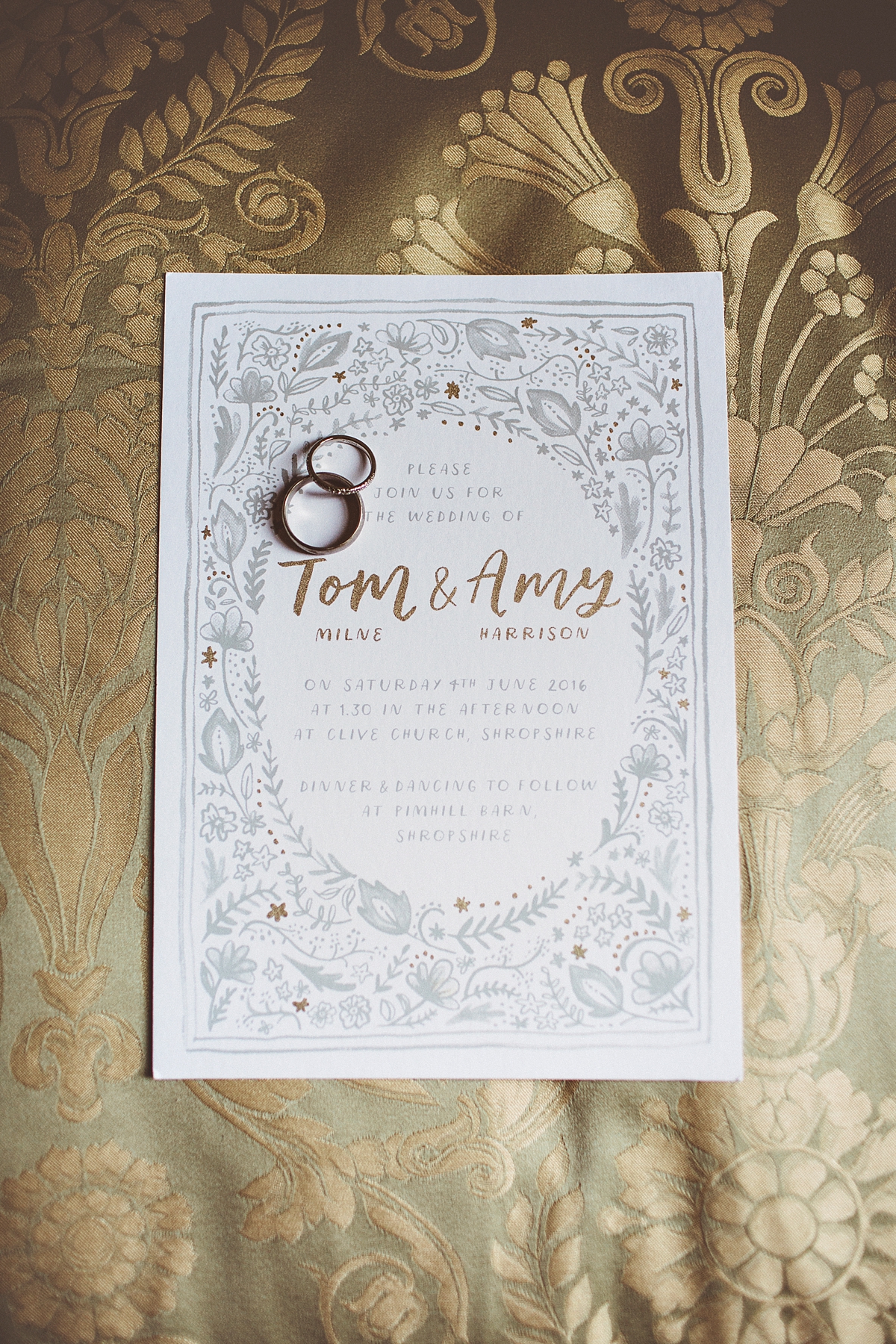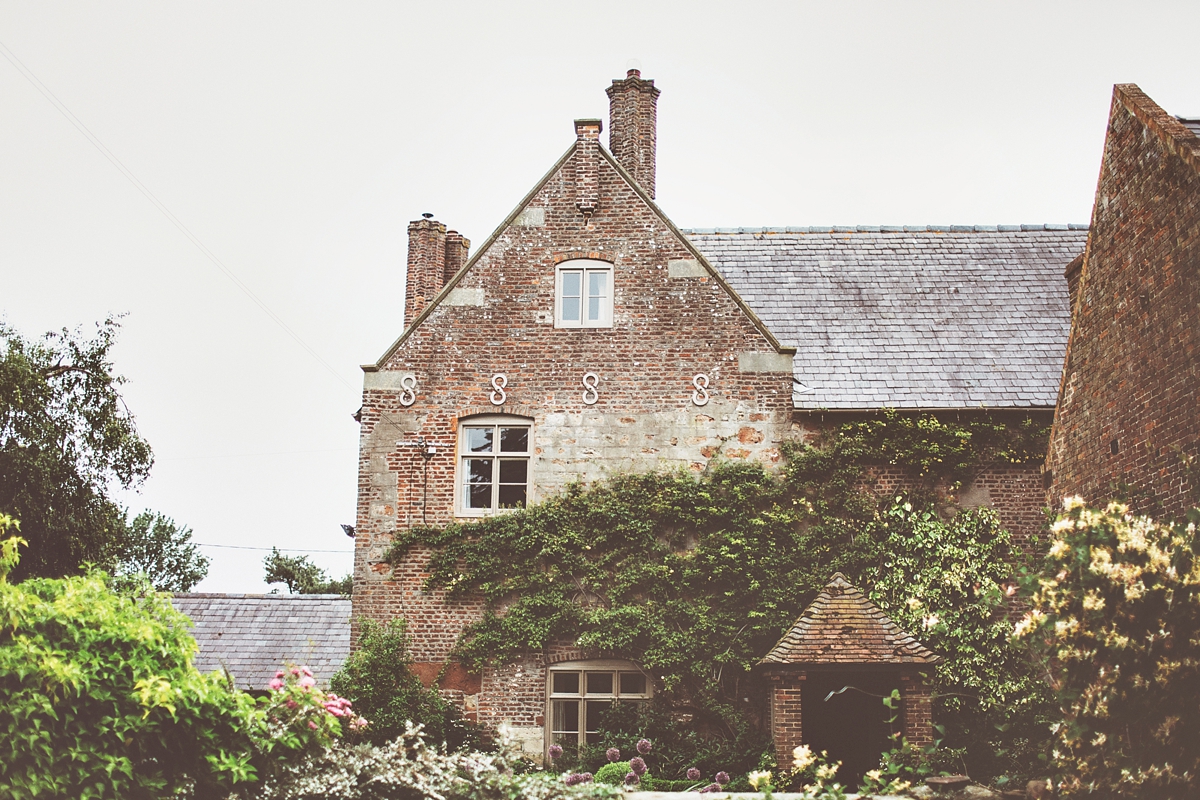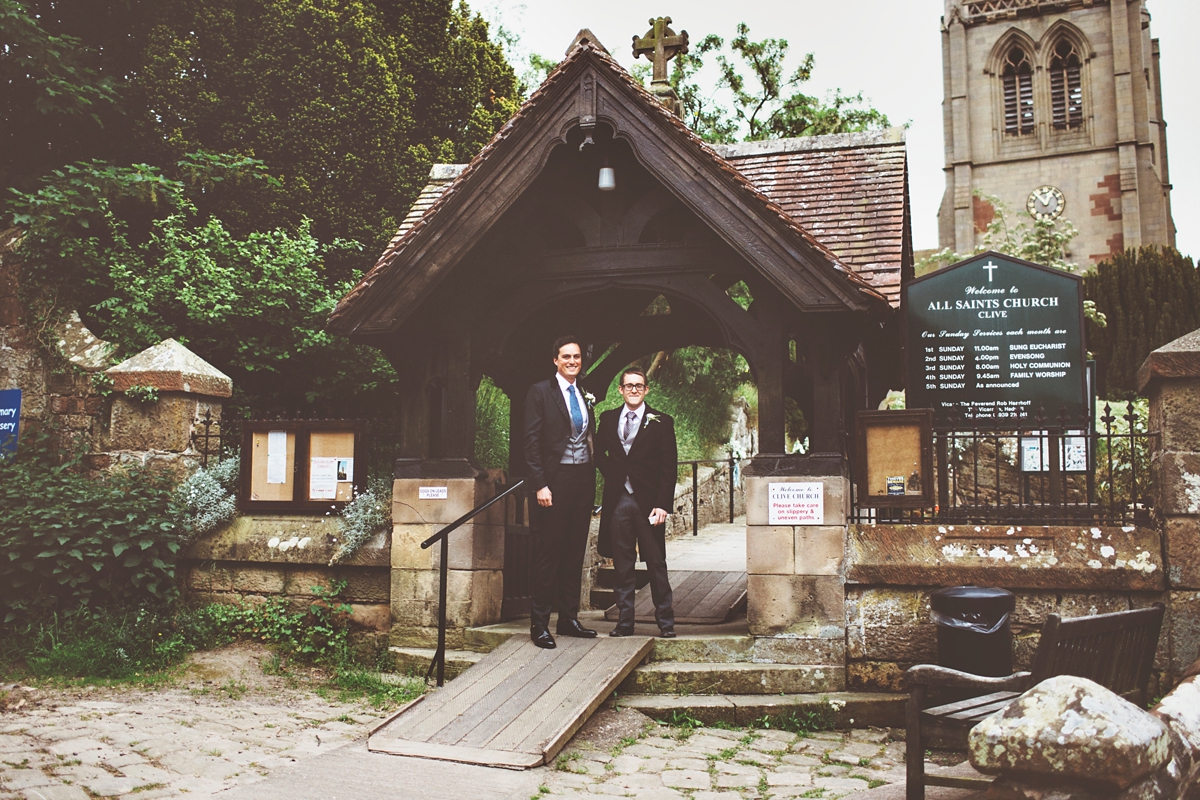 "My Stepdad loves vintage cars and took immense pleasure in checking out lots of options. In the end we booked vintage Rolls Royces for the wedding party, which felt very special."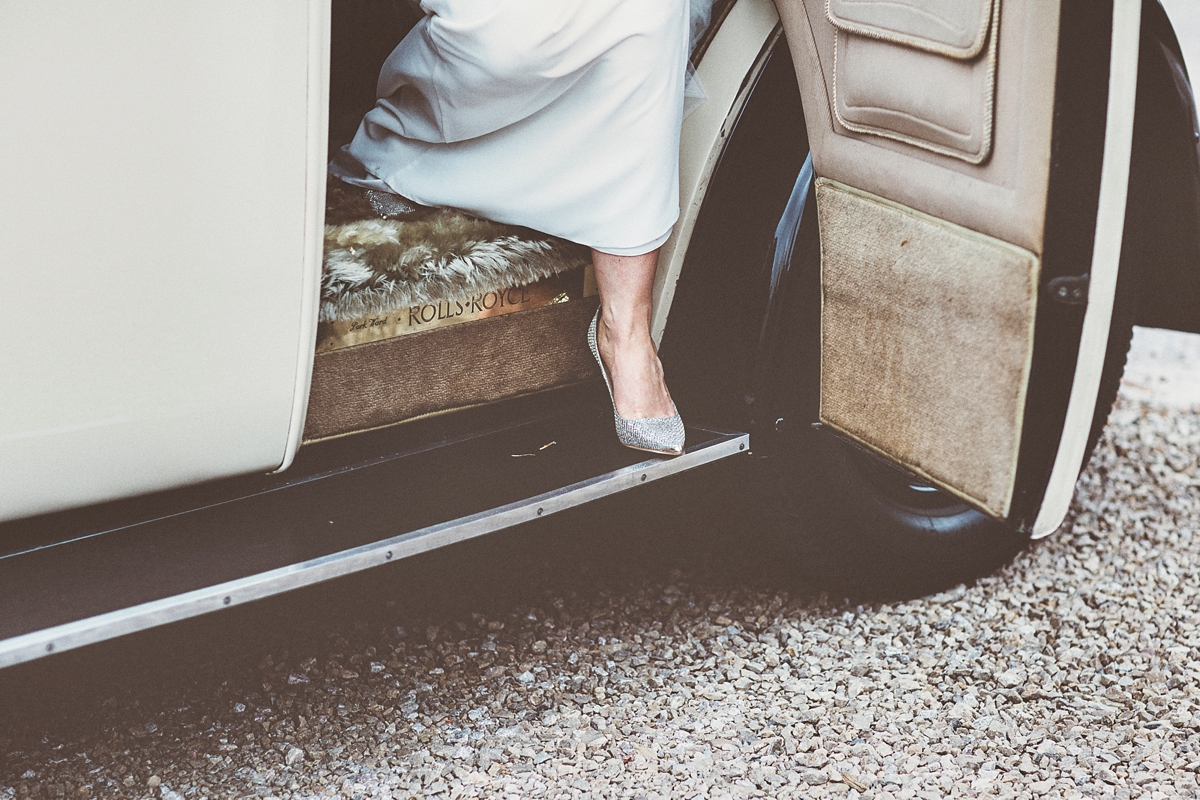 "Our florist was Michele Gledhill. Together we decided on white and cream flowers with lots of natural greenery and foliage. The church was kept simple with foliage and candles. Michelle was keen to re-use flowers, so a garland around the church door was brought back and used has the backdrop for speeches and then the entrance of the evening yurt."
"This 17th century brick and wooden space was stuffed full of floral displays. Michelle worked her magic by hanging old wooden doors and window frames from the beams and wrapping them with more flowers and floating candles. Then every table was full of flowers flowing from antique vases and glass bottles."
"If you want something original, that suits all your friends, you have to go on the hunt. I already had a beaded dress from Needle and Thread and feel in love with their intricate tops and tulle skirts, but low and behold not all sizes were available and the colour I wanted was only available on Net-a Porter! We located the remaining skirt from the American website and had to get it fitted in the end. Just keep persevering!
"My Dad accompanied me down the aisle to the traditional Canon D by Pachelbel. I know it is a popular choice, but it is simple, traditional and atmospheric. And to be honest, you're are so caught up in the moment at that point that the organist could have played Abba and I probably wouldn't have noticed!"
"We didn't create our own vows or stray from the traditional religious vows. The only advice we would give is to enjoy them. We'd put so much energy into planning a fantastic party, making sure everyone was happy and that we looked great, but, actually, our vows were our favourite part of the day. Hold your partners hands, look into their eyes (not the person's reciting the vows) and try to consider the words you're saying. This is it – the culmination of all your organising, the reason everyone is there on that day. Take a breath and enjoy that moment."
"We had three readings. One religious and then two poems we found loved. We tried to pick readings that linked and told a bigger story. The Promise by Eileen Rafter shared an insight into getting engaged, making promises to each other and forgiving imperfections."
"Our religious reading provided advice on how to treat and respect each other. And our final reading, 'Chapter one of one thousand' by O.J Preston, looked to the future and what that might be. Our friend stood on the steps of the alter with us and read this reading to us, just before we walked out as Husband and Wife. They were the last words spoken in our ceremony and was such a lovely way to finish the ceremony…"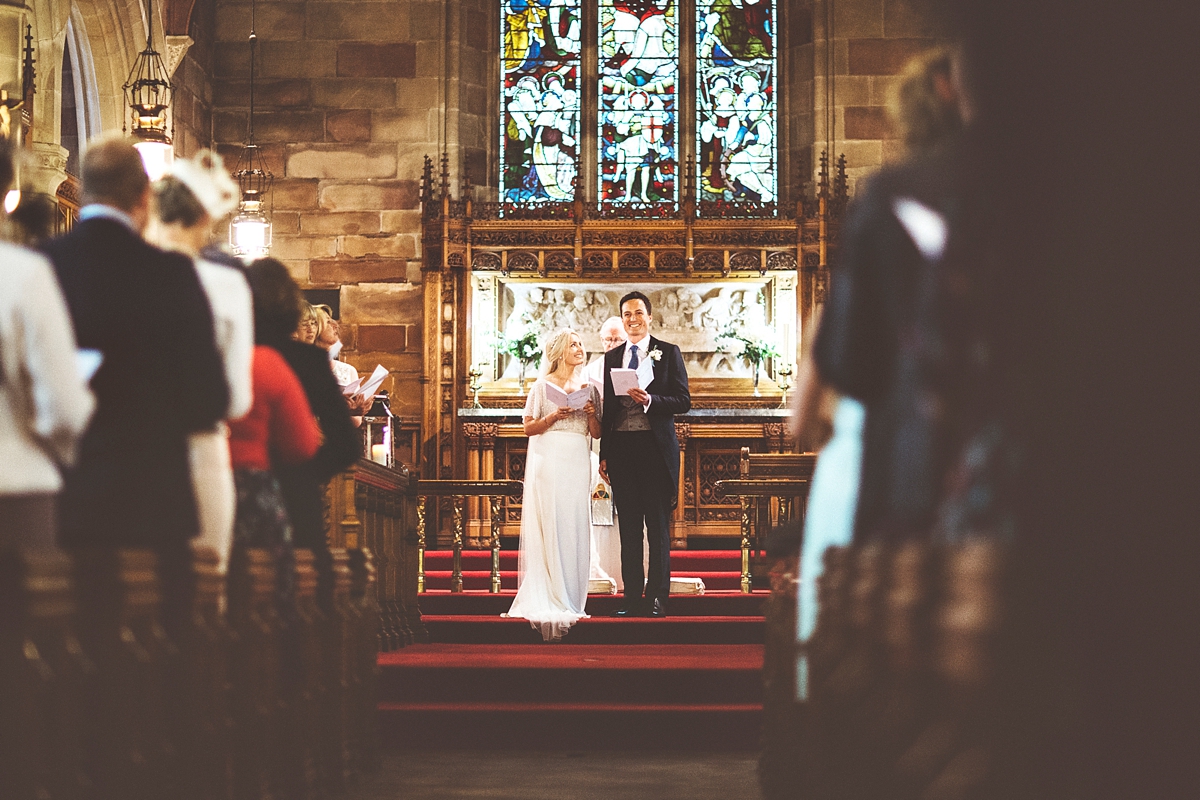 "Our rings were made at the London Rocks Studio in Hatton Gardens. We worked with Carl to get the exact designs we wanted, saw where they were going to be made and knew that they were crafted by young, talented jewellery designers. That was really special and we love how our rings turned out."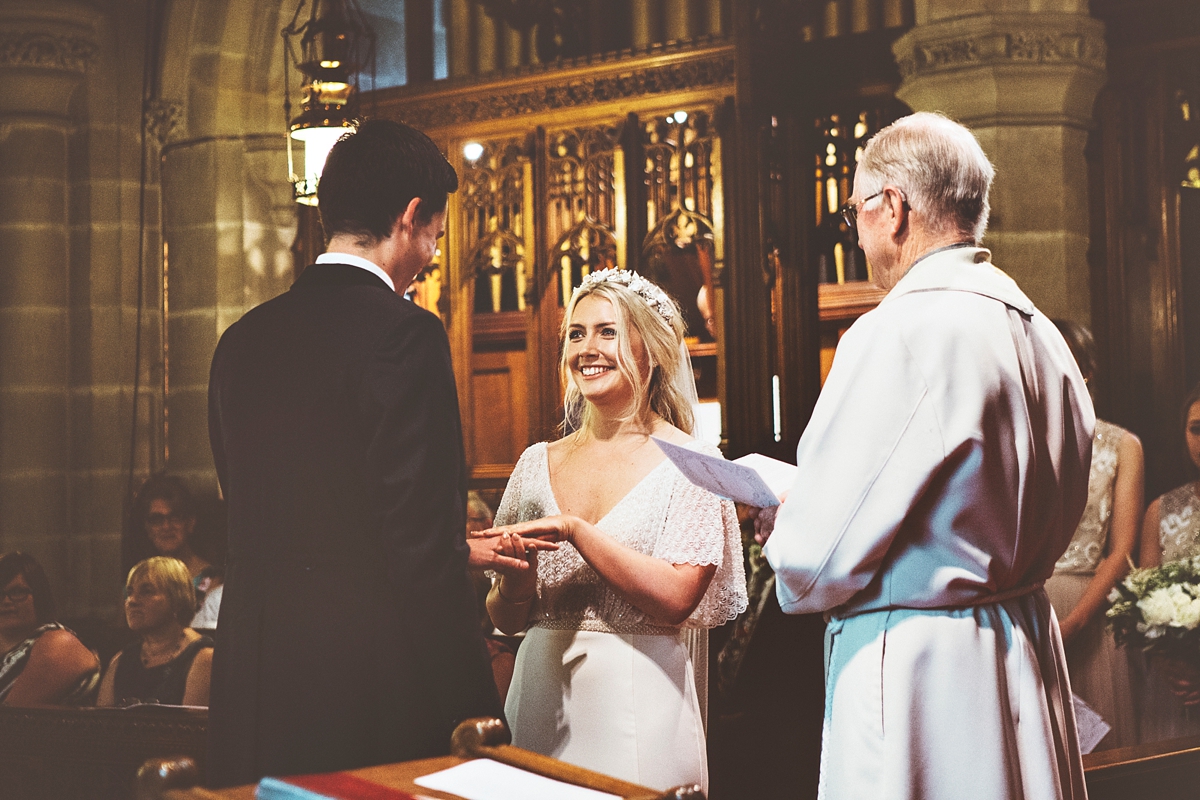 "At the Church, a Welsh voice choir sang to us whilst we signed the registers, which was so beautiful and meant a lot to us as we have really important connections with Wales."
"Tom had a set of tails made for him by Hawkes Bespoke Outfitters in Cardiff. It was quite fun picking the material. He went for a charcoal grey, with black velvet collar and patterned lining, with a pale grey double-breasted waistcoat."
"His tie was from Charles Tyrwhitt and had a vintage, blue floral design. Tom wanted to creep many novelty ideas into the wedding, and although he took a big role in picking a lot of the key suppliers and plans, I really couldn't agree to a batman cake. So he plumped for Nintendo 64 cufflinks and burger socks. He and his groomsmen all drank from tankards."
"All the groomsmen had traditional tails hired from Hawkes."
"To dress the tent and create a chill out area outside, with photo wall, we hired lots of vintage furniture from Virginia's Vintage Hire.  This included a long trestle table that held an array of local beers and ciders, including 'Shropshire Lass', covered in a hops garland and ready for the guests to help themselves. Tom loves a cider and beer festival and wanted to bring that idea into the wedding – he even brewed a batch himself!"
"Whilst people milled around at the drinks reception, Wild Nights Duo played an acoustic set. Their voices are so smooth and we loved their playlist."
"Our photographers were 'On Love and Photography'. We wanted a team of two photographers, so our photos showed the story of both us getting ready and the perspective from the back and the front of the church. We skyped several photographers and really liked Giulia and Sophie. Their style is natural and journalistic, and we knew we'd feel comfortable having them with us on the day. Friends of ours booked them too, after seeing our photos.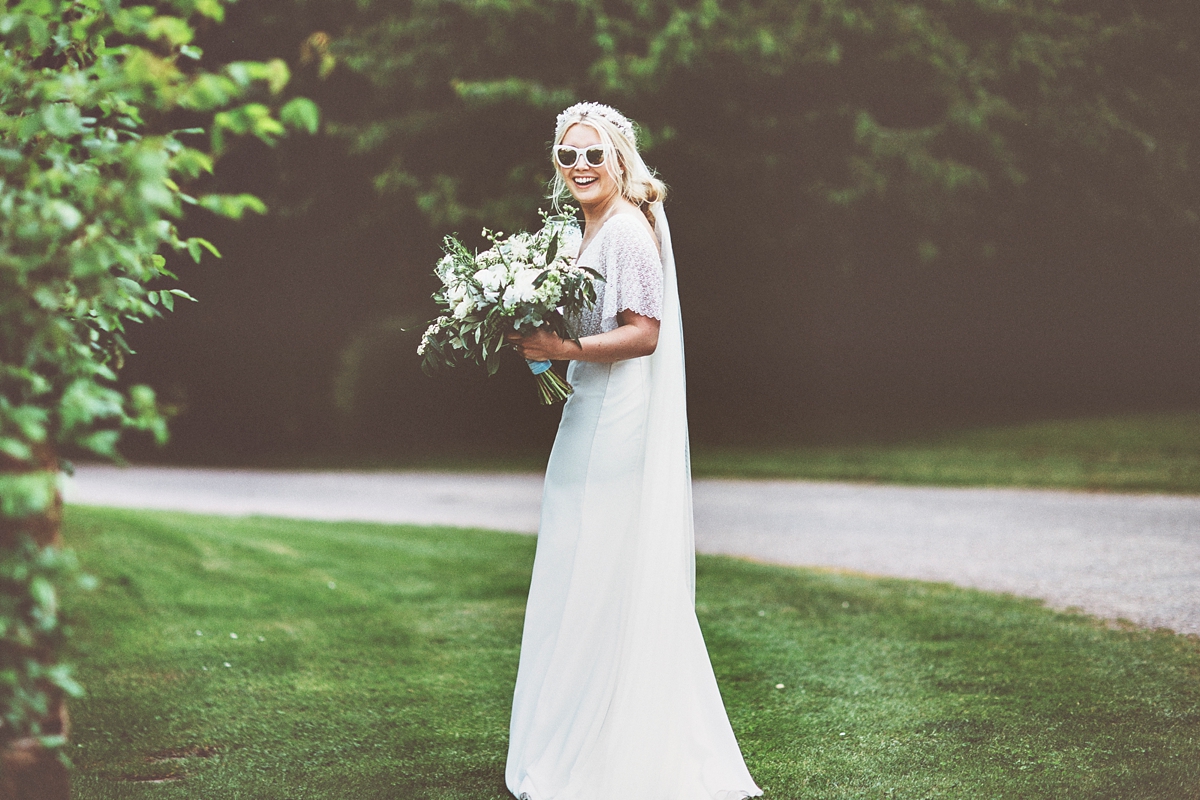 "The food and drink were two elements of the wedding Tom was very invested in. Our tasting sessions were met with lots of excitement and Cheryl Jagger Catering really won us over – the food was delicious, and Cheryl is so lovely. We wanted to give our guests a menu to pick from, given the mix of people attending (from traditional farmers, to expacts, to Londoners), which, like everything we asked, was met with 'not a problem'."
"In the evening, we kept things casual and Chery's staff brought trays of mini fish and chips, kebab and chips and burger and chips around the guests, so they could line their stomachs without queuing or having to move away from the bar or dance floor."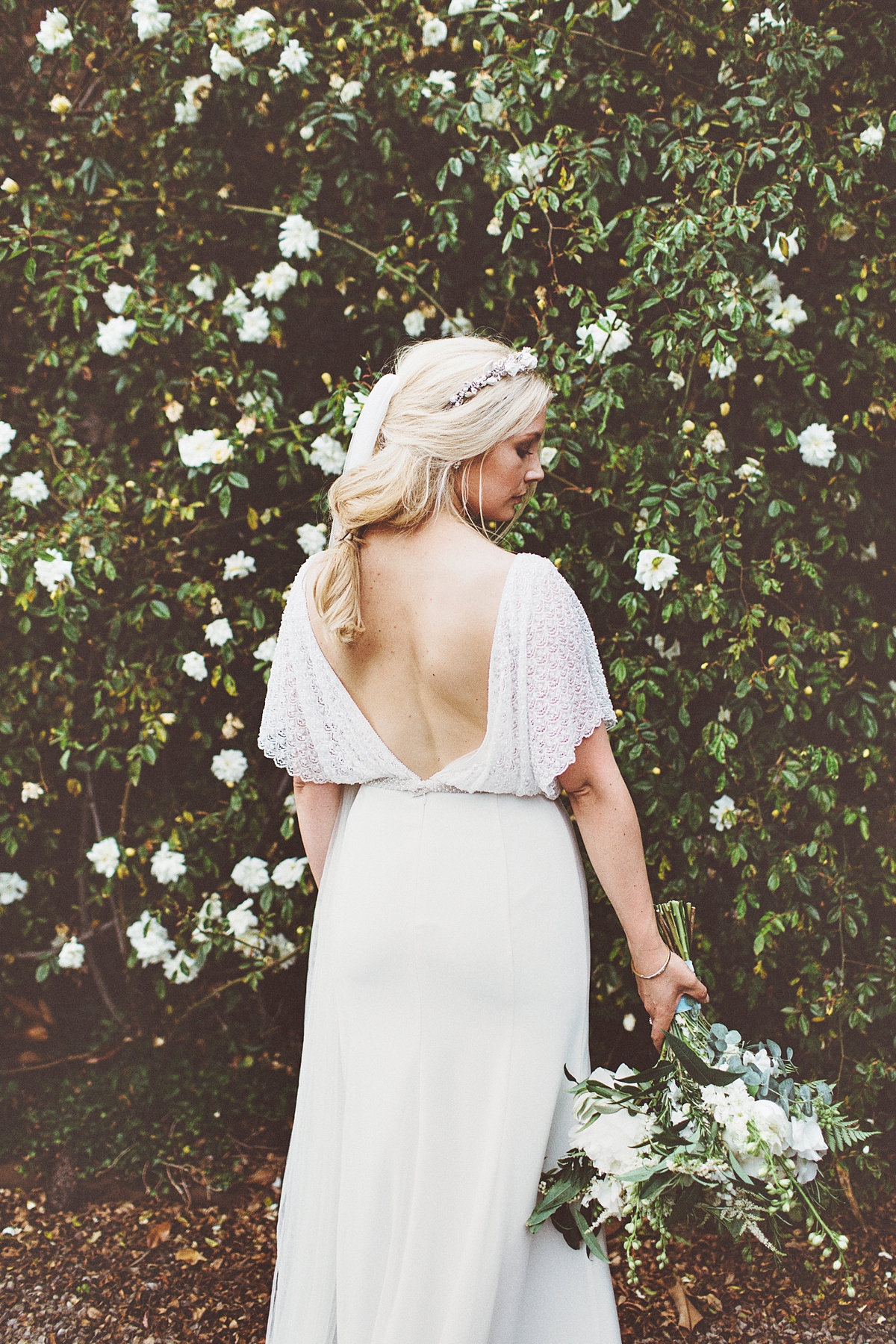 "If you want something original, that suits all your friends, you have to go on the hunt. I already had a beaded dress from Needle and Thread and feel in love with their intricate tops and tulle skirts, but low and behold not all sizes were available and the colour I wanted was only available on Net-a Porter! We located the remaining skirt from the American website and had to get it fitted in the end. Just keep persevering!
The girls all wore simple cream, low heel pumps from ASOS, so my tall bridesmaids wouldn't tower over me or wound their feet at our very rustic venue!"
 "Pimhill Barn is such a beautiful, natural venue that we complimented this setting with lots of flowers and didn't use lots of décor. It's also a really flexible wedding venue – you hire it completely empty and there are lots of different spaces to configure in a way that suits your wedding. We decided to use the old barn for our wedding breakfast and hire a yurt as our party tent from Hooe's Yurts."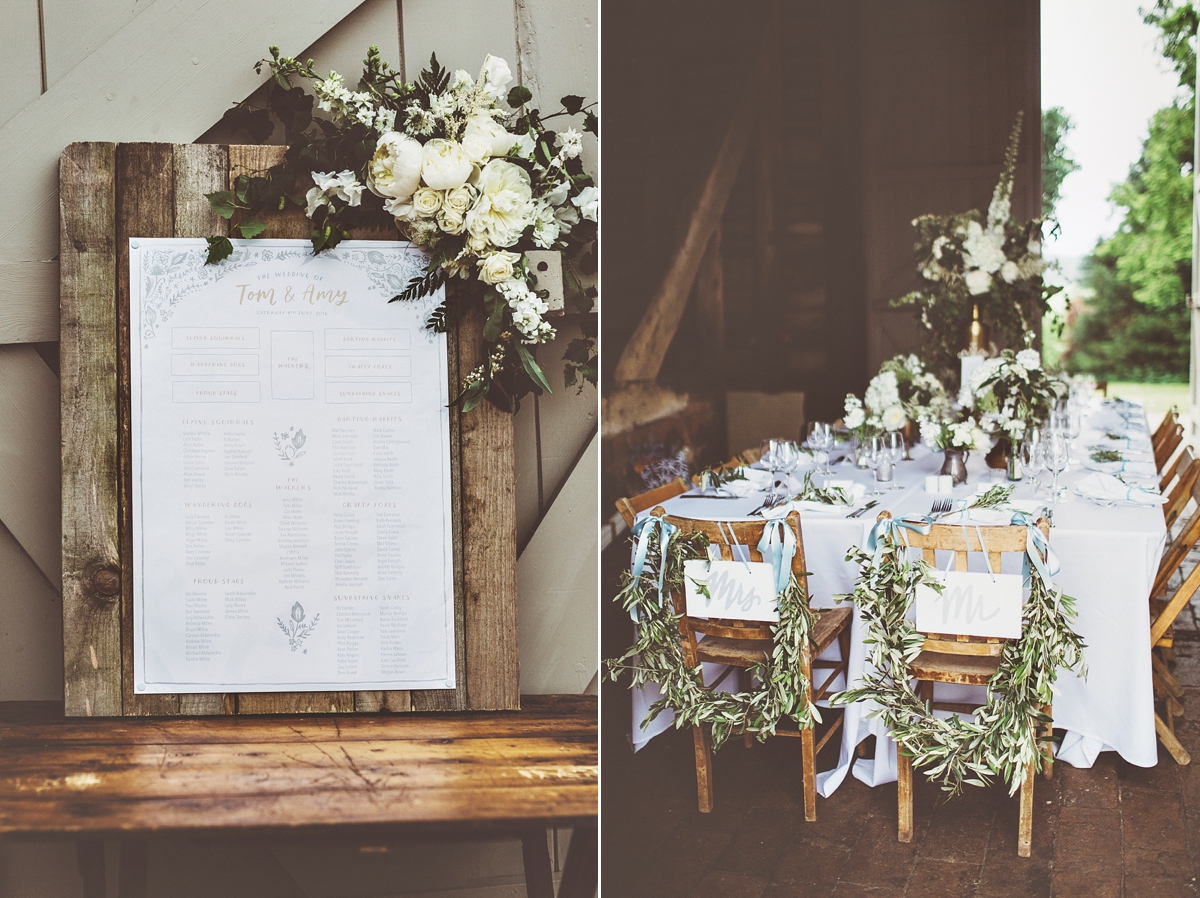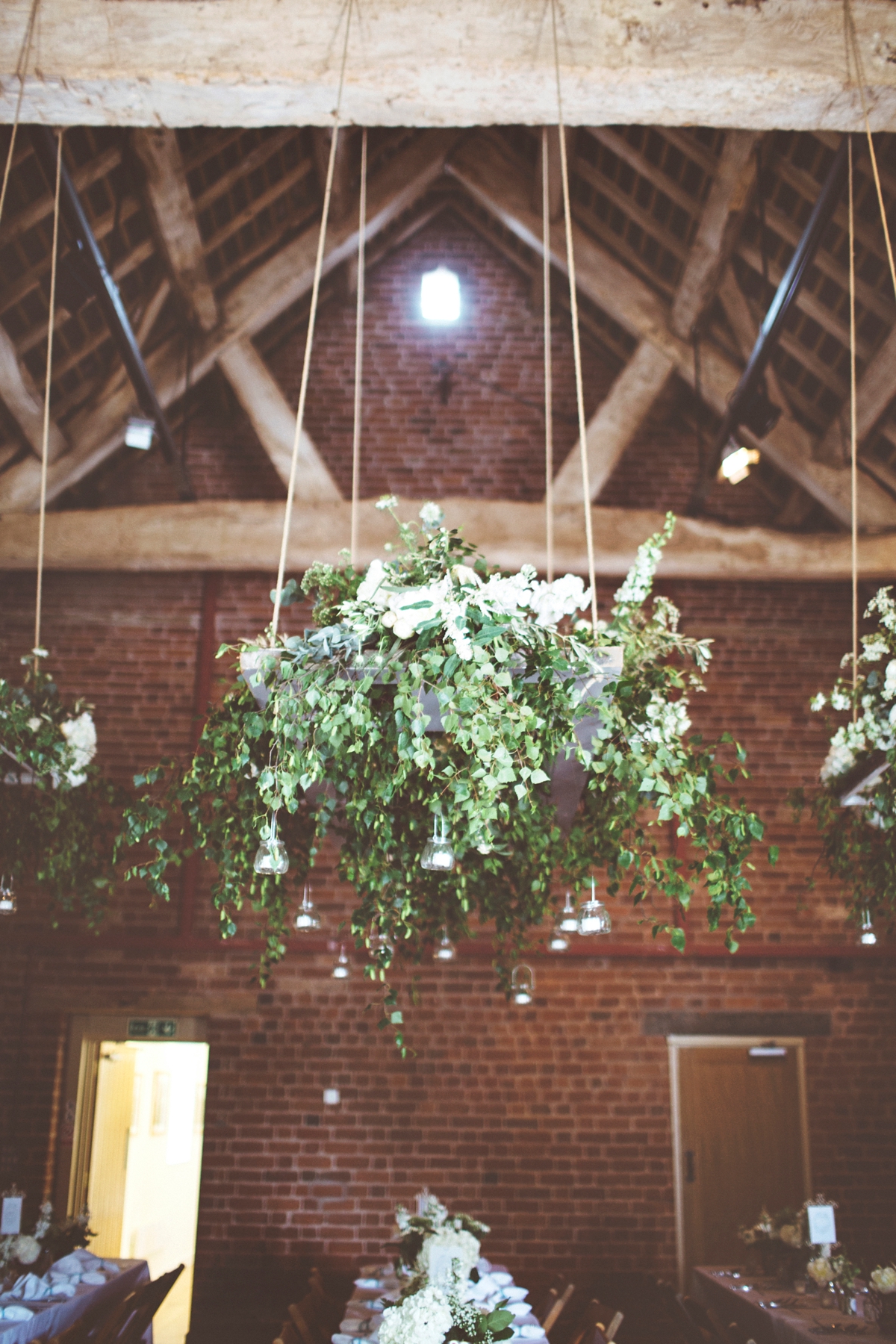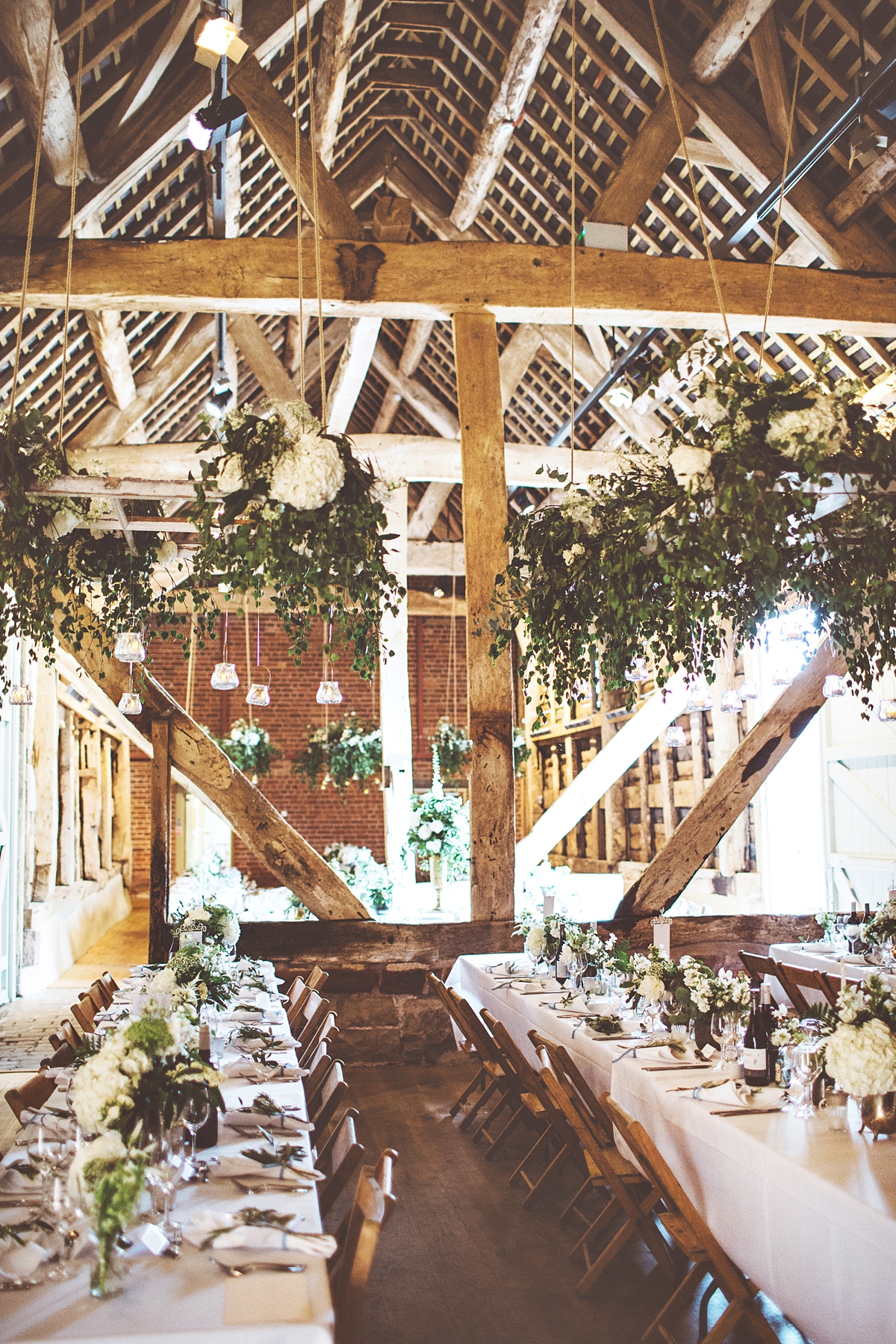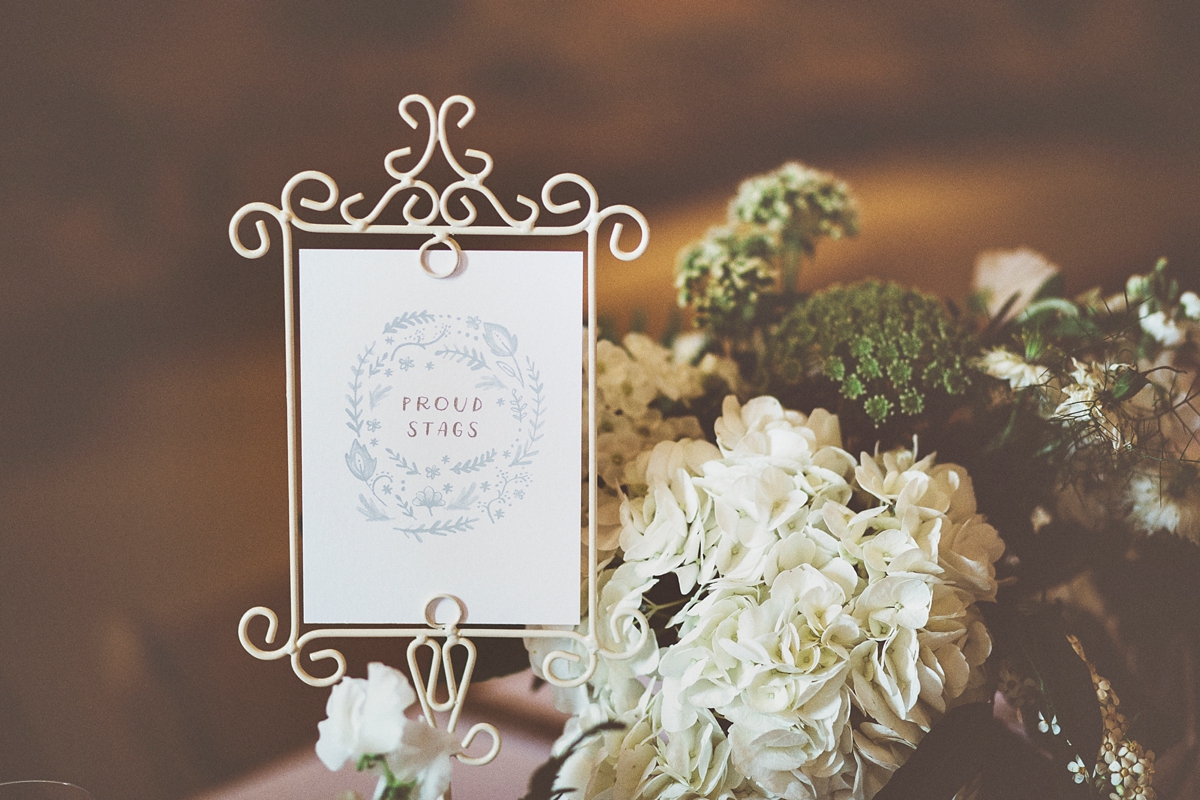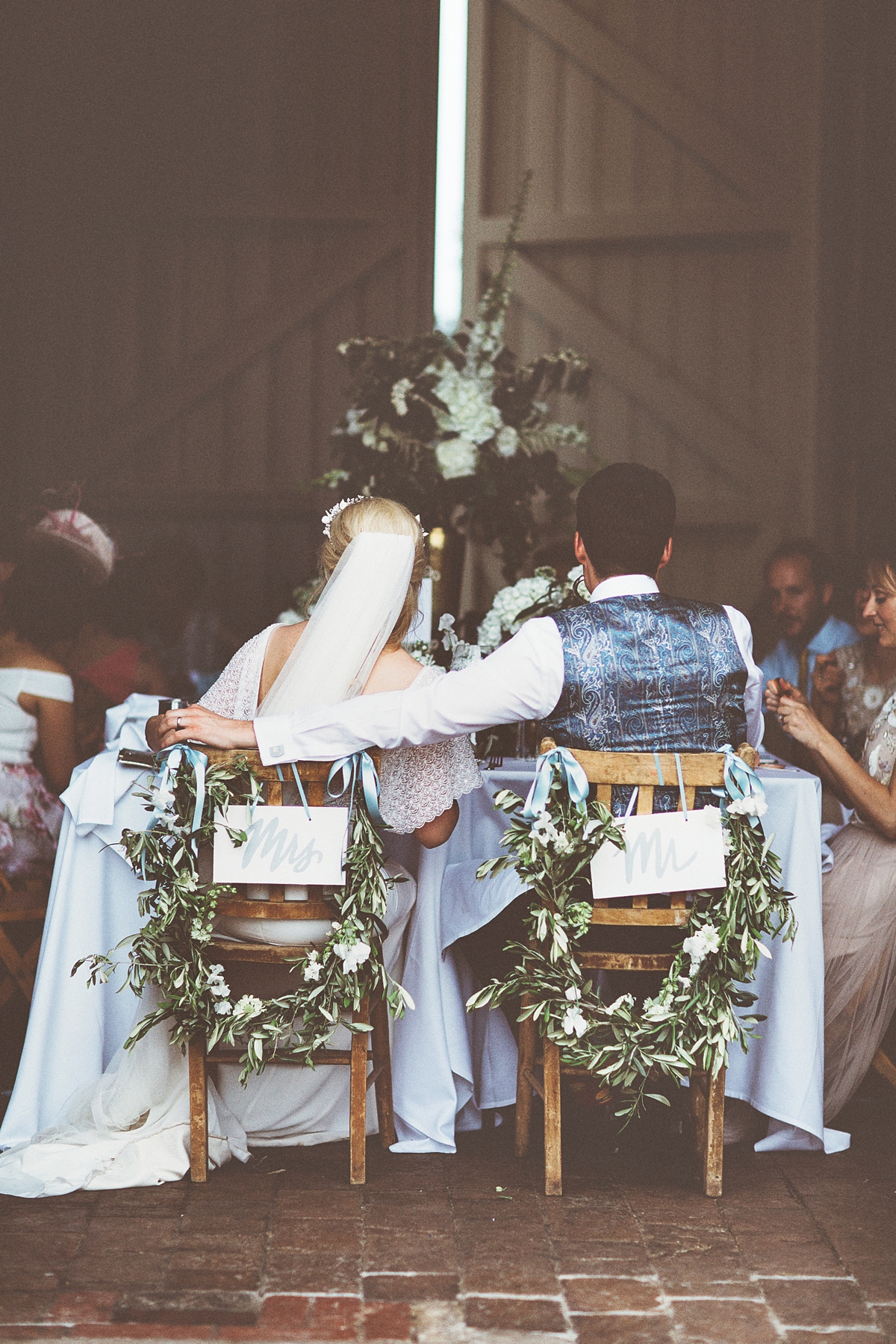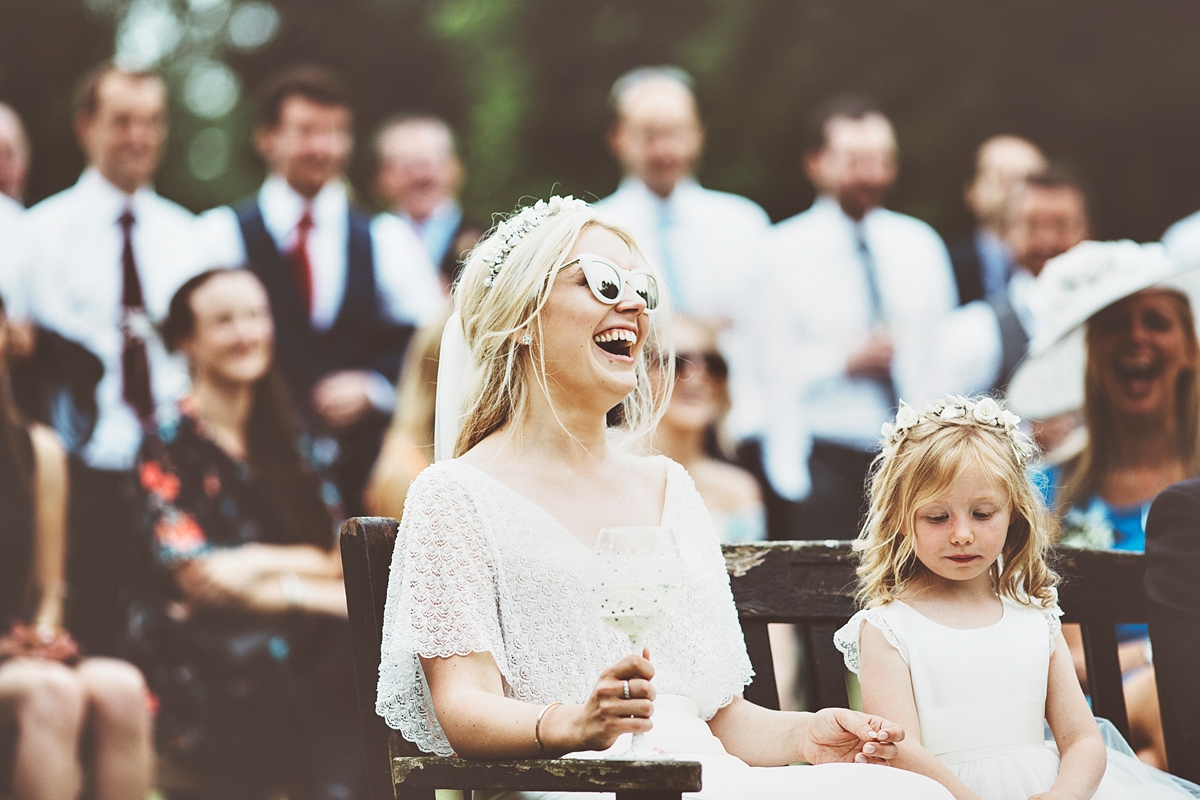 "Our cake was a delicious buttercream concoction made by Emma from Cut the Cake Kitchen. We had a different flavour in each layer, but kept the frosting a simple cream. It was sat on a barrel in front of a lake and our florist covered it in beautiful stems, so it looked quite striking as guests made their way to our speeches. Emma was really worried about bugs being left to fly at the cake, so our wedding co-ordinator had to whip off a paper covering at the last minute."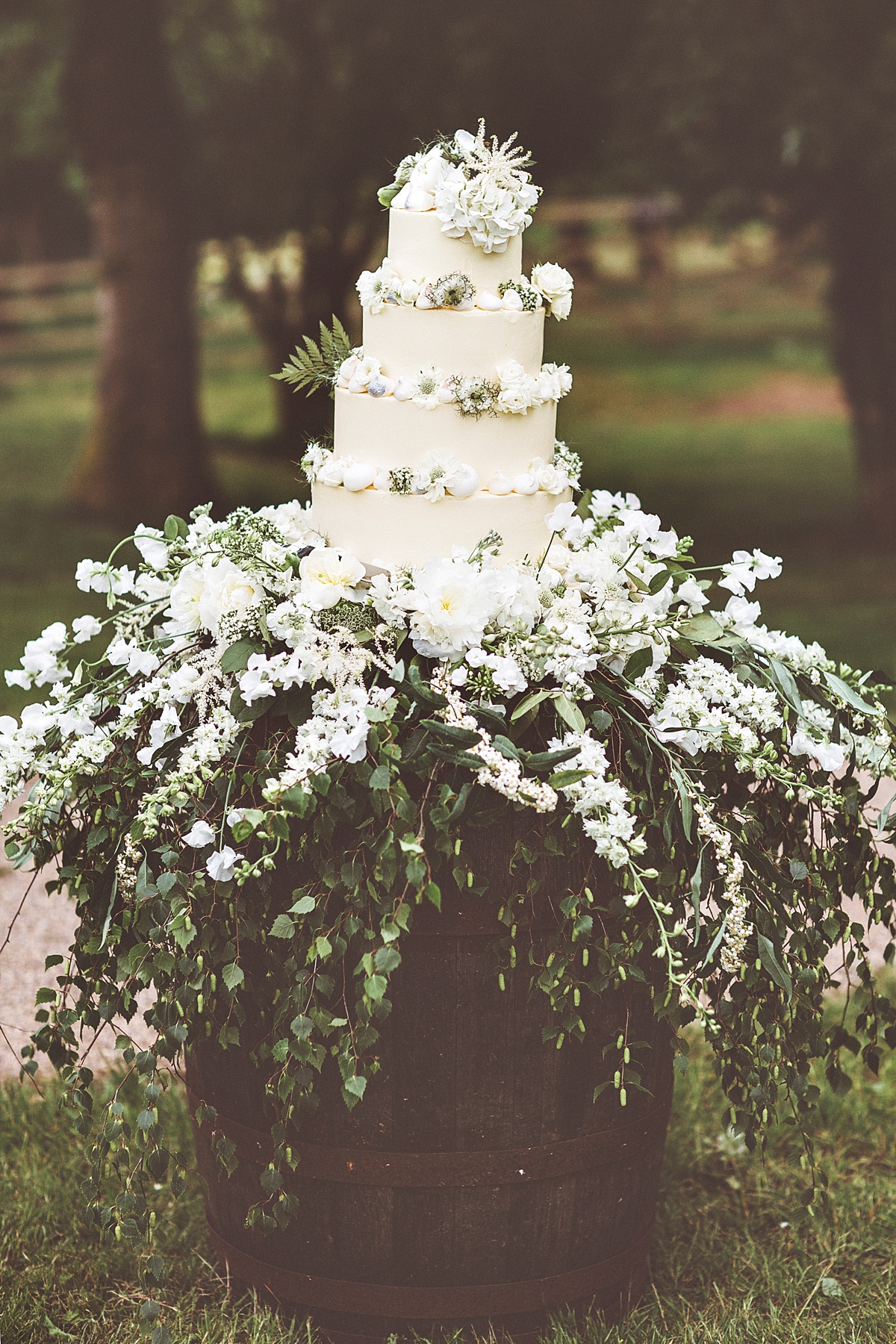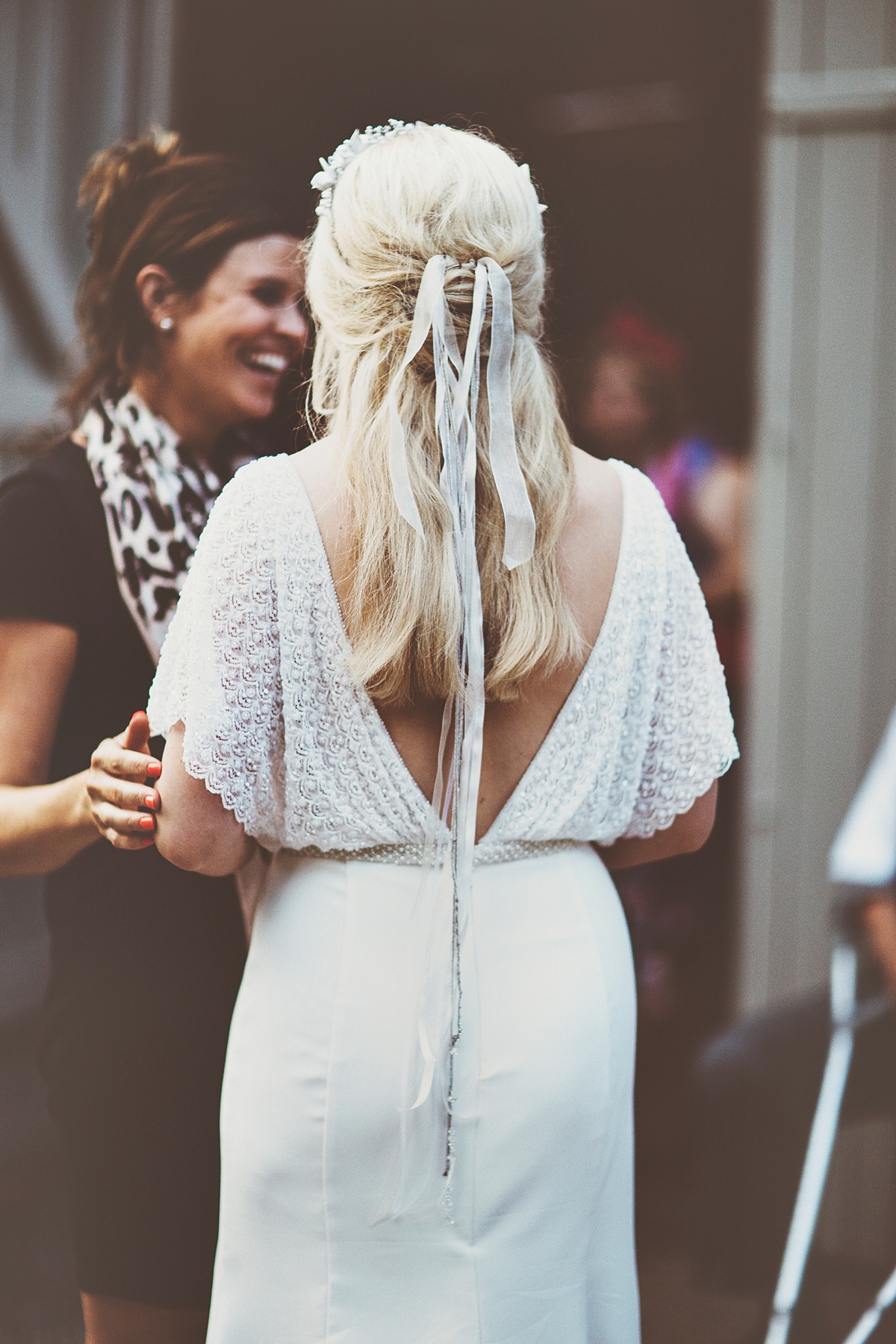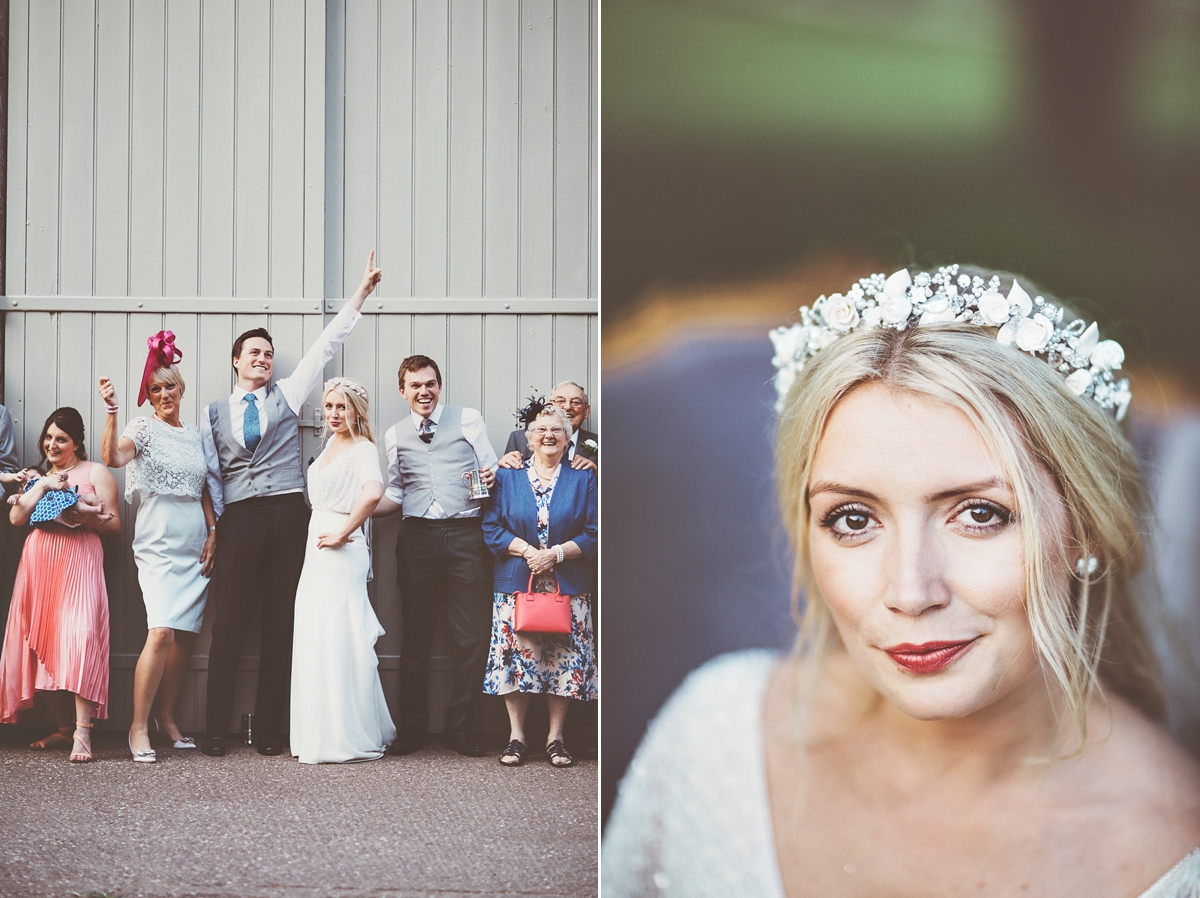 "Our first dance was to The Beetles 'Here Comes the Sun'. Purely because we love the song and it felt like a sweet, uplifting option."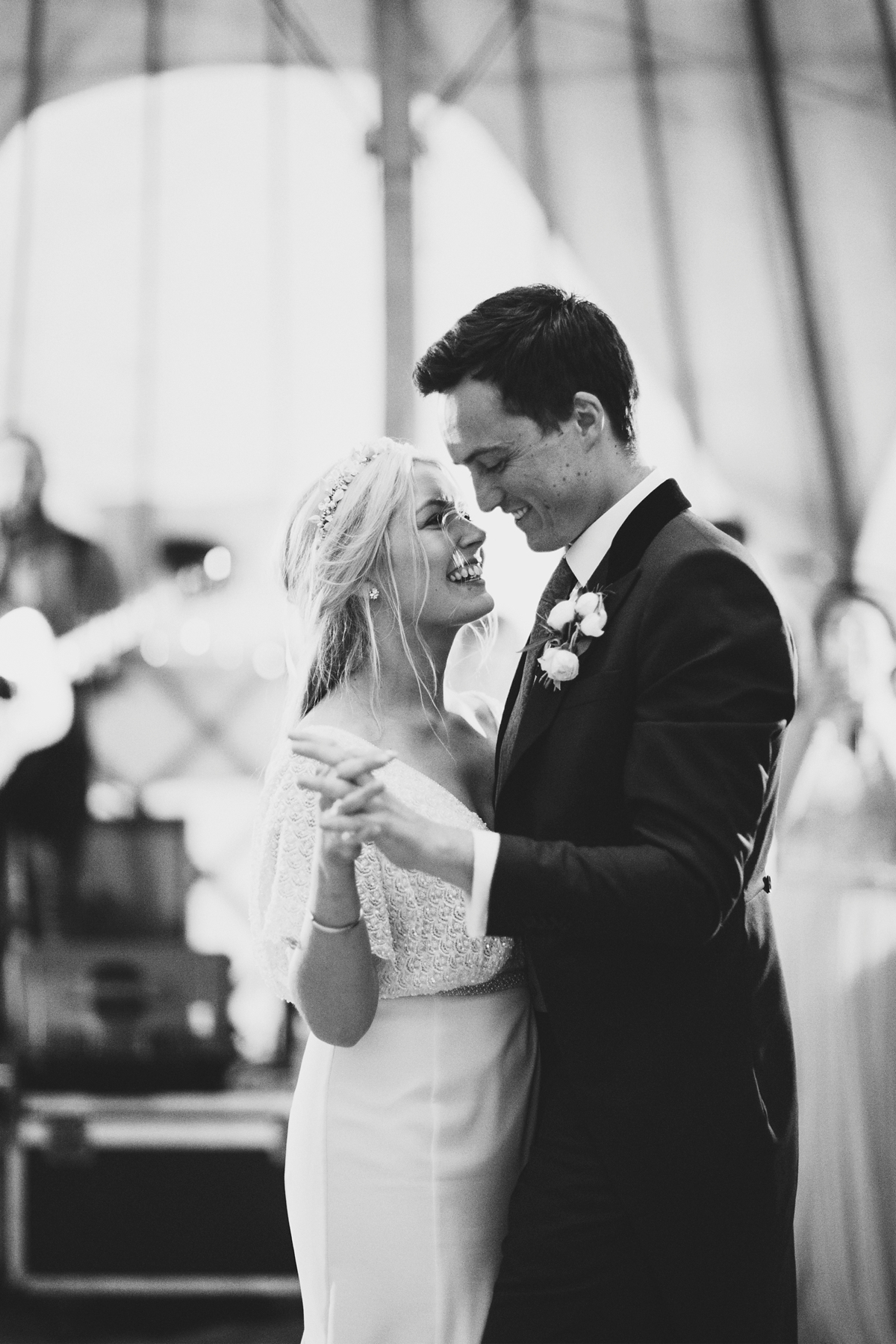 "In our party yurt, we booked Hipster to play us into the night. They were a massive hit – with the venue owner and caterer asking for their details. We went slightly over our budget when booking the band, but it was so worth it. Seeing everyone on the dancefloor, going crazy to Hall and Oates was exactly what we wanted."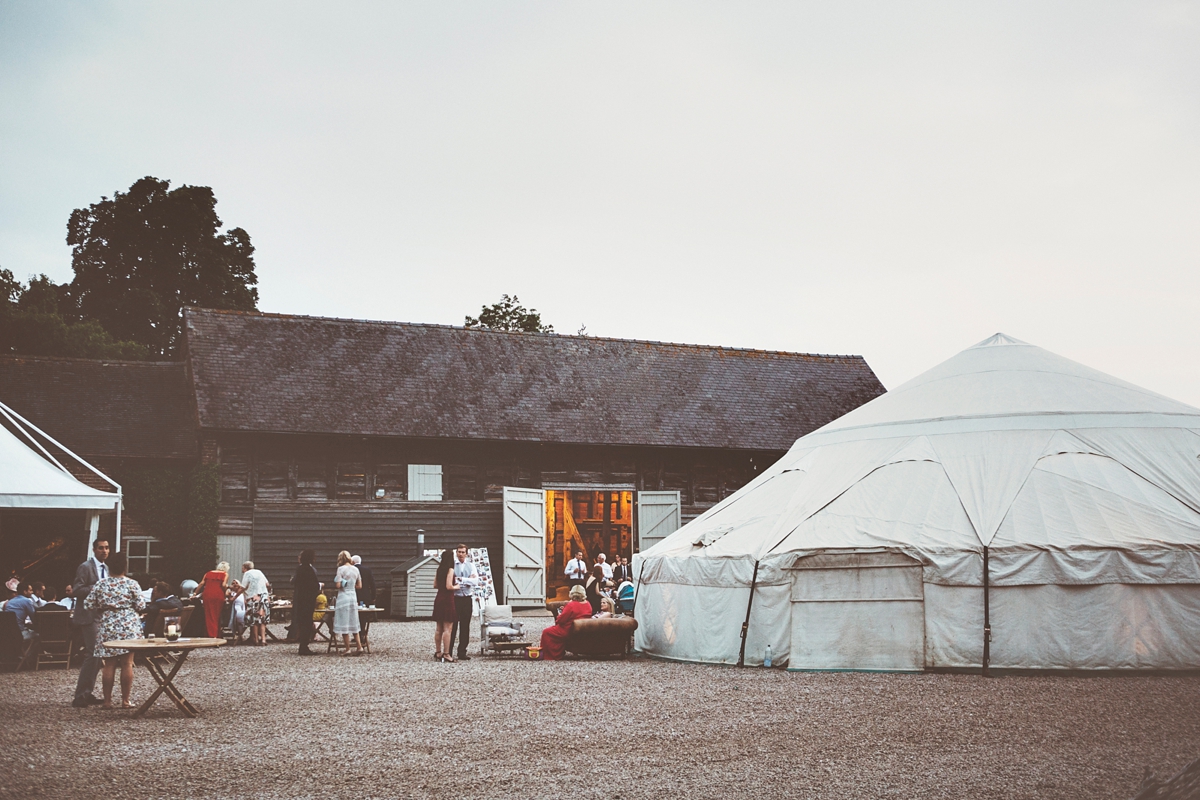 Words of Wedded Wisdom
"I would advise future brides to stick to their vision. Be flexible and take advice but be true to what you want. It is yours and your partner's wedding day. Sometimes our friends and family couldn't really see why we were picking a certain supplier or taking certain decisions, but on the wedding day it all came together and really represented us as a couple."
"I would also recommend that you try your hardest to let comments about wedding logistics wash over you. You will go to great lengths to organise the most incredible party for your friends and family, but you will still get comments about how far away the hotel is or people calling you on your wedding morning asking for the postcode of their accommodation (no idea!). Don't take it personally and keep smiling."
"I won't say how much we spent as my parents might go mad, but I will say we went over budget by about £10,000! It is so tricky to keep everything under control when your mantra becomes 'it's our wedding day, so let's go for it'.
I visited Love My Dress every day as a source of inspiration, as it included a variety of styles and budgets, and acted as a great source for suppliers."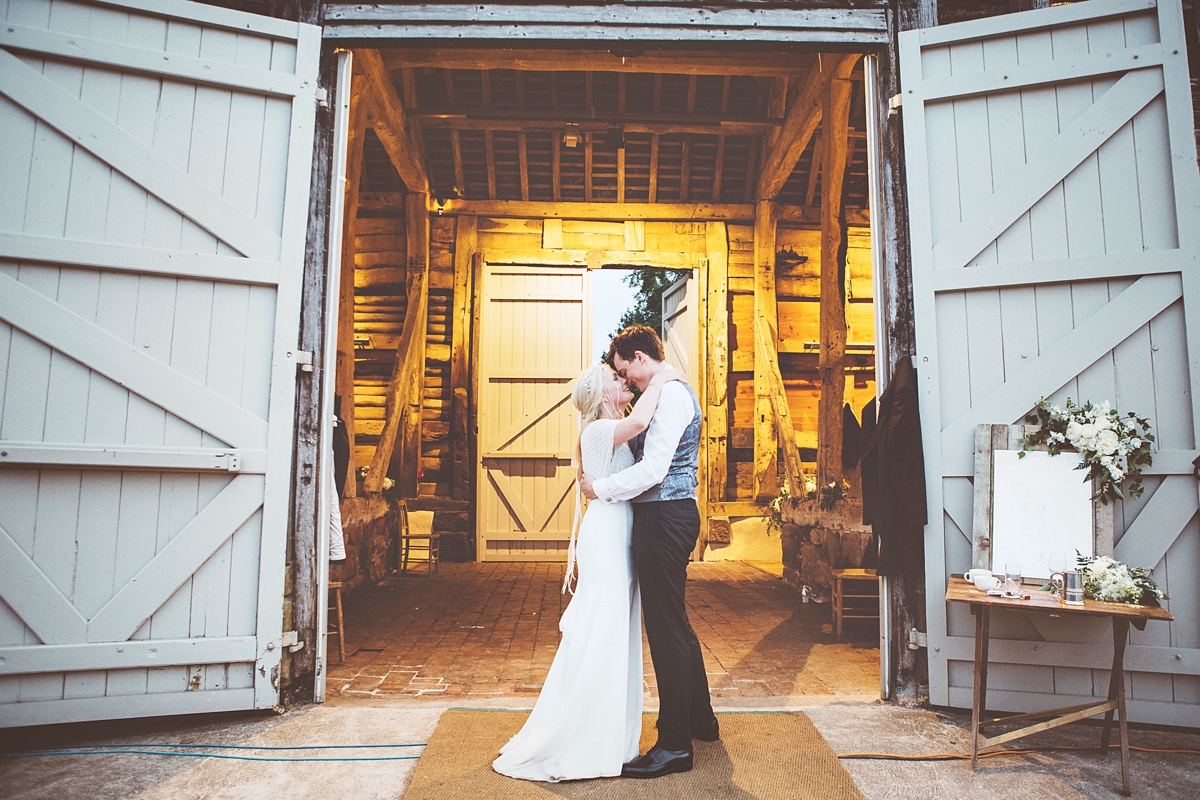 Love Annabel x