Good morning ladies! I hope you're well and ready for another goregous wedding to inspire your plans. This time we're heading to France for a very beautiful countryside wedding. Being an overseas wedding, the sun was of course shining, another point towards the case as to why overseas weddings are always a fabulous idea! So, let's meet todays bride and groom shall we?
Director of Marketing Elsa and Software Writer Pete were wed on 19th August 2015 at Fort Saint-Andre in Salins-les-Basins, France.
"We both wanted something elegant but not too fancy and a little bit on the rustic side for our day, as it was happening in the French countryside. It was hard to dress the whole place as it was so huge. There was a marquee, big gardens and a huge chapel that we turned into our disco. Having worked as a wedding photographer myself previously, I had attended fabulous weddings but there was one which stood out and was my main source of inspiration. It had taken place in the English countryside in the brides parents property – a 17th Century house. It was a black tie reception with an effortlessly beautiful set up and lots of white flowers and rich dark green leaves like laurels, lavender and a touch of gold."
"Pete and I organised everything ourselves and really regret not getting a wedding planner. We heavily relied on the help of our friends and family. For example I got my dad to build a bar. Getting things built was a lot of fun. The venue only provided the walls, tables and chairs, so we had to source our own caterers, table cloths, crockery and organise the DJ, musician, fireworks etc. On the day it was a real nightmare for me to make sure that all the different elements and people were coming together on time and nicely. It all worked out in the end and I don't think our guests noticed, but it was exhausting for me and not everything went as smoothly as I'd hoped it would."
There to capture the memories of the day on camera was photographer Emma Case.
"I came across Emma through our Art Director at work. He had attended a friend's wedding and she was their photographer. He described Emma as an out-of-the-box photographer with a great style and was staying as far away from the clichéd love photo's as possible. I was into wedding photography myself at the time and I started following her and her work, and she became my guru! When I got married, I just wanted the best photographer out there to do the job and I knew straight away she was the one for me."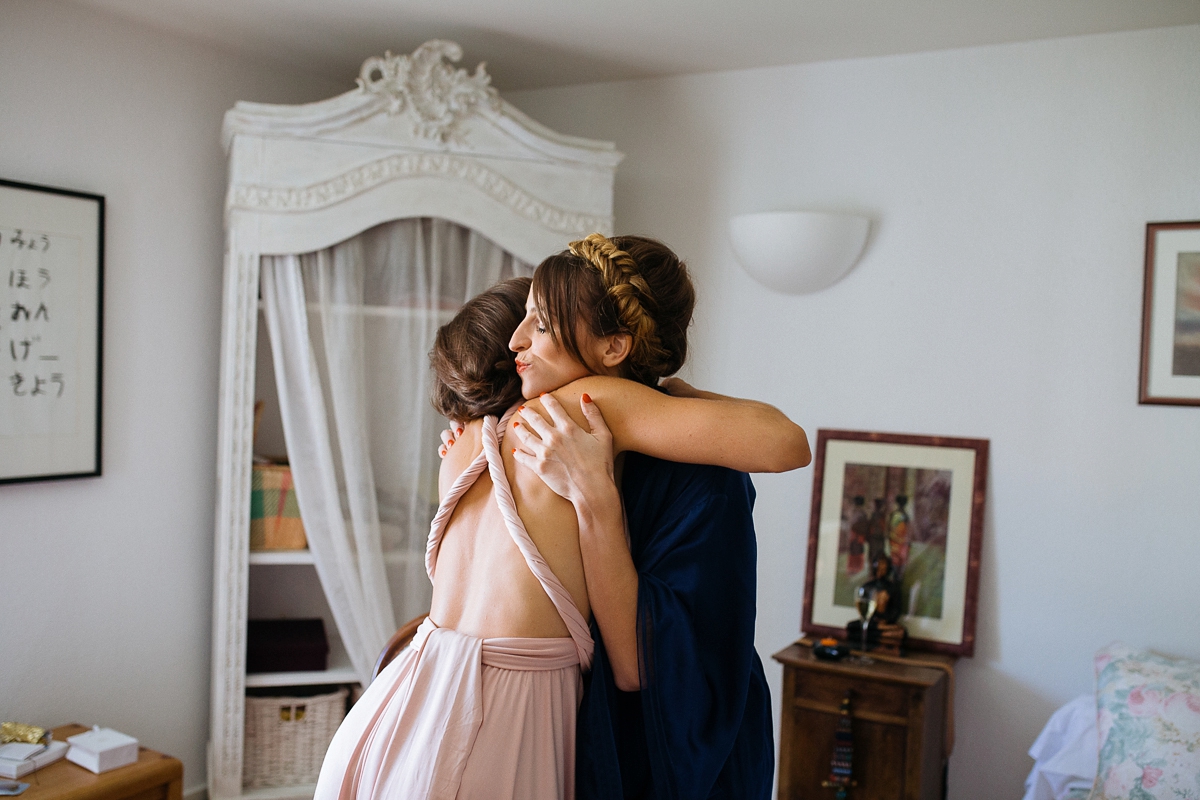 For the day, the bride chose a gorgeous long sleeve lace dress by Irish fashion designer Natalie B Coleman.
"Natalie is a friend of mine and I absolutely love her pieces, so when she offered to design my wedding dress, it was like a fairytale come true! I wanted something light and ethereal, with a vintage look and a modern twist. Natalie managed to bring all of these elements together. Her dress was made of French lace with a metallic woven through it, which was laid over cream silk crepe cut on the bias. The skirt was different layers of white silk chiffon, with a deep slit to the front."
"The dress was designed in Dublin but it soon became difficult to travel there for fittings, so Natalie put me in the very skilled hands of Nafisa Tosh who was based in London."
"Nafisa used to be a part of the couture/made to order team at Alexander McQueen from 2005 to 2008. She adjusted my dress so it fit me perfectly and she also added some lovely details like the vintage bead collar as well as my 'something blue', a lovely blue knot in the inside of the dress."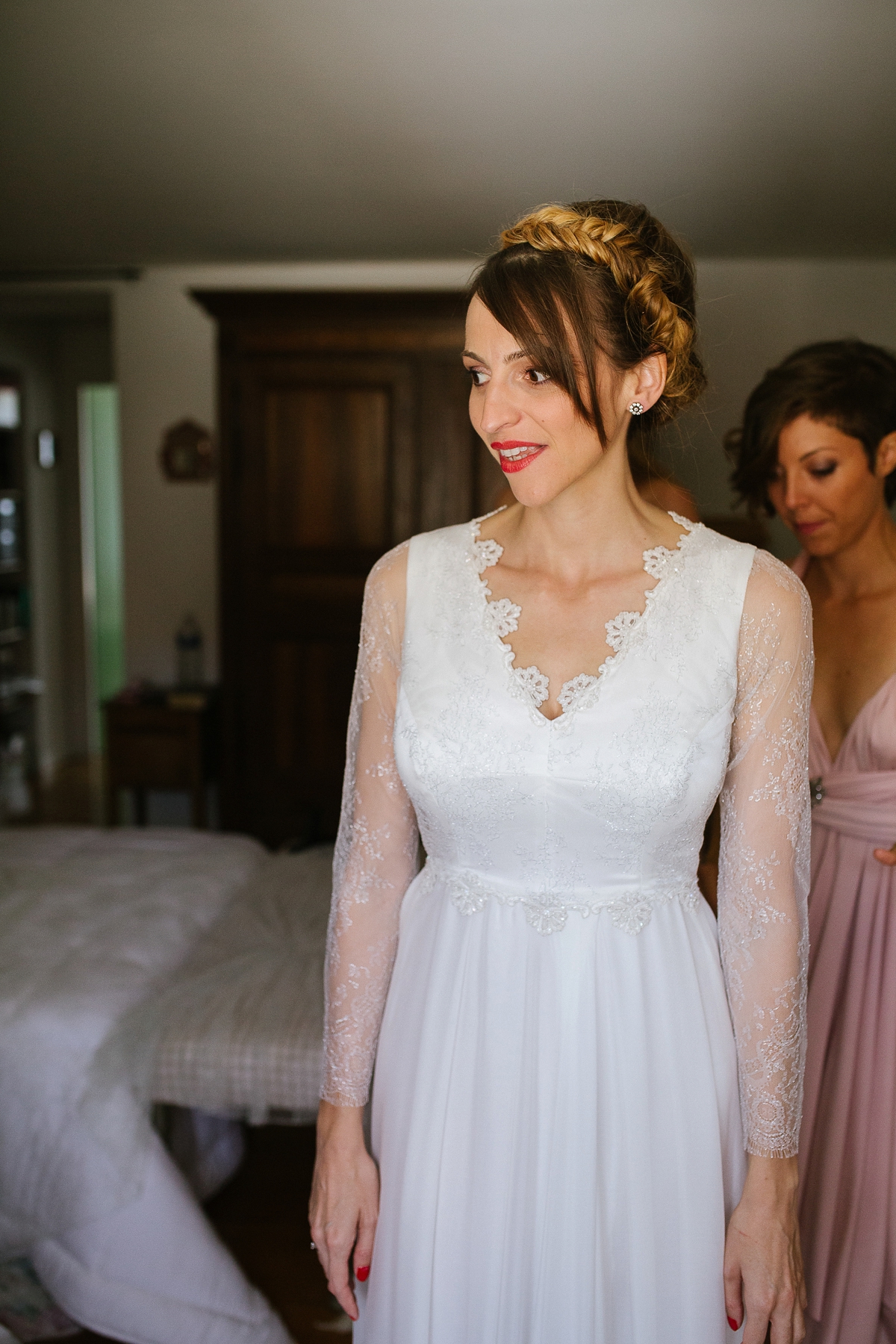 "Nafisa also made my veil from the metallic French lace. It was gathered onto a vintage hair pin on the back of my head. My shoes were Rachel Simpson and they were called the Mimi in ivory and metallic silver."
"I bought different hair jewellery pieces, but in the end, I kept it simple and didn't wear them. My hair was done by a friend of mine who works for Vidal Sassoon and she created a long fish tail which wrapped around my head like a crown. I wore the peach blossom and honey scent by Jo Malone. A friend of mine gave it to me as a present and it reminded me of her. It also added a little touch of London to the wedding day."
"I love vintage jewellery – I just think nowadays jewellery doesn't have the same elegance and is generally just too shiny. Pete offered to buy me the most beautiful earrings as a wedding present. He bought them from my favourite vintage jeweller in Hatton Garden in London and they're from 1936 and made of cluster diamonds in the shape of a daisy"
Elsa first met Pete whilst looking for a flat in London and a room was up for rent in Pete's but their love story didn't run smooth…
"I met Pete in 2008 when I found an ad on Gumtree for a room to rent in a flat in Dalston. I turned up and was welcomed by two Irish lads Paul and Pete. Paul was leaving the flat and needed to find a replacement. We had a good chat and I left thinking it would be the perfect place to live. Two days later I received a message from Paul to say the room was mine if I wanted it – I couldn't believe it! Pete had a girlfriend at the time back in his hometown in Ireland so he was always travelling between Dublin and London, so much so that I had the place to myself most of the time."
"After two months in the flat he told me he was going to move back to Ireland as his life was there. Before he left, he asked if he could leave his large collection of vinyls as he couldn't carry them all back, which was no problem for me. A few months passed and the vinyls were still there…3 years later, the vinyls were still there!"
"One day Pete organised to come and pick them up and luckily I was still in the flat. We grabbed a drink in the beer garden in Stoke Newington and that was the end of it. A few years later, Pete moved back to London and got in touch to organise a drink for old times sake though it never happened! A few months later I received an email and Pete had moved back to the same building and was living on the third floor!"
"As you can imagine, this made things much easier to meet up again and that's when it began. A few months later we were dating and when my flatmate moved out, Pete moved in with me."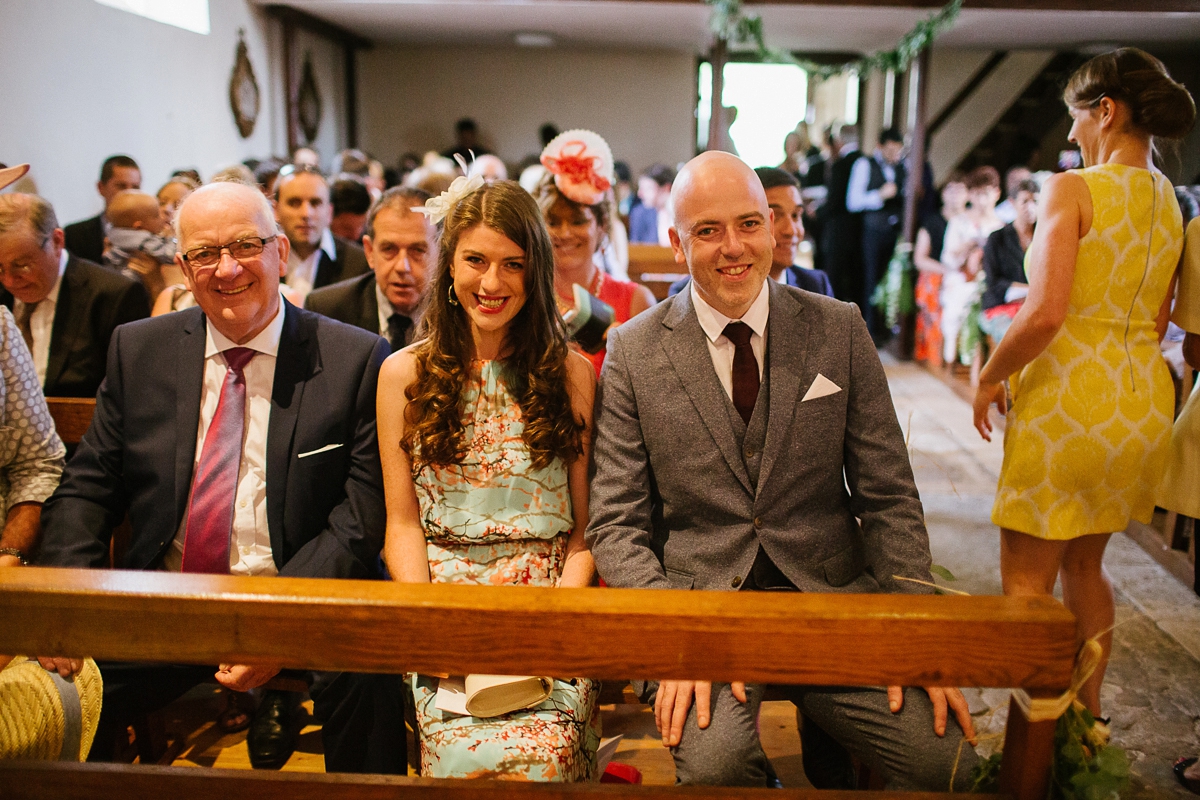 "A year later, we went to France for Christmas and completely out of the blue, Pete proposed in my parents garden in the freezing cold. I was in total shock! We had only been together for a year and a half and I wasn't expecting it at all. I think my first answer was 'no, no, no, no' – I just never imagined this would be where and how I got engaged."
"After a few minutes I said yes and after the initial shock, I couldn't have felt happier! We got married 18 months after that day, which left us a lot of time to prepare (at least we thought so at the time!). We booked the venue a year in advance and we got in there just in time."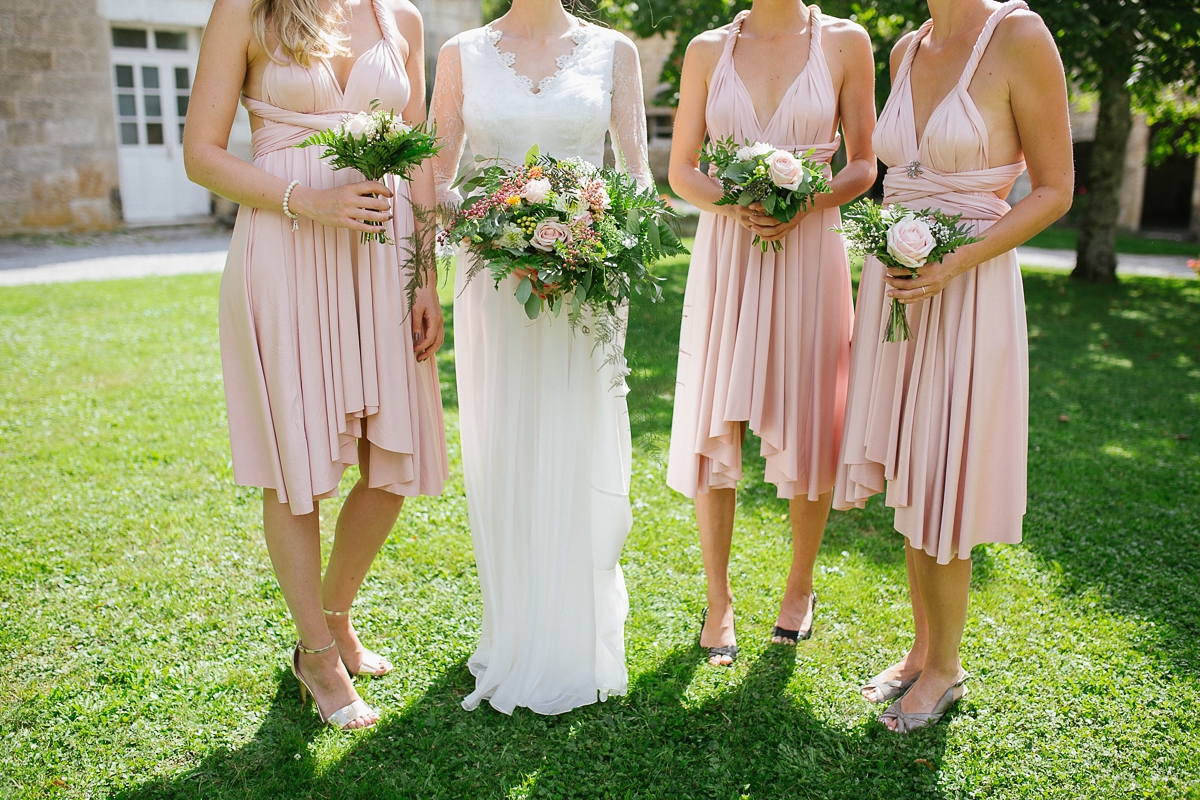 "The Forst is located on a leafy hill and dominates the small town of Salines-les-Bains, where I grew up. I always dreamt of bigger and more exciting places to be and spend my life and as soon as I was old enough to do so, I escaped to other countries. I now live in London where I've spent the last 10 years and is where I met Pete."
"So many times I have seen the Fort through school windows and never would have imagined getting married there. However, 15 years later it's the venue we chose to host our French and Irish wedding. I guess you never realise how important your roots really are!"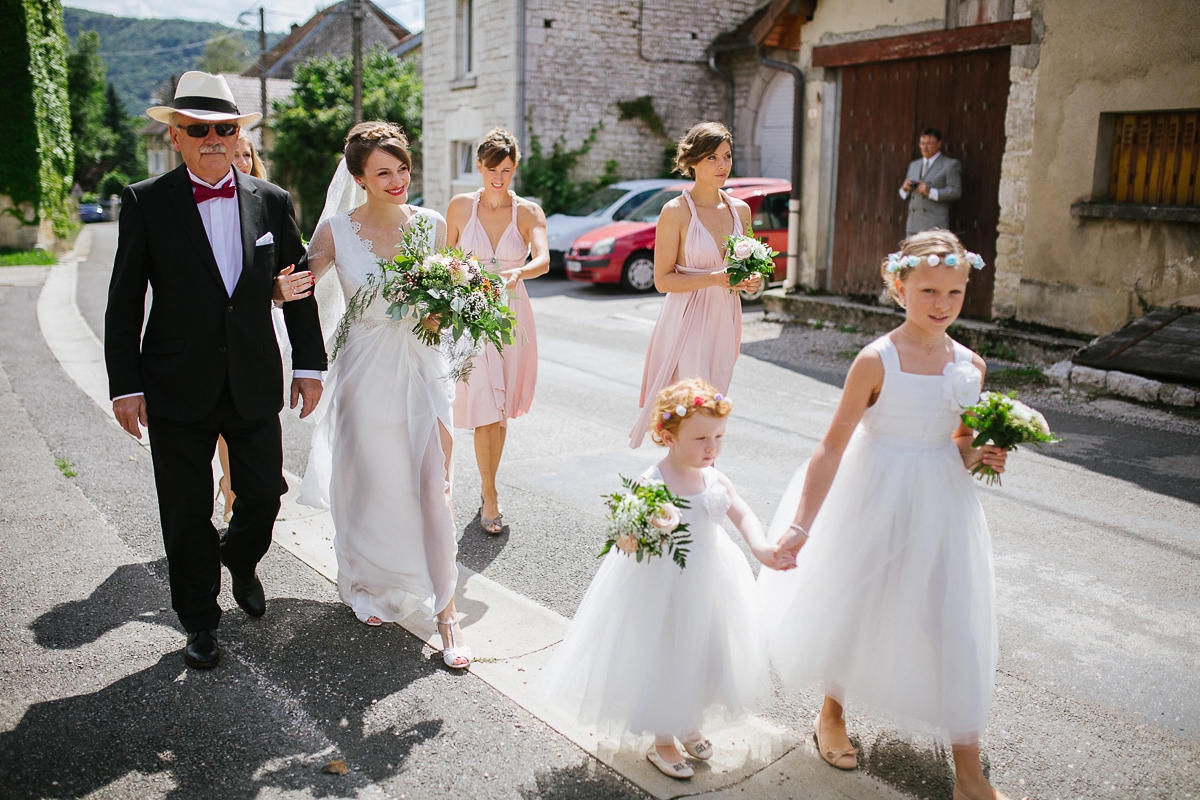 As Catholics, the couple chose to be married in the church in the village Elsa grew up in. With church marriages being such an important part of both families traditions, they decided to go for a religious ceremony.
"The wedding ceremony took ages to plan. We wanted all our guests to feel involved so we included some parts in French and others in English. We also had two priests! The French priest from the local parish and Father Paul Hampson, the family priest from Ireland. It made our ceremony really warm and friendly. Some older relatives told us afterwards that it was the most unusual wedding mass they had ever attended."
Elsa's father accompanied her down the aisle to, Pete's younger sister, Laura playing the tin whistle and singing She Moves Through The Fair, a traditional Irish folk song both Elsa and Pete liked.
"We didn't have vows. I'm quite a prude when it comes to shows of affection in public and I couldn't share such personal feelings with the room, may they be family and friends. So we decided to say our vows privately. We were very fortunate that the priest allowed us to do so. We then had a mix of readings and songs from all over including the poem The Cloths of Heaven by Irish poet William Butler Yares."
Elsa's bridesquad looked beautiful in nude pink infinity dresses from Etsy and her flower girls were super cute in white tulle dresses by Paul Costelloe via Dunnes Stores in Dublin.
The couple chose their wedding rings from two different suppliers in Hatton Garden.
"Pete's ring is from Berganza, a shop specialising in antique rings and vintage jewellery. It's a wide ring made of Welsh gold from 1916. My ring is an 18ct rose gold diamond half eternity ring."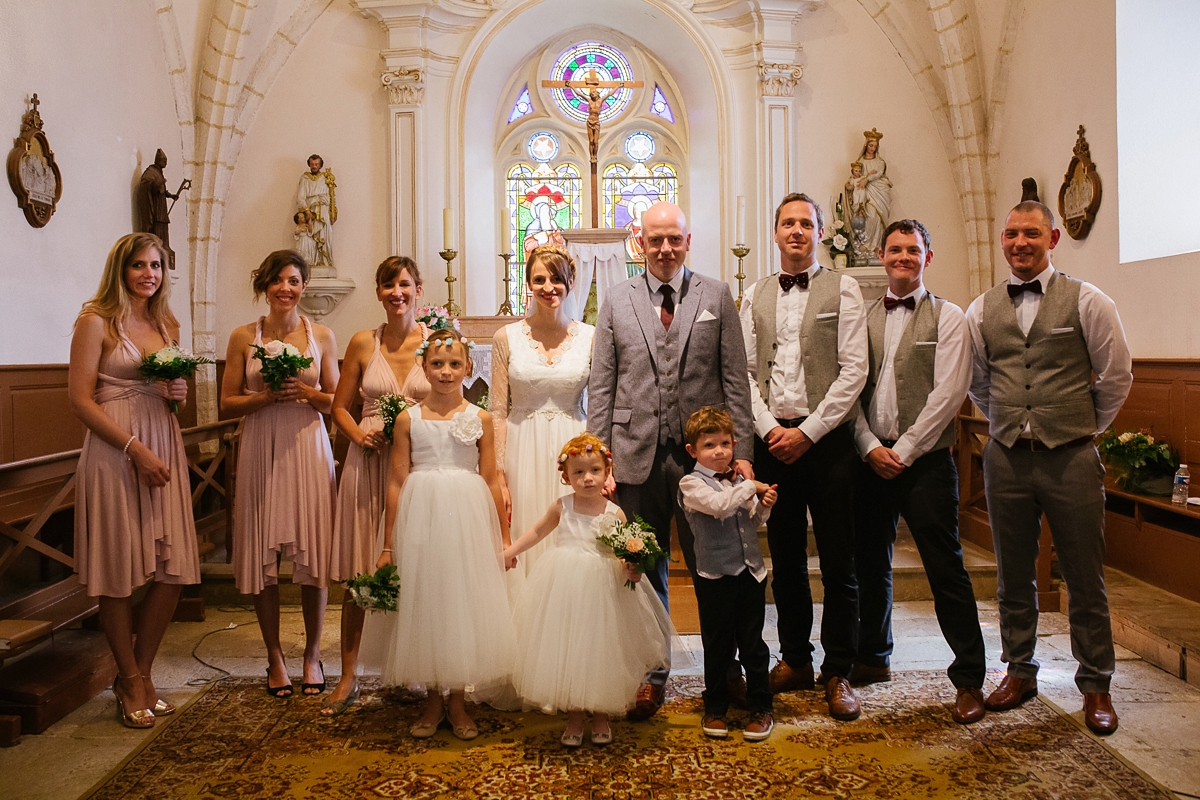 To compliment the gorgeous French surroundings, Elsa opted for a mix of greenery and light pink flowers for her bouquets and decoration.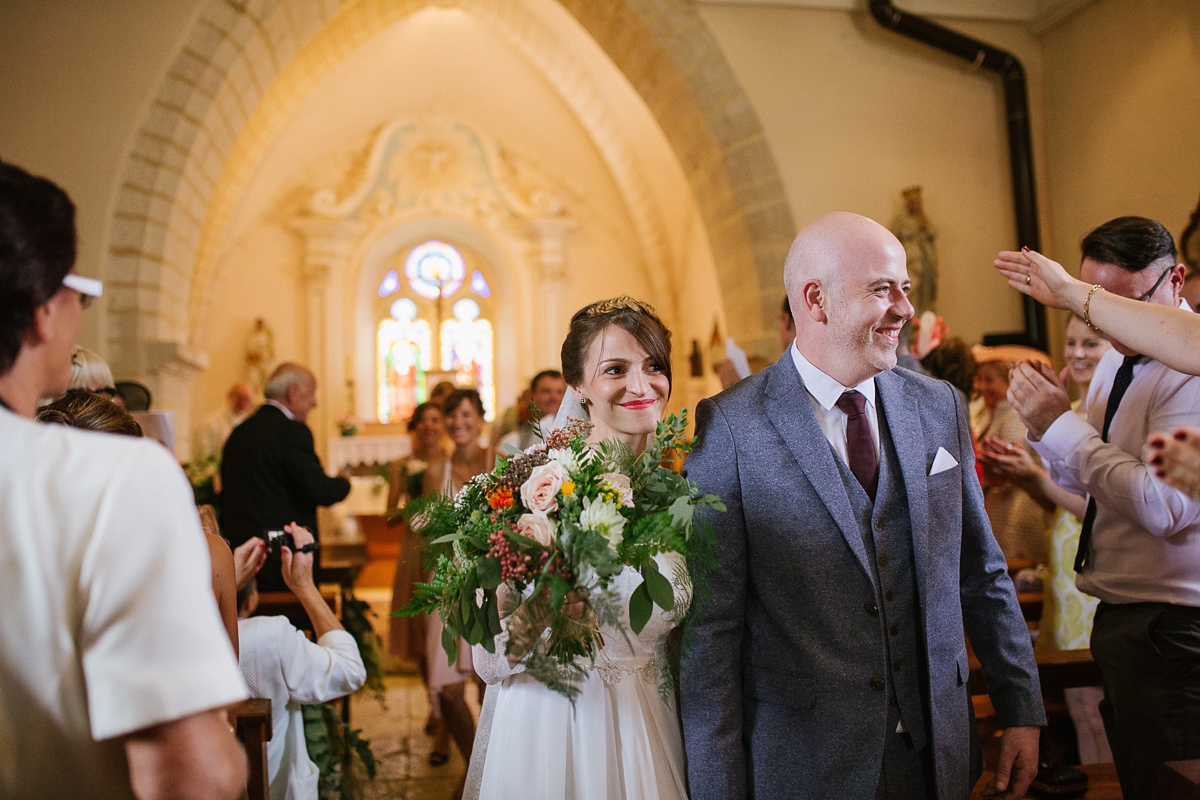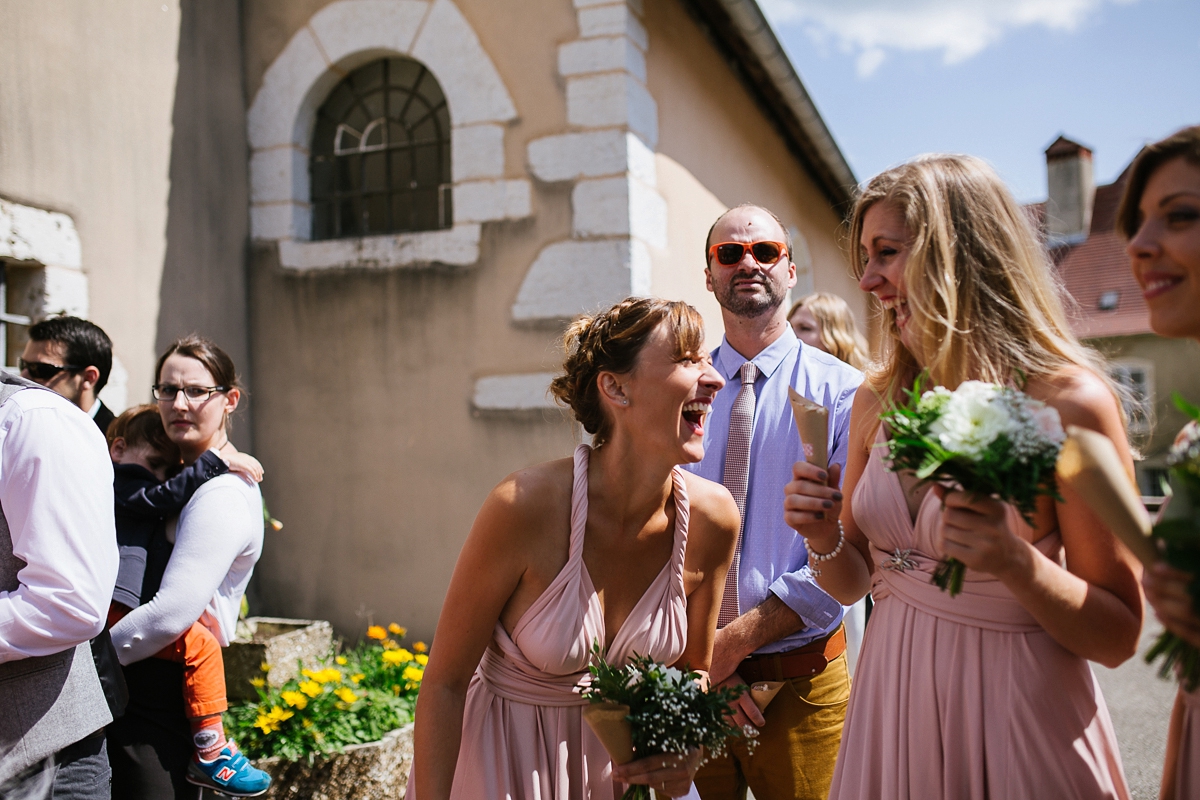 The groom scrubbed up well too in a light blue silk and wool mix 3-piece suit from Beggars Run in East London.
"I've always known Pete wearing a flat cap (is it an Irish thing?!) so we thought it would be nice for all his groomsmen to wear one. Once, on a trip to Brooklyn, we fell in love with the hat shop called Goorin Bros and both came back with a silly amount of hats. Unfortunately in 2015, we had no plans to go back to America and couldn't find the hats anywhere online. Luckily one of our friends was travelling to New Orleans that summer so we gave her the mission of finding 4 grey flat caps from their shop there. The flat caps arrived the day before the wedding with our friend and they looked awesome!"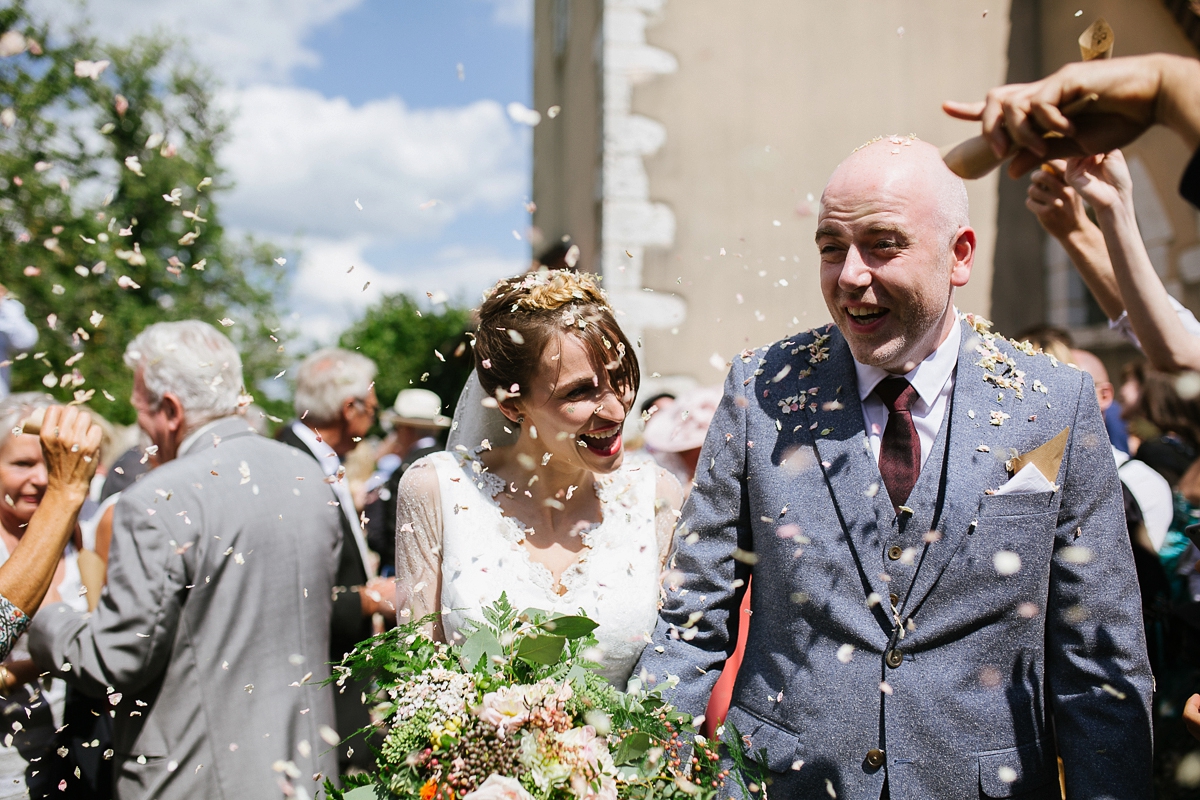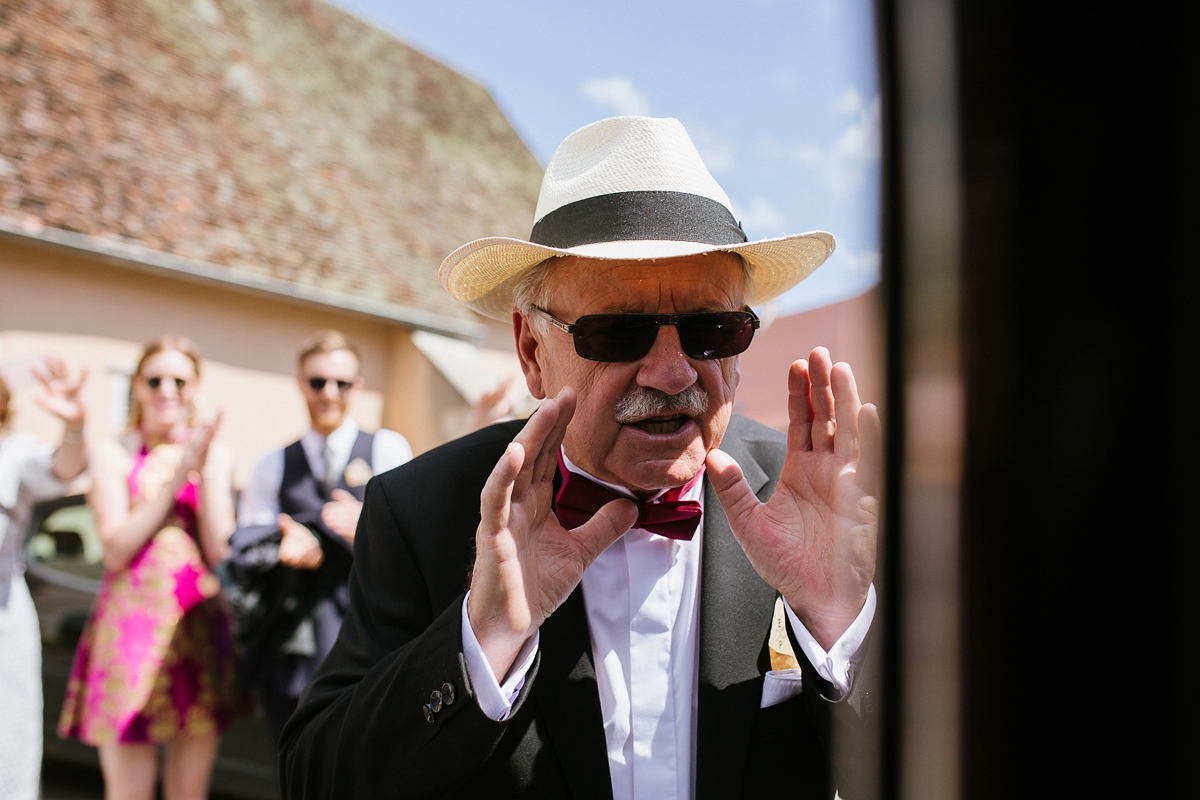 After the ceremony, the couple travelled from the church to the Fort in an old London black cab which, despite being in one of the most remote parts of France, they managed to source for the day.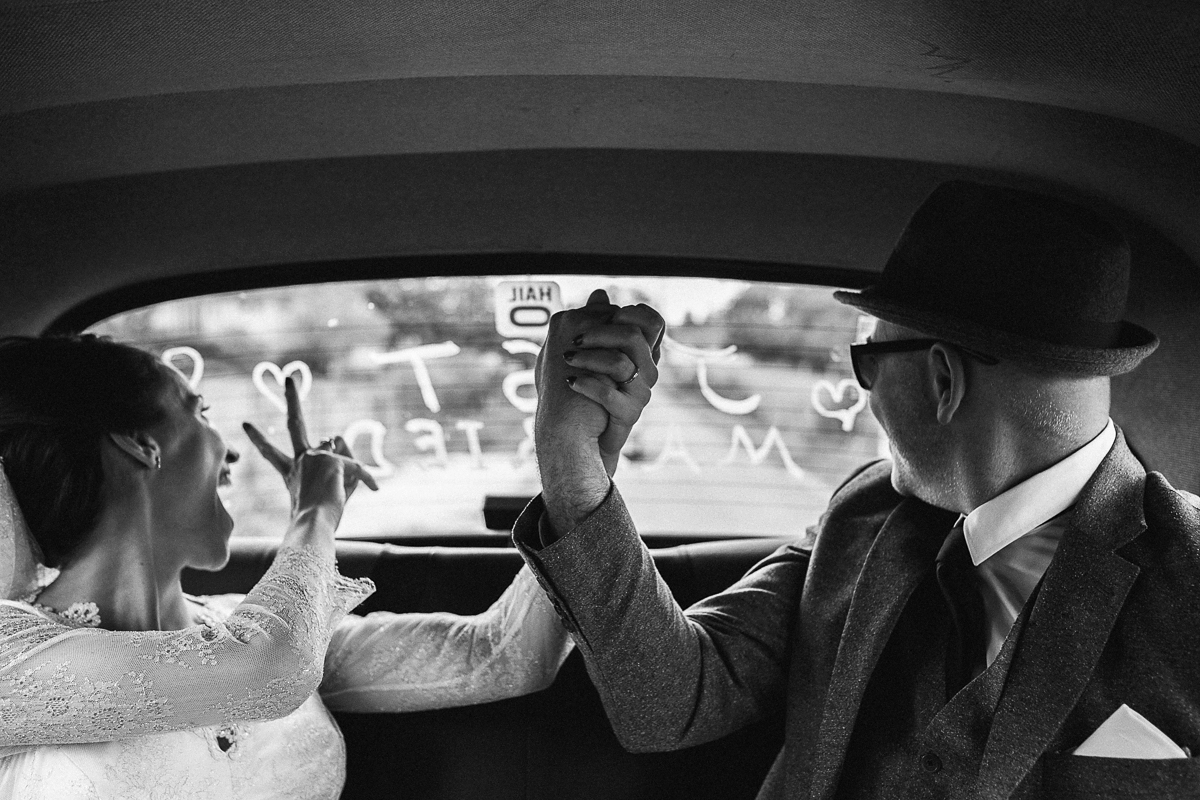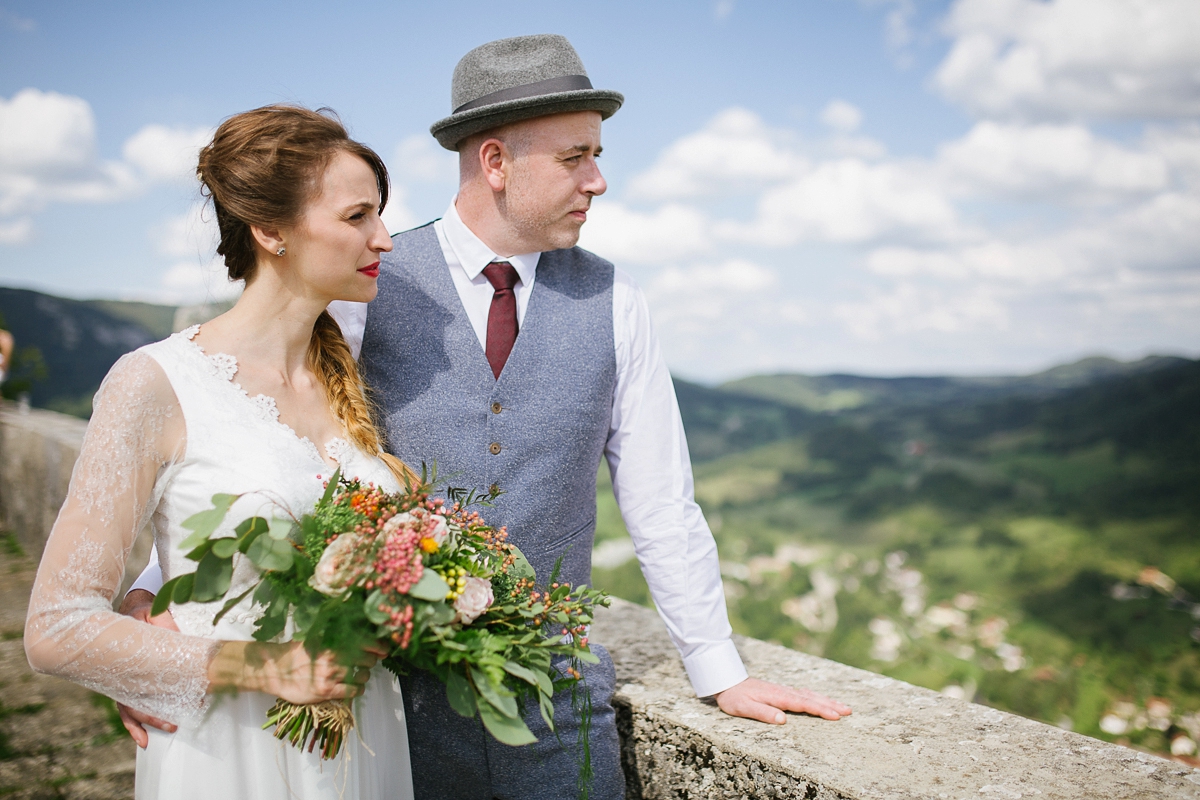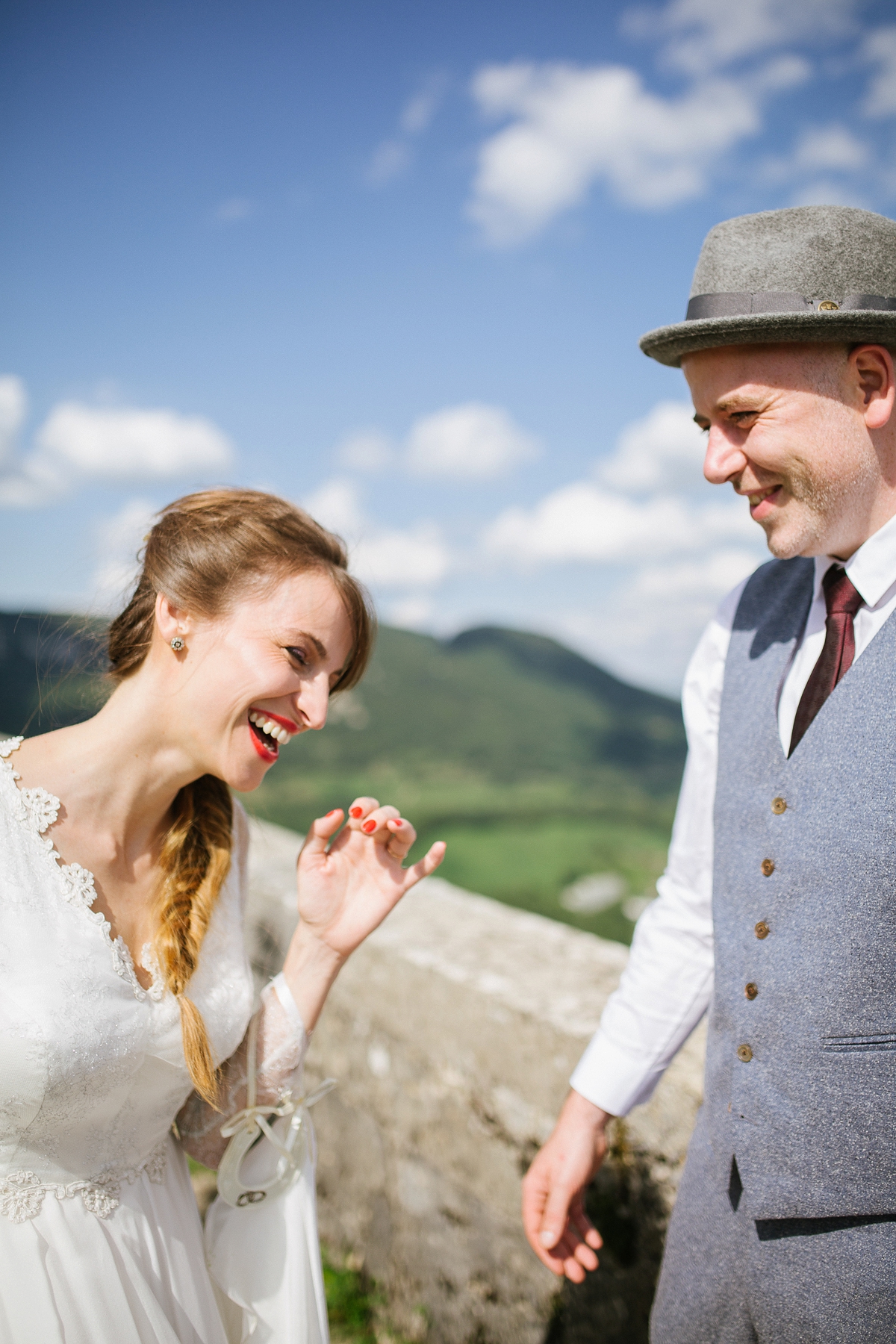 Guests were greeted with canapes and a drinks reception before heading inside the fort for the wedding breakfast provided by local caterers Traiteur Bonnet, based in Pontarlier. Once sat down they were also treated to favours of mini succulents for the ladies, bought from a local garden centre, and an IPA for the men, home-brewed by Elsa's brother. Their cake was a traditional French wedding cake called a piece montee.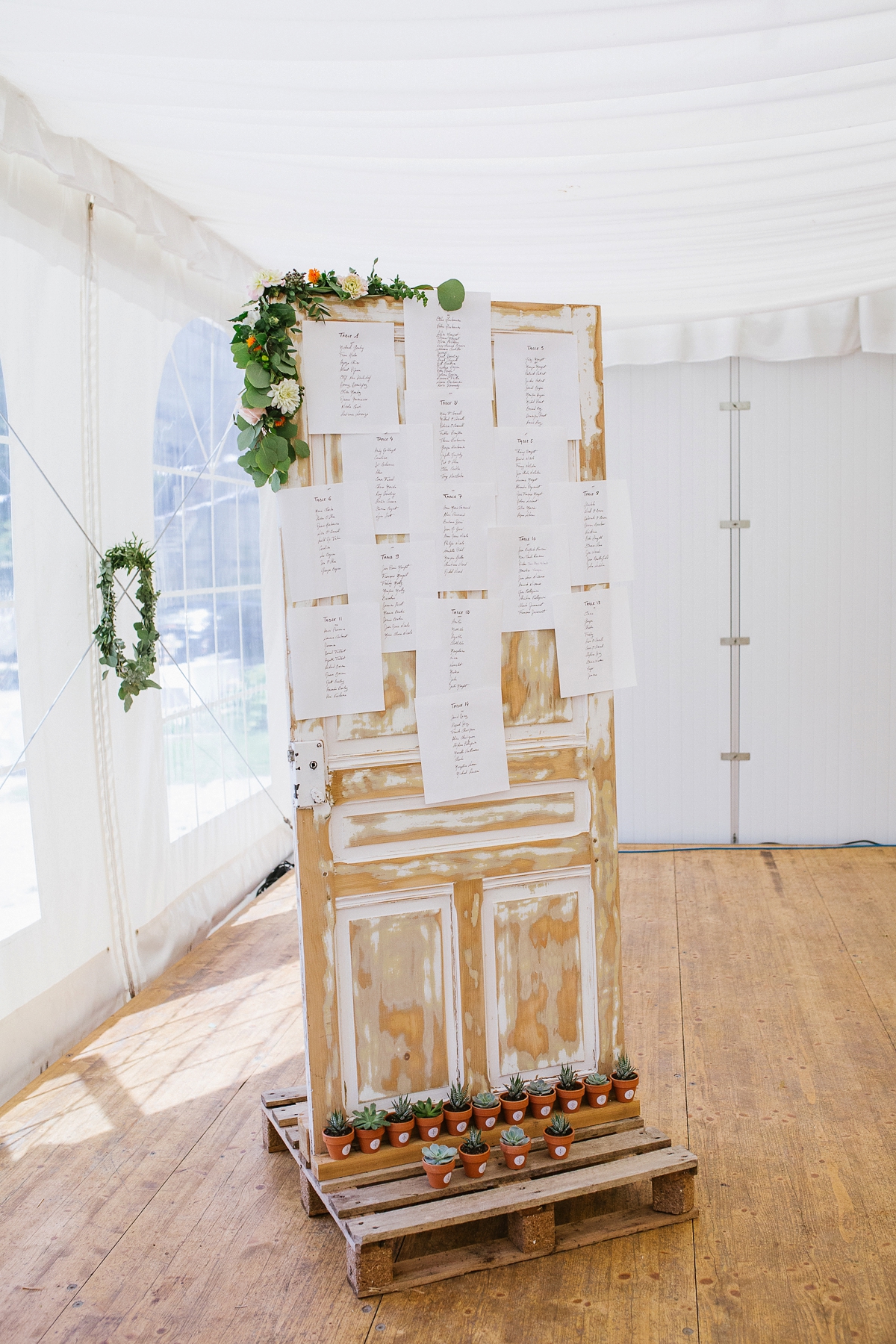 The Fort was beautifully decorated by Elsa and Pete themselves, and everything was either homemade or recycled.
"We made the bar out of pallets, a bar sign light, a wall of pallets behind the lead table to display old paintings, plants and a giant E&P made from colourful wooden thread (created by our friend Eanna the day before the wedding). We also had wooden road signage to indicate the way to the venue and used a reclaimed wooden door to display the table plan"
"Our invites were also DIY, made by Pete's best man Paul who is a senior lecturer in graphic design at Dublin's National College of Art and Design. The booklets, menus, table plans, mineral water, beer stickers and website were all designed by James Young in London."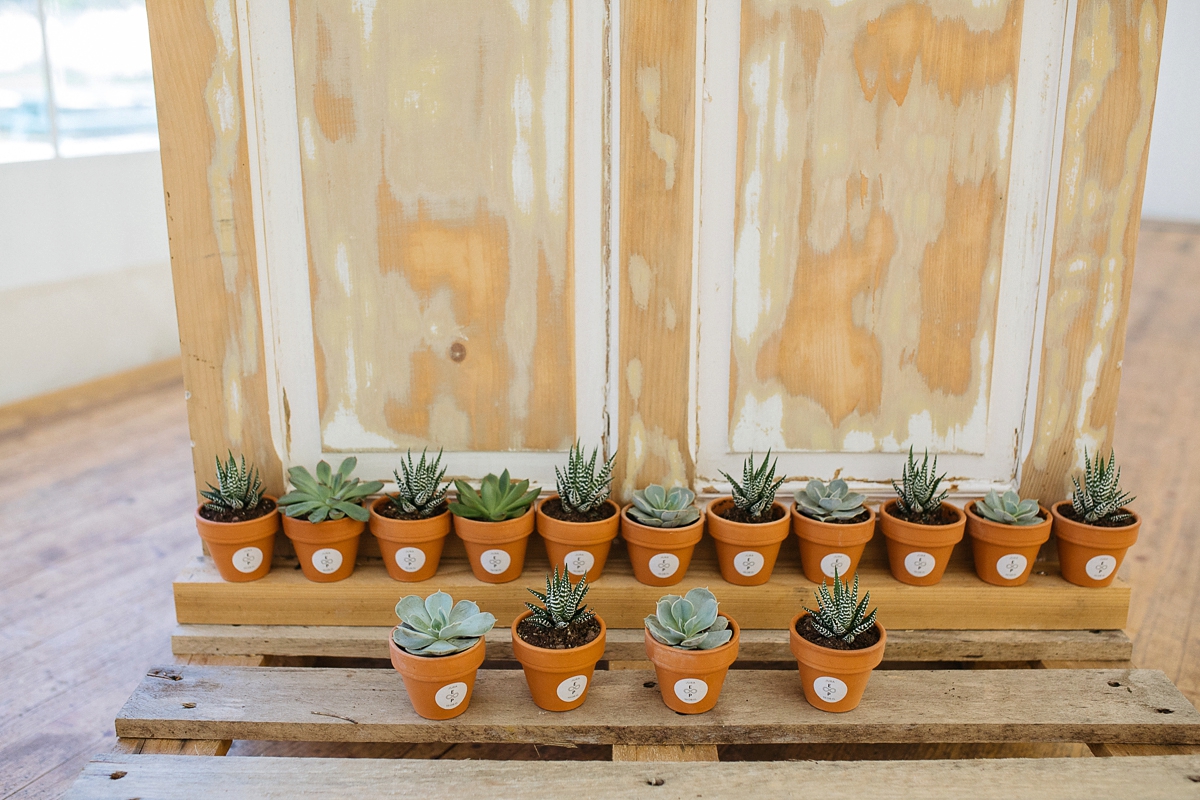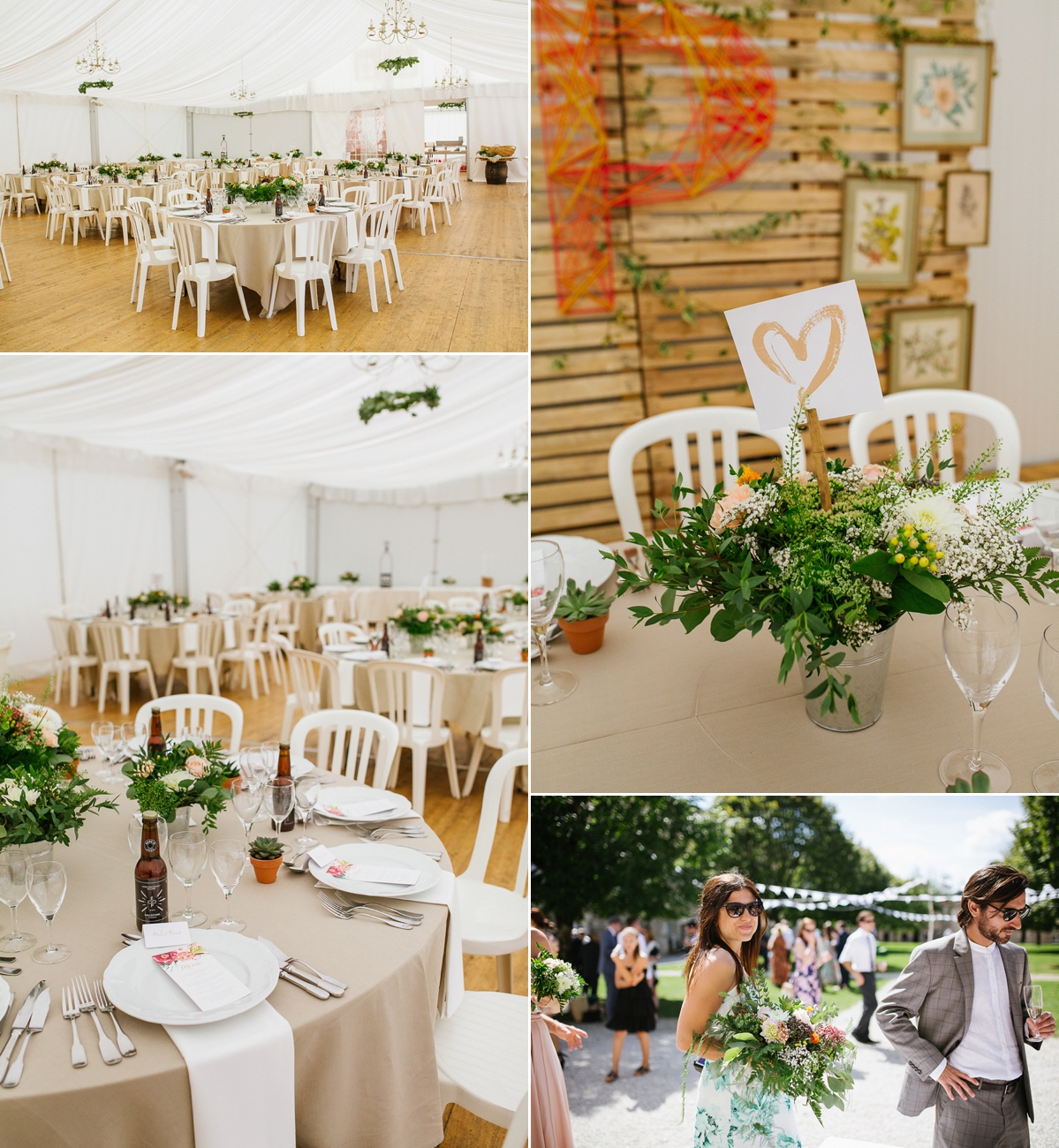 "The traditional wedding cake in my area of France at least is the piece montee. It's a pyramid of choux pasty covered with very thin threads of melted caramel and a base of nougat – yum! We got it made by a local baker and it was a great success! It went so fast I only managed to eat one choux myself."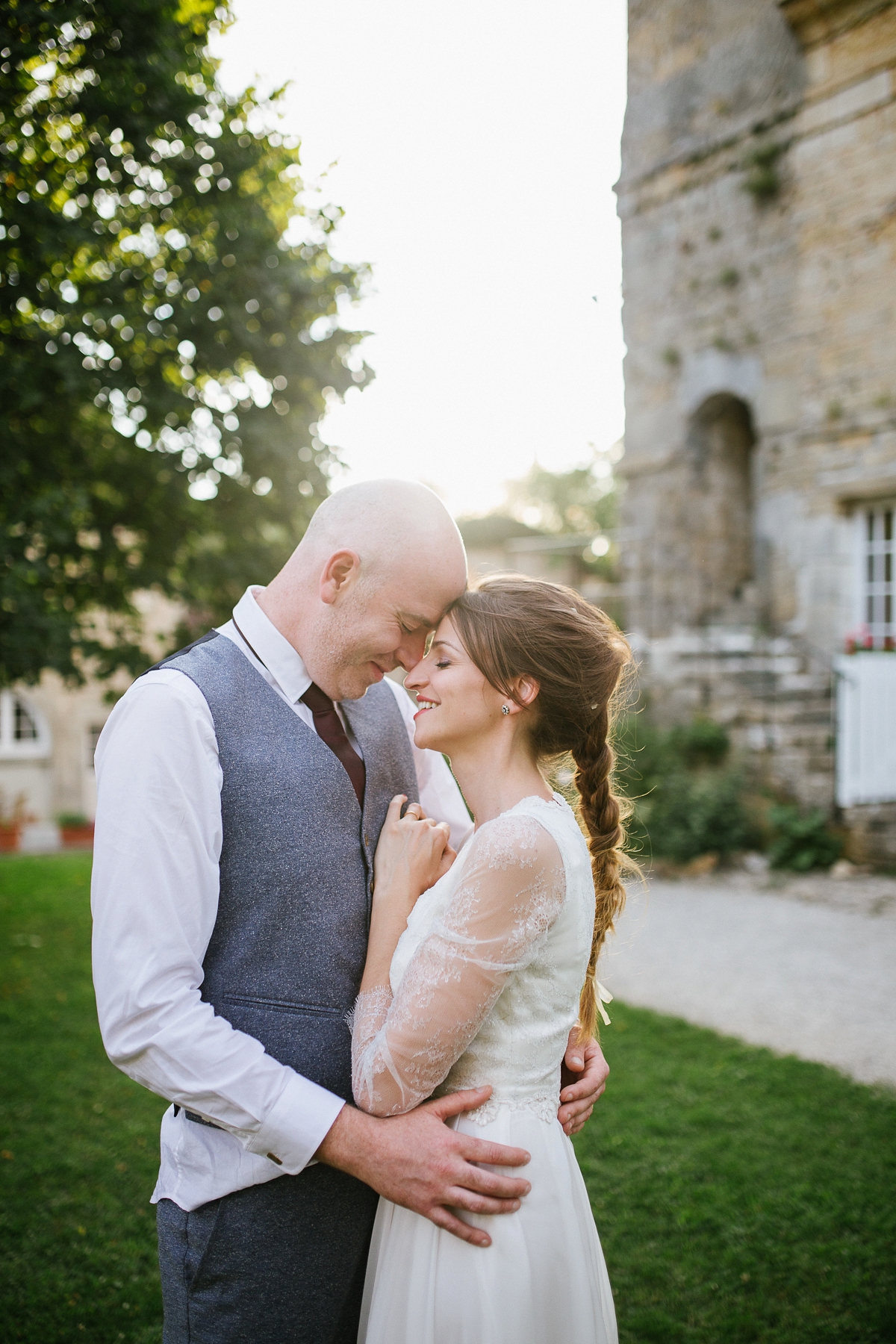 For the evening's entertainment, the couple hired a band, with their friends taking over the spot of DJ later on, before the night was ended with a firework display.
"We had a band who came to play some Irish music at the start. Then we opened the doors of the disco where a total of 9 of our friends were dj-ing throughout the night. It took place in the chapel of the Fort which we had dressed with a big disco ball and a lot of spot lights coming from the floor onto the old stone walls."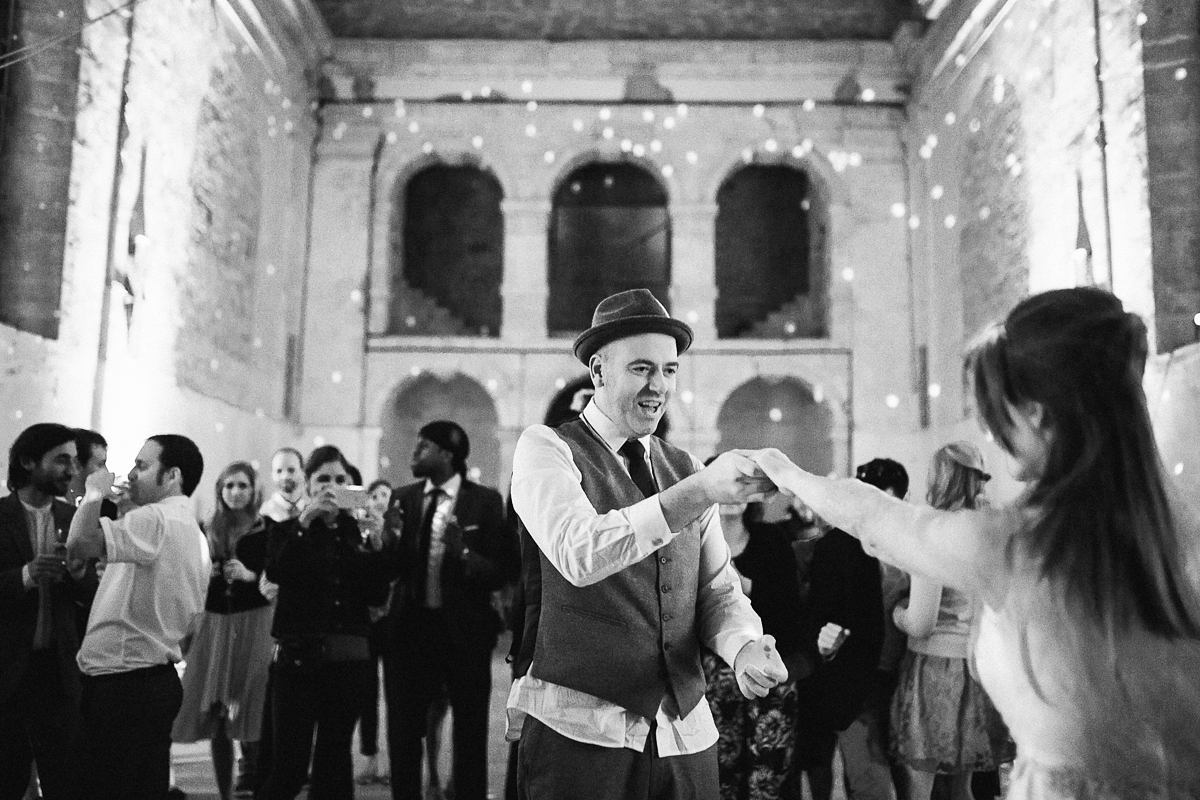 Once the day was done and she had chance to reflect on it, for Elsa, the wedding breakfast was one her favourite parts of the day.
"We loved the meal (surprise surprise!). Pete and I love food and we weren't disappointed by our caterer. I still dream sometimes about the food on the day, though I wish I could have finished my plate. Each time I got back to my seat, the plate was cleared up! It was also so nice to sit down with our closest and dearest for a couple of hours drinking, cheering and laughing. It was definitely the best feeling in the world for us."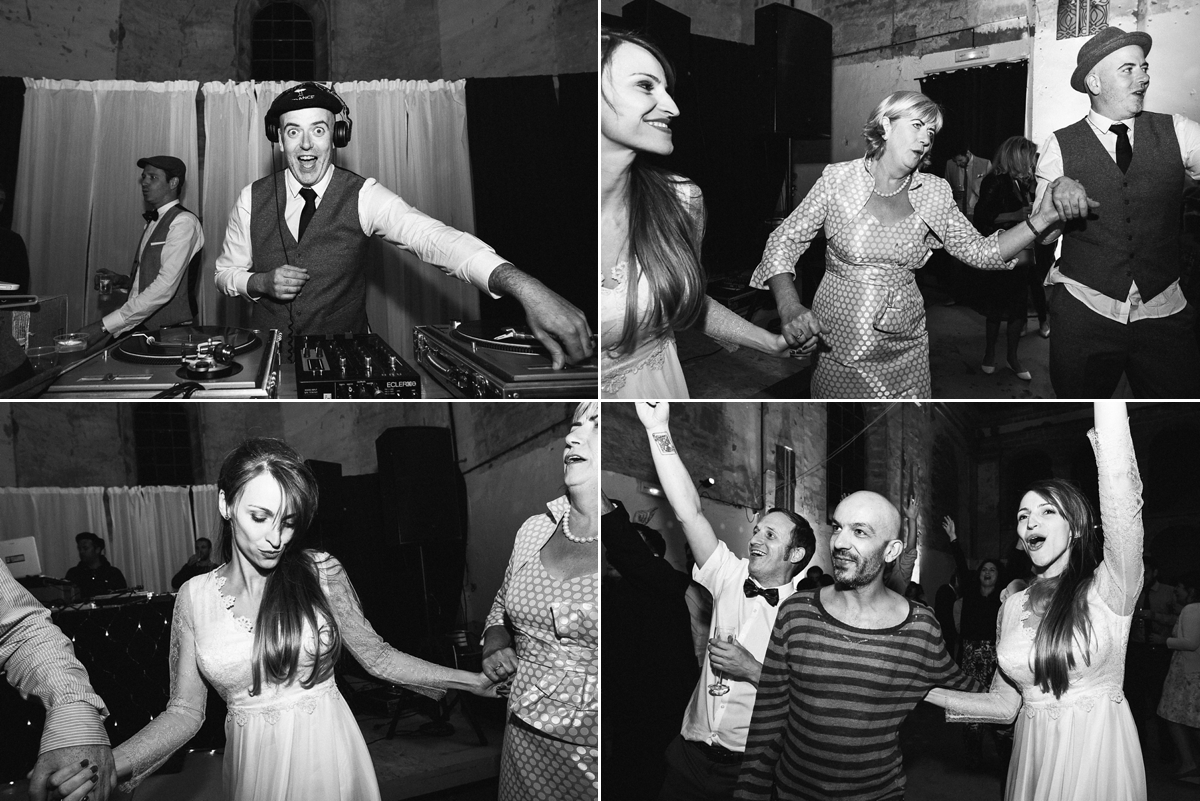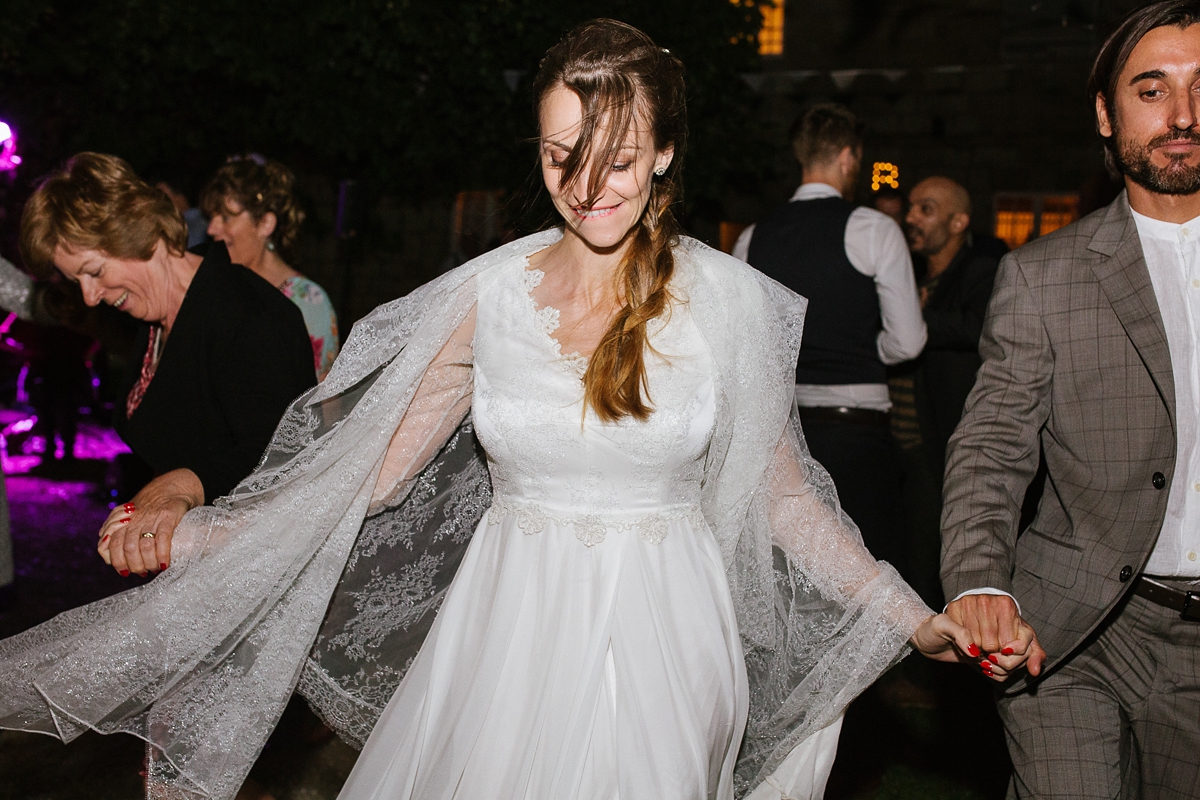 Words Of Wedded Wisdom
"Everybody told me it would be gone in a second and it really was. I do think the more simple you keep it, and the more you delegate, the nicer day you'll end up having. Relying on professionals like wedding venues and wedding caterers makes a big difference. Our wedding was more DIY style which we thought was closer to who we were, but in the end it just added loads of extra work and it meant we maybe didn't enjoy it as much as we could have done."
"I do however wish I'd had some sort of conductor to bring all the different suppliers together on the day. I ended up doing it and it added a huge stress. For example, when the welcome drinks started, I was phoning the accordionist who had forgotten the wedding was happening that day!"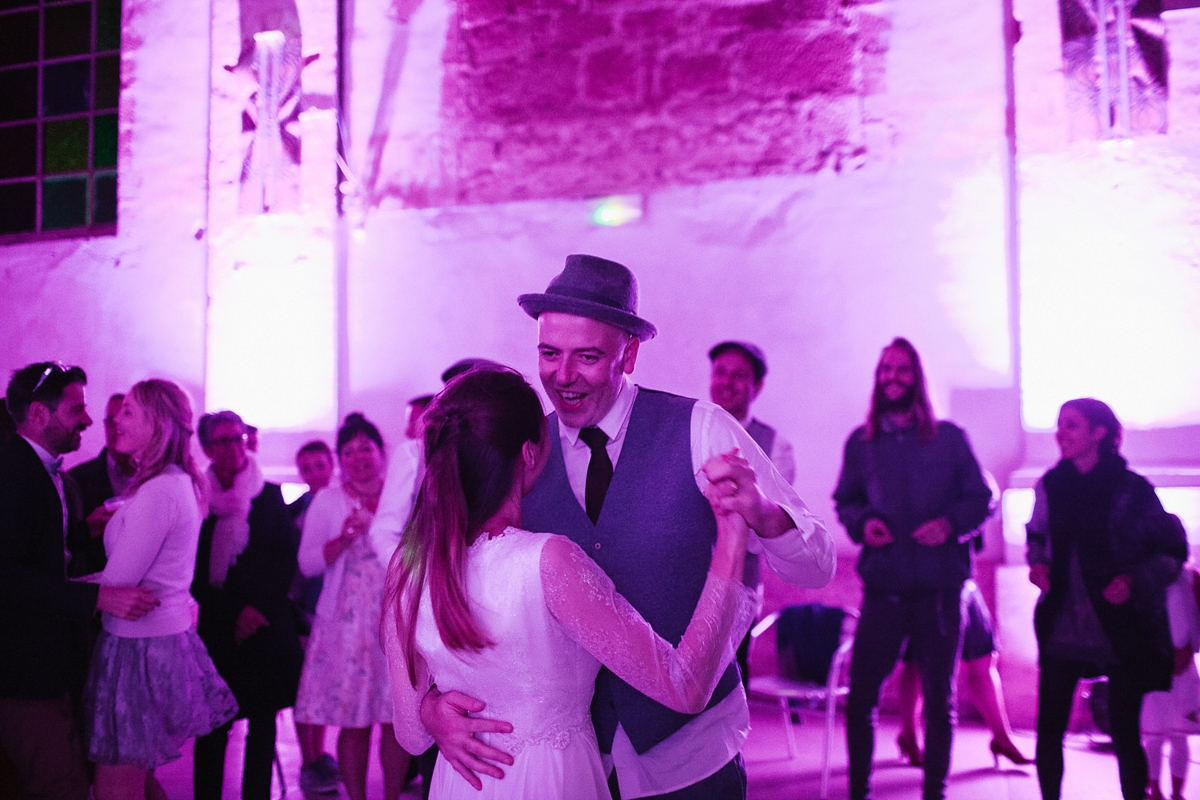 What a gorgeous day and how lucky that the couple were blessed with such lovely sunshine! Congratulations Pete and Else for showcasing just how beautiful a French countryside wedding can be, and big thanks to Emma Case for getting it all on camera.
Until next time…
Much love,
Holly x