If you're seeking glamorous winter wedding inspiration, then I have just the one for you today. The bride and groom transformed the ballroom space of their Cyprus hotel venue into an opulent wonderland full of drama and romance adorned with candles, fruit and flowers. There are also two spectacular wedding gowns from two fabulous designers, so settle in and enjoy this gorgeous feast for the eyes.
Designer Myrto and civil engineer, architect and project manager Petros celebrated their marriage on the 7 January 2017 in a church ceremony followed by a reception at the Hilton Cyprus in Nicosia. Their inspiration came from a variety of places – the Art Deco period, the Cafe Royal in London, as well as deep and dramatic shades of red and plum. Let's begin with a lovely film to set the scene, from the couple's videographers, Limelight Films.
Film by Limelight Films
Myrto was every inch the elegant and sophisticated bride, taking inspiration for her look from the glamour of 1920s fashion. On her feet she wore glittering, embellished shoes  from the brilliant Emmy London, who are also part of our new wedding directory, Little Book.
As I mentioned at the beginning of this post, there are not one but two gowns to marvel at here; the first one a beautifully detailed Jenny Packham design, which Myrto purchased from the designer's flagship London store. I particularly love the fluttering sleeves and nod to Art Deco in the fan detail on the bodice.
Images by Georgiadis Photography
"I knew from the day I got engaged what kind of bride I wanted to be; I wanted to wear something comfortable with a sleeve that had 1920s glamour. I wanted to dance the night away and didn't want to hold my dress the whole time..My church dress by Jenny Packham was the first one I tried on and I was in love."Myrto and Petros first met at dinner through a mutual friend.
"Petros said the first time he met me he was scared of me: 'She was smart, opinionated, vigorous and funny. I said to myself be careful; she is dangerous'. We met in October and kept going out as a group until April when Petros finally made a move! It took him 6 months! Within a month we were living together. Everything happened so naturally; I was sick and he came over to cook me dinner and never left. We started dating in April 2013 and he popped the question in October 2015."
"We got engaged during our flight to London. Petros kneeled and asked me to marry him in front of the whole plane. I said 'Yes, but please stand up'. A week after our engagement and as soon as we came back to Cyprus we booked the church. We knew from the start that we wanted a winter wedding…We had a year and 2 months to plan the wedding. Just five months into planning our wedding we lost Petros' mother but she got to be part of our date and venue selection, which was amazing. Every meeting, choice or research we did concerning our wedding was our therapy. Other couples stress and fight over details but we had the most amazing time planning our wedding."
Yiannis Ioannou from Nicosia salon Tailored styled Myrto's hair in luxurious vintage style waves, which work wonderfully with her era inspired gown, and make up artist Andreas Zen created a perfectly glamorous look with rich tones of plum.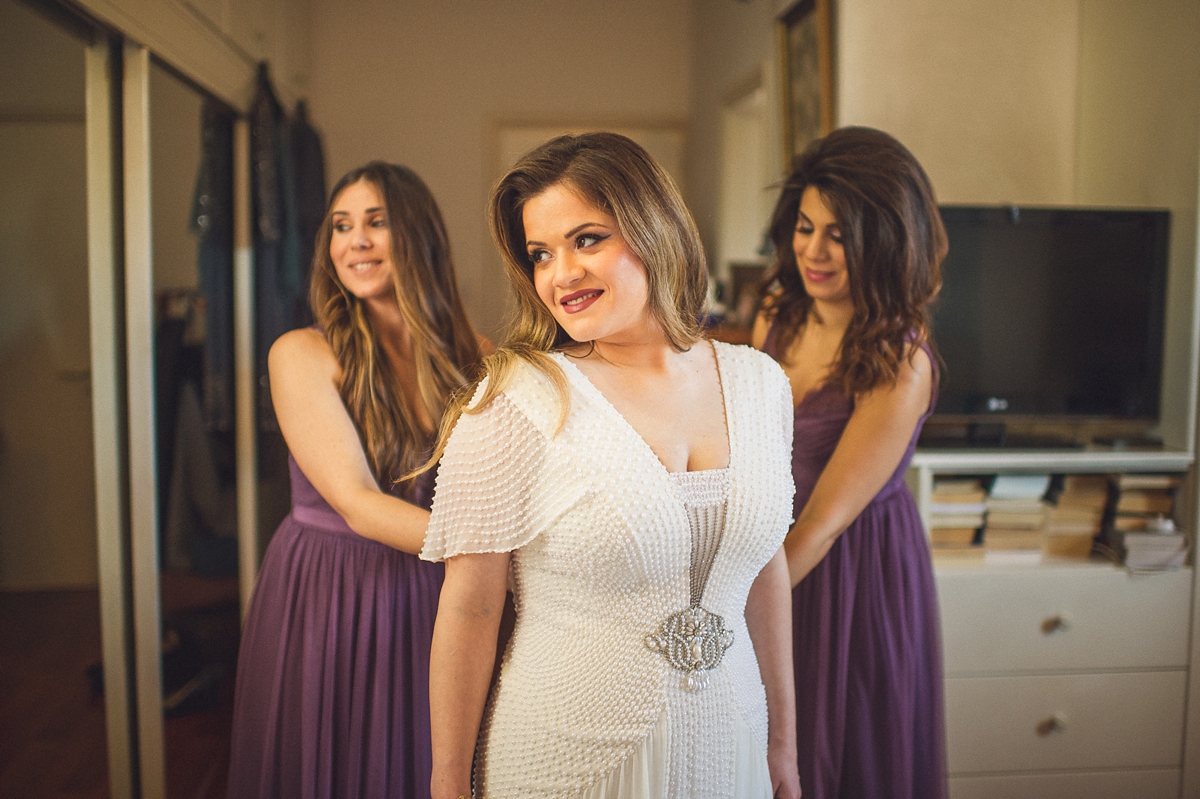 Myrto's bridesmaids wore romantic lace and chiffon dresses in a pretty shade of mauve from BHLDN, paired with their own shoes.
"On the day of the wedding I got my bridesmaids a white gold bracelet with their initials and we all wore them on the day. None of us has taken it off since. It's very discreet, elegant and goes with everything you wear…"
For the ceremony, Myrto wore a simple chapel length veil with a sparkling comb from Jenny Packham as well as her engagement ring, a bracelet with her initials and another bracelet, which had been gifted to her by her mother a few years previously. Her fragrance of choice was Want for Women by DSquared2.
Petros wore a magnificent velvet tuxedo and black tie from Hugo Boss, and gifted his groomsmen burgundy bow ties to wear with their suits.
"My favourite part was my arrival at the church and seeing Petros and his father standing at the entrance. It was a very emotional moment as I could see both of them tearing up."
Myrto carried a stunning bouquet of flowers, arranged by RSVP Events, with hydrangea flowers, cafe au lait roses, protea, thistles and abundant foliage in deep, sultry shades in keeping with the couple's dramatic theme.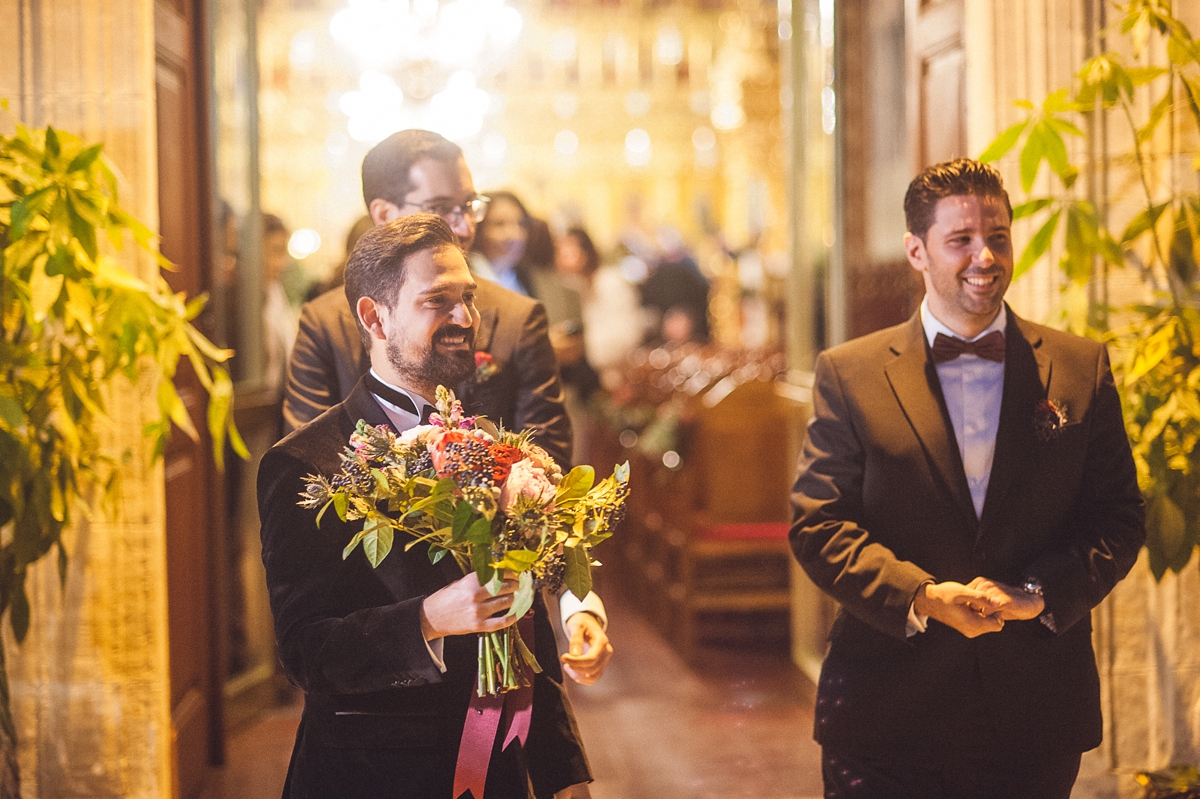 Myrto was accompanied into the church by both her parents, and while the couple said their vows, they also exchanged rings, which they bought from Aloupas Jewellery.
"We got our rings from the same shop Petros got my engagement ring simply because we think he is the best. We wanted something simple hence it's just a gold band with our names and date engraved on the inside. We wanted both rings to be exactly the same because in our religion the rings are blessed in the church and they symbolise our unity."
The lovely flower girls wore antique gold dresses from John Lewis paired with sparkly cardigans and gold wands decorated with bows and ribbons, which were handmade by Myrto.
It's always wonderful to share the work of photographers we haven't featured before, and for their wedding Mytro and Petros chose Antonis Georgiadis of Georgiadis Photography. These images are so atmospheric, whether they capture the grandeur of the couple's reception, the beautiful church, or the intimate and emotional moments shared between family and friends.
"The first time I saw his work (this was even before I met Petros) I said if I ever get married this is the photographer I want! His photos are so effortlessly natural you can't help but be mesmerised."
Following the church ceremony, the newlyweds drove to their reception venue in Myrto's brother's vintage Mercedes. Their celebration took place in the ballroom of the Hilton Cyprus, and the couple worked incredibly hard to totally transform the space, making full use of their design and project management talent, and realise their shared vision of a dramatic and luxurious feast for the senses.
"After all the research we decided Hilton Cyprus was the best choice on all levels. The food, the service and the comfort of our guests was a priority so it was a no brainer. We had quite a few guests from abroad and out-of-town. Having the option of staying at the wedding venue was amazing for them. Because the wedding was in January we wanted our guests to have easy access to and from the church in case it rained so having it at a hotel meant carefree access and parking."
"We wanted our dinner party to be dark, romantic, warm, moody, red and dramatic. We love challenges and we wanted to surprise everyone coming to the dinner party expecting to see the ballroom as they usually would in every other wedding they went to there (it's a popular wedding venue in Cyprus). Their minds were blown when they entered the ballroom on our wedding day. We managed to transform the ballroom and make it our own. We dressed the walls with satin burgundy fabric, fake grass, burgundy tablecloths, pink napkins, had gold runners on the tables and a custom-made mirror dance floor and bars. The disco balls were amazing and the way the mirror dance floor reflected the lights was very atmospheric."
Jewel-like fruits and cut crystal in addition to the flowers and candles turned the dining tables into still-life masterpieces – like stepping right inside the canvas of a painting by a Dutch master. Cocktail menus, place cards and table plans were made by Myrto's talented friend Stephanie, whilst bespoke invitations were made by Letterpressed.
"We gave our guests a glass bottle of pomegranate liqueur. I searched for weeks until I found the perfect bottle design. I bought them and then took them to Potopia who made our liqueur from scratch. We wanted the bottle to be pretty and the liqueur tasty as we wanted our guests to keep the bottle after drinking the liqueur, so it was kind of a 2 in 1 gift. We chose pomegranates because they are considered good luck and a prosperous fruit, so it also had a meaning to it."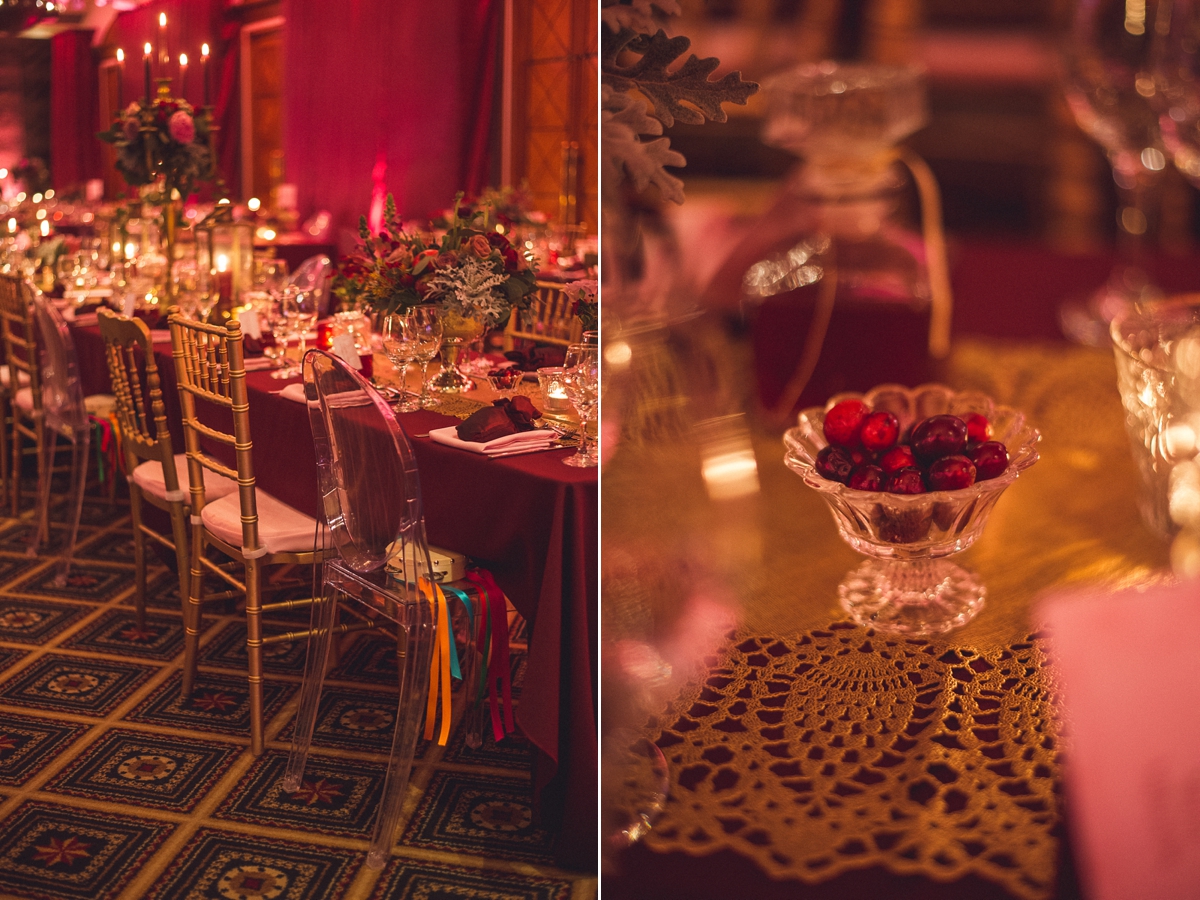 Nikolas and Tamara of RSVP Events also created amazing floral displays for the tables, in keeping with the rich, festive colour palette and glamorous theme.
"Nikolas and Tamara of RSVP were the perfect duo for the job. I had envisioned our wedding setup from the first time I stepped into that empty ballroom. I don't think anyone else could have done a better job bringing to life what I imagined than these two."
Eleni at The Cake Boutique created a showstopping six tier pink ombre cake decorated with golden flowers.
"We chose her because of the way she works with colour. I didn't want anything white in our wedding so I wanted someone who would make our cake classy and grand with our colour scheme…"
One of the reasons Myrto and Petros chose the Hilton Cyprus for their reception was because of the outstanding food, and they worked together with the chef to put together a delicious and festive winter menu.
"We made a few additions and alterations to the Chef's signature menu – like how we wanted the beef to be cooked and served and added a few Christmassy desserts like the Crepes Suzette and Christmas pudding."
Another highlight of the day for Myrto were the speeches from her bridesmaids and husband.
"What I loved next were my bridesmaid's speeches. I've known both of them for years and we've been through the worse and best moments of our lives together. They know me better that anyone so their speeches were very sentimental. Last but not least the speech my husband gave was absolutely amazing! I replay it in my head all the time and I still get butterflies."
After dinner Myrto changed into her second gown, an utterly incredible beaded, fringed dress from Little Book member Eliza Jane Howell, which Myrto bought from the designer's London boutique. These glamorous, decadent vintage inspired gowns truly are one of a kind, and I love the way the glittering fringe on Myrto's gown moved with her as she danced.
"When I tried on the Eliza Jane Howell dress I was also in love! I couldn't decide on just one of them so we came up with a plan with my mum and bridesmaid. I would wear the Jenny Packham dress during the ceremony and surprise Petros and everyone else by changing into my Eliza Jane Howell dress after dinner. No one knew that I bought two dresses on that trip to London except my mother and bridesmaids."
For their first dance, the couple chose Stand By Me Now by Playmen feat. Christos Mastoras, wanting something uptempo that they could dance to, but also a song that held meaning for them.
"We chose this song not only because we love dancing to it but also because of what it stands for..It's dedicated to all the stray animals in shelters and in the streets waiting to be adopted. I'm crazy about dogs and cats and we have saved, fostered, and re-homed numerous dogs. We feed and care daily for over 10 stray cats and have neutered as many as we can catch. We have a very big problem with strays in Cyprus and it's something I'm very passionate about, and Petros is very supportive. We thought this was the perfect song for us."
For the evening's entertainment, DJ Kypros Karaviotis kept everybody dancing.
"I wouldn't change anything! Everything was as we imagined! Magical! We wanted our guests to celebrate with us our love with a party to remember…people still tell me what an amazing time they had at our wedding!"
Words of Wedded Wisdom
"Relax… Try to experience everything to the fullest. From the time you wake up, to the moment you are getting your hair and make-up done – even driving to the church! Be present and experience everything… You have to be relaxed so you can enjoy your day! Believe me it passes by so quickly and you will want to remember everything."
"Don't listen to anyone; everyone has an opinion. I had people telling me 'why spend so much on flowers or décor?"No one will notice or remember them the day after'. Guess what? You are doing it for yourself and your husband. The moment you enter the wedding venue as a married couple is magical. The first few minutes you see everything you envisioned for months a reality is incredible. Small details like the stall of temporary tattoos, M&Ms with our nickname and serving hot dogs at 2:30 am as a hangover cure made the night even more memorable to our guests."
"As a couple you need to have a talk firstly about the budget and then about what kind of wedding you want to have. (summer/winter, small/big, rustic/glam, etc.) Be true yourself and your sense of style when choosing a dress. See how the wedding dress makes you feel – not your aunt, mother or friend. It's about you! Feeling beautiful and comfortable is very important in my opinion! You are going to wear that dress for a whole day! I had my hair, makeup and nails done as I would in any other outing or wedding I would go to. I'm not a French manicure kind of girl so why would I be on my wedding day? I never have my hair up so why would I on my wedding day? BE YOU. Do whatever makes you feel true to yourself."
"Food, drinks and music are vital ingredients. Even if we had half the budget I wouldn't sacrifice the quality of the food, cocktails or décor. I would just invite fewer people to make it more intimate and still have the best of the best…"
Many congratulations to you Myrto and Petros. What an unbelievably beautiful day you had; it's been such a wonder to look at these lovely images, and the colours and feeling of drama, elegance and romance. Thank you also Georgiadis Photography and Limelight Films for their breathtaking imagery. You can view more Jenny Packham brides here on the pages of Love My Dress, as well as more Eliza Jane Howell brides here, too.
Until next time!
With love,
Laura