I love when a wedding lands in my inbox and the location is somewhere completely unexpected! Today's couple chose a luxury retreat in New Zealand as their wedding venue and what a gorgeous job they did of their day. The venue looked more like a holiday destination than a wedding venue and the sun was out in all it's glory to encourage that vibe.
Primary school teacher Liz and fine wine store owner Clive said their I Do's on 9th January 2015 at the Huka Lodge, a luxury retreat in Taupo, New Zealand. On hand to capture the day on camera were photography duo Pete and Emma from Emma Case Photography who got the mood of the images just right, capturing the pure joy of the day and the impressive surroundings of the venue.
"This flamboyant and utterly gorgeous couple made our day what it was! The extremely talented pair produced photo's that exceeded all of our expectations. Their approachable and truly magnetic demeanour were so much fun to be around. I could go on and on about Pete and Emma as I firmly believe we landed the best photographers in the industry."
Images by Emma Case Photography
The bride looked utterly stunning in a beaded long sleeve Bo and Luca dress bought from The Dressing Room in Takapuna, Auckland.
"It was quite literally the first and last dress I tried on. I've never been very fashion conscious so I left the dress choosing to my mum. She'd seen the dress in a magazine and had me try it on. It fitted me perfectly and I loved the classic long sleeves with the low back."The couple had an outdoor ceremony in the lush green grounds of the stunning venue next to a lake. They chose a classic white, grey and black palette for the wedding party with the men all wearing grey trousers with black morning suit jackets, and the ladies all in white.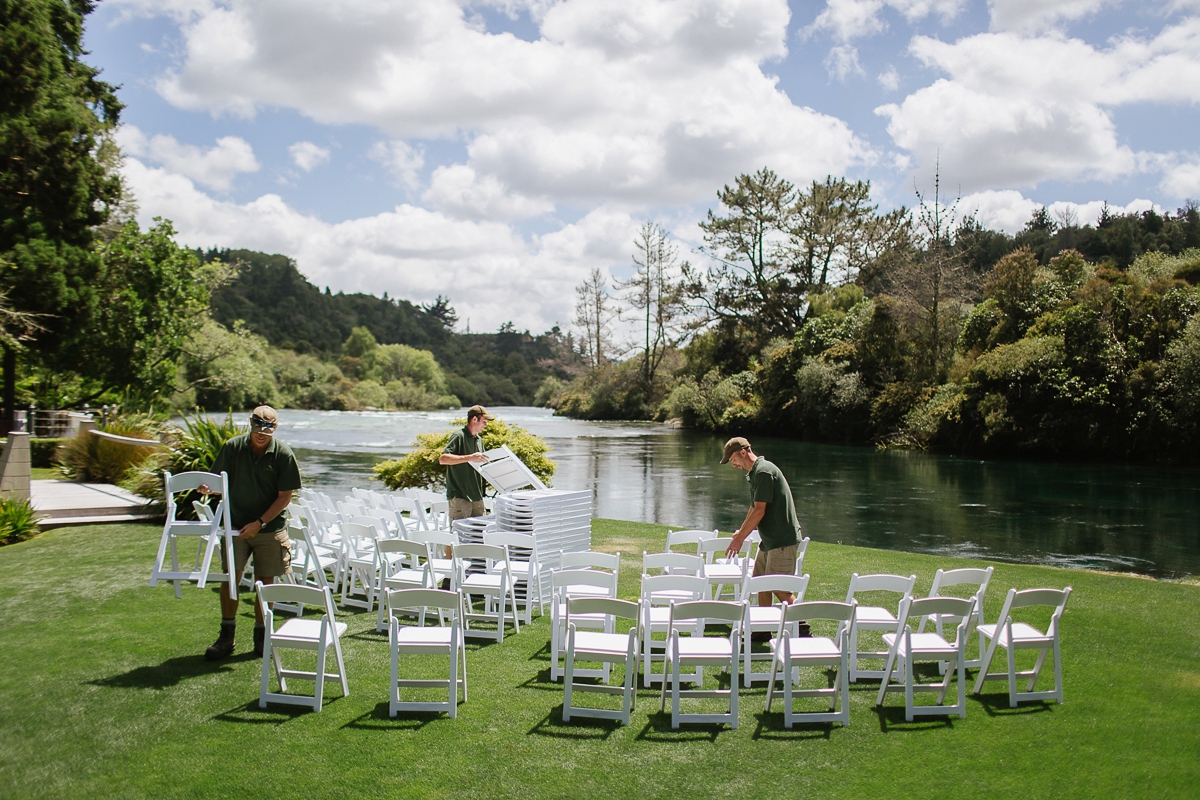 "My parents farm was 40 minutes from the venue and it's always been a place we've dreamt of staying at, let alone having our wedding there. The Huka Lodge is the most romantic setting and we felt very privileged to have our big day there. We really loved the feeling of the lodge and really wanted to embrace the hunting and fishing theme of it with lots of greens and natural colours."
With wine a seemingly running theme for this couple, Clive proposed to Liz at a wine festival six years after their first meeting.
"Clive and I met in the beautiful Marlborough Sands and he got down on one knee after a wine festival. All the wine had gone to his head and he didn't know what he was getting himself into I think! A year later we were married."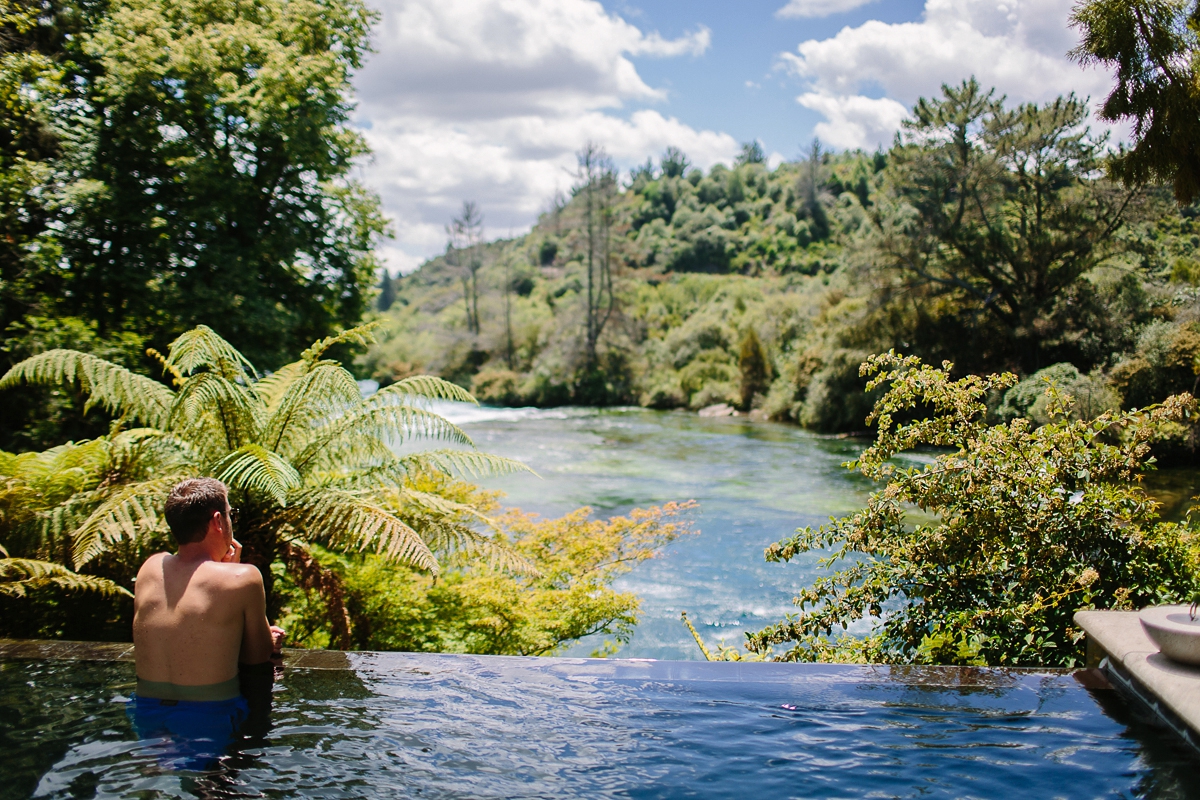 With the intricate beaded detail of the dress taking centre stage, Liz kept jewellery to a minimum, opting to wear just her great grandmothers bracelet, as well as a spritz of Chance by Chanel, a fragrance worn by the bride for years.
"I didn't wear a veil. As I knew my dress would cover my shoes, I went for a pair of quite practical and exceptionally comfortable shoes. They were my really comfy favourites that I already had in my wardrobe!"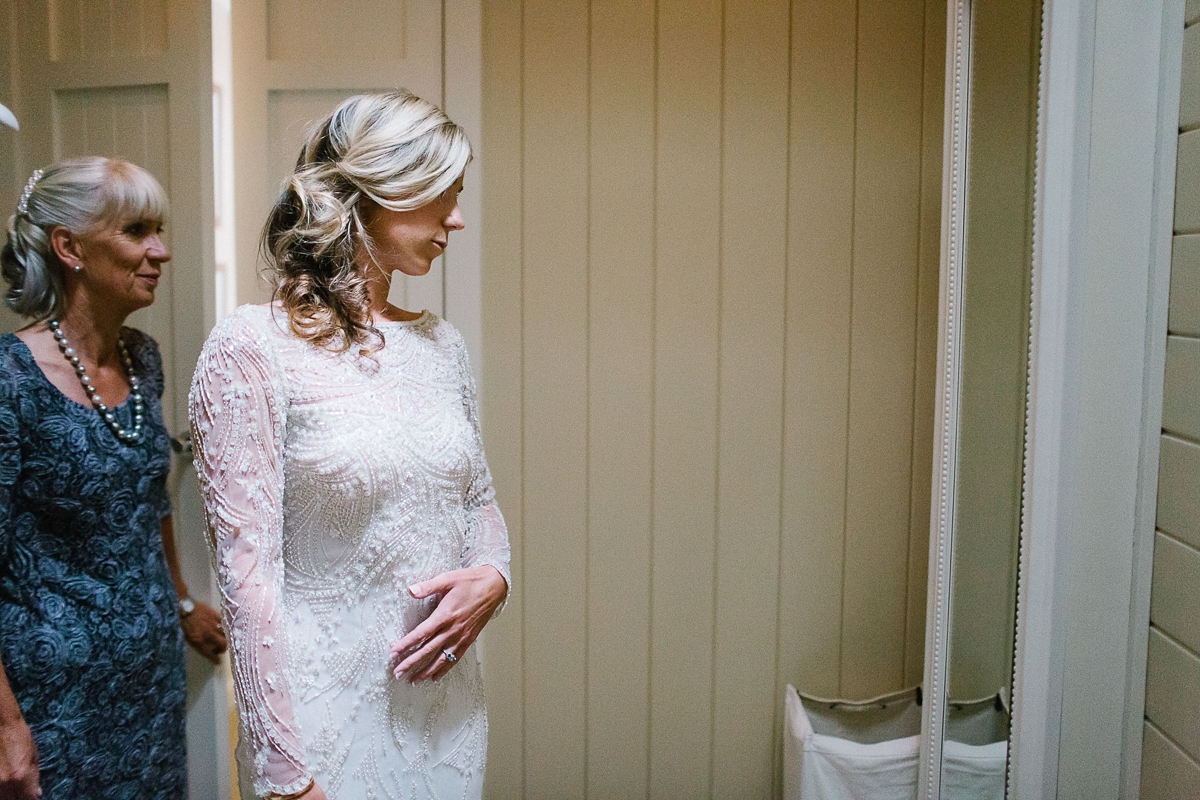 The bridesmaids looked strikingly beautiful dressed in all white full-length dresses made from white silk by Liz's friend, teamed with a pair of leather heeled sandals from their own wardrobes.
Liz's curly up do was created by Kashyap + Gough Hair and her natural make up by Hannah Evans Scott from The Dressing Room in Auckland.
"Hannah did a great job of keeping my make up very natural. I'm not someone who ever wears make up so I wanted to look like me and not a stranger walking down the aisle!"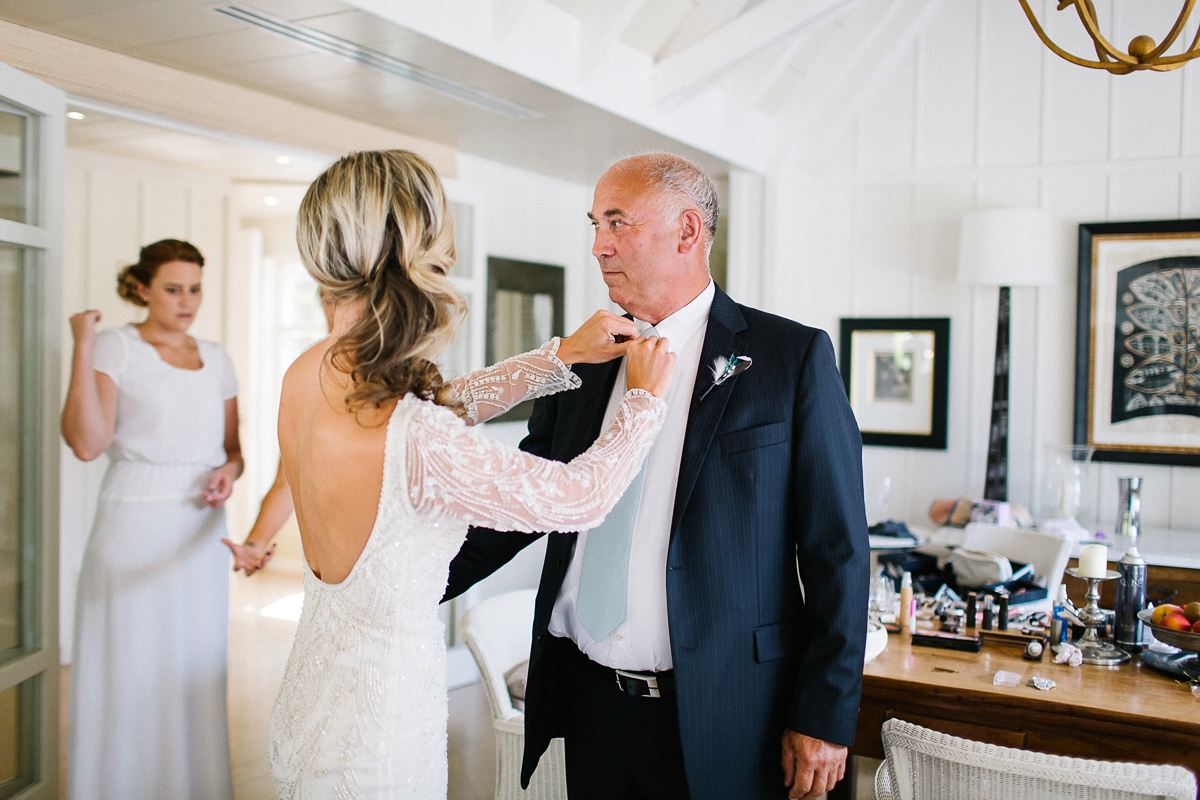 The beautiful blooms complimented the green surroundings beautifully and Liz walked down the aisle with a stunningly curated bridal bouquet made of Lisianthus, Alstromeria and lots of greenery by Taupo based florist Bloomin Flowers.
"We were absolutely thrilled with our florist Sally. She really listened to our requests and was great to deal with. We went down the wild flower route with Queen Anne's Lace, Alstromenia, Lisianthus, ferns, feathers, lots of greenery and all bound with rustic leather."
The bridesmaids also each held a slightly smaller version of the bridal bouquet to walk down the aisle with.
The men scrubbed up handsomely in suits hired from Working Style in Auckland, paired with silky grey ties bought from Working Style, tan coloured waistcoats made to order from Tailor 4 Less and handmade buttonholes Liz had made from fly feathers she had collected over the years.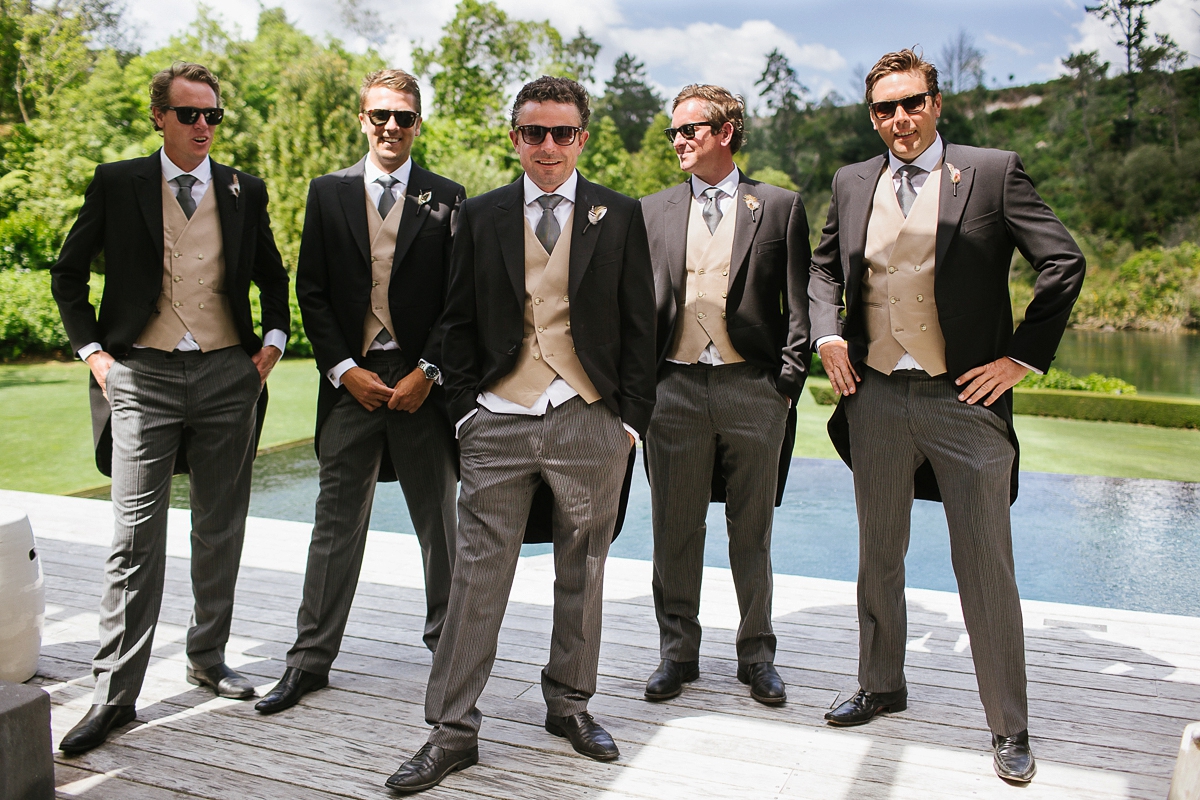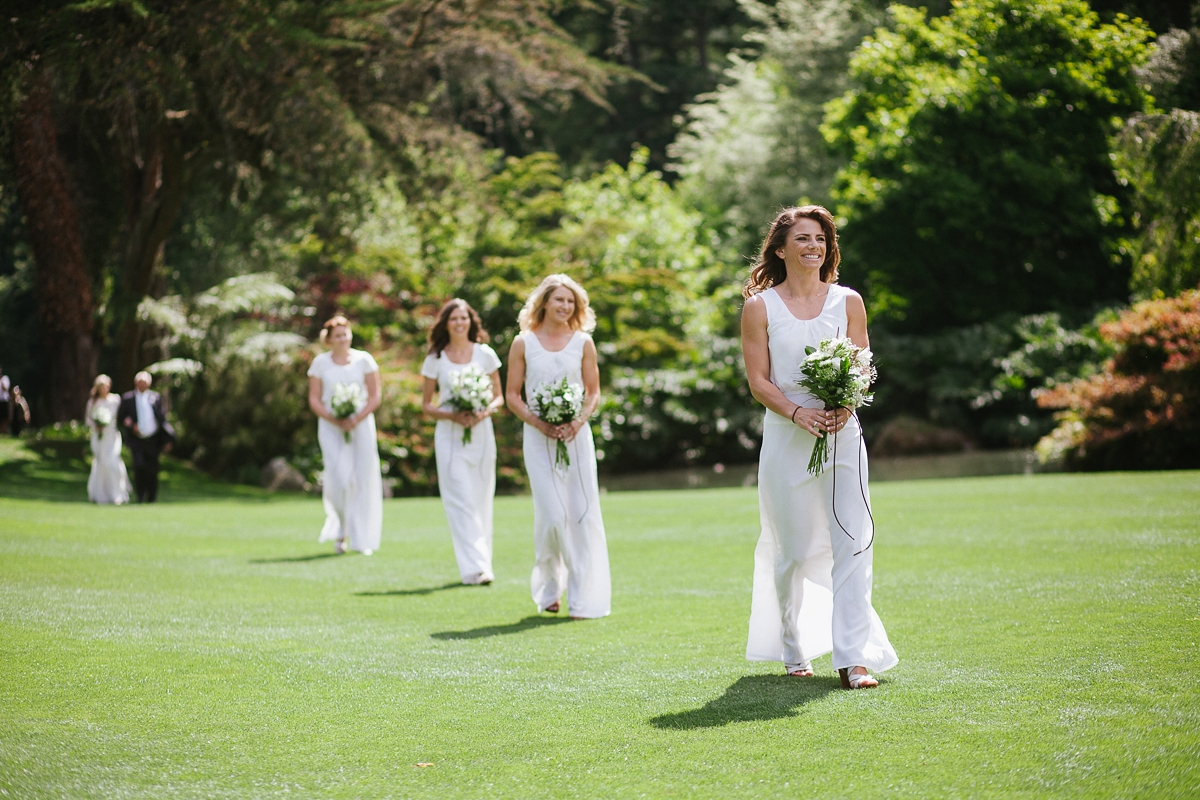 Liz was accompanied down the aisle by her darling dad to Skinny Love by Bon Iver. The couple kept their vows simple but did include two beautiful readings, one chosen by Liz's aunt and one by her sister-in-law.
"My aunty shared a beautiful reading from The Prophet by Kahill Gibran and my sister-in-law read a meaningful poem written by her great-grandfather:"
'I met a lover made of steel and fire,
Like a lover ought to be.
I should not care if all the world discover,
I love her and she loves me.'"
"My husband had designed a wonderful engagement ring with aqua marine and sapphires, so we opted for a very plain white gold wedding band for me so as not to take the attention away from my engagement ring. Clive prefers not to wear jewellery, being the manly man he is, so I didn't push that one!"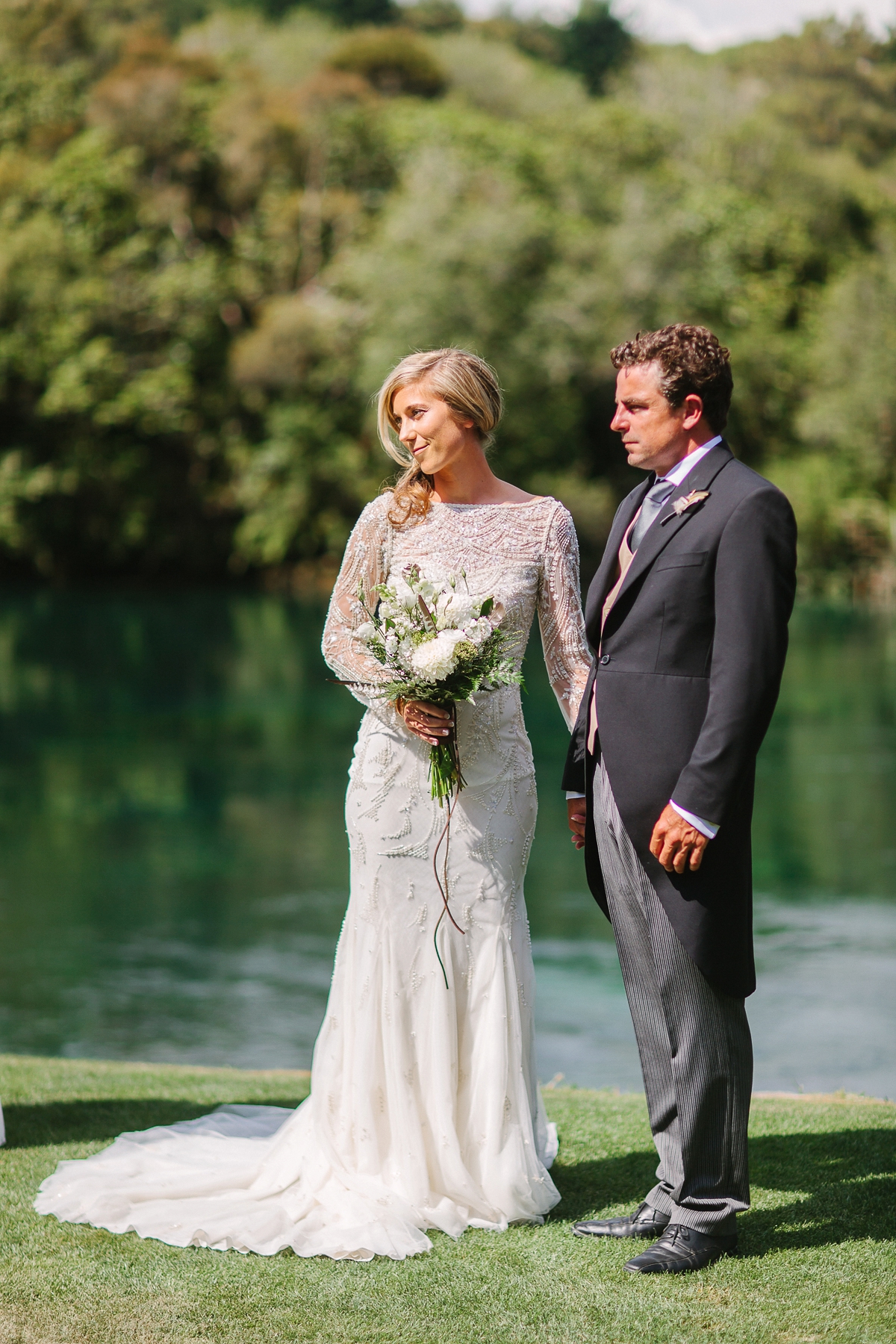 The couple said their vows and swapped wedding rings from Sutcliffe in Auckland.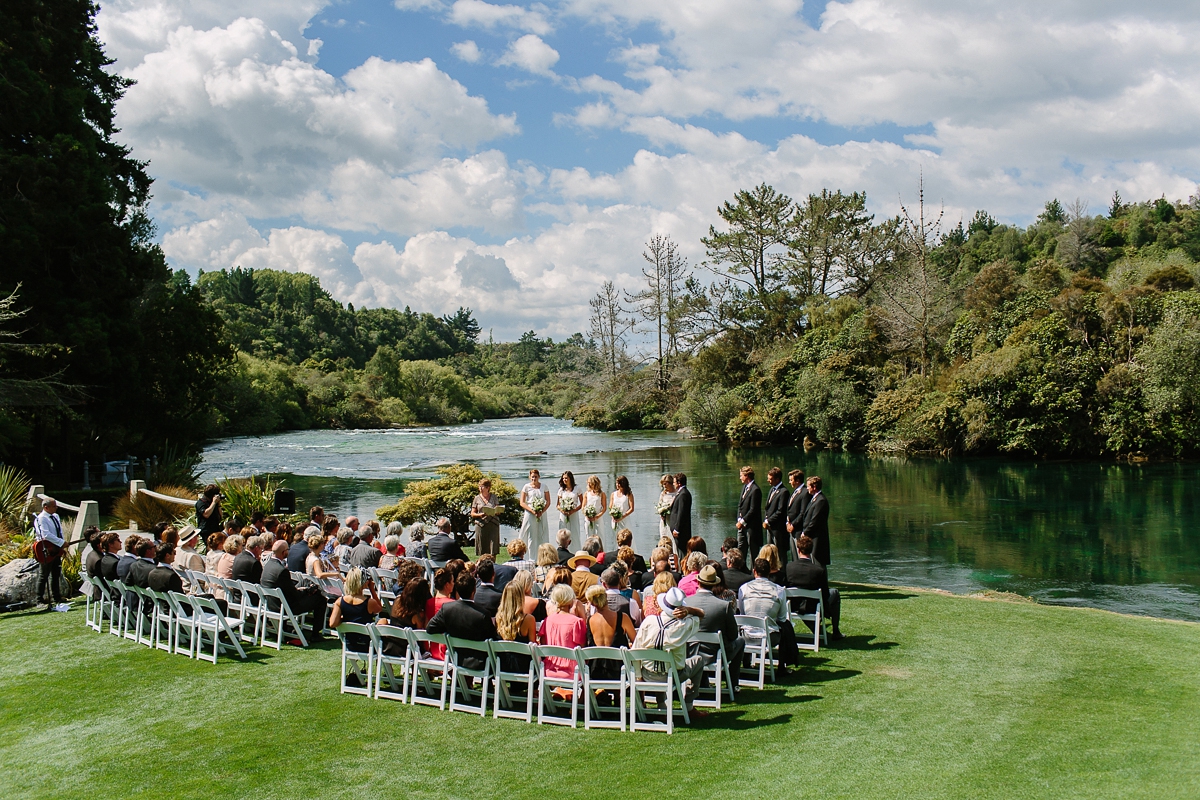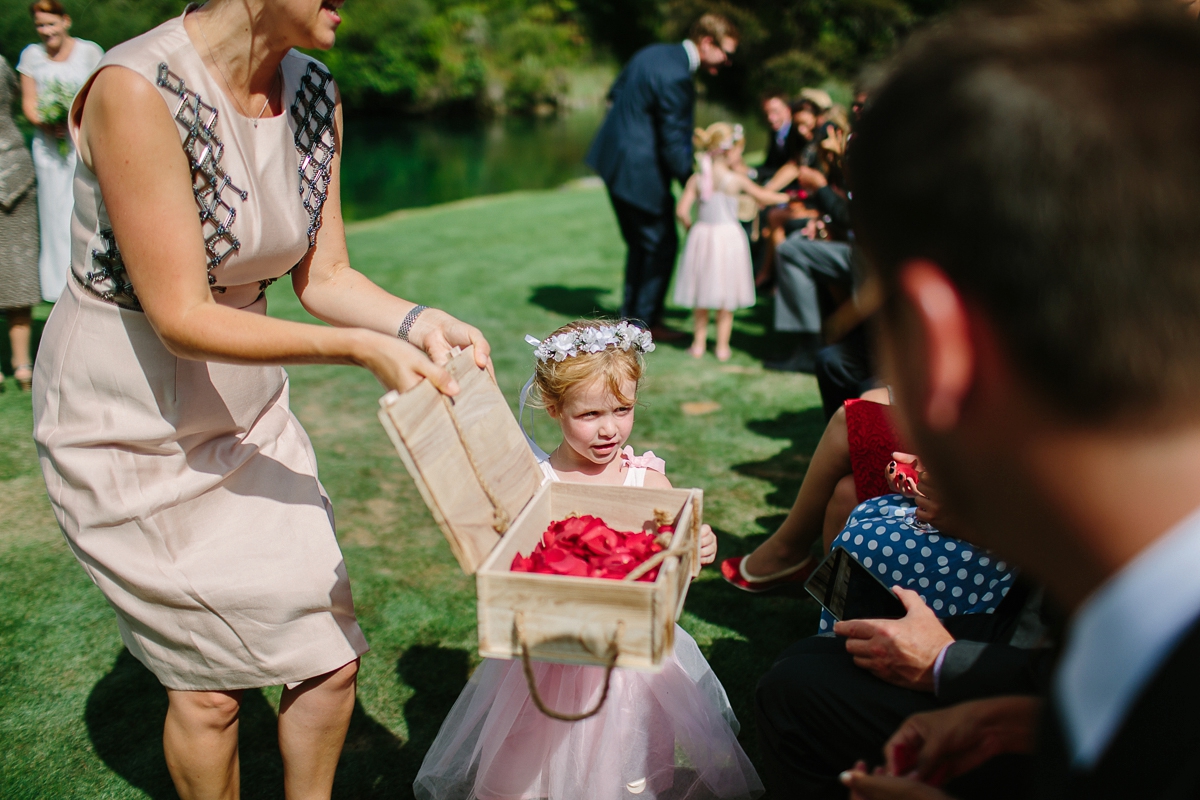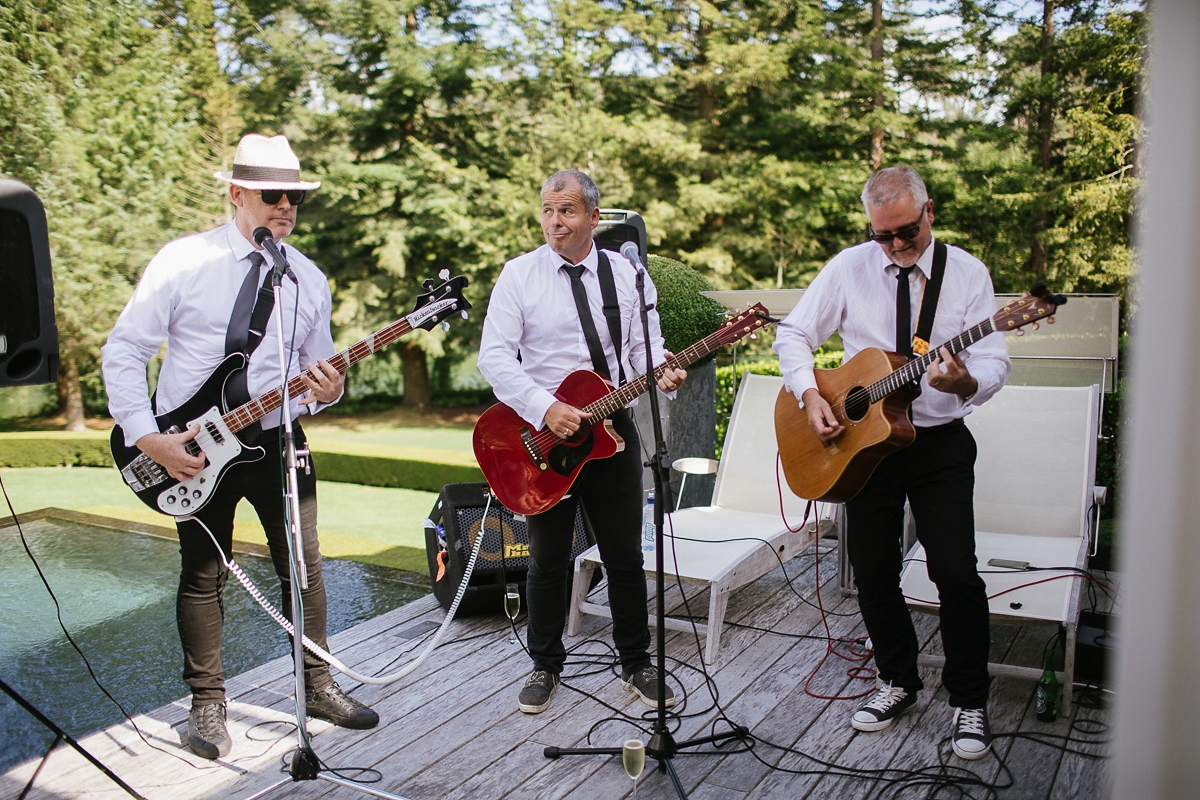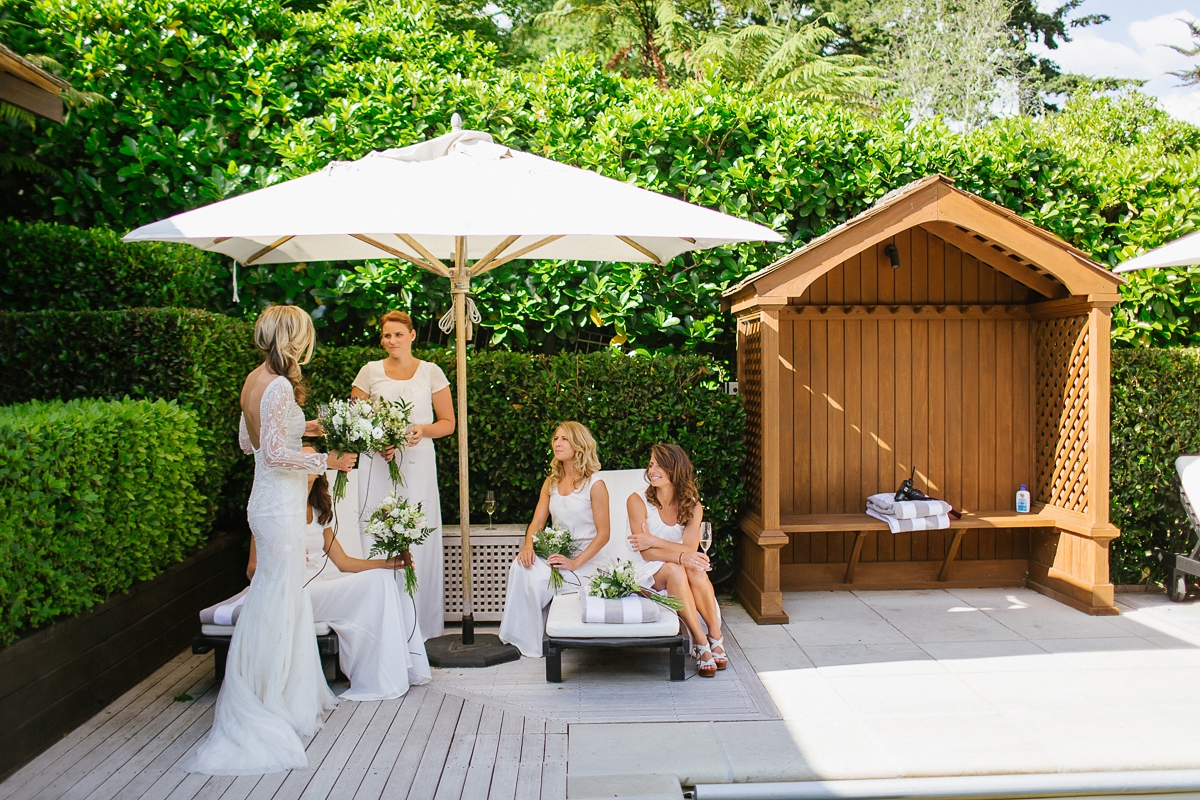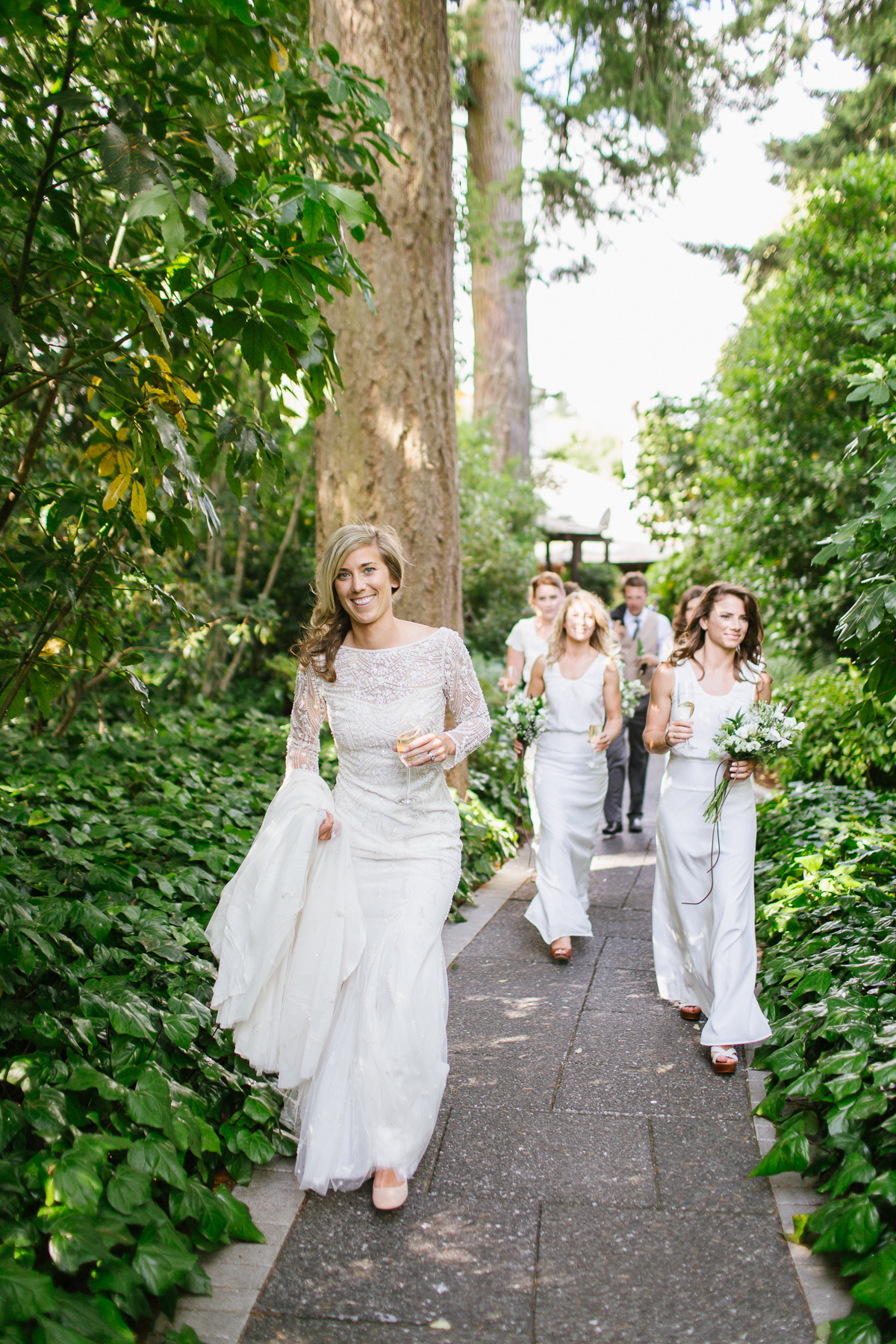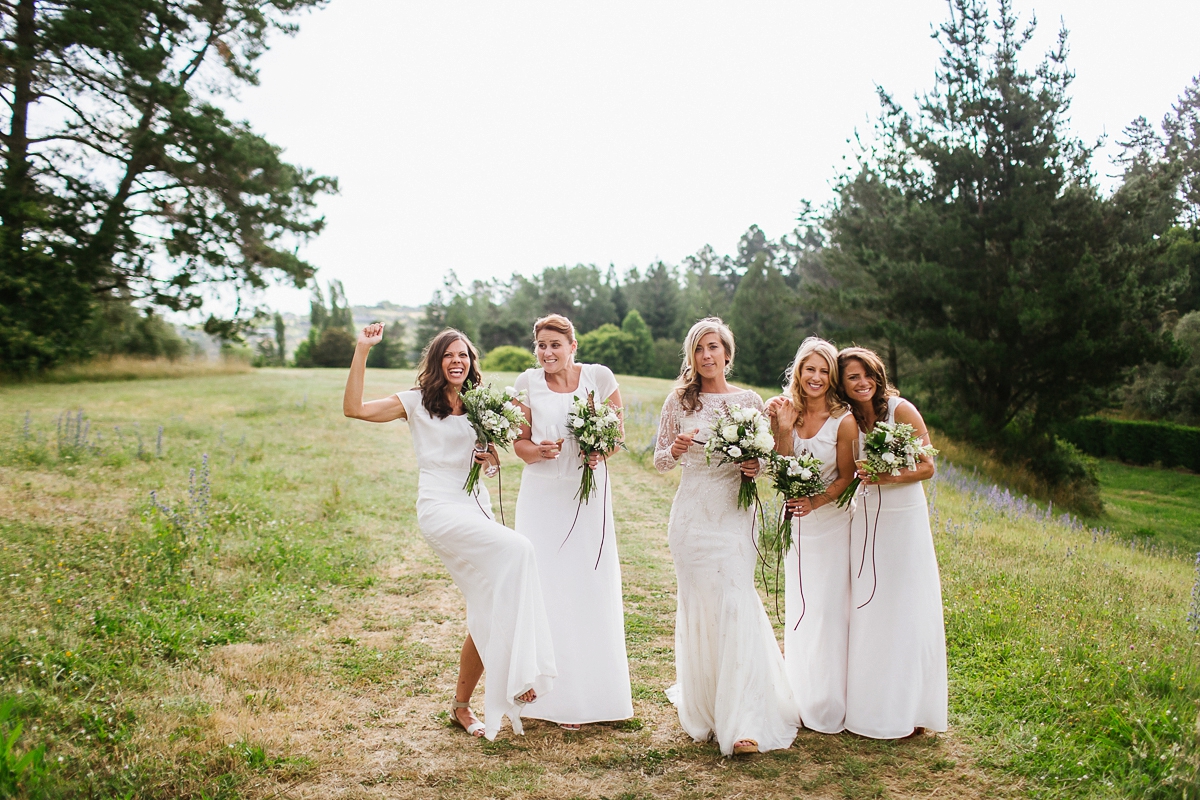 After the ceremony in which they were blessed with gorgeous sunshine, they went with Pete, Emma and the wedding party for photo's whilst guests enjoyed a drinks and cigar reception with live music performed by wedding band The CVE.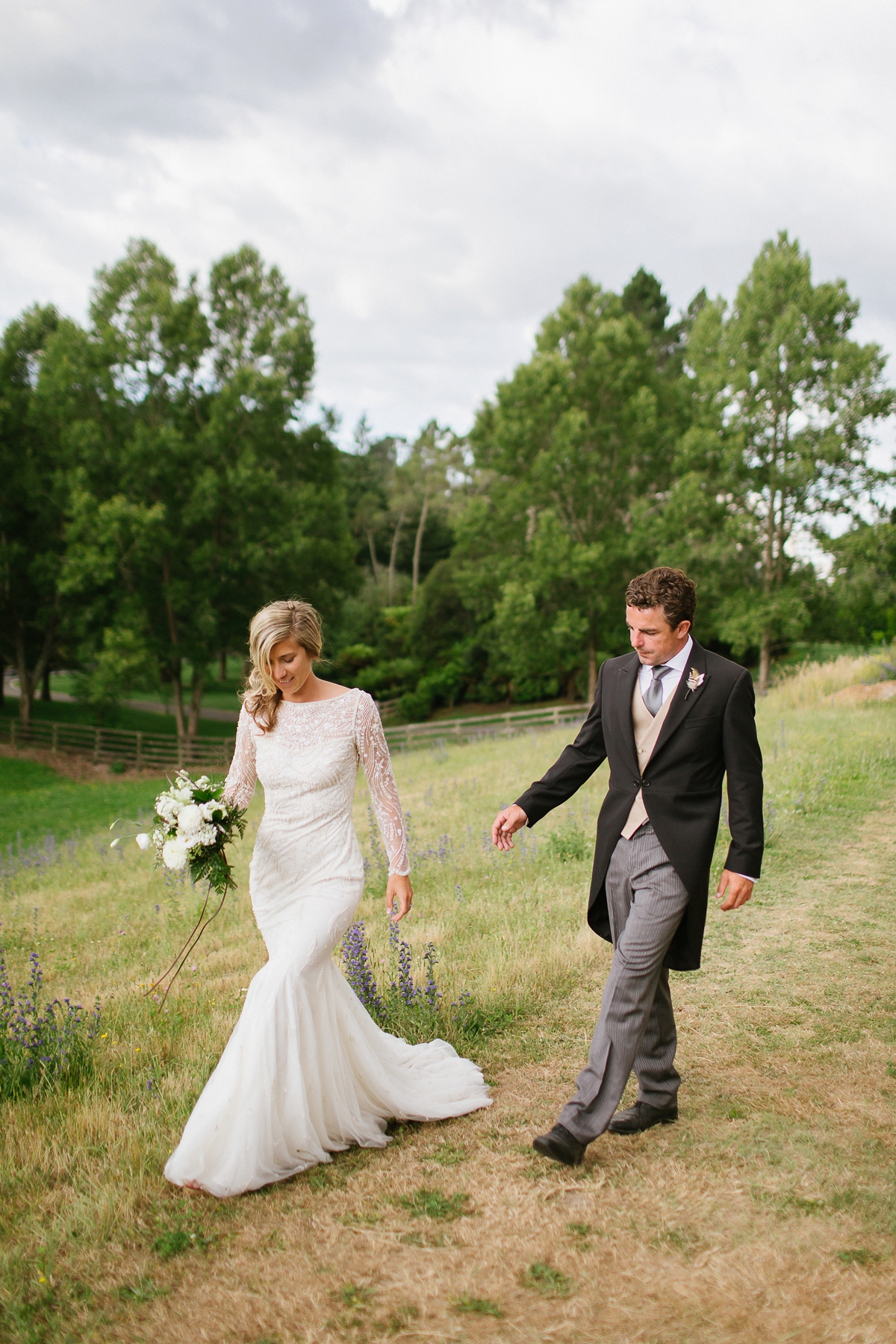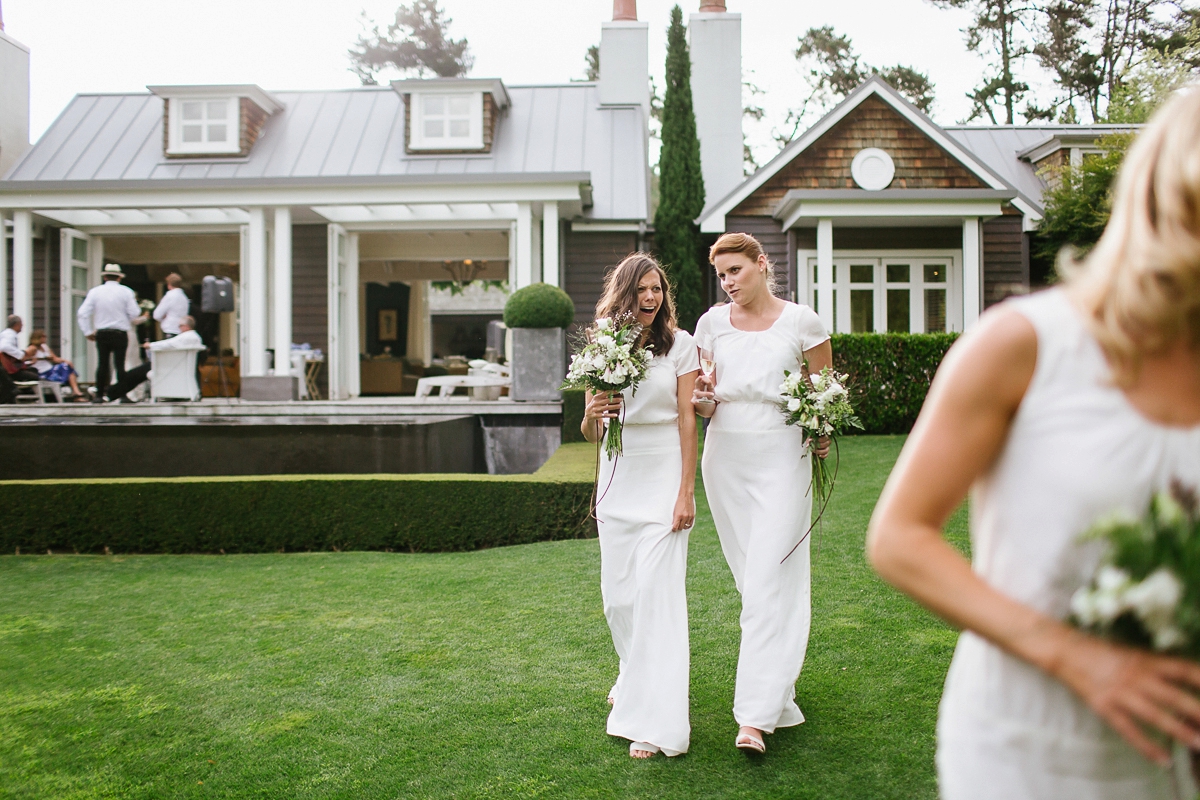 The wedding breakfast was served inside a marquee at Huka Lodge and provided by the venue themselves.
Tables were adorned with flowers similar to Liz's bridal bouquet and the wedding cake was a simple lemon cake decorated with white flowers on top.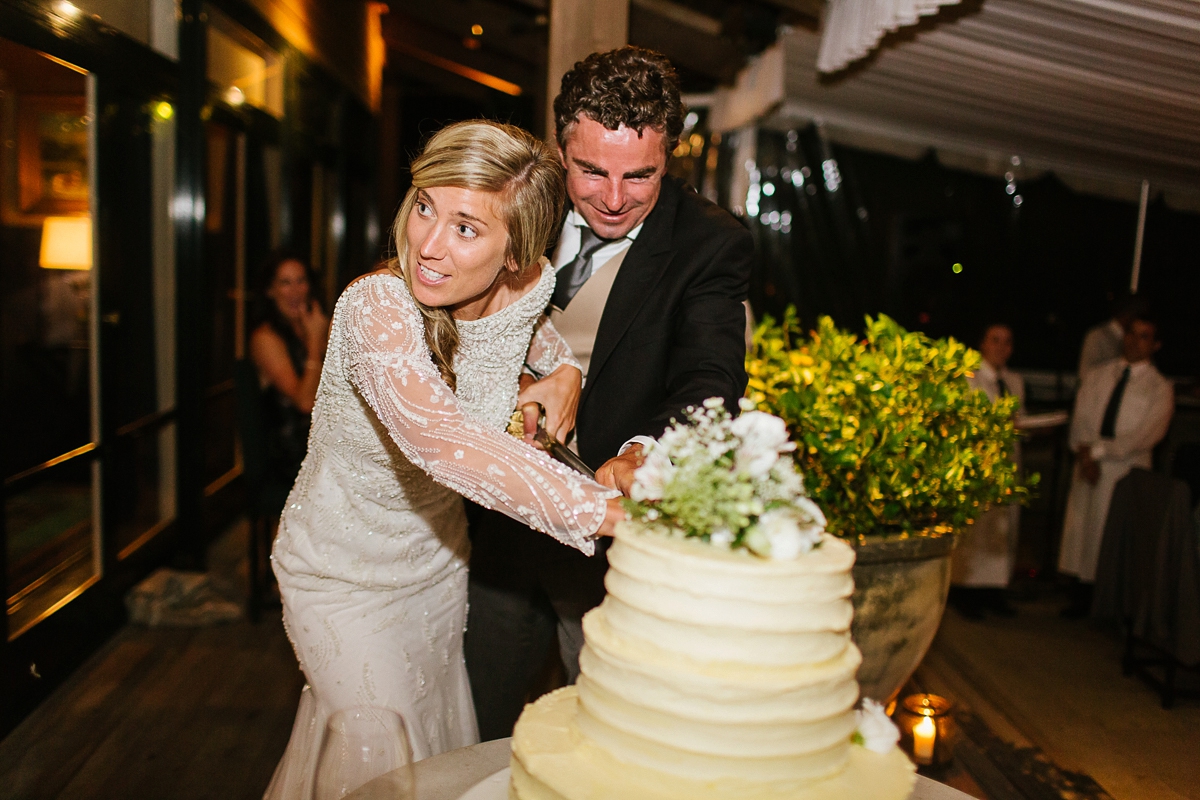 The couple chose Ho Hey by The Lumineers as their first dance song due to its appropriate lyrics and fun upbeat style, before The CVE kicked off the dance floor.
"The CVE were the absolute best wedding band you could ever imagine. They were incredible and so much fun. In fact, they were just about the last people to go to bed on the night and that wasn't until the sun came up the next day! They had so much energy and are an extremely talented bunch of musicians."
"I completely loved the whole day and the days leading up to it! I adored getting ready with my favourite females on the planet on the morning of the wedding, but my favourite part of the day would probably have to be listening to Clive's grooms speech. He had put a lot of effort into it and I felt a lot of love for the five minutes he was up there. I wouldn't change a thing, I honestly wouldn't!"
Words of Wedded Wisdom
"Don't let anything at all bother you on the day or in the lead up to it. Be relaxed and just exceptionally grateful to everyone for helping make the day happen."
A big congratulations to our newlyweds! The whole day looked like such fun and one I'm sad I missed out on myself. A big thank you also goes out to Emma Case for capturing every smile and special moment on camera for the couple to cherish forever.
Until next time…
Much love,
Holly x