Dear Readers, I know you're going to adore this fun, bold and bright wedding, which took place on a golden July day in an idyllic walled garden complete with its own kitchen garden supplying fruit and vegetables to the venue's restaurant.
Our happy couple both work freelance for the film industry; Daisy a production manager for TV commercials and Alex working for the camera department. They celebrated their marriage on the 1 July 2017 in a jubilant day at Pythouse Kitchen Garden in South Wiltshire. Videographer Paul Samuel White was there to capture Daisy and Alex's day, valiantly stepping in at 8pm on the eve of the couple's wedding, after their original videographer unfortunately cancelled. Read on for a gorgeous outdoor celebration with a puppy ring bearer wearing a gold cape, garden games, a human jukebox, face painting, and custom-made bridal disco shorts!  Music festivals and disco provided the major sources of inspiration for Daisy and Alex's celebration, and for the day to be relaxed and fun with plenty of entertainment for guests.
"I didn't have one specific style inspiration, but I did pore for hours over my mood boards, piecing together a look which I think could roughly be described as festival chic. I wanted to incorporate colour too, and lots of fun! Somehow a few weeks before the wedding there were a flurry of Amazon Prime orders and a side theme of flamingos and pineapples was born too!"
Film by Paul Samuel White
Daisy's outfit was particularly special for her, as it was made by one of her best friends, costumier and seamstress Kate Johnston.
"My dress is very special to me as it was made for me by one of my best friends who has recently taken the plunge and completely changed her career and now works as a full-time costumier and seamstress. I'm so proud of her following her dreams, and she is also incredibly talented!"
Images by Sarah Gray Photography
Daisy and Alex chose Sarah Gray as their photographer, and she captured their day in style, with a light, natural touch evident throughout.
"Sarah was fantastic – she's such a lovely person and captured our day so perfectly. It's hard to describe, but every time I look at the photos I can just feel all the energy of the day pouring out of them – there's so much fun and joy in every shot…she was totally inconspicuous but somehow managed to capture everything that was happening, and there was a lot going on! I was also so impressed with how many couple shots she managed to rope Alex into – I thought he'd be really uncomfortable doing them but she made us feel so at ease on the day that he was loving it!"
"Paul Samuel White also made such an awesome film for us! I've never been keen on traditional wedding videos so my brief was always for a party / event / festival style film with lots of pace and energy – he absolutely nailed the brief."
"Alex and I treated ourselves to a bottle of Thé Noir by Le Labo which we both wore on the day and now wear every time we're out together – a lovely touch is that they print the label for you there and then so we now have a bottle with our names and wedding date on it."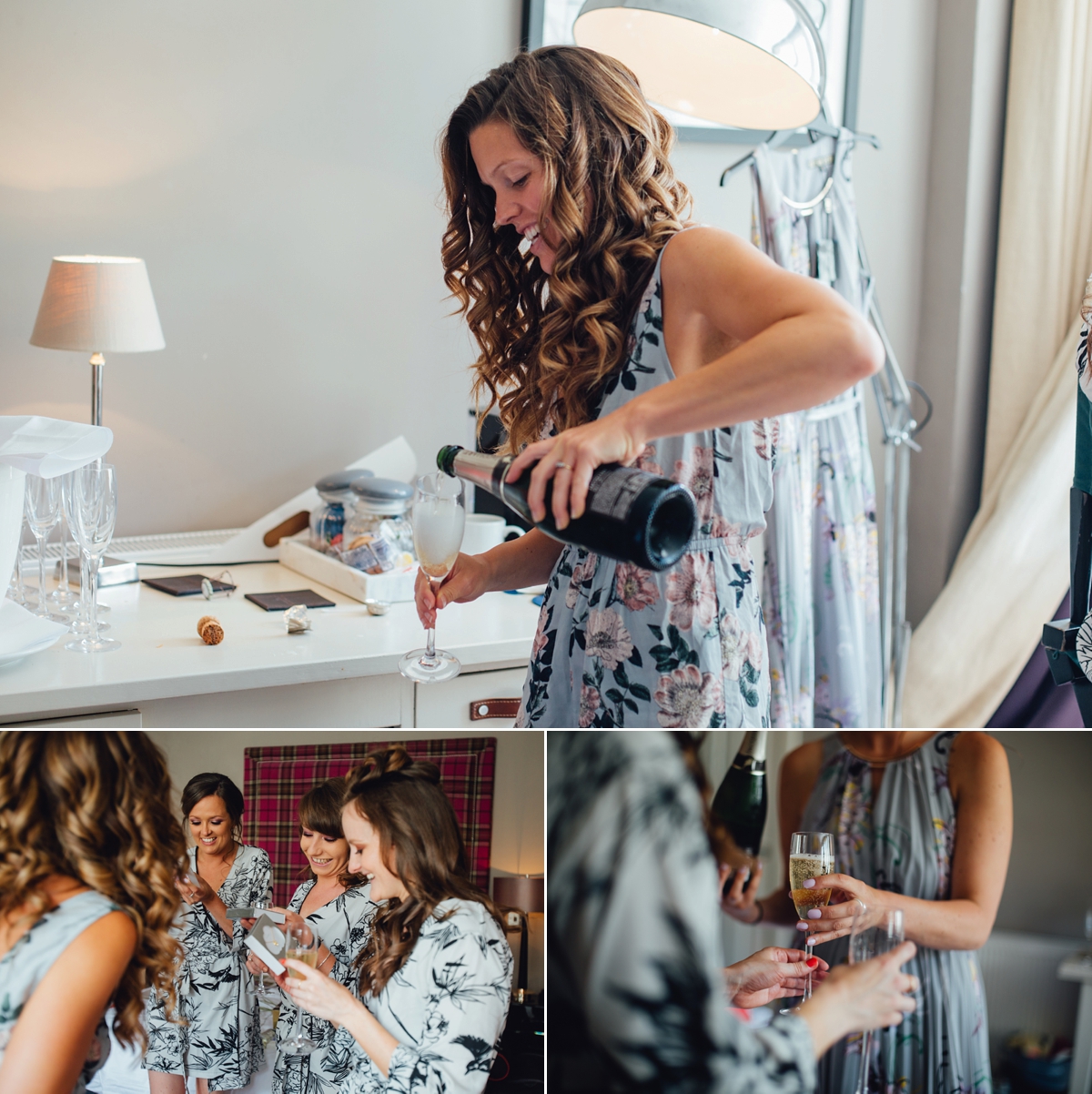 Daisy's bridesmaids wore their own dresses and shoes and the gorgeous flower girls wore sweet white lace sun dresses from H&M with sparkly trainers and fresh flowers in their hair.
I love the wild and colourful bouquets with their abundance of cheerful chamomile daisies – they really capture the essence of summer.
"Getting married in a walled garden meant we were surrounded by beautiful flowers everywhere. The venue also put together the bouquets for us, which were just want I wanted – colourful and seasonal – with the addition of some daisies of course!"
"Alex and I met back in 2010 when we were both backpacking around Thailand and ended up spending a month together travelling around the country, a very good litmus test for a future relationship! Travel has always been a shared love for both of us and we've been so lucky to have lots of fantastic adventures together around the world."
"Alex proposed at the beginning of 2016 on Fernanda de Noronha, a marine protected island off the north coast of Brazil with a ring that he had secretly hand crafted over the duration of our holiday out of bamboo root and coconut husk!"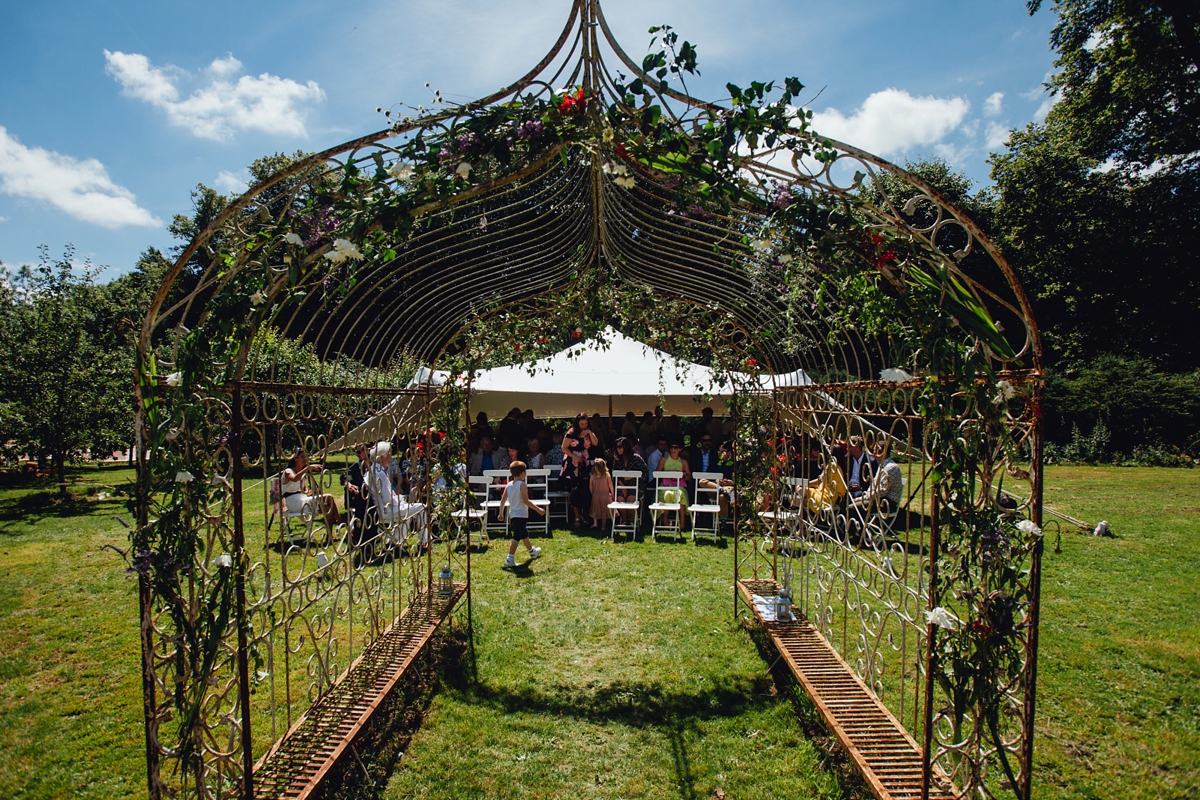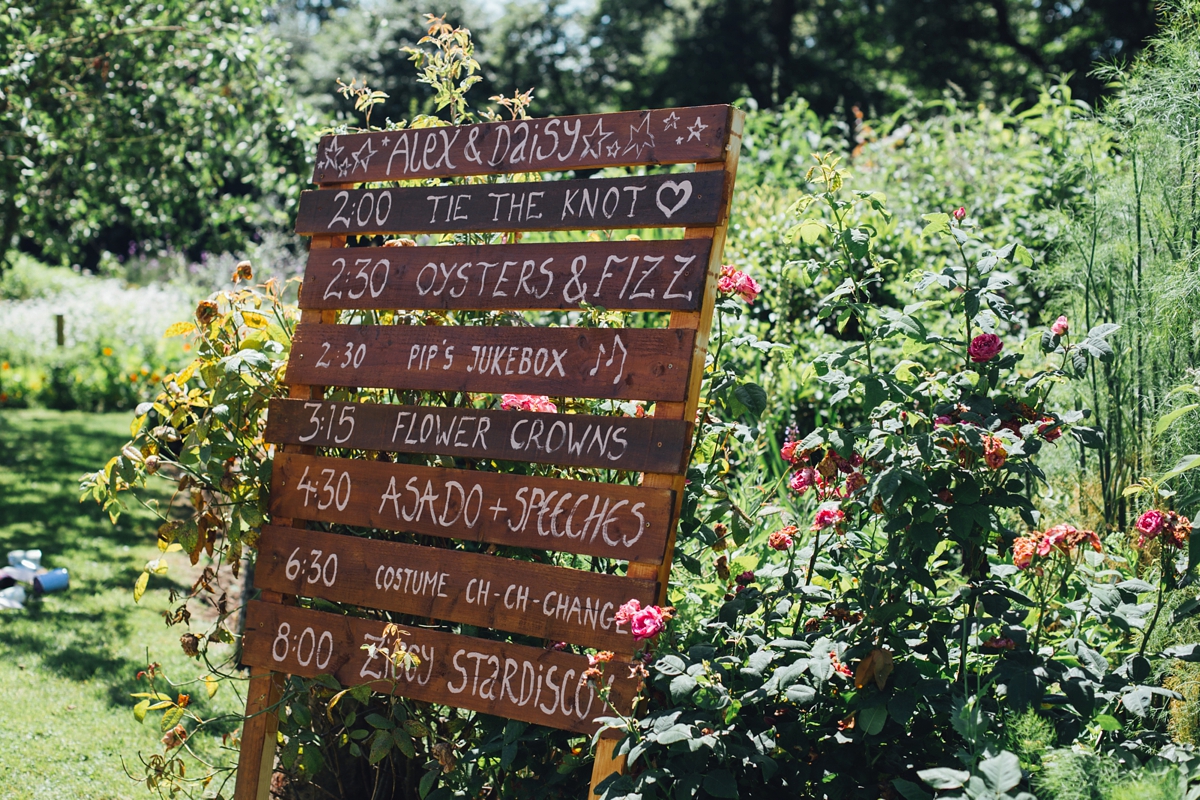 "My lovely and eccentric dad walked me down the aisle – all perfectly timed out and cued by a couple of my friends on walkie talkies that we use on film shoots!"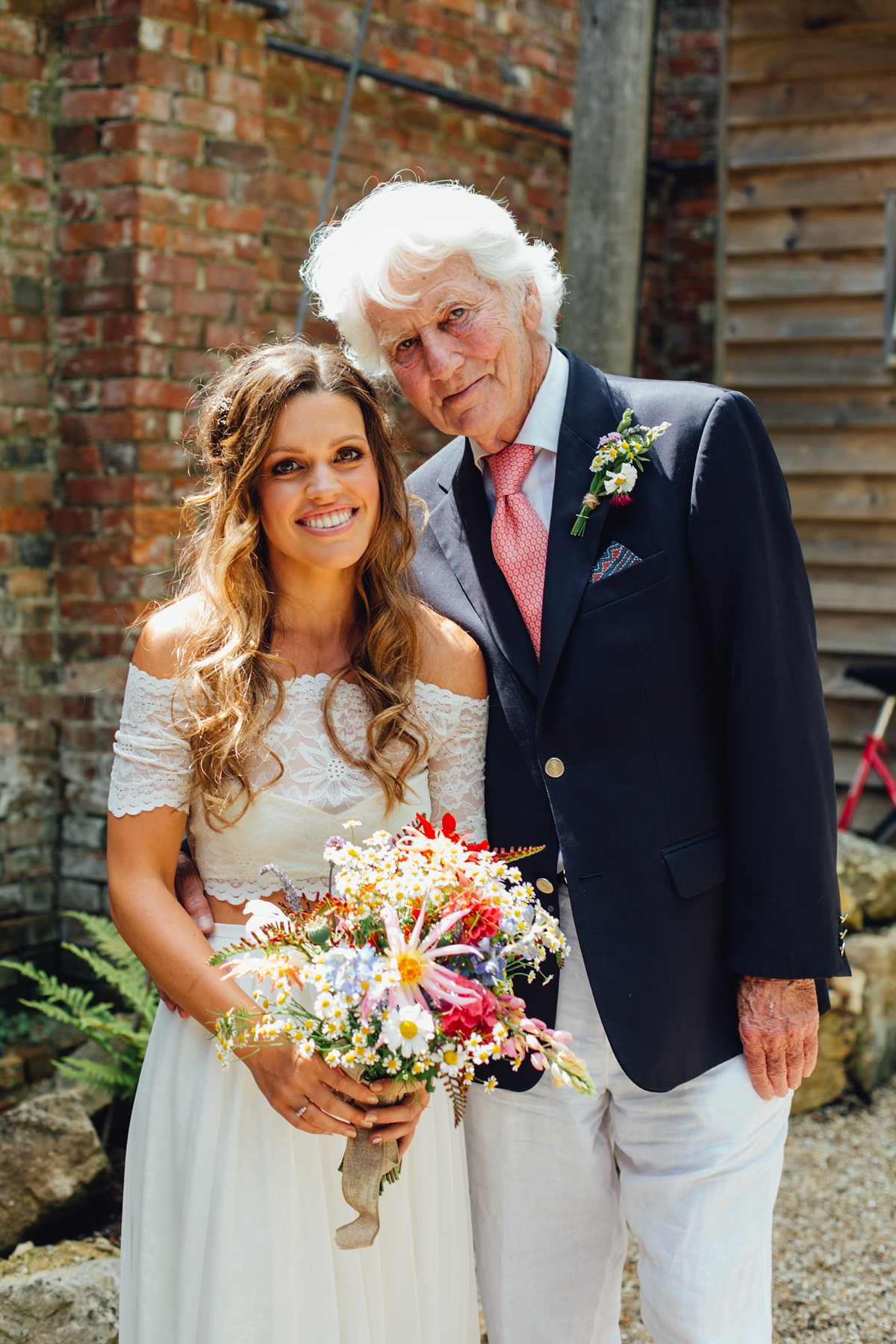 On her feet Daisy wore summery white and gold sandals from Office, and sprigs of delicate gypsophila in her hair. Stylist Ashlene Scott (no details given) curled Daisy's beautiful long locks into waves, and make up artist Danielle Farrington was on hand to create her relaxed and radiant look.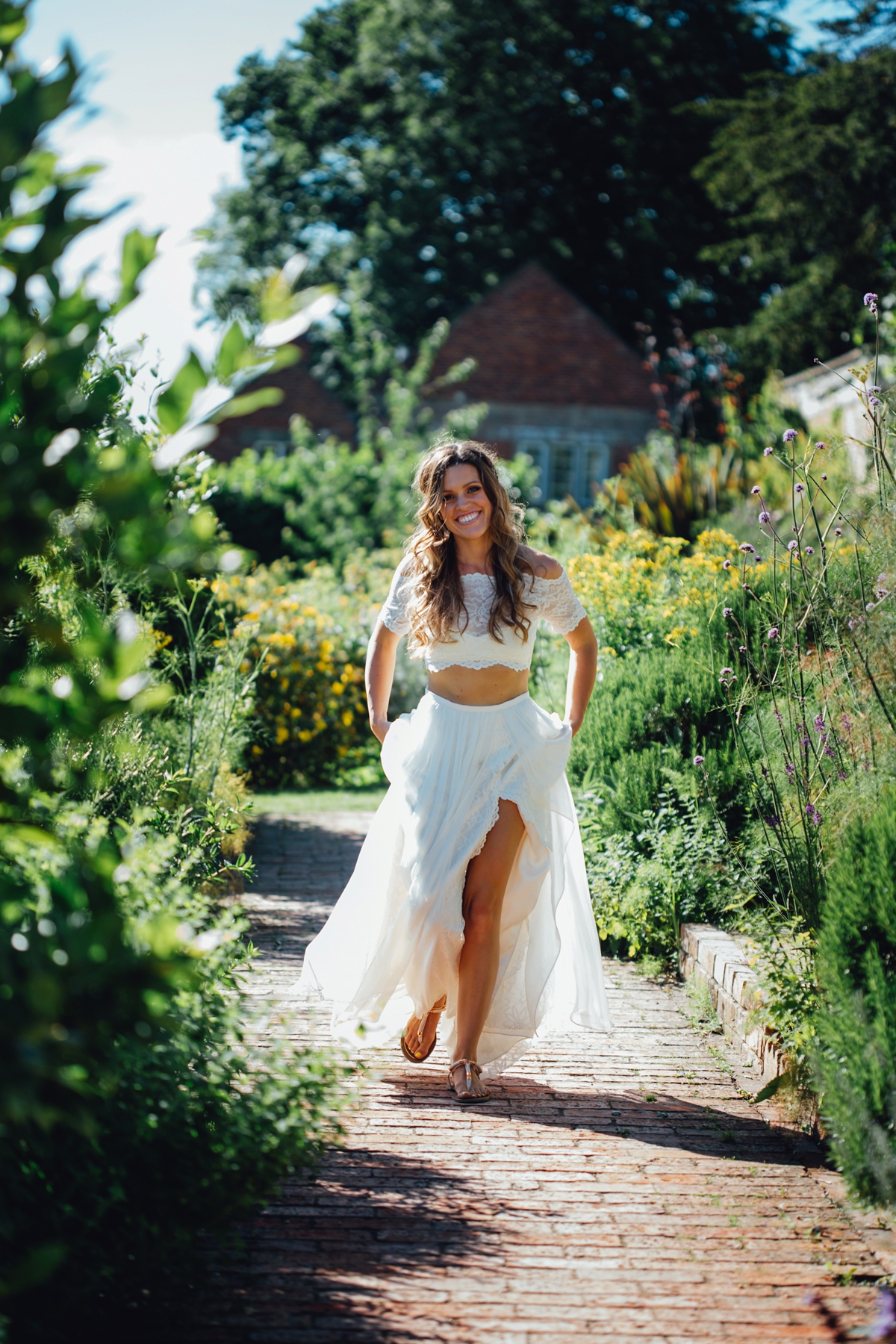 The shoulder skimming cropped top with its beautiful lace (complete with daisies) looks wonderful paired with the flowing silk skirt.
"I pored over Pinterest and Instagram for months trying to work out what sort of dress I wanted; it's all quite daunting to begin with especially if you're not particularly into fashion like me! I'm quite petite at 5 feet tall so I didn't want something too overwhelming and with a July wedding I didn't want to be too hot so it was important that it flowed and was comfortable to wear. I loved the bridal separates look, which is Kate's speciality and together we came up with the design that I wore."
"Kate added some gorgeous little touches, in particular somehow managing to track down a daisy lace fabric for me. At the last-minute, she also knocked me up a pair of matching disco shorts from the left-over fabric for the evening which I just loved!"
Alex opted for a casual look, choosing chinos and a pale blue shirt with a dark blue blazer, all picked up on the High Street (no details supplied). The couple's adorable puppy Ziggy was page-boy and ring bearer, admirably performing his tasks, resplendent in a gold cape covered in sequins, custom-made by Capes Capes Capes.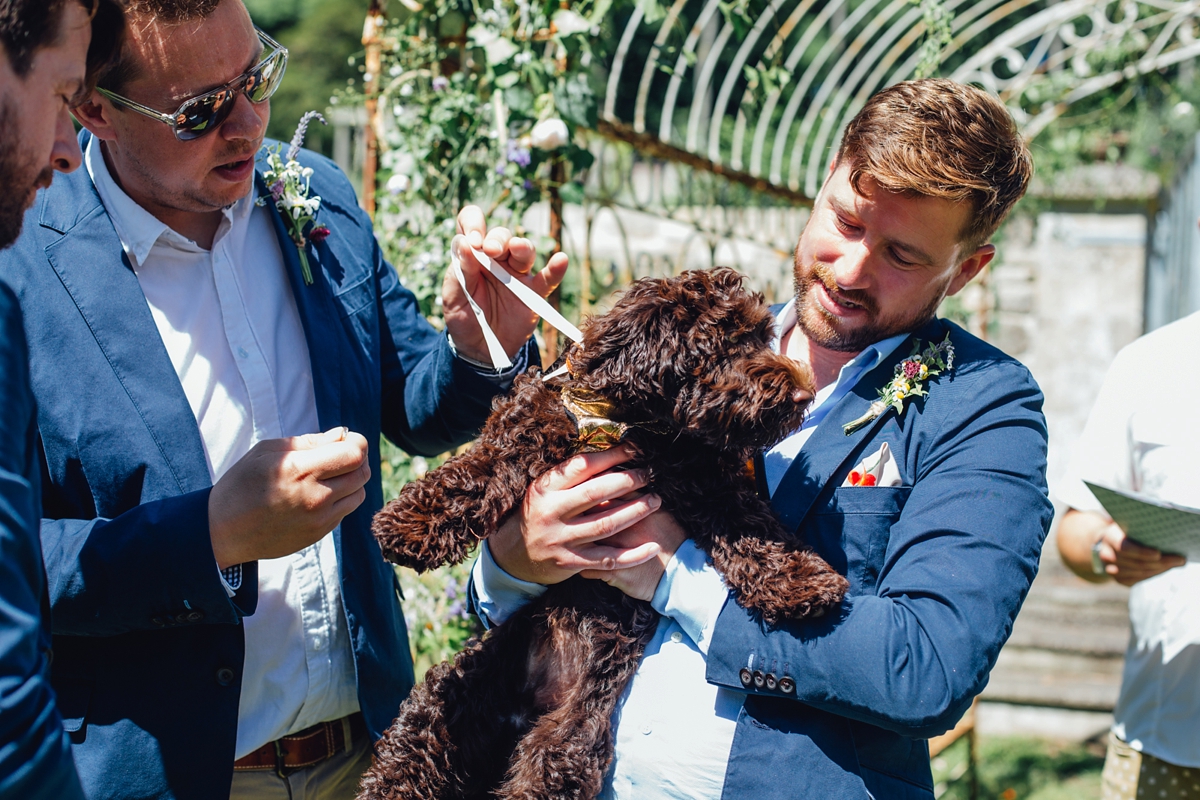 Daisy chose the song To Build A Home by the Cinematic Orchestra to walk down the aisle to. A good friend of the couple acted as their celebrant, using a script put together by Daisy.
"Alex and I both wrote our own vows and we played rock, paper, scissors to decide who went first (I won!)"
"Alex: Daisy, as soon as I saw you, I knew a great adventure was about to happen.
You are my best friend, and I promise that I will always be there for you.
I promise to always admire your strong, kind and determined heart.
I promise to care for and protect you, nurture and support you, to tell you when you are being an idiot and adore everything about you.
I promise I will always warm your icy cold toes in bed.
I promise to accept your OCD and constant list making.
I promise to listen to your advice, and occasionally take it.
I promise I will continue to adventure with you until we grow old and decrepit.
Because of this and so much more… I will always love you."
"Daisy: Alex – Thank you for loving me. Because of your love I feel like I can face anything.
I promise to always give you my kisses, my smiles, my hugs, my laughter, my tears, my hopes, and my fears.
I promise to love you unconditionally, support you in your dreams, honour and respect you.
I promise I will say I'm sorry when I am wrong — though we both know I never am — and to forgive you when you are.
I promise to let you be head chef at all times, and to do as I'm told in the kitchen.
I promise to always give you the window seat on the airplane.
I promise not to ever take you for granted,
And I promise to always see what is around the next corner with you."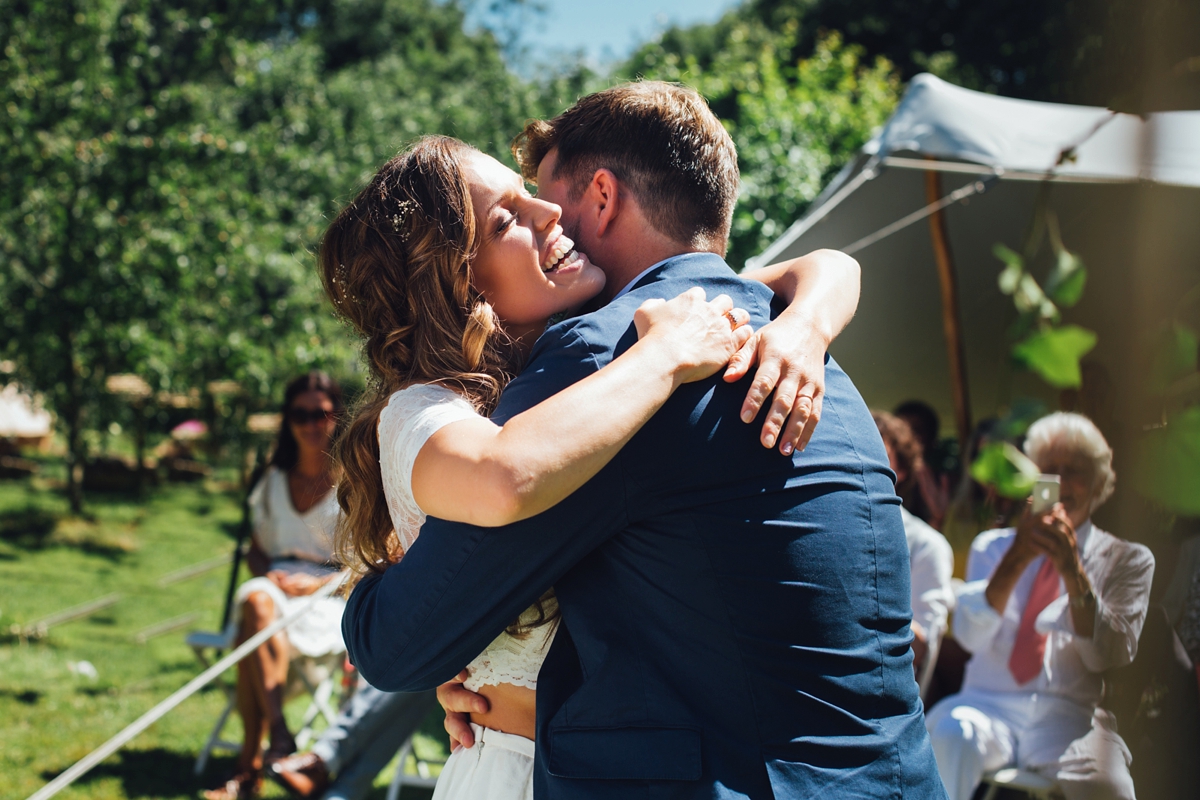 The couple exchanged wheat patterned rose gold wedding bands from Etsy based jewellers, Diorah Jewellery.
"We had two readings – the first one was 'Dinosaur Love', a poem by Harry Baker. This was performed excellently by one of our friends including an incredibly loud ROAR which got squeals and laughs from the whole audience. The second reading was an extract from 'Appetite' by Nigel Slater called 'What Goes With What', in honour of our love of food."
The ceremony went beautifully, but Daisy has one regret about the day – being late!
"Hands down my biggest regret of the day was being half an hour late! I still to this day come out in a cold sweat when I think about it. Everyone assures me they were having an excellent time in the sunshine enjoying a beer before I arrived but I was so cross with myself for letting the morning slip away and missing out on 30 minutes of my wedding!"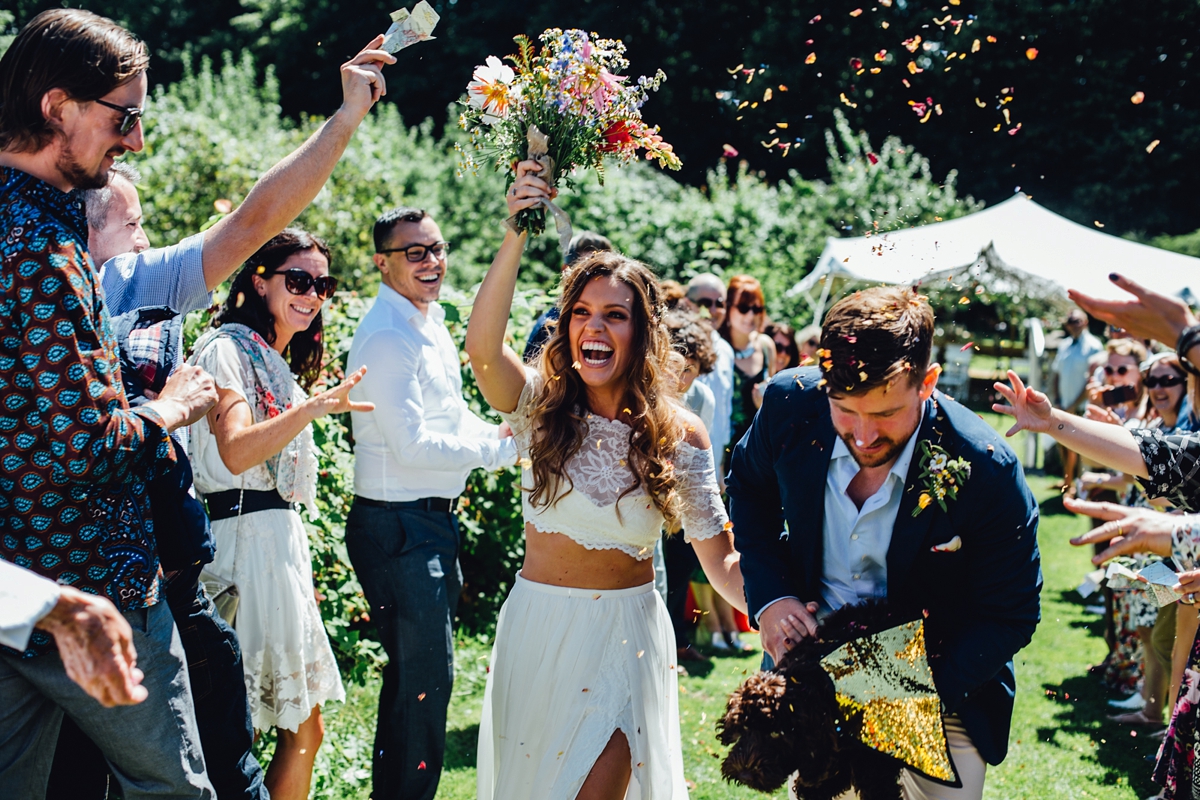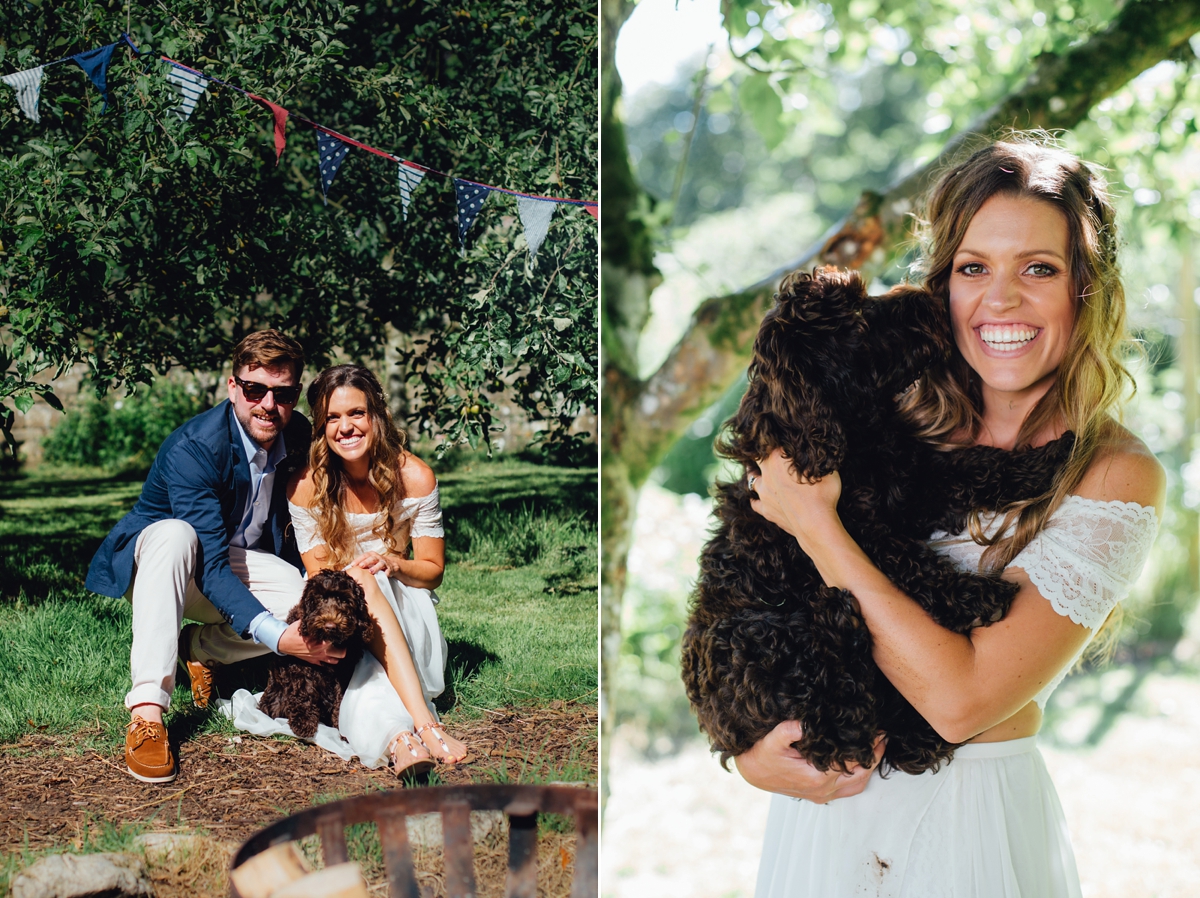 Daisy also felt that with her name, it was only right to hire a bicycle made for two, and so they did from Teacups and Tandems.
"There was a lot of pressure to get the food right on the day as everyone knows how much we are into our food! The venue blew us away though – we had an Argentinian Asado where all the meat was slow cooked over an open fire pit for the duration of the day, served with seasonal fresh salads from the garden. Everyone still talks about how delicious it was."
Following the ceremony, games and cocktails were enjoyed in the sunshine, as well as live entertainment from human jukebox, Pip's Jukebox from his garden trolley stage.
"Our invitations and stationery were all designed by one of my bridesmaids, Beth Crockatt, who is, among other things, an exceptionally talented pen and ink artist. The invites were inspired by our garden and home, which we affectionately call Snowdrop Farm, as we're slowly getting more and more animals! (currently one dog, two cats and three chickens)."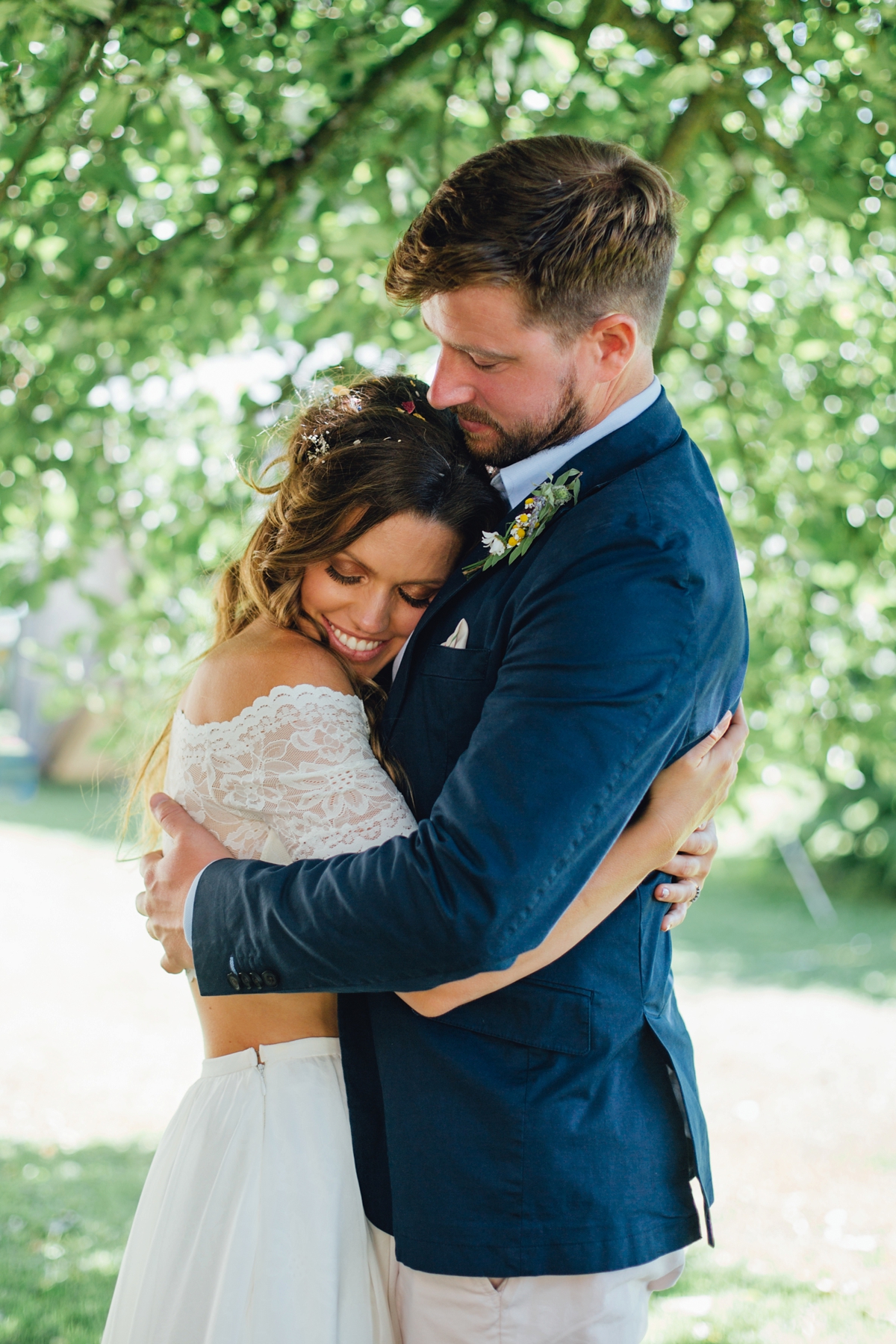 There were many happy (and sometimes hilarious) moments the couple savoured.
"My favourite comedy moment was when Sarah our photographer got us all together for the group shot and asked, 'Can someone tell the old lady with the white hair to stand up at the back,' to which we all looked at each other wondering who she was talking about, only to realise she meant my dad! Who then proceeded to bumble up to the front of the group and lie down on the floor like he was posing for some kind of 80s boudoir shoot! To which I screamed 'Dad! Can you not just be normal for once?!'"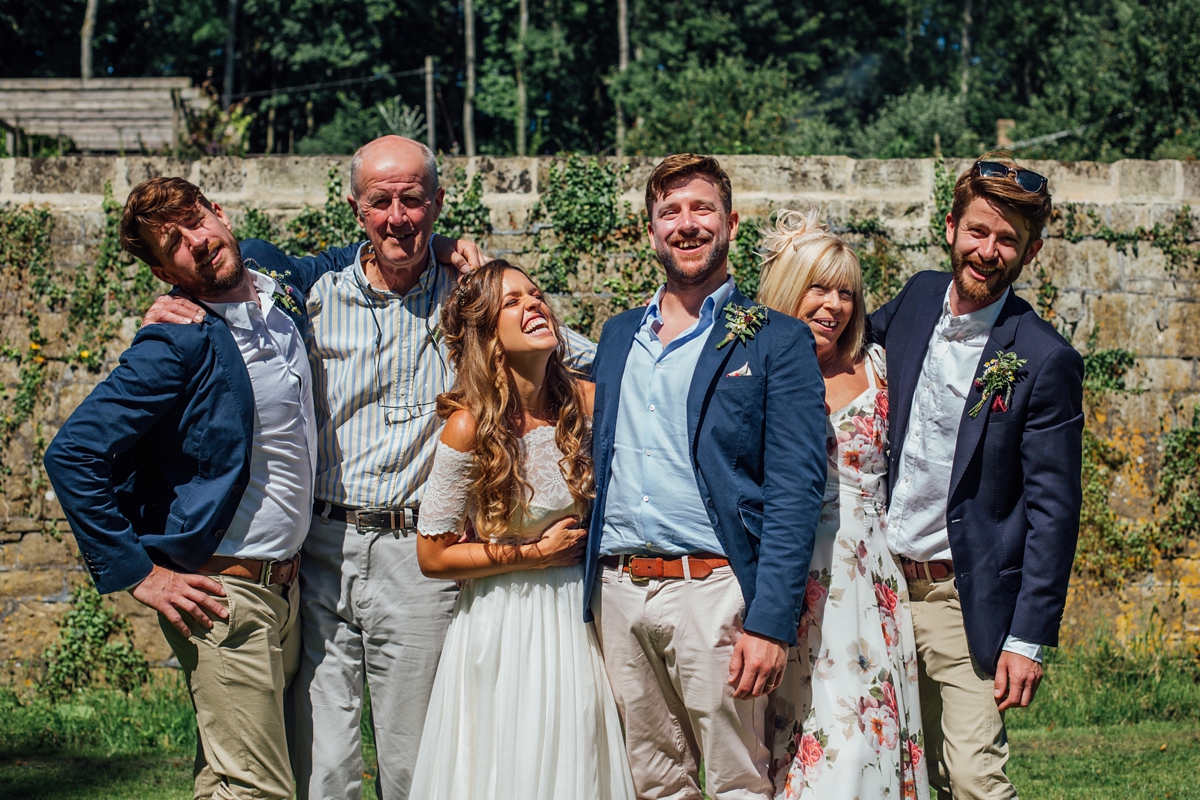 In the shade of Pythouse's marquee, rustic tables were dotted with clusters of pretty flowers and guests received goodie bags of favours to keep them entertained.
"We had edible cocktail sweets from Smith & Sinclair laid out on the tables and gave every guest a party bag filled with bits and bobs – sunglasses, masks, Hawaiian necklaces, retro sweets, inflatable drink holders, glow sticks, transfer tattoos from Inkwear... I love the fact someone tattooed their 4-year-old child with a moustache! I was also able to include our two cats into the wedding here by getting a drawing of them made into a custom transfer tattoo – and yes I did dress them up in wedding outfits in order to pose for the photo!"
The team at Pythouse Kitchen Garden also made a lovely semi-naked cake, decorated with fresh, colourful flowers.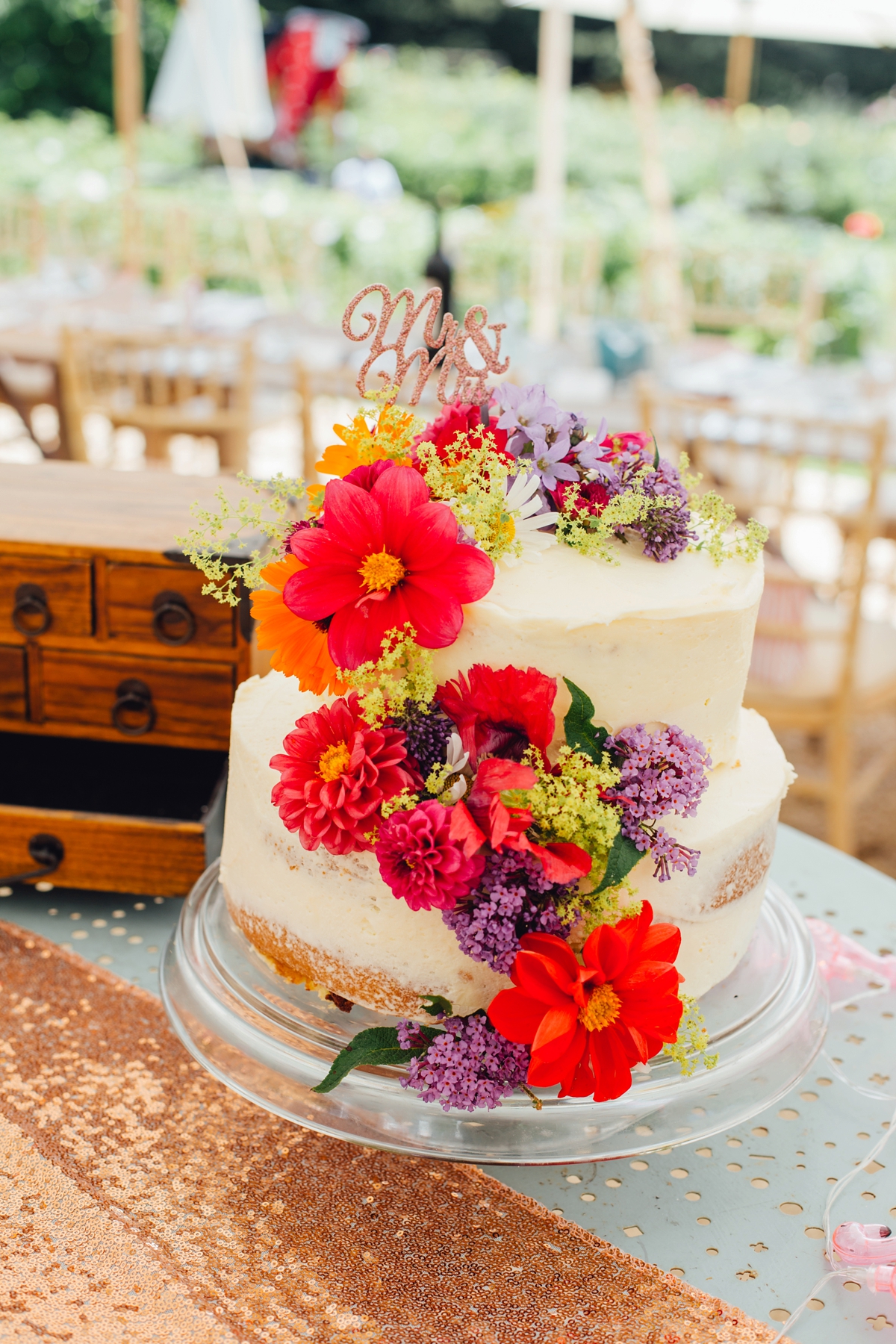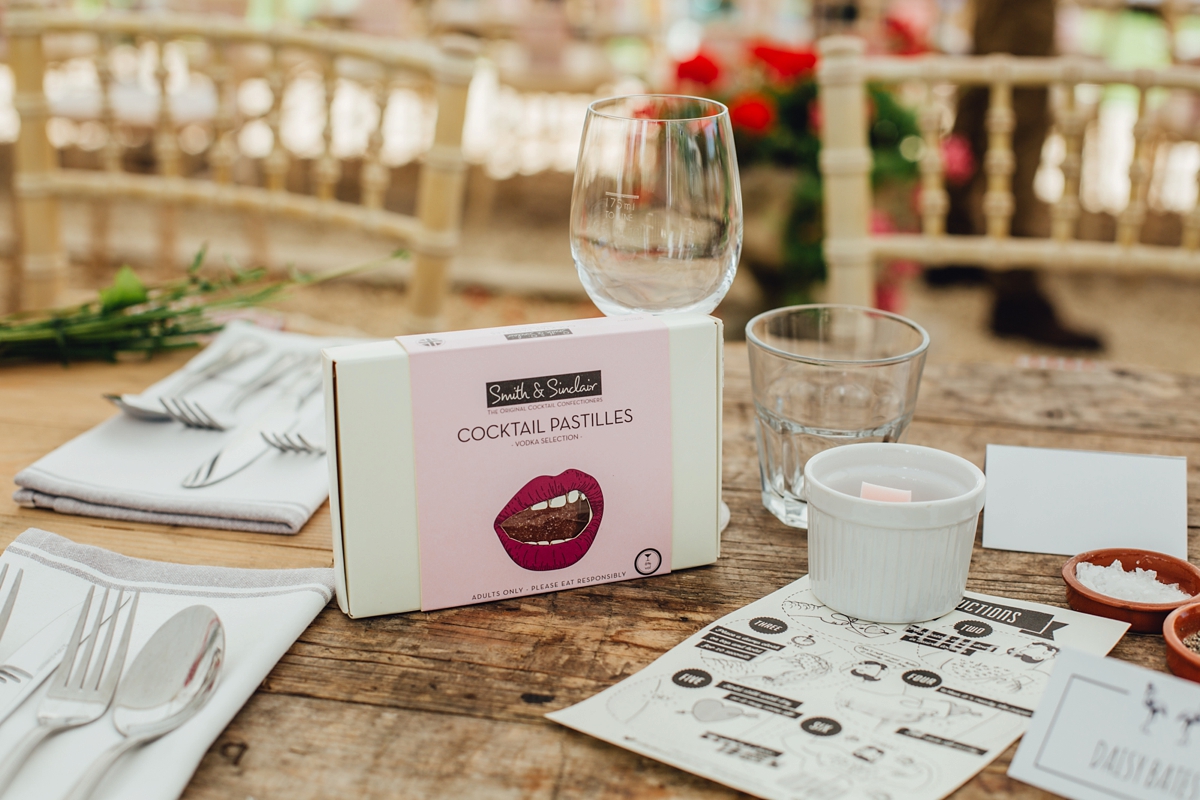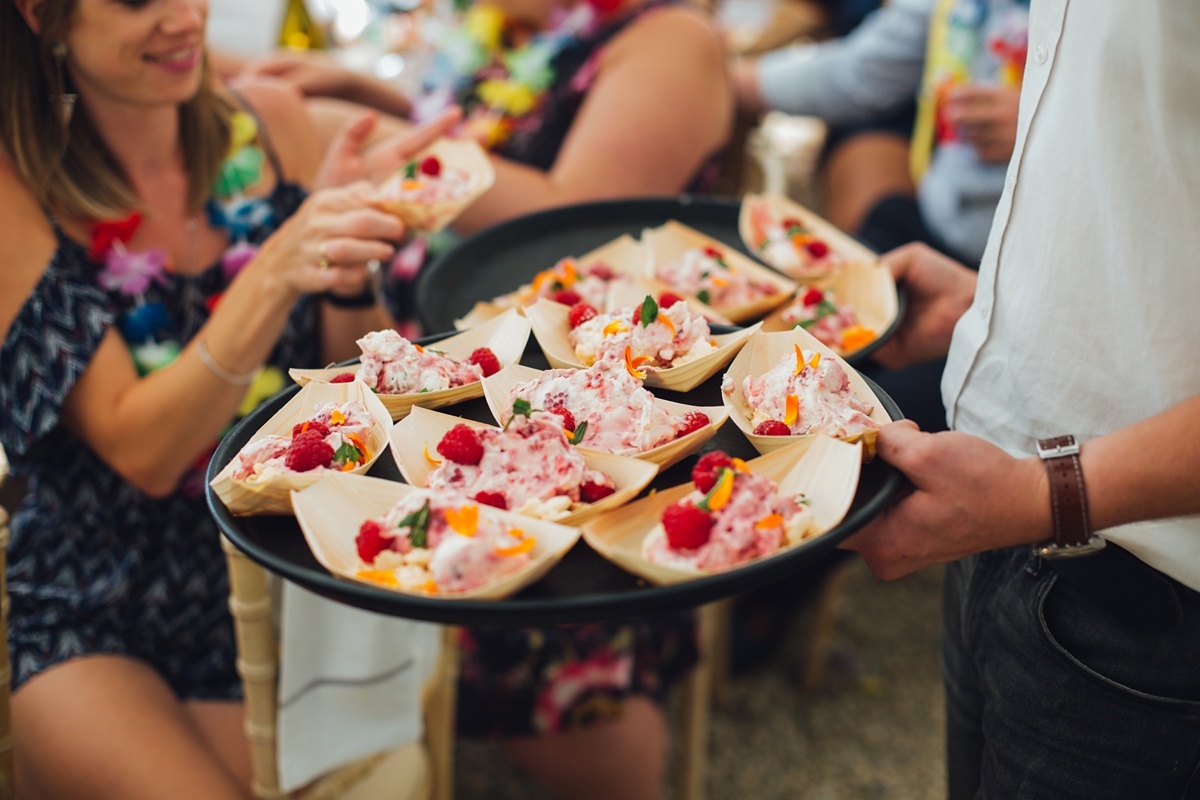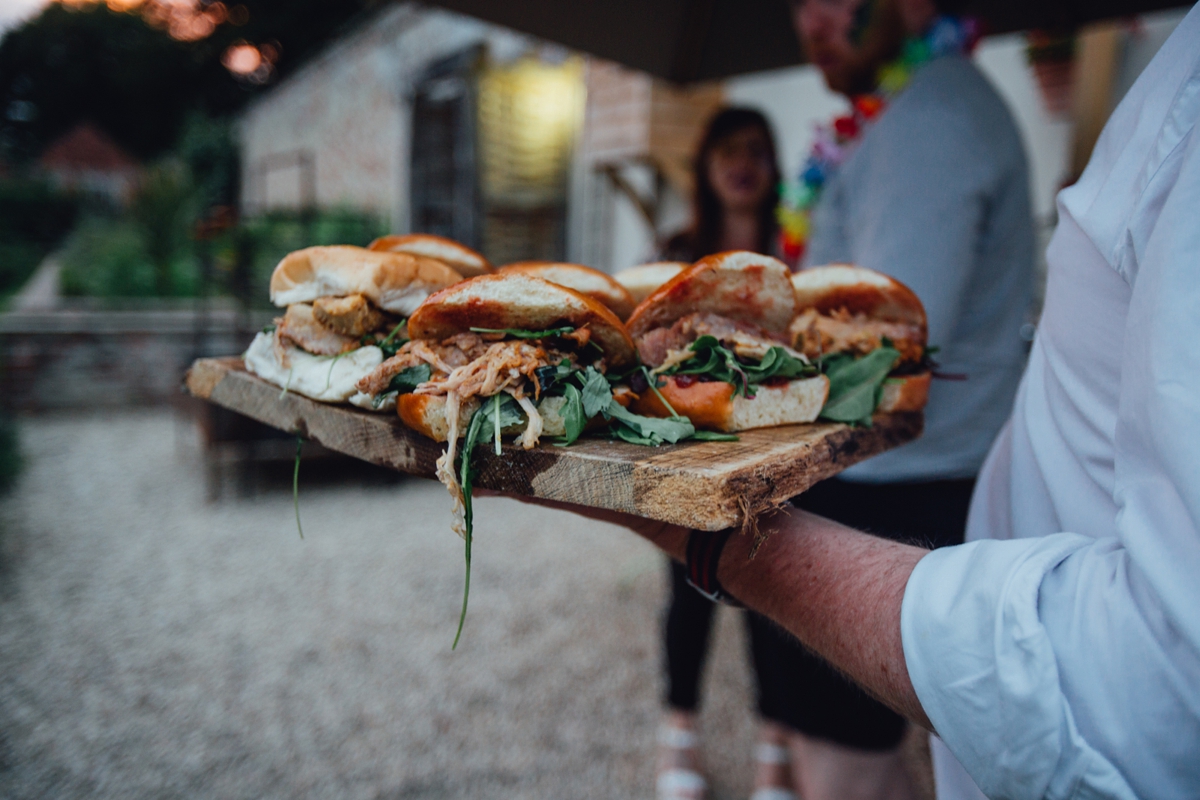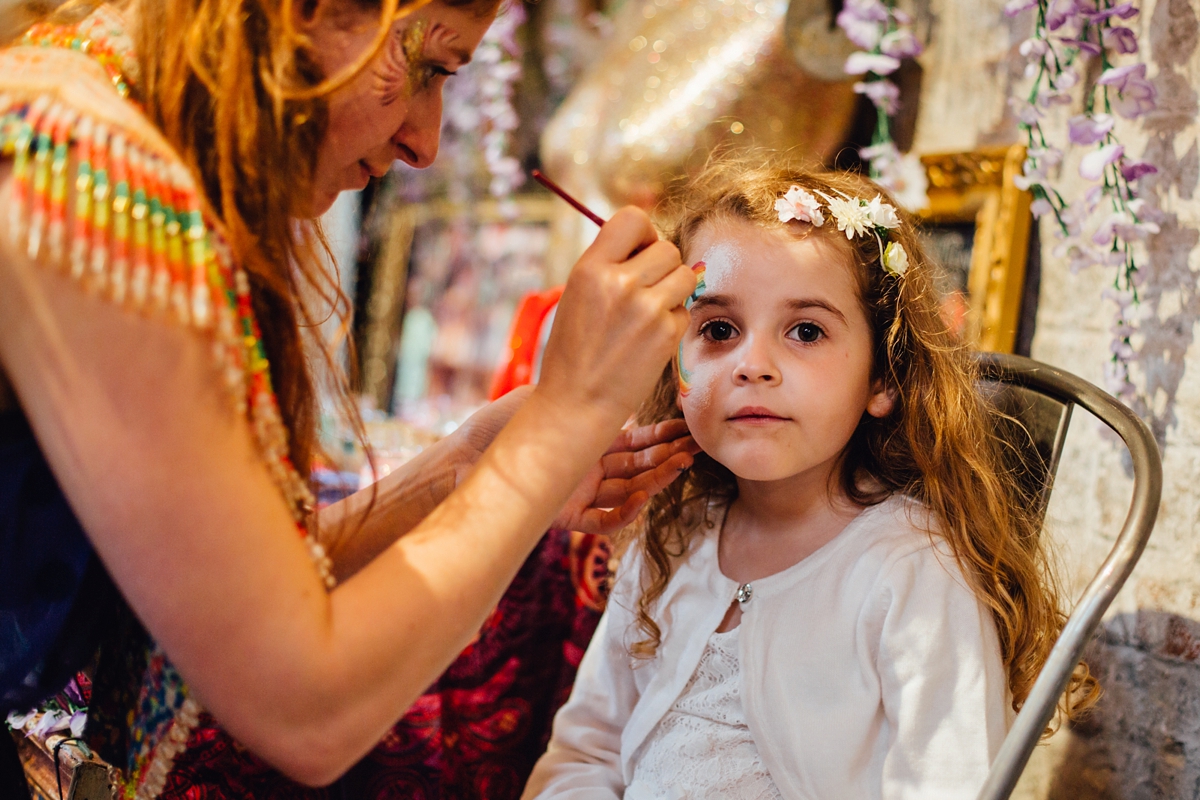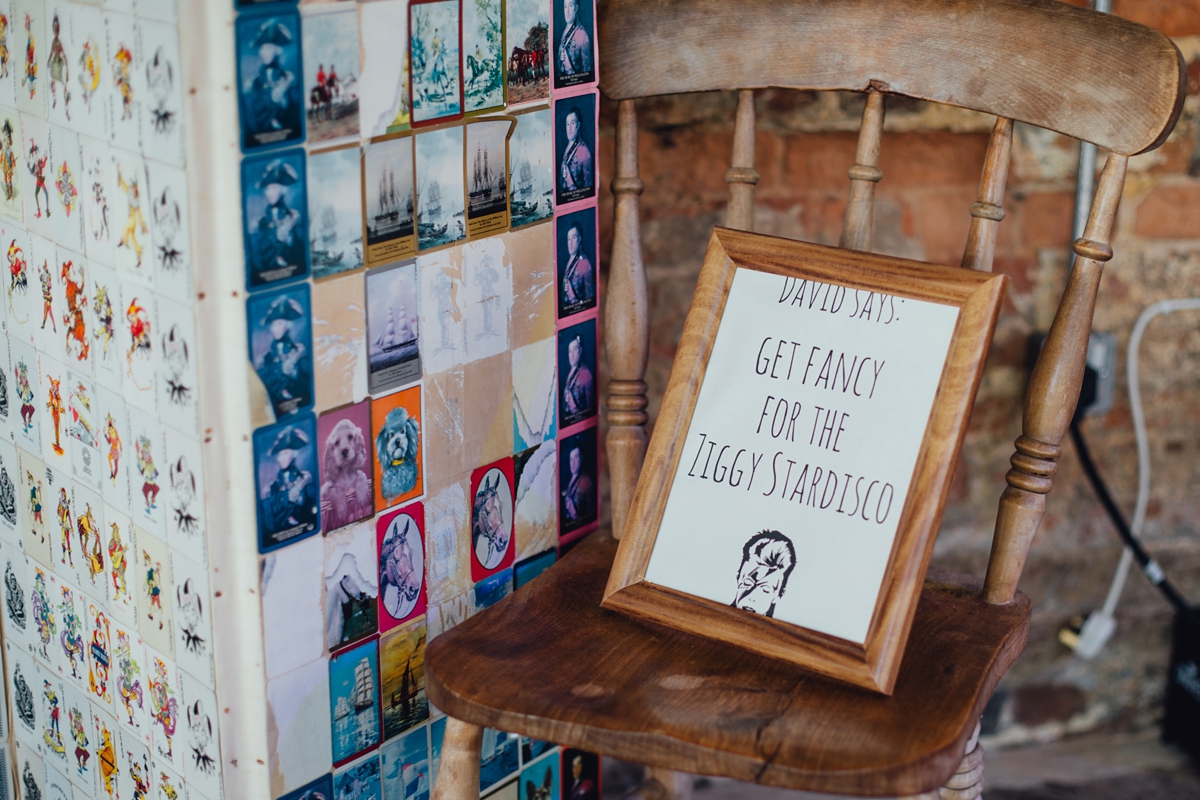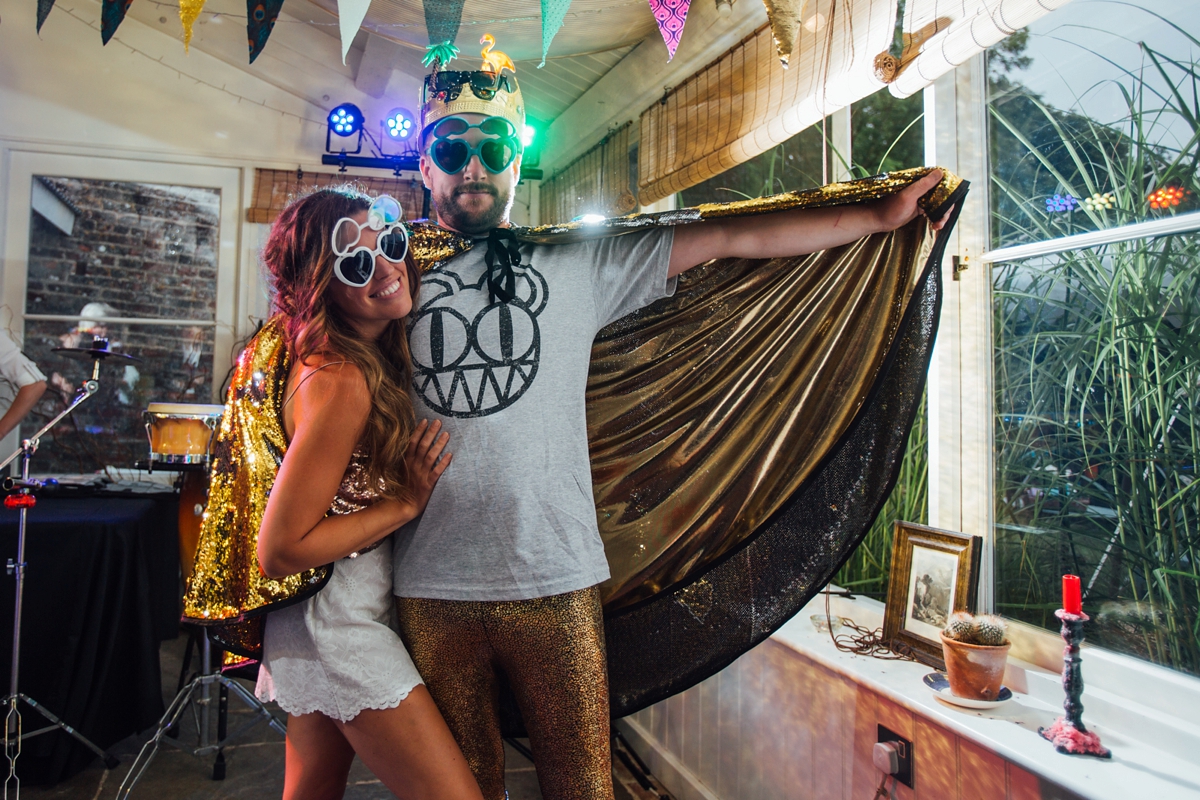 Later in the evening, the walled garden was transformed into disco central, brilliantly named Ziggy Stardisco – a name thought up by the amazing Love My Dress Facebook group, of which Daisy was a member. Daisy had her disco shorts, but Alex didn't miss out either – he had a custom-made disco cape from Capes Capes Capes.
"Huge thanks to the LMD Facebook group for coming up with the name! All guests were encouraged to bring a change of outfit in the invites, and we supplied a large chest full of fancy dress which everyone delved into. We also had the Fashpack on hand to help guests in their transformations with glitter and face paint. We were totally blown away with the effort everyone put in and it set the tone for an awesome disco! The night ended with a conga around the venue to 'Free Nelson Mandela'… It was pretty epic."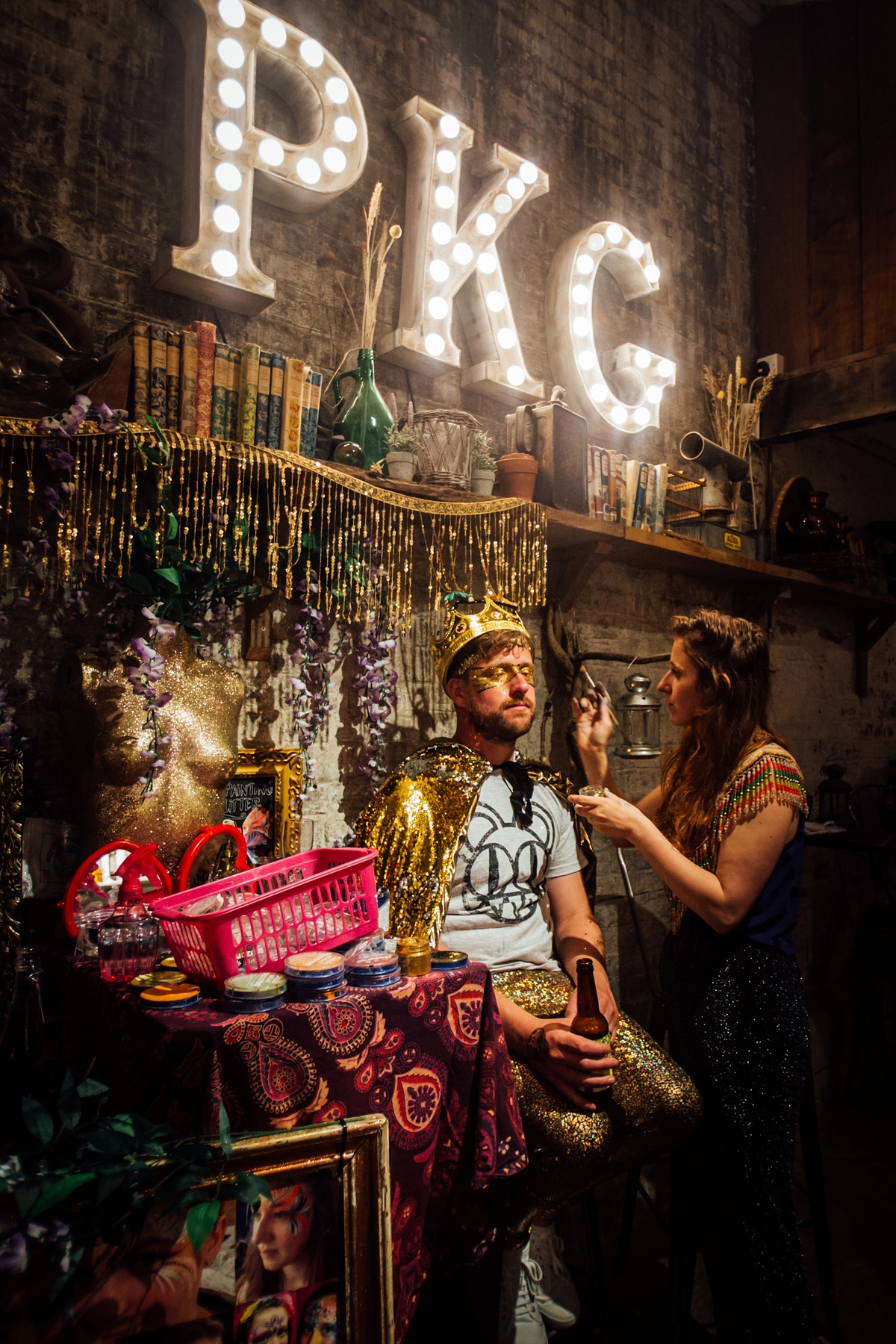 "Our first dance was 'Let's Dance' by David Bowie – having only rehearsed at home a couple of times after a few too many beers in the garden, we somehow managed to absolutely nail it including Alex lifting me up and spinning me around just as everyone set off the confetti canons!"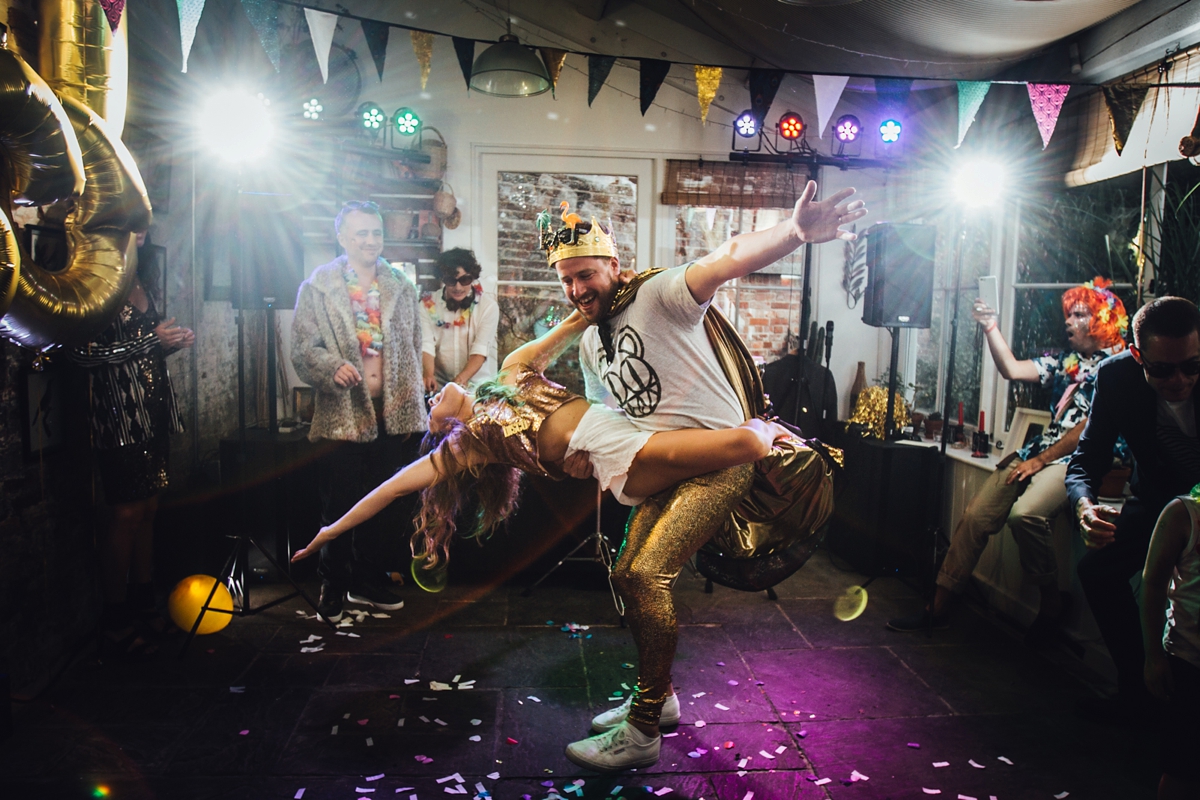 Words of Wedded Wisdom
"Join the LMD Facebook group! It's a wonderful part of the internet and incredibly helpful and supportive."
"If anyone offers to help, take it – at first you'll feel bad and as if you're putting people out, but you will be so grateful the closer it gets to the big day. Invite as many people as you can, especially if you know they are good for a party! Nothing better than a solid dance floor all night."
"Make a wedding website and Facebook group and don't be afraid to communicate lots with your guests in advance – people like to know what's going on."
"Don't expect your guests to RSVP and get upset when they don't. I remember so many people on the LMD Facebook group discussed this so I was well prepared for the lack of response. Make it as easy as possible for your guests, everyone is busy and forgetful – I sent out our invites electronically and guests RSVP'd online, which kept everything much more straightforward and stress free."
"If you're not into crafting, don't craft. I felt a lot of pressure to do things myself as that's what I pictured that brides should do, but I don't have the patience for it. Life is too short to panic about ribbons if that's not your thing."
"Lots of people have said it before but do whatever you can to have a videographer on the day – even if it͛s just a friend with a camera picking up bits here and there, it really is so wonderful to watch it back on film. I spent months deciding whether or not to bother, and I am so glad I did – every time I watch it I get goose bumps and have the biggest smile on my face."
"Employ someone to run the day like a planner, coordinator or MC – everyone was so great at helping to organise things but it would have been simpler and more enjoyable for everyone with a central point of contact for us all to go through."
"Have a strict time schedule for the morning and stick to it – I did actually have this but I got so caught up in trying to be zen and relax rather than being military about it like I would normally be, that time just evaporated!"
"If your husband isn't much of a public speaker like mine, don't feel you have to do the standard format when it comes to speeches."
"Remind people to sign the guestbook in the speeches – ours was a little unusual with travel postcards instead of a book and a lot of people missed it."
"Plan to do a short mini-moon after the wedding and save your big honeymoon (or Megamoon!) for further down the line – there's so much to digest after the wedding I don't think I would have been mentally in the right place to really enjoy a long break away, and its lovely now to have a big trip to look forward to."
"Expect to feel a rollercoaster of emotions from low to incredibly high. I was upset in tears the day before, the morning of and during! But I was also the happiest I've ever been, my face hurt from smiling so much and laughing all day long. Try your best not to be a perfectionist – everyone tells you that things won't go to plan but in the back of my head I thought 'Not on my watch!' But of course it is inevitable."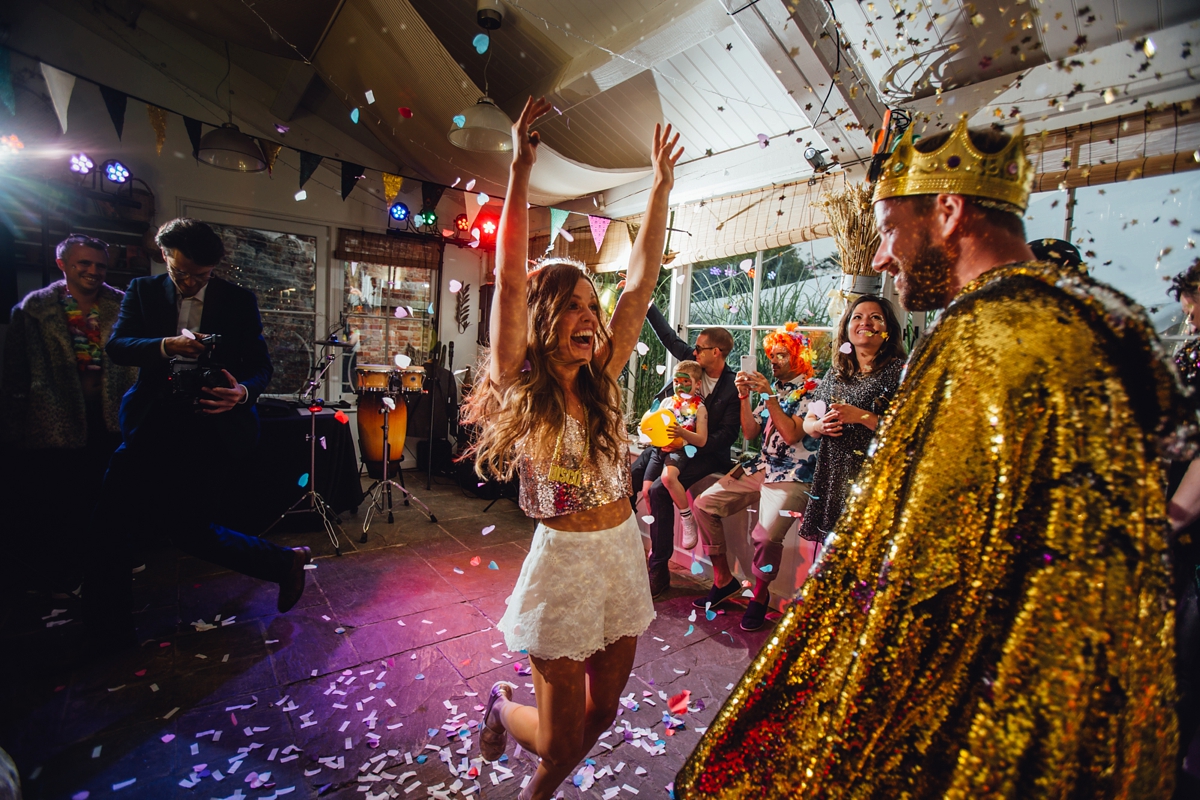 "As organisation is part of my job I put so much pressure on myself to make sure everything ran smoothly as I felt people would be judging me on it and thinking that if my wedding wasn't perfect then I must be terrible at my job…Remember that this isn't a job, this is a day of to celebrate love with your nearest and dearest and they're not judging you on it, and it will hopefully allow you to relax and enjoy the day!"
"Be prepared for the fact you may experience Post Wedding Trauma (or PWT as I've been calling it) – something which I don't think is discussed that much. I'd read about 'Post Wedding Blues' before but that was always described as a feeling of emptiness as you no longer have wedding planning to occupy your time. I didn't feel that so much, it was more that I was in a state of shock afterwards trying to process everything from the day, and mostly torturing myself for the little things that didn't go to plan (that of course no one else had any idea of). I just felt bereft and a sense of panic that the day that I had spent 18 months thinking about and planning was over in a flash and I would never get to do it again. Why hadn't I got everything right? Did I fail?"
"It wasn't until I met up with a friend who had got married the year before me and I tried to explain this feeling to her, that she said she felt the exact same way after her wedding and proceeded to tell me all the things that still annoy her about her day even now! It made me feel so much better – I wasn't going mad, other people felt like this too. I now make a point of asking any fellow ex-brides about it, and they all relish in revealing those little things that wound them up about the day –it's very cathartic to get it off your chest! So don't panic if you go through this –as time passes eventually those thoughts fade, you come to accept that the wedding day can't be changed and you're left focusing on all the lovely memories that bring a big smile to your face. And when the photos come back and you meet up with friends from the wedding who tell you all the funny stories that you had no idea about, you'll get a renewed sense of perspective on the day and see it for what it truly was – the day when you married the love of your life surrounded by your closest friends and family, and whether you were late or the balloons weren't right it doesn't matter!"
Finally, I'd highly recommend experimenting with meditation in the run up to the wedding –it's something which I have discovered in the last few months and it has helped me in so many aspects of my life, in particular coming to terms with some feelings associated with the wedding like regret and acceptance. I think it would have been incredibly helpful to have had an increased sense of awareness about my emotions during the entire experience. Headspace is my favourite thing I do each morning now and I think everyone should have a little bit of it in their lives!"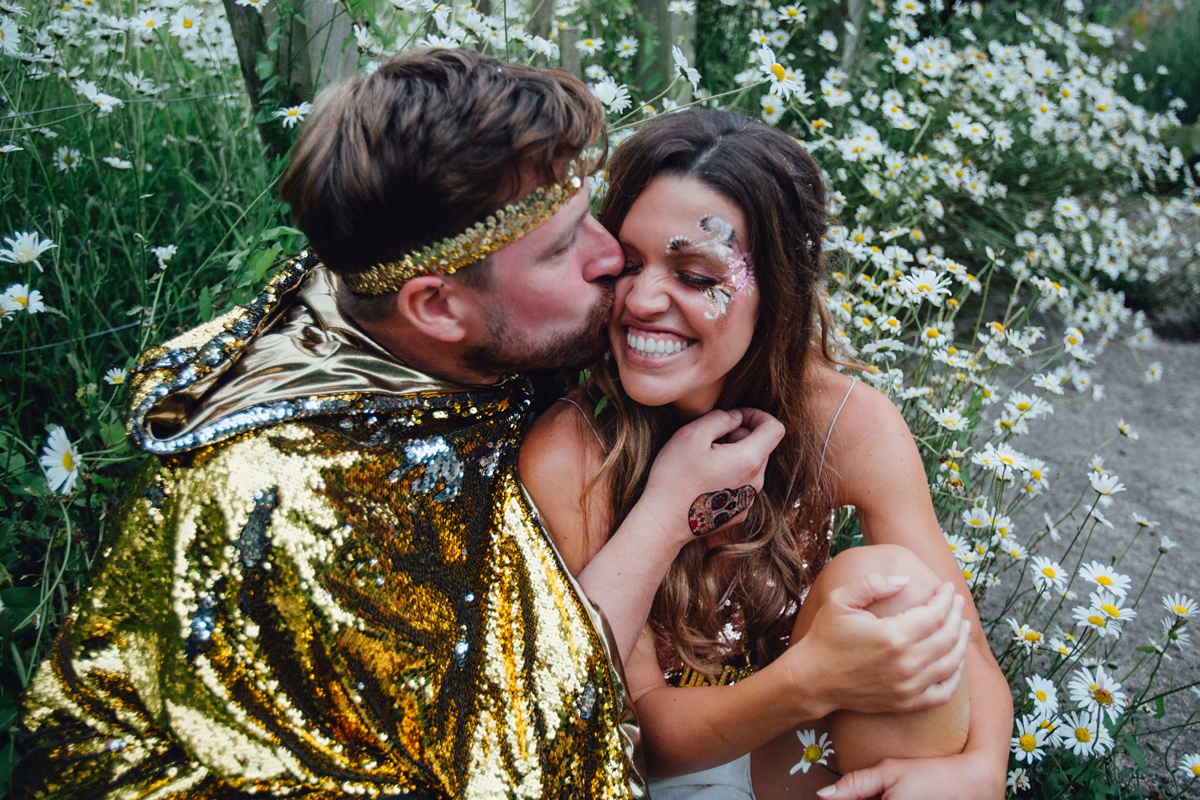 Thank you Daisy and Alex, it's been incredibly special to write about your amazing, funky, colourful glitter ball of a day, and thank you Daisy for such thoughtful and honest words of wisdom, too. If you haven't already, I would encourage you to join the Love My Dress Facebook group. I did myself when planning my own wedding and found it a safe, supportive space to discuss whatever worries and issues you might be facing, both pre and post wedding. Did you know we also have a whole section of our site dedicated to the thornier aspects of wedding planning? You'll find the Let's Talk section here.
Many thanks also to talented photographer Sarah Gray, and videographer Paul Samuel White for their fresh, joyful captures.
With love,
Laura