Well hello again!  I know I might sound a bit behind the times but given that this is my first feature on Love My Dress in 2017, let me just say Happy New Year! If you're recently engaged (congratulations by the way!), new to the world of wedding planning, a new reader of Love My Dress or simply haven't read one of my features before then you can find out a little bit more about me here.  And, if you have the time (!), you can also see more of my wedding planning features (or simply bookmark them and revisit them later on) right here!
If, however, we've met on these pages before, it's great to see you again!
I know that this time of year is always incredibly busy in the world of wedding planning (that might be a slight understatement) with couples spending endless hours of researching, making enquiries and booking their dream team of suppliers and today, I'm addressing this very issue by explaining why I'm not the wedding planner for you…
Now if that last sentence has shocked you a little, perhaps I should explain.  I know that there's still a perception that wedding planners are elitist, that we're a complete (and some might say unnecessary) extravagance and that we spend our days tasting cake and lunching at venues all in the name of 'work'.  However, nothing could be further from the truth.
Being a wedding planner is hard work; it involves a huge amount of organisation, admin and all the rest of the jobs associated with running your own business – that's a 'behind the scenes' feature for another time. Today, I'm talking about something very different.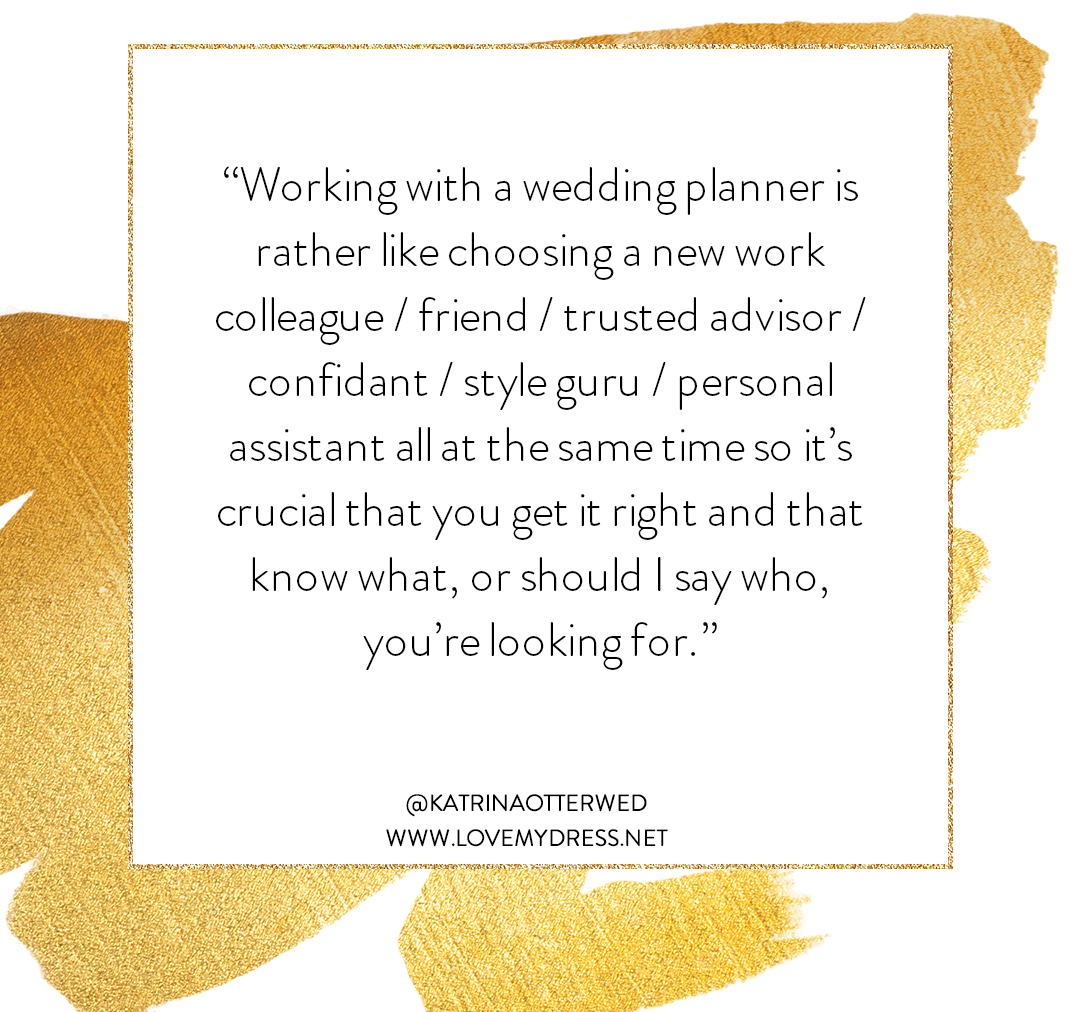 The reality is that working with a wedding planner is rather like choosing a new work colleague / friend / trusted advisor / confidant / style guru / personal assistant all at the same time so it's crucial that you get it right and that know what, or should I say who, you're looking for.
A great place to start is literally by writing a job description for your wedding planner because the chances are that you're looking for some very specific skills in the person that you want to work with.  And, it's really important that your planner's skills complement your own or fill in the gaps in areas where you know you're going to struggle.
What do I mean by that?  Well, some wedding planners such as Knot & Pop, Pocketful of Dreams, Always Andri and the Bijou Bride are known for their design flair and creative expertise. Others, such as Matthew Oliver, Louise Perry or Elisabetta White have the necessary skills, expertise and know-how to plan luxury, international celebrations.  Whereas I only work in the UK and market myself as a planner that specialises in classically elegant and minimalist luxe weddings.In fact, there are just as many styles of wedding planner as there are weddings so having even the roughest of ideas about your day before you start searching for a wedding planner is absolutely crucial – it will also save you a considerable amount of time in the long run.
If you know you want a boho wedding, then BoChic needs to be on your shortlist.  For chic London weddings with a modern twist, London Bride, Liz Linkleter or Carmela Weddings might be your new best friend, whilst anyone wanting an elegant and traditional country wedding needs a Dream Occasions, Bespoke Wedding Company, Something Blue, Vanilla Rose Weddings & Events OR a me in their lives!
However, I completely appreciate that when you're just starting out, the choice of planners can be somewhat overwhelming and it might seem impossible to choose between us all.  If this sounds like you, then here's my guide to shortlisting planners to contact:
The UK Alliance of Wedding Planners is the leading industry body for wedding planners in the UK and lists all of its members in one comprehensive directory. The UKAWP also has the strictest of entrance requirements and all members abide by their code of business practice so there's an added level of reassurance.
A Google search of wedding planners in your area (or the area that you're marrying in) will bring up lots of potential names. HOWEVER, as the majority of wedding planners are well used to travelling and have extensive networks of contacts, you don't have to work with someone local.  Try searching instead for 'creative wedding planner' or 'luxury wedding planner' and see what crops up.
Browsing through blogs and magazines is another good starting point. Look at the credits for styled shoots and the supplier lists for real weddings and make a note of planners whose work you like.
Directories such as Little Book for Brides also list lots of wedding planners and as Annabel gives each planner a little personal intro, you can get a good feel for who might be the right fit for you and your wedding.
The Wedding Industry Awards lists wedding planners nominated for regional and national awards so this is another good source of inspiration.
Finally, recommendations from family, friends and suppliers you've already booked can also be really helpful.
Now you have a list of names, it's time to start whittling down the potential candidates!
Visit their website. What's your first impression?
Now think about what was on your wedding planner job description – if you're looking for a creative planner, are you excited by the images and general vibe of their website? If you're looking for organisation and experience, do you feel reassured by what you see and read?
Check out your shortlists' social media feeds. How do these make you feel?  Do you like the content the planners are sharing and the personality that's coming across?
Have a good look at the planners' portfolios – do you like what you see? It's worth keeping in mind that whilst the look of the weddings might not be exactly what you've got in mind, a planner is always working to a brief so don't write someone off just because you don't like a colour scheme or flower variety!
Read through any testimonials or recommendations that the planner has on their website and see where / if their work has been showcased elsewhere. Most websites include badges from the magazines / blogs that have published their work.
Thoroughly check the services that the planners offer. Are they going to be able to help you in the areas where you require support?  You'll see that some planners make a bigger emphasis of certain elements of their service offerings (i.e. design and styling) so you'll get a good feel here as to whether you'll match up.
Finally, it's obviously just as important to consider how much your shortlisted planners charge as it is with any other supplier. Some planners show their fees on their website (this might be a minimum fee for full planning or a set price for other services) and others are happy to give you this information when you enquire.  As with all things wedding related, it depends how much you're happy to spend and how much value you place on the work undertaken, service and experience.
With the research part done, what's your gut feeling?  Who do you think you'll get on with?  These are the planners to contact and I'm totally fine with the fact that you might not want to contact me!
Why? Well, it's simple really – working with a wedding planner is a two-way street.  You're working with the planner and the planner is also working with you.  You need to get on, you need to respect each other and you need to understand that each of you brings something important to the relationship.
Every wedding planner essentially does the same thing – we plan weddings.  The things that differentiate us are our approach and style.  In the same way that you choose your wedding venue or photographer because they suit you, you should pick you planner in exactly the same way.  We promise we won't take it personally if you select someone else!
The best advice I can give you is to be honest with yourself and be honest in your choice of suppliers.  Don't work with someone because they're a name you know or because you're not sure of what your other options are.  Work with a wedding planner because you know they'll create, organise and plan the day that you want and that you get along and have fun doing so in the process.
And if I'm not the planner for you, that's OK.
Love,
Kat x