We all adore a touch of bridal glamour here at Love My Dress, and so this morning's offering of Vera Wang style with a muted pastel and copper backdrop all amidst the grounds of a beautiful country house is a wedding blog feast of goodness. Kirsty and John's gorgeous garden wedding was held at the groom's family home in Aberdeenshire on the 12th of August 2016. The wedding was a two day affair where the couple truly did pull out all the stops to entertain their guests and celebrate their marriage. The images before you by Carley Buick are from the first day, but the party continued well into the next day with an extravaganza of snakes, acrobats, fire dancers, shisha, a band and fireworks.
Film by Aberdeen Wedding Films
"We live in one of the cottages on the estate and contemplated other venues before deciding to get a marquee overlooking the pond. We wanted the party to go on until the early hours and not to have to worry about adhering to any noise laws. We also wanted our dogs, Margot and Flloyd, to be involved. Organising the wedding at home was easy as we didn't have to ask permission for any of our crazy ideas and we could do whatever we wanted."
Photography by Carley Buick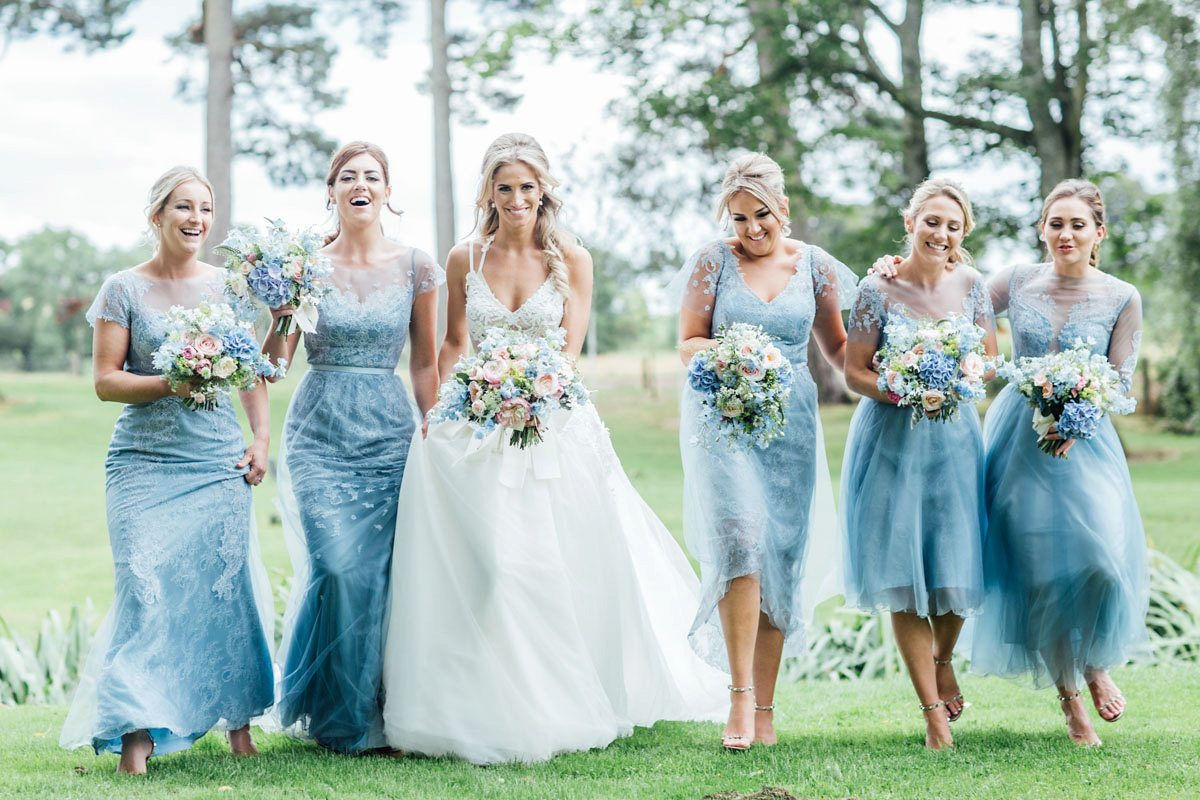 "I based the day around us marrying in the walled garden. Wild flowers, a soft blue/grey colour palette, romantic and whimsical, with touches of copper and blush pink. I was keen to give the wedding an eclectic look and create points of interest. We had a seating area peppered with cherry blossom trees, a walkway of flowers, a hanging feature above the bar and a large outdoor terrace overlooking the pond with a foliage covered cocktail bar."
"In the words of The Human League 'I was working as a waitress in a cocktail bar' when we met. John would often come in for a drink with some mutual friends and we soon started dating. I moved up to Aberdeen the following year to start uni and I moved in with John's family. We became very close and all of John's three sisters were bridesmaids."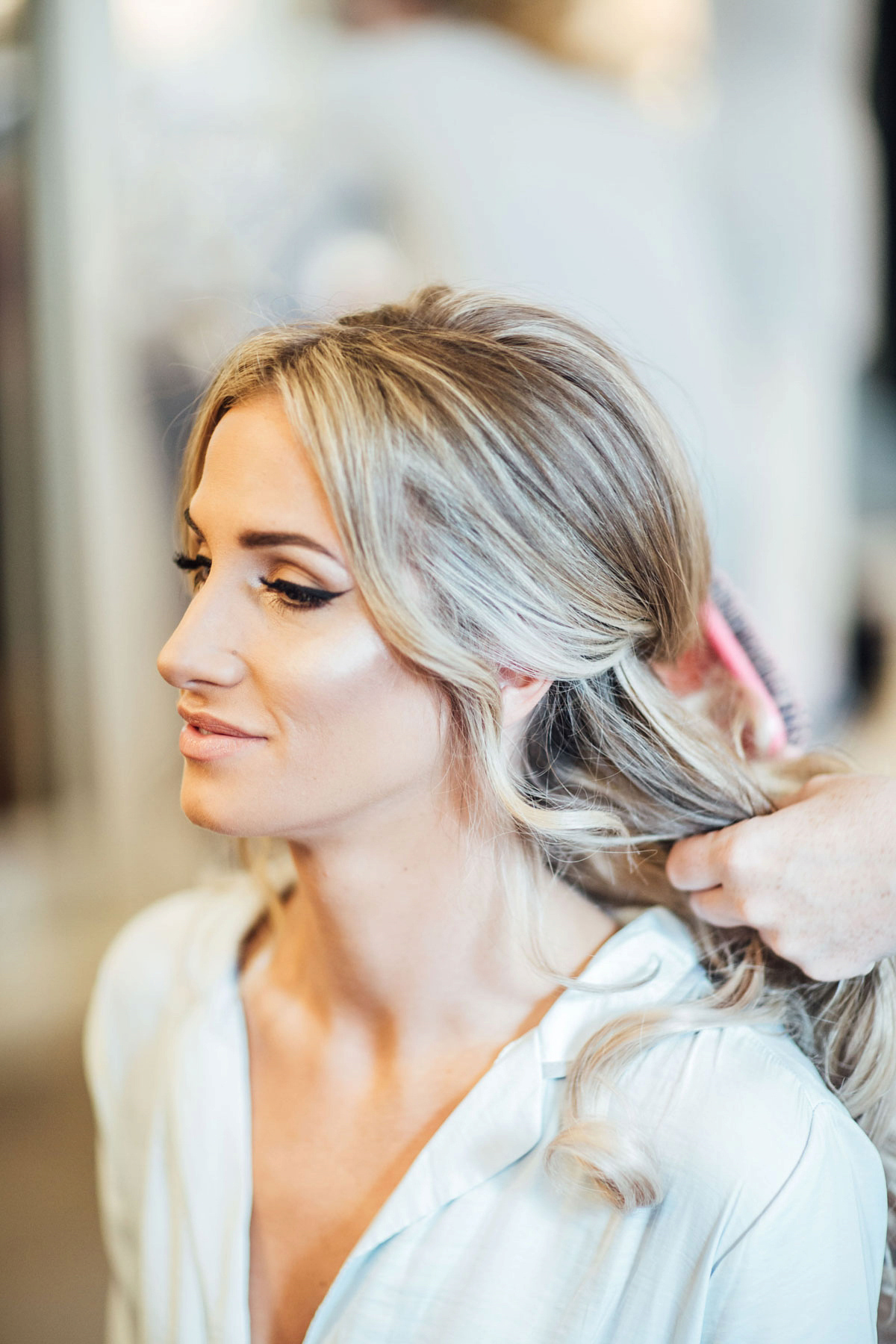 "We got engaged on New Year 2014/15 during a family holiday in St. Barths. We were on a boat and I went up to the top deck where John was waiting, having decorated the area with lights, candles champagne… and a ring."
"It was very cool when the captain sounded the horn to celebrate, then the hundreds of other boats in the port did too."
Initially Kirsty was set on a slinky boho design, but ultimately, fell for the glamour of her Vera Wang dress.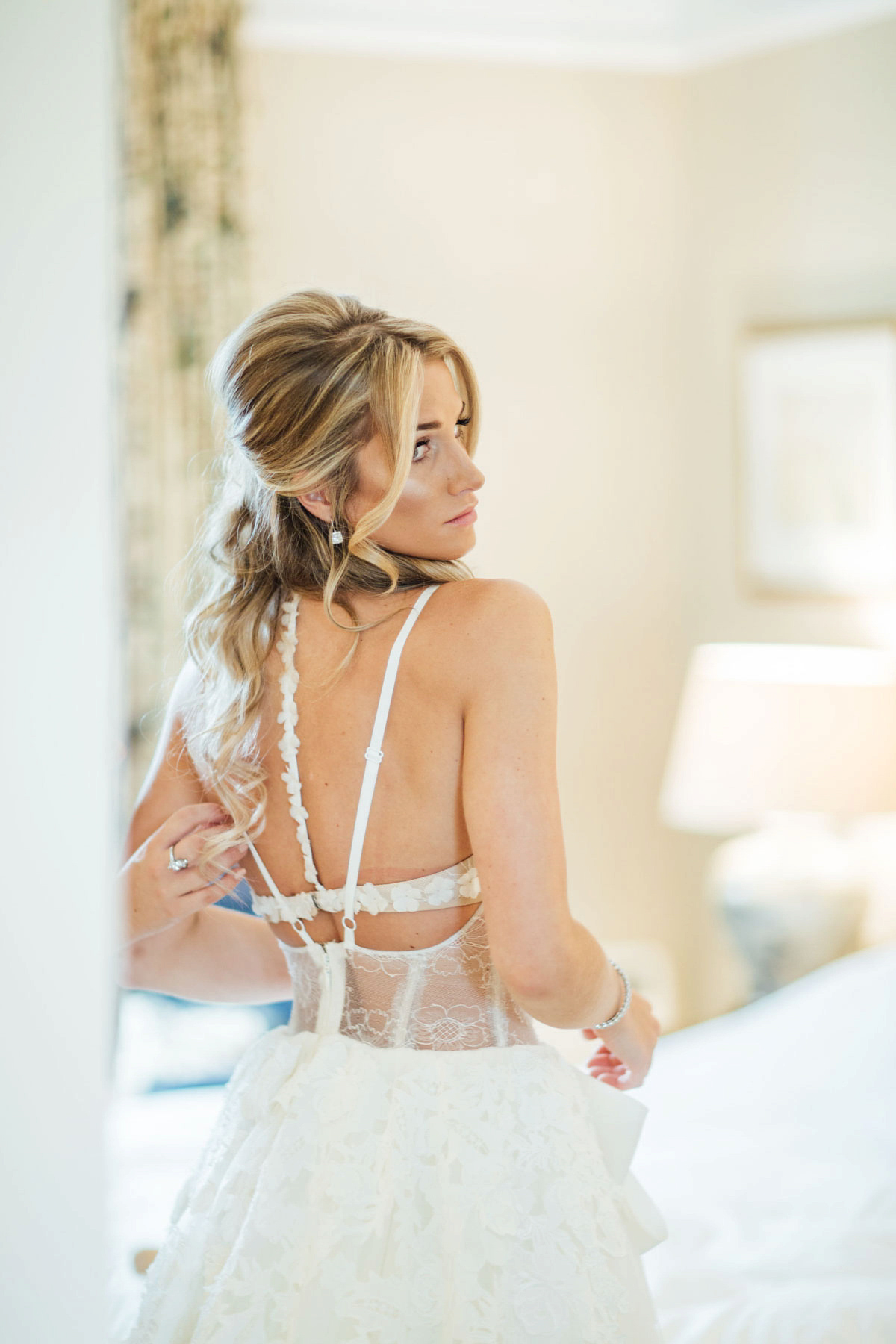 "I found the process of finding my dress quite tricky. Having worked for Matthew Williamson, I often wore gowns and beautiful dresses so I found it hard to find a wedding dress that stood out."
"I wanted to be fashion forward and classy, so the amazing ladies at Vera Wang helped me find a dress, which I think, was the perfect mix."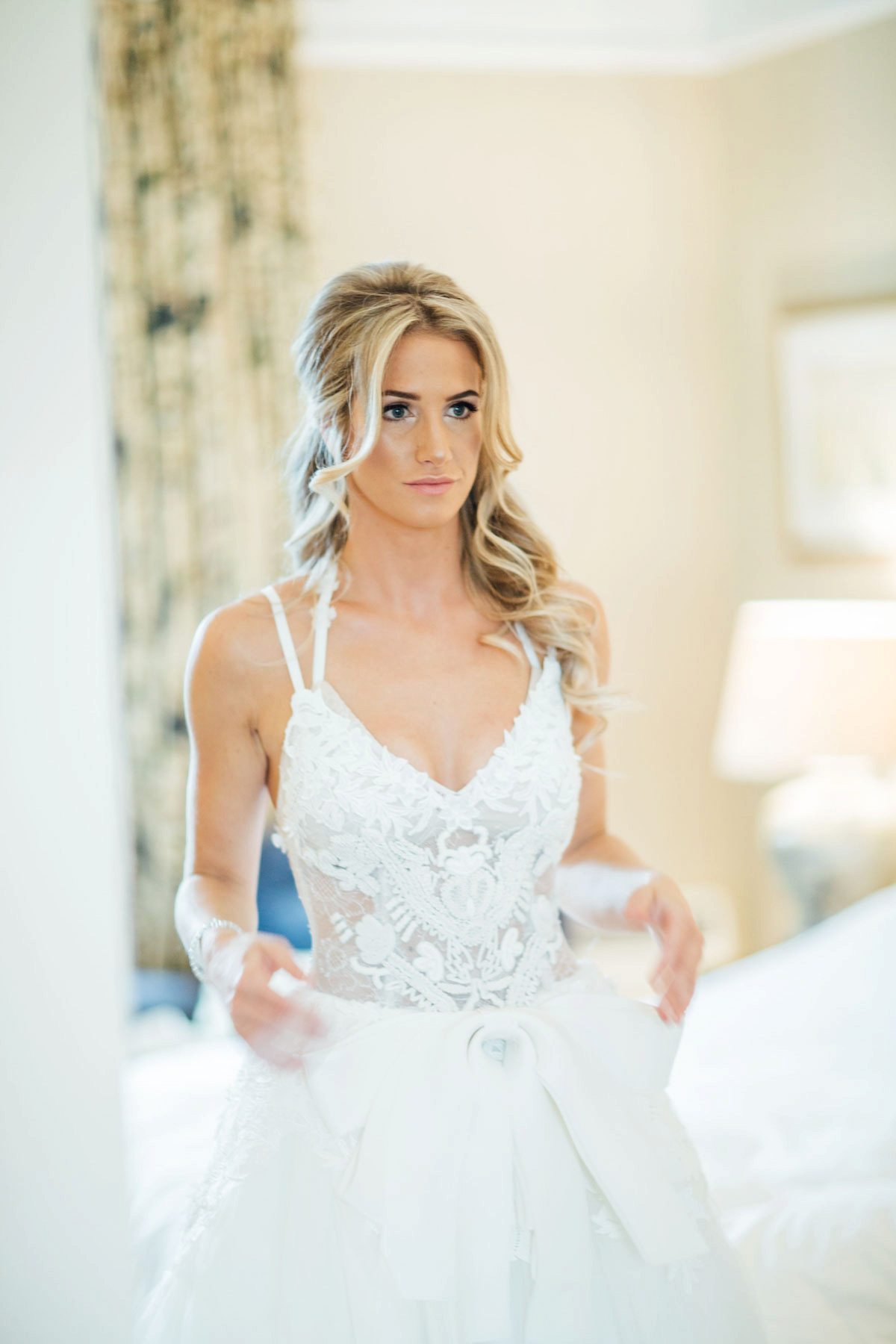 A beautiful Vera dress needs a pair of shoes with personality and what better than a pair of silver Aquazzura sandals. Kirsty also wore a pair of Cartier earrings and borrowed a bracelet to wear. Later on, the bride changed into a gorgeous dip hem dress of her own design made by Nina Edge Design.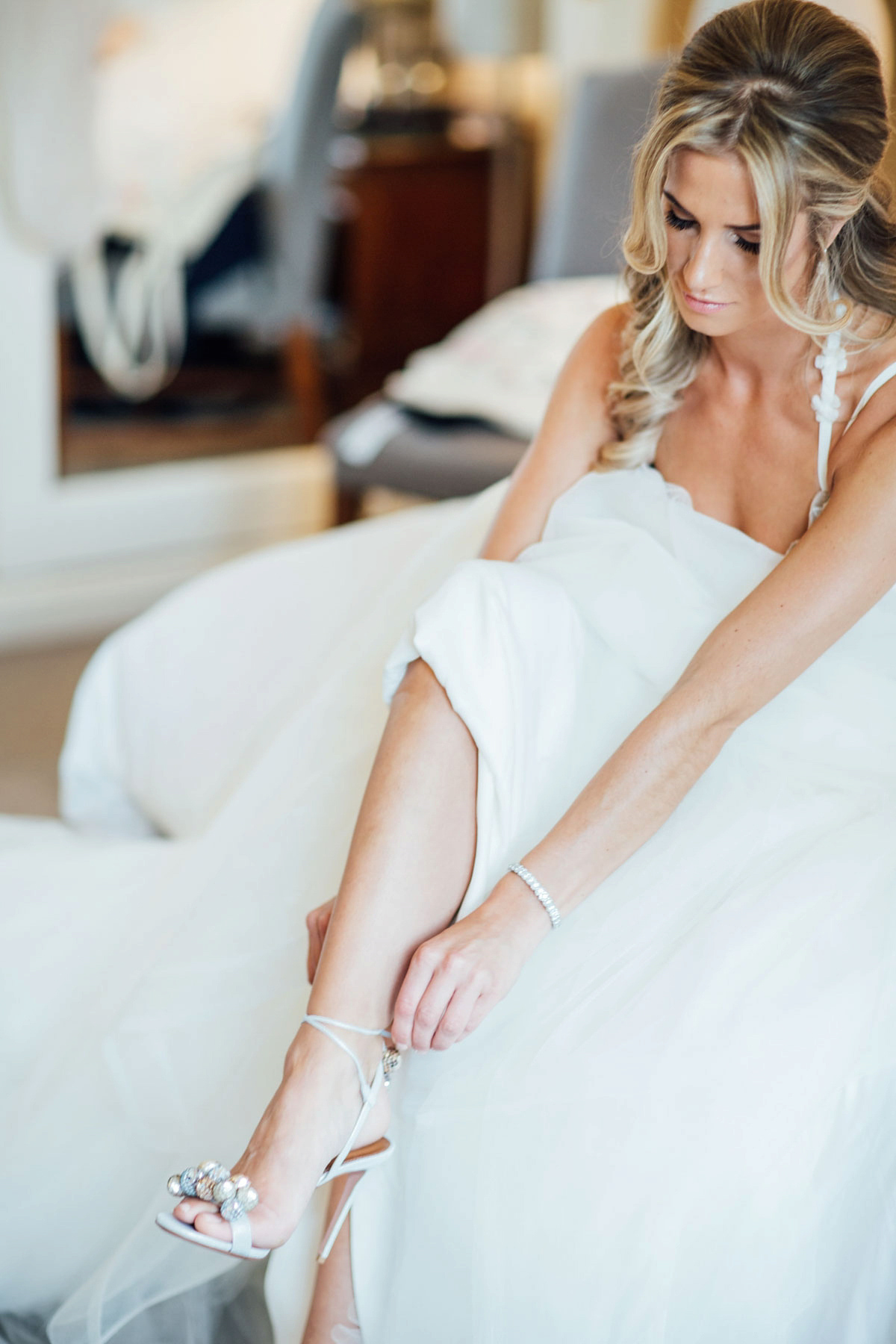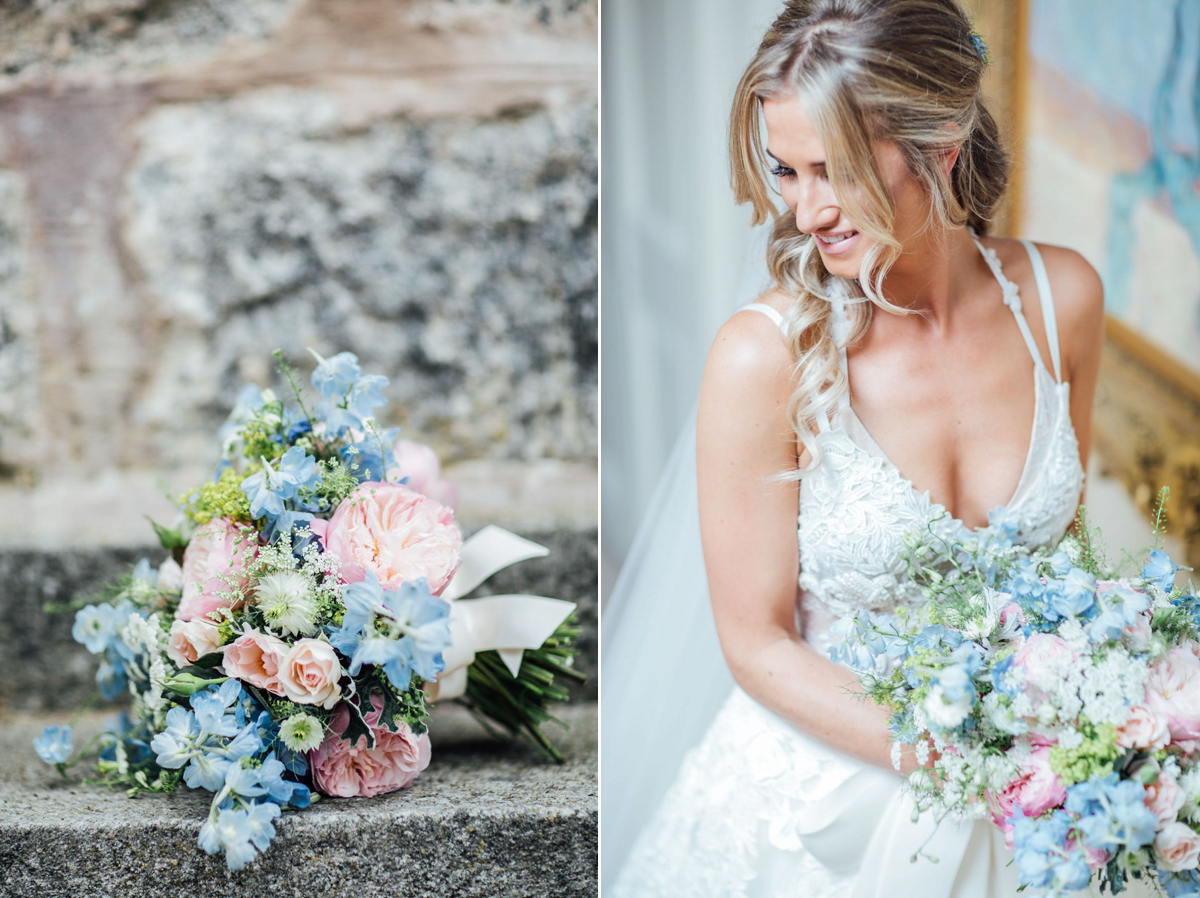 Kirsty's bridal party are wearing Nina Edge Design dresses in the most sumptuous shade of blue/grey and the lucky ladies also got a gorgeous pair of Valentino shoes. Not to be outdone, Margot the bulldog wore a bouquet of flowers around her neck.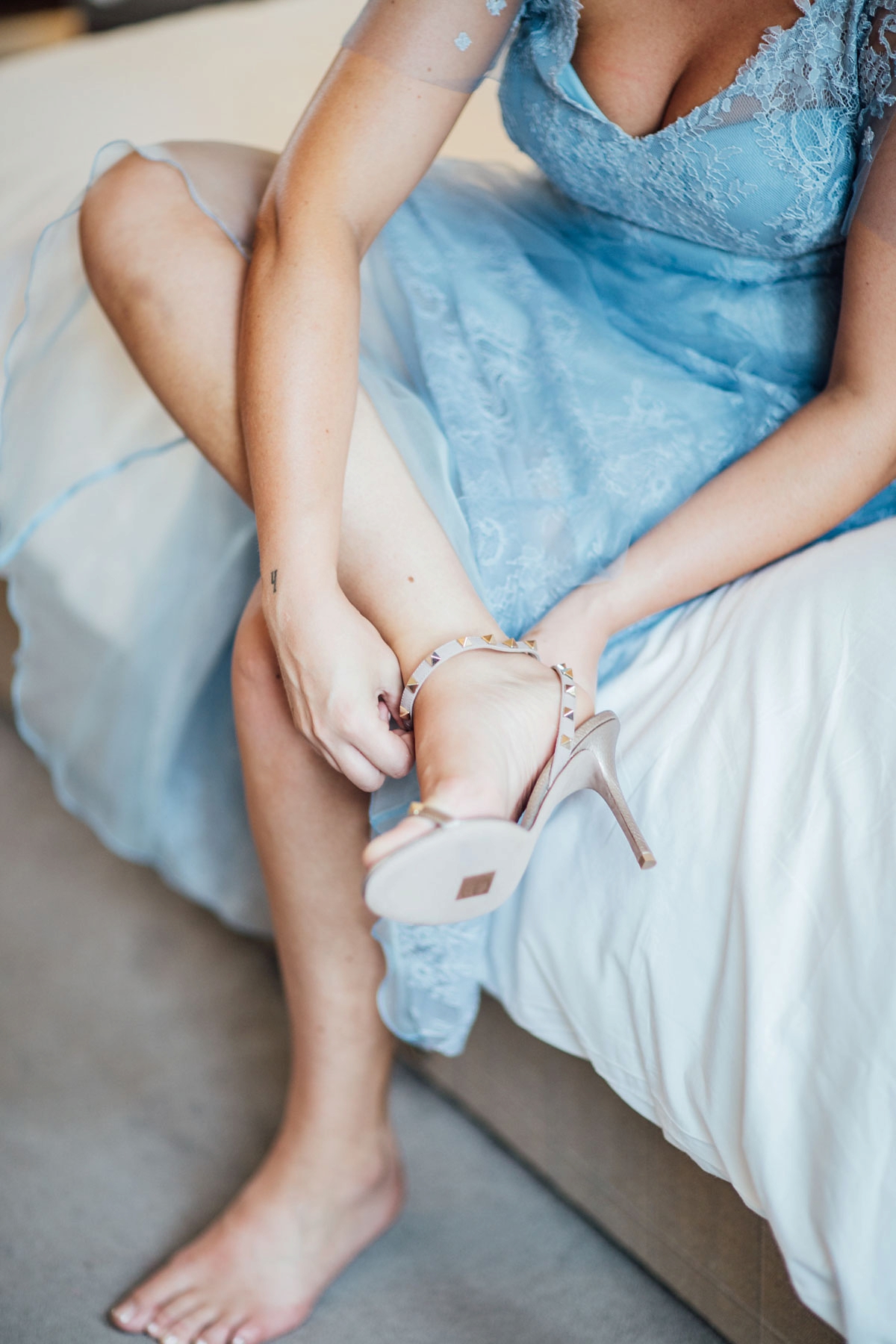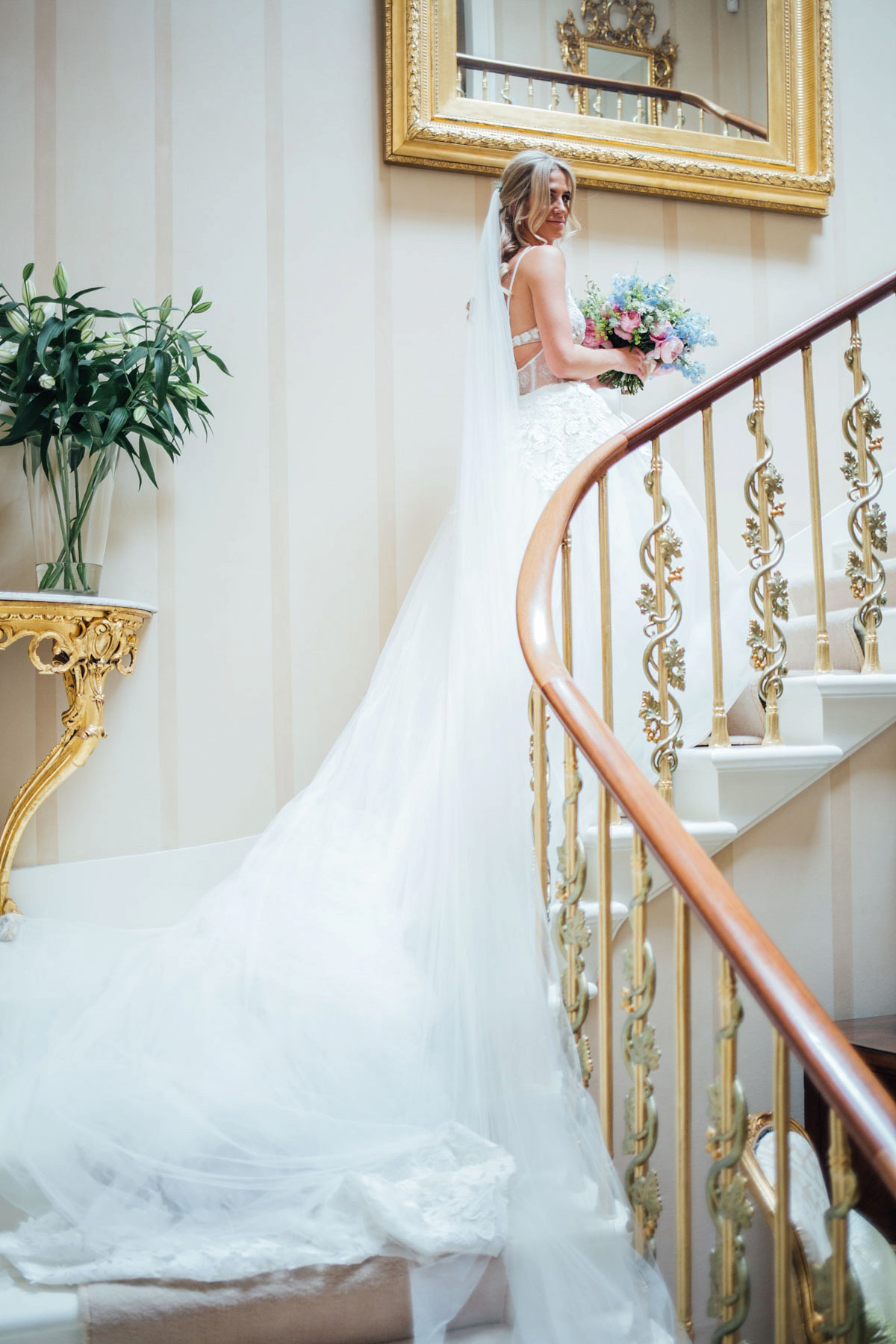 As a Scotsman, the groom couldn't pass up the opportunity to don traditional dress. John, his best man James, groomsmen and page boy all wore kilts in a selection of tartans from Gibbs Menswear. Their bulldog Flloyd was also a very cute usher.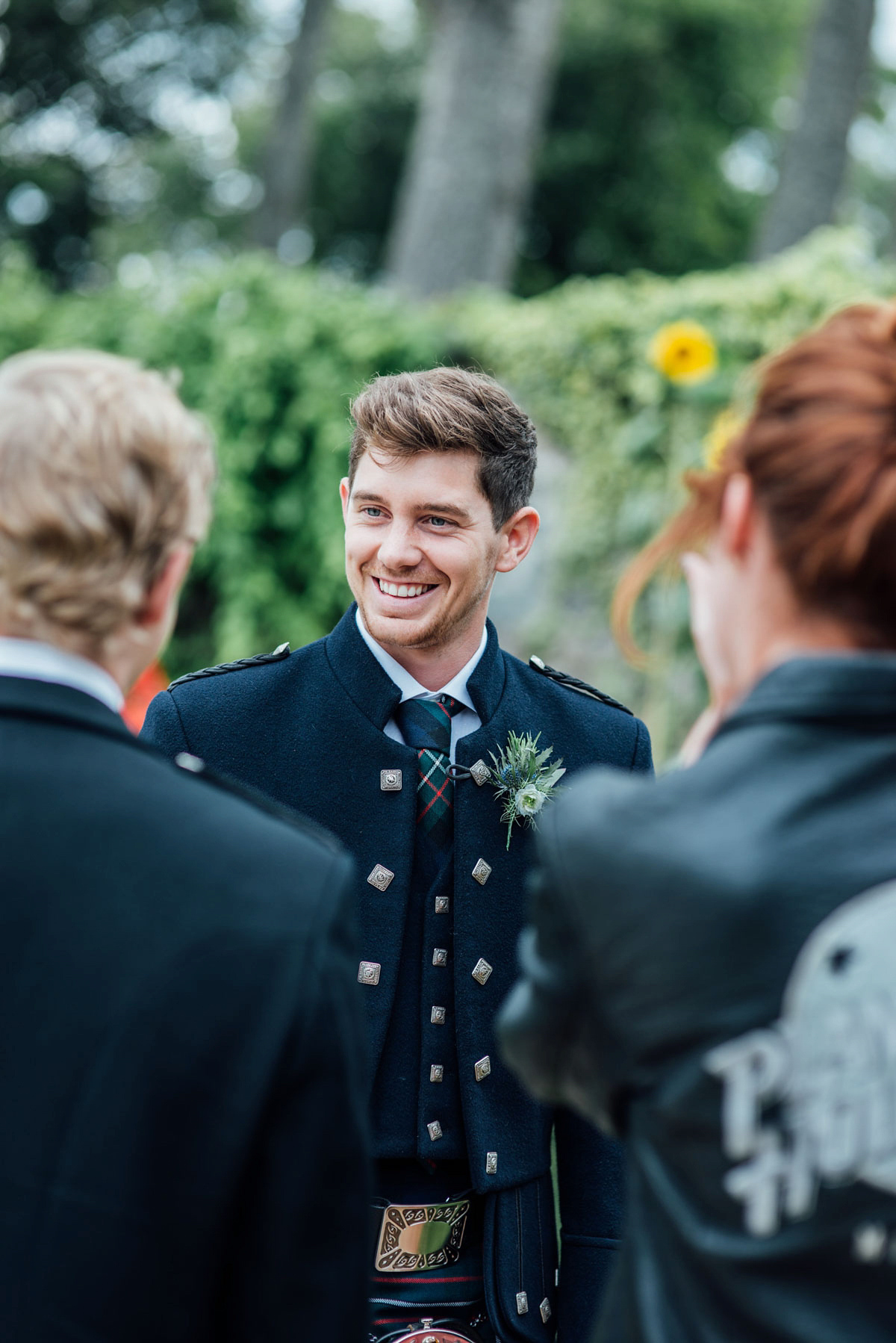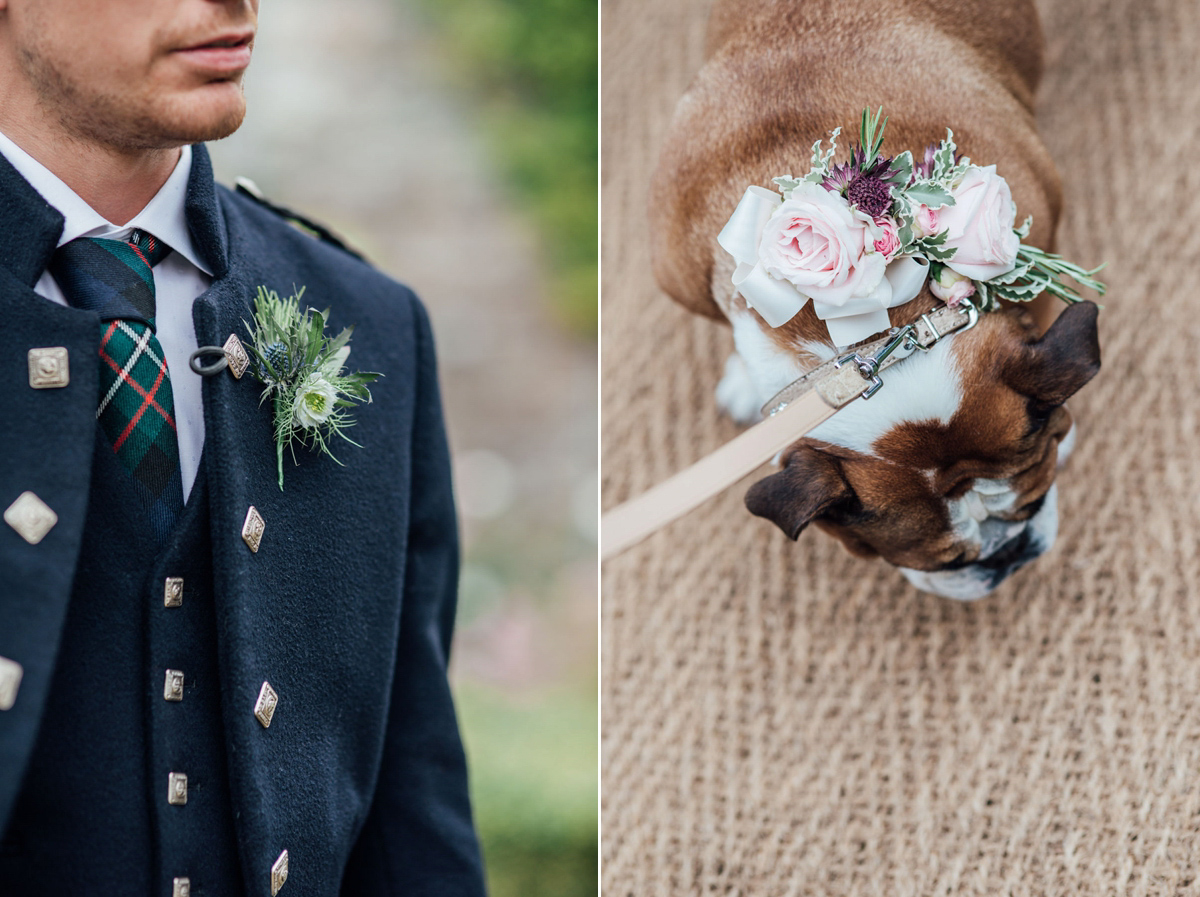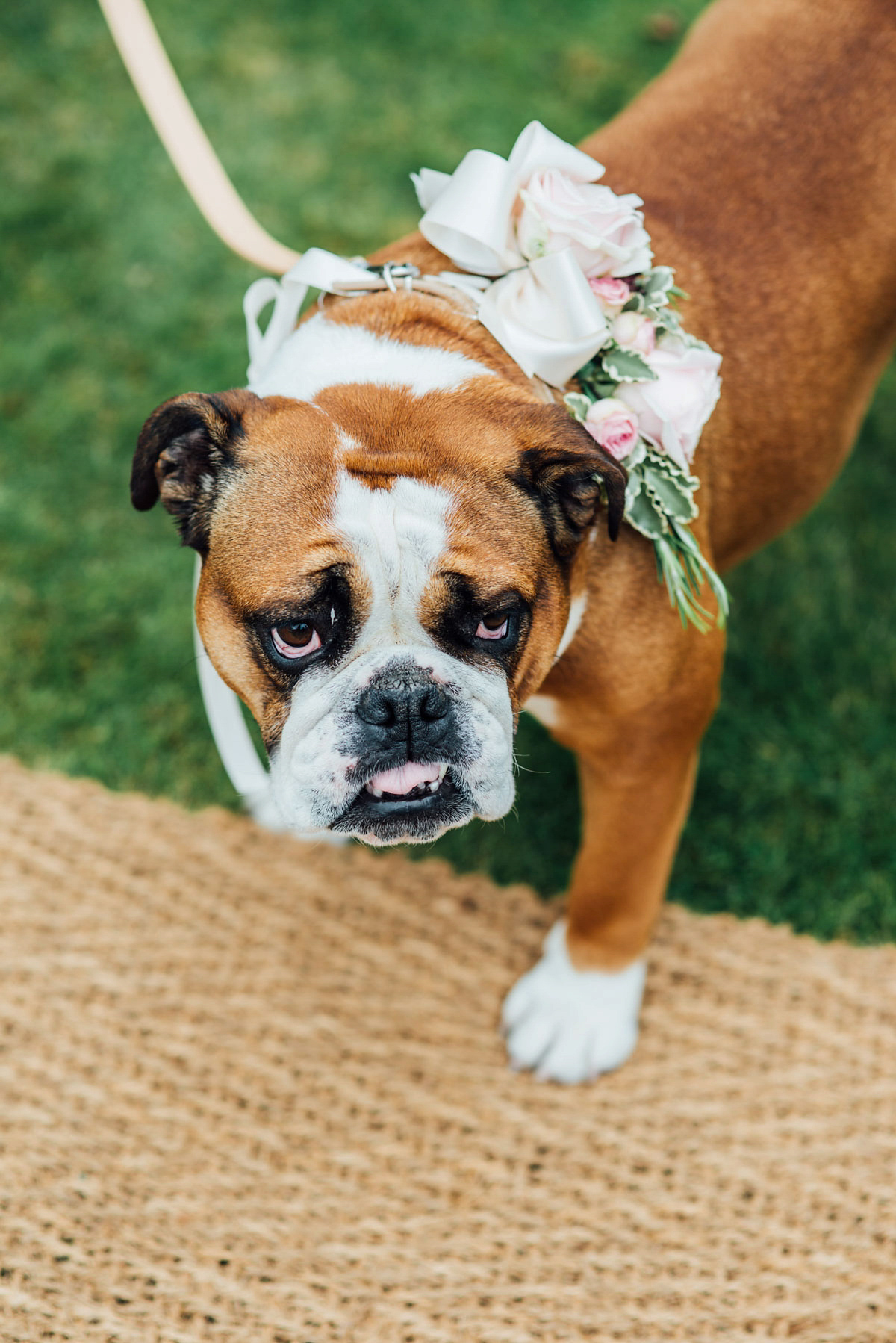 Kirsty arrived for the ceremony in a gorgeous vintage camper van before walking down the aisle to the 'Bridal Chorus' alongside her dad, John.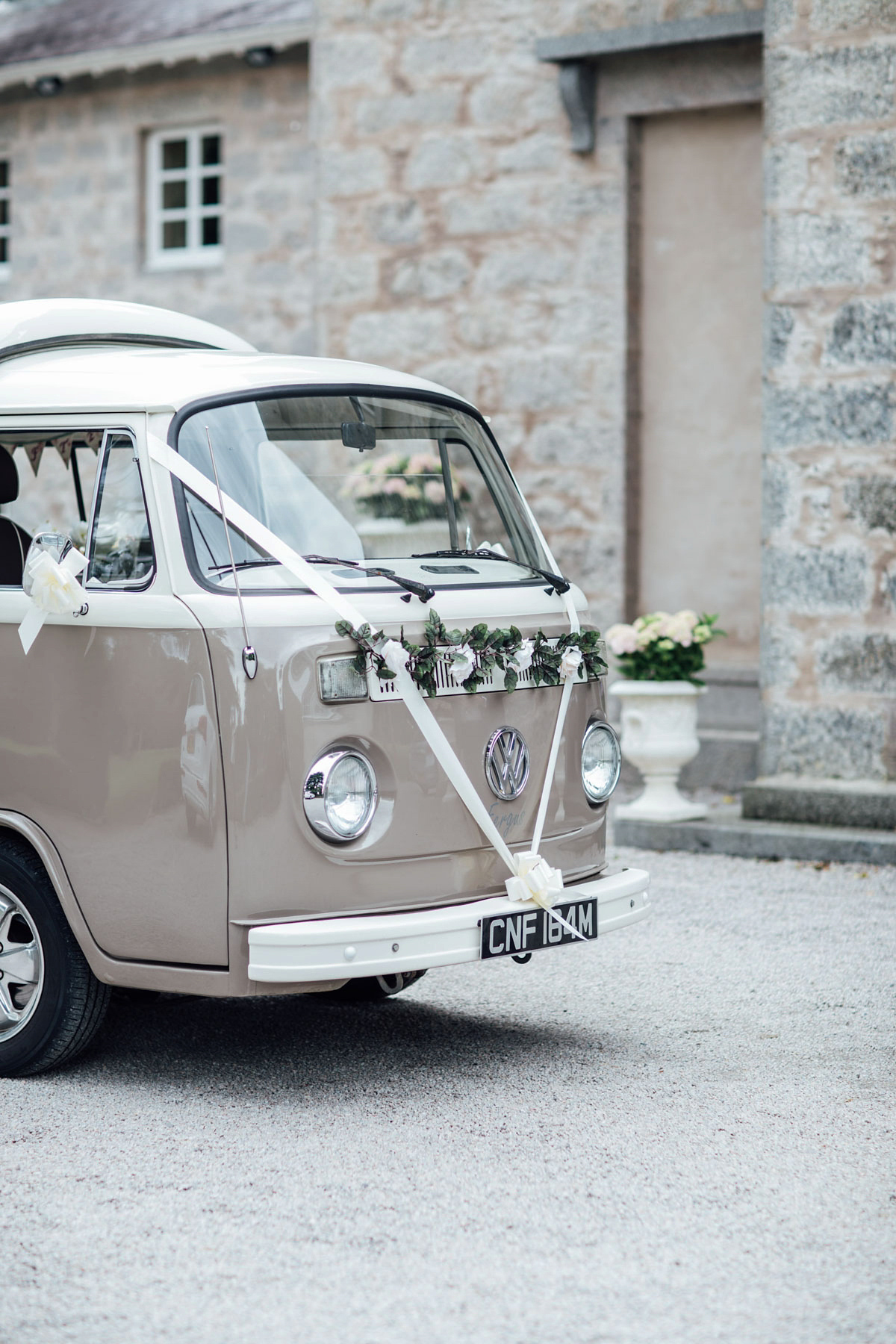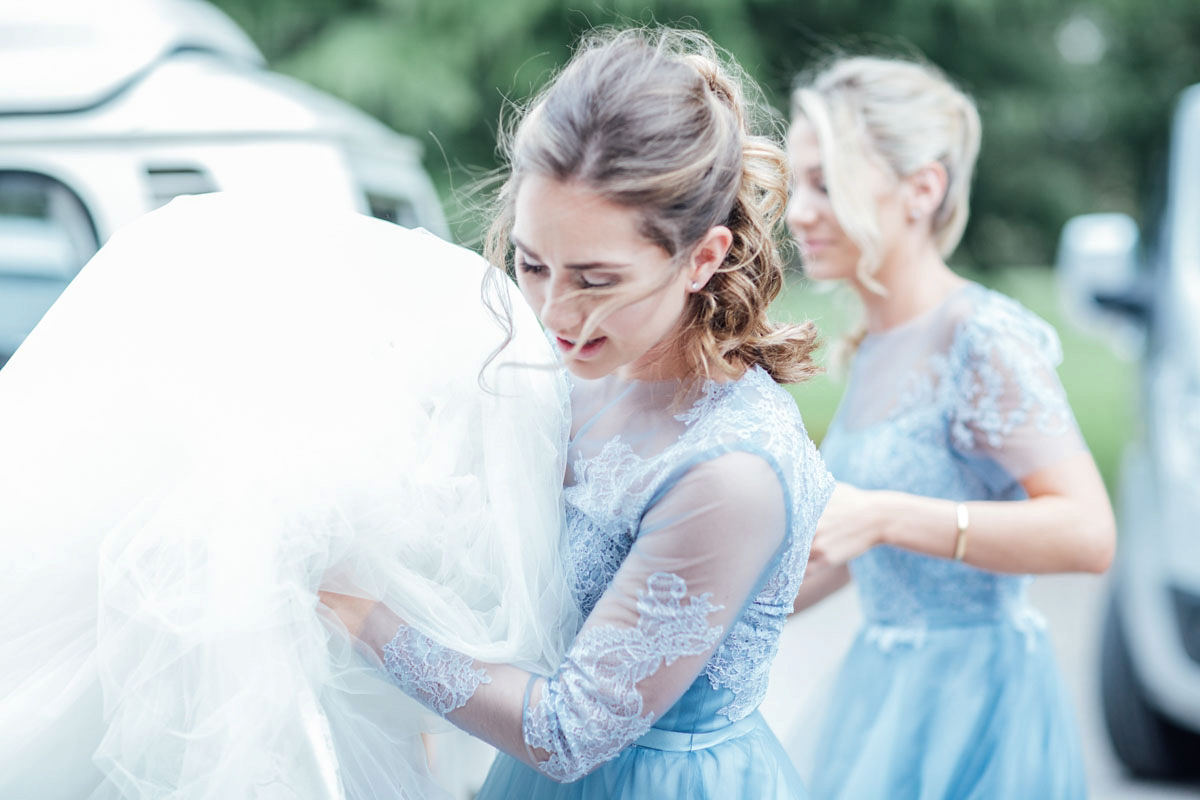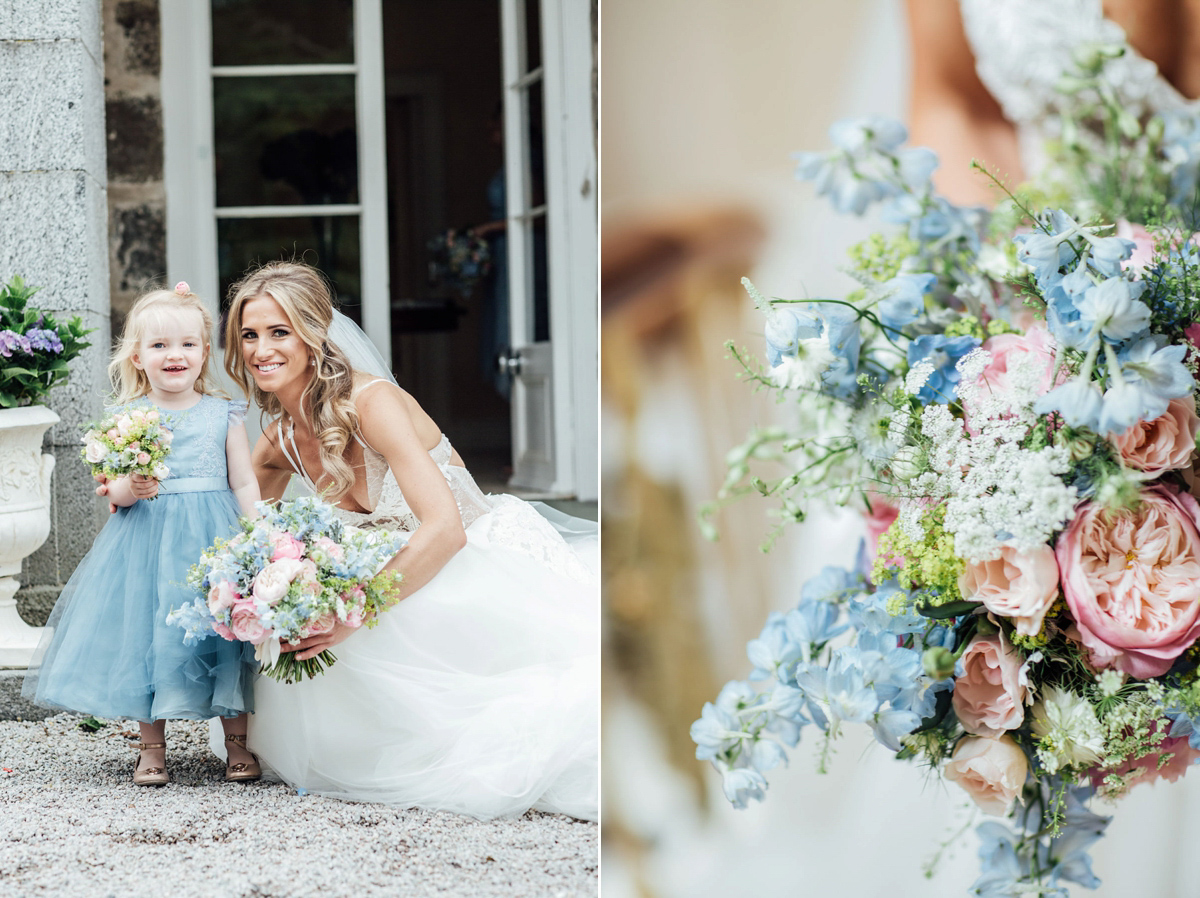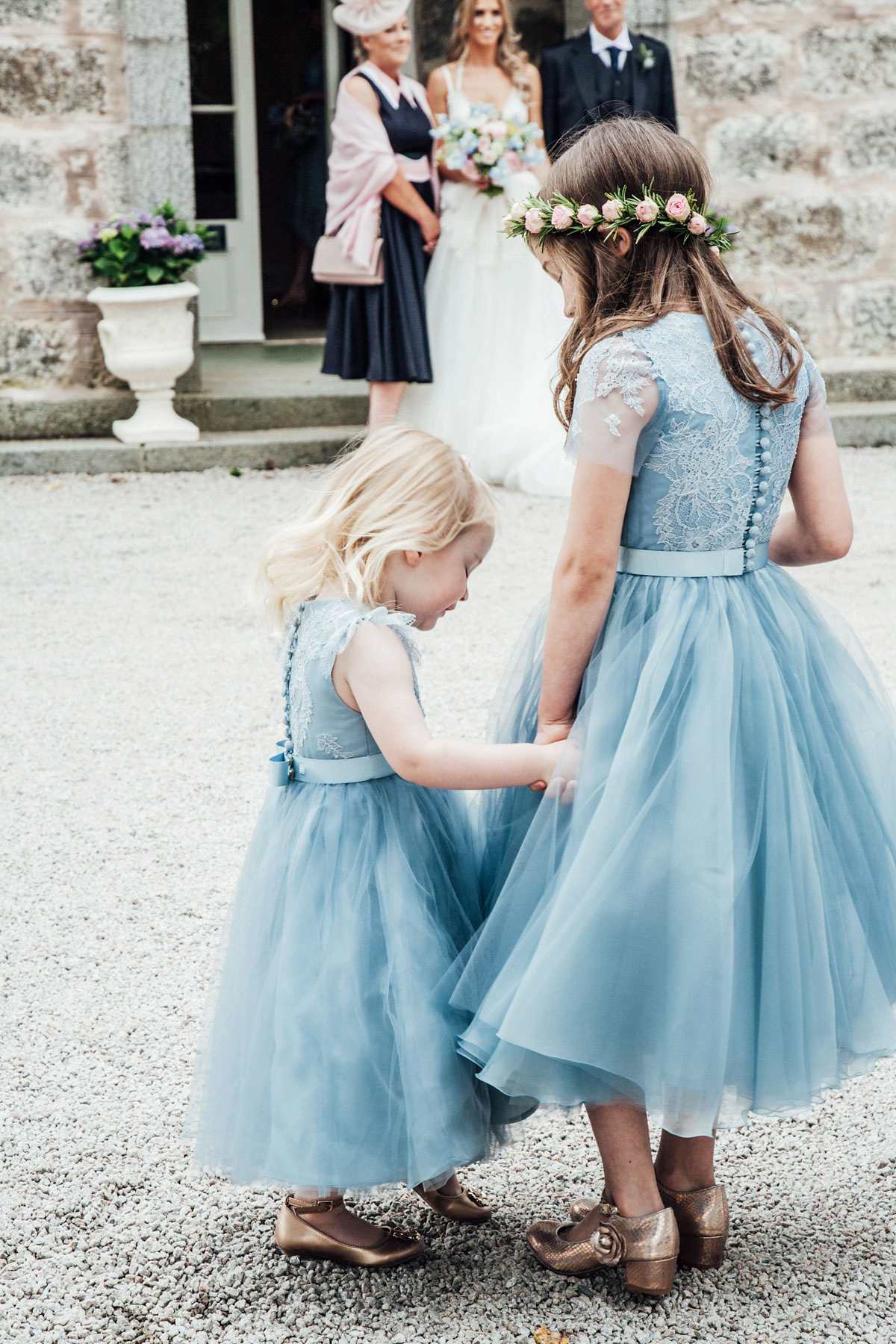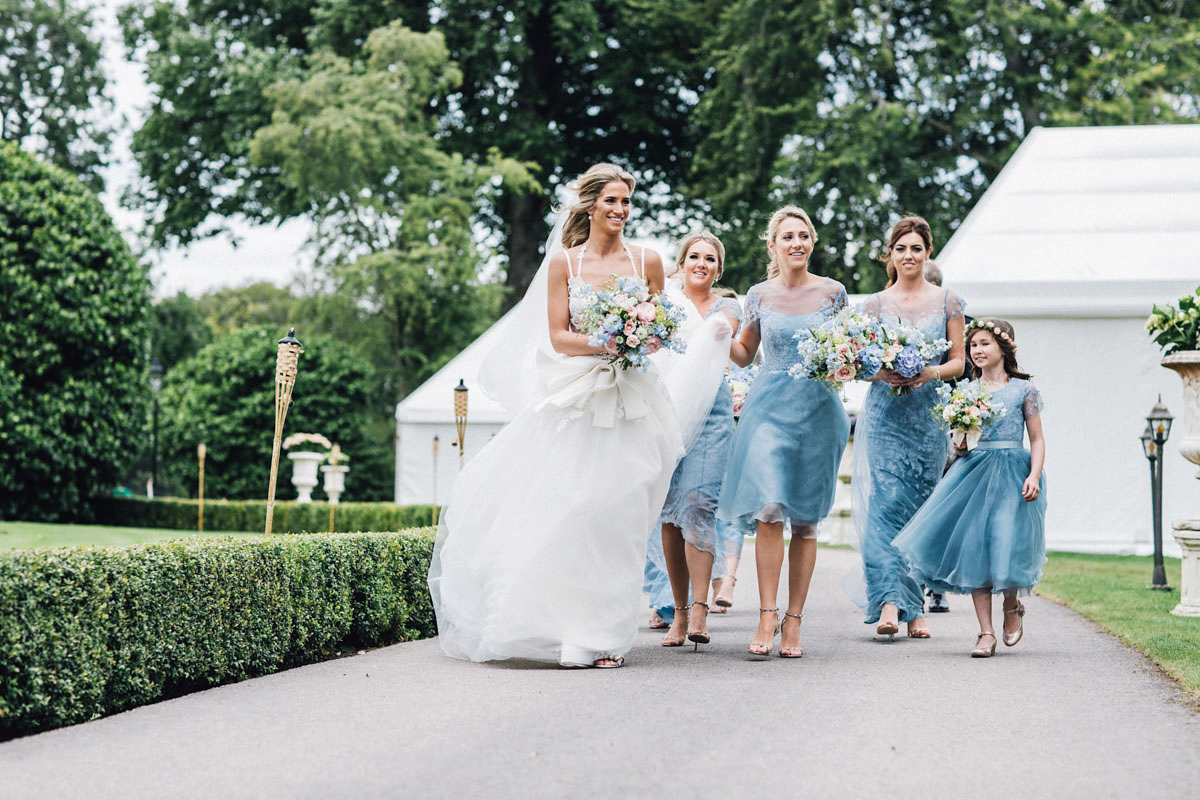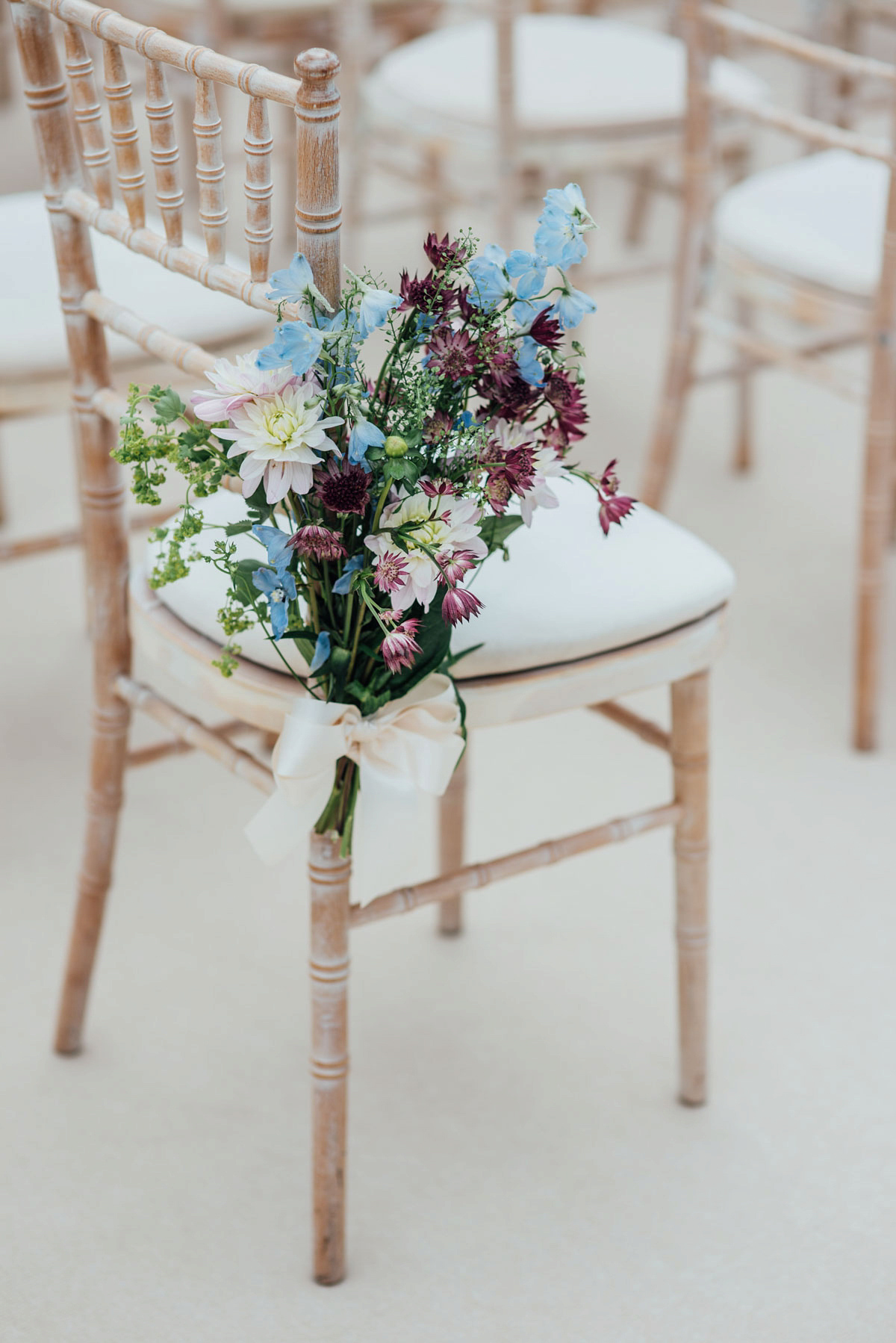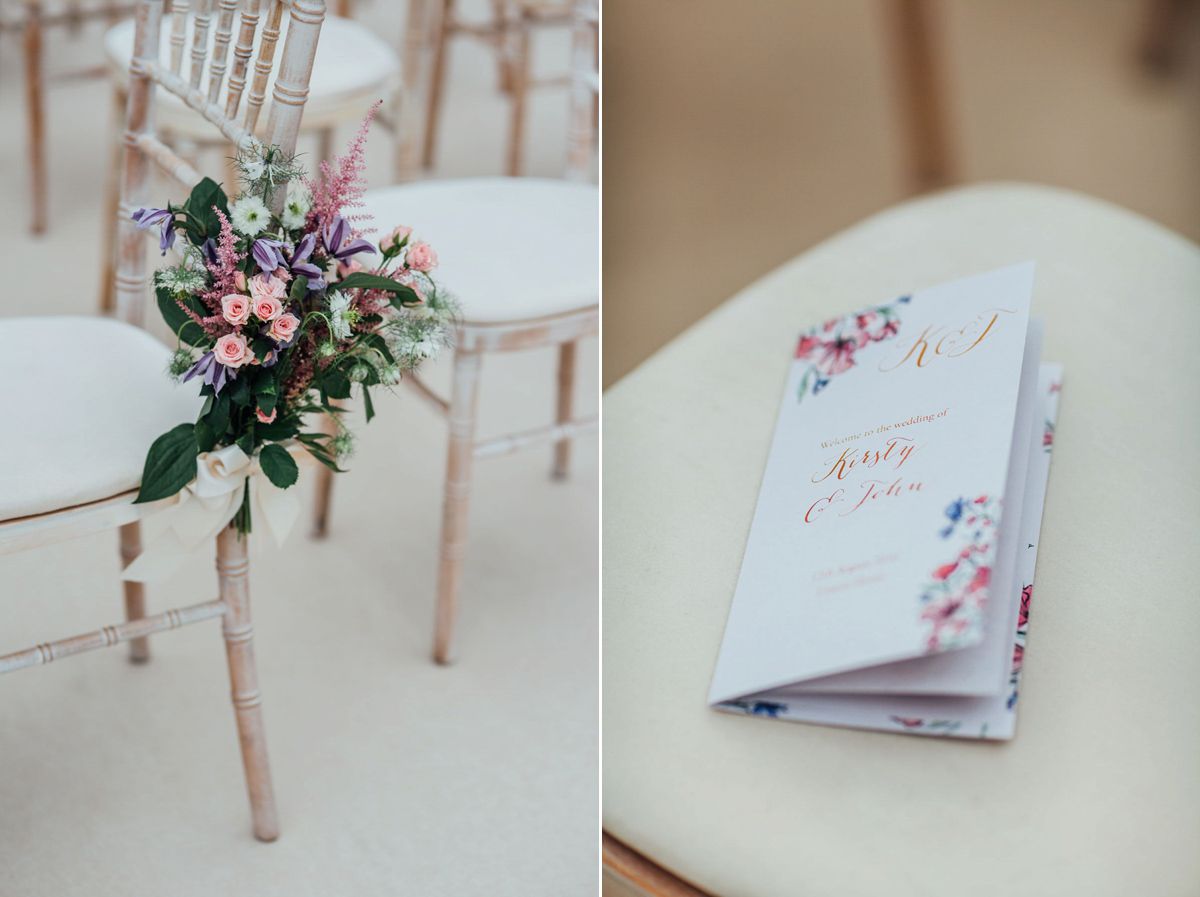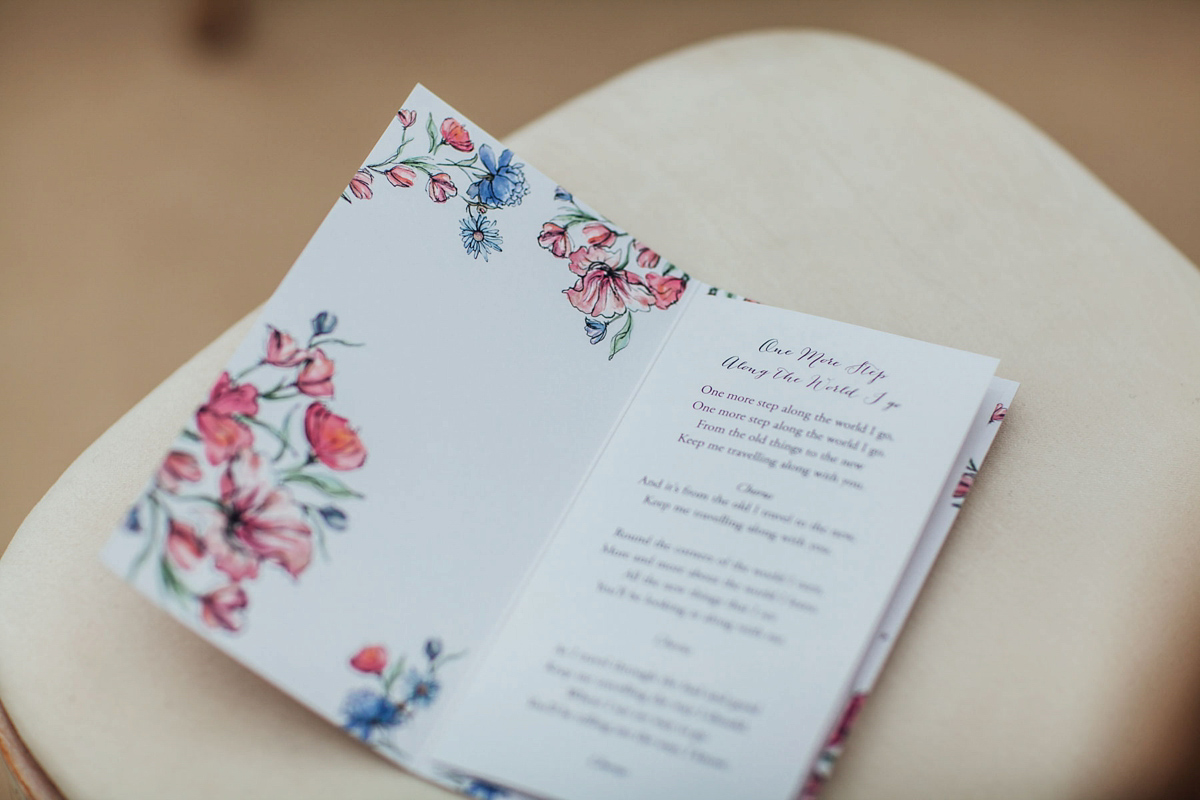 "Our minister Allison Hutchison is one of my best friend's mum. It was really special and made the ceremony really personal, light-hearted and intimate, even in front of 250 people."
"My friend Anna and John's friend Rani both did a reading. It was important that they represented how we feel about marriage. Below is an extract from 'The Wonders of Today' by Larry Chengges;
If you can always be as close and happy as today,
Yet be secure enough to grow and change along the way…
If you can keep for you alone your love as man and wife.
yet find the time to share your joy, with others in your life…
If you can be as one, and walk through marriage hand in hand,
yet still support the goals and dreams that each of you have planned…
If you can dare to always go your separate ways together
Then all the wonders of today will stay with you forever."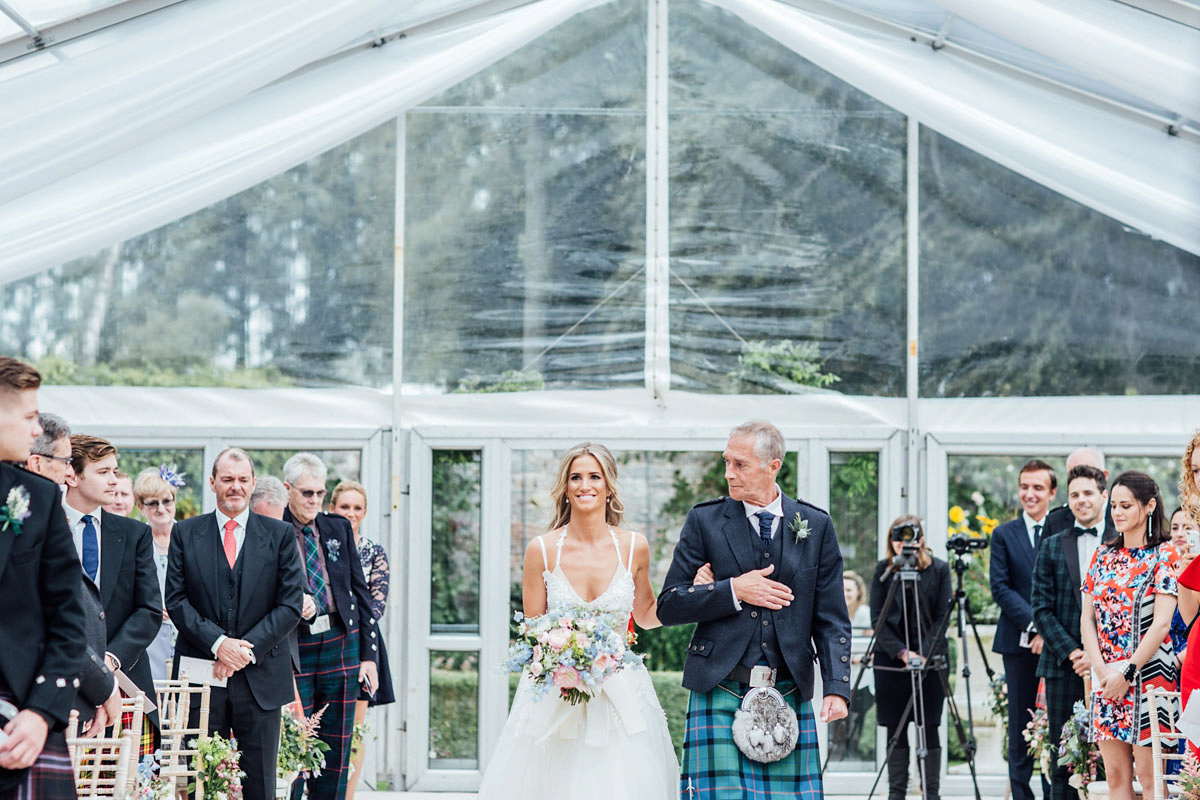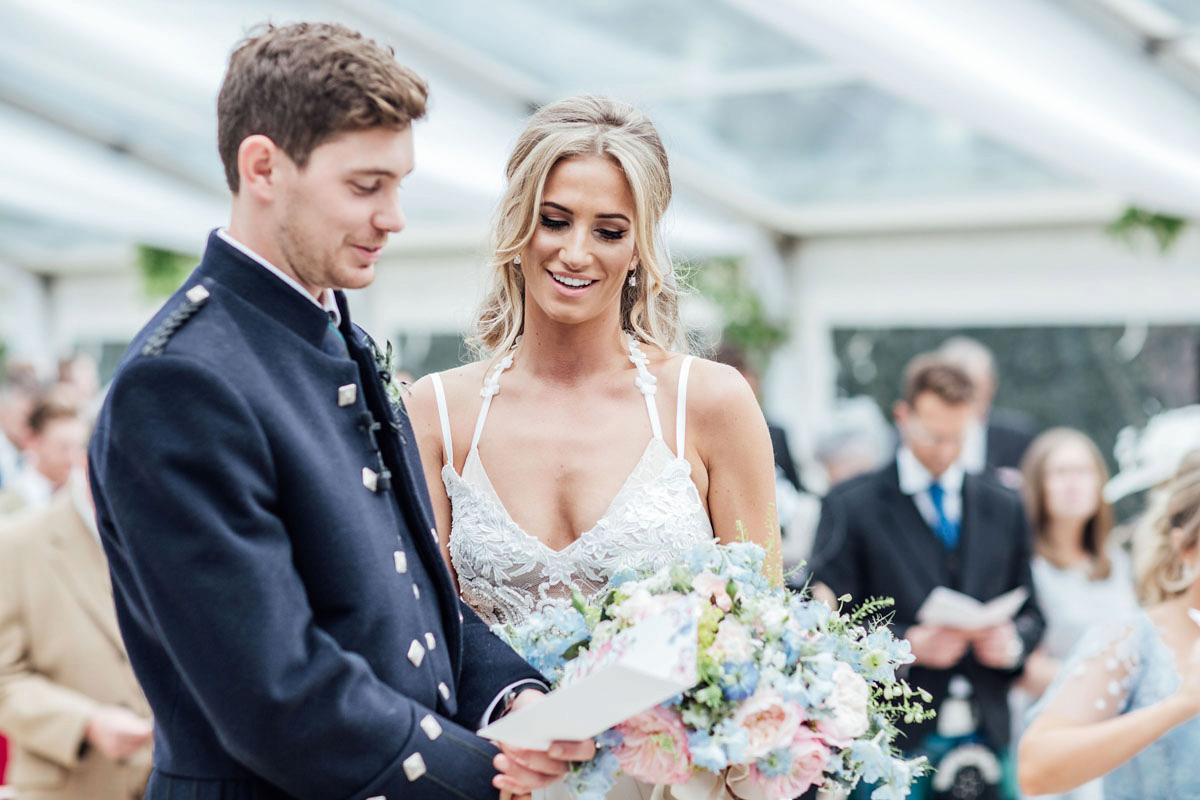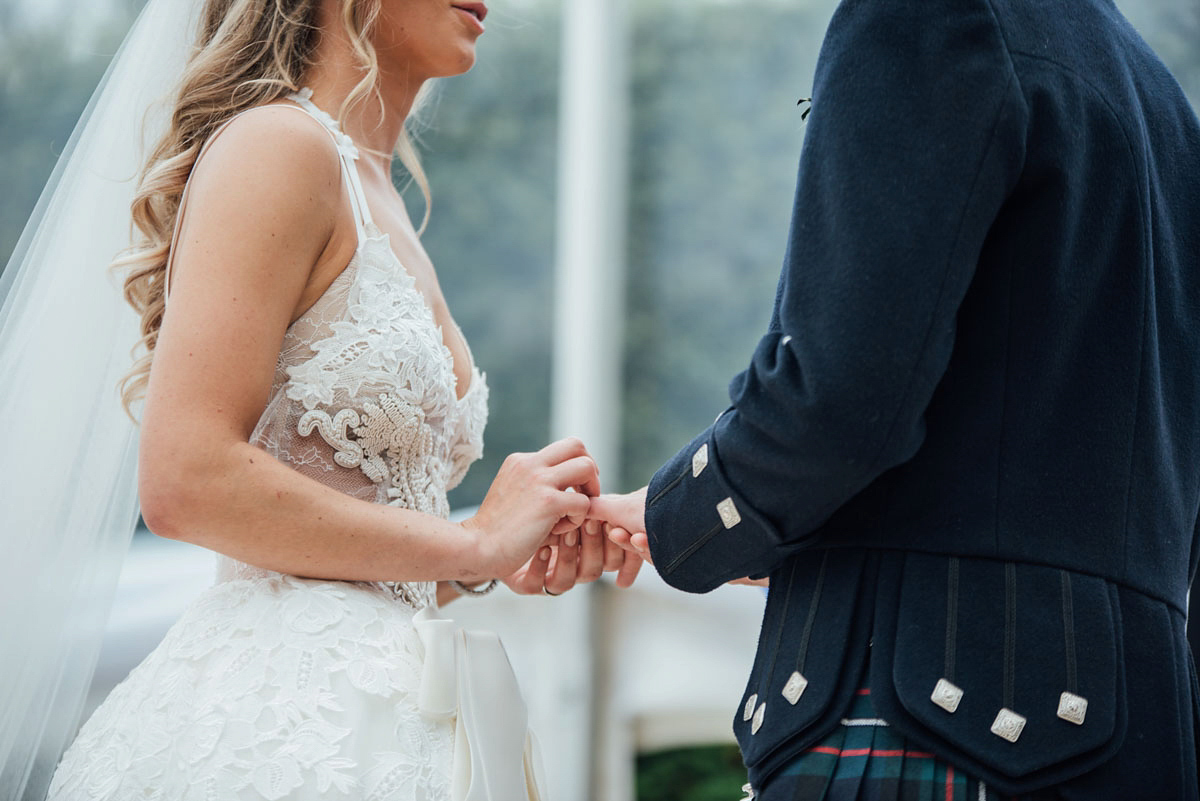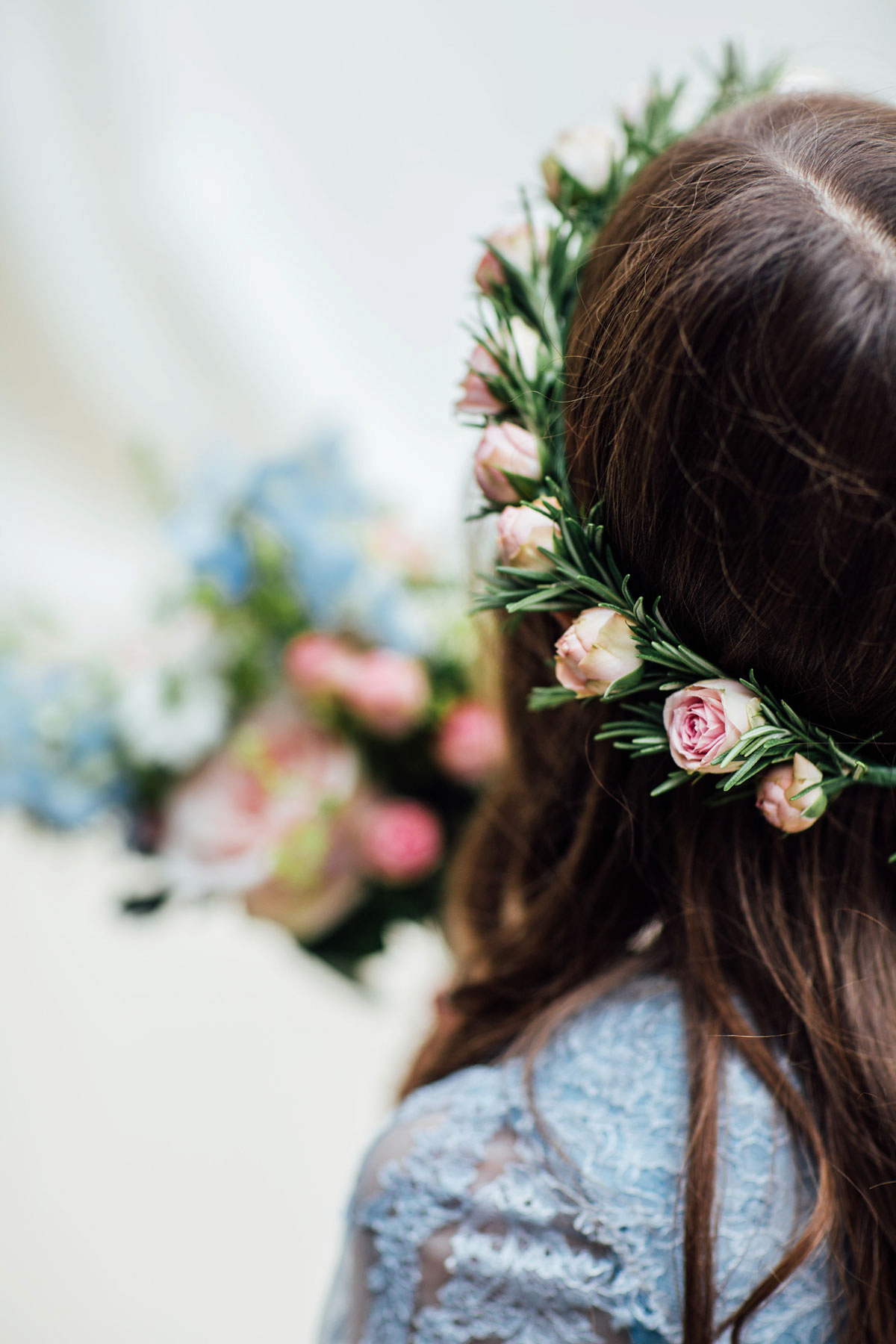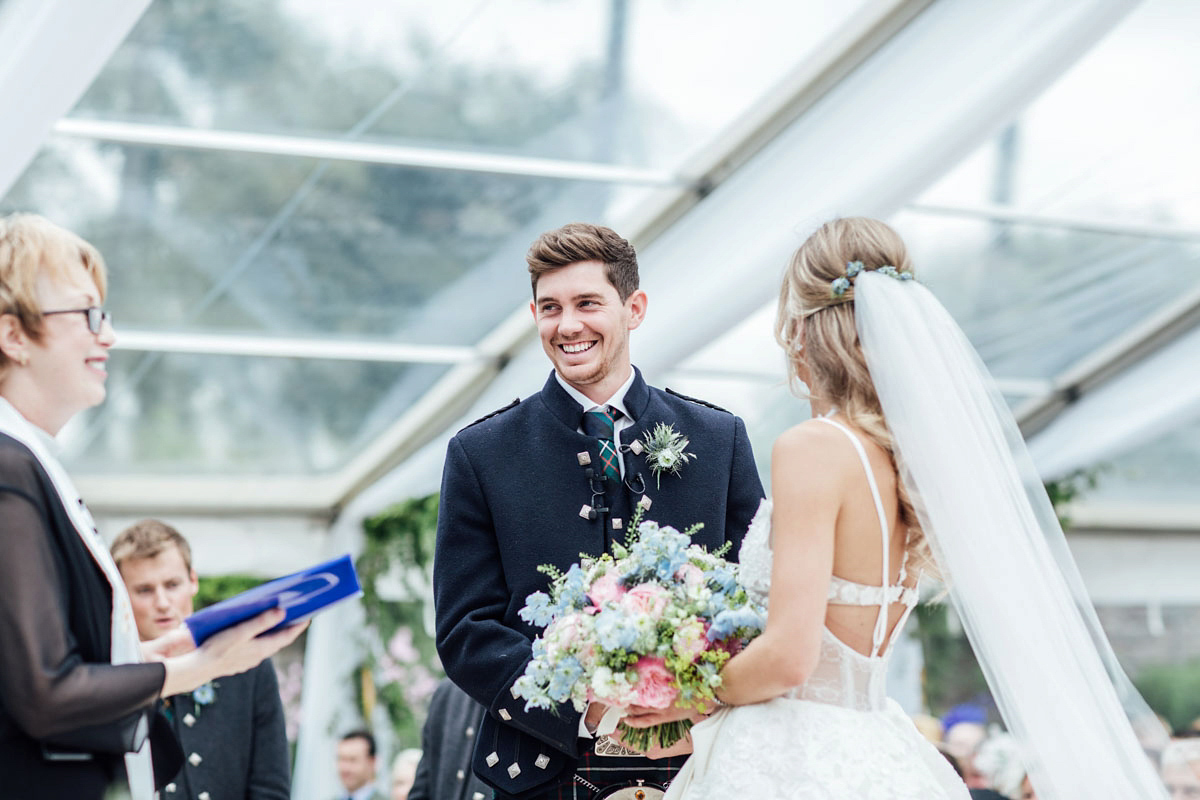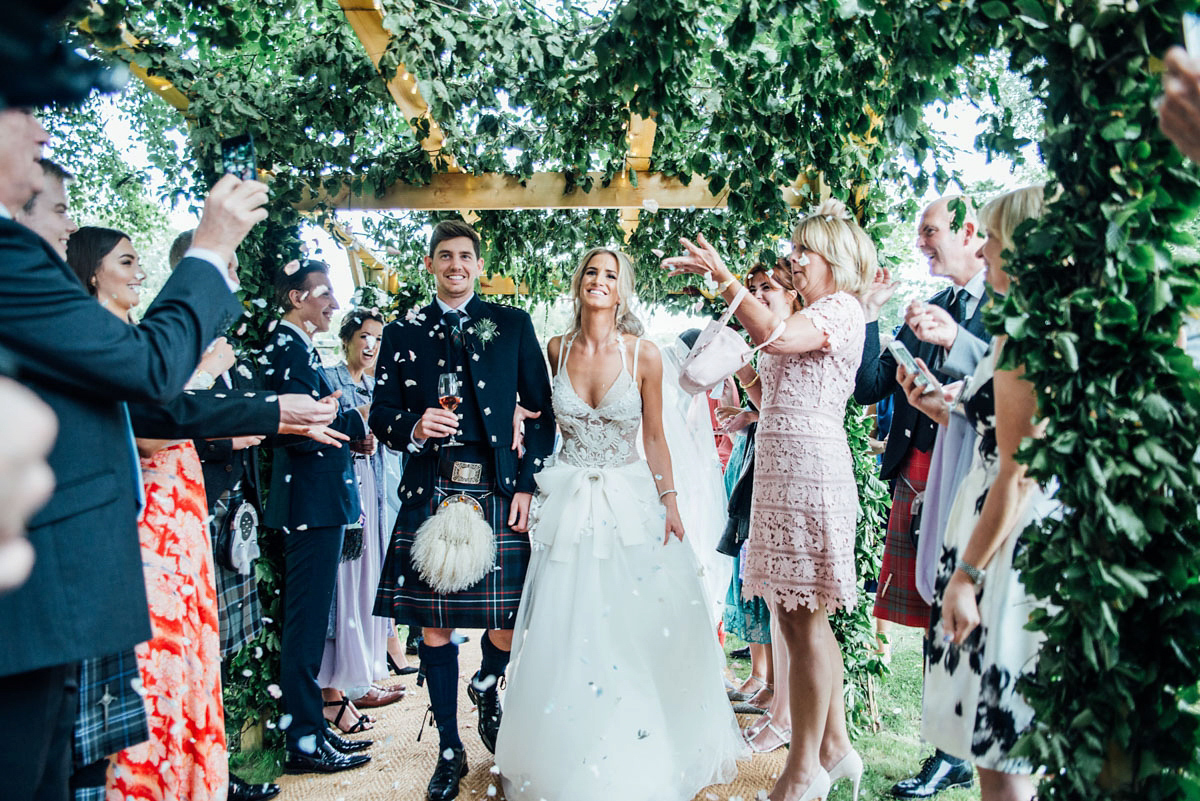 "I wanted my bridesmaids dresses to be custom made to reflect each girl's personality, suit their body types and make them feel amazing (and comfortable) on the day."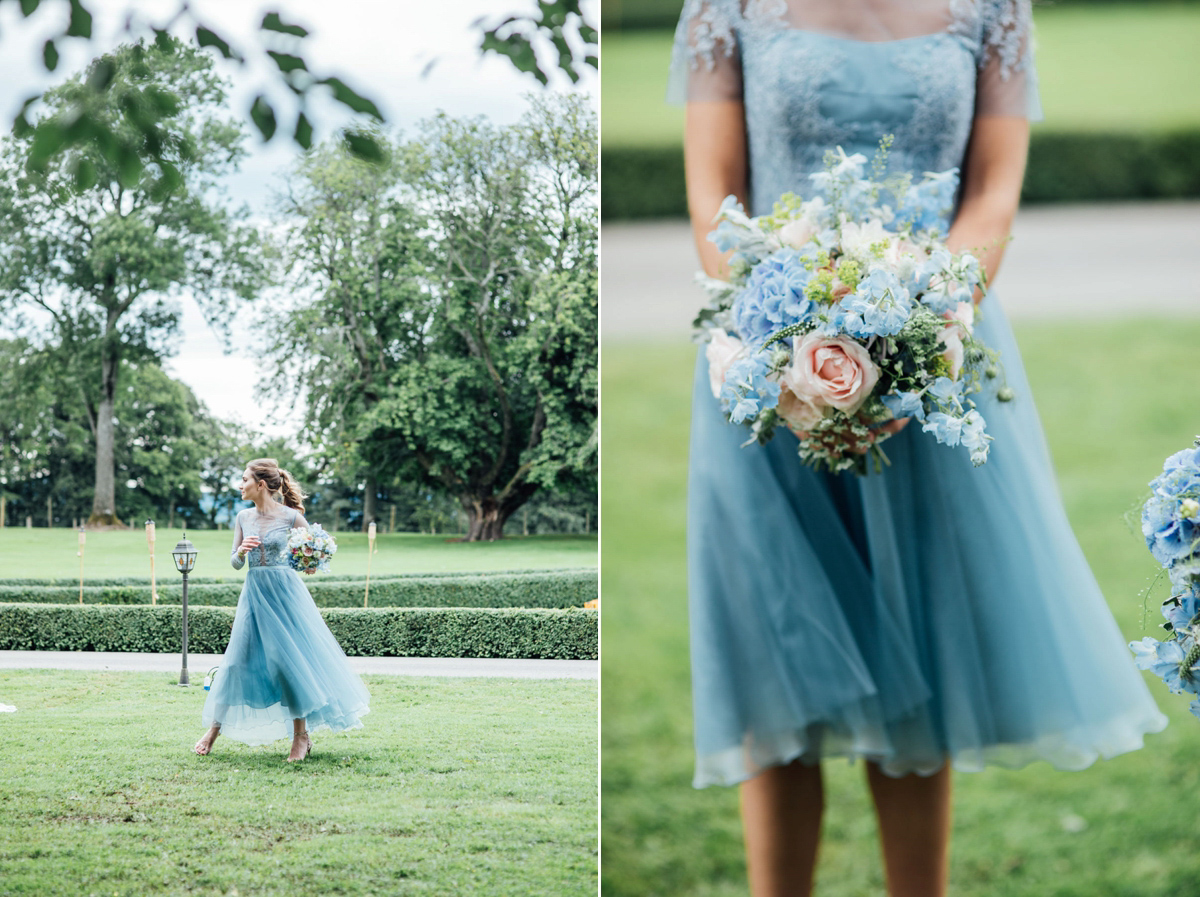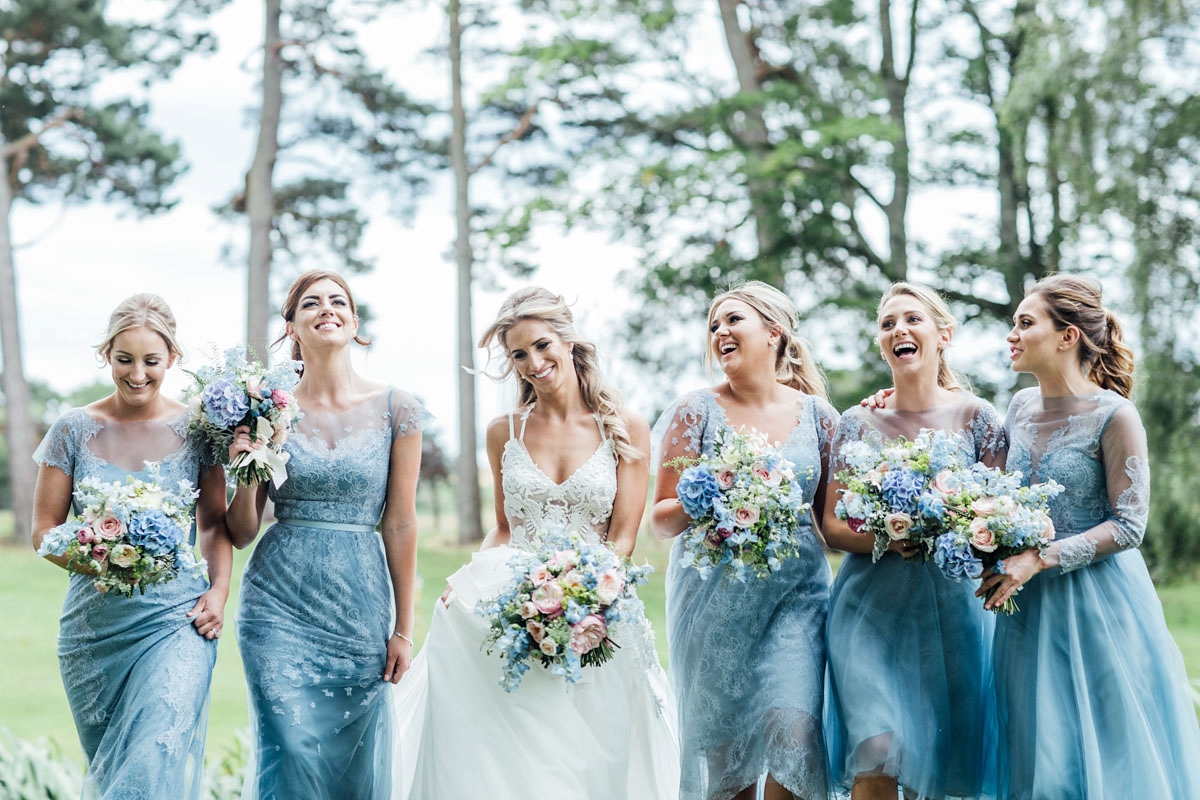 "I had a lot of input in each dress, and made sure the girls were happy. Using the same colour and materials throughout, brought the different styles together to compliment each other."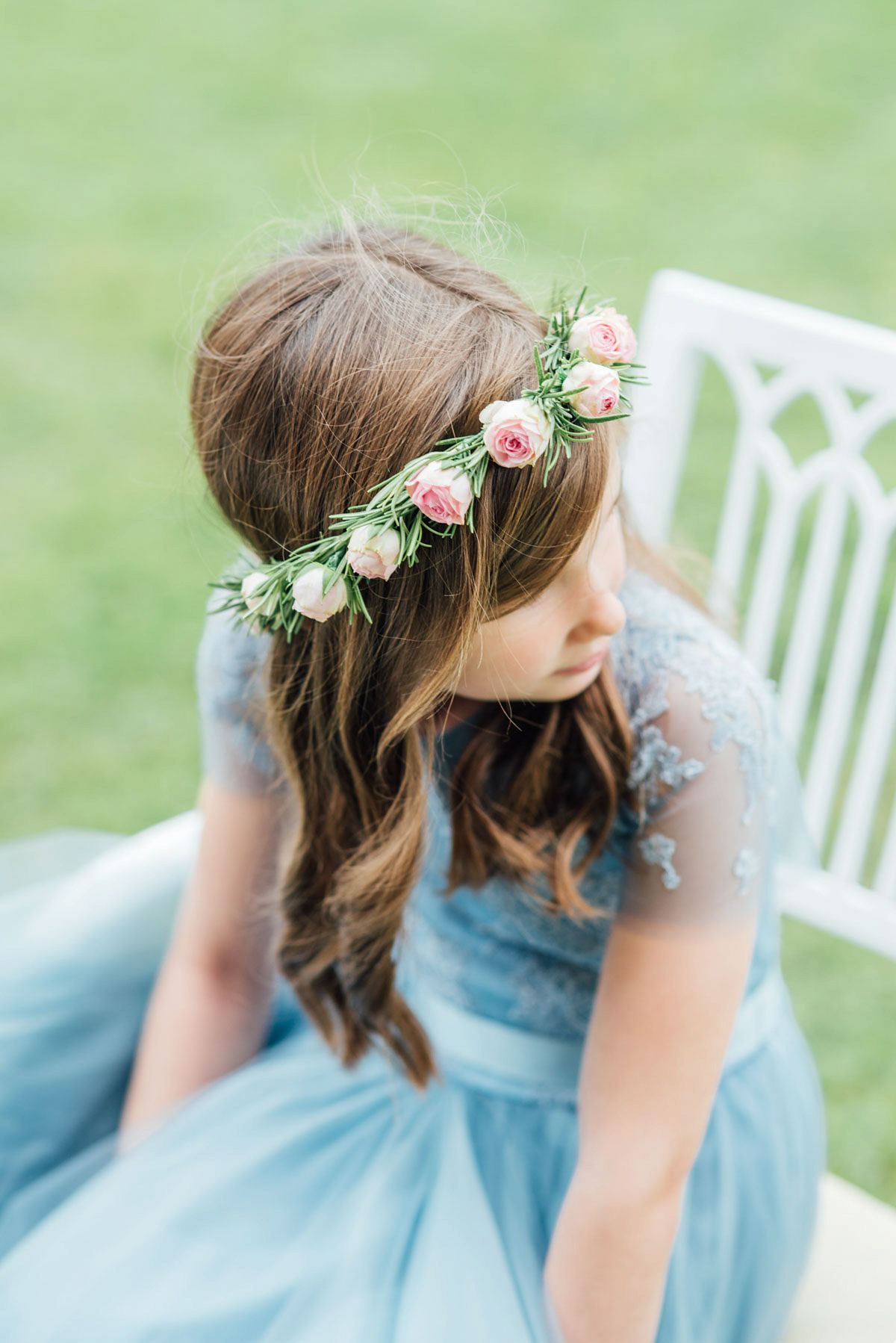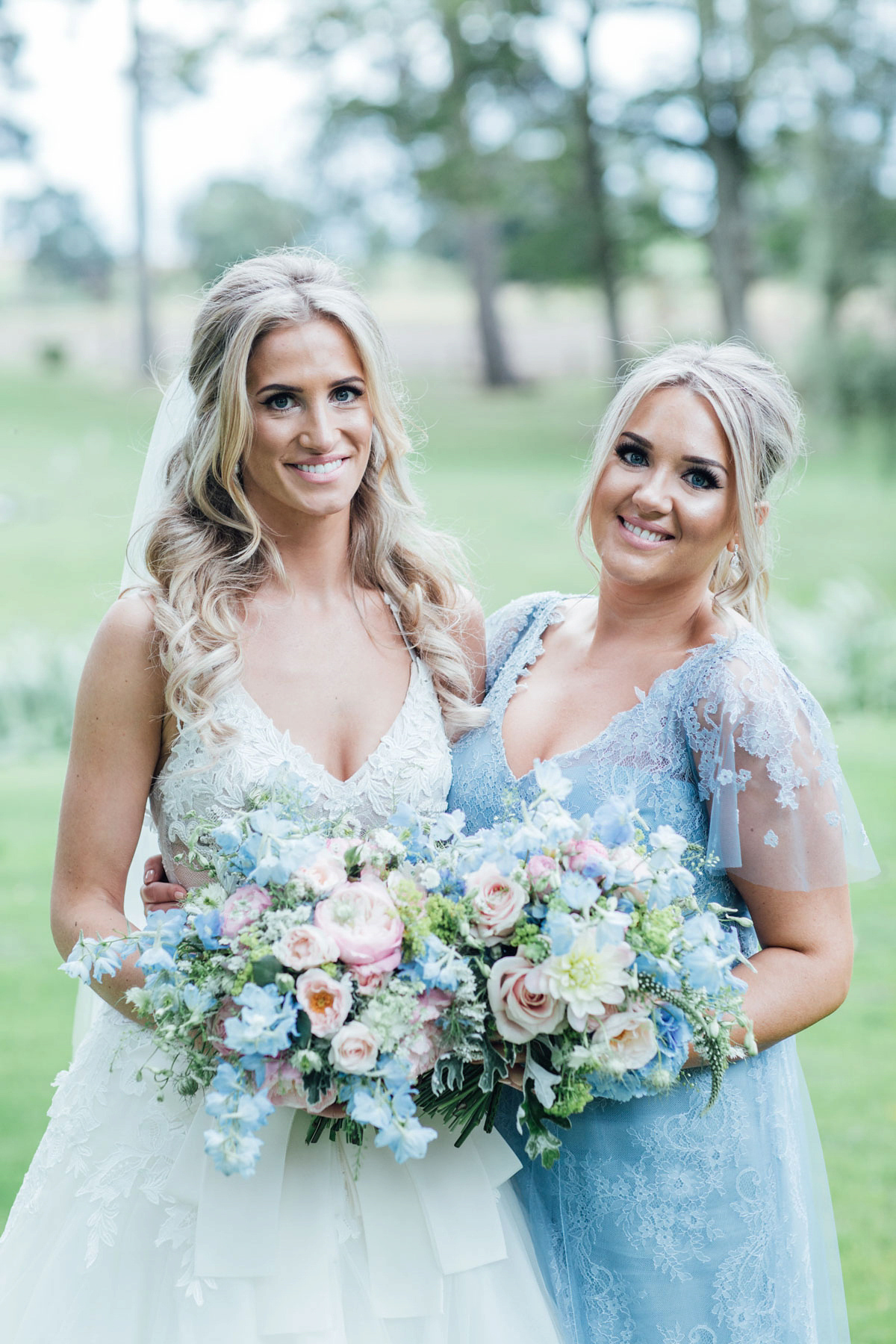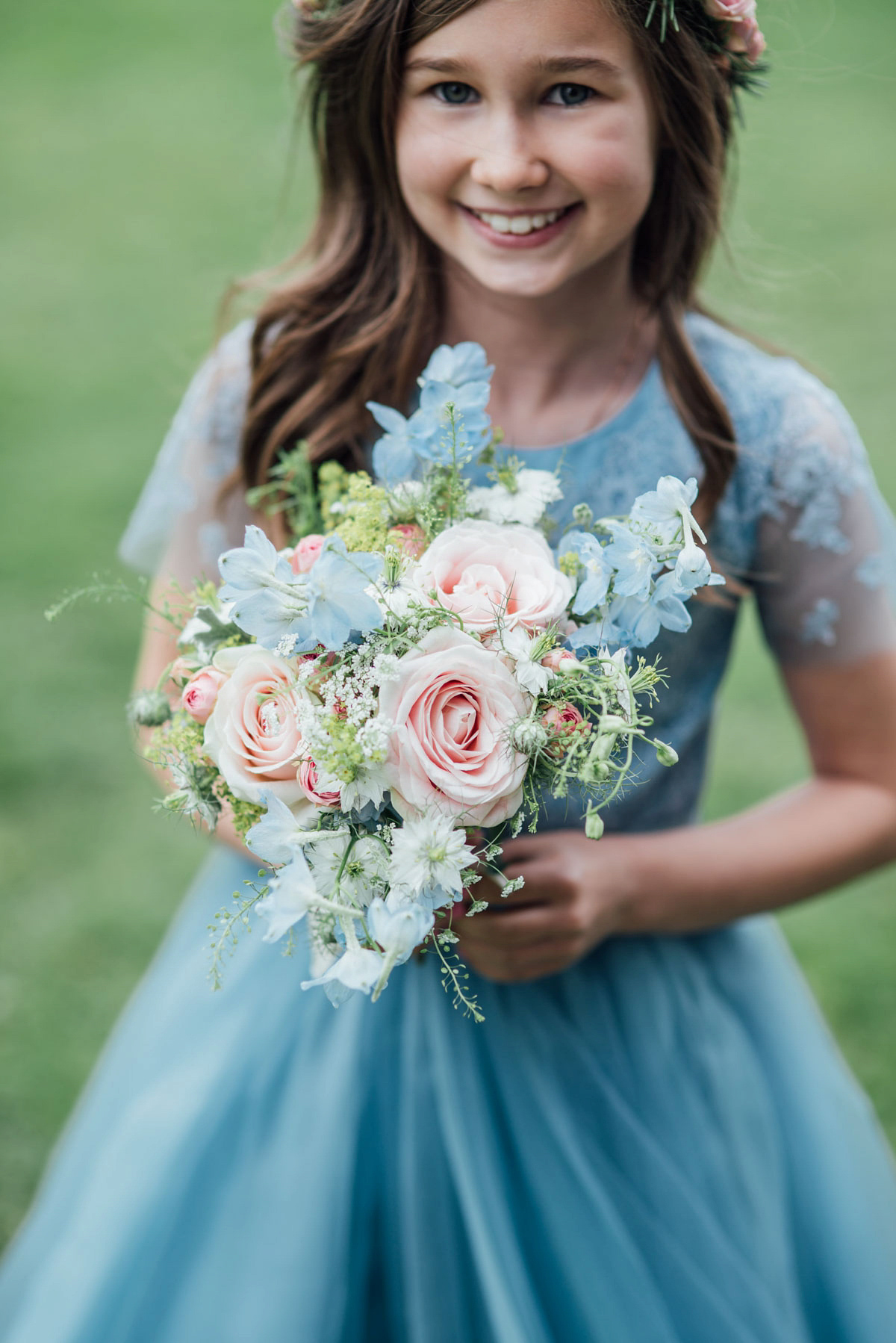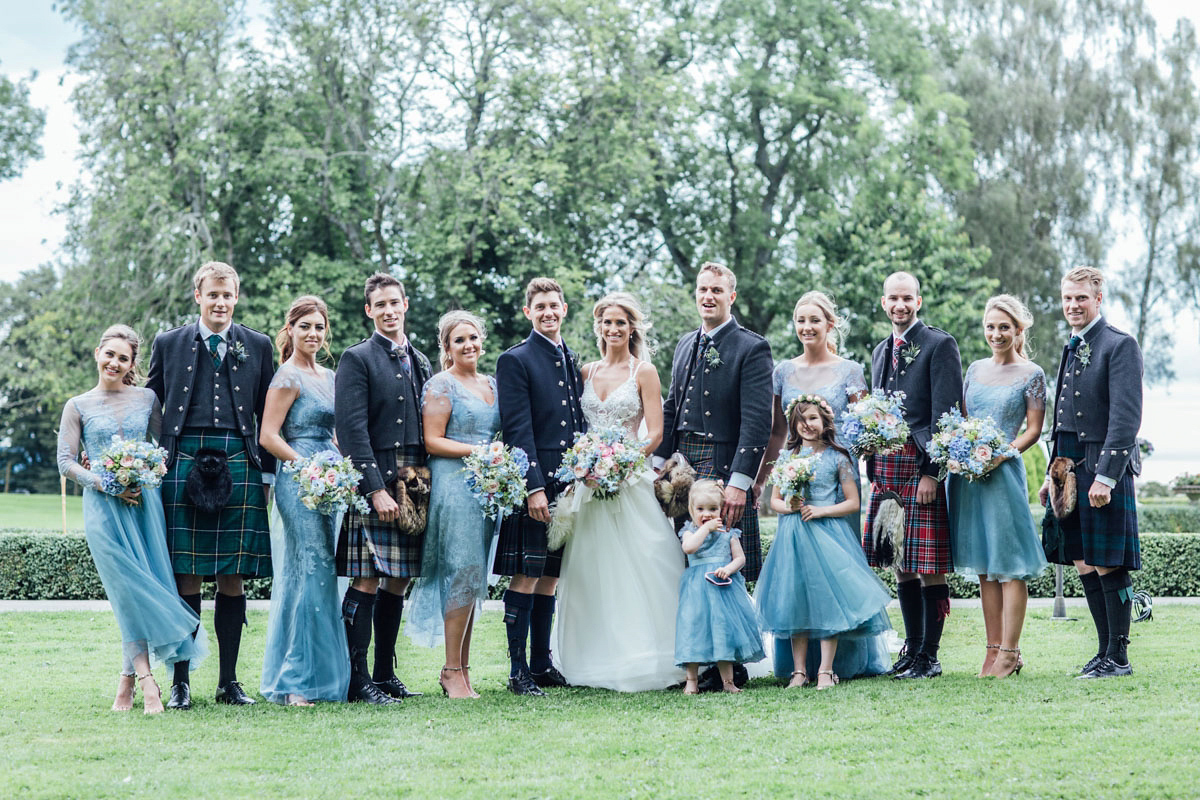 I adore the freshness of the images of this wedding by the lovely Carley Buick Photography.
"Carley and I have been friends for years and it was really lovely to have her as my wedding photographer. She is a pleasure to work with and I couldn't be happier with the pictures. The key was having lots of fun throughout the shoot and not taking ourselves too seriously!"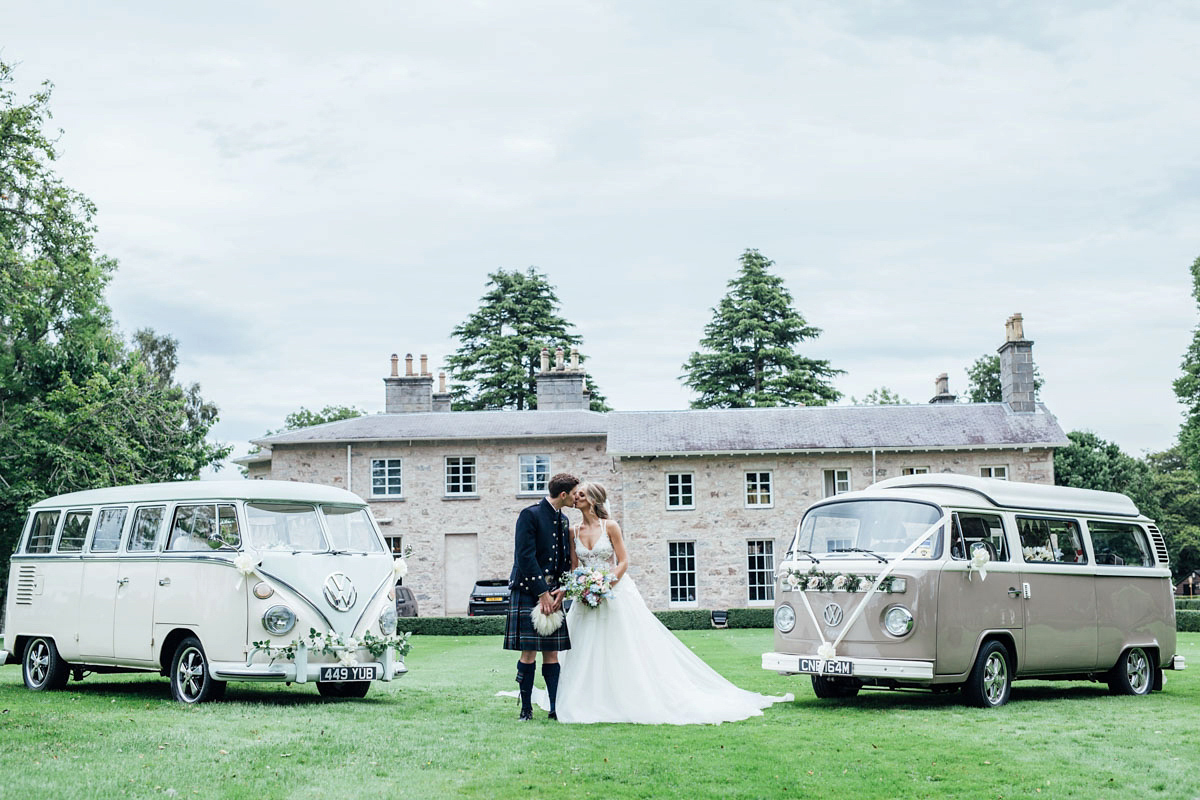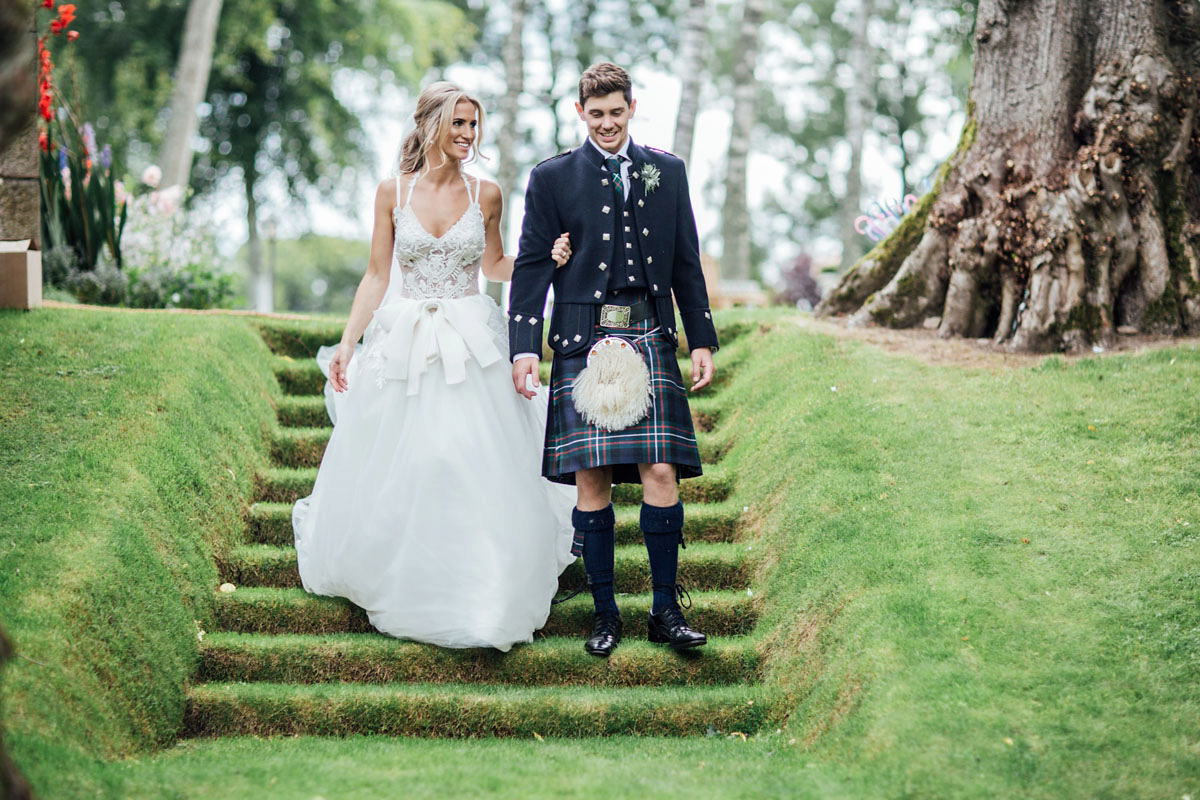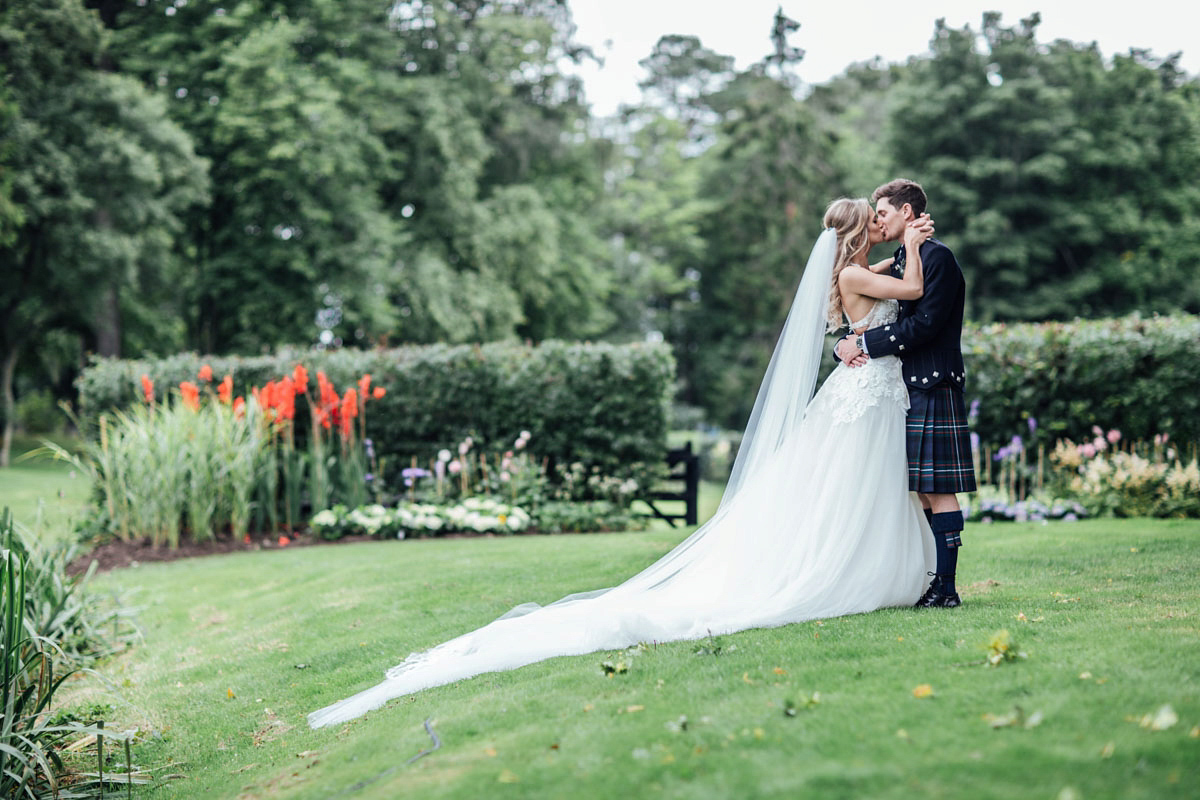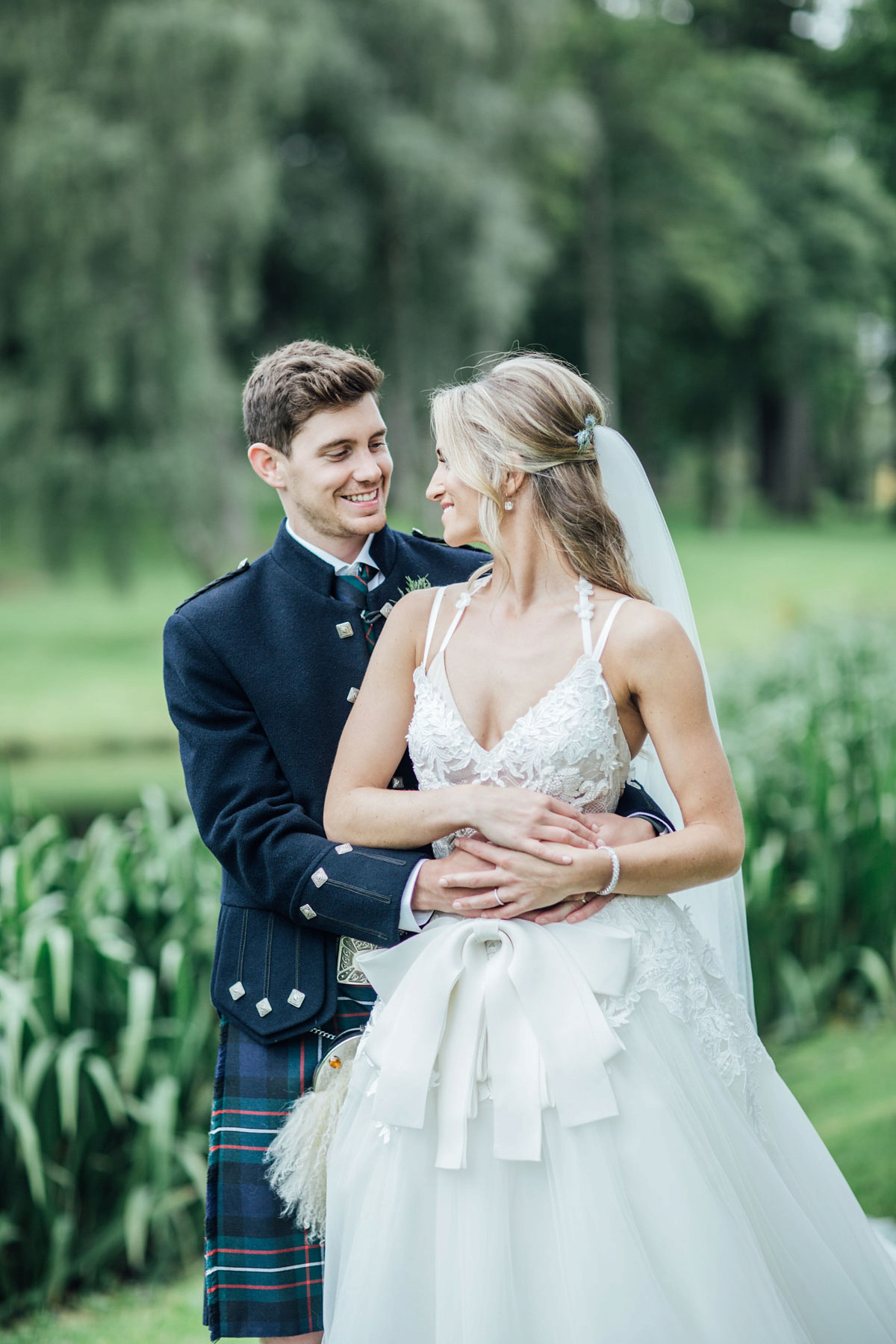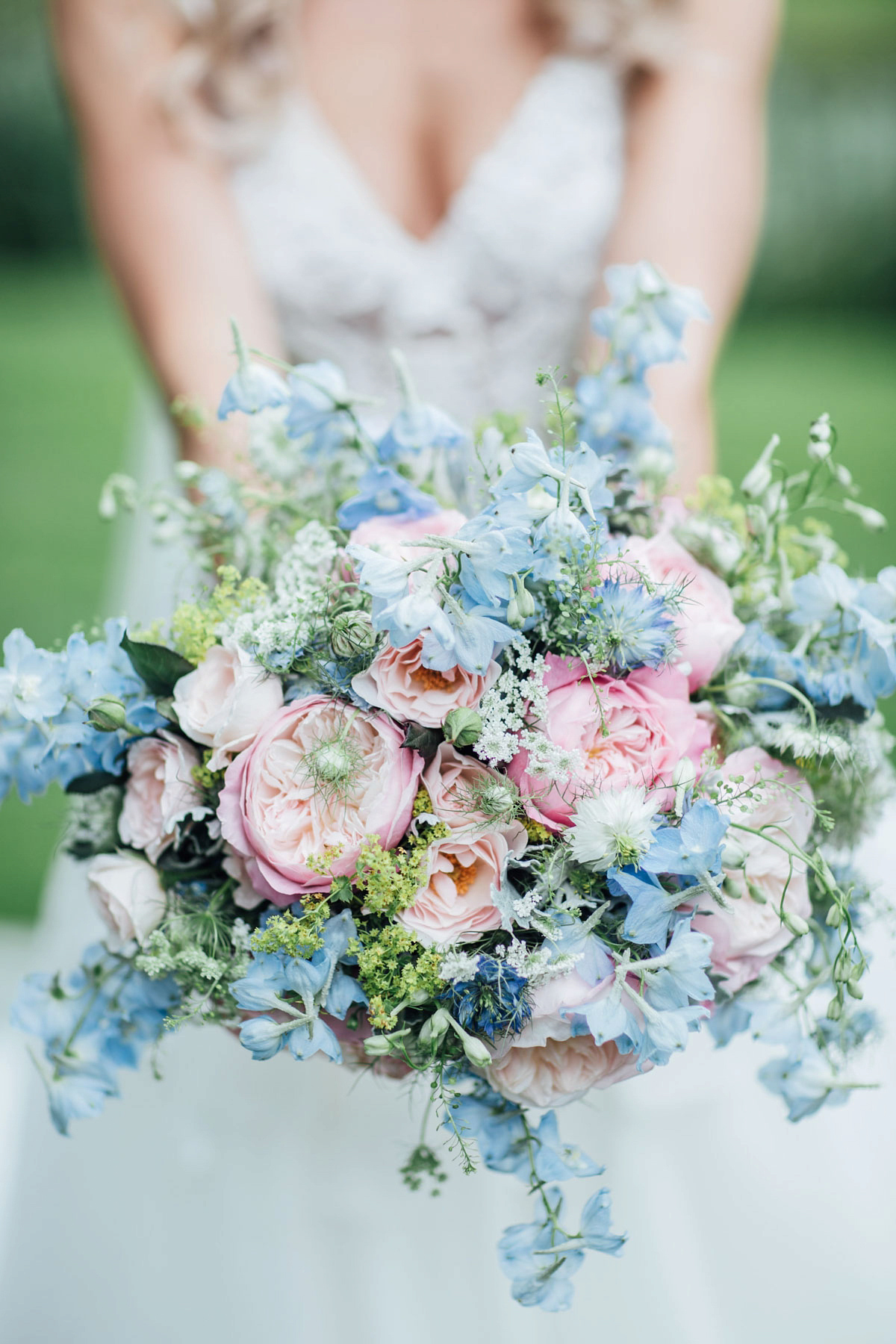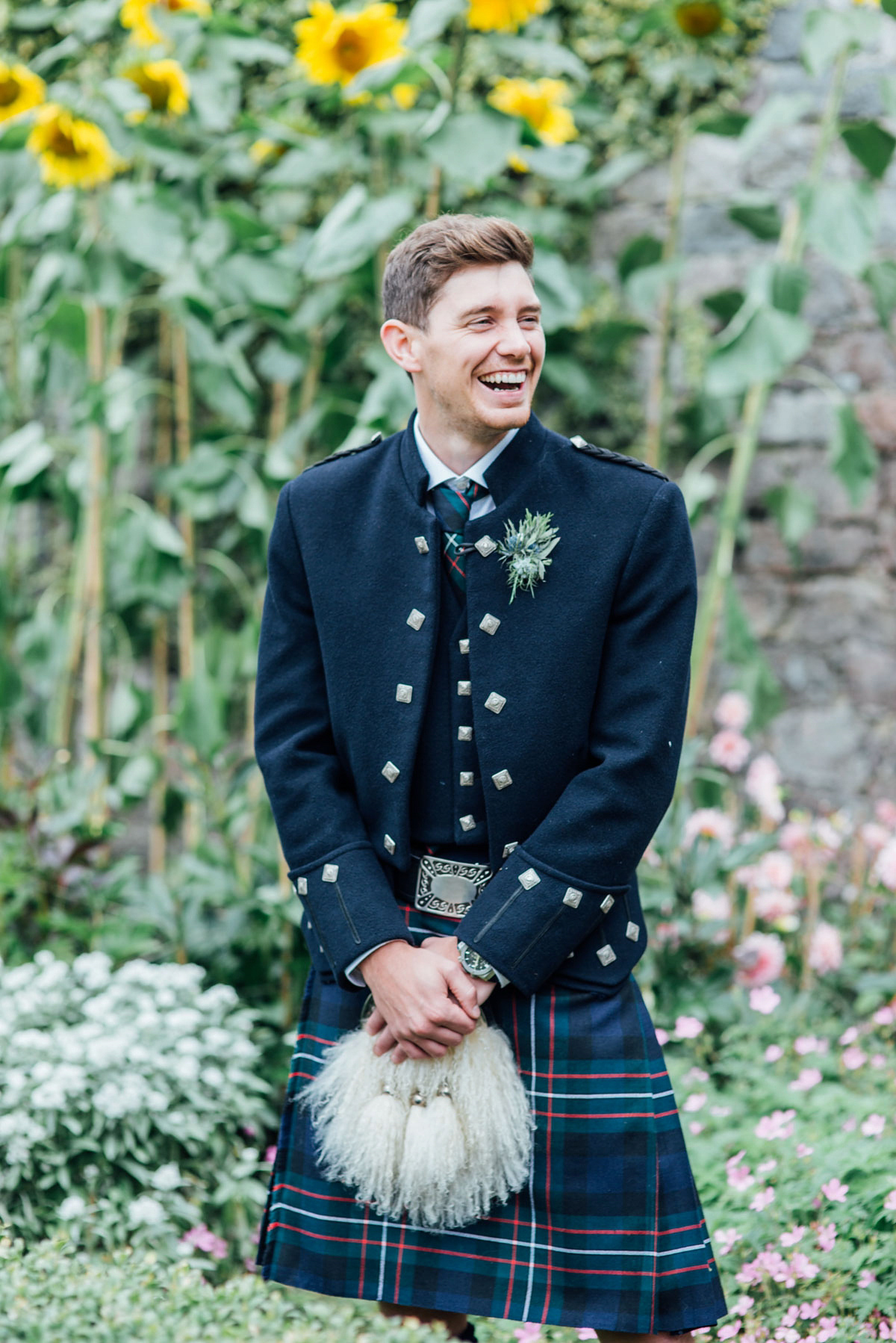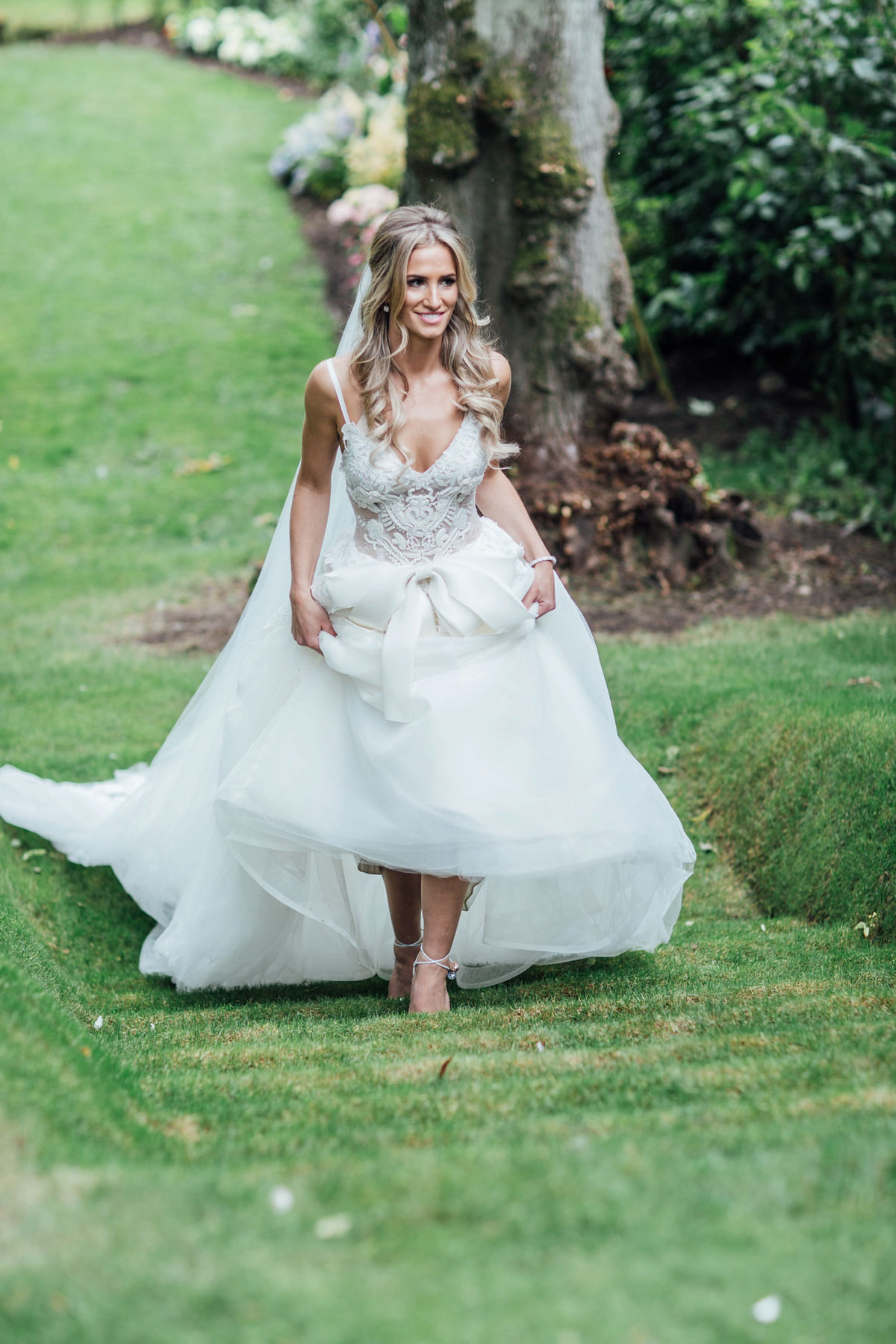 To reflect the wild flowers in the walled garden, the couple asked their florist Nicky Walker to create a floral walkway to the marquee and a hanging floral display for the bar in the dining area. She also did a fabulous job of the bouquets; I love the combination of pale pinks and blues with deep green foliage.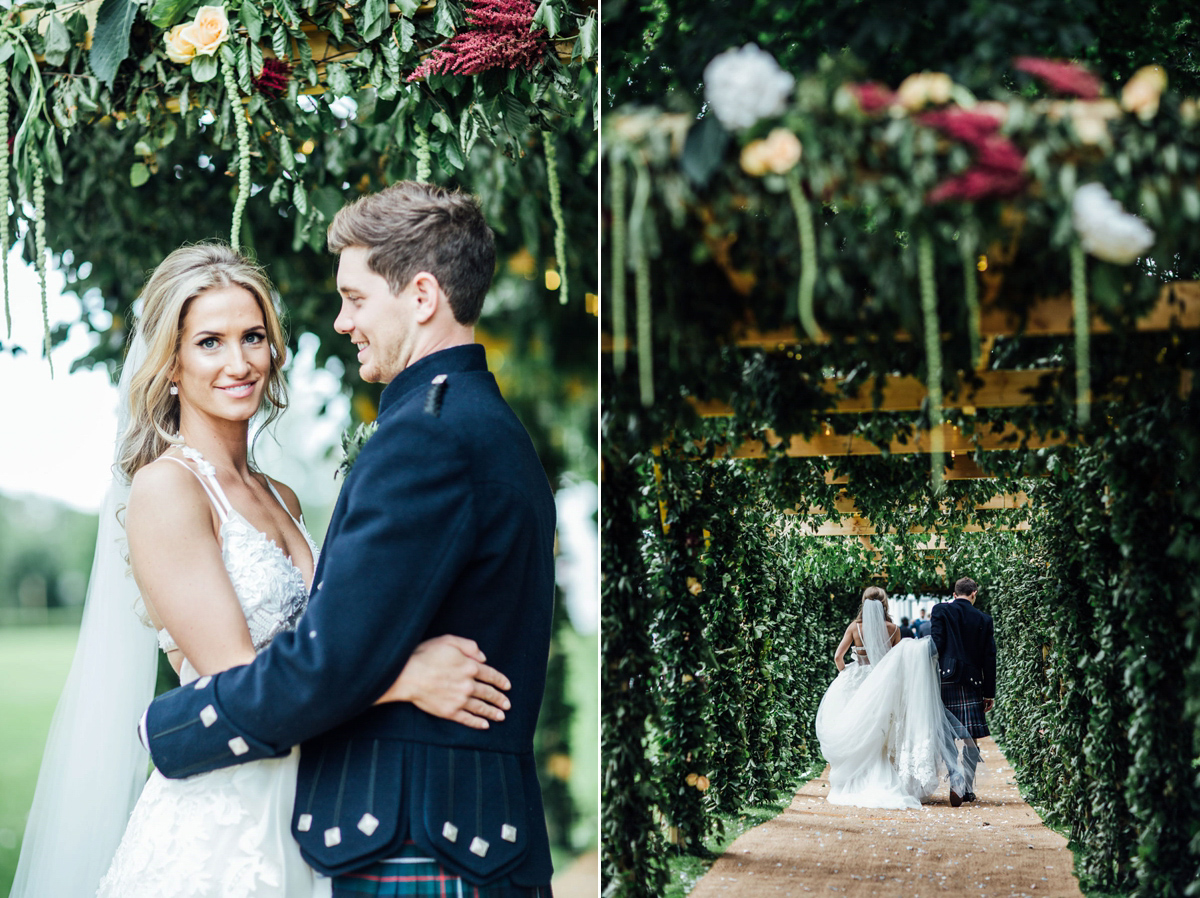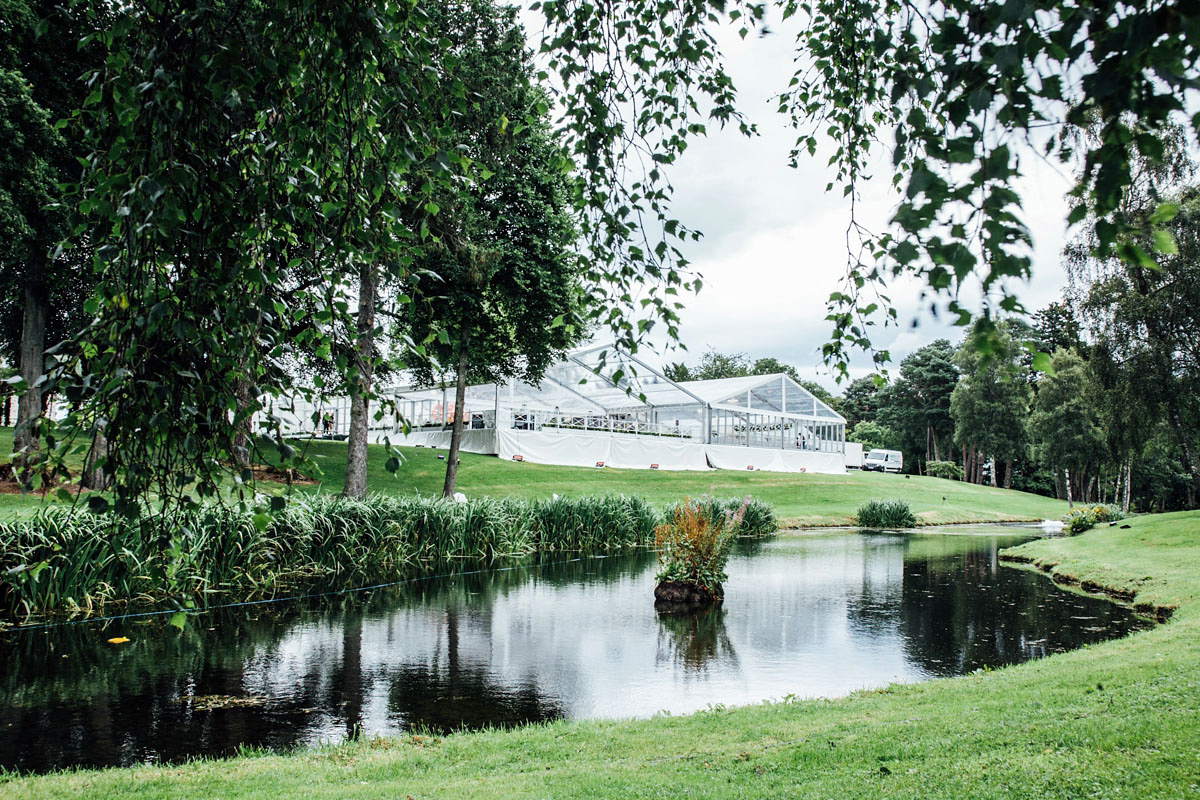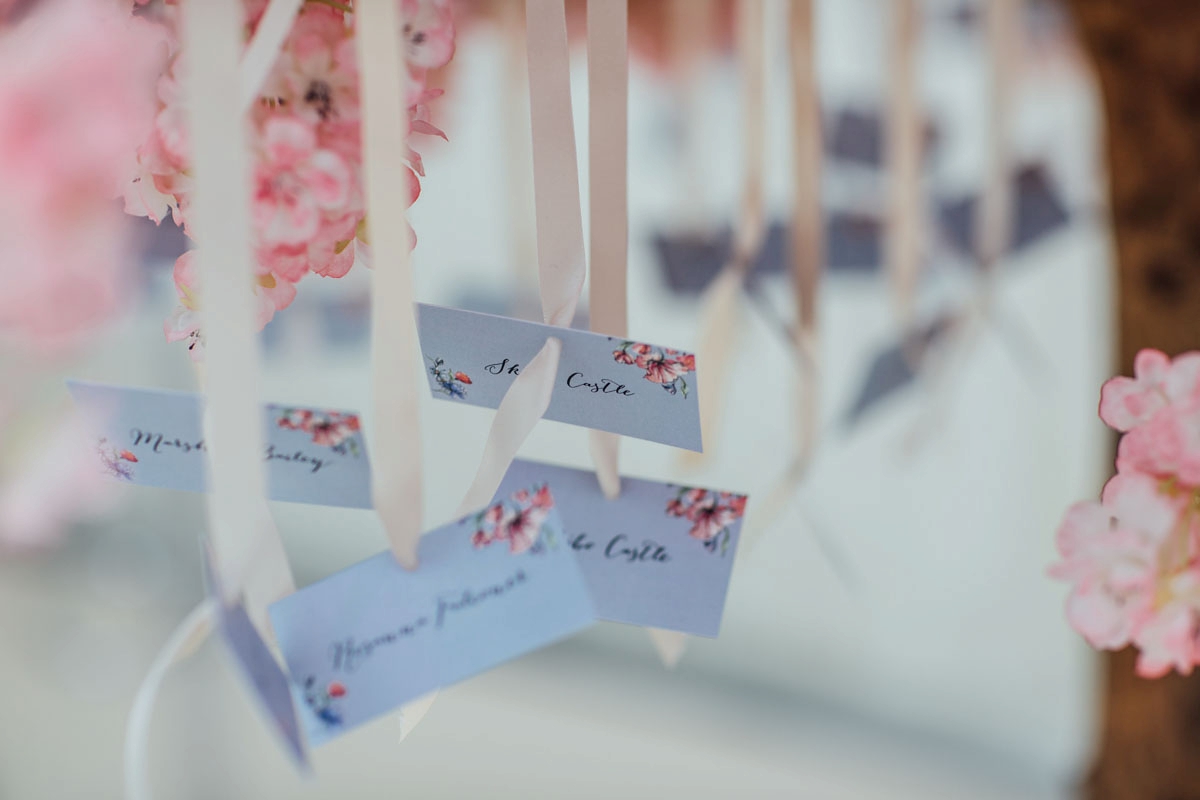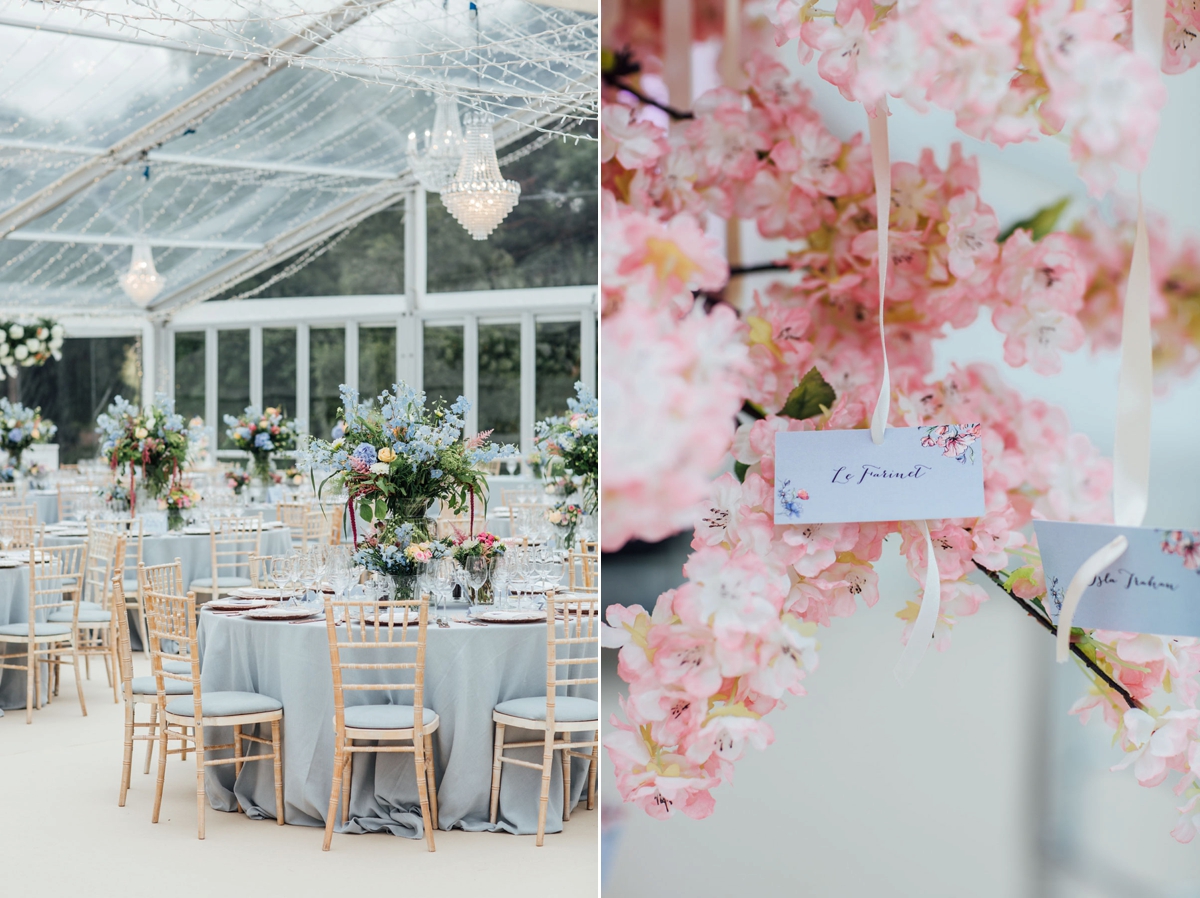 "We opted for copper cutlery and charger plates, combined with parma grey table cloths. These were really hard to source but I was determined to avoid the standard silver cutlery and white table cloth set up."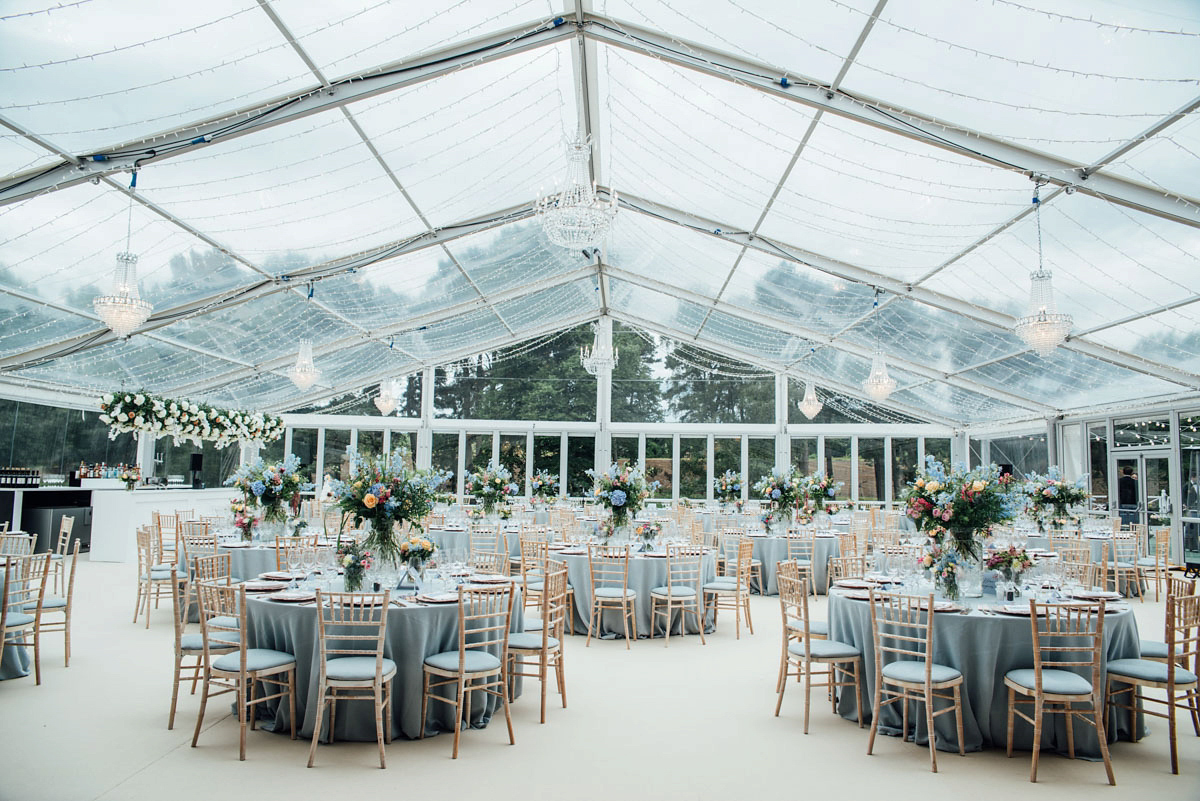 "I bought a lot of cushion covers from H&M, an inexpensive and a great way of bringing the space to life. In the reception area we stuck to muted colours and in the dance floor area we had booths we filled with bohemian cushions, lanterns and copper pineapples."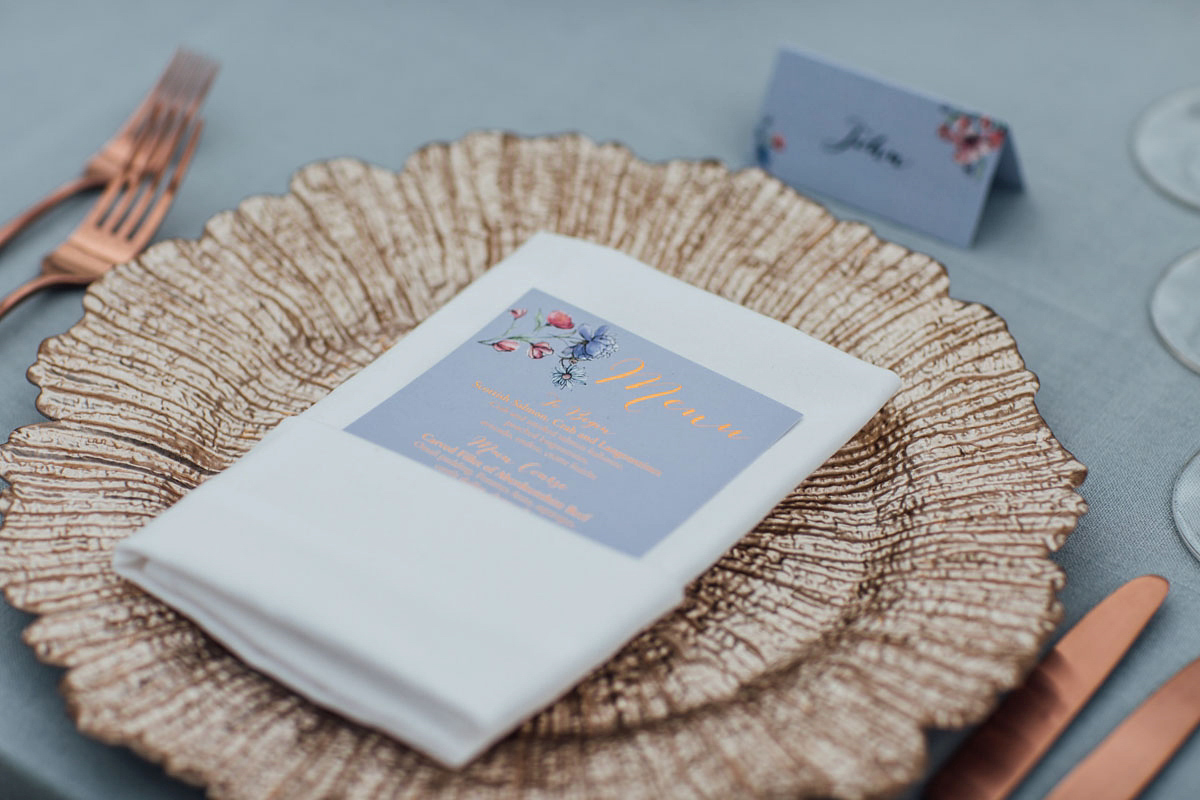 The luxurious bar area of the marquee was transformed with French style sofas and coffee tables, and cherry blossom trees, the largest in the centre of the cocktail bar. Kirsty ended up having to source the furniture herself as she was unable to find anything similar for rent in Scotland.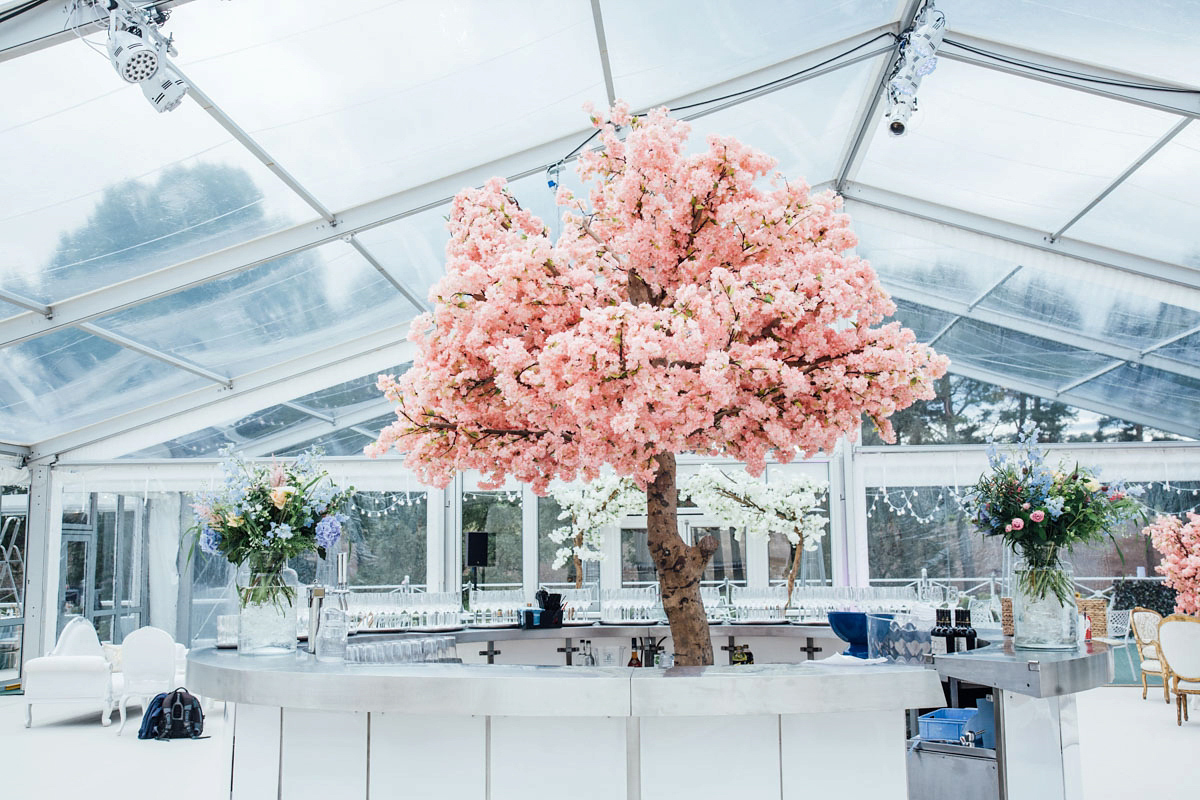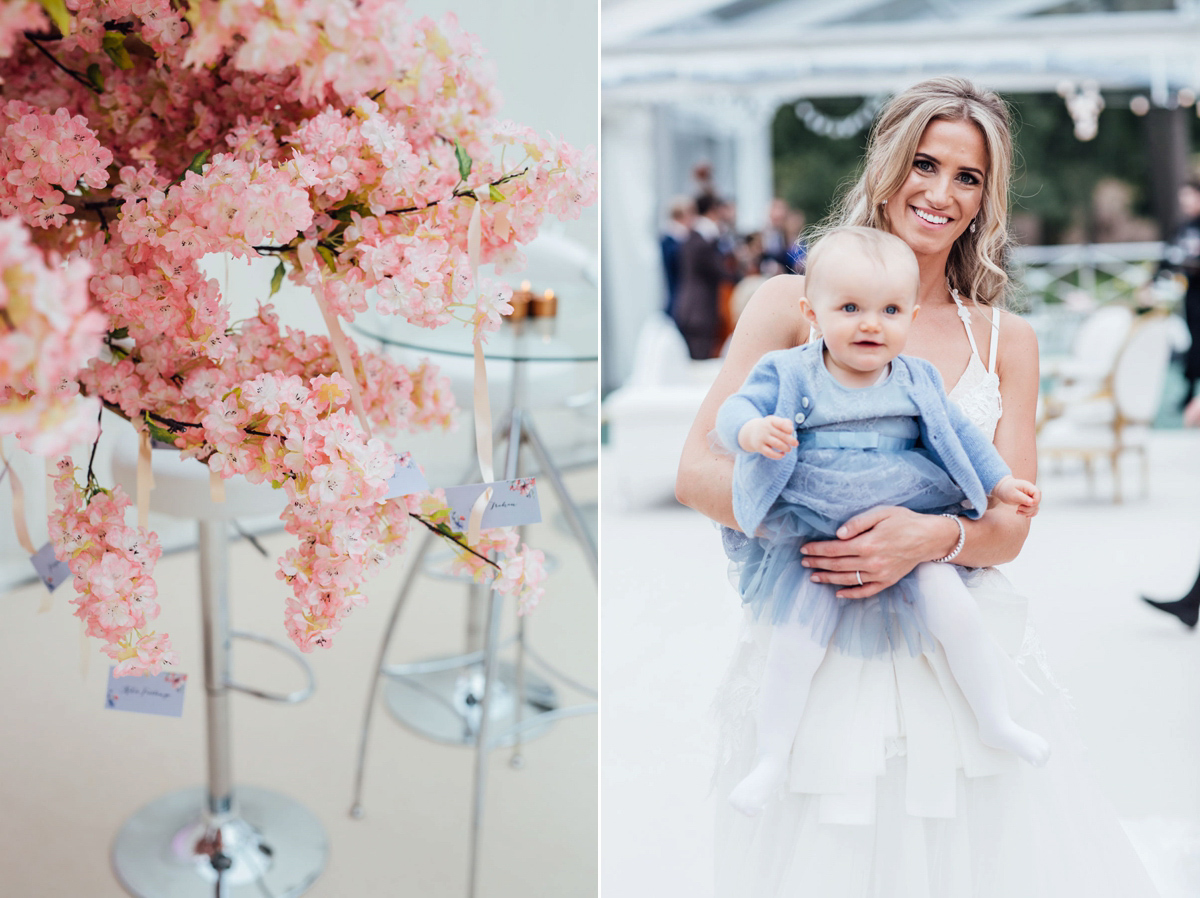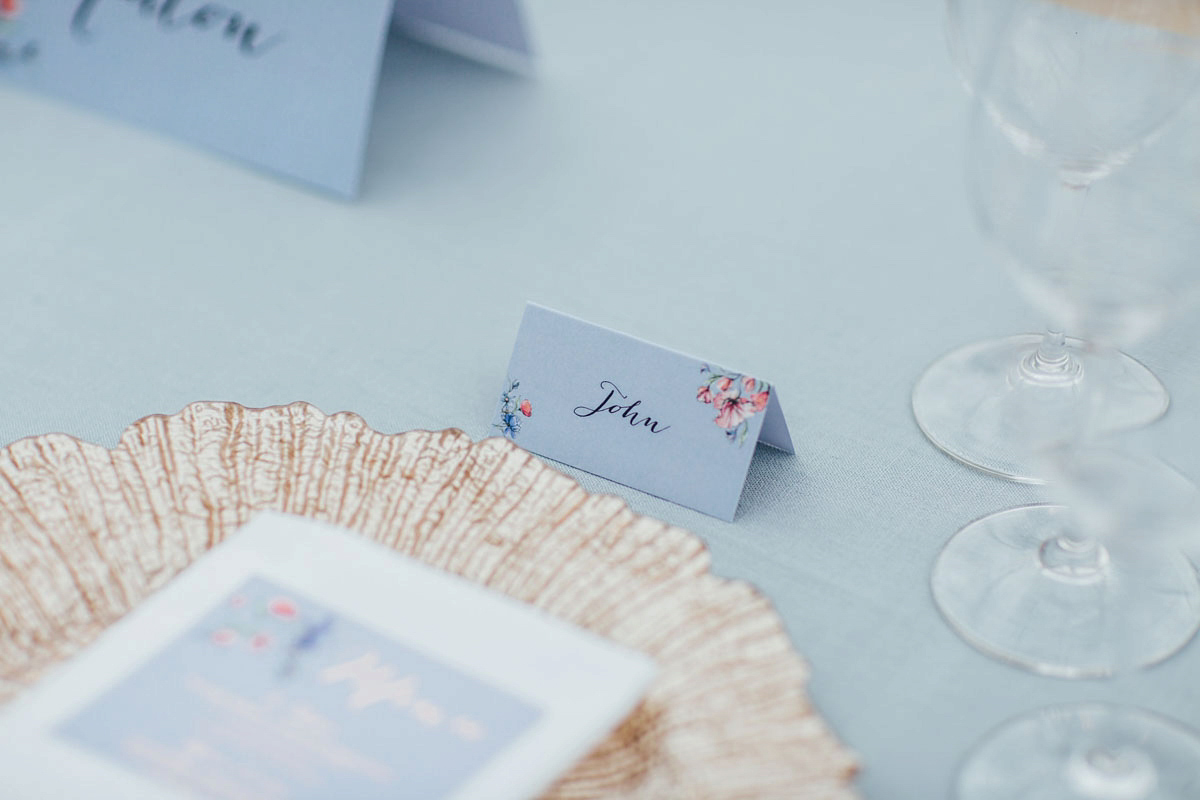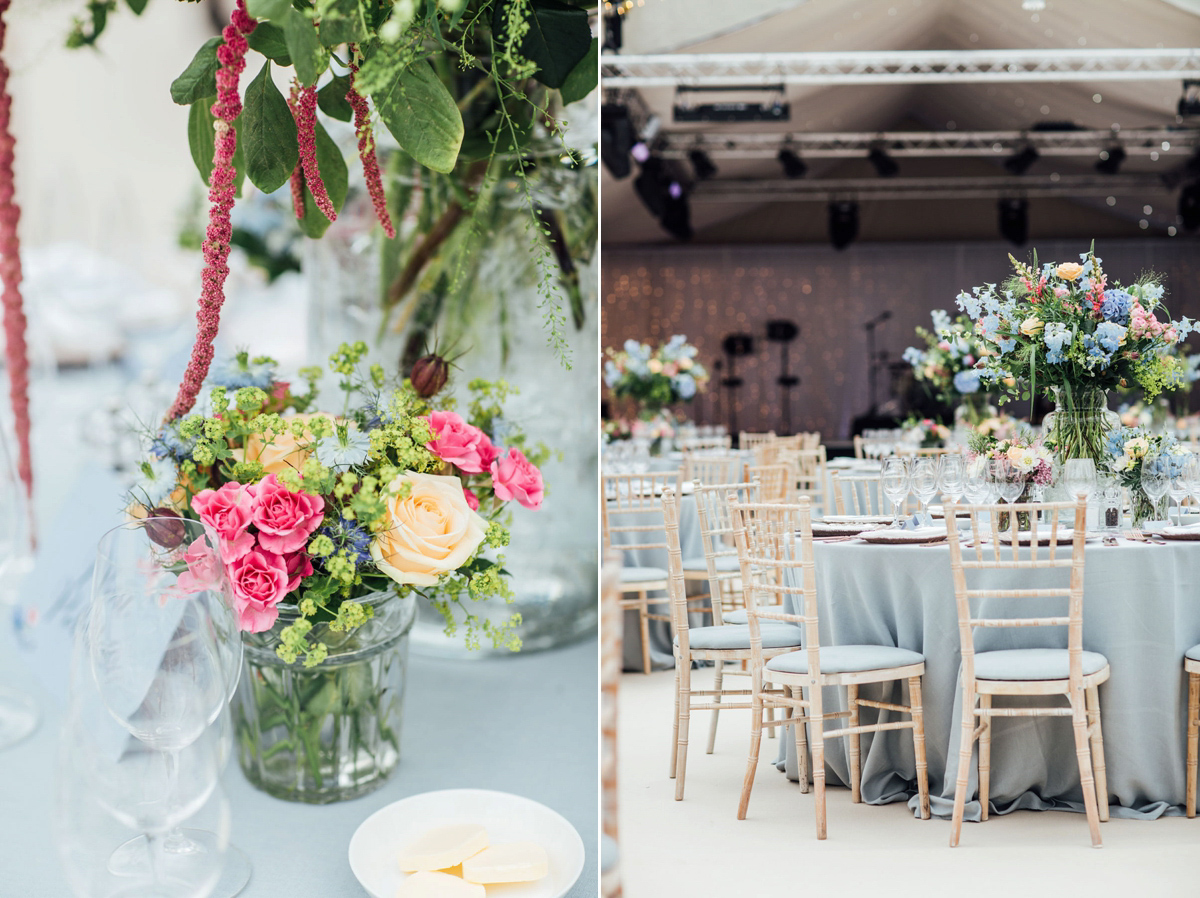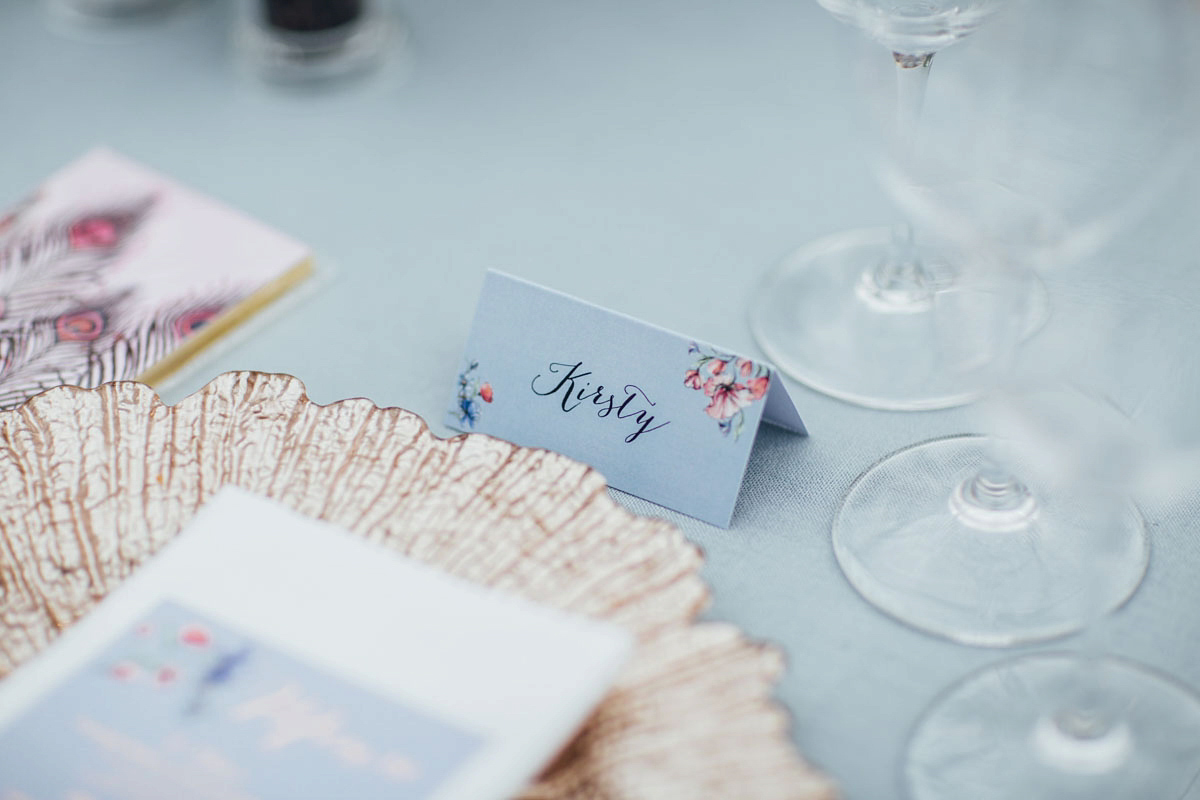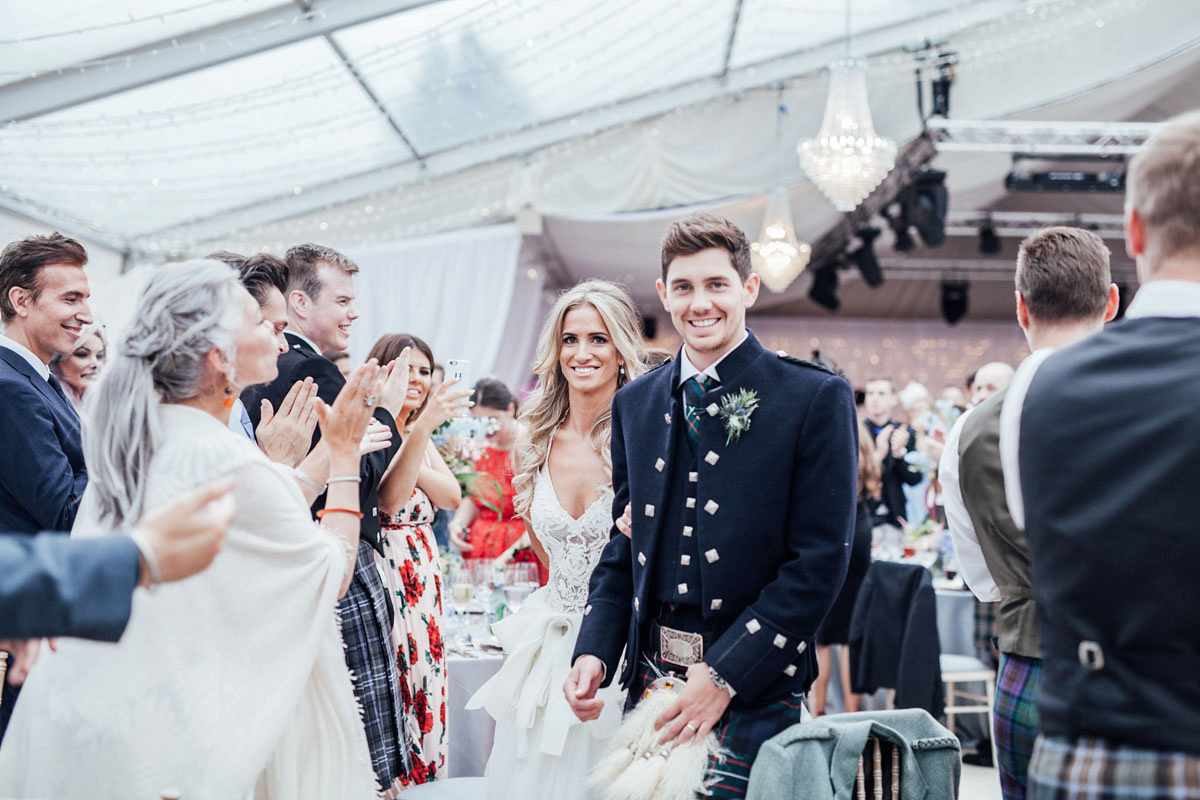 "The London Essentials played during the cocktail hour and dinner. They also took requests and our guests were dancing on the tables by half way through the meal. The White Keys played later and they really know how to get the crowd going by encouraging participation with the guests, they even welcomed the father of the groom on stage for a hilarious duet."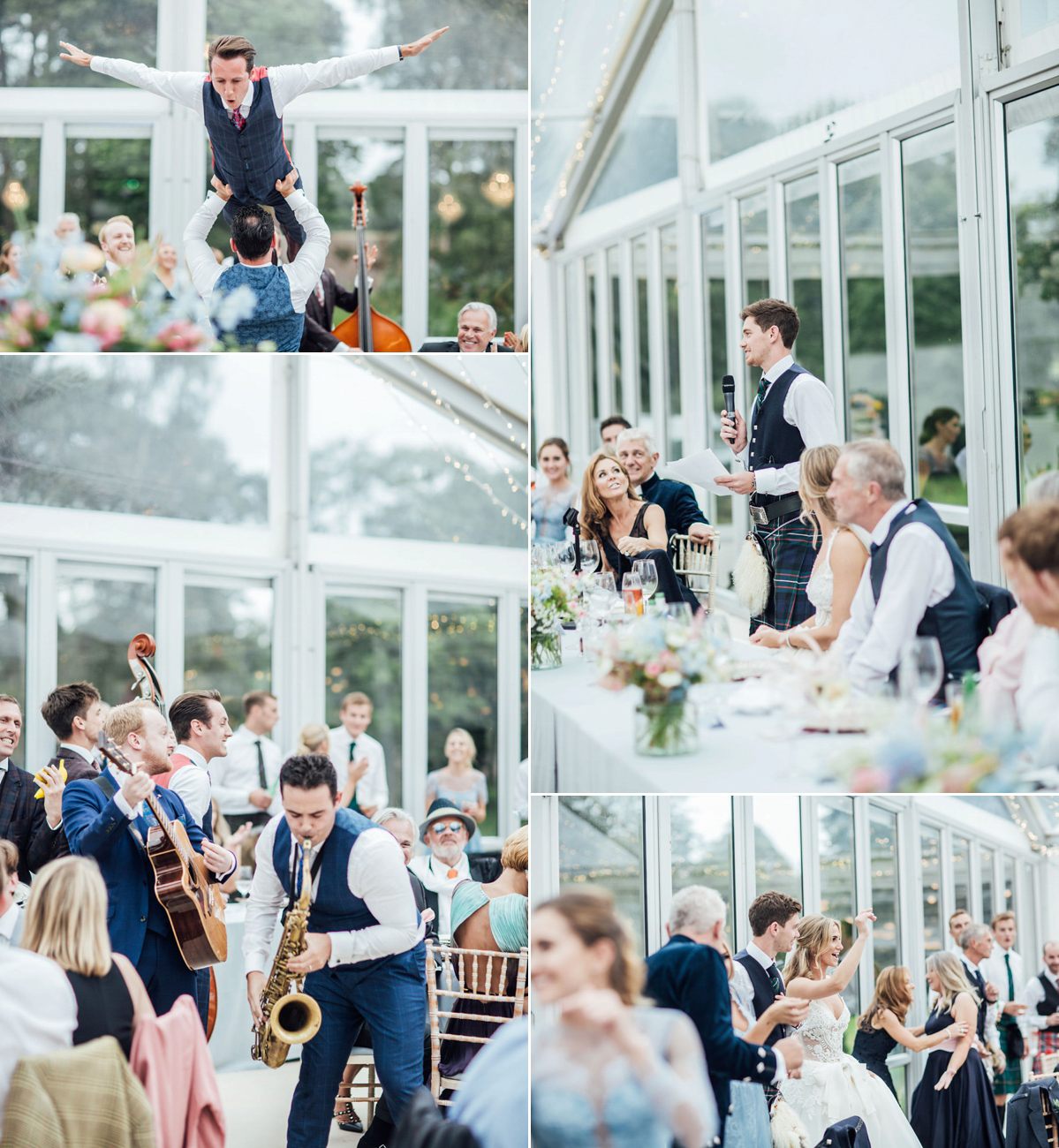 "It was amazing sitting at the top table listening to the speeches. We really felt the love from our families and it gave our guests an insight into our lives together and before we met. There were tears of laughter and tears of joy a plenty. We did the speeches between courses which worked a dream as nobody got bored and there was something to look forward to after each course."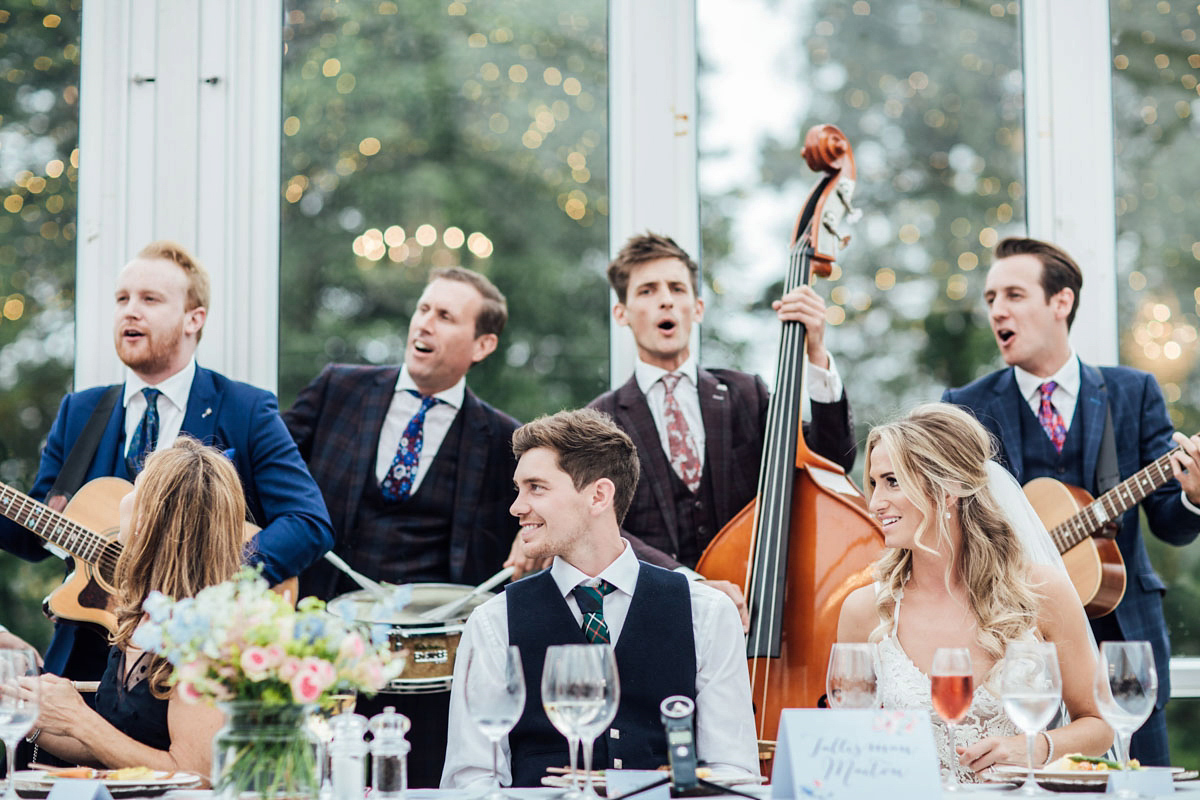 "The Marcliffe Hotel and Spa is somewhere we eat on special occasions and we were lucky enough to have them do the catering for the wedding. They were outstanding, we had so many compliments on the incredible food."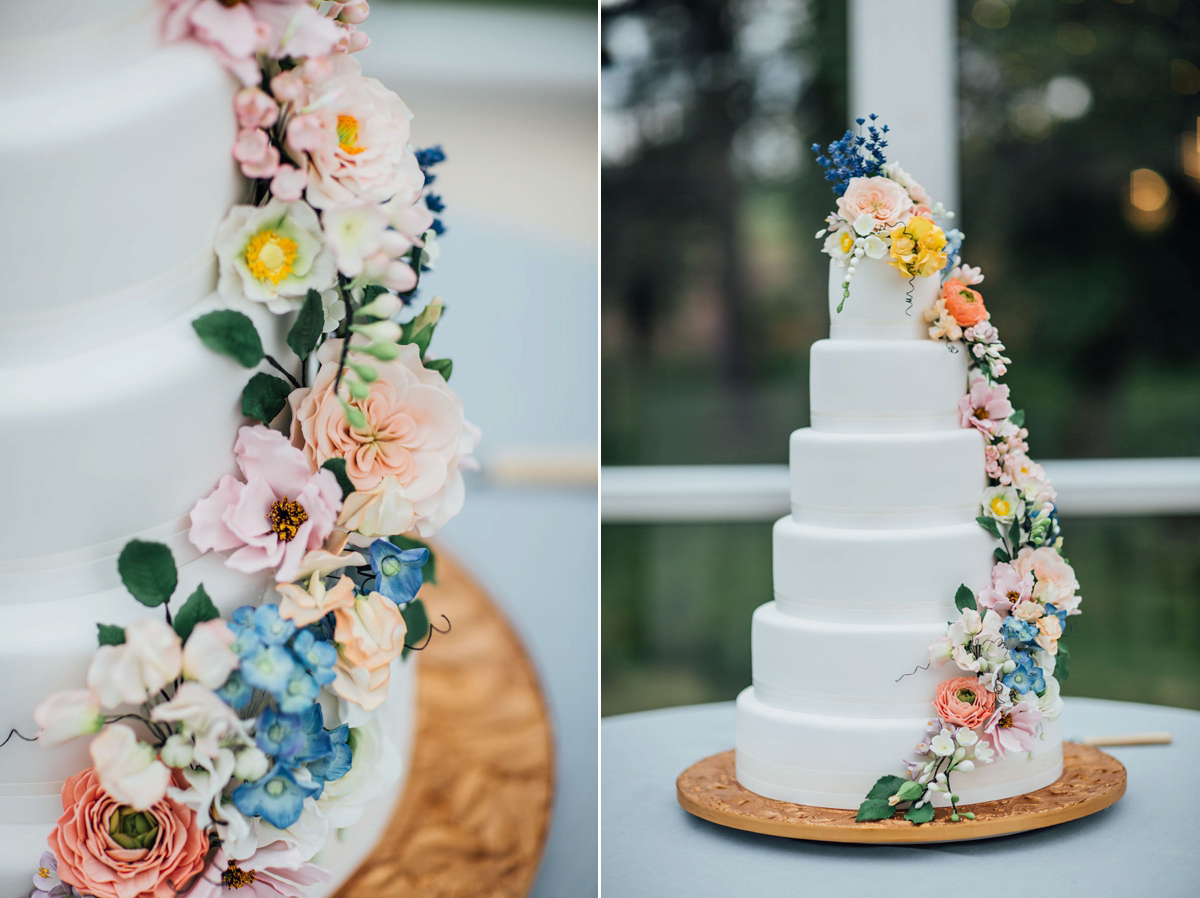 "Cake Affair made our six tier cake of assorted flavours, decorated with hand crafted wildflowers to reflect the floral theme."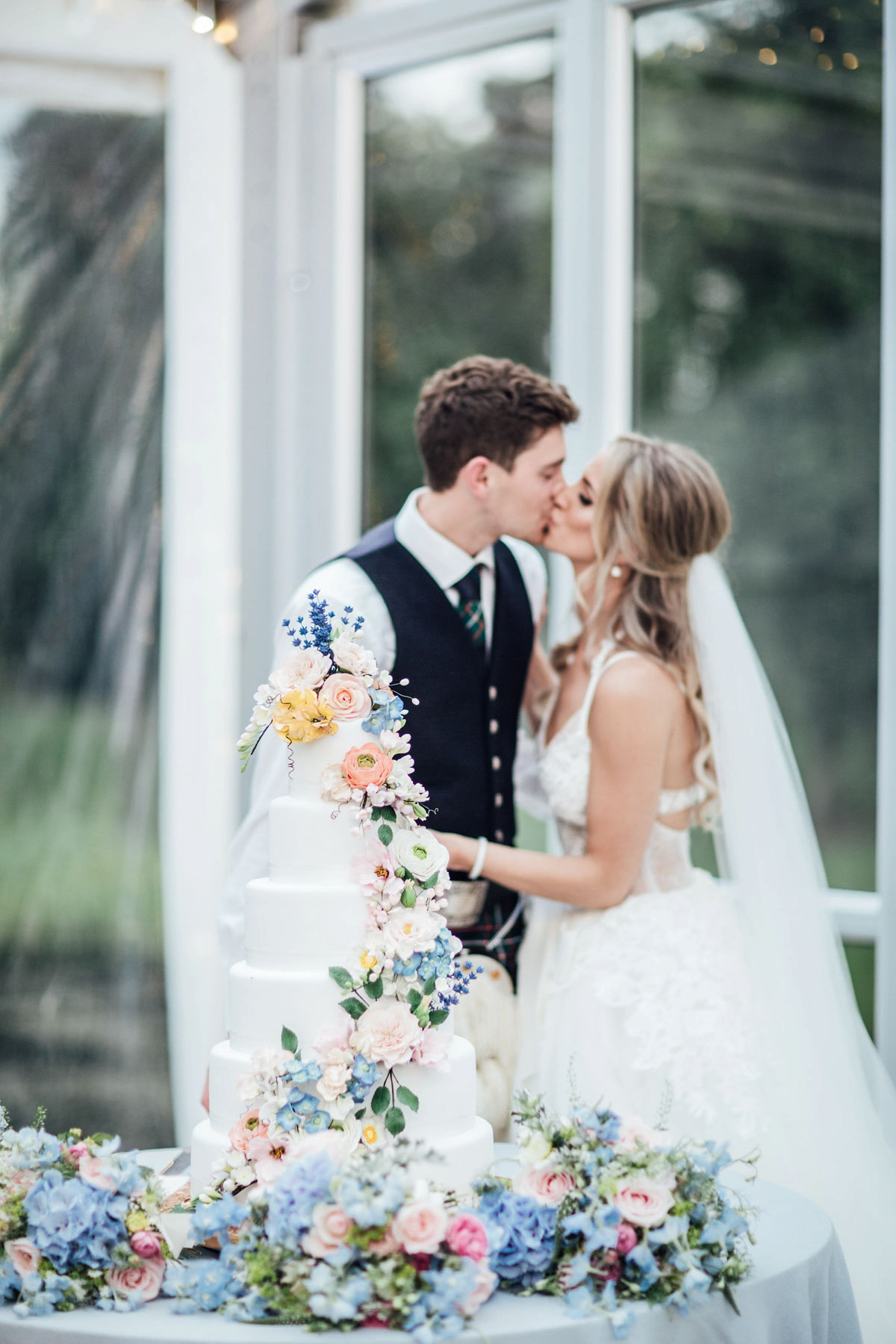 The newlyweds chose 'Is this Love' by Bob Marley to dance for the first time as husband and wife. They both love the song and the meaning behind the lyrics.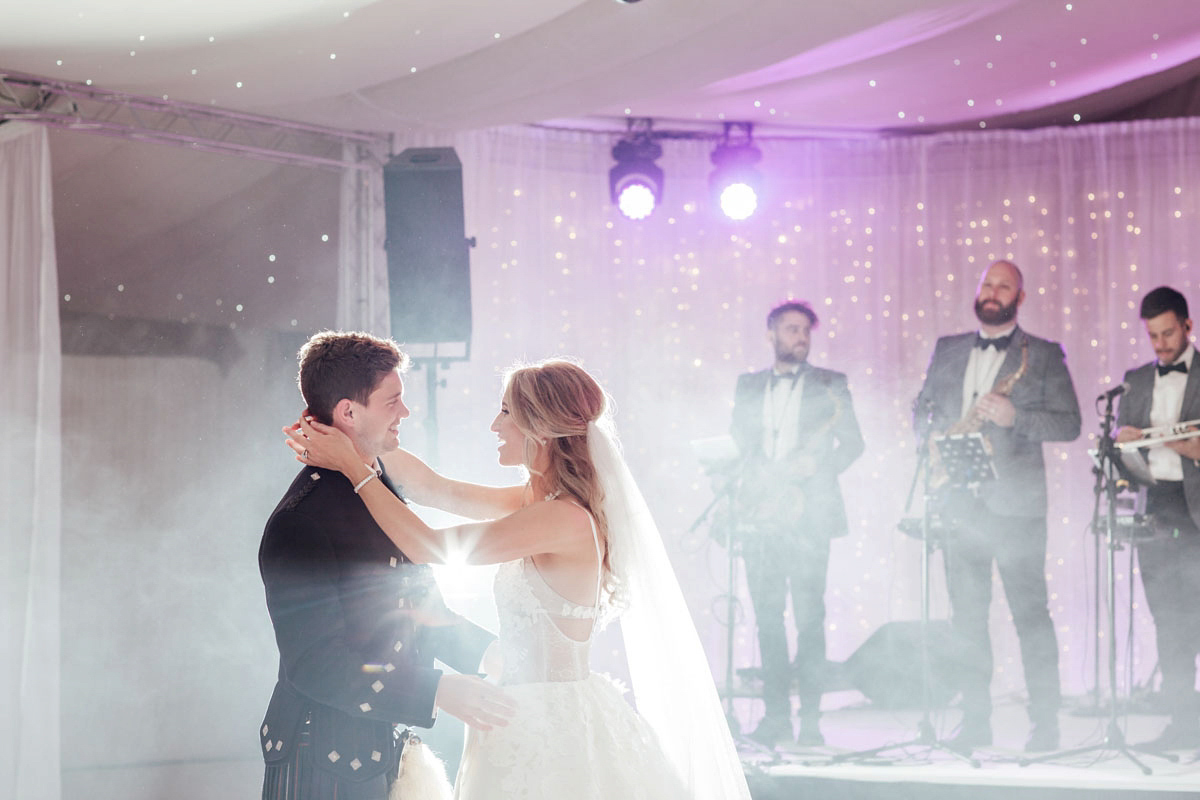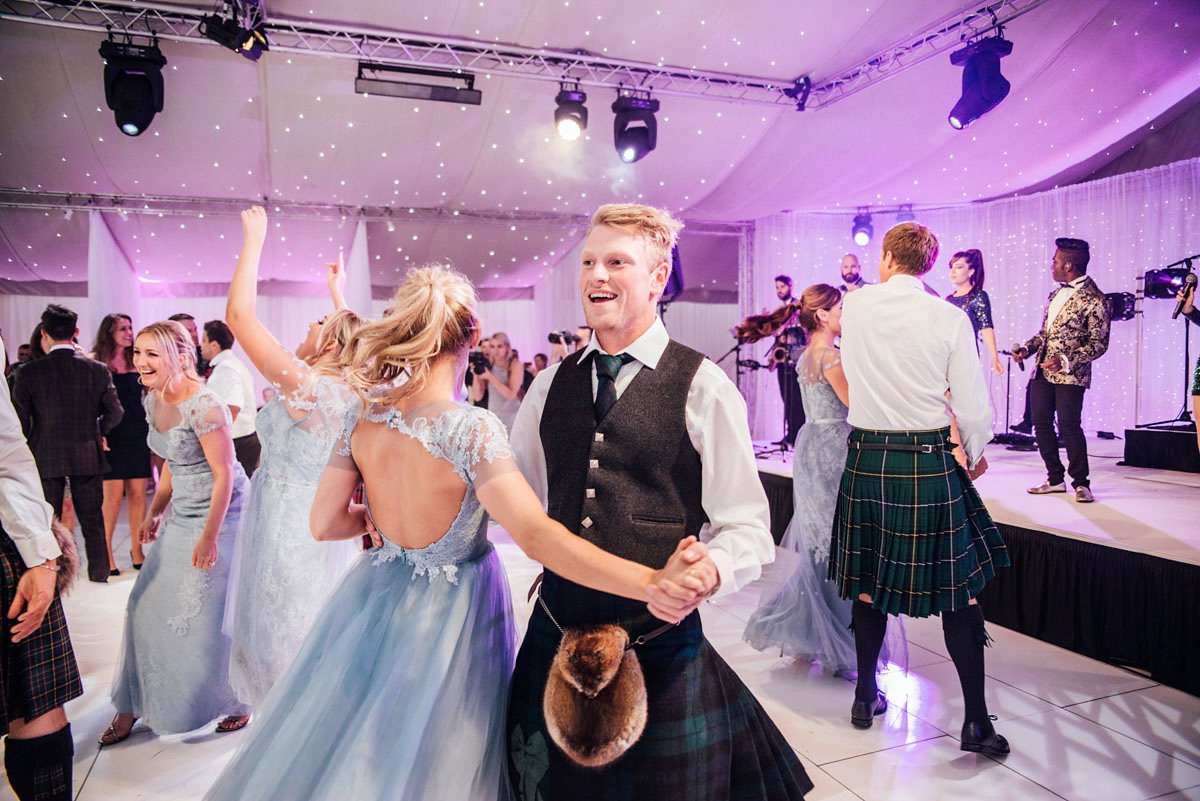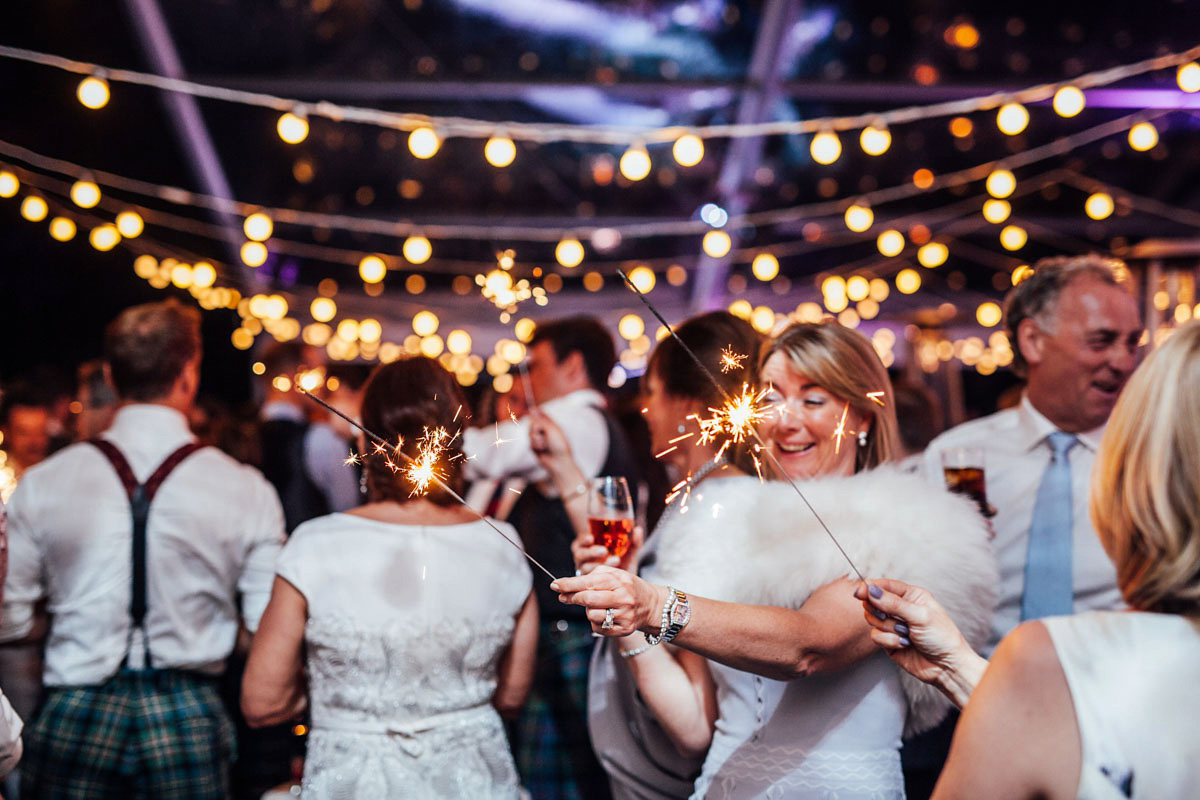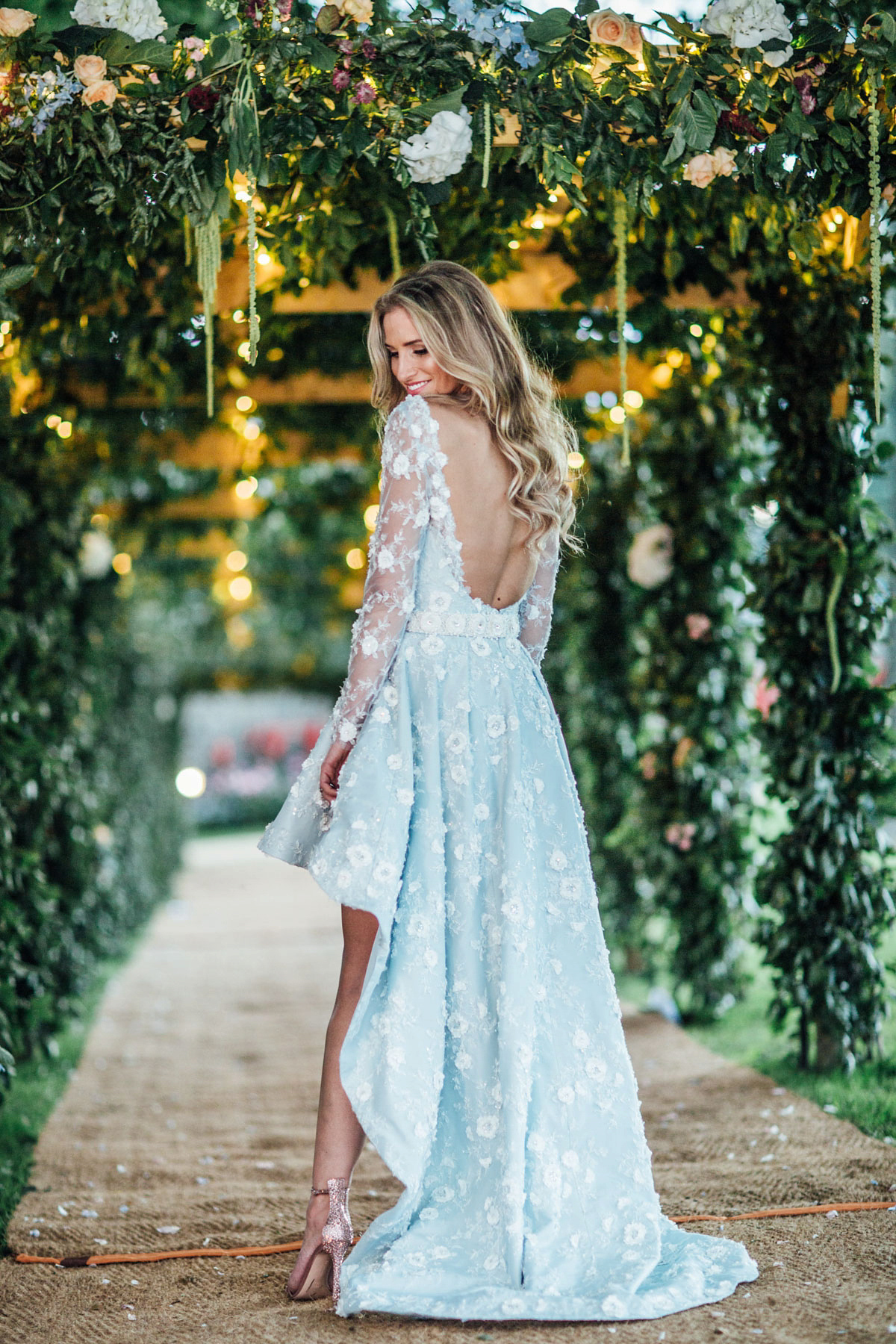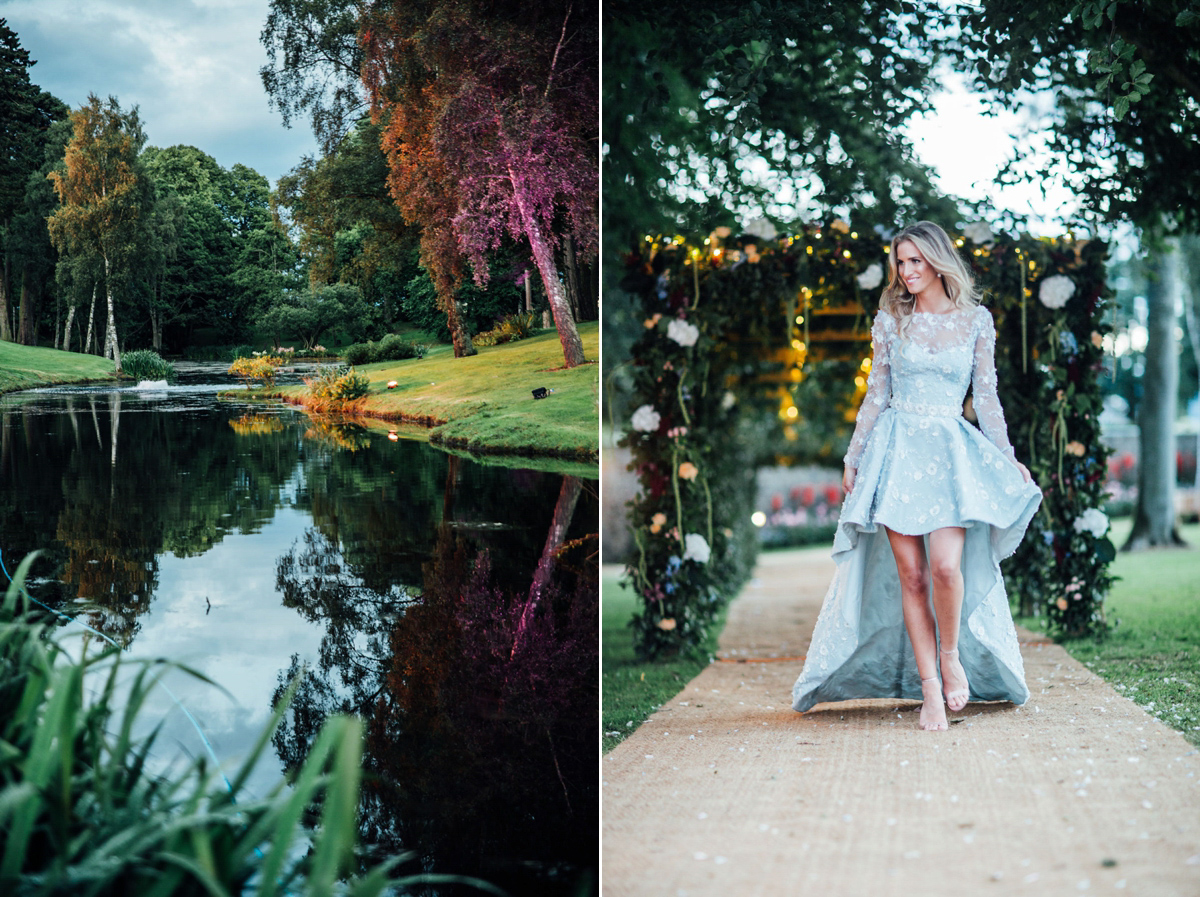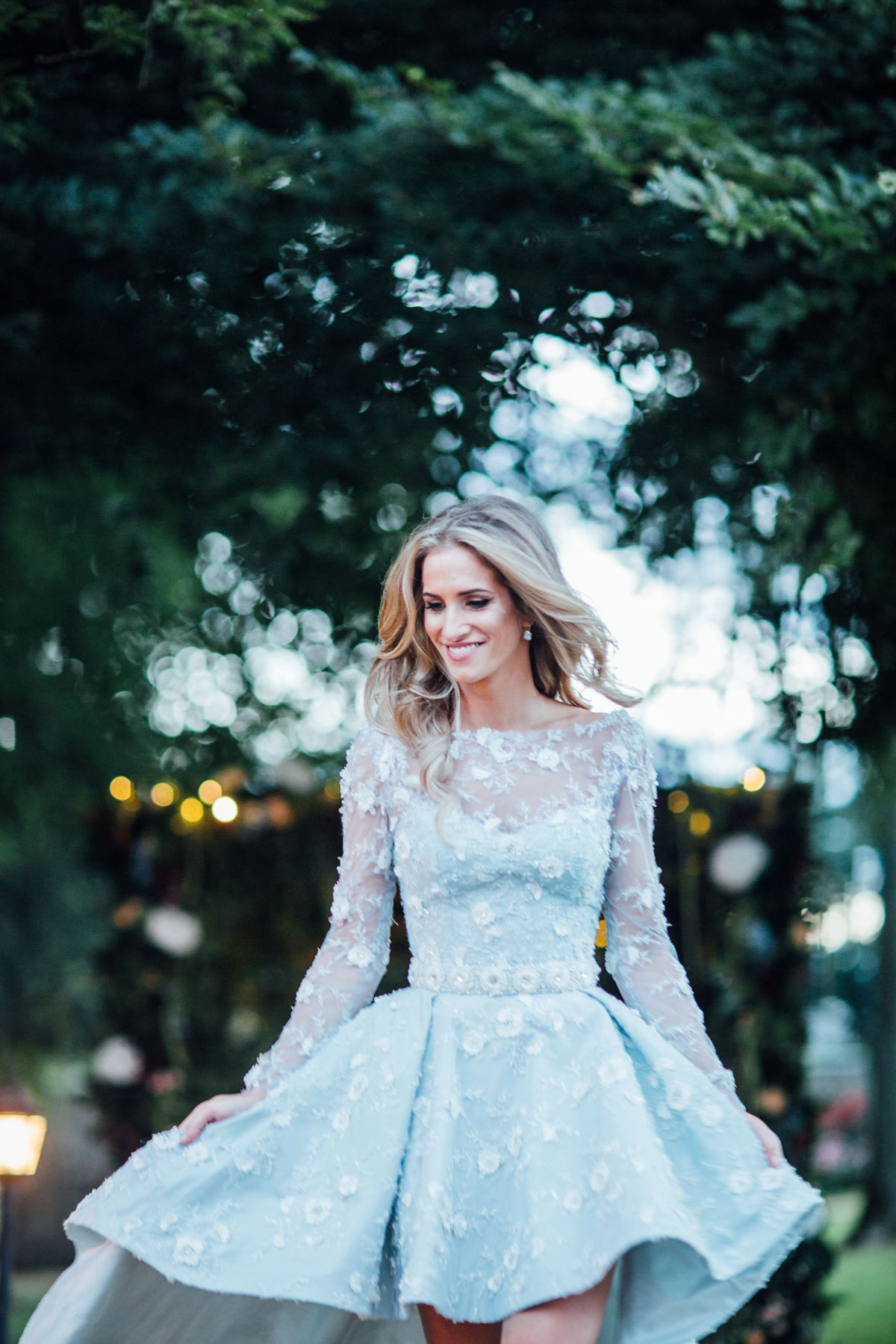 Words of Wedded Wisdom
"Don't be afraid to go it alone. If you are having a large wedding and know exactly what you want you can do it without a wedding planner – as long as you have the time and plenty of people to help you. Also we initially wanted a small(ish) wedding of around 100 people, but in the end we enjoyed the buzz of having 250 guests there. It still felt relaxed and informal as it was at home and the guests gave the day a real party atmosphere.
Research is key. You can find anything you want if you look hard enough. Don't waste money on little things that won't make an impact, once you find the cushion, tea light holder or balloon you like buy it in bulk – this is more effective than buying lots of bits and bobs and saves money in the long run. Make sure you have a photographer you feel comfortable with and don't be afraid to feel silly during the photos, it's your wedding day, no one will laugh at you.
On reflection, I would have tried not to stress about all the small details and making sure everything was perfect. I also spent months trying to source very specific things I wanted – I would have prioritised these first."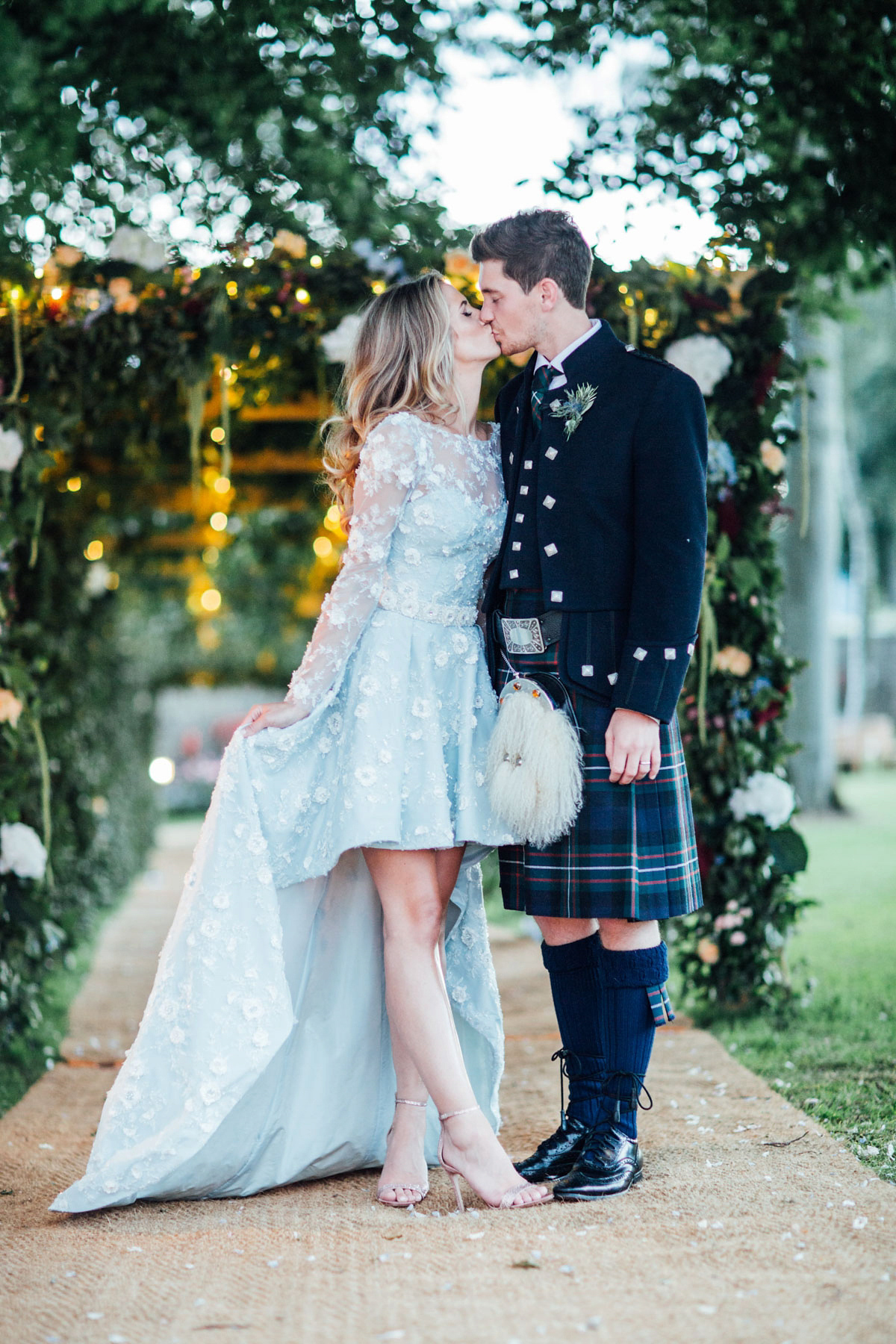 Thank you so much Kirsty and John. It has been my absolute pleasure to share your spectacular wedding with our readers. Our thanks also to Carley, the images are truly beautiful.
Love Caoimhe xx