I absolutely love it when I sit down to prepare a feature for Love My Dress, to realise the bride has bestowed so much passion and enthusiasm into the recollections of her wedding planning. This wedding is so much fun, so relaxed and laid back in it's nature – I adore how bride Martha has recalled every little detail of her experience with such joy and humour! I'm thankful to Martha too for her excellent feedback about Love My Dress; at the end of this feature, within the 'Words of Wedded Wisdom' paragraph, you'll find Martha singing our praises for tackling some of the more 'thorny' wedding topics and sharing our From the Heart posts too. She picks up on our two features (which you can read here and here) that address 'transparency, honesty and clarity in the wedding industry' – which is fortuitous, because the author of these posts, the wonderful Katrina Otter (wedding planner extraordinaire) is sharing another of her advice pieces this afternoon on our wedding blog. Co-incidental too, that Martha also found her wedding dress via The Mews Bridal of Clifton, as did the beautiful Georgie, whose wedding we shared yesterday morning.
Business Psychologist Martha (I'm fascinated by the sound of that role and want to know more Martha!) married her Farmer and Chef husband Matty on 9th July last year. Their ceremony took place at St Stephen's Church in Moreton Valence, Gloucestershire, followed by a reception at Moor Farm, also in Valance. The farm belongs to Matty's family.
"Moor Farm has a beautiful oak-lined drive, and is only half a mile away from the church. It also had a barn that was perfect for the party, and it meant we had total freedom in terms of décor, food, noise – everything. Matty's family run a glamping site on the farm, via the franchise 'Featherdown' . They have six 'tents' (more like canvas lodges), each sleeping six – complete with wood burning stove and flushing toilets. We were incredibly lucky that we had no venue hire fee, and our guests could stay in the glamping tents free of charge for the weekend. The farm venue and glamping site have been used for many weddings over the years and remain available for hire today."
Photography by Bullit Photography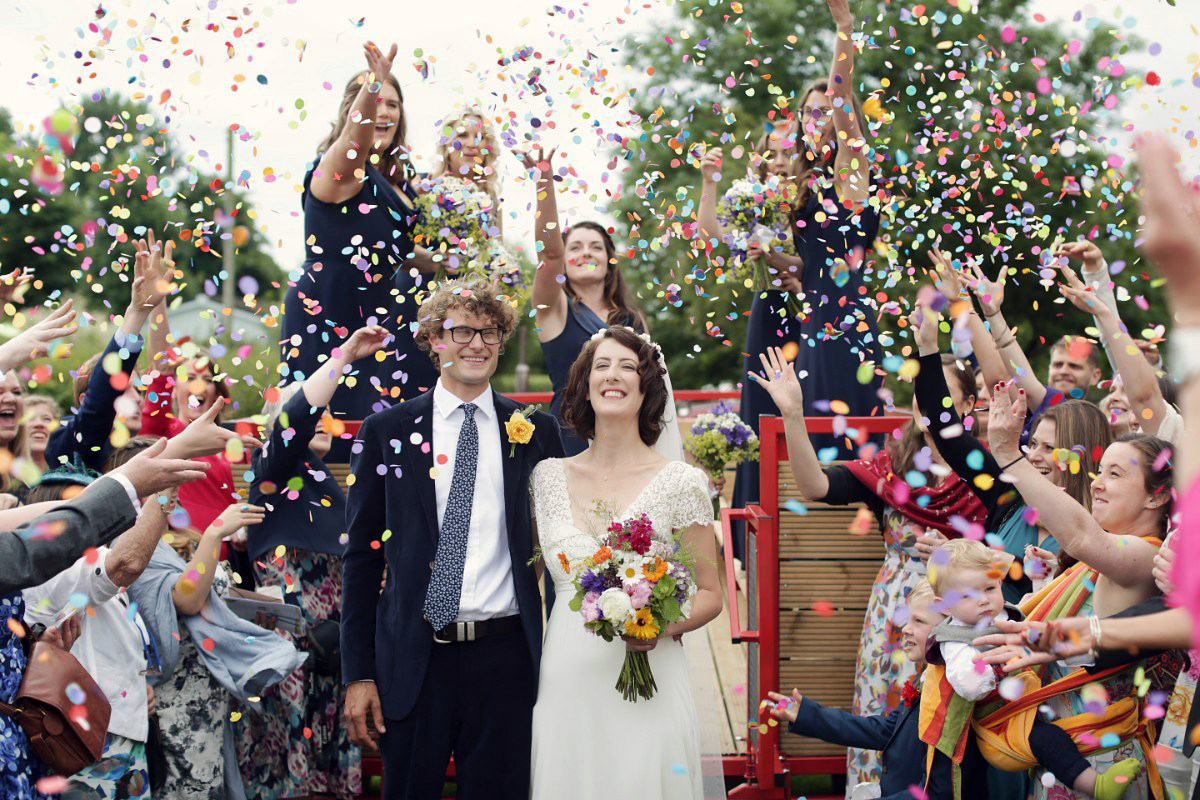 "The actual theme, 'country fete and picnic' – was basically decided by about Boxing day. Matty had said that he really wanted to cater for the wedding himself (but I absolutely forbid him from doing anything on the day) so we needed to think about what kind of food he could realistically make in advance. The idea of a picnic was perfect – he could cure the meat, make the quiches and pork pies and everything else well in advance.
We already had visions of wicker hampers, gingham napkins, and wild flowers in jam jars. As soon as that was agreed, the ideas just kept on rolling in.""One of the comments we got again and again from guests was just how personal our wedding was. People could see our personalities shining through every detail (insanely colourful confetti, Monty Python table names, a Lego tractor on the cake table, random conversation starters in paper fortune tellers, jam jars bursting with colourful wild flowers, an array of tombola prizes that were looted from our local pound shop, and a completely homemade picnic, to name but a few), and people could tell that the whole family – both sides – had helped to create the experience.. We're so grateful for all the help we got, and how much fun everyone made the prep.
We somehow managed to do everything ourselves, though I would thoroughly recommend both taking the full week off work before the wedding. We literally couldn't have done it without those seven days of pure focused work work work."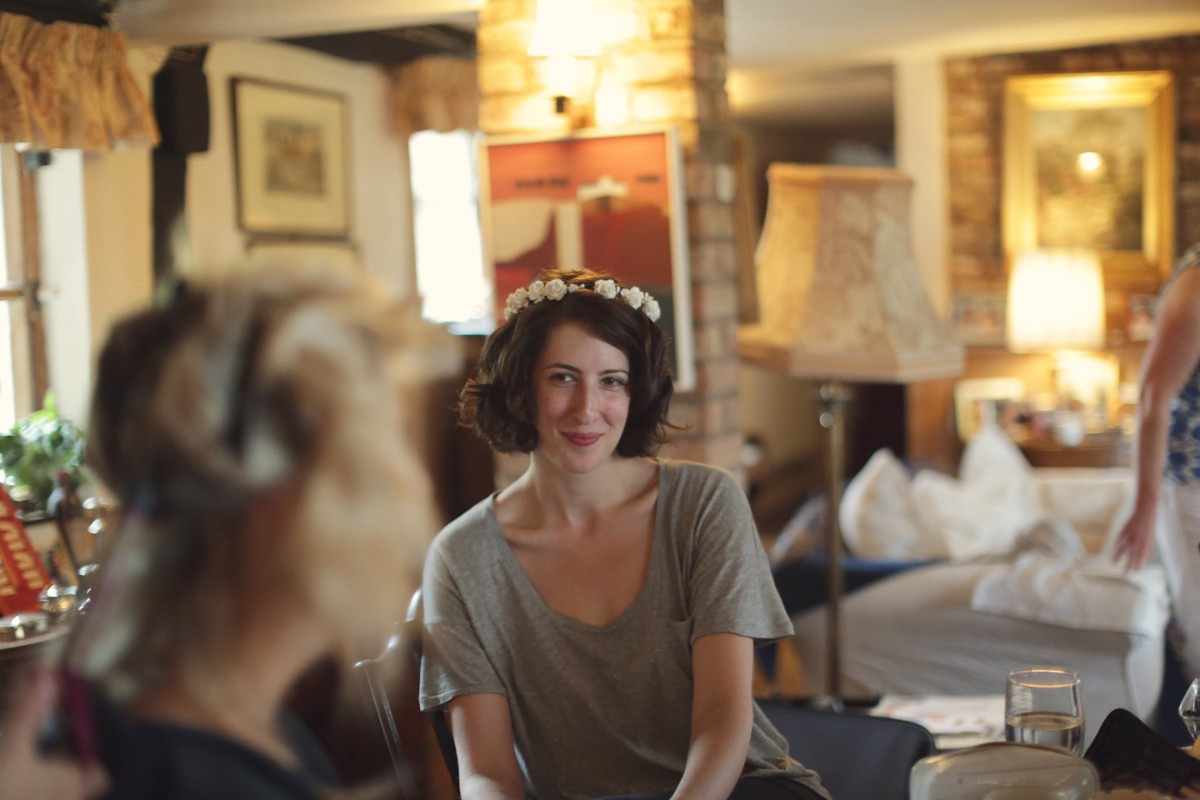 "I have always loved wild country flowers, and knew I wasn't going to tie myself to a colour scheme. Instead I opted for the 'one of everything' approach. I had been told that there was only one lady in the local area who supplied this kind of thing – Kate Whittaker of Kate's Cutting Patch. She has her own meadows and grows all her own flowers – nothing was imported or bought from elsewhere. I was able to go and visit the meadows a few weeks before the wedding and literally pick which flowers I wanted – it was a really lovely experience!
Kate made the bridal bouquets and the buttonholes, and provided us with 8 buckets of cut wild flowers for us to use in the barn. Matty's grandmother then arranged them for us. They were absolutely bursting with colour and therefore suited me just right!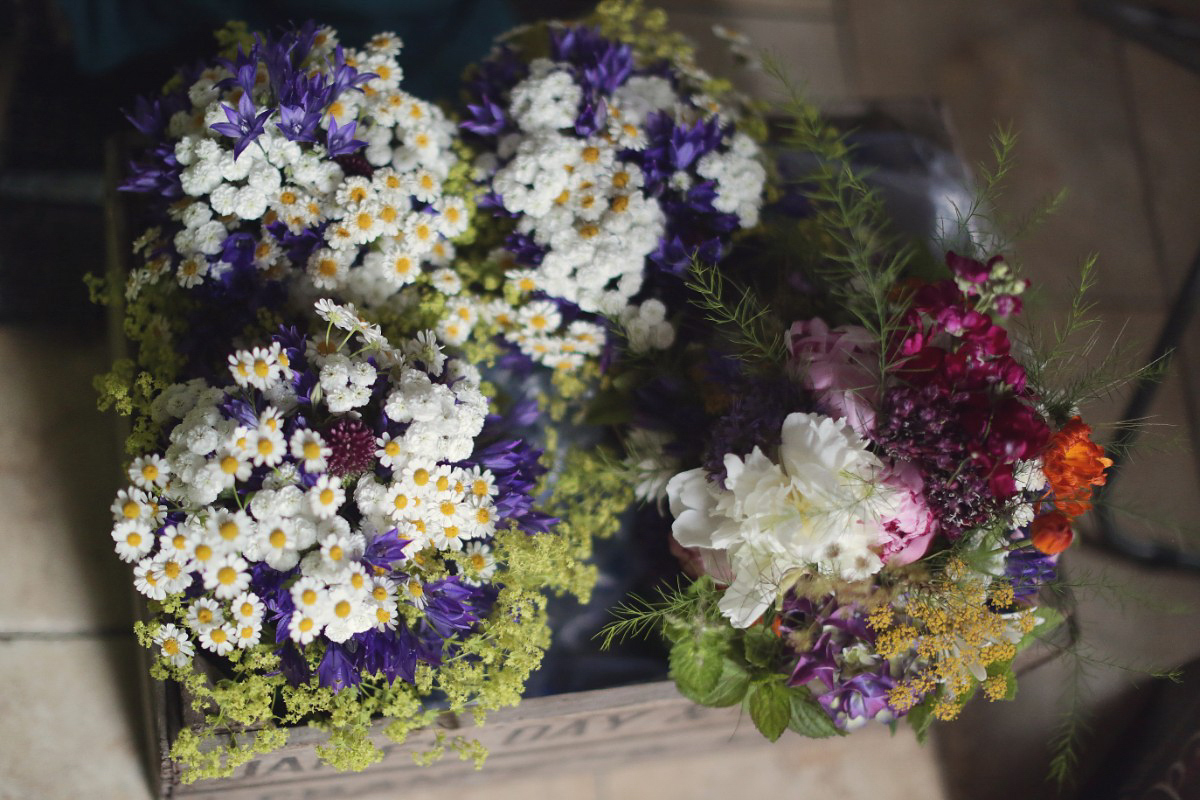 "I benefited from the BHS closing down sale! I got my pretty lace flats for £11. Bargain. That said, I didn't wear them in so got horrendous blisters and was barefoot from about 3pm! RIP BHS!
My lovely bridesmaids Ceri and Cara bought me the perfume Lancôme Trésor 'In love' – they told me it was so I had a fresh scent for my wedding day, that would always remind me of being in love. N'awwwww."
"The lace on my dress was such a showstopper so I needed simplicity. I bought a lovely little pendant from Pod in Bristol (pretty much next door to The Mews). I didn't wear earrings or bracelet.
I also tried on a beautiful Laure de Sagazan bridal crown when I had my first fitting, but nearly cried when they said it would be £220. I snuck off sulkily to Flash Floozy on Etsy, where I found an equivalent for £26."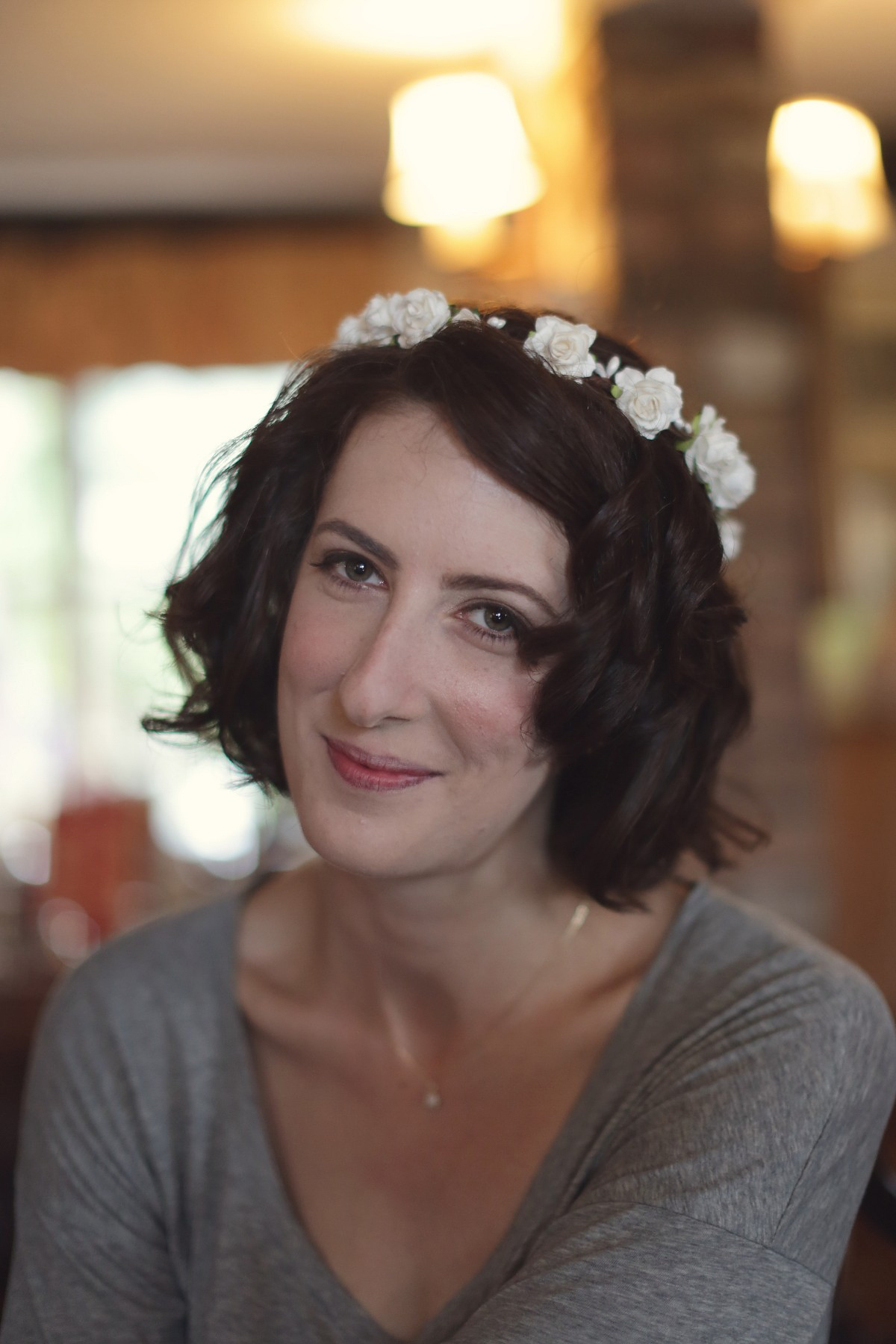 Martha chose the 'Zola' gown by French designer Laure de Sagazan and found her dress at The Mews Bridal of Clifton.
"I mean, the dress is incredible. It was one of my favourite things about getting married (aside from having y'know, an awesome husband). I've never felt more confident and special and I had so so many compliments (even from the staff!)."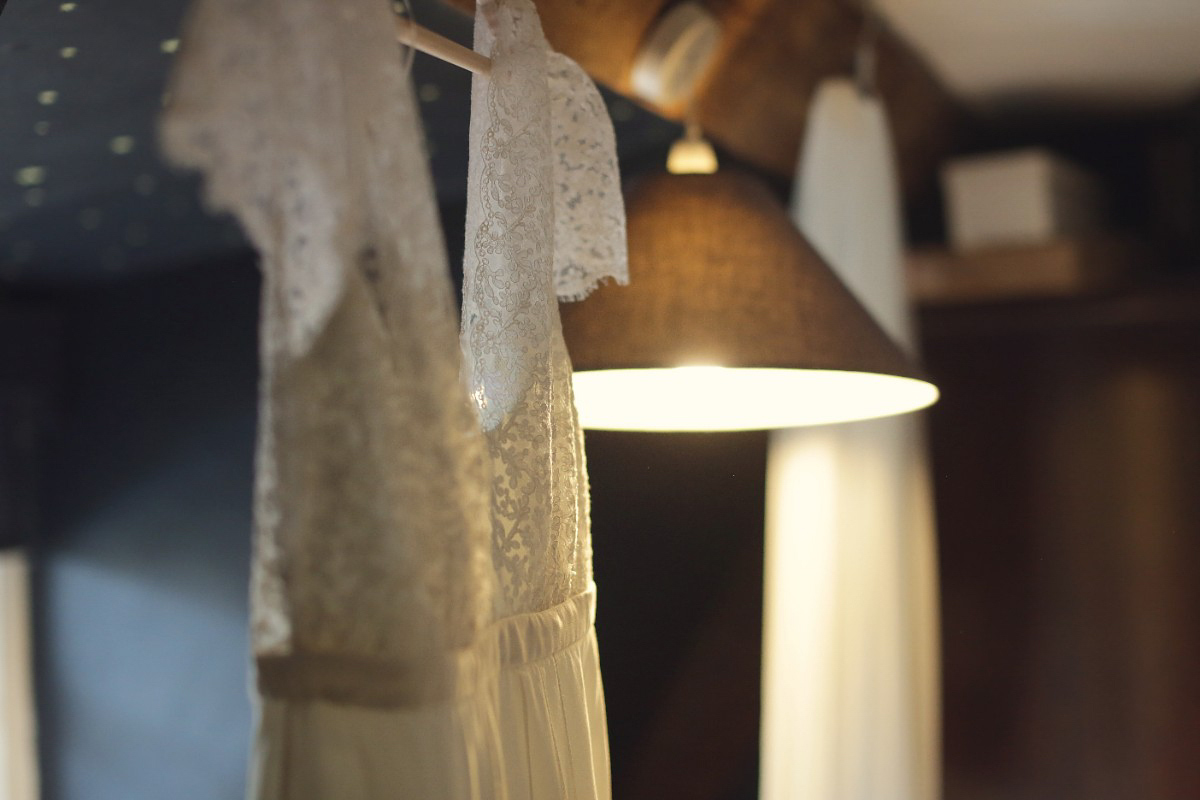 "By the time I went dress shopping, I already knew that it would be a laid back country farm wedding. The dress was absolutely perfect for that setting – the empire line, the beautiful lace, the boho feel to it. When I tried it on, the silk was just unlike anything I'd worn before, and was so flattering.
The design of the back was the game-changer – so effortlessly stunning. I was hooked! It was actually the first time the Zola dress had been sold at the Mews so the staff were all cooing over me too – which obviously helped!"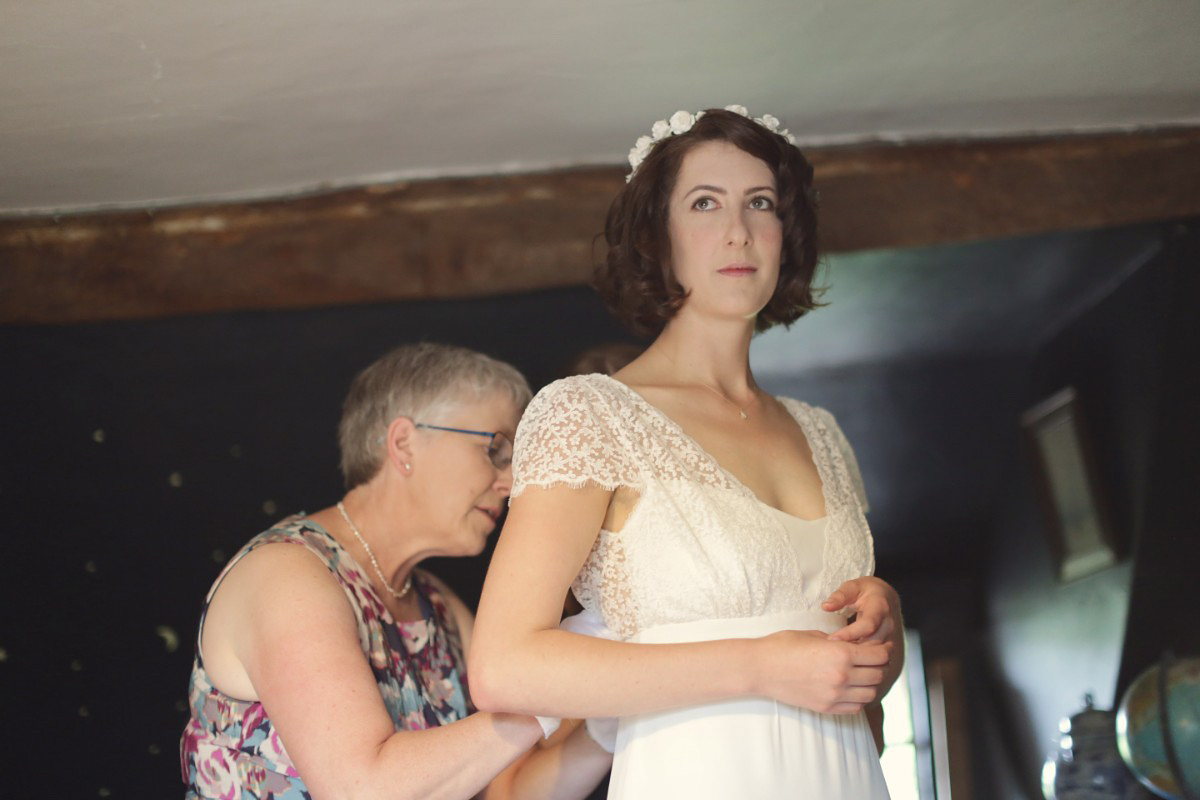 "A note on The Mews: I chose to buy my dress from Bristol because I simply had no idea where to start in London, where we live, and knew of a few good shops in Bristol. I went to three other bridal shops before I stumbled upon the Mews, and I'm really glad I did because it made me realise just how much this shop stands out.
The whole experience, from walking through the door the first time, through to picking up my dress the week of the wedding, was just incredible. The quality of the dresses was sublime – I could easily have bought any of them – and the staff were so perfect."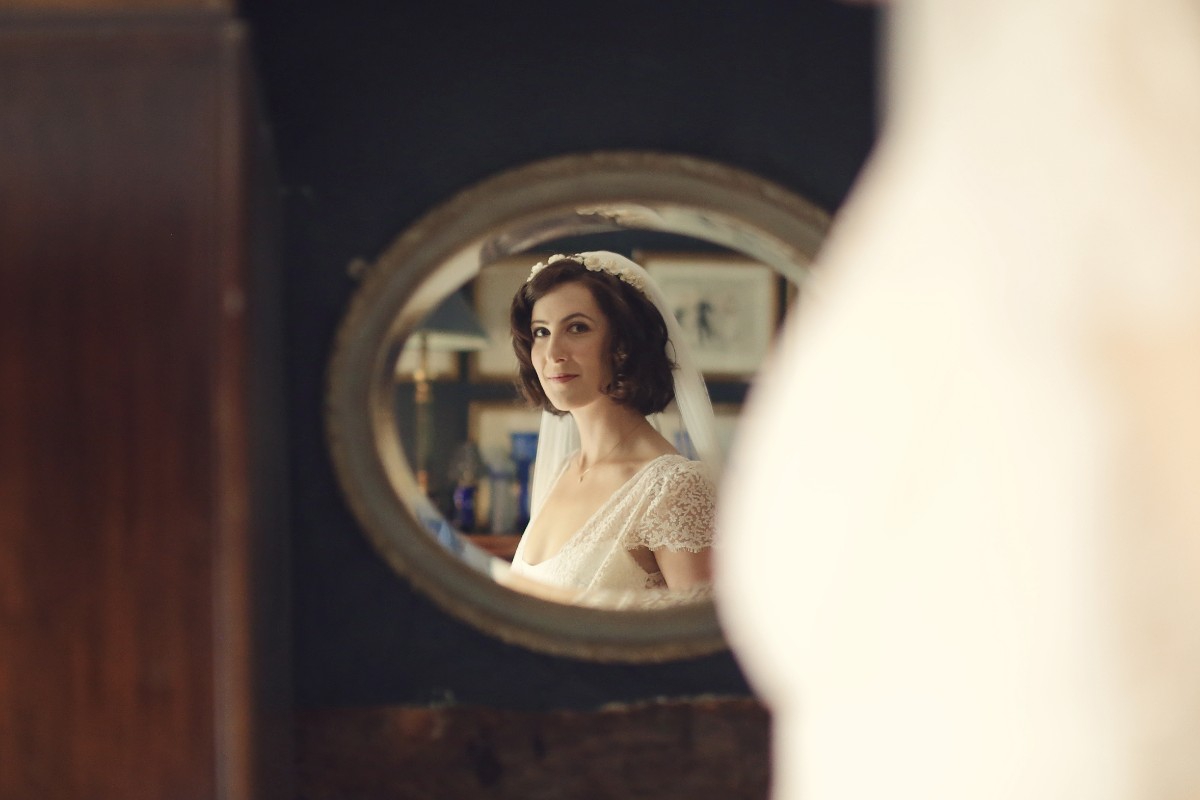 "The Mews staff never made me feel rushed, they listened to my preferences, flattered me gently without pushing me into a decision. Honestly, I am so glad I bought my dress from there and would recommend them to any bride.
I bought the veil that I tried on with the dress – from The Mews. It was by 'Rebecca Designs'.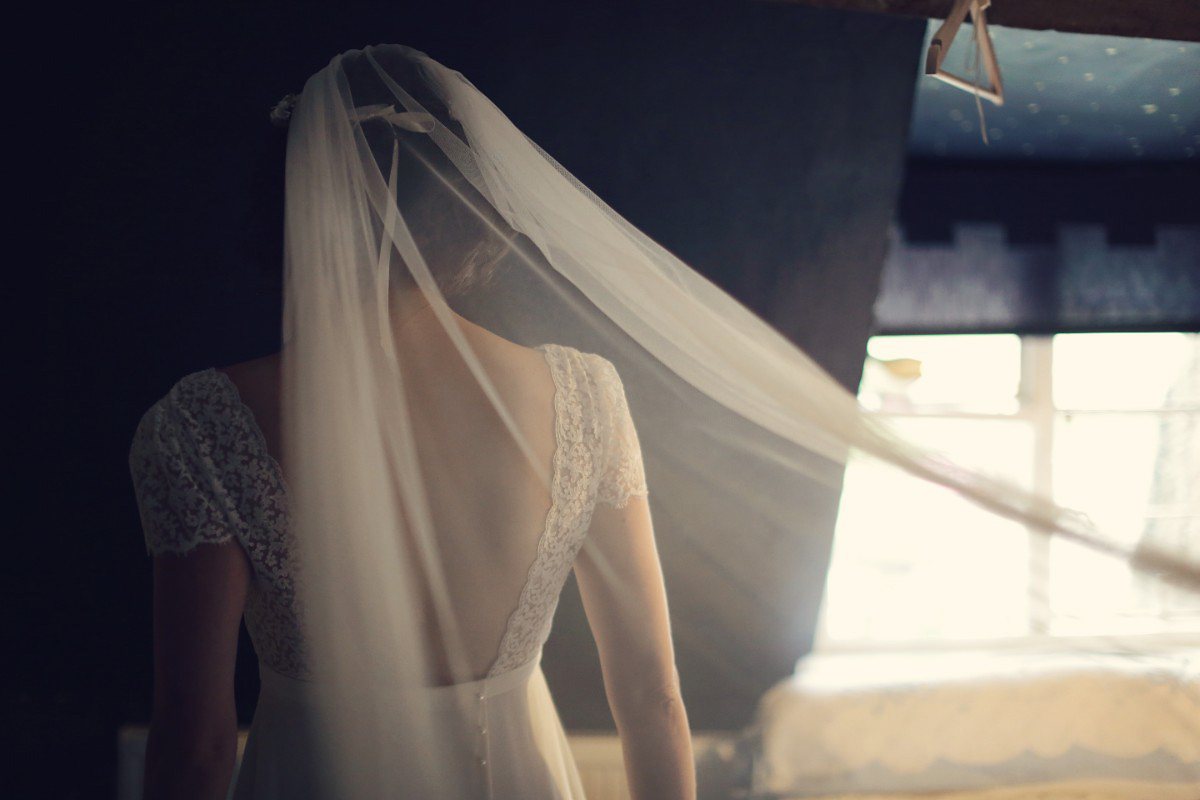 "Matty and I actually met at a wedding in July 2014 (the bride, Rebecca, was one of my bridesmaids). I was friends with Rebecca from my Bristol days, and Matty grew up in the same area as the groom. We didn't actually meet until pretty late into the night, but he says he'd spied me across the garden during the drinks reception, and made a mental note that I appeared to be alone!"
"Then, after much Prosecco, Matty's friend Pete had ripped his shirt off on the dancefloor, and thus my interest was finally piqued. I made a beeline for him (a tall topless man, what's a girl to do?), and before we knew it we were dancing and kissing and grinning at each other. The next day, Matty was catering for the post-wedding barbecue so I saw him again. We sat down and chatted and we both describe it as feeling like the most natural thing in the world.
We had loads in common, laughed at the same things, and both ended the day with stupid grins on our faces."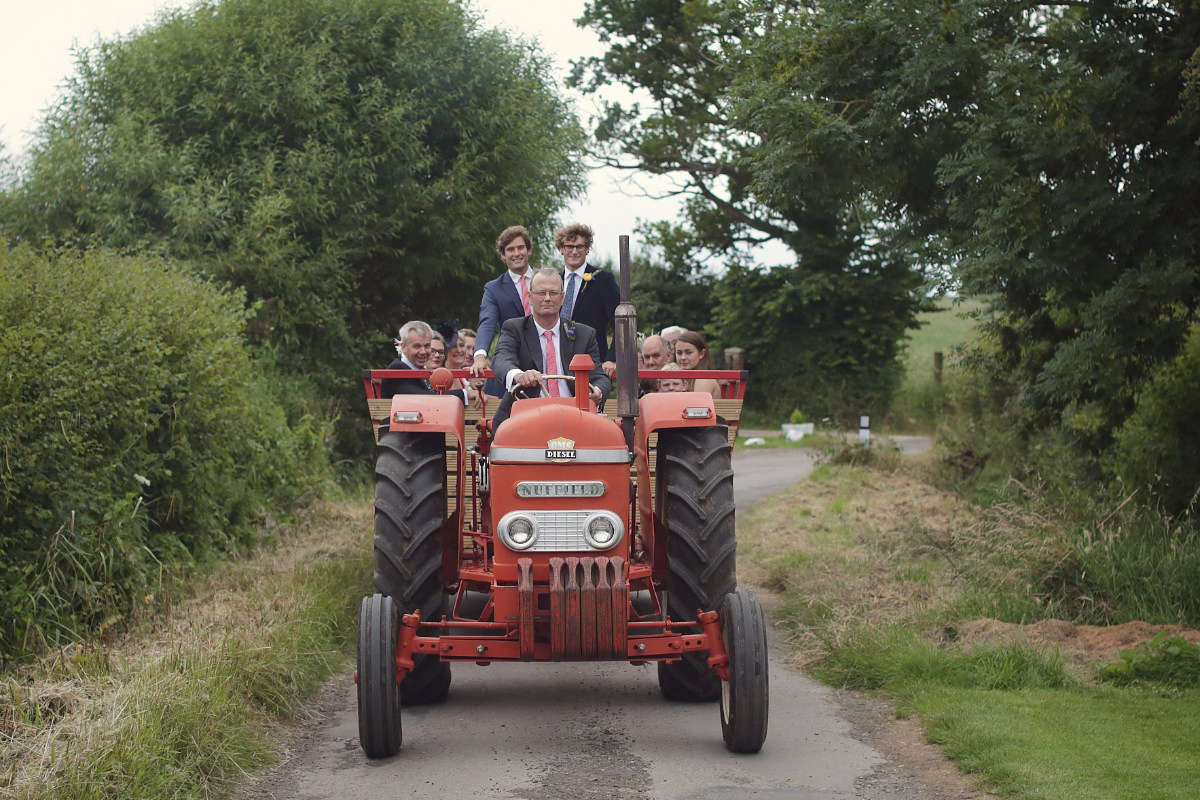 "The spanner in the works was that I was living in London (and truth be told, thoroughly enjoying the dating scene at the time) and did not have a car, and he was living on his family farm in Gloucestershire and had a driving ban.
He also worked morning, noon and night every day of the week, so although I completely fell for him, I thought there was no chance it would ever come to anything."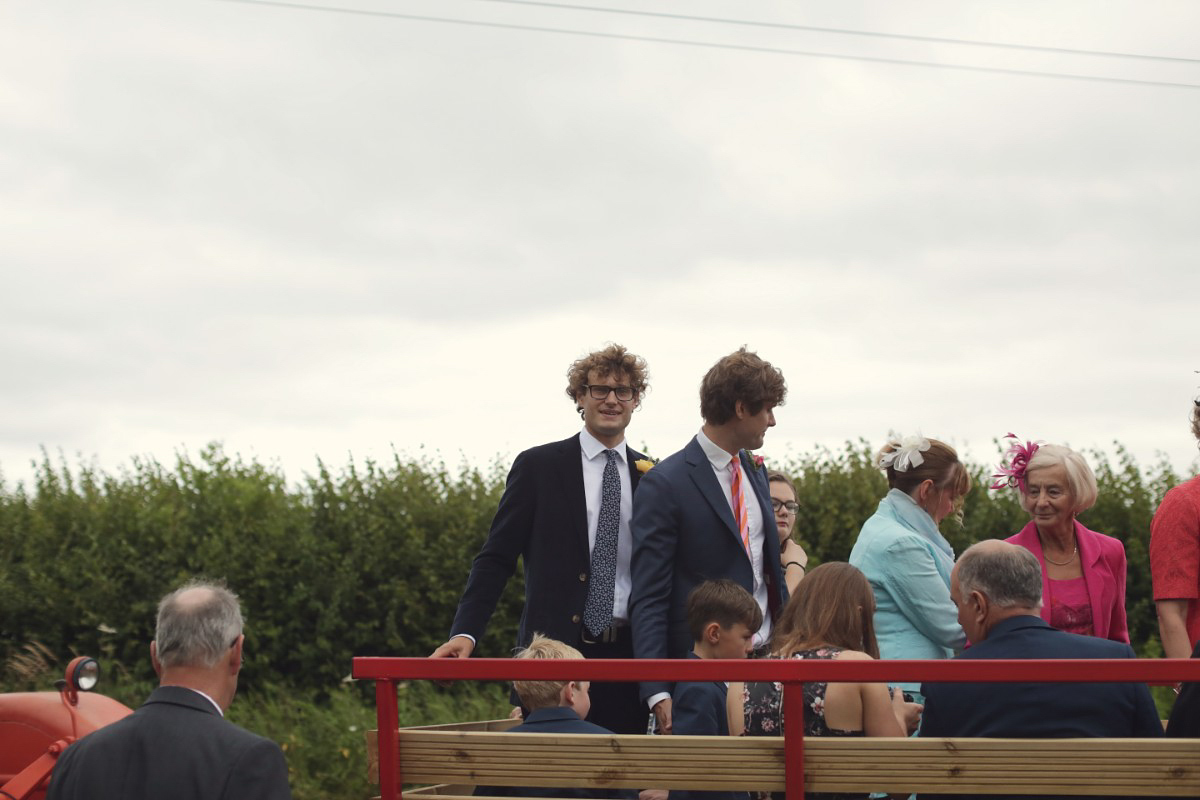 "Three months later (and after a few more unsuccessful Tinder dates in London), we saw each other again at Rebecca's birthday party in Bristol. Again, being in each other's company was immediately so fun and natural, I knew at that point we had to try and make it work. From that point on, I basically visited the farm every fortnight and became a slave to First Great Western.
But it was lovely, and Matty said that had it been socially acceptable he would quite happily have proposed during our first Christmas together (only two months after becoming a couple).
However, visiting Gloucestershire every fortnight was not a sustainable way of doing things, and I was sad that Matty hadn't really spent any time in London with me."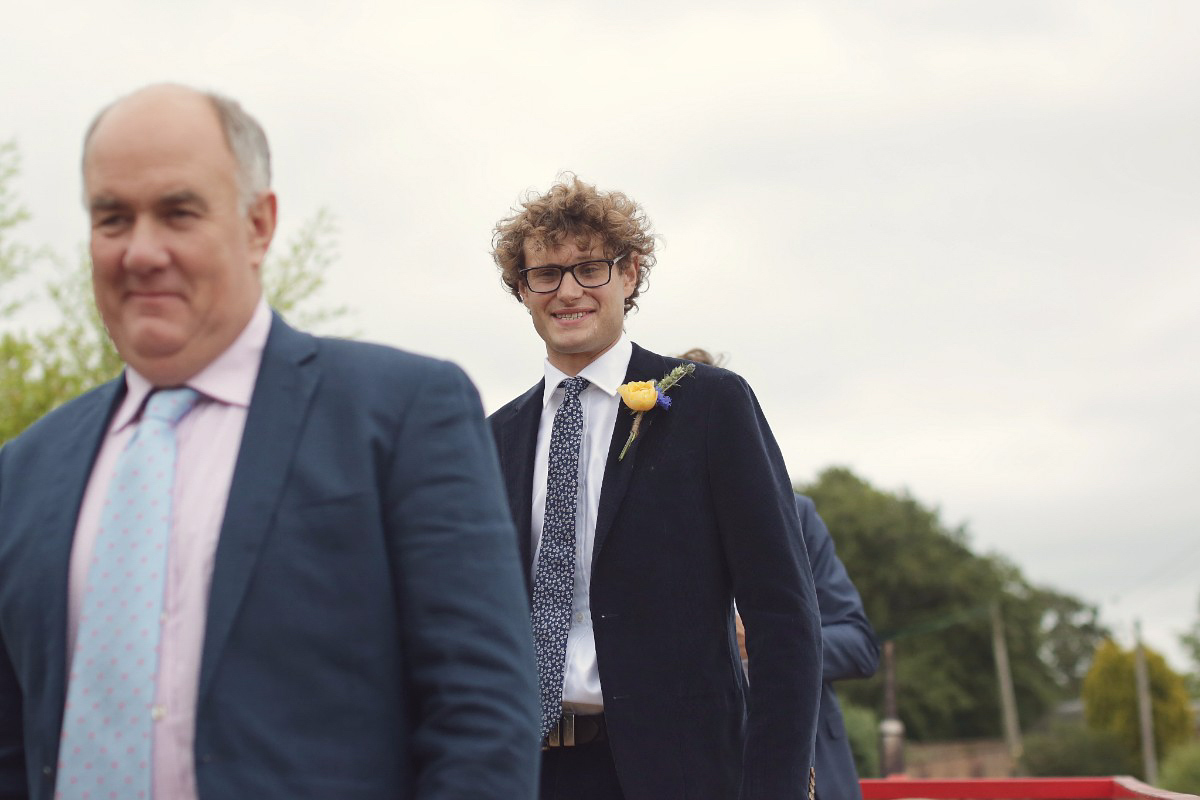 "Despite this, things were going from happier to happier. Fast forward to one year later and The Proposal. I'd love to be able to say the proposal was a complete surprise but that would be a lie! Matty was the least subtle suitor ever. I play violin in an orchestra, and Matty came to our Christmas concert – my parents were there too. Matty asked me 'Do you think I should go and talk to your dad?' – my response: 'you're really not supposed to ask me that!'.
Next thing I know, my dad and Matty are having a heart-to-heart during the interval and I spy my dad putting his arm round Matty. I'm thinking, oh God, this is happening! Then, Matty got himself in a tizzy over buying a ring, and after an internal battle he told me of his woes. So on 23rd December we went ring shopping together and he picked out a beautiful trilogy diamond ring on a platinum band which we found in an independent family jewellers' in Bristol.""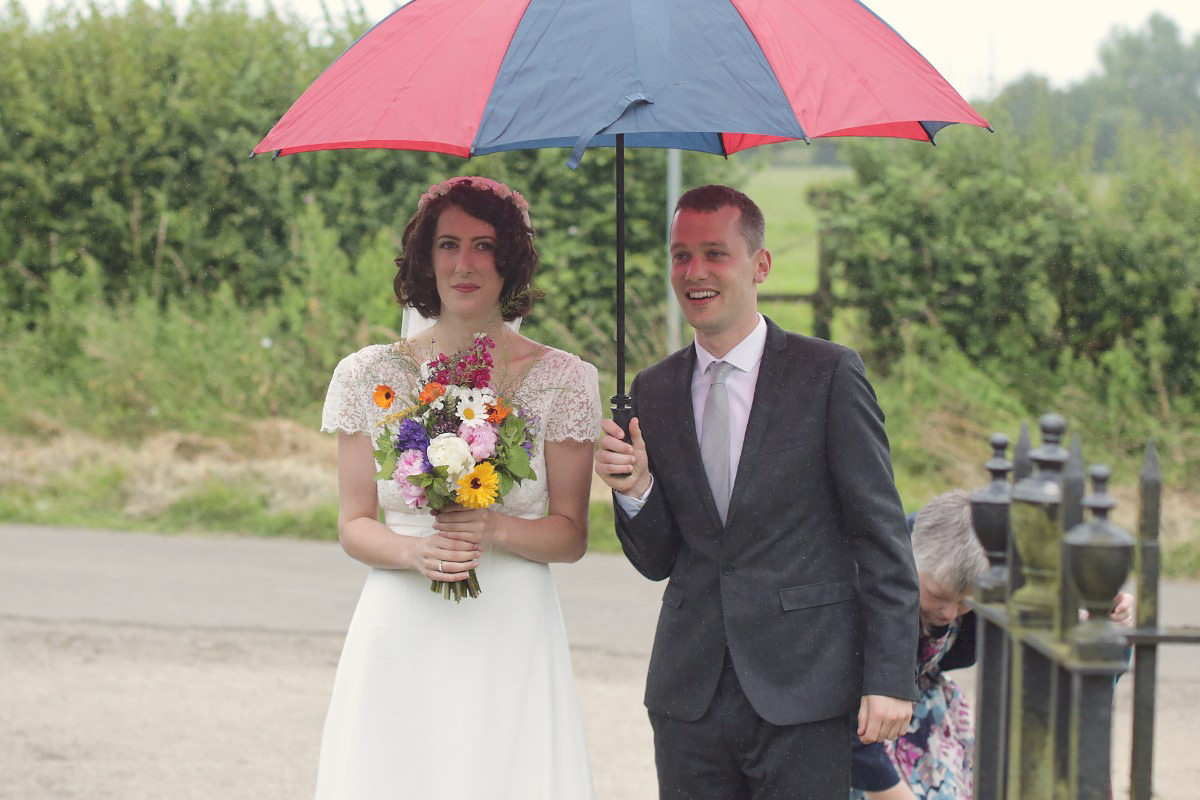 "In my head, he would propose on Christmas day. But he wanted at least some element of surprise, so popped the question on Christmas eve. Amidst the chaos of Christmas prep, he asked me to nip upstairs. He proposed in his messy bedroom but it was still a beautiful moment. He'd remembered me saying that I'd never received red roses on valentine's day. But instead of buying me roses, he made a dozen red roses out of sugar craft icing – honestly, they were incredible, and must have taken him hours. So that was lovely.
He also chose that moment to propose because he knew that Rebecca was going to be at the local pub that evening, and really wanted her and her husband to be the first to celebrate with us. He's a keeper!"
"I think everyone assumed that I would quit my nice London job to go and be a farmer's wife in the countryside. But much to everyone's surprise (including my own!), Matty decided he wanted to hand the farm over to his parents and move to London with me. So in January, we moved in together and it has been perfection ever since. He very quickly found two farming jobs in London, both for charities that use farming as a way to give therapy/rehabilitation/training to disabled or minority groups. The novelty of having weekends and evenings off, and getting paid to work, has still not worn off.
Neither of us are formal or fancy (or have much money), and we were absolutely agreed that whatever we did needed to (1) focus on giving our guests a really fun and laid-back time and (2) ensure guests didn't need to spend much money. We'd both been to overly formal weddings with expensive bars and lots of over-the-top features, and we didn't want that at all. We also knew that many of our guests weren't going to know many people there, so we wanted to make sure there were opportunities for people to get to know each other. We were dead set on having a free bar.
We were also incredibly lucky that we had Matty's family farm to use (and family to help!). The farmhouse has a lovely garden, which is beautifully kept by Matty's Granny, and we had free use of a really nice barn – that had been used for weddings and parties over the years but was in desperate need of a spruce up. That meant no bother with bar licences, noise curfews or any of the other restrictions you typically get with a venue."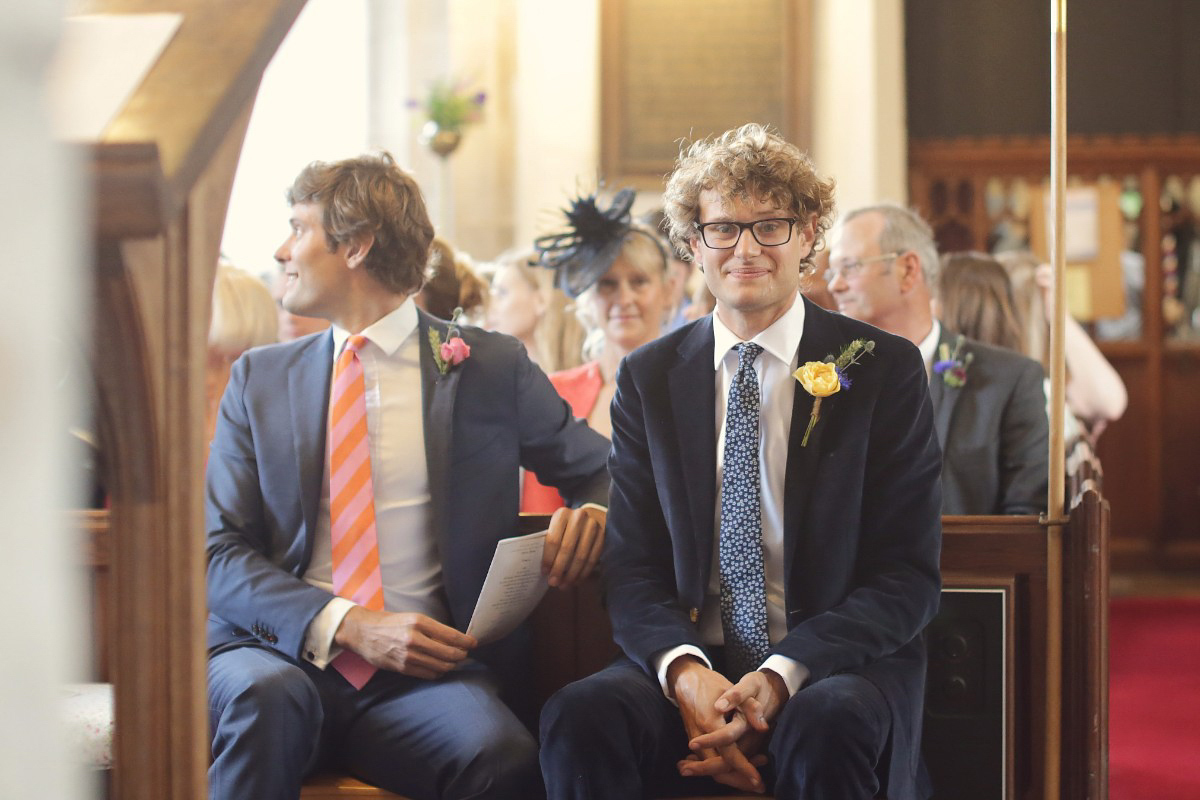 "The flowers in the church were sourced and arranged by Matty's grandmother – she took my brief of 'wild country flowers' very literally and there were gorgeous blooms in abundance."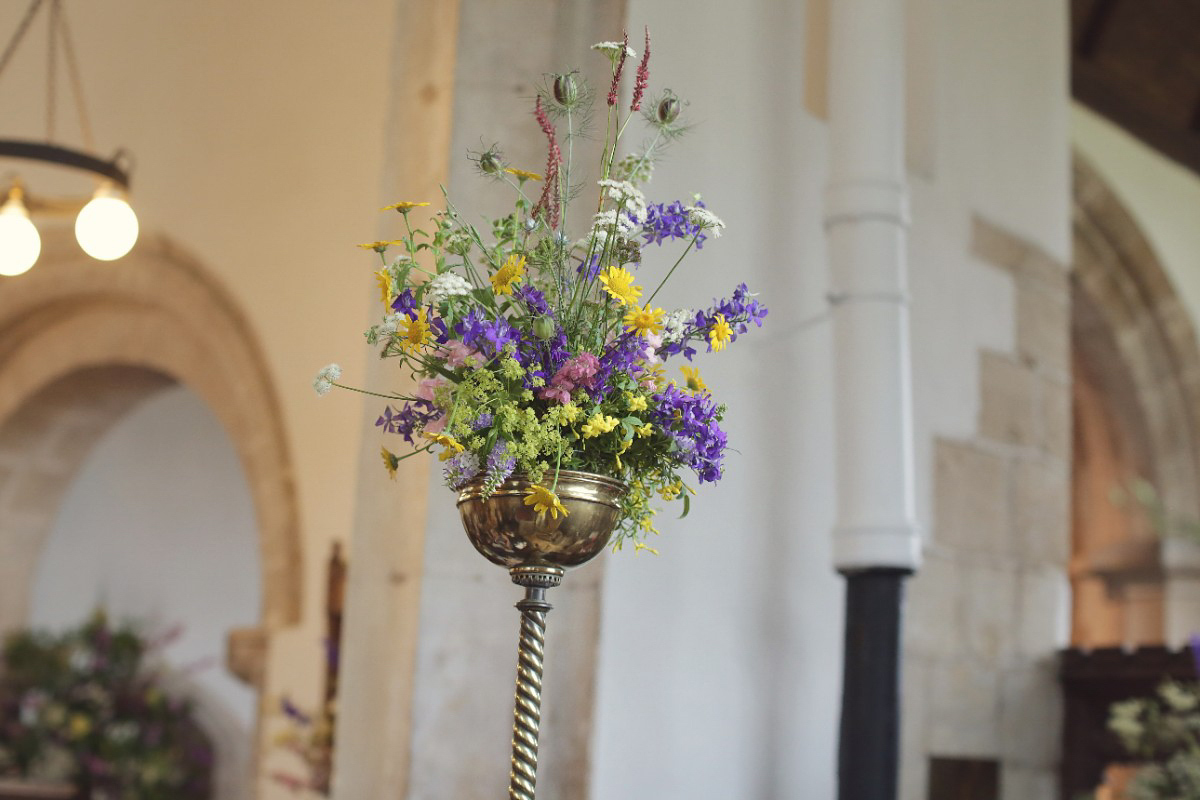 "My big brother Ben accompanied me down the aisle. There are too many favourite moments to choose from, such a cliché I know. There was something truly magical about walking into church and seeing every single person that I love in the same room, all beaming at us, all there for us. It was the moment that I left any residual stress and worry outside the church door, and completely embraced every moment with a smile on my face."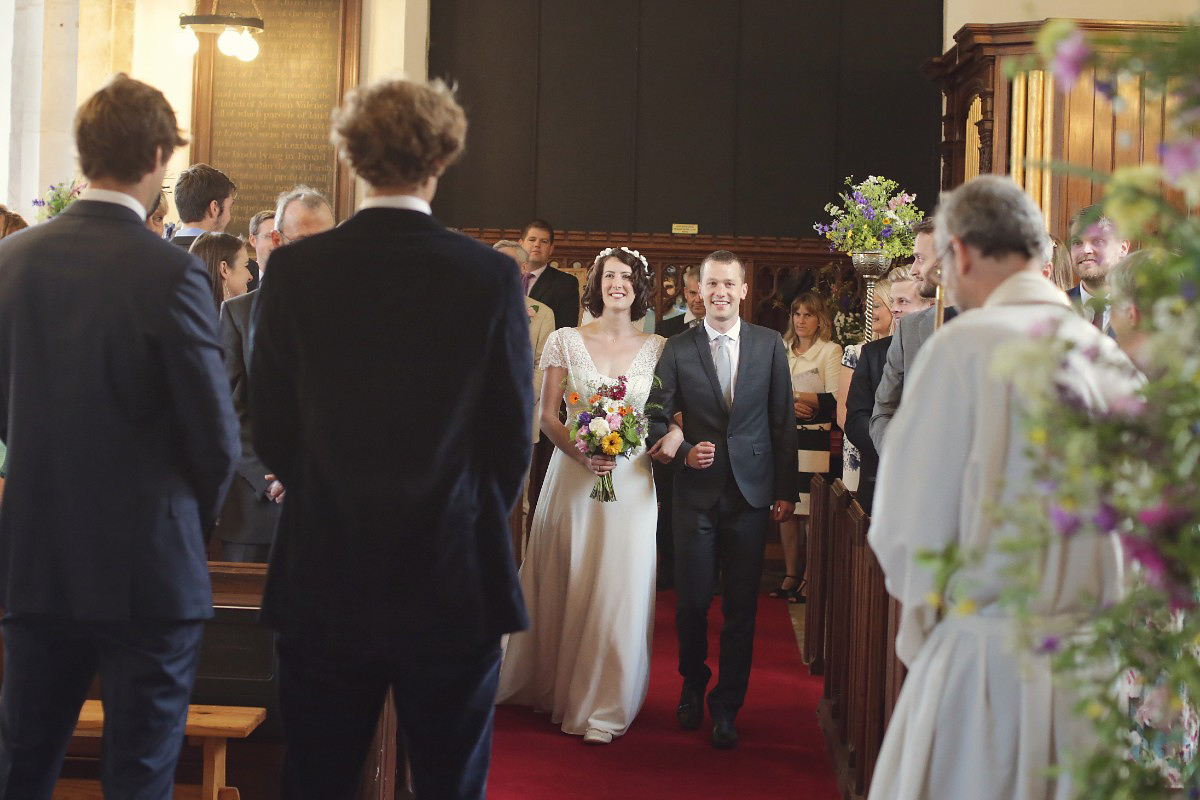 "My father is a vicar, and so he took our service. This made it truly special, and so memorable. (That said, he started his sermon with a comment about Brexit which made me die inside a little bit – I can safely say the two sides of the families differed in the extreme in that respect!).
When I was a girl, I'd had images of my dad giving me away, and then spinning around to address the congregation as the vicar. Sadly, he did not think this was appropriate! So I asked Ben instead."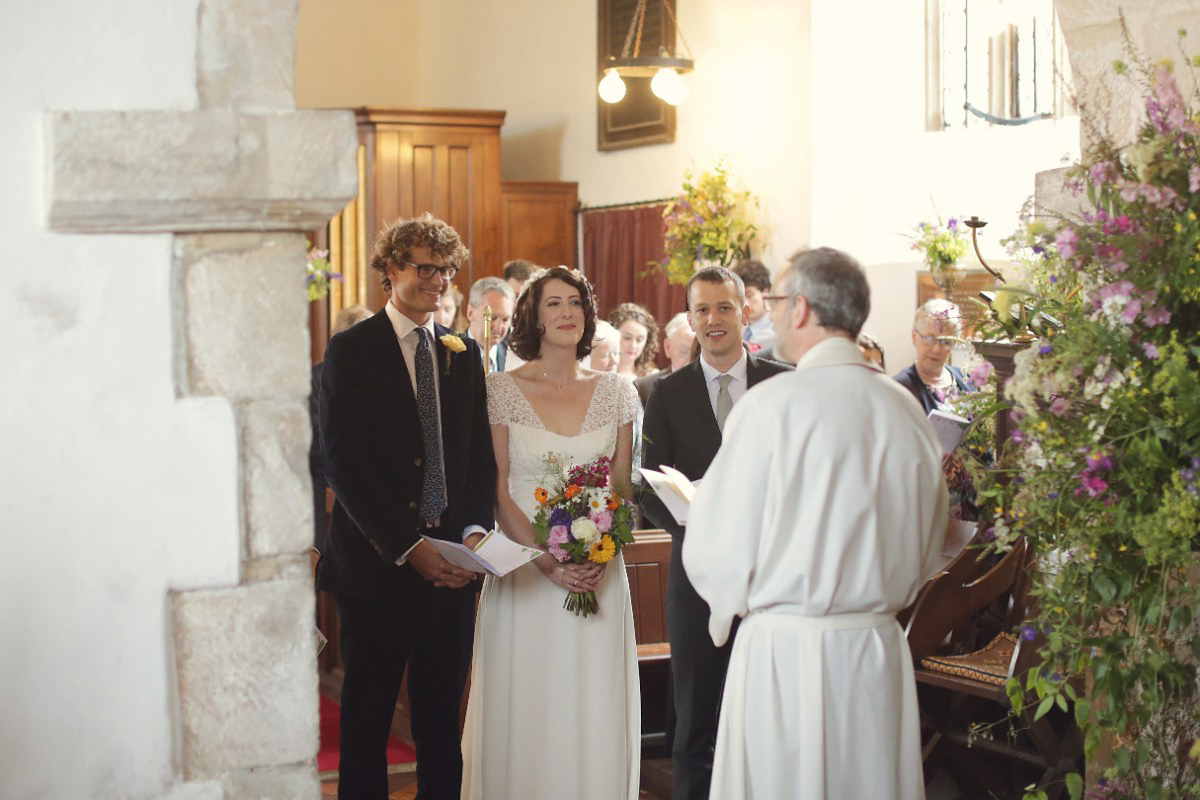 "Matty's suit was from Suit Supply, mainly because it was the only shop in London that makes suits off-the-hanger for men over 6ft!"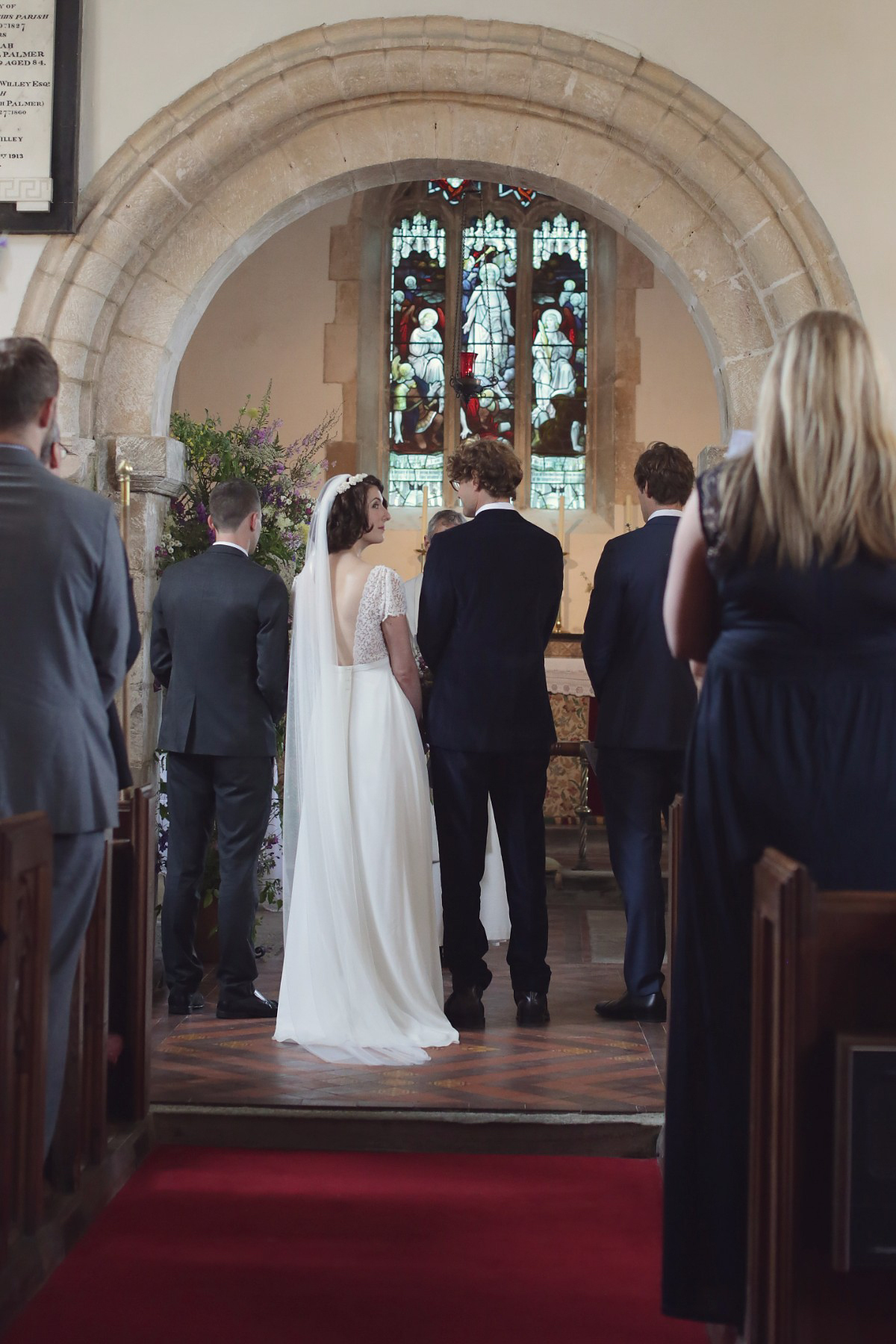 "We used the standard Church of England vows.  My little brother Sam read Song of Solomon 8: 6-7 (Set me as a seal upon your heart…) and my bridesmaid Ceri read Colossians chapter 3 vs 12-17. We chose these two Bible readings mainly because 1 Corinthians is done to death, and these two stood out as being a nice balance between the passion of love, and the reality of a life-long companionship."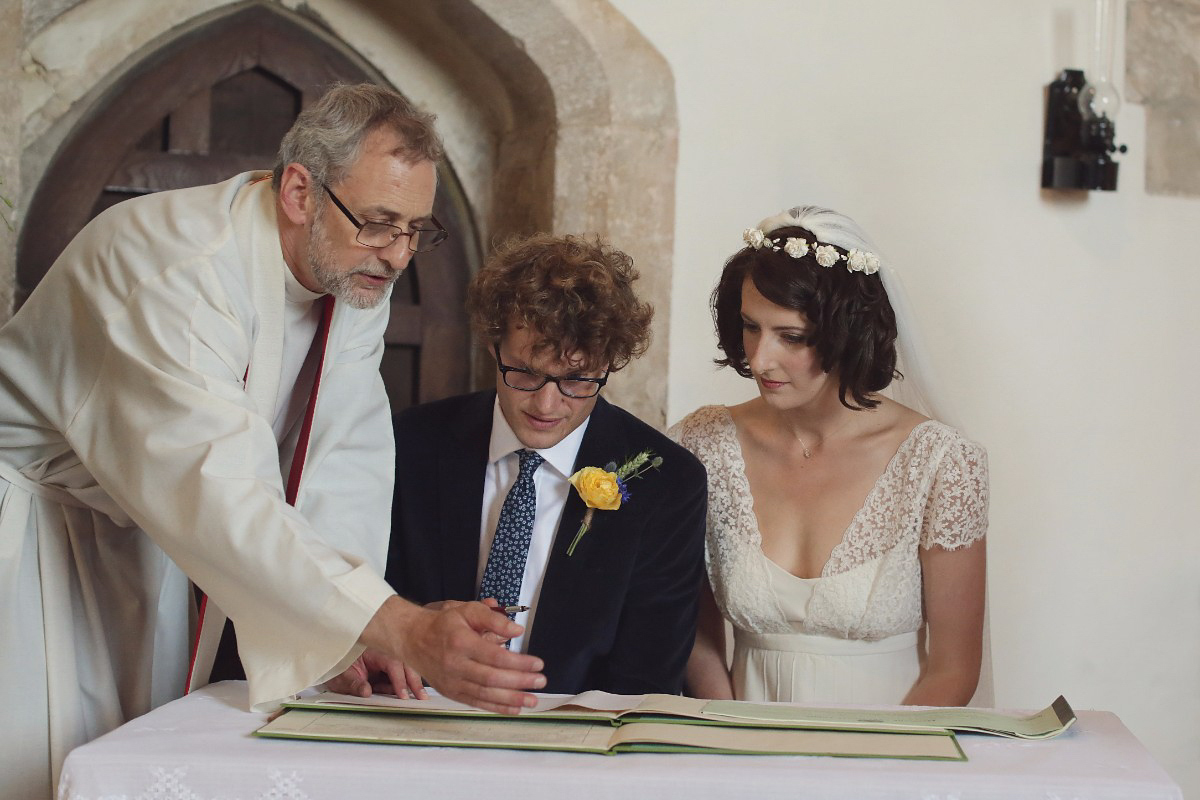 "We then chose a nice little poem, that seemed to just fit with me and Matty. My friend Rory read 'Foxtrot From a Play', by WH Auden." <– readers, this is a link to a Youtube reading of this beautiful, funny reading. Listen if you can, it's wonderful.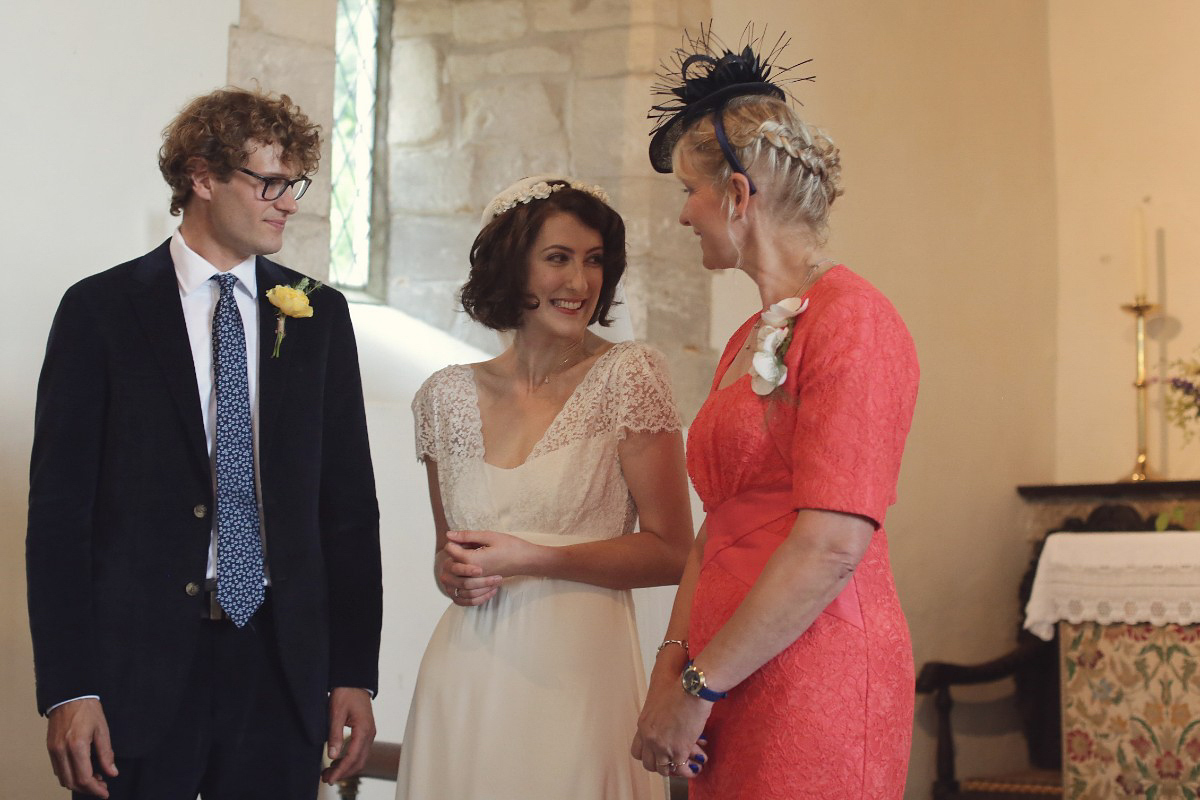 "We chose simple wedding bands. I wanted something plain so that the focus was still on the gorgeous trilogy engagement ring. Matty's was white gold and pretty thick to account for his massive hands. Mine was a platinum band the same thickness as my wedding ring. We bought them from Chapelle in Gloucester Quays."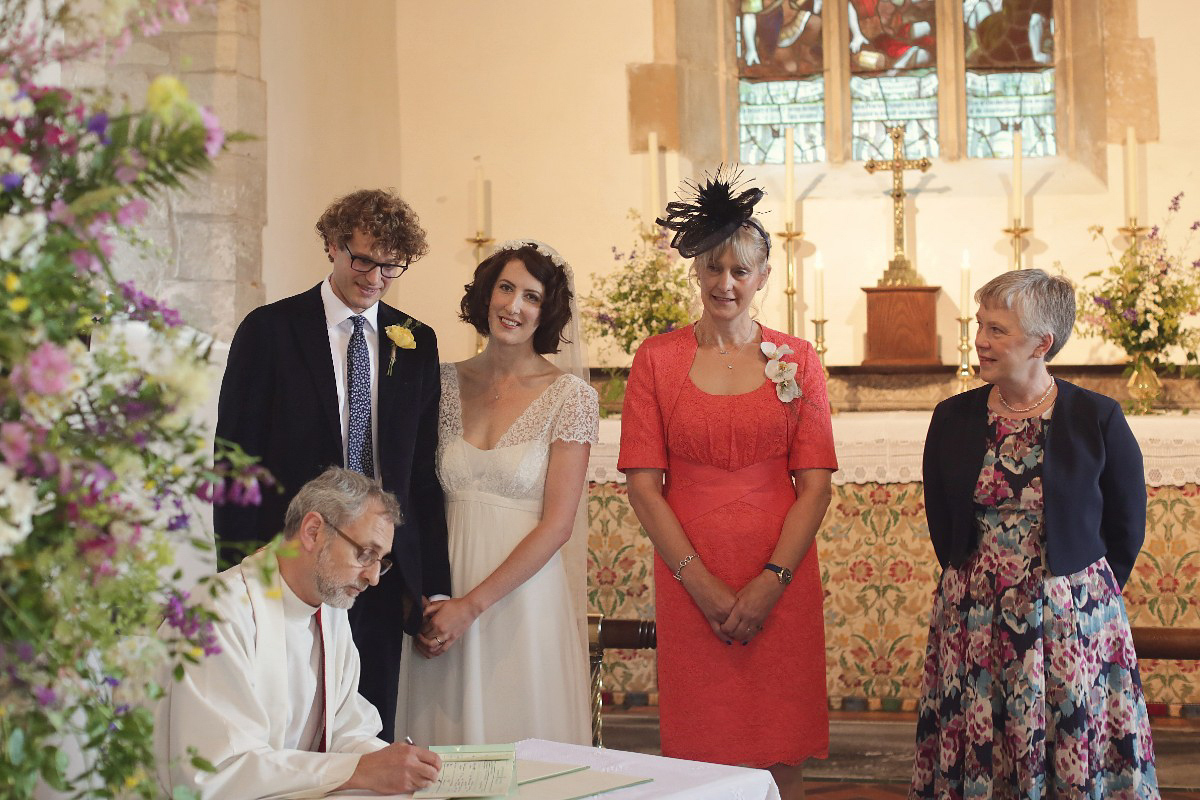 "We opted for traditional in and out – Wagner on the way in and Mendelssohn on the way out. It's a real shame that it was absolutely ruined by the organist, but there you go.
We deliberately chose a very typical wedding track while we signed the register (Pachelbel's Canon in D, yawn), so that we could take everyone by surprise with Stevie Wonder's 'Signed, Sealed, Delivered' once that track had finished. Was pretty proud of that moment – it got one hell of a laugh."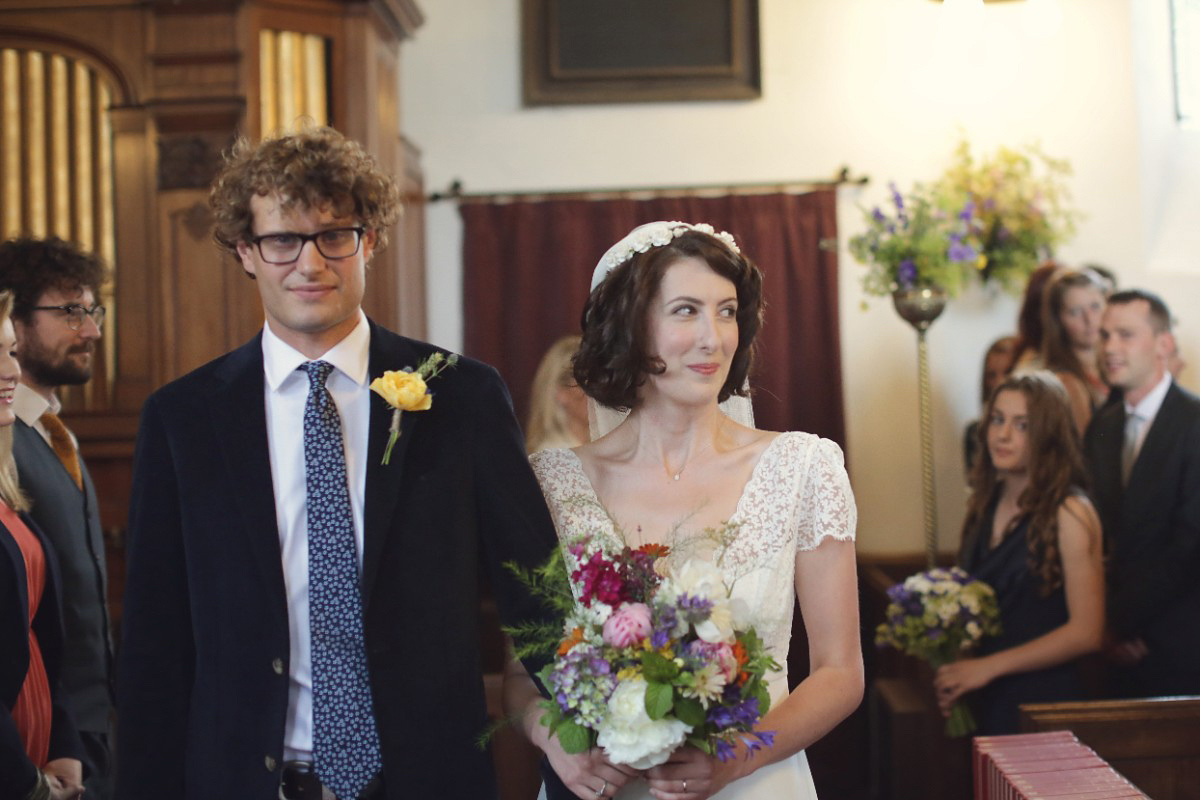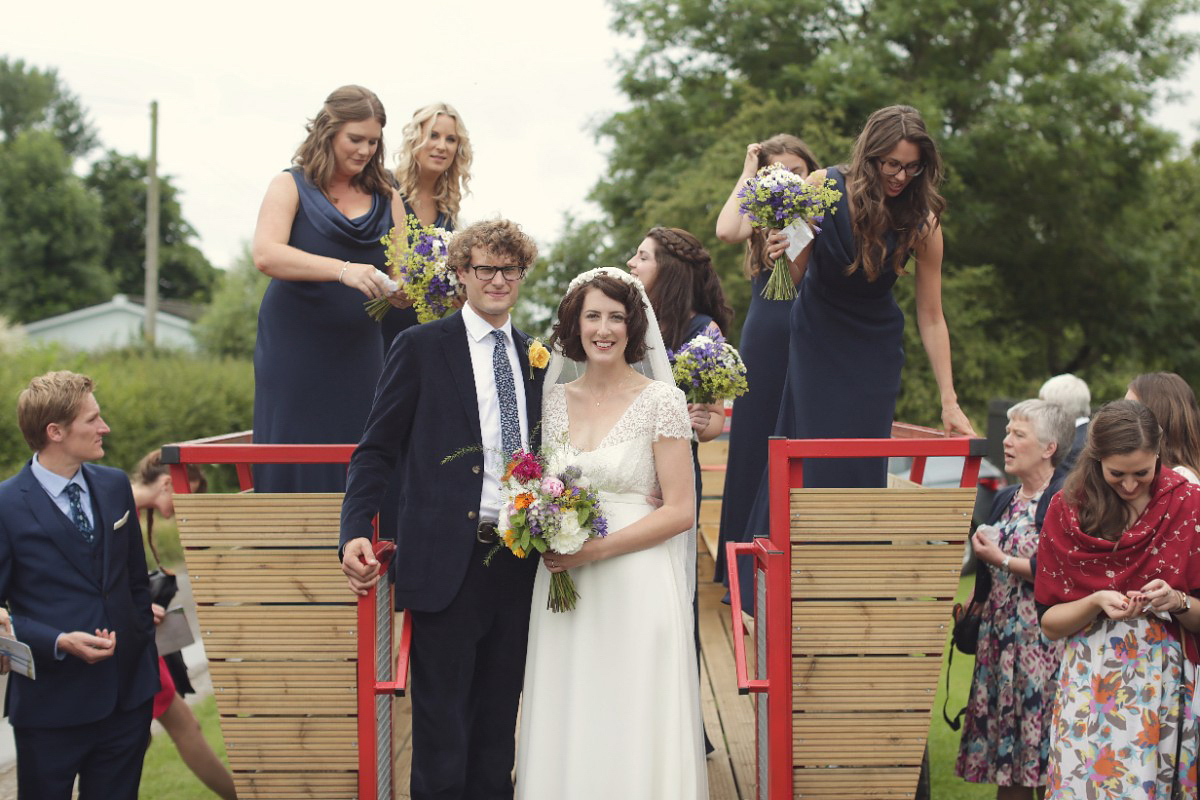 "I really wanted to get an awesome confetti shot, and I was not disappointed. Doing confetti research I was astonished by how much you can end up paying for 'wedding' confetti. Instead, I went to Tiger on Oxford St and bought all the confetti they had (it cost me £30). My bridesmaids decanted it into small paper sweet shop bags, which were distributed to guests after the service."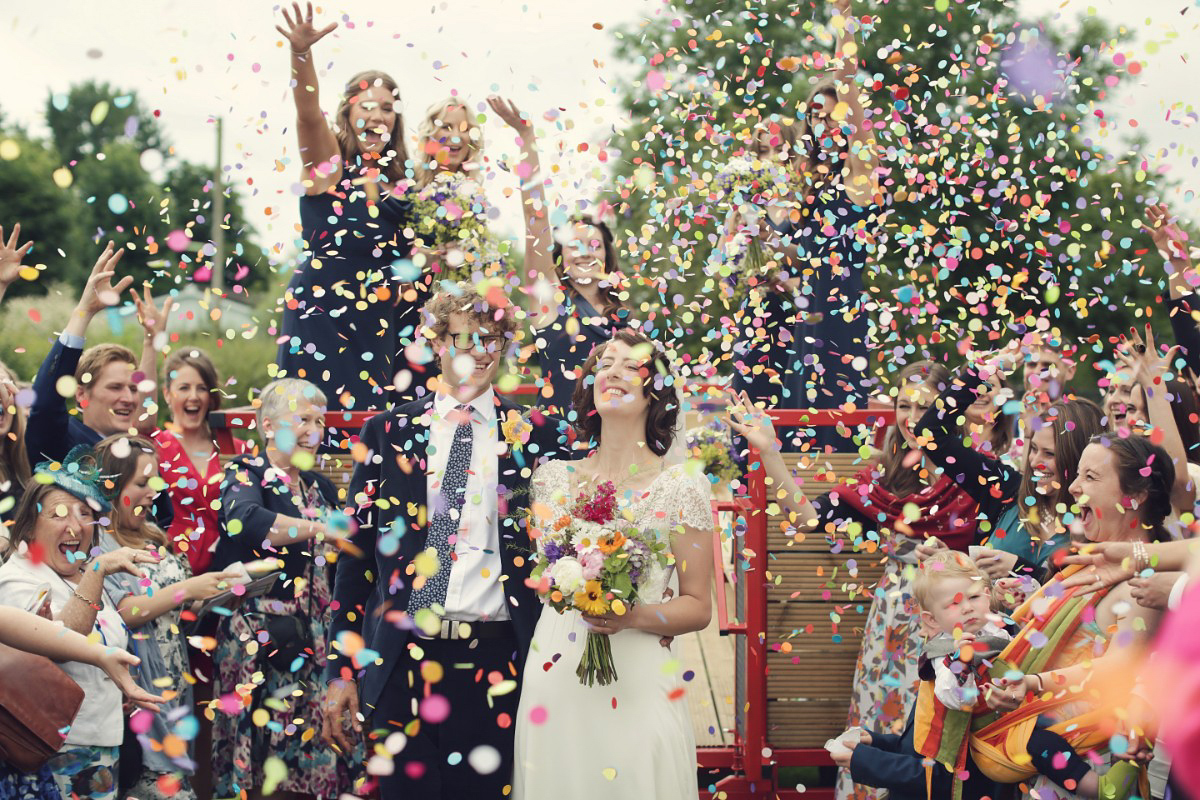 "The confetti was beautifully bright coloured, it hung in the air perfectly, and our confetti shots are some of my absolute favourites from the whole day. You nailed it, Tiger."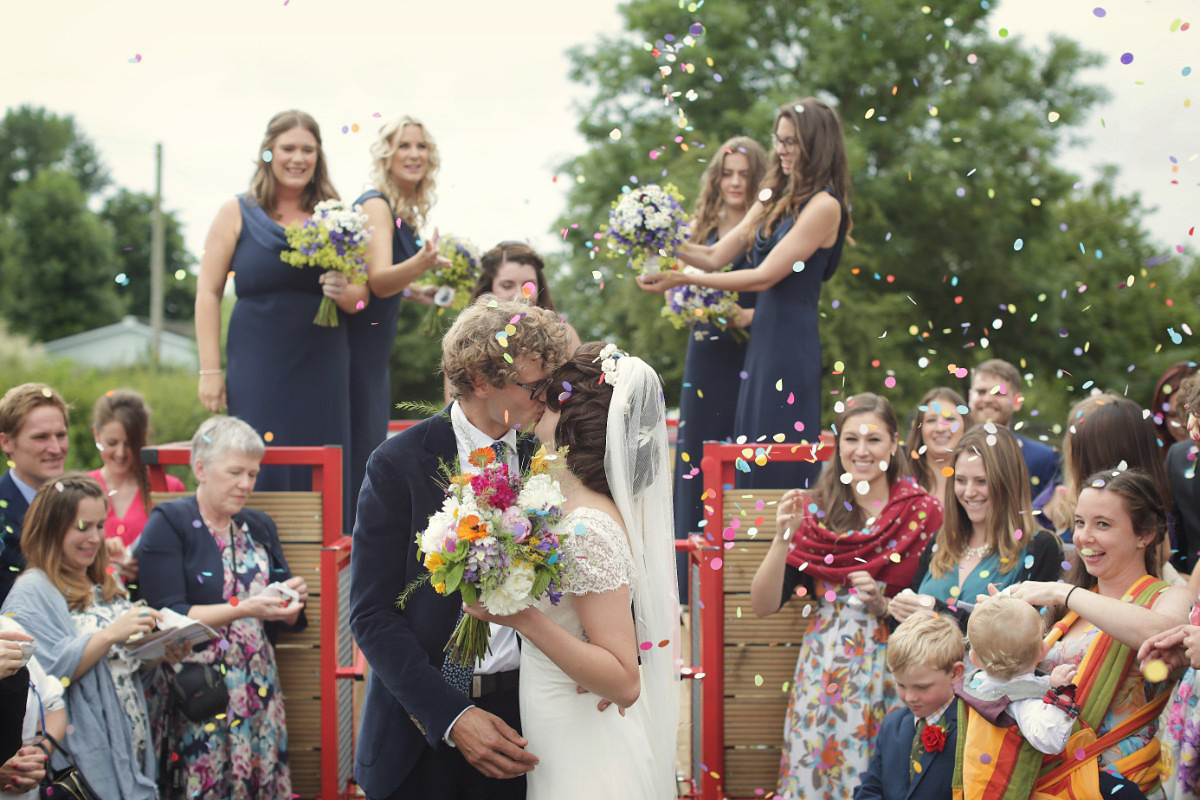 "Matty's cousins dressed up their cars and Matty's father built a trailer from various scrap he found in his yard, and he spruced up his vintage Nuffield tractor. We were meant to have another tractor and trailer, but Grampy got the tractor stuck in a ditch the week before (amusingly, said stuck tractor features in quite a few of our wheat field shots)."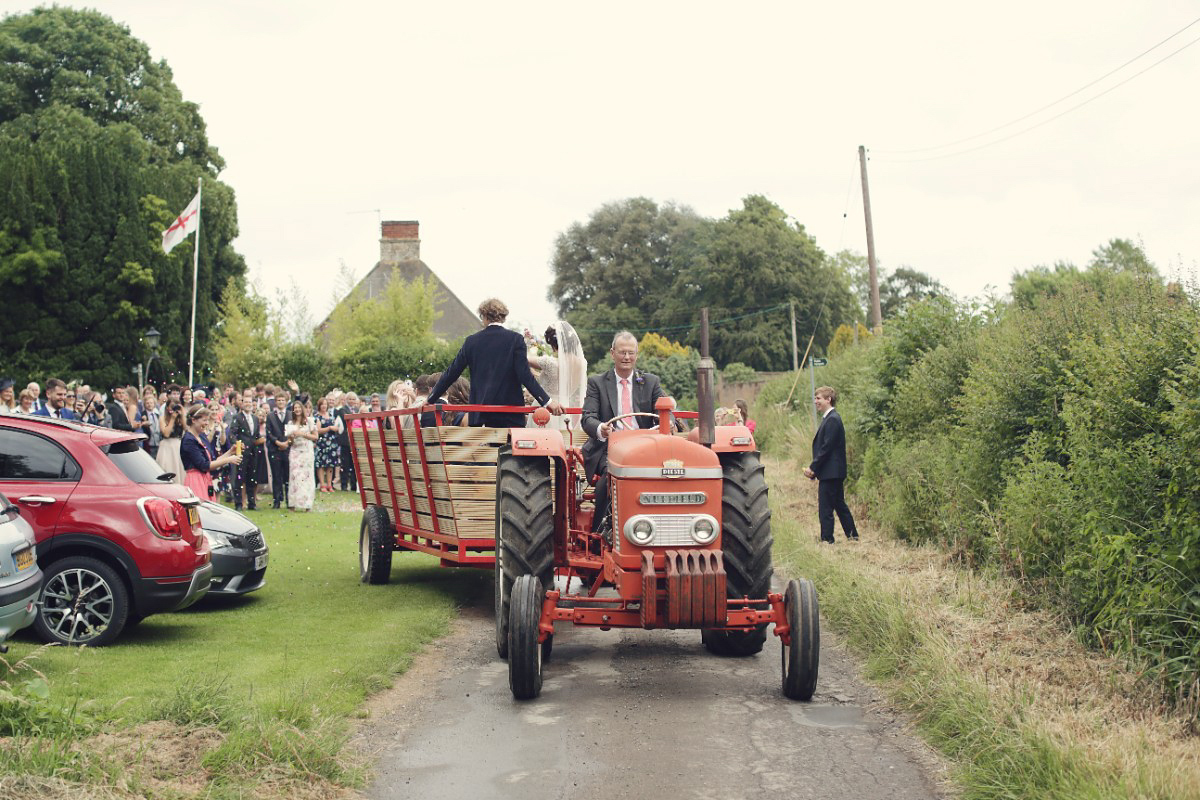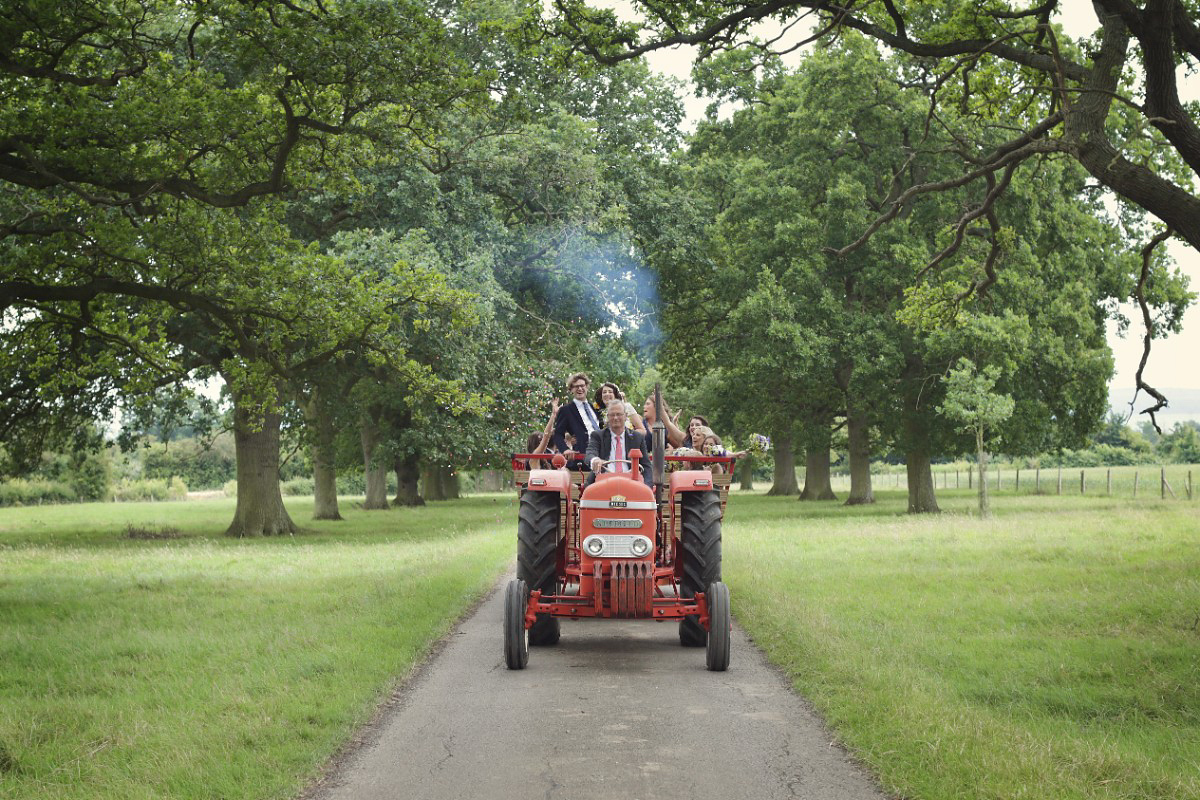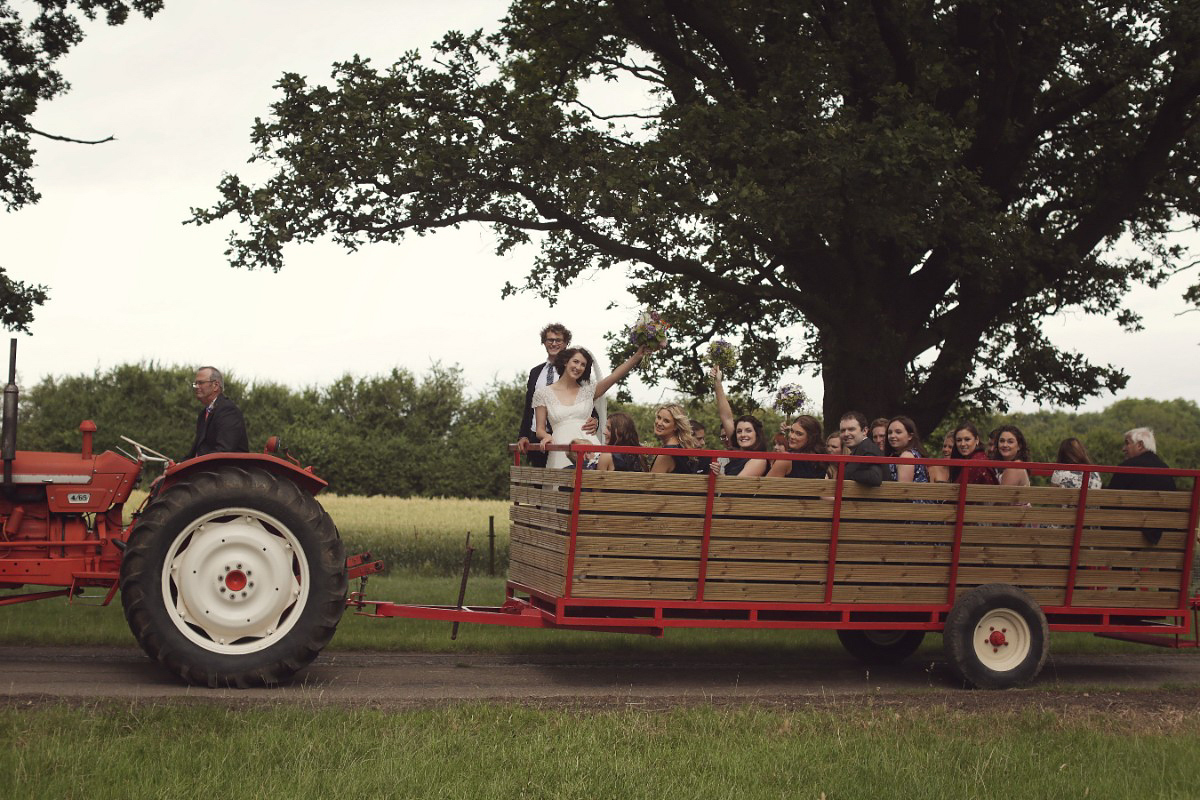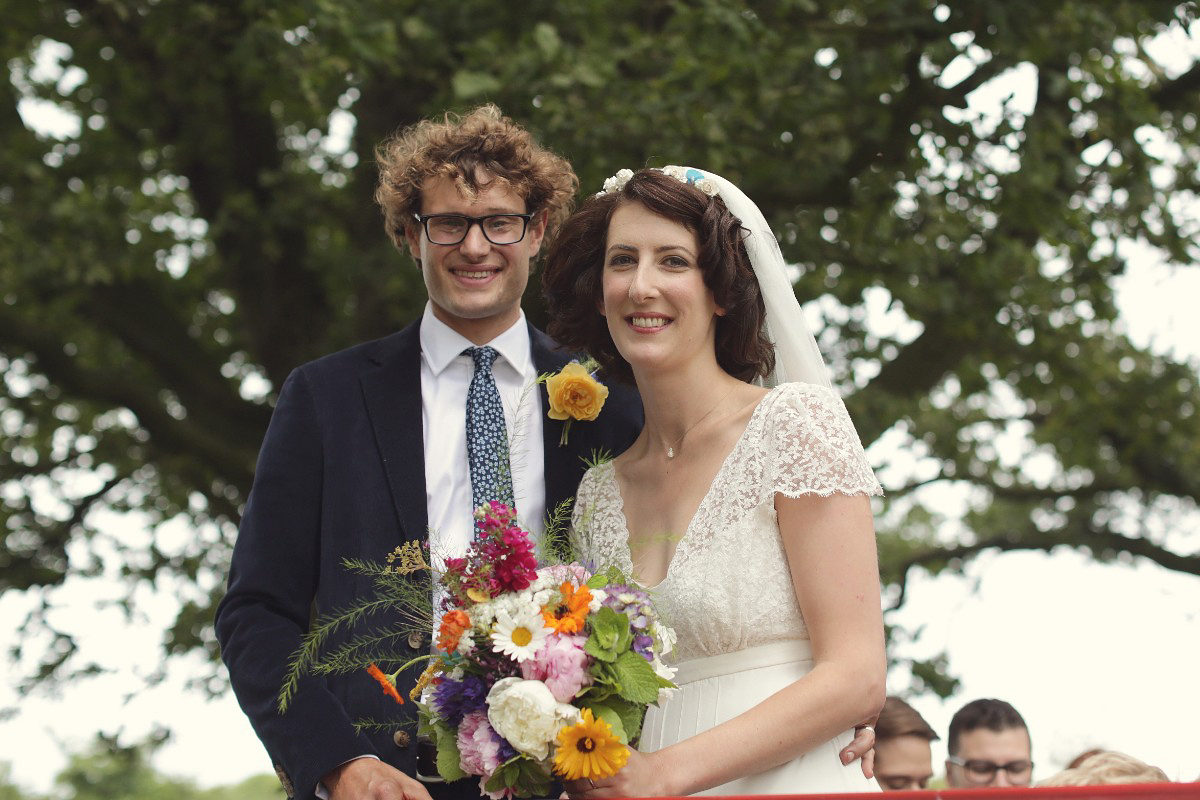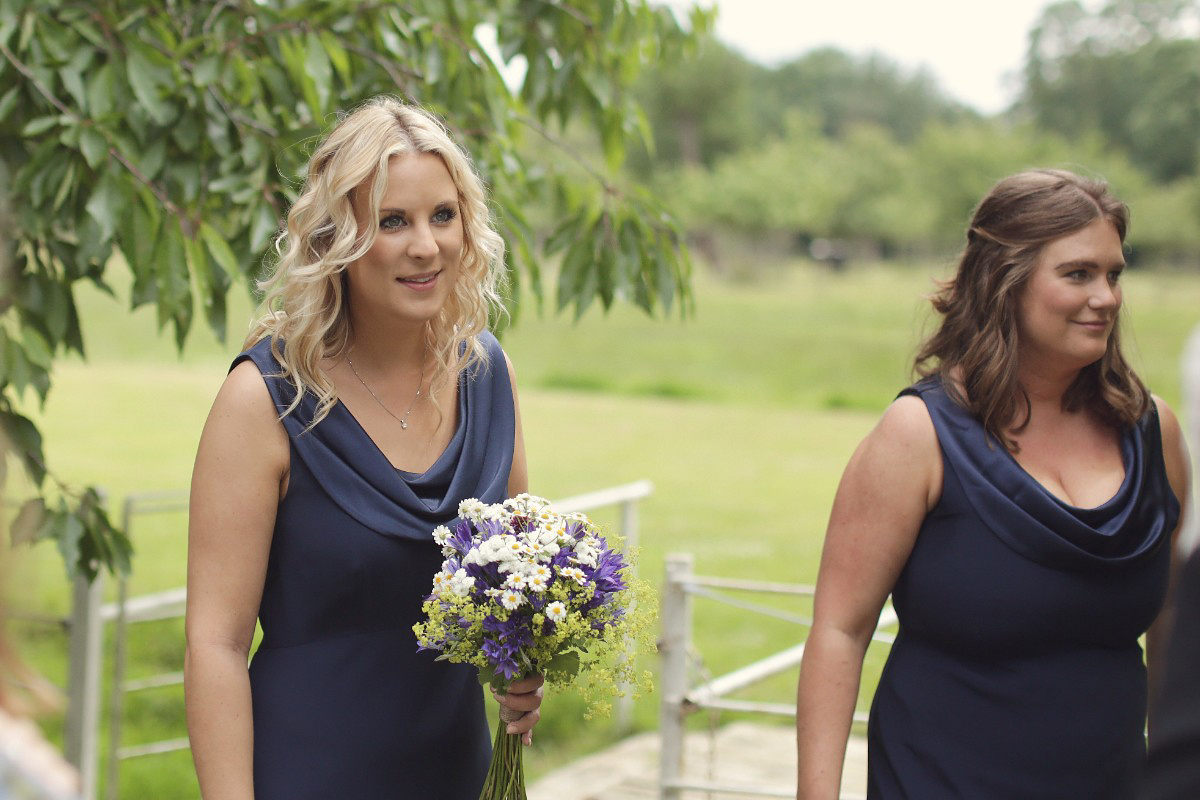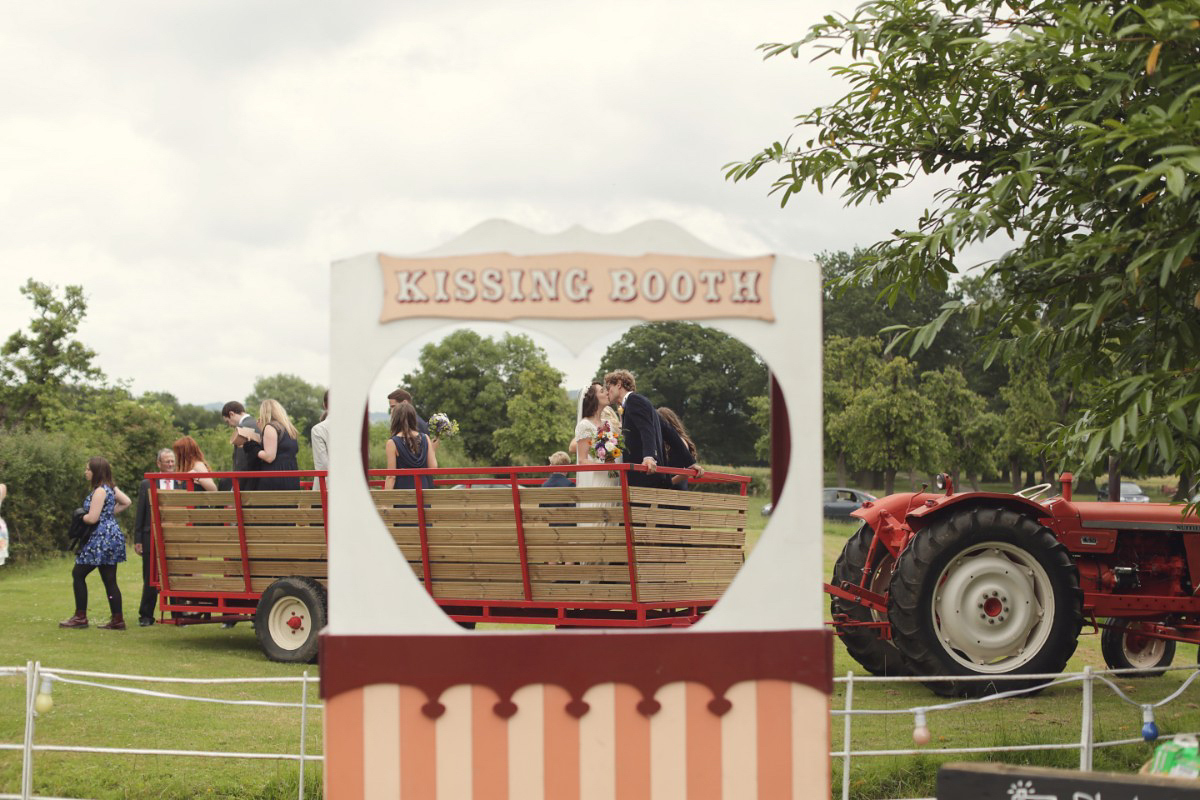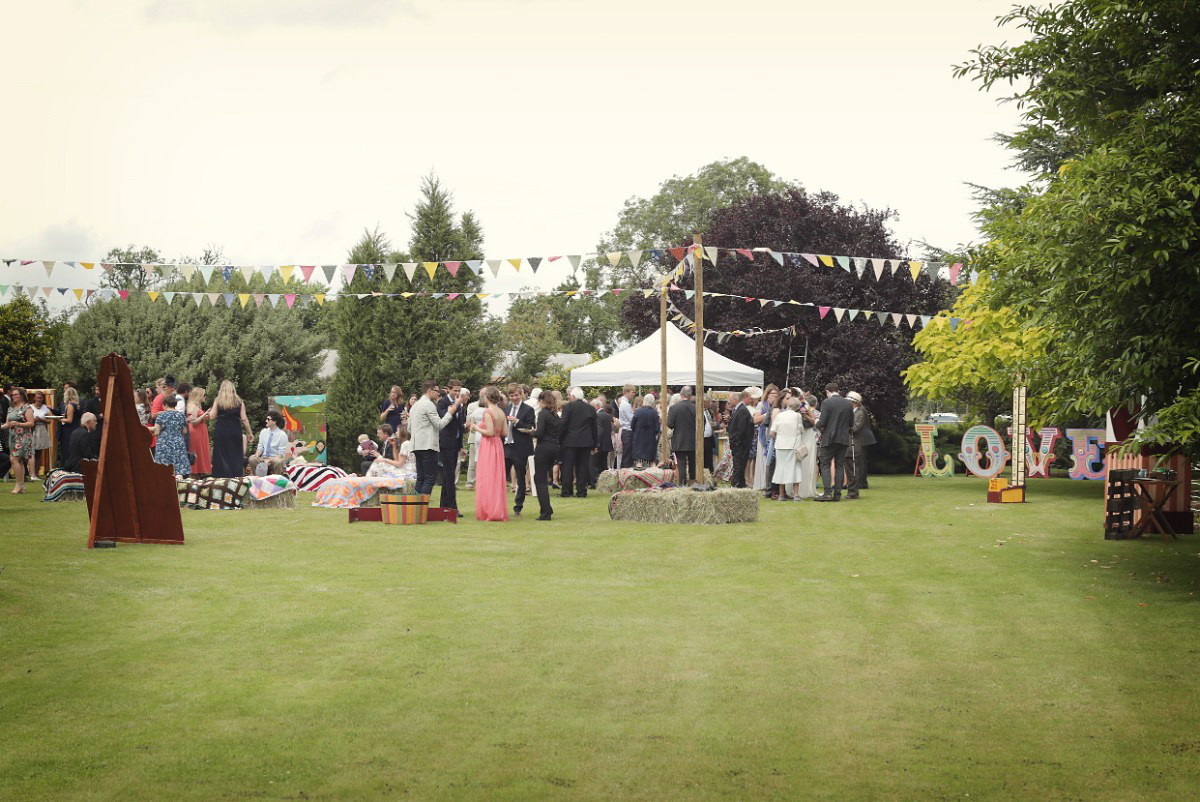 "We encouraged our guests to camp on the farm. All of my close friends and family were able to stay in the glamping tents, but everyone else brought their own tents. As a result, I made little hangover packs for the campers. I labelled brown paper bags with colourful marker pen, and included a bottle of water, face wipes, paracetamol, a can of red bull, chewing gum and a cereal bar in each bag. I left the bags in a box by the gate into the camping field and they were all gone by the morning!"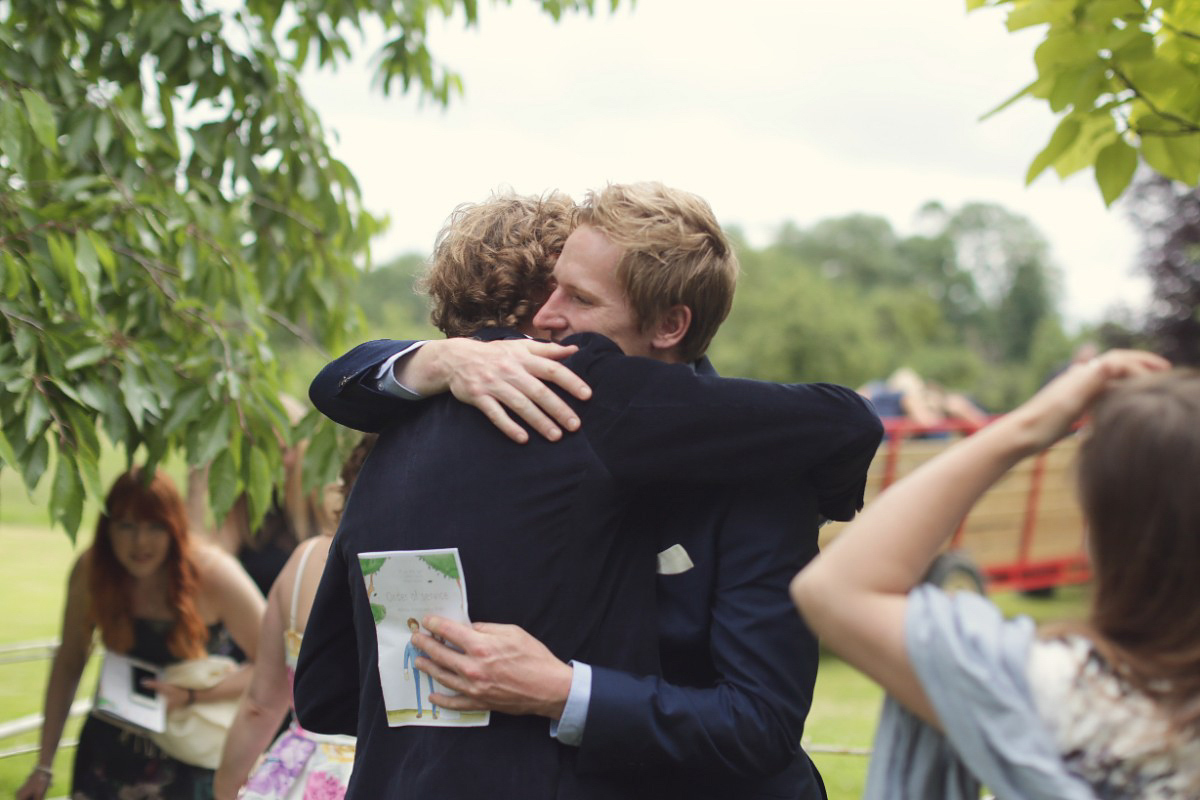 "For the fete in the garden, we hired a set of games from The Prop Factory. I am so so glad we used them as the kit was beautiful, inexpensive and added such character to our day. We had a Splat the rat, Hook the duck, Ball in the bucket, Aunt Sally cutout board, Kissing booth, Coconut shy, Strongman striker, and a Tombola (complete with raffle tickets to win classic Pound Shop prizes including a multipack of Spam)'."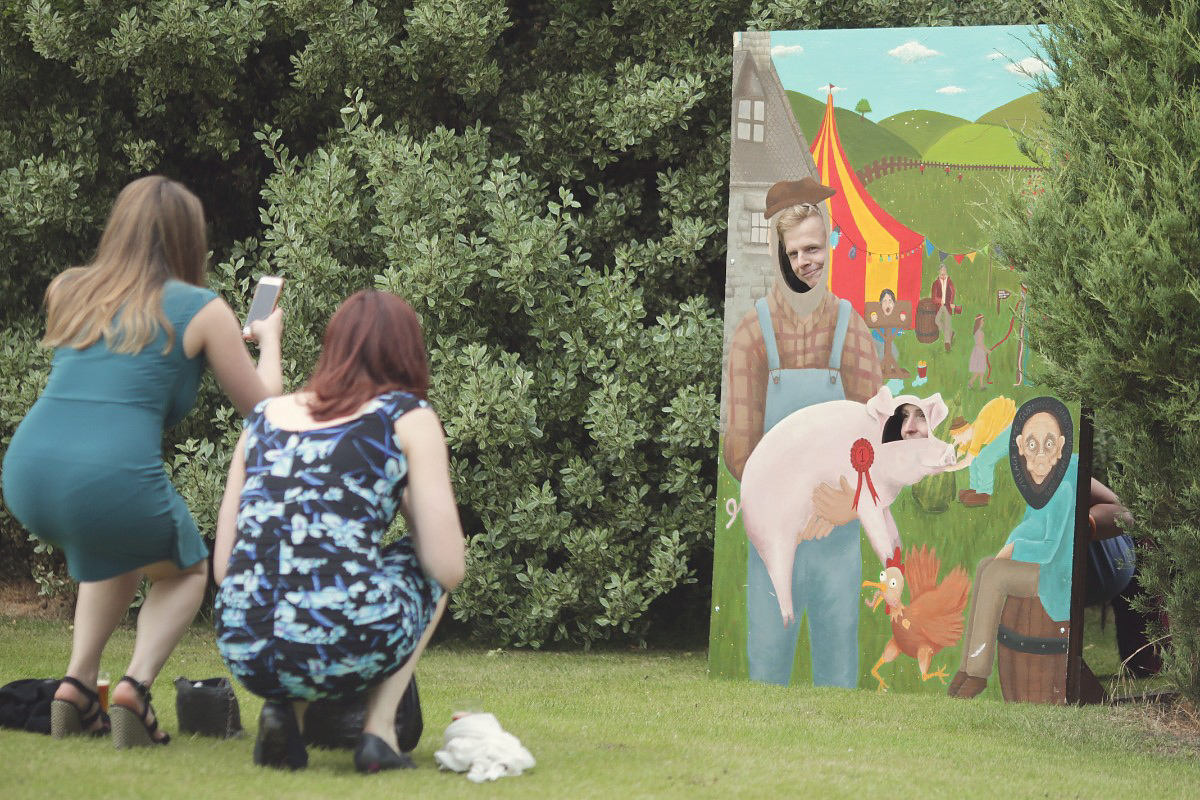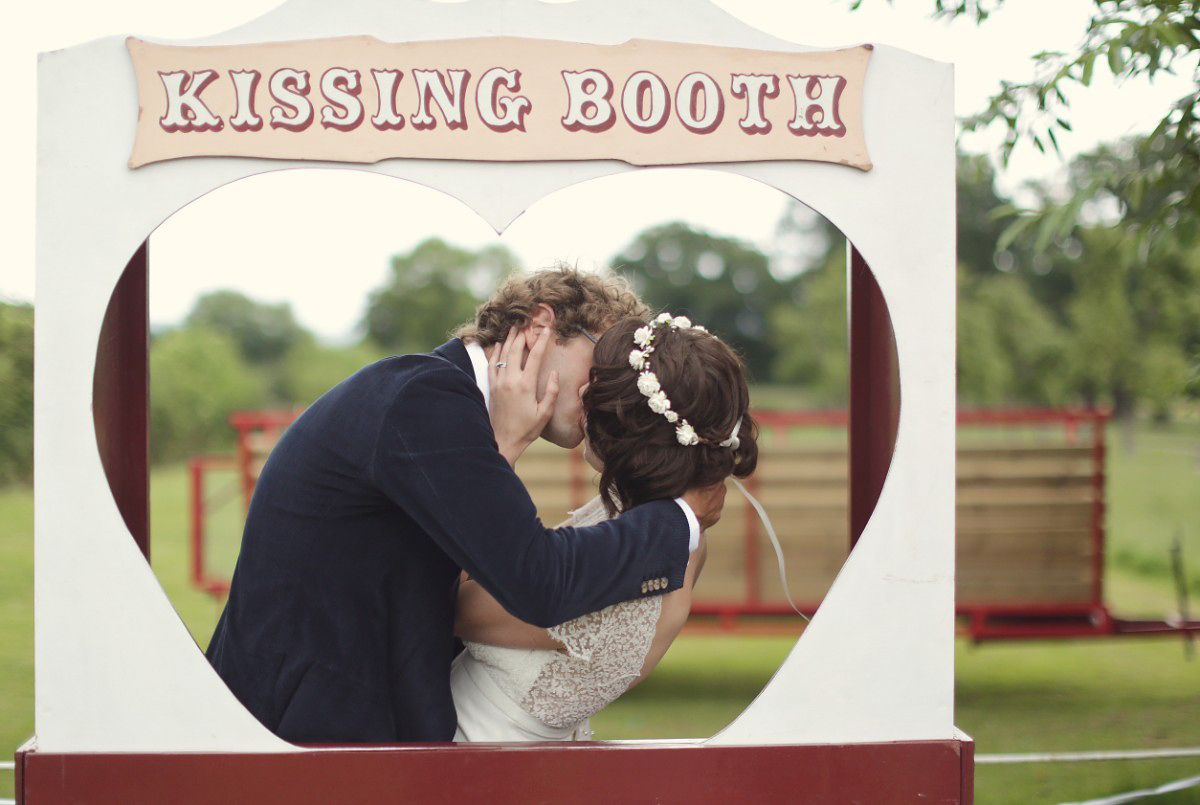 "We also hired a gorgeous Love sign painted in bright carnival colours, a proper red postbox for our cards and a vintage lemonade stand from which to serve Pimms."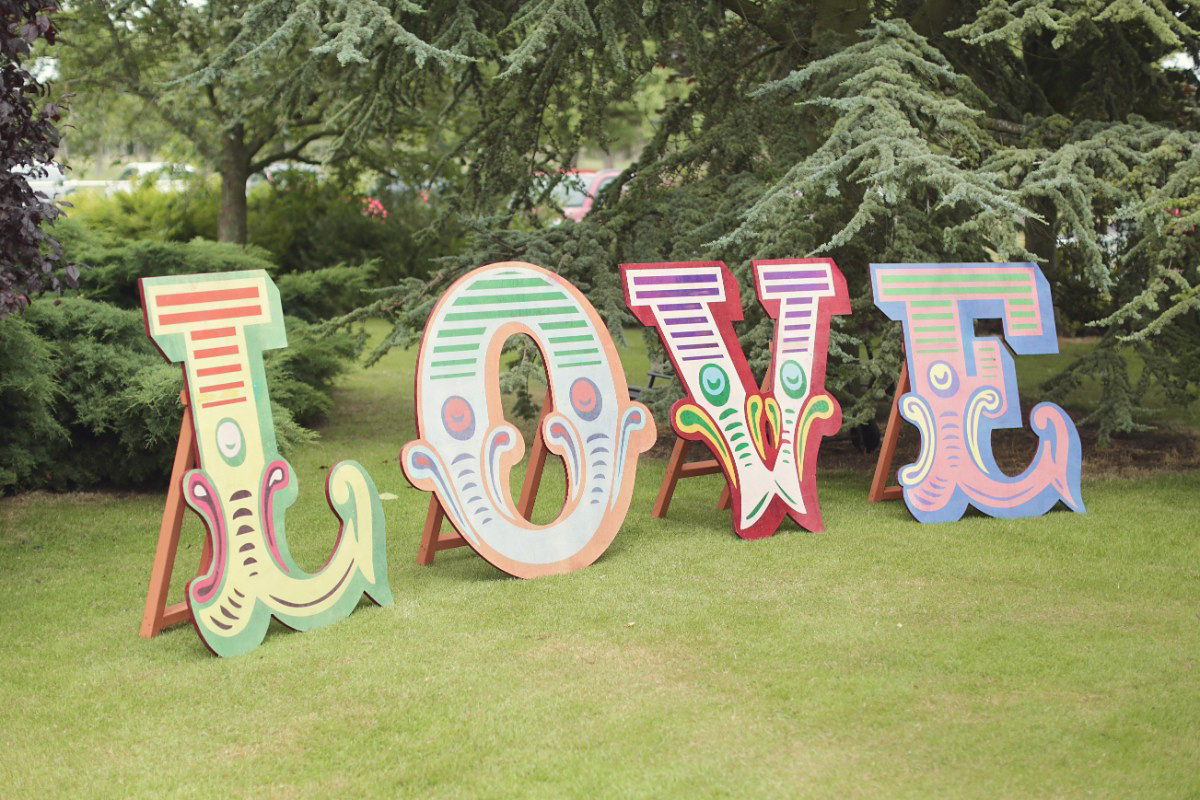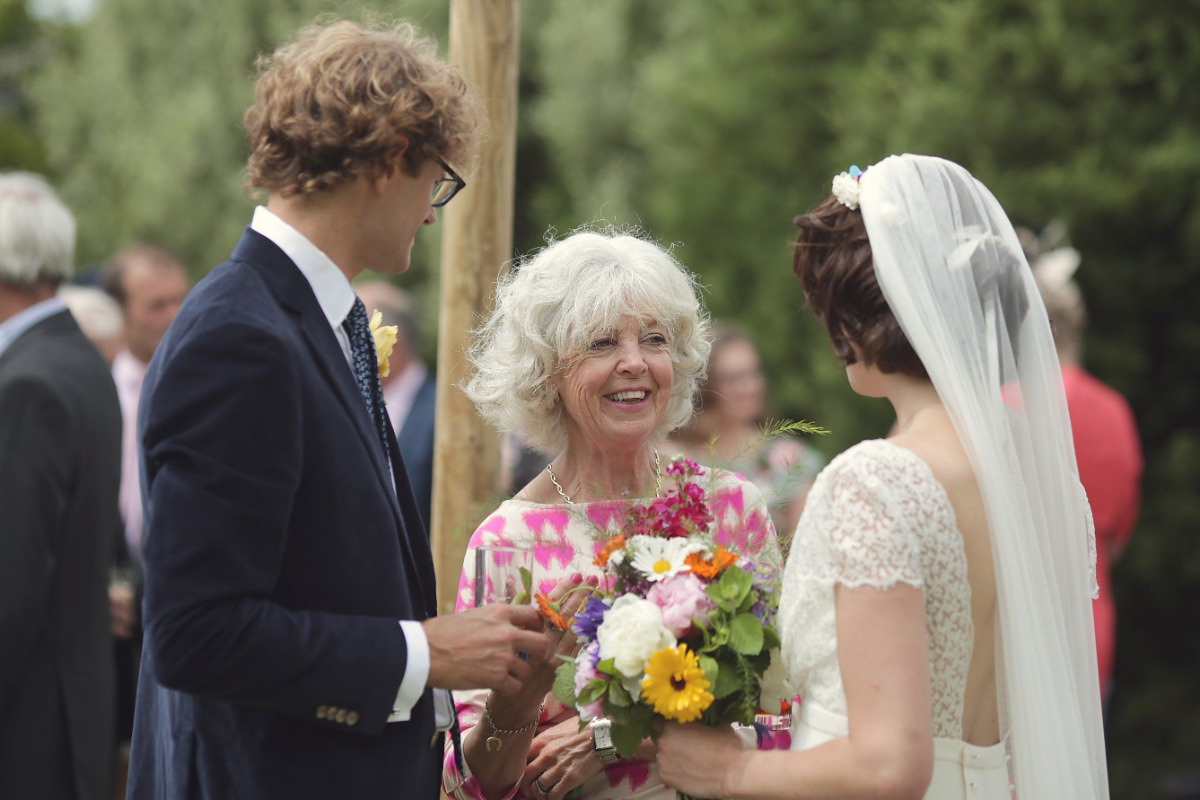 "Me and my mum cut out what felt like thousands of bunting triangles, and Matty's granny sewed them all together. About 3 days before the wedding I mentioned that it might be quite nice to have some maypoles to hang the bunting off. Next thing I know, Matty's dad has somehow got his hands on 4 x 3m poles, and has put them up. The bunting looked amazing!"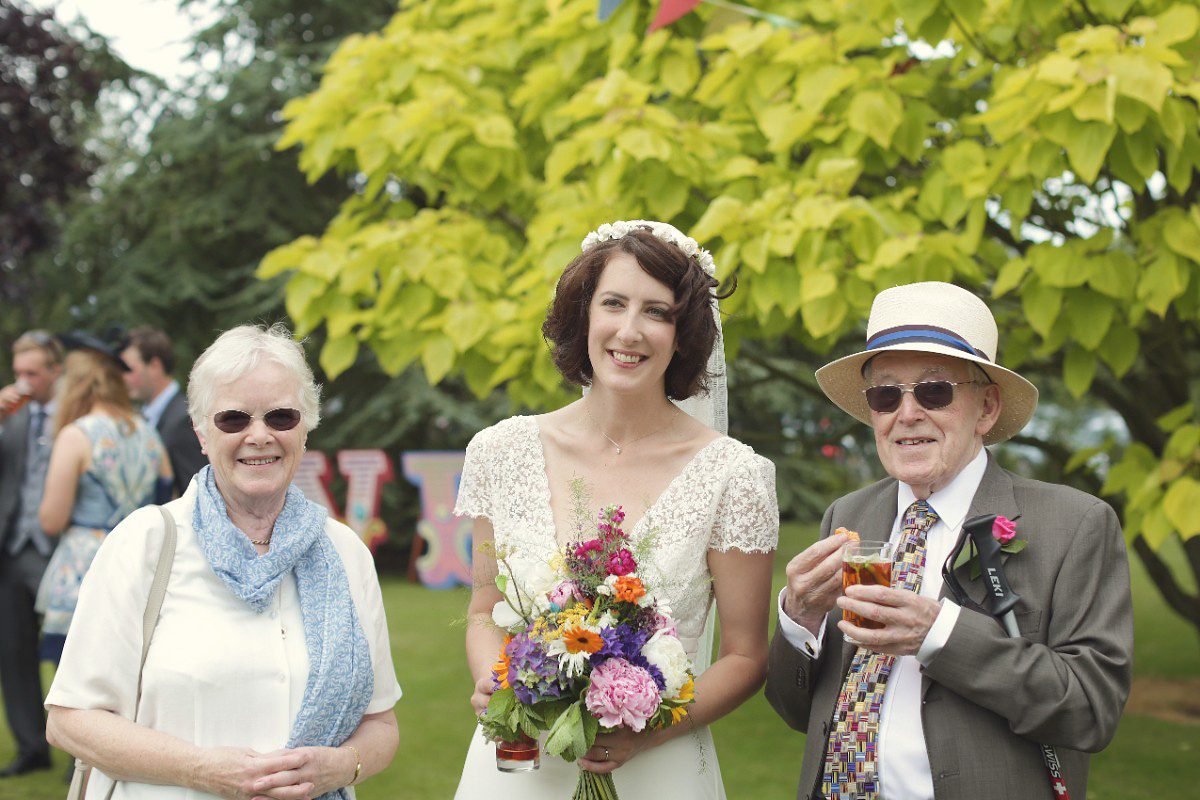 "We then used hay bales around the base of the poles, and covered them in colourful crochet blankets (also from The Prop Factory) to use as seating."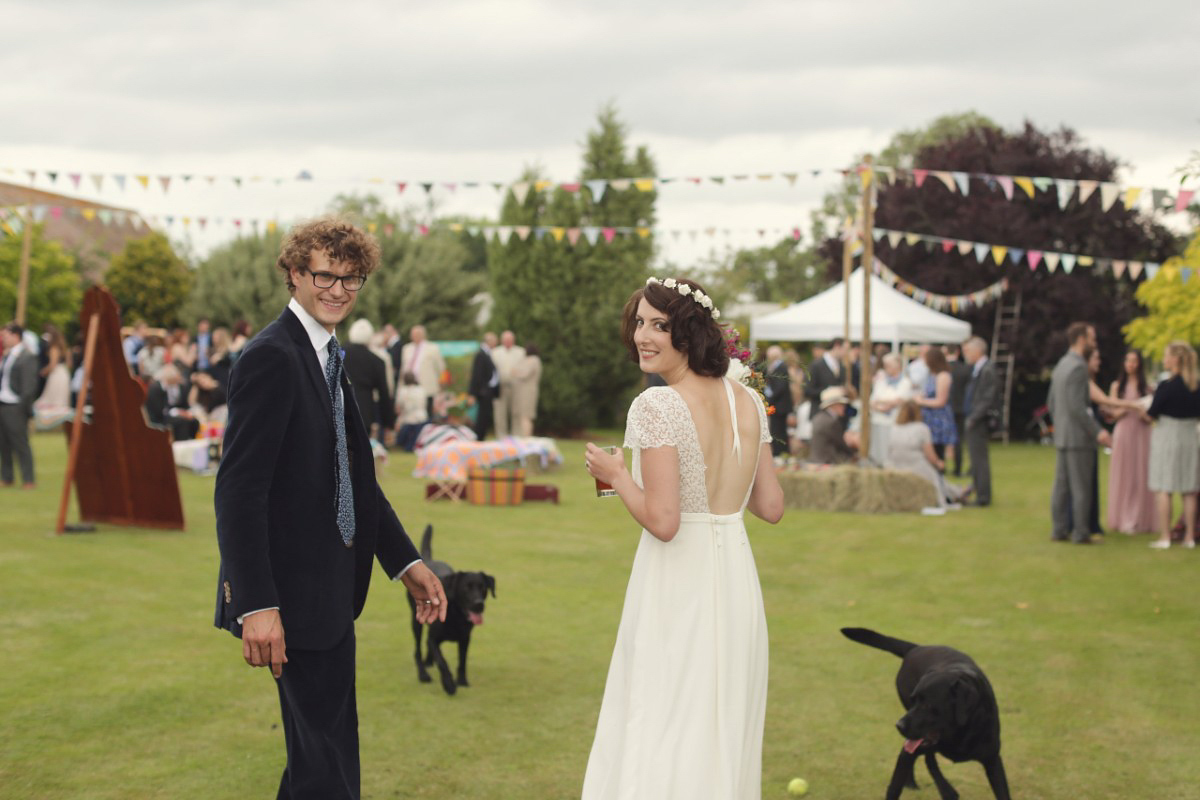 "To finish off the fete effect, we also hired an accordion player from Last Minute Musicians who played various English folky tunes, and my friend Kieron Kirkland donned his classic country gent garb and performed amazing magic for our guests."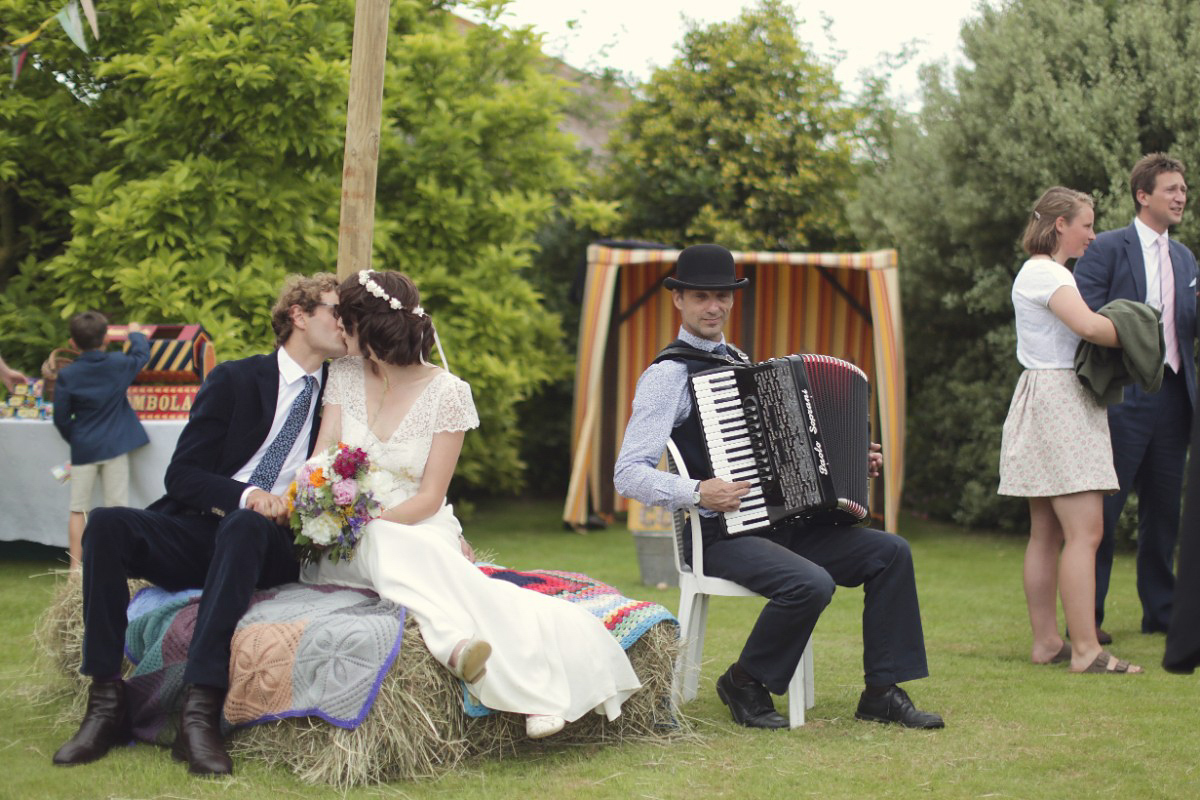 "Robin Bradshaw of Bullit Photography is a really natural laid back photographer. Posed shots were minimal, and he blended in with the guests and made everyone feel comfortable. His shots are natural, muted and cinematic. We were delighted with the shots he took."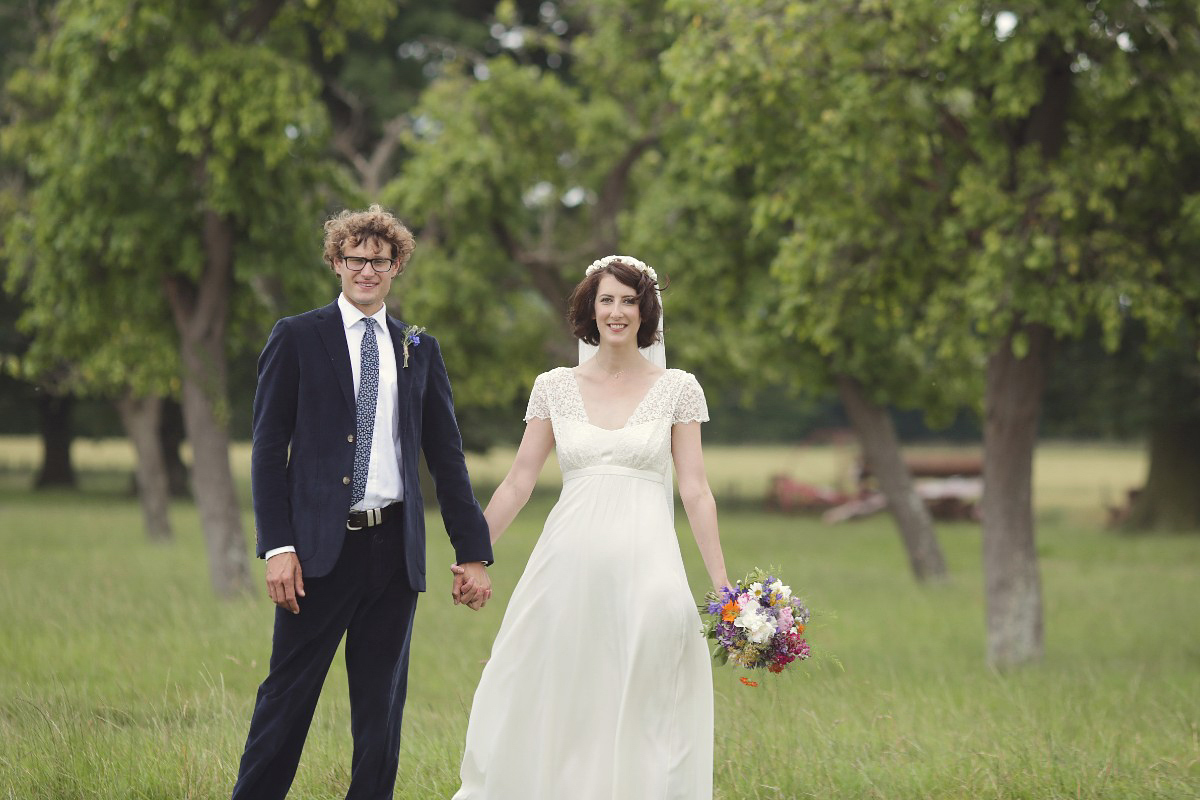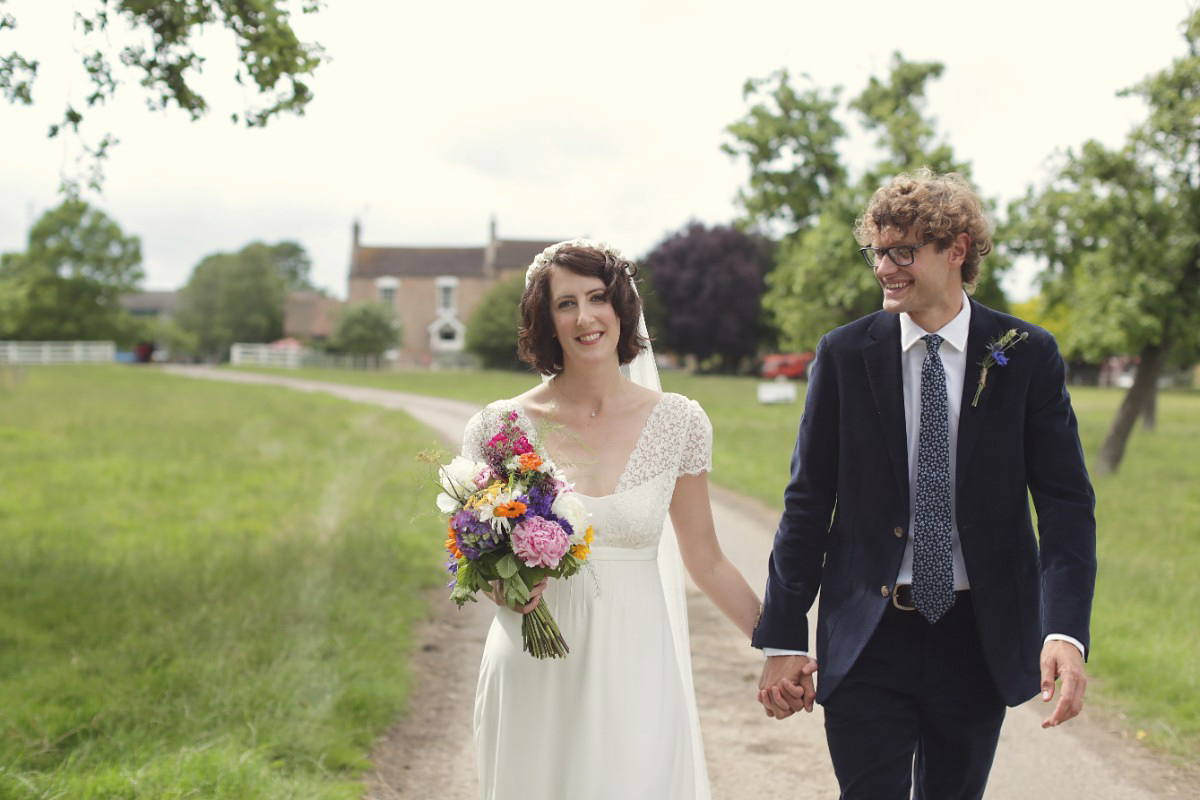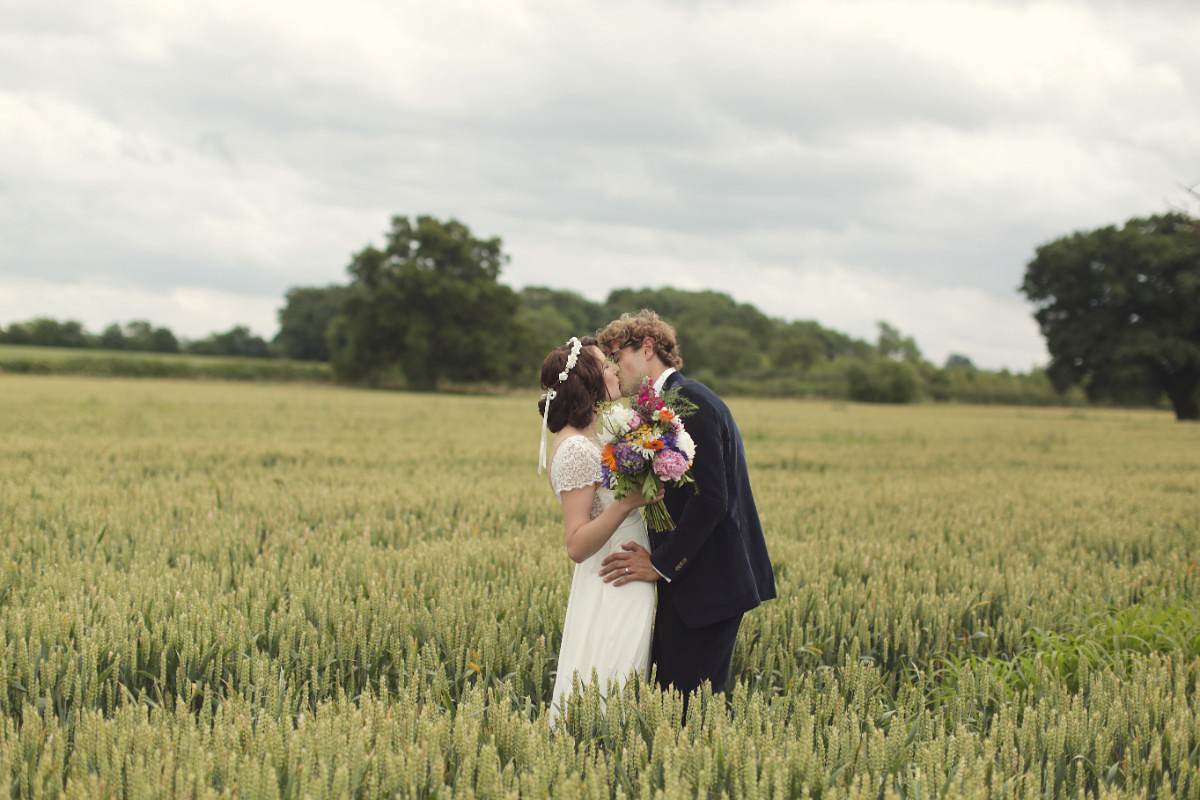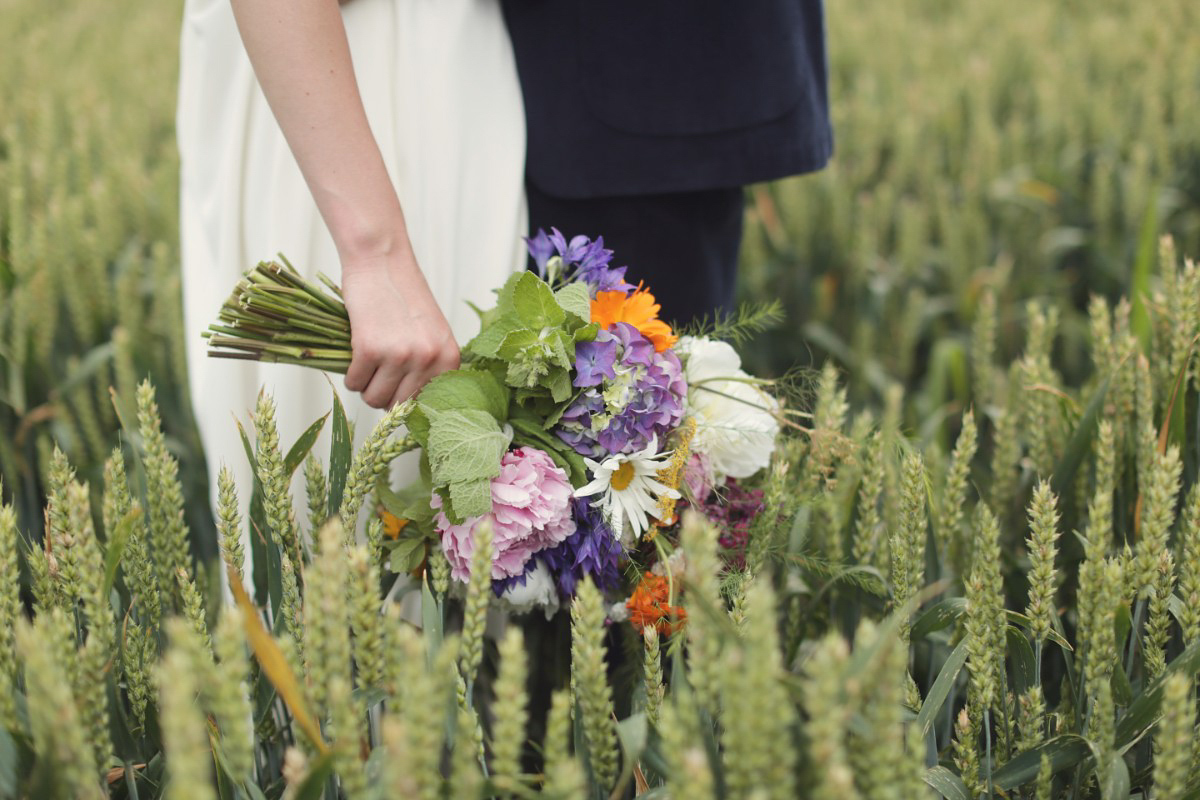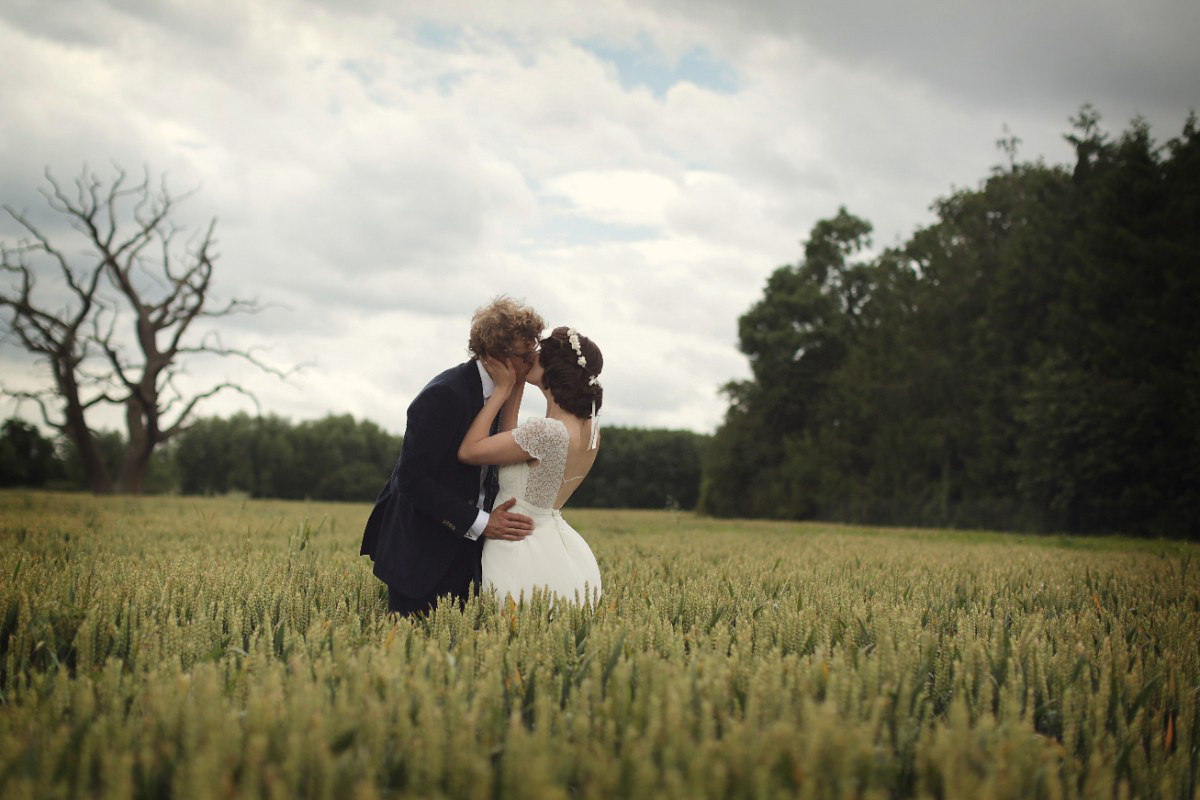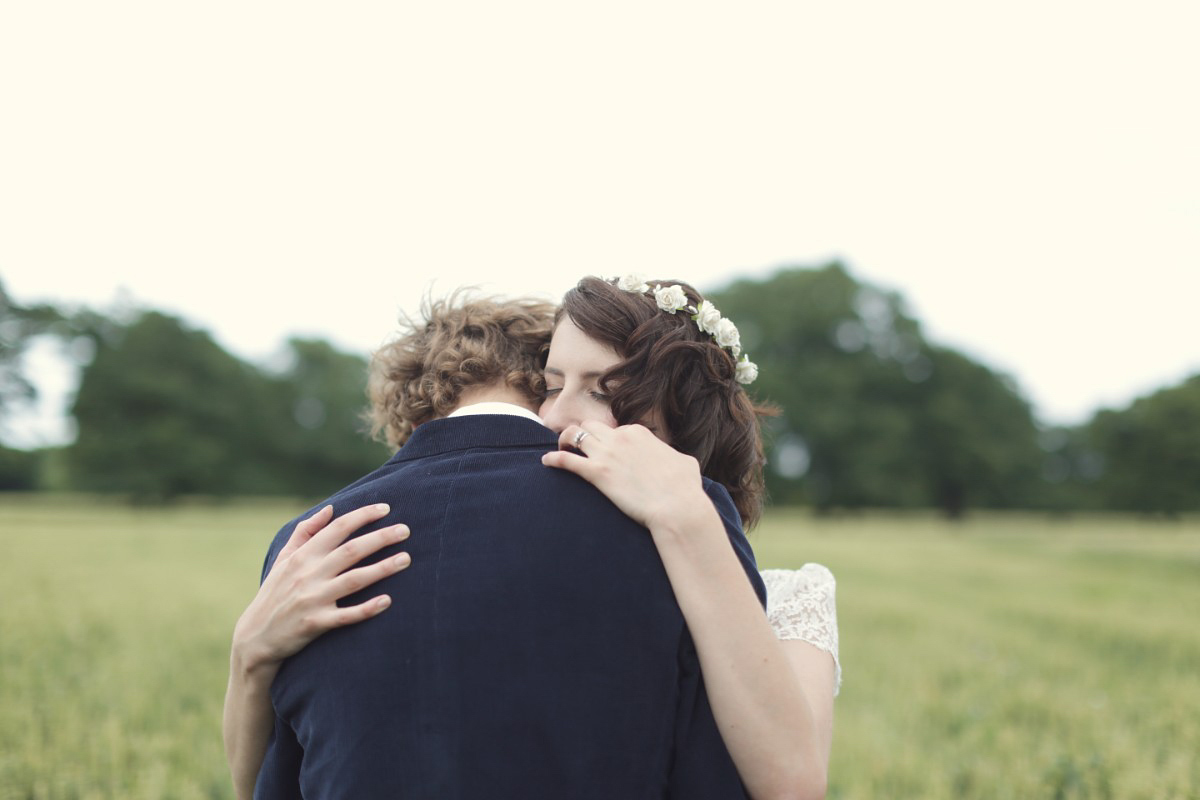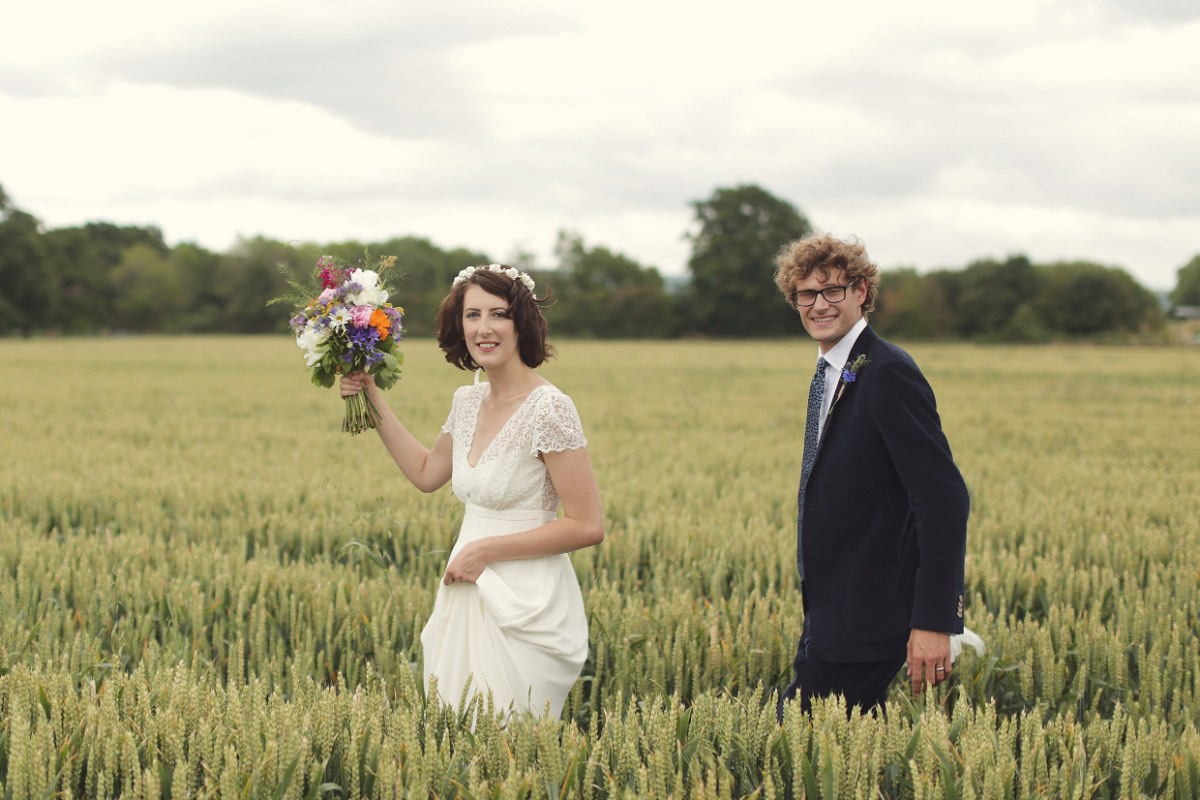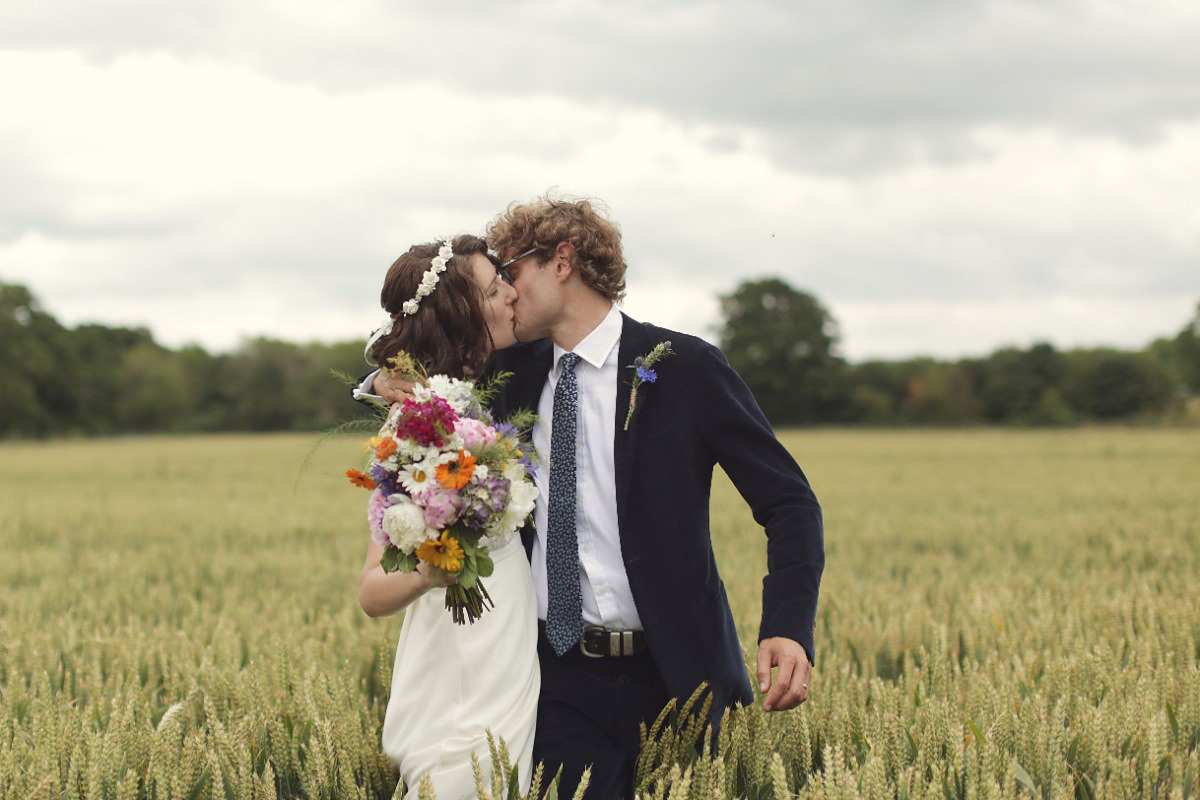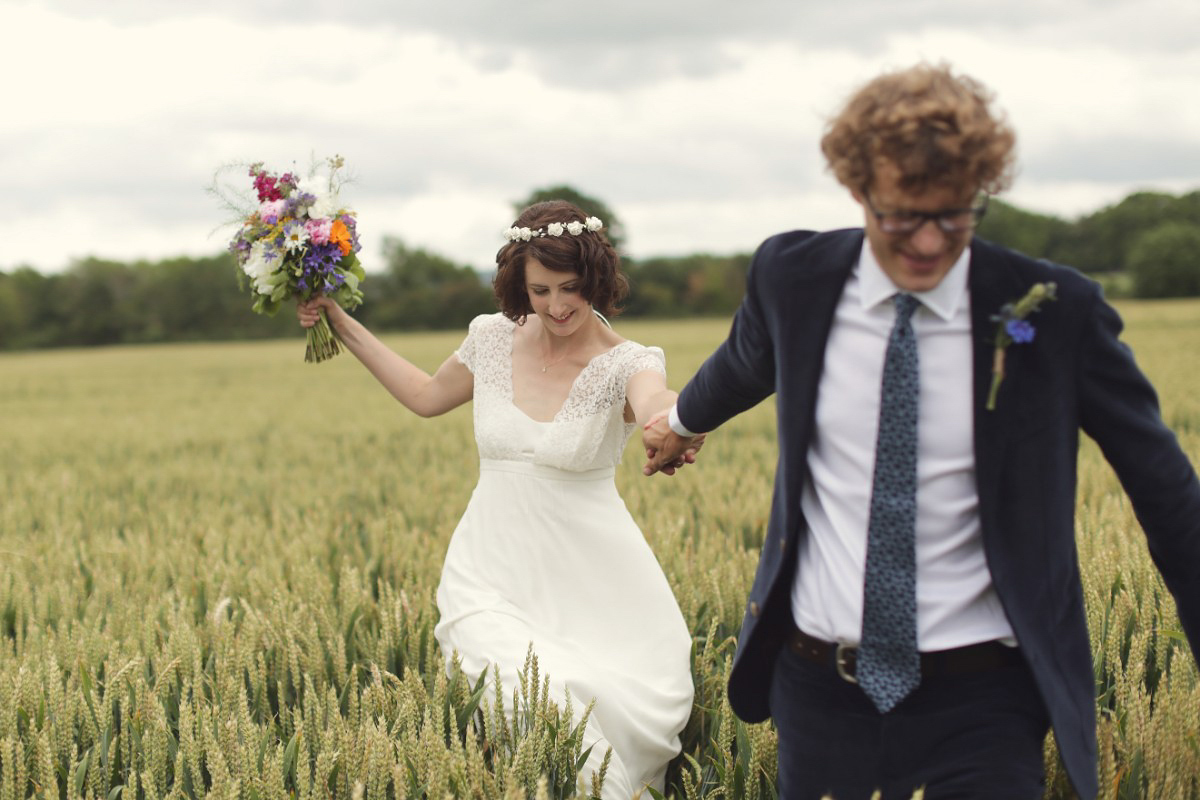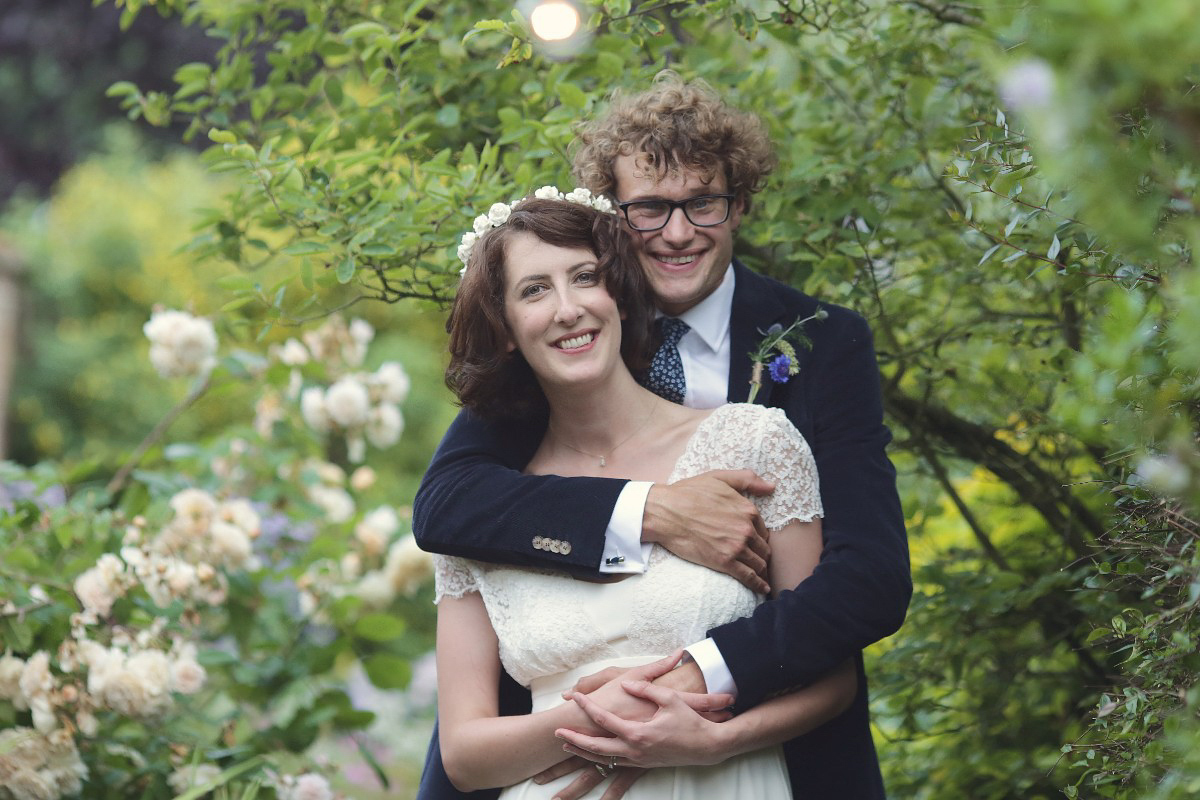 "For bridesmaids' gifts, I bought each of the bridesmaids a cinema light box from Firebox. I had ummed and ahhed about whether to get a more 'traditional' bridesmaid gift of jewellery, but felt that this wasn't very 'me'."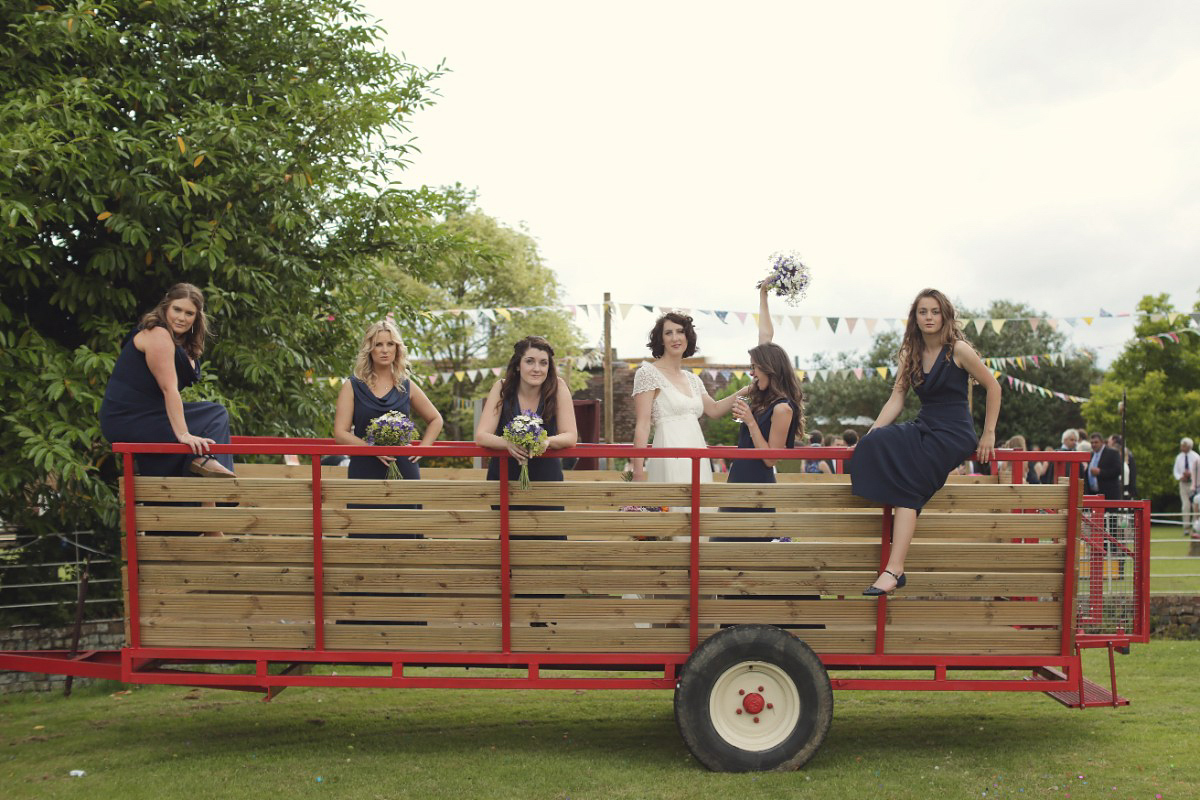 "The great thing about the cinema light box is the ability to make your own messages, as each comes with loads of letters that you can re-configure to your heart's content. I unpacked each lightbox, added batteries and left little messages for each of the girls before re-packing. They absolutely adored them."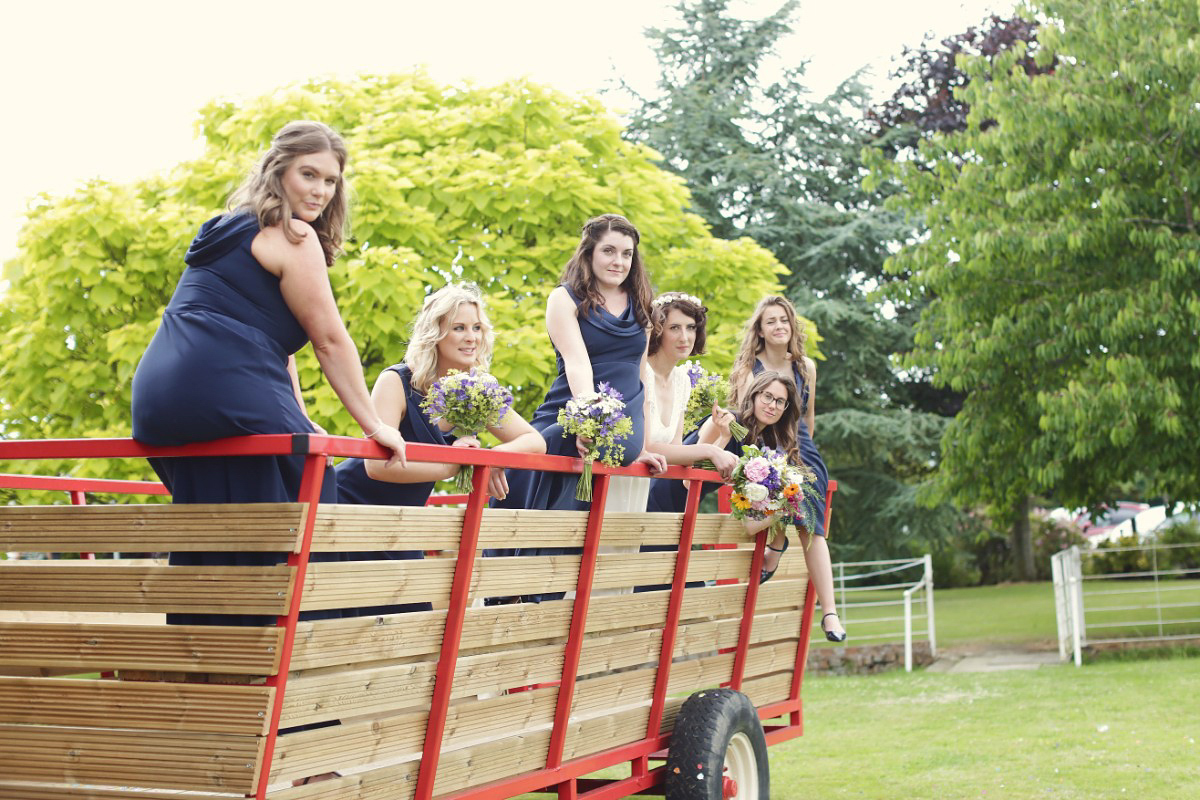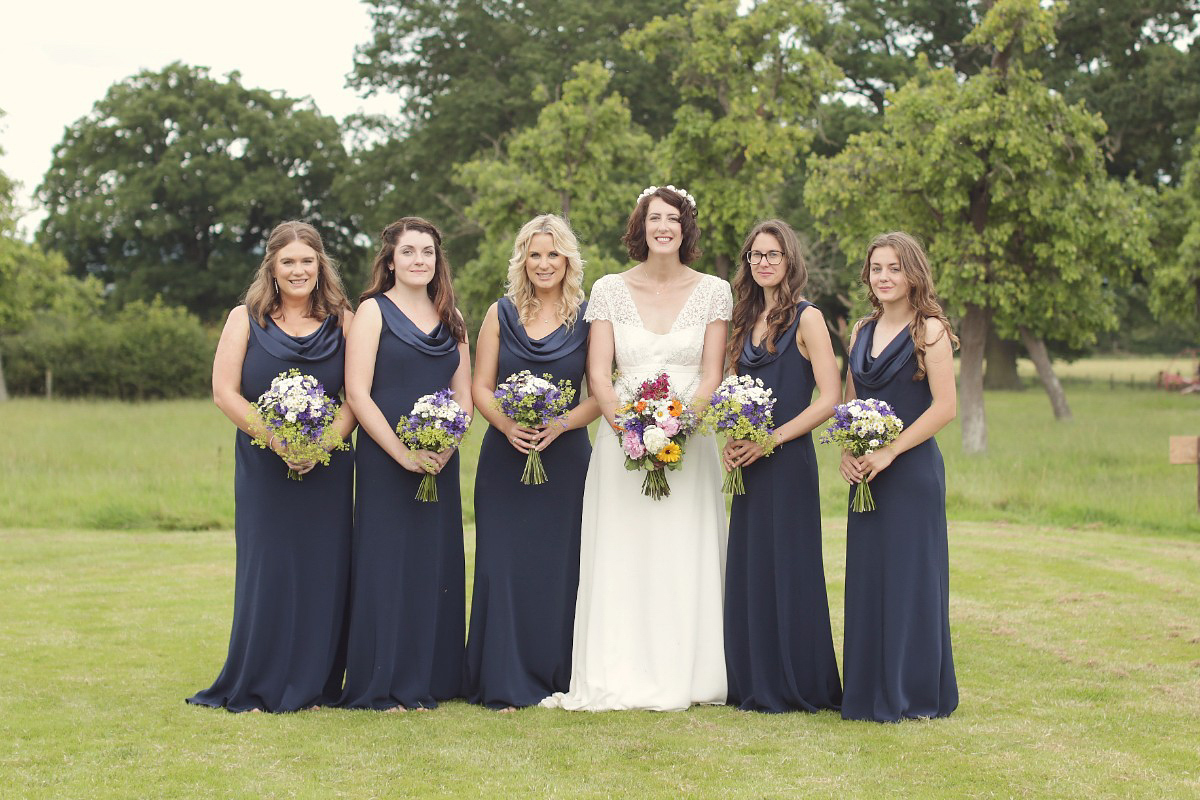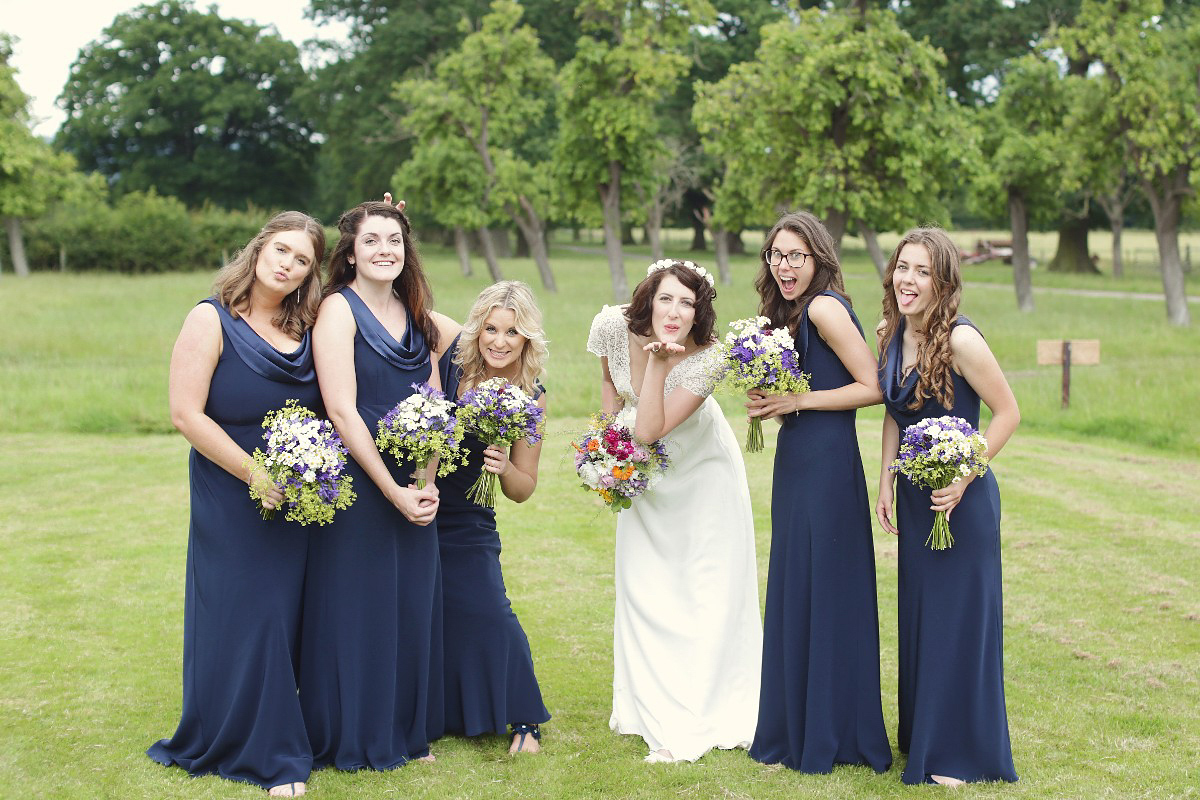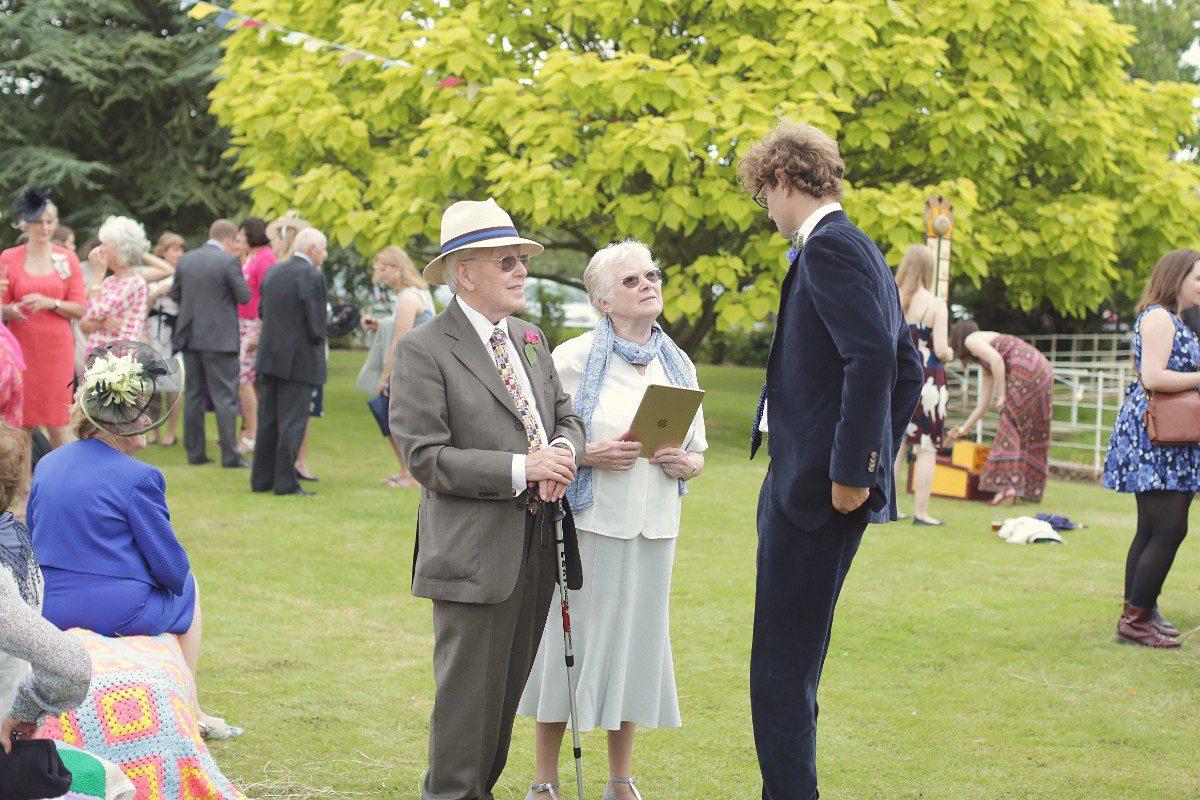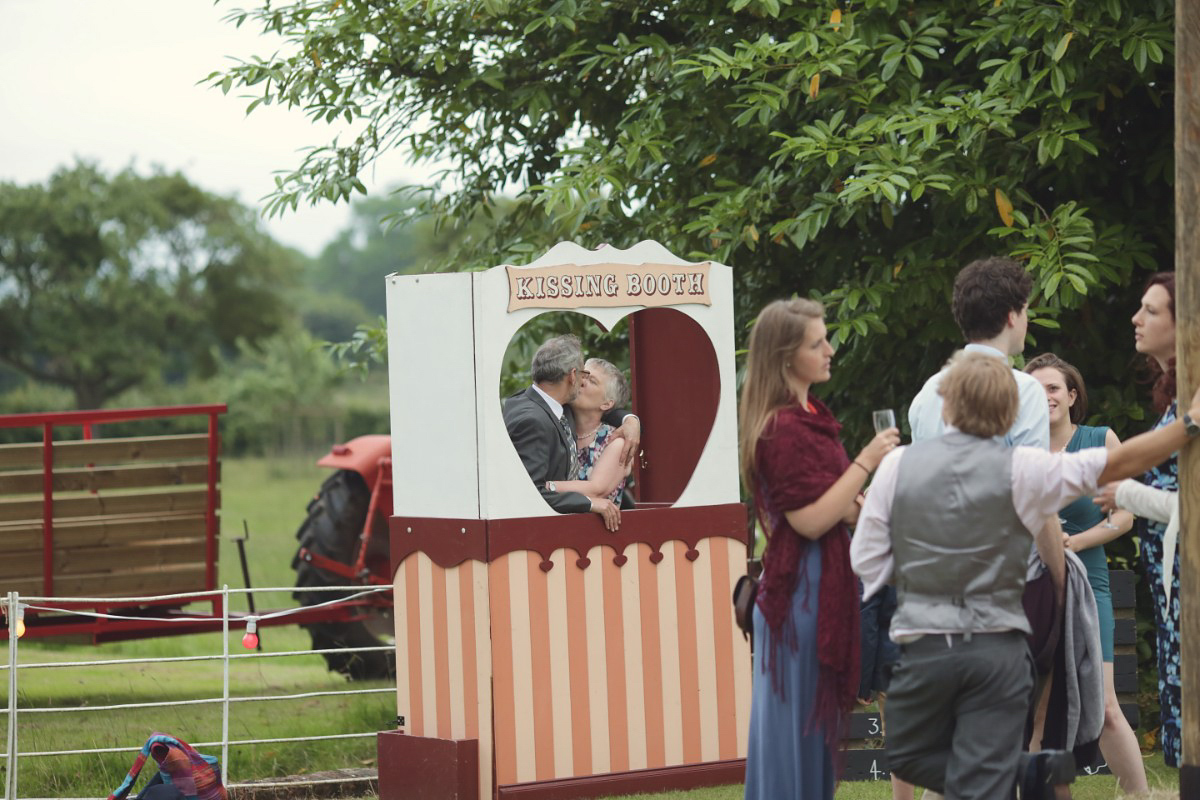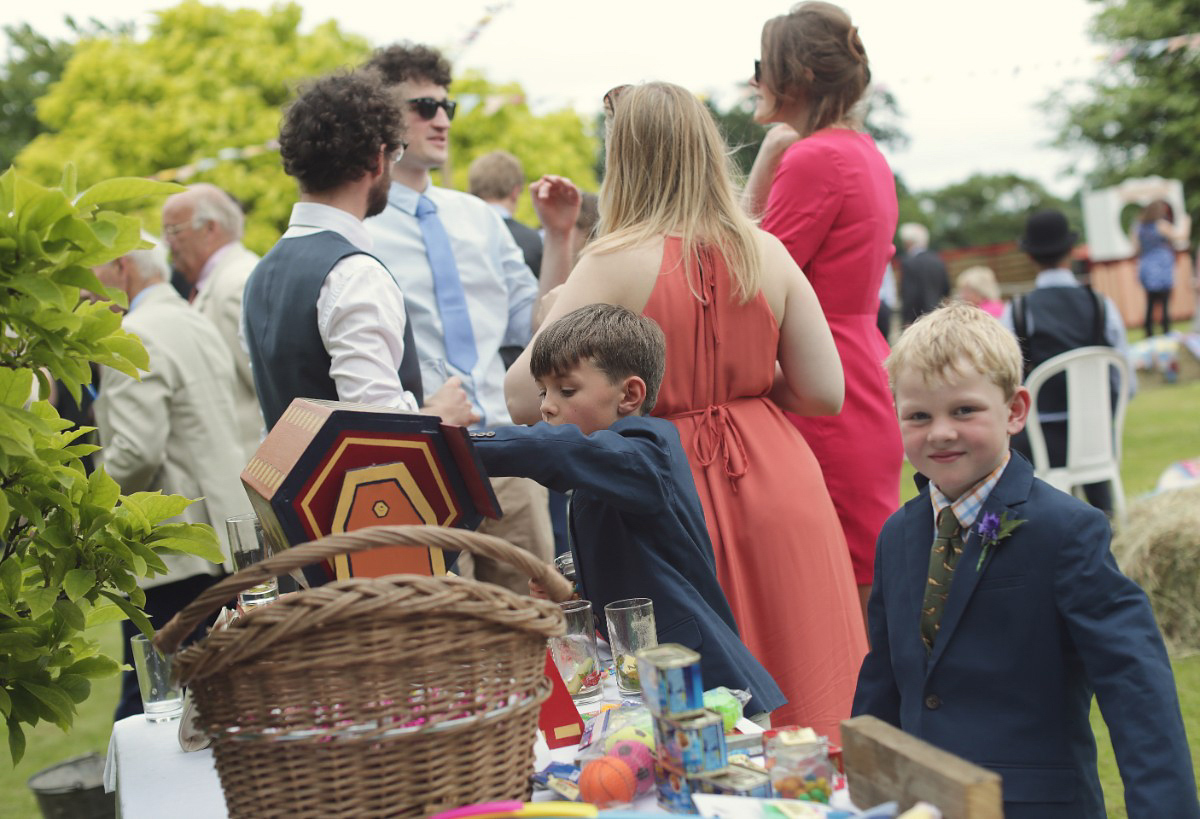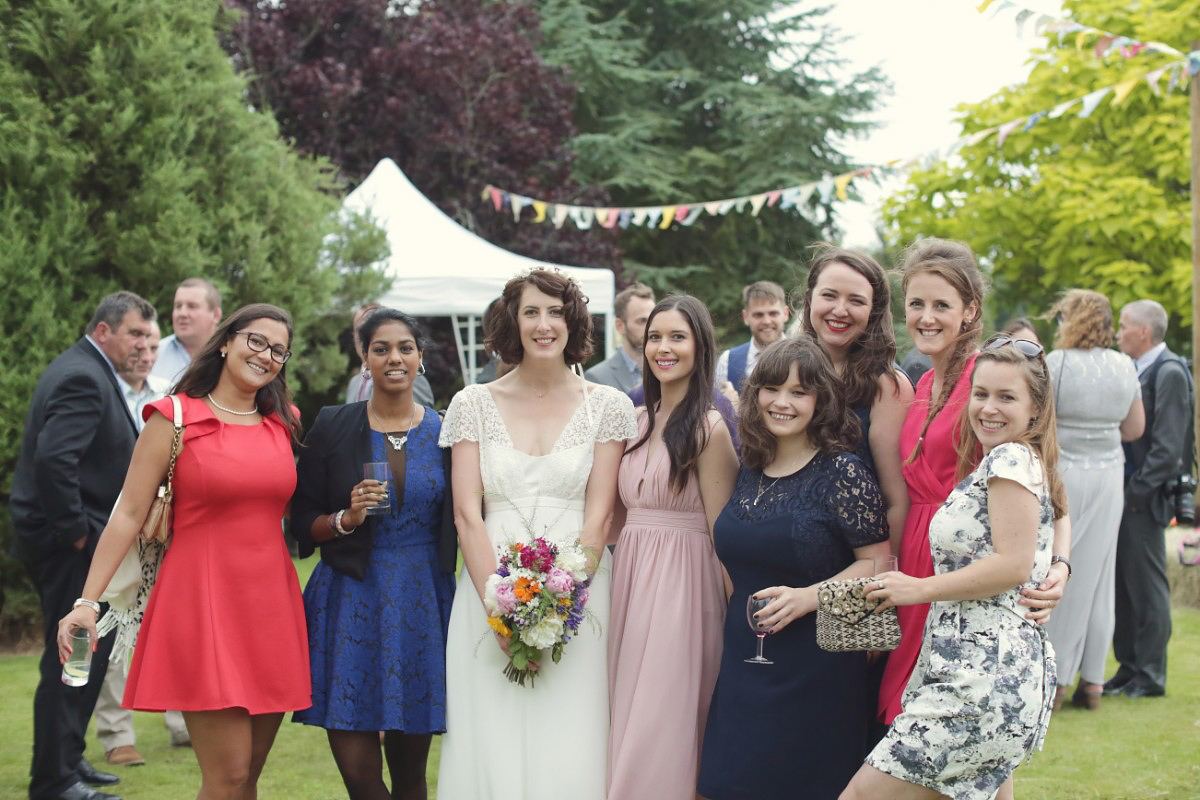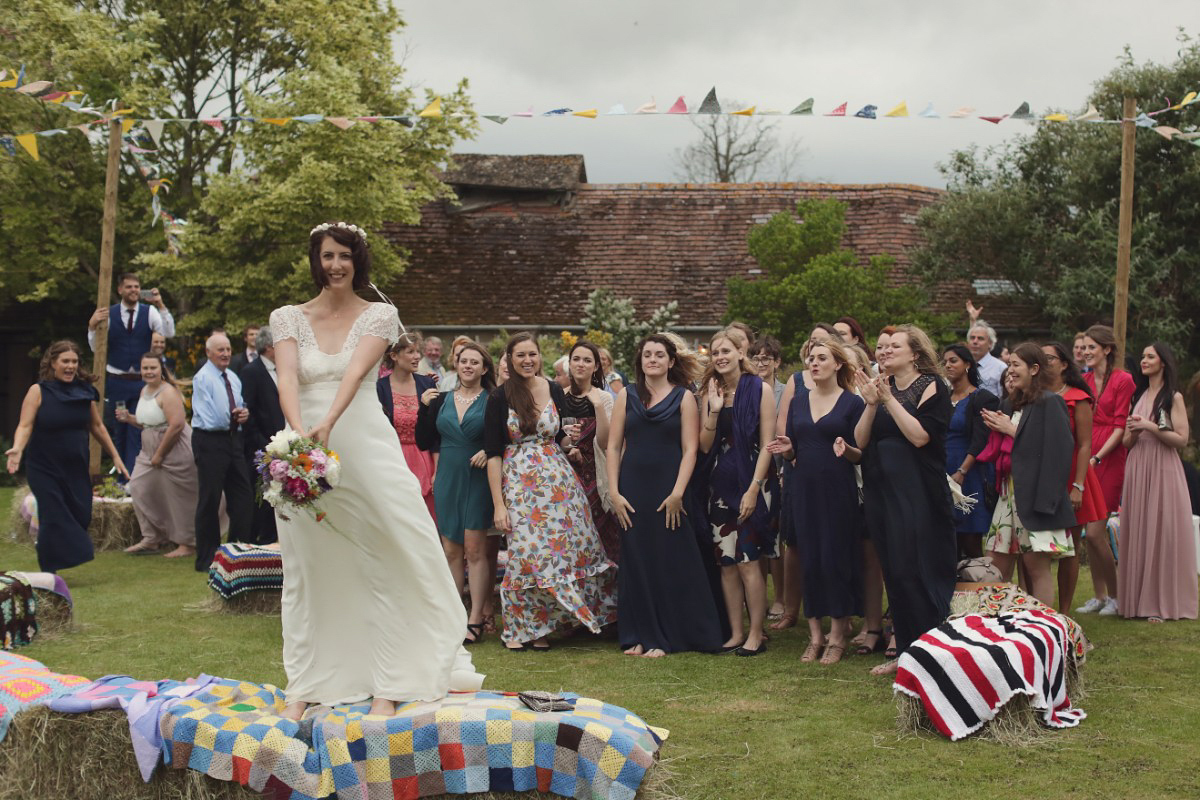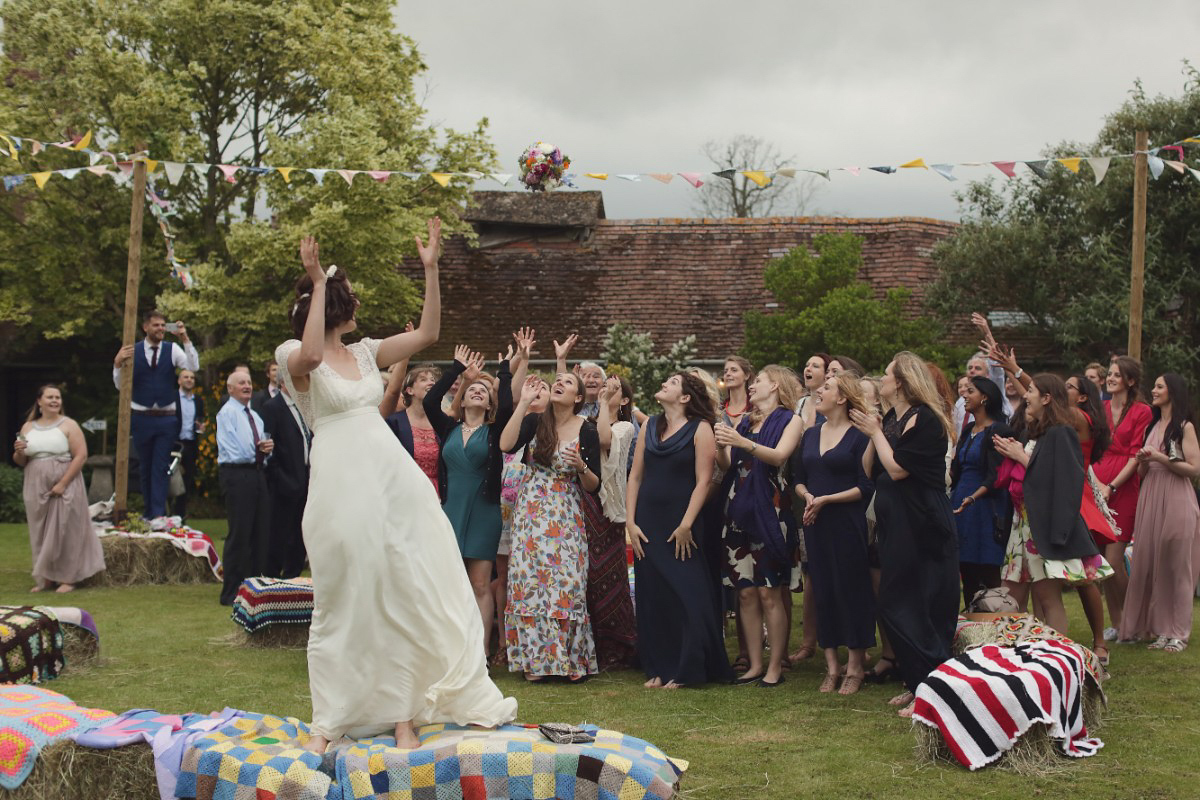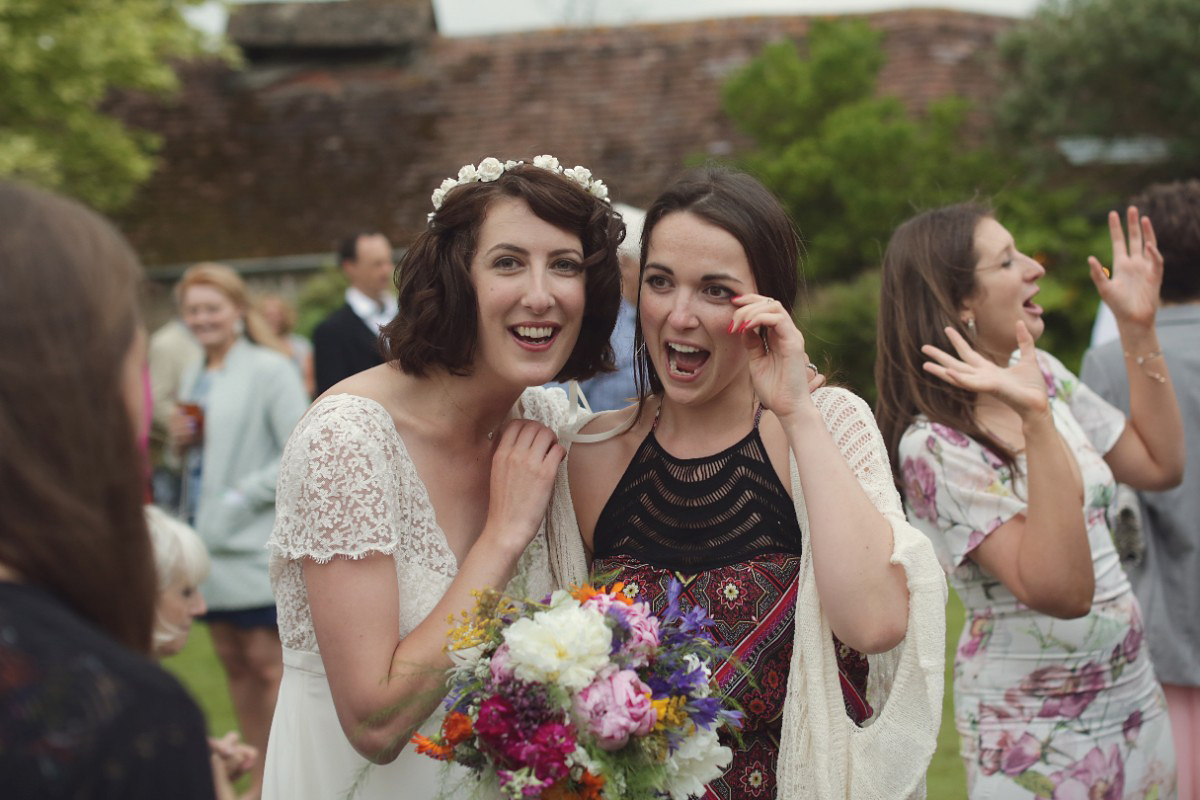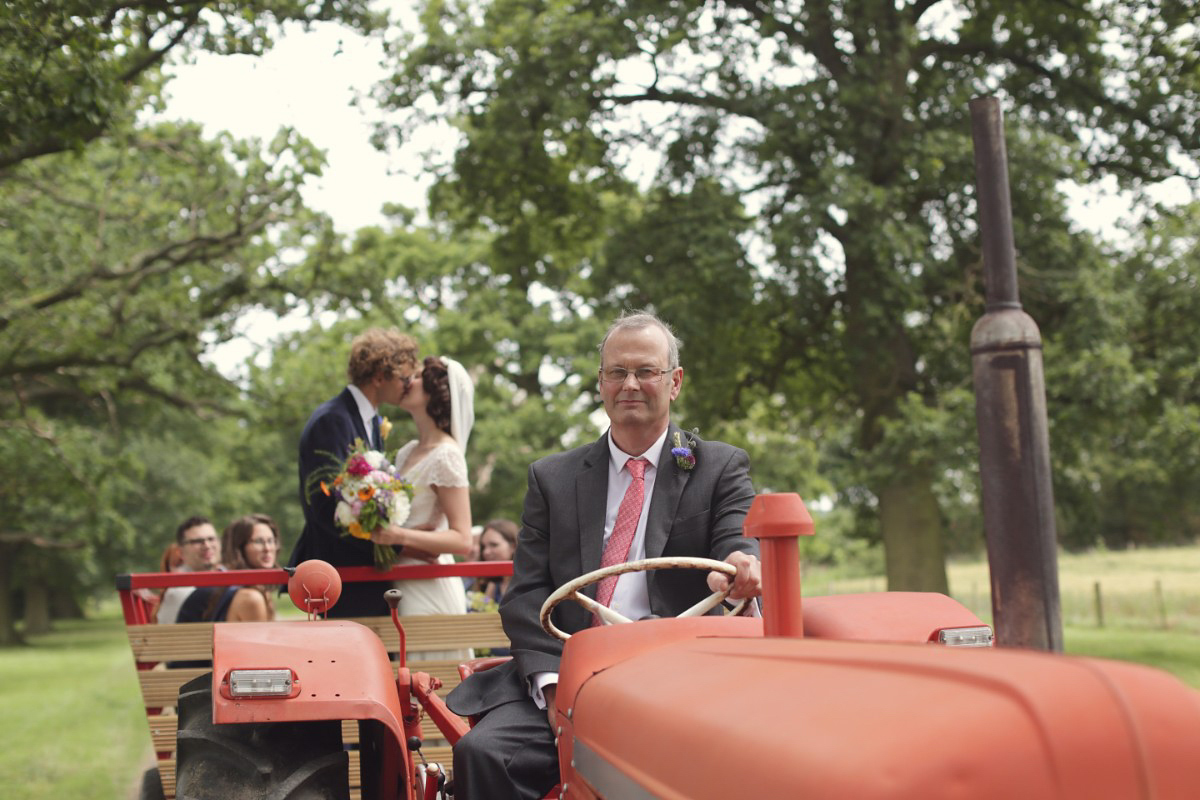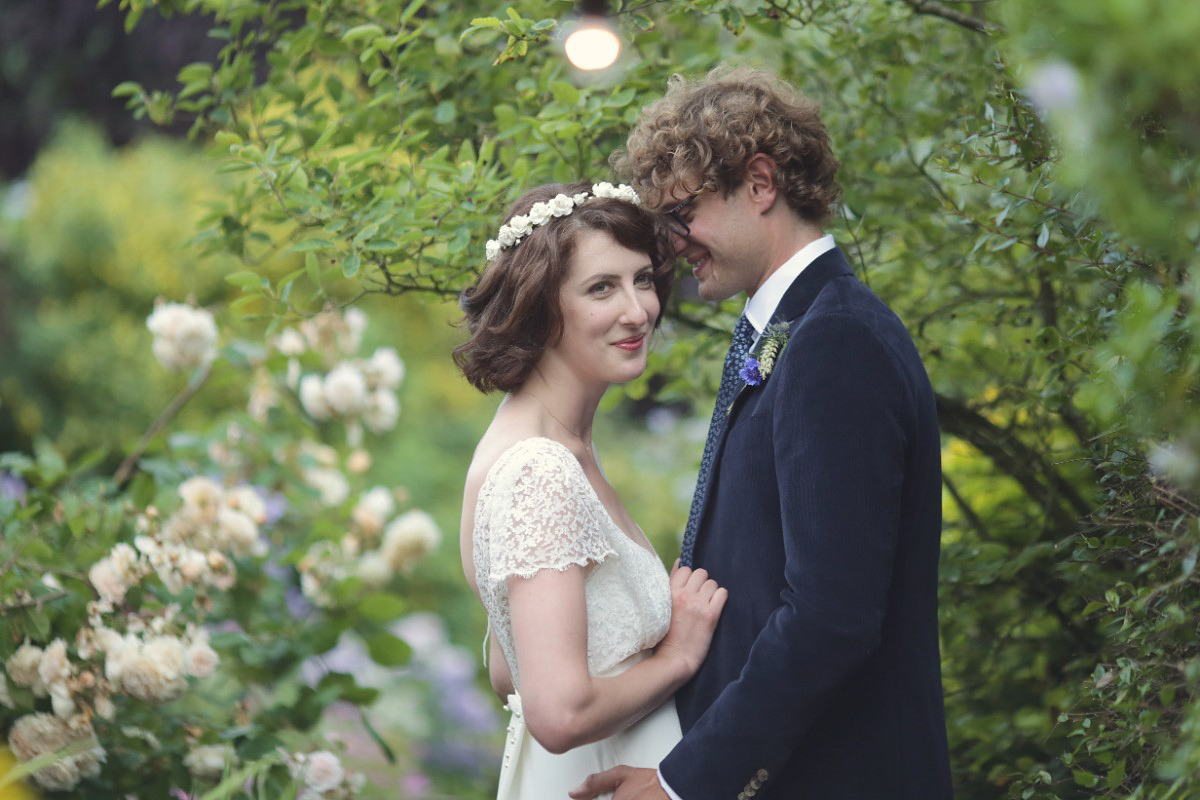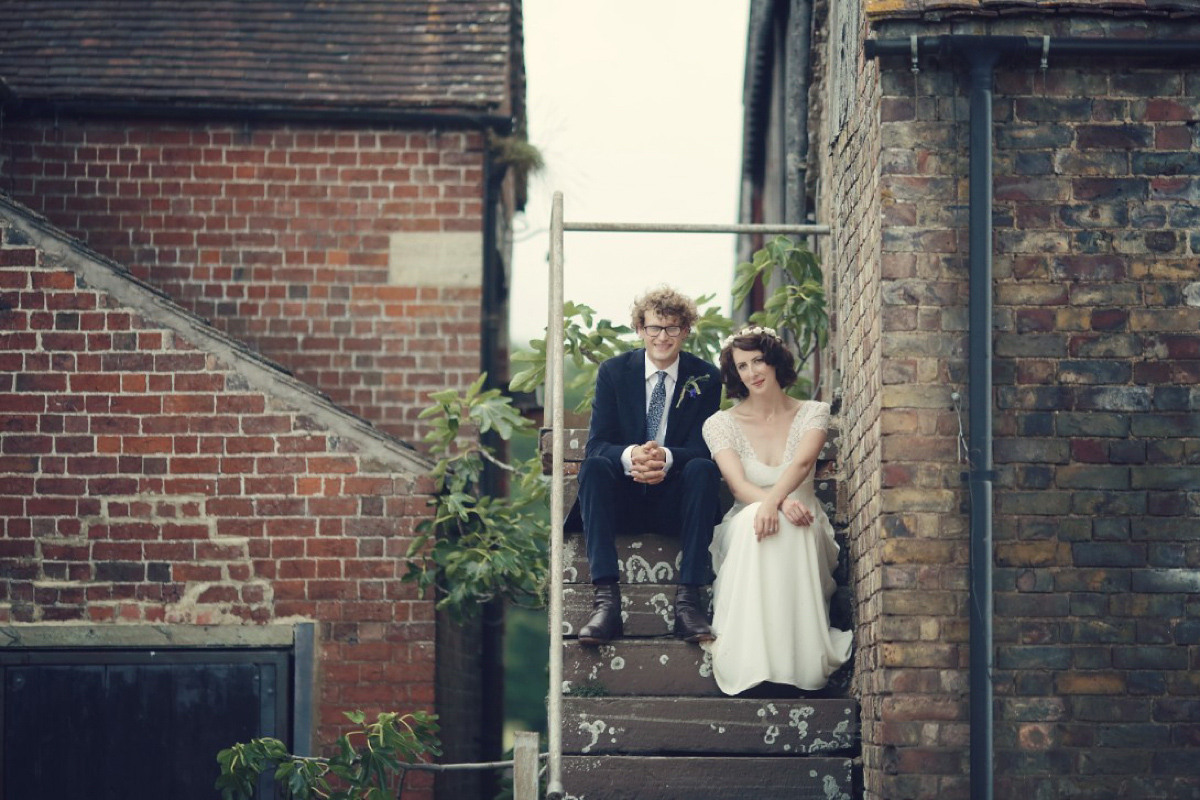 "We found a really simple and quick way to send out Save the dates – using the Touchnote app. On this app you can send people postcards directly from your phone – you buy a batch of credits, and this includes printing of the card and postage to anywhere in the world. We chose our favourite picture, uploaded an Excel file with all our contacts on, and BOOM, save the dates sent out for about £60 with literally no hassle."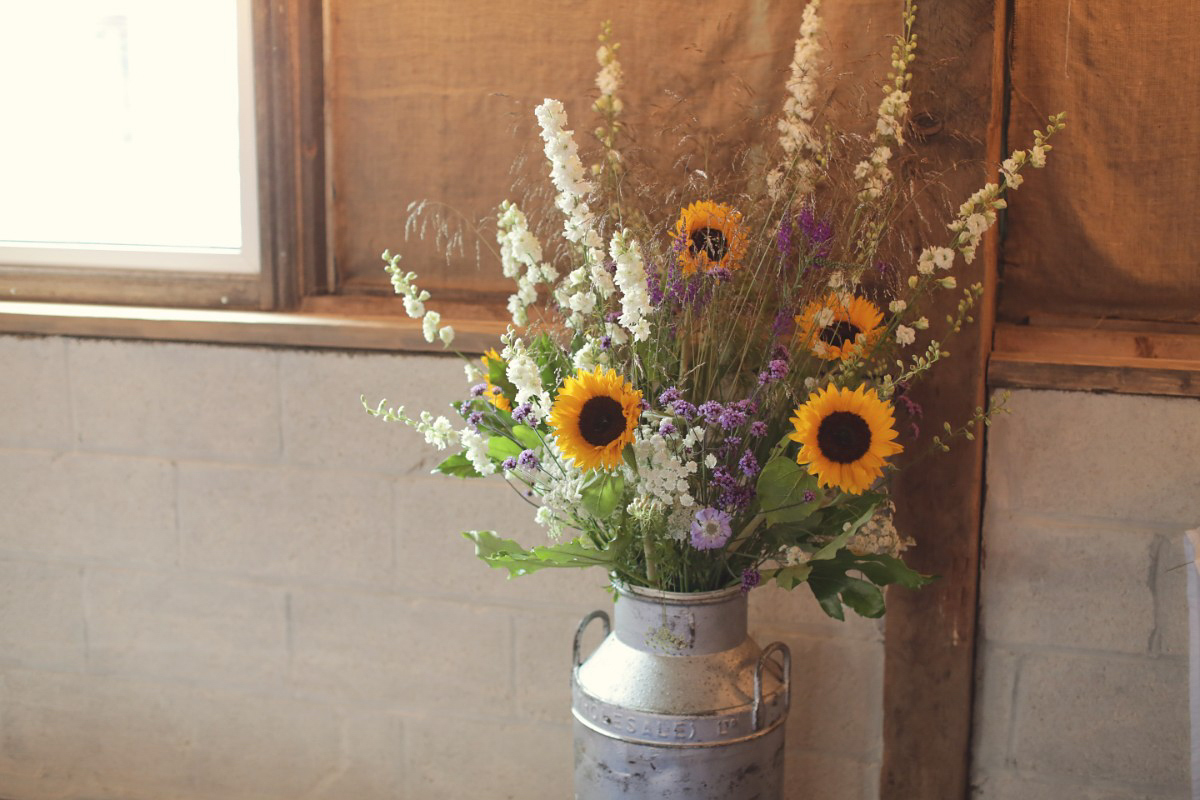 "For the invitations and the rest of the stationery, we used Alex Woollam. Alex is an amazing illustrator (he's the boyfriend of one of my close friends). He created a really amazing watercolour image that we used on all our stationery. It featured me and Matty standing in a garden, surrounded by bunting, festoon lighting and flowers, with a coconut shy, a croquet set, a tractor and some cows in the background. Perfect."
"One of my colleagues – an Artworker – then took these images and turned them into invitations, RSVP cards, information cards, order of service, stickers for the food boxes, wine bottle labels, and food menus. We kinda milked the illustration for all it was worth but we had so many comments from guests that they were the best invitations they'd ever seen."
"After the wedding, I printed our thank you cards through Moo.com – they worked out to be very good quality and by far the cheapest option.
For a table plan, I went to my favourite bitsnpieces shop, Tiger, and picked up a pack of lollipop sticks, and 10 packs of colourful gift tags (costing me a total of about £12). We decided to have three long tables, but to split the tables into groups of 10.
I used lollipop sticks to represent the tables, and gave everyone a gift tag. I then stuck them to an old wooden stable door, using a glue gun, and the result was lovely! (You'll have to see the picture to get what I mean)."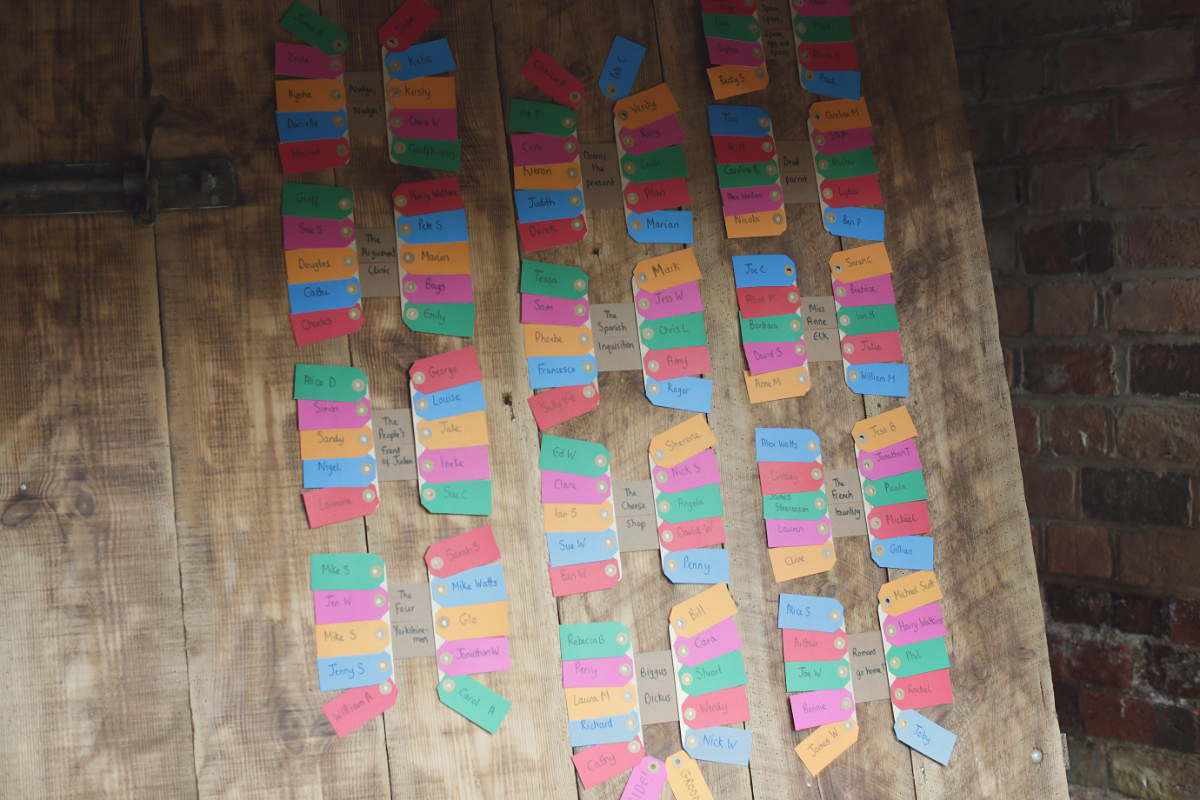 "We kept the décor inside the barn simple. Three long tables were decked out with plain white tablecloths, and a hessian runner. We filled jam jars with colourful wild flowers, and used Granny's mix-n-match crockery and cutlery. We used mix-n-match wicker hampers to serve the food in, and bought gingham napkins (again from Tiger) to complete the picnic feel.
For table names, we knew we had to go with Monty Python sketches. We bonded over Monty Python in our early days and both love it so much, it would be a crime not to. So we chose: Biggus Dickus (top table, obv), The dead parrot, Spam spam spam egg and spam, Nudge nudge wink wink, The cheese shop – all the classics."
"We found funny screenshots and quotes from each sketch and printed them out onto pieces of card. People thought we were completely bonkers."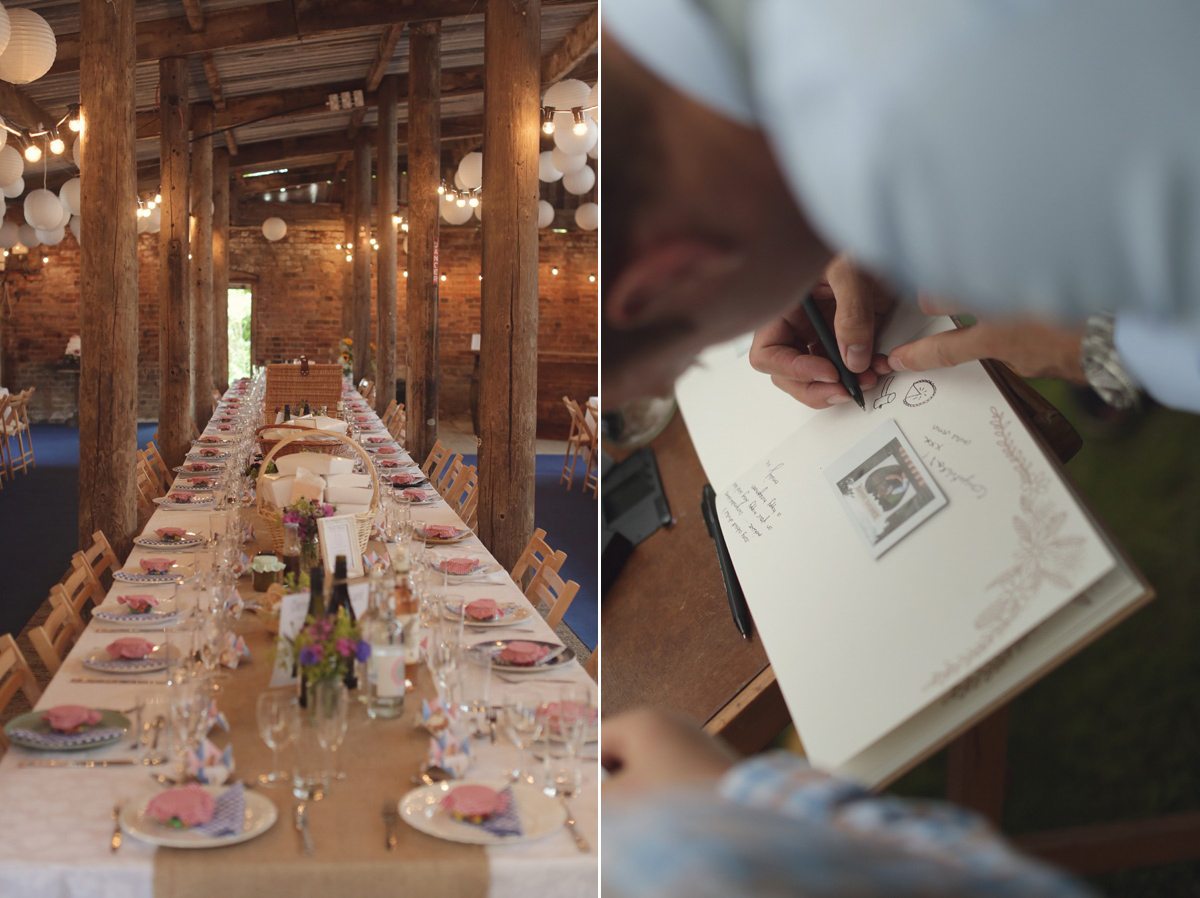 "One of my favourite stationery touches was our place names. The company I work for is really great at creative little games to get people to talk to each other. Given that one of our main wedding objectives was for everyone to have fun, and I knew that we had many guests who wouldn't know many others, I really wanted to do something creative to get people talking.
We decided to create fortune tellers/cootie catchers (simple folded paper game, popular with school kids) that would contain interesting questions."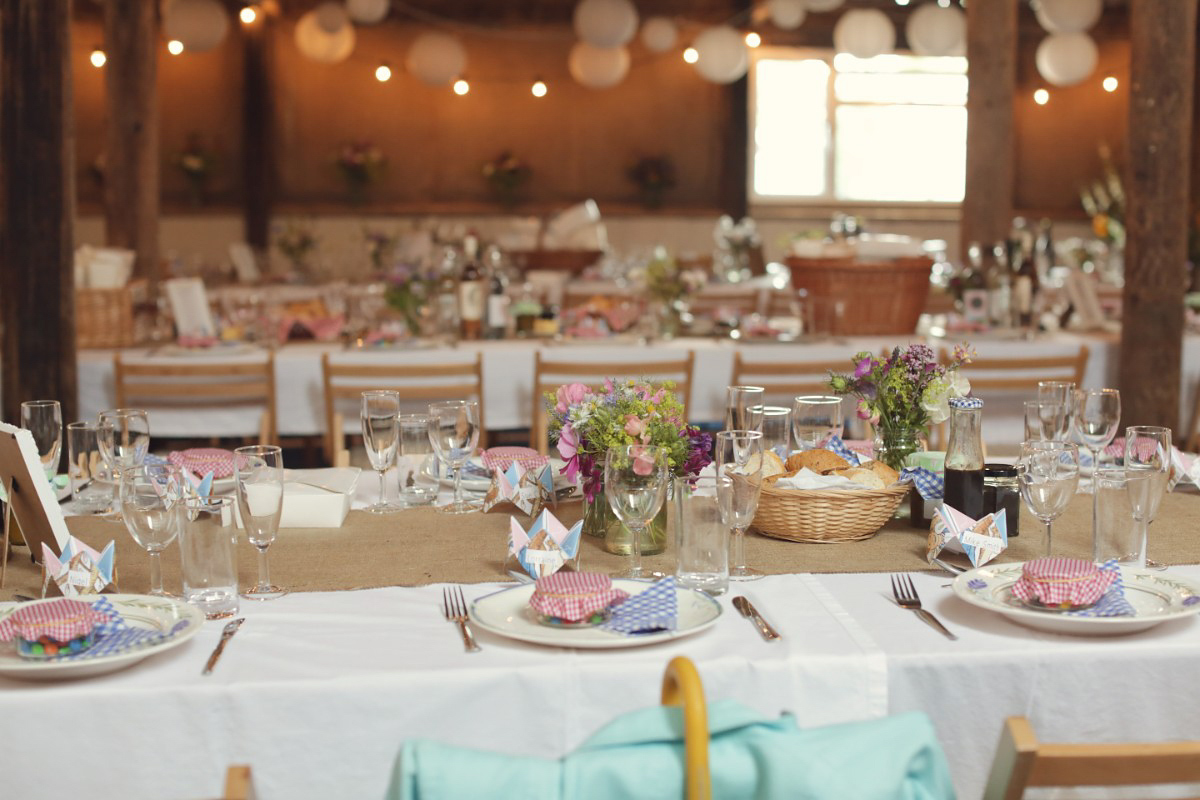 "Me and my colleagues brainstormed loads of random conversation starters – we had everything from the classics 'How do you know Martha?' and 'What should Martha and Matty call their children', through to 'What's your weirdest scar? How did you get it?', 'What's your third favourite biscuit?' and 'You've got Tuesday off for no reason; what do you do?'.
We then turned these into personalised Fortune tellers that were designed up by a colleague (again using the visuals from our illustration)."
"We ended up with three sets of 8 questions, and made it so that no one would have the same questions as the two people sitting next to them. People absolutely loved them – a lot of people were sitting next to people they didn't know, and we were told time and time again that the Fortune tellers were a perfect way to get hilarious and random conversations started.
I wish I'd known how long they were going to take to fold before we decided to do them though! A team of 15 folders took several hours to get them done."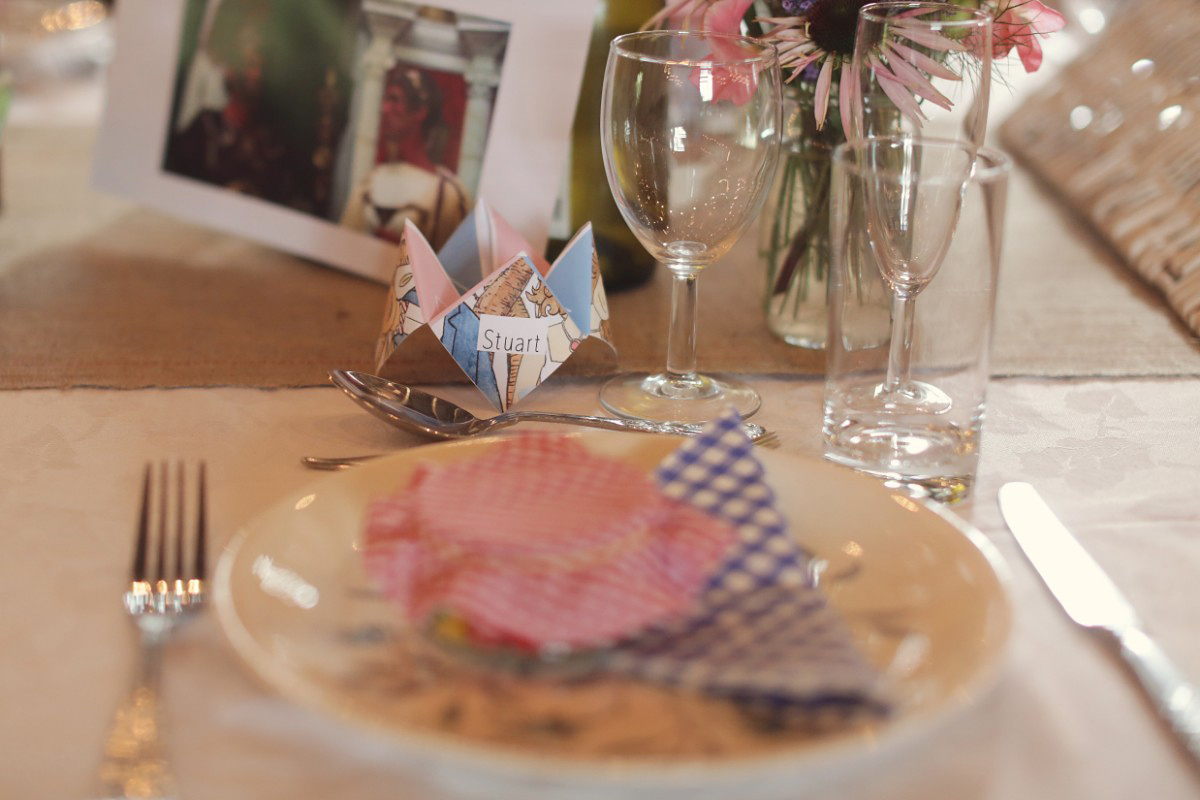 "I saw an image on Lights4fun Instagram page and fell in love with festoon lighting. I found a really nice little hire company called Cinemattag Productions, and hired tons of the stuff. I ordered over 200m, and we used it up and down the barn and in the garden. It made everything so pretty in the evening. We had so much left over we turned one of the areas in the garden into a little twinkly den. I am told it was a much-used snogging spot.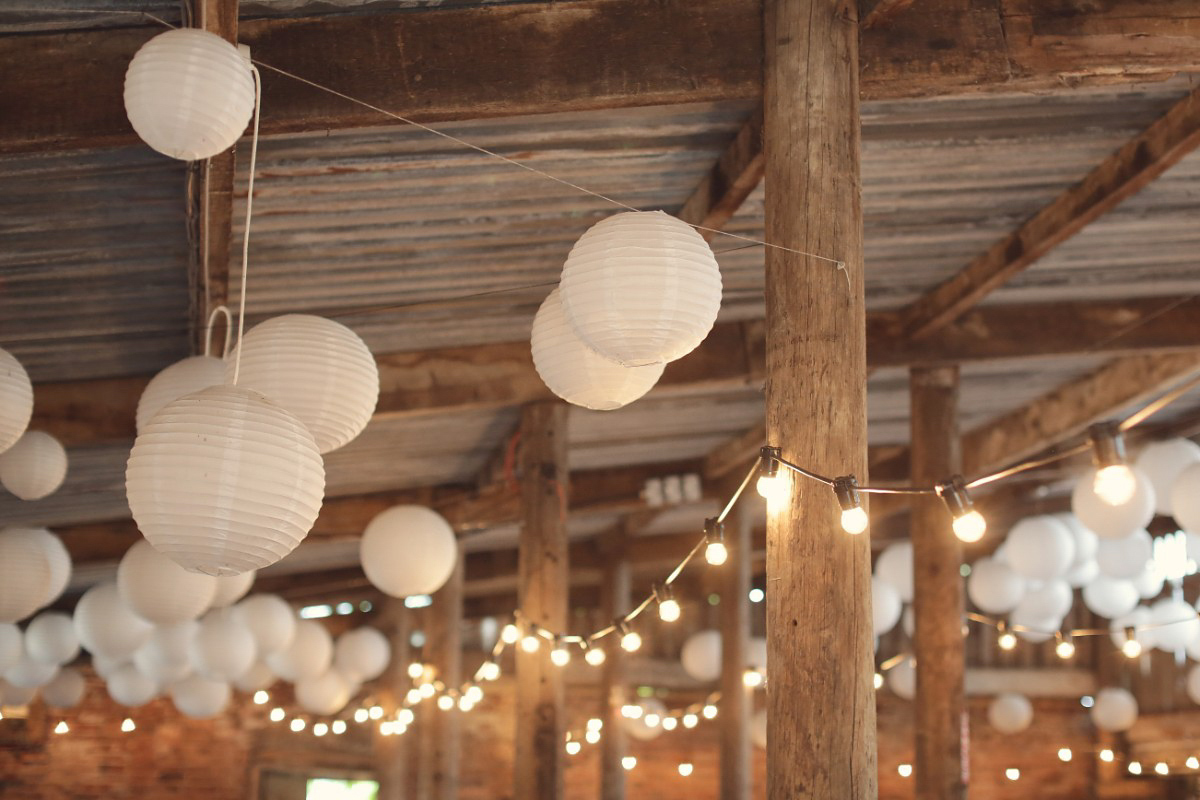 "Finally, we bought a Fujifilm instax camera and around 100 shots of film, as well as a little guest book, Pritt stick and some pens. I painted a wooden pallet with blackboard paint, and then used a white board pen to write out instructions. We positioned it next to the Kissing Booth so that people would take pics there and stick them in the book.
A nice idea in theory, but it was somewhat hijacked by Arthur, aged 6, who volunteered himself as a backup photographer… we now have a book full of people's knees, Arthur selfies, and general shots into the pitch black. Half hilarious, half a little disappointing!"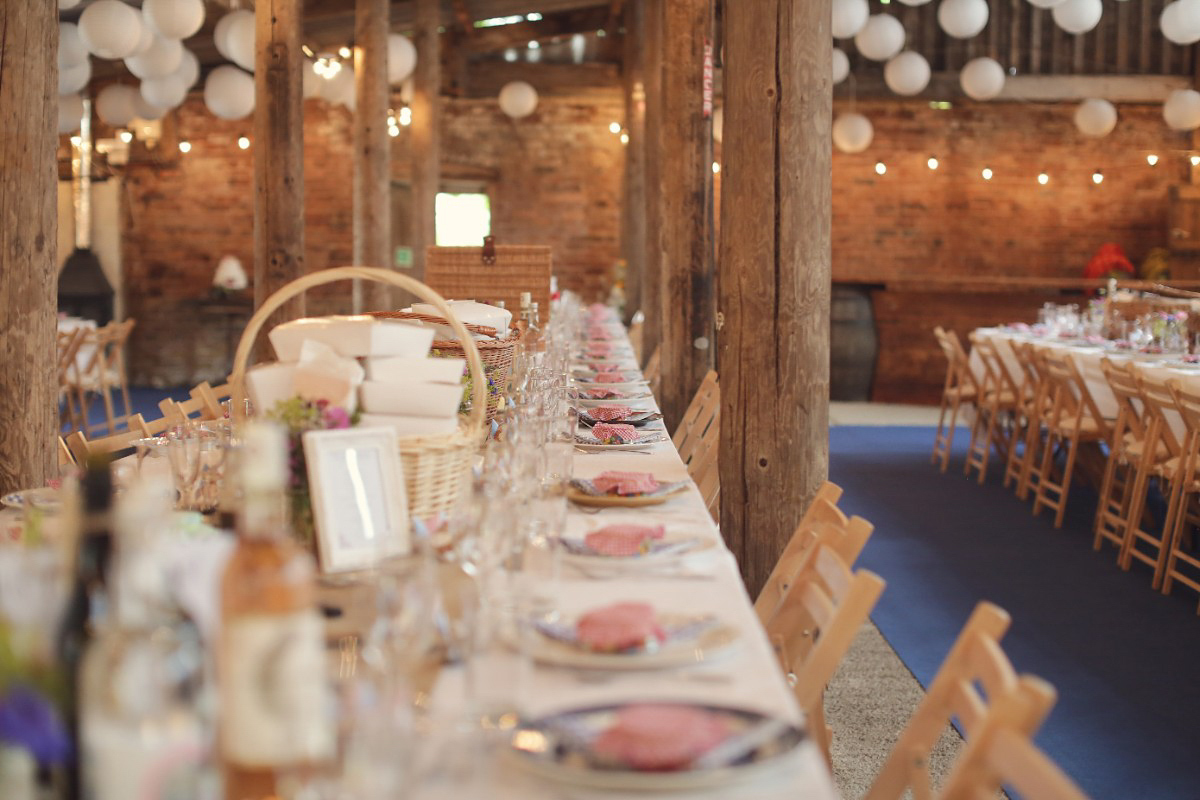 "Marrying a chef was one of the best decisions I'll ever make ever (I mean, he cooks every night. It's a dream). I've already mentioned the picnic food – which many people commented was the best wedding food they'd ever had."
"We made little menu cards and put them in pretty white frames around the tables. Each set of 10 guests had a wicker hamper basket, full to the brim of boxes of food to share around. It made the meal very sociable, and a really nice way for people to bond."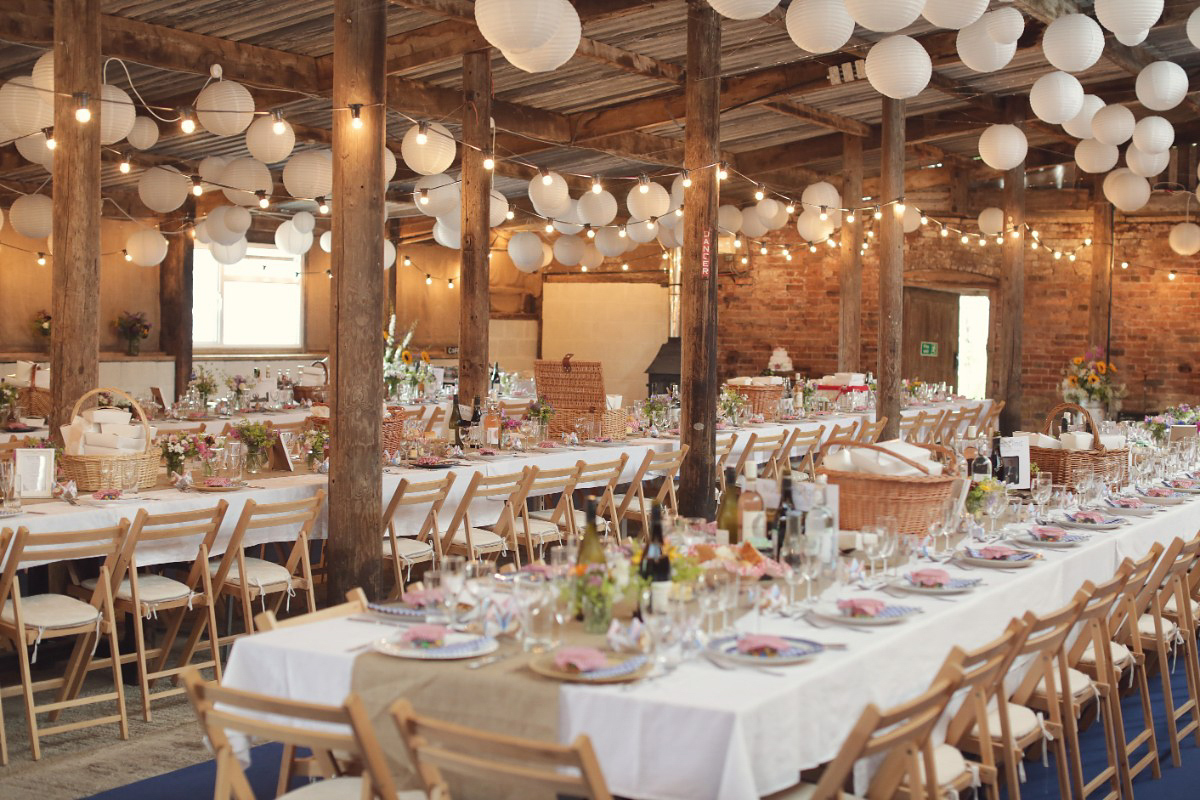 "Similarly, we actually bought 13 magnums of champagne and simply gave each group of 10 a bottle for the toasts (rather than have the staff pour it). Each group nominated someone to open and pour, and it made quite a formal stuffy moment really funny and informal – of course it was the alpha male on every table who took it upon themselves to open the magnum!"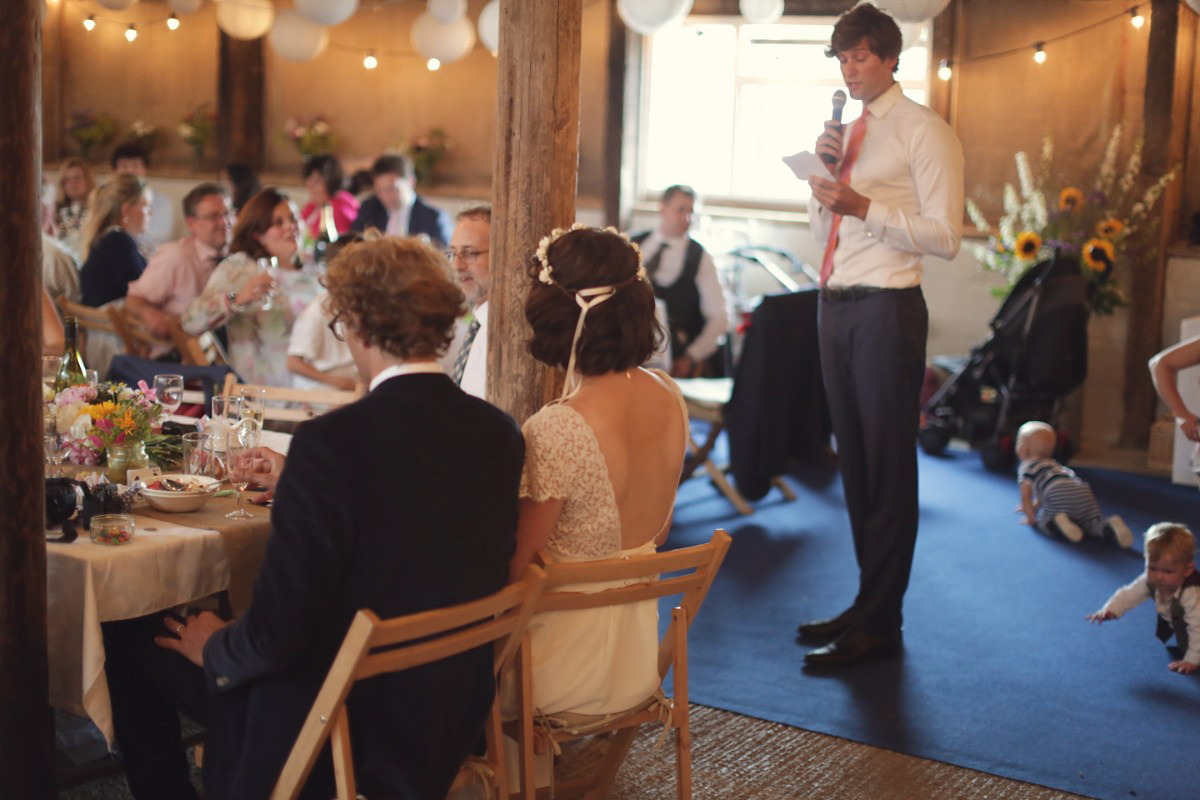 "We estimated that we saved around £7,000 just from catering ourselves. We did everything from rearing the pigs ourselves, curing the meat (who knew that the business psychologist from London would make a mighty fine ham-curer?). We did rely on many many helping hands for chopping vegetables etc, but that was a really fun and collaborative part of the prep experience.
We bought 1,000 litres (enough to fill a horse box, not kidding!) of cider from a farm in Hereford called Snails Bank. Highly recommended!"
We did have some waiting staff though. We hired them from The Waiting Game in Bristol and we were very impressed."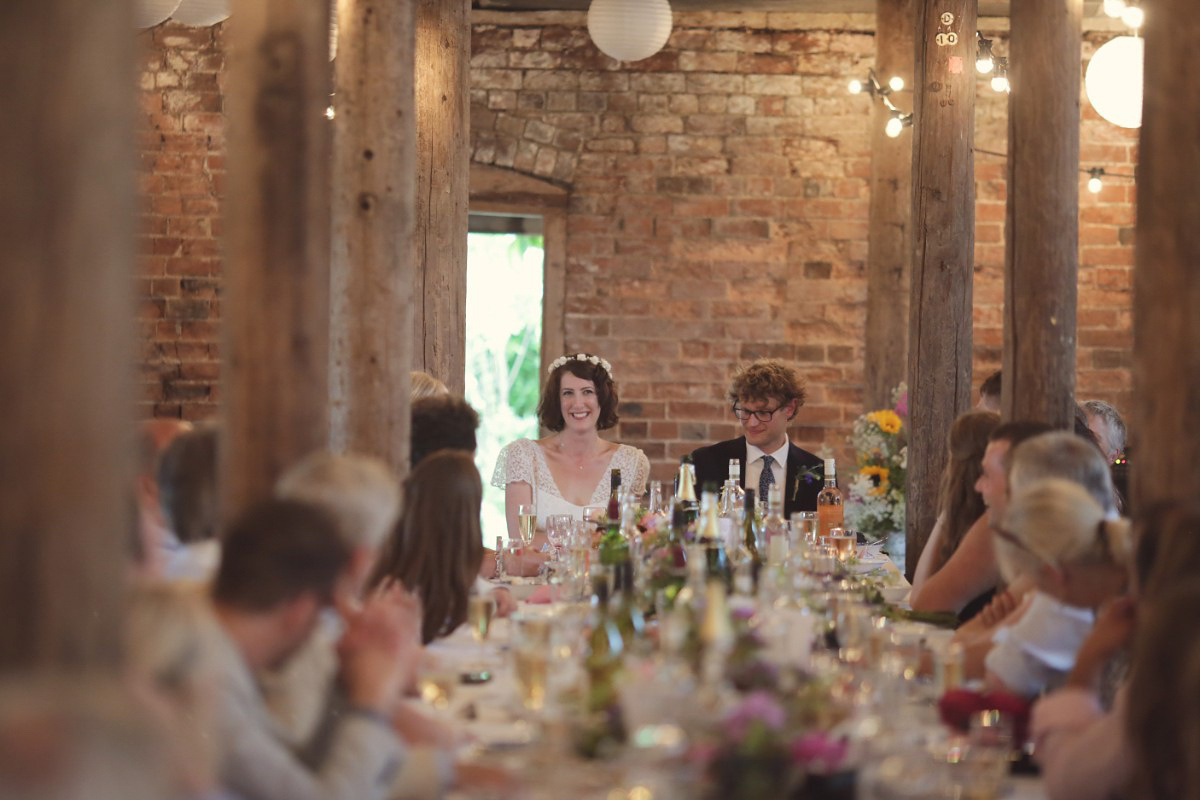 "Our cake was made by Matty's aunt's mother-in-law as their wedding gift to us. I had seen a picture on Instagram that I really liked, and sent this to Deanne as a screenshot. She somehow managed to recreate it, and made the most ornate rice-paper flowers to decorate the cake. Incredible skills!"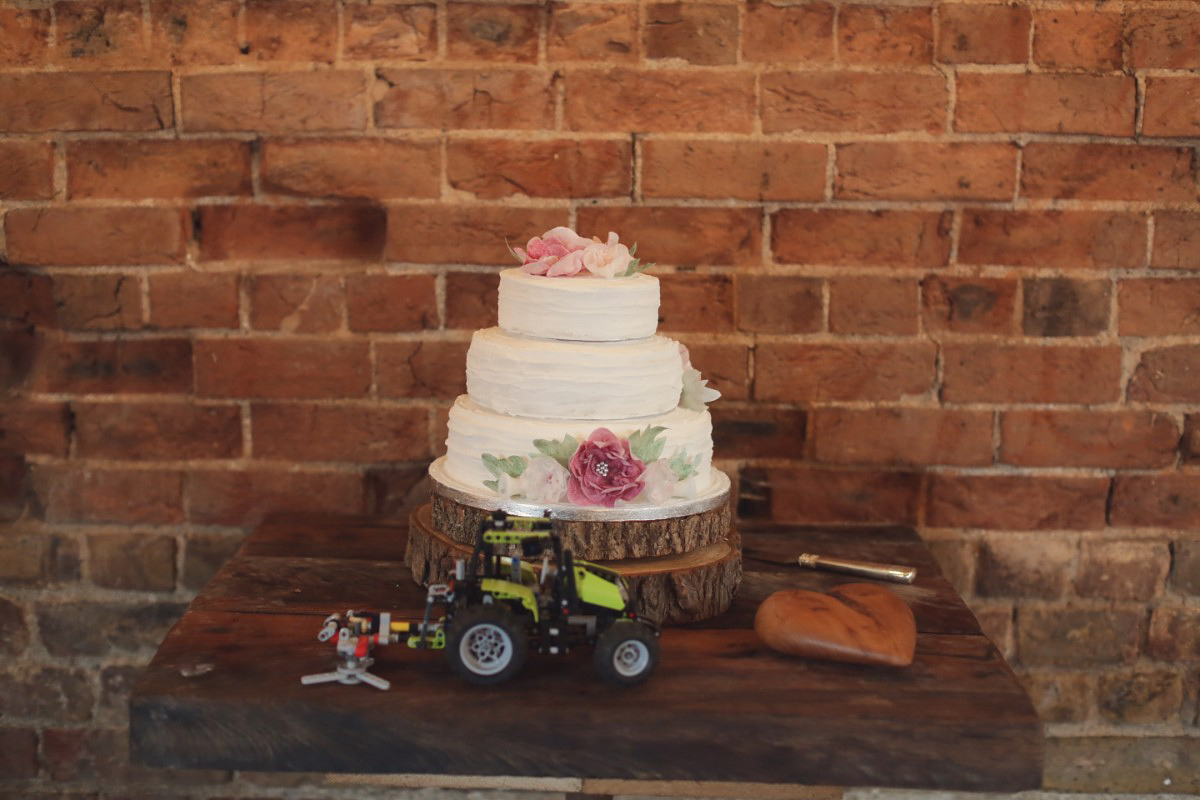 "We took to Freecycle to see if anyone in North West London was giving away jam jars we could use for flowers. One lady got in touch to say she didn't have jam jars, but had a stash of Gü pudding pots (little glass ramekins), free to us if we wanted them. She had 120 pots, which was ideal. It just meant we had to take one for the team and work our way through 10 more Gü puddings to make up the numbers. Since we're Martha and Matty, we thought that M&Ms were a great option (basically pre-branded sweets, winner)."
"We went to cash and carry, bought £60 worth of M&Ms, and filled all 130 jars. We then bought some pretty red gingham fabric from our local market, and cut out circles to use as lids. The effect was really nice, and very inexpensive!"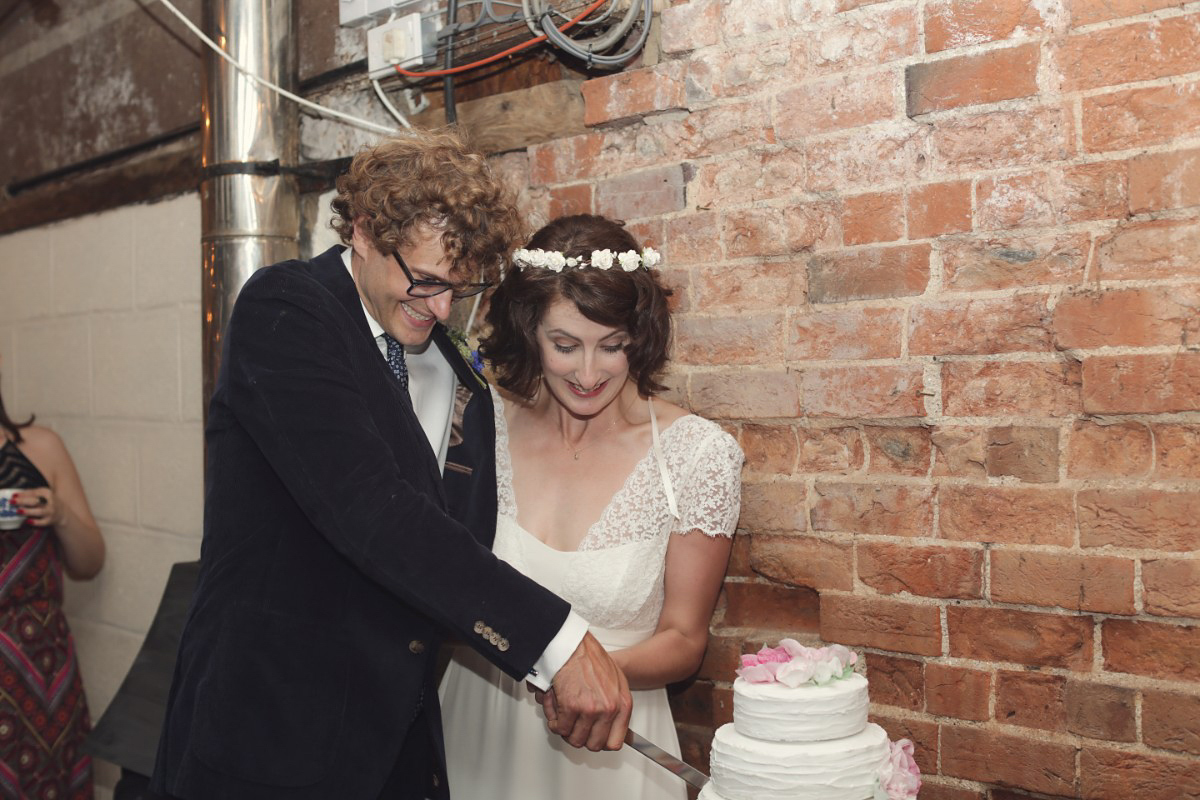 The couple hired the band 'Three Scots and a Barman', who they say were perfect for getting people up on the dance floor.
"The showstopper was our DJ though  (Dan Prince – no website) – he came complete with stage and lights, and made it into a real party. His mashups were insane and it turned into a serious rave. Music stopped at about 2.30am, and most people had burned off their picnic calories!"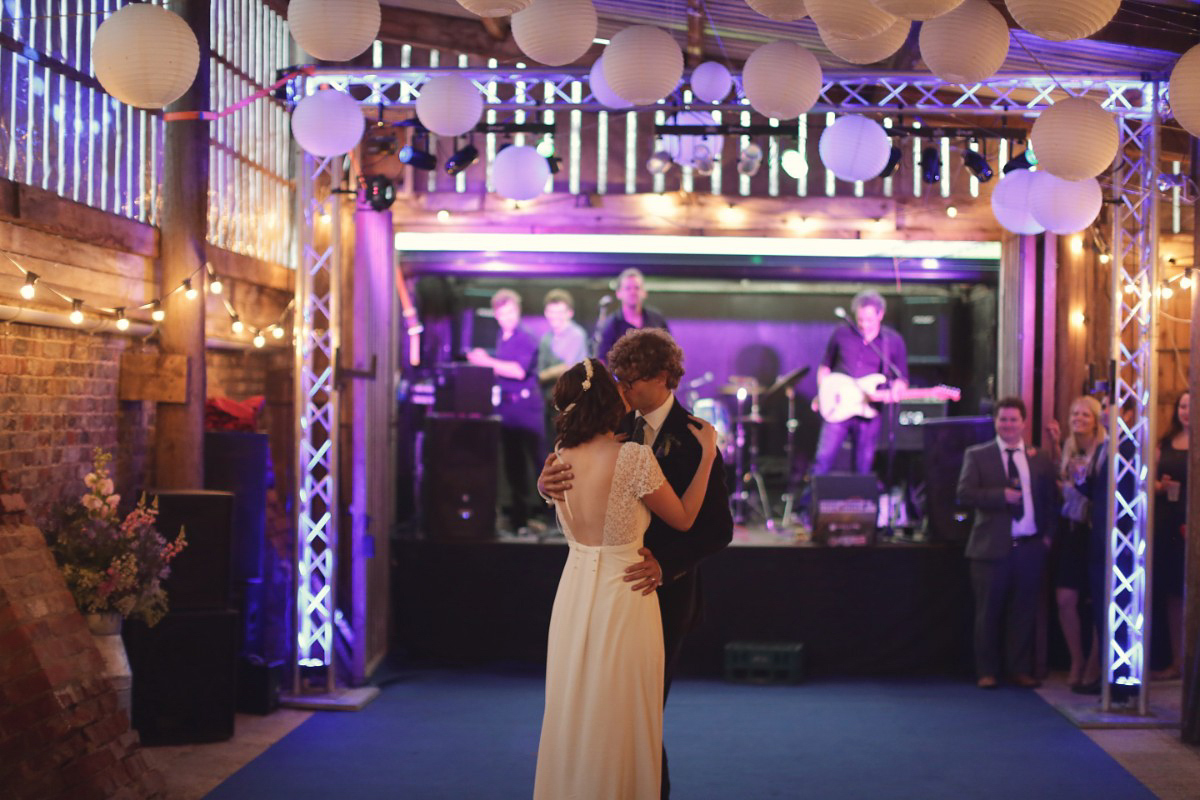 "We danced to Kiss me by Sixpence None The Richer. I have always loved this song and felt like it represented the sort of idyllic scene I imagined as a girl. Full of love and happiness and countryside and sunshine. And gingham. Dreamy.
Matty had claimed indifference to the concept of a first dance, but when I played the song to him he immediately said "YES! I love this song, this is it."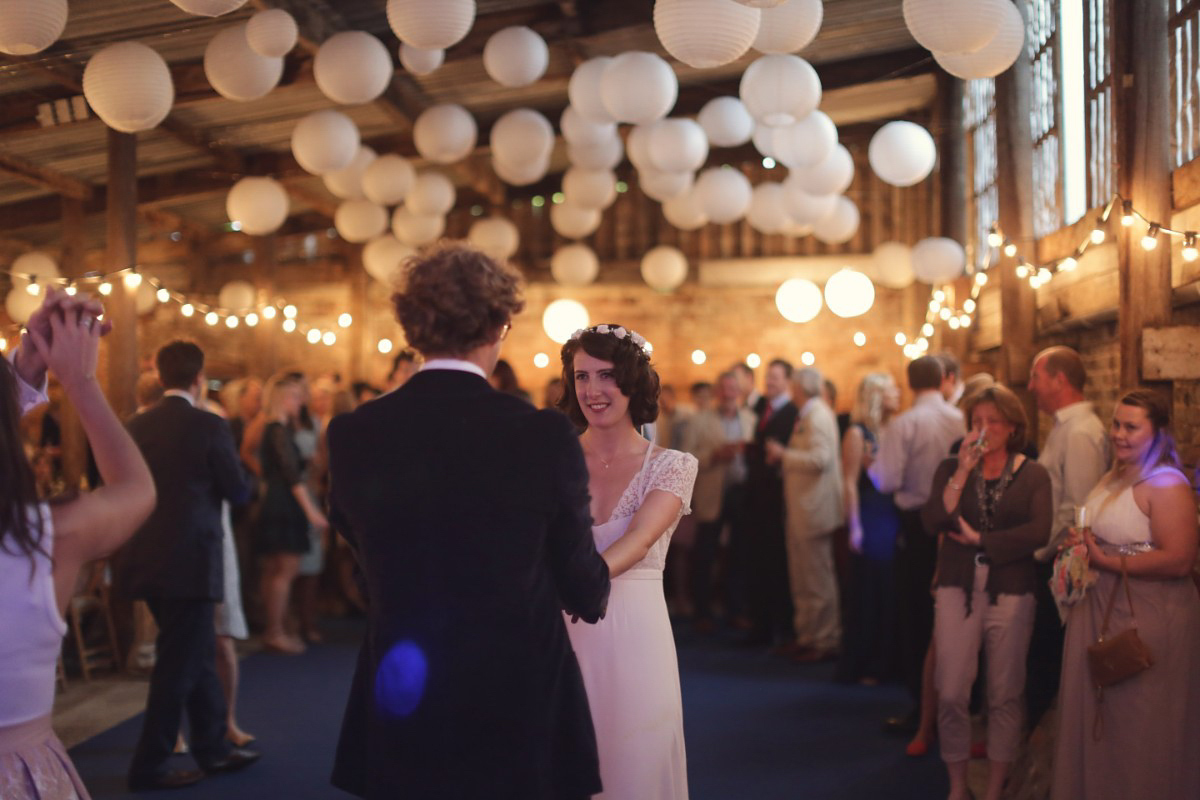 Words of Wedded Wisdom
"Enjoy the run up as part of the experience rather than as a sprint to the finish line. I feel very lucky that my crazily happy memories aren't just from the day of the 9th July – they're from the whole week before and several days afterwards. We had so much to do in the week leading up to the wedding. I expected the week before to be utterly stressful and anxiety-ridden. But because there were so many people around to help, and it was all for such an exciting event, the whole thing was so much fun. I'm making an active effort to treasure those memories – my bridesmaids dangling out of trees hanging festoon lighting, the supermarket-sweep like frenzy of putting the place names out, the delight of seeing the barn gradually come to life, the 15-strong vegetable chopping party, the way our two families got to know each other through the preparations – as much as the hundreds of memories from the day itself.
Also (and this is probably only relevant for farm weddings) be careful when opting for a wilderness wee. Matty and I headed to bed around 2.30am, and had a beautifully decked out bell tent as our accommodation, tucked away in a quiet corner of the farmland. I nipped out for a wilderness wee, pulled down my spanx, and promptly sat on an electric fence. OUCH. As a sign of things to come, Matty's comment was: 'Ah, Grampy will be happy to know his fence is working'. Sigh.
There aren't many things I regret. I feel so lucky as everything went to plan, everything was amazing, and it didn't rain! I do wish we had hired a videographer to capture the day though. And I wish we'd given a stronger brief to our photographer – we barely got any photos of the party (save for some fuzzy iPhone shots), and I wish I'd asked him to stay longer.
Another of my favourite things was that we hosted a big survivors' breakfast on the morning after. We fired up the farm's pizza oven. Matty had made loads of bacon and sausages, and his uncle who is a chicken farmer brought hundreds of eggs. We had expected maybe 20 guests for breakfast, but ended up catering for 70! We got through 120 eggs! It was such a lovely atmosphere – and great to see people who had only met each other the day before catching up like old friends."
Finally, and funnily enough I tried to avoid too much wedding stuff as I thought it might make me feel overwhelmed with choice paralysis, particularly since we only had 6 months to plan. I literally vetoed Pinterest. That said, the two I did regularly check were Love my dress and Rock my wedding. I really enjoyed reading the stories and seeing the pictures, and I got a lot of inspiration from there. Reading the excitement and joy in the brides' accounts only added to the anticipation and excitement of my own day.
One of the things I really enjoyed were the blog posts and articles about thorny wedding topics – the 'from the heart' posts, and the features on honesty, transparency and clarity in the wedding industry in particular were really great reads and I felt set Love My Dress apart from other blogs."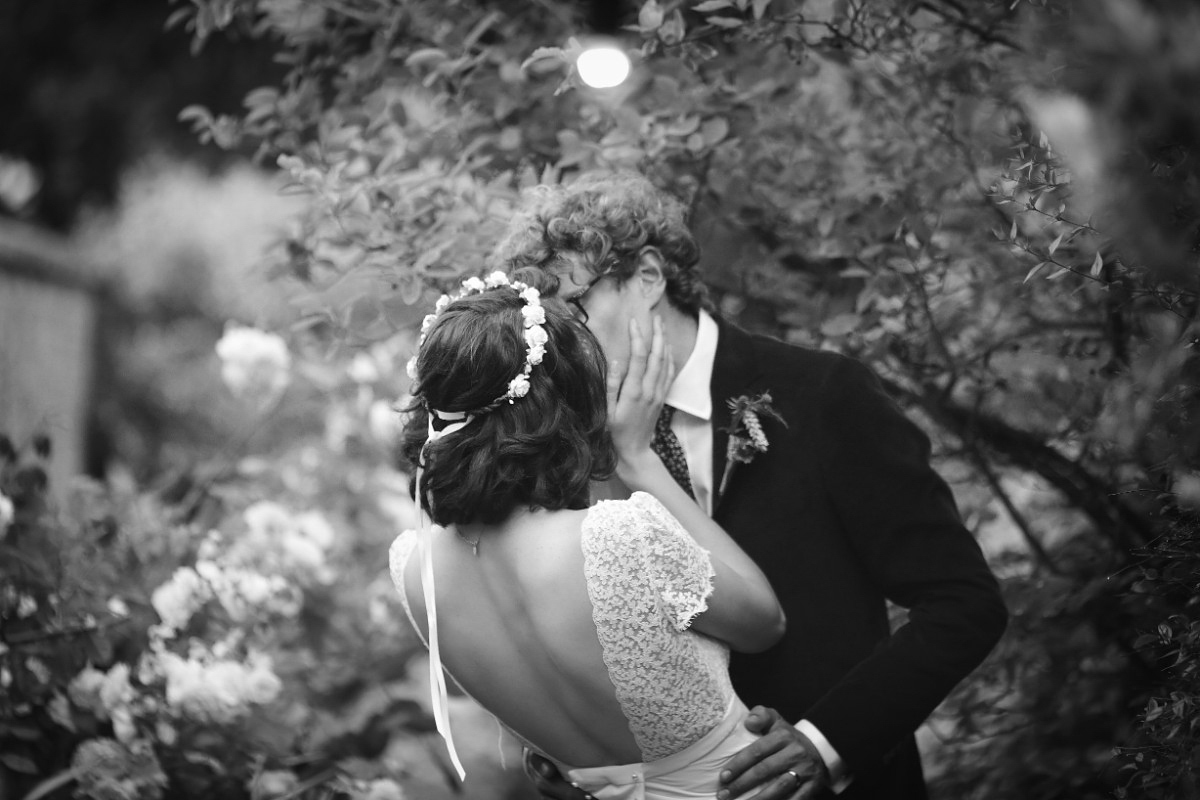 What an incredible feature! So much information, so many beautiful photographs and a wonderfully uplifting and oft' funny account of how it all came together. Martha, thank you so very, very much for sharing your memories with Love My Dress, I adore your wedding and have taken great pleasure in working on this feature, and from reading your lovely feedback too – genuinely, thank you so much.
Readers – take note! This article is full of  honest advice on how to plan sensibly and save money and ensure you have amazing fun at the end of it all.
On the note about hiring a wedding videographer – I strongly advise you to look through these suppliers, each of whom come with a very firm 'highly recommended' stamp of approval from team Love My Dress. In fact, if you haven't yet bookmarked our beautiful wedding directory, Little Book For Brides, do so today!
I really hope this wedding inspires you as much as it has me.
Love Annabel xx