Hello and welcome back for Part II of my guide to the things to watch out for when planning a wedding (you'll find part 1 here). In this mini-series I'm guiding you through ten slightly controversial, complex and confusing topics, with each and every one integral to the success of your wedding planning journey, all in the name of transparency, honesty and clarity in the wedding industry.
With the help of some amazingly talented wedding professionals, yesterday I covered everything from the marmite of the wedding world (kickbacks and commissions) to the importance of receiving, understanding and questioning contracts.  And Part II promises to be just as enlightening.
Shall we begin…?
Job Titles In The Wedding World
It should come as no surprise that in the wedding world, like every other working environment, a myriad of job titles exist that in all honesty even those of us in the industry sometimes confuse, especially when it comes to differentiating between planners, coordinators and stylists.  So, if you're looking for some professional support for your wedding, firstly take the time to think about what sort of support and services you require from your wedding professional.  Secondly, bear the above in mind and look beyond the job title because it's the role and the work that's actually important. Finally, take into account the advice and explanations from our following experts.
Kirsten Butler, AKA The Little Wedding Helper, is an award-winning wedding stylist and therefore the perfect person to talk about the difference between wedding planners and wedding stylists:
"I don't think the work of a stylist and a wedding planner are that dissimilar – we both liaise with other suppliers, outsource where needed, and keep you within a realistic budget. From my perspective, the main difference is that a wedding planner will be keeping your entire wedding on course from venue searches to supplier bookings, while I focus on the visual elements of your day."
"At a large tipi wedding planned by Andri, of Always Andri, I was asked to be part of her team and take care of the styling. I was given a brief and so while Andri focused on the logistics and the couple on the day I was behind-the-scenes dressing the venue and taking care of all of the little details. Whilst our roles are very different we can work very well together."
"So, if you're looking for styling inspiration in the run-up to your wedding but want to tackle the on-the-day-décor yourself, you've already purchased and planned everything but need somebody to make it a reality on the day, you've planned your wedding long distance and need a little help choosing local suppliers for decor hire or a combination of all of this then you need the help of a 'wedding stylist'."
We've just heard Kirsten mention Andri Benson so let's hear from her too and her explanation of the difference between planner and coordinator, independent and in-house:
"Wedding planner, coordinator, stylist, designer, venue based, part of a catering team or independent? It's very easy to see the titles and not really know or understand the difference BUT there is one.  Firstly, let's talk about the independent wedding planner/coordinator/designer. If they are an 'independent', you know you'll get a very dedicated service as these planners tend to only take on a limited number of clients per year.  They will really get to know you as a couple, will know every detail of your wedding and will be able to commit time to deliver the wedding you want."
"The job title (e.g. planner or coordinator) usually refers to the level of service. A planner will be for full or partial wedding planning, helping you throughout the planning process from start to finish; sourcing your venue and suppliers, budget and RSVP management etc. A coordinator will generally come in towards the end to help you in the final few weeks; pulling together the time-line for the day, confirming the suppliers, tying up loose ends and being there on the day itself."
"Hopefully you now understand the difference between planner and coordinator so let's move on to the difference between independent and in-house.  Most wedding venues and some caterers have an in-house "planner or coordinator" available to help plan your day.  BUT they are not the same as an independent wedding planner. The easiest way to explain why independent planners and venue coordinators are two separate entities is the fact that venue coordinators work for and are beholden to the venue or caterer; independent wedding planners work for you. An independent wedding planner has a bigger stake in all aspects of your wedding because we've invested time to get to know you and your plans and are working only for you."
Finally Emma Hla, editor of Coco Wedding Venues, has thankfully provided us with the perfect summary:
"If you're looking for someone to assist with every aspect of the planning process – from working out budgets, sourcing, contacting and liaising with suppliers, helping you choose flowers, negotiating the logistics, writing your invitations (and everything in between!) then my friend, you need to get yourself a wedding planner."
"At a venue, most in-house planners will assist with all the logistics on the venue side and will help you get the most from the venue on the day as they understand how their venue works. They can also give you guidance on which suppliers to contact, but it will be YOU contacting and negotiating with the suppliers rather than the coordinator."
"I know many in-house planners / coordinators that I would trust implicitly with the running of my wedding day so it's all in the detail – do you need someone overseeing the venue aspect or do you need help with everything – start to finish…? That's coordinator versus planner, put simply."
So there we have it…job titles explained!
With January sales upon us it's probably a good time to talk about…
Heavily Discounted Prices
From a personal perspective, there are a number of reasons why a wedding supplier might be offering heavily discounted prices. A supplier might be new to the industry, short on work, running a promotion, trialing a new product or service or they might simply want to work at a dream venue and are therefore happy to reduce their prices accordingly.  None of this is a bad thing, right?! Or is it…
To help me explain this fully I've asked two fantastic suppliers to give their different perspectives on this topic.
Firstly, Emma Meek from Miss Bush has provided the perfect example of why you might want to be cautious of heavily discounted prices when it come to THE dress
"The 'Recommended Retail Prices' that bridal boutiques carry are the very minimum required to operate a beautifully appointed boutique with knowledgeable, service led staff and a fittings service that is there to hold your hand up to the point where you collect your dress."
Designer Days and Trunk Shows
"Occasionally boutiques will offer a 'Designer Day' or 'Trunk Show' incentive. This would typically offer a 10% discount on a made-to-order dress. These offers will be time limited as they are genuine and generally not supported by the label themselves, it is purely a retailer taking a hit on their bottom line."
Dubious Discounts
"If a shop is offering more than a 10% discount on a well-known brand on a 'made-to-order' dress please be extremely cautious. In purely business terms this is madness and means that the company is desperate for immediate revenue and you should question how they can hope to remain a profitable, viable business.
Brides, this is where you must get your head back in business mode.
If a company is not trading profitably they will have their orders held back from suppliers if they don't pay. All too many long established boutiques can tell tales of coming to the rescue of brides let down by a failed boutique and when the facts are examined – newly opened boutique, massive discounts, lots of excuses as to why the dress was running late – the stories are chillingly similar."
Sample Sales
"The one time to take advantage of huge discounts in bridal shops are 'Sample Sales'. If a shop is not offering more than 10% off a well tried on sample you are not getting the best deal. Negotiating hard on buying a shop sample is very possible. As a boutique owner you know the liquidation price of your assets. Our dress samples' job is to create new sales and when they stop doing that, have never started doing that or, as a boutique owner, you have made a mistake either in price or style for your normal client demographic you want your money out fast to reinvest in a different style or brand."
Miss Bush Bridal boutique is based within an old chapel
See more images here
Secondly, wedding photographer Guy Collier gives his reasons why photographers might offer discounts:
"Pricing is a tricky area for any photographer. There's a sweet spot for us all depending on experience, location, market and so on. You all have a budget so it's a case of each couple placing a value on their photography and then finding a photographer who fits. The last part there can often mean budgets being increased."
"So you email three photographers to check their availability. All three state their fees will be £1,800 online. Two come back with £1,800 but one comes in at £1,300. Bingo, that's the one you should book!  Or is it? Why would the price come straight down like that? Is the suggested online fee simply there to suggest experience without it actually existing" (…a pretty big giveaway is a portfolio full of workshop/posed couple photos). Is the service level being cut? Are you actually getting the photographer you're talking to, or an associate who shoots at a lower level? Are there hidden costs like travel, or accommodation that will pop up later? Is the photographer avoiding paying for decent insurance and equipment to be able to offer a lower price?"
"It's not always a bad thing of course. A photographer might see an enquiry for a venue they're really keen to work at and price to get that initial gig – call it a loss-leader in the hope of future work at that venue. They might have a very quiet winter and see the date as one they can price lower, again to be sure of getting the gig. All good reasons, so long as you're fully aware of them. I've lost jobs to people because of those reasons and will again in the future, as I'm sure others have lost jobs to me."
"For me, it comes back to 'transparency'. My advice will always be to never shop on price and price alone. That's a race to the bottom. Yes, I would say that, I'm a wedding photographer. But the advice stands and it's the only thing left after the wedding. Spend the money you need to, to get the photographer you really want. That extra £500 is a worth every penny 10 years down the line when you're still looking at your wedding photos. But you know that."
From the above it's pretty clear that sometimes heavily discounted prices might not be such a good thing after all. So, as with a lot of the other topics covered in this feature, before you go ahead and book please be cautious and take a moment to ask yourself "why are these prices discounted and will there be an impact on my wedding as a result?"
Who's Going To Be There on the Day?
Time and time again I hear through the wedding grapevine that couples have felt let down by their suppliers – why, you may ask?  Well that's because over the course of their wedding preparations they've built up a relationship with a supplier (whether this be a venue coordinator, caterer, band, florist etc.), only to find out on the day of their wedding that the person they'd been liaising with over a period of months and even years wasn't actually there on the day.  There is absolutely nothing to be worried about if the supplier concerned has told you in advance, re-assured you of the expertise of the person or team there on the day, provided a full and proper handover and given you the relevant contact details.  But, what if that supplier didn't let you know in advance? You might feel a little let down and understandably concerned.
Dominique Douglas from Stylish Events provides some insight and advice on two areas where this commonly occurs:
"When you visit a prospective venue, you will often be shown around by a 'Wedding Coordinator'. Their role is to assist you with planning your wedding at that venue, but often they will not be the person there on your wedding day. Many venues will pass you on to an experienced operations or banqueting manager, who will coordinate your actual day and, in many cases, you will not meet this person until the day itself.  I would therefore recommend that you always ask, before a contract is signed, who will be in charge on your wedding day, whether you would be able to meet the Manager in advance of the day itself and how / when the handover takes place."
"Another area where this is often as issue is wedding bands. When selecting a band for your wedding you will often be sent a demo-clip of the band performing via YouTube or Vimeo. Be sure to ask if the line-up you see in the demo will be the same as the one that will be there on your wedding day. Many bands have interchangeable singers and/or musicians, so there may be people you don't recognise. If you've fallen in love with the voice of the lead singer, then you need to ensure he/she will be the one who will be singing your first dance!"
If this has raised any concerns then the one key piece of advice Dominique and I would both offer is to double check with your existing and new suppliers and ask the relevant questions – that way there will no nasty surprises on your wedding day.
Images by Guy Collier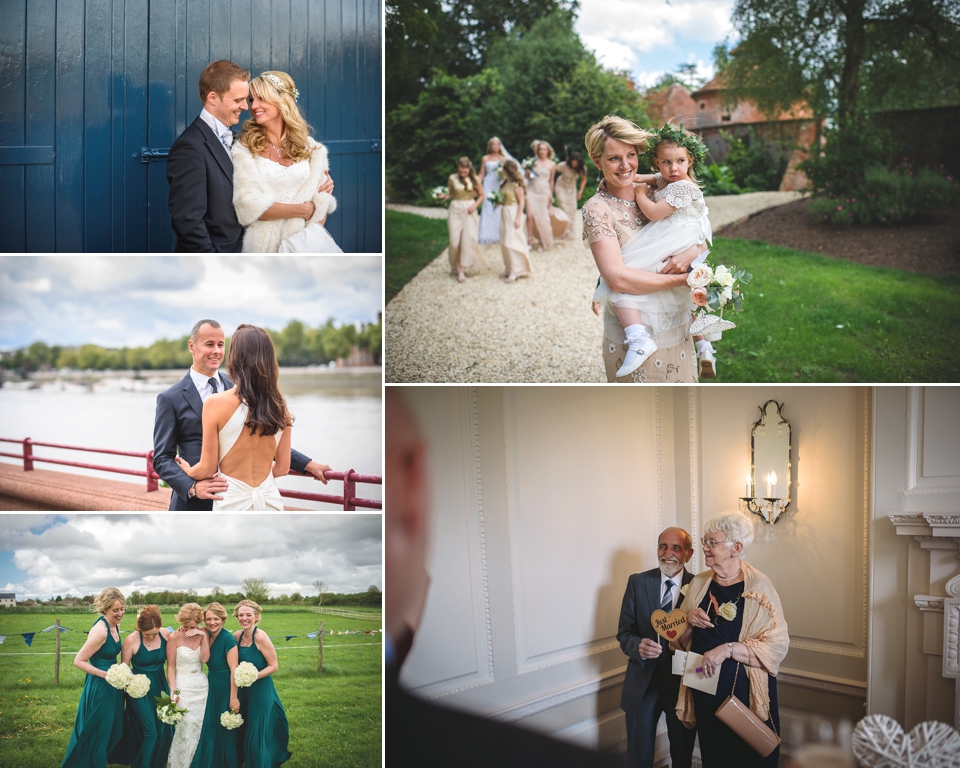 Exactly What Are You Getting For Your Money?
No two suppliers are ever alike.  Whether this be down to experience, style, service, product or price and as a result what you're getting for your money differs significantly too.
I completely understand the temptation, when receiving quotes from suppliers, to look straight at the bottom line and compare the overall price alone.  If your aim is to pay the least amount of money then this is a perfectly acceptable way to approach planning a wedding BUT you still need to take into account what's actually included in that price as someone charging you slightly more may in actual fact be giving you a whole lot more service, product or experience.
Two areas where clarification is crucial is in the world of catering and marquees so firstly, let's hear from the outstanding team at Caper & Berry:
"Caper & Berry believe it's really important to shop around for your wedding caterers. It's the day you will remember for the rest of your life, and you want your guests to remember it for all the right reasons! However daunting approaching caterers can seem, we all want to help in any way we can."
"We play such a huge part in not only the planning and design of your wedding, but also the delivery on the day. If you're planning a wedding without a coordinator or planner, lots of caterers will offer an on-the-day management service, however, make sure this is in your initial quotation as there is nothing worse than getting a selection of quotations, only to be surprised at the last minute with a hefty management fee!"
"When you're gathering lots of information from caterers, it's vitally important to break the quote down so you know exactly what you're getting for your money. A great way to ensure you are comparing like with like is to make a check list – include everything from glassware and cutlery, canapés and late night treats to ice and fruit for the evening bar. The more detail, the more accurate the comparison will be so please take a little extra time to pick apart your quotes."
Edward Buchanan, the Managing Director of Academy Marquees believes that with marquees, it's absolutely vital that you delve as deep as possible to make sure that you're getting exactly what you need and, when your marquee is essentially your wedding venue, it's crucial that you do just that:
"In essence, a marquee company is a combination of three companies; a construction company, a logistics company and a hire company. All three are challenging to run by themselves so imagine the challenges faced by combining all three – then throw in the immovable deadline that is a live event and the challenge multiplies!"
"A wedding marquee, including all the fittings and furniture will typically be constructed from over 4,500 individual parts!  All these individual parts have to be carefully moved and tracked from A-B where they are quickly and efficiently assembled, before being disassembled and moved back from B-A."
"Running alongside this logistical operation is the complex office operation which incorporates all the design, planning and aftercare to make an event a success. So when there is a large price discrepancy between quotations, the cheaper quotes are usually down to short cuts being taken at one or more steps along this production process."
"For example, less reputable companies may hide costs between estimating and the first site meeting, just to get their 'foot in the door'. Their quality of equipment, and how it is maintained may be far inferior. The team who installs the marquee may be poorly trained which may in turn cause deadlines to be missed. Or, far more seriously some companies may not have the correct level of insurance indemnity or worse still no insurance at all!"
"From a customer's point of view, it is very important to do your research. Don't just trust testimonials or photographs on a website, try to delve a little deeper. Ask to see a completed marquee and, if possible, visit during the build phase so you can be sure the company you meet actually supplies the marquee and doesn't sub-contract to a different firm altogether."
"When you ask for a quotation, make sure a full and thorough site inspection has been carried out first. No marquee company, no matter how good, can submit an accurate price without seeing the site and ask for documentation, risk assessments and method statements. It's also important to see certificates of public and employee liability as well as structural sign-off sheets for the marquee."
Testimonials & References
As so to our final topic, testimonials and references.
This should be all happy and positive, right? Well, unfortunately, not.
Anyone can find images, write words and put them online. That's the easy part! And here's Liz Inigo Jones, from Blue Sky Flowers to explain why…
"When meeting with a florist, or any wedding supplier really, it's a good idea to check that their portfolios are truly representative of their own work. I've seen photos of my own work on other florist's proposals and in portfolios and I've heard of many situations where photos have been used on competitor's websites and social media accounts."
I am always happy to supply testimonials and have several past clients who are very willing to give a recommendation to potential future clients.  I have no idea what they are going to say, but you are only as good as the job you did for them! If you are unsure at all then ask for a referral – and if you have any hesitation, then just walk away."
Michelle Kelly from Pocketful of Dreams, a fellow wedding planner and features contributor for Love My Dress, offers this excellent insight into references and testimonials:
"Unfortunately it is still the case that there are some unscrupulous companies out there, they steal and plagiarise the work of others, passing off false claims as truth. However, in this day and age, with technology and social media at our fingertips it is much harder for those companies to actually get away with it so thankfully there are not too many instances of this in our industry."
"There are however a lot of new, start-up enterprises entering the marketplace, which is something couples should definitely be mindful of during their planning process.  There are pros and cons to using new, un-established providers: they may have fresh and exciting ideas that haven't been seen before, as well as a burning passion to do well but will a lack of experience affect their ability to perform their service well? So when you are looking at supplier portfolios keep an eye out for real events and not just 'work created for the portfolio' to be sure you are considering someone who can provide creativity, passion and experience."
"Picking suppliers for your wedding day can be fraught with so much tension and fear of getting it wrong, it's not like you do this kind of thing daily and there's the added pressure of spending vast amounts of money too, it can feel like a lot of pressure. There is certainly an element of risk involved when it comes to choosing professional service providers, the key thing is to reduce that risk as much as possible. I would always advise working with a professional wedding planner, not just because I am one but because I know from experience the value we can add and that ultimately the fee you pay a planner can reap itself over and over in savings as well as added-value."
"If I can give you one tip though it's to do due diligence, take a look at websites, portfolios and social media accounts for sure. See what other people in the industry are saying about them, but there is no greater litmus test than speaking to them yourself to get a feel for who they are. Do they give you confidence in their abilities, are they clear on exactly what you will get from them, are they genuinely interested in you and your celebration? If you come away from a conversation where any of these areas are not 100% positive then this is not the supplier for you. Always trust your gut instinct."
"If you do feel positive about them but still need more convincing then take a look at their portfolio and ask to speak to a specific client that you have pulled out, not one they have offered up the details of. Any supplier being asked this question will always pick the client who will give the most complementary review, so make sure you are in the driving seat and pick the one you want to speak to, perhaps they had a similar wedding to the one you are planning or it was in the same venue etc. This not only gives you the chance to check your gut feeling is right but also to pick their brains too about what worked for them."
Ten important topics and 10,000 words later and I really do hope that you can see the value of transparency, honesty and clarity throughout the wedding planning process.
If you've read this feature, are just starting out on your wedding planning journey and are daunted by what we've covered then please do leave a comment below and we'll all do our very best to give you some advice and point you in the right direction.
If you're further along in the planning process and alarm bells are now ringing, there's absolutely no need to panic. You've not done anything wrong (let's face it, who really knew this stuff before getting married or getting a job in the wedding world?) and you've certainly not done anything that no one else has done before. So, stop and go back – re-read contracts, pay deposits, question suppliers. Nothing is irretrievable and every issue can be smoothed out once you have all the information to hand.
In the meantime, I'll leave you with this thought from Guy Collier:
"Clear pricing, honest statements and transparency. It's a rallying call to the industry, and it's one that needs to come from those of you getting married as well as those of us working within it."
Love Kat x
____________________
Wedding & Event Planner Katrina Otter specialises in bringing beautiful, timeless and classically elegant wedding design to life, adding a touch of contemporary styling to create exquisite, perfectly organised weddings throughout the UK.  Whether you'd like help organising your entire wedding, managing the day itself, creating the design for your day or finding the perfect venue or team of suppliers, Katrina can tailor her planning services to provide precisely the right level of support you require. Katrina is a regular contributor to Love My Dress. Visit her webpage at katrinaotterweddings.co.uk.
Main image by We Heart Pictures