A big hello, a belated Happy New Year from Katrina Otter Weddings and welcome to my first wedding planning feature for 2016! I have to be honest, today's feature has been a rather long time in the making.
You see, I first started talking about the concept for this post back in September last year.  Over time, the complexity of the feature has grown as have the number of leading industry contributors.  10,000 words later and it's fair to say that my first subject for 2016 is a rather meaty one! Rather than cutting down the length of this feature and losing valuable content I've split it into two parts – part two will be blogged tomorrow afternoon.
Today, with the help of some amazingly talented wedding professionals, I'm going to be guiding you through five slightly controversial, complex and confusing topics and I'll be back again next week with a further five, with each and every one integral to the success of your wedding planning journey and all in the name of transparency, honesty and clarity in the wedding industry.
You see, the wedding world is packed full of wonderful suppliers from those with bags of experience and knowledge to the new and emerging talent.  As an industry standard we want to give you our best and we go out of our way to make sure you get the day you truly want. However… sometimes, due to a lack of experience, understanding, transparency, honesty and clarity, from both the couples and suppliers perspective, issues and problems do arise and unfortunately these are increasingly common occurrences.
Image by Guy Collier
Do we want to scare you? Absolutely not. Do we want to help you? Truly we do. We want you to know more about the wedding world, we want you to ask questions and understand the full facts before you make any commitments or invest time and money.  We want to help you avoid potholes along the way and ensure that the planning process is as smooth as possible with the least number of 'what if's'.
Please also keep in mind that we're not telling you what's right and wrong and what suits you might not suit someone else but hopefully this feature will point you in the right direction, will help you make more informed decisions and will reduce the risk of problems arising along the way. So, let's lay the industry bare…
Recommended Supplier Lists
As a wedding planner and former bride I understand how helpful and utterly invaluable supplier lists can be, especially if you've never planned a wedding before, are getting married in a location you don't live in or you simply don't have the time to research your wedding suppliers and need that extra helping hand. They are a fantastic wedding planning tool and a great starting point when it comes to researching and booking your suppliers.  Love My Dress launched their own beautiful wedding directory, Little Book For Brides® in September last year and I recommend you bookmark it immediately if you haven't already – it's been thoroughly researched and curated and beautifully presented – I'm most proud to be listed within it myself.
However… before you go ahead and book please take a moment to ask the question, "Why are these people on this list?" Are they there on merit, venue experience and expertise OR are they there because they've paid to be there? If they've paid then are they the right fit for you AND will there be any financial repercussions as a result of booking them.
Did you know that blogs have to announce sponsored content BUT, venues don't?
To help me explain this topic fully and its impact on you and your wedding I've asked three leading industry figures to give their understanding of and insights into this hot topic.
So firstly, let's start at the beginning! Emma Hla, editor of Coco Wedding Venues and fellow features contributor for Love My Dress, explains the difference between supplier lists and recommended lists:
"When you enquire with a venue or visit in person, ask if they have a suppliers list. Some venues are super flexible and allow their couples free reign, whilst others may have a list in place. This could be a stipulated list, where couples must choose from the suppliers listed, or a recommended list where the venue is suggesting suppliers."
"For me, I really valued a supplier's list as being the first of my friends to get married, the world of weddings was very new so this was the perfect place to start.  For busy brides looking to tick those planning boxes, a supplier's list may also be the perfect time-saving solution."
"However, it's not for everyone and it's a really important deciding factor when it comes to your venue as too strict a list may mean that a venue is unable to accommodate your big-day designs. If this is the case, discuss with the in-house team and be open about your plans. If the venue's Terms & Conditions are too restrictive for you, then simply move on. You ideally want this journey to be as smooth as possible and therefore your venue decision should ideally be made with both head and heart."
"Do also ask your venue questions about how they curated their lists. A fabulous venue (examples of which can be found on Coco Wedding Venues) will be all too happy to tell you the whys and what's and will exude passion about their preferred suppliers! As a bride-to-be I would want to know that I'm receiving the very best recommendations from my venue and not just being presented with an undisclosed commission based list."
Image by Guy Collier
So now you know and hopefully understand the difference between stipulated supplier lists and recommended lists, what about the different types of recommended supplier lists? Thankfully, all-round awesome photographer, Guy Collier has provided a simple and refreshingly honest overview:
"Ask most people what recommended supplier lists are and they'll generally think its suppliers the venue have worked with in the past, who they know deliver an excellent product or service and who their clients love. Yes you'd think that BUT you'd often be wrong, because not all suppliers' lists are created equal. Many are nothing more than a list of suppliers who are paying the venues to be there. Surprising, no?"
"These lists come in a number of flavours. There are the ones that list specific suppliers who the venue have worked with and know are bloody good at what they do. These suppliers are a pleasure to work with from the venues' perspective and they know their couples will get the best possible wedding as a result.   These venues don't charge a fee to appear on their list and they only recommend people they know and trust."
"Then there's the list that's similar to the above with a small caveat – a supplier pays to appear on the list. This is either a flat fee of around £1,000 or the venue asks for a percentage of that supplier's fee for every wedding booked at that venue. This list acts as a two-way marketing street."
"Lastly, there's the list that's nothing more than a venue throwing a bunch of names together and asking suppliers to send them their invoices so they can earn an extra 10 – 25% directly from the suppliers for every wedding at that venue. How good is that for my clients?!!"
"The moment a venue starts charging to appear on a recommended suppliers list it ceases to be that. It now becomes a 'list of people who are happy to pay us to recommend them'. I struggle to see how this is good for anyone but the venue.  So, seek transparency. If you're given a list, ask if the suppliers have paid to be on it (you'll know from the reaction if they have!) and even more importantly what the venues' relationship is with those suppliers. You're then free to view the list with full disclosure and make the right decisions for you. And really, that's what we should all be working towards as an industry."
Which leads us rather nicely onto a venue's perspective and an insight from Fetcham Park's Laura Caudery, whose approach to recommended supplier lists provides the perfect example of transparency, honesty and clarity
"When planning my own wedding, one of the most frustrating things I encountered was the 'Recommended Supplier List'.  Every time I visited a venue I was given (a version of!) the same list and I felt as if no one would actually be able to help me realise *my* vision, they'd just point me in the direction of what they'd done the week before."
"My belief is that this one-size-fits-all approach is complacent: no two clients have the same tastes, or budget.  In fact, even when our clients do have a similar budget, they will often choose to spend it in very different ways: another reason I don't believe in 'packages'!"
"Instead of the list that couples are presented with at most venues, I have chosen only to recommend companies that we have actually worked with, rather than suppliers that simply want to pay to be featured.  When planning my own wedding I wanted trusted recommendations and having learnt the hard way about venue commissions (I have no issue with them providing it is made clear to a couple), I decided to launch Fetcham Park and do things differently.  And that's why I created 'Laura Loves'."
"Most of our clients book the majority of their suppliers from 'Laura Loves' because it takes the stress out of planning: not only are these suppliers familiar with the house (and all the boring logistical things that you don't want to have to think about!), our couples can relax because they are confident that they are working with the 'right' people."
"One thing I must point out is that in many cases it may be necessary for a venue to stipulate certain suppliers that you need to work with. In our case, we have a number of caterers who are not only brilliant but used to working within the demanding environment of our historic – and logistically challenging – house. For others, it might be a marquee partner or production company who are tied to the venue in order to create a seamless experience for the couple. However, if a venue demand that you can only use the suppliers they endorse throughout your wedding, then perhaps you should ask if there are any financial repercussions and why freedom of choice and creativity is limited."
If you're starting out on your wedding planning journey then hopefully the above has shed some light on stipulated lists, the value of asking your venue questions and the importance of understanding the different types of recommended lists before you make any commitments.  That way you will ensure that your chosen suppliers are the perfect fit for you and your wedding.
If you're further along in the planning process and you've booked suppliers because they've been recommended for the right reasons, fantastic.  And if you've booked suppliers that have been recommended because they've paid to be recommended or have to pay commission then that's not wrong either, as long as you know.
Kickbacks & Commissions
The very issue of kickbacks and commissions (where a supplier pays a fee to a wedding planner or venue in return for the booking) is one that divides the wedding industry and indeed, it's the Marmite topic of our world – people tend to love them or hate the thought of them.
As a member of the UK Alliance of Wedding Planners (UKAWP) I don't charge commission on supplier quotations and make this very clear with my clients from the outset.  Where a kickback or commission is offered I always pass this back to my clients.  However, I personally have absolutely no issue with kickbacks and commission… as long as it a transparent and honest transaction and any financial impact on the couple is made abundantly clear.
To help explain the system of kickbacks and commissions in more detail I've asked two other wedding planners and fellow UKAWP colleagues for their insights into this divided topic.
Bernadette Chapman, the founder of Dream Occasions and UKAWP Owner/Director has this to say on the subject:
"At the UK Alliance of Wedding Planners, we feel taking commission blurs things: can the couple truly trust any recommendations made to them or will they do some research of their own to ensure the fee they are paying is fair? If the latter is the case the value of having a planner potentially becomes negated or invalidated."
Find your own wedding planner using Little Book For Brides
"A bride and groom will hire a planner to help them with their wedding planning: this could be ensuring their vision is met 100% and/or to help them spend the money in the right areas, making sure they don't overspend. We are not talking blue chip companies' marketing budgets: this money could be the couples hard earned savings or perhaps contributions from family, so it's imperative it's handled with due care and attention."
"Over the years as a planner, I've often heard people say "of course this is the price to you so you can add whatever you want on top of that fee before recommending us to your client". However, is this really open, honest and fair practice for my clients?"
"Of course from a pure 'profit' point of view, not accepting commission seems crazy, after all, why should a planner lower his/her levels of earning? However, as US wedding planner Preston Bailey says: 'For me it's very simple, if you (a planner, venue or supplier) accepts commission without the client's knowledge, it is thieving.'"
Wedding planner Kelly Chandler from The Bespoke Wedding Company has one wish – clarity:
"I believe we need to be more transparent to couples as an industry of event professionals with how things work on a business level and how our profits are made.  Couples generally appreciate that businesses have to make a profit to function but I think they deserve honesty and clarity as to how those figures are arrived at so that they can make the right decisions for themselves."
"There are some wedding suppliers I know who don't invest in their own marketing and obtain 100% of their work through the efforts of a venue's marketing. Understandably that venue should gain something in return. I just ask that a potential client is informed right at the start of the process that there is a financial link between the venue and said supplier and as a result that allows the couple to make a fair decision on a supplier 'on list' or 'off list'."
"As far as independent wedding planners go, I'm also of the belief that transparency is vital. I believe strongly (and 12 successful years have proved it so) that as weddings are so personal and emotional that complete transparency, trust and honesty needs to be in place for the client/supplier relationship to be successful.  I believe that in order to produce truly bespoke events that are right for the couple, that I need to have the choice of suppliers who deliver what the couple want not a limited list of suppliers who will pay my company commission."
"Couples should know how a company is making their money, be informed how that is arrived at so that they can choose the approach that resonates best with them."
So, PLEASE conquer your fear of talking about money! You now know this system exists so ask questions! Your wedding day is just like your marriage – you should enter into it knowing everything there is to know!
So, now let's move onto another subject that sounds horribly dull but is so incredibly important and often overlooked or misunderstood and that's…
Paperwork – Contracts, Invoices & The Small Print
I'm going to spell this out to you in black and white; PAPERWORK IS AN ESSENTIAL INGREDIENT TO PLANNING A WEDDING! In our day-to-day lives we are all guilty of clicking to accept terms and conditions without bothering to read what we're signing.  Now, this is ok when you're downloading music (I think/hope!) but when it comes to spending a significant amount of money, you absolutely need to check AND understand the small print!
Contracts, written outlines or full quotations are there to help protect you and your wedding.  So I implore you, please read everything time and time again and if you don't understand something just ask. Booking your wedding is not like ordering pizza online! If something should happen, questions arise, etc. etc. you need your paperwork.
Wedding planner Louise Perry from Louise Perry Weddings is understandably a fan of paperwork for the following reasons:
"When planning your big day, one key piece of advice you really shouldn't ignore is to always get a contract from your suppliers, read the small print and pay a booking fee. Time and time again we hear of couples through the wedding grapevine that haven't had the relevant contracts or written confirmation in place or have arranged a 'cash' deal and have come unstuck when the supplier they thought they had booked falls through. Imagine how unnecessarily stressful this could be."
"If you're tempted to skip on the paperwork and do a cash deal to save on cost and VAT, let me tell you it is illegal to ask a VAT registered company to do a cash deal. They shouldn't do it and you shouldn't ask for the simple reason that if they suddenly go bust or can no longer do your wedding, you have absolutely nothing to fall back on. VAT is also just one of those things you have to pay!"
"So please, make sure you have contracts / written agreements in place with your suppliers, with all of the relevant details pertaining to their services and that you take the time to read the very small print. Do not sign a contract or pay a deposit to secure their services unless you are happy with the terms.  If you aren't happy, then do not be afraid to query terms or ask questions."
Hannah Duffy, a superb wedding photographer whose weddings have featured regularly on Love My Dress, provides a suppliers perspective on the importance of paperwork:
"Before you commit to choosing the right photographer for you, you need to fully understand what you get from them. Right?  A contract is the best way to ensure and confirm this. That way, there's no doubt that you and your photographer are on the same page about your coverage and you'll avoid the stresses that come from miscommunication along the way. Never rely on verbal agreements when it comes to terms, conditions and charges. Always get things in writing. Read every single word and take the time to think it through before you sign on the dotted line."
"Make sure that your contract has clear payment terms so that there's no confusion over amounts and dates.  As a couple you should look at any other incidental charges that might occur such as travel costs, additional album fees, shipping fees and most importantly late stay coverage fees."
"Don't assume that the photos belong to you when you book a photographer. All photographers that I know retain the copyright of their images. Some award printing rights so that you can purchase your own prints. Others prefer that you buy images directly from them for quality control purposes. Figure out what's important to you and remember to check the small print!"
From this wedding on Love My Dress
"Spot photographers that want to go the extra mile with contracts that look for commitments from you. For my business, the most important contractual commitment for me is for a client to keep me up to date with scheduling. Managing the timing of the day is key to me being able to produce beautiful work for my clients and as I want to produce imagery that I'm proud of for every client, they need to let me know that they are also committed to this."
So there we have it.  The importance of having and understanding paperwork.  If a supplier doesn't provide you with a written contract then the safest option is to ask and insist, even if it's an outline email it's better than a whole of nothing! After all, if you don't have this in place you have absolutely no security or guarantees if something were to happen.
Moving on to an equally important area…
The Importance of Deposits
In ALL areas of your wedding, you should pay deposits. After all, paying a deposit will give you peace of mind that a supplier has been secured for your wedding. By paying a deposit you're also showing your supplier that you're committed to them and they can now devote themselves to developing a relationship with you.
Think of it another way, if you don't pay a deposit (because the supplier didn't ask for one, you want to help your cash flow etc.) where's the guarantee that that supplier won't take another booking or will turn up on the day and provide the goods or services that you've requested? And as result think of the added layer of stress and worry you're adding to your wedding.
It simply isn't worth it!
As Louise Perry mentioned earlier, paying a deposit or booking fee for your suppliers is as important as signing and understanding a contract. Deposits also have a dual purpose as in many cases not only do they secure the date but are also vital payments that are required by suppliers to start work on your wedding.
The phenomenal Emma Meek from Miss Bush (a beautiful bridal boutique selling contemporary and vintage-style wedding and bridesmaid dresses – oh, and did you see Emma's incredible 'Unapologetic Bush' feature on Sunday? You must read it!) explains why many suppliers require deposits and the importance and value of paying them:
"A 50% deposit is usual on all made to order wedding dresses. Again, for a moment take away the romance and think business. If a bride orders a dress with us and we place an order with our suppliers the practicalities begin… fabric is ordered in advance so it is there to make the dress, production times are calculated, as is the capacity of staff from the very first administration of money to the very last press of the gown on collection. The number of orders in a busy month also determines whether we can say 'yes to the dress' for subsequent brides as there is only a finite level of production capacity. There is no way this process can feasibly begin without the costs being covered."
"The non-refundable deposit is a part payment of made to order goods which enables us to offer artisan made, responsibly sourced, luxury dresses made in your own choice of size and colour and, in the majority of Miss Bush dresses, made to measure with an individual timeline to accommodate personal circumstances, work, geography and fitness goals."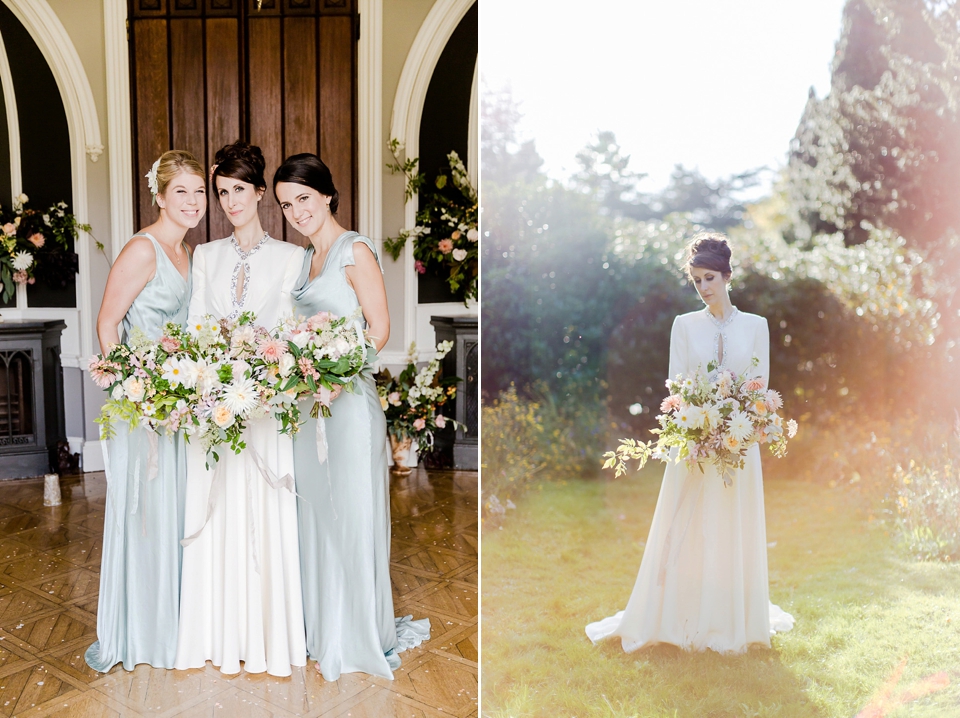 Laila wore two gowns on her wedding day from Miss Bush Bridal
And just to round up the legal side of things let's talk insurances!
Insurances
I've mentioned it before and I'm going to mention it again…do you really want to wake up on the morning of your wedding faced with the 'what if' question?
Insurance is an area of planning that is often overlooked, sidelined or simply ignored however, just like the paperwork and deposit payments, understanding and possessing personal and supplier insurances brings peace of mind.
When it comes to the importance of insurance I wholeheartedly agree with fellow UKAWP wedding planner Melanie Kiani from Bellissimo Weddings who has kindly broken the importance and value of insurance into three main areas:
Your Suppliers
"It's critical when planning your wedding that you check your suppliers have their own public liability and employer's liability insurance in place to cover the work they do for you and any errors they make or accidents they or their staff may cause.  Any reputable supplier should have their own insurance and it's OK to ask to see a copy of it, after all if they have it and have nothing to hide then they won't mind you asking for it! You don't want to be left in a situation where something happens and your suppliers have to be pursued personally for their errors or omissions because there was no insurance in place."
"Think about the importance of key suppliers such as photographers and videographers.  Carry out due diligence on them as well, for example by asking them what will happen if they are ill and unable to attend your wedding.  What happens if their equipment fails on the day – do they have a backup?  What happens if they delete your images in error – they can't bring your wedding day back but are they insured for eventualities like this?"
"Another key supplier to make sure is covered (or covered under your own policy) is your wedding dress boutique / designer.  Are you covered if you have pre-paid for your dress and they then don't deliver or supply as arranged?"
"What about your honeymoon – make sure your honeymoon provider / holiday company is fully insurance backed in the event that the tour operator goes out of business by the time your honeymoon comes around."
"If you hired the services of a wedding planner then your planner should be carrying out these kind of checks on your behalf but if you are handling the arrangements yourself then it's vitally important that you do some background checks and research of your own."
Your Venue
"The bulk of your wedding budget is likely to be spent on your venue and any catering services they may be providing to you so it's absolutely essential that you make sure your venue is fully insured for their operations i.e. as a venue and / or catering services.  Again, don't be afraid to ask them for details of their insurance to make sure it's all in place.  If you're renting land for a marquee for example, then once again they should have insurance in place to operate."
Your Own Insurance
"There are so many insurance companies out there now offering good and relatively inexpensive wedding insurance policies that it would be crazy not to take out your own policy. Explain in detail to your chosen broker or insurance provider exactly what kind of wedding you are having, if you are in a venue or a marquee and what level of cover you think you may need.  A good policy should be comprehensive in the cover it offers you i.e. cover for refunding certain costs in the event you have to cancel the wedding due to illness or if you are let down by a third party supplier whose insurance perhaps does not cover the full costs that you incur.  Shop around, read the proposal from the insurance company and make sure that it covers all of the elements of your day."
Phew! 5,000 words later and I hope you've found Part I of this feature valuable.  In Part II tomorrow afternoon, I'll be covering everything from job titles to testimonials with the help of my industry colleagues.
If you have any questions or comments, please do leave them below and we'll all do our very best to help, reassure or advise.
Love Kat x 
____________
Wedding & Event planner Katrina Otter specialises in designing, coordinating and delivering beautifully bespoke weddings, events and private parties throughout East Anglia, the Midlands and London.  As an independent wedding planner, Katrina is able to offer a more personalised approach to wedding and event planning – one that is totally focused on what her individual clients want, and is free to adapt her role and service to suit each client's requirements.  Katrina is a contributor to Love My Dress. Visit her webpage at katrinaotterweddings.co.uk.
Main image by We Heart Pictures