Hello there lovely ones, such an exceptionally beautiful, cold and frosty morning today – part of the reason I love February – that, and the feeling that we've pulled ourselves out of the darkest part of winter. But winter it remains and of course, for many, many of our readers, a winter wedding is a dream. With that in mind, I hope this wedding this morning might inspire you. Marketing Manager Georgie married Economics Teacher Dave on 31st December last year, combining their nuptials with a glamorous celebration to see in the new year.
I'm was delighted to discover that the couple found their photographer, Ruth Atkinson, from the pages of this very wedding blog. We highly recommend Ruth and you'll find her details listed in our wedding directory, Little Book For Brides…
"A winter wedding meets New Year celebration was something that I always secretly wished for when I was young and it was just our luck that New Year's Eve fell on a Saturday in 2016. This meant that we had 16 months to plan our special day. We both shared the same vision for our wedding but it's hard to describe our theme, it just all came together! It was Gatsby/1920s inspired but more elegant, relaxed and romantic rather than formal."
"We also wanted to bring the 'outside in' as Dave's family home is on a lovely farm with beautiful land and a view of the Cotswolds. Claire our florist of The Wilde Bunch, really helped bring our vision to life by suggesting foliage and candle banquet rings, ivy walls, and twiggy willow arch."
Photography by Ruth Atkinson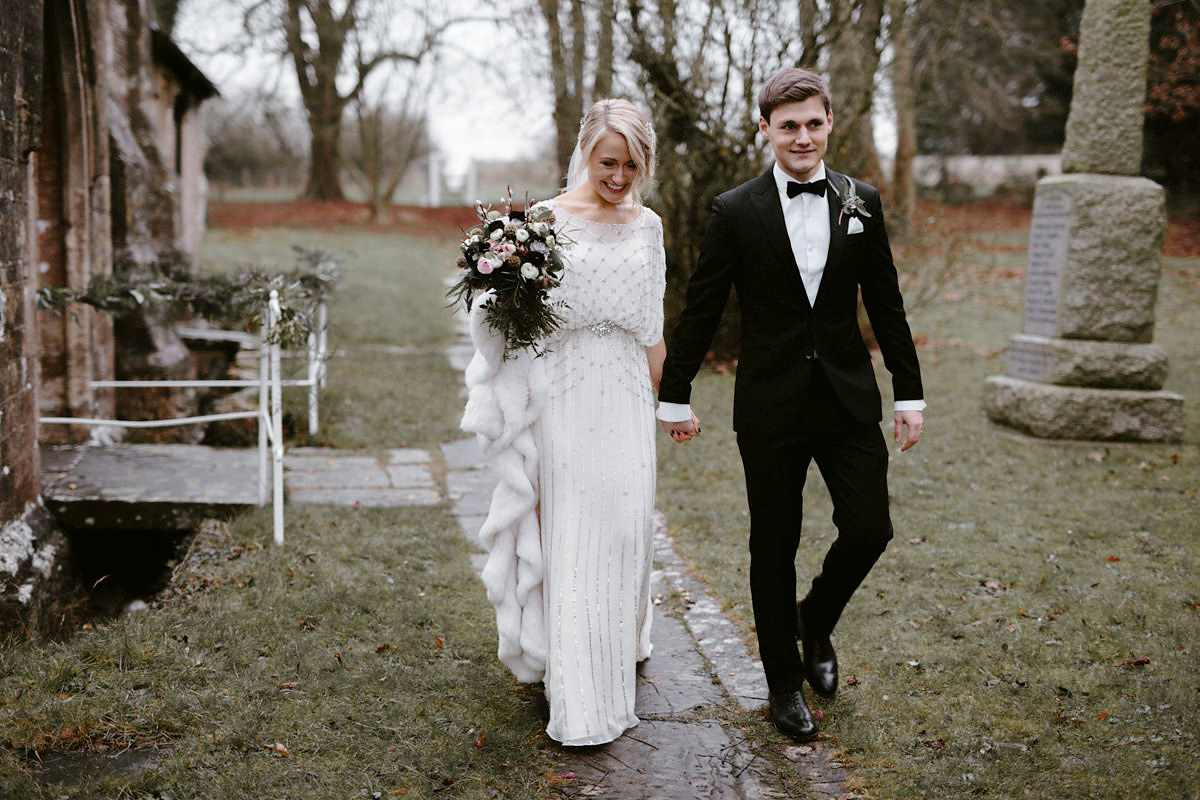 "I found the lovely Ruth Atkinson through a Love My Dress feature. We absolutely loved her documentary style photography and from the moment we made contact with her we knew she was the right photographer for us. We followed each other on Instagram the year running up to our wedding, so when we met in person the day before our wedding I felt immediately at ease with her. Ruth and her husband Thom were ever so discrete, but Ruth would give me a reassuring smile just when I needed it – particularly when I was getting nervous before our ceremony.
I went to school with our film maker David Beard and he joined the ushers in the morning whilst his wife Kerry was with me. They did a fantastic job capturing our day and chose excellent music and sections of the speeches."
"I was very close to buying a Halfpenny London dress that I had originally seen on Love My Dress, but I already had an appointment at The Mews Bridal of Clifton and thought I would see if anything could top it. When I put on the Bardot gown by Jenny Packham, I knew it was the dress for me. I felt like 1920's Hollywood glamour and the dress sparkled like a glass of champagne. I felt amazing!"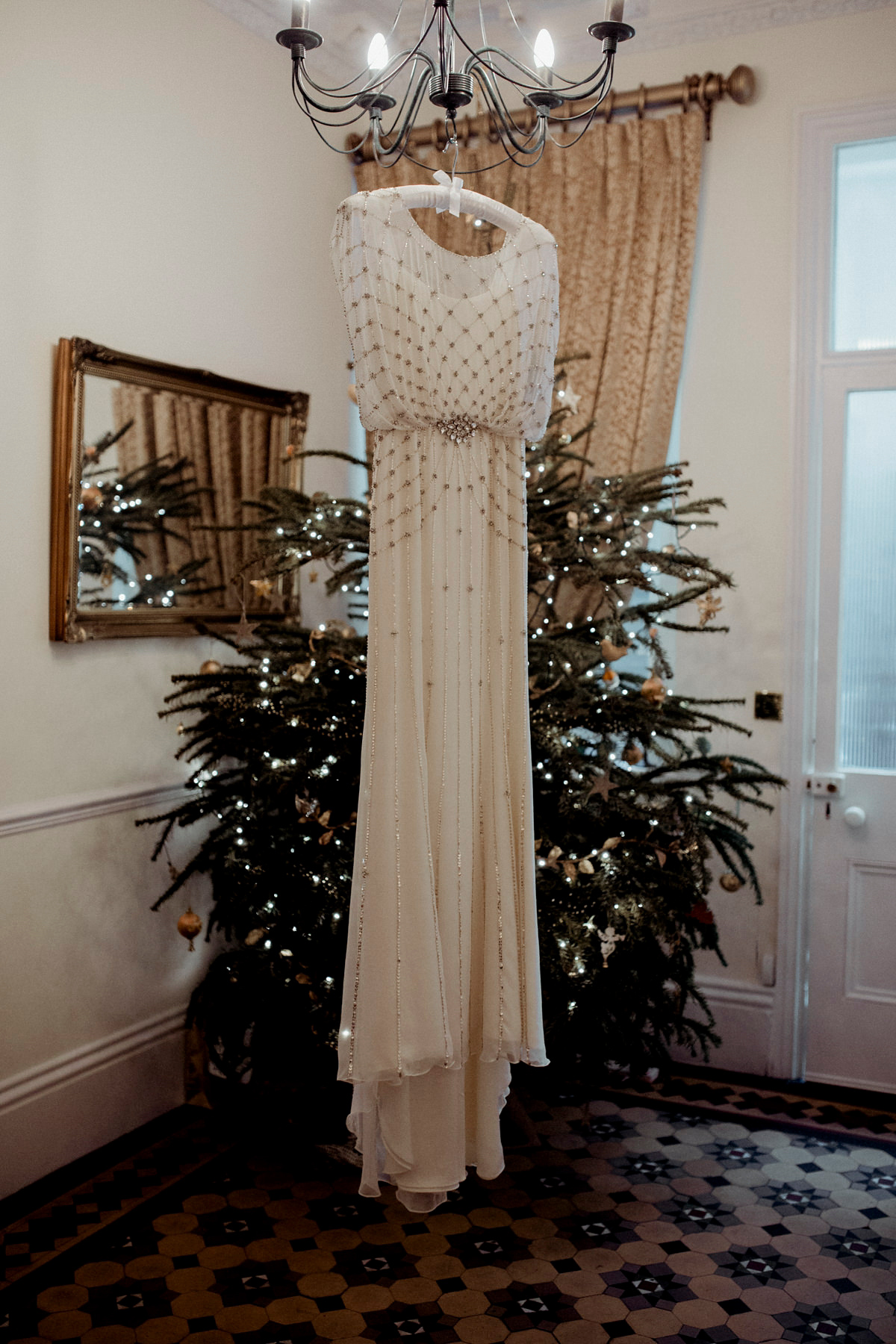 "I loved my bouquet! The Wilde Bunch worked hard to ensure that we got the colour of the dark plum right – not too purple not too red! It was full of succulents, anemone and pussy willow, and other gorgeous winter flowers."
"The bridal party had similar arrangements in their button holes and corsages."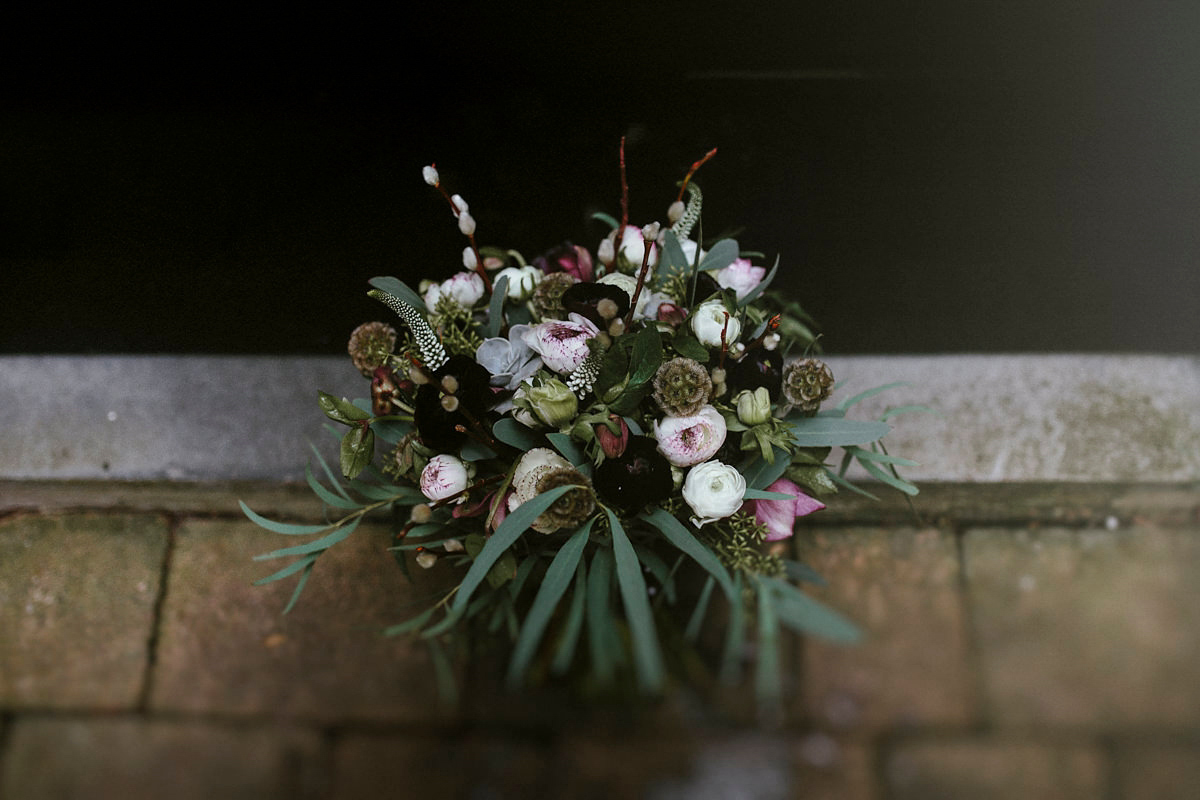 It's so good to see that Little Book For Brides assisted Georgie in finding so many of her suppliers, including the wonderful Hermione Harbutt, who has been created the most exquisite and delicately hand-crafted pieces for brides for several years now.
"My Hermione Harbutt hairpiece has become an heirloom! I cannot wait to lend it to special family and friends. Hermione herself helped me pick my beautiful hairpieces, I ended up getting five dewdrop Swarovski crystal hairpins as well as a Swarovski garland."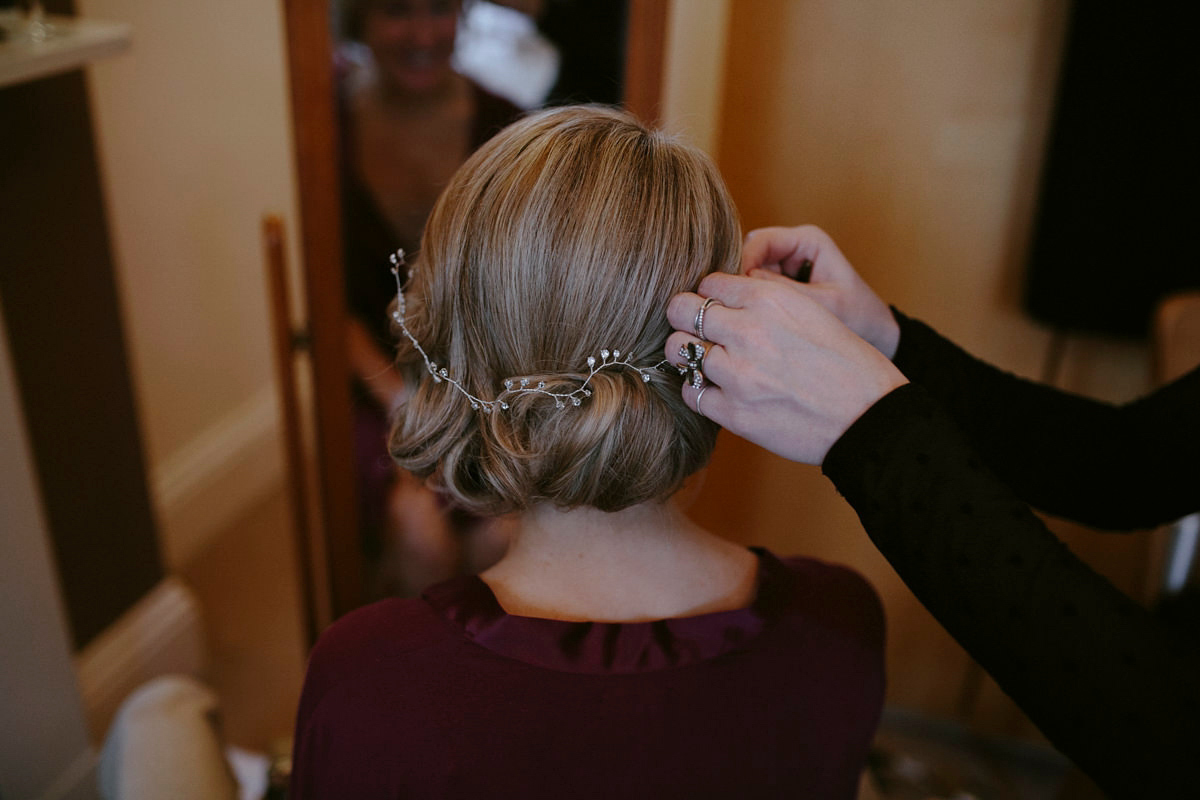 "The hair and makeup dream team – they knew each other which made the morning so lovely and relaxing despite having to style seven of us!" Make up was expertly applied by Ellie Hitchens and hair was perfectly styled by Thairapy.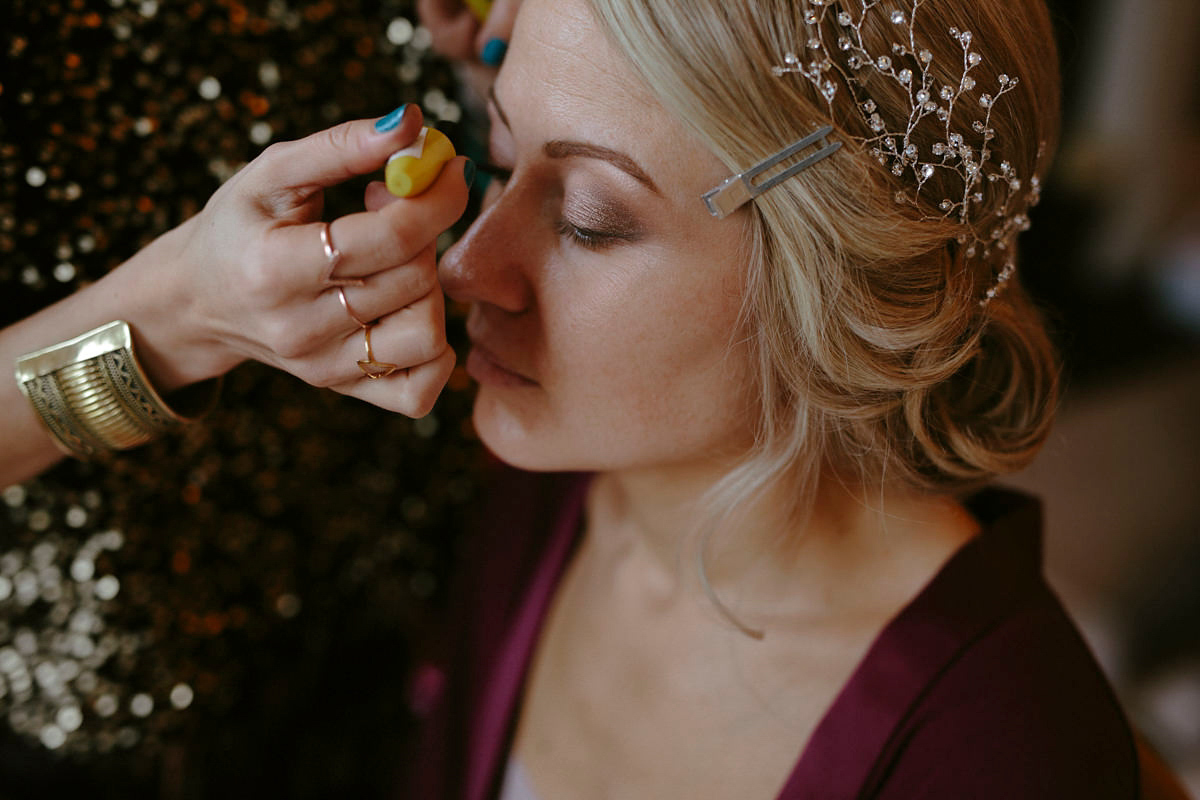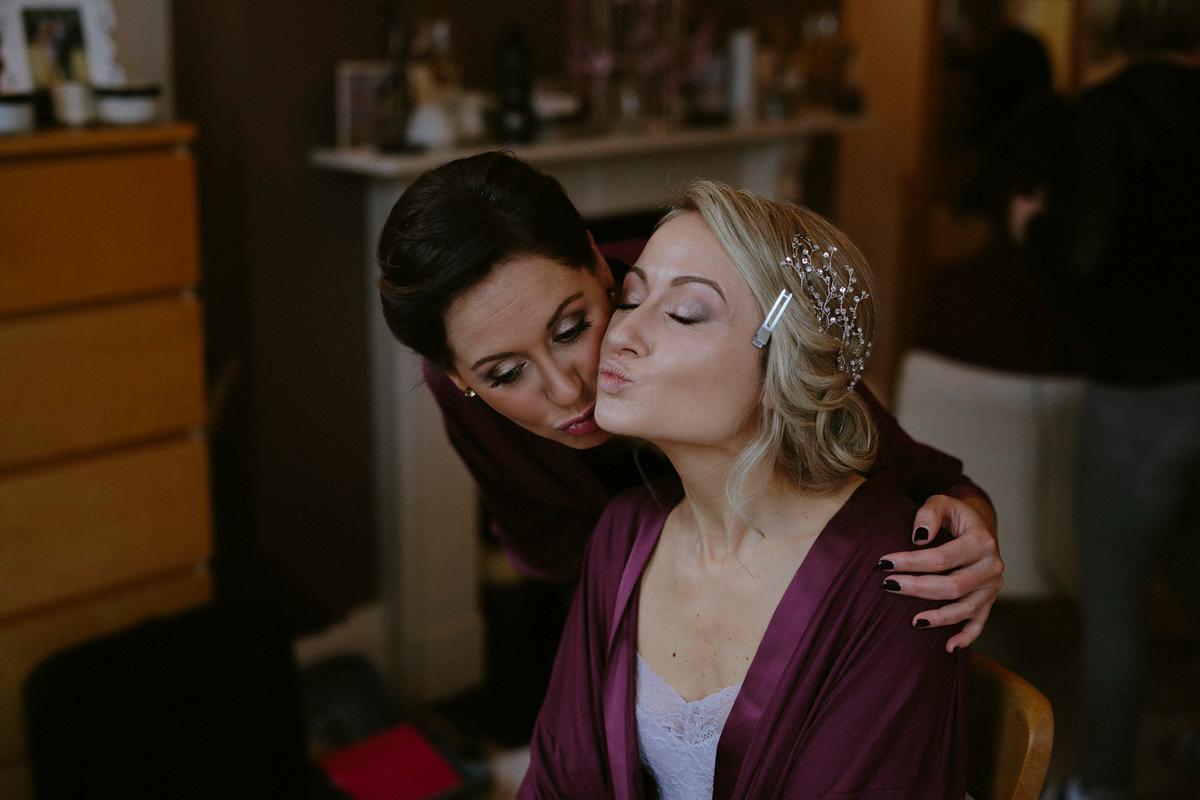 "I got my shoes from LK Bennett, not only did they look great but I danced all night in them without any pain."
"I have always loved Jo Malone so I went for a Bridal Fragrance experience at their store in Sloane Square. I wore Wood Sage and Sea Salt body cream with dark amber and ginger lily perfume. Dave wore his usual Jo Malone Oud & Bergamot."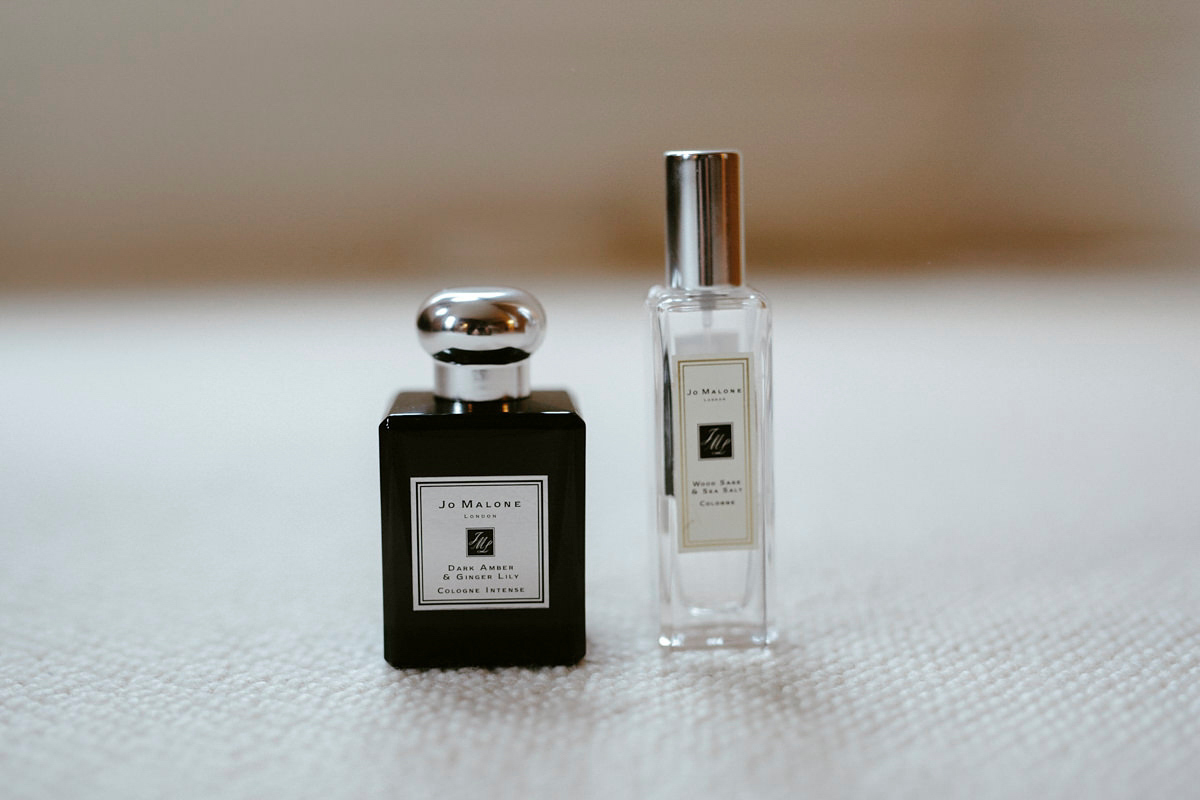 "I got my bridesmaids Jo Malone Pomegranate Noir as part of their bridesmaid gifts and Dave got his ushers a selection of the cologne intense. – The whole wedding party smelt good enough to eat!"
"I got my sister Sammie (Maid of Honour) two gold nova hair pins from Hermione Harbutt, these were similar to my dewdrop pins and looked perfect with the LK Bennett bridesmaid dress."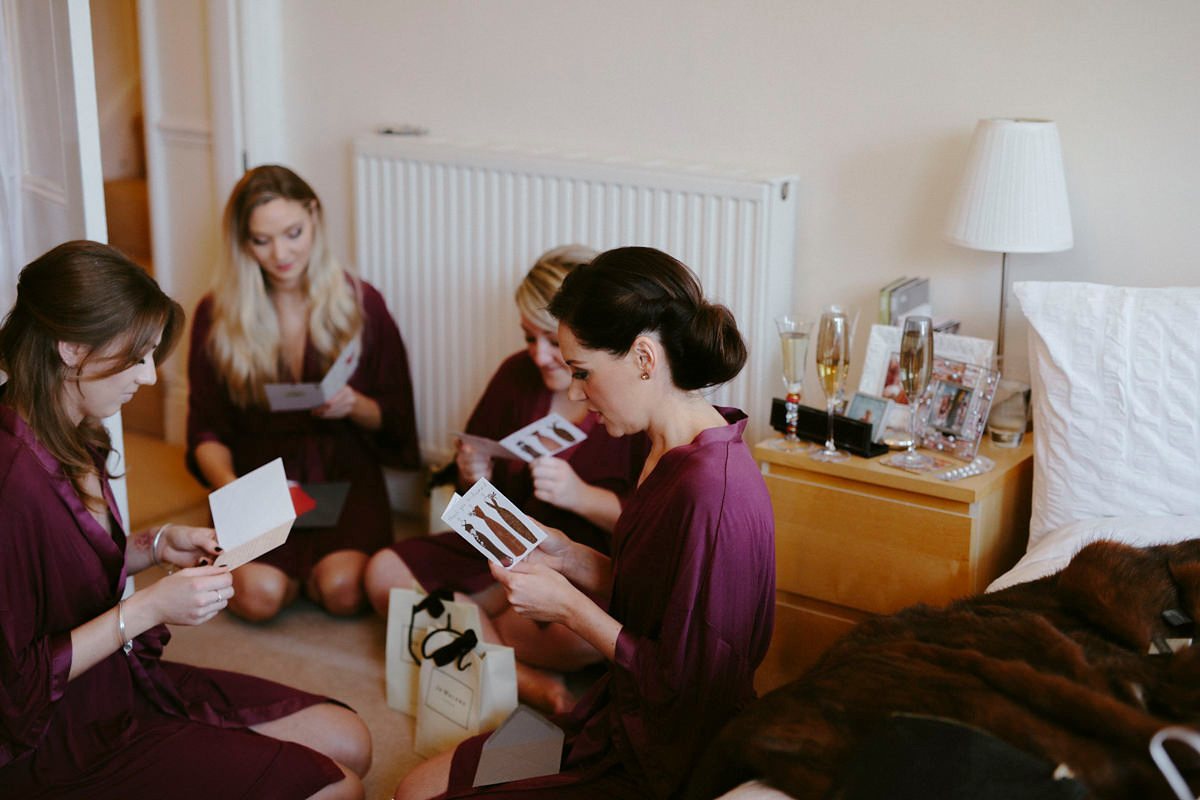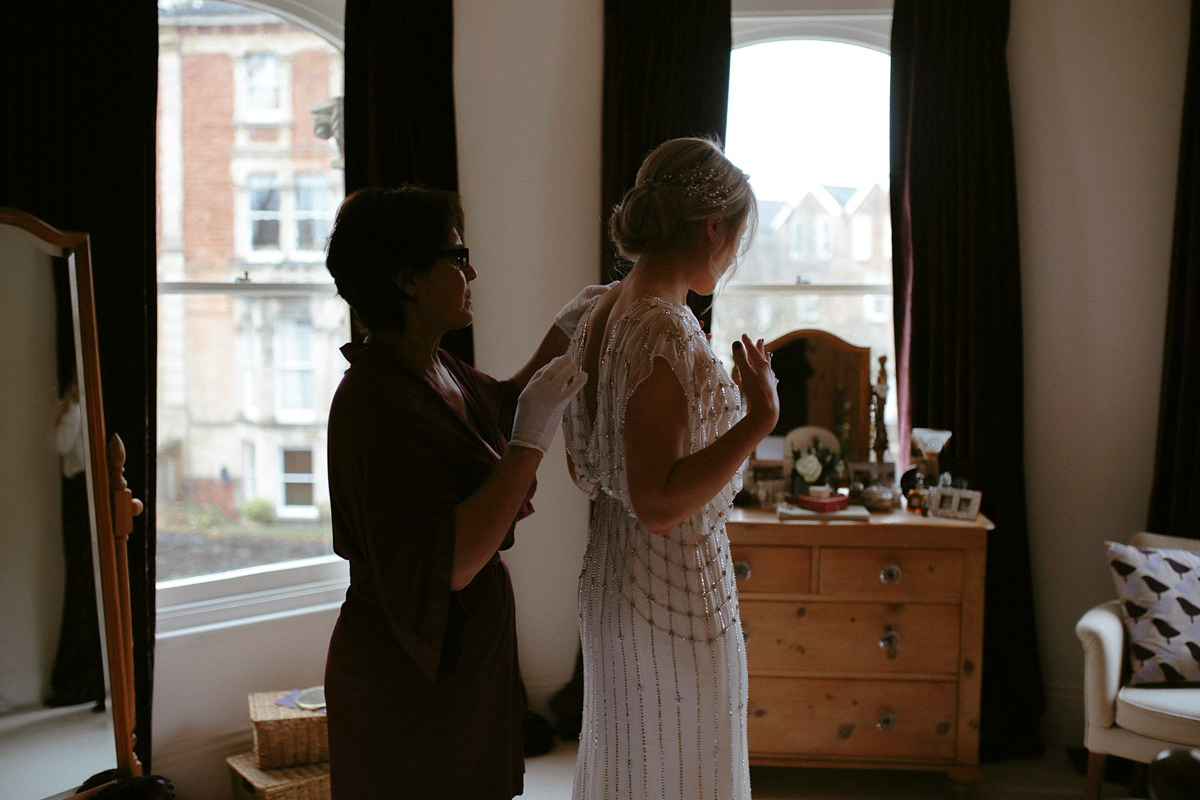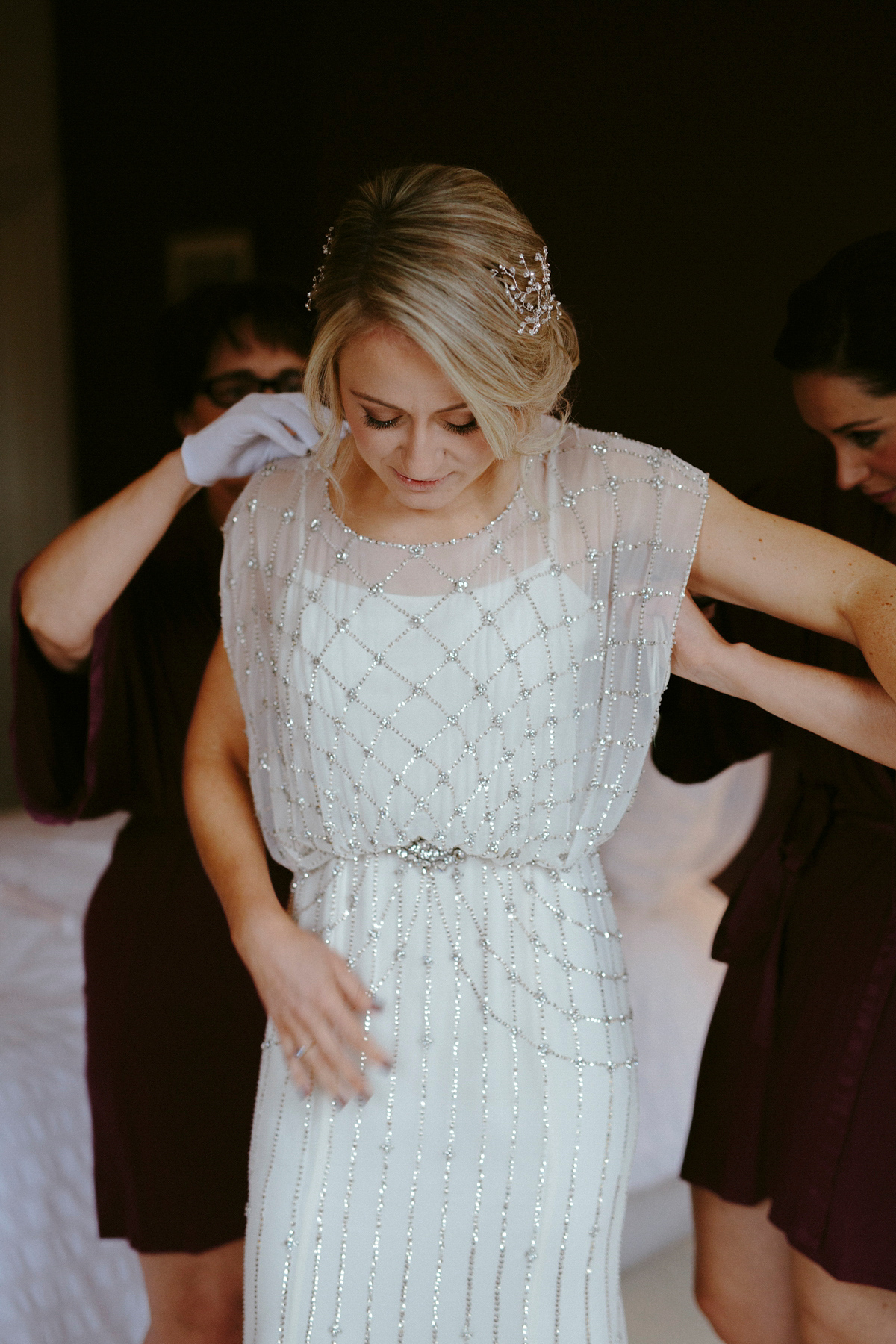 "For accessories, I wore a sapphire and diamond ring that Dave's mum Sally had got when Dave was born (something borrowed, old and blue). I also wore a simple drop diamond necklace (something new) and a diamond and gold bracelet I borrowed from my sister-in-law along with a pair of diamond earrings."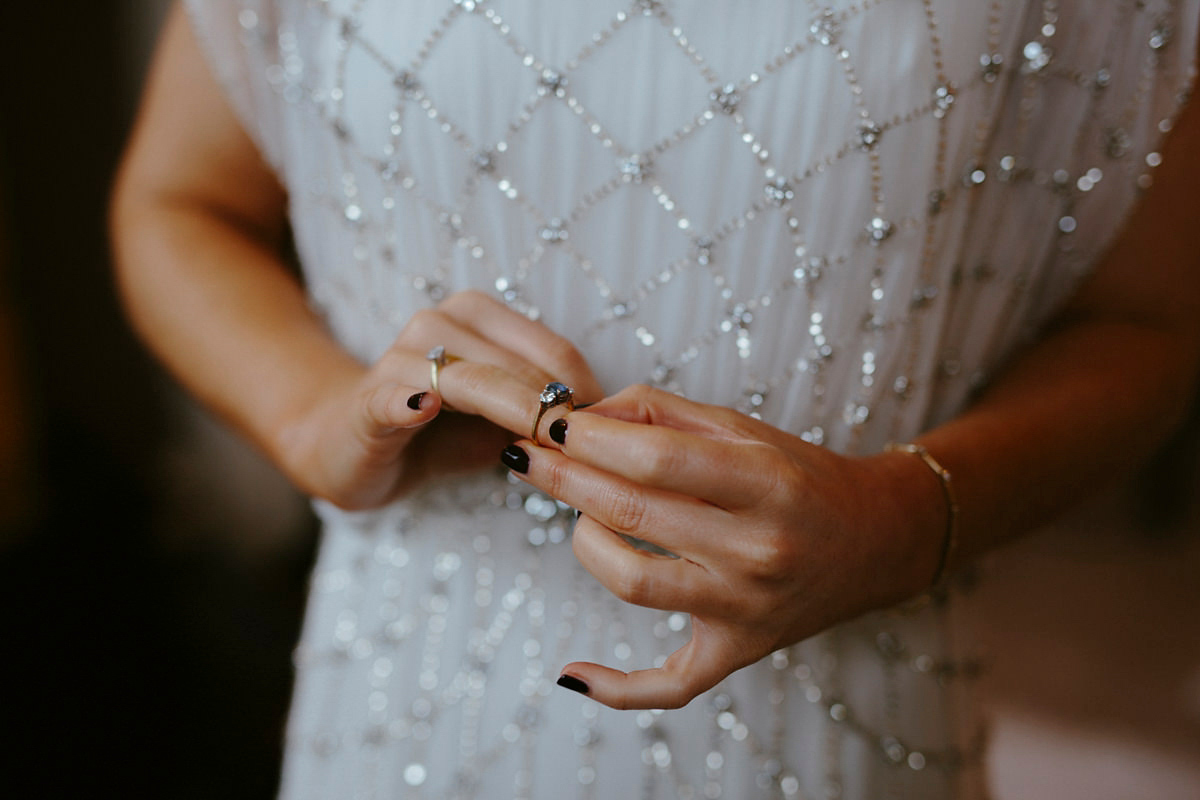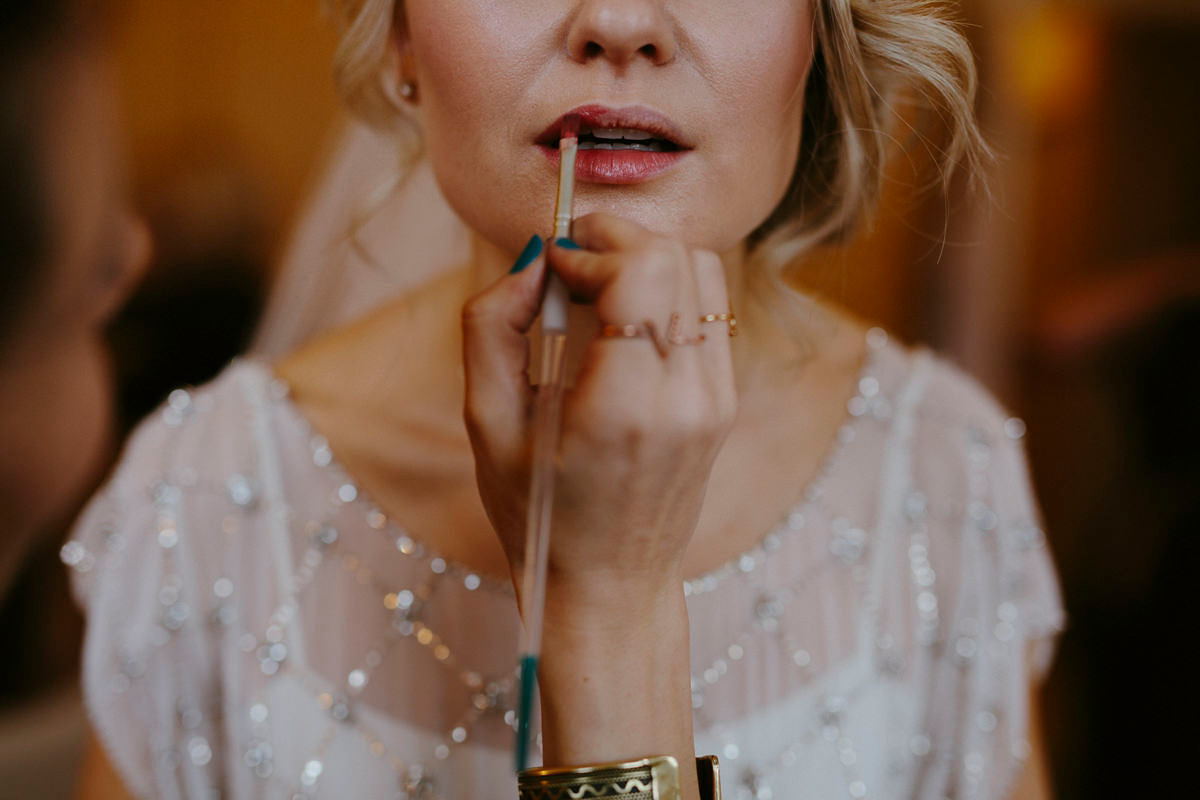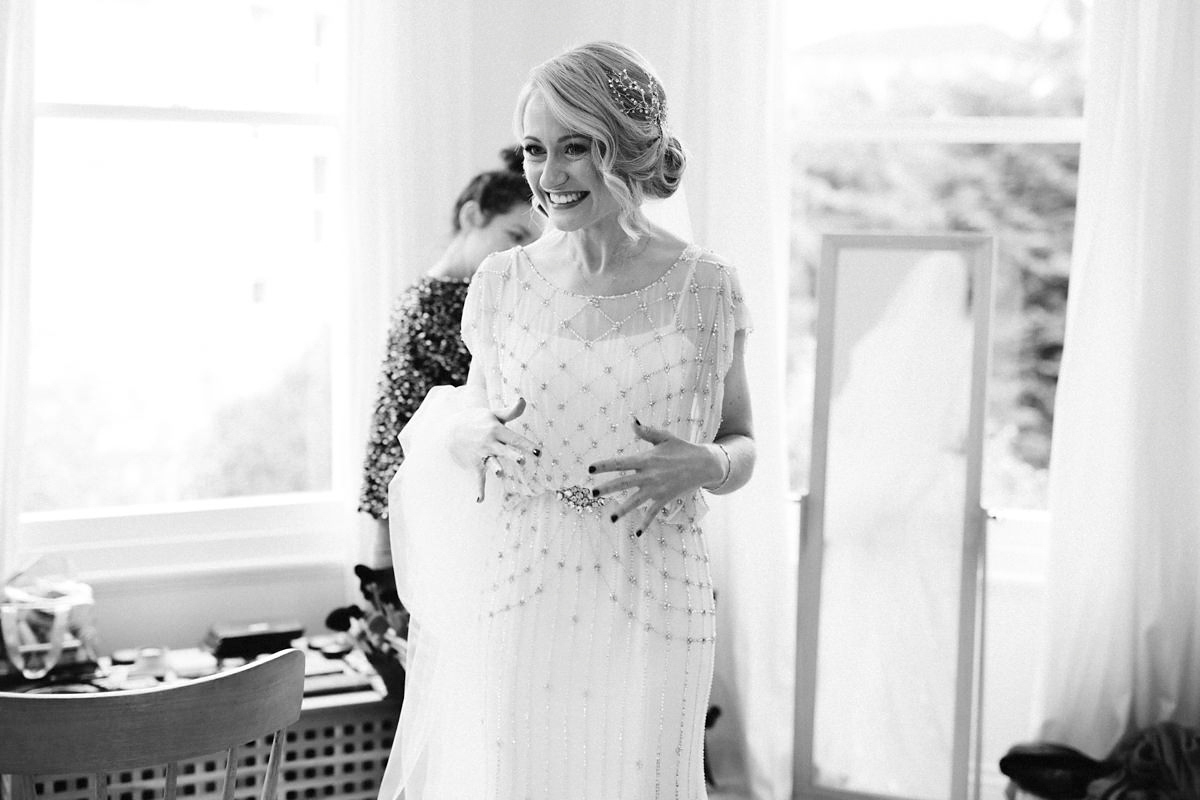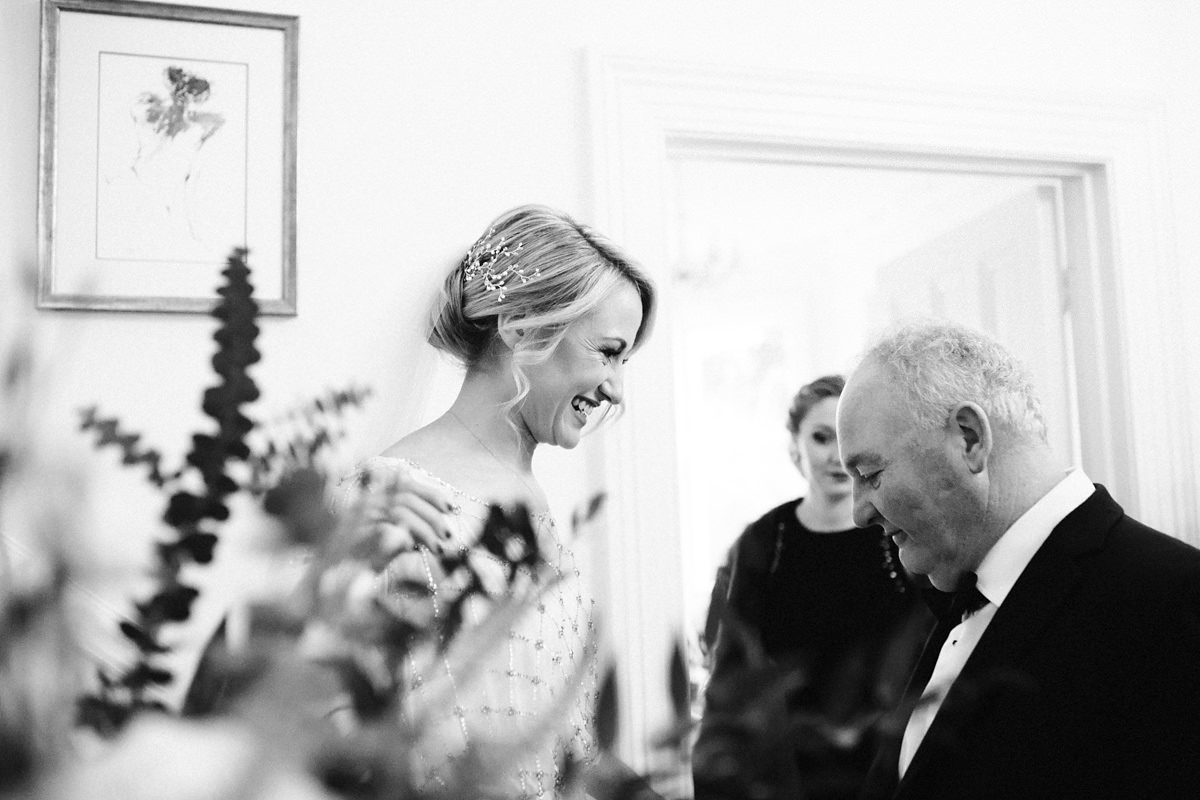 "I was unsure whether to get a veil as the dress was so sparkly, but I got a very simple full length 1 layer veil which still let the dress be the centre of attention. The veil definitely completed the dress and made me feel like a 'real bride'"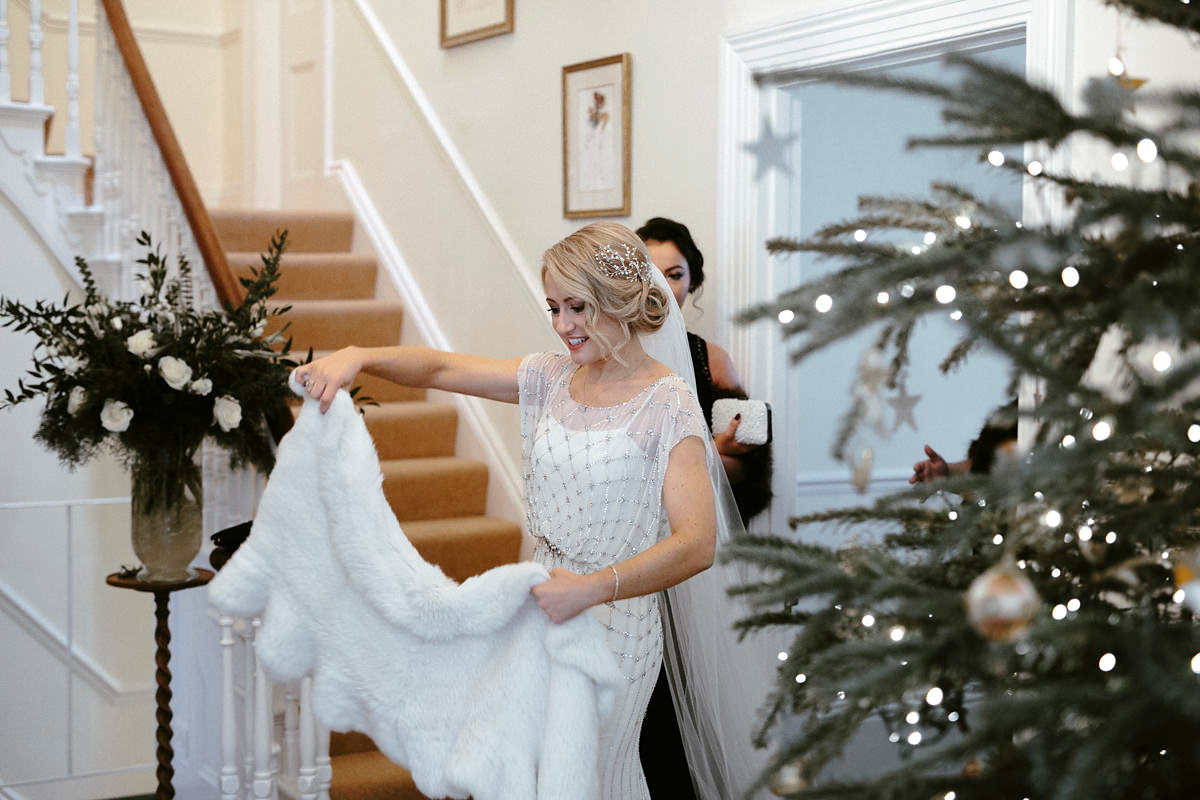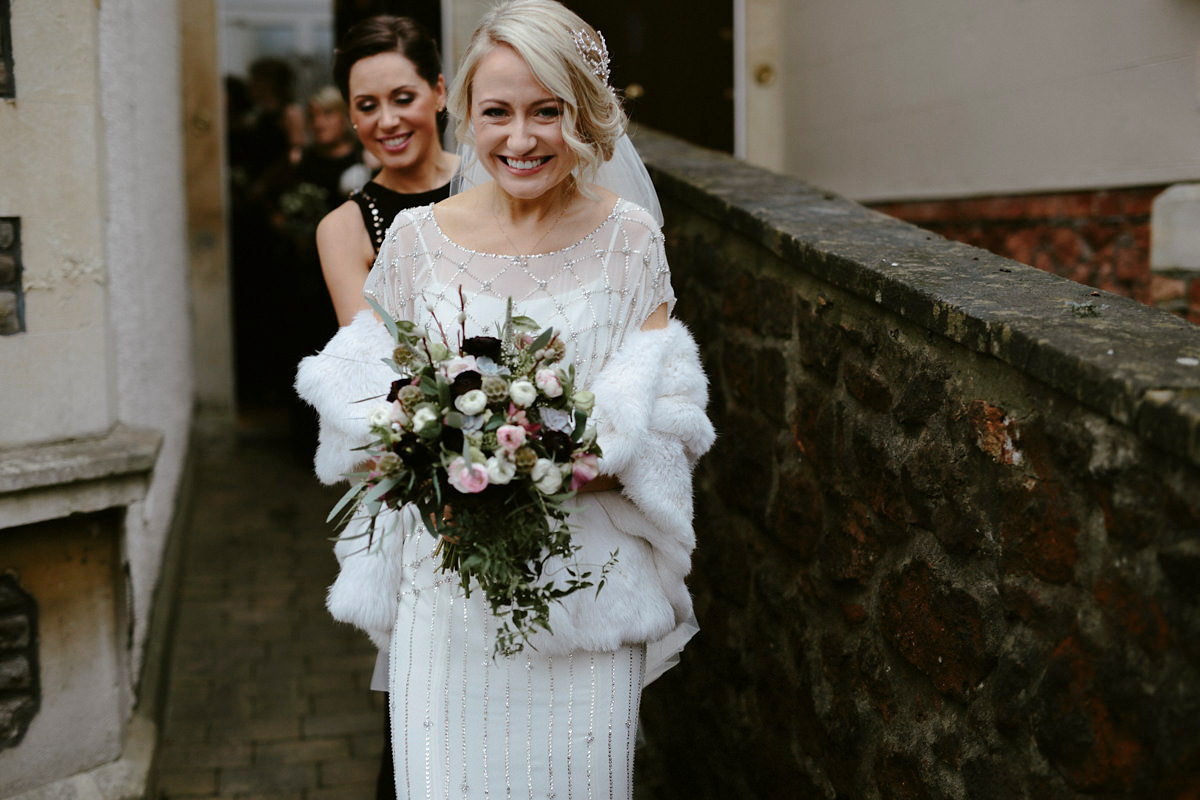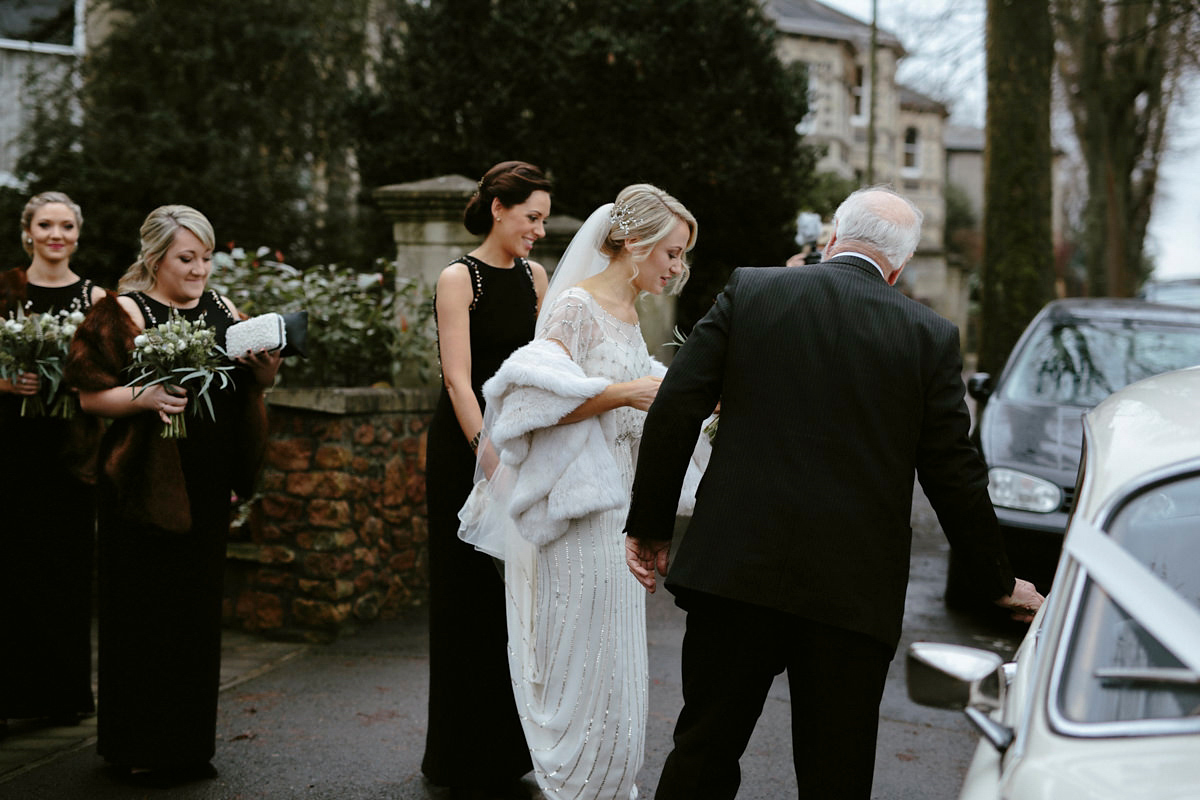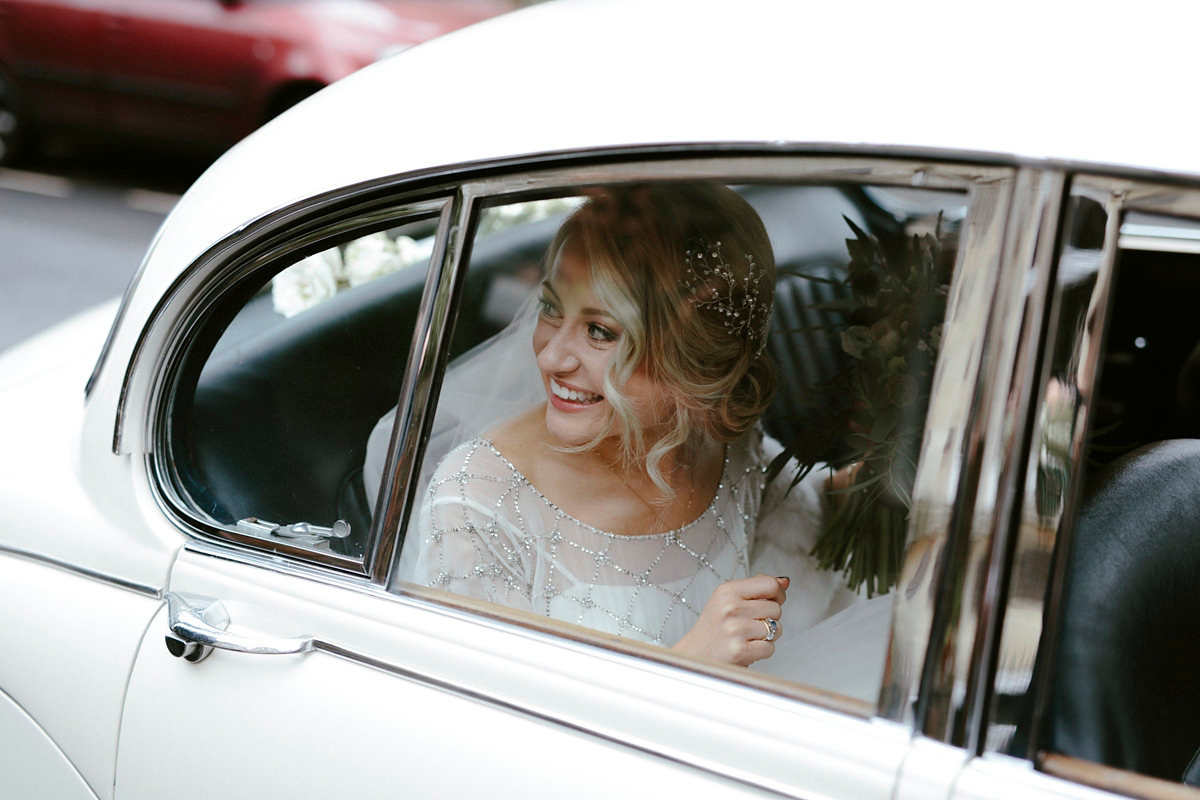 `
"We got married in the outskirts of Bristol in a tiny church a stone's throw away from Dave's family home. We had our reception in a beautiful winter marquee in the garden. Although we live in London, we both grew up in Bristol and it was really important for me to go from my family home and we both wanted to marry in the South West near our friends and family.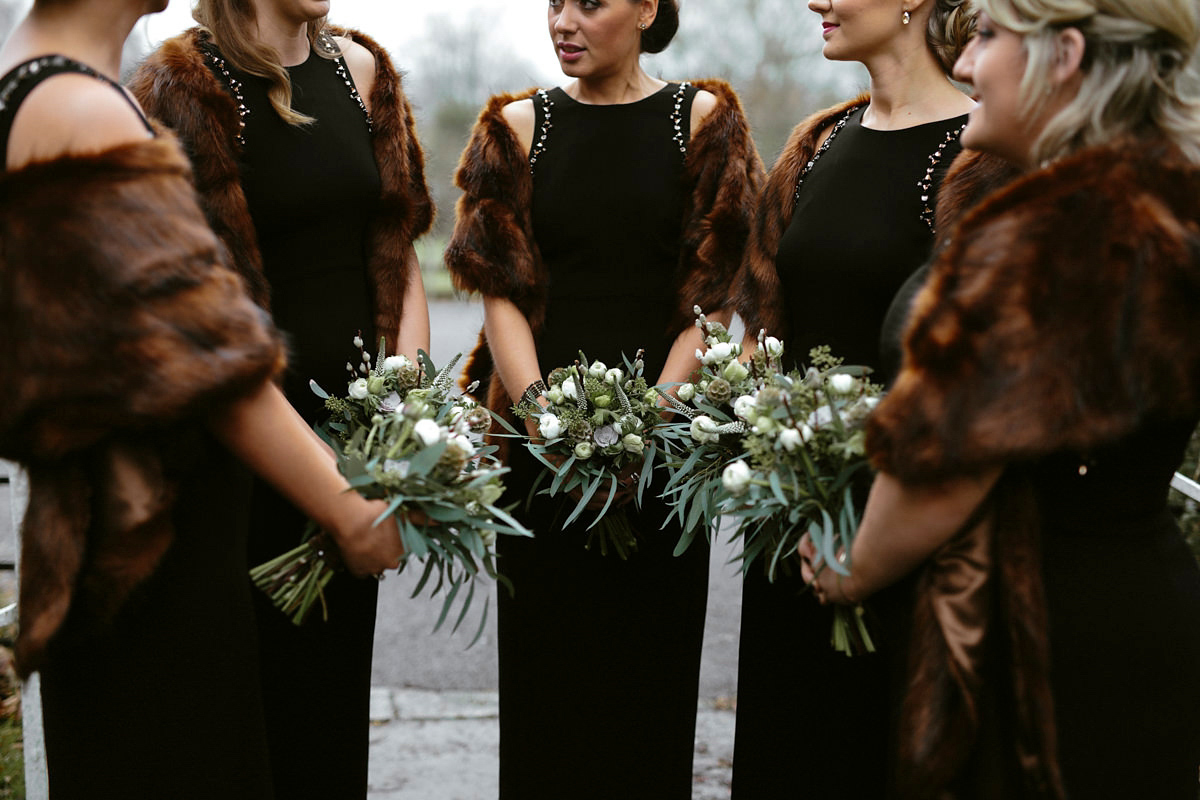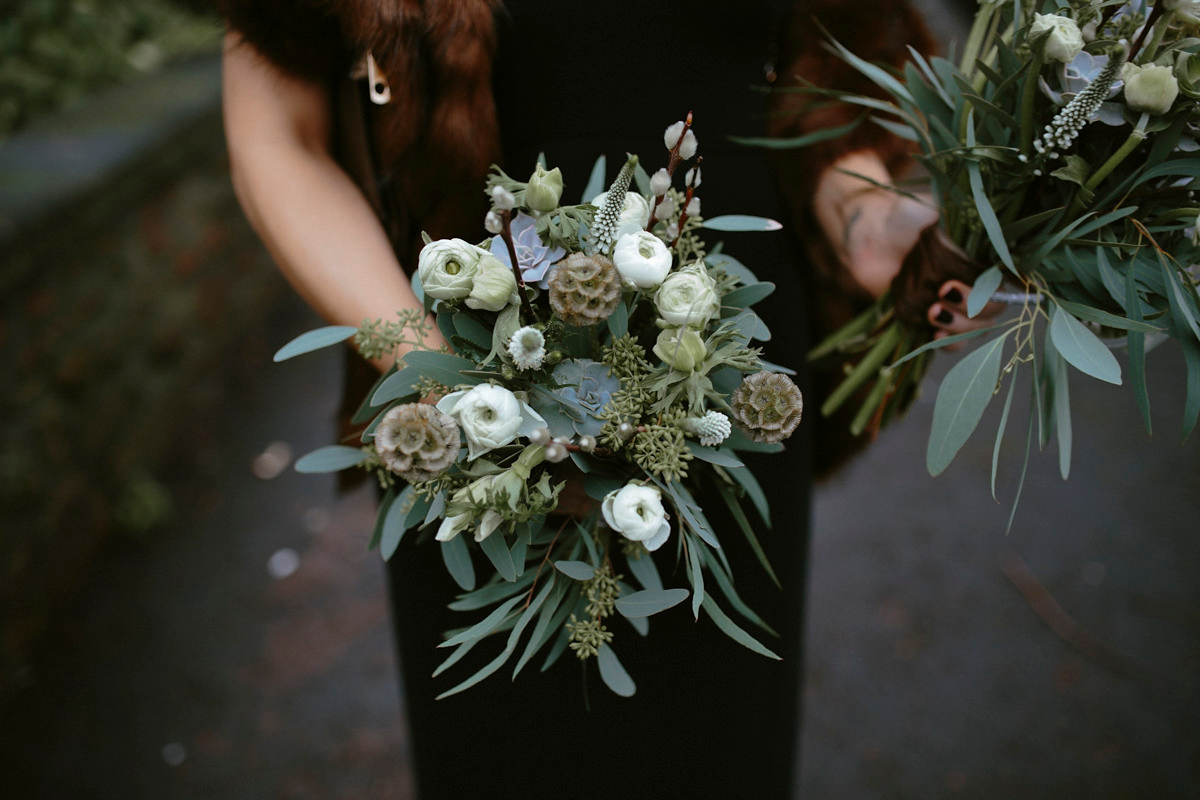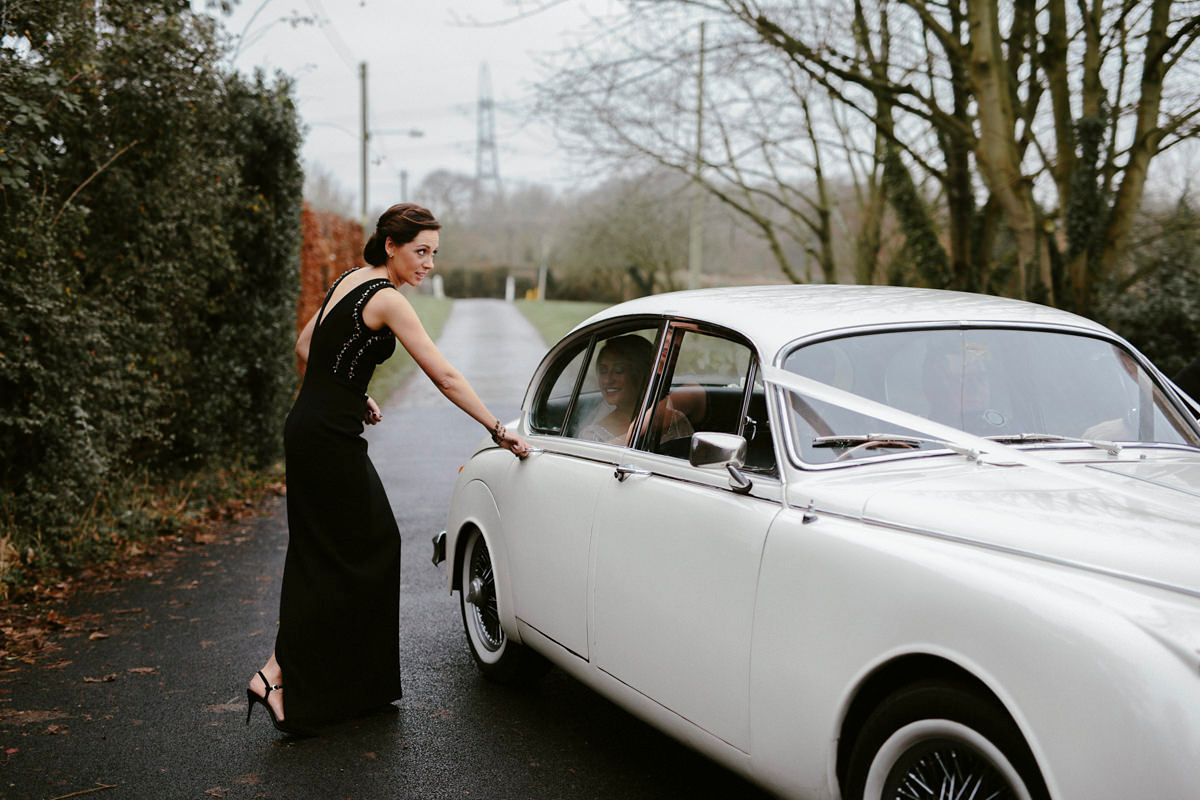 "Given that I lost my dad when I was eight years old, I had my beautiful mum Lynne walk accompany me into the ceremony and I had my five gorgeous bridesmaids entered before me. I am incredibly close to my step-dad Rick so he came in the bridal car with my mum and me and he entered the church to meet Dave and inform everyone of my arrival.
Rick actually knew Dave before I did as he was the Deputy head at his school and was also his rugby coach – it took Dave a while to call Rick Rick instead of Mr Sellers!"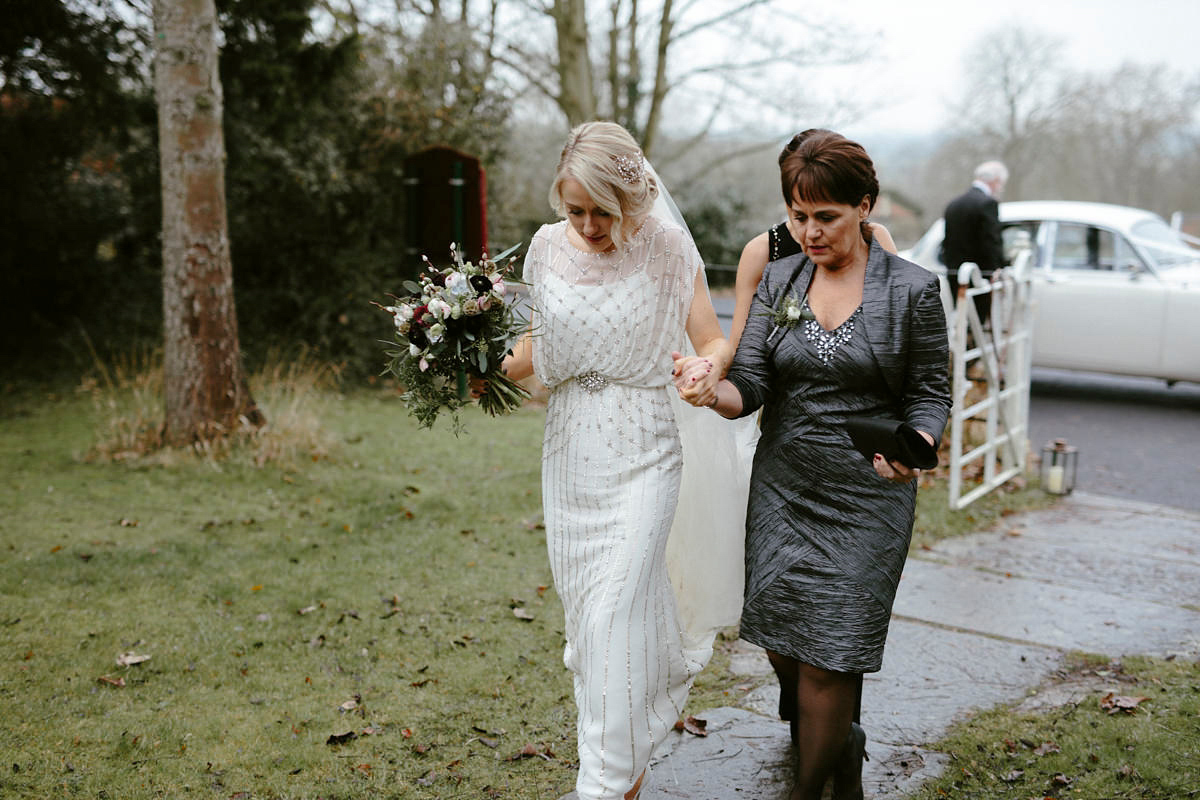 "The Wilde Bunch beautifully decorated the church with foliage pew ends, candle lit window sills and winter wreaths. In the reception they captured our 'bringing the outside in' vision by creating candle and foliage banquet rings, ivy walls and a huge twiggy willow arch. They also decorated the tables with an eclectic mix of candles and copper bottles filled with flowers."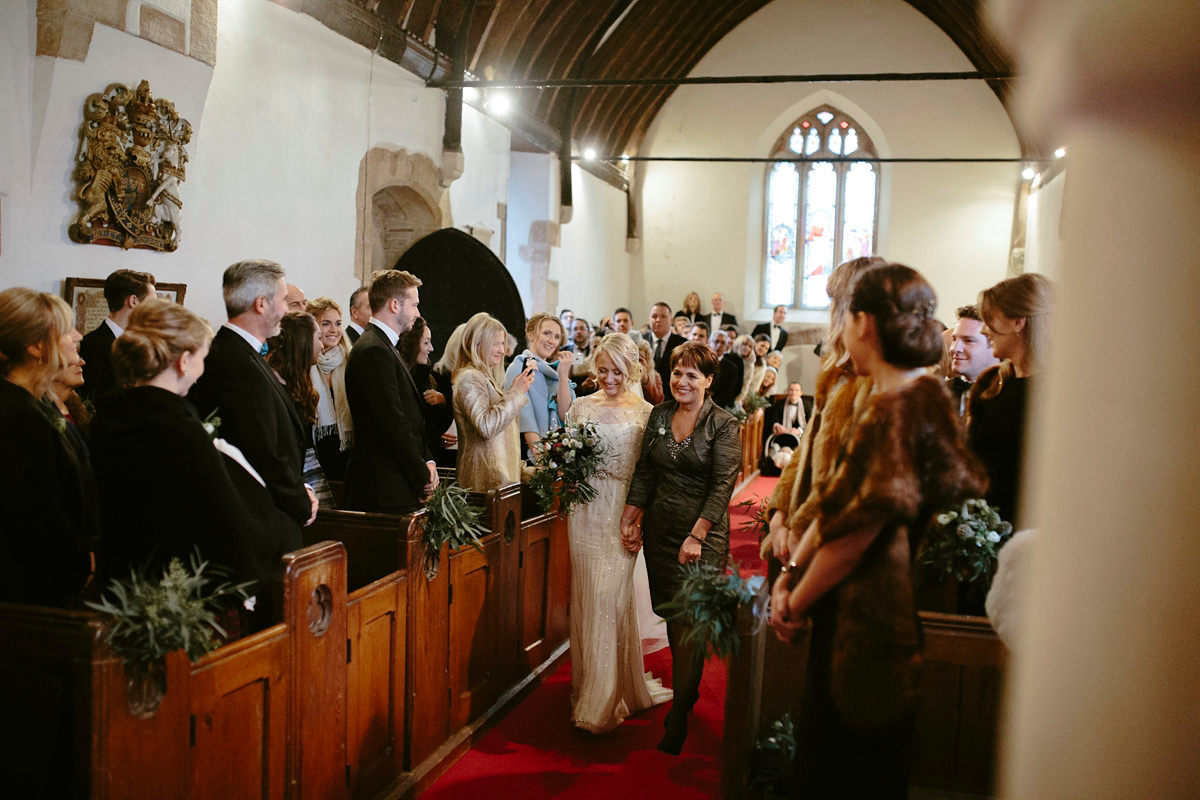 "Dave and I have been together since the age of 16, our relationship has survived sixth form, gap years, university and working life. Although we had been together for 10 years I was not expecting his proposal, Dave had recently quit his job as a qualified corporate lawyer to change careers to become an economics teacher – in my mind a proposal was on the bottom of his priorities list!"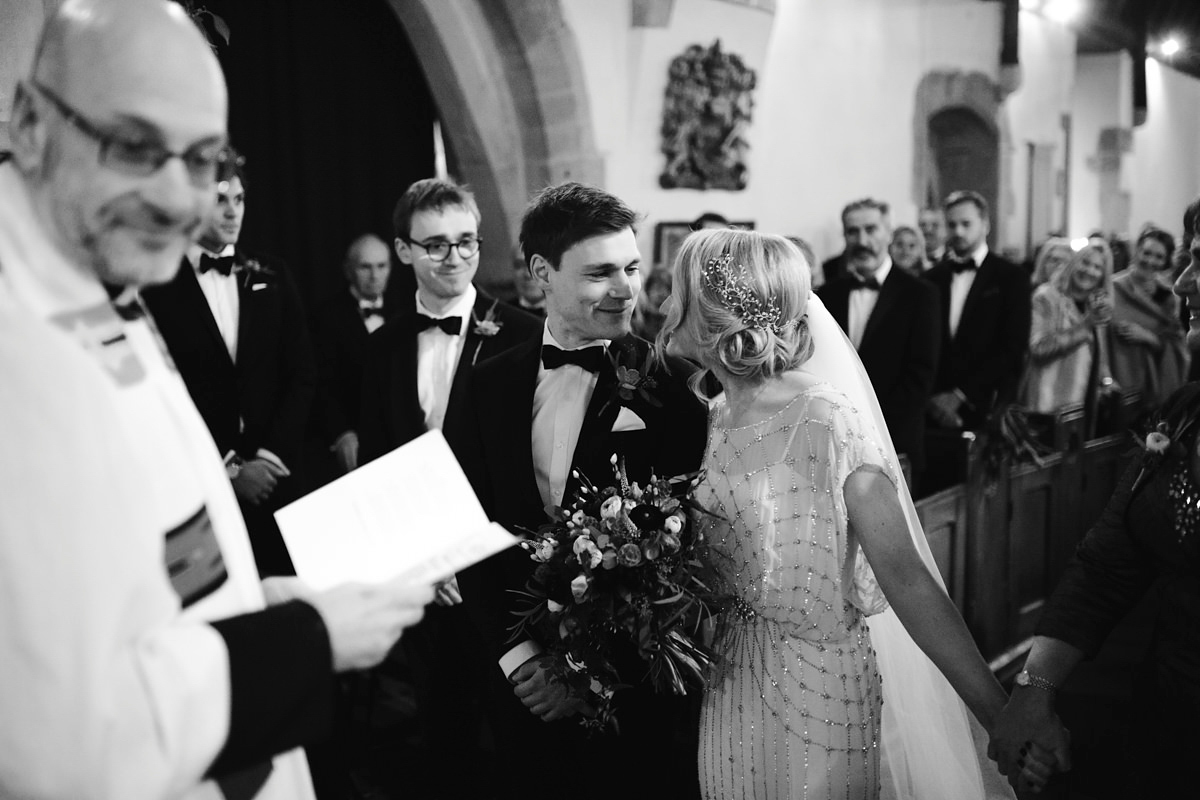 "However, I came home from work on a sunny August evening and Dave had cooked up a Polpo tapas storm, Dave loves to cook and I love Polpo so this wasn't suspicious."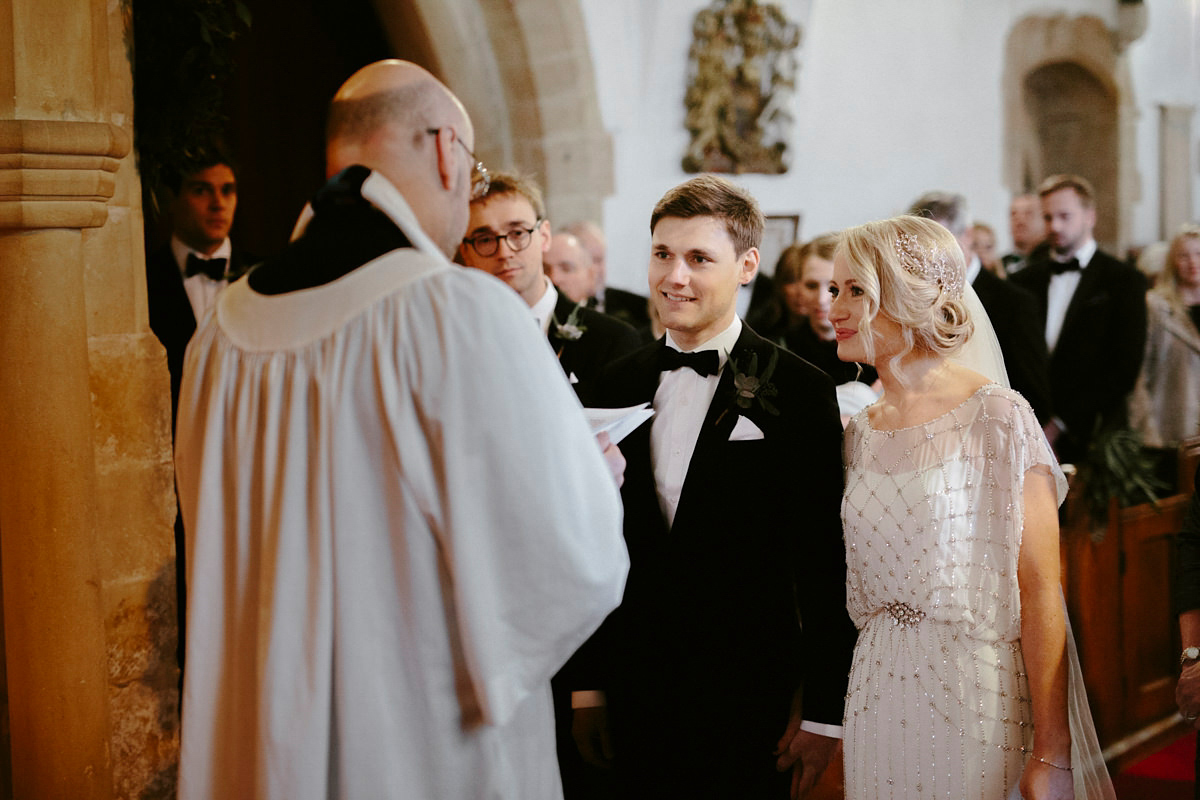 "We were finishing dinner on our balcony in Barons Court which looks over Queens Tennis Club and the next thing I know he is on one knee with a beautiful solitaire diamond that he had chosen and got set in platinum presented on a fine gold band. I lost my dad when I was young and had always wanted my mum and dad's gold wedding bands melted down so a gold engagement ring was perfect!"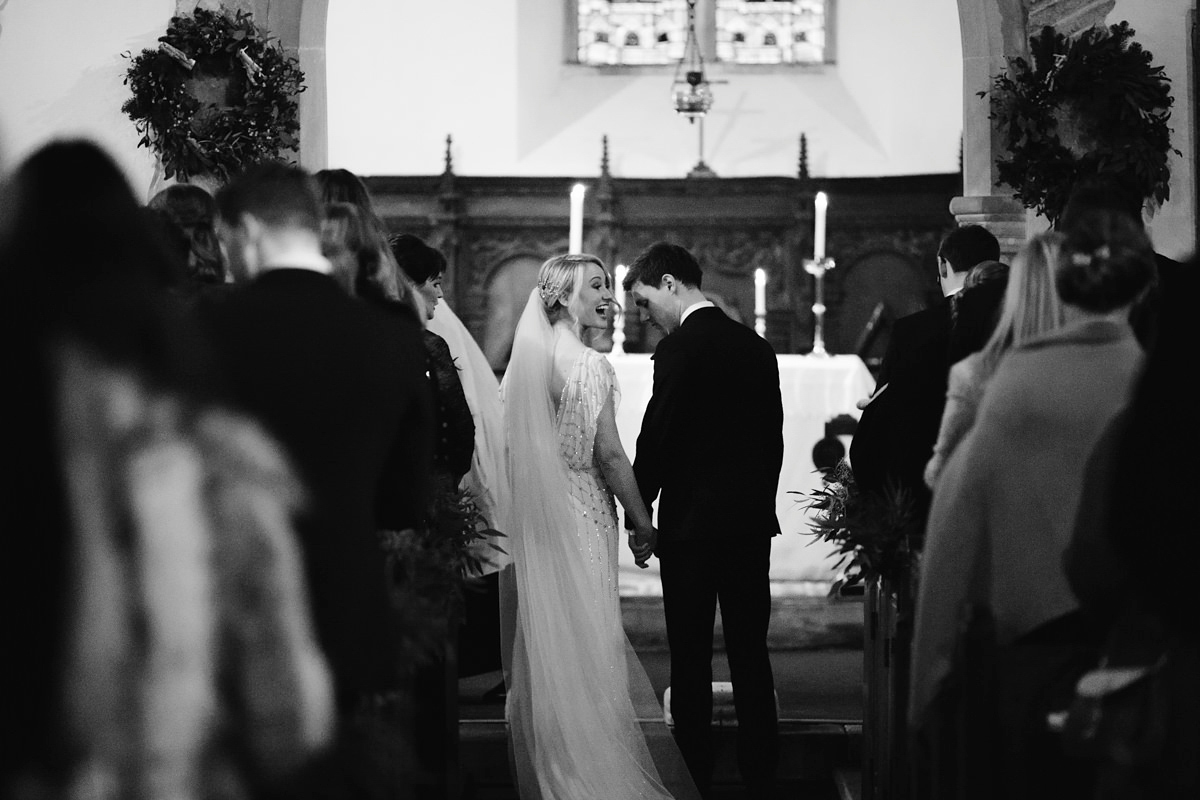 "We had three readings read by some of our closest friends, which included 'Song of Songs 2: 8, 10-13, 8: 6-7′. The two non religious readings were really poignant to us. The first one, 'I Will Be Here', written by Stuart Curtis Chapman, beautifully captured how we have both been there for one another despite times of change and upset. The final reading, 'The Walled Garden', was a reminder to us both that no matter how busy our lives become, we must remember time for one another."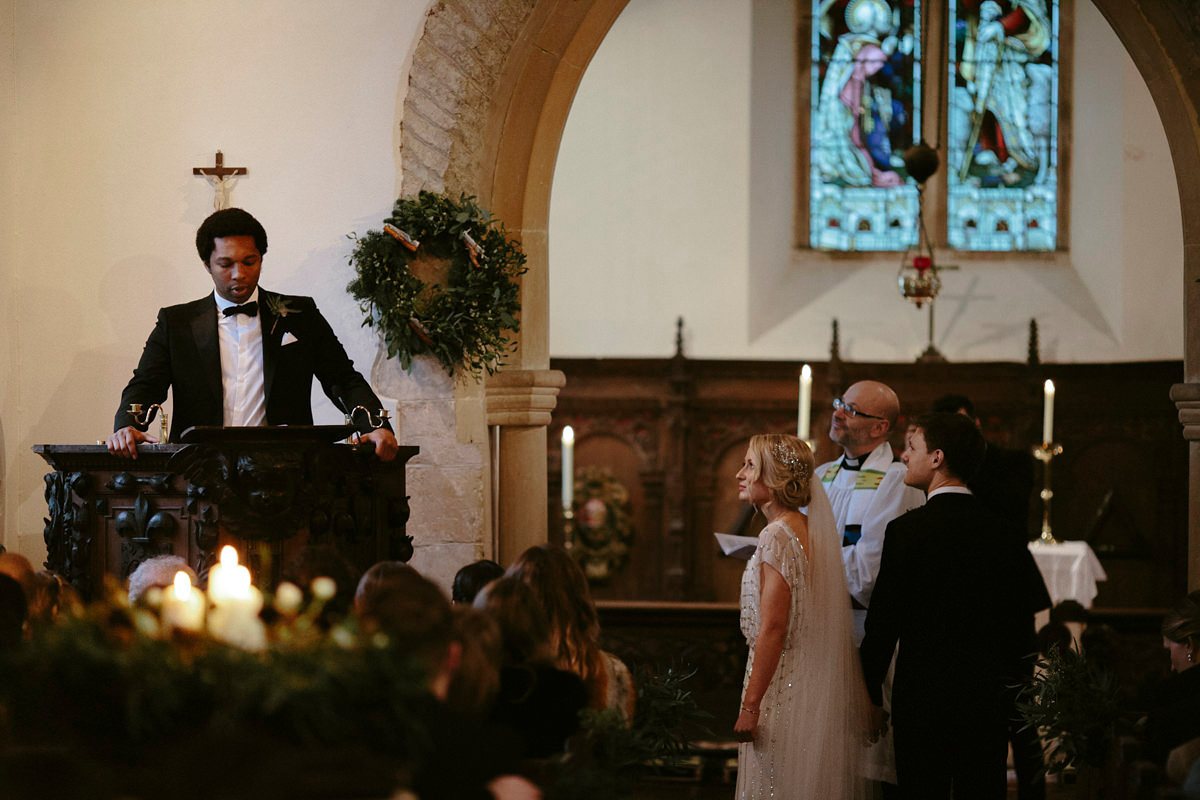 I Will Be Here written by Stuart Curtis Chapman

If in the morning when you wake,
If the sun does not appear,
I will be here.
If in the dark we lose sight of love,
Hold my hand and have no fear,
I will be here.
I will be here,
When you feel like being quiet,
When you need to speak your mind I will listen.
Through the winning, losing, and trying we'll be together,
And I will be here.
If in the morning when you wake,
If the future is unclear,
I will be here.
As sure as seasons were made for change,
Our lifetimes were made for years,
I will be here.

I will be here,
And you can cry on my shoulder,
When the mirror tells us we're older.
I will hold you, to watch you grow in beauty,
And tell you all the things you are to me.
We'll be together and I will be here.
I will be true to the promises I've made,
To you and to the one who gave you to me.
I will be here.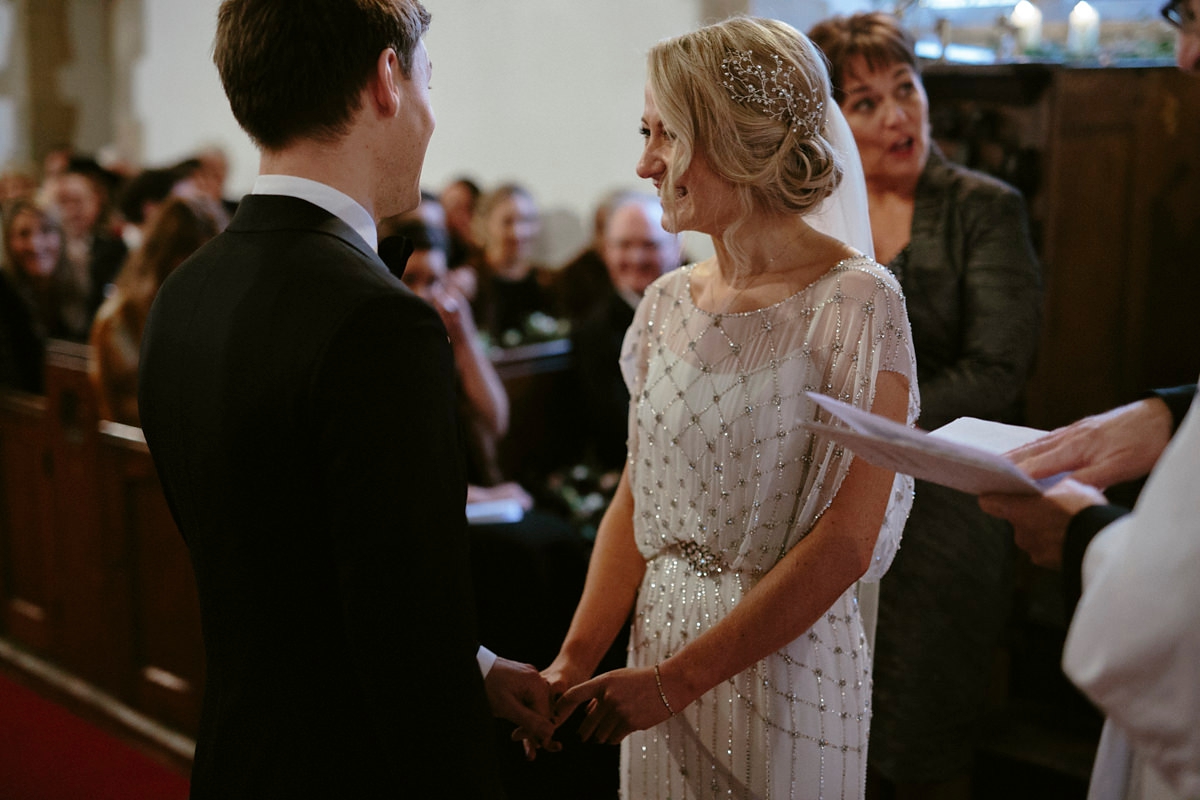 The Walled Garden (author unknown)

Your marriage should have within it a secret and protected space, open to you alone. Imagine it to be a walled garden, entered by a door to which you only hold the key.

Within this garden you will cease to be a mother, father,
teacher, homemaker or any other of the roles which
you fulfil in daily life.

Here you can be yourselves, two people who love each other.
Here you can listen to each other and concentrate on one another's needs.

Take each other's hands and go forth to your garden.
The time you spend together is not wasted but invested – invested in your future and nurture of your love.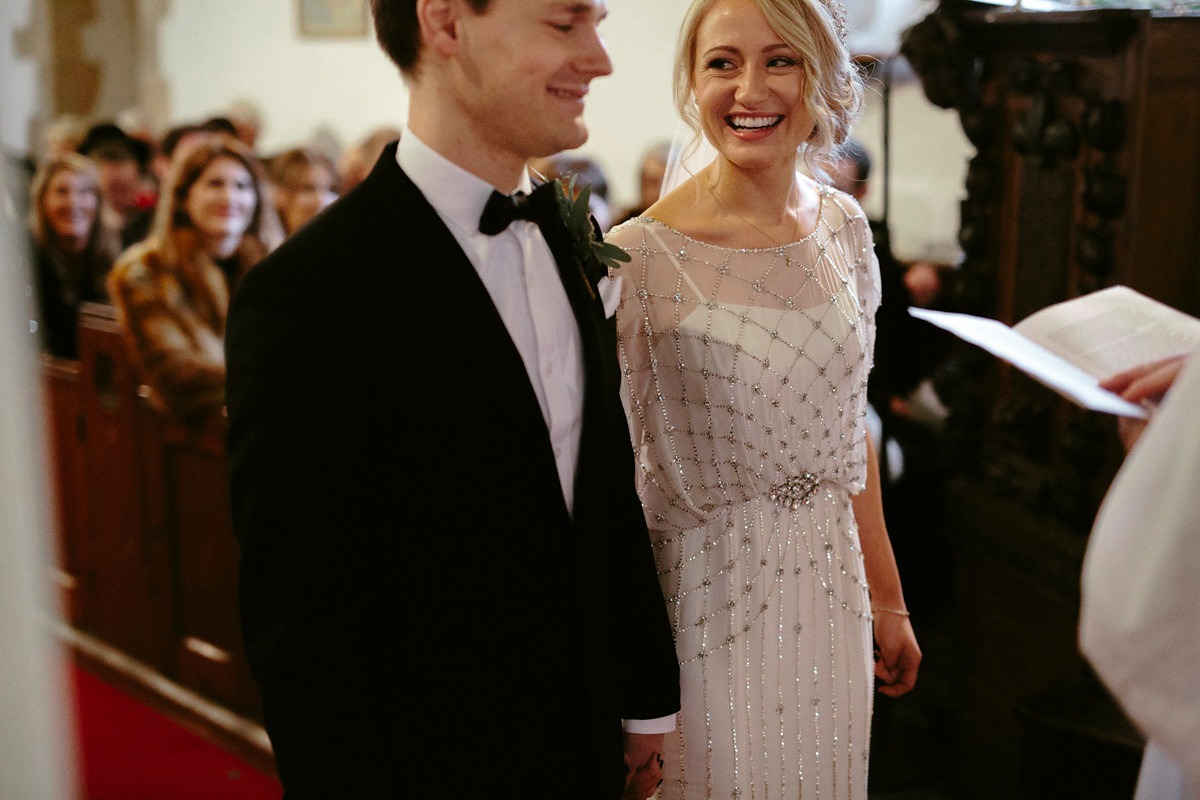 "Dave got my engagement ring made at Sodbury Jewellers, an independent jeweller close to his family home where his family have bought lots of special bits over the years.
As mentioned already, I lost my dad when I was young and had always wanted my mum and dad's gold wedding bands melted down. Sodbury jewellers melted my parents rings down and made two bands, one for me and one for my sister." 
"We both had our wedding bands engraved 'From Dave to Georgie 31-December 2016' 'From Georgie to Dave 31-December 2016'."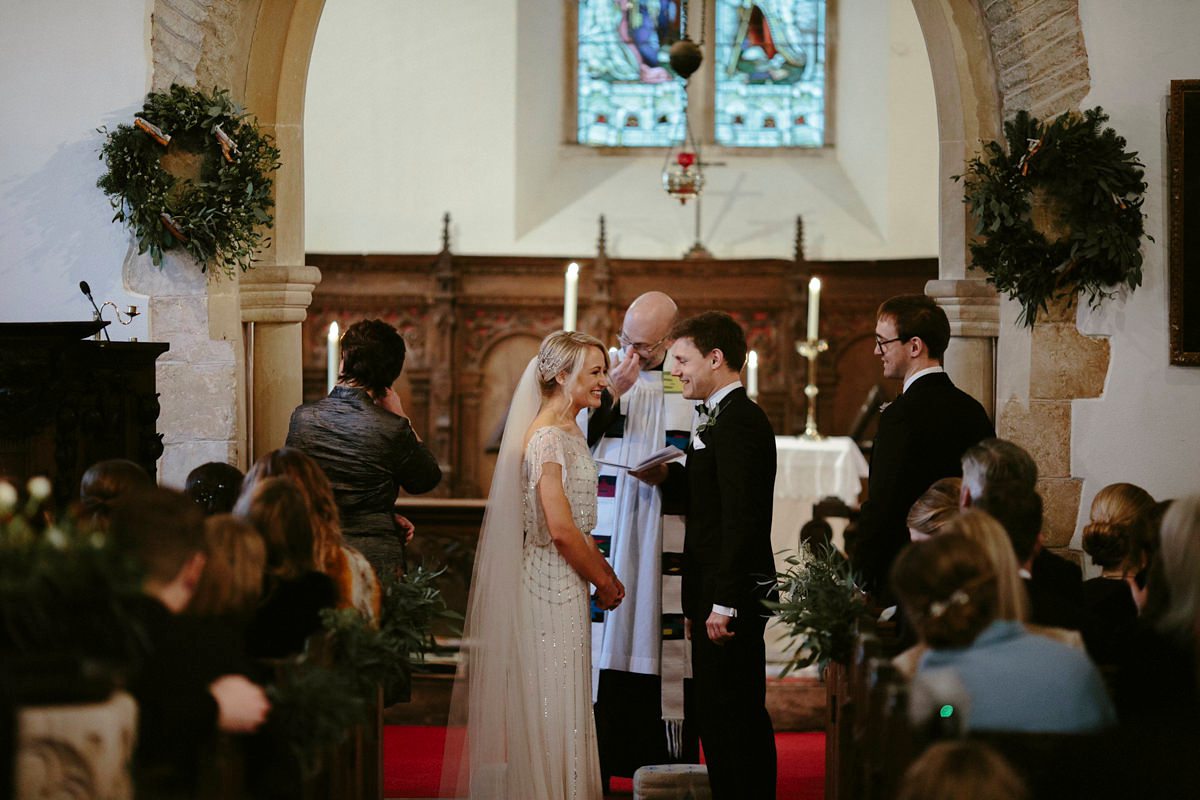 "Our church service was beautiful and intimate – I remember turning around and seeing all of our friends and family snuggled up under one roof witnessing us get married and getting overwhelmed with emotion."
"At first we didn't contemplate a marquee wedding as we didn't think it was possible to have a marquee in winter. We searched high and low for venues near to home but they didn't quite fit the bill."
"They wanted us out by midnight (not ideal for a New Year's Eve wedding), they only catered for 100 guests (we had 125) and they came with preferred suppliers – something we desperately wanted to avoid.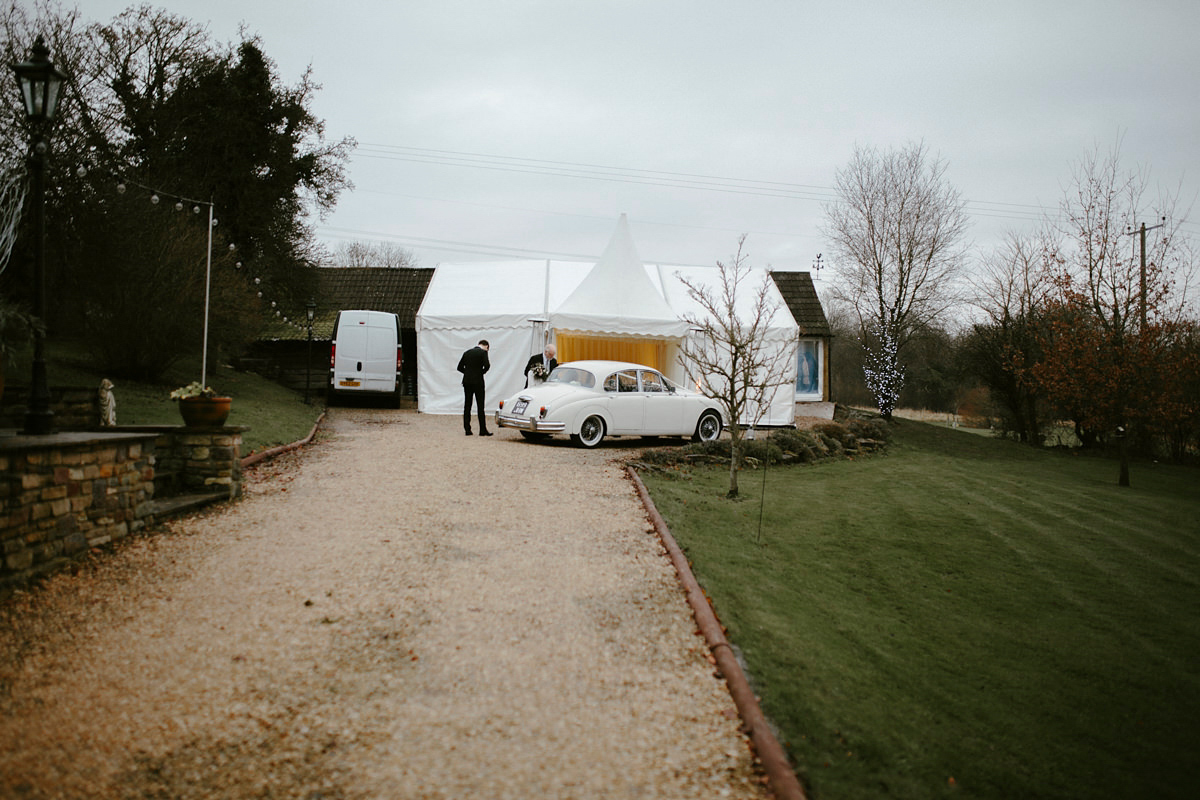 "We then researched winter marquees and found Good Intents – this is when our winter wedding dream became a reality! The word marquee doesn't do our magical marquee justice, it was truly phenomenal."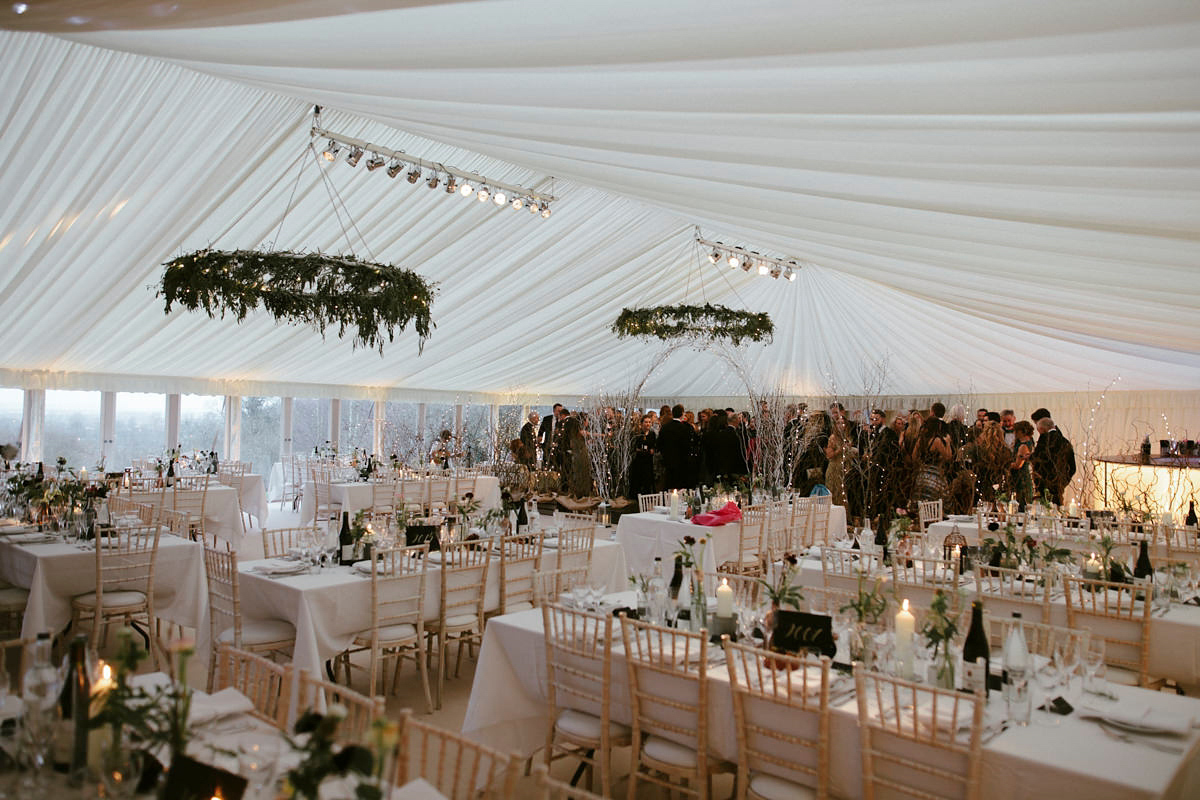 "We had a 30m glass wall which allowed guests to see our handmade iron 'fireballs', they lit up trees and beautiful Cotswolds setting. We cannot recommend the team from Good Intents more highly –they were incredibly professional and grasped exactly what we wanted!"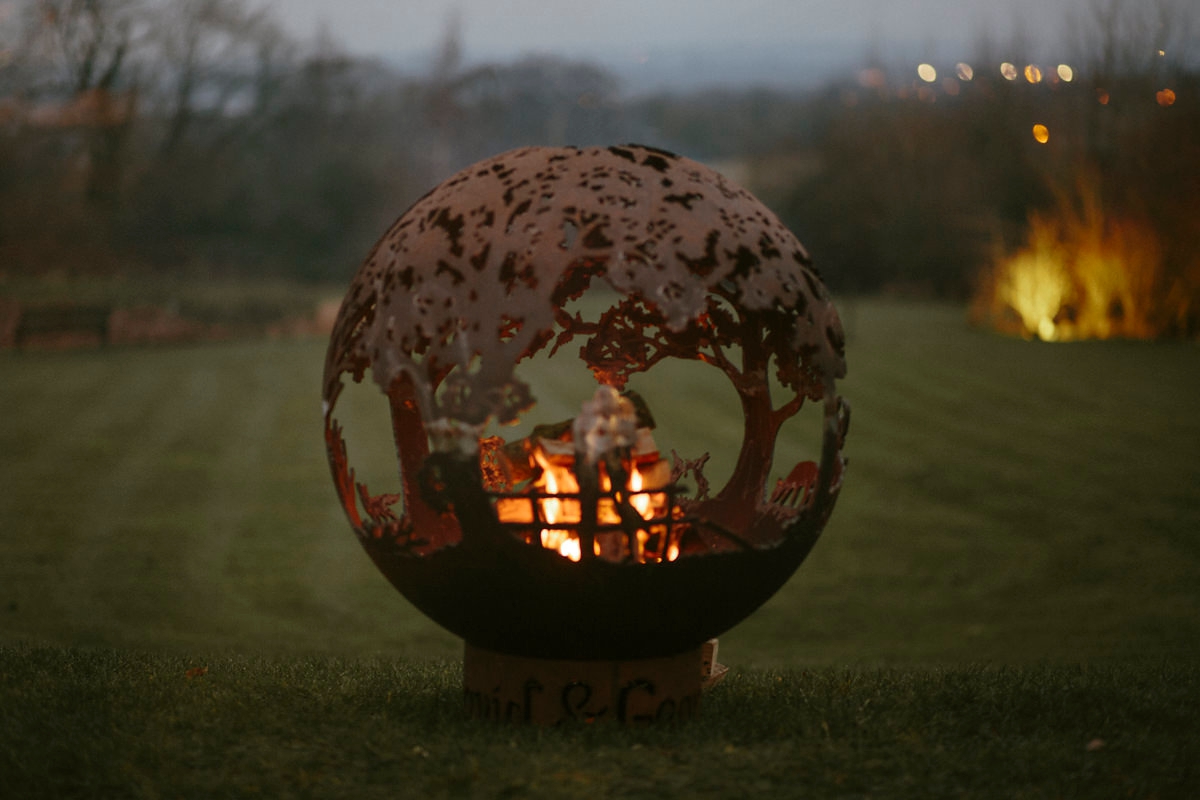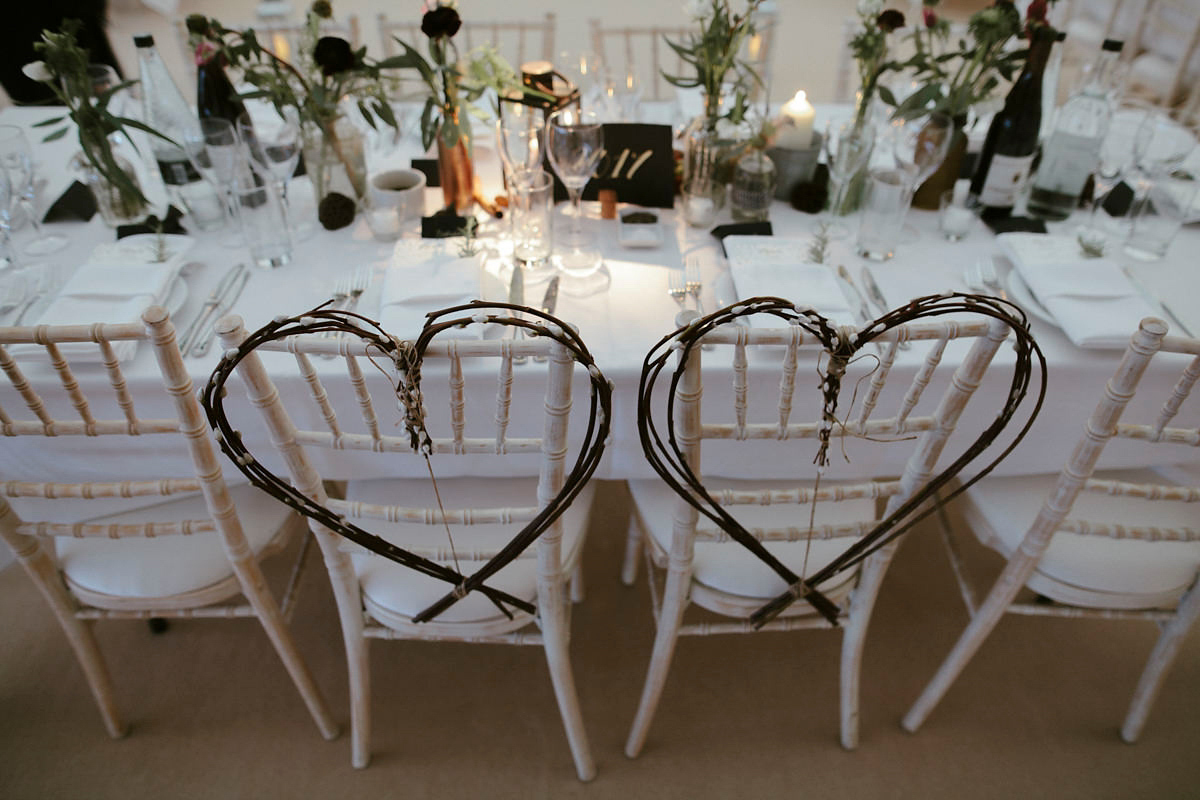 "Our stationery designer was Phylecia Sutherland, who we had discovered through Love My Dress. We had an initial phone consultation and we shared a Pinterest board which enabled her to create a bespoke design that captured our New Year's theme. She made our save the dates, invites, order of service, menus, table names and table signs. Her save the dates really set the tone for our wedding."
"At the end of our order of service we had the following quote, it perfectly summed up our relationship; 'The future for me is already a thing of the past – You were my first love and you will be my last', by Bob Dylan."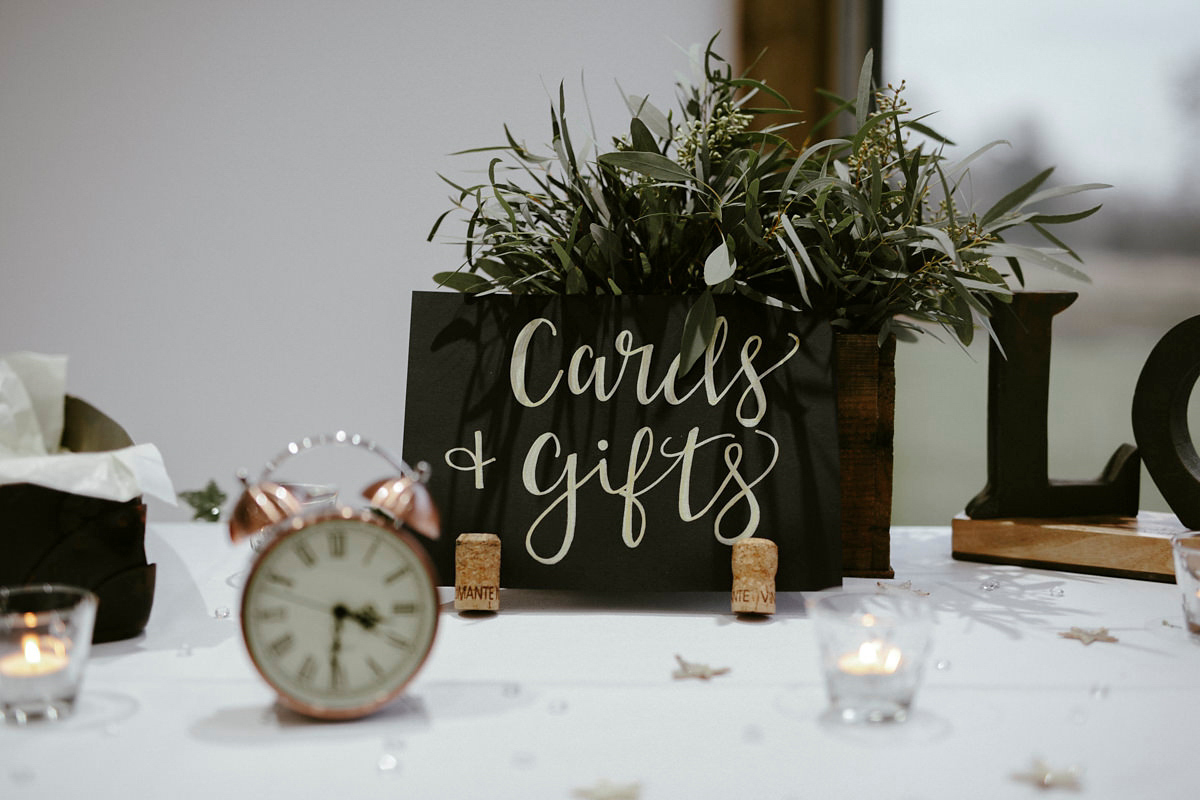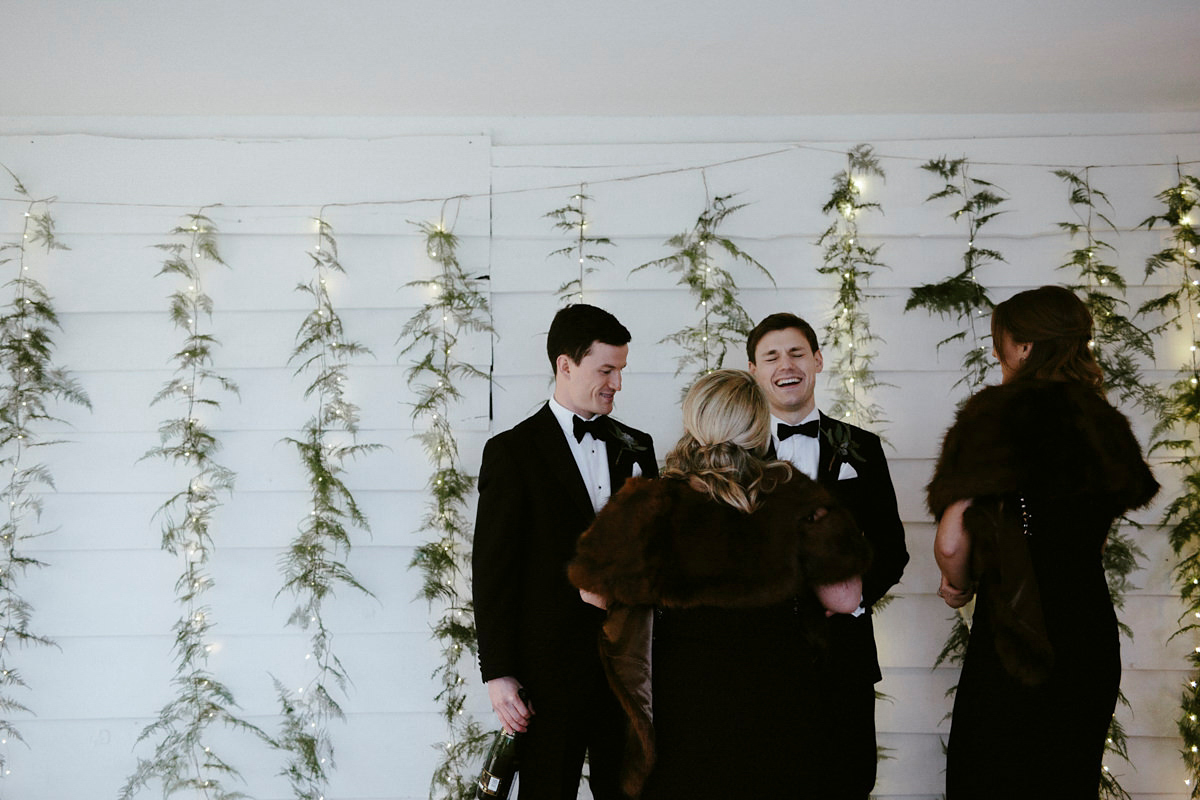 "We had 'posh pies', mash and mint mushy peas by Pieminister. It is really important to highlight to those doing a marquee wedding how important it is to ensure the staff are good! The event manager from Pieminister was very professional yet relaxed; she made sure the whole wedding went smoothly. We also used a company call The Waiting Game to run the bar and serve the food – they were excellent."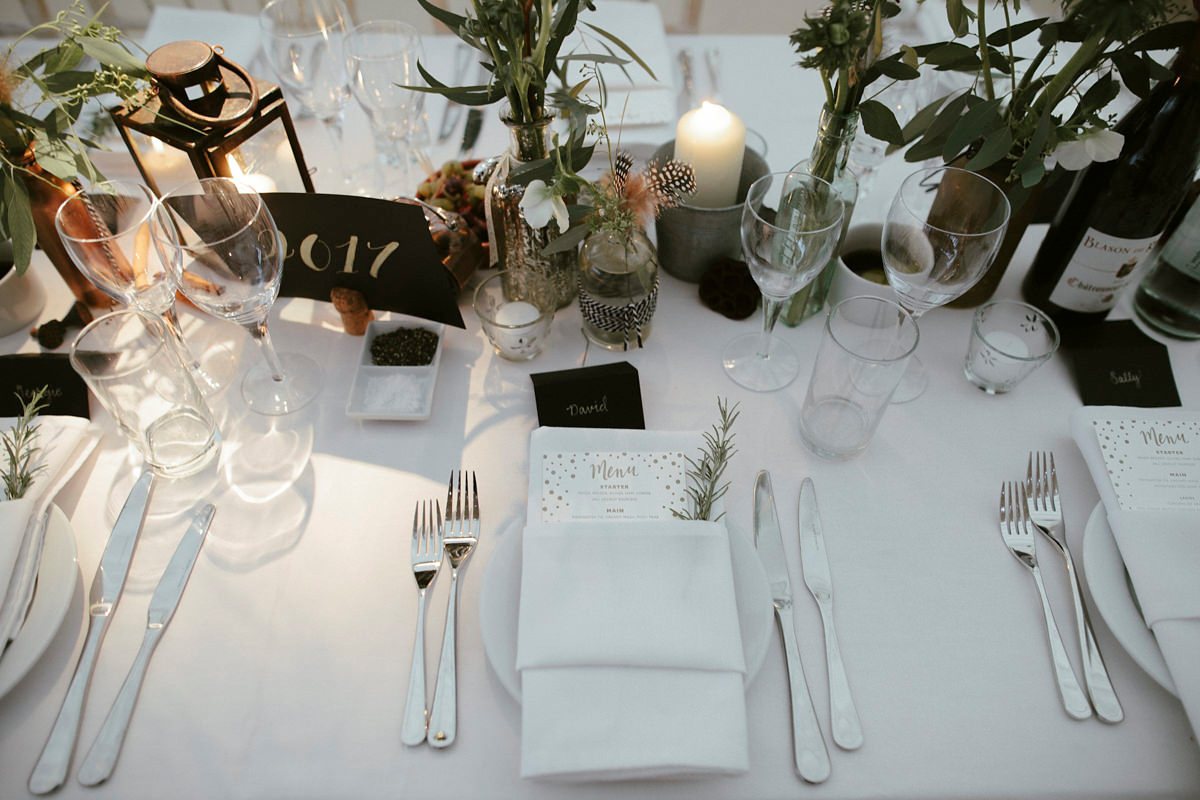 "We nearly missed off ordering linen, glass wear, crockery and ice! We found Blast Event Hire who was excellent and you didn't have to wash anything up afterwards either."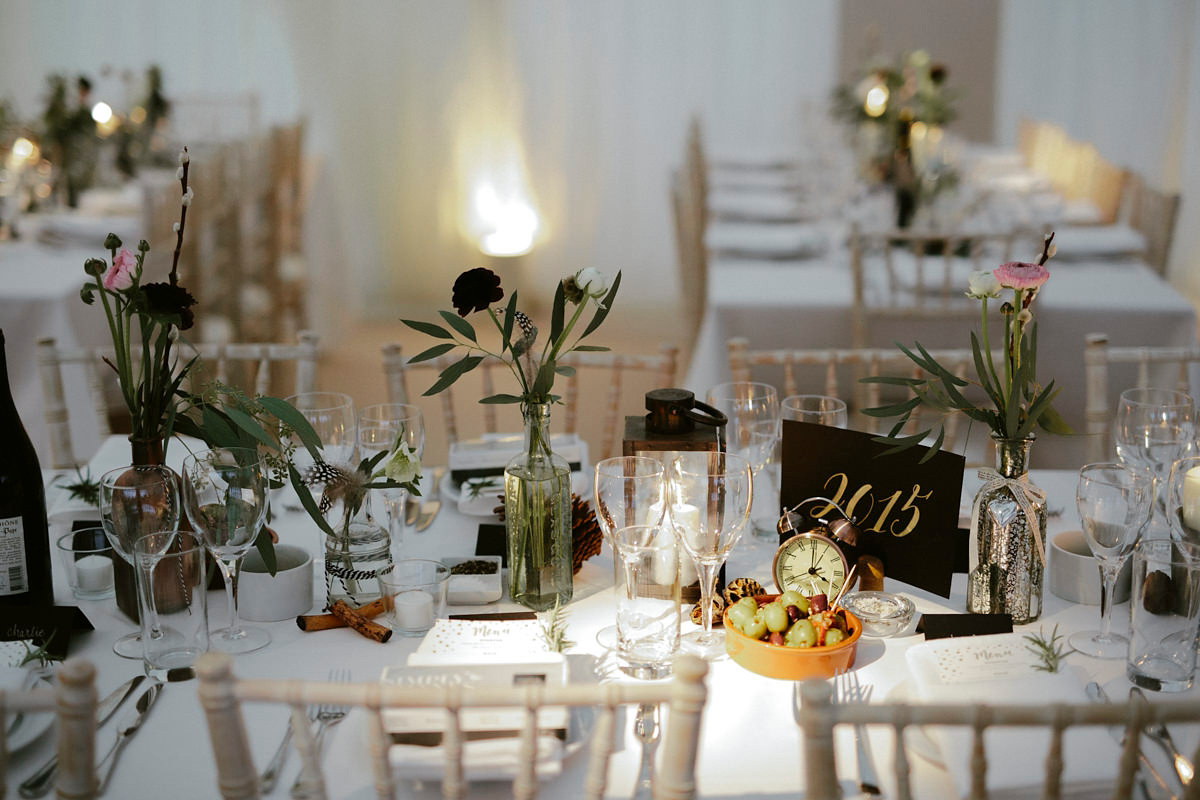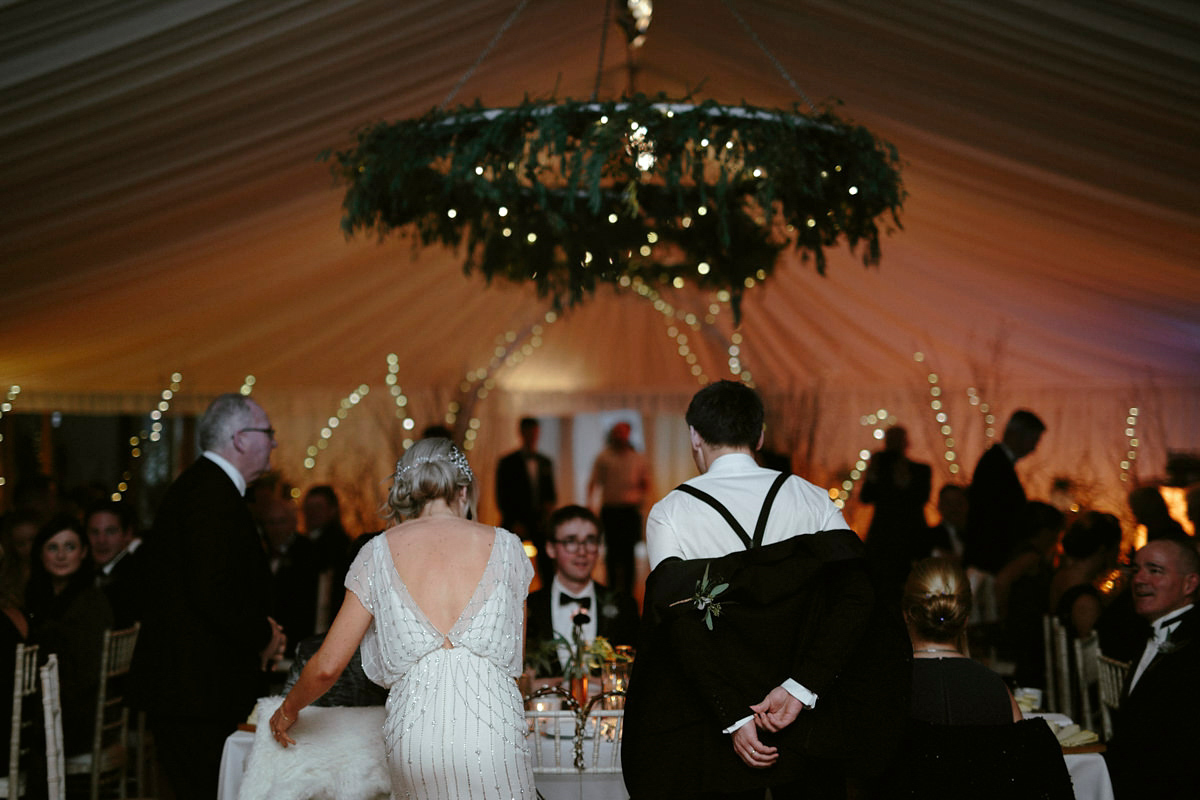 In homage to the special evening they were celebrating, the couple used sparklers and party poppers and copper clocks that counted down to midnight. Other decor included LED lit up trees to hang their table name places on,
a 15m wide twiggy willow wall to divide the reception from the dining area and band, 100m long festoon lighting along the drive and iron fireballs with their names engraved.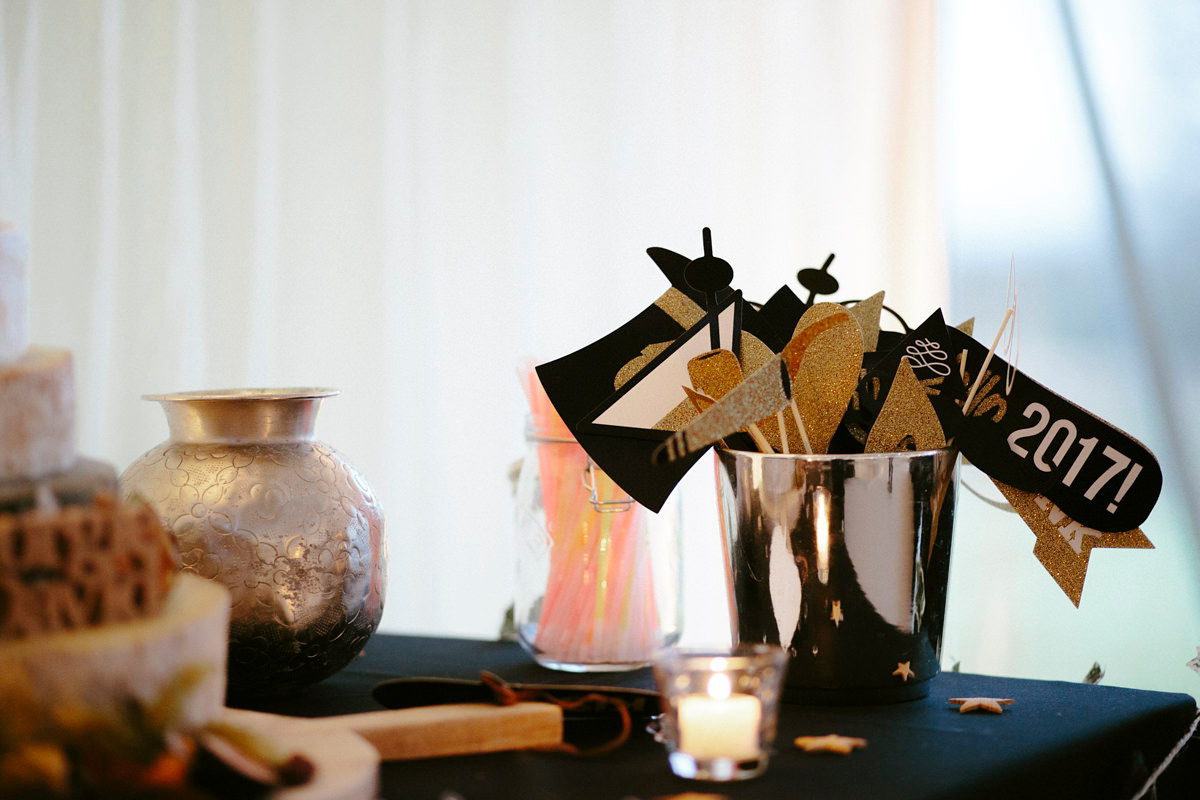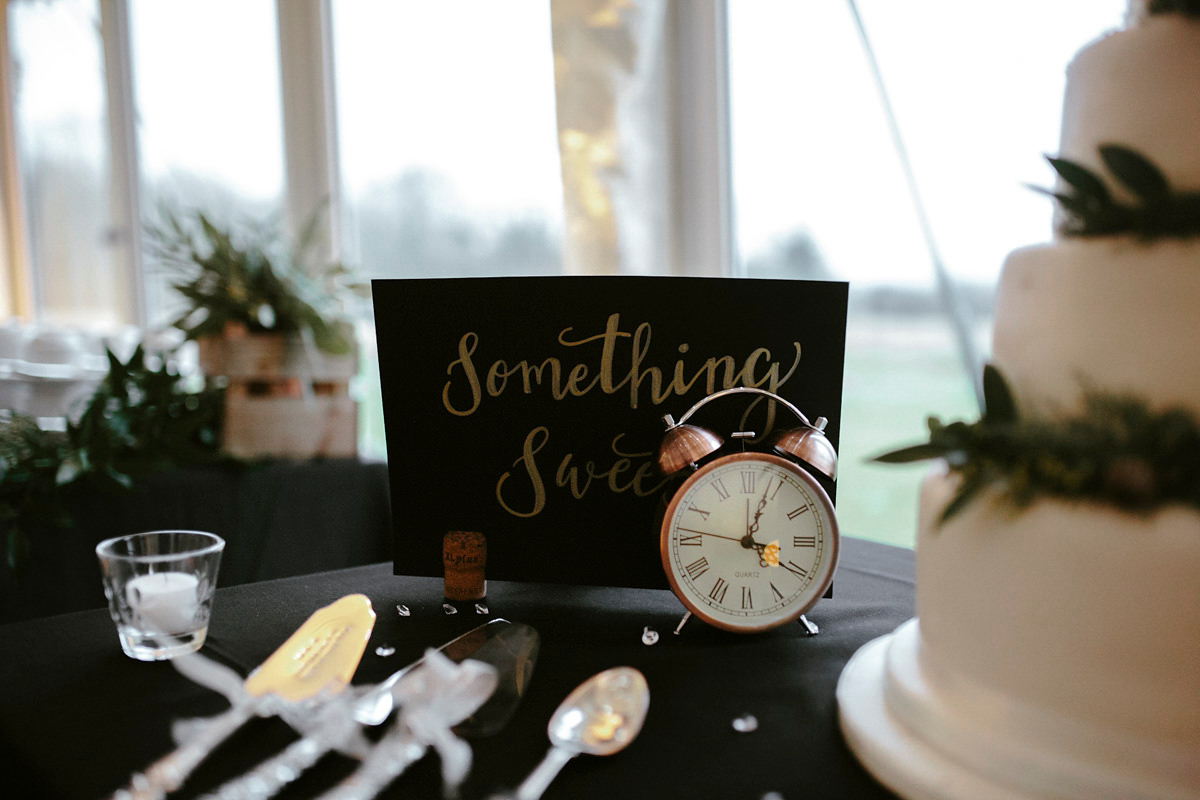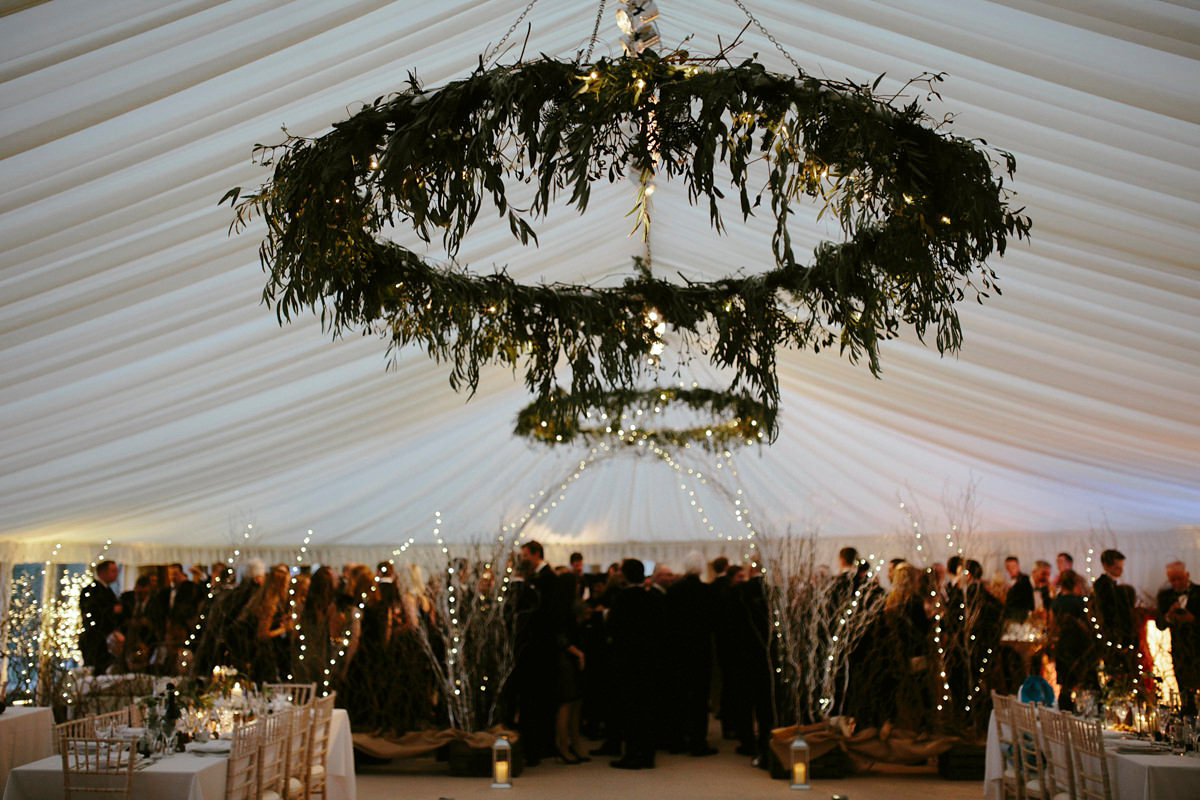 "The speeches were excellent! The MC, Dave, the best man and my step-dad really bounced off one another and they got the guests to feel relaxed and had them in fits of laughter."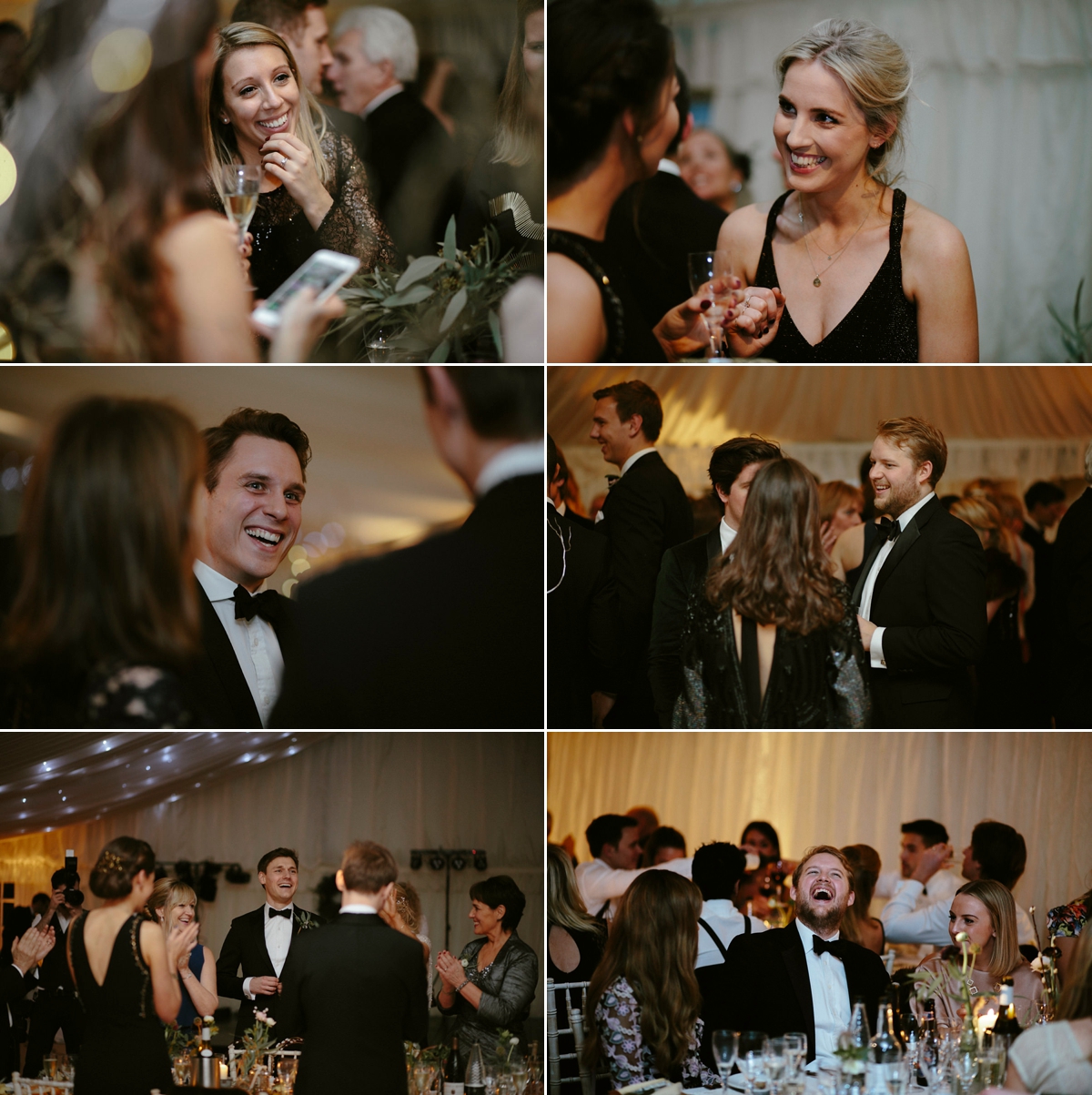 "The countdown to New Year was also really special, we had party poppers, champagne and music and it finished 2016 with a bang!
"It is hard to know quantities of drinks for home weddings. Remember to get ice and water (lots of it) and elderflower presse for non-drinkers. Here's what we got through for our 125 guests!"
120 x champagne
50 x bottles of glass water for tables
60L of plastic bottles water for the whole day
75 x red wine
70 x white wine
20L x gin
10L x rum
5L x vodka
2 x kegs of local ale
200 x bottles of beer
90 x tonic
20 x ginger beer
20 x coke
10 x orange juice
30 x elderflower presse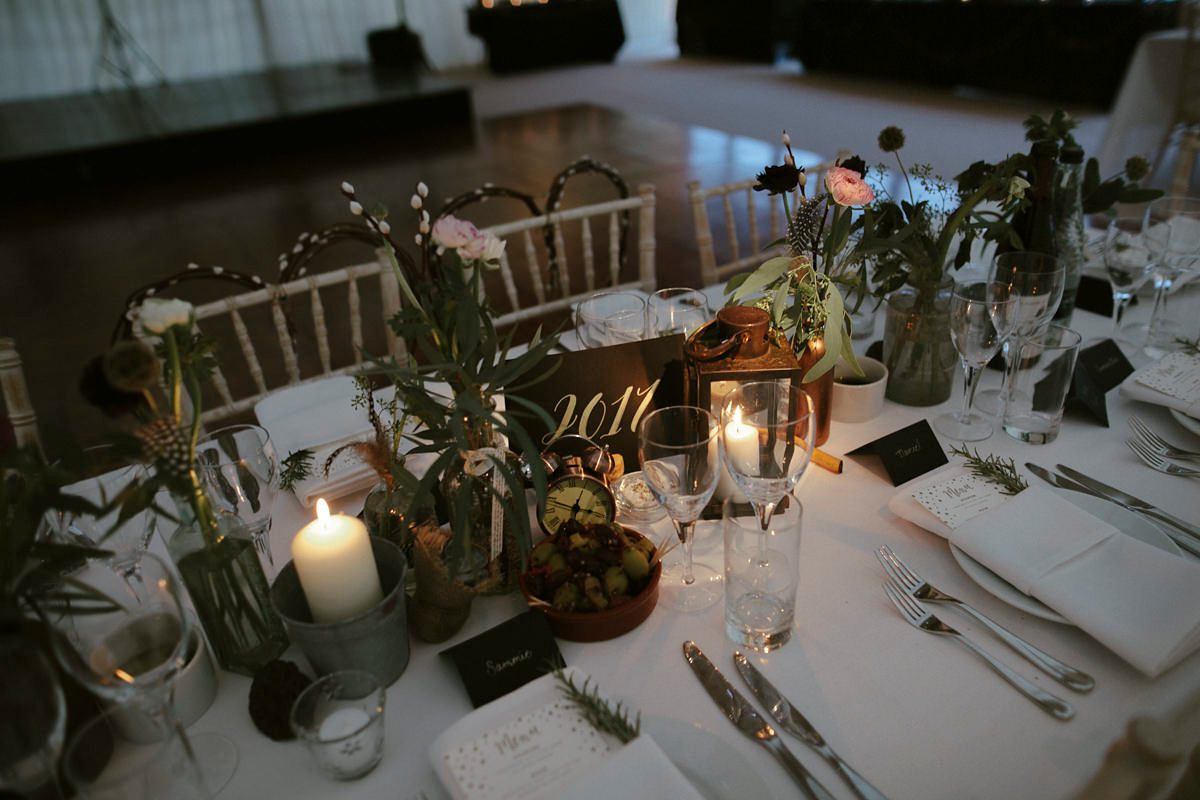 "We chose Rebecca Heise of Cake Galleria as she was a good friend of my sister-in-law and she made an incredible cake for their wedding. She is a physiotherapist by day but a very talented cake maker in her spare time."
"I asked some of my family friends to make some pudding bits for our 'something sweet' table. As we were having a filling main course we decided to forgo a sit-down dessert and to have a pudding table instead."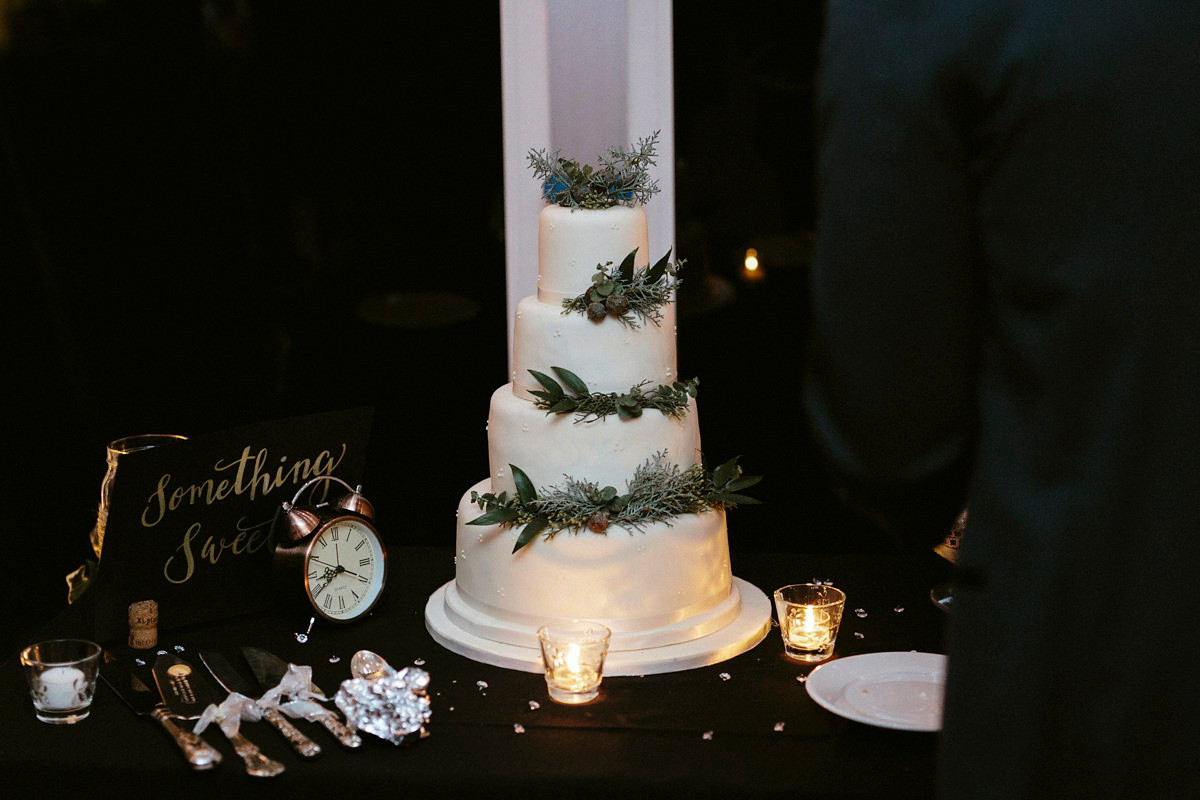 "We also got an amazing 7kg cheese cake made for our 'something savoury' table from West Country Cheese – surprisingly it all went!"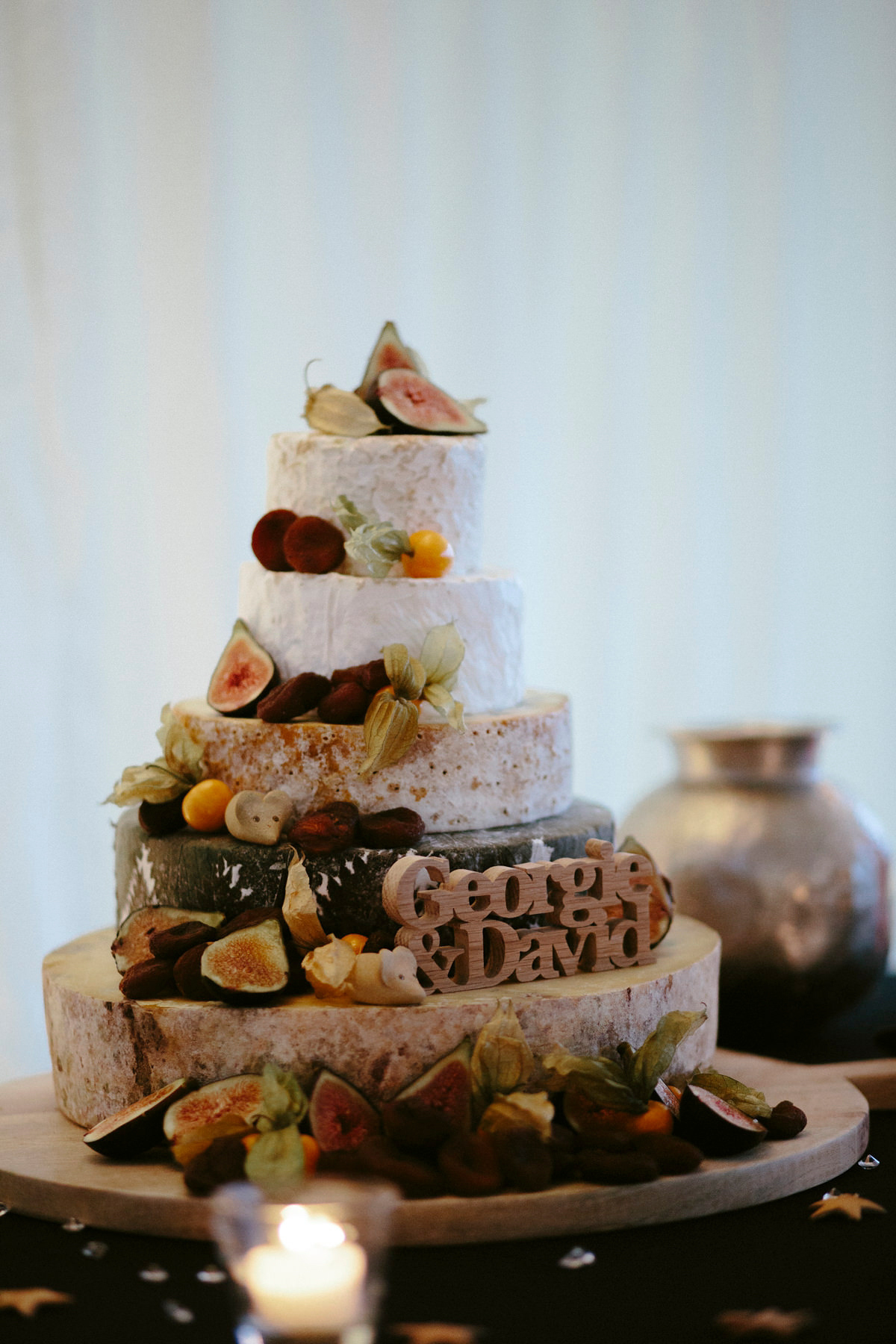 The coupled danced to 'You and Me', by Penny and the Quarters.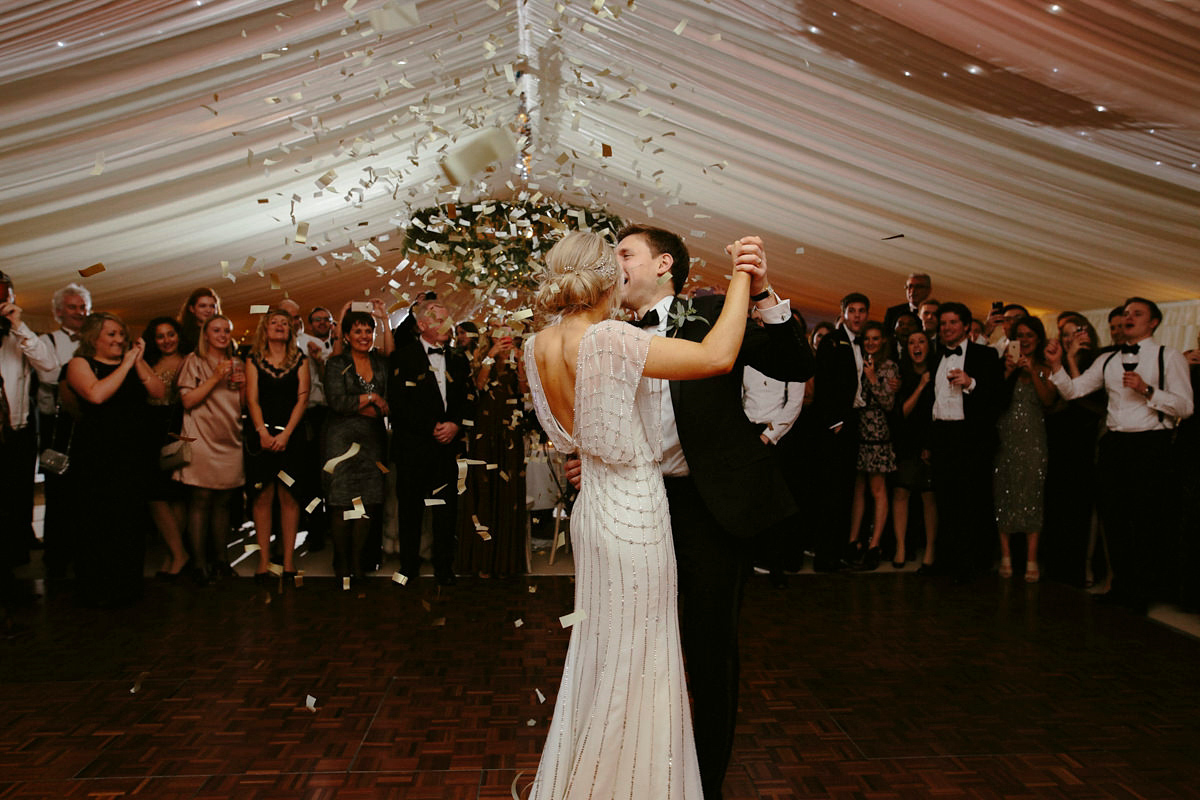 "When we moved to London six years ago I was incredibly home sick. Dave took me out for the day and played me this song on a long drive and from then on it became 'our song'."
"We hired the Kingtastic band – they had everyone dancing all night long! They were full of energy and read the crowd perfectly with their music selection – they really made the evening and helped us countdown to 2017!
We loved the whole day – watching our video and seeing our photos makes us want to do it all over again."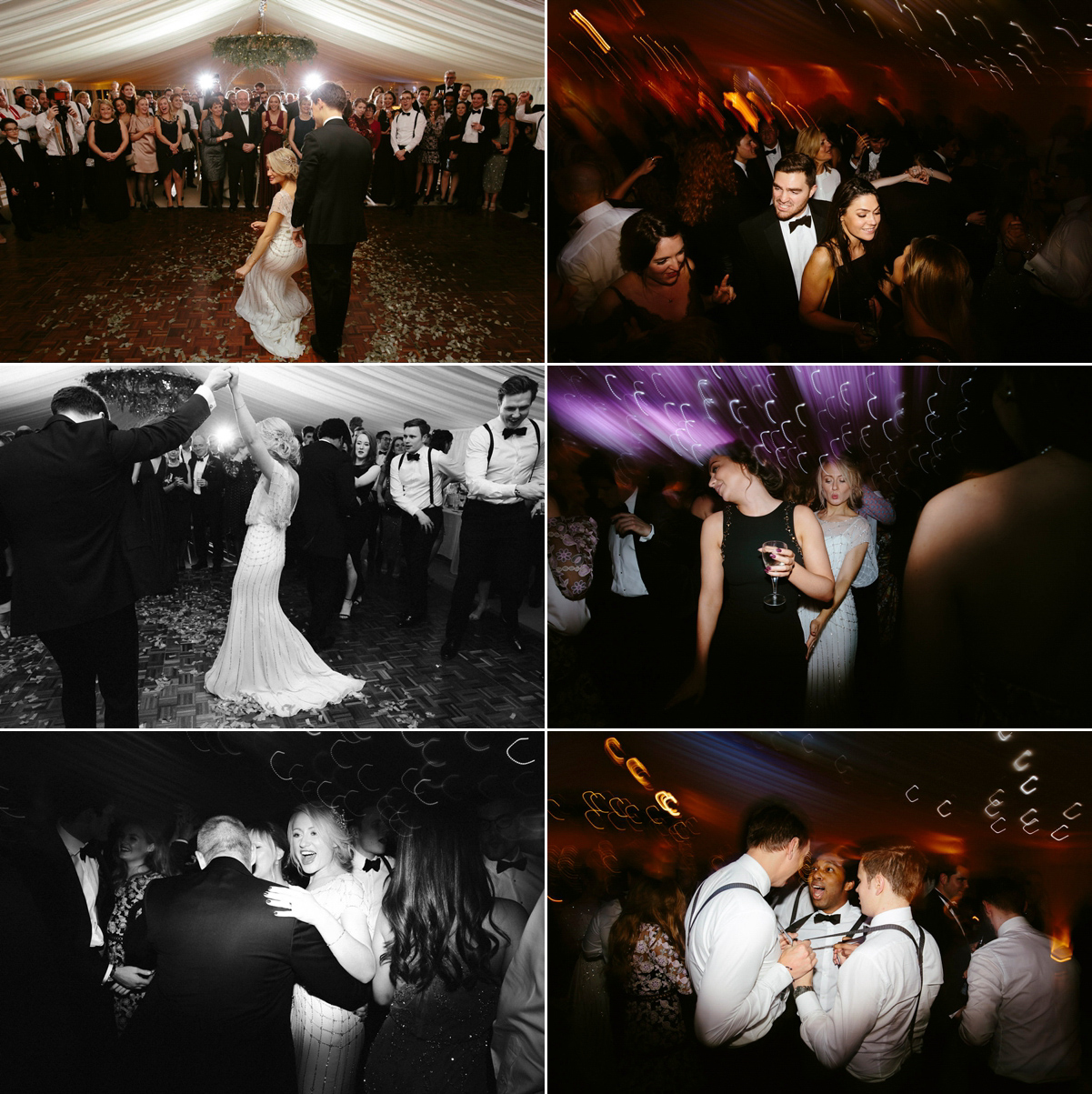 Words of Wedded Wisdom
"If I were to impart a piece of advice to a future bride planning a marquee wedding without an event planner, it would be to really make sure you know the work entailed and be confident that you have a good support team around you (family, bridesmaids, ushers & friends!). It is a lot more work than I envisaged, I wouldn't change it for the world but I wish I had anticipated the amount of work required the weeks before the wedding and the days afterwards with the clearing as I may have considered an event planner. Luckily with my work I have to manage lots of projects so wedding planning became quite the hidden talent of mine and with it being Christmas my family and friends had time off work so they were able to help.
I regularly visited the 'winter wedding' pages on Love My Dress as these gave me inspiration and ideas for my wedding. I loved it when you launched Little Book For Brides, as this helped me easily filter to find suppliers. I love the variety of weddings you share – from posh dos to wacky fairgrounds! I also really like how you have a Pinterest board and Instagram account as this gave me a daily wedding fix/inspiration."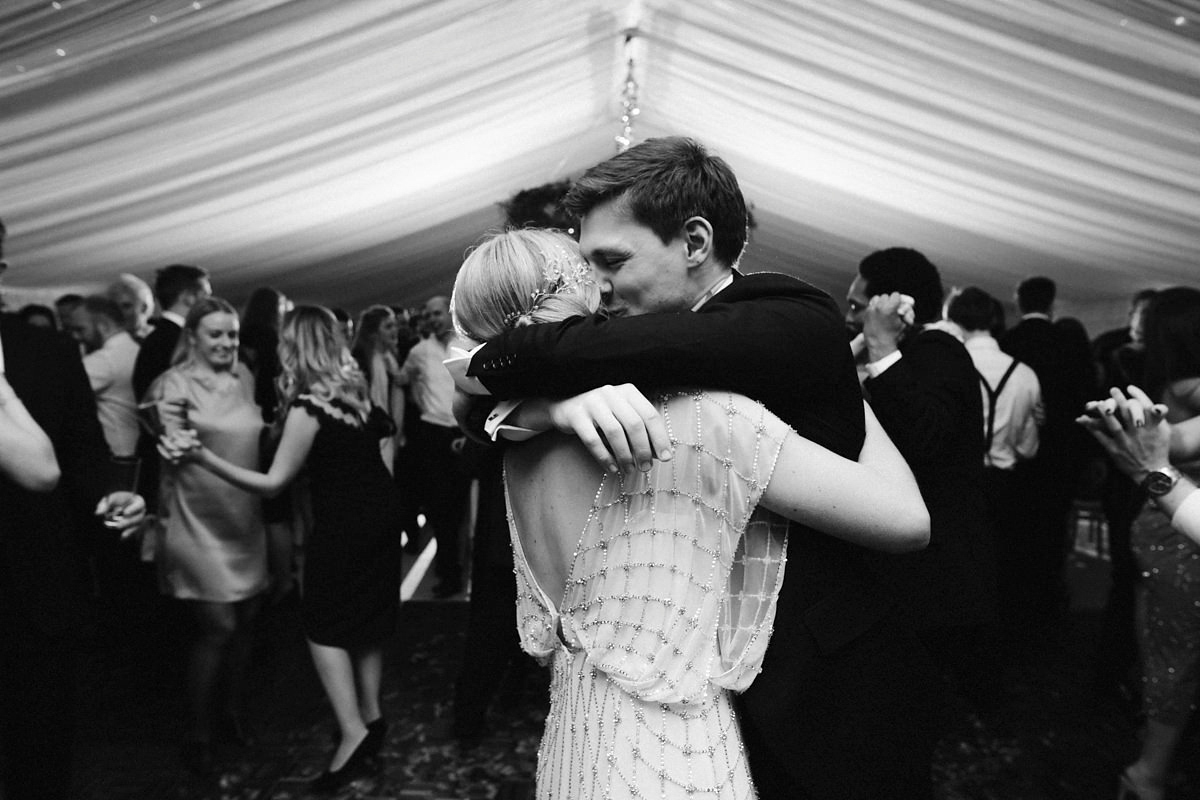 On that tip about hiring a wedding planner – if you are considering doing the same, you must visit these pages in our Little Book For Brides for our top wedding planner recommendations across the UK.
Oh beautiful xxx – thank you so much for sharing your gorgeous day with us all –
My love and thanks to our recommended supplier Ruth Atkinson too for sharing her work.
Annabel x