This week has flown by so quickly, with so much packed in that I'm feeling pretty thankful that Sunday has arrived and I can treat myself to a lie-in.  From having my neck and back bones popped and clicked by a chiropractor, alongside a spot of acupuncture (both in an effort to try to clamp down on migraines), to burying a much loved family pet in a special spot in our beautiful meadow, it has been a mix of up and down all the way. We also launched our 2016/17 survey results this week – you can read about them here, or skip straight to our survey site here.
Todays real wedding feature was sent in by the beautiful bride herself, Emma, though we very happily obliged in accept her submission, as we've been sharing the work of her photographer, Heather Shuker of Eclection Photography for some years now.
Emma, a Sales Manager at Conde Nast, married Freelance Photographer Scot on 12th November last year at Shoreditch Studios in London. I'd like to start first by sharing this absolutely beautiful 14 minute long film created by artist Will Warr. Enjoy…
"We wanted a venue where we could host both the ceremony and the reception. We knew as soon as we got engaged that we were set on a London wedding – it's where we met and fell in love and meant so much that we could also say 'I do' here. We also wanted scrubbed wooden benches, although we settled on simpler tables which we covered with table cloths which were more budget friendly. I actually think they worked better in the end."
Film by Will Warr
"My bridesmaids wore dresses from ASOS.  I bought them each Monica Vinader rings as a gift for being part of our day which they opened when we were getting ready in the morning. They wore these along with earrings of their choice. We had to learn to prioritise what was important to us in order to make our budget work, for example, I really wanted my girls to have flower crowns from our florist, Palais flowers, so as a compromise, my super talented mum made their gypsophila bouquets to help keep costs down, and they looked great!"
Photography – Eclection Photography
"We loosely stuck to a gold colour theme, which we incorporated in details like our invites, confetti and gold spray painted pineapple table name holders. That aside, the venue backdrop really did most of the talking with the style. Shoreditch studios is essentially a blank canvas, with gorgeous exposed brick walls.""We ordered our invites from Minted. My mum made the place cards completely from scratch- embossing each with gold glitter by hand."
"My shoes were Paloma by Charlotte Olympia. I really wanted super high heels; I wear heels everyday so wanted something extra special for my big day! As my dress was quite classic, I opted for a pair of platforms from Charlotte Olympia- which I even managed to get in a sample sale! They were a very pale blue and worked as my 'something blue'."
"We met in a bar in North London almost two years to the day that we got married. Neither of us had intended on going out that night so it really was a case of right place right time."
"We got engaged on our one year anniversary- Scot surprised me with a romantic meal at The Bleeding Heart and got down on one knee at the table."
"It was a complete surprise and just the most magical night of my life.""The backdrop of each of the studios (we got married on one side and had the reception in the other) was whitewashed and so made the perfect screen to project a short 'love' film which Scot had put together – a black and white collection of famous kissing scenes which played behind us during the reception. Continuing the 'film' theme, we named our tables after our favourite love films – True Romance, Punch Drunk Love etc."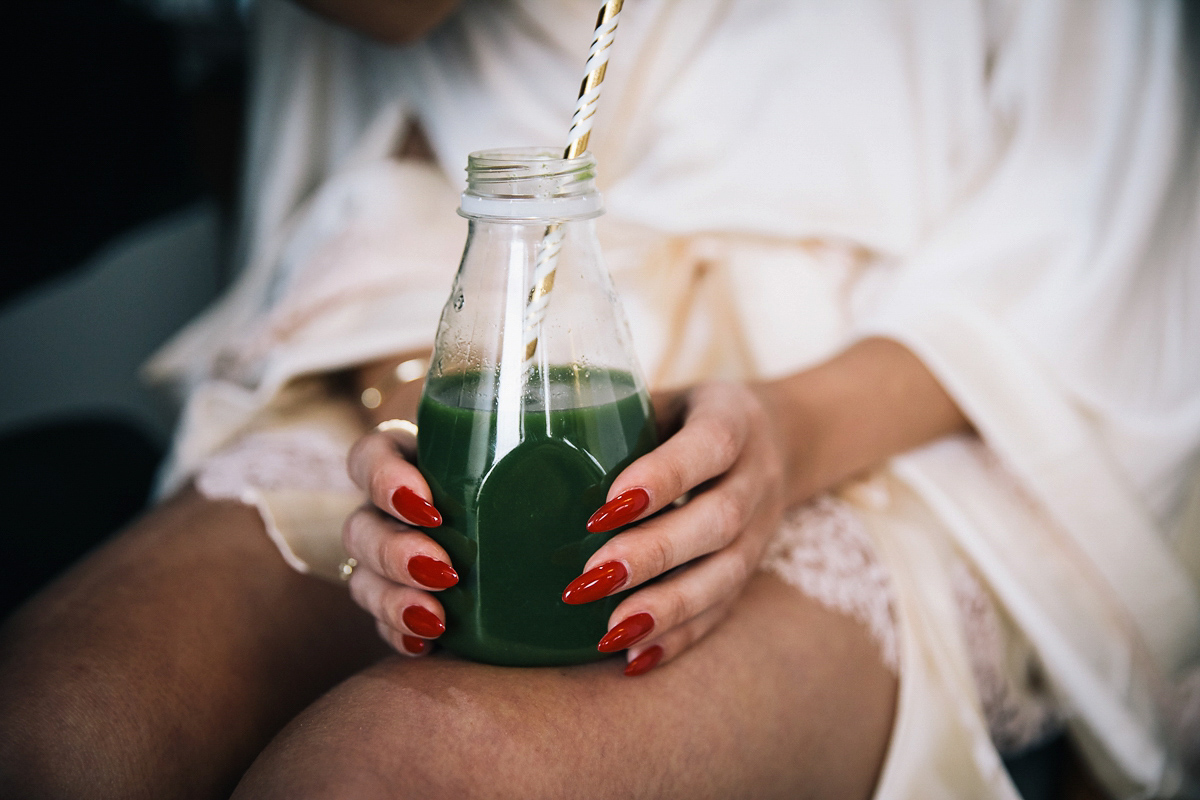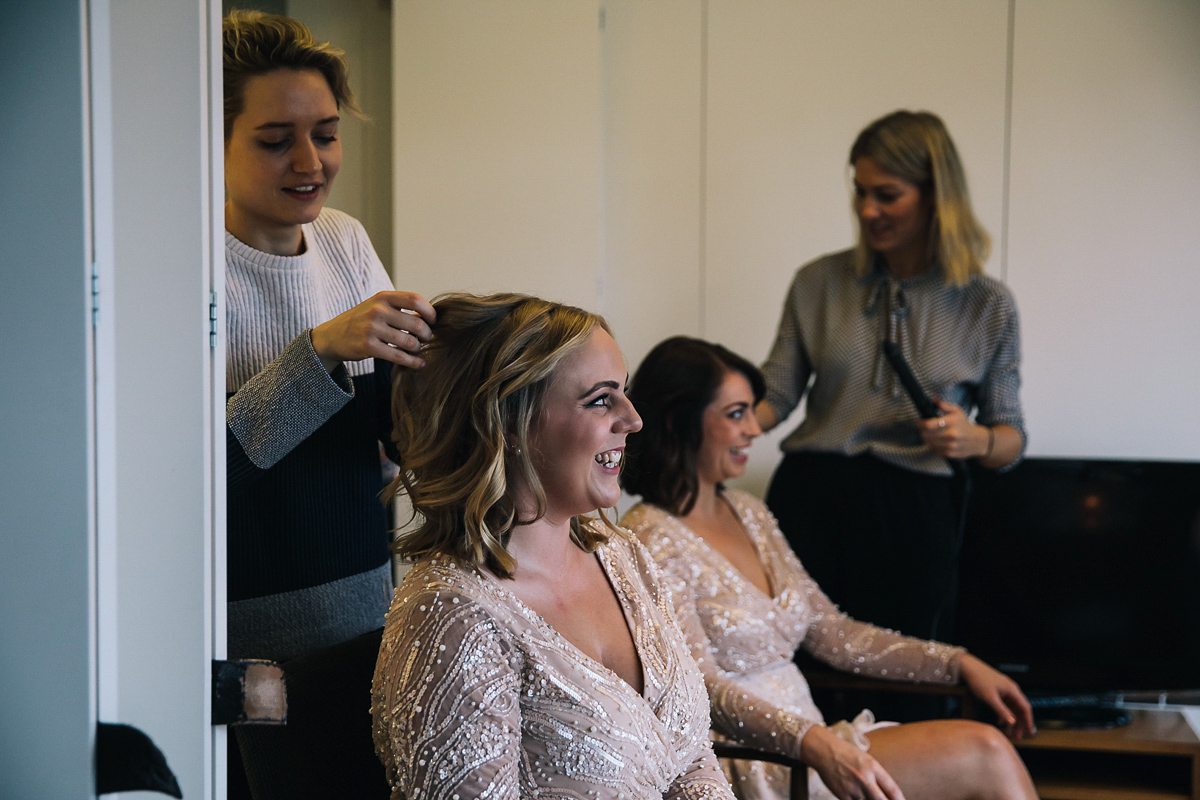 "My perfume choice was Jo Malone's 'Mimosa & Cardamom'. It is my every day scent, Scot loves on me and I wanted something familiar."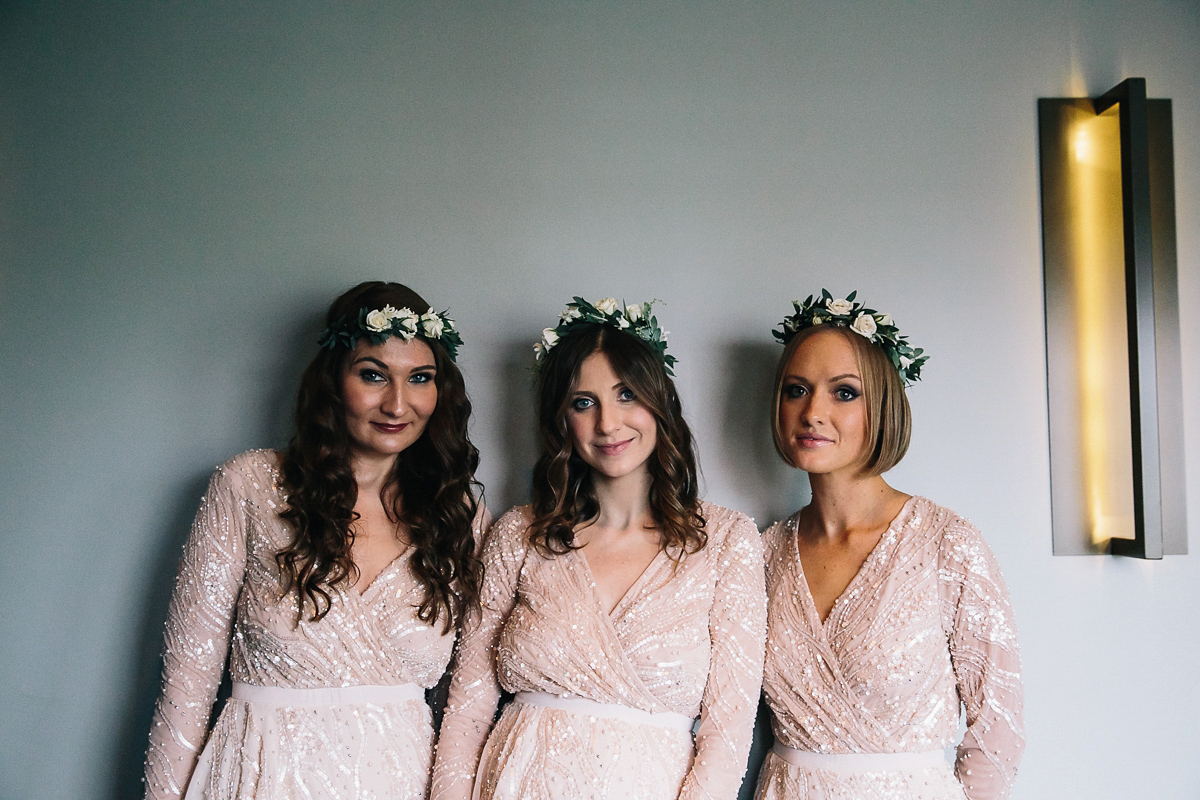 "My dress was by Martina Liana and purchased from Elegance by Roya Bridal Atelier. This is a small bridal shop in the town where my parents used to live in Washington DC. My parents live in the USA and I was lucky enough to find my dress whilst visiting them at Christmas just after getting engaged. It meant so much that my mum and sister picked it with me"
"My mum brought it back on a visit home just 6 months before the wedding- I then had the alterations made at the London Fitting Room. It was a stressful process not having the bridal shop do their own alterations and fittings and on hindsight I probably shouldn't have bought a dress from a different country! But it was all worth it in the end."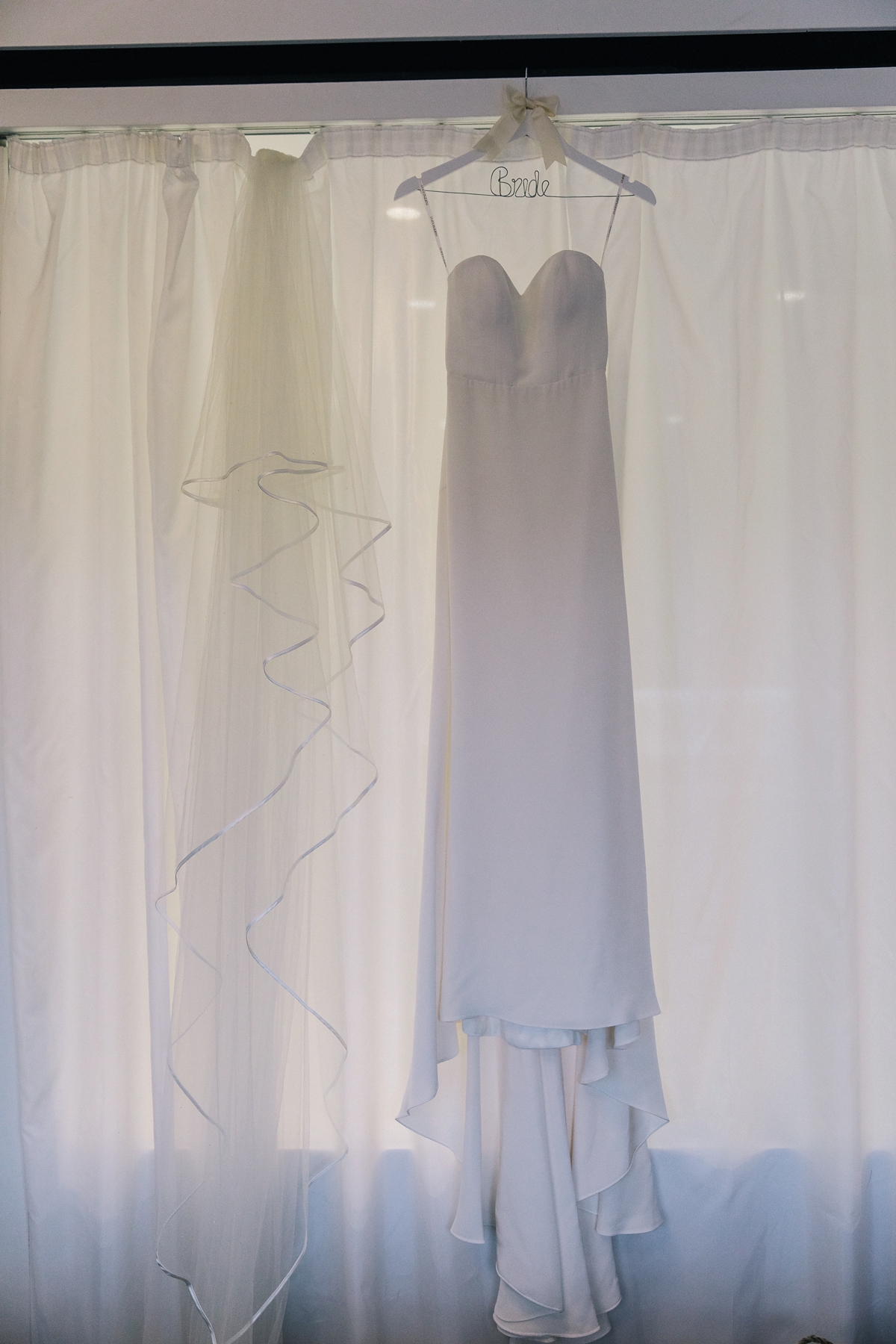 "I knew I had always wanted something strapless but as it was a winter wedding I then assumed I would have something with sleeves- maybe in a heavy lace. However after trying a few different styles- I fell in love with my 5th dress. Being just 5.2ft the strapless fitted design made me feel tall (ish) and elegant. I was really against having any kind of embellishment- let alone a belt.
My dress came with a belt so I tried it without – the assistant made me try the belt once I had the dress on and I just fell in love with it. If anything it gave it quite a vintage feel and still felt simple rather than over the top."
"I had been following Palais flowers' Instagram feed for a while and was just obsessed with their uniqueness. I am really into flowers so this was a really important aspect of the day for me. I wanted quite a neutral palate rather than opting for a colour which dictate the colour theme of the day. We opted for beautiful white flower varieties, including poppies and hydrangea and crisp greenery- ivy and Eucalyptus."
"As it was up to us to dress the venue – I really wanted to make sure that we had lots and lots of flowers. We had three long tables and one top table which Palais filled with small vases of whites and greens in vintage style gold vases. They also made the most beautiful flower crowns for my bridesmaids- again sticking with the white and green theme."
"My dad and I got a good old London black cab from The Town Hall Hotel in Bethnal Green to the venue."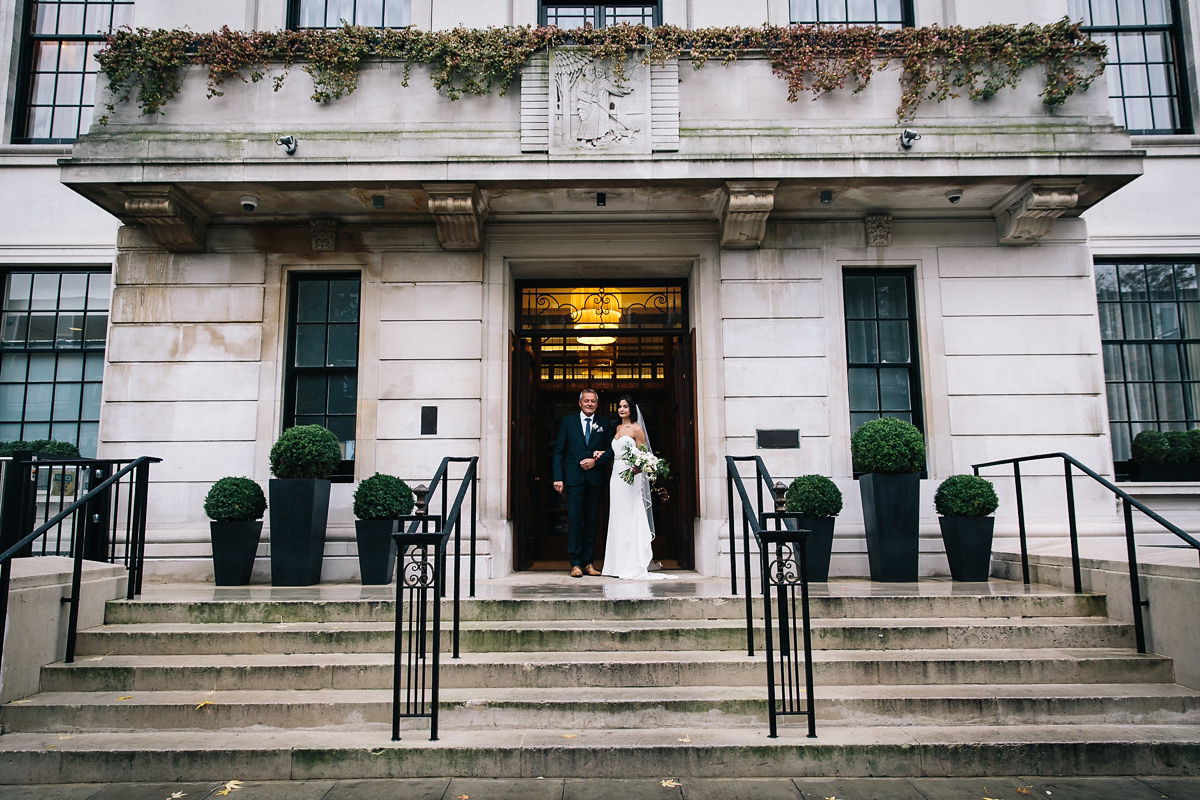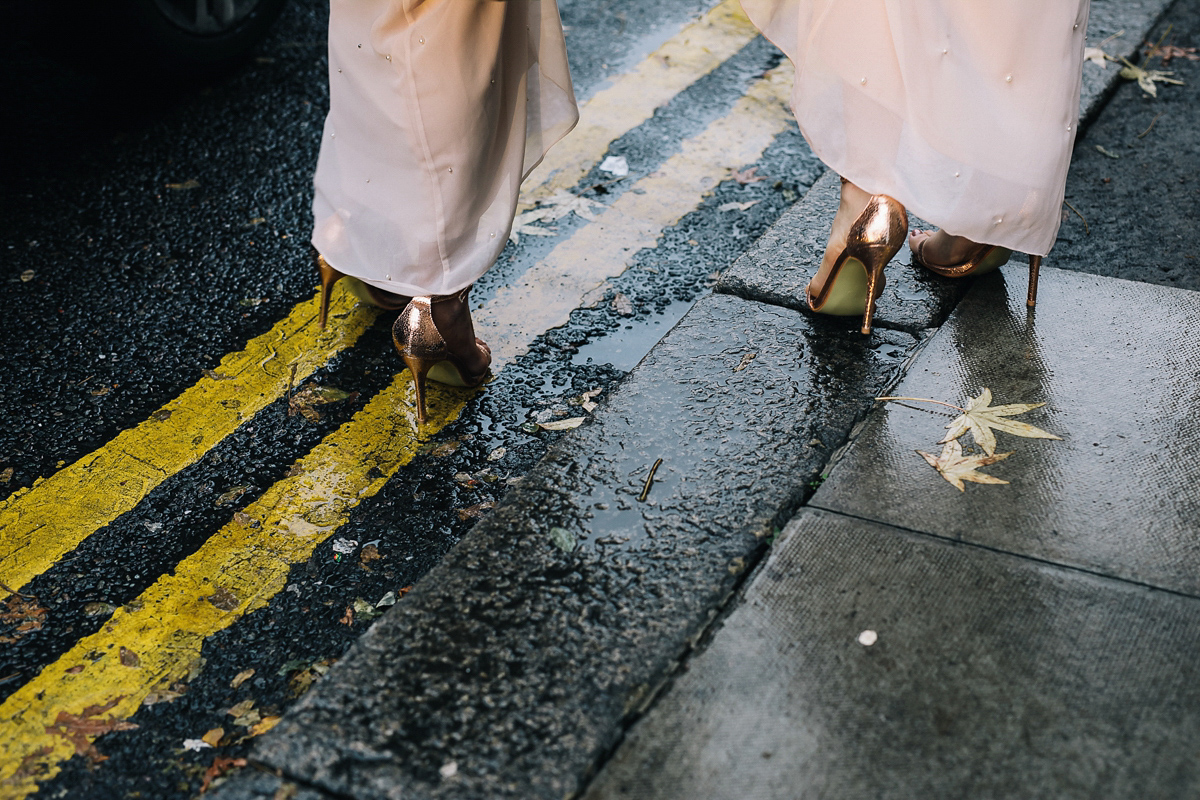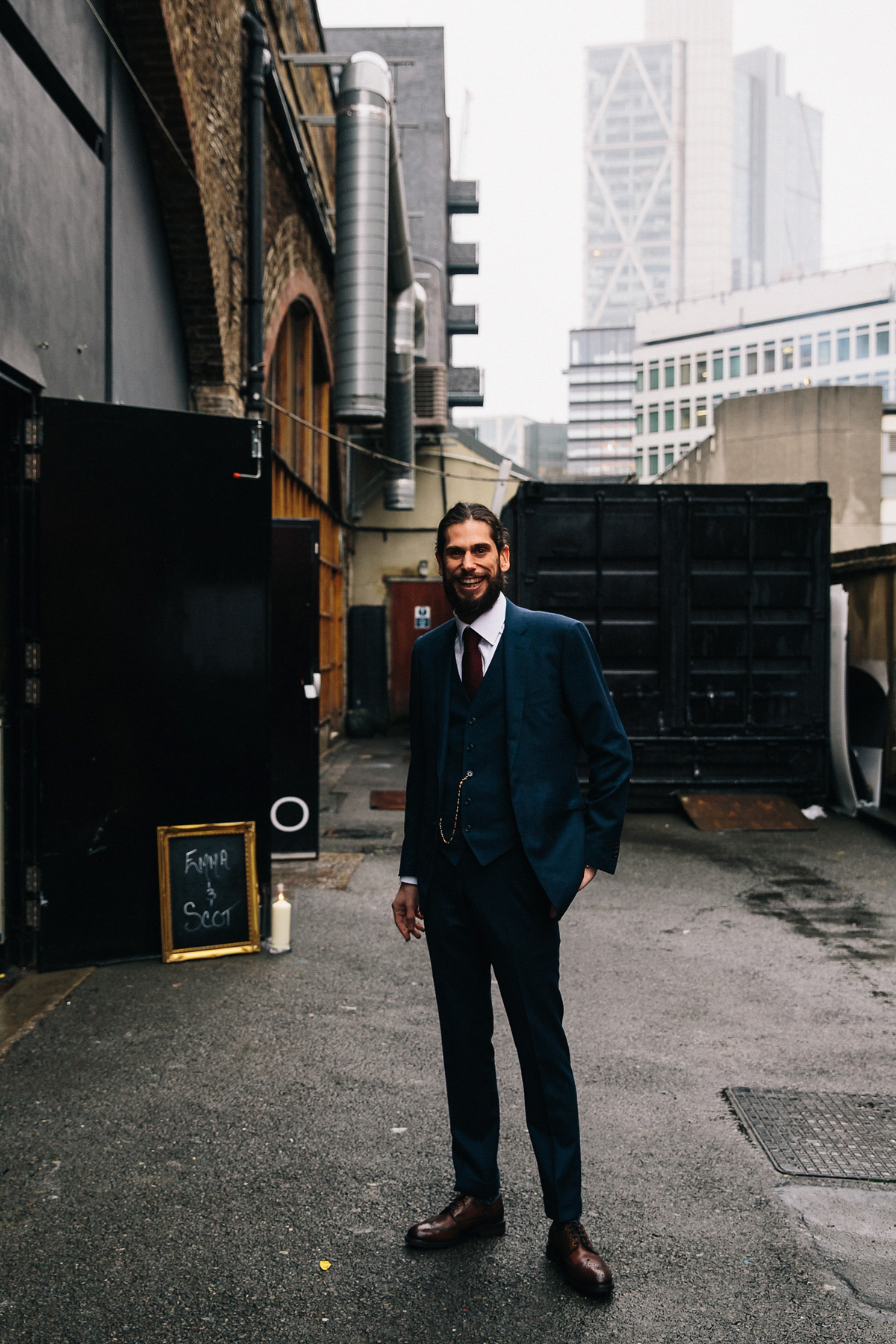 "My dad accompanied me down the aisle to the sound of 'You're So Cool', by Hans Zimmer – the theme tune from the movie, True Romance. This is a really special song for us – from our favourite film and completely instrumental so perfect for starting off the ceremony."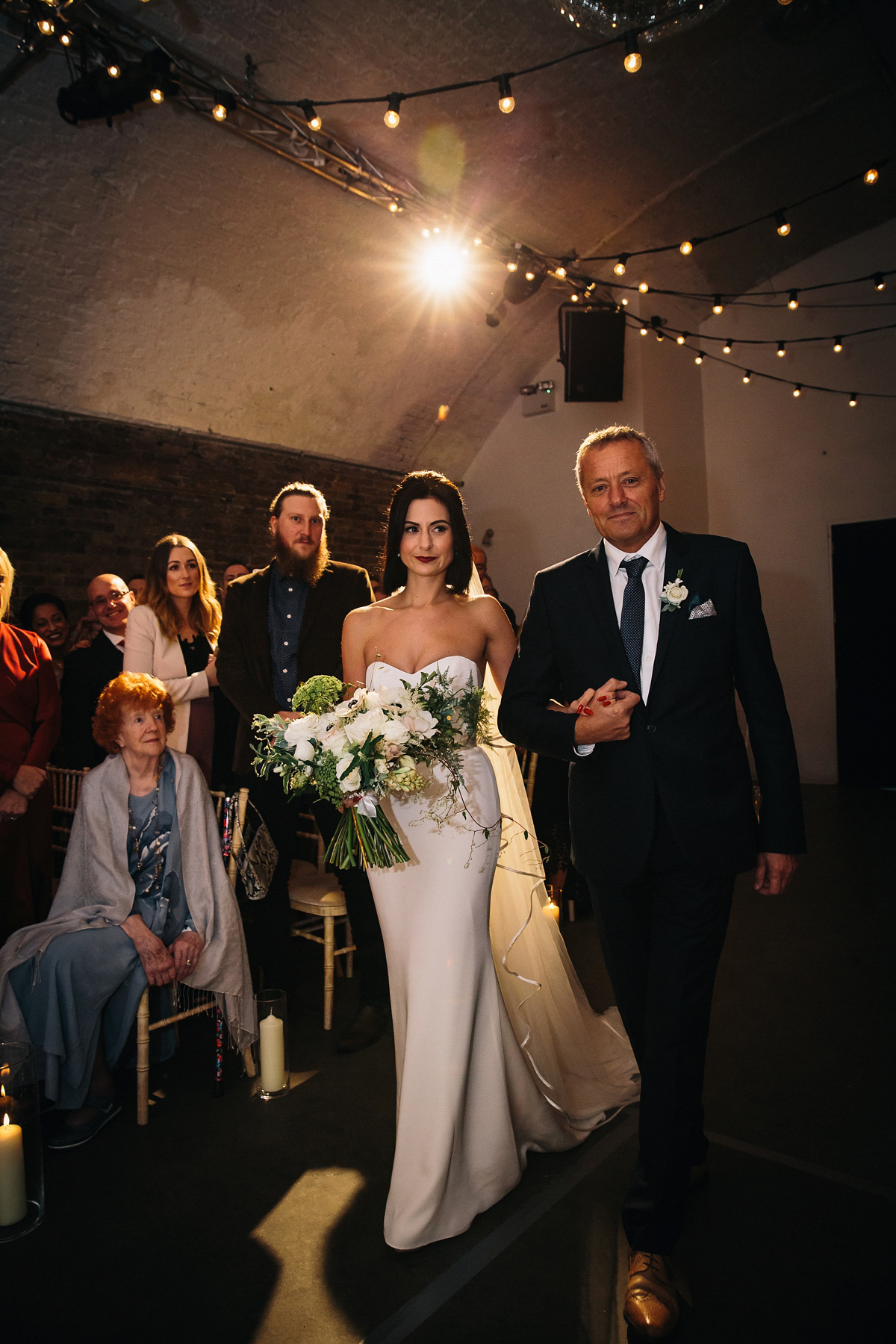 "I wasn't initially sure I wanted a veil, however one of my best friends offered for me to borrow hers. It was a Suzanne Neville, cathedral length and embellished with tiny tiny diamanté which you could only see when they caught the light. So beautiful and perfectly accentuated the dress and the belt detail."
"We chose our wedding rings together at Gem's Jewellers Hatton Garden – the same shop that Scot bought my engagement ring from. I opted for a half diamond band to match my ring, Scot chose a matt finish gold band."
"We didn't tailor our vows – I was so so nervous about the ceremony that I really wanted the vows to be kept as straight forward as possible. We had two readings by two of our best friends though,  Richard read Bob Marley's 'He's Not Perfect'. Scot is a big Bob Marley fan and we thought this was just perfect. Natalie read 'If You Can Be Forever by By Your Side', by Sade."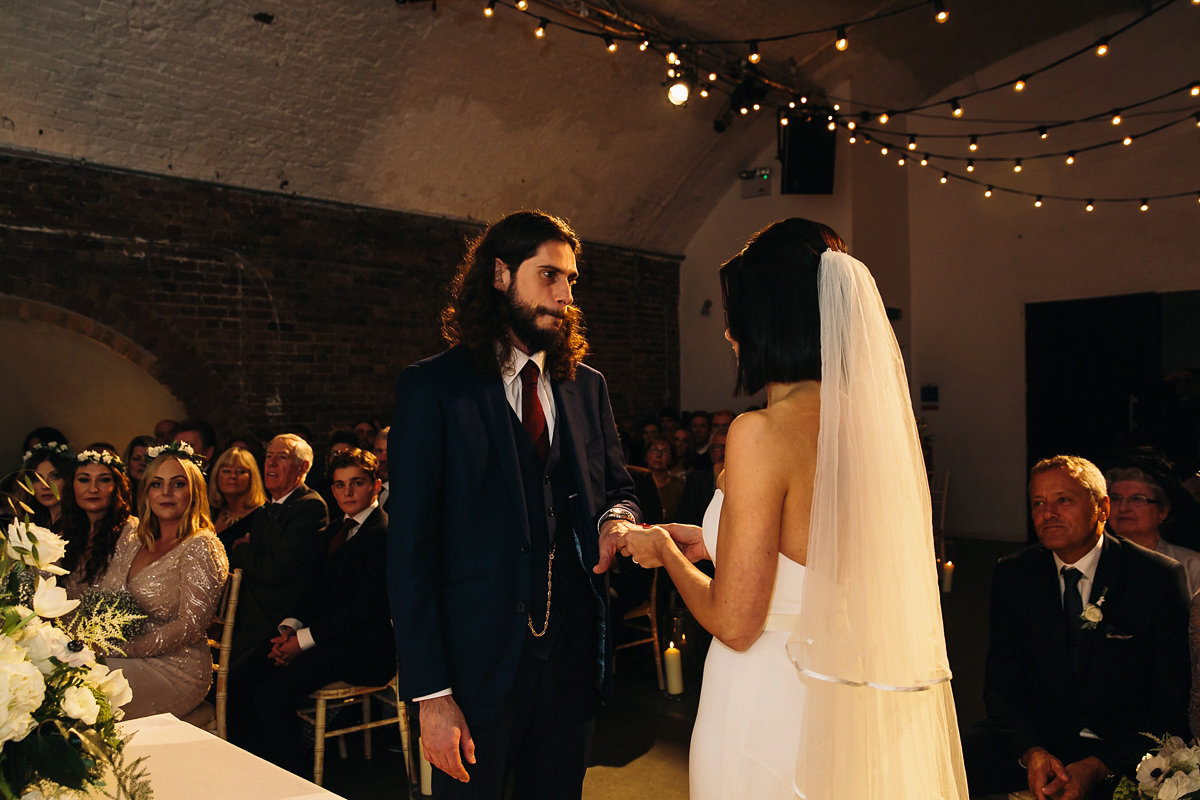 "We wanted the day to feel quite informal, so simply asked Scots brother and cousin (the best man and the usher) to just wear their own navy suits."
"We first contacted our photographer, Heather Shuker of Eclection Photography, as we loved a previous wedding that she had shot at the studios and thought it would be a bonus that she knew the venue and the light."
"She made us feel so relaxed about the whole thing when we met her and really helpfully she offered to give us an engagement shoot a few months before the big day. It was great to be able to meet up with Heather again and get to know her more before the wedding so that we both felt at ease when it came to posing on the day. We also really liked Heather's informal photo style- nothing too posed just great candid shots."
"We were recommended our film maker Will Warr, by a friend who had used him for her wedding which I had attended. Even though we were trying to not be too extravagant- after watching my friends video that Will created I was insistent that we needed him for our wedding too."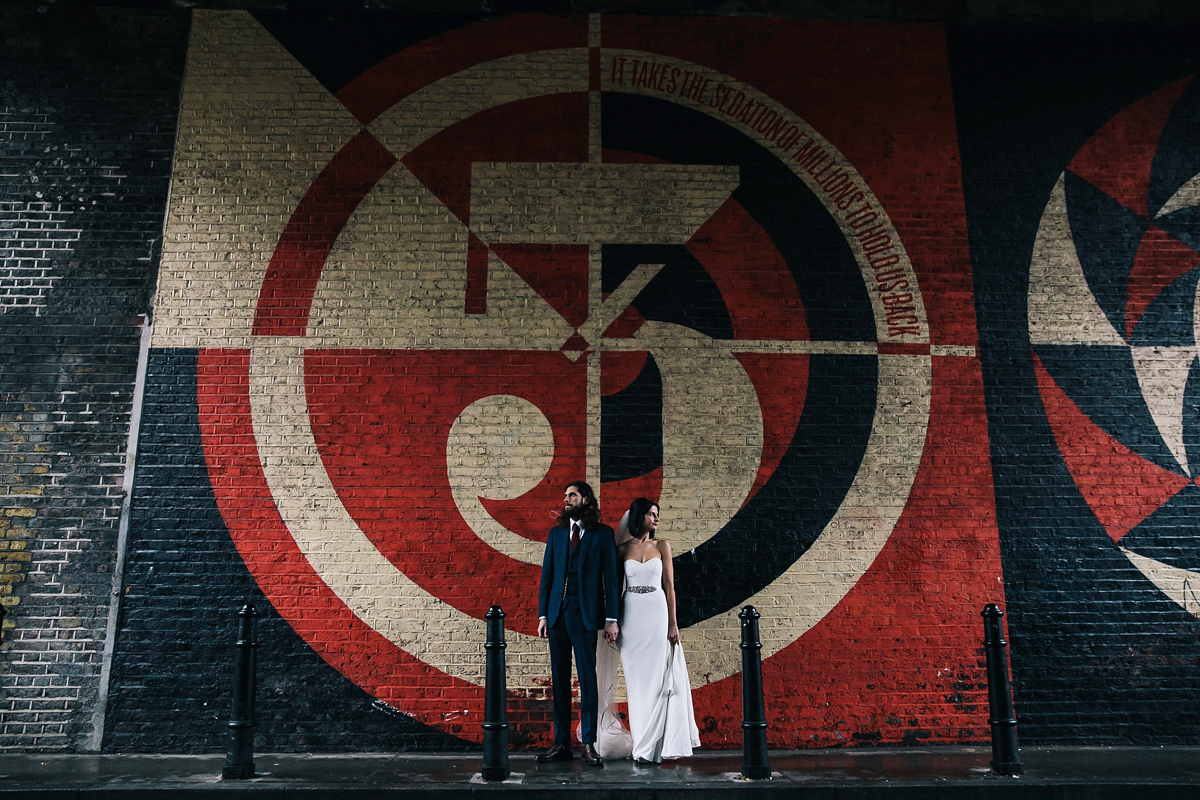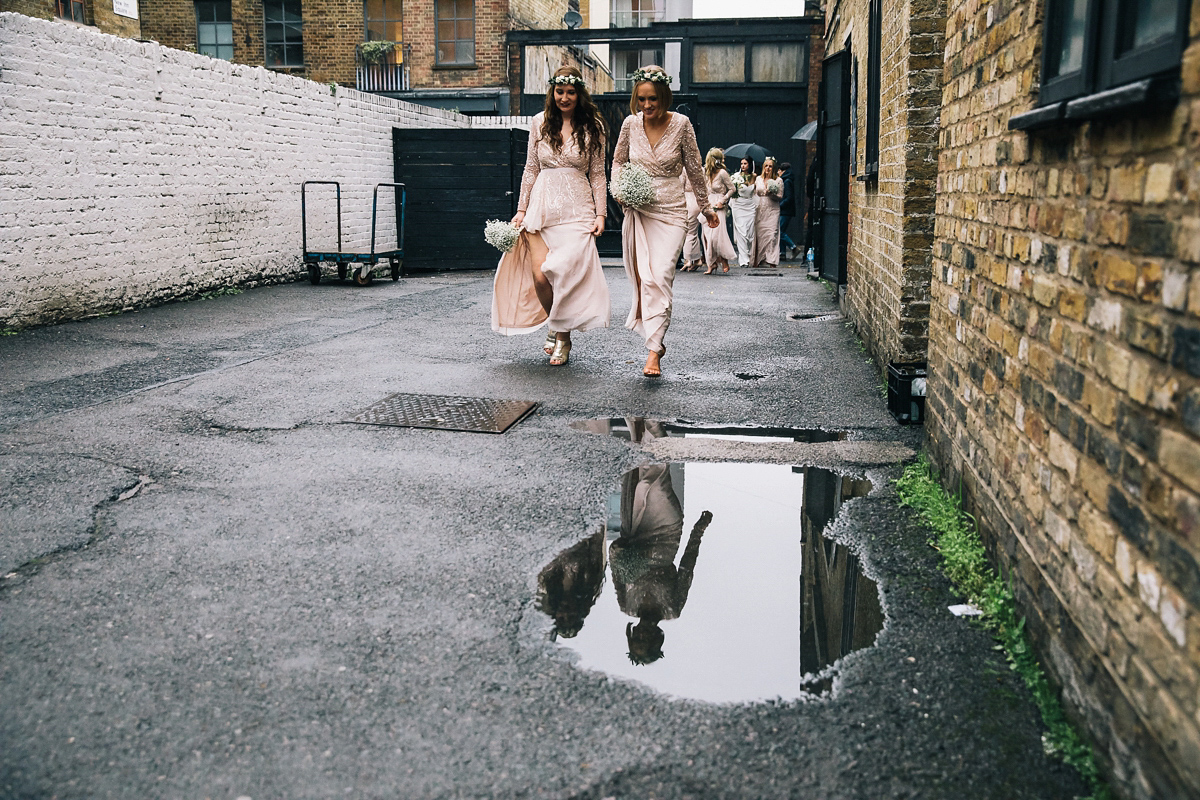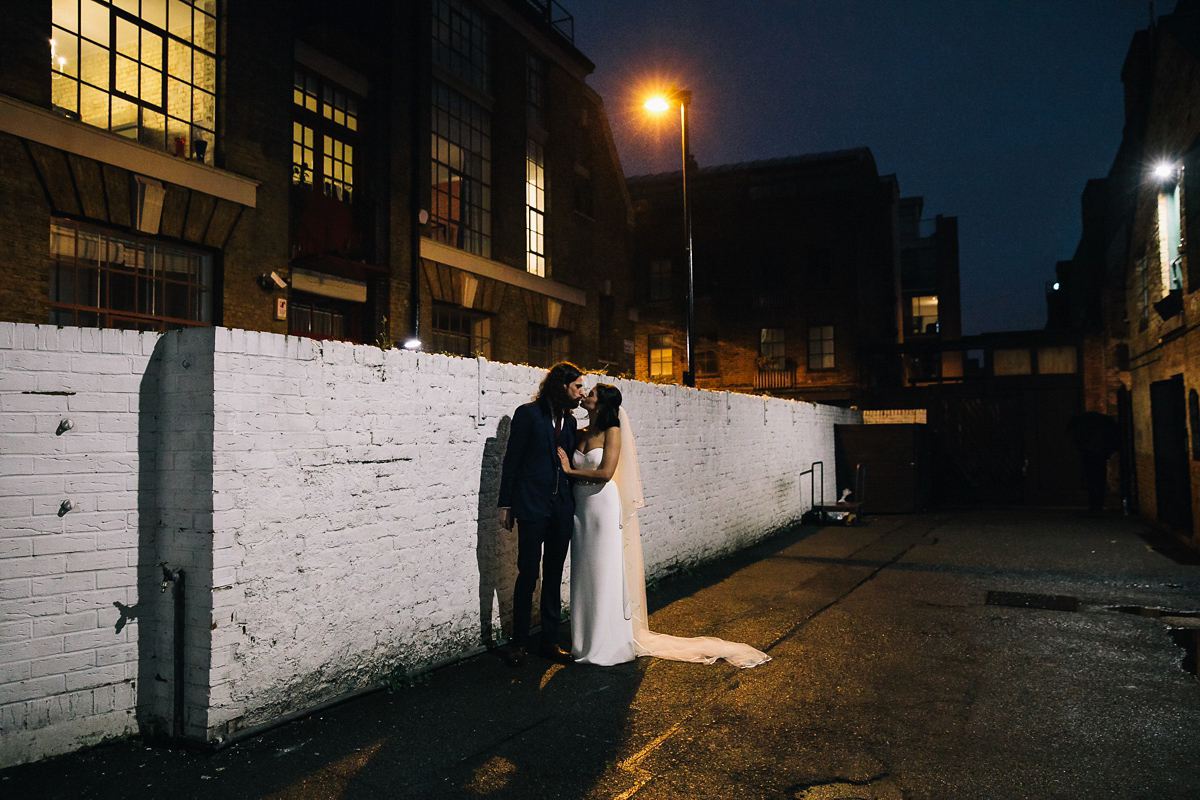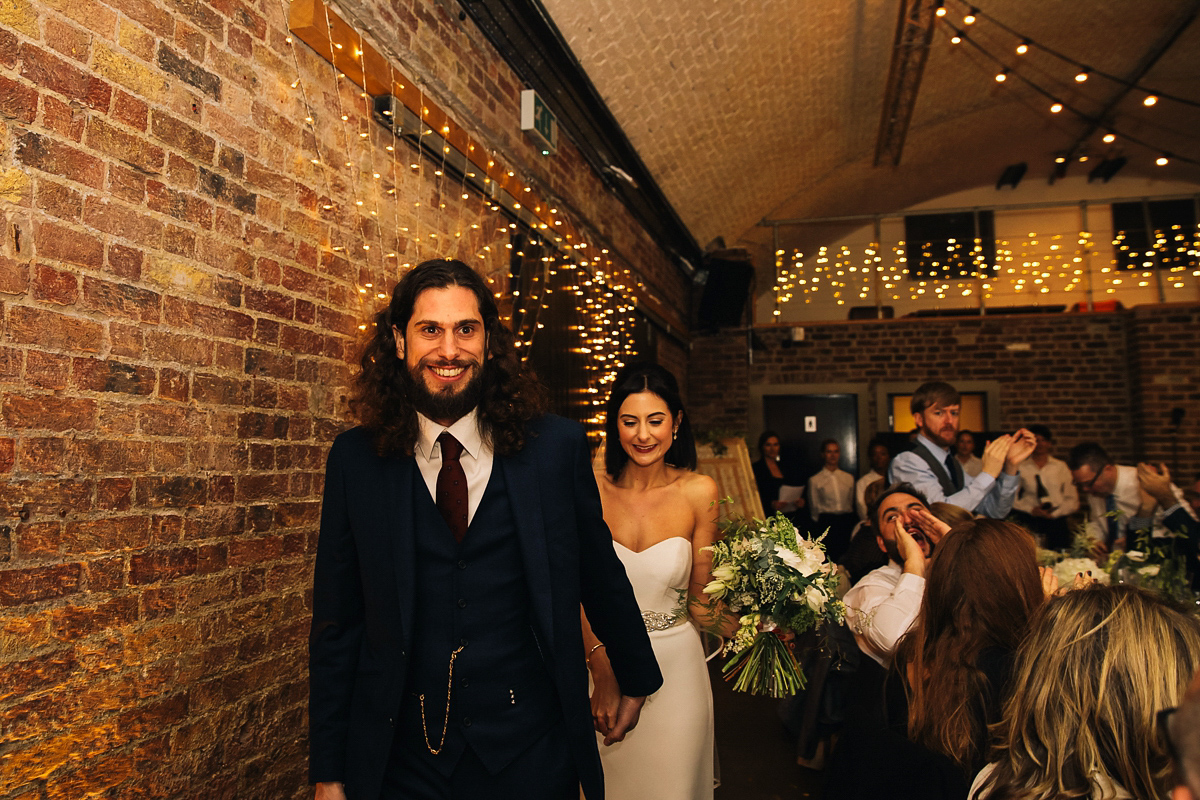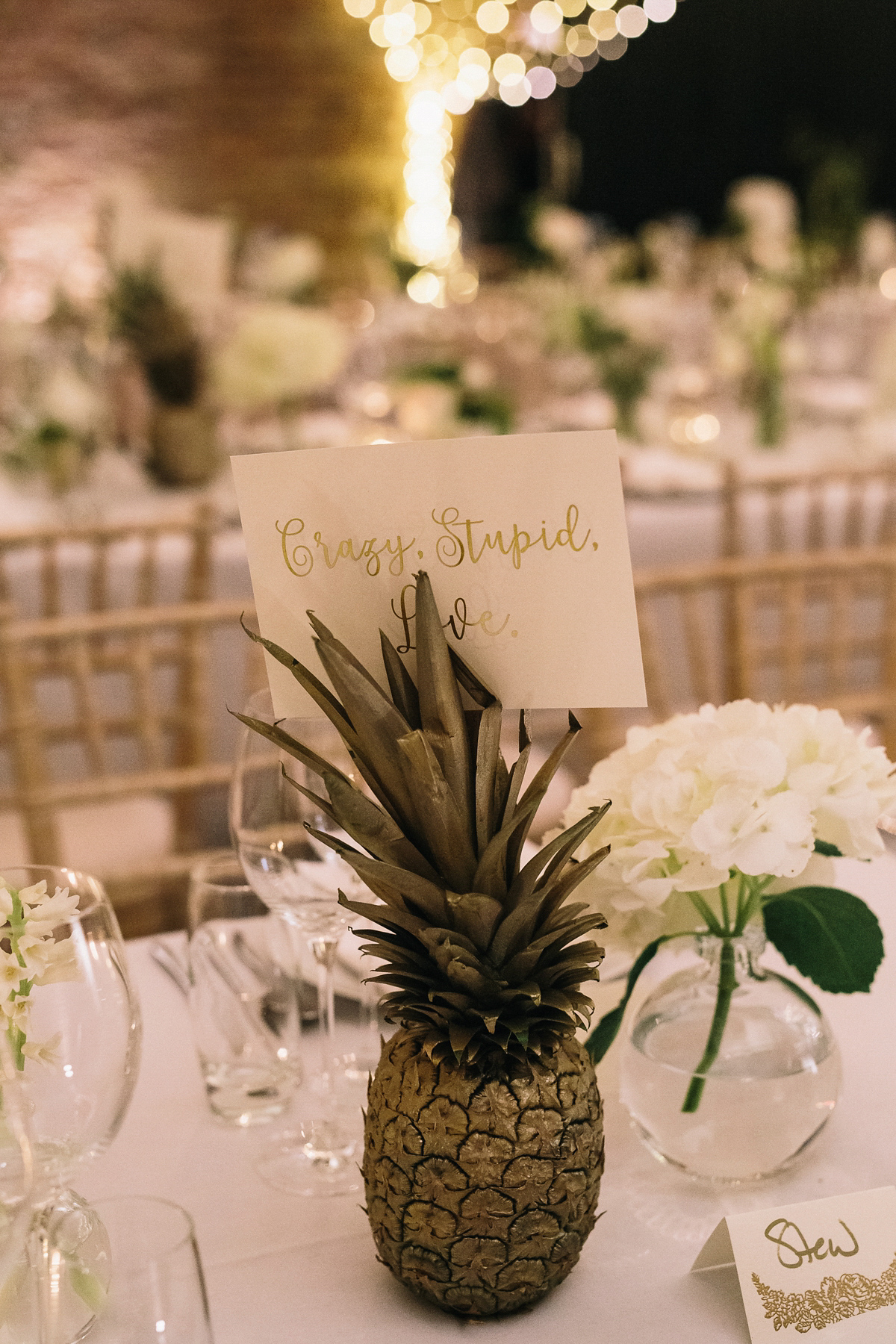 "We wanted to have lots of lights. Being winter and that the venue has no natural light it was extremely important that we used as much lighting as possible."
"We opted for strings of festoon lights draped across the ceilings and fairy lights around the archways and staircase. We had dozens of tea lights down the centres of each table in little gold holders. Lights were hired from Shoreditch Productions."
"As our venue was dry-hire, it was really important that we used caterers who really knew what they were doing. We wanted the day to run as smoothly as possible- Chris and his team did the most amazing job – it really helped meeting with his team a few times before the big day. We really wanted a long reception so that everyone could catch up with each other."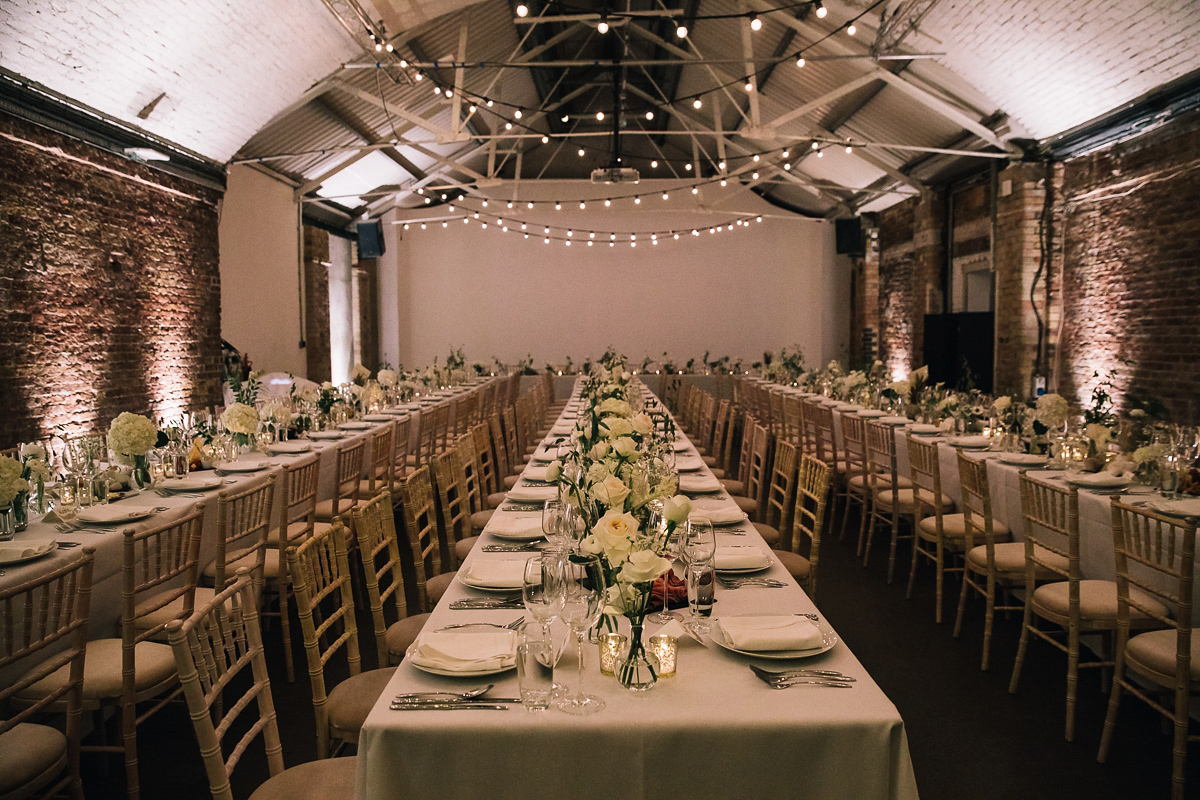 "I had seen the most amazing cakes by Lily Vanilli on her Instagram feed, and as their shop is quite near where we live we had popped by a few times for cake I fell in love with a design which had tiny blackberries dipped in gold to look like miniature pineapples – I am obsessed with pineapples!"
"We opted for salted caramel filling and a pink/gold/white ombre buttercream icing – it was honestly the most delicious cake."
"We had it decorated with quite a few brightly coloured fresh flowers- we hadn't used much colour elsewhere so I wanted it to stand out."
"Our caterers, Rhubarb, created amazing canapes, including mini hoisin duck cornets and pork belly. For dinner we wanted the food kept simple and relaxed- we had sharing platters to start which worked really well on our long tables. Followed by comfort food staples- slow cooked beef with parsnip mash and crumble for dessert- Scots favourite. They also served up cocktails and bacon butties for our evening guests later on in the party."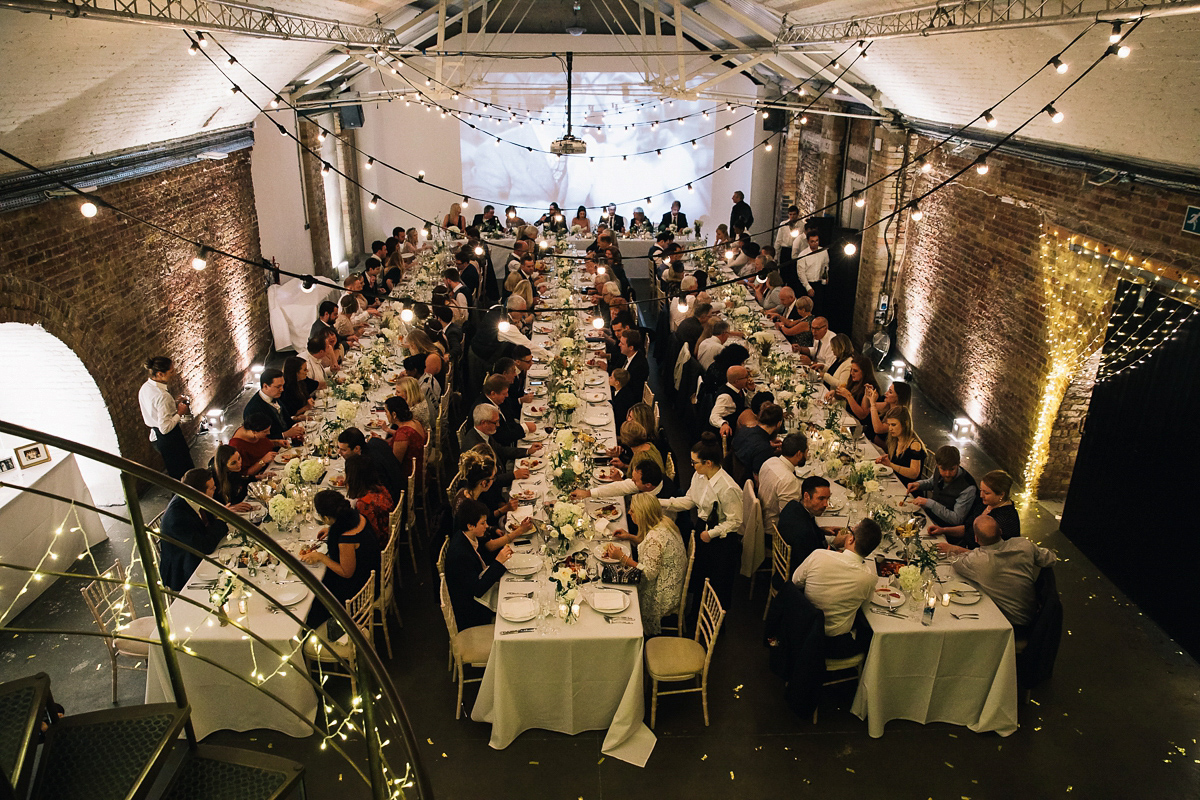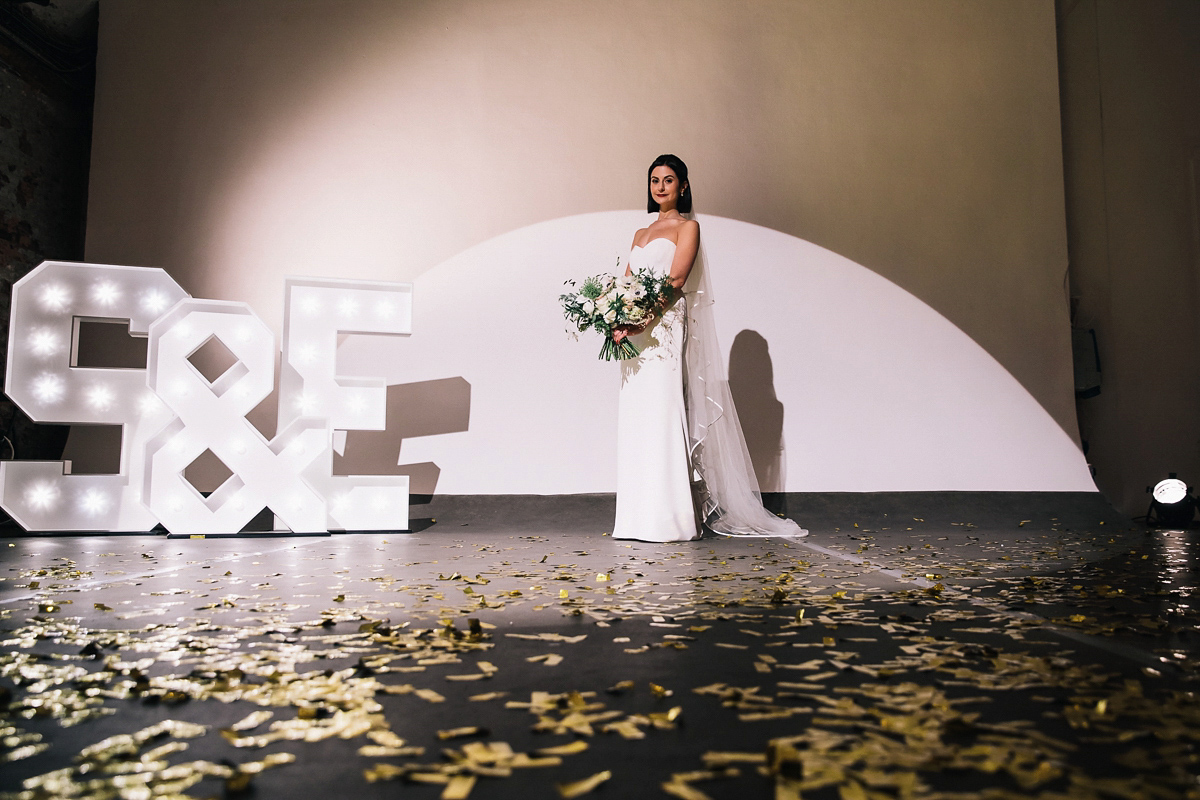 "Our friend Phil DJ'd for us – our guests loved the music, a real mixture of old and new. We also hired a photo booth from The Flash Pack which was so much fun – the props were amazing."
The couple's first dance was to 'By Your Side' by Sade…
"Scot put this on a playlist that he made for me when he picked me up from the airport after Christmas when we first met- it always brings back special memories."
"The speeches were so wonderful, perfect and personal – and emotional! Scot, my dad and Scot's brother all did a great job."
"It was such a surreal feeling to be sat at the top table, listening to such amazing words and being surrounded by everyone we love."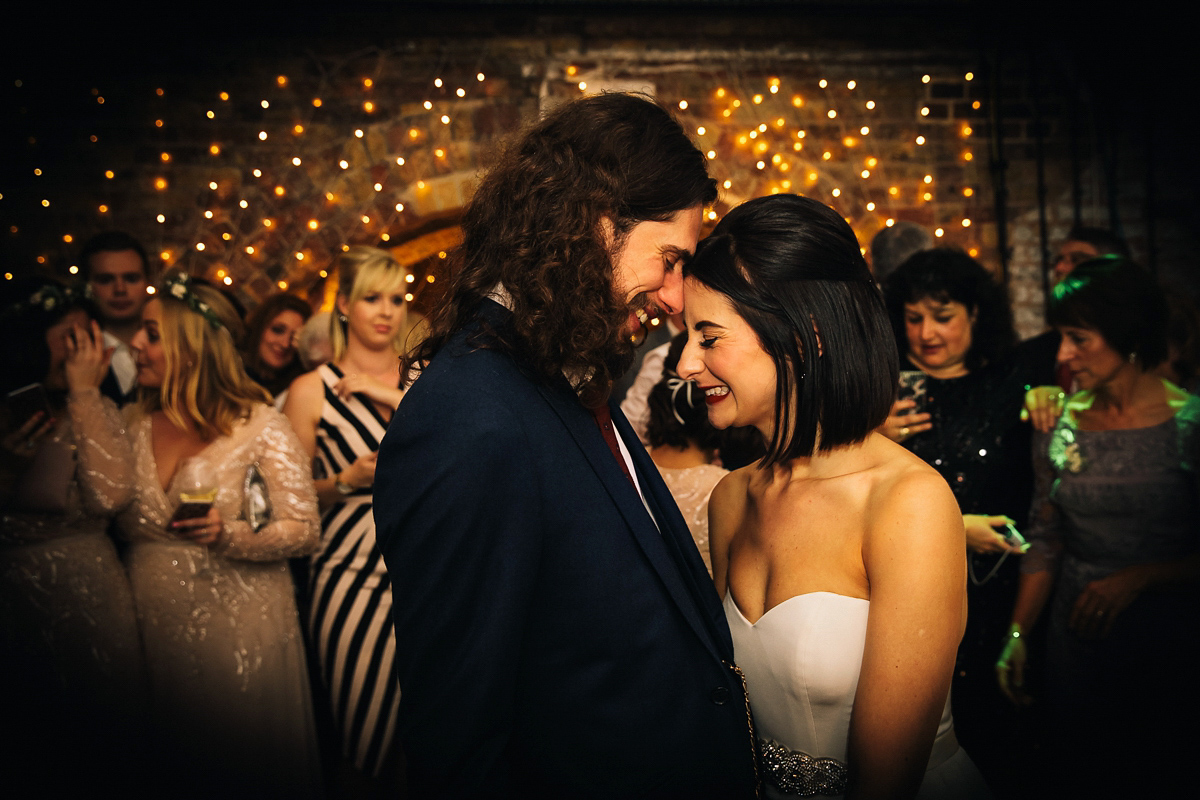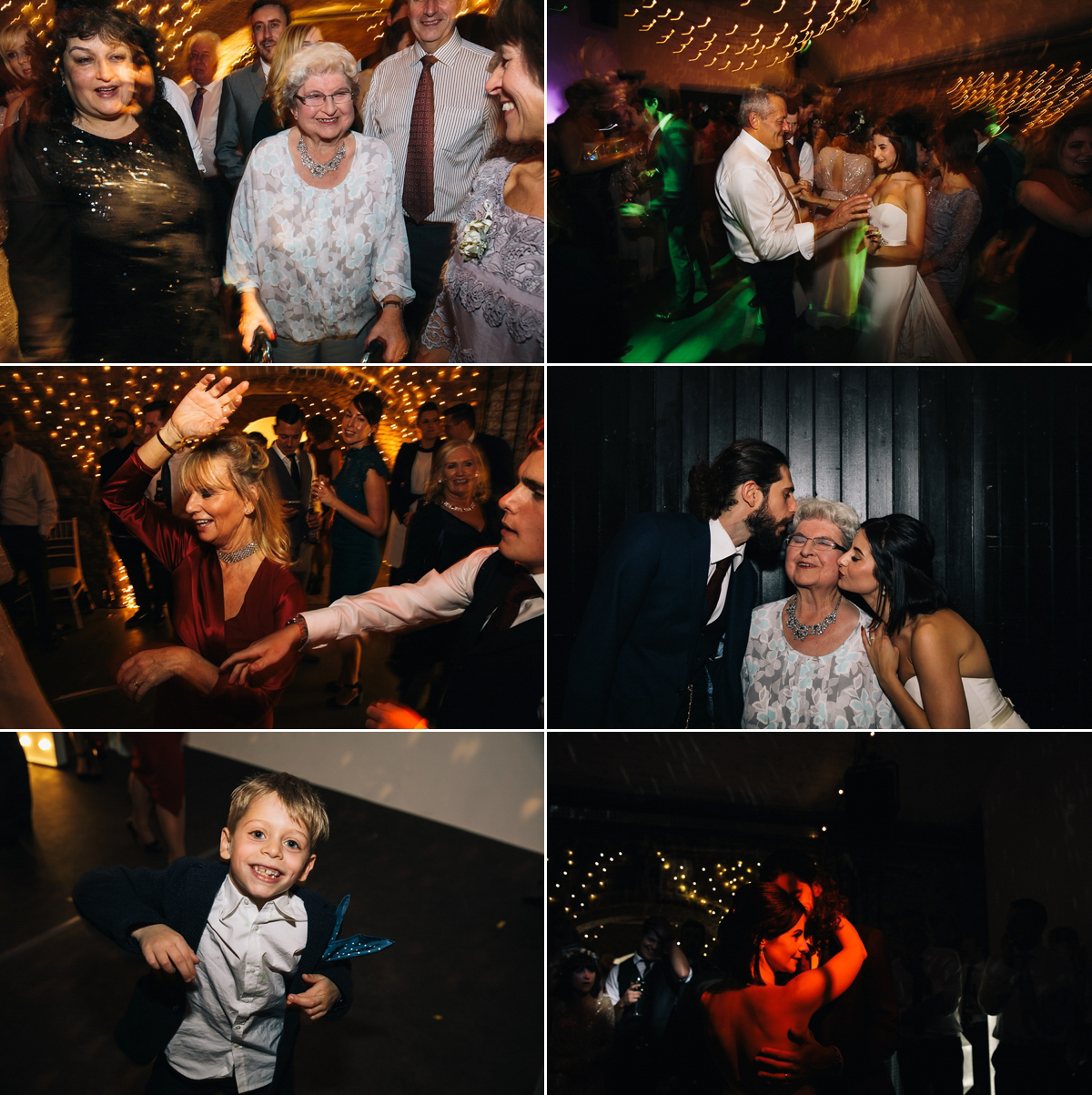 Words of Wedded Wisdom
"The only thing that went wrong as such on the day was the weather – it rained all day! Our day was all inside but it just made photos difficult, although as soon as I accepted that my dress would get a bit messy I just got on with it. But my advice would be to not have worried so much.
I am a born worrier and really did stress far too much over literally every single thing. It is so cliché to say – but on the day it really doesn't matter. I would really recommend a dry-hire venue like Shoreditch Studios if you want to create something completely personal for the two of you. It was amazing being able to have complete control over the whole day – a lot of work, but so worth it."
"One our best friends unfortunately had to tell us a month or so before the day that she wouldn't be able to come as she would be out of the country due to work commitments. She is a fantastic singer and agreed to record a song for us to play during the signing of the register- Etta James At Last. It felt wonderful that she could still be a part of it. Our great friend Luke agreed to be our toast master. He had been master of ceremonies at quite a few weddings, he even had the red jacket and bell. He did the most amazing job and really held the whole day together.
And finally, we bought far too much alcohol, although luckily we opted for a sale or return through Majestic Wines – lifesaver."
Thank you so much Emma for sharing your story – I've no doubt I'm the millionth person who has told you this, but you looked divine – glamorous in an entirely effortless way.
Have a lovely Sunday everyone,
Love Annabel x