People always say they can spot a Caroline Castigliano gown – they are the embodiment of understated effortless glamour. Clean, classic lines with contemporary touches has been her signature style for over 27 years – and then there's the famous hidden inner corsetry that can completely transform a silhouette.
We caught up with the designer to find out the secret behind a perfect fitting designer wedding gown, the craftsmanship that goes in to each and every dress and how she works with brides to create bespoke gowns in her Knightsbridge flagship store.
Caroline says "A wedding dress says everything about your personality and your style – when a bride is wearing a Castigliano dress I want her to walk towards that mirror and just be in love with what's looking back at her".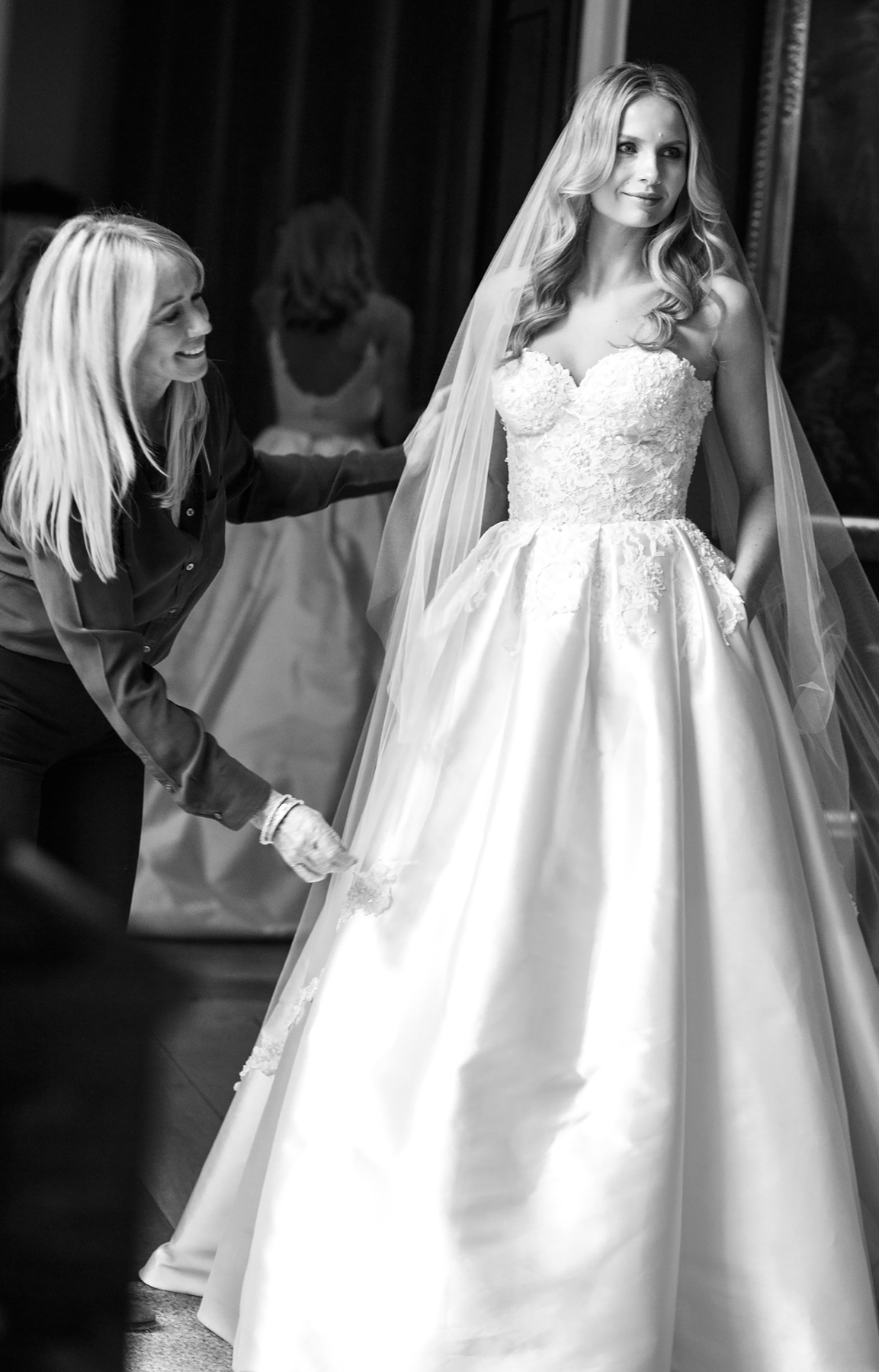 So where do you begin?
"Before you even go out to try on wedding dresses search the internet and look at fabrics and silhouettes and make mood boards of everything you love. Then after hours of searching and looking, start thinking about the venue you have chosen and the vision you want everyone to see when you arrive at your wedding – so when your fiancé and guests turn to see you what will that over all vision be?"
"By this I mean do you want to be have a traditional look or do you want to be modern and contemporary. Do you want a relaxed look or very romantic perhaps you want to have red carpet glamour? When you know the overall 'look' you want to create go back over the pictures you collected and you will start a new board with the real look you want for the big day."
So once you know the vision you want to create – book an appointment to try on dresses.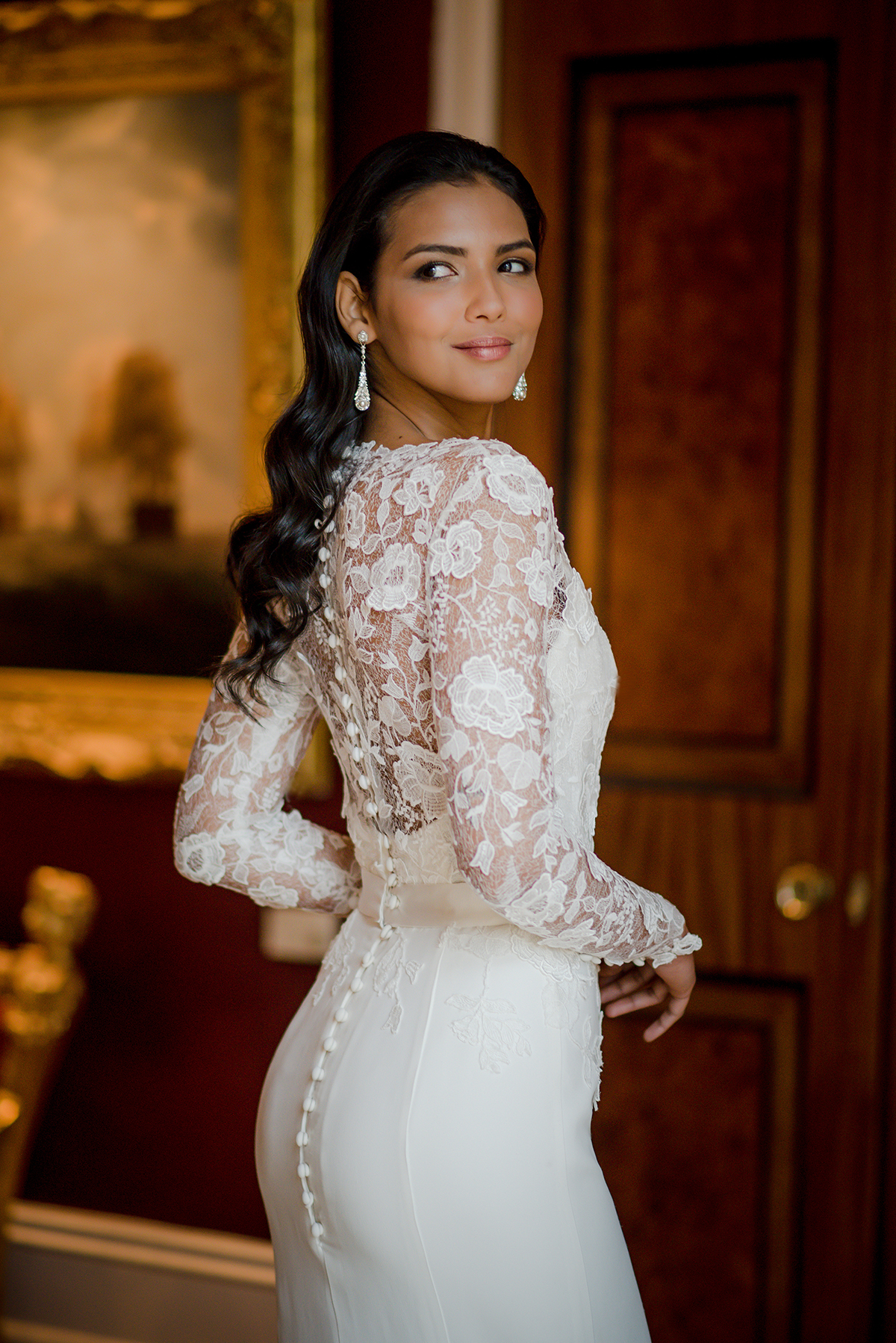 What can brides expect when they visit the flagship store?
"Choosing your wedding dress is one of the most special days of your life. Our flagship store offers bespoke couture and made to measure gowns in an intimate and friendly environment. When you arrive for your initial consultation you will be welcomed by one of our trained bridal experts,  the team all have fashion degrees."
"We really work on understanding our bride and the dream she has in mind so we can use our expertise to create that vision for her."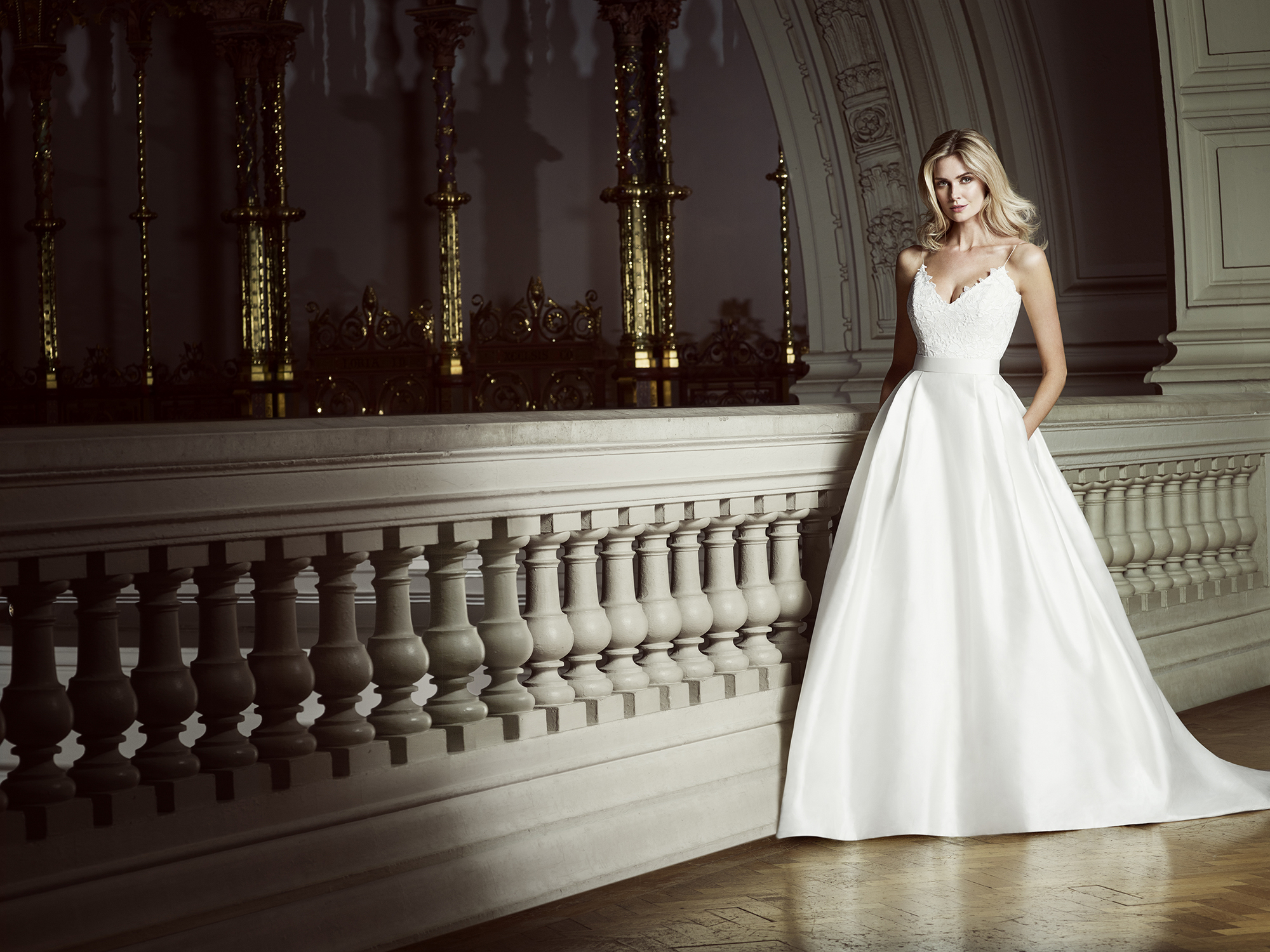 "Your stylist will have a chat with you and explain the journey of having a Castigliano gown created for you, she will introduce you to the collection so you have a full understanding of the signature look of the brand and how the gowns are constructed."
"When you have made your final selection, the bridal couture process begins. An appointment is booked to meet our head of fittings, who will take 20 of your body measurements so a pattern can be created and  tailored specifically for you. You will be on an exciting journey and looked after."
What makes a Castigliano dress stand out?
"My gowns stand out because of how they are cut. The architecture of a gown is so important, the foundations have to be right. Then it is creating the movement. Nothing is more stunning than a gown that moves and dances. Finally, the luxurious fabrics that just bring the designs to life."
How are the collections created?
"The creation of a Caroline Castigliano gown is a labour of love, passion and tradition, the exercising of complicated techniques and skills to produce something seemingly effortless."
"It all begins with a sketch – it's all about the wonderful attention to detail that makes something completely special. The sketches are turned in to patterns and then toiled, this is a process whereby the dress base is created in calico, from there the dress will develop and will be toiled again before being created as a development sample, the collection usually takes about six months to develop."
"We are world known for our expert corsetry. The corsets are the engineering of our gowns, they are the foundation that everything is built around – we see it as a work of art. The exquisite fabrics are handpicked to enhance the designs and make it perfection – the most important consideration is the shape and fit to create a beautiful balanced silhouette."
"Our seamstresses are of the absolute highest level, their knowledge and ability is astonishing. The initial vision of each collection becomes a reality as the dresses are carefully handcrafted in our Lincolnshire atelier."
All gowns ordered through the Caroline Castigliano Knightsbridge store are made to measure specifically to each brides own measurements. To visit the flagship store please request an appointment here or call 0207 590 9120.
If you would like to view the main bridal collection this is offered in standard sizes through stockists across the country. To find your closest stockists click here.