Hello lovelies! Have you had chance to browse through the beautifully-restyled Little Book Wedding Directory pages yet? If you're currently planning your wedding then it's the perfect place to find some superbly talented, dedicated suppliers including Charli Photography, whose exquisite work I'm so happy to share with you today.
We're really proud of this resource, and do hope that you find inspiration and useful contacts.  Charli Photography, one of our wonderful Little Book members, was on hand to record the day for Victoria and Alex. Visit her Little Book profile here and you'll be able to feel how warm and lovely a person she is. Her documentary-style work is airy, light-infused and simply beautiful.
"Charli was a no brainer. As soon as we met her we knew she understood us – an incredible documentary photographer, she was discreet and made us both feel so comfortable. She also answered us immediately with every query we had and I now think of her as a friend – she is so lovely! When we received our photographs, we beamed from ear to ear at every photo. They have completely wowed us and Charli was one of our best decisions. We also chose Charli because not only is her documentary style photography completely our style, but the fact she shoots in film and digital was just such a beautiful touch and has given us such a variety of photos. We are over the moon with them."
Photography Charli Photography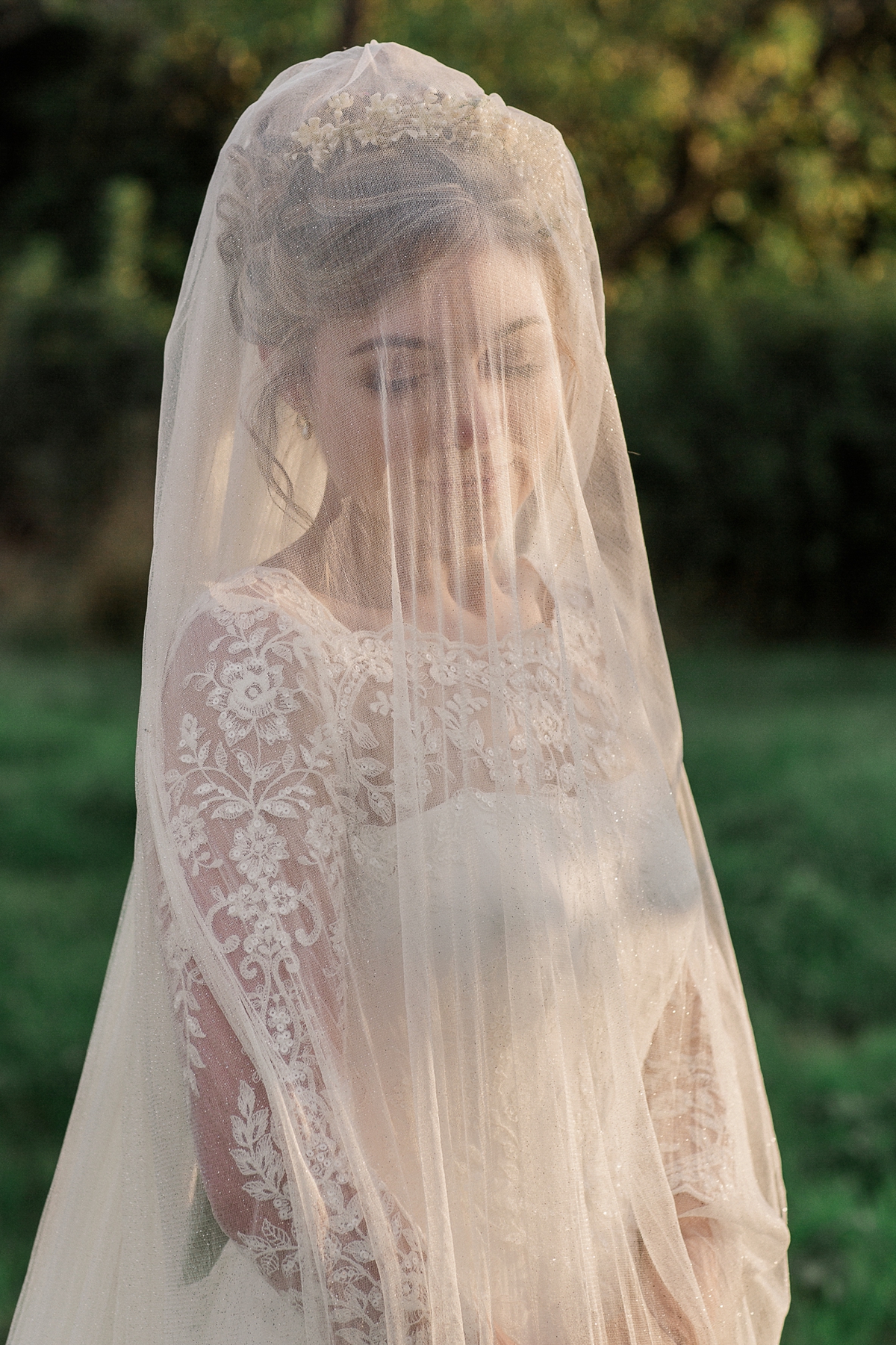 There is so much to love about this wedding between Victoria, a fashion technologist, and sound engineer Alex, who married on 2 September 2017 at St Peters & St Paul's Church in Headcorn, Kent followed by a reception at The Great Barn, Rolvenden, Kent. The couple's inspirations were country, Edwardian fairs and garden parties, with a slight whimsical, magical touch, all within a fun, relaxed DIY celebration and boy, did they pull it off in this day filled with gorgeously bright summer flowers, rustic chic details and a Great Wedding Bake Off. Oh, and keep your eyes open for the charming little blue birds dotted here and there – a lovely allusion to Victoria's maiden name 'Bird'.
The bride is a much-valued member of the Love My Dress private Facebook group (have you joined yet), and also used our Little Book to source suppliers, including Charli Photography.
"I used the Love My Dress closed Facebook group – the 'Belles' on there are so lovely and helpful. I also loved using the Little Book to check out suppliers."
Video I Will Video
The couple both work in central London and live in Kent, so choosing a venue local to them was an obvious choice. I love Victoria's feelings towards having two parts to the day.
"By having our ceremony at a church it not only was in keeping with family tradition but also split the day beautifully in two – allowing the time at the church to be focused purely on us and our marriage, with the reception afterwards just being a huge party for everyone to enjoy."
"We both wanted a rustic barn wedding; luckily Kent is well known for those! We booked viewings at several barns but in the end, The Great Barn, Rolvenden ticked every box. It was remote, had fields and orchards and best of all was completely dry hire with no corkage. Our parents really disliked our venue when they viewed it in January as it was cold, dark and the fields were grey and lifeless as it was winter. On the day, they were overwhelmed by how amazing the venue looked and said we couldn't have chosen better!"
Utterly Wow
 to plan and co-ordinate the day.
"We met her near our wedding church in Headcorn (in a little coffee shop) and she was completely invaluable and so lovely and responsive throughout the whole process. She co-ordinated our whole day and kept everything looking fabulous and running smoothly."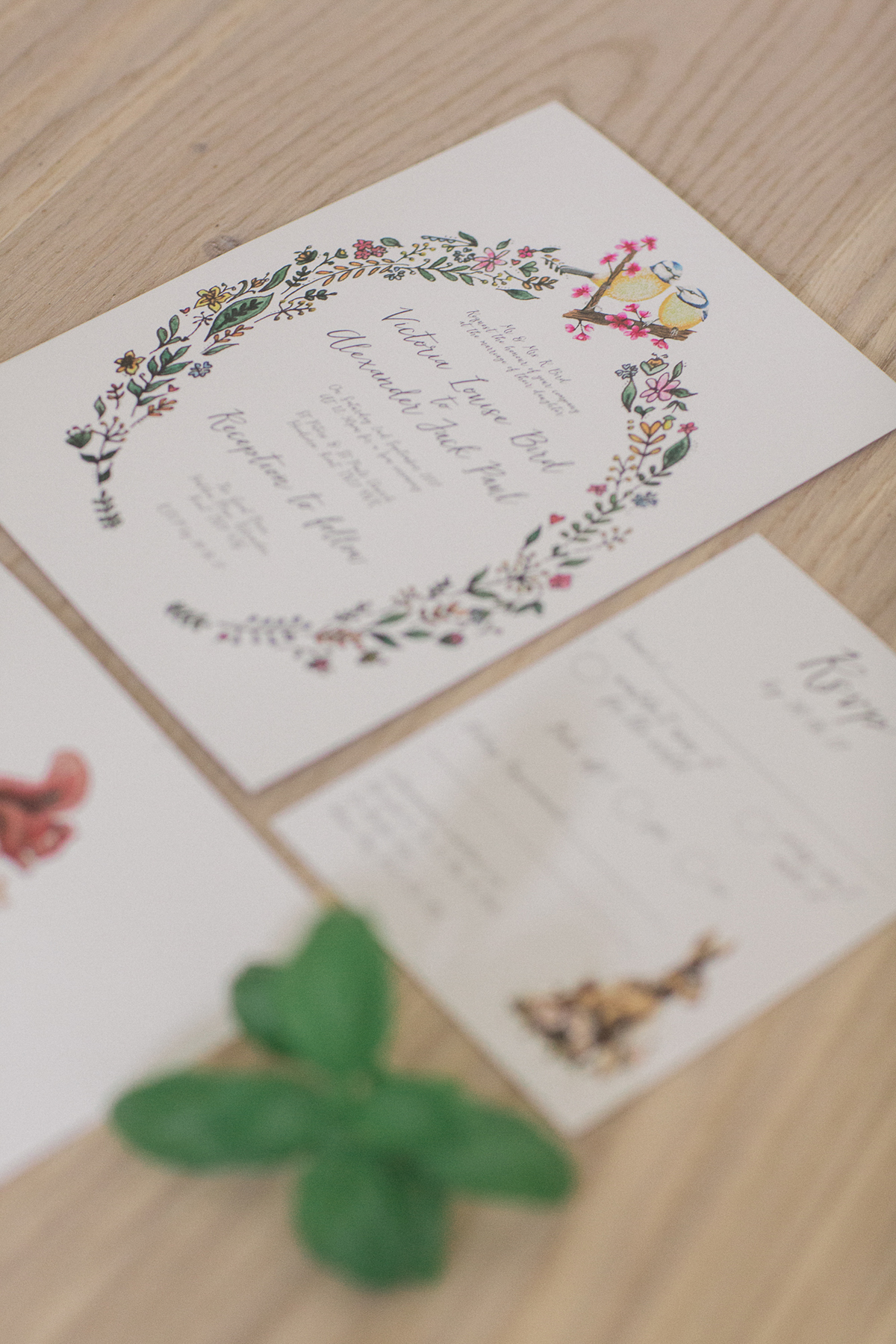 "Sama spoke to and co-ordinated all our other suppliers throughout the day and in the weeks leading up to the wedding. She was an absolute dream and we couldn't have done it without her."
"We also asked Will and Jess of I Will Video to film our day and as Alex works in TV, we are editing our own video from their raw footage of our day."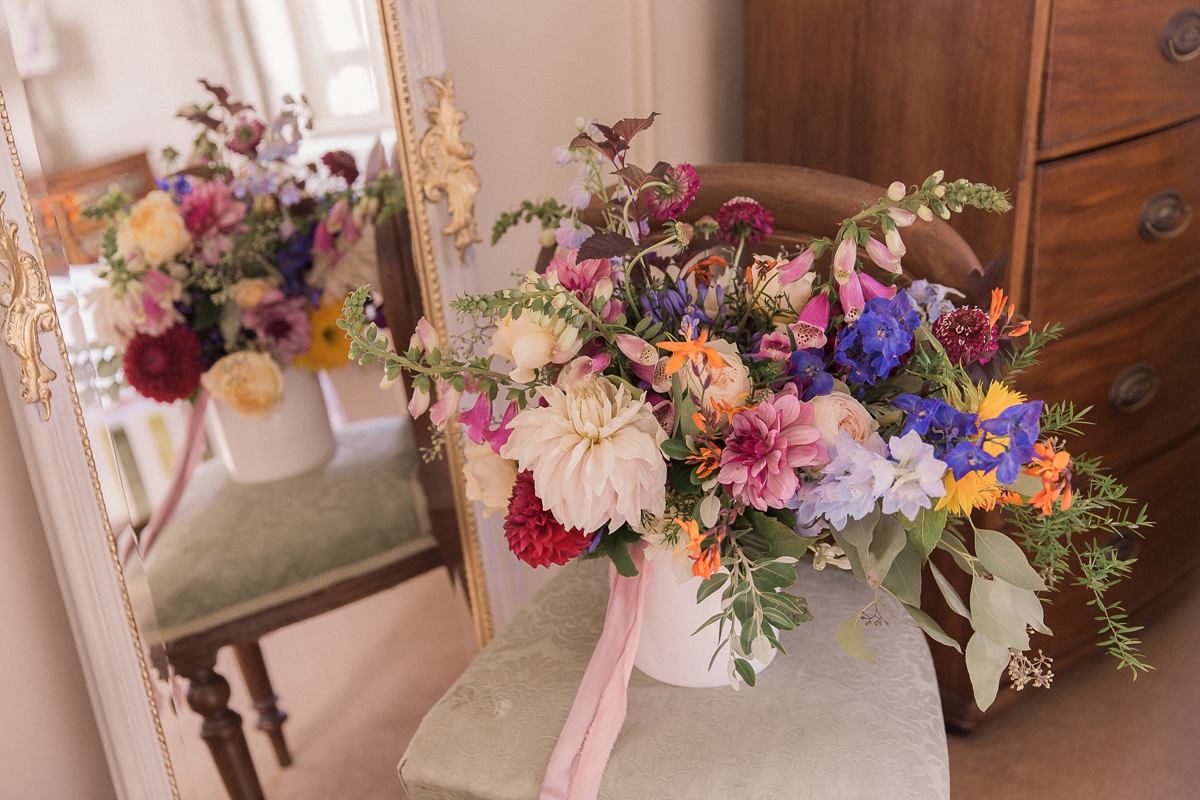 The bride's pretty gilt and ivory laser-cut shoes were 'Peony' by Harriet Wilde, another of our valued Little Book suppliers, and family heirlooms completed the elegant look; she wore her nan's wax flower tiara from the 1950s and her mum's pearl earrings from her own wedding day.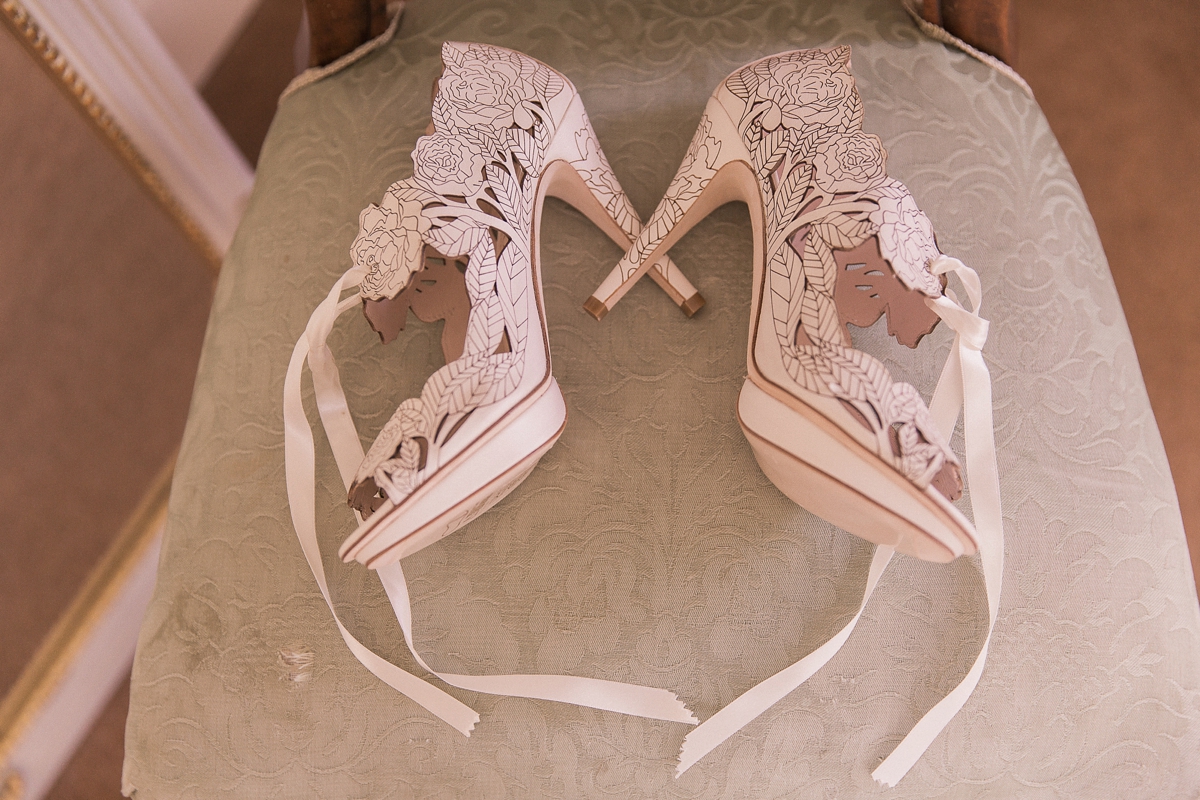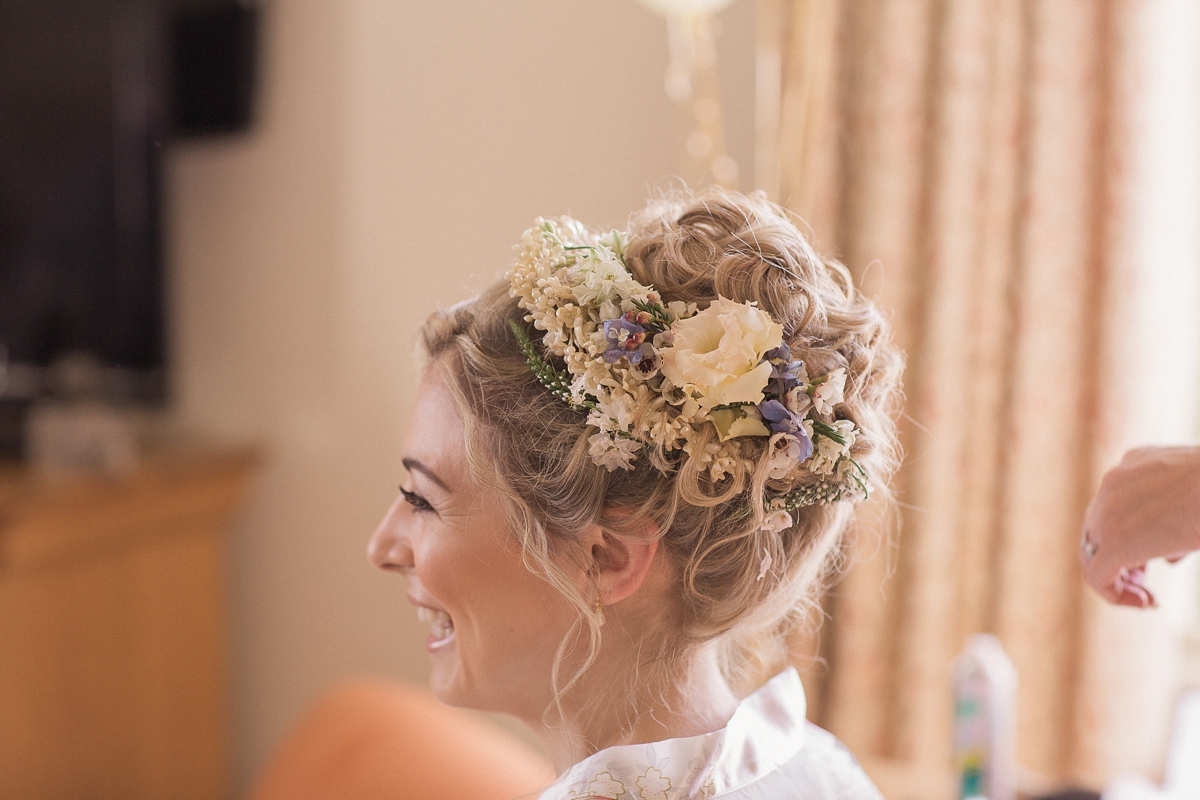 Victoria was joined by her three bridesmaids at Sissinghurst Castle Farmhouse to prepare on the morning of the wedding. Her gown was a made to measure Raimon Bundó gown from Frou Frou Bridal in Tunbridge Wells. I really do think it's perfect for the late summer weather and two venues with its pretty beaded lace topper layered over the elegant pure white skirt. Can you see the little blue bird embroidered in to the gown? To show off the unusual high neckline, Victoria's curly locks were piled on top of her head in an intricate braided and curled updo, finished off with the prettiest flowers and a vintage wax flower tiara headpiece.
"I must have tried on fifty dresses waiting for 'The One'. In all of them I just felt like a little girl playing dress up and they just didn't feel like me. I eventually whittled it down to two dresses that I adored- one was what I thought I wanted – fitted, full lace with beading, long sleeves and a huge lace train. The other was a wild card."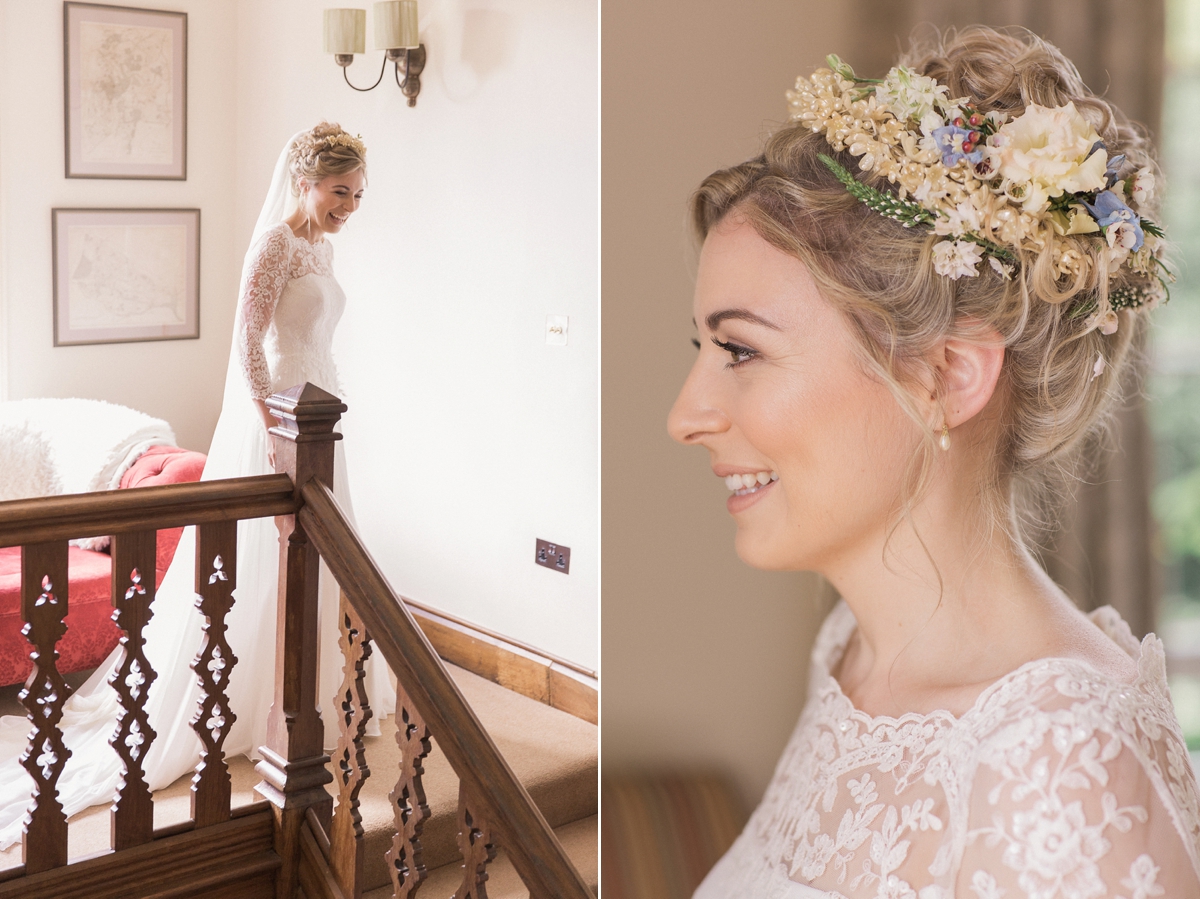 "I tried it on by chance and recommendation of Nicole, the co-owner of Frou Frou Bridal Boutique in Tunbridge Wells. I was so torn; one was the vision and one made me feel incredible. In the end my dad and Alex said 'you can only be a bride once so that sealed the deal and I knew I made the right choice going for the made-to-measure Raimon Bundó wildcard from Frou Frou."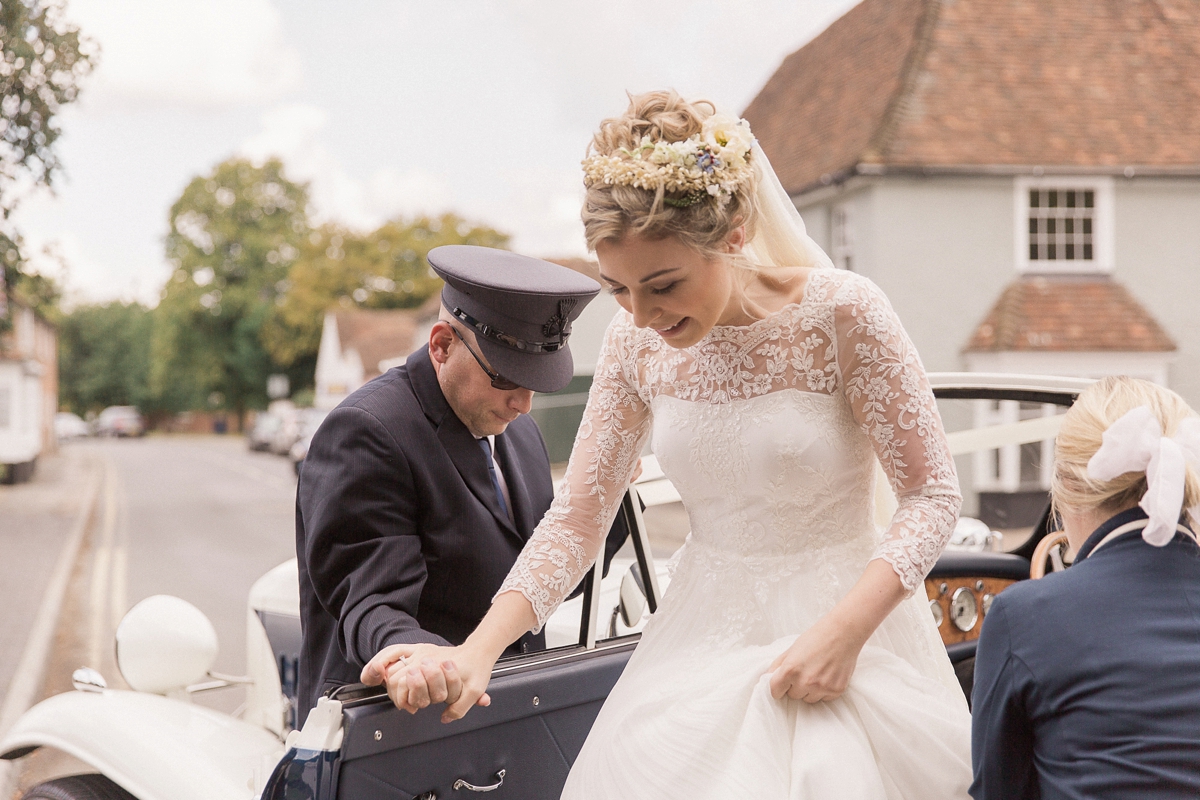 "It was the 'Infanta' dress but as I always wanted longer sleeves, like my mum and nan did, they customised it for me to make my dress dreams come true. I added an Elizabeth Stuart petticoat and a bespoke, sparkling cathedral length veil from Ann Marie Faulkner and fell in love. Alterations were done by Laura Jones who I met on the Love My Dress private Facebook group. The dress was perfect for our church wedding at St Peters and St Paul's in Headcorn and transitioned so well for our laid back, rustic barn reception. My aunt had a little bluebird embroidered and stitched in her wedding dress- she then gave this to me to be stitched in to my wedding dress."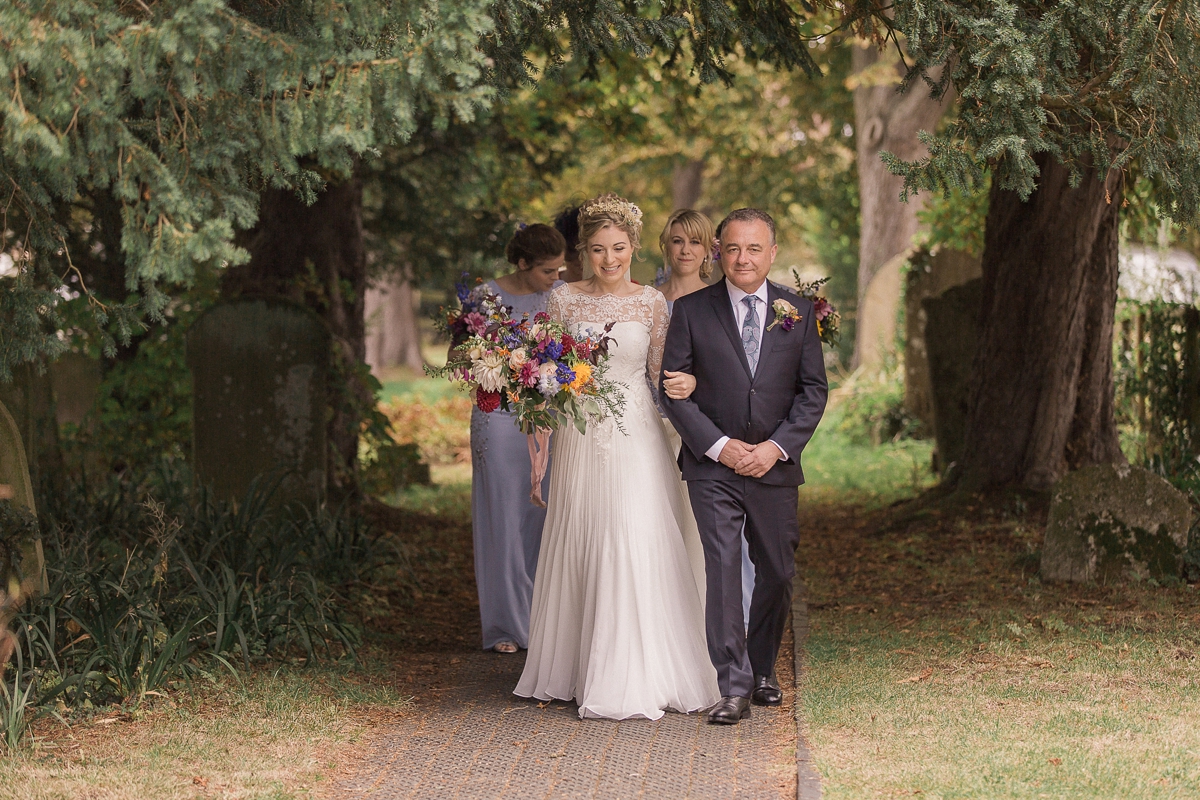 The couple met back in 2009 at a gig in Leeds where Alex was playing in a band.
"I was at uni and went to see my friend's band play. Alex was the newest member of the band and after the gig we got chatting and both met up in summer back in Kent where we both live."
"I love Christmas, every year we go on a mini city break to visit the Christmas Markets. As a surprise Alex booked us a mini break to Cologne where there are seven Christmas markets. He chose Hotel Excelsior as it was in the city centre and the hotel decorated the room with rose petals and a bottle of Champagne for us."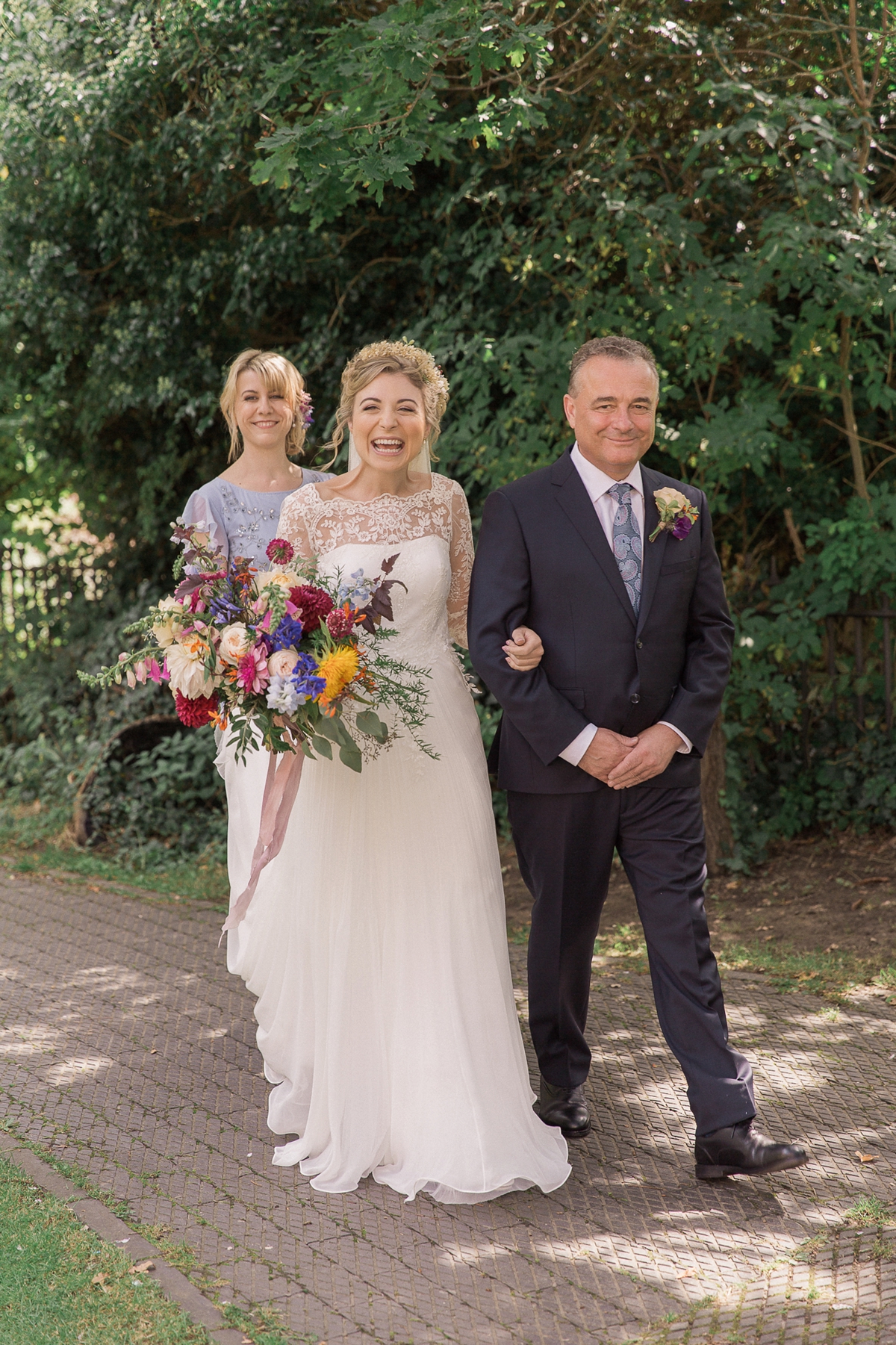 "Alex then said he had one further surprise and to close my eyes. On opening he was on one knee with two boxes – a love birds necklace in one and feather earrings in the other (my maiden name was Bird hence the bird theme and I always said I'd like us to choose a ring together should he ever propose.) We then went for a gorgeous meal at the hotel's top-rated restaurant and spent the rest of the holiday in a little bubble wandering around the markets."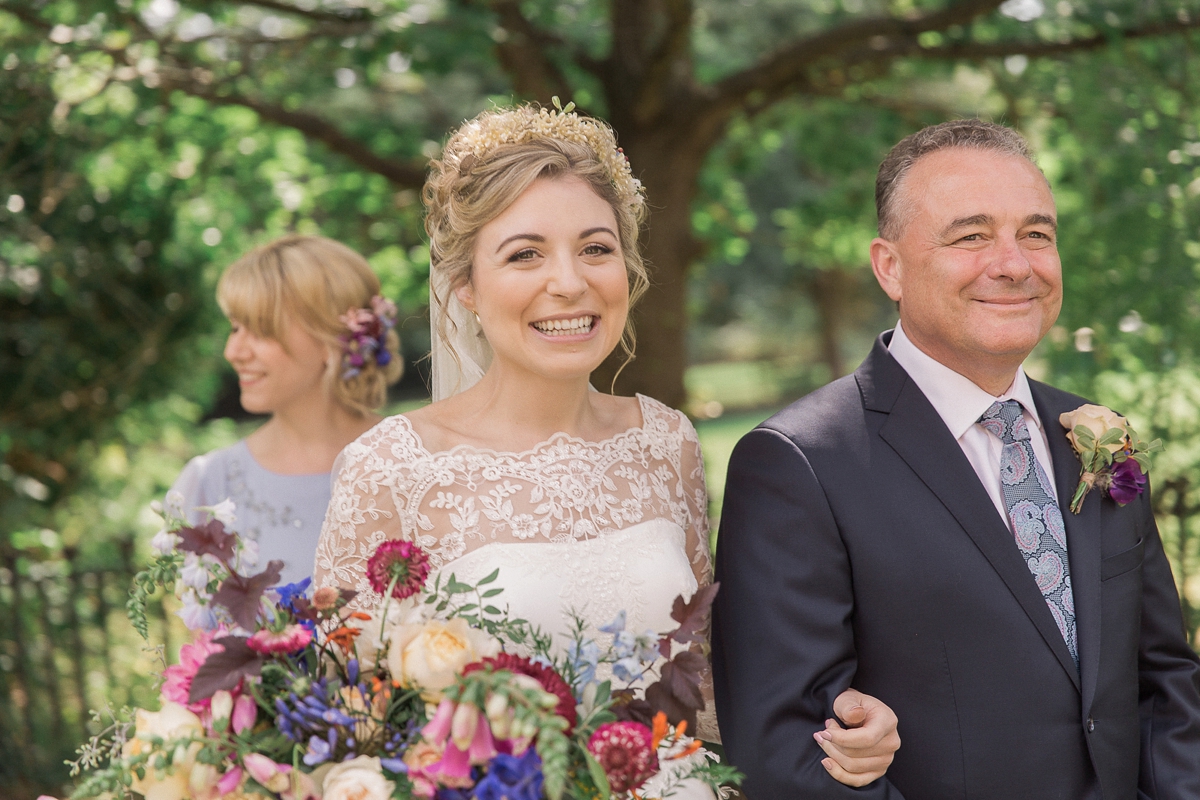 "After Christmas, we went on the hunt for a ring. I tried a few on and both of us agreed they just weren't me. Eventually we stumbled across Hadfields in Canterbury (managed by Allie and Dave who are both an absolute pleasure to work with) who said they could design my engagement ring and our wedding rings."
"We went back for regular visits and saw the rings being made out of wax, then cast out of the platinum, drilled for the diamonds and then set and shaped. Alex even helped shape my wedding ring in their workshop at the back of the shop."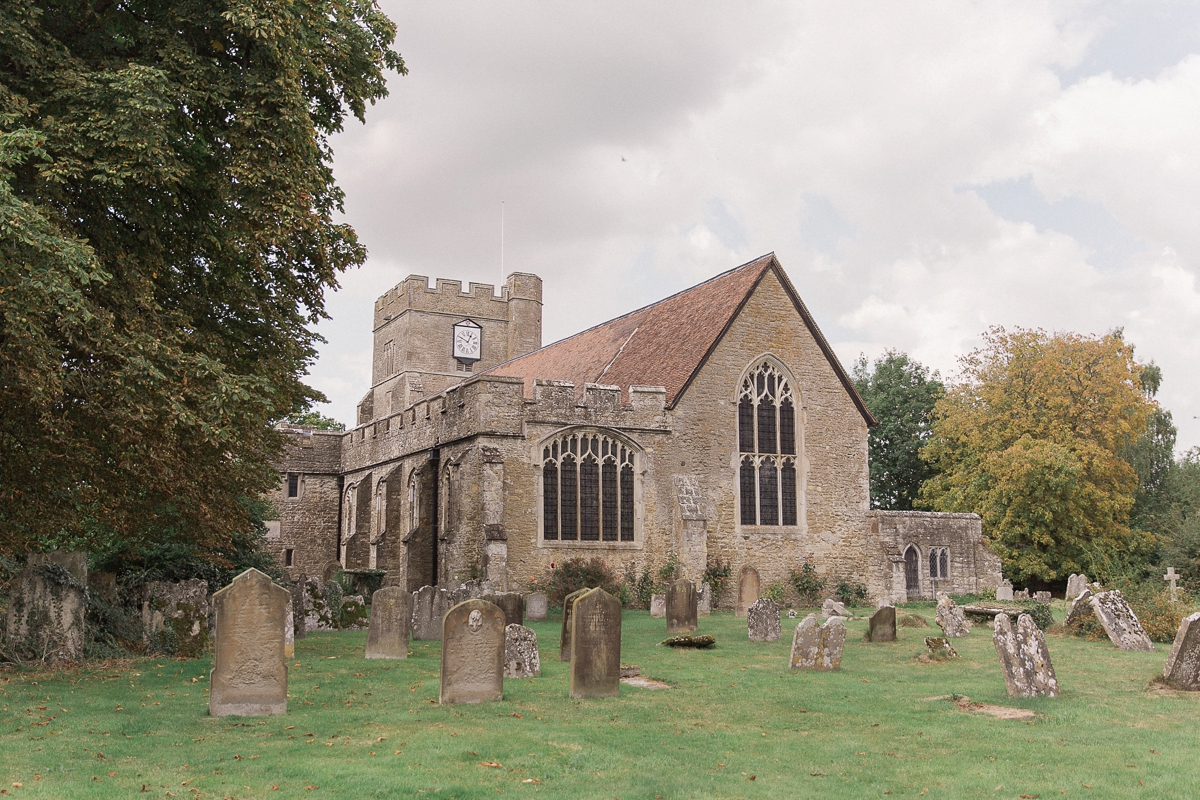 The bouquets and pedestal arrangements in a gorgeous myriad of colours were created by Bloomingayles, with the rest of the flowers created by the bride and her party.
"At first I thought I would be happy making my own bouquet with my mum, who is incredible at arranging flowers. However we did a trial run and found out just how much hard work goes in to flower arranging and it would have to be the day before the wedding – when we needed to decorate the barn! We stumbled across Blooming Green Flowers just outside Maid tone, where they grow flowers in fields and you can PYO at a set price per bucket."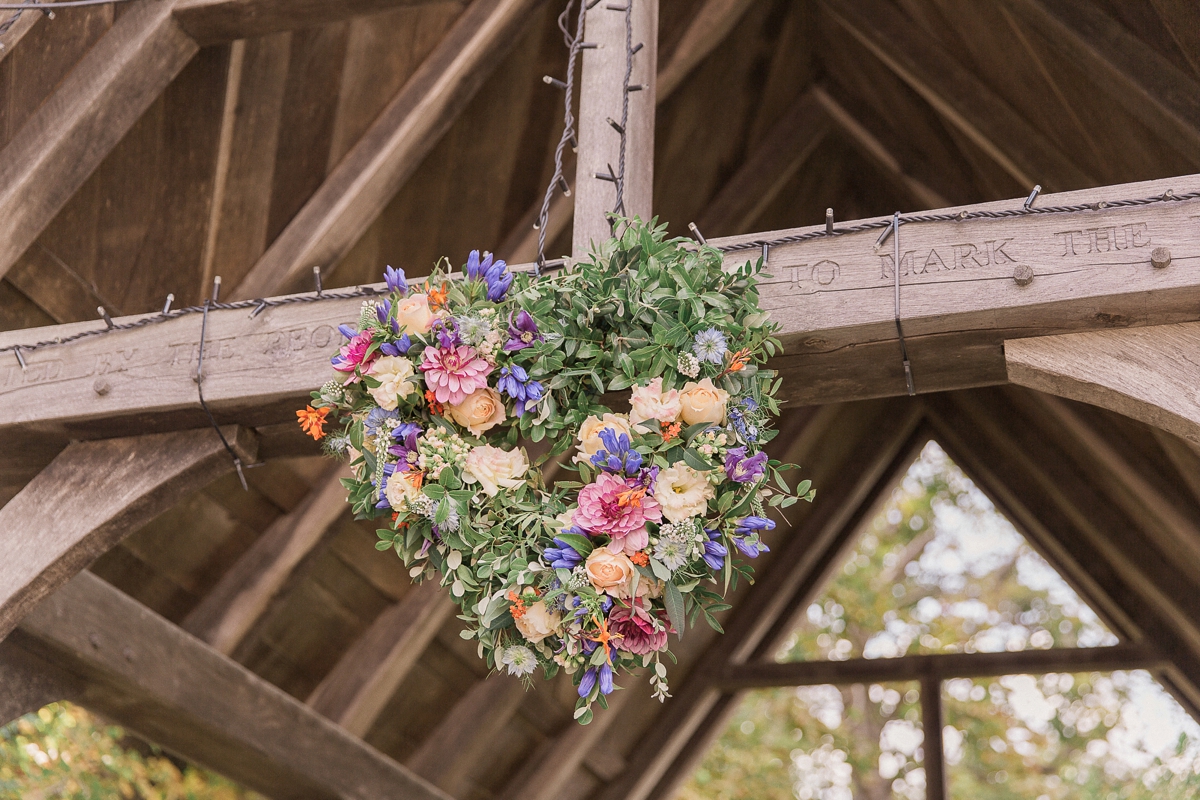 Victoria and her father arrived at the church in show-stopping style in a chauffeur-driven Beauford open top tourer from Bryants Beauford Carriage Co. They walked down the aisle together to the uplifting sounds of Handel's 'The Arrival of the Queen of Sheba' before exchanging their vows in front of all their family and friends.
"My dad always called me that growing up and we call our Princess cat Marlie 'The Queen of Sheba' so it seemed fitting and it's very jovial."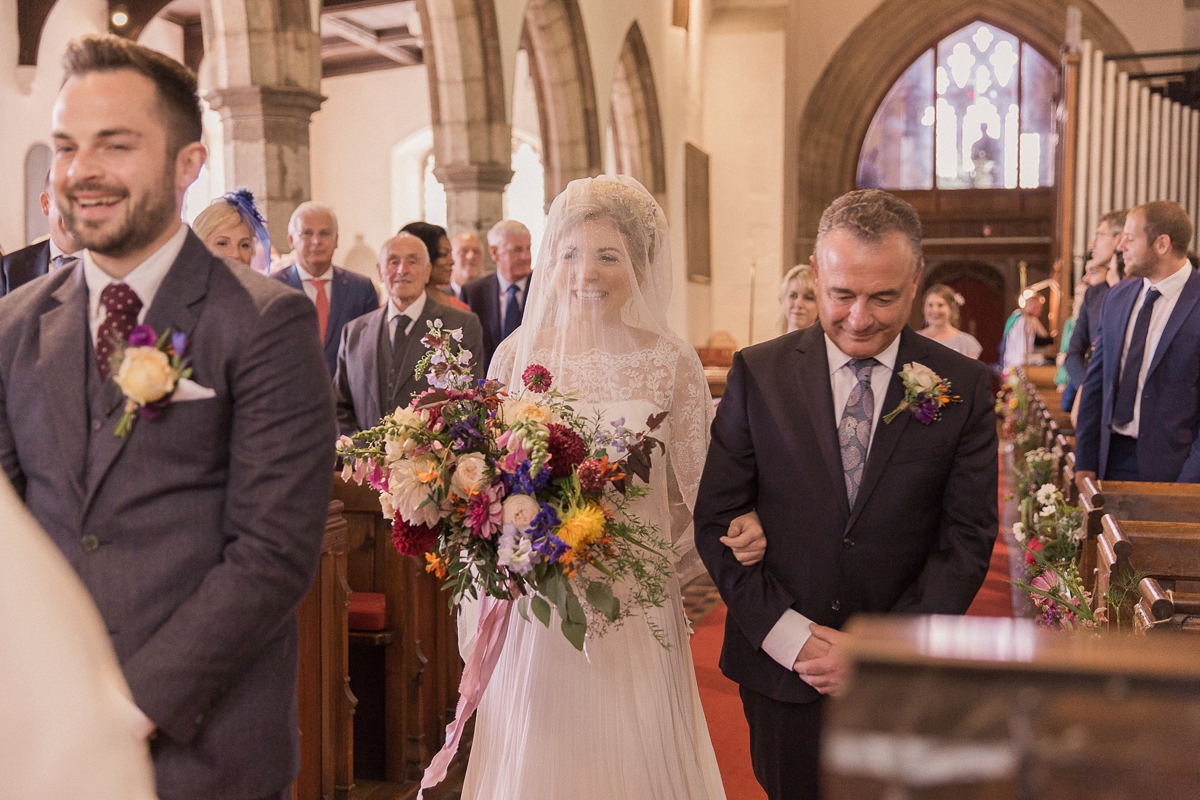 Alex and Victoria made the ceremony personal with a reading of 'The Owl and The Pussycat' and some very special prayers.
"'The Owl and the Pussycat' was beautifully read by Alex's seven year old brother. He was so brave and read it beautifully. It was read to Victoria and her sister by their father every weekend when they were young we included a special prayer for loved ones that were no longer with us and each hymn had a sentimental meaning including 'Jerusalem' which was Victoria's school song."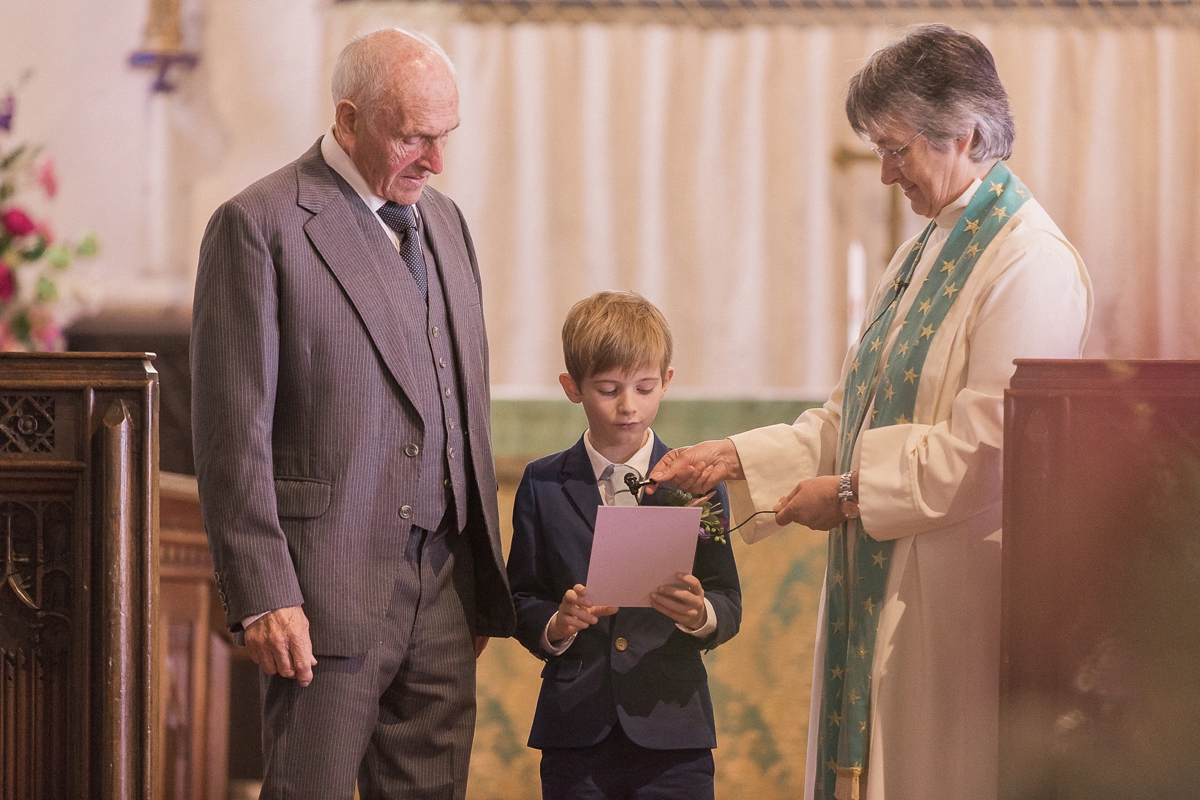 Victoria's bridesmaids wore flattering lavender gowns by Maya at ASOS, with Dune heels and fresh flowers in their hair. Their updos were styled by Vicki Lord Hair and the natural, pretty make-up applied by Lucy Jayne Makeup Artist.
"This was so important to me and I spent hours researching, however when I saw Vicki Lord and Lucy Jayne I just knew they were the best I could find. They work together frequently and are the absolute Dream Team as they are commonly known. The service I received from them both was absolutely incredible –  Lucy being all about the detail and creating a look that stunned me and Vicki with her bespoke service at the trial that made me feel truly unique and special, then wowing me on the day with a gorgeous braided updo that she created, incorporating flowers from Gayle and my nan's tiara from the 1950s. I can't recommend them both highly enough."
"Mum agreed to do all the table flowers and jam jar pew ends. We spent a lovely morning in the sunshine out in the BG fields picking flowers two days before the wedding for my mum and sister to then spend the afternoon arranging. I whittled down florists to three of my favourites, however Bloomingayles just completely understood my vision and I've always admired her work. She arranged my gorgeous bouquet, bridesmaids bouquets, pedestal arrangements and a few other feature displays, which completely overwhelmed me on the day."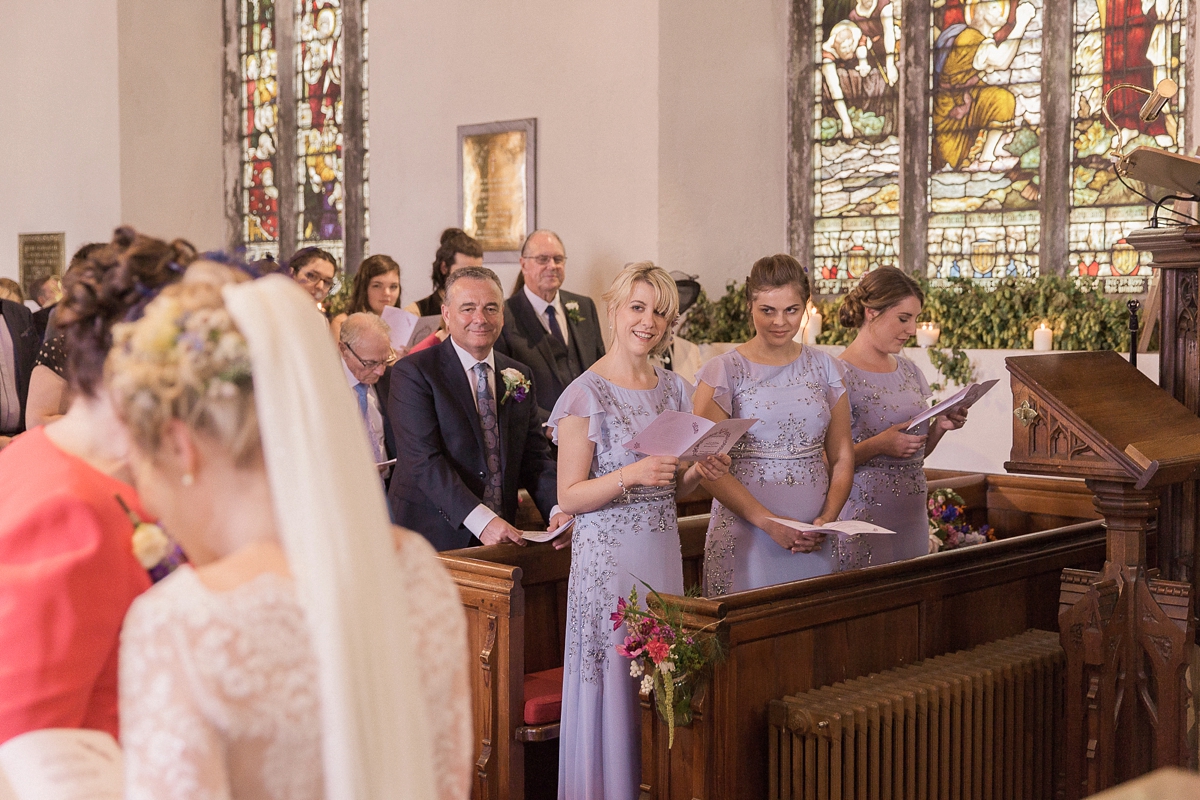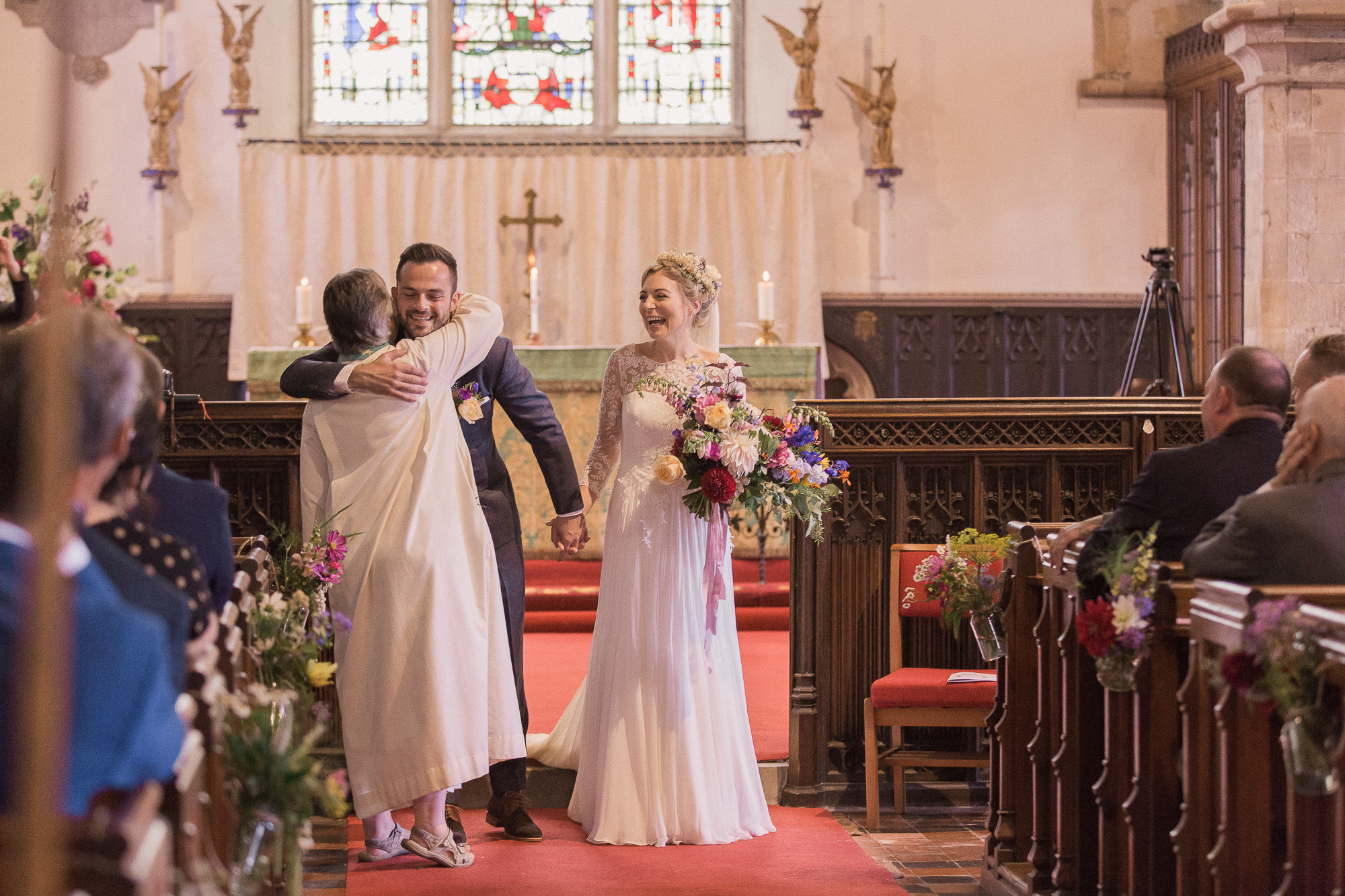 It's time to talk about the groom and his choice of outfit – a dapper made to measure suit by Beggars Run in Shoreditch London with Barker shoes and a Beggars Run tie.
"Cian was so accommodating throughout the entire process and is such a character. He made Alex feel a million dollars. Alex usually hates wearing a suit but can't wait to wear this one again."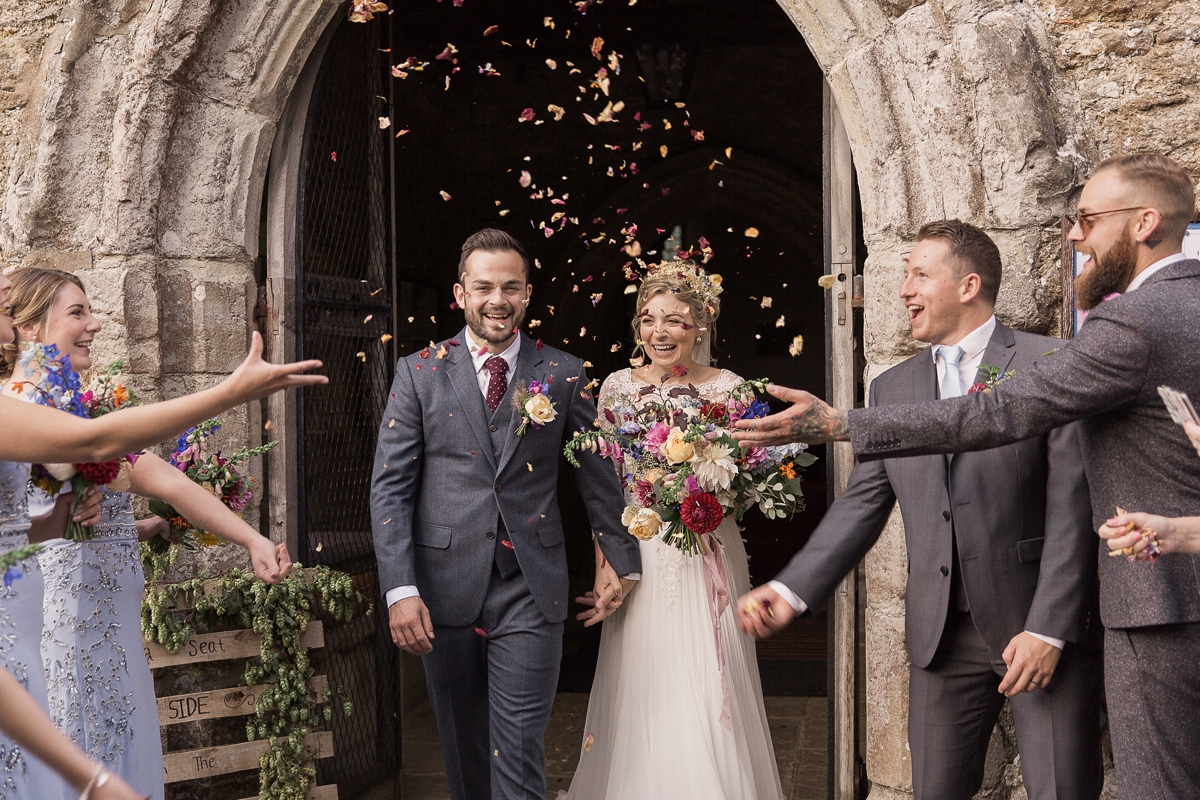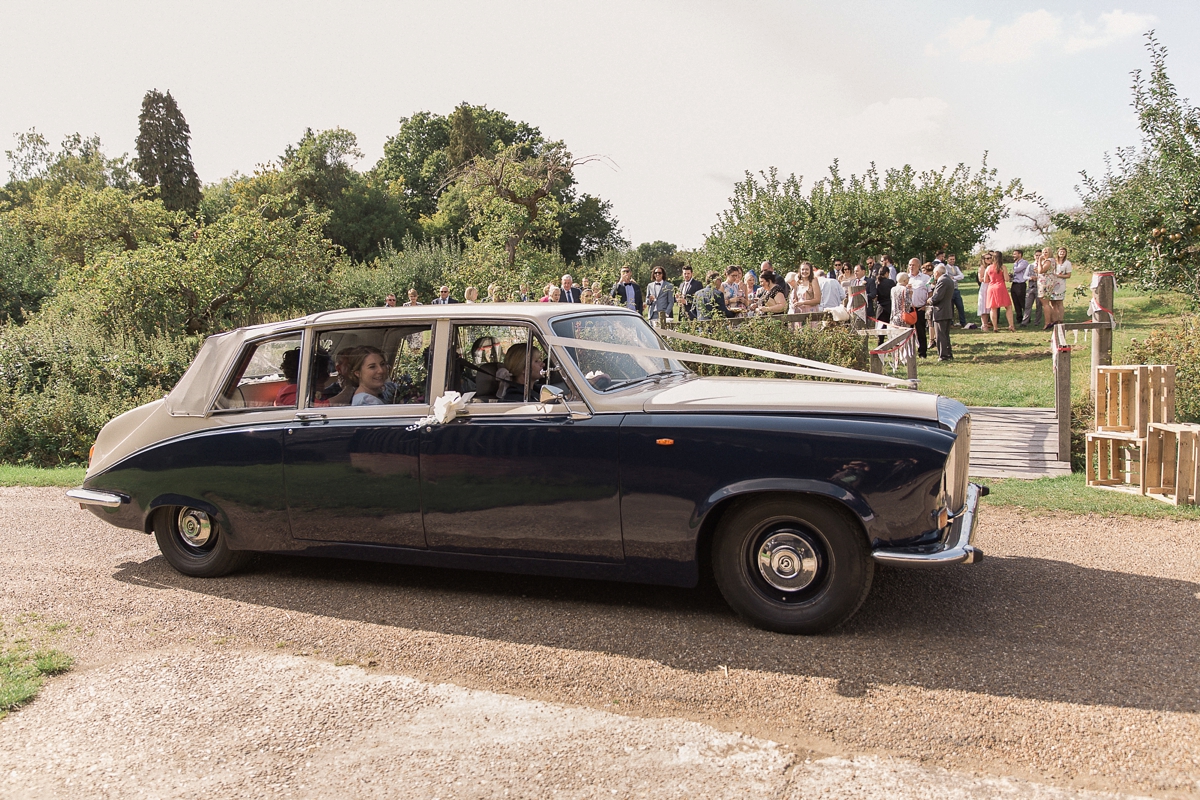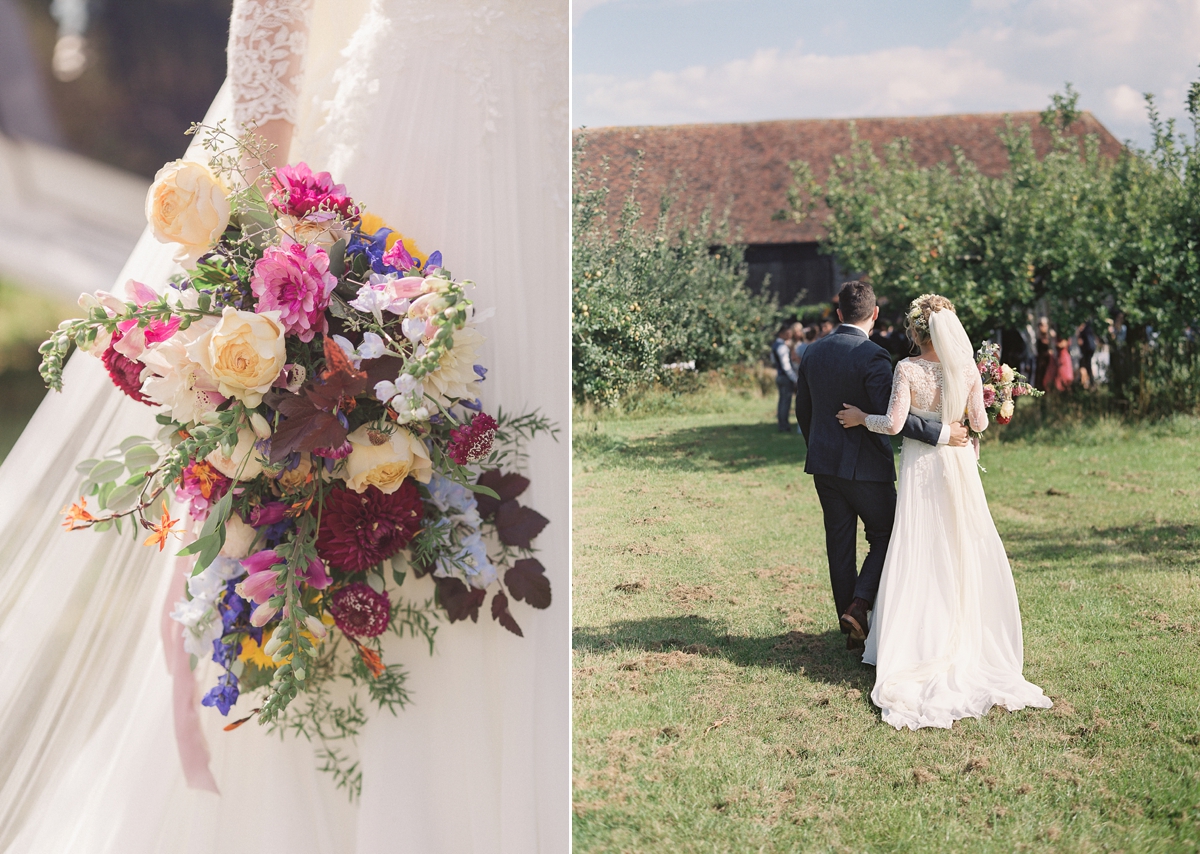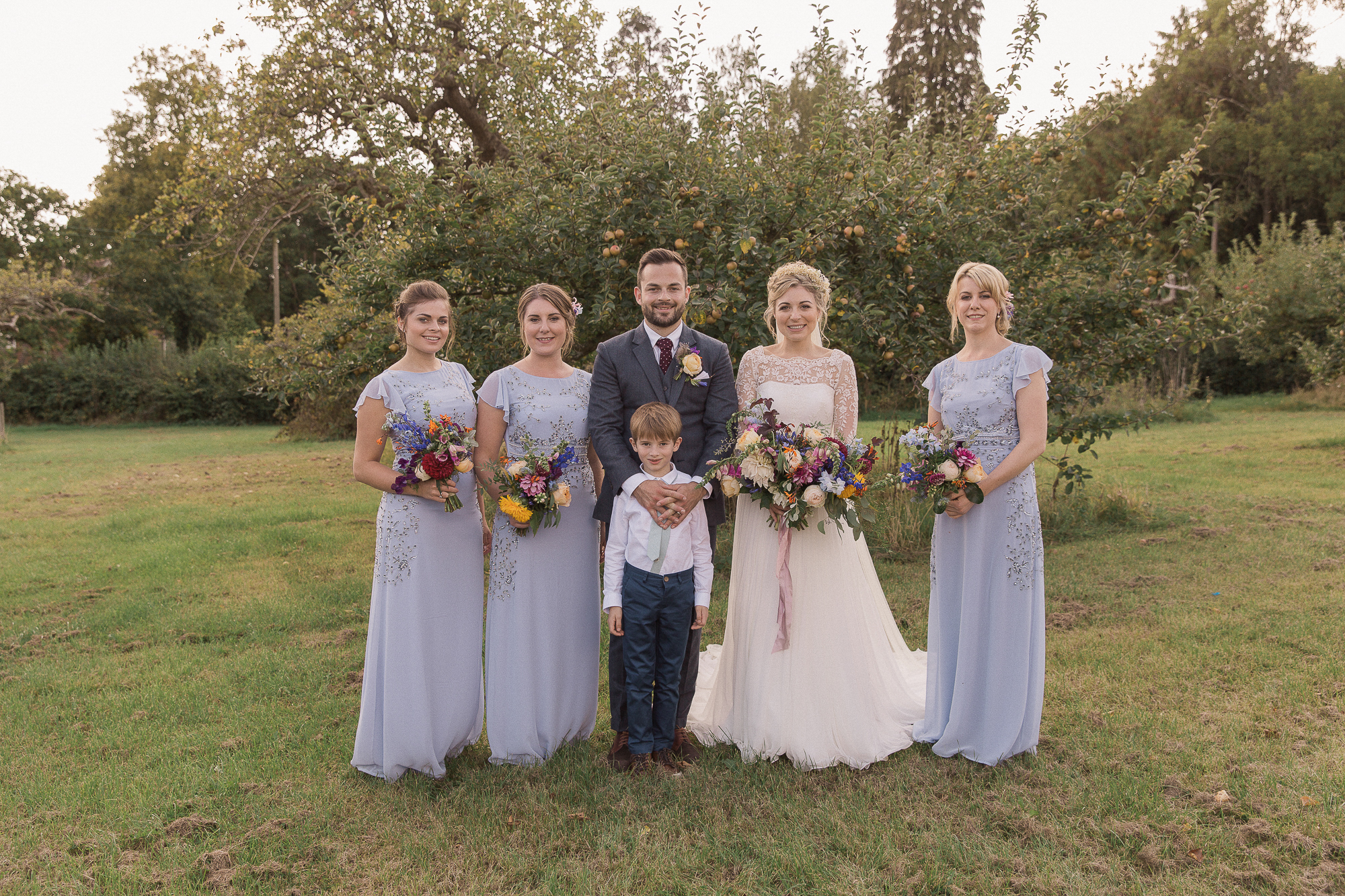 The barn in all its glory made a beautiful setting for the guests after the ceremony. Victoria and Alex must have worked so hard in the days leading up to the day to transform the blank canvas venue. The charming stationery, with its intertwined flowers and blue birds, was a collaboration between their talented friends.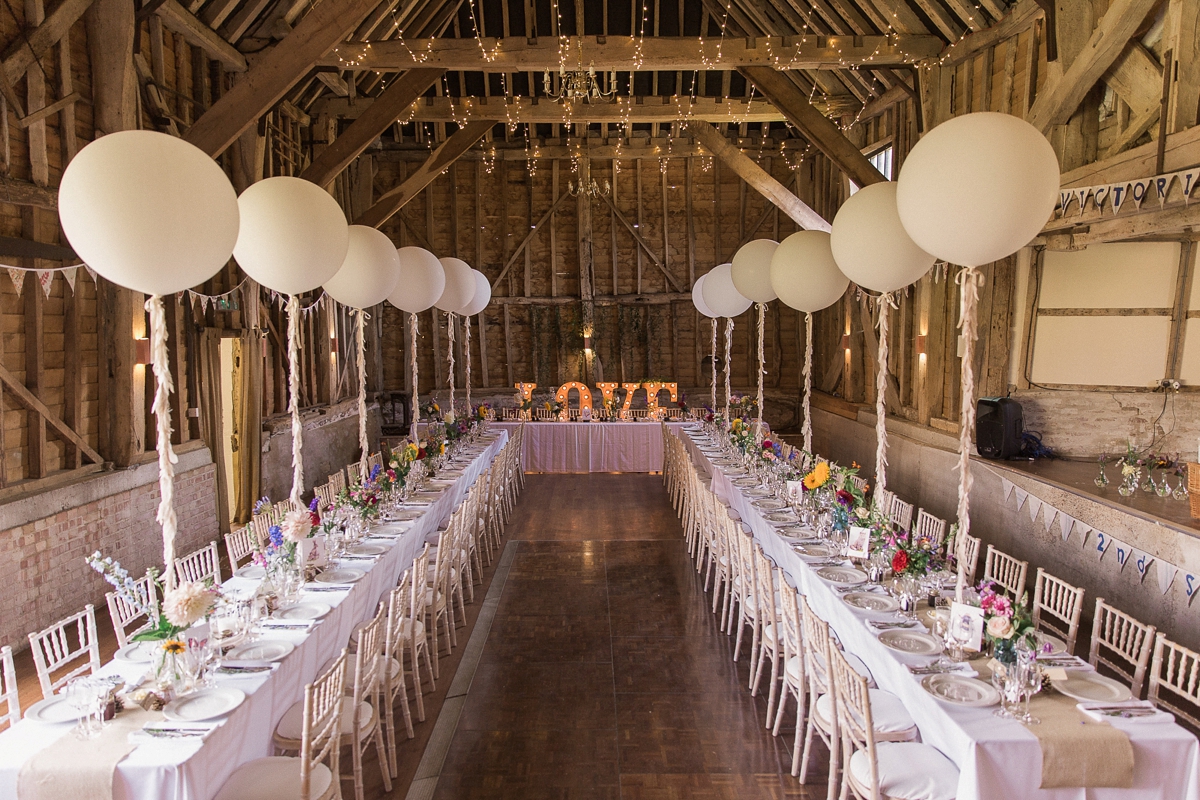 "My friend Sian drew all the animals and my friend Georgie drew the floral design. Liz from The Invite Shack styled it all together for us and did our invites and save the dates. We did our own DIY seating plan, table numbers (with wood logs from Alex's mum's garden) and place cards using pinecones foraged locally and hand-stamped names by my mum."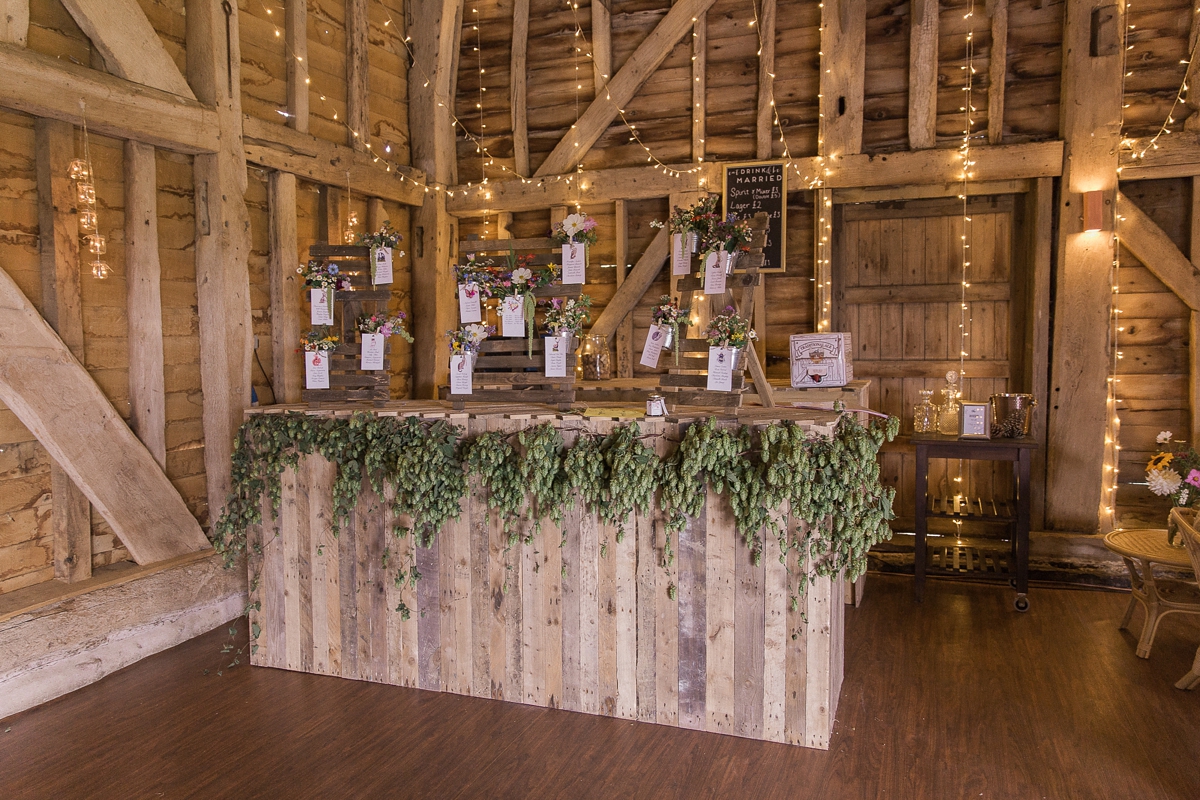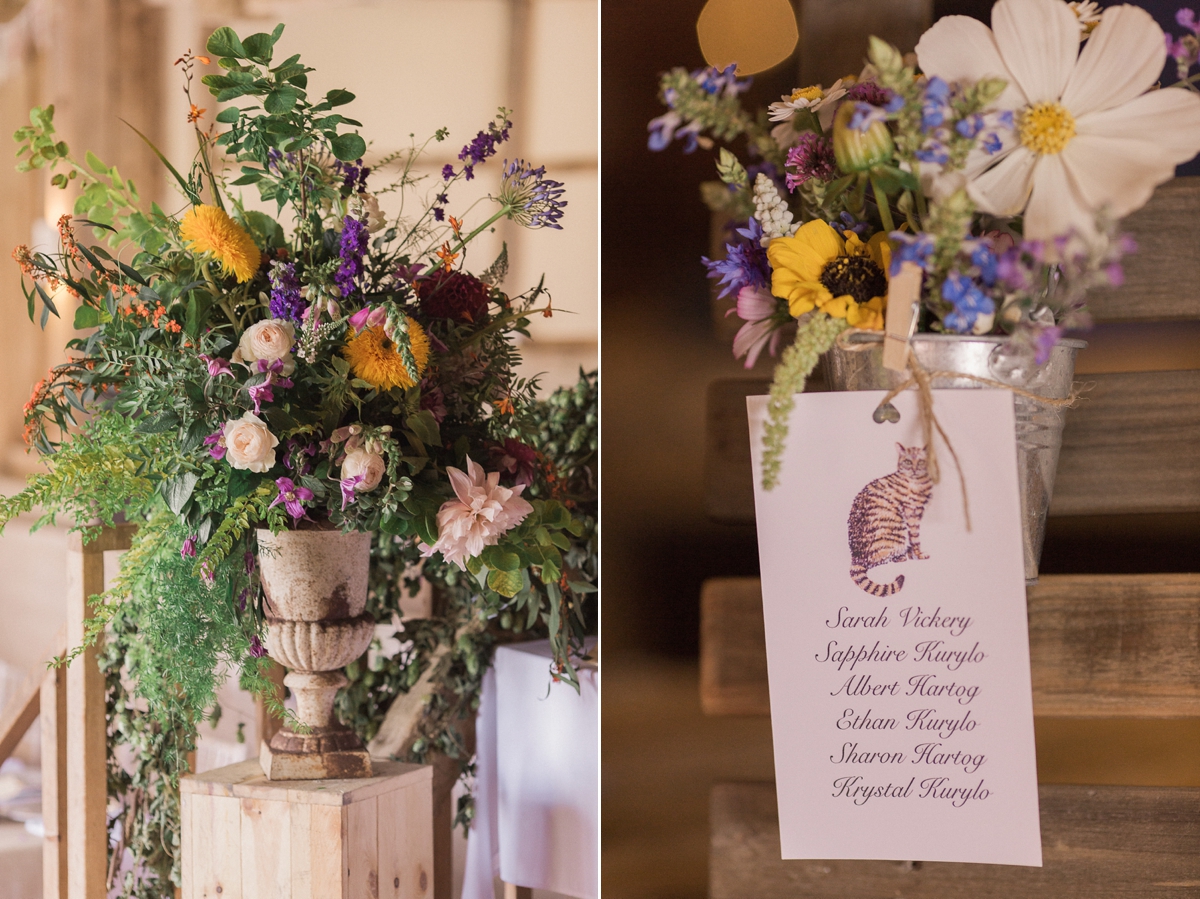 "Our whole wedding was DIY. Alex and his best man Leo built our bar, they also installed all the lighting in the barn (it took them sixteen hours, a three-story scaffold tower and 400 metres of fairy lights!)."
"The favours were jam made by Alex's mum from fruit in their garden, the table animals (instead of numbers) were drawn by our friend Sia and the comfy seating area was purchased from various local shops. We had a DIY glitter bar and whisky and cigar bar in the evening."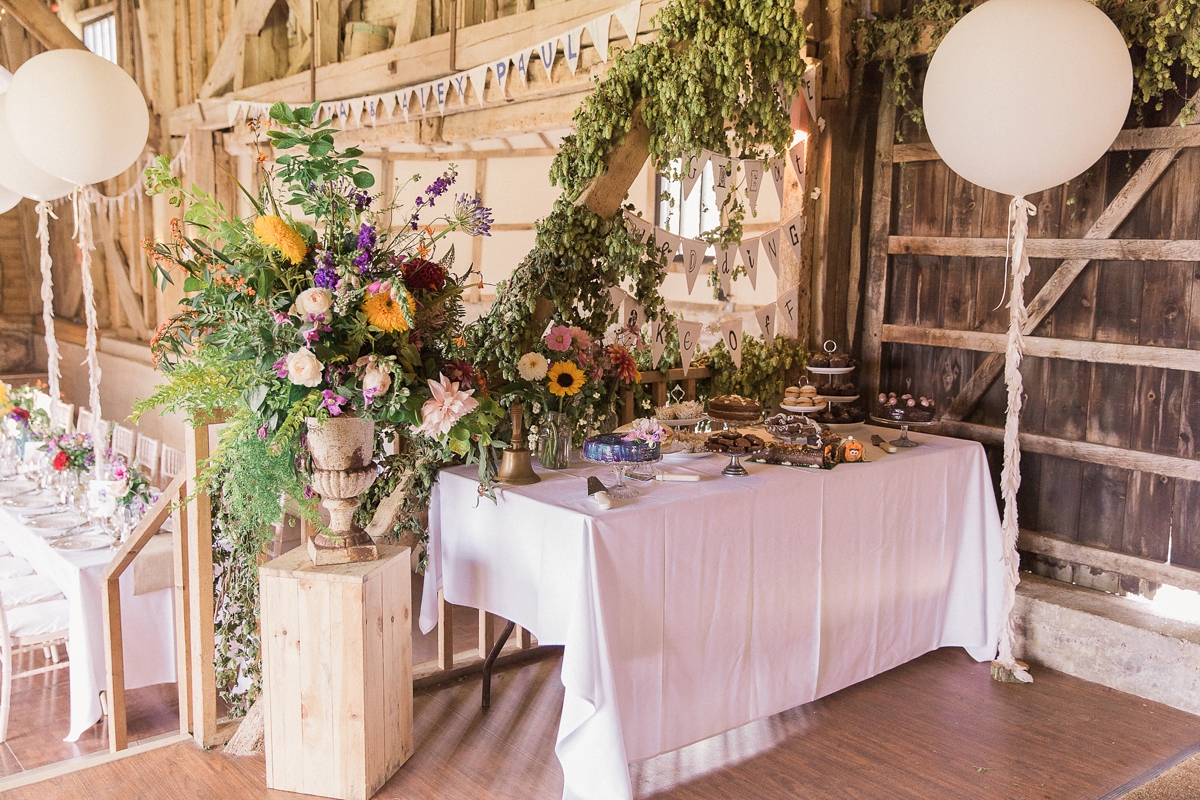 "I asked all my guests if they wanted to be involved in a 'wedding bake off'. The turn out was great and everyone loved it and gorged on all the delicious cakes – chocolate cake, avocado bakes, Victoria sponge and rocky road…."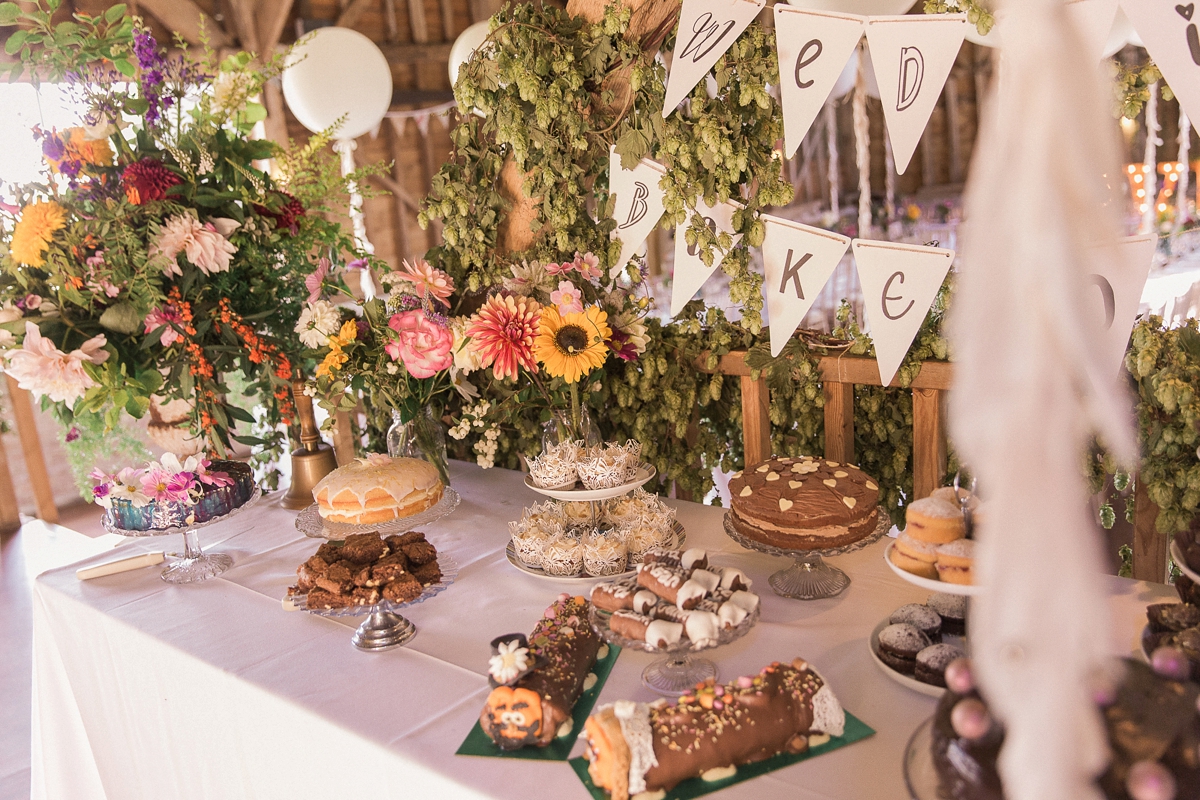 Have you seen the piece de resistance? The couple are lucky to count a five star pastry chef from South Africa as a close family friend, and he crafted this three-tier carrot cake finished off with a crisp lemon buttercream frosting, flowers and a cake topper from My Peg Weddings.
"It was truly phenomenal and delicious."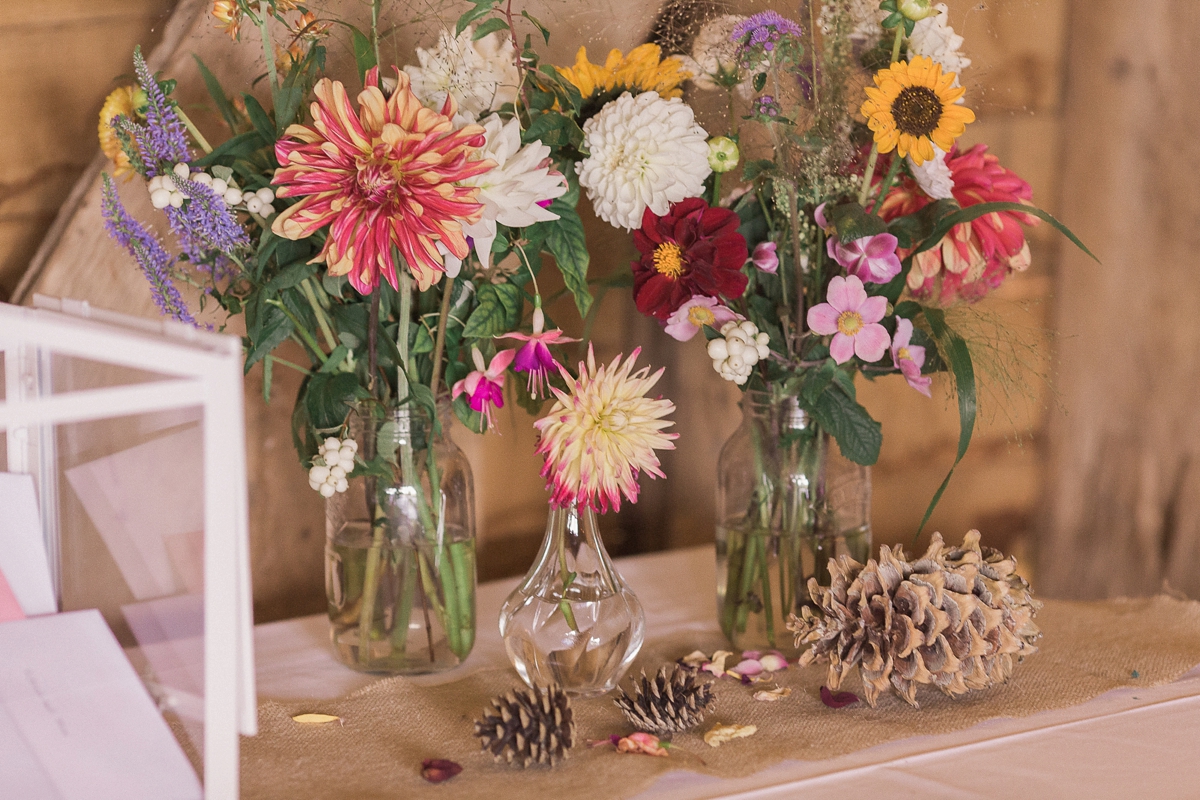 "We hired in the dinner tables and chairs from Four Jays. The balloon tails were feather garlands from John Lewis and the balloons themselves were inflated by Sarah at Think Bubble Party."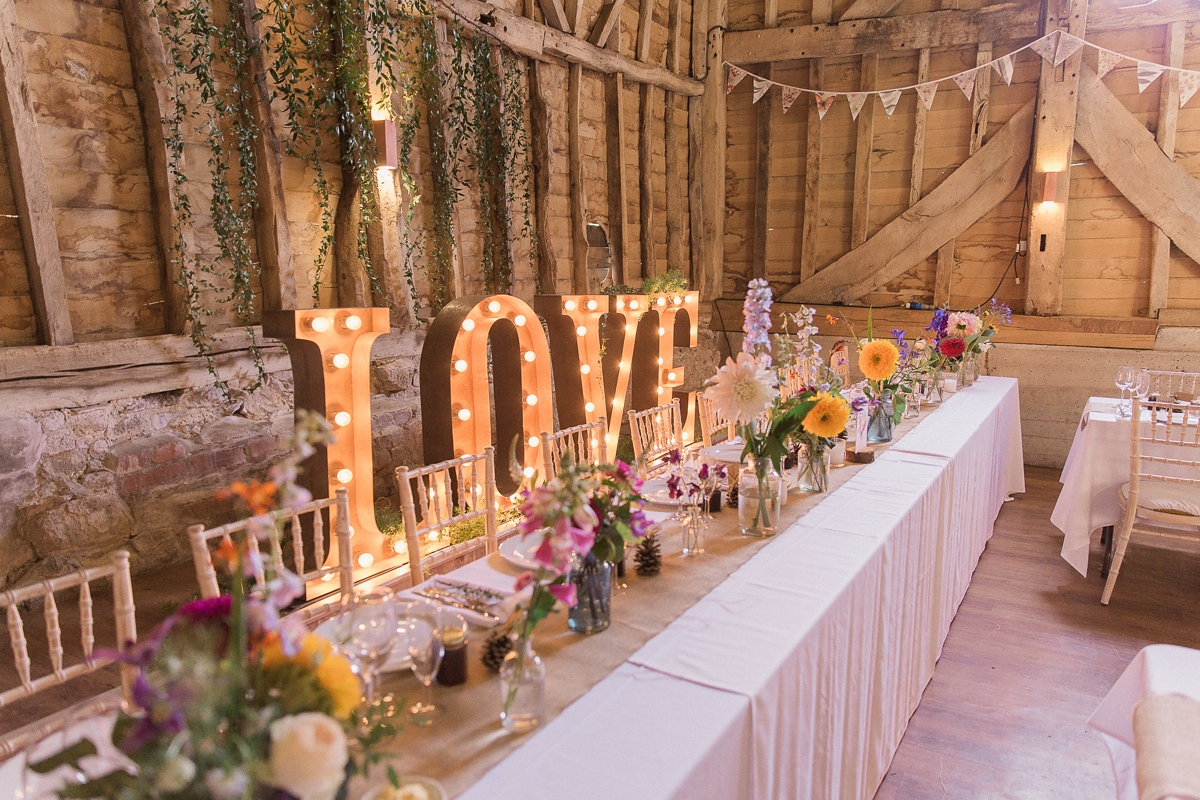 In keeping with the relaxed vibe of the reception, the couple opted for a hog roast from Australian Style Catering and a 'Great Wedding Bake-Off' in the evening.
"We met Geoff and loved his personality from the start. To top it off the Hog Roast and canapés were incredible. His wife Joy is an outstanding chef and he even stayed behind to run our bar in the evening. He also helped us understanding timings throughout our planning process and without him and Sama, I don't think our day would have been nearly as successful! In the evening we had some delicious fish and chips from The Village Chippy."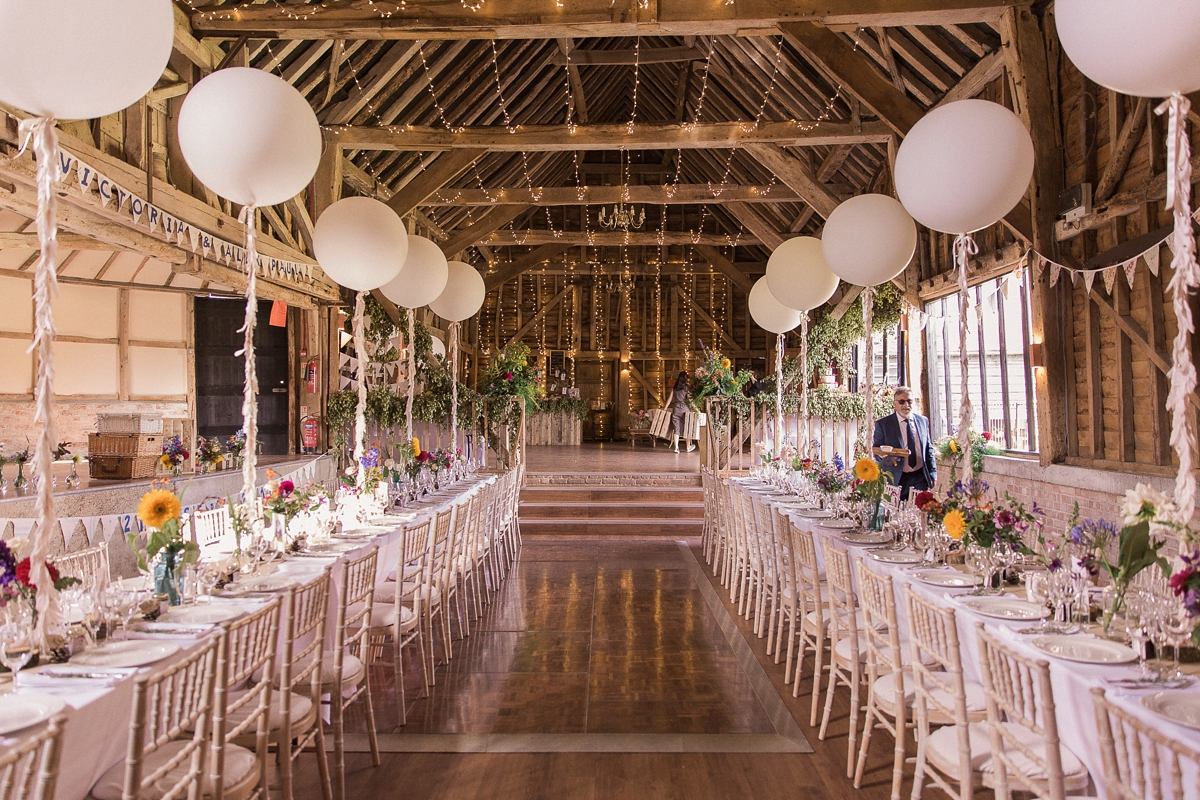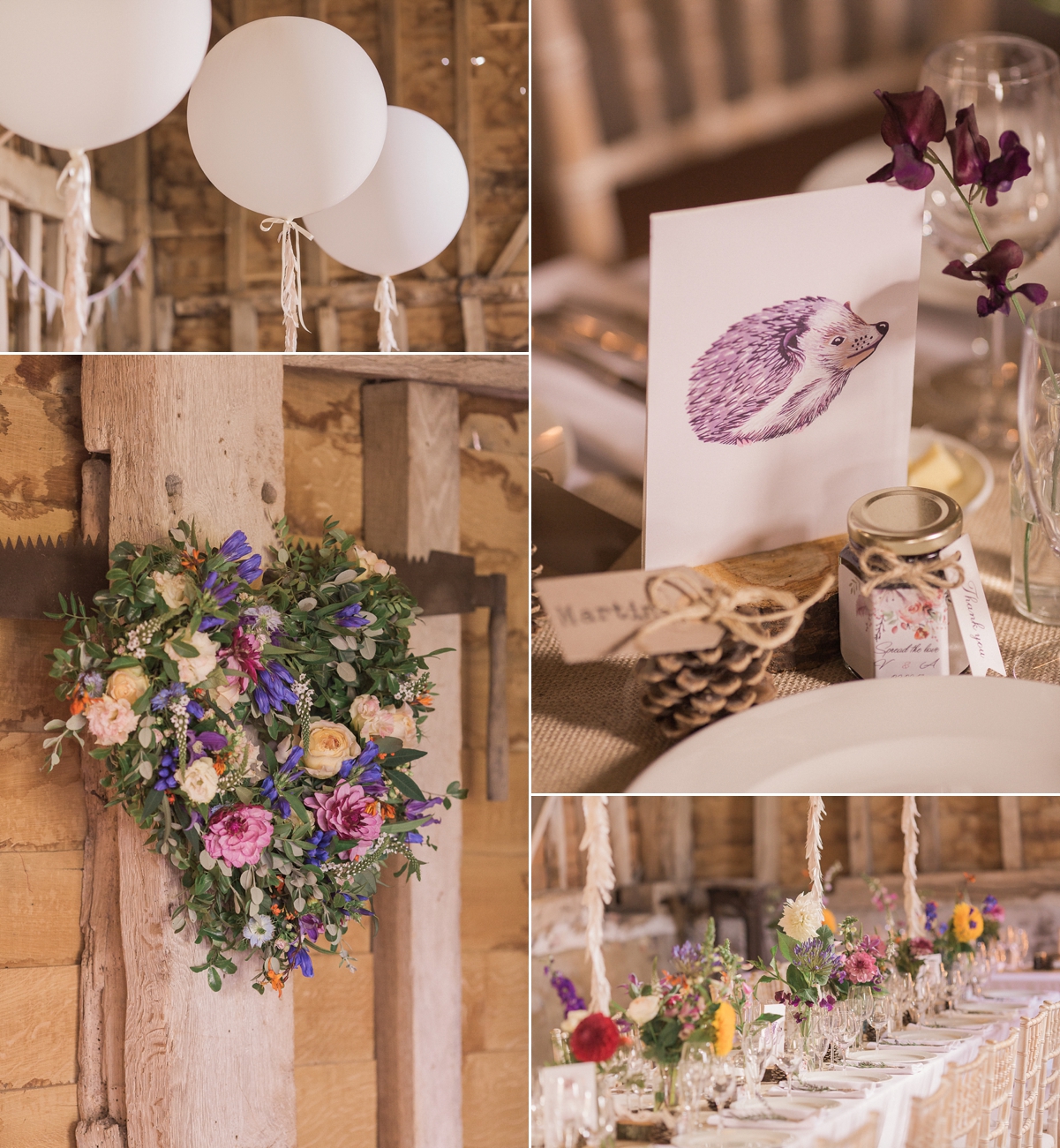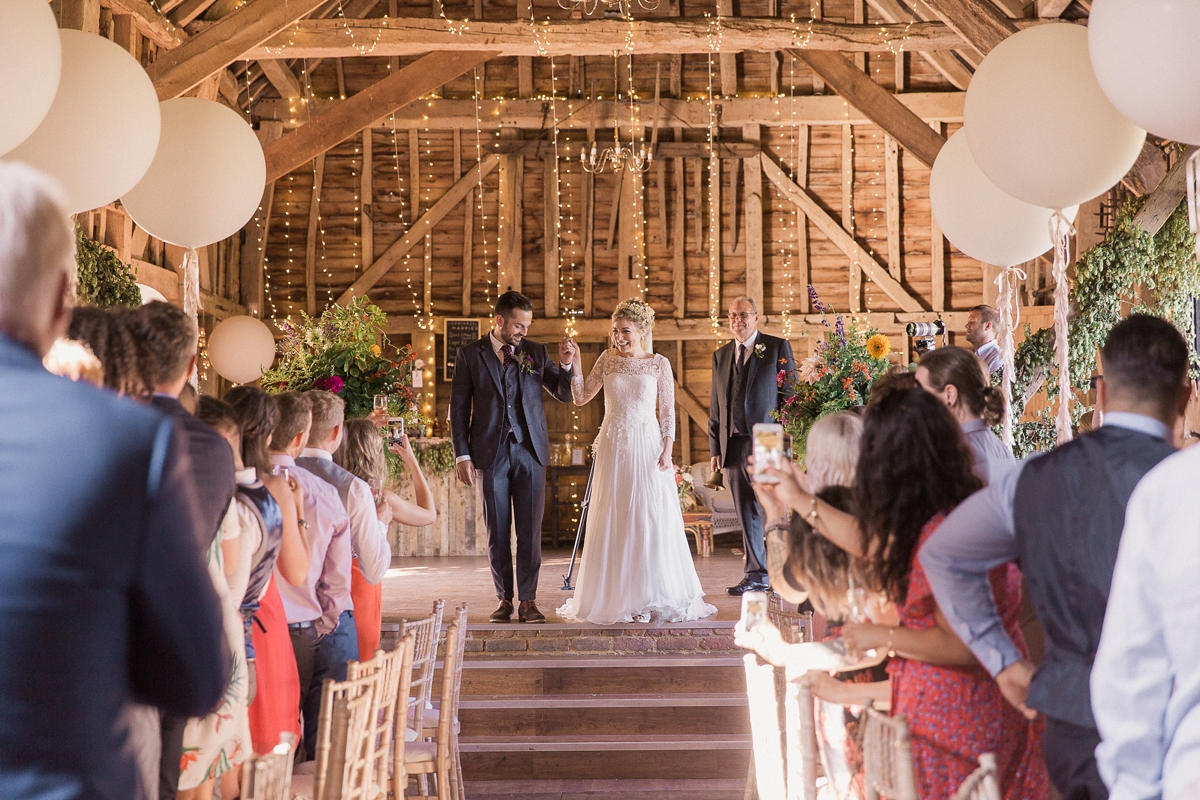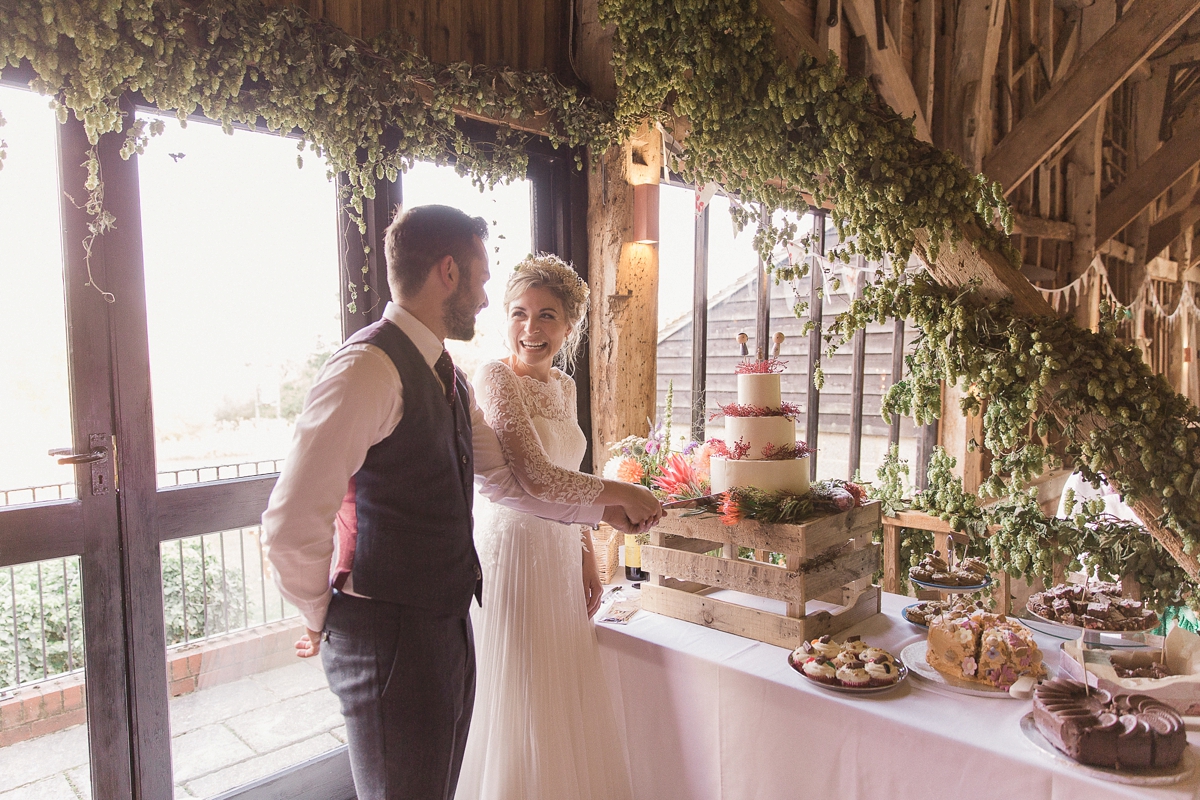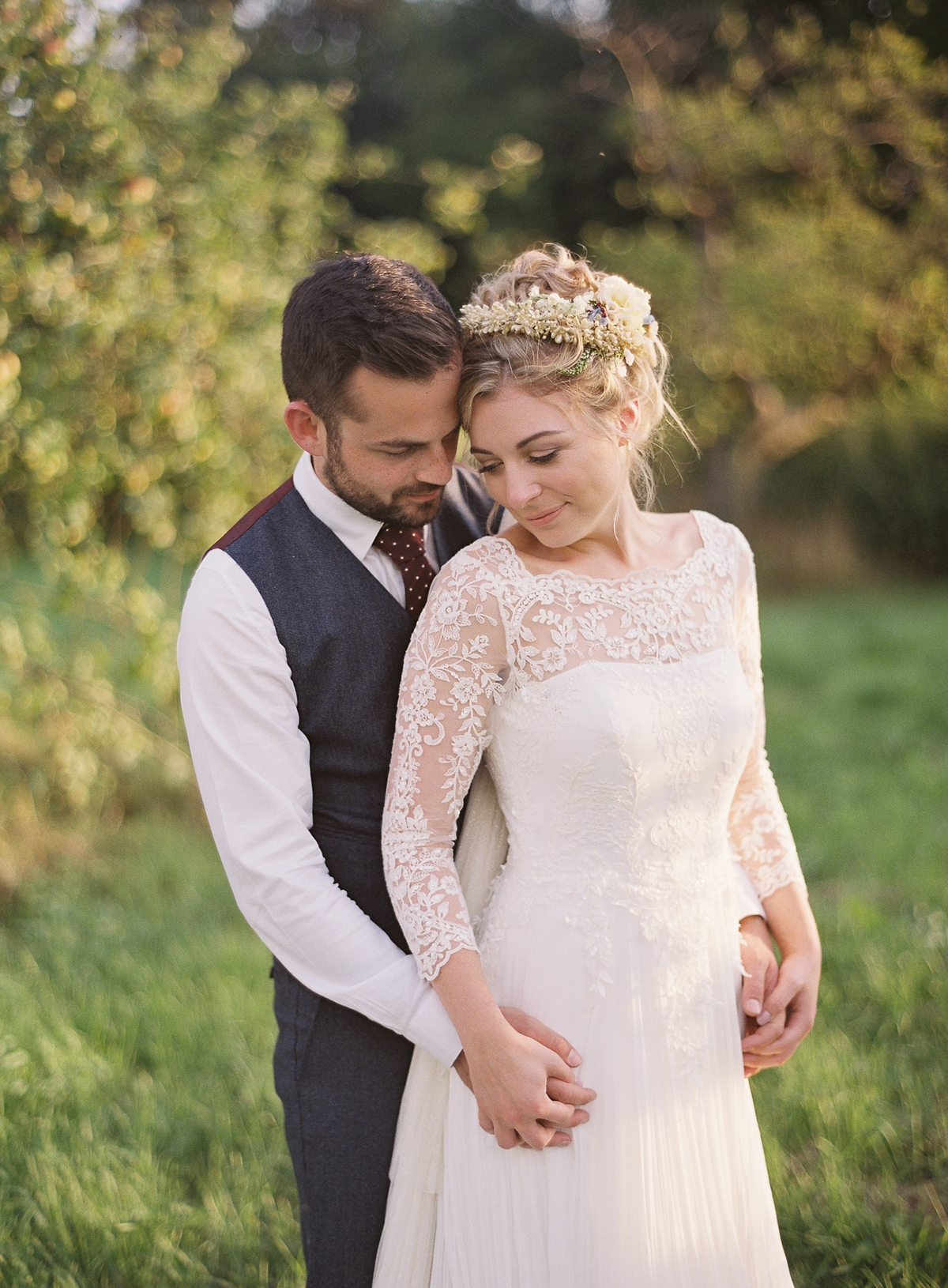 "My favourite part of my day (other than the evening party with all my friends and family) was walking down the aisle with my dad to meet Alex at the bottom where he looked at me and just said 'Wow'. He looked so handsome and proud."
Alex has shared his favourite moments from the day with us.
"There were a few stand out moments for me during the day. First and foremost was seeing my beautiful bride on the day for the first time. I knew that she would look beautiful but nothing could prepare me for just how stunning she looked on the day! The other stand out moment was walking into the barn with everyone sat down at the tables thinking, 'We did it, we actually pulled it off!' The months of planning and hundreds of hours of prep work had finally come together and was everything we could have wished for. I also thoroughly enjoyed the roasting from my best man."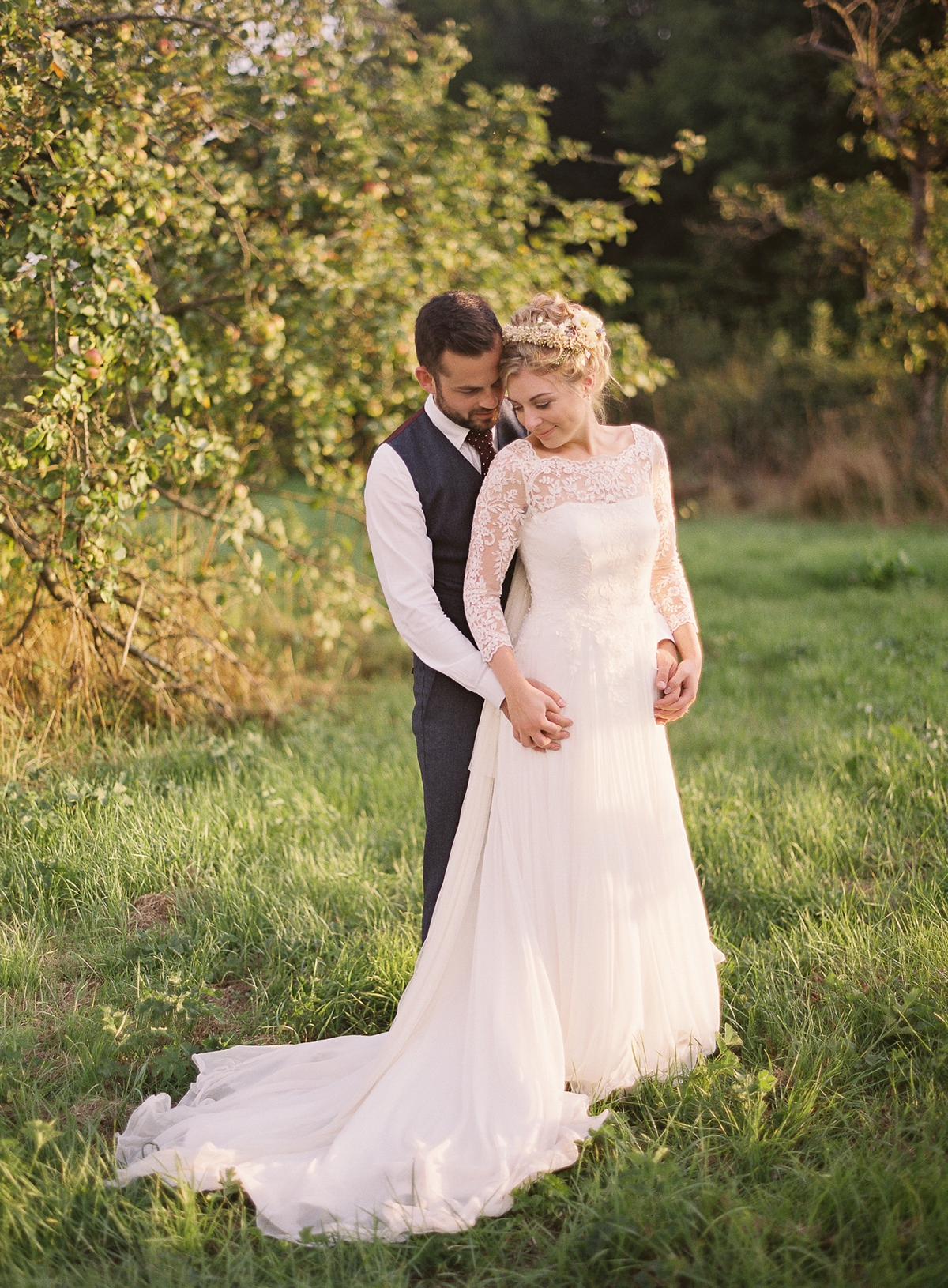 The wedding band was recommended by Sama of Utterly Wow.
"Sama recommended having a listen to Teenage Kicks (booked via The Alive Network) – a three-piece band from Brighton. Their videos and repertoire were exactly to our liking and they were so accommodating and absolutely phenomenal on the night. All our guests were up dancing all night and everyone loved them. They also accommodated our noise limiter; the few times it did trip the power when things got too loud were just hilarious and they dealt with it so swiftly."
"Our first dance was a huge success – 'Always' by Bon Jovi. Everyone made a big circle around us and swayed. I always sing it to Alex (awfully!) whenever we are in the car together and it was the only song we both laugh at when it comes on the radio. I also surprised Alex by having 'Always' engraved inside his ring."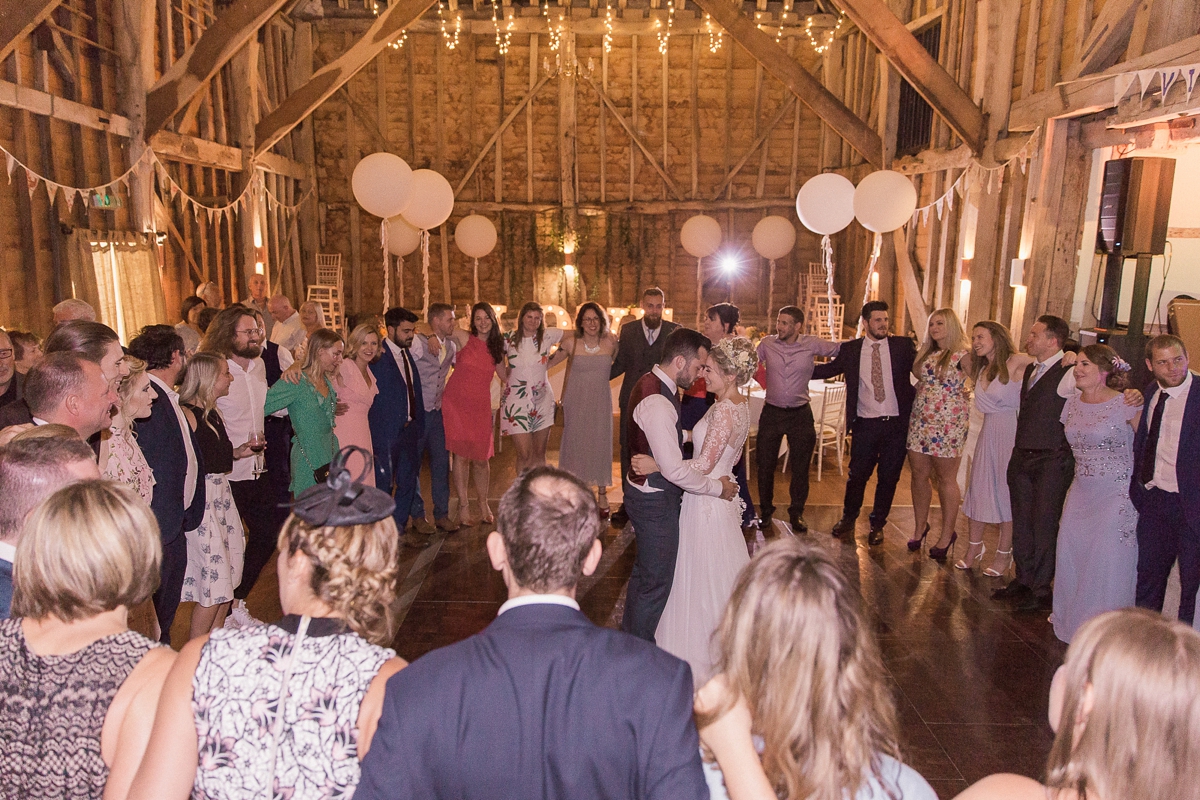 Words of Wedded Wisdom
"Don't be overwhelmed by Pinterest. Use it up until six months before your wedding as inspiration and then ignore it. I ended up stressing that our wedding would never look 'Pinterest-worthy' and then I had to remind myself that actually all that matters is we love each other and we are getting married – how can it be anymore incredible than that?!"
"I found the best way to ensure family were involved throughout the process was to delegate (nice) jobs. Alex's mum was in charge of favours, my mum was in charge of organising a table plan etc."
"Our wedding was absolutely phenomenal! We loved every minute of it and it's so true that you really do blink and it's over! The fact it was so DIY and we spent a week decorating the venue just made it that much more special and personal."
"We also budgeted exactly to ensure we didn't come out of the wedding in debt. As soon as we had a date booked, we worked out a realistic amount we could save each month and set up a spreadsheet to log every wedding spend. We did as much DIY as possible and budgeted the most for the things that meant the most to us – rings, my dress, food and our honeymoon (to Japan in April 2018)."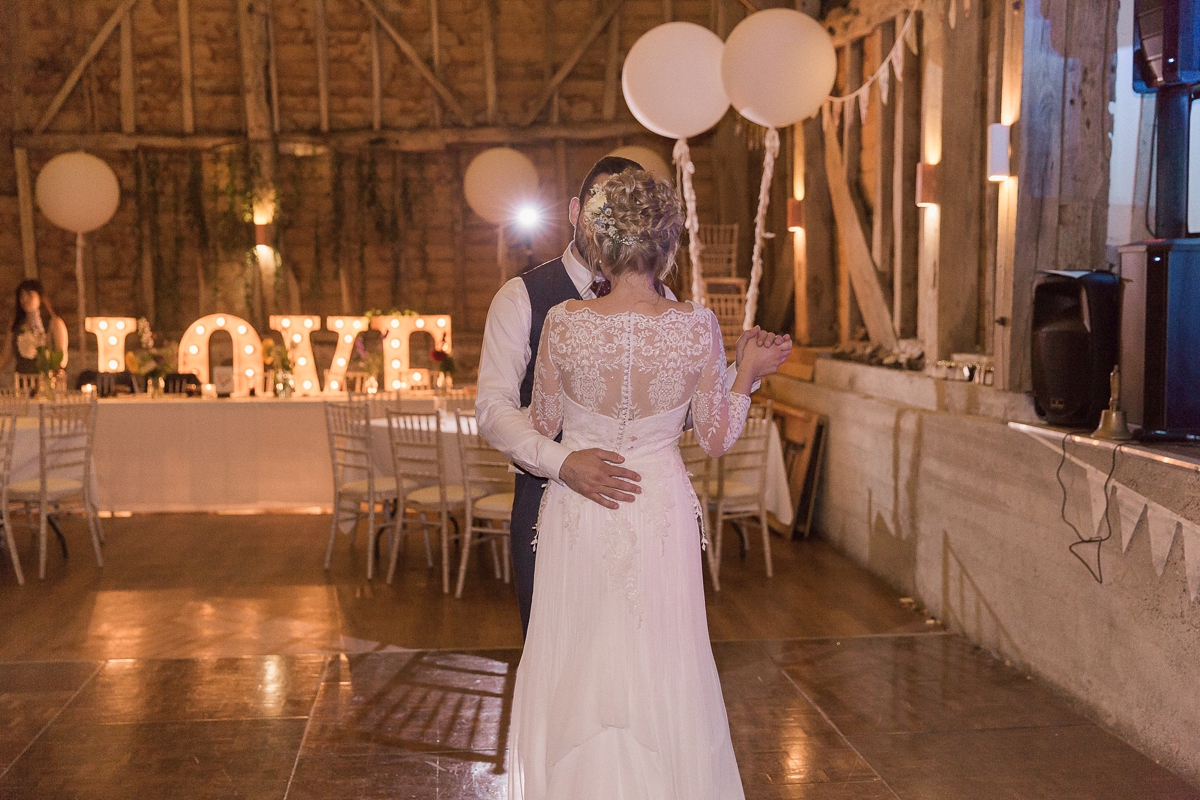 Victoria and Alex, sending you congratulations and thanks for sharing your incredibly beautiful day with us. I adore your DIY approach and your nod to familial ties, and I hope you had a fantastic Japanese honeymoon. Thank you so much Charli Photography for your gorgeous work. We're delighted that you can see more weddings captured by her here on Love My Dress.
Ele xx