The wonderful Sanyukta Shrestha is a London based, ethical wedding dress designer who uses eco-friendly fabrics. Her vintage-inspired, elegant gowns are hand-crafted from start to finish by Nepalese artisans, supporting a sustainable, fair-trade and ethical workforce.
Sanyukta Shrestha launched her first eco-friendly bridal collection under her own name in 2011 and we've been supporting her ever since. She is an absolute champion of ethical bridal gown production and a designer we are most proud to recommend through both Love My Dress and our directory, Little Book For Weddings. I am personally so inspired by how Sanyukta supports talented artisan communities by paying them a fair wage to produce high quality handmade natural fabrics for her bridal gown production (instead of using mass produced, cheaper, manmade, synthetic fibres).
Sanyukta is also a pioneer when it comes to wedding dress fabrics – her passion for working with only pure and natural fibres has led her to create gowns using  organic cotton, hemp silk, milk, silk and bamboo, each of which have skin nourishing qualities. Each individual dress design within Sanyukta's collection follows ecologically green guidelines, with fabrics from ethical and Fairtrade certified producers around the world and more than 50% of these fabrics sourced directly from artisan communities in Nepal.
Images by RUUDC Fotografie for Nama Nama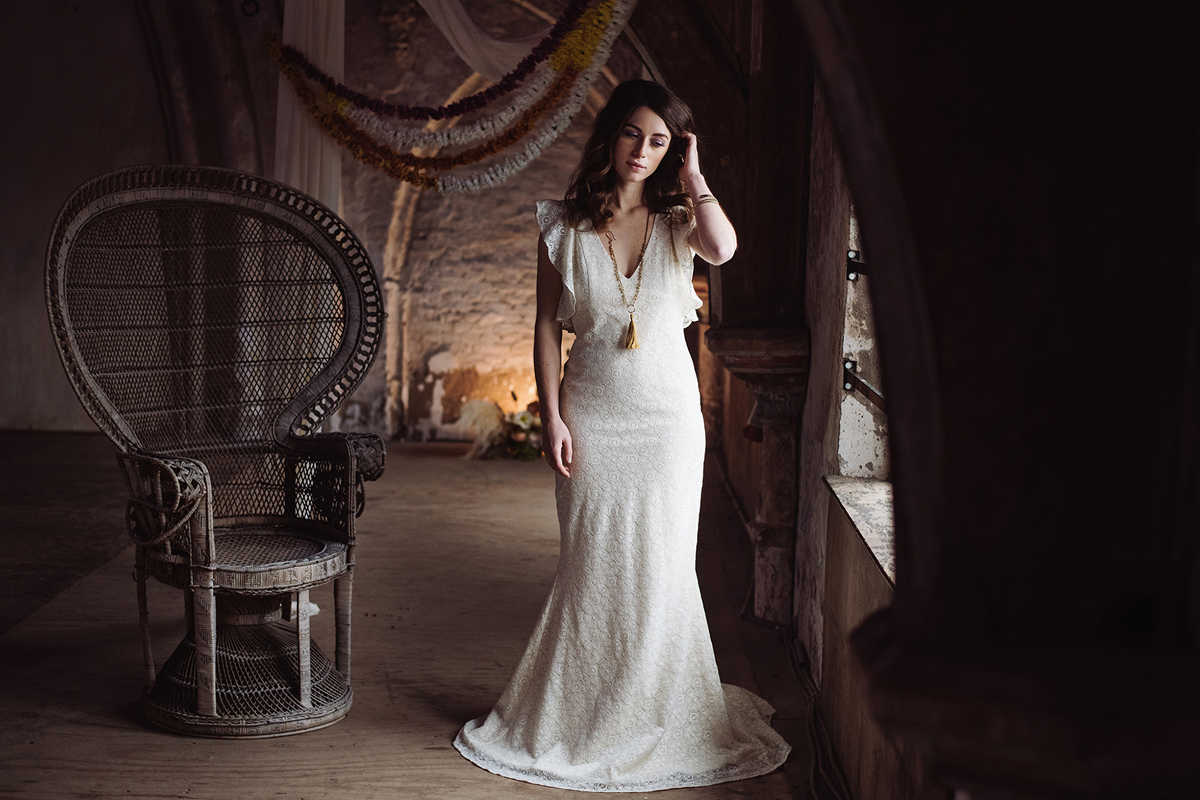 According to a Marie Claire article published in June 2018, 'vintage wedding dresses are a trend that will never go away'. We couldn't agree more. You see, the style and silhouette of bridal gowns of the past that are being replicated today are completely timeless. That is, they never age or look out of date, they have that magic quality that makes their appeal transcend both time and trend.
Think of it like this: you know when older generations pull out their wedding snaps and the dress always looks so dated? This will never happen with Sanyukta's designs, because they are all so timeless.
Another 'trend' that is only appearing to grow and grow is that of ethical clothing and this fully extends to bridal fashion. This has been proven by market agency research that has revealed 'ethics, sustainability, trust and transparency' as key themes impacting consumer trends this year. Investing in a gown by Sanyukta Shrestha means you are making a conscious difference to look your best on your wedding day…
industries and hand looming are on the verge of extinction and we can help improve their livelihood by providing necessary training and producing products made by these home-based workers. (Sanyukta Shrestha)
UK based brides can try on as many Sanyukta Shrestha wedding dresses they like at Sanyukta's beautiful and welcoming Behuli boutique, based in Fulham. It's well worth organising a trip to London for. Sanyukta is one of the loveliest people I know in the wedding world – her smile goes on for miles and she's just so charming and friendly and kind.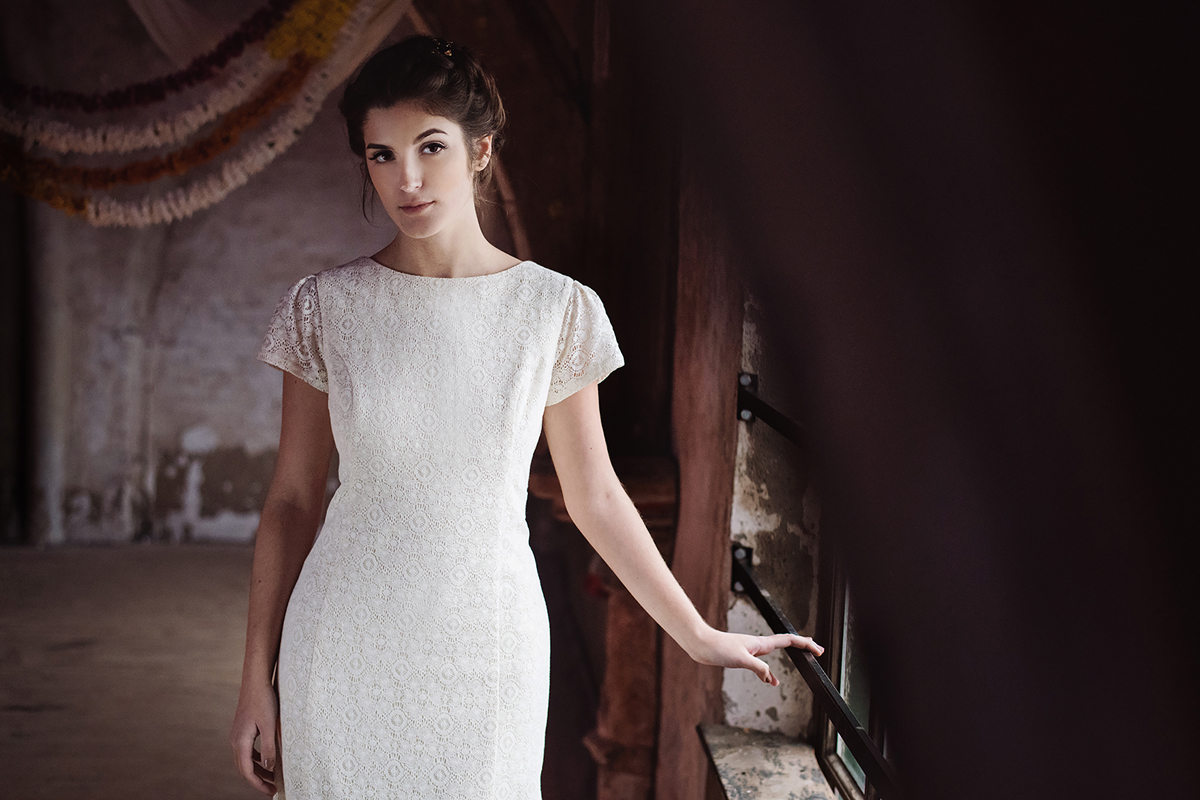 As a complete fan girl, I'm thrilled to see Sanyukta's gowns now available in The Netherlands too (we have a good number of readers located in The Netherlands according to Google Analytics!). If you're a bride located in The Netherlands, you must make time to visit the Nama Nama boutique. Sanyukta says "I'm thrilled to have my designs stocked at a boutique which shares the same ethical and eco-friendly values as me. I hope to inspire women in the Netherlands to choose bridal gowns that are both luxurious and romantic, without having to compromise on fair-trade or sustainability."
Whilst most of our readers are, of course, located in the UK, I was really keen to share this interview with Nama Nama founder, Nathalie, with you today, because it shares a really strong message about empowering women and making a stand for sustainability in the bridal fashion world.  Below is a question and answer session with Nathalie of Nama Nama, that I hope will inspire you and give you some food for thought when it comes to making conscious, ethical decisions around the purchase of your wedding dress.
How empowering is it for women to wear a bridal dress with an ethical story?
It is so empowering for a woman to realize, when she is standing in front of the mirror in a gorgeous dress, that it has such a beautiful story to it. That the hands that made it belong to women that produced the gown with love and dedication.
There is something about these dresses, its' the story that they tell, that makes them so special. As a bride you become a part of, and allow that story to continue. (Nathalie, Nama Nama)
I also really believe in 'being the change you wish to see in this world' and that the real and only way to bring about long-lasting change and make an impact on your surroundings is to live by example. The resulting awareness you create by spreading your philosophy with passion and enthusiasm has a butterfly effect. Sanyukta Shrestha does this brilliantly.
Choosing ethically, whether it is in respect to your bridal gown or in your day to day life fashion choices, really inspires others to do the same. You show them that you can look equally beautiful while choosing consciously.
How important is the story behind a wedding dress?
Very! The majority of my brides come to me because they are looking for a timeless and elegant gown with a story to it and are often very conscious consumers. They are ultimately looking for a dress that gives them a great feeling when wearing it as they are conscious of the history of the dress, in the case of a vintage gown, and/or how it was made, in the case of both a vintage or modern gown.
Wearing a dress by Sanyukta is a way of being able to buy a beautiful dress with a story, but with a more modern and timeless vintage aesthetic. It is also about contributing to ethical production, woman empowerment and sustainability as well.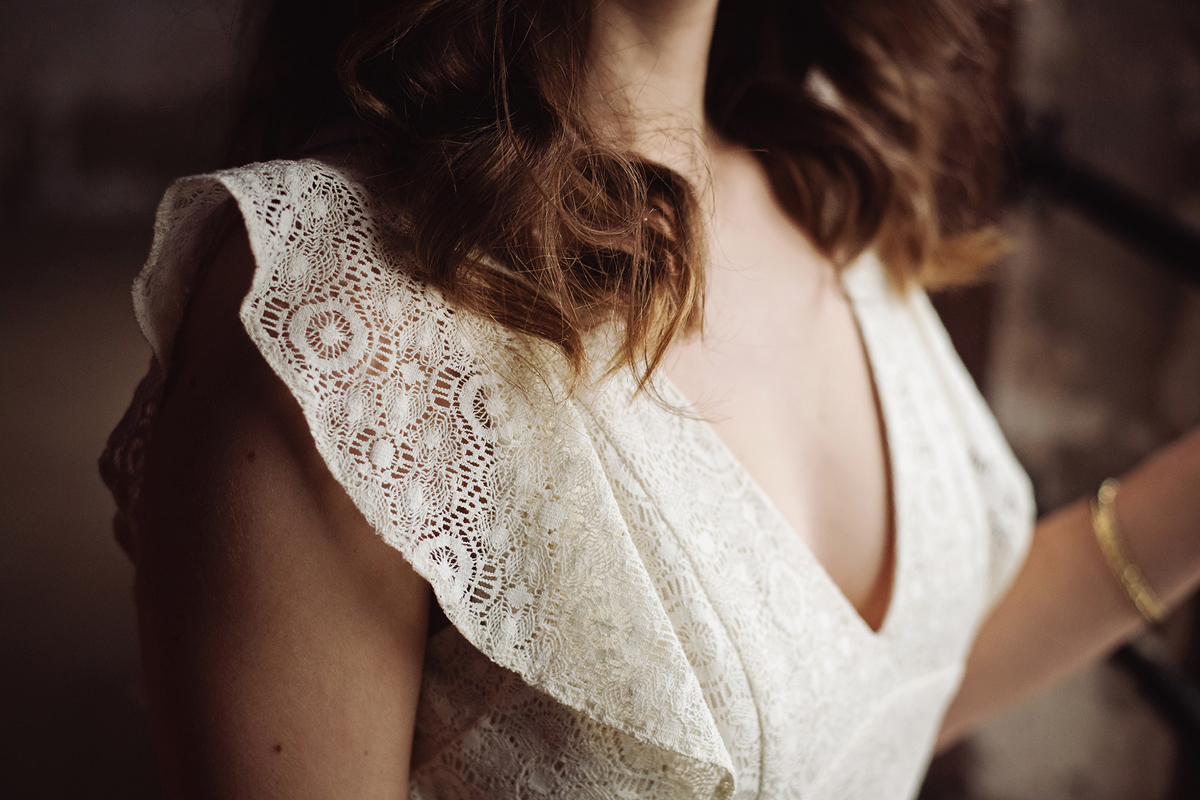 As most of my brides are very conscious they really love to hear about how the dresses are produced and that they come all the way from Nepal. They are also blown away by the softness of the organic fibres, especially the bamboo. And of course, the vintage modern aesthetic really appeals to them.
I can't wait for my first Sanyukta brides that gets married in September. One bride next year will even wear a remarkable vintage/Sanyukta combo. Something old, something new. Both come with a great story.
Why is the wedding industry so important in the fight for eco-friendly and sustainable fashion?
The global wedding industry is a £300 billion industry. Just let that sink in for a moment! In The Netherlands alone, 60,000 brides marry every year. As the vast majority of brides are choosing a dress that is most often non-ethically produced and made of synthetic (blend/plastic) materials that can't be recycled, then transforming this industry will ultimately have a huge impact on sustainability, the environment and on the well-fare of workers in the wedding industry.

What makes Sanyukta's dresses stand out, compared to other eco-friendly bridal designers?
For me "simplicity is the ultimate sophistication" (Leonardo da Vinci). All the vintage dresses we stock are handpicked and are best described as timeless, simple, elegant and romantic. However, since these dresses often come in small sizes and some brides are looking for a dress that has that vintage allure but a little bit more modern, I found Sanyukta was the only real match. Her dresses are elegant, timeless and show that less is truly more in enhancing the bride's natural beauty.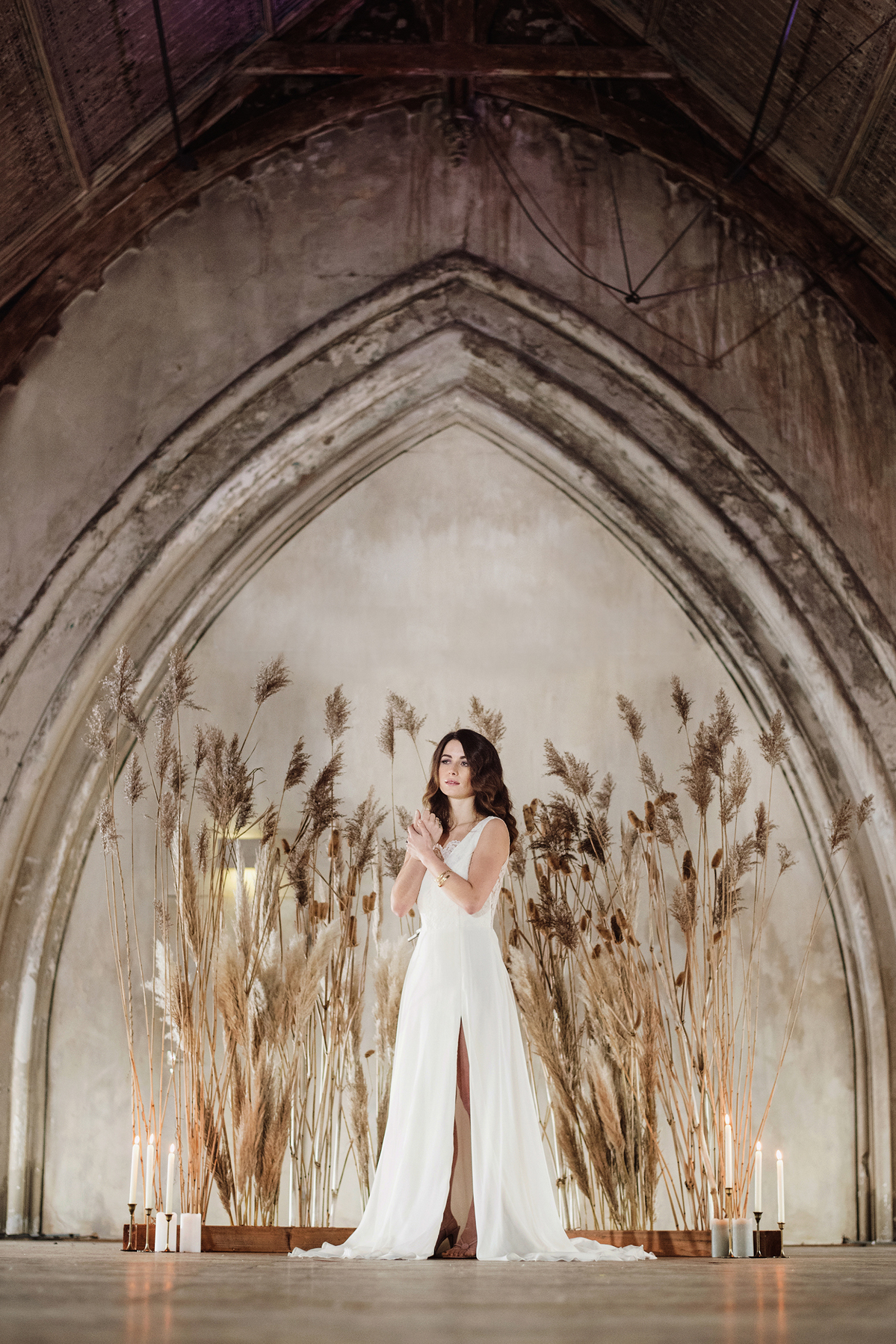 Also, she uses a lot of lace in her designs making the dresses blend in perfectly in my collection. The fact that they are produced in Nepal, were it all started, makes it even more special to me.
_____________
Nama Nama is a boutique in the South of Netherlands selling an exclusive selection of vintage and antique wedding dresses that are upcycled along with eco-friendly gowns.  Nama Nama vintage dresses date from 1900 – 1970. Namanama.nl, [email protected].