Well if a good ole knee's up in an East End boozer isn't the stuff wedding dreams are made of, I don't know what is! Particularly for all the non-traditional brides out there who just want to spent the day celebrating with their nearest and dearest in a relaxed and informal setting.
This morning's bride and groom followed their chapel ceremony with a pub reception, using hints of vintage and touches of a travel theme to bring it all together. So without further ado, let's introduce you. Music venue manager Raj and service manager Morgana were wed on the 5th September 2017 at The Asylum Chapel in Peckham, London, followed by a reception at the Lordship Pub in East Dulwich.
"We chose The Asylum because it has a magic feeling and a gothic, intimate atmosphere. We chose the Lordship Pub because it was local, informal and serves beautiful food. We thought marriage is an adventure, a journey, rather than a contract to tie you up. We decided to reflect this idea of living every day as a new adventure in the wedding theme. After choosing the ceremony and reception venues first, they also inspired a vintage travel theme. We've never been a traditional couple so the idea of something simple, fun and informal was the main concept for us and suited us best. We're not religious either but I wanted to keep the idea of a sacred and spiritual place for the ceremony, and wanted to be walked down the aisle by my dad, so The Asylum was the perfect choice."
Photography by Ed Godden
Morgana's intricately beautiful off-the-shoulder wedding gown was by designer Suzanne Harrington from Suzanne Harrington Bride in Walthamstow in East London.
"I'm not a very traditional bride and the idea of wedding dress shopping and having to fit into the traditional white elegant gown daunted me. Suzanne's shop was the second shop I visited and I felt comfortable with her straight away. I fell in love with the delicate vintage style dresses she makes. I knew I wanted something off the shoulder and I'm in love with lace and tulle. After trying on so many beautiful dresses, my eyes fell on a delicate blush coloured gown, so romantic and vintage and nothing like I have seen before."
"I wore it with a leather jacket decorated with blush flowers and Suzanne also designed and created my veil using tulle from my dress, adding blush lace to the trim."
"The dress is a delicate blush pink embroidered tulle, lined in silk dupion with a boned bodice. It was not off the shoulder originally but Suzanne pinned it down for me to see how it could have looked and the whole room was in tears! I trusted Suzanne and she designed this dress as an off the shoulder version for me. I was enchanted from the sketch we put down with a pencil. I've never seen something so beautiful and original. Delicate and vintage but also dramatic and not traditional, just as I had wanted it."
As well as a veil, Morgana teamed her dress with a pair of rose gold shoes from Clarks, rose gold hair pins from Etsy, rose gold pearl earrings which had belonged to her grandmother, and Hypnotic Poison, a fragrance she had been wearing since she was 13 years old.
"Kate from The Bridal Stylists did the make up and hair for one of my bridesmaids, sister of the bride, mother of the bride and myself and was fantastic. She totally matched the vintage, bohemian natural style I was looking for."
The couple met at work when Morgana was working as a bartender and Raj the Assistant Manager. After 1 year and 3 months together, they were engaged whilst on holiday in Greece.
"We bumped into each other in the supermarket once and realised we had the exact same food in our trolleys; rib eye with a mushroom cream sauce and blue cheese. After that we dated once then moved in together after 3 months. We got engaged in Greece a year later. We had been engaged for 13 months before the wedding, but only because I have an Italian family that needed more notice for tickets and preparation."
The groom looked dapper in a navy blue two-piece made-to-measure suit in Holland and Sherry fabric by Luigi Grimaldi of Napoli, and his shoes were brushed black leather from Otisopse of Napoli.
Morgana's dad walked her down the aisle to Sea of Love by Cat Power performed by her sister Greta Zuccoli from Greta and the Wheels. The registrar signing track was Anyone Else But You by The Moldy Peaches and the exit song All You Need Is Love by The Beetles.
"We decided not to share personal vows during the ceremony, preferring to save our most meaningful words for the speeches later in the day. We had my bridesmaids do 3 different readings though, all chosen by themselves and kept as a surprise for the day – everyone cried!"
The couple didn't want the traditional silver or gold plain bands as their rings, so after much searching, discovered Gold Chaos rings by Anna Rei Jewellery on Etsy who made them oxidised sterling silver rings with random gold stains.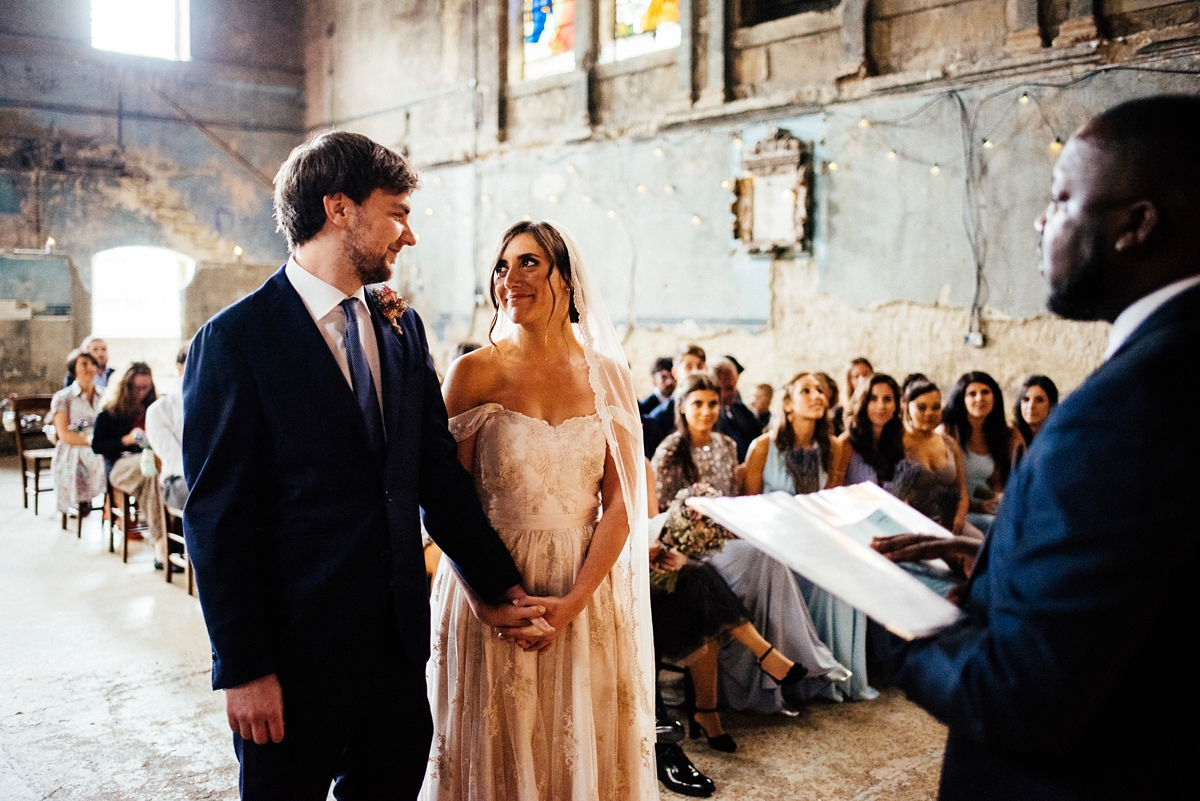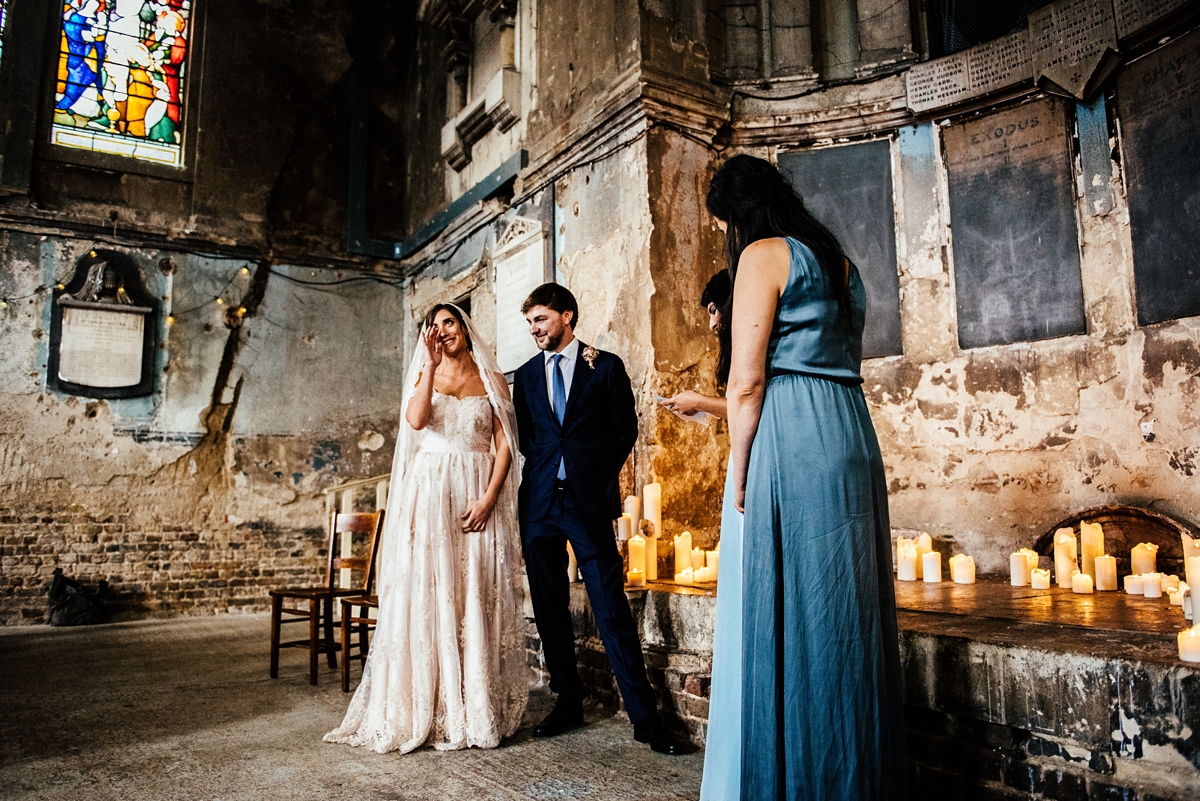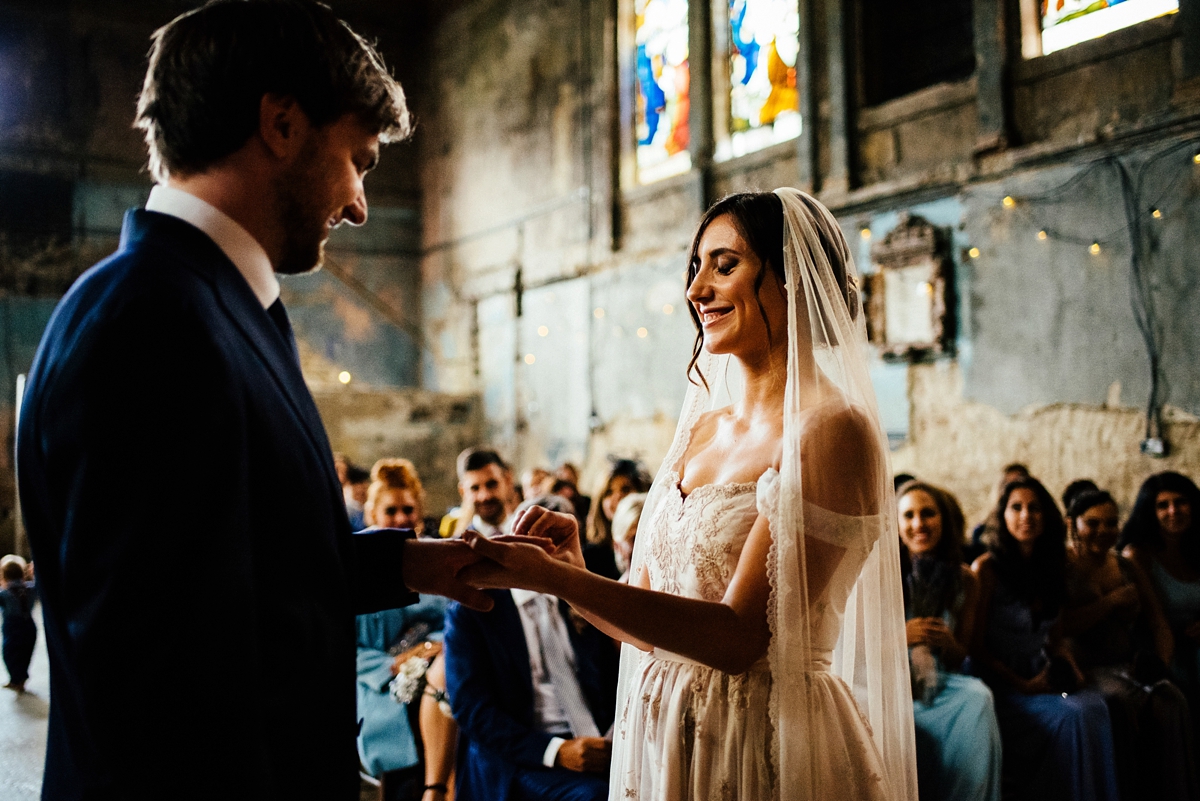 After ploughing through hundreds of wedding photographers websites, Morgana eventually settled on Ed Godden as the chosen one to capture their wedding day on camera, due to his documentary style of photography.
"We were getting desperate as we just couldn't seem to find the perfect fit for us. Then we came across Ed's website. After looking through all of his blog entries and seeing his pictures and videos of his family life, we fell in love. It was the perfect style for us; documentary, candid and natural."
"We contacted him about who and what we were and how we were planning our wedding and we found an instant connection with him. We Skyped a few days before the wedding and it was like talking to an old friend. We couldn't have been luckier as everything was perfect and Ed became one of the family at the wedding."
"As we mentioned to him, having him at the wedding was like having a super talented best friend with ninja and mind reading skills. Guests loved him and the pictures are beyond beautiful."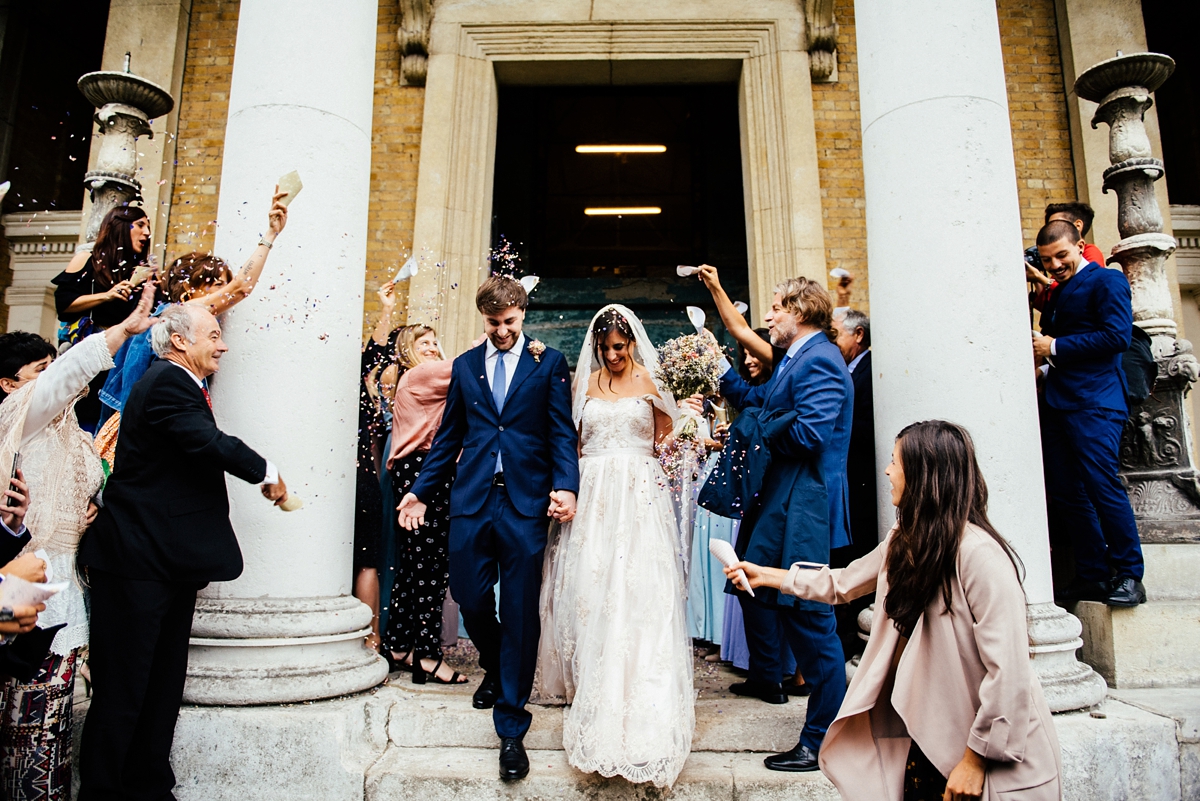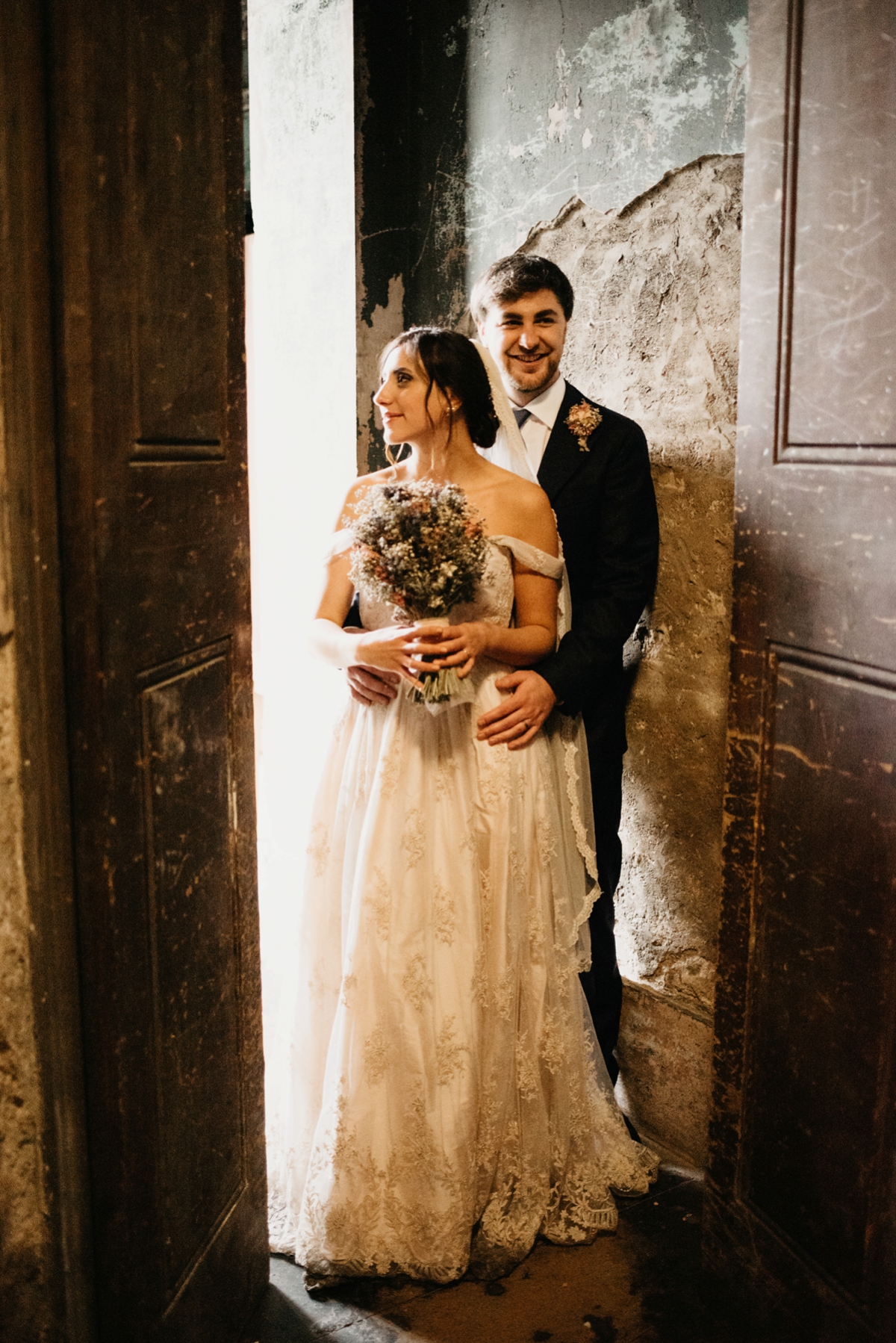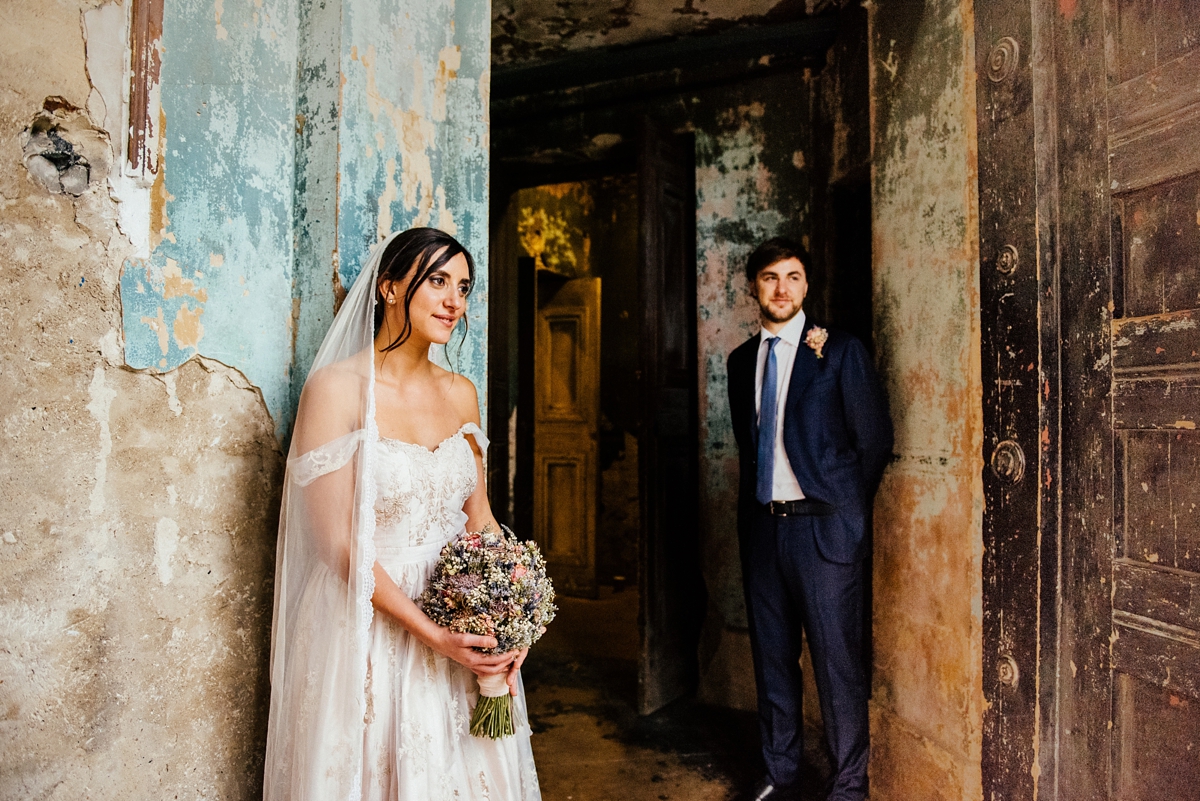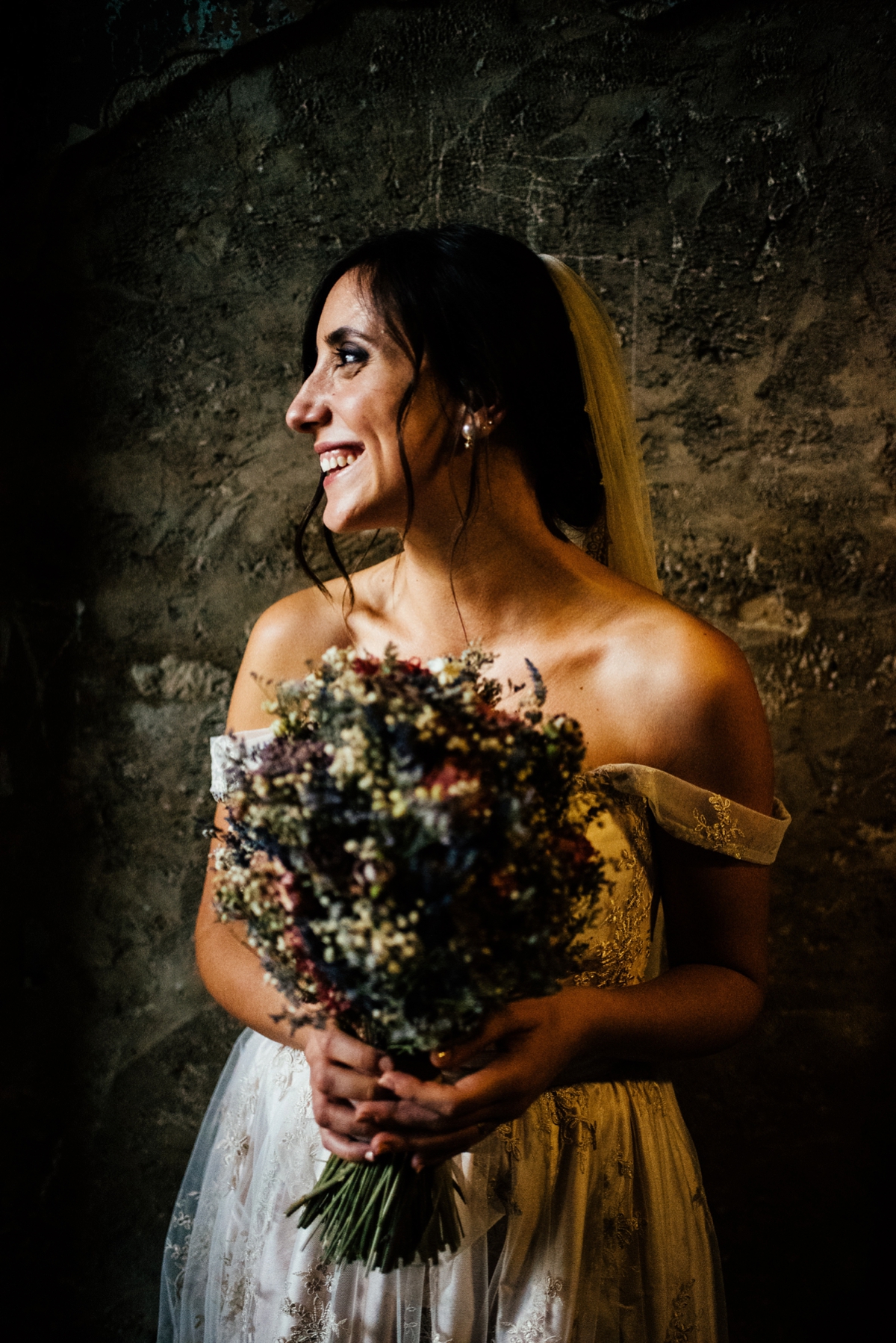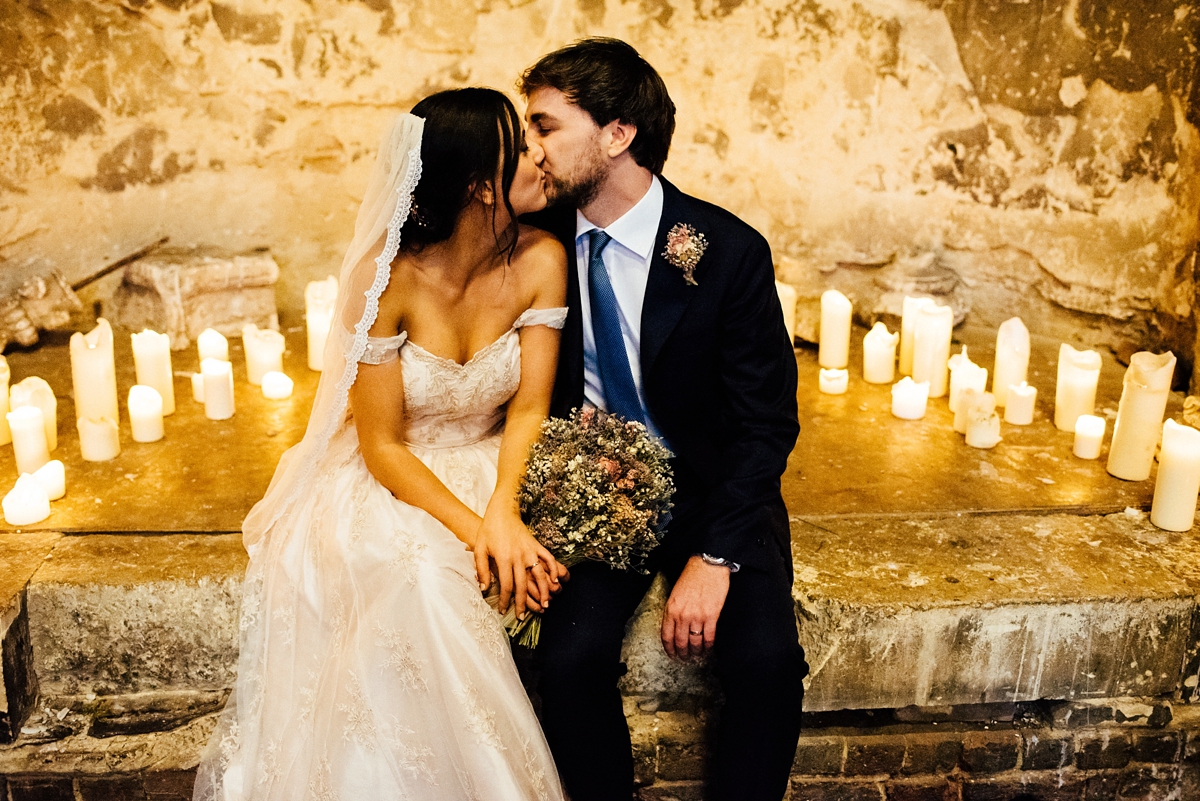 Her bridesbabes were dressed in full-length mis-matched pastel blue dresses from Debenhams and Monsoon with mis-matched shoes from New Look. Each bridesmaid also carried a vintage style bouquet of dried lavender bunches from Lavender World.
The brides own bouquet was made up of dried flowers from Artisan Dried Flowers which fit in perfectly with the vintage bohemian theme.
"All my bridesmaids wore rose gold earrings from Etsy which I bought them as a gift on the wedding day. They also all each had a little wedding survival kit in gold/green from Accessorize and dried flowers in their hair from the local market."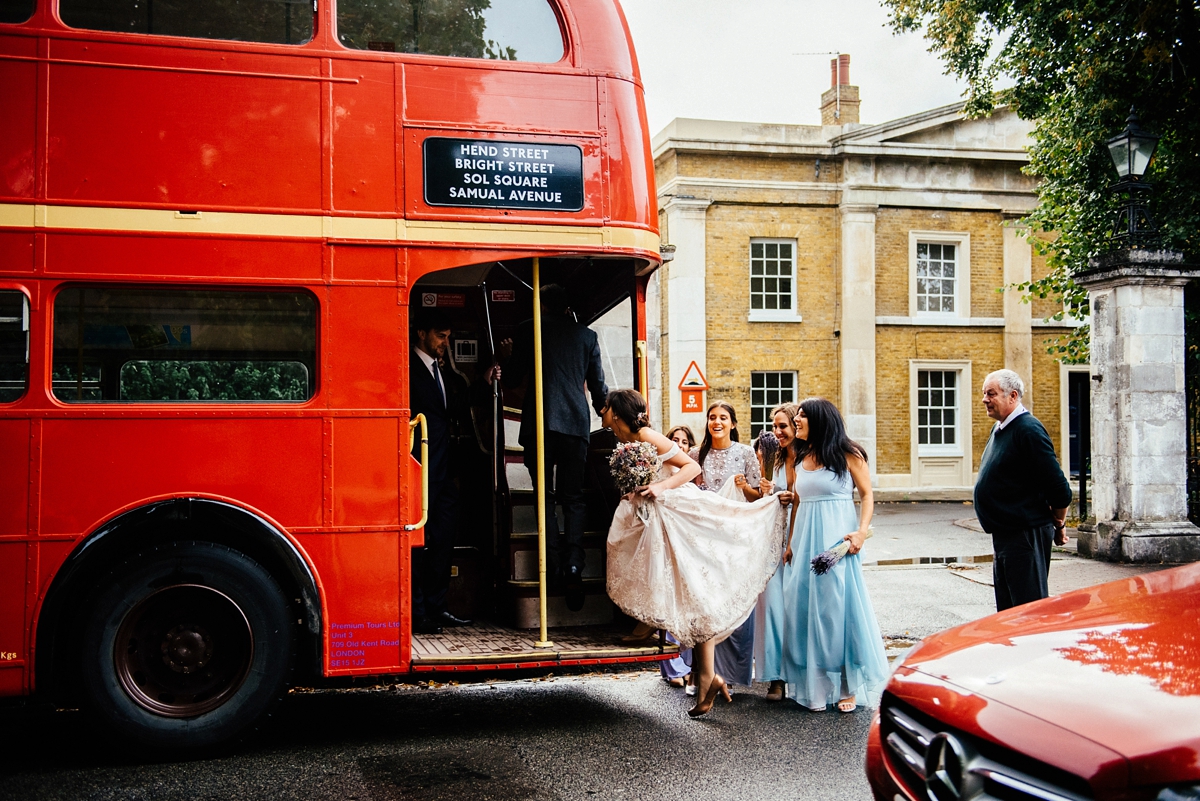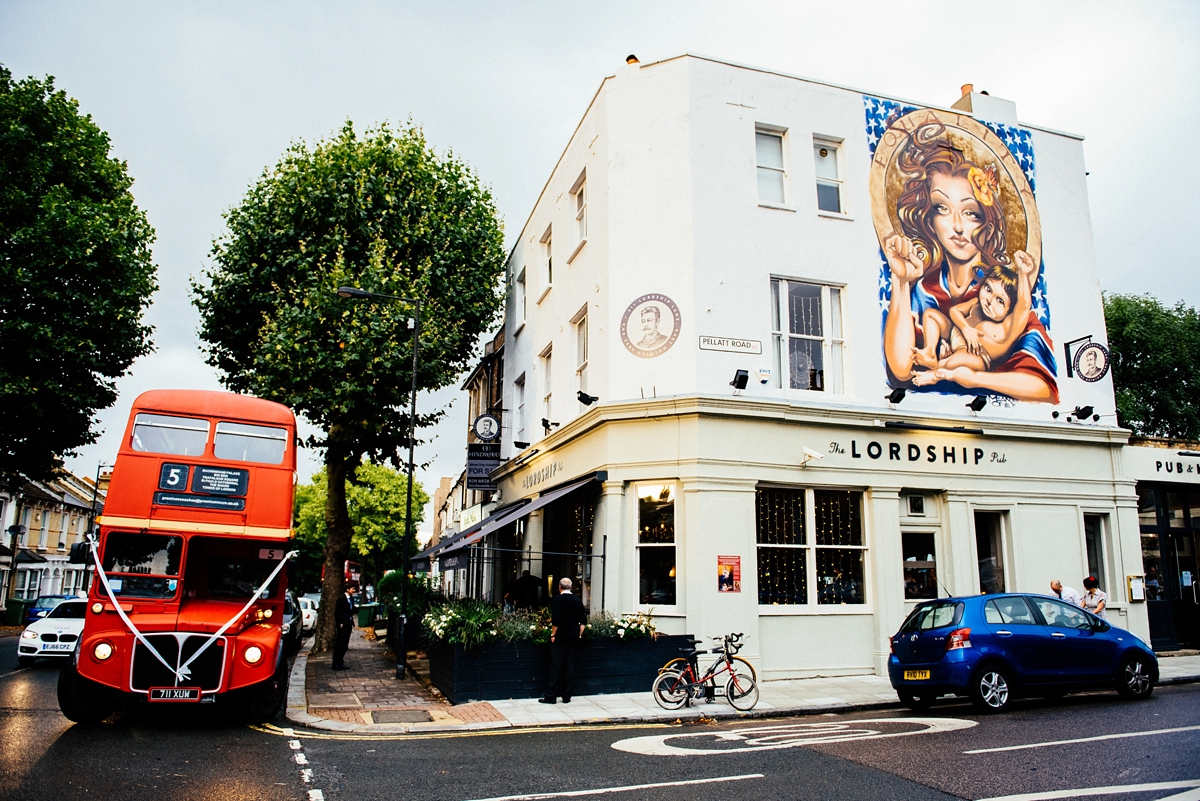 Following the ceremony, the guests were transported from The Asylum to the reception venue in vintage London Routemaster buses by Premium Coaches, where on arrival, they were greeted with a champagne reception and traditional Italian favours of sugared almonds in Neapolitan flavours including Limoncello, caprese cake and Pastiera cake.
"We also had a candy bar with 19 different old-fashioned sweets and candies. Guests could fill their favour bags with pick 'n' mix. We decorated the bags with personalised stamps."
"We planned the event ourselves but hired a venue dresser from Occasion Queens to help dress the reception venue."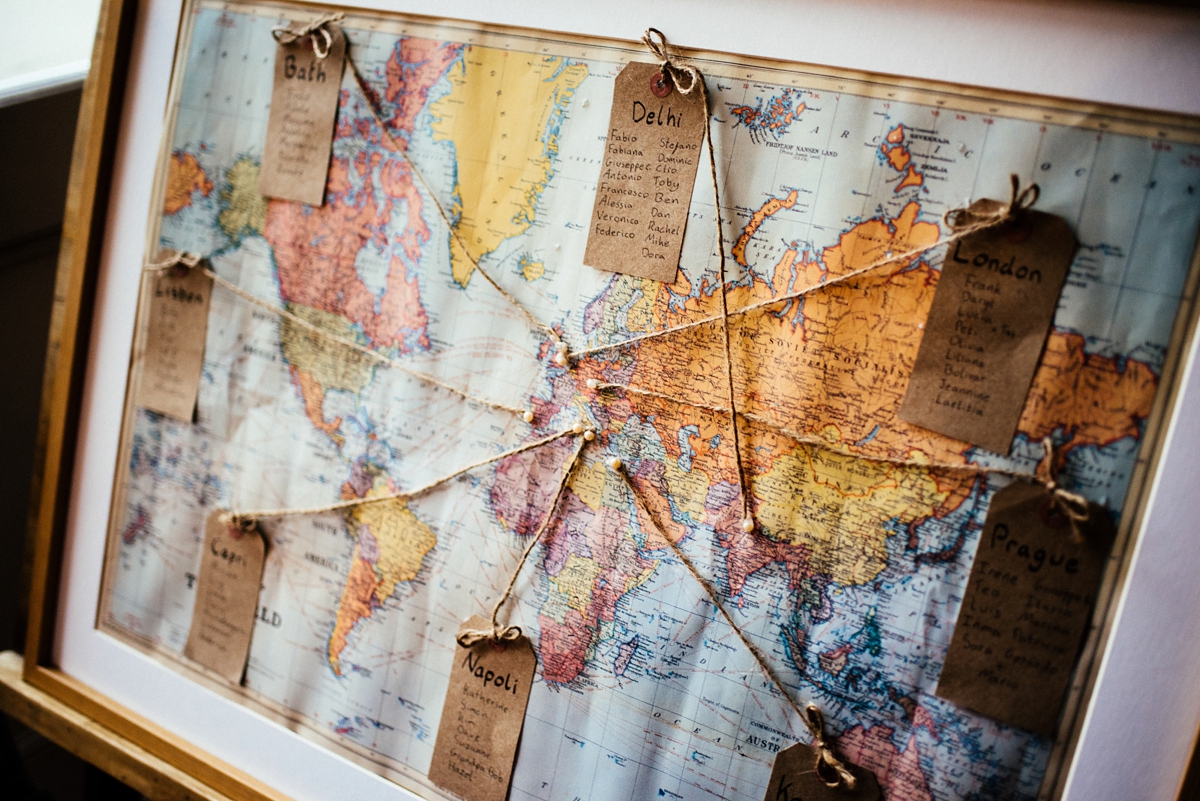 The venue was beautifully decorated with a touch of vintage with The Occasion Queens doing an excellent job of fulfilling Morgana's brief.
"In one corner we had an old second-hand frame that we bought on a day trip to Brighton. I painted it and attached a mini polaroid of our lives from when we were children to teens and when we met and afterwards so our guests could see the whole journey. We also had a tiny hand painted globe guest book. Each table was decorated with a handmade and hand painted papier-mache hot air balloon each with its own city theme. Hand decorated jars with paper flowers were also placed on the tables. In keeping with the vintage and handmade theme, we decided not to use a florist."
"The rest of the venue was decorated with luggage, globes, boxes and other vintage items. We had a wooden M&R papier-mached with a vintage map. On a table we had the vintage candy bar and a funny suggestions box."
The catering was provided by the venue and in place of a traditional wedding cake was a Krispy Kreme donut tower made by the couple themselves.
"Keeping with the casual and non-traditional vibes we opted for a donut tower! We didn't cut the cake, we split a donut. It was decorated with 2 little wooden figure cake toppers hand painted by myself and we also had an Opal cheese tower from The Courtyard Dairy with homemade accompaniments as we love cheese!"
For their first dance the pair chose This Years Love by David Gray, chosen because it's a song they would listen to together after a long Saturday night shift when they were still just friends. Following the dance, the evening's entertainment was kicked off by DJ Jimmy Mac of Nova Music and a Spotify playlist filled with cheesy 80s and 90s music.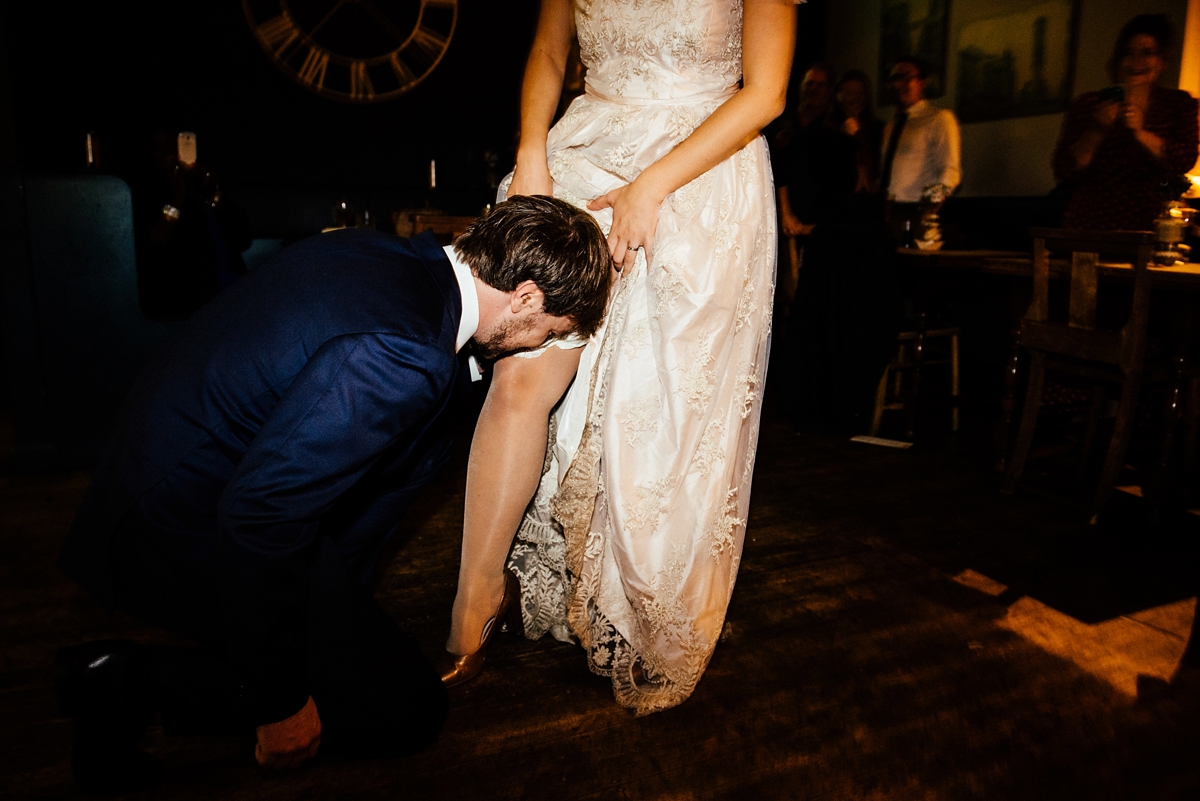 Morgana loved her whole day but when pushed to choose, considers the first moment she and her new husband were alone together for the first time as husband and wife.
"We were outside The Asylum and most of our guests had gone on to the reception already. We shared a cheeky cigarette and released all the tension of the ceremony. Another favourite moment was when Ed took us outside of the venue to take photos on the streets nearby. We finally had some time to ourselves to just enjoy each others company and chill for a moment."
"Looking at the pics of all the food and seeing how much we had left over, I wish we would've eaten more as we barely ate anything! The wedding just went by so quickly and there wasn't enough time to spend with everyone, especially those that came from far away to be there. If we could do it again, we would organise a brunch the next day to see everyone again."
Words Of Wedded Wisdom
"Figure out your rough budget and theme first, then book your venue ASAP as that's the most difficult part. Second booking should be photographer, and invest in a good one! You will miss the details of the wedding as it goes so fast and the photographer will be a lifesaver. Also give yourself plenty of time for decorations and any DIY projects. You can browse shops like PoundLand, Hobbycraft and TKMaxx that have plenty of inexpensive decoration ideas."
"You won't be able to please everyone and the most important people you do please are you two. Keep a planner handy with all the ideas as it will be invaluable. Plan a bit every week but take a break if you find yourself getting stressed – keep it fun! Wedding insurance is relatively cheap but invaluable. Don't be afraid to be different – no idea is too cheesy or too crazy. And finally, the days goes so quickly so make sure you find time for an intimate moment with your partner."
What a fabulously fun and personal wedding! A big congratulations to Morgana and Raj and a big thank you to Ed Godden for capturing it all so well on camera.
Until next time…
Much love,
Holly x