Lovelies, are you ready for the weekend? I hope that you all have a gorgeous time and get to spend some of it outdoors in this beautiful weather. Last weekend, I held my very first Pilates event; a morning of Pilates and Indian brunch, and loved sharing my passion with a new audience.
Now without further ado, it's such a privilege to share today's wedding with you. I'm sure that, like me, you'll be touched by this couple's bravery, strength and focus on love and life. This is a wedding where the focus wasn't on the detail, but on the love. Weddings are a time of love, joy and celebration but very often they are tinged with sadness and heartache, especially when dearly-loved family members are no longer with us to share the day. Rachael and Alistair brought forward the date of their wedding by one week to 10 October 2017 so that Rachael's father could be present.
"Our actual wedding was at Roxburghe House, a hospice in Dundee, as my father was dying and I needed him to give me away. It was a wedding that was sorted within two days. It was so important to me that he was there for our wedding. This was why the date was changed to a week earlier than planned. Three days later he passed away from cancer."
Images by Struve Photography
"We didn't want a style or a colour or anything. We went for what we liked and if it didn't 'match' that didn't bother us. The main thing was that we wanted to get married. They day was about the joining of two families, and our love.  Due to my father's short illness, many ideas that had been planned were scrapped as they no longer seemed important. It became more about our love for each other and about the celebration of life than about the necessity of 'things'."The couple had already booked Castle Lachlan in Argyll, Scotland for 17 October 2017, inviting a select party of close family and friends. They chose to turn the planned wedding ceremony in to a blessing and celebration, led by humanist registrar Claire  Digance. The castle, with its warm, cosy and intimate feel, makes the perfect backdrop for the blessing which must have been filled with so many emotions. There was no particular theme – the couple just choosing elements that they loved and focusing on the deep meaning of the day – and the overall effect is of love, beauty and light.
"We had planned to marry at Castle Lachlan in Argyll, but we used this as a blessing instead (after my father passed away) as photographer etc had been booked for then. We hired out the castle for a week, for a holiday, and got blessed on the Thursday in a small, relaxed, friendly ceremony. We then had a big party in Edinburgh for all our friends and extended family two weeks later. This party was at The Caves, an amazing venue that we just fell in love with as soon as we saw it! So quirky and so very us."
Rachael chose the gloriously romantic Catherine Deane 'Tamsin' gown in cream, and wore it for the wedding, blessing and party. I adore the simple and oh-so flattering silhouette with the deep V front and back, and the magic of the tulle overskirt. London-based Catherine Deane is so talented at adding elegant detail, and the embroidered bodice and beaded belt of this gown are no exception. To guard against the chilly October weather, Rachael topped the dress a short vintage cape and donned some sparkly Irregular Choice shoes.
"It really wasn't a style that I was after but decided to try it on. I had thought I wanted a more 1950s style that I could then perhaps dye and reuse. As soon as I saw myself in my dress I cried and knew that my search was over. It was way more than I planned to spend (although really not as expensive as some) but I got three uses out of it so decided that per use it worked out well!"
Being in the theatre industry, Rachael was able to call on an expert friend for advice for products to use on her hair and make-up, and spent part of the morning styling her waves into a simple tousled, style and applying bold makeup with a gorgeous rosy red lip. I really love the contrast between her cream gown, dark hair and glamorous lip colour – it suits the Castle setting and Autumnal weather so well.
"I wanted my bridesmaids to have sparkly shoes as I had always wanted sparkles when I was little. I thought that actually it was my wedding so I want sparkles too! I love Irregular Choice and got the purple Kanjanka style."
The bride's look was completed by a pair of beautiful pearl stud earrings that her grandparents had bought for her 30th birthday and her dark curls were adorned with a diamanté brooch in the shape of a bow, which the bride found amongst her great-grandmother's costume jewellery.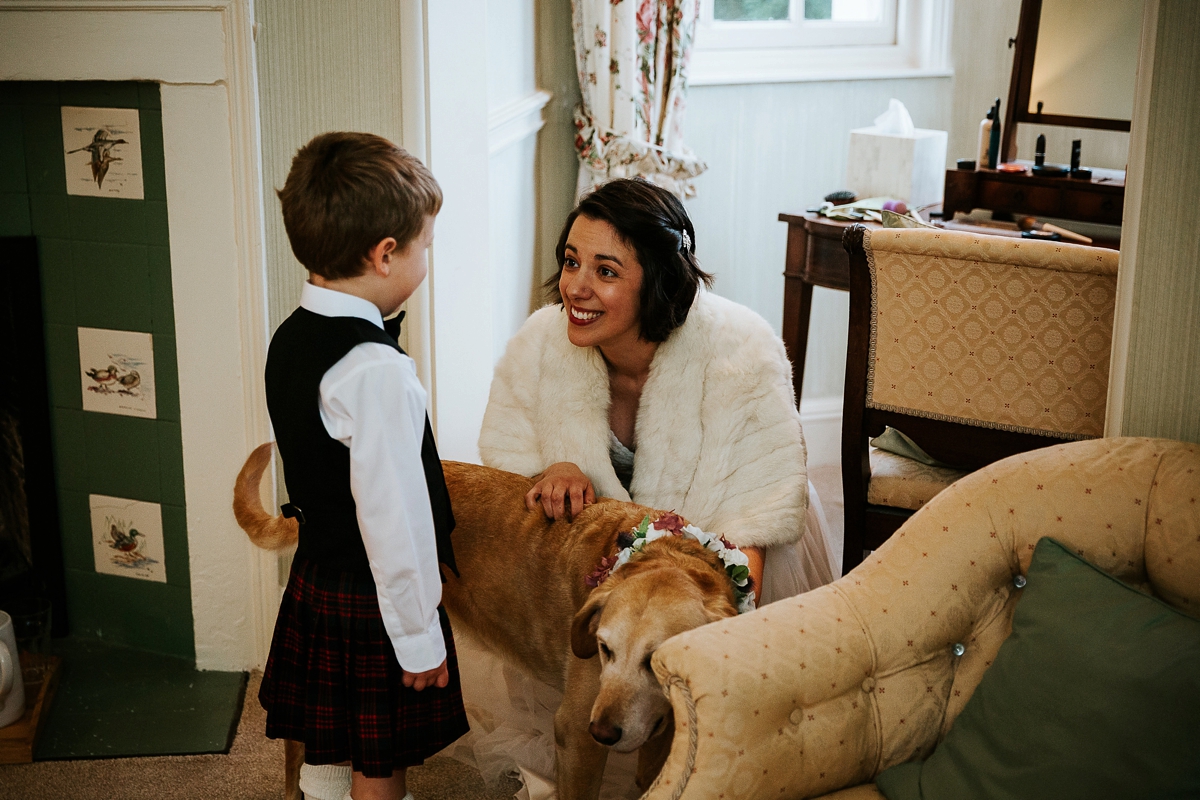 Rachel is a stage manager and Alistair a veterinary surgeon, and they first met online on eHarmony. A few years later, they became engaged whilst on holiday.
"Our first date was in London. We met at Kings Cross station near Platform 9 3/4. Alistair came down on the train from York and I was working in London,"
"We went on holiday to South Africa in 2016. After an amazing tour of the Garden Route and safari we headed to Cape Town. We decided to climb Table mountain. A glorious sunny day, a bracing climb (with head colds) and on the summit of Table Mountain Alistair went down on one knee and proposed."
"The next day we went cage diving to see Great White Sharks. We came back with the majority of the afternoon to spare. We went down to the Waterfront, in our shorts and Rachael with chipped nails, to go and look around a small diamond museum."
"It was then that we discovered that the museum was actually attached to a jewellers, Shimansky, so we decided to get a ring there. It was beautiful inside and there we were in our shorts just out from the ocean! That is just so us. We were engaged a year before we got married. A year seemed so long to us until we discovered that it is really very short compared to some!"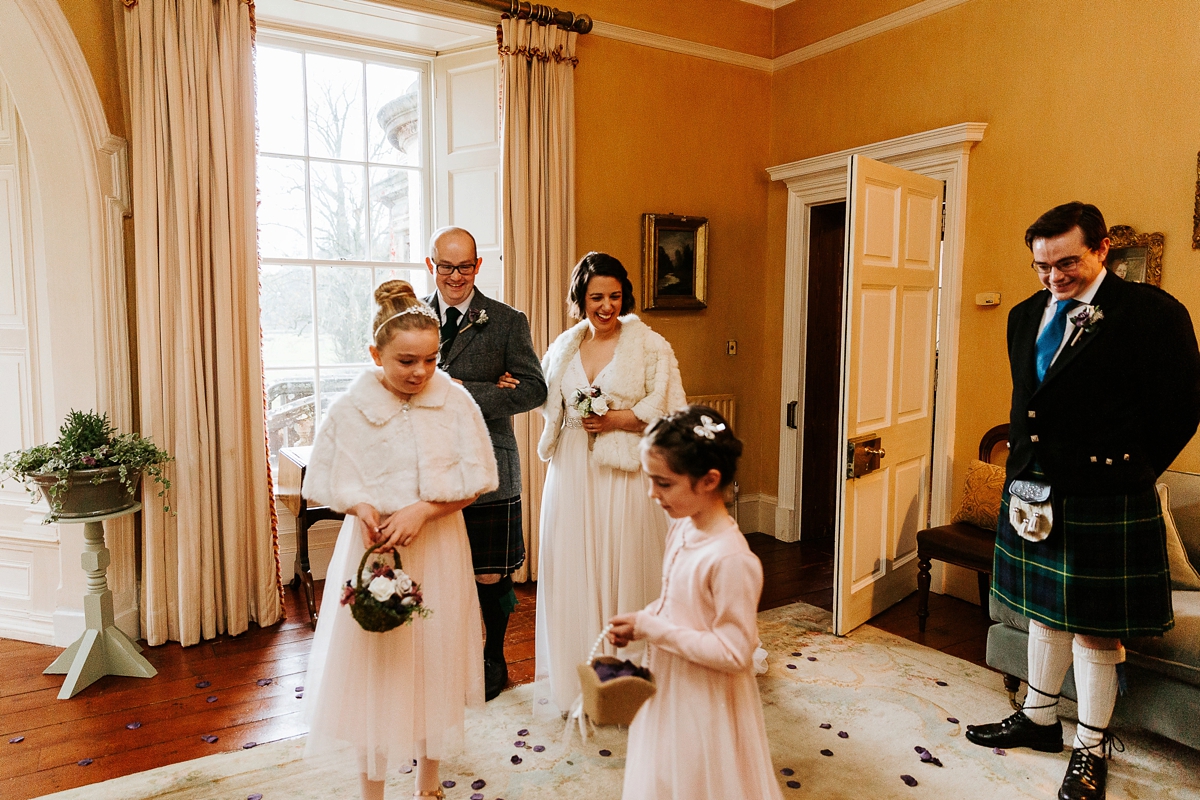 As a Scotsman, it was natural that Alistair wear tartan and his kilt belonged to his late brother. He completed the traditional look with a hare sporran from The Dapper Dead.
"It was important to them both that it was worn. The jacket was Harris Tweed and shirt, waistcoat, socks and flashes were from Gavin's Kilts, Fraserburgh."
As the couple were celebrating with family and friends at a larger party just a week later, they opted for silk flowers that they could use at both occasions.
"As we were going to be away for the week we decided to get artificial flowers that could then be used for the party in Edinburgh. The flowers we got were from Silk Blooms, a variation on a style they had: just a small posy for me, baskets for bridesmaid and flowergirl, buttonholes and they even created a brilliant flowery collar for Daisy the dog."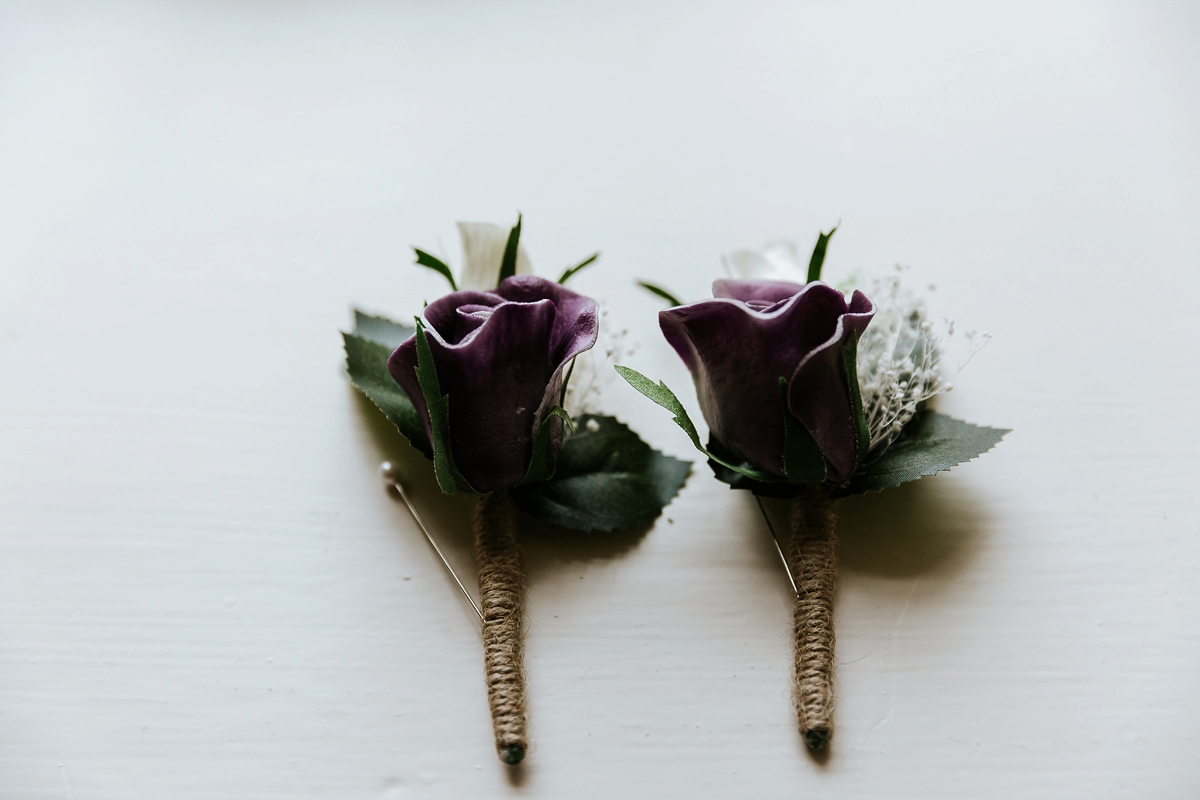 "The blessing was presided over by Claire Digance, a Humanist Celebrant who wonderfully took our original wedding celebration and made it into a blessing."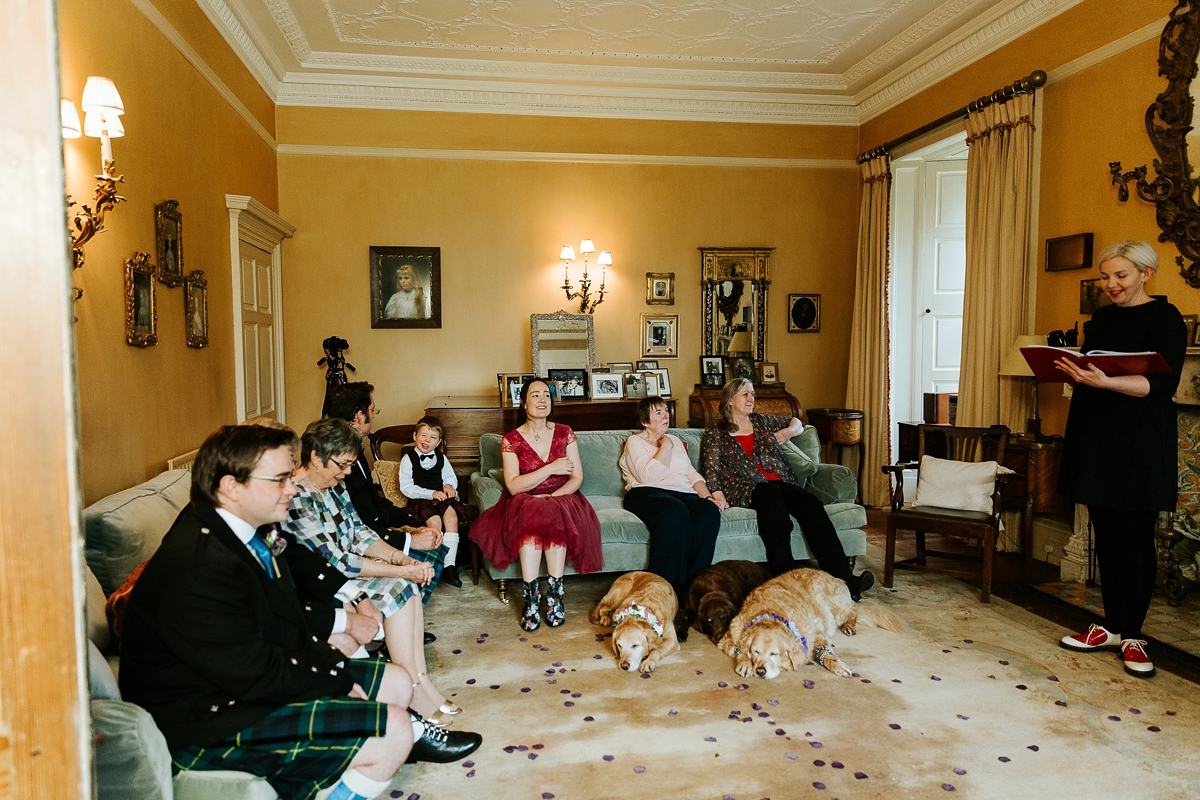 The small party gathered in one of the Castle's comfortable reception rooms for the blessing, and exchanged vows that they'd written themselves. Rachael and Alistair have allowed us to share them:
"Today is the day I marry my love
the one I want to grow old with
with understanding, sharing and respect of me
I want to be with you
Today is the day I marry my kindred spirit
the one I want to grow old with
with me beside you there is no limit
I want to be with you
Today is the day I marry my friend
the one I want to grow old with
with laughter and happiness you can depend
I want to be with you"
Rachael's young bridesmaid and flowergirl donned delicate pink gowns from Monsoon, finished with Etsy necklaces and hairpieces from Monsoon. Their super-sparkly ballet pumps and faux fur cape mirror the bride's so sweetly.
They chose three readings, 'Carpe Jugulum' and 'Guards! Guards!' by Terry Pratchett and an excerpt from Charlotte Brontë's 'Jane Eyre', as well as two songs.
"The first song was from Disney's 'Hercules' which Rachael's flowergirl sang and was so inappropriate that it made her laugh so much: 'I won't say I'm in love'. The second was a song called 'The Blue Grey Coo' by Charlie Allan, which is a song in Doric that Alistair used to sing to Rachael on long car journeys."
"Wedding rings were from Lava Jewellery Design. We found them at a wedding fare in Aberdeen and when we went to visit they were full of great advice."
Kristin at Struve Photography captured the whole day, from getting ready to the ceremony, drinks and nibbles and the intimate family dinner to the still Autumnal portrait shots in the castle grounds and on the shores of Loch Fyne. She's captured the warm colours of the trees so beautifully, and I love her intimate, unobtrusive style.
"Kristin was amazing; so supportive and kind after the trauma that surrounded our wedding."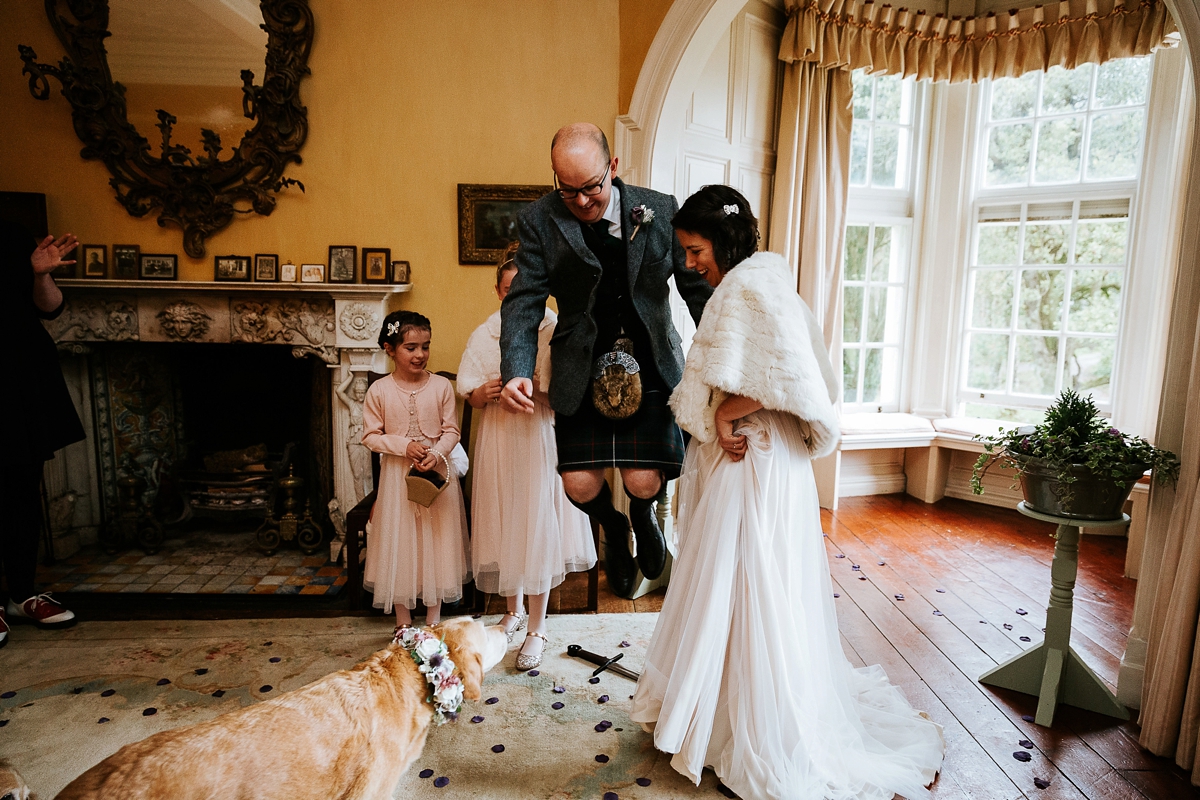 After the blessing, the party relaxed over drinks and nibbles, before the newly-weds headed out in to the October afternoon for these beautiful portrait shots.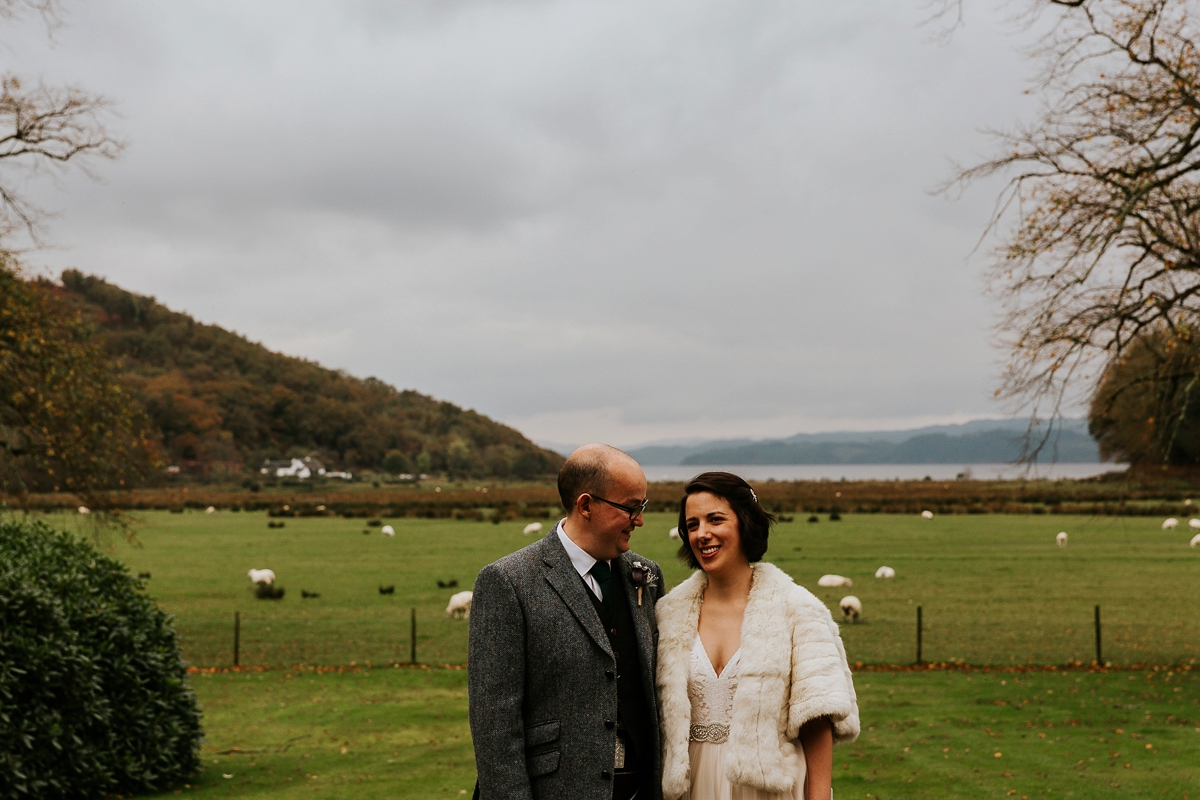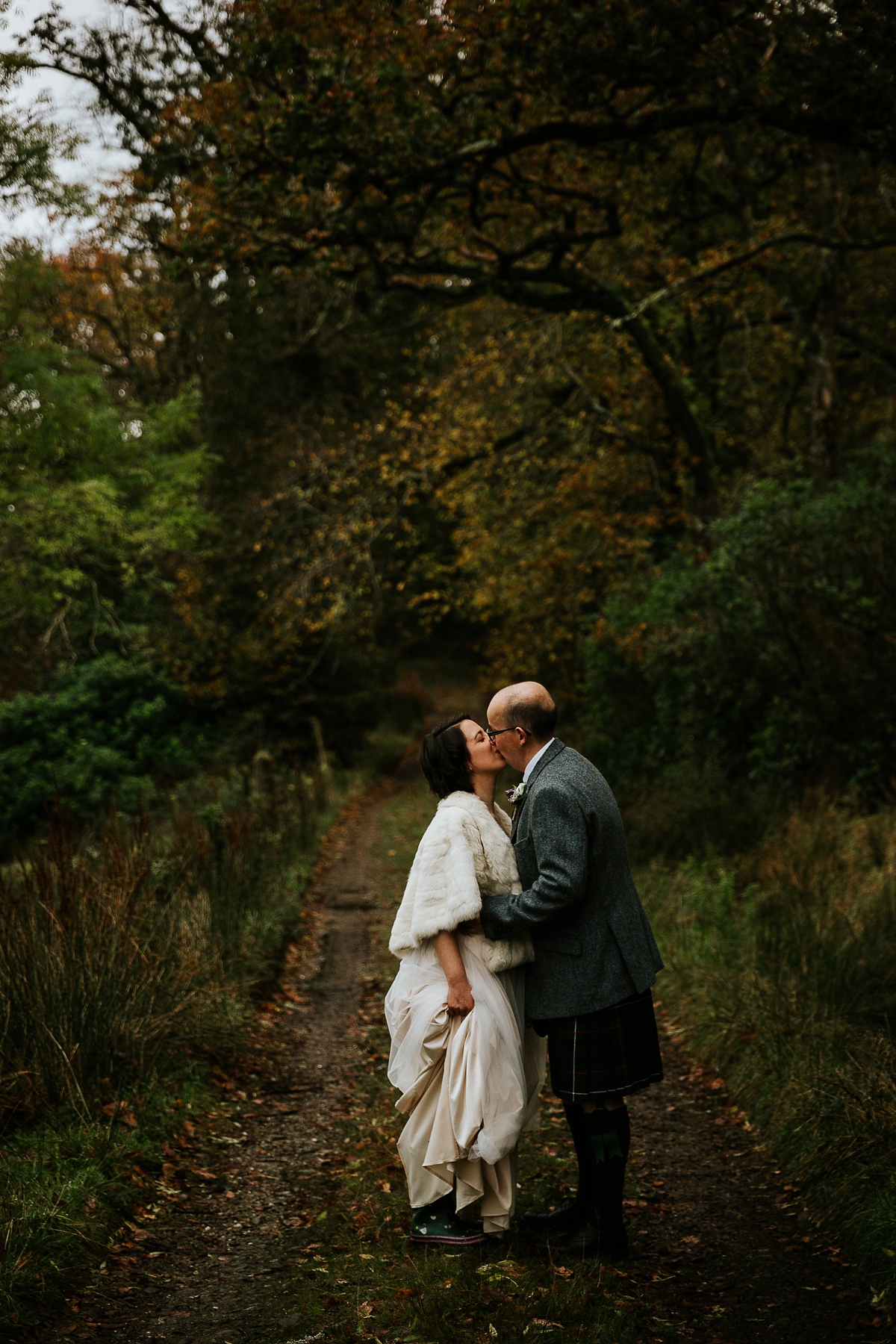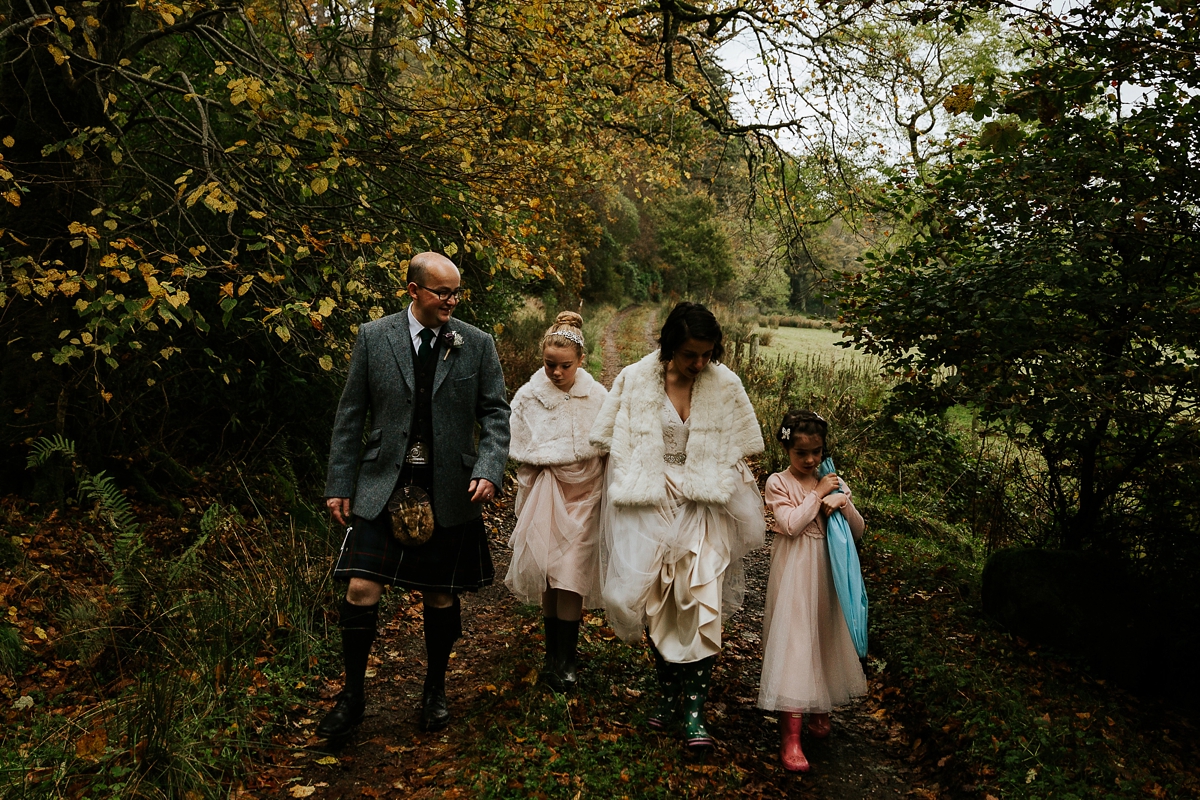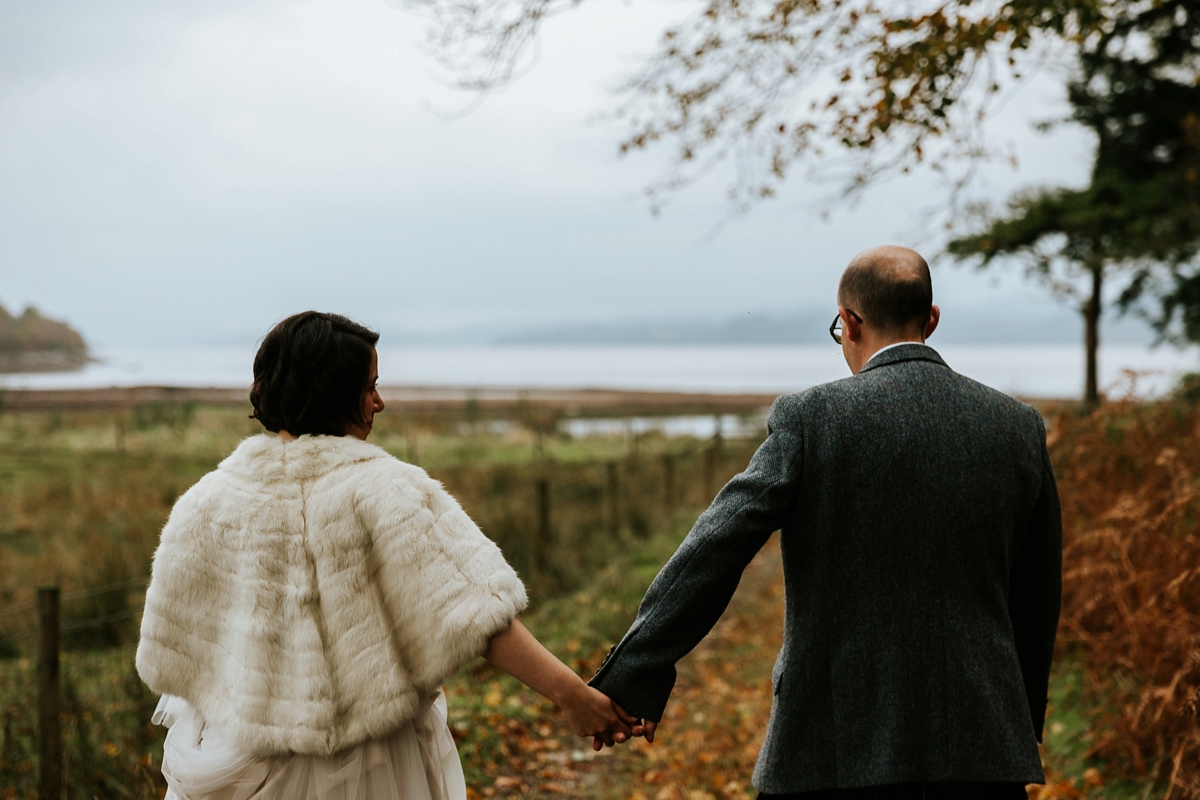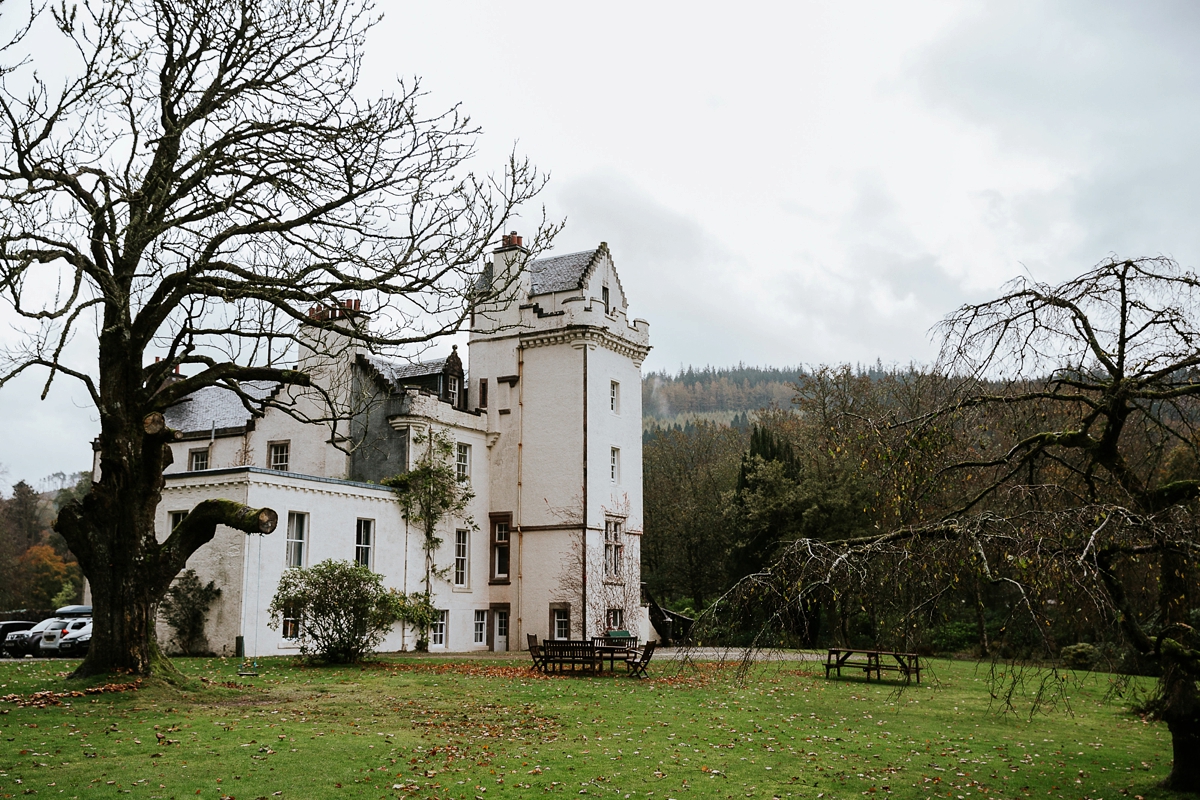 Castle Lachlan is so homely that very little decoration was needed. The stationery was made by Rachael using brown card, ribbons and decorative rubber stamps, and to decorate the dining room, the couple strung up photos of their time together using pegs and hessian string.
The owner of a local B&B catered for the small dinner party that the family shared in the evening.
"Whilst staying in Argyll looking for a venue we found ourselves in a glorious little B&B, No.15, that allowed dogs (we brought Daisy with us). The breakfasts there were amazing and we had an evening dinner there too that was to die for. We actually asked our host, Seonaid Clark, to cater for us at our wedding. The food was magnificent."
"My friend Ashely, who is an actress, made matchstick people in the forms of those who came to the blessing. These were put into picture frames and given as gifts."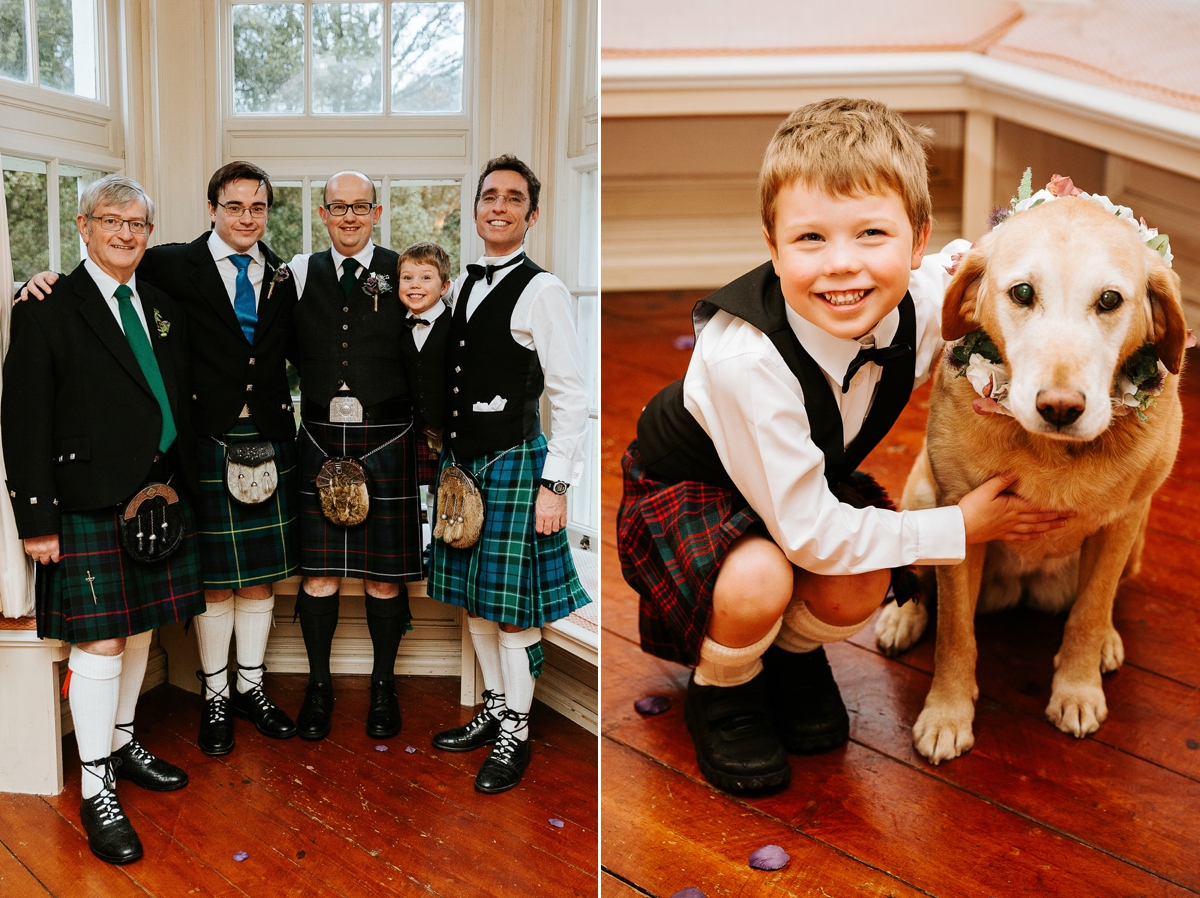 There was, of course, wedding cake, hand-baked by the bride.
"Our actual wedding cake was made by Rachael – tea and gin fruit cake, with a Lego wedding topper. The cake we had at our Edinburgh party was made by Alistair's aunt, Una Gill, who used to be a baker. Our main concern was not to have anything too fancy but something lovely to eat – after all that is what cake is all about!"
The evening stretched out with eating, drinking and chatting, with dancing reserved for the big party at The Caves.
"We didn't have entertainment either at our actual wedding or for our blessing in Argyll. At The Caves we used Stravaig Ceilidh Band. Both Scots and those who had never been to a ceilidh thought they were amazing.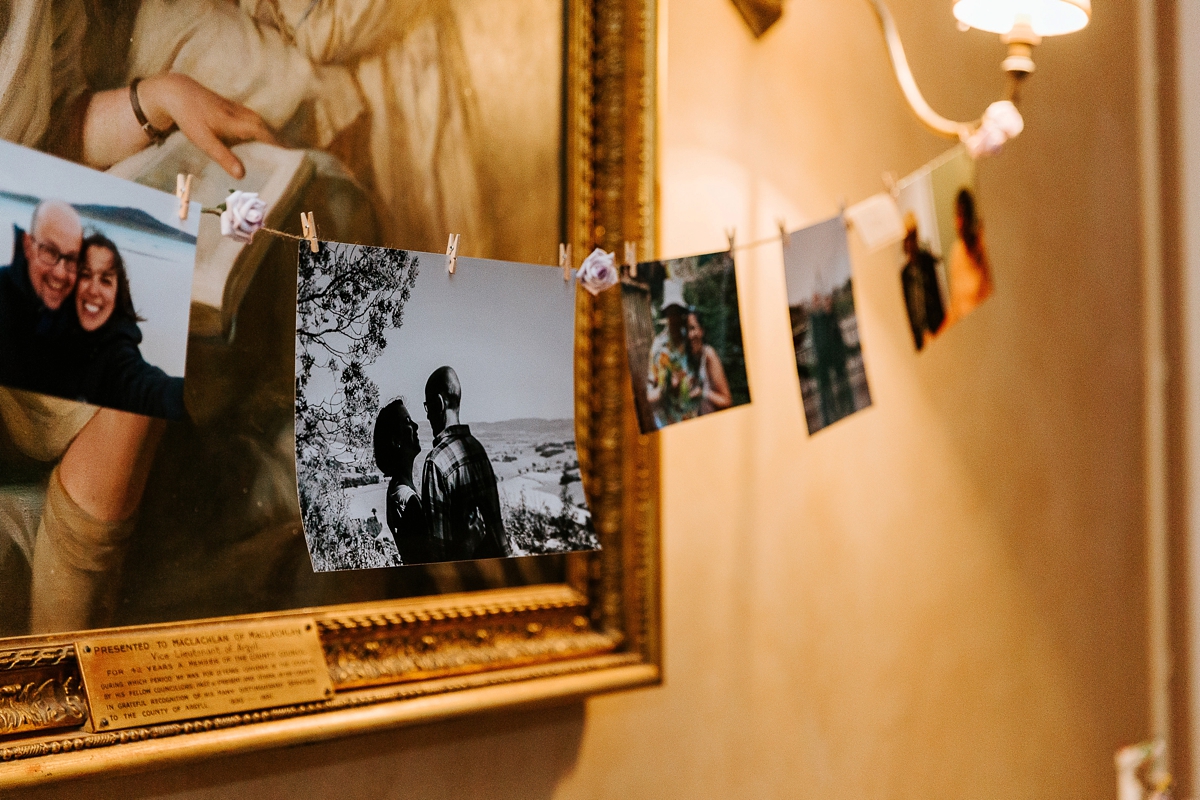 Words of Wedded Wisdom
"Your wedding is about the marriage of two people who love each other first and foremost. The rest is just frills."
Rachael, I'd like to offer you my love and sympathy on the sad passing of your father, and send so many congratulations to you an Alistair on your marriage. Your account of your day has been so moving and thought-provoking, and a timely reminder that spending time with people and celebrating love is always so important.
Ele xx