Happy Friday afternoon all! I truly hope you are all coping with this insane heat wave we're experiencing. Every window is flung open in our house but it's like a vortex of warmth blasting in. I hate to complain as I adore the summery climes but when you're trying to work in it, sheesh!
This afternoon's photoshoot was shared by Laura of Your Wedding, Your Way. It is a wonderfully uplifting portrayal of how the colour blue can be elegantly incorporated into your wedding day. Smiling models! And cute flower girls and an abundance of delightful detail. I'm thrilled that our Little Book Directory member, Rebecca Carpenter, captured these gorgeous images for you to enjoy today.
This shoot was shot on location at Hayne House in Kent and wonderfully captures an essence of romance. Hayne House is a gorgeous wedding venue that boasts an exquisite, light-filled orangery and is surrounded by picturesque landscaped gardens. Packed full of character, this charming space is available all year round to hire as a wedding venue and has it's own expert team on hand to support you every step of the way.
Film by Rix Weddings
"Our models for the day were Katie and Wilf, a real couple who were beautifully made up by Pipa of Be You Weddings. Katie wore a bespoke two piece by Sienna Von Hildemar and Wilf's suit and all accessories were by Stephen Bishop Suiting."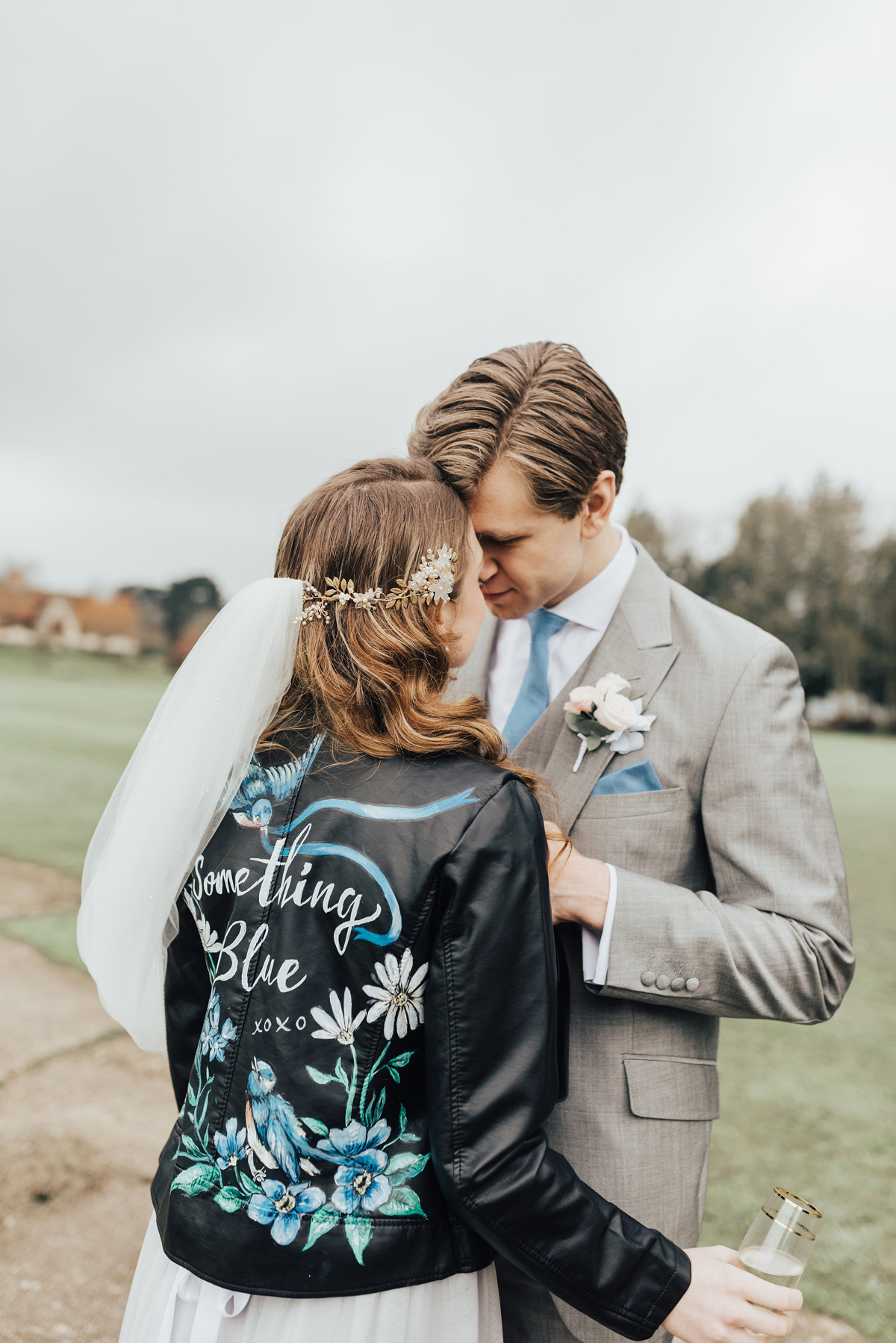 "Katie's outfit was a most elegant grey tulle skirt and low backed top, perfect for a bride looking for something a bit less formal and traditional. She also wore a stunning hair vine by Donna Crain at Poppy in Pearls Our flower girl, Annie, wore a bespoke dress by Lenka's Bespoke Bridal which complimented the bridal outfit perfectly – she had great fun being a princess for the day!"
"We designed a top table as well as long guest tables with gorgeous florals by Fleurista in tones of blue with hints of pinks to lift and add a colour pop. By using gold cutlery and stunning foiled place names, we added a hint of luxury while keeping the look refined and elegant with simple gold rimmed glassware along with more detailed chargers and plates."
"Bluebirds Bakehouse created a gorgeous 3 tier gold leafed cake which was surrounded by complimentary iced biscuits and macarons."