I know it's only August but if you're in need of a little festive cheer today then we will happily oblige. Even better, this festive wedding takes place at one of the most atmospheric venues in London. So, get cosy, make a hot chocolate (or iced tea if you're a little too warm) and snuggle up for this romantic, heart-warming celebration.
Sarah, an international recruitment manager, and Jake, an accountant, married on 9 December 2017 at Caroline Garden's Chapel, aka The Asylum in Peckham, London, with a friends and family-focussed reception afterwards at Deptford's One Friendly Place, a quirky converted warehouse. Their day was focussed around family and friends, and drew on the cool South East London vibe along with festive, wintry colours for a warm and cosy feel. And that splendid gown was by Jenny Packham, of course – a discovery Sarah made at The Pantiles Bride.
"Amazingly, it was the first dress I tried on. It was a very unique dark Champagne colour and had an art deco style about it (I love the 20s). The beading was beautiful, it had a simple elegance and it just felt like 'me'."
Images by Beatrici Photography + Chris Barber Photography
"It was being sold as a sample and luckily it fit almost perfectly – definitely a sign. I did not buy it on the day as I thought I should look around a bit more. Two months later it was still there and I knew it was fated to be my dress!""We chose to get married in Peckham as this unique corner of South East London was where we had our first ever home together (just us); so it holds a special place in our hearts. We fell in love with The Asylum the first time we visited. We had never seen anywhere quite like it and the atmosphere is incredible. The chapel is a beautiful Grade 2 listed building and was built in 1826 by the Licensed Victualler Benevolent Institution for use by the residents of Caroline Gardens. It reminded us of when Ross and Emily got married in 'Friends' (minus the rubble!)."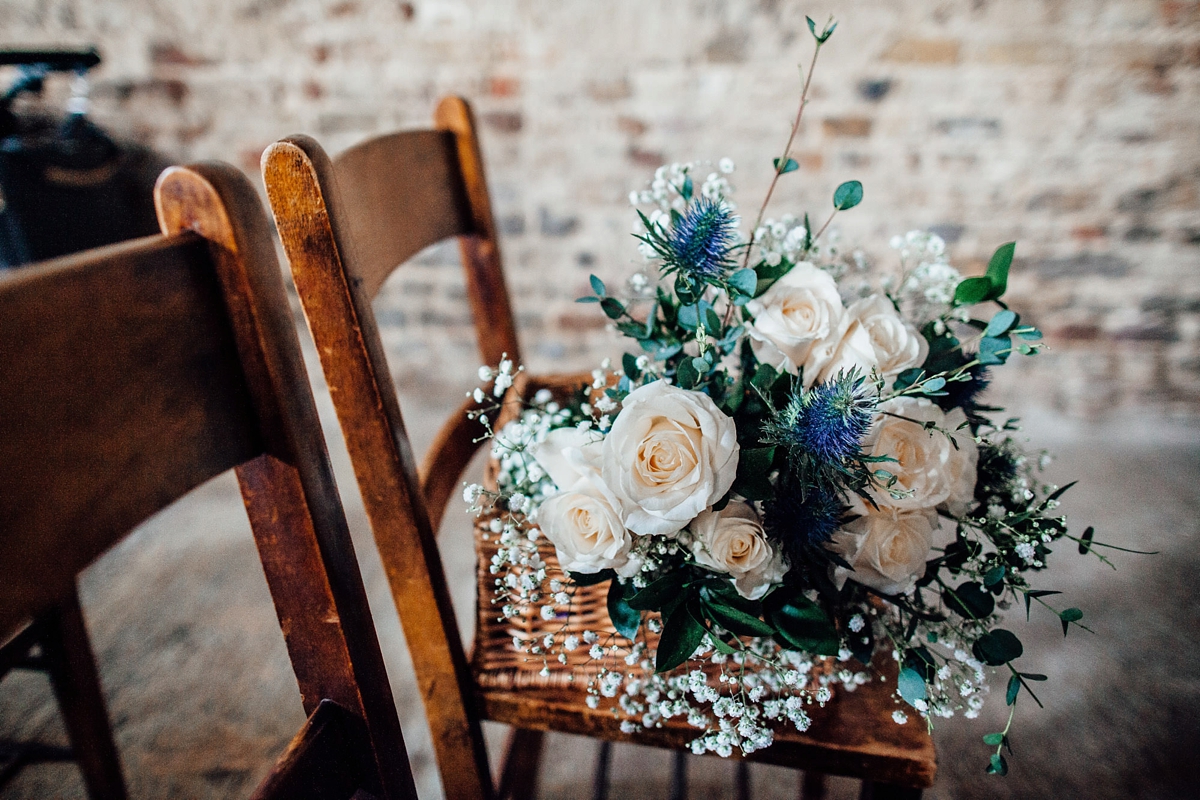 "The flowers were bought at New Covent Garden: white roses, eucalyptus, olive tree, babies breath, greenery, gypsophila, thistles. We didn't have a colour theme but wanted to go for flowers / greenery that had a Christmassy/wintery/cosy feeling about them. White roses are my favourite flower (and go with everything) so we had a number of roses mixed in with some beautiful greens and the purples from the thistles. Gypsophila was a must have! We used it in all the bouquets and in the girls' hair."
[JP-VIDEO]
Tania from Tudor House & Just Cuts, East Sussex was on hand in the morning to style hair, and Sarah opted for a polished half-up do with chic braids and long ringlets, topped off with fresh sprigs of gypsophila. Her makeup by Kirstie Pollington was kept fresh to complement her fair skin, with a deep lip colour for a nod to the festive season. In my opinion, she looks every inch the pre-Raphaelite beauty; what do you think?
"I had eyelash extensions for the first time for the big day – they were amazing!"
The grown-up bridesmaids wore deep purply-red halterneck gowns, custom-made at House of Frou Frou, along with their own shoes and statement bouquets of flowers, put together by Amber Wood at Emslie Creative.
The couple's history began in their university days in Exeter, where they lived in halls together.
"Jake was busy on Valentine's Day so our first date was on 13 February in Pizza Express (romantic!). Ten years later, Jake proposed very early in the morning during a trip to the Philippines on a beautiful island called Snake Island (there was no one else around, except for a local monkey that was notorious for stealing your gadgets!). It's probably the best thing that's ever happened before breakfast. We celebrated later that day by swimming with turtles – just bliss. We were engaged for just over 18 months before our wedding day."
"The main thing was for the day to be ours and to make it as personal as possible. We didn't really have a theme but we love London so knew that it would have a SE London 'vibe'. We also love Christmas so decided to get married in December and use lovely wintry colours."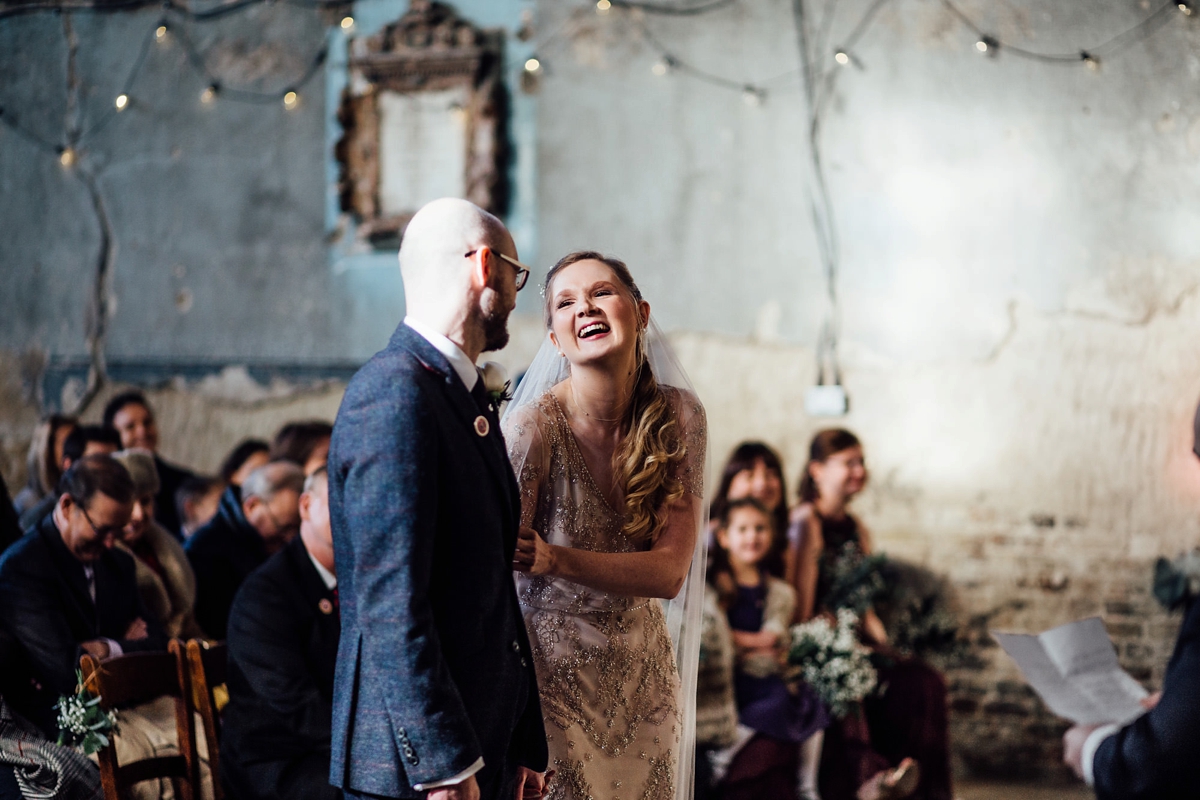 After a morning of preparation, Sarah took an Addison Lee cab to the chapel, which she entered on the arm of her father, Glen. The music was the piano intro of 'Fake Empire' by The National Fake Empire, played by Sarah on the piano and recorded for the day. This is such a lovely touch; if you are musically-gifted then why not consider this as an option?
The ceremony was personalised with personal poems, written by the bride and groom about each other and read by the maid of honour and the groomsman. They also chose readings of 'Fidelity' by D.H. Lawrence and a gorgeous paragraph from 'The Chronicles of Narnia' by C.S. Lewis, which you can read below.
"All their life in this world and all their adventures… had only been the cover and the title page: now at last they were beginning Chapter One of the Great Story which no one on earth has read: which goes on for ever: in which every chapter is better than the one before."
"One particular memory I have is once we had said our vows and sat down to sign the register, everyone started chatting and hugging/catching up and came up to give us hugs at the table – it was so lovely to be a part of getting everyone together; everyone looked so happy! The registrar had to get us back on track and say that we weren't done quite yet as we still had the final words and reading! So everyone went back to their seats."
"Jake bought the engagement ring at Webley London, a shop in Hatton Garden. Jake looked for a vintage/20s style as apparently I had hinted I would something along those lines but he chose it all by himself and got it so right! Great customer service on each visit plus a discount on the wedding bands too. Jake went for a lovely palladium wedding band and I had a thin, white gold band with some beautiful little diamonds (around 50% of the band) – you can never have too many diamonds! They were engraved with 'S&J 9 December 2017'."
The bride accessorised to perfection with gorgeous pieces that enhanced the gown, including a pair of incredible silver high heels with a statement glittery bow from Sophia Webster. Her jewellery was a pair of pearl earrings and a delicate chain necklace with rose quartz which she made herself on her hen-d0 – a jewellery making workshop at Kat & Bee.
Doesn't this sound like so much fun? To guard against the December chill, she also commissioned a bespoke feather jacket from House of Frou Frou and I adore the sleek silhouette of the gown paired with the statement jacket. She also personalised her From St Xavier bag with a custom-made, embroidered 'Crackwood' (a tribute to the couple's surnames 'Crack' and 'Wood') felt patch from Sienna Rose Wood. The overall look is elegant with a lot of edge and style. Gorgeous.
I really admire the photographer's skill for capturing so many details, and also the beautiful portrait shots in the atmospheric chapel. These images are the work of Beatrici Photography, with second shooter Chris Barber Photography.
"Alline was amazing and we couldn't be happier with the photos from the day – some awesome memories! We wanted a lot of candid / natural photos which we definitely got. Alline took some beautiful shots of friends and family and joined in with all the celebrations (while still snapping away!), which was lovely."
"Chris came along as a second shooter and was great – taking some unique and smiley shots (getting the fist pump shot as we came out the back of The Asylum having just got hitched!). They are both very lovely people and we are so happy they were part of our big day."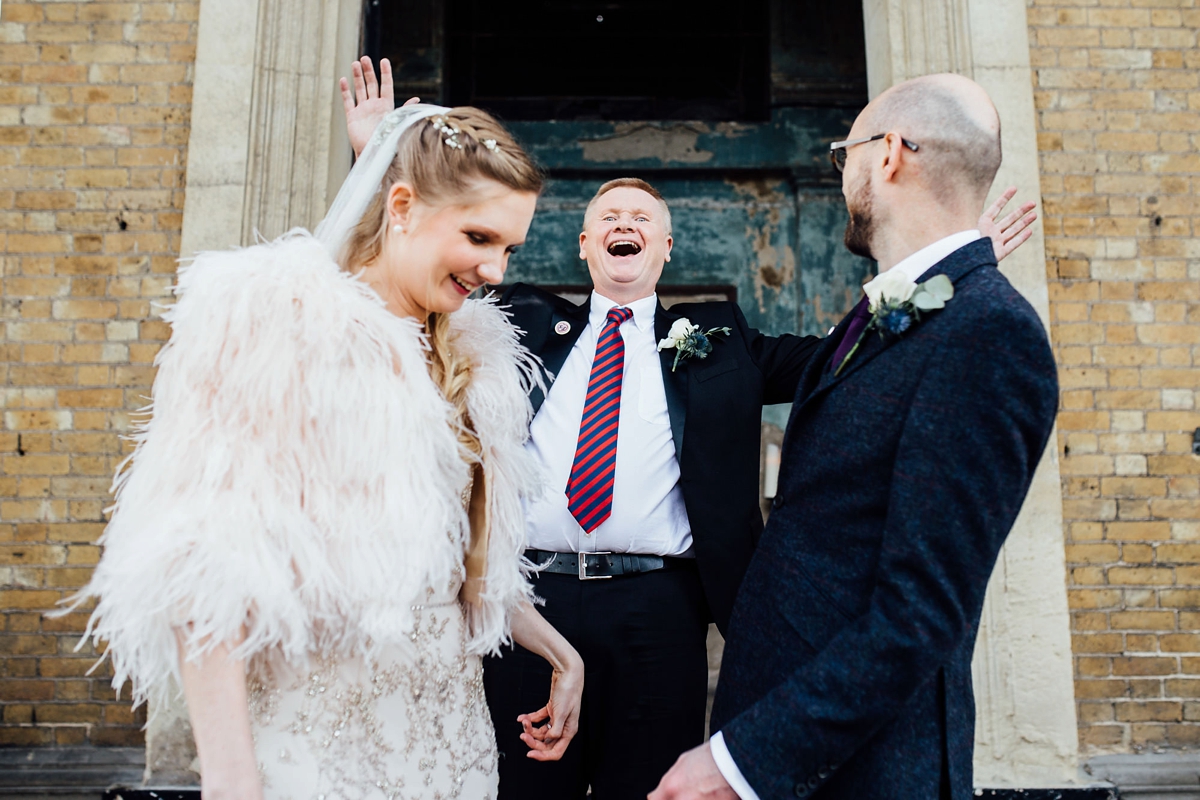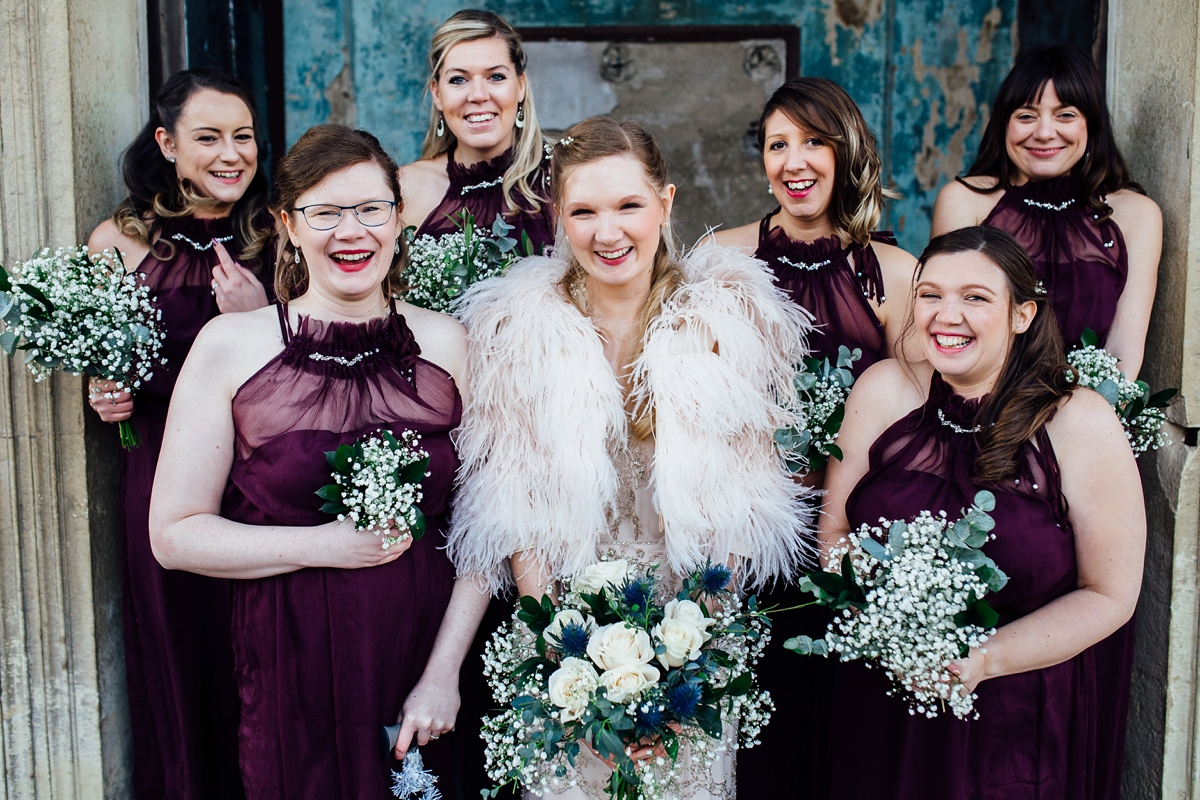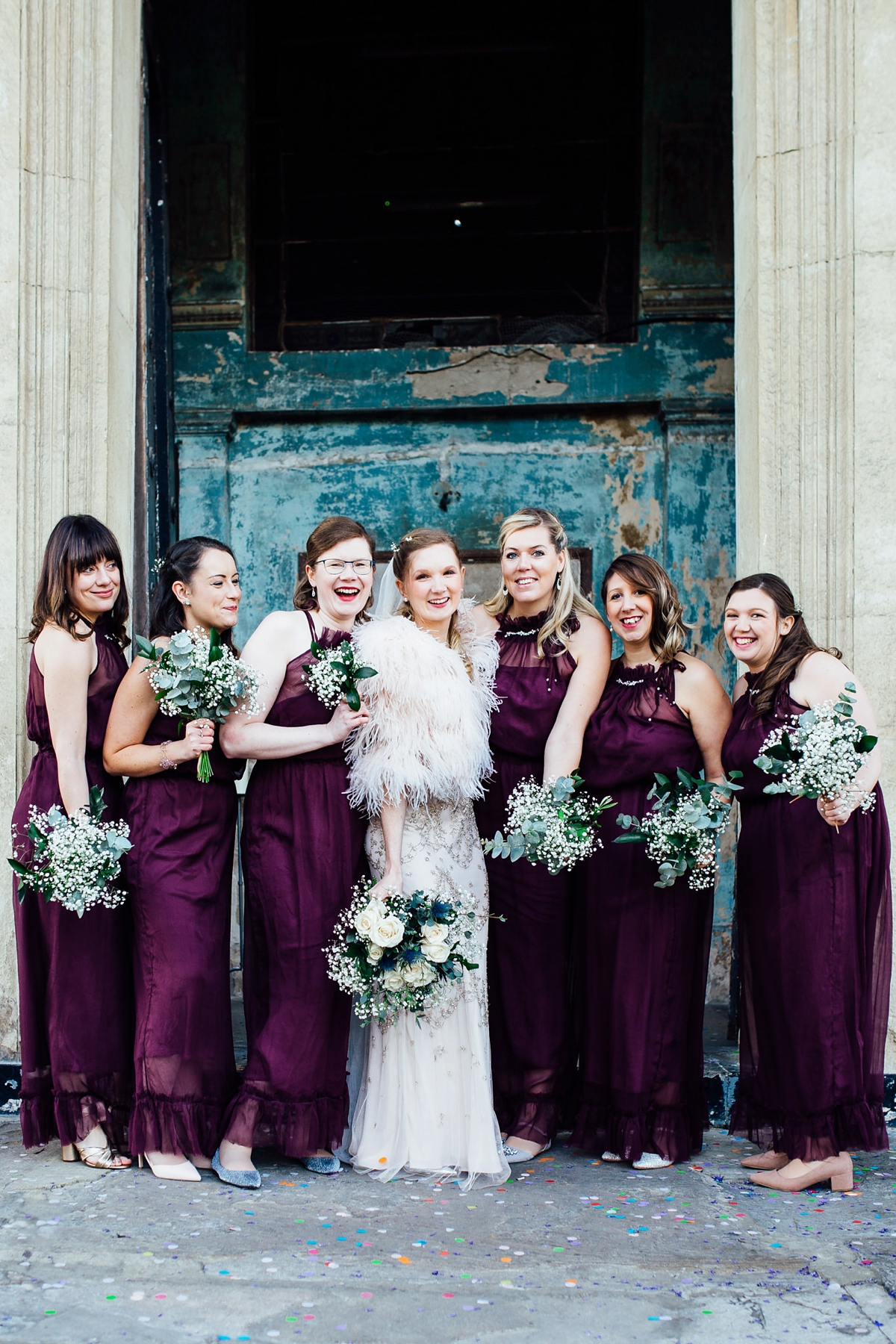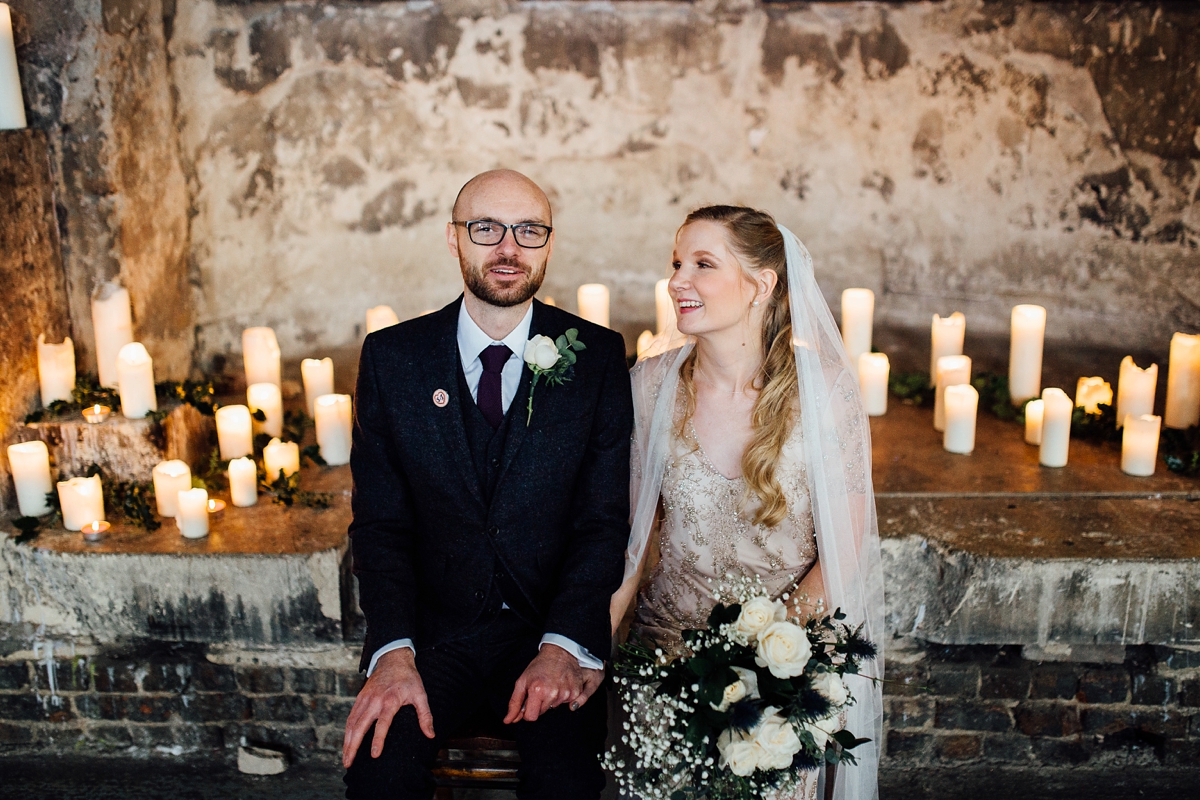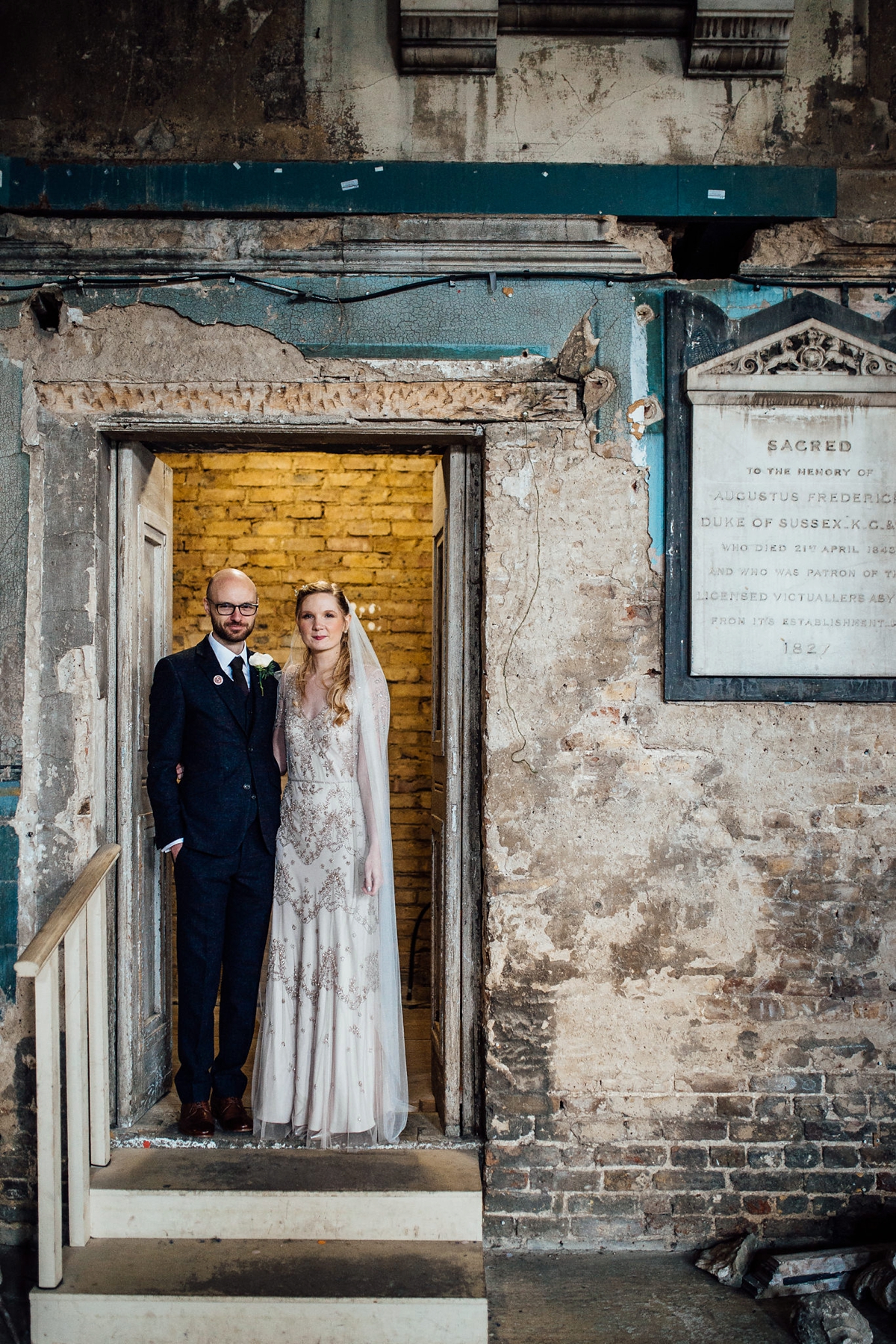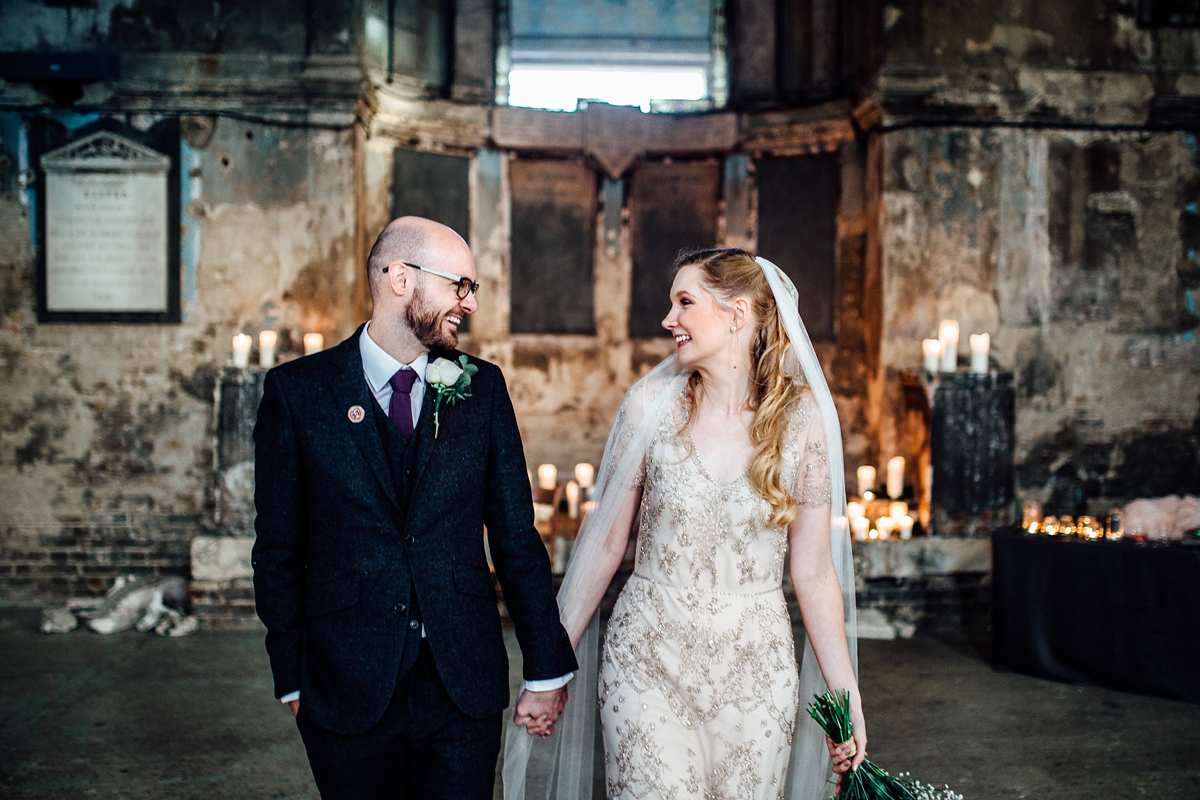 After the ceremony, the newly-weds were able to spend some precious time together whilst having these divine portrait shots taken. I love the lighting and atmosphere captured in these pictures, in particular.
Jake found his warm tweed suit at Walker Slater, a favourite for many grooms on Love My Dress, and added personality with a custom-made 'S&J' embroidered pin badge, also from Sienna Rose Wood.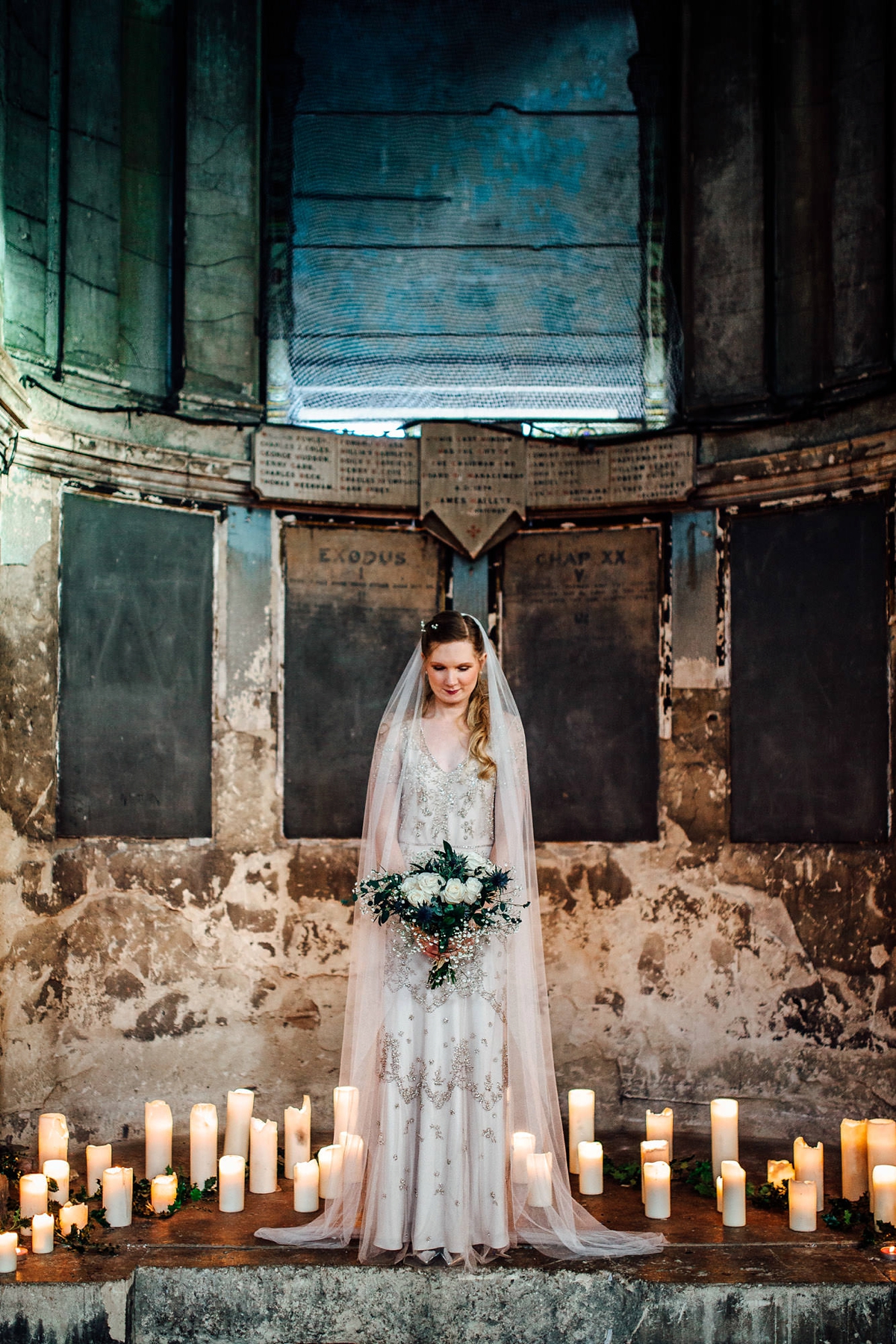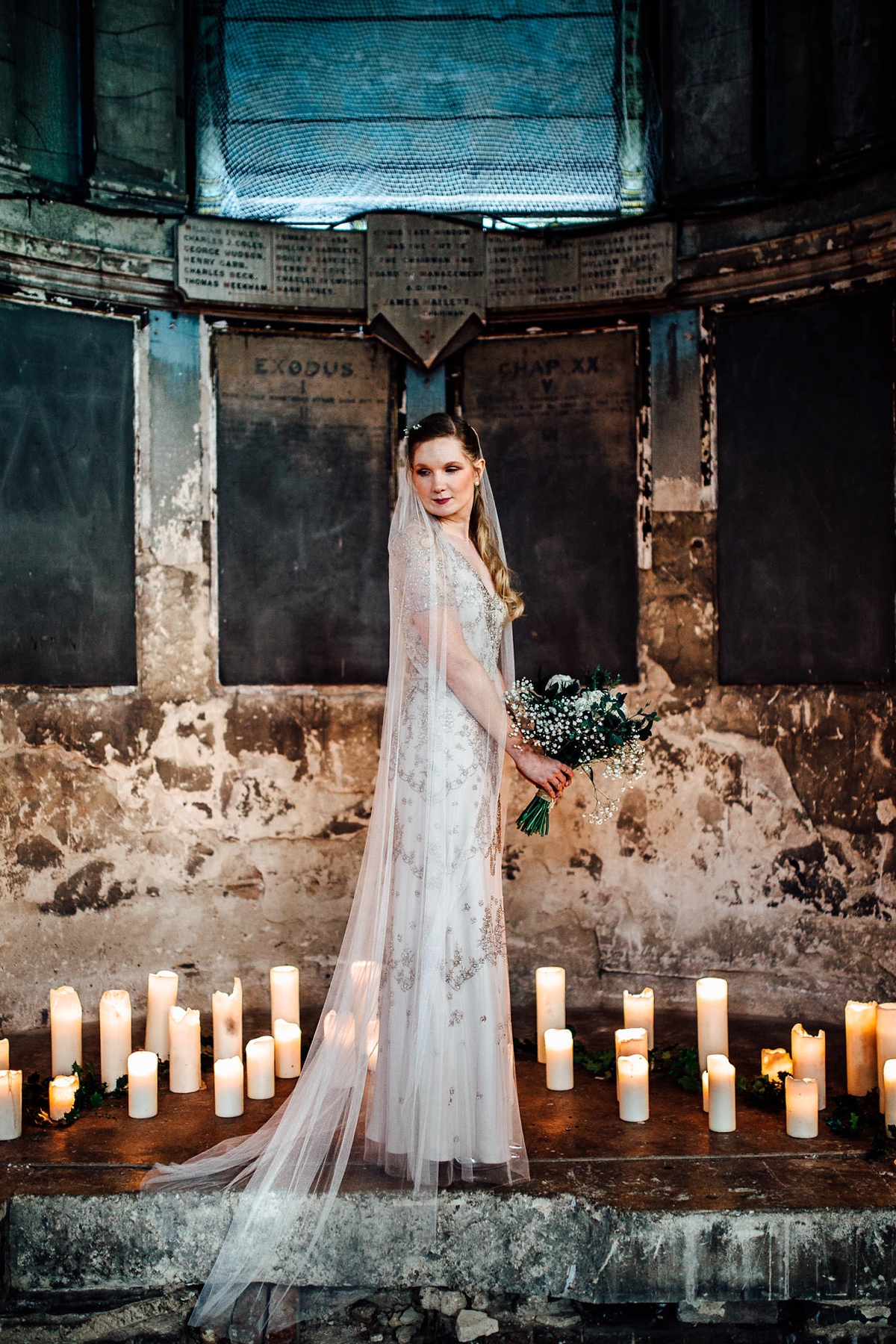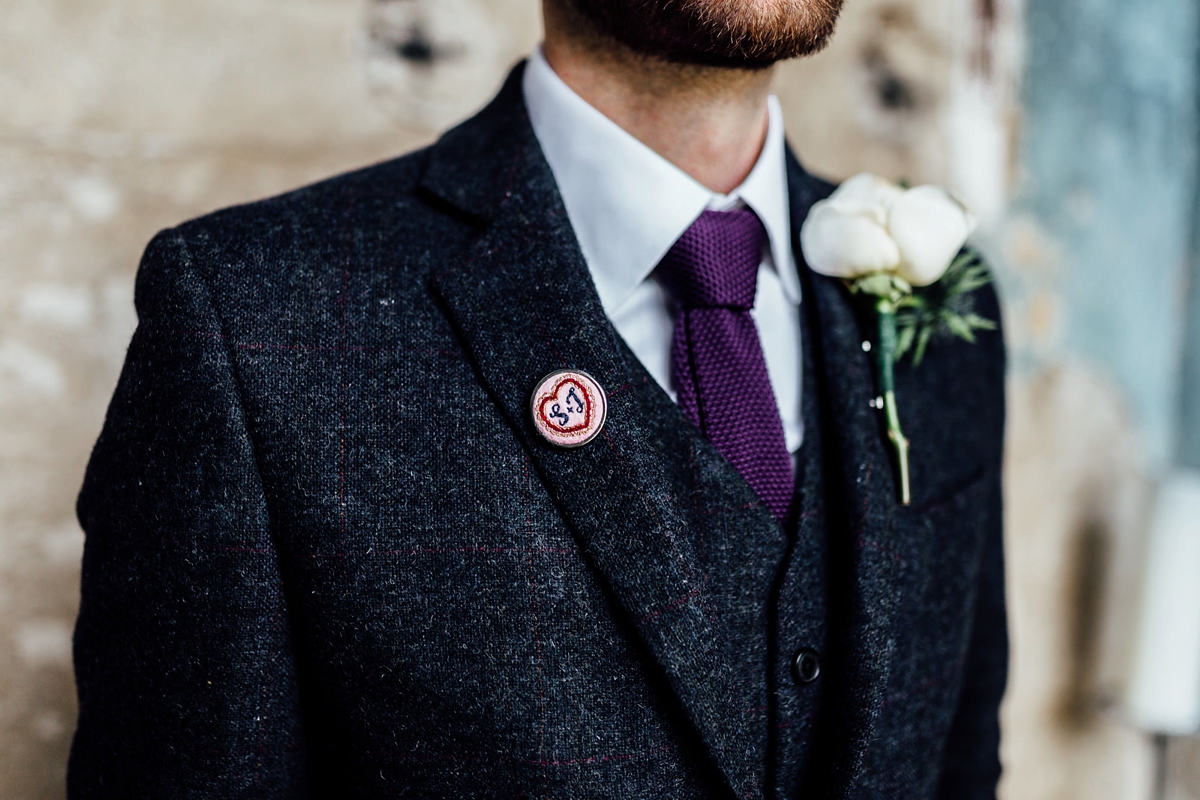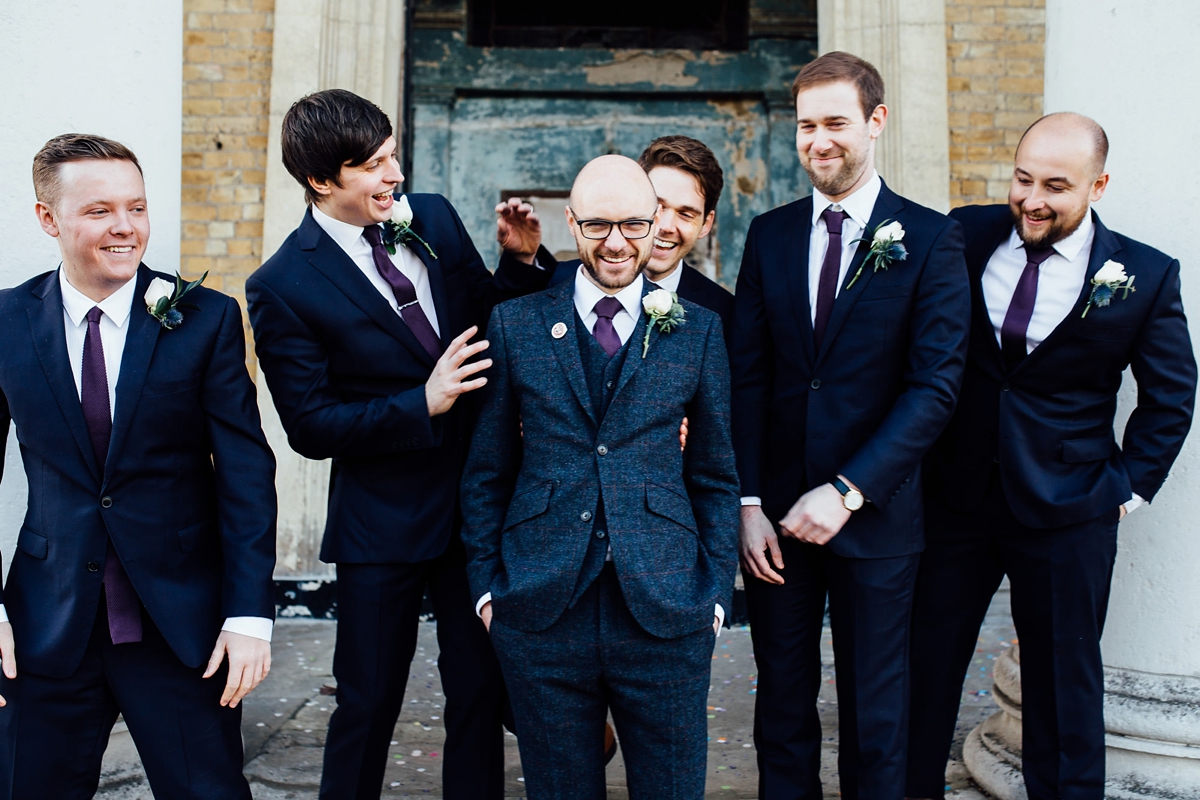 Both The Asylum and One Friendly Place were dressed for the day, with festive swathes of holly and berries. One Friendly Place also have a lovely collection of props; just look at that neon red rose light which was used as a backdrop for the evening party.
"One Friendly Place was built in the 1930s as a spice warehouse and we chose it because it's just super awesome! It's a beautifully cool building that we were able to make our own. There was so much flexibility with this venue which is what we were looking for. We were able to ask a lovely family friend to do the catering for us as well as making the wedding reception BYOB."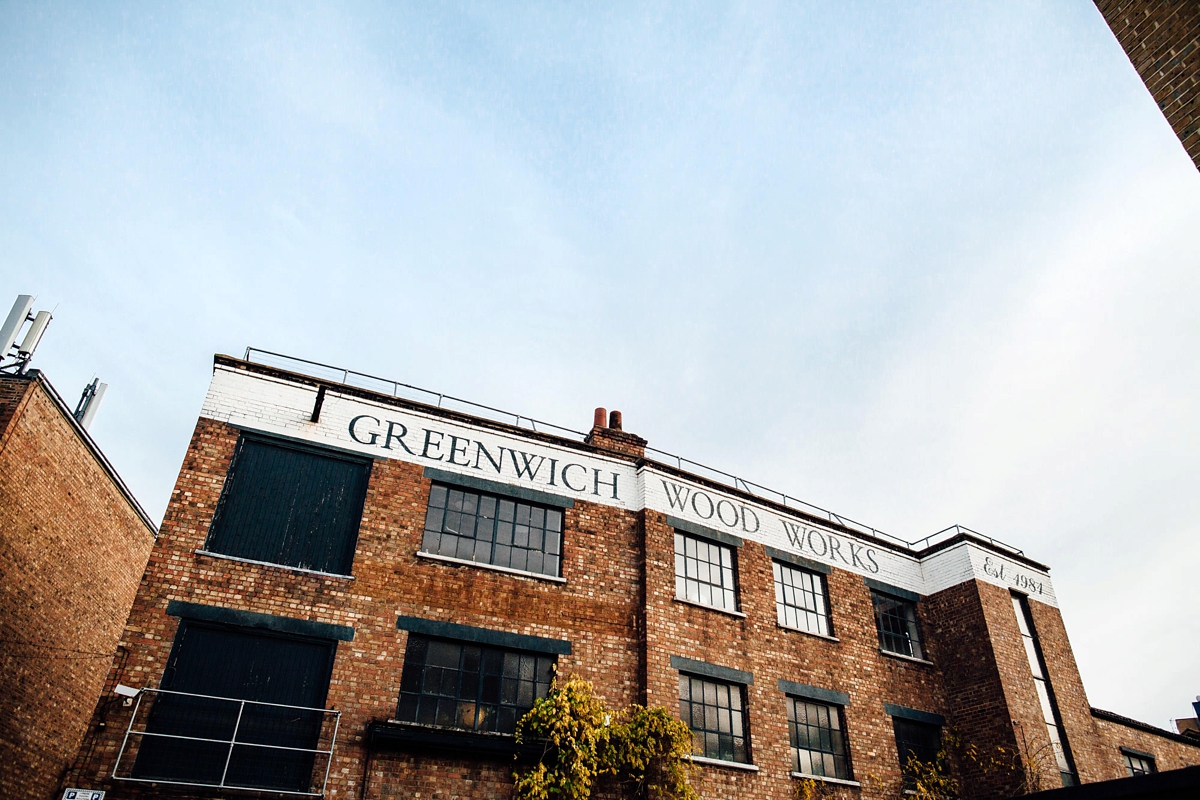 "We used wine bottles, beer bottles and tin cans as vases for the holly and greenery. We also made a photo timeline for the wall and guests could write messages on a piece of a wooden Jenga set. One Friendly Place also had a number of amazing props including a giant red rose light, vintage furniture, couches and rustic tables that could be used."
The table plan (a chalkboard with vintage photos), menus, table names and table settings – vintage photos of the guests – were all handmade by Sarah and Jake, and they also made all of their own wedding stationery, finding inspiration on Behance.
Over at One Friendly Place, a sumptuous sharing feast by chef Paul Newbury was waiting to warm up the newly-weds and their guests.
"We really wanted a fun environment over dinner so decided on sharing platters. The starters were Mediterranean sharing platters. I love everything South East Asian and travel regularly for work so we went for five different Thai-inspired curries that guests could tuck into for mains."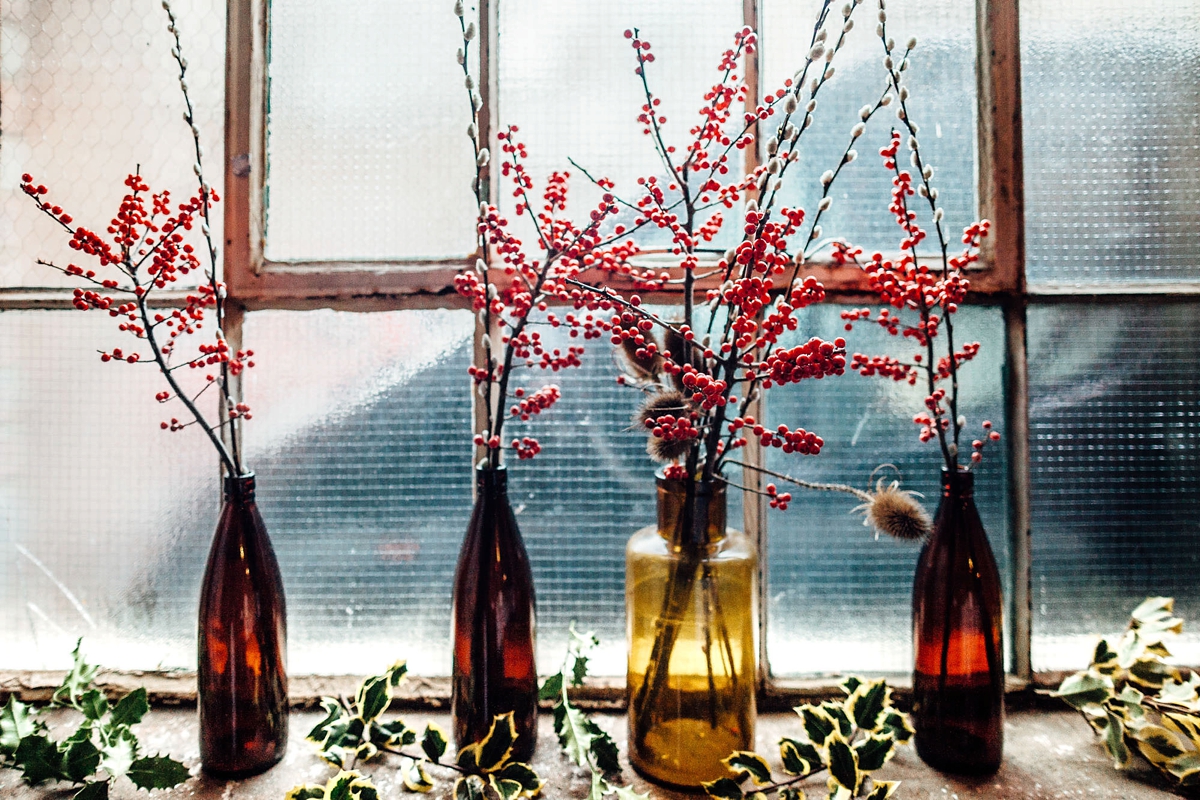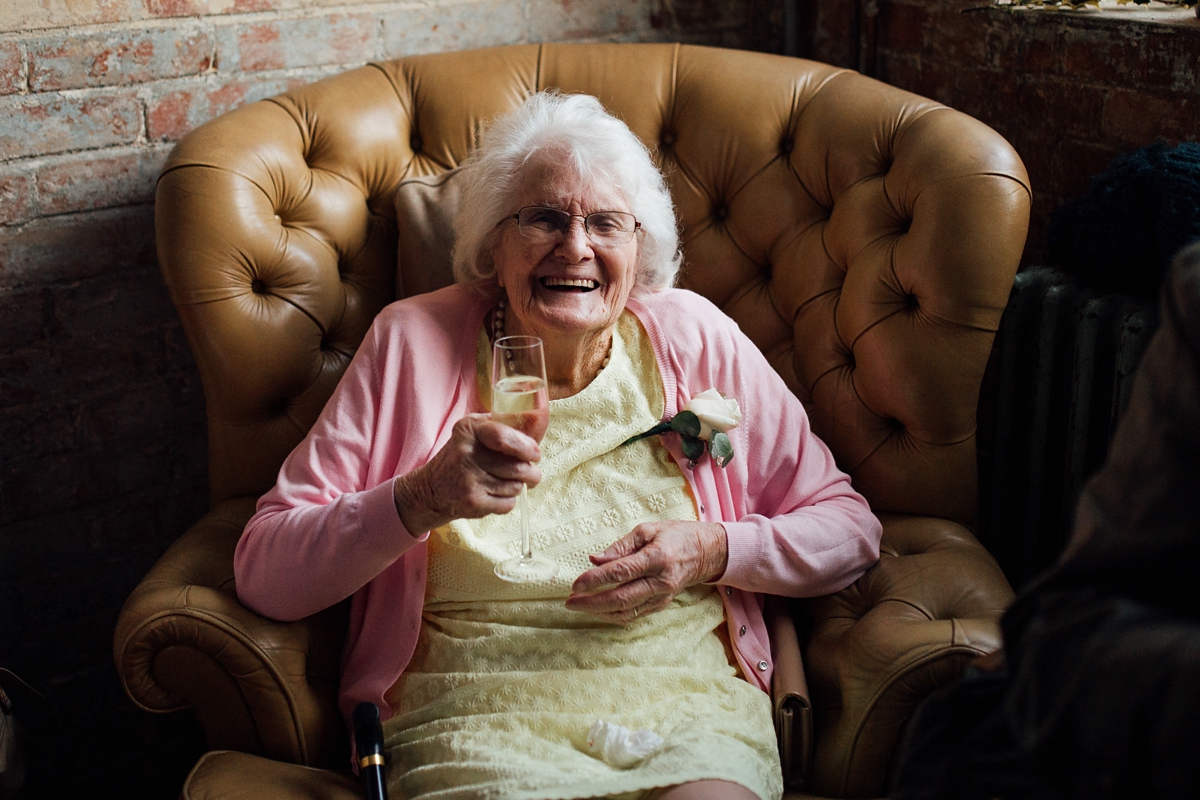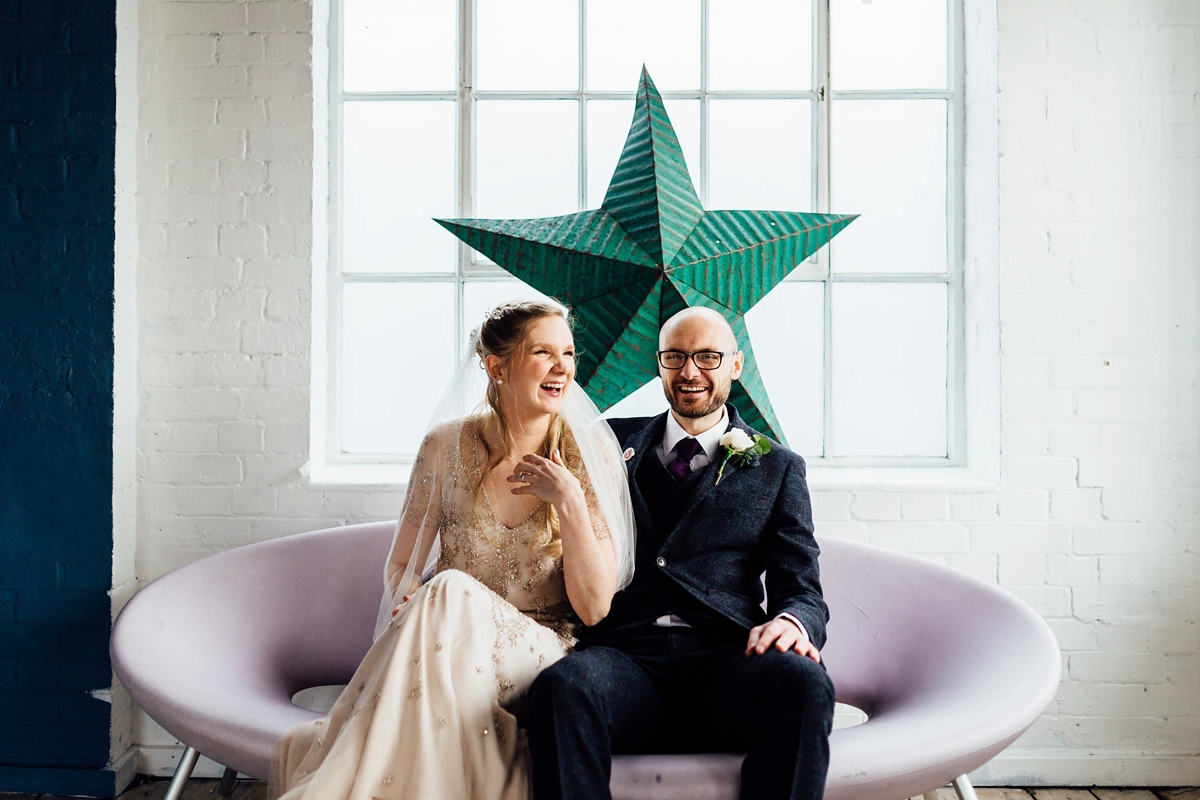 The semi-naked cake was a masterpiece by the bride's friend Manvir Bhogal at Rose Blossom Bakery. Anyone else feeling hungry right now?
"We had a three-tiered naked cake – we don't really like royal icing that much. We love nearly all cake and with the help of my lovely friend Manvir decided on three different flavours; Victoria sponge with Madagascan strawberry jam and vanilla bean buttercream, chocolate sponge with raspberry buttercream and lemon sponge with lemon curd buttercream."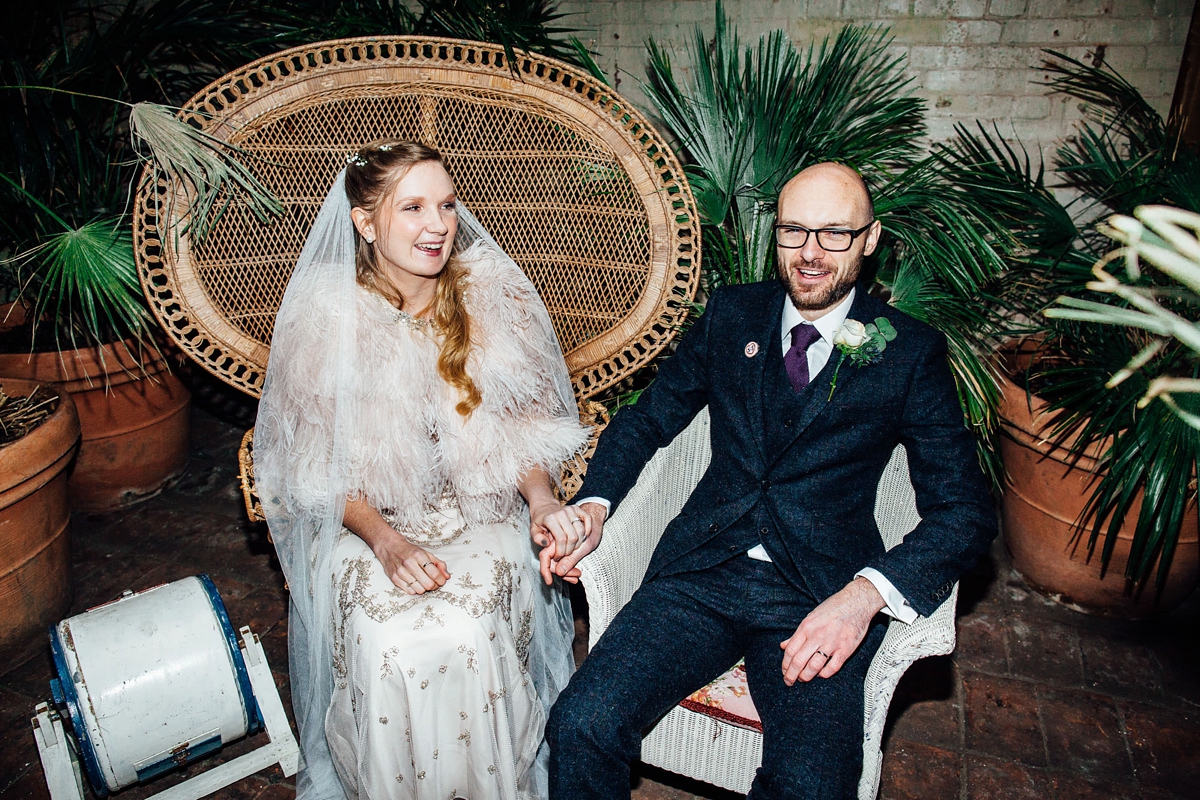 Before the party kicked off with music from Disco Shed AND a glitter station, it was time for speeches, including a prop-filled one from the bride's dad and a first dance to 'Toothpaste Kisses' by The Maccabees.
"We love The Maccabees and have seen them together a number of times. I suppose this is our song and it is just very beautiful. It is also only just over two minutes long (which is good when everyone is staring at your terrible dancing!)."
"Disco Shed: A great choice of music and adds something a little extra to the traditional DJ set with a mini-shed being set up to house the DJ booth."
Words of Wedded Wisdom
Oh Sarah and Jake, it looks and sounds like you both had an incredible time, from the exchange of vows to the evening party. Thank you so much for sharing your advice for brides to be, particularly those planning a dry hire wedding.
"I wouldn't change anything about the day – it was perfect for us and I would love to do the whole thing again! The only thing I would say, (especially if you are hiring a dry venue like we did), is see whether you can set up a bit earlier! We were at the venue from 4pm until late the day before setting up and decorating which was a bit stressful and involved a lot of running around so close to the big day."
"Enjoy the build up (if you can!). You are planning one of the loveliest and most special days of your lives and it is really easy to lose yourself in the planning and feel a bit overwhelmed. Have an idea how the day is going to go but also be willing to go with the flow as things rarely go completely by the book. One of the most special things about our day was that we made it our own and worked really closely with friends and family to make it the best day ever. People are so happy to help so just ask."
"Jake would also want me to tell you to keep track of spending and use Excel (he's an accountant!), as it is easy to get carried away in the wedding planning bubble. Also have a glitter station (our guests loved it!)."
"We were given some advice about the actual day itself by close friends who had recently got married: they said make sure you take some time on the day to step back and have a few moments to yourselves so you can take it all in. Best advice."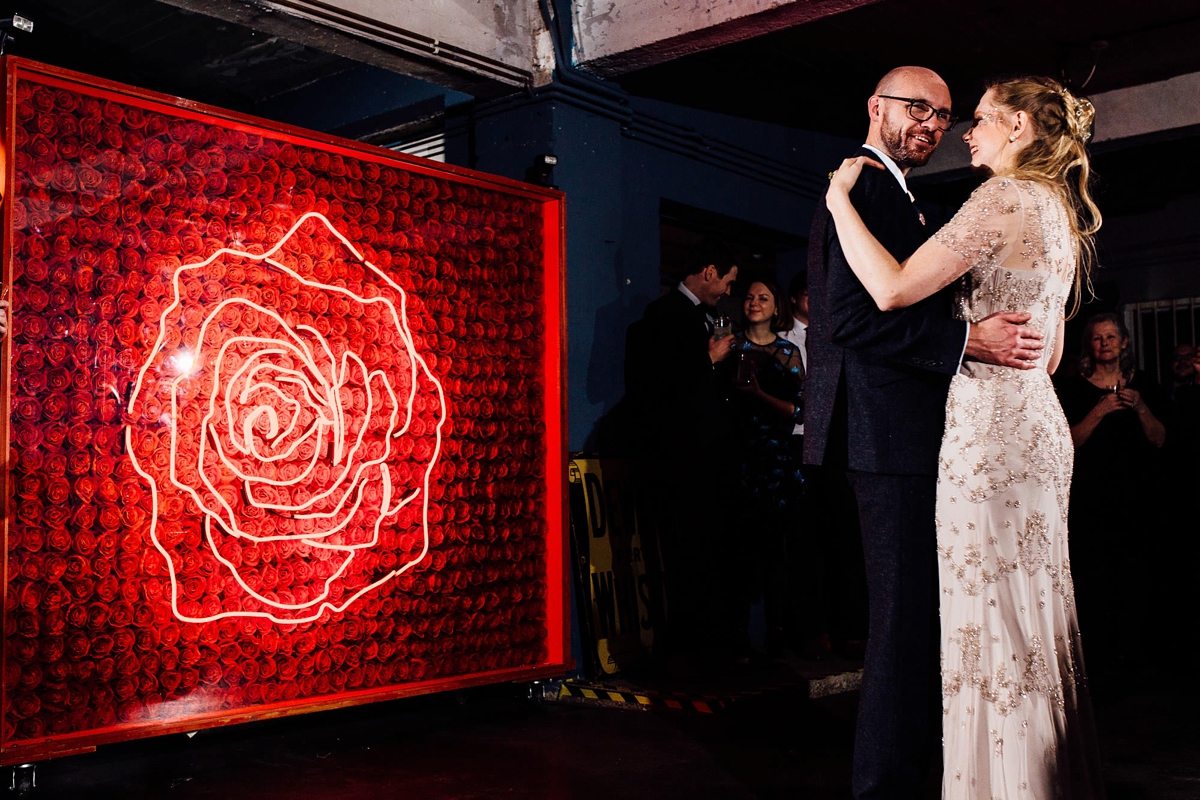 It's been wonderful to share your winter wedding today, so thank you so much Sarah and Jake. Sending many thanks to Beatrici Photography and Chris Barber Photography too for these atmospheric images – I think I'm going to have to go back and look at them all again.
If you're inspired by the unique look of The Asylum, I'm very pleased to tell you that we've got many more weddings held there for you to enjoy.
Ele xx